This is a Svalbard northern lights guide that includes the best Spitsbergen northern lights tours, photography tips, and what to expect when you're there.
I hope this helps you plan your winter travels to Svalbard and I really hope that you are able to witness the northern lights in Svalbard… it will truly make for a memorable experience!
Svalbard Northern Lights Guide
High in the Arctic, you will find the Svalbard archipelago, a series of wild islands that rise out of the sea with snowy peaks, imposing cliffs, and mesmerizing glaciers.
The formidable islands are home to some of the Arctic's most valuable treasures, such as the elusive polar bear or the mysterious northern lights that dance through the winter skies.
The allure of the northern lights brings millions of tourists to the Arctic each year, although few heads to Svalbard, the northernmost inhabited land in the world.
During the depths of winter, the sun never rises and for 84 days, the islands are doused in complete darkness with only the moon and shimmering lights of the aurora providing any break to the darkness.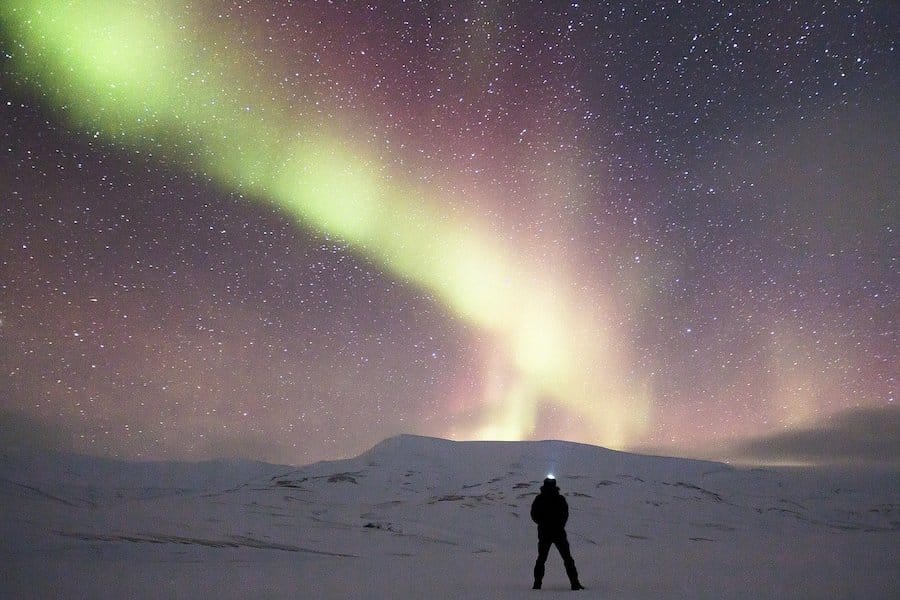 This darkness means that the chances of seeing the northern lights in Svalbard are greatly increased as they can appear at any point during the day.
After taking so many northern lights tours that last until 2am in other parts of the Arctic, this is a huge sigh of relief!
The magic of the aurora is truly one of the world's best natural wonders and will not fail to take your breath away.
There are few sights in this world that have lived up to their hype, but thankfully, the northern lights surpassed my expectations and filled me with a childish wonder as I stood there with my mouth agape not believing fully what my eyes were seeing.
Seeing the northern lights is not always as easy as one may think, with various factors coming into play from the power of the solar activity to needing to be in the perfect location on the planet at that given time.
In some cases, to unlock the true magic of the lights you will need to use a camera because what can appear to be an unassuming, delicate white whisper of cloud can turn out to be the northern lights streaking across the sky.
This makes taking a tour imperative as an expert tour guide will be able to hunt down the Svalbard aurora and teach you how to unlock its beauty.
On Svalbard, seeing the lights away from the settlements can only be done with a tour due to safety reasons with polar bears (and it is required to have someone with a gun on board).
Seeing the Aurora in Svalbard & Beyond
Seeing the northern lights is not an exact science and there are many different elements that come into play.
First of all, it needs to be winter or shoulder season when the nights are dark and long.
These never-ending nights are perfect for seeing the northern lights in Svalbard and even unlocking the beauty of the daytime aurora, which appears outside of the more common aurora hours.
Although seeing the aurora during daytime hours is possible, it is still more common to see them late at night around 10-11pm depending on where you are geographically speaking.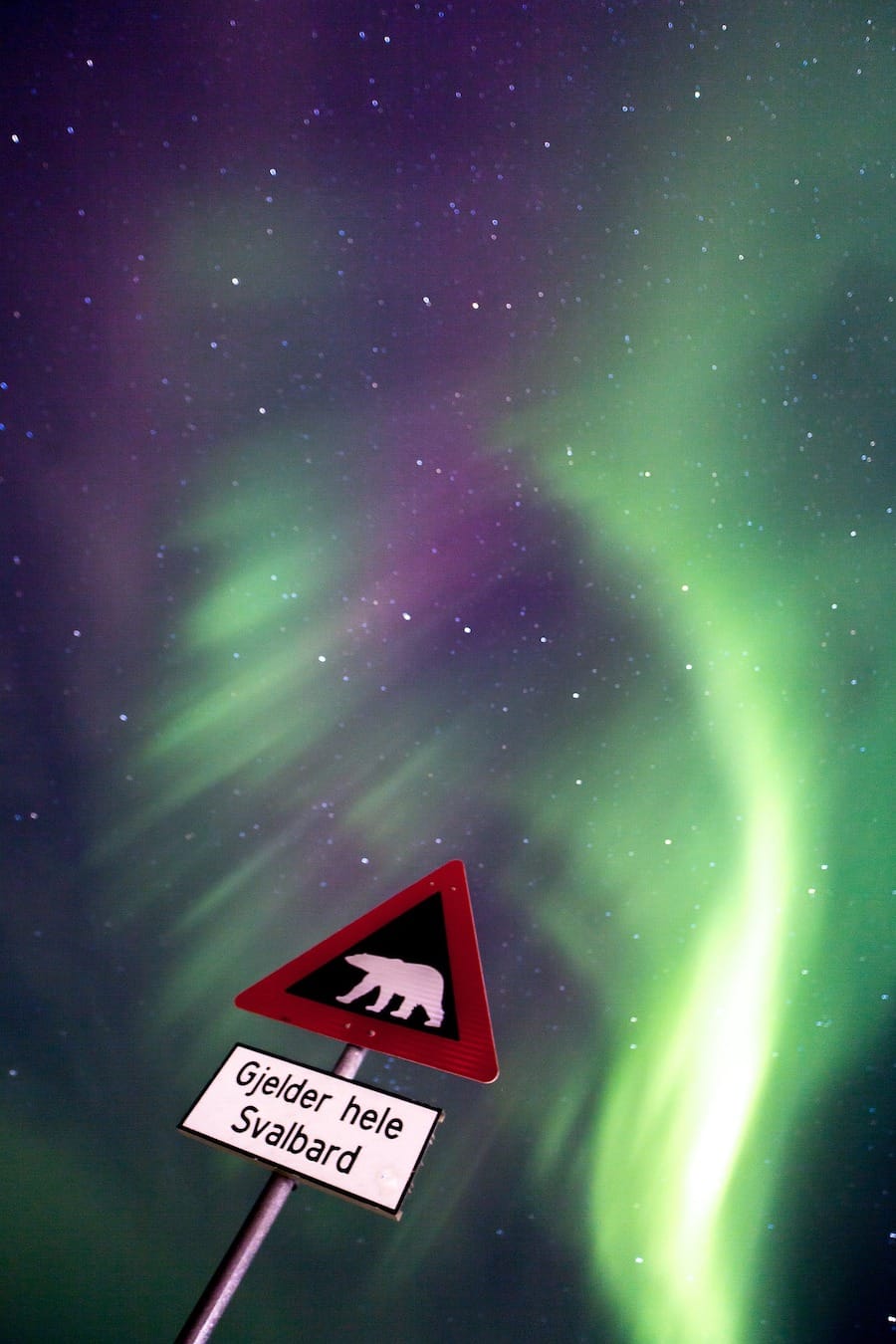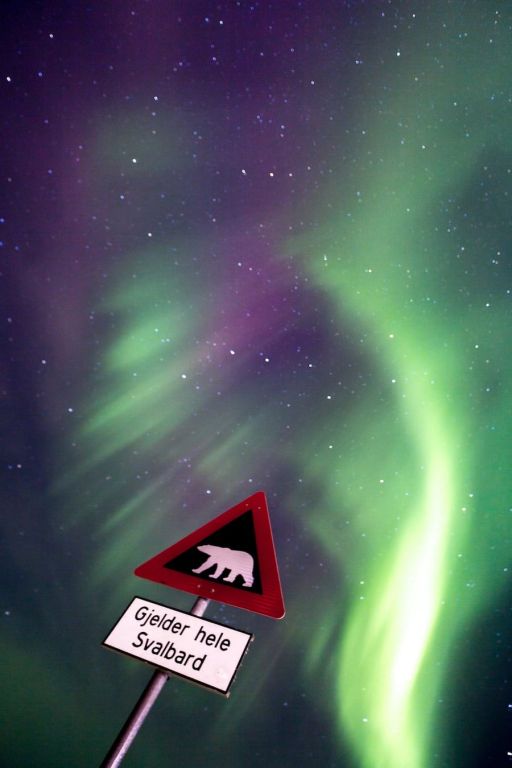 The most important factor in seeing the lights is how clear the sky is.
Cloud cover will block any chance of seeing the lights no matter how strong and perfect the displays are.
However, thankfully the dry winter climate of Svalbard and its islands means that more often or not, the skies will be clear and perfect for spotting the lights playing high above.
Out of all the landmasses in the Arctic Circle, Svalbard tends to have the clearest nights.
On the other hand, Svalbard does sit quite close to the North Pole, so it is not always the ideal spot to view them. The lights can sometimes be stronger SOUTH of the islands.
The northern lights are a guessing game anywhere and hard to predict- so just be patient and keep your fingers crossed!
The vibrancy of the lights really depends on how strong the solar activity is on any given night.
A weak display will produce white, cloud-like displays where you will need to unlock the vivid greens using a camera. However, a strong display will be visible completely with the naked eye.
There are also several types of displays that may happen with some being simple streaks across the sky, while other, more impressive displays are more like curtains of light hanging from the heavens, consisting of vibrant greens and pinks.
Photographing the Northern Lights in Svalbard
Photographing the northern lights is not the easiest feat in the world and involves plenty of trial and error in order to take a clear picture of the stunning displays.
First of all, you need to ensure you have the correct equipment with you.
You will need a camera that allows you to switch to manual. Once it is in manual, you will need to be able to configure the ISO, shutter speed, and F-stop.
Ideally, you will want a wide-angle or 24mm (pancake) lens that can be switched to manual focus, a sturdy tripod, a remote, and some spare batteries.
Camera Settings
Photography in low light is a challenging test and one where you will need to configure your camera perfectly in order to get a clear and crisp picture.
To start, you will need to switch your camera to manual and start adjusting the settings to let in the perfect amount of light while still maintaining a great quality picture.
The first step is to lower your F Stop as low as it will go, this will open up the lens. The lowest F Stop setting depends entirely on the lens you are using.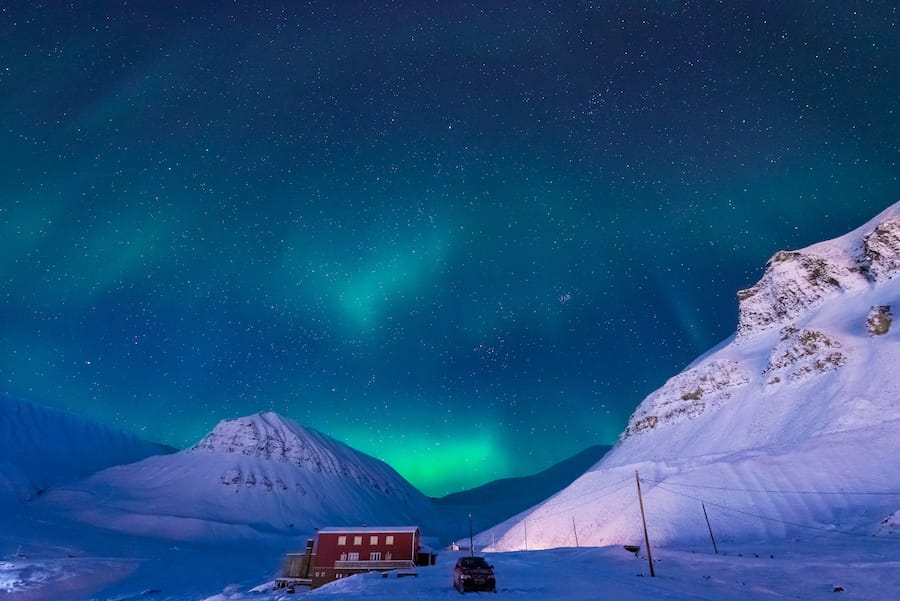 Once your F Stop is lowered, find the perfect ISO setting for your camera, High ISO lets in more light but cheaper camera models struggle to handle these higher settings and the pictures can come out extremely grainy.
I used one of the cheapest DSLRs on the market to photograph the lights and found that it was best not to push the camera past ISO 800 or occasionally, ISO 1600.
Finally, you will need to adjust the shutter speed. This will really depend on the conditions you are photographing in.
If the displays are weak, you will really need to use a much longer shutter speed compared to stronger more vibrant displays.
I found that a shutter speed of around 15 seconds was perfect, but if there is any additional light, you will need to lower it so it won't blast out your picture with light.
Manual Focus
Once you have configured the camera's settings, you will then need to switch the lens to manual focus and play around with it until it takes a clear picture. A lens on autofocus will not take pictures of the lights.
Your guide should be able to help you configure these settings properly.
However, it really is a game of trial and error until you are able to take the perfect picture.
Once the picture is crisp, try not to move or adjust your camera as you will need to readjust the focus again.
Tripod + Remote
You will need to have your camera mounted to a sturdy tripod that is weighty enough to remain completely still, even in windy conditions.
Without a tripod, it is impossible to photograph the lights as you will need to keep the camera perfectly still for the length of the shutter or it will produce a very blurry picture.
I also recommend bringing a camera remote with you because touching the camera to take the photograph can cause blurriness.
If you do not wish to get a remote, or simply forgot to bring yours, then you can use the timer function on the camera to start the process. Make sure you have no contact with the camera while it is taking the picture.
Spare Batteries
I also recommend purchasing some additional batteries because camera batteries tend to run out of charge far quicker in cold conditions.
Store your additional batteries close to your body so that they remain warm and do not lose their charge while not being used.

Headlamp
If you wish to be featured in a picture with the lights, you should bring a torch or headlamp with you that can be used to paint you into the picture.
While the picture is being taken, you will need to stand still while your partner or guide quickly shines the light up and down your body, lighting you up so you appear in the picture.
Guides should have this already but it never hurts to travel with a headlamp to the Arctic during winter!
Below you will find my recommendations for camera equipment, I am by no shape or means a professional photographer and use pretty fairly entry-level equipment to photograph the lights.
My Camera Equipment
Here are pieces of camera equipment that I travel with. Again, I am an amateur and still learning. So, this is fantastic beginner equipment!
What to Wear on a Spitsbergen Northern Lights Tour
The northern lights have this knack for only coming out when it is cold (darn them).
These frigid temperatures mean dressing appropriately is vital or you will struggle to function outside of the car, especially as northern lights viewing involves a lot of standing around while your camera does the hard work.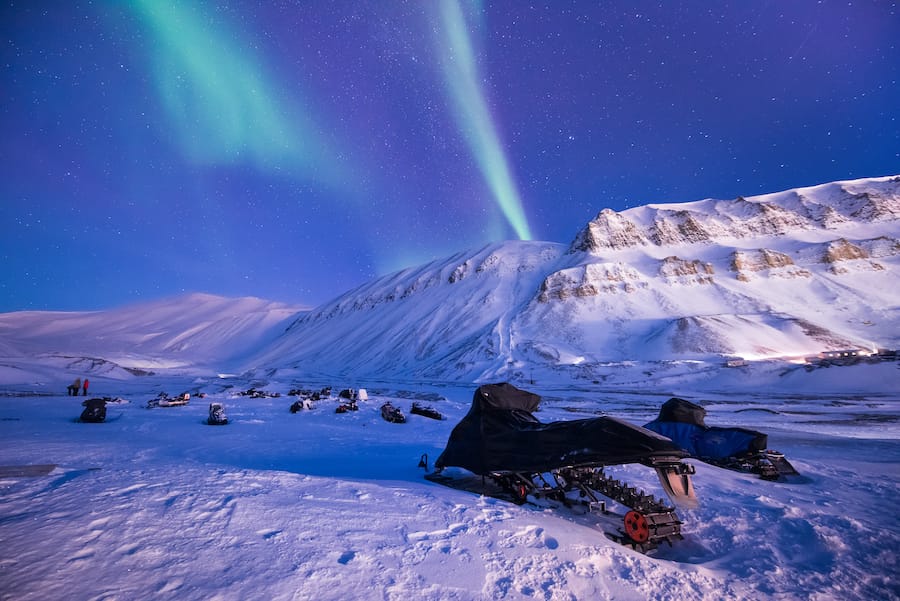 I recommend bringing the following items with you to make sure you remain as warm as possible.
I am listing my favorite brands or ones I specifically use, but any brand will do as long as they are WARM:
Polar Bears in Svalbard (and Why You Must Take a Tour)
Svalbard is one of the world's last true wildernesses and the inhospitable conditions and months on end of cold darkness mean that few people live on the islands.
This has allowed nature to flourish and one of the world's most dangerous animals on the planet rules Svalbard, the polar bear.
As you will not be able to carry a firearm with you as a tourist without permission and registration, in order to leave Longyearbyen, you will need to go on a tour to view the northern lights in Spitsbergen.
Another challenge is that there is little infrastructure available on the islands and getting to places away from the northern lights means traveling by all-terrain vehicles and methods of transport.
In this Svalbard northern lights guide, I have highlighted the best tours to take to try and view the lights, each of which utilizes a different method of transport- from warm all-terrain vehicles to dog-powered sleds.
Best Northern Lights Tours in Svalbard
There are several northern lights tours available in Svalbard and each has its own unique selling point which is great for those who are wanting to try out different activities while hunting for the magical lights.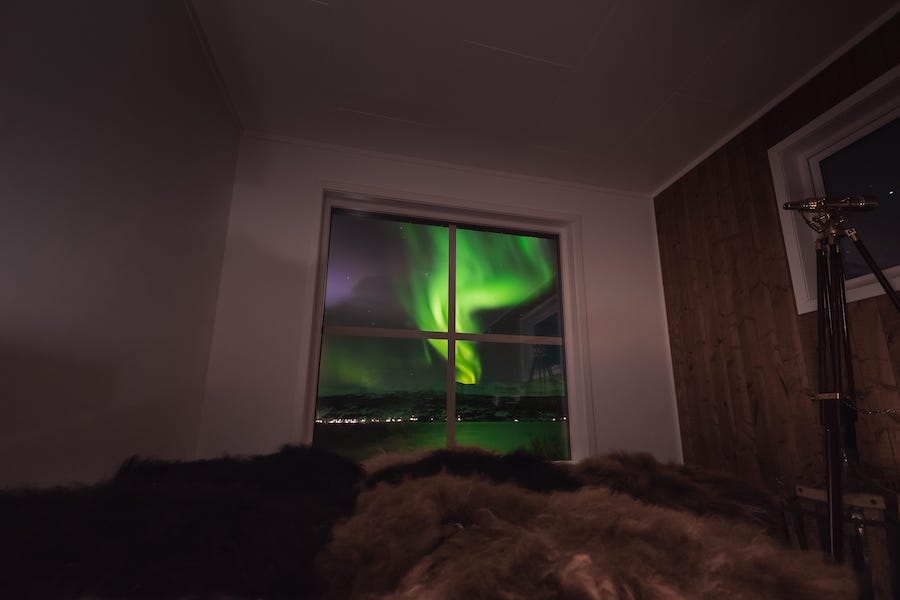 As always, seeing the northern lights is NOT guaranteed and it might be that during your time in Svalbard that you are unable to see them due to weather or low activity during that period.
Do not leave a tour company a bad review because the northern lights didn't come out. Seriously, it's immature.
However, the below tours combine the hunt for the lights with other activities making for a fun and unique trip, even without seeing the lights.
Northern Lights Dog-Sledding Excursion in Longyearbyen
Tour Operator: Green Dog
Season Available: Winter
⇒ Click here for rates and availability
Headout into the Arctic wilderness with your guide and a trusty pack of dogs.
On this relaxing trip, you will dress up in warm clothes and settle down into a comfy, warm sleeping bag on the sled.
Your guide will then lead you and the huskies through the tundra in search of the aurora.
As you move along the ice and snow, you will be able to see the northern lights if they decide to show up.
The trip is a peaceful way to hunt for the lights as you connect deeper with nature.
The tour lasts around 5-6 hours and if the lights come out to play, you will get the opportunity to stop and take photographs.
Northern Lights Snowmobile Trip
Tour Operator: Better Moments Svalbard
Season Available: February – March
⇒ Click here for rates and availability
The vast and desolate islands of Svalbard are perfect for viewing the northern lights and one of the best ways to get out and see the lights is via snowmobile.
On this awesome tour, you will head out into the Arctic wilds to hunt down the elusive lights. Each trip will be different depending on the conditions that day and the chances of seeing the lights.
You will head out into the wild valleys of Svalbard or up the remote glaciers where polar bears rule the land as you hunt down clear patches of sky and wait for the lights you will enjoy the magic of the arctic winter.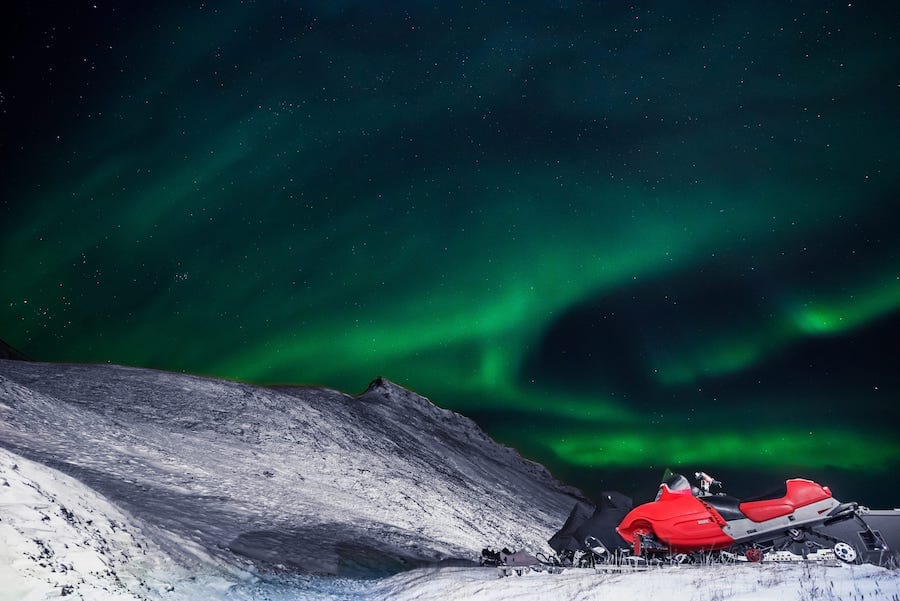 After exploring the wilderness and hopefully getting to witness the lights, you will head back to base camp where you will enjoy a three-course meal and warm up from the trip.
Each snowmobile can fit two people, a driver, and a passenger and roles can be switched out throughout the journey although, all drivers must hold a valid driving license and have not consumed any alcohol prior to joining the tour.
Northern Lights Hunt by Snowcat
Tour Operator: Hurtigruten Svalbard AS
Season Available: Winter
⇒ Click here for rates and availability
If you are looking for a more comfortable and relaxing way to see the Svalbard northern lights, the Snowcat tour is a brilliant option. In the comfort of a specially designed all-terrain vehicle, you will venture out into the Advent Valley to try and spot the beautiful lights.
The specially designed vehicle is able to traverse the icy tundra and take you to parts of the island that traditional vehicles cannot reach.
As you sit in the warmth, you will be able to look out over the landscape, while the guide teaches you all about Svalbard and its importance when it comes to scientific research into the northern lights.
Once the lights have been spotted, you will be able to disembark from the snowcat and photograph the beauty. Along the route, you will be provided with hot drinks and biscuits.
During the depths of winter, the tours run throughout the days, but before and after polar nights, only nighttime excursions happen.
Northern Lights Evening with Dinner at Camp Barentz
Tour Operator: Hurtigruten Svalbard AS
Season Available: Winter
⇒ Click here for rates and availability
Spend an evening in an Arctic camp learning all about the history of the islands and everything you need to know about the northern lights on Svalbard.
You will set off on a 7.5-mile drive from Longyearbyen to Camp Barentz, a small camp in the Advent Valley that has been named after the Dutch explorer that is officially credited with discovering the islands.
As you arrive at the camp, you will be greeted by your friendly hosts with a gun and Aquavit in hand.
They will talk you through the safety procedures before you head into the warm hut for a two-course dinner and stories about the Arctic.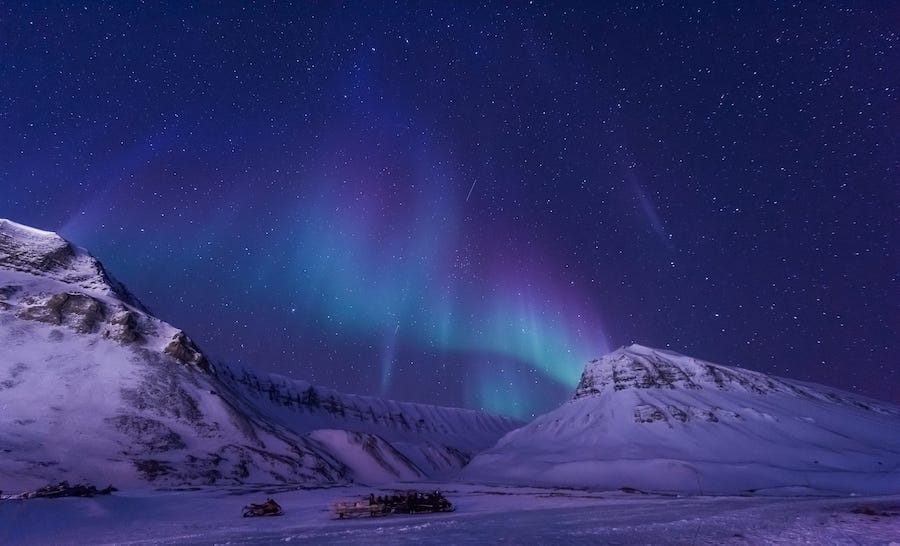 For dinner, you will get to enjoy the traditional Sami dish of Bidos, a reindeer stew with root vegetables that have been cooked over an open fire.
It is followed by a chocolate dessert and a variety of drinks, both alcoholic and non-alcoholic.
As your hosts teach you all about Svalbard and the northern lights, spotters keep watching outside for the elusive nights.
Once (and if!) the lights have been spotted, you will be taken outside to photograph and view the aurora while your hosts keep watch out for hungry bears.
The tour lasts around three hours and after your camp experience, you will be dropped off at your accommodation in Longyearbyen.
Northern Lights Hunt by Electric Snowmobile
Tour Operator: Hurtigruten Svalbard AS
Season Available: Winter
⇒ Click here for rates and availability
Hunt for the lights on brand new environmentally friendly snowmobiles that are charged by wind and solar power.
These state-of-the-art snowmobiles are the perfect way to explore vast areas of Svalbard while not disturbing the peace of the Arctic nights with the rumbling of a gas-powered engine.
As you race silently through the night searching tirelessly for the lights, your guide will make random stops to talk you through Svalbard's history and the way of life at the top of the earth.
Once you have spotted the lights, you will stop and enjoy the wonders of the aurora, nature's most amazing showpiece.
The Svalbard tour includes pick up and drop off from your hotel and after being picked up, you will head to the exhibition center to learn all about riding snowmobiles in Svalbard.
During the tour, you'll get hot drinks and biscuits that will be served along the way.
Drivers will need a full driver's license to join the tour and no alcohol can be consumed before setting off.
If you are found to be under the influence of alcohol, you can incur huge fines.
Where to Stay in Svalbard
If you're looking for the best places to stay in Svalbard, you can check out our guide to hotels in Svalbard here.
It lists our top picks and details where they are located.
If you have any additional questions, please reach out to us and we will do our best to answer!
I hope this guide helps you plan your visit to Svalbard!
More Svalbard Travel Guides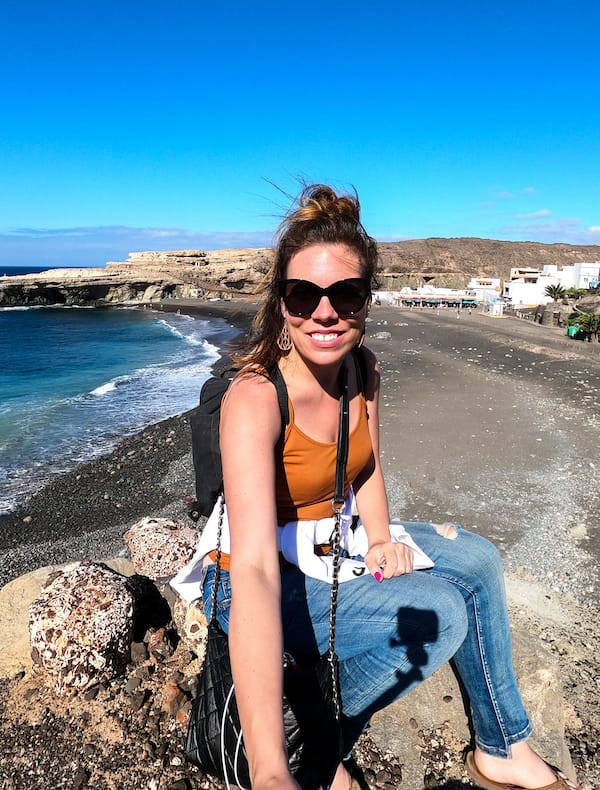 Megan is a travel blogger and writer with a background in digital marketing. Originally from Richmond, VA, she now splits her time between Frankfurt, Germany and Arctic Finland after also living in Norway, Armenia, and Kazakhstan. She has a passion for winter travel, as well as the Nordic countries, but you can also find her eating her way through Italy, perusing perfume stores in Paris, or taking road trips through the USA. Megan has written for or been featured by National Geographic, Forbes, Lonely Planet, the New York Times, and more. She co-authored Fodor's Travel 'Essential Norway' and has visited 45 US states and 100+ countries.