Acadia National Park is one of the most beautiful places to visit on the East Coast regardless of whether you make the trip in summer or winter!
This Acadia in winter guide will give you details on why you should visit, things to do, and travel tips.
If you're visiting Acadia National Park in winter, there are many things you must know before planning your trip there. This guide will discuss traveling to Acadia in December, January, and February but please take note that winter can (and likely will!) extend beyond those months!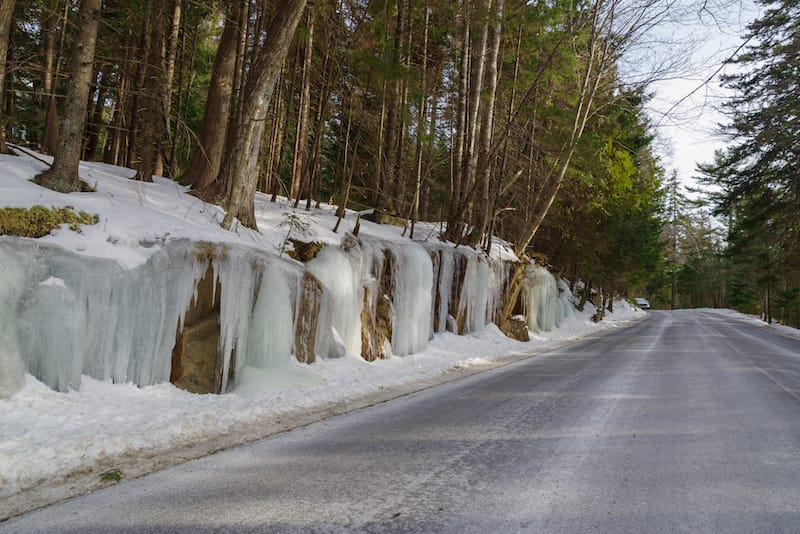 If you have any tips for an Acadia winter trip, please leave them in the comments below. Thanks!
Reasons to Visit Acadia in Winter
One of the main reasons to visit Acadia in winter is that the popular US national park becomes far less crowded and bearable. Granted, the temperatures are not pleasant for those that shun winter weather, but if you dress appropriately, you may feel like you have the park all to yourself!
Another fantastic reason to spend winter in Acadia is that it is an epic place to go snowshoeing and cross-country skiing.
There are heaps of trails there (nearly 45 miles of carriage roads) and it is truly a magical place in winter for those looking to enjoy the outdoors in a majestic setting. It is one of the best US national parks to visit in February and other winter months or winter activities.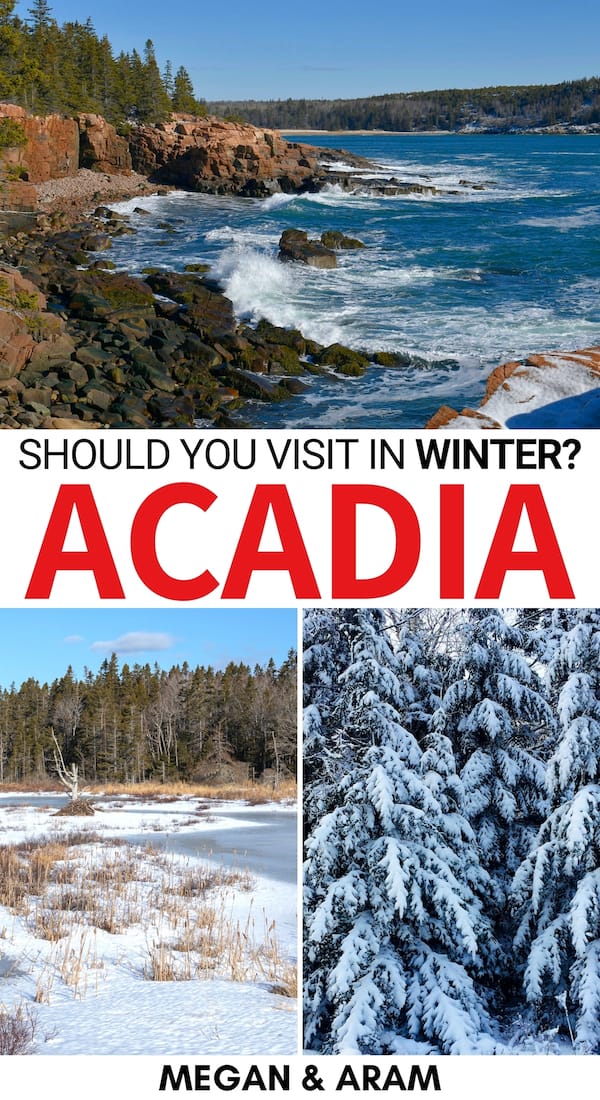 When is it Winter in Acadia?
Winter in Acadia lasts for a long time. It can start at the end of October and last all the way into April and May depending on the year. However, the main months where you will find it to be wintry in Acadia National Park are December, January, and February, and into March.
How Cold Does it Get in Acadia? (Temperatures & More)
Here are the average temperatures in Acadia National Park in winter, including the number of rainy/snowy days in the park:
| | | | |
| --- | --- | --- | --- |
| Month | Average high | Average Low | # Rainy days |
| December | 1C / 34F | -8C / 17F | 10 |
| January | -2C / 29F | -12C / 10F | 9 |
| February | 0C / 31F | -11C / 13F | 7 |
​
Does it Snow in Acadia National Park?
Yes, it does snow in Acadia National Park and depending on the month, it can be more than others. On average, Acadia National Park gets around 60 inches of snow.
What to Wear When Visiting Acadia National Park in Winter
Temperatures in Acadia tend to be cold in winter but not completely unbearable thanks to the coast being so close. However, it is imperative to dress for the winter, and because of the coastal location, the weather changes in a flash! We list some essential things to wear in Acadia in winter below.
Note: We are huge fans of REI for all of my winter gear in the US, but also love throwing minimalistic Scandinavian brands into the mix. We are listing an array of our favorite winter gear below.
Winter Parka
You need a winter parka for Acadia. Point blank. No ifs, ands, or buts. I actually love my Helly Hansen Svalbard parka and I have worn it on several of my Arctic trips and it has served me so well. Helly Hansen is a Norwegian brand and they know winter and outdoor clothing well.
READ MORE: Best US national parks to visit in December
Because of the cold temperatures in Acadia, I only feel comfortable recommending the parka above as I haven't had a chance to test others since this one has always done the job for me! Click here to see my Helly Hansen Svalbard parka (I own it in black).
Crampons
If you're not sturdy on your feet (*sheepishly raises hand*), definitely invest in a pair of crampons for your Acadia winter trip.
What are crampons? They are basically attachable 'traction' for your boot. They can feel a bit awkward when you first put them on but at least you won't end up with severe back pain from having to hold your gait funny in the end.
I have used several types throughout the years and I found that these ones from Yaktrax are the best ones for me, personally. Click here to purchase them on Amazon.
Sorel Snowboots
There is actually nothing worse on the planet than frozen feet. At least for those surrounding me, frozen feet are a surefire way for me to complain and annoy everyone else. So, I take my snow boots seriously!
I have used Sorel Snowboots for the last 7-8 years and I love them. I think I purchased them because they were trendy at first, but they served me well and I haven't looked back and I ended up purchasing multiple pairs. But, my favorite pair is this one.
Make sure you buy them big enough that you can throw some thick wool socks on when you're dressing for your adventure in ANP! Click here purchase my Sorel Snowboots on Amazon or, if budget isn't a factor, this other Sorel pair that I recommend from REI.
In addition to what I listed above, I definitely recommend that you take a good pair of mittens (never gloves), thermals, and a hat. The hats I recommend (stylish, yet warm) are from two of my favorite Danish brands Libertine-Libertine and Samsøe & Samsøe.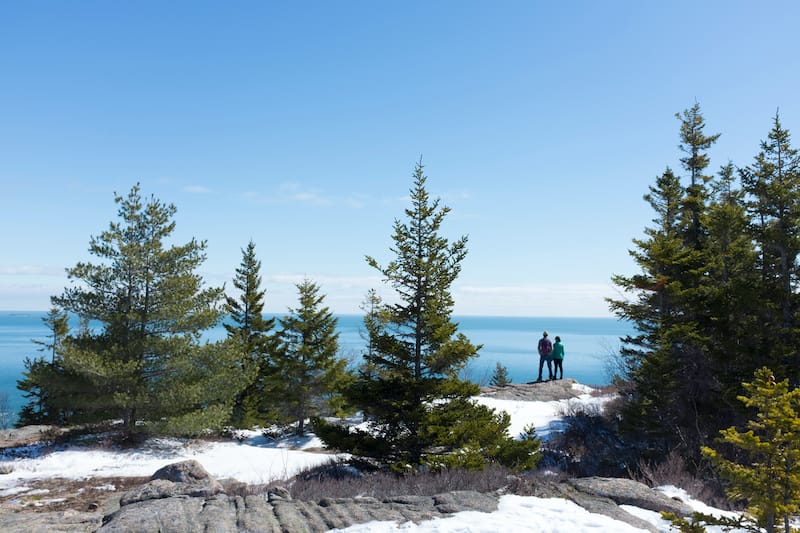 What to Pack for Acadia in Winter (Gear & Miscellaneous)
Packing the right clothes is always the most challenging part, but you need to consider the other things you will bring with you, too. Below are some items I always tote along in winter when I travel to cold places and will definitely make a great addition to your Acadia trip.
Mobile Power Bank
The weather will deplete your cellphone battery. I repeat- the weather WILL deplete your cellphone battery. Bring a mobile power bank with you to ensure you can snap photos whenever you want! Click here to purchase my recommended power bank on Amazon.
Extra Camera Batteries
If you're into photography but have never photographed in a cold setting, you're going to want to ensure you have a few extra batteries to bring along for the ride. The camera battery will deplete quicker in subzero temperatures just like phone batteries do.
I also travel with a USB charger for camera batteries that I can stick in my mobile power bank in case times get tough. Click here to find a USB charger for camera batteries.
Dry Bags
It will be snowy and the weather will be a bit off-putting on certain days on your winter in Acadia vacation… so don't let it ruin your equipment or gear!
I travel with dry bags just as an extra precaution and they have served me well all over the world. These dry bags from the Friendly Swede are my favorite.
Things to Know Before Traveling to Acadia in Winter
During the winter months in Acadia, things do close down a bit. You will find many establishments, including hotels, closed during the winter in Bar Harbor.
Acadia National Park will also start its winter hours during December and it will also close some of the major hiking trails and parts of Park Loop Road.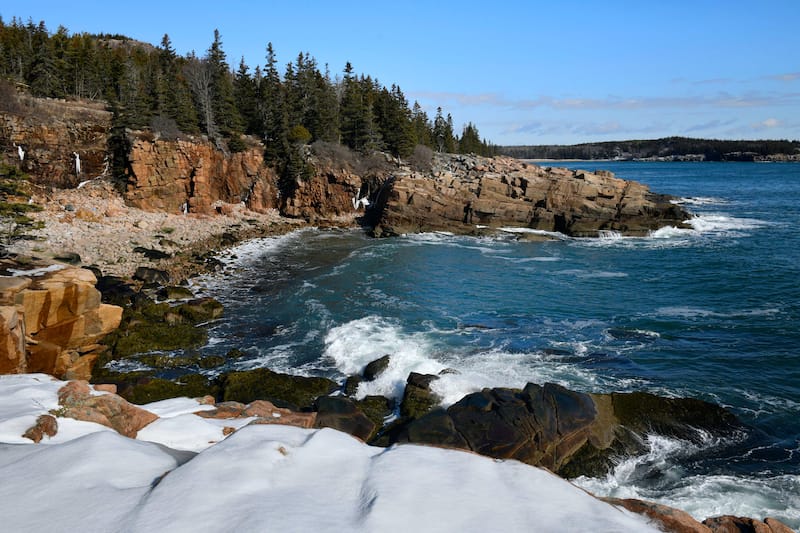 However, this empties out the park and leaves room for adventurers interested in snowshoeing and cross-country skiing!
Quick Facts about Acadia NP
Location: Maine
Size: 47,000 acres
Annual Visitors: 3,437,286 (2019)
Established: January 19, 1929
Closest big city: Bangor, ME (but Bar Harbor, ME is a good base)
Acadia National Park Highlights: snowshoeing and cross-country trails, lighthouses, islands, the only park in the Northeastern United States
Facilities Open at Acadia
During the winter season, Acadia will not have visitor centers open for the public. However, from November 1 until mid-April, the park shares visitor hours with the Bar Harbor Chamber of Commerce.
You can locate it at 2 Cottage Street in Bar Harbor (or give them a call at (207)288-3338 if you need something). The hours are from 8am until 4pm daily.
Things to Do in Acadia During Winter
In case you want to enjoy a full-pack experience of winter tourism, then Acadia National Park might be one of your greatest choices.
It has less traffic in the wintertime when compared to summer, and there are numerous fun activities available there like designated drives, cross-country skiing, snowshoeing, snowmobiling, birdwatching, winter camping, and scenic hiking destinations.
Ocean Drive
Starting from December 1st of each year, most of the Park Loop Road is closed, except for two sections: Ocean Drive and Jordan Pond Road.
You can reach the park's most popular sites on this drive, like Thunder Hole, Sand Beach, the Beehive, and other grand cliffs on the road.
READ MORE: Best US national parks to visit in January
The small section of Acadia's Loop Road has access from Schooner Head Road. The left side of the lane is open for snowmobiles only, so be cautious to stay on the right lane only.
You can exit the Ocean drive by Otter Cliff Road to Route 3.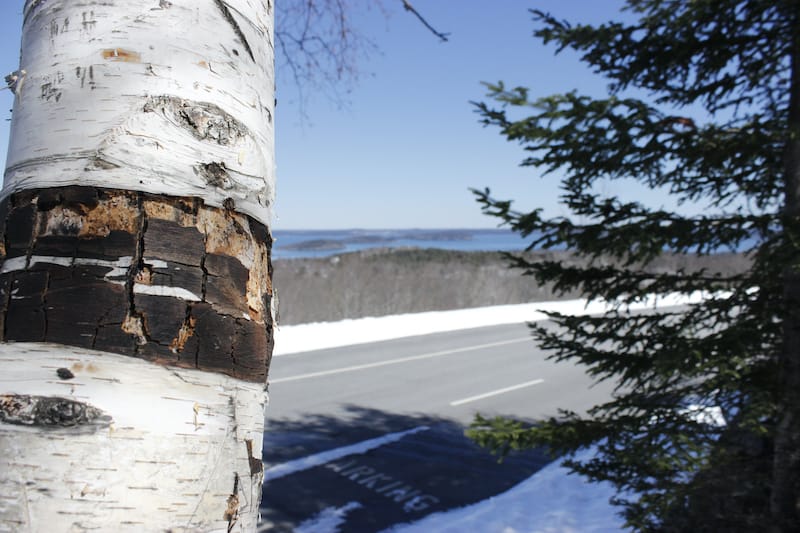 Jordan Pond Road
This two-way path is north of Seal Harbor and is available year-round. It uses the other part of the Park Loop Road.
Follow the Jordan Pond Road to Park Loop Road, which is plowed to the Jordan Pond House Restaurant parking areas.
Cross-country skiing
Cross-country skiing lovers can enjoy the park fully in the wintertime, thanks to Friend of Acadia volunteers and Acadia Winter Trails Association, who groom and track the area if the snow is at least 6 inches and the road is frozen.
Special state-of-the-art grooming equipment is being used. There are 45 miles of carriage road, of which 32 are groomed and complete with skating lines.
Before the visit, make sure to check the conditions of cross-country skiing, as those are not stable and change a lot.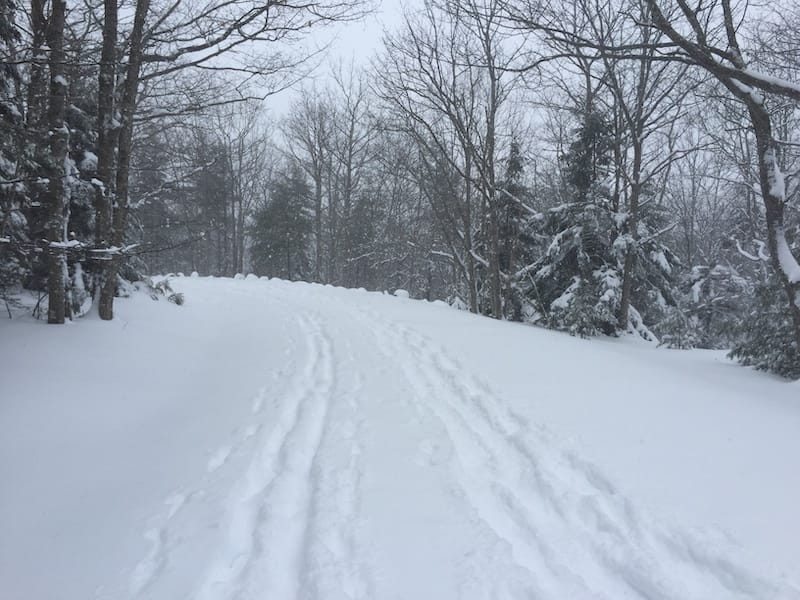 With tracked roads, wide skating lanes, and sufficient snowfall, it would be challenging to find any place better for cross-country skiing. If you plan to travel, use the Friends of Acadia website to access information about the groomed trails.
Eagle Lake
Eagle Lake is one of the most outstanding locations in the park, with a combined view of the lake, mountains, and woods. The trail to the lake isn't hard to hike; it has a few ups and downs.
The 3.7-mile path of the west side of the lake is groomed, and it is surrounded by carriage roads.
When the lake is frozen in the wintertime, those who prefer a smoother and flatter route are free to ski the lake itself.
Snowshoeing
People who love snowshoeing have a great chance to enjoy their time on different six trails, of an overall of 120 miles of hiking area.
Having a height of 525 feet, Gorham mountain is one of the six trails and is plenty of impressive natural sights. The incline of the cliff is gradual, making it a perfect location for snowshoeing.
Compared to Gorham, Cadillac South Ridge has an even more gradual slope, and it's also the longest of the trails, having a length of 3.5 miles.
For less experienced, Ship Harbor and Wonderland are a better option as they're nearly 1.5 miles, but are known to provide a delightful view of the ocean and not only. If you want to hike a road with a carriage road that lasts up until the top, you better choose the Day Mountain Trail.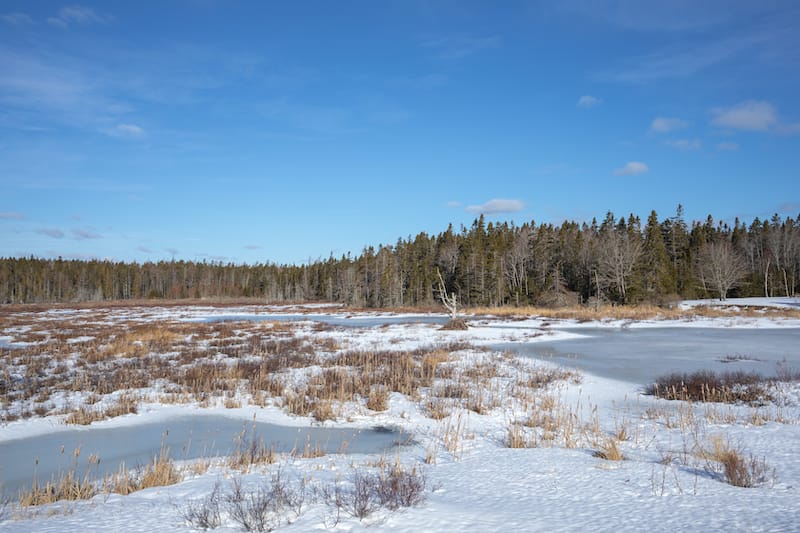 There are two ways to reach it, one with the Jordan Pond and the other from the south near Seal Harbor.
Another trail is the Eagle Lake Circuit, which is 6 miles long but promises one of the most remarkable experiences in the park. To obtain the fullest, you can get to the ice and enjoy the views from there.
Last but not least, the other 6-mile route of Witch Hole Pond has one of the wildest auras in the location, but in that route, you'll be able to see the Duck Brook Bridge and Paradise Hill, both of which are definitely worth the time and energy spent during the hike.
Snowmobiling
For snowmobiling, it's important to mention that it's allowed only on the unplowed roads and on the 27-mile Park Loop Road. The maximum permitted speed is 35 mph. All the rules and regulations can be found on the park's winter activities webpage.
READ MORE: Best Airbnbs in Acadia National Park
Snowmobiles are allowed in the area of the park in case of having enough snow. In times of good weather, the part of the road stays open to provide access to visitors of Thunder Hole, Sand Beach, Otter cliffs, all of these free of charge.
Birdwatching at Schoodic Point
Schoodic Point is a particular favorite of birders. There is a guided tour available for the park visitors to get acquainted with unique bird species specific to Acadia's wildlife.
Birds like eagles, owls, razorbills, murres and dovekies, black-capped chickadees, and Harlequin ducks are typical examples. An hour's drive from the Hulls Cove Visitor Center on Mount Desert Island gets you to the Schoodic Peninsula.
Right after entering the park, the Frazer Point Picnic Area is there with a picnic area, after which the one-way path gets you to the Schoodic Point.
On the way to the location, you can feel the beauty of the views along the road, as well as have the benefit of seeing Mount Desert Island.
Winter Camping at Acadia NP
*Note: Blackwood Campground is still closed for the winter season. See more here.
In the wintertime, Blackwood Campground is open, and the camping there is free. Due to its location and accessibility, Blackwood is probably the best match for a person experiencing winter camping for the first time.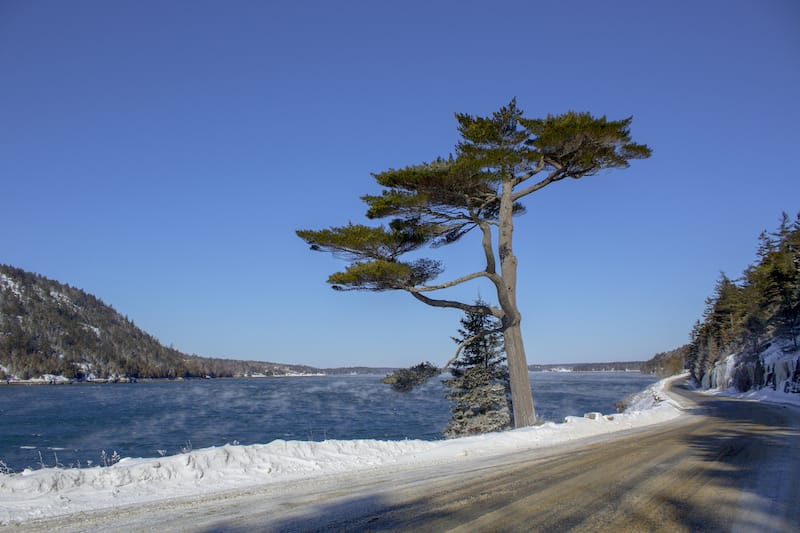 It is located south of Bar Harbor on Route 3. To enter on a free basis, campers should get access from the Dispatch Office or Bar Harbor Chamber of Commerce.
Hike the Cadillac North Ridge Trail
Having a length of 6.4 kilometers, Cadillac North Ridge Trail is an out and back trail located close to Bar Harbor, with an elevation gain of 341 meters. People who love to see sunrise or sunset when hiking are recommended to visit this trail.
It offers several activity options available all around the year, and it's worth mentioning that it features appealing pictures of nature. Dogs are allowed to use these trails but must be kept on a leash.
READ MORE: Best US national parks to visit in February
The hikers have two options to begin with, both from the Park Loop Road.
The first option starts with the Take Kebo Brook Trail continuing onto the Cadillac North Ridge Trail, while the other option begins from the one-way section towards Sand Beach. Be informed that parking in that location is extremely limited.
Hike Pemetic Mountain
If you desire to have a hike full of both effortless walks and challenging ascents, but at the same time take in the pleasure of an admirable view of the landscape, then Pemetic Mountain should definitely be on the list of your doings in Acadia.
The mountain has a height of 1,248 feet (380m). The difficulty level of the hike is considered to be advanced, so don't underestimate it.
The name of the mountain was given by Native Americans, which basically means "the sloping land," and it fully describes the island as a whole. The area can be reached both from the north (Cadillac Mountain, Bar Harbor, etc.) and from the southern part of Mount Desert Island.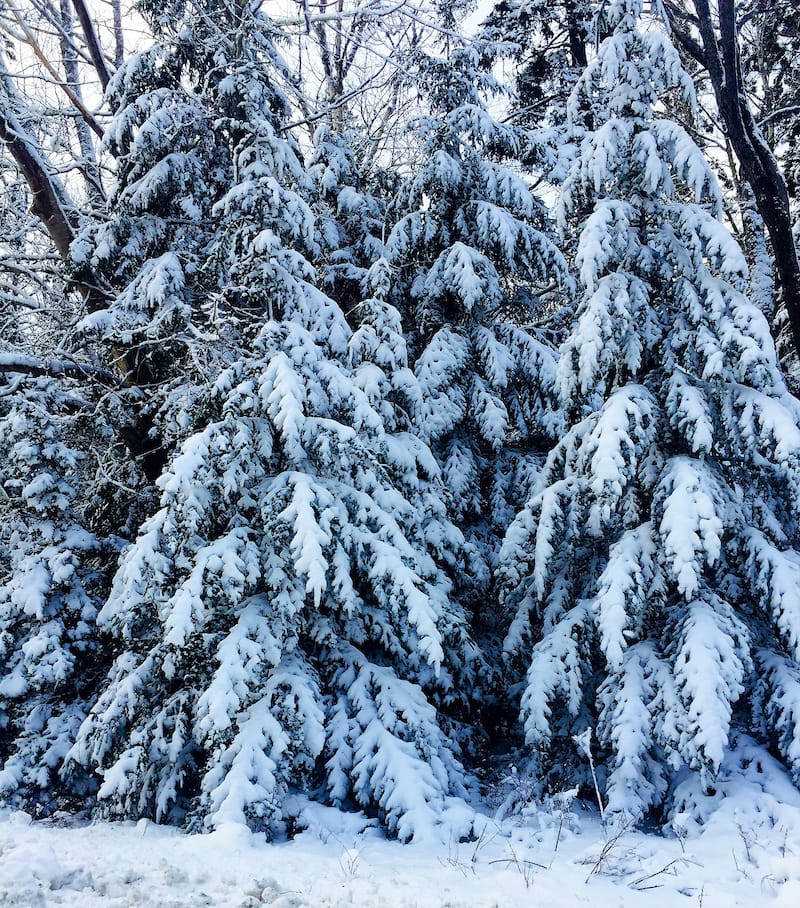 If you're a steady and seasoned hiker, know that the effort will pay off when you reach the summit, from where several areas like Jordan Pond, Bubble Pond, Little, and Great Cranberry Islands, and many more are visible for you, as if they're in the palm of your hand.
Hiking in Acadia in winter is one of the best things to do if you love the outdoors and dress properly.
How to Get to Acadia National Park
Getting to Acadia National Park is very easy if you've made your way to Bar Harbor, Maine. Bar Harbor is kind of the unofficial base for exploring Acadia National Park and it is a great place to stay overnight if you're planning on multiple days in Acadia.
To reach Bar Harbor, you can take Rt 3 from the mainland onto the island. Alternatively, you can stay in Bangor and take a day trip to Acadia National Park.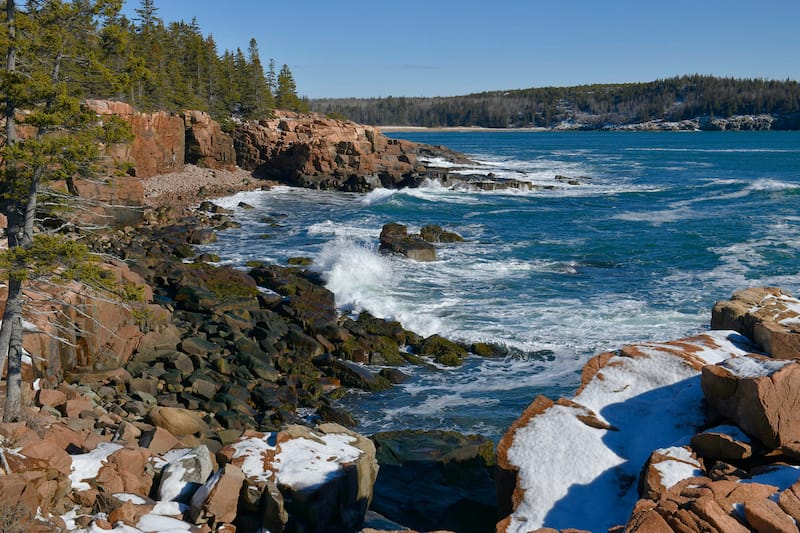 Acadia National Park Accommodation Options
There are plenty of reputable places to stay in Acadia National Park and around the area. Here are some of our top picks of places to stay in and near Acadia – broken down into hotels, Airbnbs, and camping/glamping options.
If you're camping and are not a member of Hipcamp, also be sure to use our code here to receive $10 off your first booking!
Bar Harbor Hotels and Inns
Unfortunately, most places close down in Bar Harbor during the winter months, including hotels and restaurants. The following top-rated places do stay open, however, and are ready for business!
Affordable & Mid-range: Quimby House Inn & Spa | Check rates: Booking.com
Affordable & Mid-range: Atlantic Oceanside Hotel | Check rates: Booking.com
Mid-range to Luxury: Saltair Inn | Check rates: Booking.com
Airbnbs in Acadia National Park (& Nearby)
We have an entire list of incredible Airbnbs in Acadia National Park and Bar Harbor to check out, but here are some of our quick favorites!
Converted bar: The Seamist Cottage converted barn
Unique accommodation: Coyote's Den at the Howling Woods
Entire cottage: Hulls Cove Cottage in Bar Harbor
Unique dome-shaped hut: Little Frog at the Howling Woods
Glamping and Camping Near Acadia (Winter Options)
There are four campgrounds inside of Acadia that you can stay at but you are unable to book online. They are Schoodic Woods Campground, Seawall Campground, Blackwoods Campground, Duck Harbor Campground. To see more, click here.
If you're wanting to pre-book your camping trip to Acadia in winter, these campgrounds remain open and are close to the park.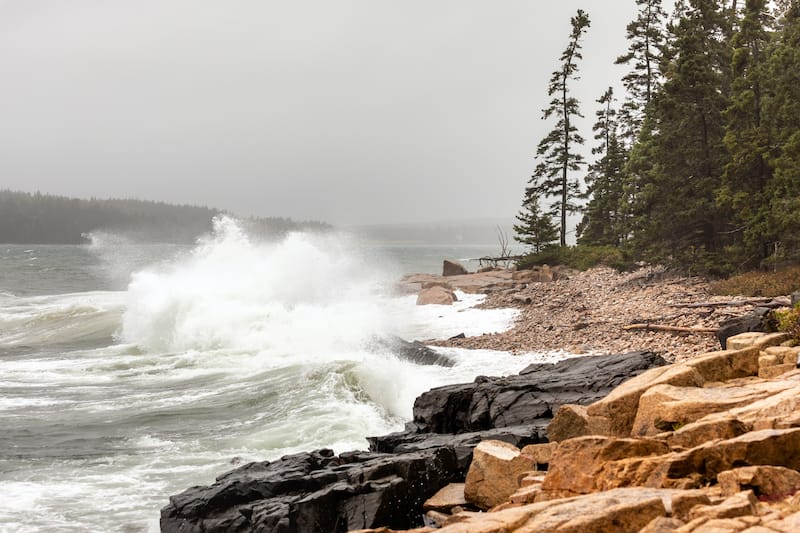 Should You Book a Winter Trip to Acadia National Park?
If you're an avid winter outdoor enthusiast, we think that Acadia is one of the best places to visit during the colder season.
The cross-country skiing and snowshoeing opportunities alone are enough to make the park worthwhile but the views just put it over the top! It is spectacular!
We hope this guide to visiting Acadia in winter helps you plan your trip there and realize what a gem this Maine national park truly is!
ABOUT THIS LAND
Acadia National Park is on the unceded land of the Wabanaki people (particularly the Penobscot Nation and the Passamaquoddy Tribe). We ask you to join us in acknowledging their community, their elders both past and present, as well as future generations.
We also acknowledge that Acadia National Park was founded upon exclusions and erasures of many Indigenous peoples, including those on whose land these US National Parks are located.
⇒ Do your research before visiting National Parks and places in the US. Native Land and Whose Land are good starting points.
⇒ Hire Native guides when possible and encourage National Parks and government organizations to start hiring them.
⇒ Donations matter. Part of the proceeds from this blog is donated monthly to the Native Women's Wilderness.
Additional Maine Travel Resources
Pin this Acadia Winter Guide