Are you heading to New Mexico soon and curious about the best day trips from Santa Fe?
Are you planning your trip to Santa Fe last minute?
If youʻre booking your trip to Santa Fe last minute, we have you covered. Below are some of the top tours, hotels, and more!
Top Experiences and Tours in Santa Fe:
Top Hotels in Santa Fe:
Las Palomas (Mid)
Hampton Inn Santa Fe South (Budget)
These amazing Santa Fe day trips have you covered – and they are all great additions to any type of itinerary!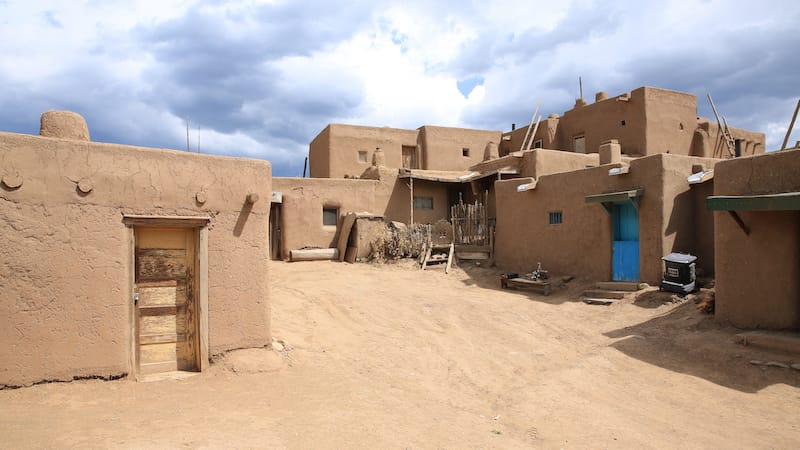 Did we leave out any amazing places to visit near Santa Fe? Let us know your favorite New Mexico destinations nearby in the comments!
Best Day Trips from Santa Fe
Jemez Springs
Plan your next weekend trip to the stunning village of Jemez Springs for a guaranteed one-of-a-kind experience in one of New Mexico's last remaining pueblos! It really is one of the most beautiful small towns in New Mexico!
Jemez Springs offers plenty of natural and cultural attractions.
It is located near Jemez Mountain Trail National Scenic Byway and surrounded by a 1.6-million-acre Santa Fe National Forest, which provides about 1000 miles of trail for hiking, biking, wildlife viewing, horseback riding, snowshoeing, cross country skiing, etc.
Soak in natural mineral hot springs and enjoy the surrounding breathtaking scenery or delve into locals' authentic history while visiting the Jemez Historic Site, museums, art galleries, and monuments, which will certainly drive you to appreciate their challenging past.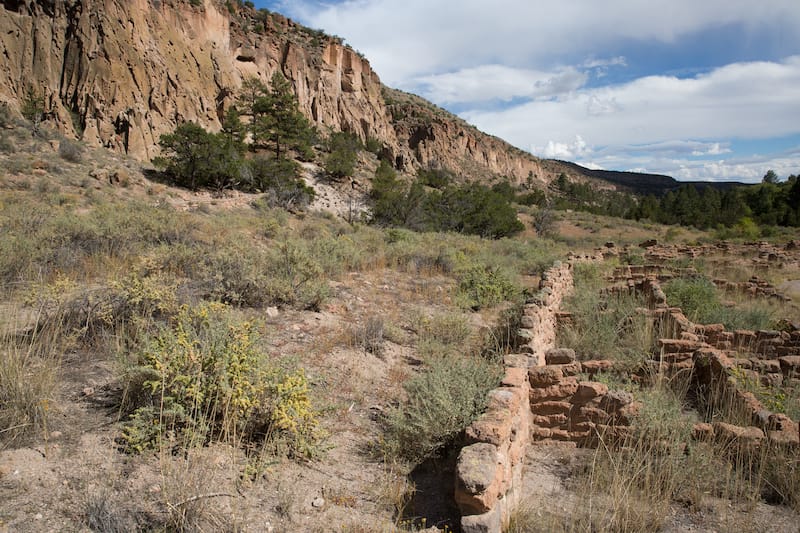 You can also level up your spring experience with herbal wrap and massage at Jemez Springs Bath House that features indoor, spring-fed tubs, or experience a full moon meditation session at the Bodhi Manda Zen Center.
Friendly locals will be delighted to share the details of pueblo culture with you and direct you to visit Gilman Tunnels, Jemez Falls, Soda Dam, and Battleship Rock for some exquisite memories.
This is one of the best places to visit when visiting Santa Fe.
Bandelier National Monument
Head to Bandelier National Monument to explore the rarest and most ancient ruins in the Southwest and witness tangible evidence of the ancestral Pueblo people who lived there for more than 11,000 years!
The Park is within a few minutes' drive from Los Alamos and is known for its age-old Pueblo dwellings, mesas, sheer-walled canyons, petroglyph engravings, pictograph images at the rugged canyons, and unspoiled backcountry overlooking the gorgeous Rio Grande valley.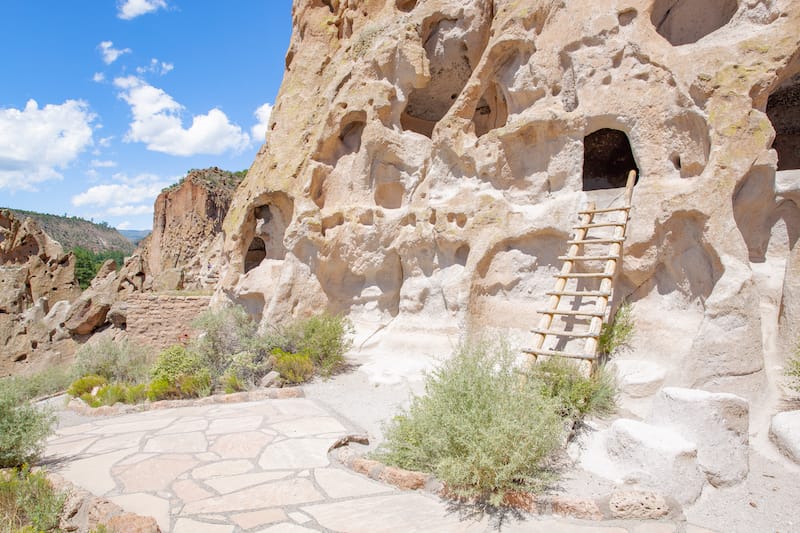 The 33,000 acres of land in the Park also serve as an official designated area for Bandelier wilderness.
Take the 1.2-mile-long Head Loop Trail to reach the stunning Frijoles Canyon or head to the Tsankawi section instead for a 1.5-mile mesa-top walk to marvel at cavates, petroglyphs, wide vistas and explore the large unexcavated ancestral Pueblo village up close.
Don't miss out on visiting the gift shop, bookstore, museum, snack bar, and picnic area located at the Visitor Center.
Rio Grande Gorge Bridge
Built in the middle of nowhere, Rio Grande Gorge Bridge is a real wonder of civil engineering in the empty tableland of northern New Mexico.
The Bridge is nestled thirteen miles northwest of Taos and is the fifth-highest bridge in all of the United States.
Spanning 1,280 feet and hanging 650 feet above the Rio Grande, you will feel your knees buckling when crossing the Bridge.
The construction was completed in 1965, and in 1966, the Bridge received the American Institute of Steel Construction's award for the "Most Beautiful Long Span Steel Bridge" due to its well-proportioned cantilever truss structure.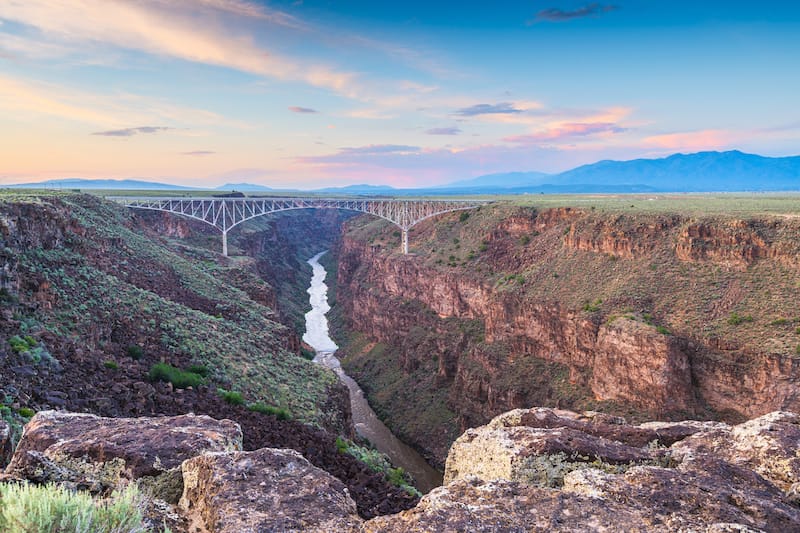 It serves as a popular tourist attraction, where people visit to experience thrilling sensations and take in the breathtaking views of the Gorge.
The Bridge has also been a real suicide magnet where about 3 suicides occur annually; however, many preventative actions are taken to address the problem.
Since 1997, the bridge has kept its spot on the list of the National Register of Historic Places.
Adventure lovers are more than welcome to discover the full potential of the Bridge's beauty from the bottom of the canyon while white water rafting in the Rio Grande.
Taos
Founded in the late 1700s, Taos is New Mexico's soul of the Southwest, where you can escape from reality, enjoy the natural beauty at its finest, and feel like you're right at home.
Tour Taos Pueblo, a UNESCO World Heritage site, allows you to travel back in time and admire 14th-century buildings made of traditional adobe where the Native American community still lives.
You can choose guided tours that will take you through 22 historical markers, buildings, and landmarks, allowing you to experience the town's rich history.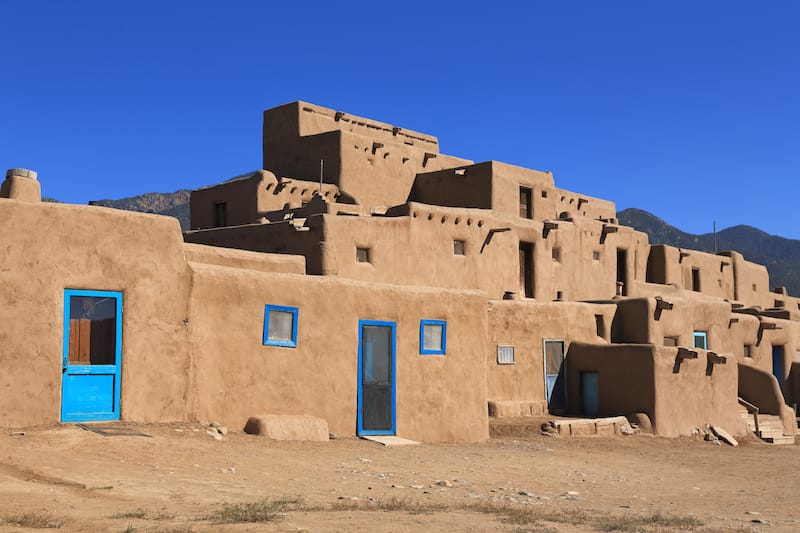 Another must-see spot in the city is the only still-standing San Francisco De Asis Church, which plays an integral role in the town's religious community.
Plenty of outdoor activities awaits you in Taos, ranging from whitewater rafting, fishing, hiking, and biking, to thrilling hot air balloon rides, zip lines, rock climbing, and horseback riding!
Don't forget to dine like a local and taste the authenticity of Southwestern cuisine at Orlando's colorful New Mexican Café or the traditional Bent Street Cafe & Deli.
Finally, round off your day while shopping on Bent Street and checking out the city's art galleries and the farmers market in Taos Plaza.
Ojo Caliente Mineral Springs Resort & Spa
Ojo Caliente Mineral Springs Resort & Spa is the perfect getaway location to completely relax and unwind from the hecticness of life.
If you're looking for a true healing experience where your mind and body can be in complete harmony, you need to add Ojo's secluded oasis to your bucket list.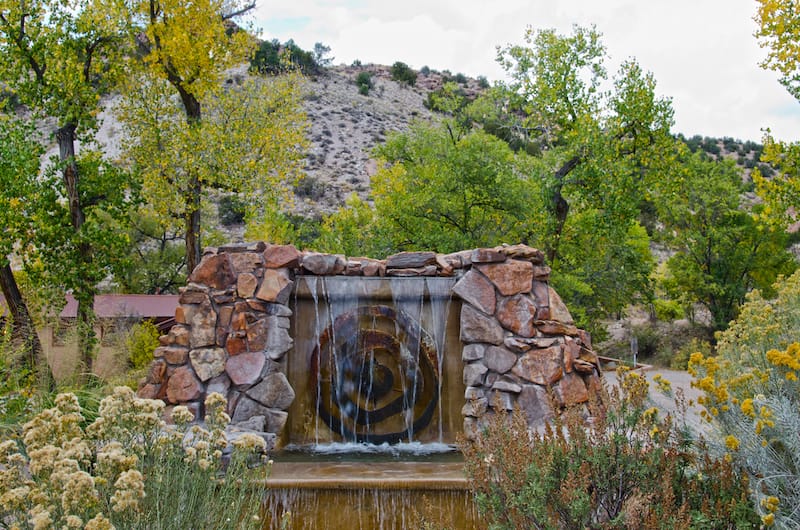 It is located in Northern New Mexico, just north of Santa Fe, and offers spring-fed thermal pools, legendary healing waters, a full-service spa, cozy lodging opportunities, and al fresco dining.
Being one of the US's oldest natural health resorts, Ojo is home to the only hot springs in the world with four different sulfur-free healing mineral waters.
Share the experience of rejuvenating with your loved ones in sacred springs or delve into the private outdoor pool by the fire at night for an unforgettable experience.
The inspiring spa center offers healing treatments that range from skin hydrating massages and reflexology to their signature Milagro Wrap in the Mud Area.
There you can also find 11,000 acres of trails for hiking and biking while taking in the gorgeous views of the surrounding area.
>> Click here to book a stay at Ojo Caliente
Abiquiu Ghost Ranch
Visit the Abiquiu Ghost Ranch, located near the village of Abiquiu in Rio Arriba County, to discover the awe-inspiring beauty of the southwestern landscape and refresh your spirit.
During day trips and tours you will enjoy the breathtaking landscape while towering walls, vivid colors, and fresh air nourish your soul.
Adventure lovers will certainly adore this place since there are 21,000 acres of open space where visitors can partake in abundant outdoor recreation activities from horseback trail rides, scavenger hunts, hiking, and wall climbing to waterfront canoeing, kayaking, and even camping!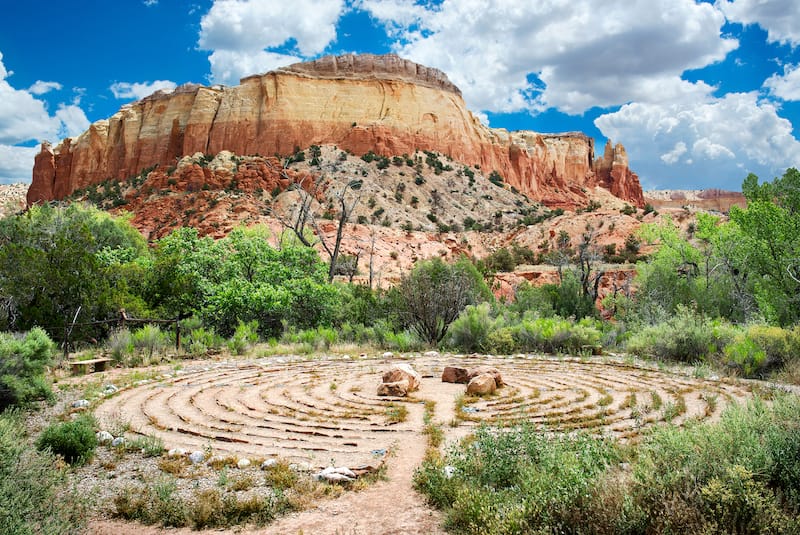 Dig deep into the area's rich history and engage in the museum's anthropological, archeological, and paleontological discoveries to learn more about why dinosaurs called this area home.
Awaken your creative spirit and enhance your skills by taking part in clay, glass, and other art workshops organized at the education center.
Marvel at the works of famous and talented Georgia O'Keeffe and get ready to be taken aback by the thrilling stories of dinosaurs, the ghost of a giant rattlesnake, and cattle rustlers.
Sandia Peak Tramway
If you are planning to visit Albuquerque, then make sure not to miss a ride on the Sandia Peak Tramway for an overload of emotions and a look at nature's most dramatic views.
The Tramway has the world's third-longest single span and can transport passengers about 3 miles from Albuquerque all the way to the Sandia Mountains.
It will have you admiring deep canyons and gorgeous terrain along the way until you reach the observation deck atop the 10,378-foot-high summit of Sandia Peak in the Cibola National Forest.
There, you will be mesmerized by the panoramic views of the Rio Grande Valley and the Land of Enchantment, which is even more magical during sunset hours.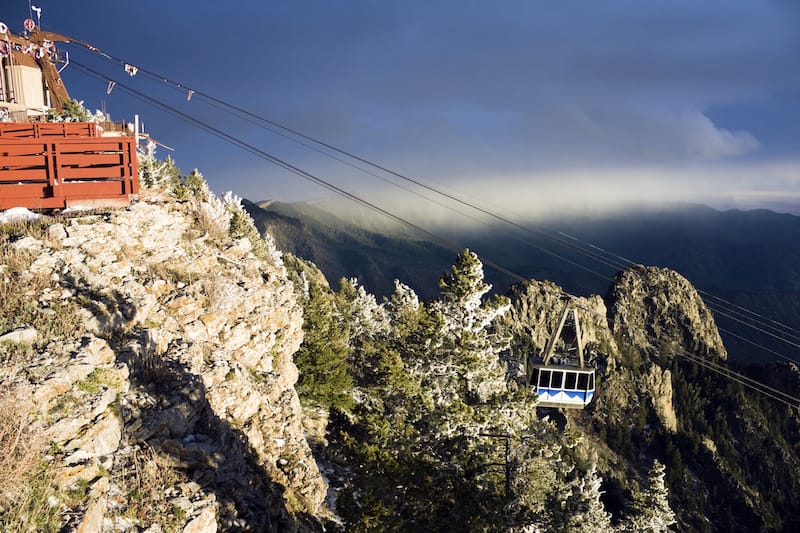 When on top, thrill-seekers can also spice things up by hiking along some of the 100 hiking trails that allow for close-up views of the Cibola National Forest.
You can also find the Ski Area nearby, which is accessible for all age groups and skill levels. Finally, take your dining experience to another level at TEN 3, the dining spot where you can enjoy your meal at 10,300 feet above the city of Albuquerque!
Tent Rocks National Monument
The Kasha-Katuwe Tent Rocks National Monument is where you can discover the power and significance of the natural world.
The National Monument is located 40 miles southwest of Santa Fe on the Pajarito Plateau in north-central New Mexico and is managed by the Bureau of Land Management.
Unique cone-shaped tent rock formations in the foothills of the Jemez Mountains, made out of pumice, ash, and tuff deposits, are the main attractions of the area.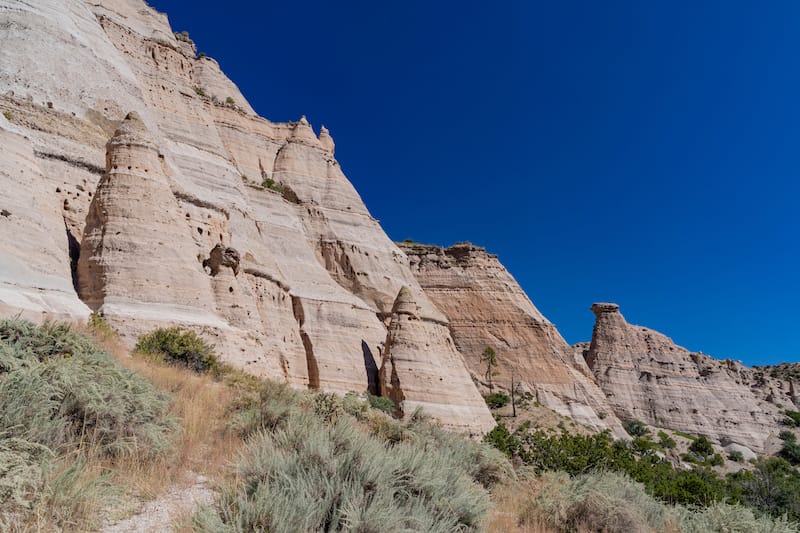 They are the product of volcanic eruptions from 6 to 7 million years ago!
To have a closer look at the site, we recommend getting on the National Recreational Trail that offers two segments, one for hiking and the other for birdwatching, geologic observation, and plant identification.
The 1.2-mile Cave Loop Trail is one of the best hikes near Santa Fe and is a relatively easy and suitable one for all skill levels.
Meanwhile, the 1.5-mile Slot Canyon Trail is much more challenging but the destination's mesmerizing views of Sangre de Cristo, Jemez, the Sandia Mountains, and the Rio Grande Valley render the hike as well-worth the effort.
Camel Rock
Located in the north of Sante Fe, Camel Rock is a strange rock formation that can be seen from US Highway 285. Its unusual shape catches the eye from afar and leaves people feeling curious to get a closer look.
Camel Rock is a well-known iconic structure for the locals and you shouldn't waste any time trying to climb it.
This 40-feet high and 100-feet long formation is composed of pinkish-tan sandstone and is often compared to a humpback camel resting on its legs on New Mexico's Espanola badlands.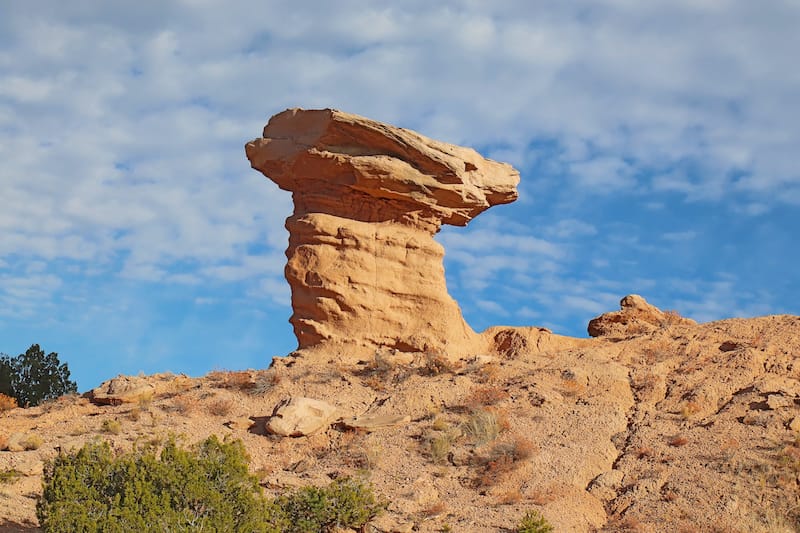 There is a tall fence around the landmark to protect it from invaders. If you want to get a closer look, it has its own parking area and walking path.
In January 2017, a large chunk of the camel's nose fell off, but even with what remains, you can still clearly see the resemblance.
Whitewater Rafting in Santa Fe
Spend a full day in the water riding the waves with Los Rios River Runners, New Mexico's oldest, largest, and most experienced rafting company.
The company has offered whitewater rafting in Santa Fe, Taos, and Albuquerque for about 40 years and continues its mission of developing river rafting in northern New Mexico.
Get your daily dose of adrenaline accompanied by your loved ones while experiencing the beauty of the Rio Grande and Rio Chama with top-trained professionals.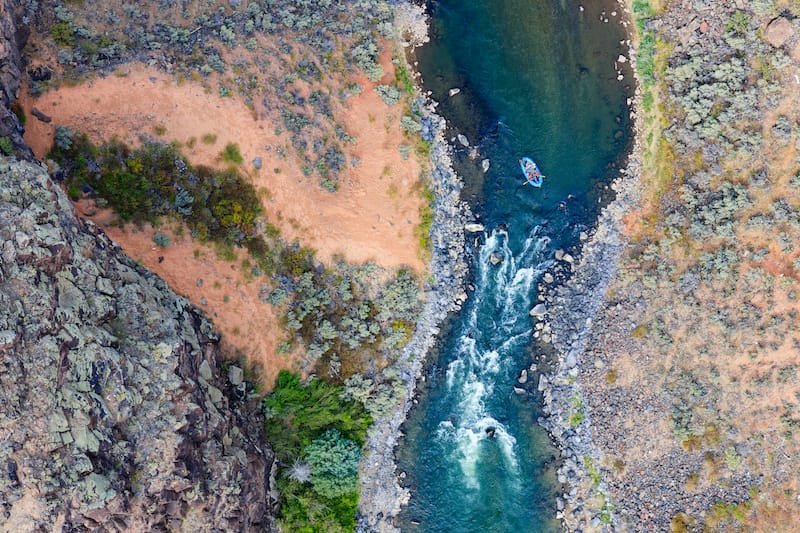 You have plenty of options to choose from, ranging from half-day, full-day, and overnight adventures to sunset dinner or native float trips.
The Bureau of Land Management restricts rafting in some parts of those stunning river canyons in order to preserve the undisturbed wilderness; fortunately, Los Rios River Runners has greater access to those stretches of rivers than any other rafting company.
Adrenaline junkies will love the Taos Box for its thrilling adventures while beginners can start with the Middle Box or the Chama Canyon instead, as they feature class two/three rapids.
Chimayo
After visiting and exploring Sante Fe, make sure to plan a day trip to nearby charming Chimayo.
The village of Chimayó is nestled in the foothills of the Sangre de Cristo Mountains and it takes only a 40-minute drive along The High Road to Taos Scenic Byway to reach it.
Chimayó's must-visit spot is the El Santuario de Chimayó historic church, a National Historic Landmark that serves as a contemporary pilgrimage site.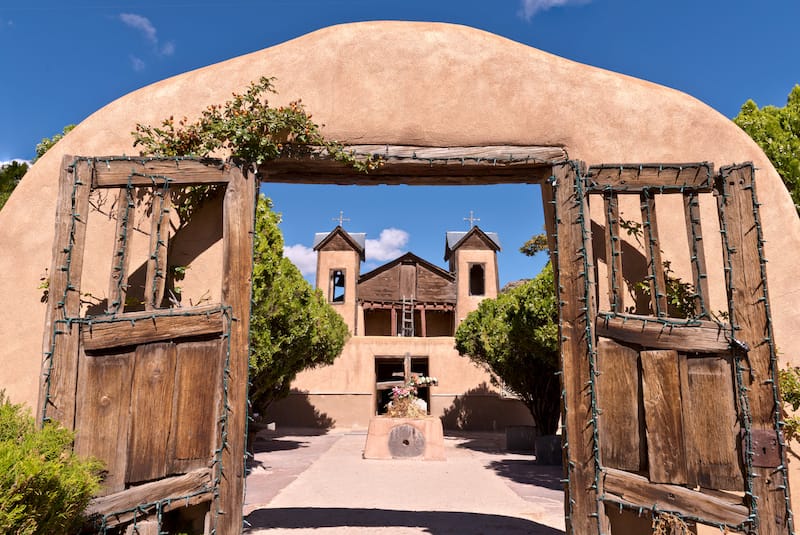 It has even earned the title of being the most important Catholic pilgrimage center in the US. The dirt floor of the side chapel "el pocito" (Holy Dirt) is known for its magical healing powers, which pushes 300,000 annual visitors to make their way to this "Lourdes of the Southwest."
Chimayo is also well-known for its weaving shops featuring the weavings of the Ortega and Trujillo families.
Give the Centinela Traditional Weaving Arts and Ortega's Weaving a visit to witness the works of masters.
Book a stay at Hotel Chimayó de Santa Fe for a real-life themed experience and have lunch like a true local at Rancho de Chimayó.
What are your favorite day trips from Santa Fe? Let us know your top picks for Santa Fe day trips in the comments!
Additional New Mexico Resources
Pin this Santa Fe Day Trips Guide