One of the top places to visit in Colorado (any time of the year!) is Breckenridge. These are the best things to do in Breckenridge in winter… beyond the skiing that the mountain town is known for.
We opted to list Nordic skiing on here despite still technically being 'skiing' simply for the fact that most people associate Breckenridge with downhill skiing.
In addition to the many Breckenridge winter activities, we have highlighted a few things to do before visiting the Colorado ski town!
This truly is the perfect day trip from Colorado Springs or Denver… but the more time you dedicate to it, the better!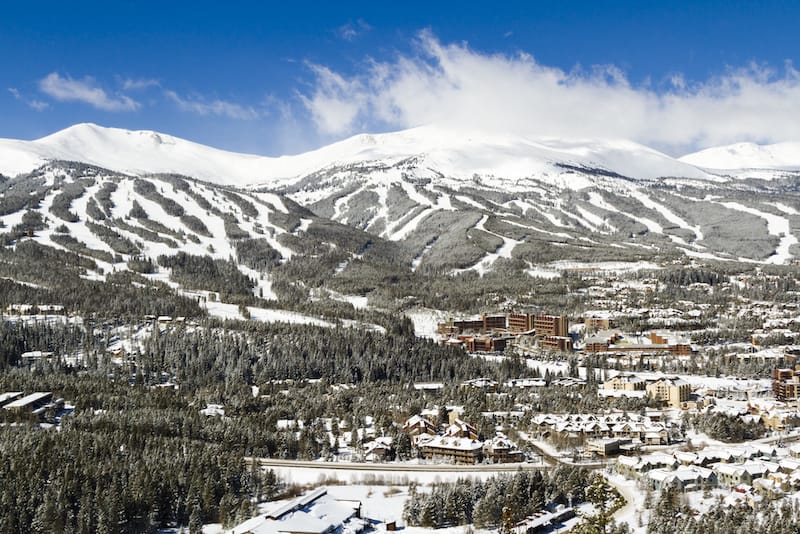 Did we miss any amazing activities during winter in Breckenridge? Please let us know in the comments! Thanks!
Breckenridge Winter Tips + FAQ
Below is a quick guide to some things to know before visiting Breckenridge during the winter!
When is it Winter in Breckenridge?
Snow starts to fall in Breckenridge from October until approximately the end of May but you can find snow during any month depending on the elevations.
Generally, you can visit the Ski Resort of Breckenridge from mid-November until Memorial Day.
While you can find snow in Breckenridge a lot of the year, for the sake of this guide, we are focusing primarily on the months of December, January, and February.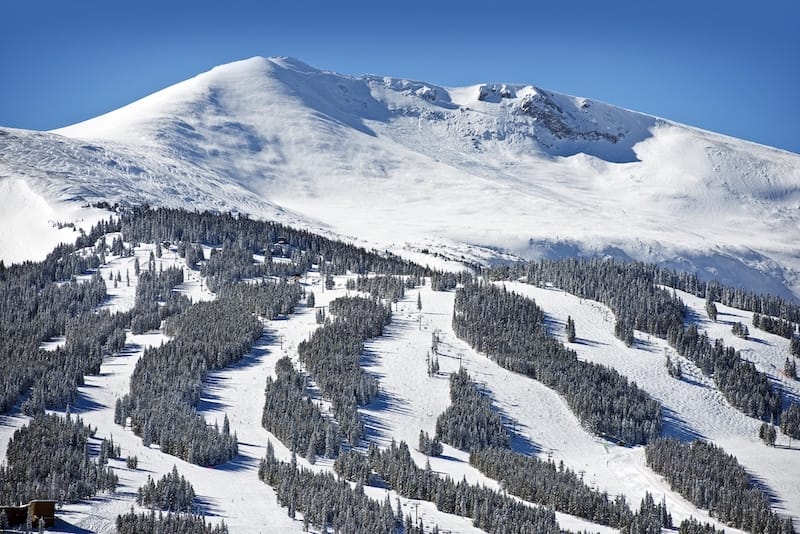 Average Winter Temperatures in Breckenridge
The temperature in Breckenridge during the winter is fairly consistent throughout the winter but can vary during the shoulder season around it despite snow still being prevalent.
These are the average winter temperatures in Breckenridge:
Breckenridge in December: Day time 30° F, night 19° F
Breckenridge in January: Day time 31° F, night 19° F
Breckenridge in February: Day time 31° F, night 19° F
Can you Hike in Breckenridge during Winter?
Hiking in Breckenridge in winter is possible if you prepare accordingly. This snow-covered wonderland will offer you hundreds of miles of hiking trails that pass by beautiful sites.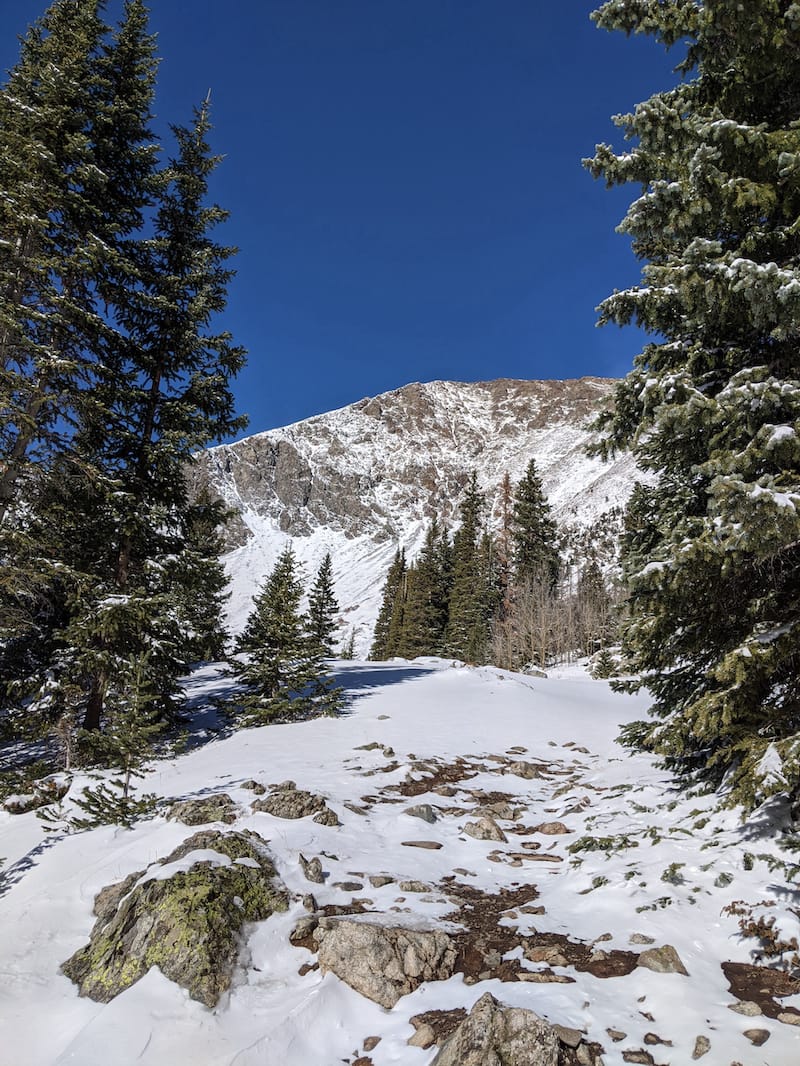 Some of these sites include the Gold Hill that will take you to observe the Ten Mile Range (the mountain range where Breckenridge is located) or a six-mile roundtrip hike on the Pennsylvania Creek Trail, which is also a dog-friendly hike.
How to Get to Breckenridge from Denver
Breckenridge is located approximately one and half hours away from Denver and to get there, you need to drive from the Denver city center along I-70W until you reach the mountain town.
It is an easy place to visit if you have a long weekend in Denver, to be honest!
If you have opted not to rent a car in Colorado, do consider taking a private transfer from Denver to Breckenridge. It will make things a lot easier (and you don't have to drive during winter in Colorado)!
Things to Do in Breckenridge in Winter
1. Snowshoeing in Breckenridge
Explore Colorado's heart of winter recreation, Breckenridge, on a snowshoeing excursion!
Choose among self-guided or guided Breckenridge snowshoeing adventures and set off. Below are a selection of some popular trails.
The closest snowshoe path to downtown is the South Illinois Creek Trail which promises stunning vistas over the mountains. The most interesting trail and one that is full of history is the Iowa Hill Mine Trail.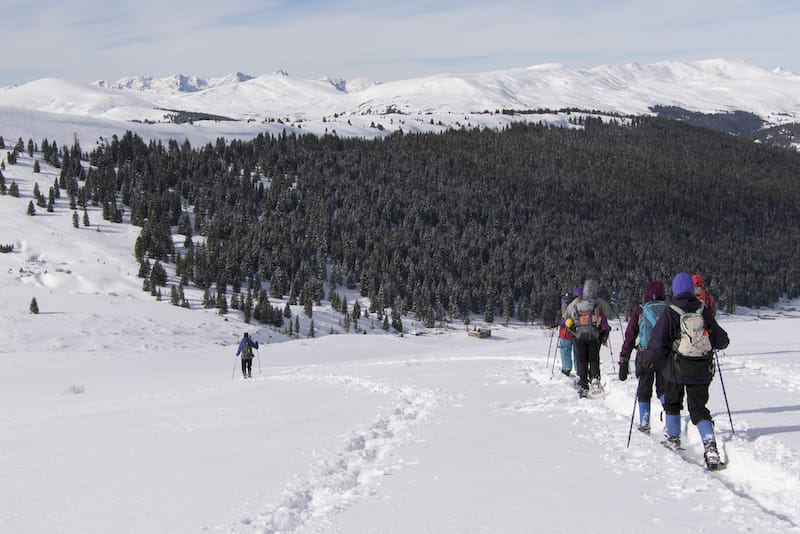 If you want a simple path with breathtaking views, then the Boreas Pass is just for you. Another great option with minimal elevation gain is Burro Trail, a perfect choice for family trips and children.
Check out the French Gulch trails, the Breckenridge Nordic Center, and the Gold Run Nordic Center. They offer groomed trails, rentals, and guided tours where you can snowshoe or cross-country ski.
2. Go Sledding or Tubing
Among some of the most beloved winter activities in Breckenridge are sledding and tubing. Grab your saucer, toboggan, or any other type of glider, and check out the following spots.
Runway Sledding Hill on Fraction Drive is located along the Breckenridge Free Ride bus loop. This man-made hill is regularly groomed and boasts free parking, nearby restaurants, and a free bus tour to the town.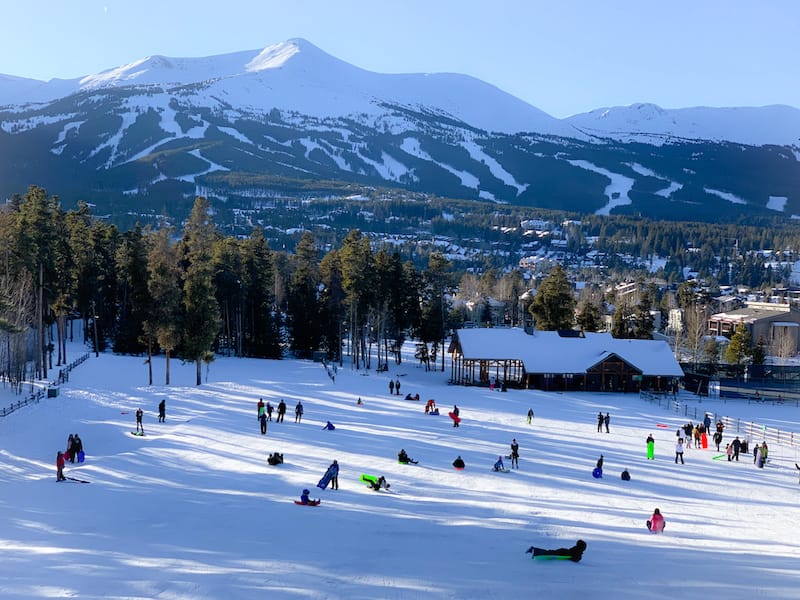 Another great option is the Carter Park sledding hill, providing mellow walk-ups and slide-downs. The hill is wide and often overcrowded so be sure to get there early.
For tubing adventures close to Breckenridge, visit Frisco Adventure Park, where you'll find three lanes of different levels of difficulty, Copper Mountain Tubing Hill and Adventure Point at Keystone Resort.
3. Enjoy a Wine Tasting at the Continental Divide Winery
The Continental Divide Winery is a premium spot producing its wines at an elevation of 10,361ft. It is known for being the highest-altitude winery in the United States. And… the WORLD.
Visit the winery's tasting rooms, where you can enjoy California and Colorado wines as well as take part in entertaining and educating wine programs.
Colorado varieties include Merlot, Malbec, Albarino, and Riesling. Visitors also have a unique chance of a wine blending experience, where they can craft their own wine blend with authentic vintner equipment. Click here to learn more.
Address: 505 S. Main Street, Breckenridge, CO 80424
4. Ice Fishing near Breckenridge
Take a break from bustling ski resorts and head out on an ice fishing tour near Breckenridge. This winter adventure is great for every experience level and age.
You can fish at 9000 feet on Lake Dillon, a mountain lake that contains brown trout, rainbow trout, kokanee salmon, Arctic char, and smallmouth bass.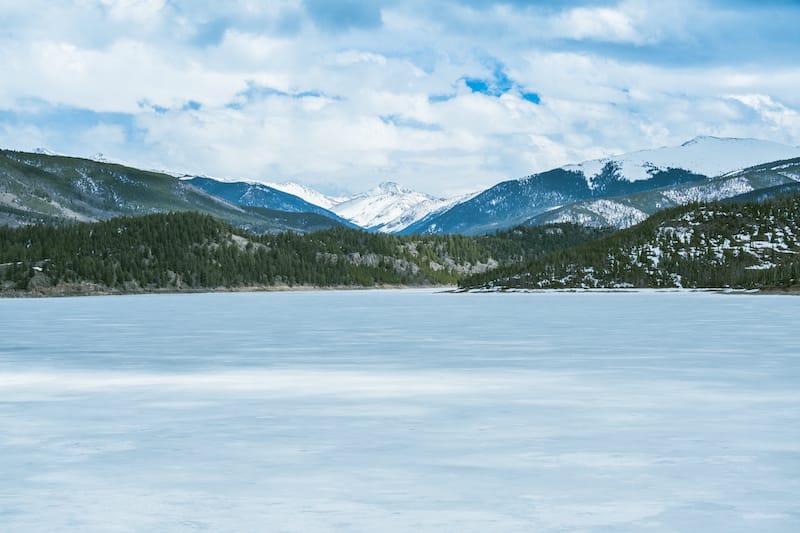 Reserve a warming hut with gear, tackle, bait, and heaters, and take a guided tour that offers various access points. Many local companies are at your disposal!
Big Ed's Fishing Ventures or Alpine Fishing Adventures organize fishing trips for families with young children, groups, and people with special needs providing the necessary fishing gear and a heated shelter.
The only thing you'll need to have with you is a one-day fishing license, which you can obtain from Walmart, City Market, or online.
5. Stroll the Breckenridge Arts District
The Breckenridge Arts District is the cultural heart of the downtown hosting studios, galleries, performance spaces, historic sites, public art, and several restaurants.
You will also find numerous cultural events, including ceramics, drawing, printmaking, metalsmithing, textiles, painting, and musical performances.
Get your hands dirty and take part in various workshops when you're there! It is a great thing to do when taking a break from the slopes! Below are some interactive and hands-on experiences to enjoy:
Stop at BreckCreate to try your skills at ceramics, candle-making, woodworking, painting, and more. The Arts District offers an open-house walk every second Saturday of the month.
Start from the Old Masonic Hall for Exhibitions, then visit the Quandary Antiques Cabin for Kids' Crafts.
Also don't miss the chance to check out the Ceramic Studio and Randall Barn for Co-op Artists. Visitors of all ages are welcome and the galleries remain open until 8pm.
6. Visit the Breckenridge Distillery
The Breckenridge Distillery is known as the World's Highest Distillery, producing top-quality blended bourbon whiskey, Breckenridge Bourbon, and a few other select spirits.
The distillery boasts a tasting room and a restaurant. It provides tours taking visitors to the very heart of the company – right where the magic happens!
Throughout your visit, you will have a chance to taste a vast array of vodkas, gins, and bourbons. Tours are available seven days a week from 11am through 6pm.
In addition, the distillery offers after-hours VIP tours, which will allow you to see what goes on behind closed doors! You can explore the production processes as well as the history of the distillery in detail.
Sometimes, you will even have a chance to taste a product that has not made it to market yet! Visiting this distillery is definitely one of the best things to do in Breckenridge in winter.
Address: 137 S. Main Street, Breckenridge, CO 80424
7. Cross-country Skiing in Breckenridge
Previously cross-country skiing was a means of transportation and today, Nordic skiing, or XC skiing, has become one of the most popular Breckenridge winter activities!
You can start your trip at one of the two Nordic ski centers, take a guided tour, or explore the trails independently. The most famous place for cross-country skiing in the town is the Gold Run Nordic Center.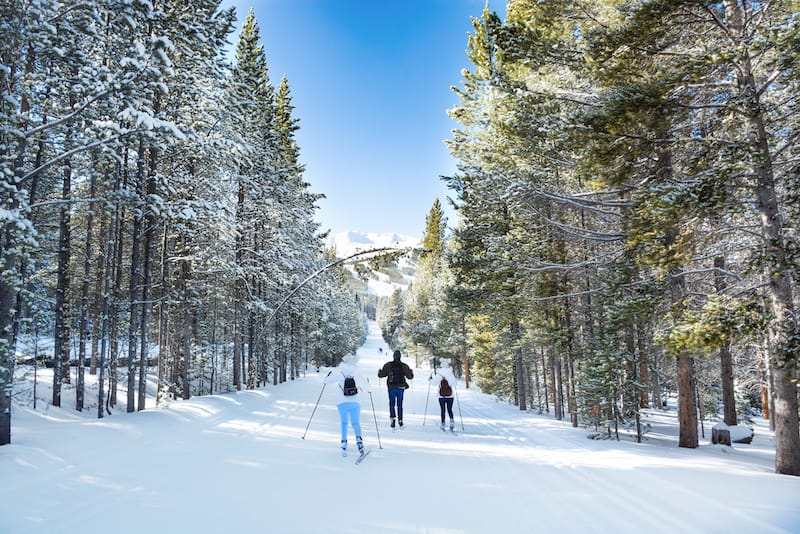 It provides 16.7 miles of groomed ski trails for beginners and experienced visitors. The center also organizes lessons for newbies!
Another great cross-country skiing center in Breckenridge is the Nordic Center, which is located at the base of the Ten Mile Range and has more than 25 miles of perfect classic trails complete with the potential to see some wildlife along the way.
The Nordic Center offers equipment rentals, lessons, and a snack bar. Be sure to get acquainted with Winter Trail Use Guidelines and Leave No Trace instructions before you set off!
8. Drink Craft Beer in Breckenridge
The small Colorado town is a haven for craft beer and enthusiasts will find visiting them one of the best things to do in winter in Breckenridge!
The largest craft brewery in Breckenridge is the Breckenridge Brewery, dating back to 1990. This craft beer brewery is also the 5th largest in Colorado, producing 70,000 barrels of beer annually.
Visit Breck Brew Pub, located in the heart of the town and enjoy some of their beers. Another great option is Broken Compass Brewing, with various flavorful brews and acoustic events organized every weekend.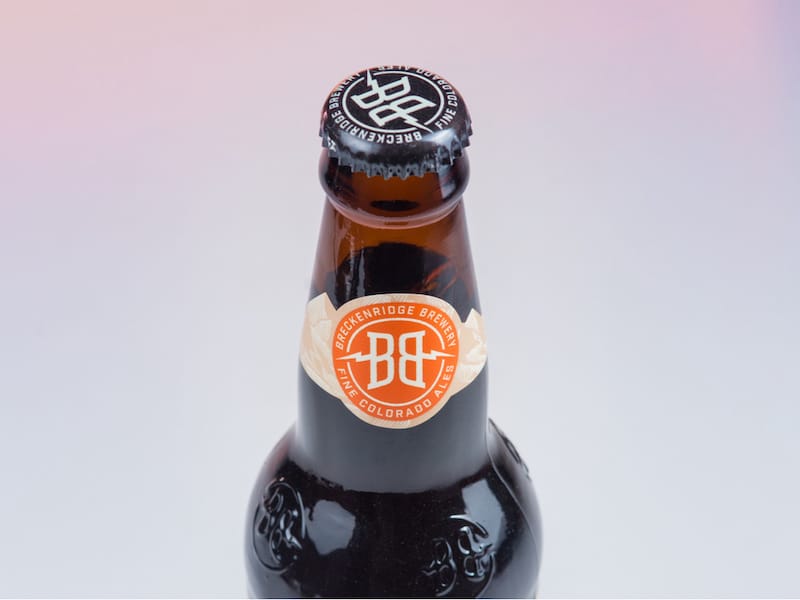 You can dine in a cozy atmosphere and try an array of beers at CB and Potts. If you want to try some Mexican food and choose among 37 beers on tap, check out the Breckenridge Tap House.
Other spots include Ollie's Pub and Grub, Après Handcrafted Libations, and Kenosha. And, even better, you can attend the Big Beers Festival organized annually in Breckenridge in January!
9. Go Dog Sledding in Breckenridge
Enjoy the most family-friendly (and cutest!) adventure in the area, dog sledding in Breckenridge. Enjoy a ride through a snowy spruce forest on the sleds pulled by hard-working huskies.
Good Times offers you a 6-mile, hour-long husky safari along the winding trails of the Swan River Valley.
Before starting, the guides will explain how to run the sled (mushing) and how to work with the dogs. Layer your clothing and protect your hands and eyes for safety purposes.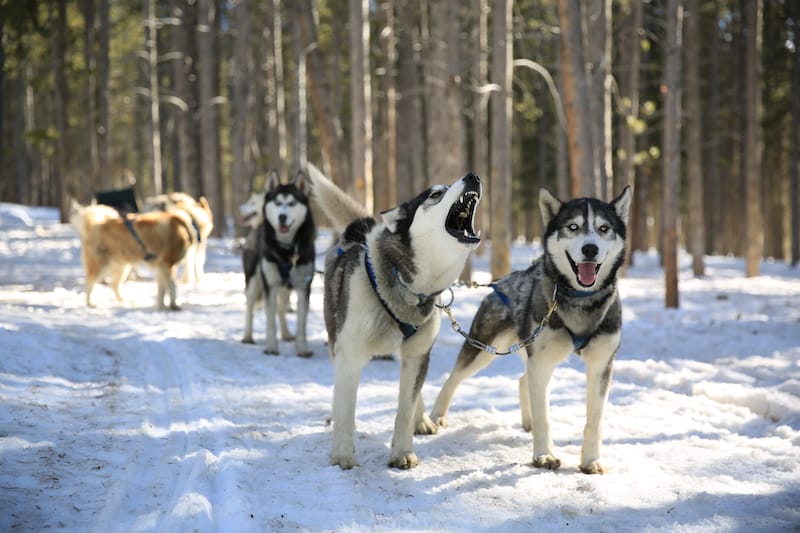 We highly recommend winter boots, goggles or sunglasses, gloves, and neck warmers (you can see some of our winter clothing recommendations at the bottom of this post).
Also, don't forget to make reservations during peak vacation periods. You can come a bit earlier to have some cuddles and wet kisses. Children under four and pregnant women aren't allowed on the sledding tours. Click here for more.
Address: 6061 Tiger Road, Breckenridge, CO 80424
10. Take a Scenic Snowcat Tour
Another great way to explore the scenic trails of Breckenridge in winter is to take a snowcat tour.
The Breckenridge Nordic Center provides guided tours through the forests from heated, all-glass cabins, offering the best views of woodlands, wildlife, and mountains.
The guides will explain and detail the historical and ecological background of the area. You'll stop at a historic cabin and have some hot chocolate when there.
This Breckenridge winter tour is suitable for families with young children and those who want to sit back and enjoy the vistas of the Breckenridge trail system. Dress in layers and wear snow boots and don't forget to make your reservations beforehand.
>> Click here to learn more about booking a snowcat tour
11. Go to the Snow Sculpture Competition
When it seems to you that you've tried every possible winter adventure in town, Breckenridge still has something interesting and obscure to do! Head to Breckenridge's International Snow Sculpture Championship which takes place toward the end of every January.
Every year, 16 teams of sculptors from different corners of the world arrive in the town to turn 20-ton blocks of snow into enormous works of art.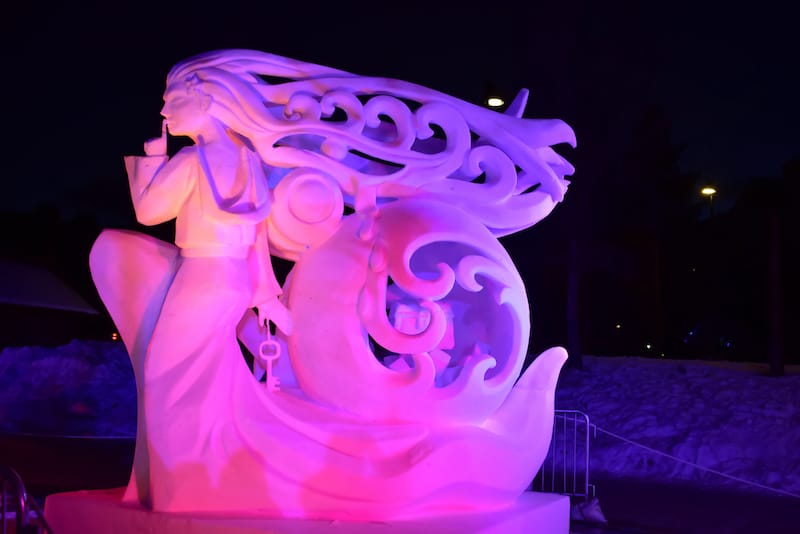 Artists are allowed to use only hand tools to bring their ideas to shapes. After five days, you can enjoy an open-air gallery with these amazing sculptures.
These snow-carved figures typically remain on display for a week. You can support your favorite participants with the People's Choice Vote or explore the process of snow sculpting. Click here to learn more.
12. Take a Ghostly Tales Tour
Are you tired of traditional walking tours? Join the Ghostly Tales tour and have a haunted trip in Breckenridge! Explore the darker side of the town's history by visiting haunted buildings and listening to scary stories provided by local guides.
This interactive tour offers its visitors real ghost hunting with available tools and equipment. Every spot of the area has its unique tale, covering many narrations throughout the tour.
You'll visit the Dredge, Olive Fusion, Après Handcrafted Libations, and the historic Brown Hotel. This isn't merely a ghost tour, but it also elucidates the historical past of the mining town.
>> Click here to book the Ghostly Tales Tour
13. Take a Gold Mine Tour
Breckenridge, along with its various amusements and attractions, boasts a rich mining history, and visitors have a chance to walk through its mining past when taking a Gold Mine Tour.
The Colorado ski town offers various mining tours, the most famous of which is the Real Gold Mine Tour with Country Boy Mine. It provides trips to the only real open mine in the area.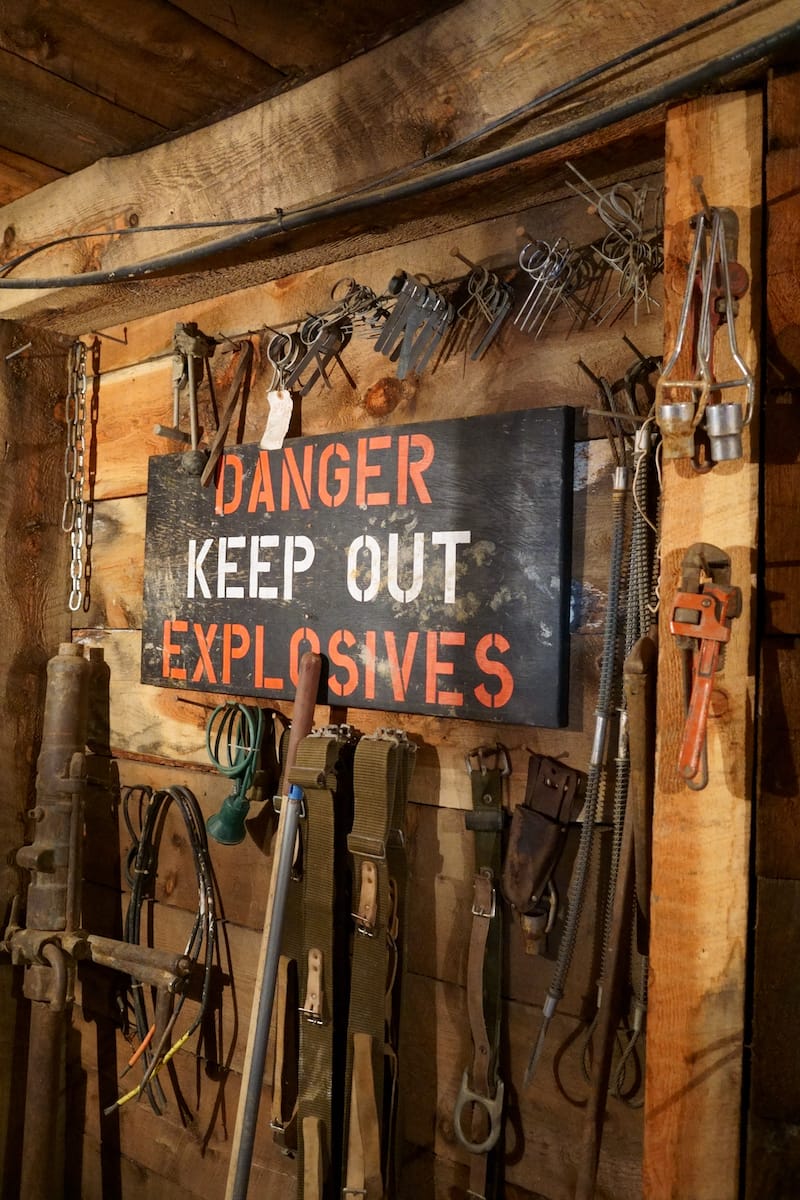 You'll go 1000 feet underground, try your luck with a little gold panning, slide the ore chute, and walk around the historic site. Youngsters will also have a chance to feed and pet the burros!
This is a fantastic thing to do when taking a break from skiing in Breckenridge!
>> Click here to book a Gold Mine Tour in Breckenridge
14. Head to a Local Museum
Breckenridge is a town with deep historical roots and great heritage and when you're taking a break from skiing, you can explore some of it at the museums in Breckenridge.
To start, visit the Breckenridge Welcome Center. It provides a historical overview covering everything from gold mining to the town's skiing industry.
Next, get acquainted with the life of Barney Ford at Barney Ford House Museum, where you will learn about a former slave who later became the most prominent businessman of the time.
At the Edwin Carter Discovery Center, you'll learn about Carter's collection of almost 3,300 specimens.
You can take a self-guided tour at the Breckenridge Sawmill Museum and explore the old timber-cutting equipment before visiting the Red, White & Blue Fire Museum and the High Line Railroad Museum & Park.
15. Join a Fat Biking and Distillery Tour
Biking in Breckenridge never stops, even in winter! Fat-tire biking is one of the coolest winter activities in Colorado and it is famous regardless of whether you're visiting Vail, Steamboat Springs, or Breck in winter!
The three-hour trip allows you to explore the area by means of a fat bike before reflecting on the day at the Broken Compass Craft Brewery and Breckenridge Distillery.
>> Click here to see rates and availability for this tour
16. Peruse Historic Downtown Breckenridge
Today, this former mining town has been revived as a popular resort and entertains visitors with its world-class skiing and other winter activities. And one place not to miss is downtown Breckenridge.
You'll find commercial, religious, and residential buildings as well as some gorgeous Victorian buildings. Encompassing forty-five full blocks, the downtown showcases three main phases of the area's development, including the settlement, camp, and town.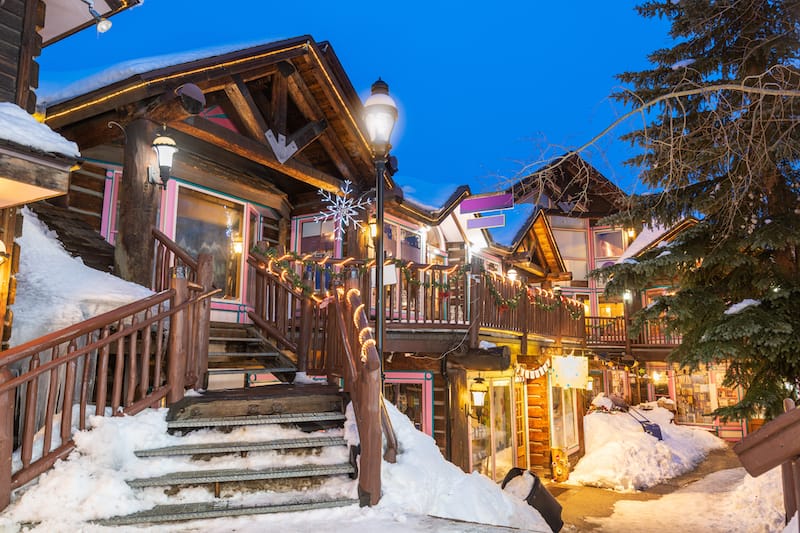 You can enjoy and feel its historical atmosphere and story by strolling the main street, visiting antique shops, or dining at some of the best restaurants in Breckenridge.
For a cultural experience, stop at the Arts District, the gem of the downtown (we detailed above). In addition, participate in various historic tours organized in the town, and don't forget to check out some of the museums!
What to Wear
To fully enjoy winter in Breckenridge, you will need to dress appropriately. The temperatures hover around freezing during the day and dip well below at night, and thick heavy-duty winter clothing is a necessity.
Other than dressing in layers, there are a few essential clothing items that you will need to bring with you to this Colorado mountain town. Below are three of the most essential clothing items to pack, from my experience.
Winter Parka
One of the most important things to wear is a high-quality parka jacket. A decent parka will last a lifetime, and it is worth investing in a top-quality jacket from a brand that specializes in making clothes for colder climates.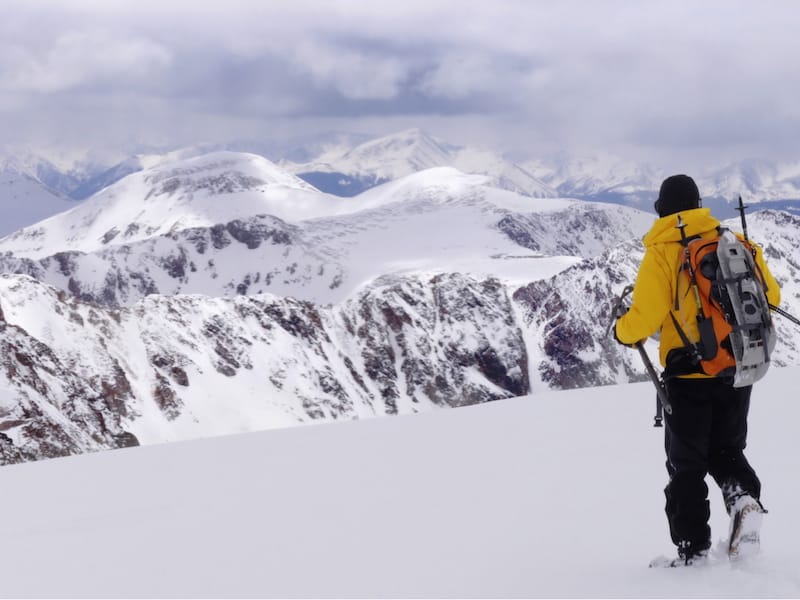 I have an amazing parka jacket from the Norwegian company Helly Hansen, which specializes in making coats for the Arctic. I own the Helly Hansen Svalbard Parka, which has kept me comfortable and warm during several trips to the Arctic.
Sorel Snow Boots
After a decent parka jacket, the next most crucial clothing item is a pair of snow boots. There is nothing worse than getting cold feet, as once the cold gets into your boots, there is no warming them back up until you get out of the snow.
Sorel makes some of the best snow boots going, and I have trusted their boots to keep my feet warm for years. The boots are specifically designed for the Arctic and include thick warm woolen insoles and removable lining that will keep your feet warm in the coldest of temperatures.
While I have owned several pairs over the years, these are my favorite ones.
The boots are great on their own but I do recommend purchasing a size larger than you normally would, so you can also wear a pair of thick woolen socks for extra warmth.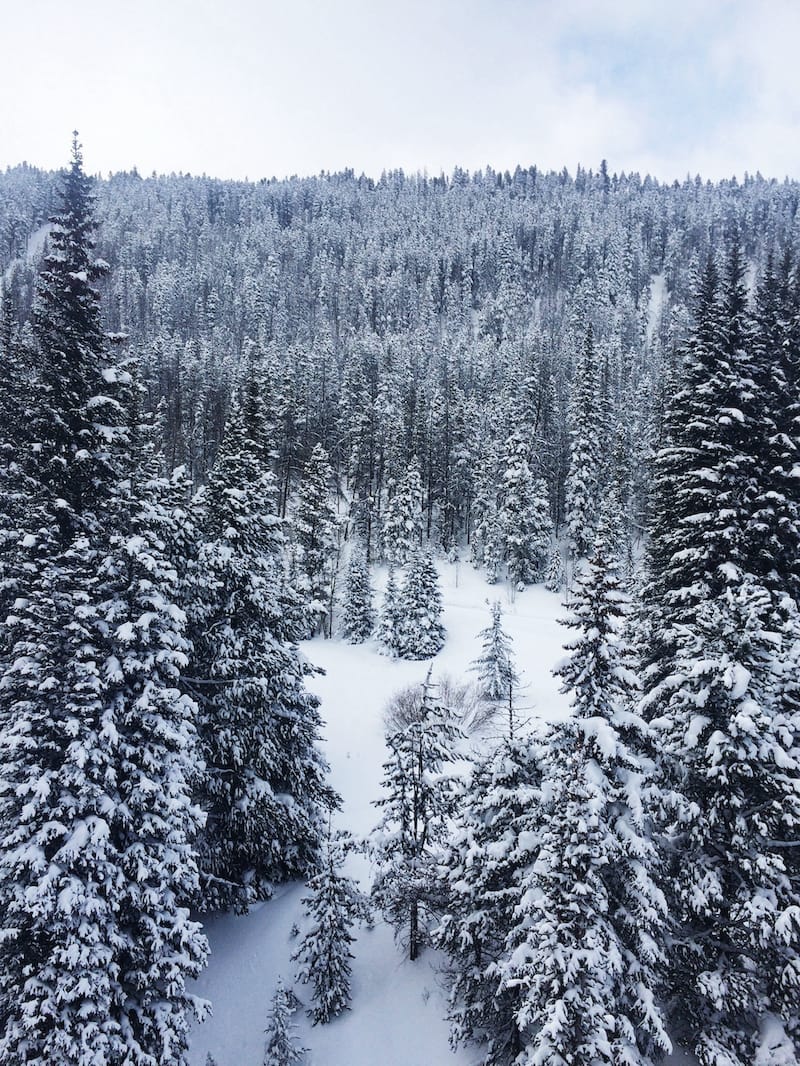 Crampons
If you are anything like me, you will need all the extra grip you can get on the icy pathways of Breckenridge (especially if you're hiking in winter). Crampons conveniently clip onto the bottom of your boots and help keep you upright as you walk around.
One of the best benefits of crampons is protecting your back from severe pain caused by constantly trying to keep you upright on the ice. I have used several brands over the years but have now settled for a pair of Yaktraks, which have recently saved me from many falls.
Accessories
Additionally, I highly recommend bringing a good pair of mittens with you, as they are far more effective at keeping your hands warmer than regular gloves.
Don't forget thermal underwear and hats. I tend to purchase hats from some of my favorite Scandinavian designers, as they are always stylish and practical.
What to Pack (Gear & Miscellaneous)
While packing the correct clothing is often a challenge, there are also several non-clothing items that I personally don't leave the house without, especially if I travel to colder climates.
Powerbank
In cooler temperatures, smartphones have to use up more power to keep their internal temperatures at the optimum level. This additional workload means they often run out of battery quickly when it's cold.
Bringing a power bank on your trip is the perfect way to ensure you don't find yourself with a dead phone while you're out exploring Breckenridge.
I recommend purchasing a power bank with at least 25,000 mah as you will be able to charge your phone multiple times throughout the day. Click here to buy my recommended power bank on Amazon.
Spare Camera Batteries
If like me, you are a keen photographer, I suggest taking spare batteries for your camera. The cold weather impacts camera batteries far more than is often considered.
I have found that while my camera's battery lasts for days on end in warm destinations, the battery can deplete within hours in cold settings. Along with spare batteries, I also bring along a USB battery charger, which can be plugged into a power bank.
Dry Bags
The weather in Breckenridge can often turn quickly, and you will want to make sure your equipment stays dry and safe. This is also important when you're around snow!
I always use dry bags when I travel; they are brilliant at keeping things dry and safe while looking stylish. I use these bags from The Friendly Swede.
Where to Stay in Breckenridge
There are many places to stay in Breckenridge and these lodging options can accommodation a variety of budgets. While many visit Breckenridge as a day trip from Denver or elsewhere, you can easily make a weekend of it!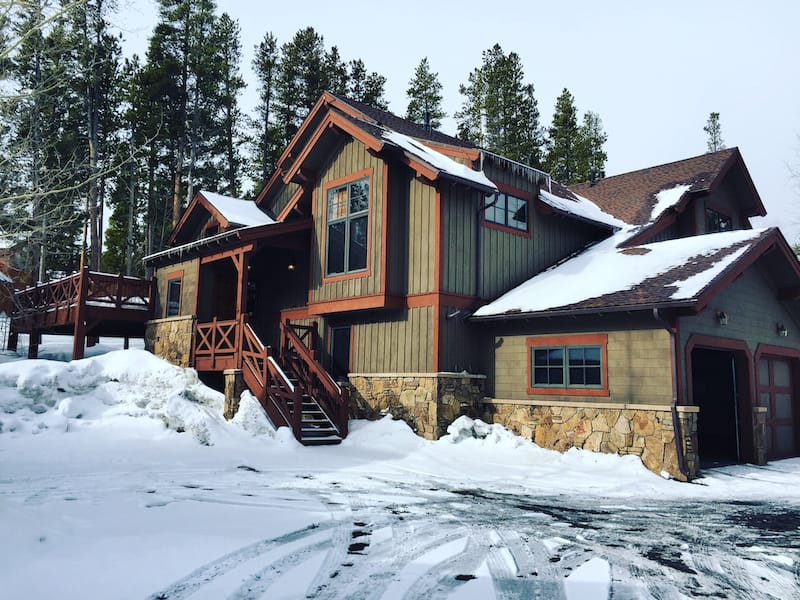 Here are a few of our top picks for places to stay in Breckenridge:
Did we miss any amazing things to do in Breckenridge in winter? Let us know your top tips, attractions, and more in the comments! Thanks!
More Colorado Travel Guides
Pin this Winter in Breckenridge Guide