Are you looking for the best things to do in Orlando, Florida? This guide offers an extensive list for a first-time visitor to the Central Florida city!
Are you planning your trip to Orlando last minute?
If youʻre booking your trip to Orlando last minute, we have you covered. Below are some of the top tours, hotels, and more!
🌴 Top Experiences and Tours in Orlando:
🛌 Top Hotels in Orlando:
🚗 Looking for the best way to get around Orlando? Click here to check rental car rates for Florida!
From Disney (I mean, how can we discuss Orlando and leave off what made it so famous in the first place?!) to the Leu Gardens and beyond, these are the top attractions in Orlando!
We also cover the top day trips and other Orlando landmarks worth visiting on your trip. Seriously, you can spend a month in the city and still find stuff to do!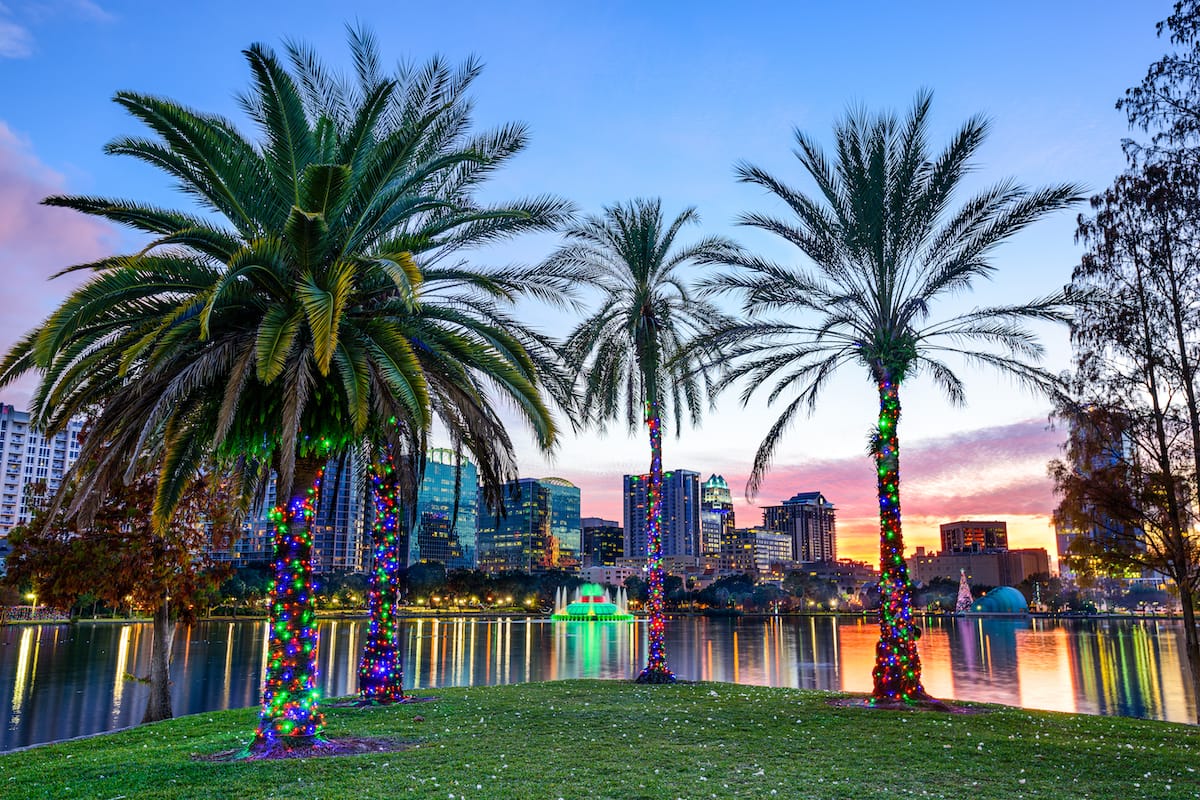 Did we miss any of your favorite places to visit in Orlando? Let us know what to do in Orlando in the comments if you have some tips!
Best Things to Do in Orlando
1. Explore the NASA Kennedy Space Center
For space enthusiasts, the NASA Kennedy Space Center in Orlando can be a real wonder, with NASA's human spaceflight program and a center for space exploration. This is, without a doubt, my favorite Orlando day trip!
As a guest, you will take a guided walking tour exploring the installations and exhibitions and even see an astronaut!
One of the top attractions at the Kennedy Space Center is the Space Shuttle Atlantis exhibit.
You will see the actual Atlantis spacecraft up close and even experience what it feels like to be an astronaut on a space mission.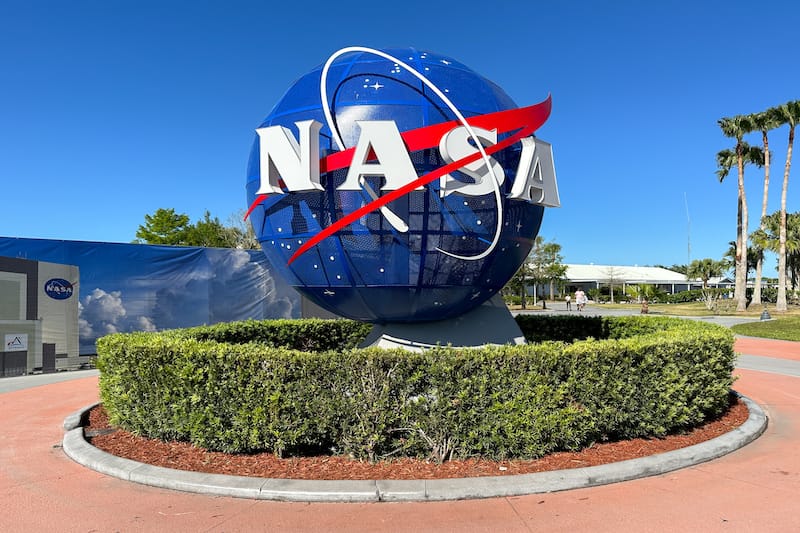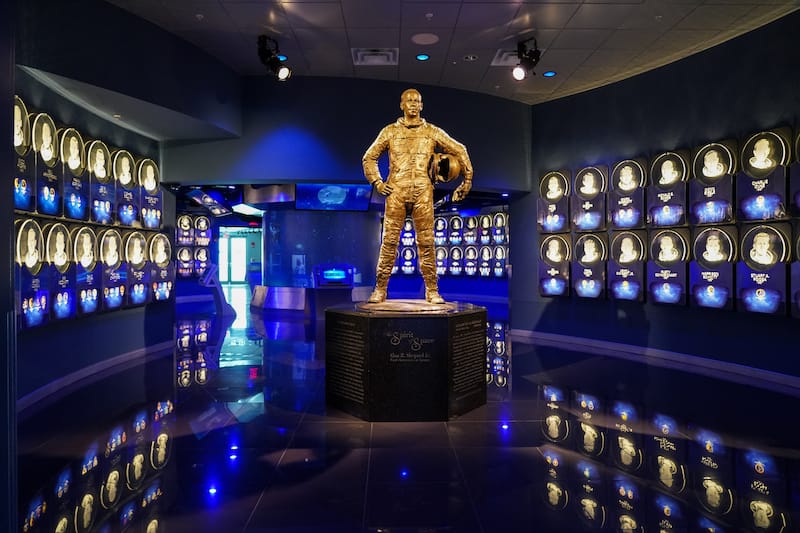 The interactive displays and artifacts showcase the history of the space shuttle program, as well as the challenges and triumphs of space exploration.
You will also walk the U.S. Astronaut Hall of Fame with Nasa's space pioneers at Heroes & Legends, explore the Rocket Garden with historic rockets from the earliest days of spaceflight to the present, and take a bus to the Apollo/Saturn V center to stand under the legendary Saturn V.
If you're visiting from Orlando, you can drive yourself there and purchase a ticket beforehand to ensure availability (and so you don't have to wait in line!).
If you have no car with you, you can also book an organized day trip with transportation which will be more expensive.
>> Click here to purchase a ticket to the Kennedy Space Center
2. Take a Breath of Fresh Air at the Beautiful Leu Gardens
One of the best ways to escape the hustle and bustle of Orlando's theme parks and attractions is by visiting the Harry P. Leu Gardens.
This 50-acre botanical oasis just minutes from downtown Orlando presents an extensive collection of plants and flowers from around the world.
The gardens are home to 15 themed gardens, including a Butterfly Garden, a Herb Garden, a Tropical Stream Garden, Floral Clock, Citrus Grove, etc.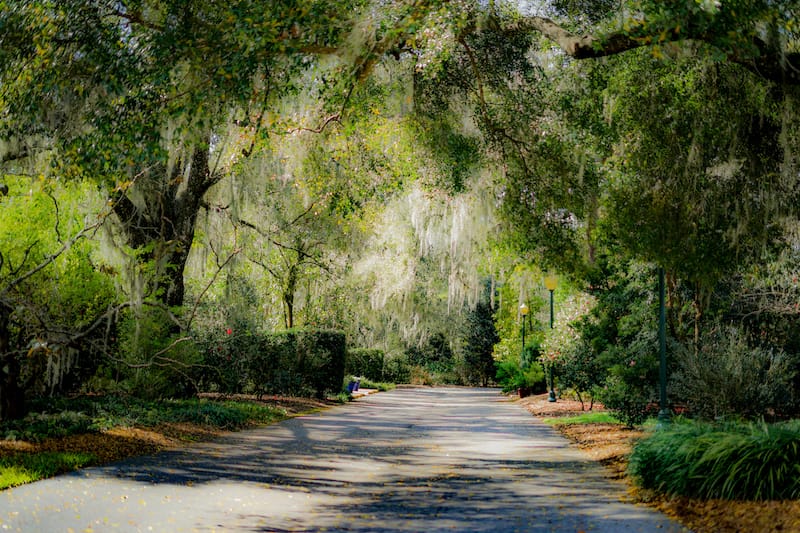 These gardens showcase different aspects of gardening and horticulture and provide a wealth of information and inspiration for visitors interested in growing their own plants and vegetables.
One of the highlights of a visit to the Leu Gardens is the opportunity to see the historic Leu House Museum with its original furnishings from the 19th century.
Harry P. Leu Gardens is wheelchair and handicap accessible. There are also complimentary wheelchairs available in the Garden House Welcome Center.
3. Cool Off By Swimming at Kelly Park/Rock Springs
A great way to beat the heat and cool off in Orlando is at Kelly Park/Rock Springs, just a short drive from the city center.
The first thing and main attraction of Kelly Park/Rock Springs you will see is the crystal-clear spring water, which stays at a refreshing 68 degrees Fahrenheit year-round.
The funniest activity is tubing down the spring. The flow is medium, making tubing absolutely safe for everyone.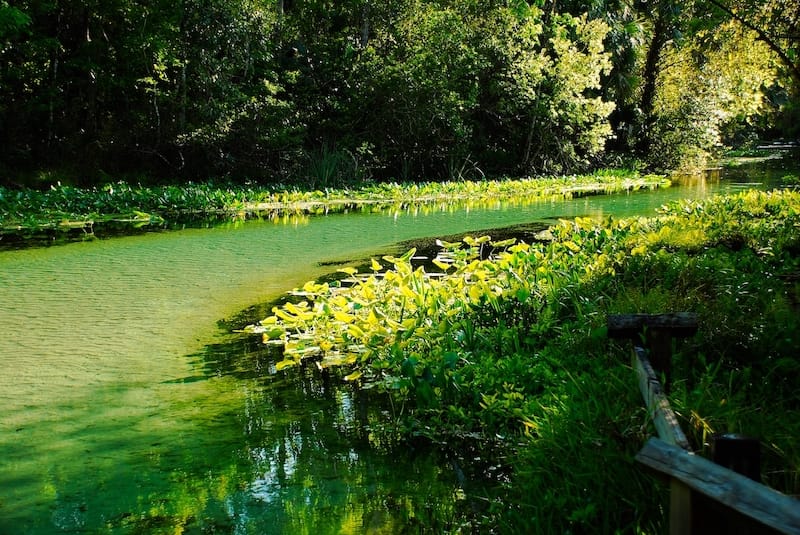 At the same time, you will enjoy the lush vegetation and wildlife along the way. It will take about 30 minutes to get from one end to the other.
Swimming is also allowed in designated areas, so you can take a dip and cool off from the Florida heat.
During the summer, the park is open until 8 p.m.; in the winter, it is open until 6 p.m. Arrive before 9 a.m. or as early as possible to enjoy the territory on your own.
If the park reaches capacity, the gates are closed, and no guests are allowed to enter. Finally, if you plan to visit Kelly Park for tubing, rent tubes either from a rental office down the road or bring one.
Address: 400 E Kelly Park Rd, Apopka, FL 32712
4. Ride the Giant Ferris Wheel at ICON Park
ICON Park is a one-stop destination for entertainment, dining, and shopping in Orlando.
While its iconic Giant Ferris Wheel is the main attraction, you will also experience thrilling rides and other attractions.
For a bird's-eye view of Orlando, there's no better thing to do than ride the Ferris Wheel. This towering structure stands 400 feet tall and offers breathtaking views of the city and its surroundings.
The 18-minute ride takes you on a slow rotation above the city, opening panoramic views of Orlando's skyline. From the wheel's highest point, you can see as far as the Kennedy Space Center.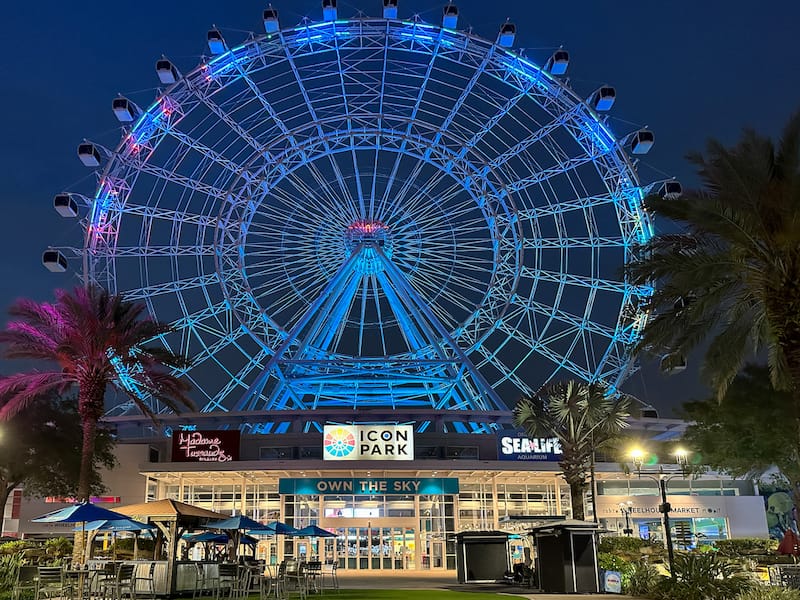 Every capsule has an air conditioner, so you will feel comfortable even on the hottest day.
In addition to the giant Ferris wheel, there are plenty of other things to see and do at ICON Park. The complex features over 40 restaurants, bars, and shops to spend the rest of the day.
You can also check out the SEA LIFE Orlando Aquarium, with a 360-degree ocean tunnel where you can watch sharks, sea turtles, and jellyfish.
Address: 8375 International Dr, Orlando, FL 32819
5. Discover Movie Magic and Rides at Universal Orlando Resort
If you're a fan of movies and theme parks, then Universal Orlando Resort will be the most exciting experience of your trip.
This famous theme park complex is home to some of the world's most thrilling rides and immersive movie-themed attractions.
One of the main draws of Universal Orlando Resort is its selection of world-renowned rides, especially at the Islands of Adventure Park!
The Harry Potter and the Escape from Gringotts ride will take you on an adventure through the world of Harry Potter, complete with animatronic characters and special effects.
The Hollywood Rip Ride Rockit roller coaster takes you on a high-speed ride at a 90-degree angle through twists and turns.
Also, don't miss out on the Jurassic World VelociCoaster, a newly opened ride that takes you on a journey through the world of Jurassic Park with heart-pumping drops and high-speed turns.
Universal Orlando Resort isn't just about rides.
The complex also features 136 dining spots—restaurants, cafes, and bars—for any taste, 79 shopping spots, and immersive movie-themed attractions.
Address: 6000 Universal Blvd, Orlando, FL 32819
6. Grab a Drink at Hanson's Shoe Repair, a Speakeasy-style Bar
Hanson's Shoe Repair is a historical place occupying a no less historical building.
The 19th-century building at 27 E. Pine Street was the first to have an electric sign. Today, behind this sign, you will discover a totally different world, a world of cocktails and music.
This password-protected speakeasy-style bar has a mysterious and exclusive vibe with low-hanging ceilings, brick walls, vintage decor, and dim light.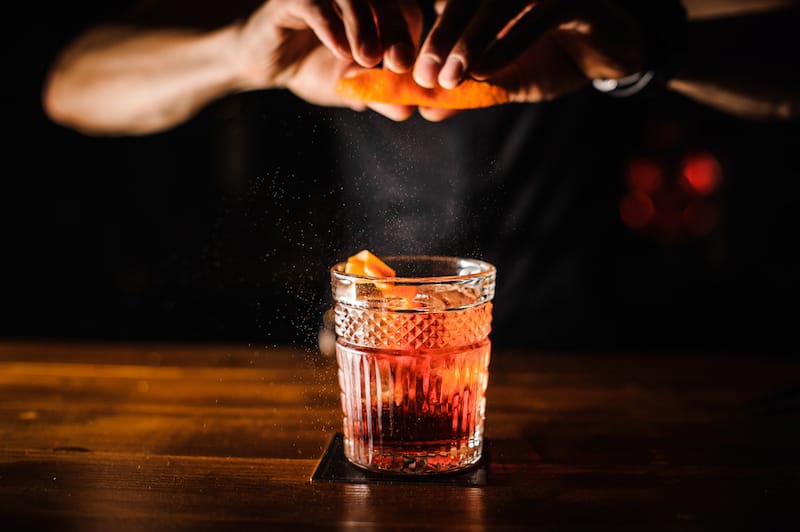 To enter the bar, you'll need to locate the nondescript entrance and give the correct password to the doorman. Once inside, you'll be transported to a bygone Prohibition-era cocktail bar with jazz music.
Hanson's Shoe Repair features a carefully curated selection of 10 craft cocktails, each made with high-quality ingredients and attention to detail.
The bartenders are skilled mixologists who can create personalized cocktails based on your preferences.
Address: 27 E Pine St, Orlando, FL 32801
7. Hike, Swim, or Kayak at Lake Louisa State Park
Take a short drive from Orlando to Clermont to visit Lake Louisa State Park, a beautiful and tranquil oasis with rolling hills, pristine lakes, and abundant wildlife.
The three lakes, Louisa, Hammond, and Dixie, turn the park into a wonderful escape at any time of the year.
One of the main attractions of Lake Louisa State Park is its extensive trail system with 10 great trails and miles of hiking, biking, and horseback riding opportunities.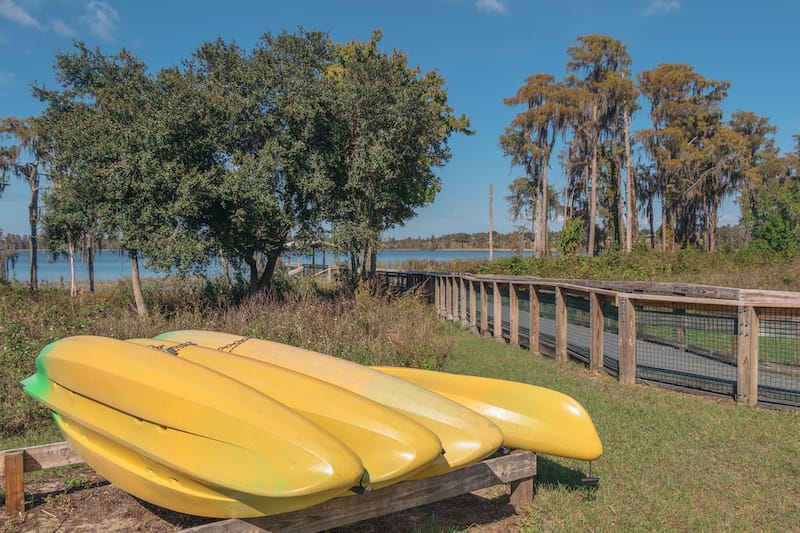 The park's most popular trail is the 6.5-mile Lake Louisa Nature Trail, taking you through pine forests, oak hammocks, and along the shores of Lake Louisa.
You can also choose the trails that cross the old citrus groves to taste local oranges and tangerines. For biking, there is a 29-mile trail running through the park and the nearby Van Feet trail.
In addition to hiking, Lake Louisa State Park is a popular destination for fishing, boating, and swimming. Fishing is available at Dixie, Louisa, Bear, Hammond, and Smokehouse Lakes. For fishing, a license is mandatory.
If you decide to stay overnight, you can either book one of the comfortable cabins or find a spot on the campground between the lakes.
8. Challenge Your Perspective at the Museum of Illusions
Duration: 1 hour
Language: English
🎟️ CLICK HERE TO BUY A TICKET
If you haven't been to a museum of illusions in your city, it is a great chance to visit one in Orlando for a unique and mind-bending experience.
Upon entering the Museum of Illusions, you'll be greeted with exhibits designed to trick your mind and challenge your perspective.
From rooms that appear to be slanted to mirrors that distort your reflection to mind-bending illusions that seem to defy the laws of physics, 50 exhibits are sure to leave you questioning your own senses.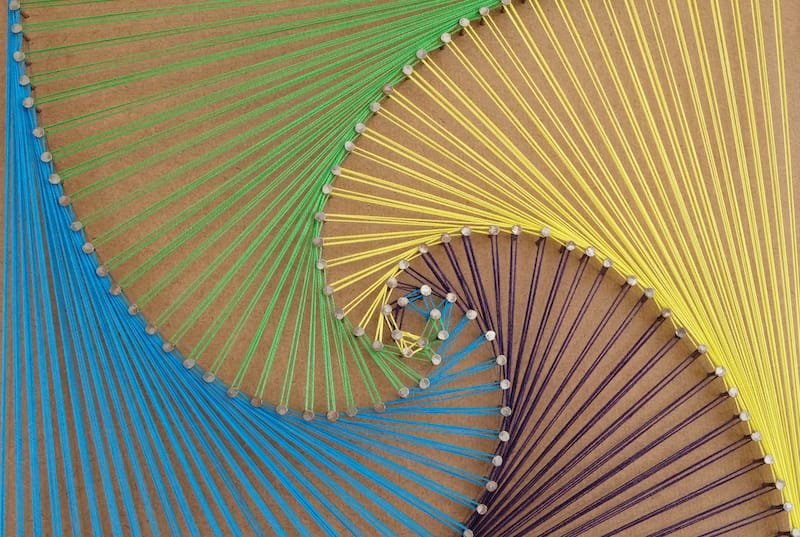 One of the most popular exhibits in the museum is the Vortex Tunnel, an illusion of a spinning tunnel that seems to be rotating around you.
Another crowd favorite is the Ames Room, where you will test clever angles and optical illusions to make people appear to be shrinking or growing.
Capture this thrilling experience in every room by snapping some photos to keep these moments forever in your memory!
>> Click here to check ticket rates and availability
9. Take a Day Trip to Clearwater Beach
Duration: 12 hours
Meeting Point: Maingate Lakeside Resort, 1200 Epcot Resorts Blvd, Senor Frogs
Language: English
🎟️ CLICK HERE TO BOOK
Are you ready to escape the bustle of Orlando and spend a day in paradise? Look no further than Clearwater Beach, located on the Gulf Coast of Florida.
This picturesque destination boasts 35 miles of pristine white sand beaches and clear waters perfect for swimming, sunbathing, and all sorts of water sports.
One of the best things to do in Clearwater Beach is to visit Pier 60, where you can spot pelicans, watch street performers, and soak up the vibrant beach town atmosphere.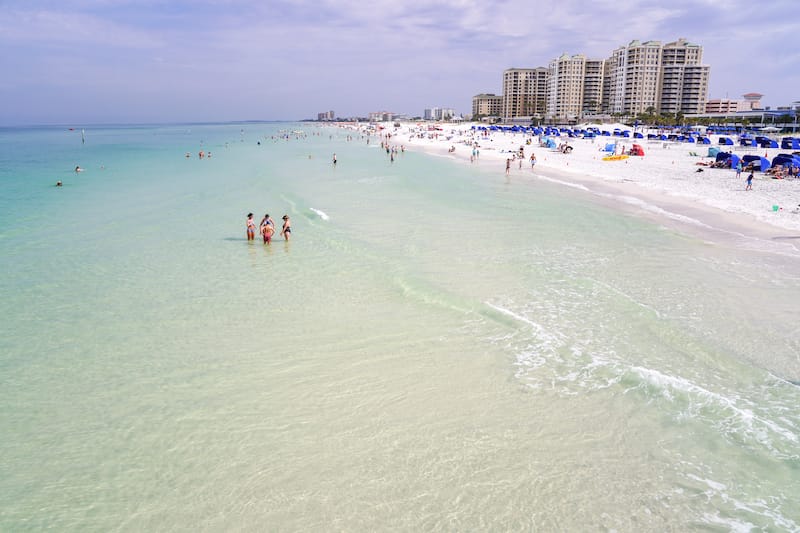 Take a dip in the warm waters of the Gulf of Mexico and explore the rich marine life that calls this area home.
For an unforgettable adventure, hop on board the Sea Screamer cruise and feel the wind in your hair as you speed across the waves.
Or, if you're looking for a more relaxed experience, join a deep-sea fishing expedition and try your hand at catching sea bass, tarpon, grouper, and more.
>> Click here to check tour rates and availability
10. Catch an Orlando Magic Basketball Game
Are you a fan of basketball? Then don't miss the chance to catch an Orlando Magic game while you're in town.
Founded in 1989, the Orlando Magic were one of the most successful teams in the NBA, with notable players like Shaquille O'Neal and Penny Hardaway.
The Orlando Magic games take place in the Amway Center in downtown Orlando. It is the city's staple and hosts basketball games, concerts, and shows.
Amway's original arena, built in 1983, was reconstructed and opened in 2010, seating up to 20.000 people.
Before the game, take some time to explore the Amway Center and check out the impressive sports memorabilia on display throughout the arena.
Also, visit the Orlando Magic Team Shop for team jerseys and foam fingers.
11. Try the Legendary Giant Cookies at Gideon's Bakehouse
Orlando's tastiest "attraction" not to miss is the giant chocolate chip cookie from Gideon's Bakehouse, so are you ready to challenge yourself to handle this almost half-pound cookie?
You can choose from the famous original chocolate chip or new flavors like pistachio toffee, peanut butter crunch, candied walnut chocolate chip, and other mouth-watering names.
Besides traditional cookies, there is a fantastic selection of cake slices, many of which are inspired by classic American desserts. A true paradise for those with a sweet tooth.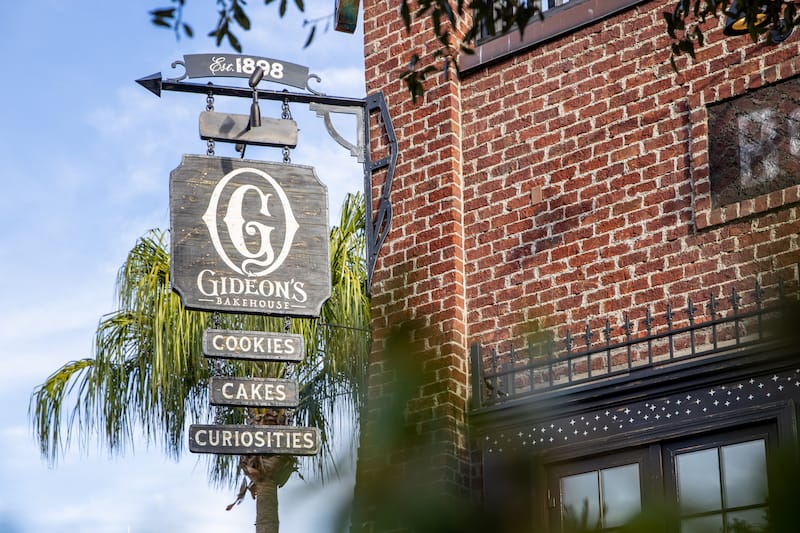 The bakery's unique and whimsical interior is no less impressive than the cookies. The decor features antique furniture and vintage knick-knacks, giving it a cozy and nostalgic atmosphere.
Gideon's Bakehouse has gained a cult following for its delectable treats and has expanded to several locations throughout Florida and even opened a location in California.
Address: 3201 Corrine Dr, Orlando, FL 32803
12. Take Out a Paddleboat on Lake Eola
Located in the heart of Orlando's downtown, Lake Eola Park is an excellent tranquil escape without leaving the city. This serene urban oasis is a place to relax, unwind, and take in the beauty of nature.
Lake Eola is at the center of the park. It is a stunningly picturesque body of water to stroll around and enjoy the scenic views.
The common residents of the lake are beautiful swans, but you will also spot wading birds, turtles, and waterfowl. You can buy specially approved food to feed swans or simply enjoy their graceful look.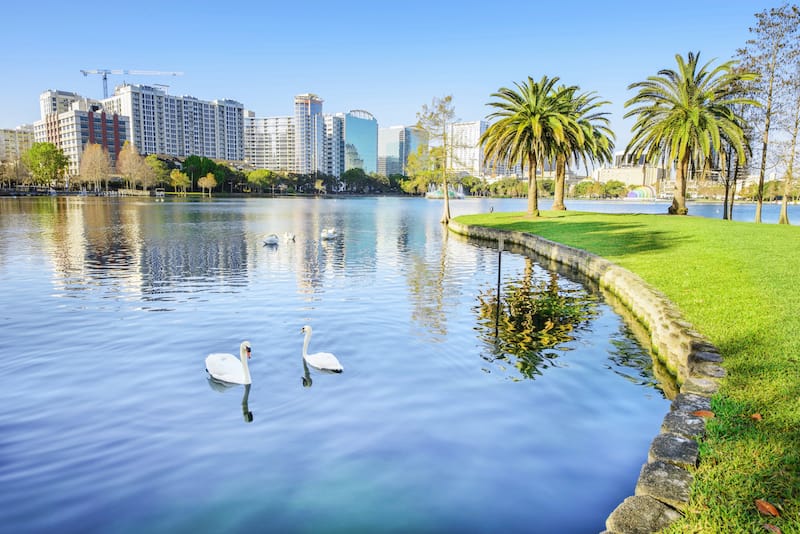 One of the most popular activities on the lake is riding a paddle boat. You can rent a swan-shaped paddleboat and glide across the water for a unique perspective, photographing swans at close range.
If you plan your visit for the weekend, you will have a chance to shop at the Sunday Lake Eola Market. The counters will be filled with arts and crafts, artisanal food and drinks, local produce, and more.
13. Appreciate Art at the Orlando Museum of Art
Orlando is not only about fun parks and attractions. It is also home to the leading cultural institution in the region.
The Orlando Museum of Art, in the beautiful Loch Haven Park, features a diverse collection of art from around the world, with a focus on contemporary and modern works.
Every year, the museum hosts 12 on-site and 13 off-site exhibitions and organizes different art programs, gallery tours, and lectures.
One of the museum highlights is the American art collection, which includes pieces from the 19th century to the present day.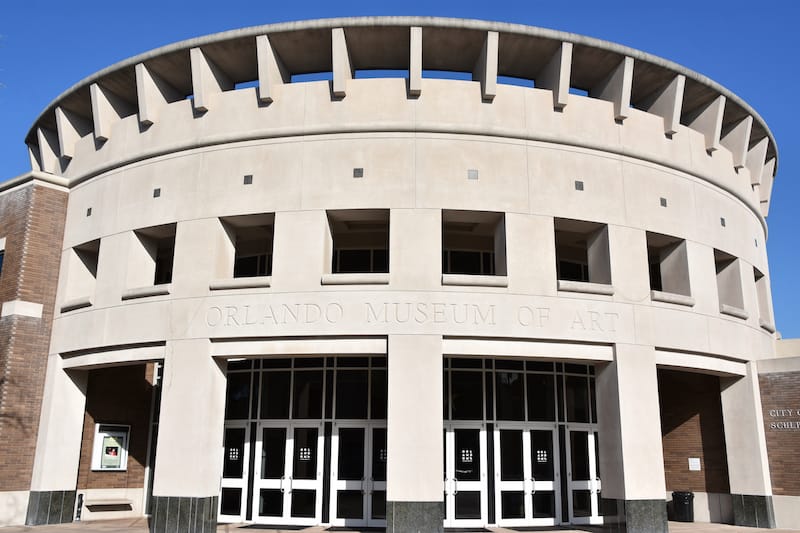 You'll also find a range of art from Africa, Asia, and Europe, including sculptures, paintings, and decorative objects.
Before you leave, be sure to stop by the museum's gift shop, where you'll find a range of unique gifts and souvenirs, including art books, jewelry, and home decor.
Address: 2416 N Mills Ave, Orlando, FL 32803
14. Test Your Swing at the Top-Rated Pirate's Cove Mini-Golf Course
For a swashbuckling adventure perfect for the whole family in Orlando, look no further than Pirate's Cove Mini-Golf Course on International Drive.
With its pirate-themed environment and 18-hole adventure mini-golf course, this attraction is sure to provide an exciting and enjoyable experience.
As you make your way through the course, you'll encounter various obstacles such as rocky caves, waterfalls, and pirate ships.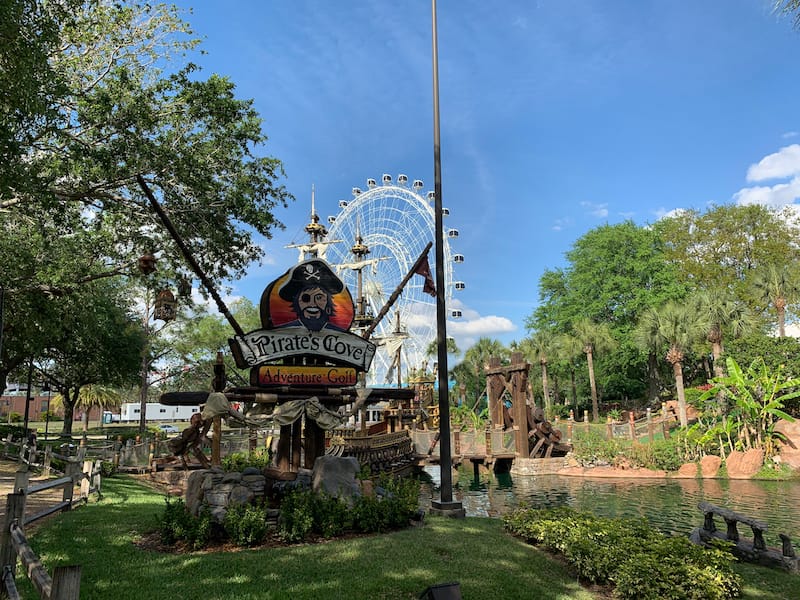 You'll discover treasure chests and see life-size pirate statues and animatronic animals.
What makes Pirate's Cove Mini-Golf so much fun is the competitive spirit it brings out in everyone, whether you're a seasoned golfer or a beginner.
With its tricky course design and playful pirate theme, this attraction is not to be missed while in Orlando, so be sure to add it to your itinerary.
Address: 8501 International Dr, Orlando, FL 32819
15. Pick Up Local Products at Winter Park's Farmers Market
A visit to Winter Park's Farmers Market is a must during your Orlando trip, not only for shopping but to be part of community culture.
Located in the heart of Winter Park, just a short drive from downtown Orlando, this vibrant market is open every Saturday from 8 a.m. to 1 p.m.
And every Saturday, hundreds of locals and guests gather here to buy fresh produce.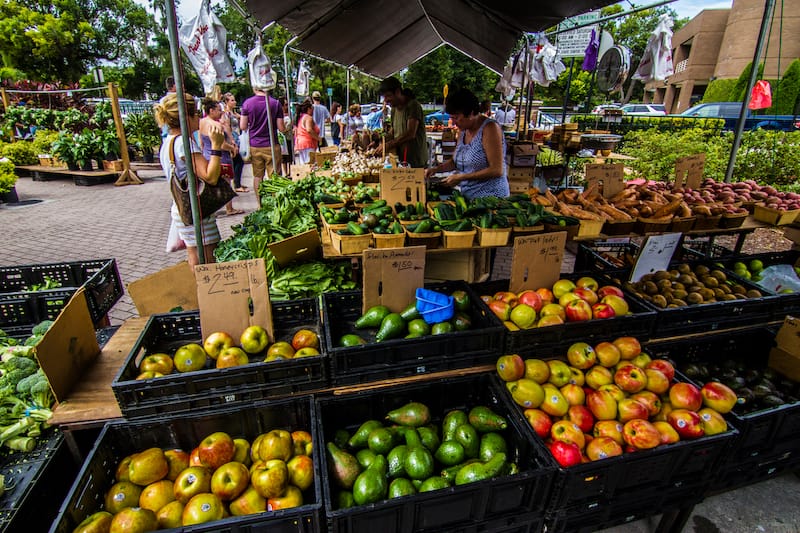 Things not to miss at the Farmers Market include the "That a lot of o'Crepe" counter with sweet and savory crepes.
The pastries are made on the spot with fresh stuffing and served in minutes. Another scene not to miss is the Davis Bakery & Co. counter of mouth-watering bagels with cream cheese.
You can pick any topping, but a banana bagel with blueberry cream cheese is the best.
When crossing the main circle, you will definitely be attracted by the smell of fries from the Fry Bar. Get your fries with melted cheese or Parmesan to double the pleasure.
Address: 200 W New England Ave, Winter Park, FL 32789
16. Enjoy a Day Trip to LEGOLAND
LEGOLAND Florida Resort is a huge complex that includes LEGOLAND Florida Theme Park, Water Park, themed hotels, and the world's first Peppa Pig theme park.
If you're traveling to Orlando with kids (or even if you're just a big kid at heart), a day trip to LEGOLAND is sure to be a highlight of your trip.
Located just a short drive from Orlando, the park is packed with 50 attractions, rides, live shows, and, of course, LEGO bricks!
One of the main draws of LEGOLAND is the impressive collection of LEGO sculptures and models found throughout the territory.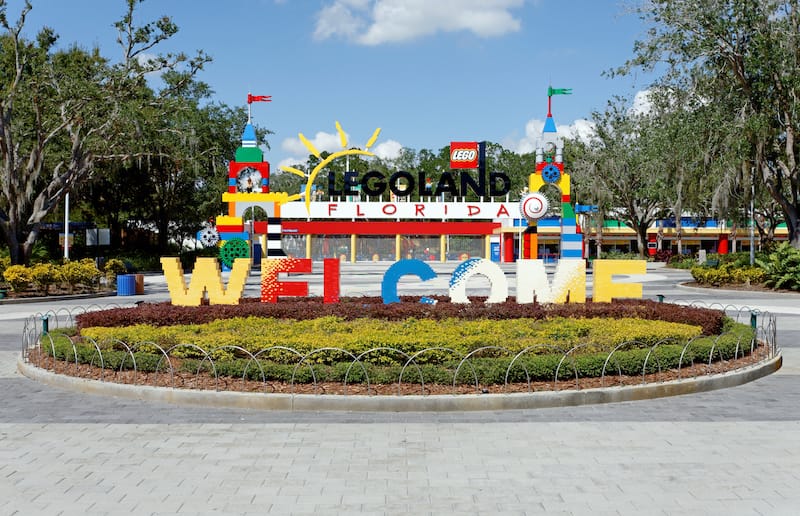 From a LEGO version of the Statue of Liberty to a life-sized LEGO Ford Mustang, these pieces will delight everyone.
But LEGOLAND isn't just about looking at LEGO sculptures—there are plenty of interactive experiences and rides to enjoy.
Younger kids will love the DUPLO-themed play areas and the gentle rides in the LEGO City section of the park, while older kids (and adults) can get their thrills on roller coasters like The Dragon and Coastersaurus.
Address: 1 Legoland Way, Winter Haven, FL 33884
17. See Florida Nature on a Boggy Creek Airboat Ride
Duration: 30 minutes
Meeting Point: 2001 E Southport Rd
Language: English
🎟️ CLICK HERE TO BOOK
For quality (and nature!) time in Orlando, take an exciting journey through the natural beauty of Florida on a family-friendly airboat ride.
The tour will take you through the Central Everglades protected wetlands just outside of Orlando, which are home to an incredible array of wildlife and vegetation.
You will see everything from alligators to bald eagles in their natural habitats.
The airboats used for these tours are specially designed to navigate the shallow waters and narrow channels of the wetlands.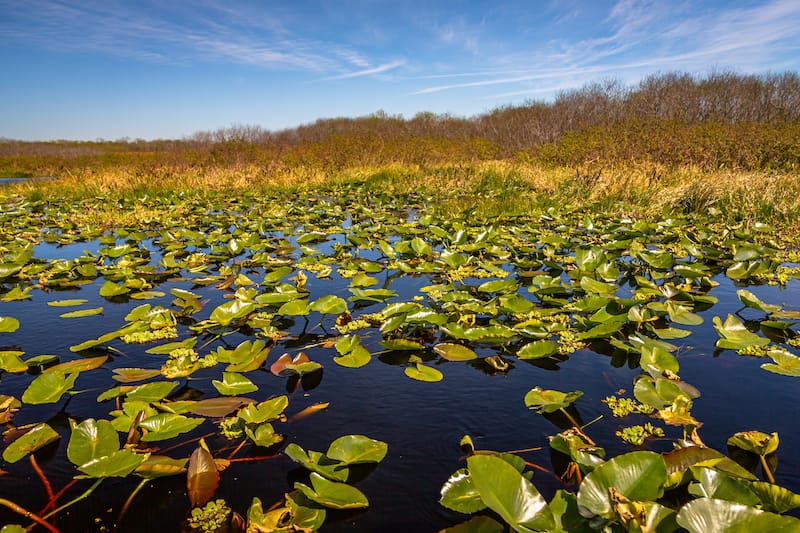 Powered by large propellers and reaching speeds of up to 45 miles per hour, the tour will last about 30 minutes and cover a distance of around 17 miles.
The tour will also take you to a Native American village that offers a glimpse into the history and culture of the region.
You will see traditional tools, weapons, and demonstrations of cooking. You will also have a chance to purchase buckets filled with treasure from the gem mining station.
>> Click here to check tour rates and availability
18. Meet Mickey Mouse at Walt Disney World
Walt Disney World in Orlando is one of the world's most popular tourist destinations, and for good reason.
Covering 47 square miles, this huge park has four theme parks: Magic Kingdom Park, Epcot, Disney's Animal Kingdom Park, and Disney's Hollywood Studios.
There are also water parks, endless attractions, and crazy rides for all ages.
One of the most iconic attractions at Walt Disney World is Cinderella Castle in Magic Kingdom Park. The structure is the park's centerpiece, visible from almost everywhere within its borders.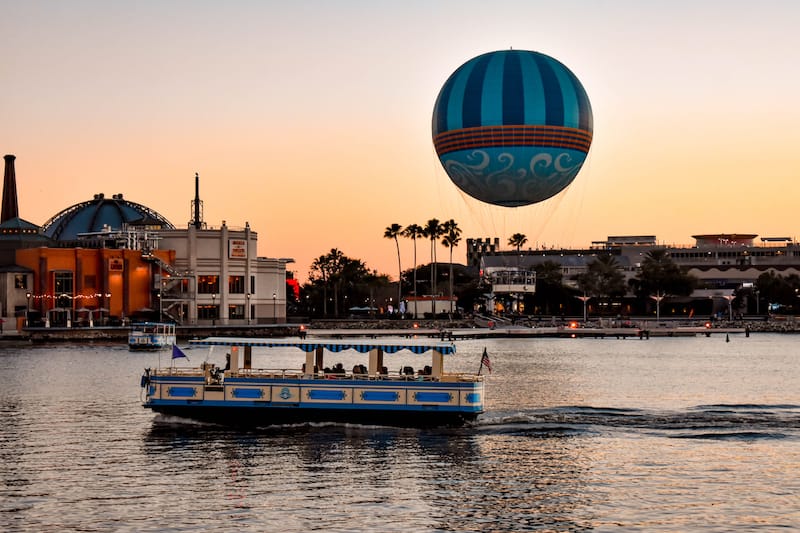 You can take a tour of the castle, enjoy the nightly fireworks show, or dine at Cinderella's Royal Table.
For an exciting adventure, take a journey through a world of pirates and hidden treasures on the Pirates of the Caribbean ride or explore the world of Star Wars in Galaxy's Edge.
There are also different heart-pumping freefall rides like the Twilight Zone Tower of Terror or the Expedition Everest high-speed coaster through the Himalayan mountains.
>> Click here to book a ticket to Disney World
19. Travel Back in Time at the Titanic Artifact Exhibition
Duration: 1-3 hours
Language: English
🎟️ CLICK HERE TO BOOK
If you have watched the Titanic movie at least once or you are interested in its tragic story, you will definitely like to take a self-guided tour of the Titanic Artifact Exhibition.
As soon as you enter the exhibition, you will be transported back in time to 1912 and the luxurious grandeur of the Titanic with 17 exhibition galleries where trained actors act as passengers on the ship.
You will also see the Grand Staircase, the First Class Parlor Suit, cabins, the Verandah Cafe, and the ship's underwater replica.
One of the main attractions of the exhibition is the extensive collection of artifacts recovered from the wreck of the Titanic.
You will see over 400 original items, including personal items belonging to passengers, jewelry, clothing, and luggage.
Another interesting feature of the exhibition is the "Memorial Room," which pays tribute to the passengers and crew who lost their lives in the tragedy.
The room includes a wall with the names of all the passengers and crew members who were onboard the Titanic.
>> Click here to check tour rates and availability
20. Go on a Shopping Spree at the Mall at Millenia
Shopping is always a good choice if you have a couple of hours free from sightseeing. If you are in Orlando, the Mall at Millenia is a top choice and premier shopping destination for retail therapy!
Located just a few minutes from Universal Studios and International Drive, the mall offers 150 high-end stores, restaurants, and entertainment options.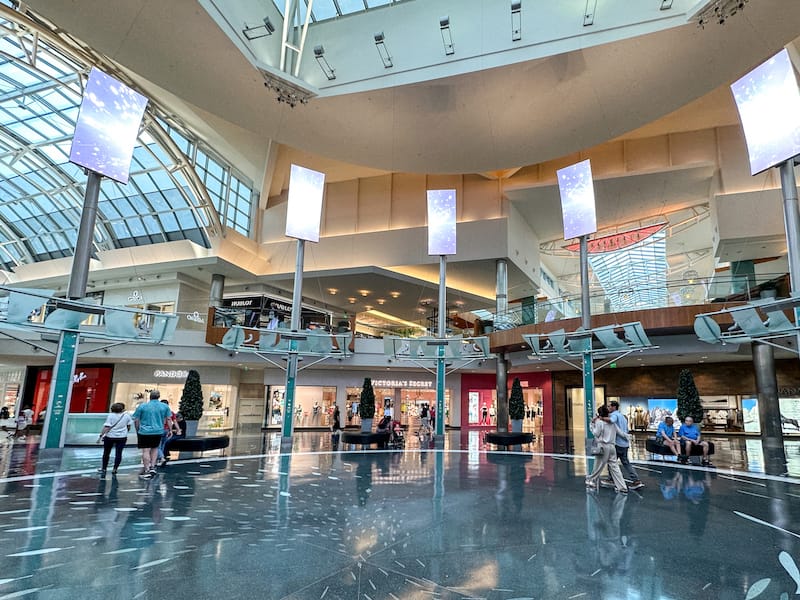 One of the highlights of the Mall at Millenia is its collection of luxury brands, including Gucci, Louis Vuitton, Chanel, Neiman Marcus, Tiffany & Co., Jimmy Choo, and others.
Another popular attraction at the mall is the Dining Pavilion, with names like the Capital Grille, PF Chang's, the Cheesecake Factory, and other culinary options where you can enjoy everything from sushi and Italian cuisine to burgers and tacos.
Address: 4200 Conroy Rd, Orlando, FL 32839
21. Check Out the Shops and Restaurants at Universal CityWalk
Universal CityWalk is a vibrant district right outside the Universal Orlando Resort theme parks.
With various American shopping, dining, and entertainment options, it is the perfect place to spend an evening or a day off from the parks.
Open every day from 8 a.m. to 10 p.m. (on weekends, it is open until midnight), you will have a lot of time to choose where to dine.
There are 20 different restaurants, including popular chains like Hard Rock Cafe, Bubba Gump Shrimp Co., and Margaritaville.
For something more upscale, there is The Cowfish Sushi Burger Bar, with a fusion of sushi and burgers.
Get your credit card ready for shopping. The Universal Studios Store sells a variety of park-exclusive merchandise, including Harry Potter and Minions-themed items.
There are also several specialty shops, such as Fossil, P!Q, and Quiet Flight Surf Shop, to find clothing, accessories, and souvenirs.
For entertainment, you can find several options: the AMC Universal Cineplex 20 with IMAX to catch a movie; the Hard Rock Live Orlando hosting concerts; a mini-golf course; a karaoke bar; the Blue Man Group show, etc.
22. Chill Out at the ICEBAR
Ice in Orlando? It sounds unbelievable, but as soon as you step into ICEBAR, you will forget the heat of Florida.
ICEBAR Orlando is the world's largest permanent ice bar, featuring 70 tons of hand-carved ice.
The constant 22 degrees keeps ice and frozen sculptures in perfect condition, while for your comfort, you will be provided with a warm parka and gloves.
With its exclusive cocktails, hand-carved ice walls, lighting, and music, the venue is a top choice for a Friday night out.
The huge Fire Lounge bar offers flaming cocktails to warm you up from the inside. Hit the dance floor to the rattling sounds of the hottest club hits.
And don't let hunger stop you from partying; order parmesan truffle fries, tasty bites, tacos, and pizzas as a quick and tasty snack.
Address: 8967 International Dr, Orlando, FL 32819
23. Splash Around at Volcano Bay Water Park
Volcano Bay is a tropical-themed water park in the heart of the Universal Orlando Resort. With over 30 different water attractions, it is the perfect place to cool off and have fun.
One of the main attractions at Volcano Bay is the Krakatau Aqua Coaster.
This 4-seat water coaster will take you through twists, turns, and drops around the volcano before emerging through a waterfall into the pool.
If the adrenalin rush is not for you, you can choose the Kopiko Wai Winding River for a more relaxing experience to float along in inner tubes and take in the beautiful scenery.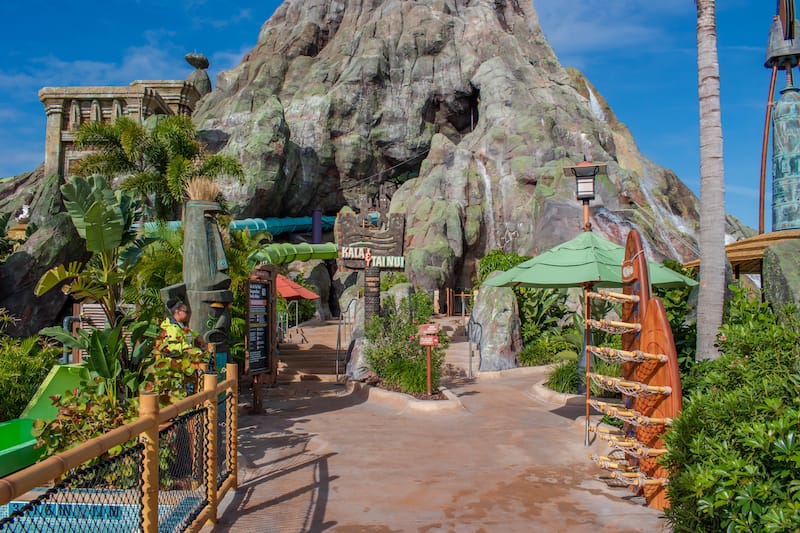 Another must-see attraction at Volcano Bay is Waturi Beach, overlooking Wave Village. This wave pool is one of the largest in Florida for swimming and splashing in the waves.
For dining, there are 9 restaurants and snack stands, including Kohola Reef Restaurant & Social Club, with seafood, burgers, and salads, and Whakawaiwai Eats, serving Hawaiian-style BBQ.
Address: 6000 Universal Blvd, Orlando, FL 32819
24. Decompress on a Walk Through the Tibet-Butler Nature Preserve
Located in southwest Orlando, the Tibet-Butler Nature Preserve is home to the Vera Carter Environmental Center and offers a peaceful escape on 440 acres of pristine land.
Open daily from 8 a.m. to 6 p.m., the preserve is an excellent place to embrace nature.
One of the main attractions of the Tibet-Butler Nature Preserve is its extensive network of hiking trails.
You will have enough time to explore 3 short scenic trails that wind through the preserve's diverse ecosystems, including marshes, swamps, and pine flatwoods.
The trails are well-marked and offer the chance to see wildlife, including deer, gopher tortoises, and a wide range of bird species.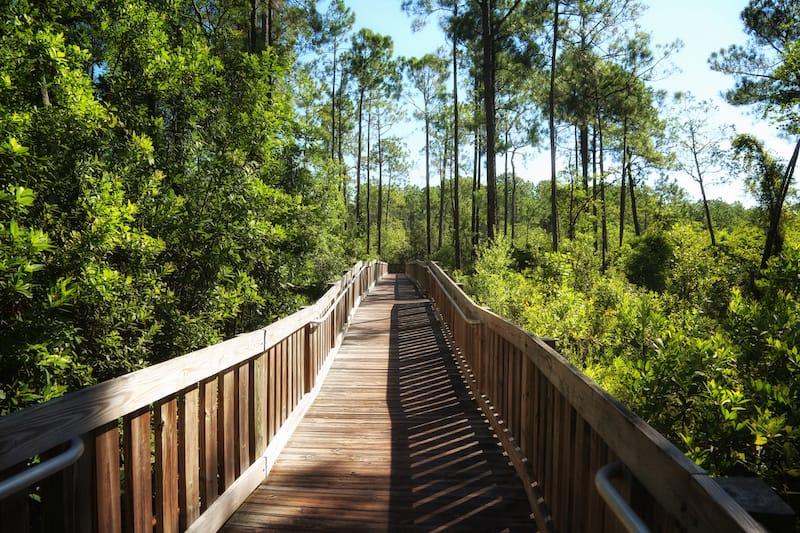 The highlight of the preserve's hiking trails is undoubtedly the Tibet-Butler Boardwalk, a half-mile wooden walkway through a cypress swamp.
Along the way, you will admire the towering cypress trees and spot a variety of aquatic plants and animals.
Besides hiking, the nature preserve organizes educational programs about the importance of recycling, turtle nesting, the ecosystem, and more.
Address: 8777 Winter Garden Vineland Rd, Orlando, FL 32836
25. Enjoy a Hot Pot at Boil Spot Hot Pot & BBQ
While I really want to keep most restaurants off of this guide (I will create a separate guide for such!) I do want to shout out this place as I had a delicious late lunch there one day!
Boil Spot Hot Pot & BBQ offers exactly as it suggests – a choice of hot pot or Korean BBQ. Or both!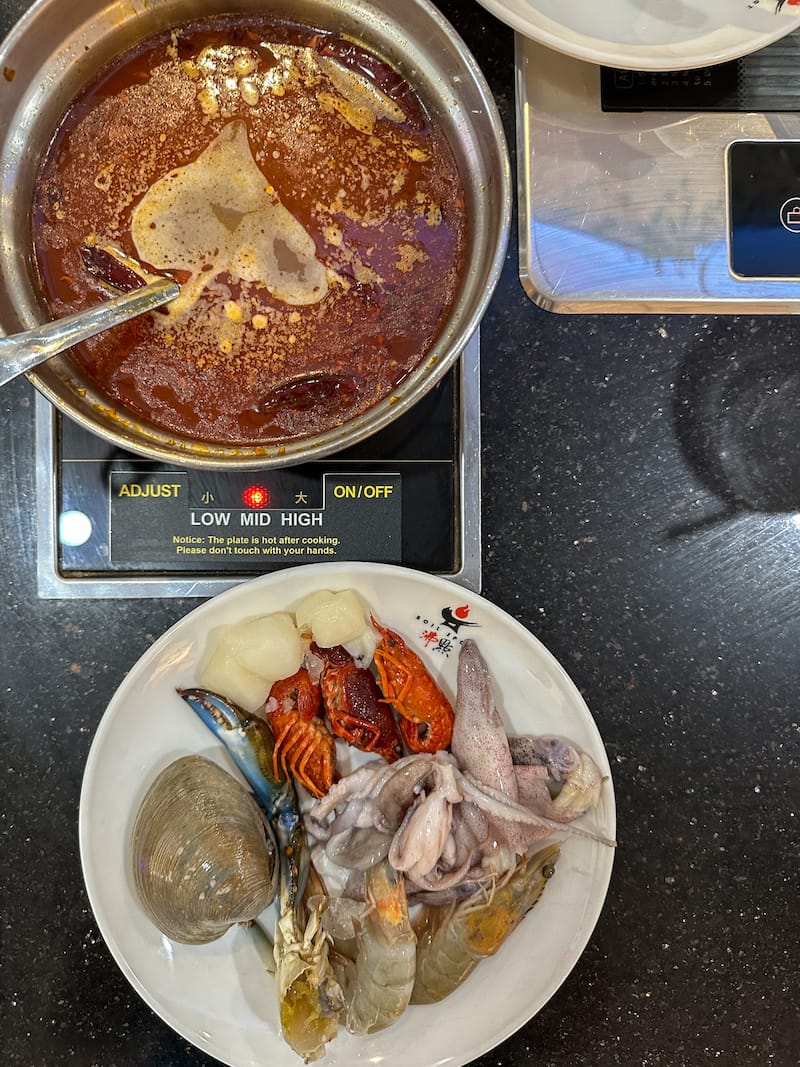 I decided to head over there as it was not far from where I was staying (Renaissance at Sea World) and I was super glad I did.
For around $30, it was an all-you-can-eat hot pot adventure. You get 2 hours of unlimited food and it was all fresh and stored hygienically and there was a ton of seafood available!
If you're into hot pot – this is a must-visit restaurant in Orlando!
Address: 8133 Vineland Ave, Orlando, FL 32821
Where to Stay in Orlando
Orlando has so many hotel options so I will only list places I have stayed at over the years (and enjoyed, of course!).
Here are my top picks:
Did we miss any of the best things to do in Orlando for first-time visitors? Let us know your favorite tips in the comments!
More Florida Travel Guides
Pin this Orlando Things to Do Guide