Are you searching for the best small towns in Italy to add to your bucket list? This guide has you covered!
Below, we have gathered a lot of our friends and fellow bloggers to ask what their favorite Italian town is – and what to do in each!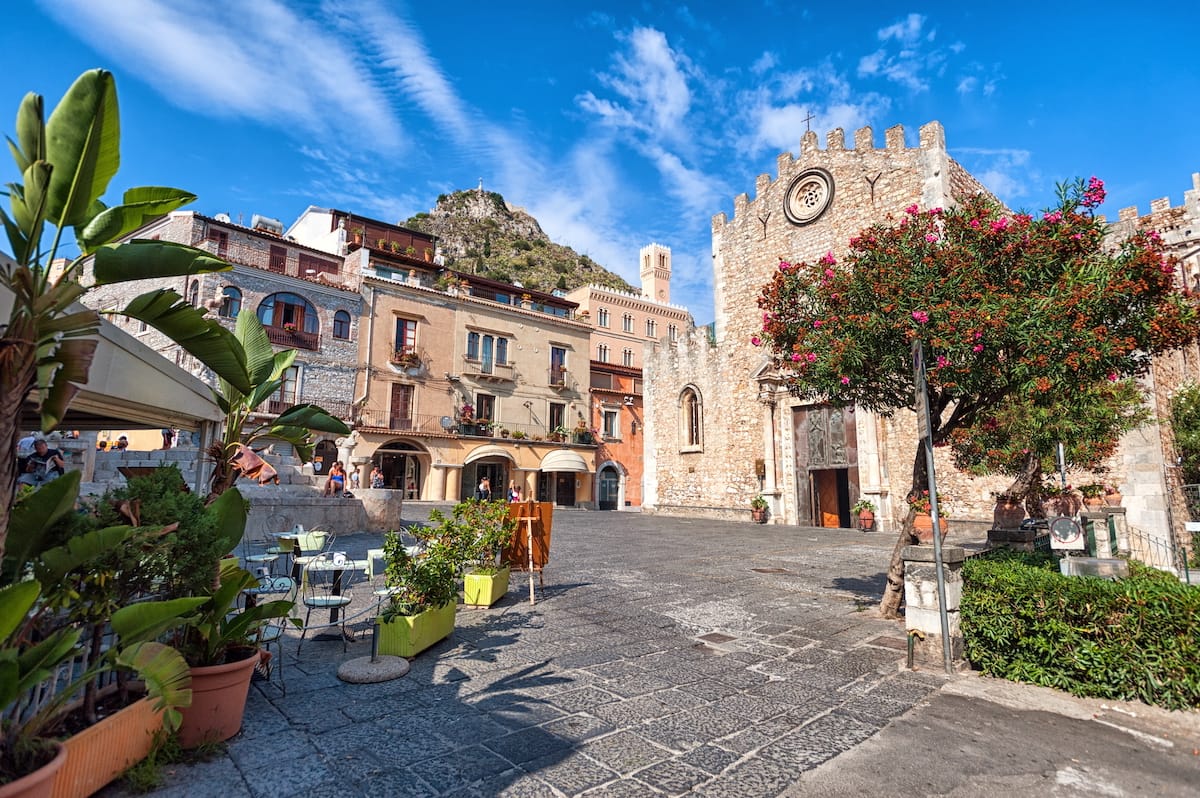 Did we miss any charming small towns and villages in Italy? Let us know your favorite in the comments!
Best Small Towns in Italy (+ Villages!)
1. Capri
Location: Capri (Campania)
Contributed by: Dhara of It's Not About the Miles
The little town of Capri is set on a plateau high above the blue Tyrrhenian Sea.
Most visitors spend one day in Capri, but its beauty and spectacular setting also make it a wonderful destination for a longer stay: you can then enjoy the town at its tranquil best early and late in the day.
Stroll the Piazzetta, the beating heart of the town, and step inside the lovely Chiesa di Santo Stefano.
Wander the little alleys in town, where you can admire the colorful bougainvillea spilling over gates and terraces, ritzy villas, and jaw-dropping water views.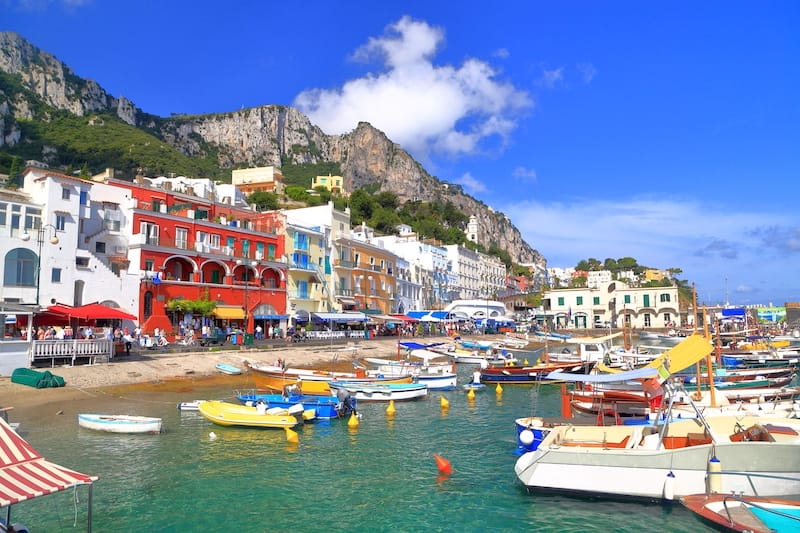 While you'll find lots of designer stores to browse in town, you will also find more local (and affordable!) stores. You can even get a pair of sandals made while you explore!
Walking the Giardini di Augusto is a must-do in Capri. Not only are the gardens pretty, but they also offer fabulous views of the Faraglioni and the Via del Krupp, two of the island's major attractions.
While in Capri, you have to try a slice of torta caprese (a chocolate cake with almonds or hazelnuts). Pasticceria da Alberto is famous for its version of this sweet treat!
If you plan to spend a night or two in Capri, Villa Calypso is located 5 minutes from the Piazzetta and boasts great water views.
2. Tropea
Location: Calabria
Contributed by: Džangir of Dr Jam Travels
Tropea is one of the coastal places you shouldn't skip while in Italy.
It is located on Costa degli Dei, in the Tyrrhenian Sea, in the Calabria region (toes of the boot). The closest airports to this paradise are Lamezia Terme (55 km) and Reggio Calabria (110 km).
Also trains or cars are good options to arrive here from anywhere in Italy.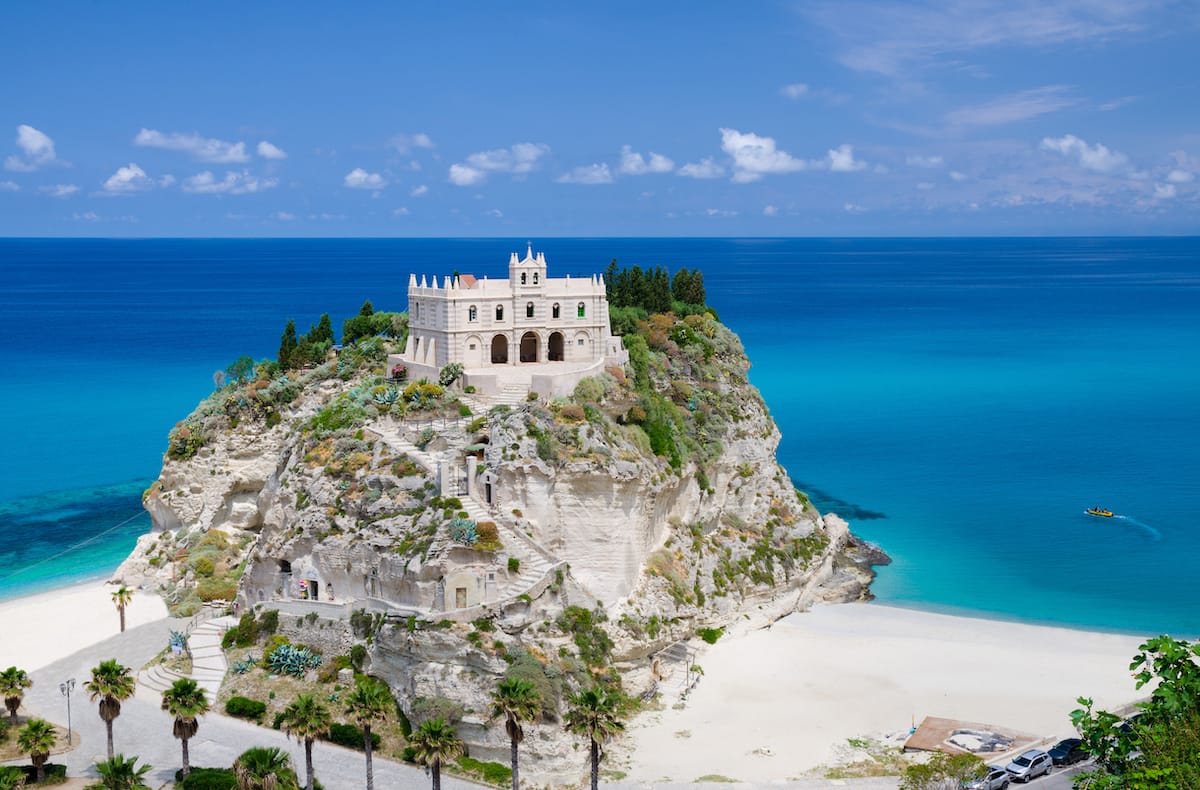 On arrival, you should choose one of the options for accommodation, from more luxurious like A Casa di Alessandro to more budget like Hotel Tropis or even a campsite at the beach.
Once you settle in you should take a walk in the old town around narrow and cobbled streets, visiting their main attraction, the Cathedral of Saint Mary of Romania.
Now you should take a view of the turquoise sea and the island of Saint Mary from a cliff before going to the beach by walking 150 steps or riding in a taxi.
Once on the beach you can swim and enjoy the view of the town on the cliff!
3. Ascoli Piceno
Location: Marche
Contributed by: Editor's choice
Ascoli Piceno, founded in Roman times, is a jewel of a town nestled between mountains and sea.
Built from golden-hued travertine stone, the town glows at night, making the perfect setting for an evening stroll through the historic city center.
Piazza Arringo is home to Ascoli Piceno's main church, the Cattedrale di Sant'Emidio.
This magnificent church has lovely mosaics, frescos, and sculptures, as well as fascinating crypts beneath it, where you can wander through the catacombs.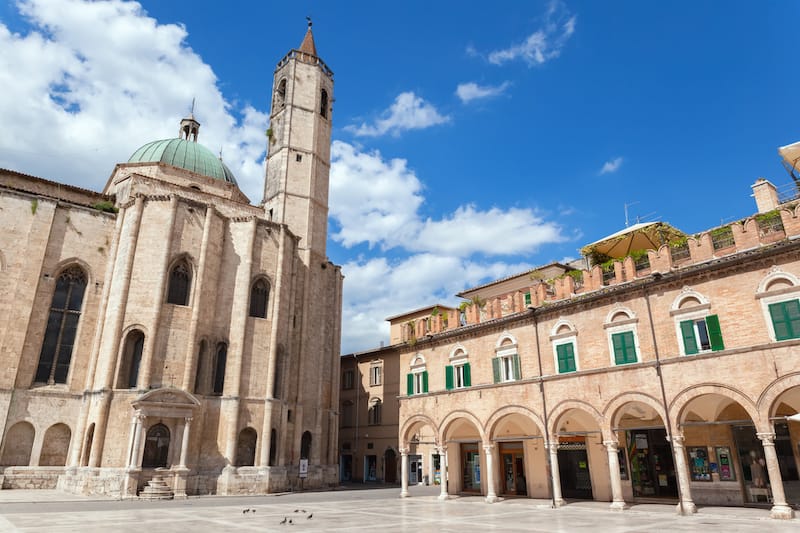 For art lovers, visit the Pinacoteca Civica, a gallery full of gorgeous paintings. In Piazza del Popolo, marvel at the many layers of history as seen through the variety of architectural styles.
Lined by elegant shops and cafes, it's a perfect place to relax and people watch, especially at the historic Caffe Meletti, open since 1907.
While in Ascoli Piceno, make sure to try the local specialty olive all'ascolana, which are huge olives stuffed with meat and fried.
Palazzo dei Mercanti Dimora & Spa is a medieval convent turned hotel and restaurant and it is the ideal place to stay in town! The main square is only a 2-minute walk away!
4. Ponte di Legno
Location: Lombardy
Contributed by: Isabella of Boundless Roads
Ponte di Legno, "wood bridge" in Italian, is a cute little town nestled in the breathtaking Italian Alps.
The name comes from a wooden bridge that stretches over the Frigidolfo and Narganello rivers, right in the middle of town, where they merge.
It's like a postcard-perfect scene with a gushing stream surrounded by wooden houses with flower-filled balconies, and towering pine trees.
From being the swanky and posh hotspot in the Brescia province, Ponte di Legno is now one of the most popular ski resorts in the Italian Alps, attracting tourists from all over Europe.
Its 100 km of ski slopes cater to all skill levels in winter while in the summer expert athletes can practice on the glacier at over 2,000 mt.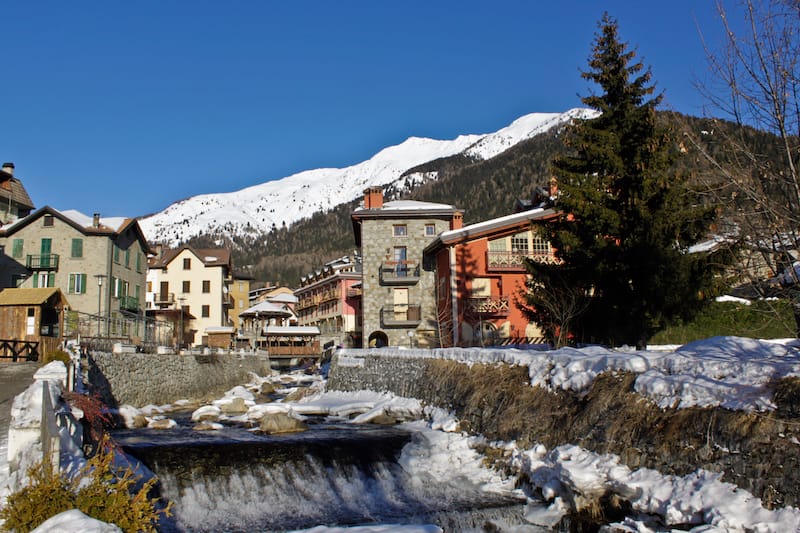 But Ponte di Legno is more than skiing. You can take long hikes along the well-marked trails, of all difficulty levels and lengths, go mountain biking, and also go ice skating and cross-country skiing in winter.
Food lovers will find paradise in this tiny town, where you can try delicious local dishes. Among the best restaurants are Sporting and Pietra Rossa.
It's advisable to get there by car so that you can move around easily and visit the nearby attractions. Taxis are available, but they are extremely expensive.
In Ponte di Legno, you have a lot of amazing accommodation options, from cozy homes to cute mountain-style hotels.
One of the most highly recommended is Hotel Bellavista, with an excellent location between the town center and the ski facilities.
5. Serdiana
Location: Sardinia
Contributed by: Claudia of Strictly Sardinia
Serdiana is a small town in the Parteolla region of Sardinia and located about 20 minutes drive from Cagliari.
While small, it is rich in history and has something to offer to lovers of nature too.
The main attraction in Serdiana is the lovely Romanesque Church of Santa Maria di Sibiola, built in the 10th century AD and beautifully immersed in the countryside that is immediately outside the village.
Not far from it, birdwatchers will enjoy walking to Su Stani Saliu (literally, the salted pond"), a marsh home to a colony of pink flamingos.
But there's more! Serdiana is well known in Sardinia for being home to some of the best wineries on the island.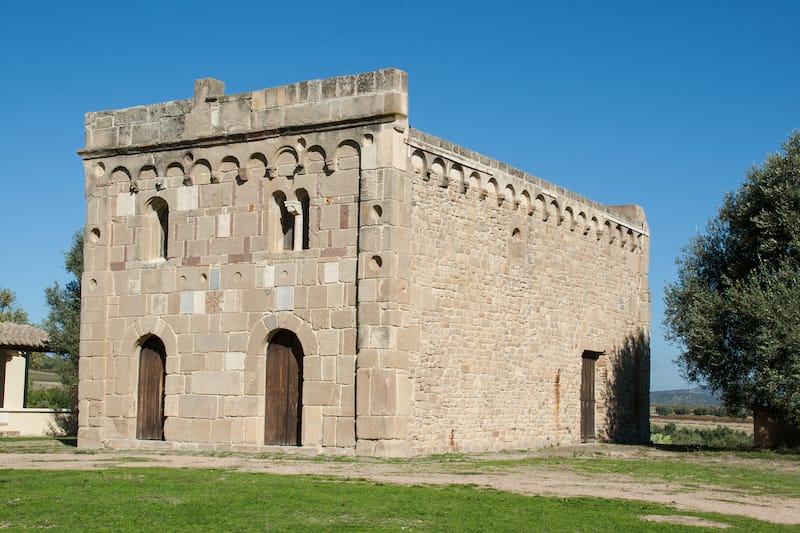 Argiolas is the most famous one, producing some award-winning wines.
Other local wineries are Pala, Audarya, Altea, and Corda. All of them offer wine-tasting experiences.
While in Serdiana, make sure to pop into Dolianova, the neighboring small town, and check out the beautiful San Pantaleo Church, another fantastic example of Romanesque architecture.
For a taste of Sardinian food while in Serdiana, opt to visit Baccu Cardu, the best agriturismo in the area. Make sure to book in advance, as it is a popular place among locals.
Serdiana is easy to visit on day trips from Cagliari, but if you wish to immerse yourself in the local atmosphere that this pretty village retains, consider staying at Casa Serena, a nice apartment just off the main road.
6. Procida
Location: Campania
Contributed by: Editor's choice
Sail to the charming island of Procida just off the coast of Naples. There are many things to do in Procida that make it a fantastic getaway from Naples!
Colorful villages dot the island, along with black sand beaches, fascinating rock formations, and fishing ports.
Stroll around Marina Grande, where you'll find a busy harbor as well as many shops and restaurants, a perfect place to sample the island's amazingly fresh seafood.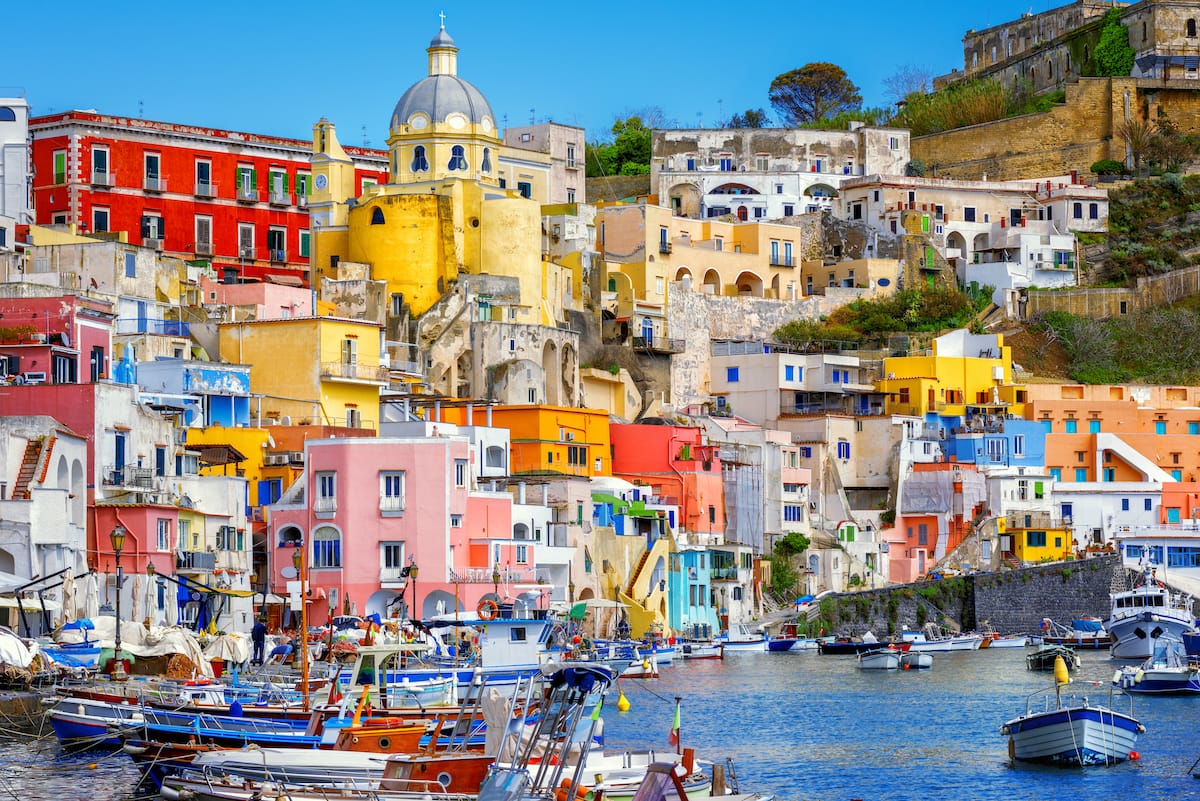 Visit the picturesque village of Marina Corricella with the Santa Maria delle Grazie church in the center. Head up to the fortified medieval village of Terra Murata, set on the highest point of the island.
While there, you can visit La Casa di Graziella, a museum that recreates a local house from the 1800s. On the southern tip of the island, you can cross a footbridge to the mesmerizing nature reserve on the islet of Vivara.
The only things on this islet are a few hiking paths, wildlife, and amazing views.
You'll find many places to stay on Procida and one of the most popular is Albergo La Vigna, located in an ancient watchtower.
It is surrounded by vineyards and is a short walk to the historic center of town.
7. Stromboli
Location: Sicily
Contributed by: Claudia of My Adventures Across the World
Less than 500 people live in Stromboli, one of the only two towns on Stromboli, one of the Aeolian Islands.
The island and the village are actually named after the volcano – Mount Stromboli – which dominates the landscape here. This is one of the most active volcanoes in the world, erupting on a regular basis.
Most people visit Stromboli specifically to hike Mount Stromboli. For safety reasons, only guided groups are allowed to hike.
Tours depart every afternoon from the town center: the departure time varies and is set with a view of getting to one of the craters in time for sunset.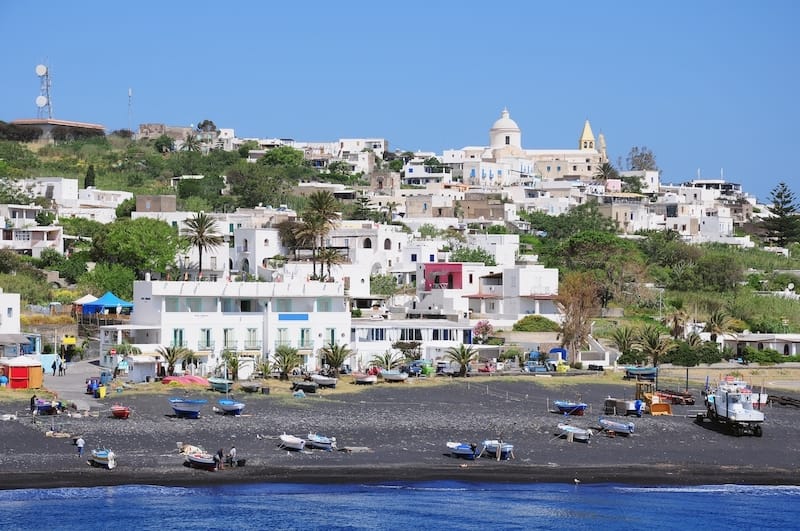 Once up, you'll get to admire the rest of the archipelago and see the actual explosions in the craters.
The town itself is a very pleasant place to spend a few days, walking around the narrow alleys with whitewashed buildings and lovely pergolas or spending time at the beach (though beware, the sand is volcanic and very dark).
The most popular beach is Spiaggia della Piscità, but you should also check out the Spiaggia di Ficogrande.
The best place to stay in Stromboli is Agriturismo SoleMare, which is also a fabulous spot for a meal.
Another restaurant you may want to try is Pizzeria da Luciano, which has a good selection of pizza as well as pasta and seafood dishes.
8. Orvieto
Location: Umbria
Contributed by: Annabel of Smudged Postcard
Sitting atop a tufa plateau in southwestern Umbria, Orvieto is one of Italy's most alluring hilltop towns. Its crowning glory is the mosaic-covered cathedral, which houses significant early Renaissance frescoes.
Away from the cathedral, Orvieto is a warren of medieval streets, beneath which is a network of caves dating back to Etruscan times.
There are guided tours available to explore the underground world of ancient Orvieto, a great experience when visiting Umbria with kids.
Visitors who prefer to stay above ground can learn about the town's great history at the Orvieto National Archaeological Museum.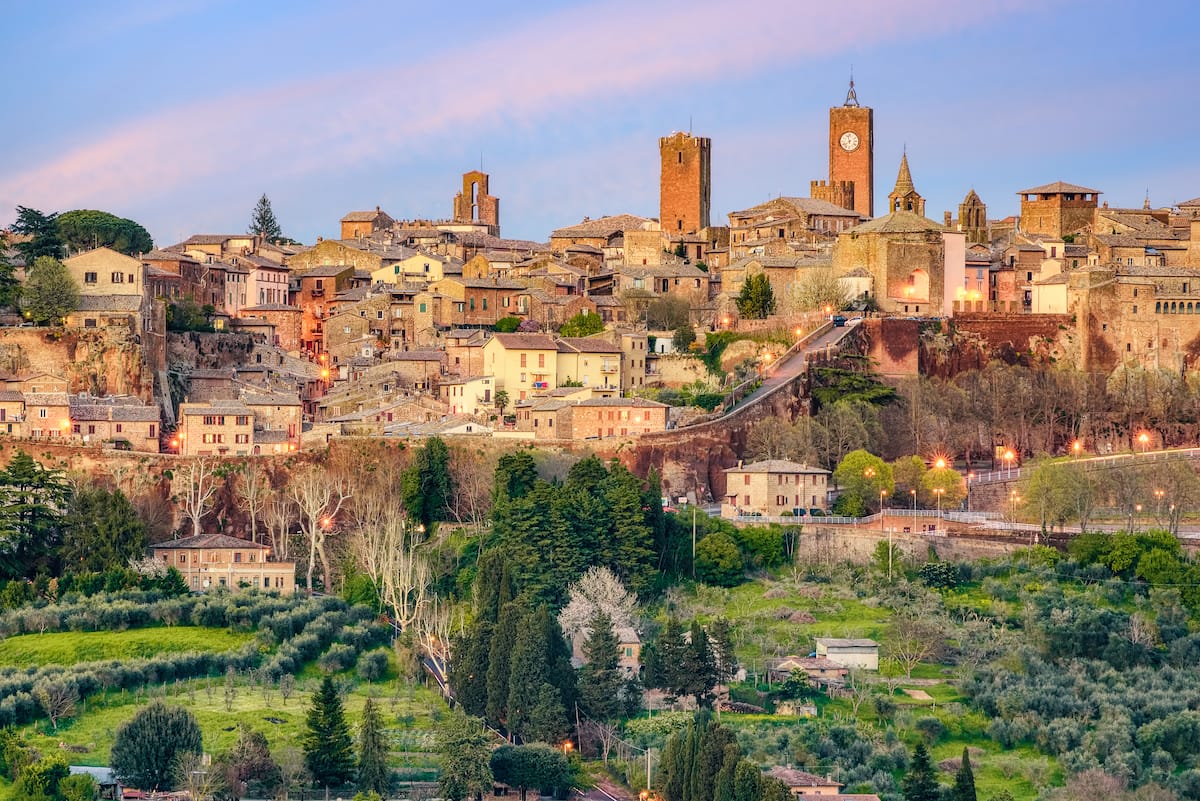 Orvieto is well known for its wine; the Enoteca La Loggia is a good place to enjoy the crisp Orvieto Classico.
Orvieto is a small town, and while there are hotels in the center, there are some really special places to stay just outside.
One of the most charming is La Locanda Palazzone. With the help of an architect and interior designer couple, you are guaranteed a stylish stay. It has its own vineyard and an excellent restaurant.
The views from its gardens towards Orvieto on a summer's evening take some beating.
9. Positano
Location: Campania
Contributed by: Editor's choice
The colorful town of Positano is considered the jewel of the Amalfi Coast, with gorgeous scenery, delicious food, and a classy-yet-relaxed vibe.
Built on a cliff like many of the Amalfi Coast villages, be prepared to encounter many stairs among the narrow streets. Visit the lovely Santa Maria Assunta Church, with a famed Byzantine icon of the Virgin Mary.
To learn more about the ancient history of the town of Positano, visit the Archeological Museum (MAR) located in a Roman villa in the town center.
Enjoy the Italian sun as you relax on the beach, whether you choose the iconic Spiaggia Grande or the quieter Fornillo Beach.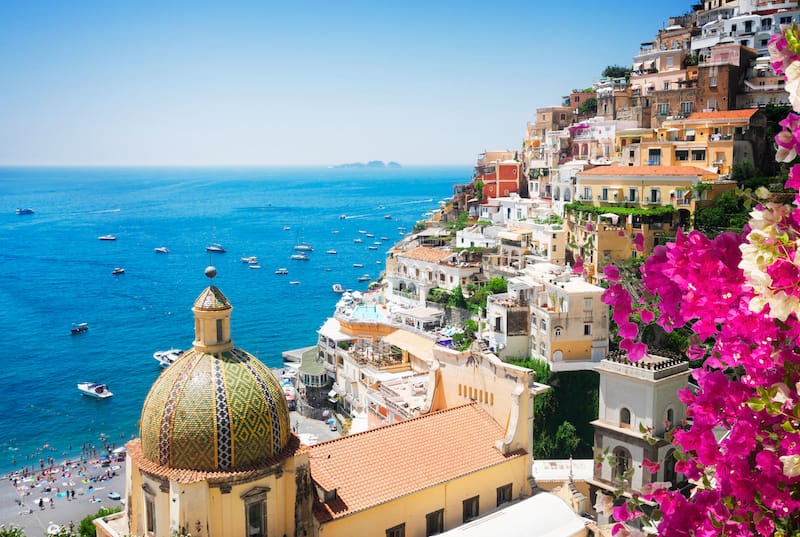 For amazing scenery, check out the Path of the Gods, a fantastic hiking trail with stunning views along the coastline.
Lastly, if you have time, take a day trip to the Isle of Capri to enjoy time on the water, explore the island, and see the famed Blue Grotto.
Located a stone's throw from the sea, Villa Flavio Gioia is an epic place to stay! The family-run apartments are only a 2-3 minute walk from the marina!
10. Maratea
Location: Basilicata
Contributed by: Imee of Continent Hop
The picturesque town of Maratea is nestled on the coastline of the Basilicata region in southern Italy.
It is a perfect destination to visit in Italy in the summer and is easily accessible from major cities such as Naples or Rome.
The most iconic attraction in Maratea is a 22-meter-high statue of Christ the Redeemer (Cristo Redentore di Maratea), perched on Monte San Biagio.
The secluded beaches of Fiumicello and Porto di Maratea, among many others, are perfect for a swim or snorkeling.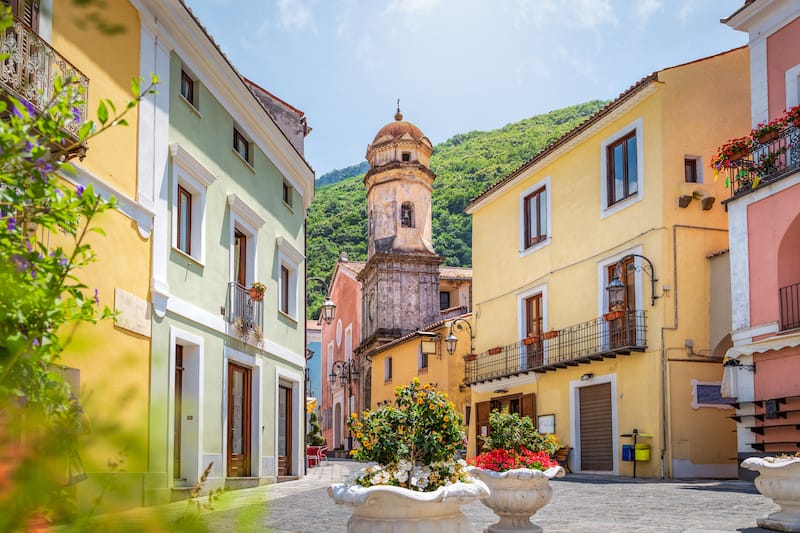 Savor delicious pizza at the town's main square, Piazza Buraglia, at the Caffe' E Dolcezze Di Laprea.
Don't miss out on the many churches in the area, such as the Basilica di San Biagio, the Santa Maria Maggiore, and the Chiesa dell'Addolorata.
You can spend a night at the Grand Hotel Pianeta Maratea Resort, which features rooms with views of the coast and a private beach.
11. Ostuni
Location: Puglia
Contributed by: Samantha of Continuous Roamer
Known as the White City due to its whitewashed buildings, Ostuni is a gem in the southern Italian region of Puglia.
The best way to enjoy Ostuni is by exploring the Centro Storico.
While wandering the charming cobblestone streets, look for the numerous historic buildings, including churches and other architectural marvels, such as the Arco Scoppa, which dates to the 17th Century.
Get lost in Ostuni's winding streets and take in the breathtaking views of nearby olive groves and the Adriatic Sea in the distance.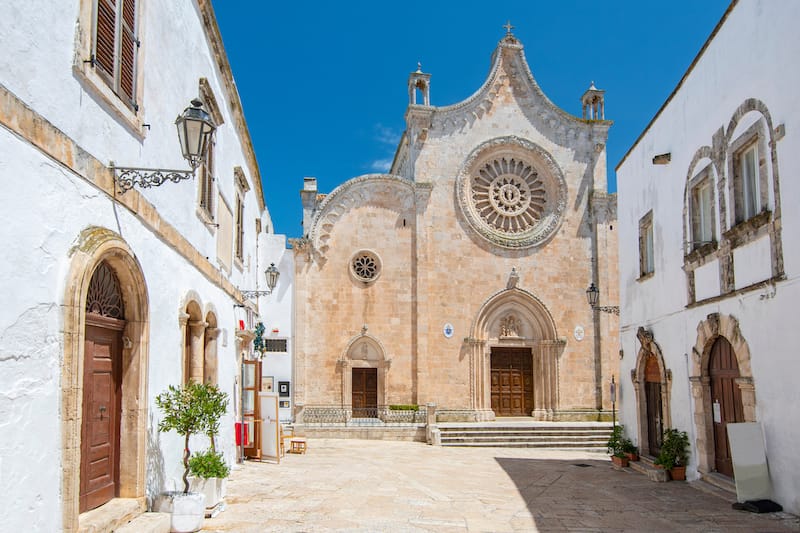 Grab an aperitif from Hanky Panky before heading to Osteria del Tempo Perso for dinner in a spectacular cave restaurant.
Ensure you have made a dinner reservation because it is a well-sought-after spot.
To plan a trip to Ostuni, fly to Brindisi airport, which is only a 30-minute drive away, and book a stay in the impeccably located Palazzo Altavilla apartments.
12. Belluno
Location: Veneto
Contributed by: Editor's choice
Belluno is a hidden gem in Northern Italy, with the Dolomites in its backyard and a lovely historic town center. It is an excellent day trip from Venice and other cities in the region.
In town, visit the Piazza Duomo, a square lined with historic palazzos, and the Basilica of San Martino and its bell tower, which was first built in the 7th century.
To learn more about the history and culture of Belluno, visit the Civic Museum which is housed in the Palazzo Fulcis.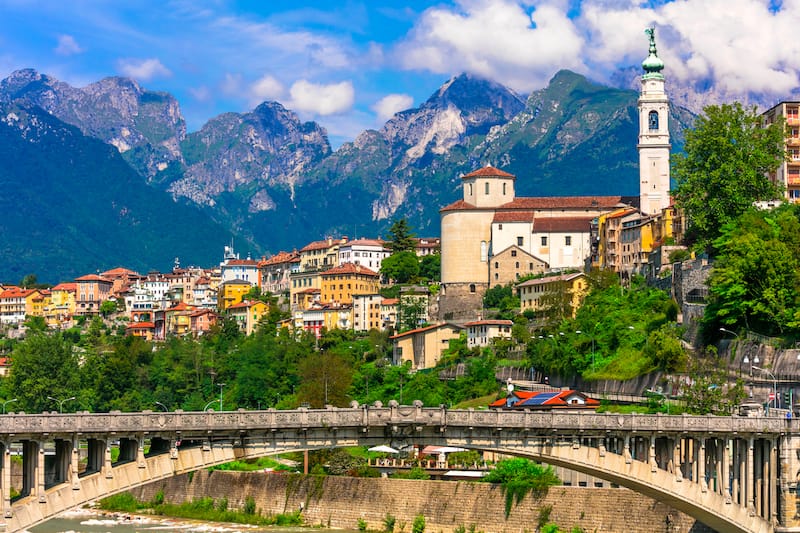 Nearby is the oldest gate of the city, Porta Dojona. Don't miss trying some local dishes, such as the fresh stuffed pasta called casunziei or cheeses like Piave, Schiz, or Morlacco.
Belluno sits at the base of the Dolomiti Bellunesi National Park, which offers ample scenic drives, hikes through forests and past lakes, picnicking opportunities, and skiing in the winter.
For amazing panoramic views over the villages and mountains, take the chairlift up the Faverghera lookout point.
In the heart of town is the Suites Hotel Astor, a 4-star luxury experience that offers a delicious breakfast and a spa and wellness center.
13. Oristano
Location: Sardinia
Contributed by: Alex of Just Go Exploring
Oristano is one of my favorite off-the-radar Italian towns. Located on the quieter, less-visited west coast of Sardinia, the town is fairly small and easily walkable but is full of excellent restaurants, cafes, and bars.
If you're looking for an authentic, chilled-out place to explore in Sardinia, this place is a great bet.
Spend half a day exploring the attractive historical center, known for its medieval architecture, elegant piazzas, fortified towers, and a 12th-century cathedral.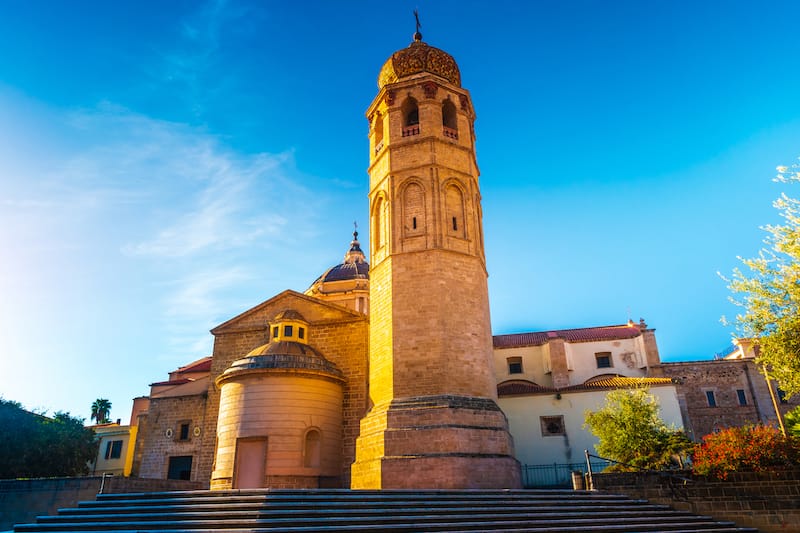 Then take a day trip out to discover the wild and rugged Sinis Peninsula, including the ruins of the ancient city of Tharros, which is only a 20-minute drive from Oristano.
For dinner, head to Pizzeria Santa Marghe. It's owned by a Napolitano who used to run a restaurant in Australia, and it serves some of the best pizza you'll ever eat! A bold claim, I know, but I stand by it!
The Mariano IV Palace Hotel is an excellent mid-range hotel in the center of town. I've stayed here and would definitely recommend it.
14. Castell'Arquato
Location: Emilia-Romagna
Contributed by: Anita of Anita Beyond the Sea
Castell'Arquato is a charming medieval town located nearby Piacenza, about an hour from Milan. The imposing Visconti Fortress, a medieval castle perched atop a hill, towers over the village.
You can explore the fortress interiors and climb up to its tower, which offers an incredible view of the surroundings.
Another must-see is the Collegiata of Santa Maria Assunta, a beautiful Romanesque church adorned with stunning frescoes.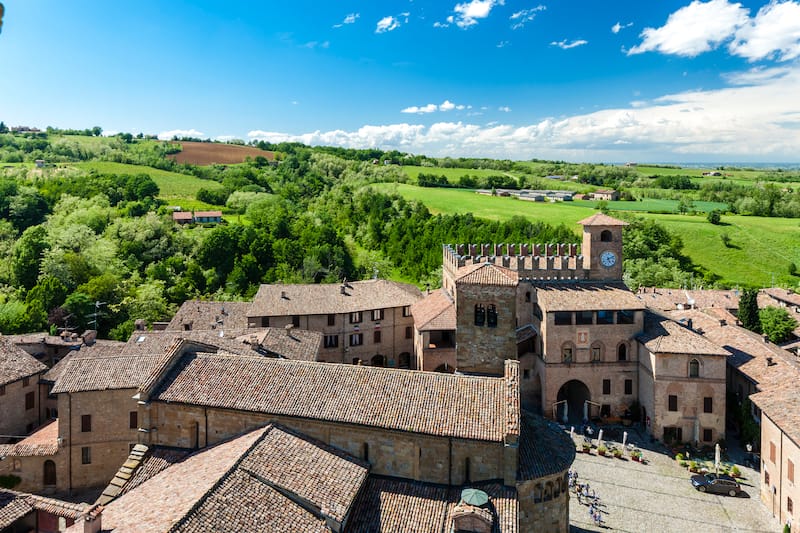 For gastronomy enthusiasts, Stradivarius is a highly-rated restaurant that serves delicious traditional Italian cuisine.
Their menu showcases regional specialties such as tortelli di zucca (pumpkin-filled pasta) and pisarei e fasò (a local dish made with homemade pasta and beans). Consider also trying one of their delicious local wines!
You can easily visit Castell'Arquato in half a day, and to make the most of your itinerary, consider staying in the neighboring town of Vigoleno.
You can even sleep inside a real castle called Castello Di Vigoleno!
15. Taormina
Location: Sicily
Contributed by: Editor's choice
With unparalleled views of the Ionian Sea and Mt. Etna, Taormina is an idyllic coastal town in Sicily has long been a hip vacation spot.
Stroll around town past the charming colorful buildings, from the city gate of Porta Catania up the pedestrian street of Corso Umberto, lined with shops and cafes.
Referred to as the "fortress cathedral" due to its imposing stone facade, the Duomo di Taormina houses a jewel-encrusted Byzantine Madonna icon.
Don't miss visiting the fascinating archeological site of the ancient 10,000-seat amphitheater, built by the Greeks in the 3rd century BCE.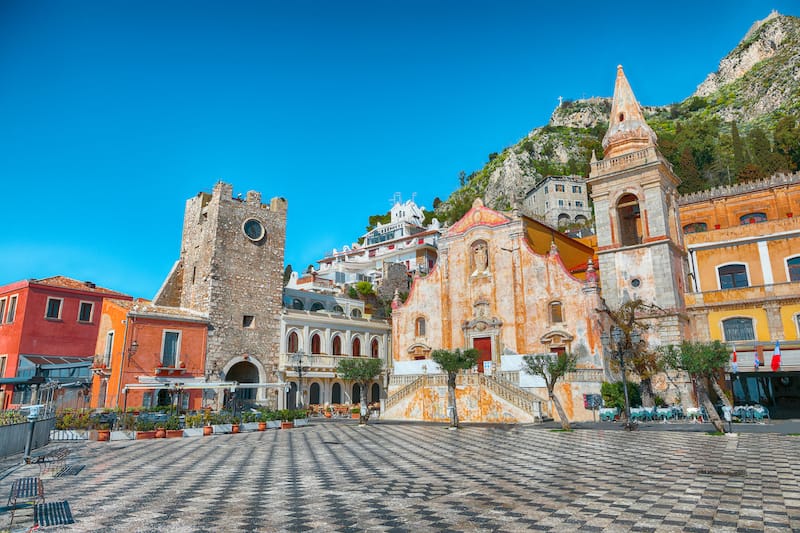 For a cool break to get out of the sun, stroll or sit in the shade at the lovely Public Garden (one of Sicily's best free things to do!), or refresh yourself with a granita from the famous Bam Bar.
For breathtaking views, climb the steps to the Chiesa Madonna della Rocca, a little chapel nestled in the rock face that offers amazing panoramic views of the area.
In the heart of Taormina, you will find Taodomus Small Boutique Hotel, a lovely accommodation that has merely 10 guest rooms and a huge panoramic terrace that overlooks Mt. Etna and the bay.
16. Varenna
Location: Lombardy
Contributed by: Jo of World Wild Schooling
Varenna is one of the best places to visit in Lake Como. It is a smaller, charming town compared to its neighbors, Bellagio and Menaggio, both of which are a short ferry ride away.
Despite its size, there are several places to explore in Varenna. Take a leisurely stroll along the Walk of Lovers, a scenic footbridge offering views of the lake and one of the most Instagrammable locations in Lake Como.
Villa Monastero is home to a museum and extensive, well-maintained gardens. Conveniently located in Varenna, it's one of the easiest villas to access, and its on-site café is a great spot for enjoying your morning coffee with a view.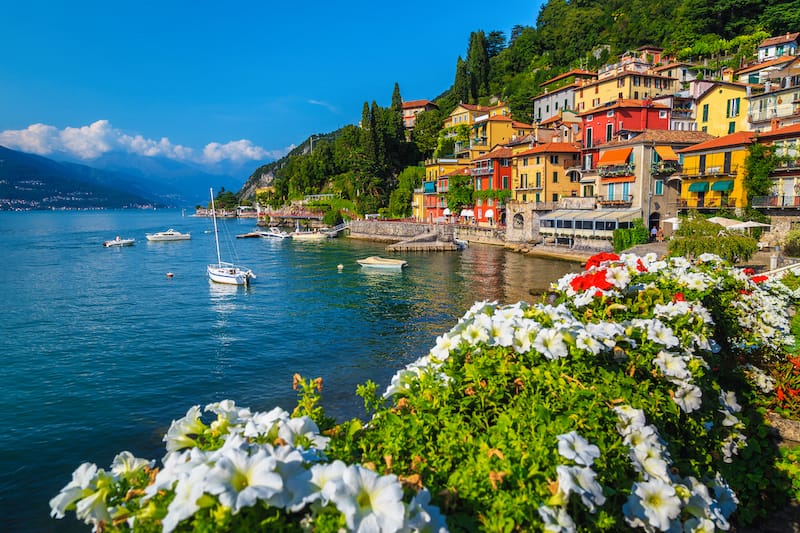 Don't miss the historical Castello di Vezio that overlooks the village. Here, you can enjoy the panoramic views and the falconry shows. It's a steep 40-minute hike to get there, but the views are worth it.
At the heart of Varenna, you will find the Church of San Giorgio and a lively square with cafes and restaurants. The best ice cream in town is right there, at Bon Bon.
After a day soaking up the beauty and history of Varenna, you can stay at the Hotel du Lac Varenna. Its central location and wonderful views come highly recommended by travelers.
17. Alberobello
Location: Puglia
Contributed by: Jenifer of The Evolista
​​Alberobello is a charming small town in Italy that is well known for its iconic and historic trulli houses. These whitewashed, conical buildings, originally used for storing grain are now a popular tourist attraction.
One of the best places to see the trulli is a walk through the Rione Monte neighborhood.
Some of the more notable are the Siamese trullo with conjoined cones and the Trullo Pia Piccolo, the smallest trullo that now functions as a souvenir shop.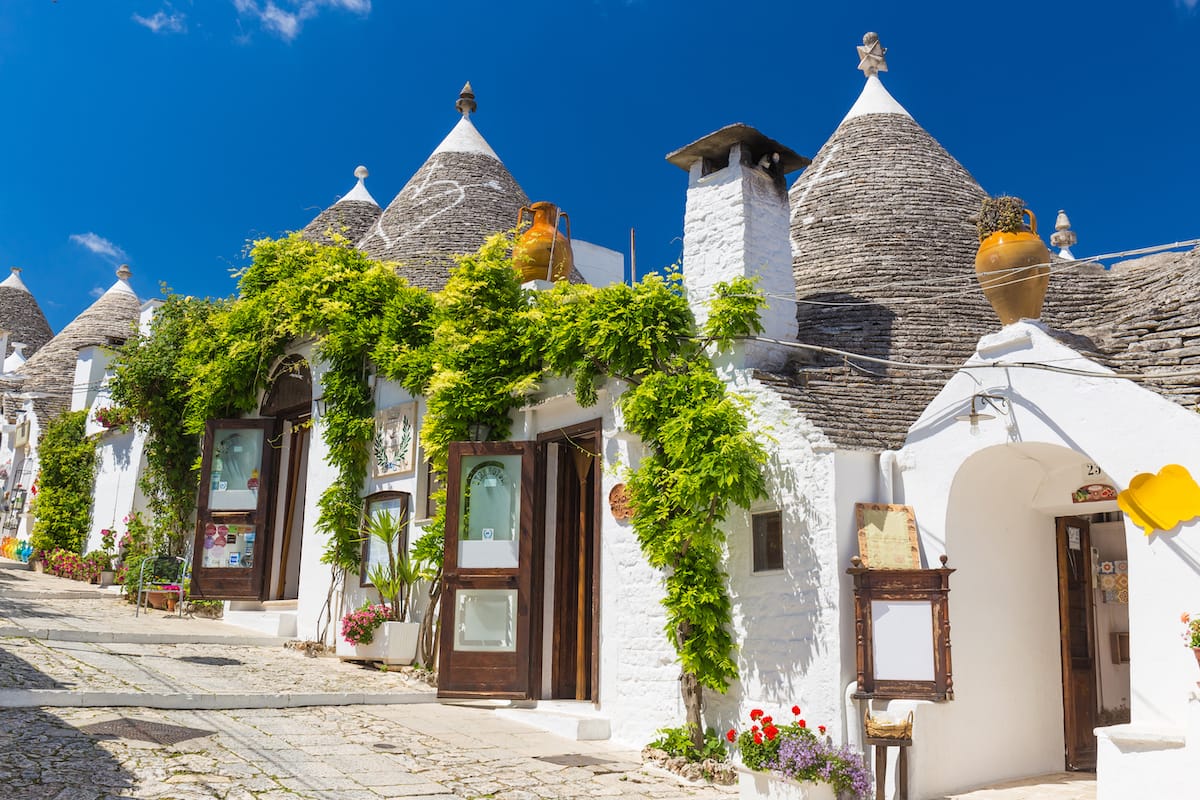 The shop owners love showing patrons how a family of five lived in such a tiny space.
The Church of Saint Anthony, located at the top of the hill, is a must-see church dotted with cone rooftops.
For an amazing meal, Ristorante La Cantina had delicious pasta dishes, including orecchiette, the traditional pasta of Alberobello. Extend your stay overnight at Romantic Trulli or for a more relaxed countryside vibe, try a masserie in Puglia.
18. Noto
Location: Sicily
Contributed by: Editor's choice
Noto is known for its gorgeous historic center full of Baroque-style architecture.
The best way to immerse yourself in the city's history is on a guided walking tour, where you can learn so much more about the city (which is a UNESCO World Heritage Site!) than by just walking through yourself.
Don't miss the Baroque-style Noto Cathedral, located in Piazza del Municipio, with its Corinthian columns, lovely frescoes, and colorful stained-glass windows.
Noto's main street, Corso Vittorio Emanuele III, offers plenty more churches, shops, and restaurants to explore.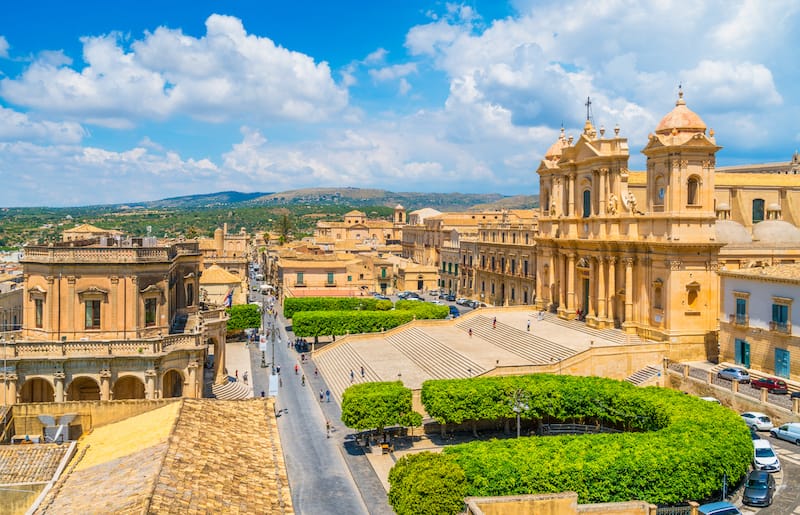 Visit the Palazzo Nicolaci to explore the sumptuous rooms full of ornate details.
For a break, cool off with a granita, a local specialty of flavored ice, at the historic Caffe Sicilia which opened in 1892.
If you want to spend some time in nature, relax on the beautiful beach of Eloro or hike down to the natural pools of Laghetti di Cavagrande.
A wonderful option for lodging in Noto is the Gagliardi Boutique Hotel, a high-rated hotel that is within a 2-minute walk of the famous Noto Cathedral and the city center.
19. Barcis
Location: Friuli-Venezia Giulia
Contributed by: Kristin of Tiny Footsteps Travel
Barcis is located on Lake Barcis (in Italian: Lago di Barcis) and is a small lakeside tourist town in northern Italy. The turquoise lake surrounded by the mountains gives the area a serene, picturesque setting.
Situated about an hour and a half north of Venice, Lake Barcis is a quiet town, perfect for a relaxing weekend getaway and spending time in nature.
Stroll through the town of Lake Barcis and admire the old stone buildings. To admire the natural beauty, go on the Giro Lago di Barcis hike which allows you to circle the lake and see the mountains from multiple viewpoints.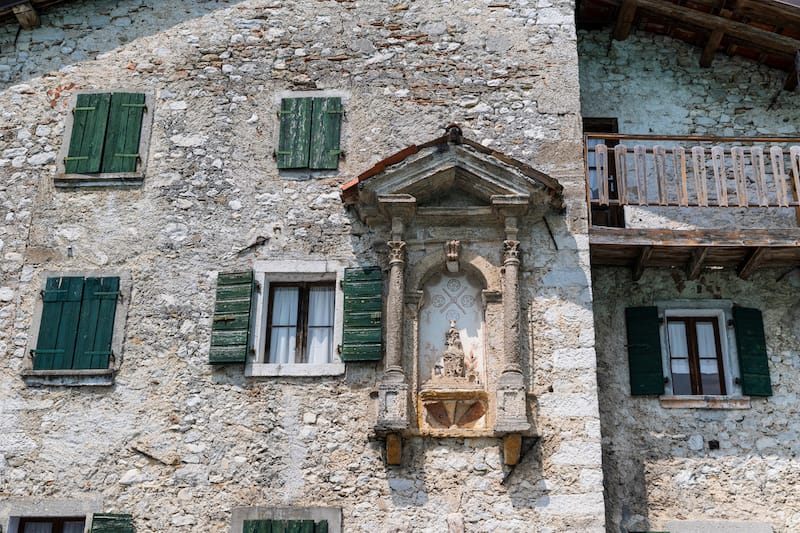 The entire loop is 6.1 km (3.7 miles) long, but great for all ages and ability levels.
For a great meal with a pristine view, head to Locanda con Cusina La Serenissima.
Serving traditional Italian dishes and local fine wines, La Serenissima has helpful staff, great food, and outdoor seating right on the lake, allowing you to enjoy a breathtaking view while you eat.
To rest your head at night, try Residence Belvedere, which gives you your own apartment with lake and garden views. For your convenience, there is also AC, free parking, and a mini-mart on site for you to grab any essentials.
20. San Gimignano
Location: Tuscany
Contributed by: Daniela of Ipanema Travels
San Gimignano, often referred to as the Manhattan of the Middle Ages, is a charming hilltop town in Tuscany and one of the best small towns in Italy to put on your bucket list.
The rivalry between two medieval families resulted in 72 tower houses towards the end of the 14th century, some of which were 50 m or taller.
Today, there are only 14 towers left, which is enough to make the cityscape of San Gimignano stand out. This has earned the 'Town of the Beautiful Towers' the recognition of UNESCO as a World Heritage Site.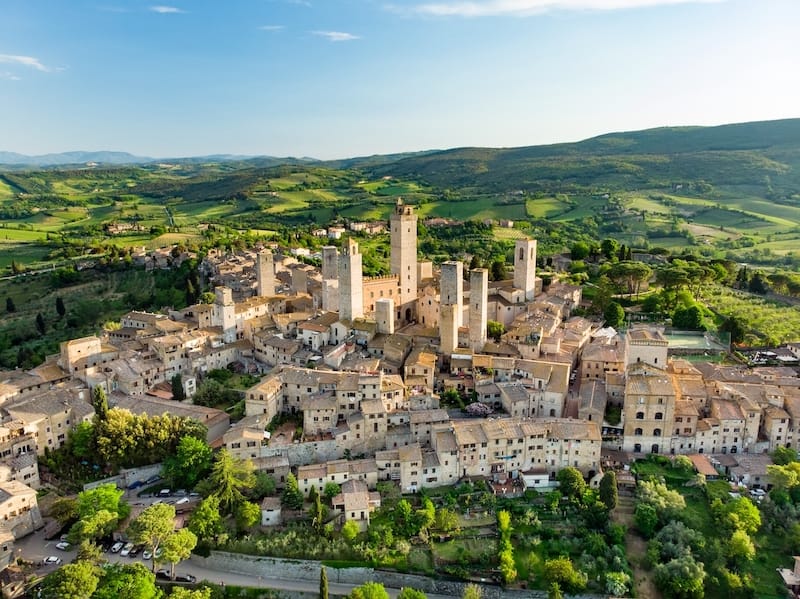 When visiting San Gimignano, climb the famous Torre Grossa for some amazing views of the Tuscan landscape, and visit the Chapel of Santa Fina in the Collegiate Church to admire the frescoes by Ghirlandaio.
You can't visit San Gimignano without trying the world-famous artisanal gelato of Gelateria Dondoli.
For lunch or dinner with a view, stop by the restaurant Le Vecchie Mura. And for the ultimate San Gimignano experience, stay at one of the tower houses, – Twin Tower in the heart of San Gimignano at Piazza delle Erbe.
21. Amalfi
Location: Campania
Contributed by: Editor's choice
You can relax on the beach as well as explore historic places in the quaint town of Amalfi, for which the whole coastal region is named after.
Historically a successful port town, you can see remnants of the city's wealth all the way back from the medieval era. In the heart of the historic town center, you will find the breathtaking Duomo di Sant'Andrea, with its stunning Norman-Arab-Byzantine facade and lovely cloisters.
Head up to the fascinating Paper Museum or shop for unique stationery at La Scuderia del Duca. Amalfi has many small, winding alleys that are fun to get lost in.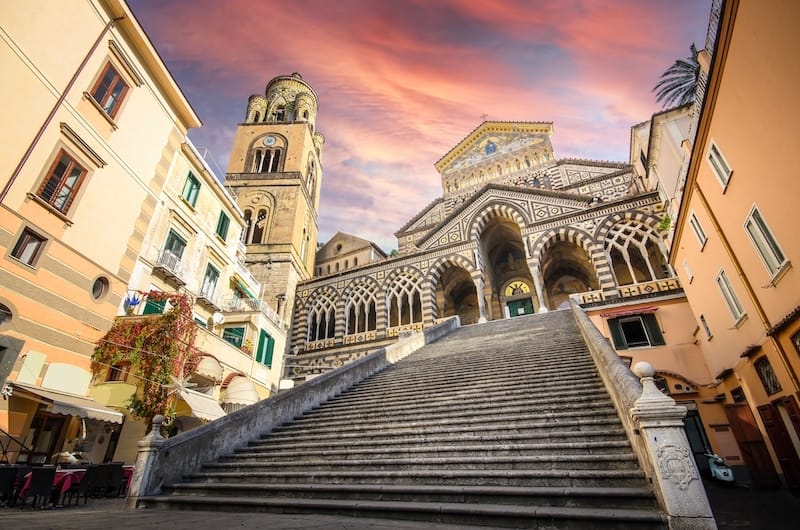 Cafes and shops dot the main street, where you can pick up some great souvenirs, such as anything lemon-related, a regional specialty!
Finally, make sure you head down to the water, whether it's to spend time on a nearby beach, take a boat ride, or wander around Amalfi's port.
Hotel Residence is located right on the seafront and has a terrace, modern rooms, and is surrounded by cafes and eateries!
22. Tirano
Location: Lombardy
Contributed by: Helen of Helen on Her Holidays
Tirano is a small town in Lombardy, in the far north of Italy and right next to the border with Switzerland.
Most visitors to Tirano are setting out on the legendary Bernina Express train, which runs from Tirano to St Moritz in Switzerland and on to Chur, running through spiral tunnels, across huge viaducts and across the Bernina Pass itself, 2,253 meters (7,392 ft) up in the Alps.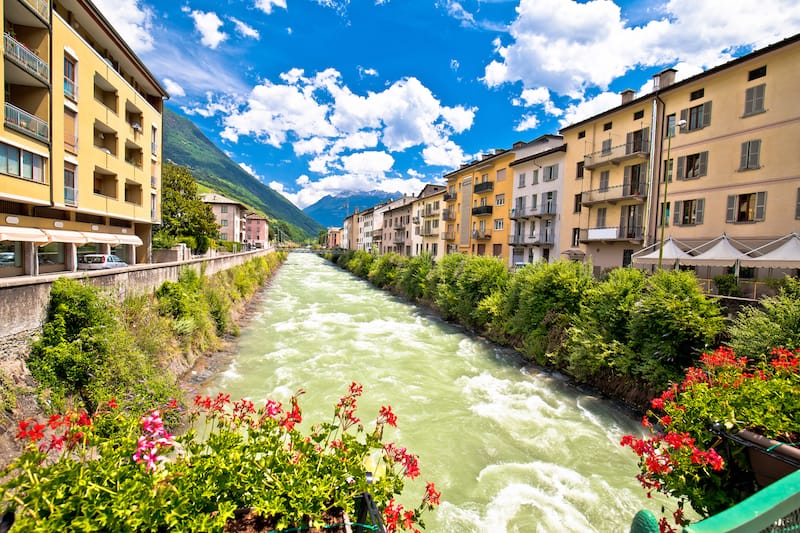 While many visitors to Tirano are just changing trains, Tirano is worth more than a quick platform switch. The town has a beautiful 16th-century church and several palazzos, while the hills around Tirano are full of vineyards and wineries.
Just over the border in Switzerland and easily accessible by train, Lago di Poschiavo is a beautiful natural lake with a hiking trail around the edge.
If you want to stay overnight in Tirano, the B&B Arcobaleno is close to both train stations and offers free parking.
23. Manarola
Location: Liguria
Contributed by: Dymphe of Dymabroad
One of the best towns in Italy is the small town of Manarola, which is part of the Cinque Terre area in Italy.
The town has a population that is lower than 400, but lots of tourists visit the town every year.
Manarola has very colorful and picturesque houses that are beautiful to see, and there are many beautiful Instagrammable places in Cinque Terre.
Furthermore, the city is packed with historic sights, such as the historic Basilica di San Lorenzo. Also, there are many viewpoints in Manarola that make the town worth visiting.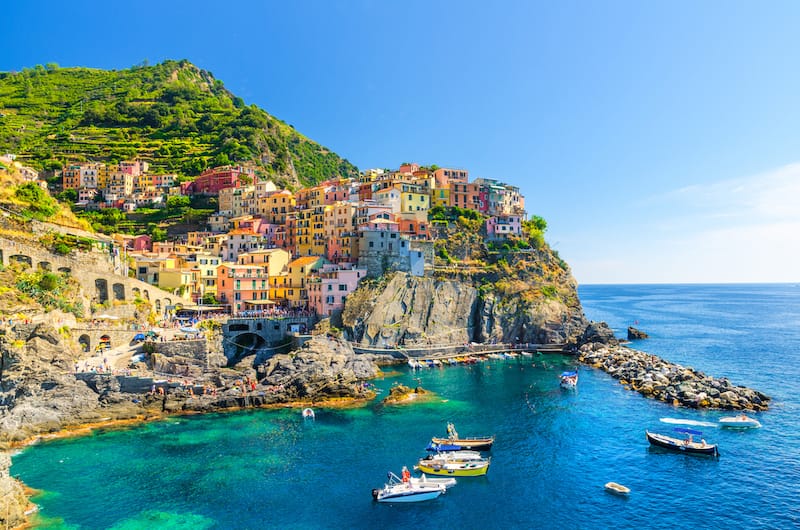 One of the best viewpoints, and a great place to have food when you are in Manarola, is Nessun Dorma.
This is a cliffside restaurant that serves very delicious bruschetta with a view of the harbor of Manarola.
Another great activity is to go hiking to the other villages of Cinque Terre and when you do this you can enjoy great views of nature and the sea.
If you're looking for the best place to stay in Manarola, look no further than Hotel Marina Piccola. It is merely a 5-minute walk from the train station!
24. Specchia
Location: Puglia
Contributed by: Bradley of Dream Big Travel Far
Nestled in the Puglia region of southeast Italy near the Adriatic Sea, Specchia is a lovely small town with just under 5,000 people.
It's known for its historic town center, where charming ancient buildings provide a glimpse into life as far back as the 9th century.
Grab a drink at Piazza del Popolo before exploring the beautiful old town, where the 16th-century medieval castle, Palazzo Risolo, stands tall.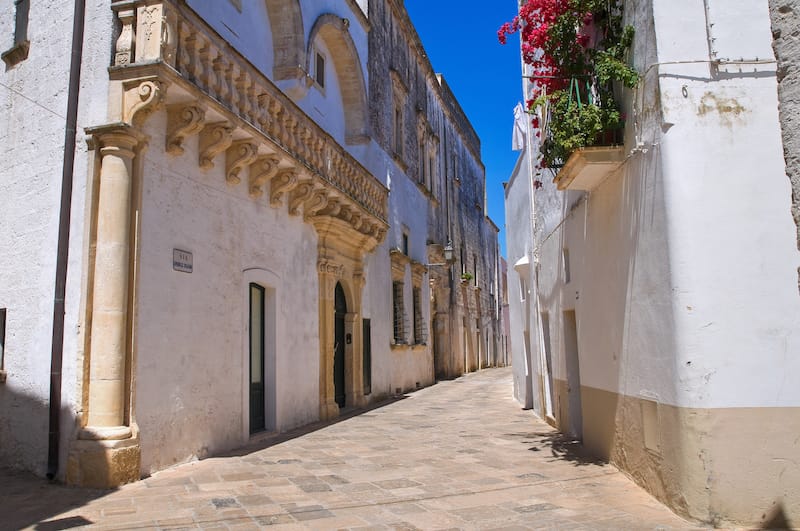 Some other notable structures not to be missed include the Church of the Virgin Mary and the Convento dei Francescani Neri. Specchia is also a great place to learn more about the history of olive oil!
In terms of accommodation, I Mulicchi is a rustic and elegant property with a sprawling pool and friendly staff.
You could also look for luxury places that have been converted from old masseries on one of these vacation rental sites. They're one way to feel transported in time and experience the Italian country vibes!
25. Saturnia
Location: Tuscany
Contributed by: Alisha of Travel Today, Work Tomorrow
Saturnia is a town full of rich history, local culture, and numerous archaeological sites. Visit the Roman ruins of Porta Romana, an ancient gate outside the walls of Saturnia, or the historic Church of Santa Maria Maddalena that dates back to 1188.
Saturnia is most famous for its natural thermal springs. Cascate del Mulino, also known as Saturnia Hot Springs, is a group of sulfurous thermal springs situated in the beautiful countryside of southern Tuscany.
The cascading pools of powder blue water are heated naturally by a nearby volcano and remain at a constant temperature of 37.5° C all year round. And the best part is, they are free to visit!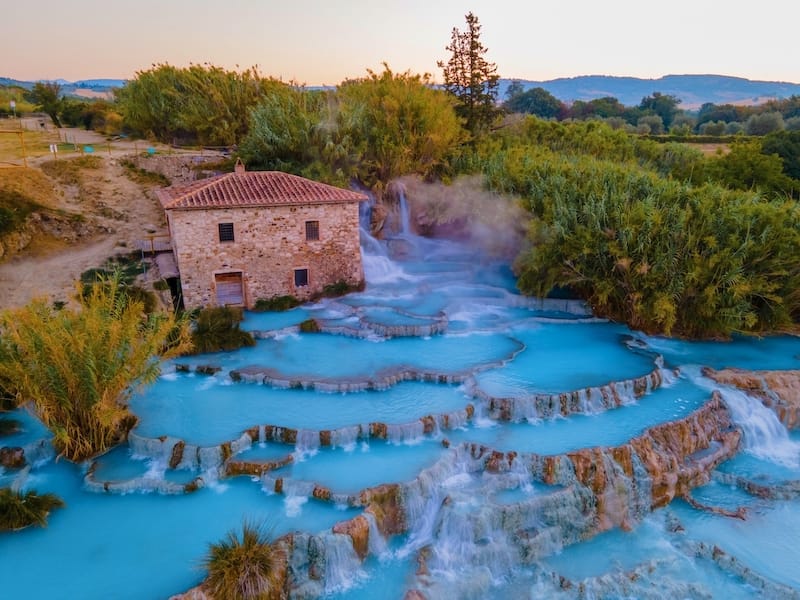 During your time in Saturnia, you can book a relaxing and luxurious stay at Terme di Saturnia Natural Spa & Golf Resort.
This 5-star resort is next to the hot springs and features a unique thermal pool, a world-class spa, and a golf course.
After a day of exploring, enjoy an authentic Tuscan meal at the cozy Ristorante I Due Cippi. A must is ordering one of their mouthwatering steaks!
26. Polignano a Mare
Location: Puglia
Contributed by: Editor's choice
Polignano a Mare is one of the most picturesque small towns on Italy's east coast.
Take a stroll through the charming streets of the Old Town past whitewashed buildings and stop to sip a coffee or try a new gelato flavor, like the local Apulian fig flavor.
Enjoy an aperitivo while people-watching in the evening at the main square, Piazza Vittorio Emanuele II.
Pop inside the Church of Saint Mary of the Assumption; though plain on the outside, it has an impressive interior!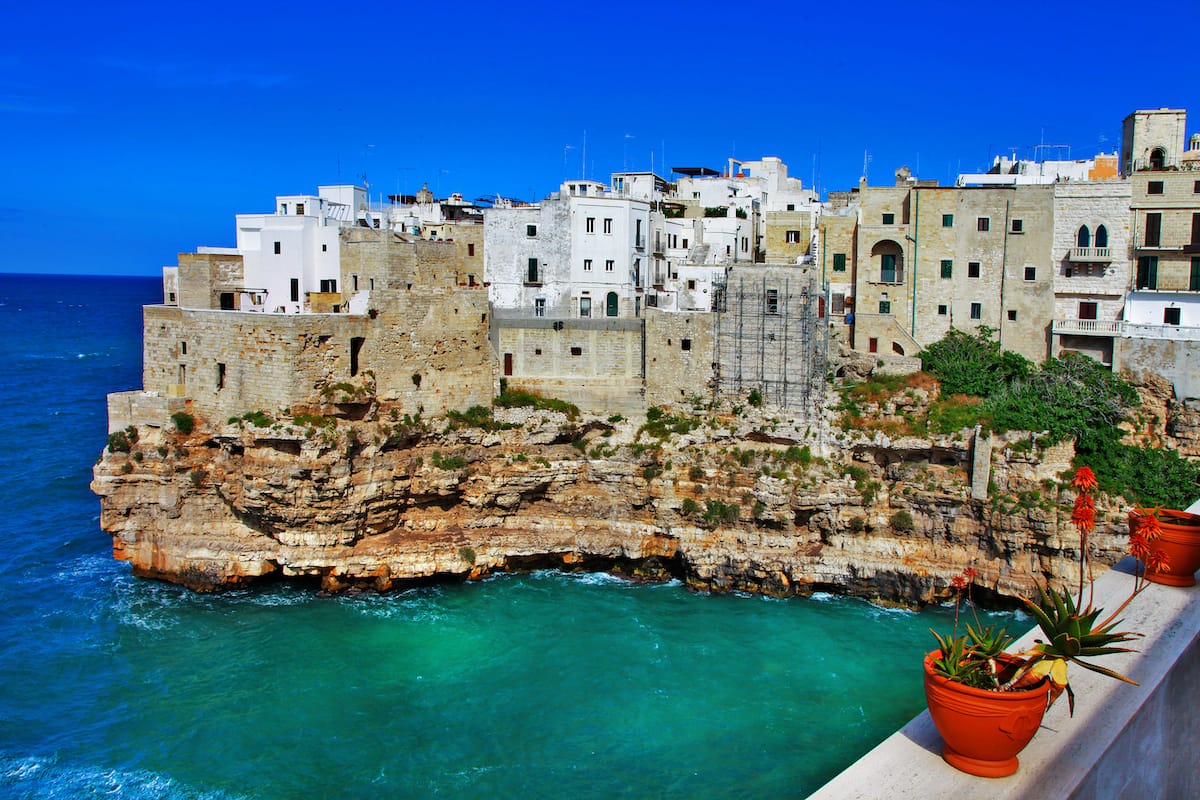 Don't miss spending a few hours on Polignano's gorgeous little cove beach, Lama Monochile, with its sparkling turquoise waters and stunning cliffs.
Polignano a Mare also has a great Museum of Contemporary Art, featuring many works by Polignano-born artist Pino Pascali.
For a one-of-a-kind dining experience, book a reservation at the exclusive Grotta Palazzese, a high-end restaurant with a terrace inside of a cave that gives you fantastic sea views.
If you're keen to stay in a hospitable spot, opt for Santo Stefano Home & Breakfast, located in the historic center. It has sea views and is delightful!
27. Bracciano
Location: Lazio
Contributed by: Lisa of Travel Connect Experience
Bracciano is one of the most picturesque towns easily accessible from Rome.
Just 40 kilometers north of the chaotic Eternal City you will find a small town of 10000 inhabitants perched on a hill overlooking the charming Lake Bracciano.
One of the cleanest lakes in Italy, Lake Bracciano is famous for being home to many species of waterfowl and being immersed in a protected nature reserve.
The town's historic center features medieval and Renaissance architecture. One of the best things to do in Bracciano is to visit the perfectly preserved 15th-century Orsini-Odescalchi Castle, which is now a museum.
Walking through its rooms, which feature frescoes and original furniture, will be like taking a dip back in time. Not for nothing many famous people have chosen to celebrate their weddings here!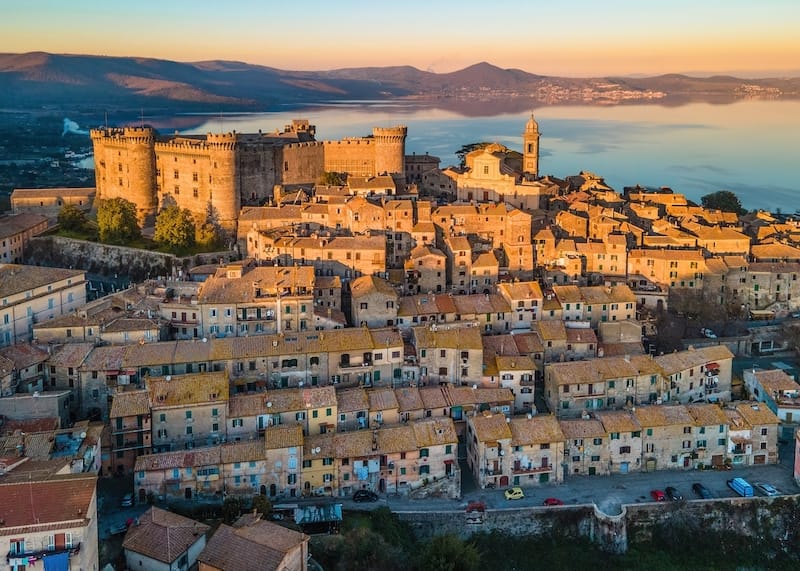 In front of the castle is the Piazza Giuseppe Mazzini, where you will find some excellent restaurants and a café where you can have an aperitif, the Caffè del Castello.
If you love pasta or pizza, you should definitely eat at Enjoy Ristorante Pizzeria, which serves tasty and hearty dishes, such as the "Carbonara Scientifica."
After enjoying the local flavors, digest by taking a walk along Via Arazzaria to La Sentinella Belvedere, a terrace from which you will embrace the entire lake with your gaze.
If you travel to Italy in the summer, you'll love Bracciano even more, because you can dive into the crystal-clear waters of its lake for a rejuvenating swim.
The best place to stay near Bracciano is Hotel Villa Clementina, which has a spa and a park where you can relax.
28. San Vito Lo Capo
Location: Sicily
Contributed by: Marianne of Pasta, Pretzels, and Passports
San Vito Lo Capo is an awesome beach town located on the northeastern coast of Sicily.
This charming town is not only home to a ton of fabulous activities, but its crystal-clear turquoise waters and sandy shoreline, make it a favorite for travelers seeking a beach vacation.
While in San Vito, be sure to visit the iconic lighthouse, the San Vito Sanctuary, Blue Marino's Cove, and the Chapel of Saint Crescenzia.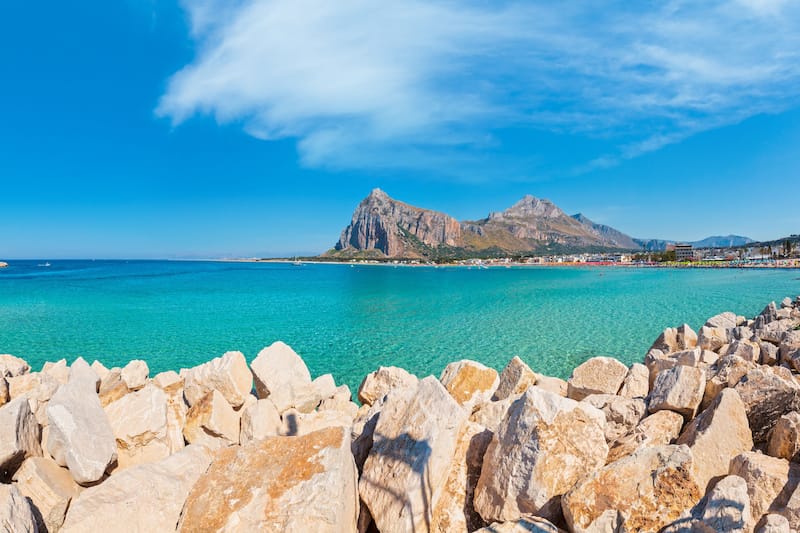 If you are a Foodie, San Vito's specialties include seafood couscous and Caldo Freddo, which is a dessert made from sponge cake soaked in liquor, Sicilian gelato, and topped with hot chocolate sauce. Divine!
One highly-rated restaurant worth mentioning is Bianconiglio, renowned for its delectable meat-forward dishes prepared with the freshest locally-sourced ingredients.
One of the top-rated accommodations is the Sundeck Hotel.
This modern hotel is only an 11-minute walk from the main beach and has two rooftop hot tubs with scenic views of the water. Its central location provides easy access to restaurants and shops, making it an ideal choice for travelers looking for convenience and comfort.
29. Merano
Location: Trentino-South Tyrol
Contributed by: Sarah of In Search of Sarah
Merano is one of the best small towns in Italy if you're seeking rest and relaxation without the crowds. Best known for its spas and stunning views, Merano is a small northern Italian town full of life.
Some of the best things to do in Merano is to visit the Terme Merano, with 25 pools and saunas offering peace and tranquillity.
For adventure lovers, Merano is surrounded by the beautiful Alps with easy access to endless trails, including the Merano High Mountain Trail.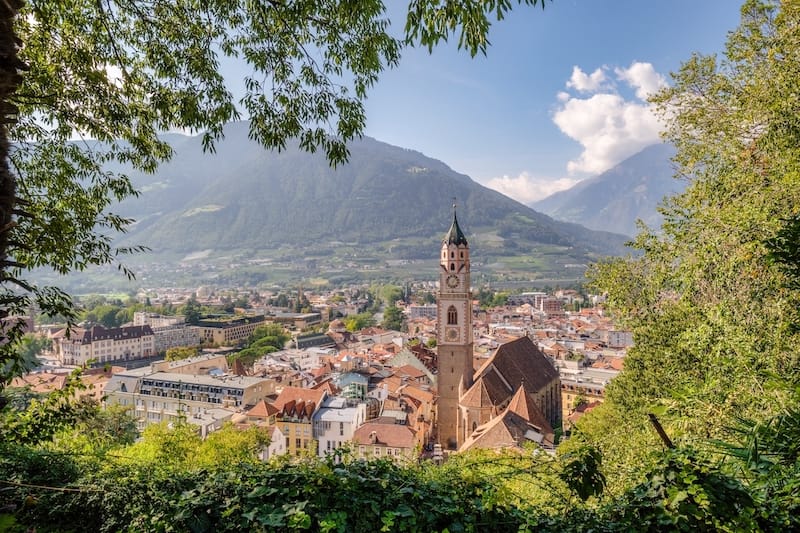 This hiking trail is one of the most beautiful hikes in the entire Alpine region! For those seeking less strenuous activities, a visit to Trauttmansdorff Castle and gardens will please any nature lover.
Merano also has a variety of restaurants offering Italian and German cuisine. Forsterbräu Meran and Gaststätte Henkerhaus focus on South Tyrolean cuisine in a historic setting and source most of their ingredients from local farms.
Be sure to carry cash on your trip to this Italian town as some restaurants do not accept credit cards.
End your night with a comfortable sleep in the heart of town at Maison Valentina Merano.
This cozy bed and breakfast is just steps from museums, restaurants, and scenic river walks.
30. Monopoli
Location: Puglia
Contributed by: Editor's choice
Monopoli is a lovely little beach town in Puglia. Its charming Old Town, with whitewashed houses, coffee bars, and hidden churches, is perfect for exploring on foot.
Grab a drink and people-watch in the evening at the lively Piazza Giuseppe Garibaldi.
Make sure you try Puglia's regional specialty, the olive oil! It's also a great souvenir to bring home.
There are several fascinating historical sites throughout the town, such as the Castle of Charles V; the Basilica of the Madonna della Madia, the main cathedral; and Il Bastione del Molino, the ruins of a fortress built to protect the city from invaders from the sea.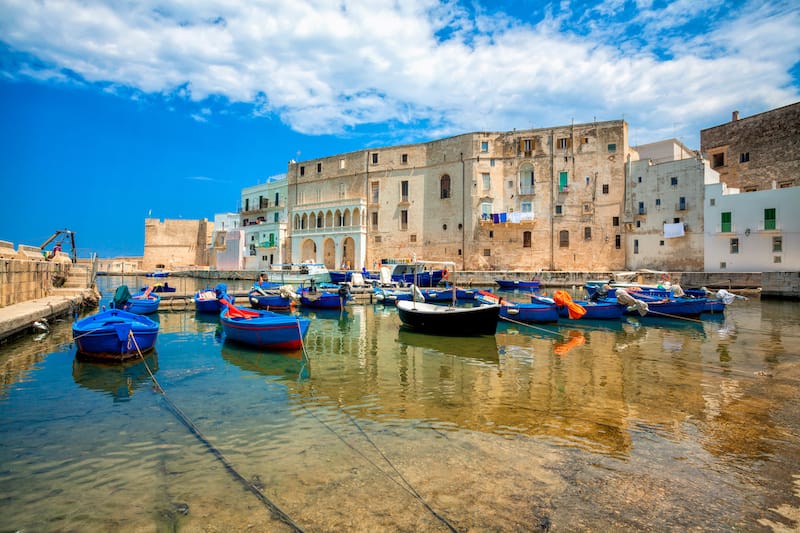 Don't miss visiting Egnazia Archaeological Park, where you'll find amazing artifacts and ruins from a settlement first inhabited in the 13th century BCE.
Finally, enjoy the gorgeous blue and green waters of the Adriatic and soak up some rays on one of the many nearby beaches.
In Monopoli, an excellent place to stay is B&B A C-Caste, a bed and breakfast near Lido Pantano Beach. The rooms are absolutely stunning and you will have a wonderful a la carte breakfast with local specialties.
Did we miss any of the best small towns in Italy?
Let us know your favorite Italian towns and villages in the comments. Thanks!
More Italy Travel Guides
Pin this Italy Small Towns Guide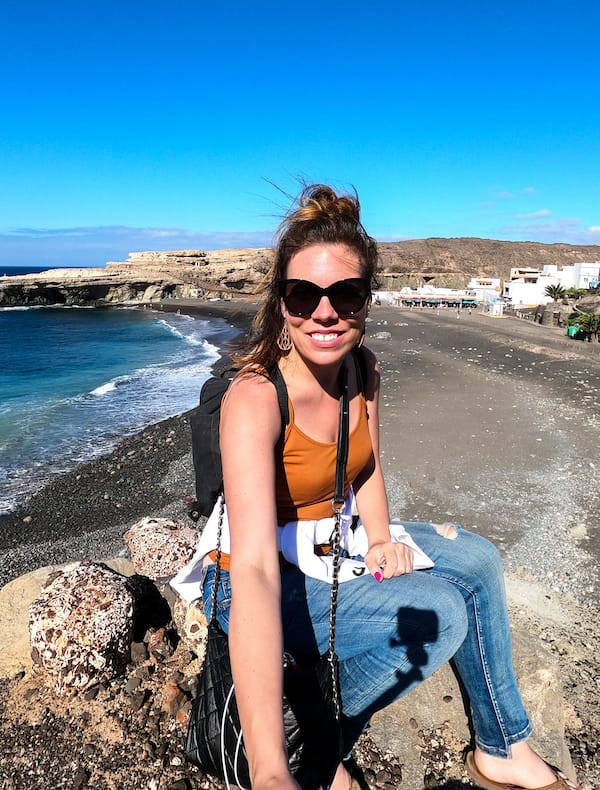 Megan is a travel blogger and writer with a background in digital marketing. Originally from Richmond, VA, she now splits her time between Frankfurt, Germany and Arctic Finland after also living in Norway, Armenia, and Kazakhstan. She has a passion for winter travel, as well as the Nordic countries, but you can also find her eating her way through Italy, perusing perfume stores in Paris, or taking road trips through the USA. Megan has written for or been featured by National Geographic, Forbes, Lonely Planet, the New York Times, and more. She co-authored Fodor's Travel 'Essential Norway' and has visited 45 US states and 100+ countries.