Are you looking for the best things to do in Monopoli, Italy for an upcoming trip? Keep reading if so!
Are you planning your trip to Monopoli last minute?
Be sure to book your accommodation and tours in Monopoli ahead of time to ensure availability!
Here are our top recommendations for tours in/from Monopoli:
Here are our top recommendations for accommodation in Monopoli:
Looking for the best way to get around Puglia? Click here to check rental car rates for Italy!
If you have any suggestions of what to do in Monopoli, one of the best hidden gems in Italy, please drop them in the comments!
Best Things to do in Monopoli, Italy
In the Puglia (Apulia) region of Italy, you will find many beautiful coastal towns and cities dotted along the cliffs that stretch southeast below the main city of the region, Bari.
One of the most amazing places I visited during my recent trek through the region was Monopoli (despite the similar name the town has nothing to do with the famous board game Monopoly).
It was the perfect stop for my European tour of the famed region.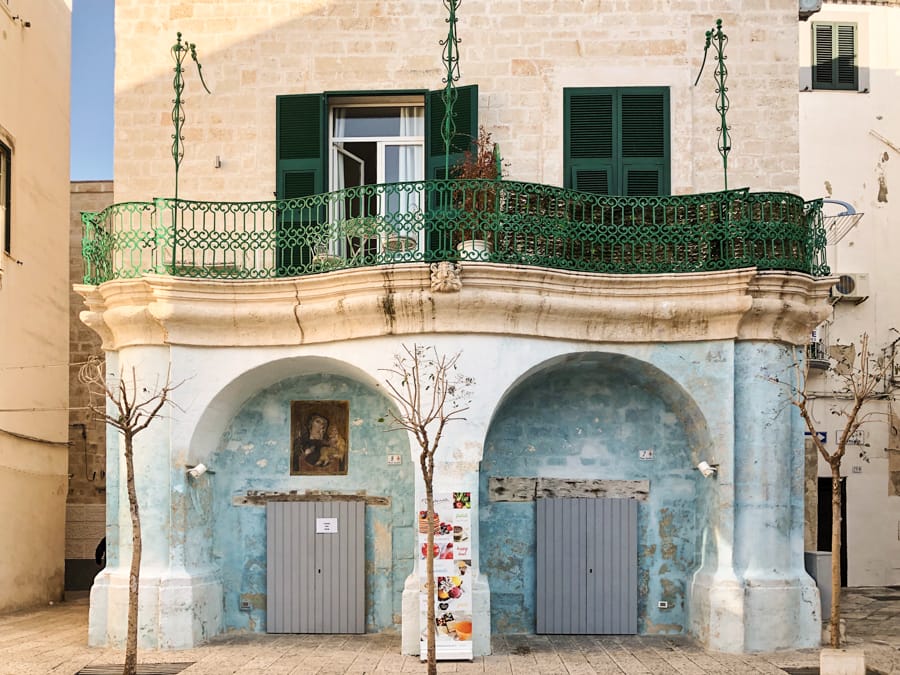 The small town is located 47 minutes southeast of Bari and is known for aesthetically pleasing whitewashed houses that contrast perfectly to the turquoise waters that crash along the coast.
There are also many things to do in Monopoli, making it a hit with tourists and locals both.
About Monopoli, Italy
Monopoli has had an exciting history that dates back to when it was settled in 500 BC.
Over time, the town fell under different rulers, with its early years falling under the Roman Empire.
During this time period, the Via Traiana, one of the most important roads in the Empire was built through the town.
After the fall of the Roman Empire, the town was passed between rulers and started to grow into a strategic defensive town.
Defensive forts were built in the town to defend it from marauding pirates and against the Spanish Armada that held the town to siege for three months before finally being repelled.
During this time, the town flourished economically and traded locally grown agricultural produce across the Mediterranean.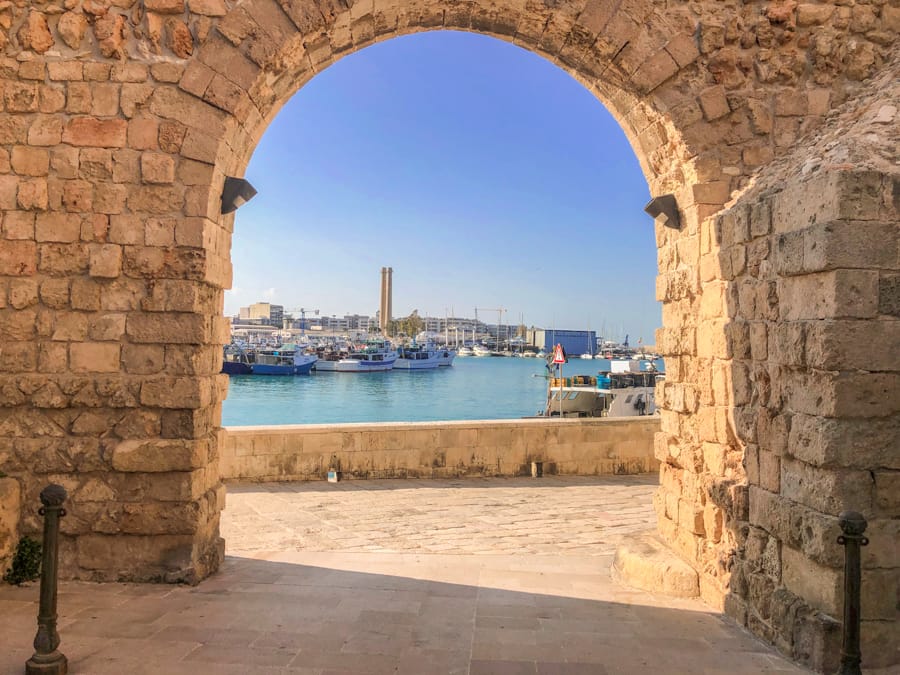 The Spanish eventually managed to take the town, giving it a free status. In 1860, it became part of Italy as we know it now.
The town today is a beautiful coastal city teeming with gorgeous piazzas and cute winding little streets.
As you work your way through the whitewashed buildings, you will eventually find yourself at the charming harborside or heading to one of the cliffs that overlook the sea.
The town is often overlooked by those heading to Italy due to its size and some of the other nearby towns overshadowing it.
However, the tide is changing and tourists are starting to appreciate the town for just how awesome it is.
I found there were plenty of things to do in Monopoli to keep you occupied for a few nights despite people often just passing through on a whim or for a short stay.
In this guide, I have listed the best things to do when visiting Monopoli, from walking along the harbor to diving into its ancient history.

How to Get to Monopoli from Bari
Reaching Monopoli is best done from the main city in Puglia, Bari, where there is an airport and good connections to the rest of Italy.
Located around 29 miles southeast of Bari, there are a couple of ways to reach the city easily and quickly.
By Car
If you are renting a car during your stay, Monopoli is a 47-minute drive away from Bari. From Bari, work your way onto the SS16 and head in the direction of Brindisi/Lecce.
Take the exit for Monopoli North and follow the signs/sat nav to your hotel.
Along the way, appreciate the gorgeous views as the road hugs the coastline.
If you have time on your hands, there are plenty of beautiful little towns you can visit along the way, such as Polignano a Mare.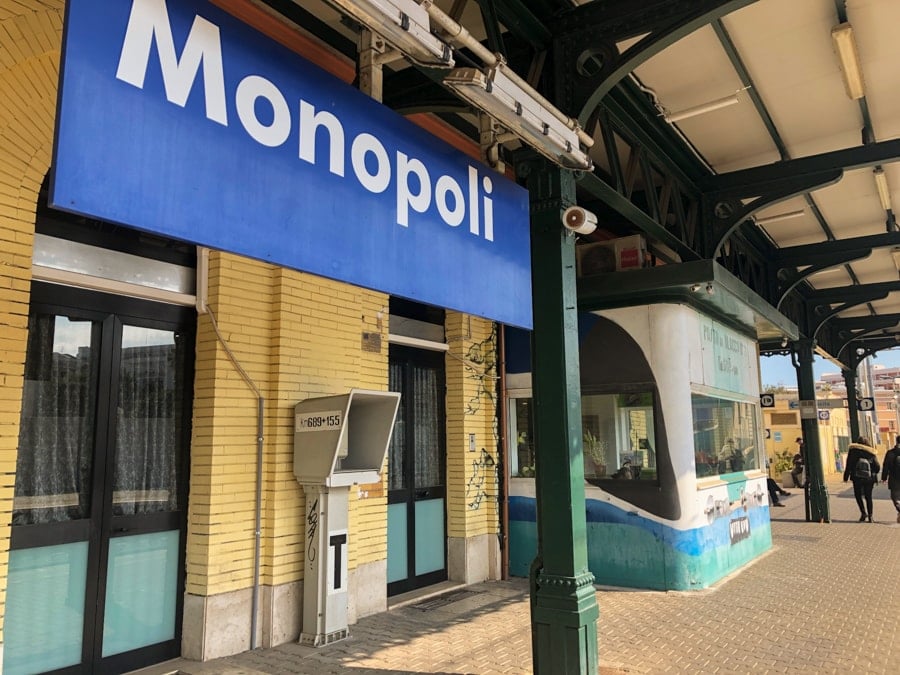 By Train
There are direct trains that run from Bari Centrale to Monopoli fairly regularly and cost as little as €3.20.
The journey takes between 25-55 minutes depending on the type of train you take although the standard ticket costs the same no matter which train you take.
Strangely between around 1000 – 1200, there is a large gap of around an hour and a half between trains so you will need to plan your journey accordingly.
For more information check my guide to getting to Monopoli from Bari by train.
Do You Need Travel Insurance for Italy?
Yes, we highly recommend securing travel insurance for Italy prior to your trip there.
We use and suggest SafetyWing, a trusty Norwegian company that offers widespread coverage and for extremely affordable prices (think Norwegian quality without the Norwegian prices). They cover in Italy and have great policies.
>> Click here to get an Italy travel insurance quote
What to Bring to Monopoli
If you're heading to Puglia and Monopoli, we have a few suggestions of what to tote along for your trip, including one crucial item that constantly gets me in trouble in Italy as I always forget to bring one!
You can read more below:
Italy power adapter: So, Italy is in Europe and uses European plugs, right?
Um… not quite and it's annoying. They use this three-prong plug that is much smaller than the average European plug.
Granted, if you have a two-prong plug with really skinny prongs, you can likely fit it into the wall.
But, if you have a laptop, hairdryer or hair tools, and pretty much anything else… IT WON'T FIT!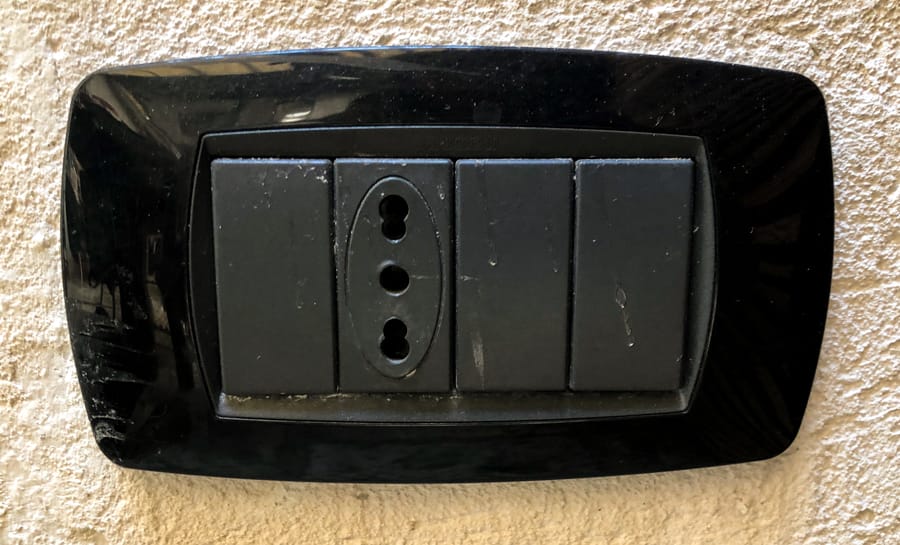 Trust me on this. I have spent so much effort over the years stressed because I couldn't charge my laptop because I forgot to bring one.
I was fortunate that an electronics shop found something in their backroom in Bari that would help me (and they gave it for free… it wasn't even for sale).
Anyway, order one before going to Italy regardless of whether you're in Europe or not.
Power strip: If you're having to convert with a new power adapter for Italy, I recommend bringing a power strip with you to plug the remainder of your electronics in so you only need to purchase ONE Italy power adapter.
Obviously, if you're from the US, buy one with American plugs and if you're from Europe or UK, bring one with European or UK plugs, respectively.
Fodor's Essential Italy guidebook: If you're off on a trip to Italy, you definitely should invest in a good quality guidebook to give you practical tips on the road when you're not able to connect to wifi.
I recommend Fodor's Essential Italy as Fodor's tends to write a lot more informatively than other guidebooks.
Italy Phrasebook: If you're looking for better communication on your Puglia trip, you definitely will want to invest in an Italian phrasebook.
This one from Berlitz is highly-rated and will be especially useful for your Italy trip.
Italian is my favorite spoken language in the world and nothing is more fun than learning a couple of words in it!
Tours of Monopoli, Italy (and Vicinity)
There are not too many organized tours of Monopoli itself, but I did include one below that is worthwhile and covers the Old Town pretty well.
The other tours listed include other worthy places in Puglia (trust me- I only included places I know or have been to myself!):
What to do in Monopoli
Visit the Monopoli Cathedral
In the center of Monopoli sits the Basilica of the Madonna della Madia, a large Roman Catholic Cathedral. Construction of the Cathedral started in the 12th century, however, it had to be halted when they ran out of beams to support the roof.
A few years later, if by miracle, a raft with an icon of the Madonna floated into the small harbor and the wood from the raft was used to complete the Monopoli Cathedral.
Sadly, during more turbulent times in the city's history, the building sustained a lot of damage with partial collapses killing many people.
It was decided in the mid-1700s to demolish the original building and build a new, Baroque-style Cathedral. This cathedral still stands today and is a must-visit while in Monopoli.
The interior of the religious building is mindblowing with plenty of frescos adorned on the walls, some of which depict the raft that floated into the harbor.
You will also find the Icon of Madonna from the raft in the Cathedral. Twice a year there is a festival celebrating the Icon where the locals carry it through the streets in a small wooden boat.
The building is open every day and can be visited by the general public, although, during mass times, you will not be able to enter the building just to have a look around.
The Monopoli Cathedral can be found at Largo Cattedrale in Monopoli.
Explore the Monopoli Old Town
Every time I step foot inside of an 'old town' in Italy, I automatically declare it the 'most charming place I've ever been' in the most basic of manners.
Monopoli's Old Town is no exception. Spend time wandering the delightful little winding streets and discovering the history of this Puglia gem.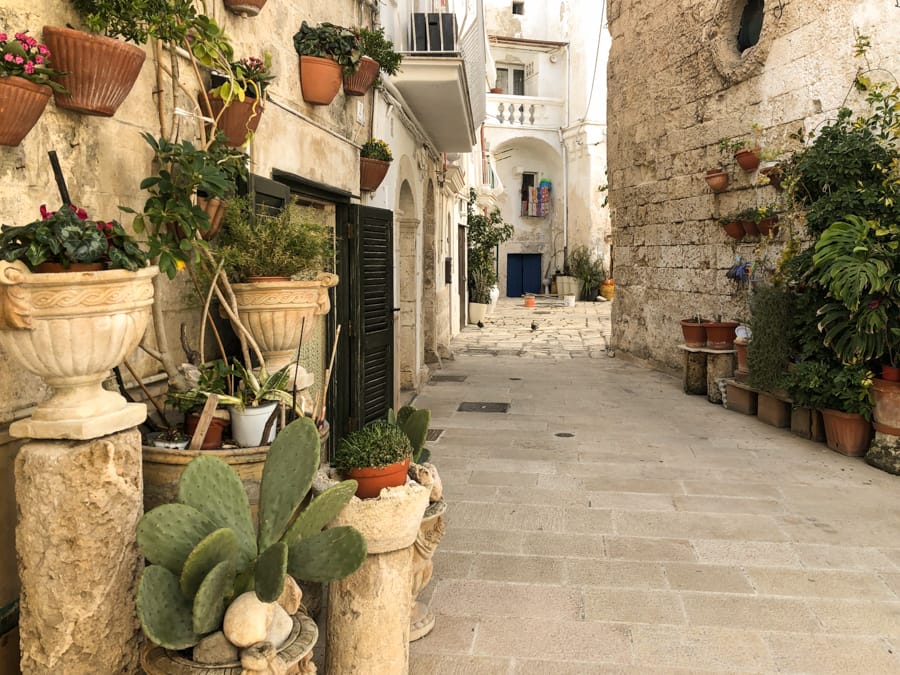 The narrow alleyways and passages give way to historical little squares as they maze between the beautiful, whitewashed buildings.
As you stroll the city, you will stumble across hidden churches that are seemingly piled on top of each other given their close proximity to one another.
Take a relaxing break in one of the many quintessential Italian coffee bars or cafes for a coffee or a glass of wine.
If you are looking to learn more about Monopoli's adorable Old Town, I advise taking a private walking tour of the city. The tour is perfect for those traveling to the town in small groups.
Take In The Views at Castello di Carlo
The Castle of Charles V is a wonderful example of an Italian coastal fortress.
Sitting on top of a piece of land that juts out away from the main town, the castle provides a perfect view over the sea and the city's small harbor.
Originally built to defend Monopoli against various pirate boats and the advancing Spanish army, the castle was eventually taken over by the Spanish along with the rest of the town.
The Spanish extended the castle in order to accommodate their soldiers and their families. In subsequent years, the castle was turned into a prison that was still in use until the 1990s.
However, now the buildings are used as a conference and exhibition center.
As a tourist, you can visit Castello di Carlo and enjoy the breathtaking views over the old port and out to the beautiful waters of the Mediterranean.
Alternatively, you can take a look at the art on display at the exhibition center.
You will find Castello di Carlo at Largo Castello, Numero 5 in Monopoli.
Enjoy One of the Beaches in Monopoli
Dotted along Monopoli's coast are some of the most perfect beaches tucked between large cliffs.
The sandy beaches are idyllic with crystal clear water lightly breaking on the shore.
In the town center, you will find Cala Porta Vecchia, a small stretch of beach that lies just below the old town.
Cala Porta Vecchia is relatively popular but doesn't experience the crowds like many other European beaches.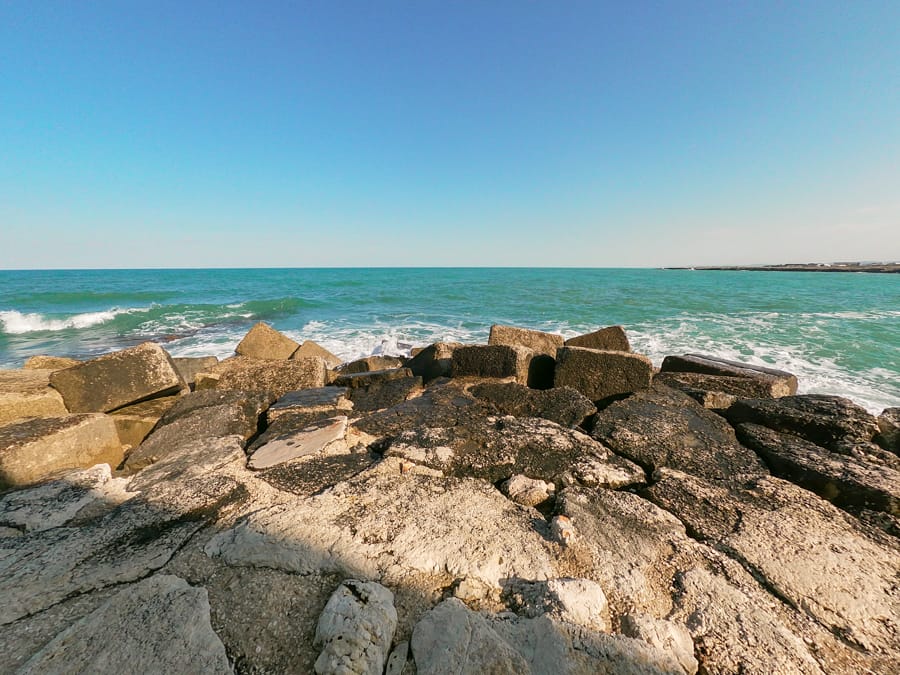 Alternatively, if you have a car, you can head south of Monopoli where many of the region's best beaches are located.
Just a five-minute drive outside of the city (an easy walk or bike ride too) you will discover the quaint Lido Colonia, a small beach sheltered by a quiet cove where you can sit on the sand or rent a sun lounger for a small fee.
Next to many of the beaches, you will find fun bars where you can enjoy a beachside drink or taverns where you can grab a bite to eat. Hitting the beach is one of the best things to do in Monopoli.
See the Il Bastione del Molino Ruins
In the center of Monopoli, you will find the ruins of a historic fort that was used to protect the old town.
Walk up Via Luigi Cadorna from the coast and on the right-hand side, there will be a brilliant viewpoint where you can see the old defensive walls of the city.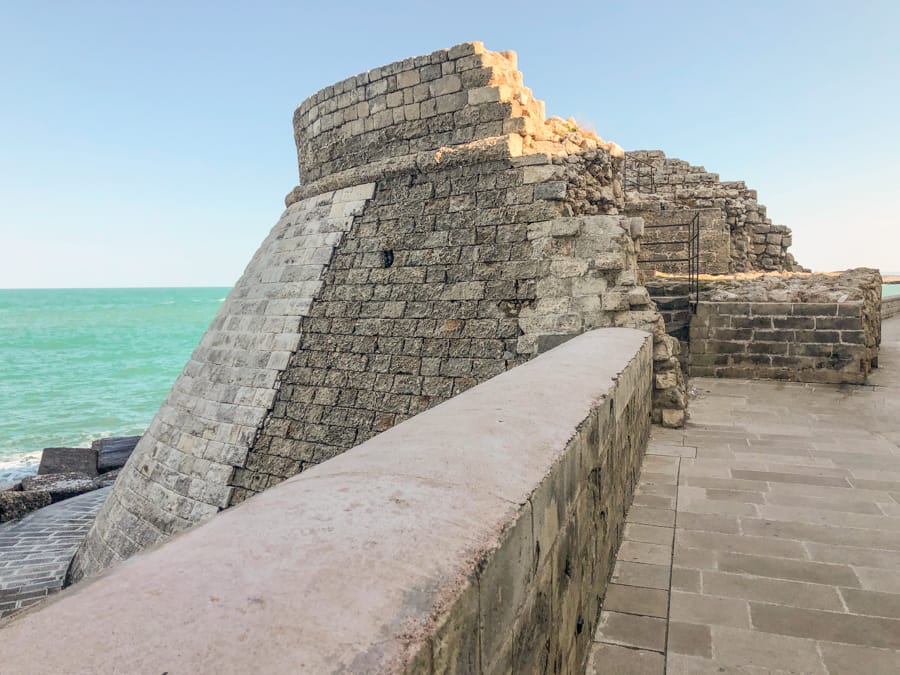 Il Bastione del Molino is set slightly lower than the more modern part of the city and includes several canons from the time that would have been used to fire upon any advancing troops or pirates.
If you enter the fort from the old town, you can walk amongst the canons that defended the city.
Even though the site is relatively small and will only take a few minutes' time, it really provides a fascinating insight into just how much old Monopoli needed to protect itself.
You can find Il Bastione del Molino at Via Mulini in Monopoli.
Go Back In Time At Chiesa di San Salvatore
On the edge of the old town where Monopoli meets the sea is a beautiful, old church.
The Chiesa di San Salvatore is one of the oldest churches in Monopoli and it is believed to date back to around 313 AD.
They say the church is facing the sea because it was built by pirates who survived their ship being wrecked.
During the 1960s, the church was abandoned and some of the items contained within were stolen, although much of the artwork was restored and moved to other churches in the town.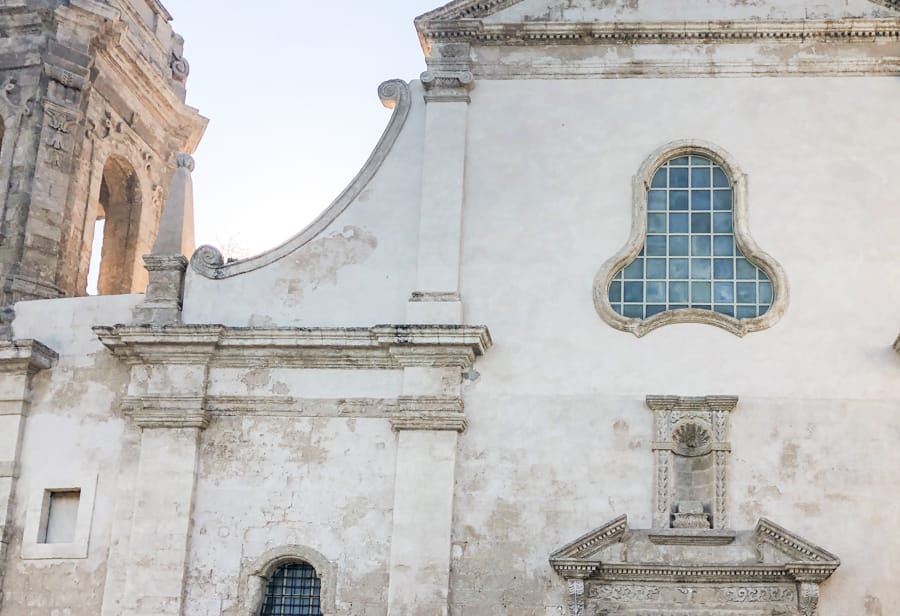 Thankfully, the church has been restored and found its purpose in modern Monopoli, hosting cultural events, exhibitions, and concerts.
As much of the artwork was removed from the church, the interior has a much understated and minimalistic beauty which is not often found in Italian churches.
If you're a history lover or simply love visiting churches, visiting Chiesa di San Salvatore is one of the best things to see in Monopoli.
You can find it at Largo S. Salvatore in Monopoli.
Devour Fresh Seafood at Komera, Cucina Nostra
If you're nestled right on the Southern Italy coast, it would be completely remiss of you to not devour all the local delights, including seafood.
Thankfully, Monopoli is teeming with amazing restaurants where you can enjoy freshly caught fish, octopus, mussels, and much more.
As someone who grew up near the beach, I class myself as a bit of a seafood snob and prefer to eat in season.
Luckily, the restaurants in Monopoli mostly focus on what is available that day and do not disappoint when it comes to portion sizes.
One of my favorite Puglia food experiences was when I had lunch at Komera, Cucina Nostra.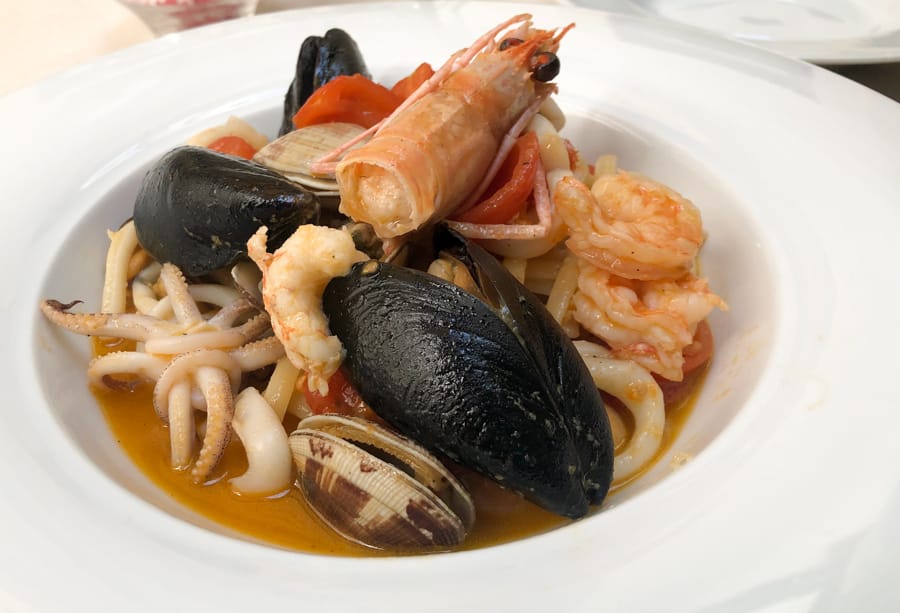 The interior is modern and airy and the staff was very attentive and didn't rush me while I savored every moment of my tasty lunch despite the establishment closing for a long afternoon break.
This was definitely a can't-miss Monopoli restaurant.
You can find Komera, Cucina Nostra at Via Barbacana 79 in Monopoli.
Drink a Birra Del Console
Italy makes fantastic wines and everyone knows this, but I find the beer scene struggles to get the recognition that it deserves.
When I visit Italian towns and cities, I try and hunt out a local craft brewery to check out the scene and provide some much-needed support.
Birra del Console is a great craft brewery in Monopoli that's brewing fantastic beers.
At the moment, they only have a few beers in production, but they have really managed to perfect those that they brew regularly.
They also work in collaboration with a local restaurant called Vini & Panini to produce some bespoke beers for them.
You can also stop by the craft beer bar called Illuppolati and check out their offerings.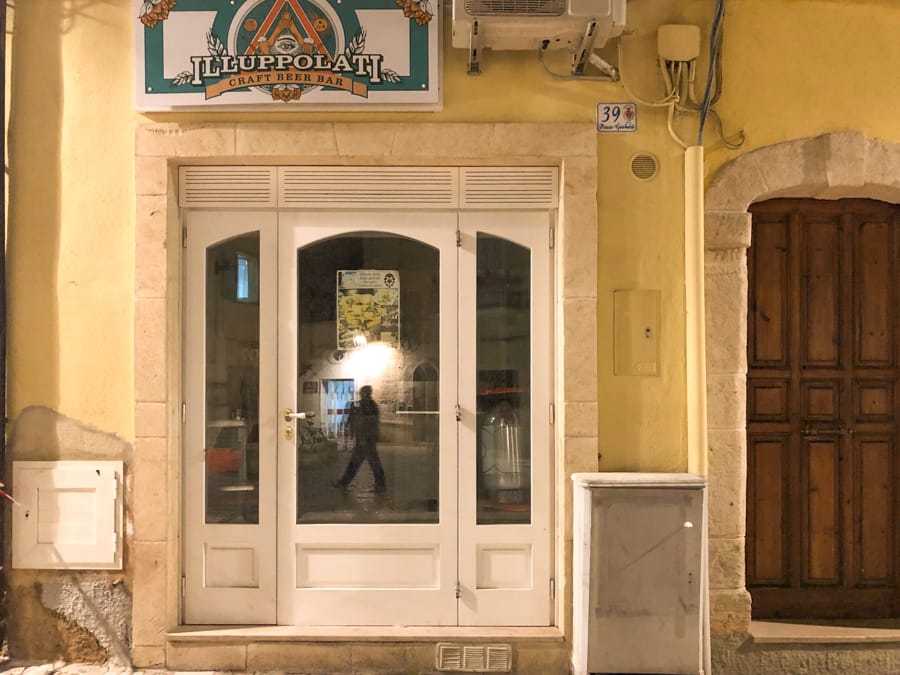 I highly recommend trying out one of their IPAs and supporting these local entrepreneurs.
Discover the Egnazia Archaeological Park
Located south of Monopoli is the awe-inspiring Egnazia Archaeological Park.
Dating back to around the 13th-century BC, the settlement was constantly populated until around the 10th-century when it was finally abandoned.
The site includes fantastic ruins from the Messapians and Roman eras.
The town of Egnazia grew to prominence during the Roman era when the Traiana Road was built and trade flourished thanks to the road providing a direct connection between its port and Rome.
After the fall of the Roman Empire, Egnazia was often subjected to acts from various invaders and eventually, the townspeople decided to leave to find a safer more prosperous place to live.
Following the abandonment of the town, many people looted the town and the graves, taking pretty much anything valuable that they could find.
Today, the area has been preserved as an archaeological park, and excavations of the area are still taking place and uncovering many artifacts from this forgotten town's history.
To reach the park, you will need a car as it is located a little outside of Monopoli.
Take a Day Trip to Polignano a Mare
One of my favorite seaside towns in Puglia is Polignano a Mare.
While this is essentially a guide of what to do in Monopoli, if you have an extra day and Polignano a Mare is not on your Puglia itinerary, ADD IT!
Polignano a Mare is small but absolutely stunning and worthy of visiting.
It sits between Bari and Monopoli and getting to Polignano a Mare is extremely easy by train (and cheap!)
Once there, you will find charming alleyways, many beaches, and more restaurants than you could ever imagine.
Click here to see what to do in Polignano a Mare, one of my favorite places in Italy.
If you're keen to stay in the city, check out our hotels in Polignano a Mare guide but if you're just spending one day in Polignano a Mare, we have something for you too!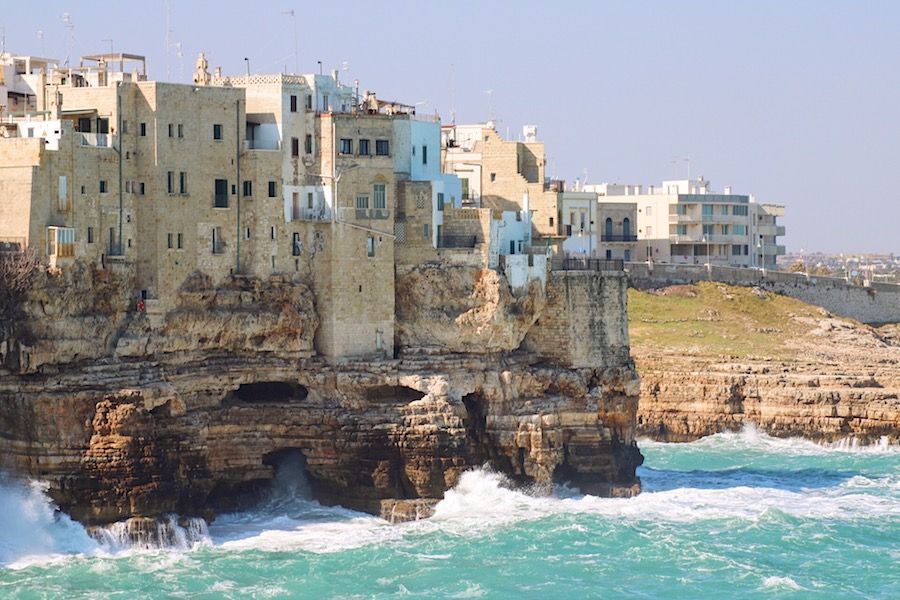 Do be aware that the off-season in Polignano a Mare makes it a rather sleepy place and several cafes and restaurants are closed.
But, the astounding views and town are still accessible and worth visiting… trust me.
Watch the Sunrise at the Old Harbor
Monopoli is a town that is good at being beautiful and it just cannot seem to get it wrong no matter what it does.
On the seafront below the old town is the old harbor of Monopoli and it is about as picturesque as harbors get.
Little blue fishing boats bob gently in the calm and clear waters of the Adriatic sea, perfectly contrasting against the whitewashed buildings of the old town.
As you look out of the harbor towards the sea, you can see a lovely lighthouse that lights the way in for the boats and protects them from mishaps.
It is here in this port where the Icon of Madonna drifted on the raft that allowed them to complete the original Monopoli Cathedral.
Take a walk around the harbor's defensive walls or wake up early and watch the first sunlight douse the almost perfect-looking harbor.
I missed the sunrise but made it there shortly after.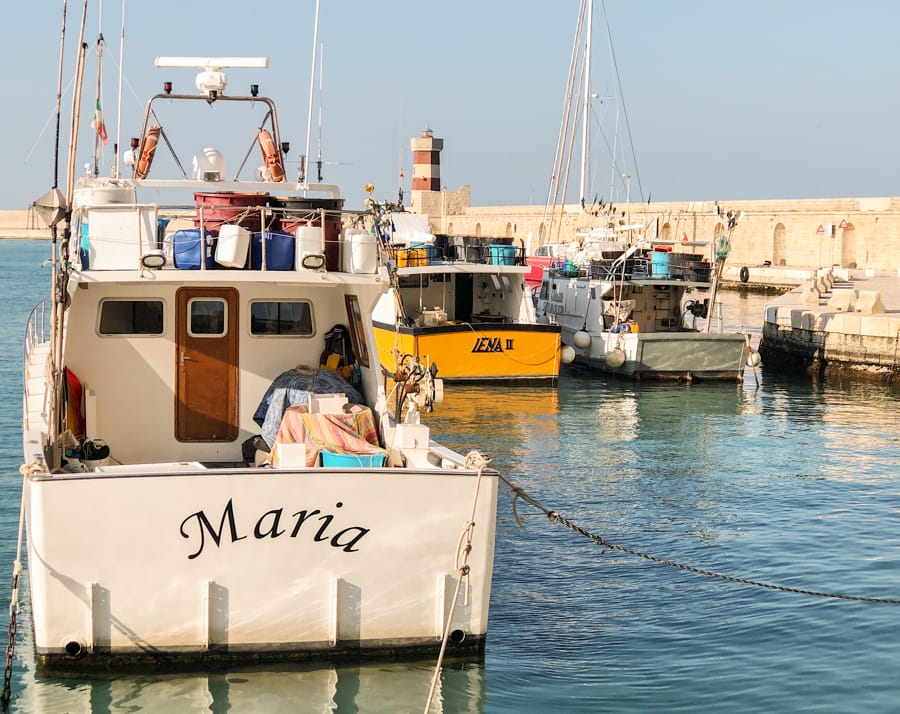 Admire the Palmieri Palace
Built-in the 18th-century by the Palmieri family, the palace long served as the family's main residence, being passed down through the generations until the 1920s when the family bloodline ended and the palace was left to a charity.
After being handed over to the charity, part of the building was formed into an arts and crafts society.
Sadly today, this stunning example of Baroque architecture has fallen into a state of disrepair and much of the building is off-limits.
However, in the area, you can visit you will see grand frescos along with incredible archways and marble floors.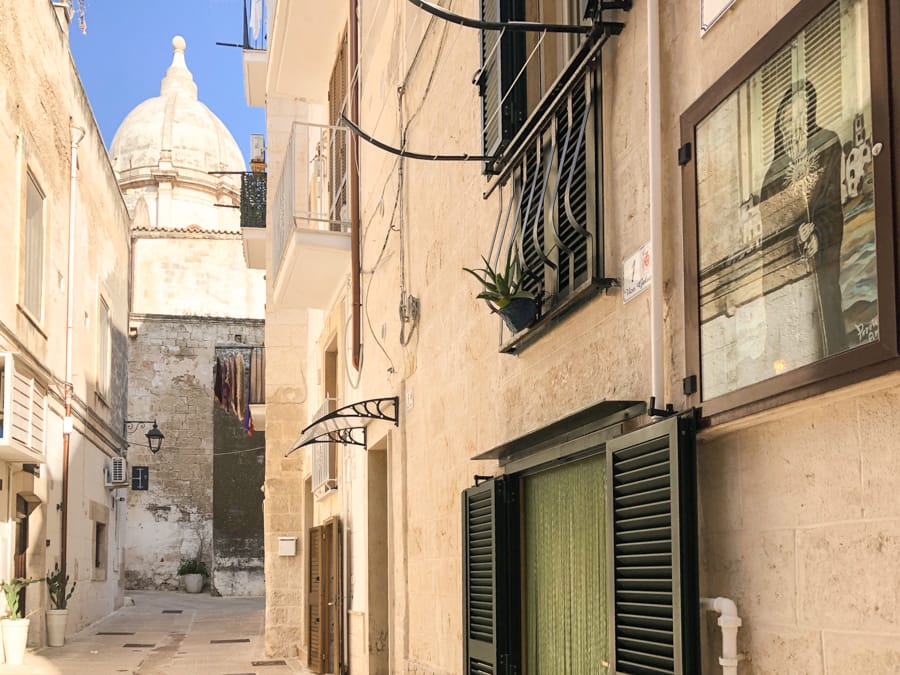 The Palace is located slightly off of the main streets of the old town, so while standing in the magnificent courtyard, you feel a sense of peace and tranquility.
Palmieri Palace isn't always open and you may not be allowed inside on the day you visit depending on levels of renovation. However, it is still worth visiting just to marvel at the historic exterior.
You can find the Palmieri Palace at Largo Palmieri in Monopoli.
Have a Coffee in Piazza Giuseppe Garibaldi
Having an espresso while sitting in one of Italy's many grand piazzas is probably the most stereotypically Italian thing you can do and I fully recommend doing it in Monopoli.
Piazza Giuseppe Garibaldi is an adorable square in the heart of the old town, lined with cafes, restaurants, and bars.
One of the best things to do is to take a break from sightseeing and simply sit with a coffee or a glass of wine and people watch.
The piazza is a busy hub with people passing through all day, making it the perfect place to observe the quirks of daily Italian life.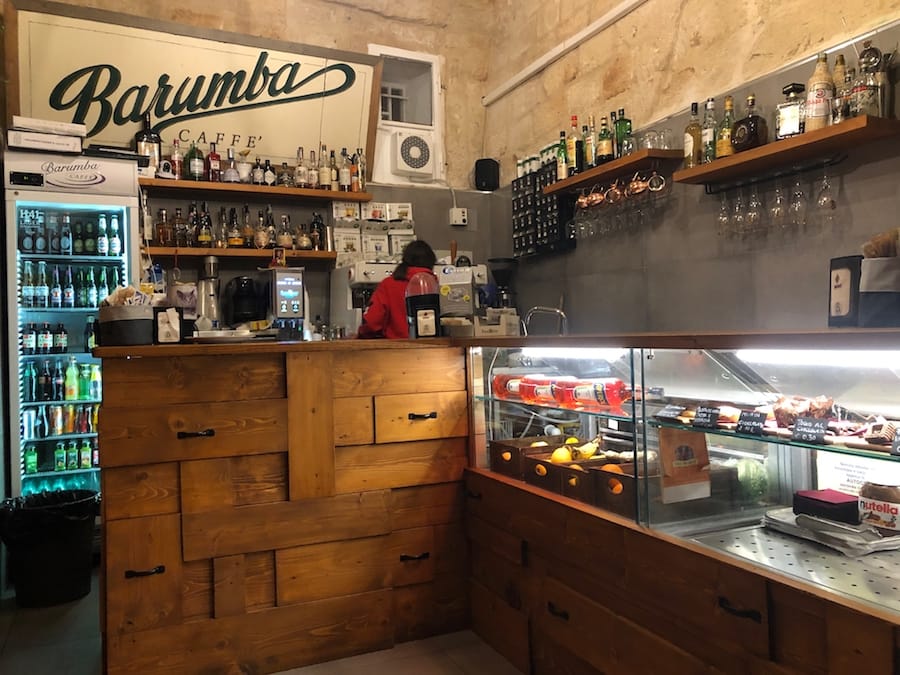 During the heat of summer, you will also find that there are plenty of shaded areas to take a break from the sun beating down on you and are great spots to cool down with gelato.
Journey Down to the Museo e Sito Archeologico Cripta Romanica
Underneath the Monopoli Cathedral is an impressive museum and archeological site.
It was well-known that the original cathedral was built on top of an old Roman temple that was crumbling into the ground.
Archeologists decided to excavate the area under the Cathedral to unearth the temple and the treasures it contained.
In addition to finding the temple, they found further ruins dating back to the bronze age.
In the small museum and archeological site, you can experience 4000-years worth of history, with an impressive range of stunning artifacts that have been uncovered and are now on display for everyone to see.
It is highly unlikely that you'll find a place in the world with so much tangible history in one minuscule place.
The opening hours are pretty random as the museum only opens Thursday, Friday, and Sunday between 6 pm-8 pm.
You can find the Museo e Sito Archeologico Cripia Romanica at Via Argento 3 in Monopoli.
Have a Tasty Dinner at Dal Ghiottone
One of my favorite meals in Monopoli was at Dal Ghiottone, a restaurant situated in the popular Piazza Giuseppe Garibaldi (Garibaldi Square).
I was in Monopoli during the off-season and not too many places were open, so I was delighted when I was looking for what to do in Monopoli and this place said it stayed open year-round.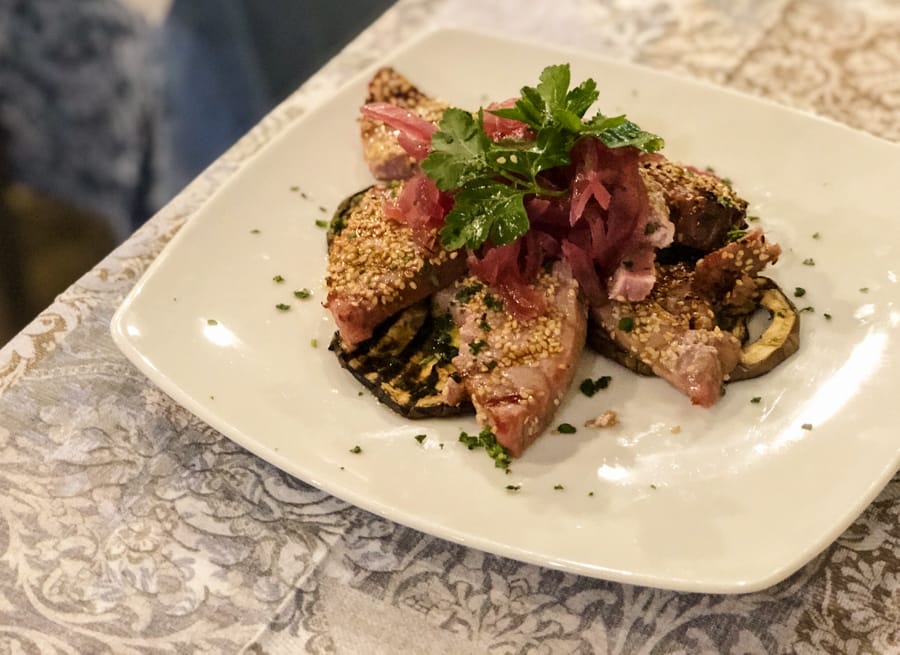 The restaurant is cozy and semi-modern but the food is where it really stands out.
I ordered a tuna steak there and it was absolutely delicious and much needed.
Do be cautious that their hours are not extensive, like many restaurants in Italy.
You can find Dal Ghiottone at Piazza Giuseppe Garibaldi 5 in Monopoli.
Where to Stay in Monopoli
There are several places where you can stay in Monopoli.
I stayed at a place that was in between the budget and mid-range category called B&B Borgo San Martino and I absolutely loved it.
It was in the heart of the Old Town and on a quiet street and the flat was absolutely gorgeous.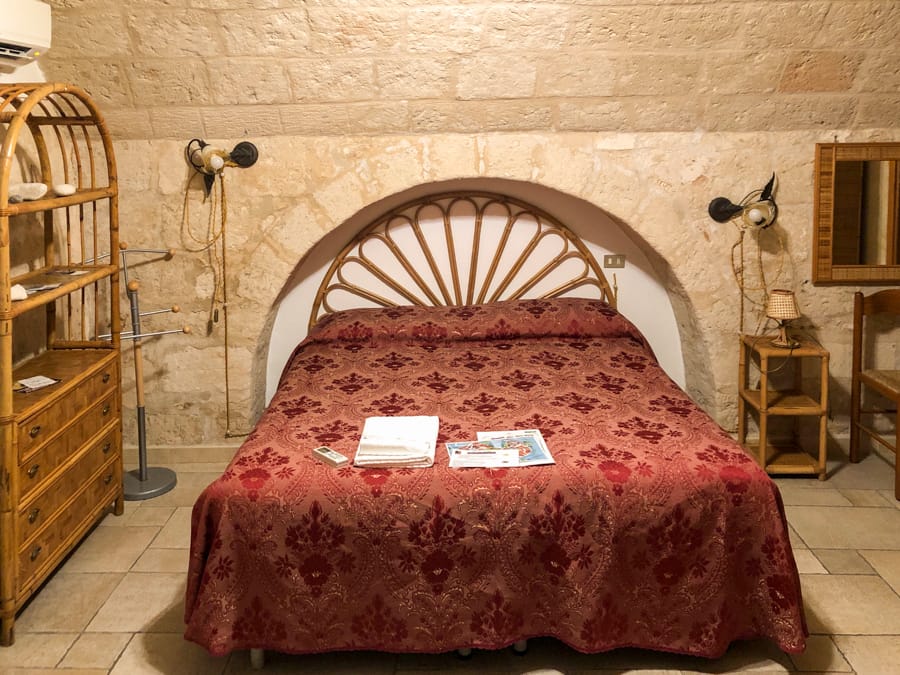 B&B Borgo San Martino was run by an exceptionally friendly host who accommodated my weird hours of coming there and needing to leave my bags for a while as I perused the city before check-in.
There was a small kitchenette in my room. This ended up being my favorite accommodation on my Puglia trip, actually.
>> Click here to see rates and availability
If you're looking for things to do in Monopoli, I hope this guide will help you get your trip to the southern city sorted.
If you know of places to visit in Monopoli or what to do there, please drop them in the comments or send me an email with recommendations!
You Might Also Like: