This is a guide to the best hotels in Monopoli, Italy and this Monopoli accommodation guide covers all budgets and types of travelers! Keep reading!
Are you planning your trip to Monopoli last minute?
Be sure to book your accommodation and tours in Monopoli ahead of time to ensure availability!
🇮🇹 Here are our top recommendations for tours in/from Monopoli:
🛌 Here are our top recommendations for accommodation in Monopoli:
🚗 Looking for the best way to get around Puglia? Click here to check rental car rates for Italy!
If you have suggestions for where to stay in Monopoli, please drop them in the comments!
Best Hotels In Monopoli, Italy: Monopoli Accommodation
There are places in this world that just take your breath away. Puglia is one of them.
As you travel down the coast from the region's capital, Bari, you will discover some of the most dramatic and picturesque towns in Italy.
One of my favorites on this rugged coast is Monopoli, a small and charming city that is full of history and Italian charm.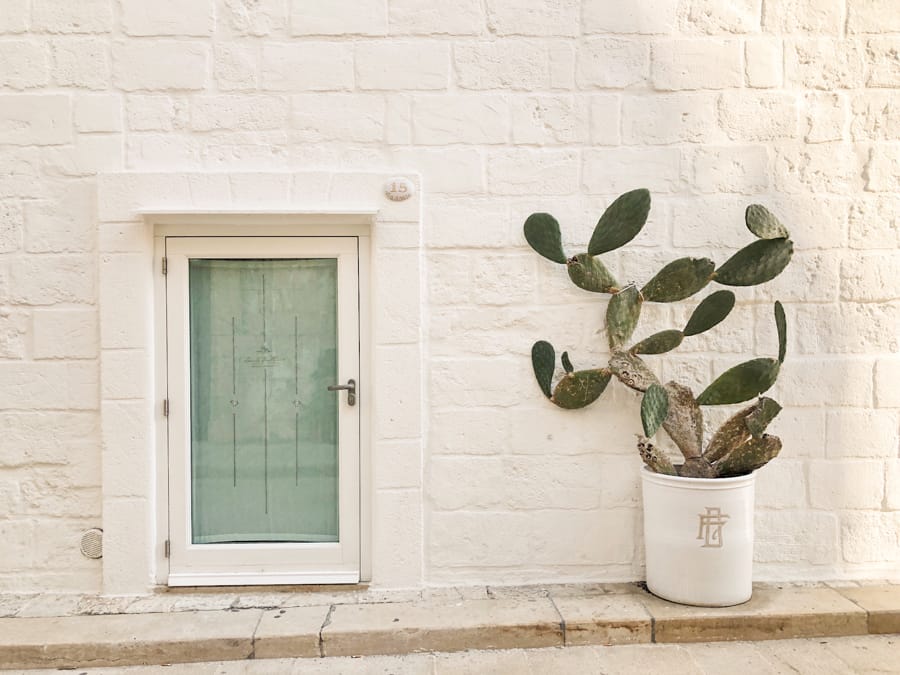 Since being founded in 500 BC, Monopoli has bounced around between rulers, from the Roman Empire bringing wealth and prosperity to the Spanish unsuccessfully attacking the city for three months.
All this history has left its mark on Monopoli and the beautiful old town is an amazing place to lose yourself for a few hours or an entire day.
Monopoli isn't one of the most visited cities in the region with other towns drawing a little more focus due to their size or dare I say Instagrammable-ness.
But, I personally think you would be crazy not to spend a night or two in Monopoli.
There are a few accommodations in Monopoli options, covering a wide range of budgets.
With little B&Bs hidden in the alleyways of the old town or boutique hotels sitting beachfront ready to open their doors to guests.
To help you choose the perfect hotel in Monopoli, I have put together a list of the best hotels for all budgets in Monopoli, from five-star luxury to cozy B&Bs.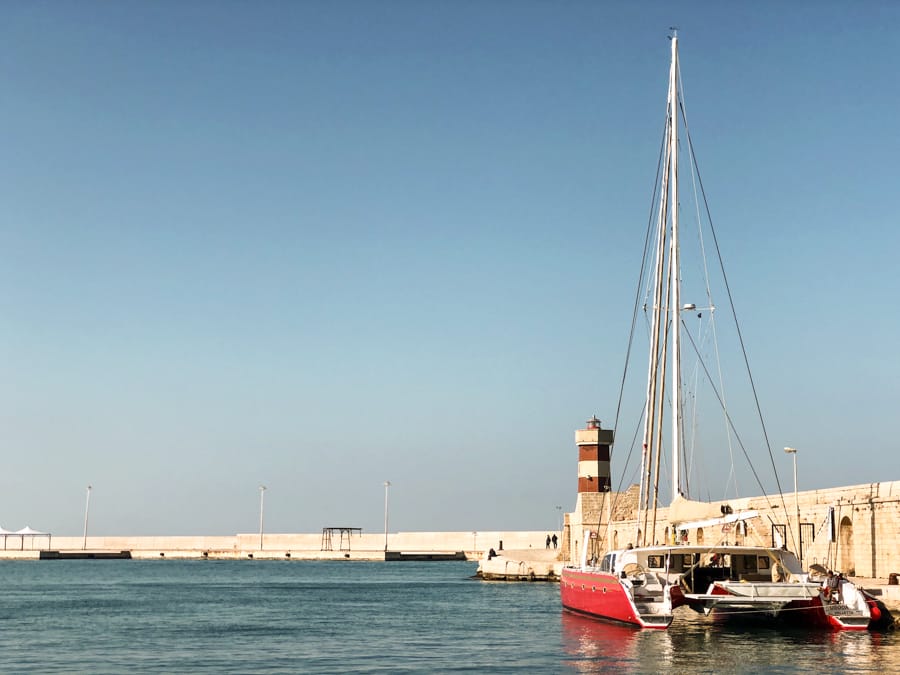 Luxury Accommodation in Monopoli
Hotel Don Ferrante
In Monopoli's historical center, you will find the beautiful Hotel Don Ferrante, one of the few five stars in the town.
The stunning hotel is built into one of Monopoli's old buildings and has kept its original charm with exposed stonework utilized in the designs of the room.
The rooms are spacious and comfortable, featuring flat-screen TVs, air-conditioning, and a safe to keep valuables secure.
Each morning, you can enjoy a fantastic breakfast buffet that is included in the rate of the room.
During the summer months, there is a cool outdoor restaurant where you can enjoy alfresco dining on warm, Italian summer evenings.
There is a pool available to guests although it is relatively small.
Around the property, there are plenty of little terraces where you can enjoy the views over the Adriatic and rest up from a hard day of exploring the many things to do in Monopoli.
Location-wise, the hotel is fairly central within the old town and close to many of the best sights of the city.
The hotel has a 24-hour reception and offers luggage storage for those not planning to leave Monopoli until later in the day.
They also offer various other services, such as airport transfers and babysitting, so you can head out and enjoy dinner in the town while your little is looked after by a professional.
>> Click here to see rates and availability <<

Mid-Range Hotels in Monopoli
B&B Borgo San Martino
A beautiful, family-run bed and breakfast in Monopoli that is towards the lower end of the mid-range price bracket, but provides amazing value for money.
Built into an old 17th-century building, the rooms at B&B Borgo San Martino are incredibly large and really comfy. All rooms come equipped with air conditioning and private bathrooms.
If you are lucky, like I was, your room may have a kitchenette where you can cook up little meals with the amazing produce available in Puglia.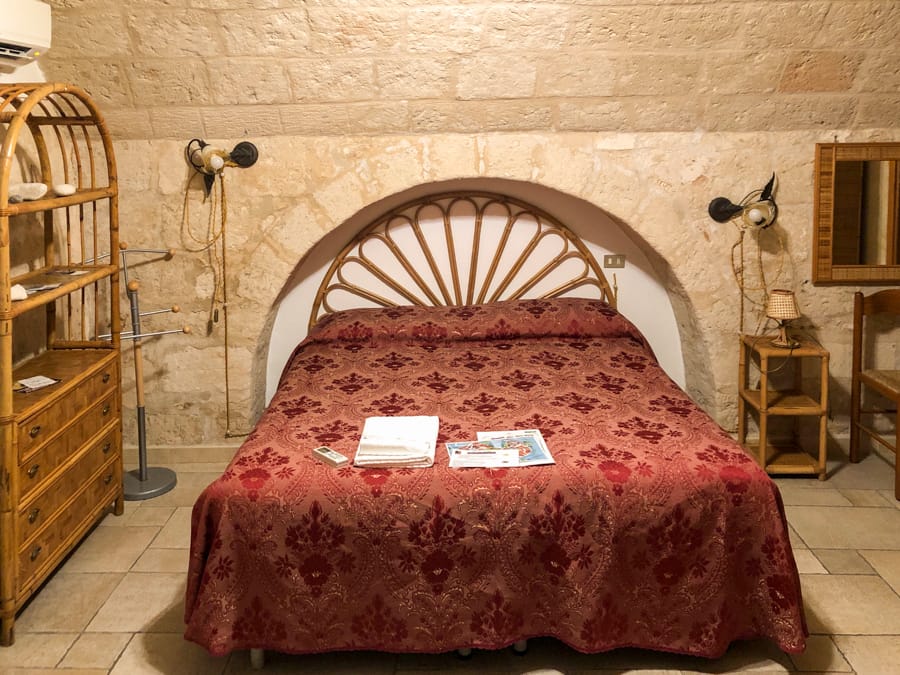 The Monopoli B&B offers breakfast every morning, although it is not always included in the rate of the room in which case it will cost an extra 5 Euros a day.
The location of the B&B is super central so you will be able to find plenty of places close by to eat in the evenings.
During the day, you can reach the old town and beach on foot and spend your days how you wish.
The owners of this establishment are very friendly and will be willing to accommodate reasonable requests, for example, they happily stored my luggage before my actual check-in time as I arrived in Monopoli relatively early.
>> Click here to see rates and availability <<

Playa del Mar – Adults Only
A beautiful boutique hotel in Monopoli that sits on the coastal outskirts of the city, this hotel ranges towards the higher end of the mid-range budget but is worth every cent.
The rooms are huge and nicely decorated and in keeping with its adults-only rules. Each room comes with a TV, aircon, and other modern amenities.
More expensive rooms come with spa baths that are a perfect way to relax after a hard day.
During the warmer months, Playa Del Mar – Adults Only has brilliant outdoor facilities such as a small outdoor pool and relaxing terraces that look out over the sea and nearby beach.
There are also some wellness treatments, such as massages available for an additional cost.
The room rates also include a great breakfast each morning.
The Monopoli hotel is located a bit away from the center of the city, but as the town itself isn't very big, you can easily reach the main areas on foot.
Opposite the hotel, there is a gorgeous public beach where you can relax in the sand or swim in the Adriatic sea.
Bikes are available to rent from the hotel and are a great way to explore Monopoli and its surrounding countryside.
>> Click here to see rates and availability <<
B&B Casa Cimino
In the center of Monopoli, you will find B&B Casa Cimino, a darling bed & breakfast that oozes rustic, southern Italian charm.
The large rooms are clean and comfortable, with the decor fitting the aesthetics of the 19th-century building.
Each room is slightly different with some having balconies and sofas.
However, all rooms include TVs, aircon, and private bathrooms.
The B&B offers a delicious breakfast each morning that is included in the room rate and the breakfast comes with freshly baked bread with a range of jams and spreads.
In the evenings, you will need to venture out into the city and enjoy one of Monopoli's amazing restaurants.
In the evenings or afternoons, there is a lovely shared rooftop terrace where you can chill out and enjoy the views over Monopoli.
The B&B in Monopoli is centrally located so you can quickly reach the main sights of the city and enjoy the offerings of the wonderful Piazza Garibaldi.
B&B Casa Cimino offers free luggage storage so you can explore the town on your last day without having to carry around your baggage.
They will also arrange airport transfers for an additional charge.
>> Click here to see rates and availability <<

Budget Accommodation in Monopoli
B&B La Porta Vecchia
Monopoli is a relatively small city and while there are plenty of accommodation options, true budget options are limited as there are no hostels in Monopoli.
B&B La Porta Vecchia is a great budget option in the middle of the old town and close to the old harbor.
The rooms are cozy with antique furniture giving you a sense of the history that surrounds the building.
Each room has air conditioning and a private bathroom.
Breakfast is included in the room rate and is served in the attic of the building, although in the summer months you can enjoy breakfast on one of the two terraces with views out over the Mediterranean.
For your evening meal, you will need to head out into the town and enjoy one of the many restaurants that hide away in the maze of streets and alleyways that make up the old town.
>> Click here to see rates and availability <<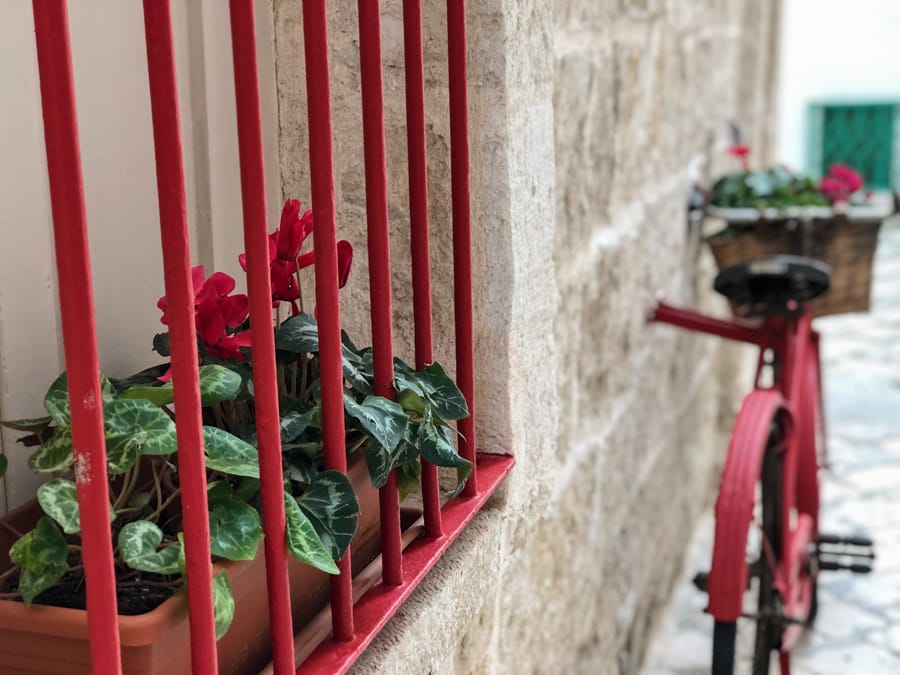 Do You Need Travel Insurance for Italy?
Yes! I can not recommend having travel insurance for Italy sorted out before getting there.
I use SafetyWing, a really good Norwegian company that offers comprehensive coverage for a tantalizingly affordable price, which will give you security knowing that whatever happens, you will be protected.
>> Click here to get an Italy travel insurance quote
What to Bring to Monopoli
If you're heading to Puglia and Monopoli, there are a few things I suggest you bring along with you.
Bringing these simple little items will help alleviate a lot of stress, and I speak from experience as I often forget one of the items:
Italy power adapter: For some reason, Italy has decided to have different plugs from the rest of continental Europe. I can only guess they decided to do this to play a trick on unsuspecting travelers.
They use this three-prong plug that average European plugs just do not fit in.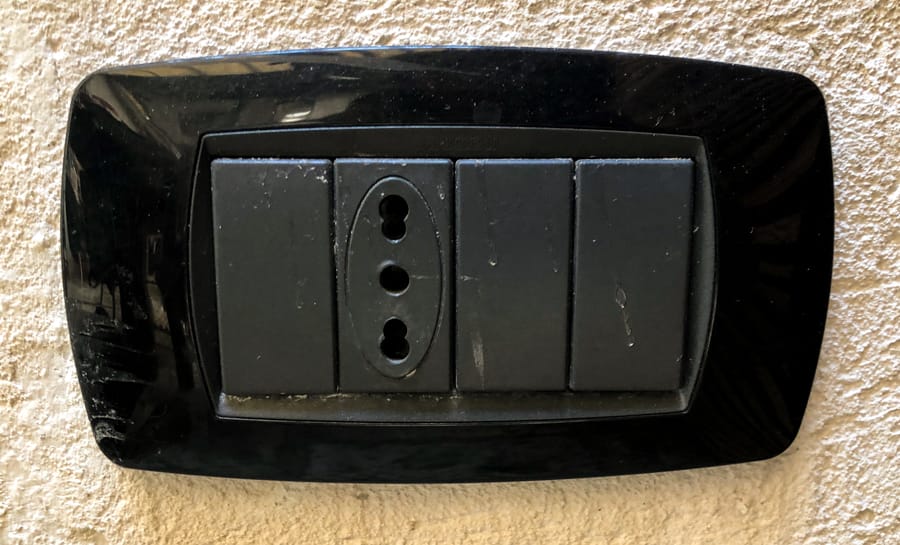 Some USB plug adapters do fit into the plugs, but they are less than stable and you will find they easily will fall out.
Plugs for larger appliances that consume more energy will not fit, so if you don't have the adapter you will not be able to charge your laptop or use a hairdryer.
Before you make the same mistakes I have made, order an adapter!
Power strip: If there is one thing I never travel without it is a power strip.
A multi-socket powerstrip with some USB outlets means you only need to purchase one adapter to be able to charge all of your electronics at once.
It truly is a lifesaver as often many hotel rooms will also have limited plug sockets available.
Fodor's Essential Italy guidebook: Being able to connect to the internet is not always possible, especially if you do not have a foreign data plan or the chance to buy a local SIM Card, which is why I recommend purchasing an Italy guidebook.
I highly recommend getting Fodor's Essential Italy, an informative guidebook that gets straight to the point, but with all the necessary details you need.
Italy Phrasebook: Many Italians speak brilliant English, however, it is always nice if you can say a few words in Italian even if it is just a simple greeting or question.
To help in this quest, I recommend taking a phrasebook along with you, so you can wow the locals with your exceptional language skills.
Also, Italian is a beautiful language and you can't help but sound sexy when you speak it.

These are our picks for the best hotels in Monopoli! If you have any Monopoli accommodation options or suggestions for where to stay in Monopoli, please leave them in the comments section for us!
If you're traveling around Puglia, here are some other guides you may be interested in: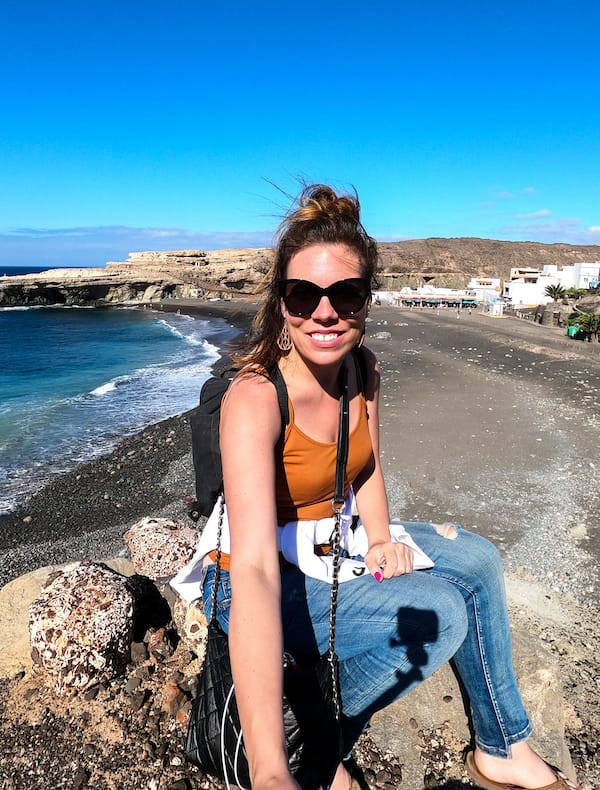 Megan is a travel blogger and writer with a background in digital marketing. Originally from Richmond, VA, she now splits her time between Frankfurt, Germany and Arctic Finland after also living in Norway, Armenia, and Kazakhstan. She has a passion for winter travel, as well as the Nordic countries, but you can also find her eating her way through Italy, perusing perfume stores in Paris, or taking road trips through the USA. Megan has written for or been featured by National Geographic, Forbes, Lonely Planet, the New York Times, and more. She co-authored Fodor's Travel 'Essential Norway' and has visited 45 US states and 100+ countries.