Are you looking for the best things to do in Milan, Italy for your upcoming trip? This guide covers the top Milan attractions, day trips, and much more!
Are you planning your trip to Milan last minute?
If youʻre booking your trip to Milan last minute, we have you covered. Below are some of the top tours, hotels, and more!
🇮🇹 Top Experiences and Tours in Milan:
🛌 Top Hotels in Milan:
casaBase (budget-friendly option!)
Naviglio81 (mid-range – I stayed here!)
Armani Hotel Milano (luxury option)
🚗 Looking for the best way to get around Milan? Click here to check rental car rates for Italy!
Milan is one of the unofficial capitals of Northern Italy and there is SO much to do there.
I love going back and uncovering different parts of the city on each of my trips!
This guide will tell you what to do in Milan as a first-time visitor, including some can't-miss Milan landmarks, museums, cafes, and more.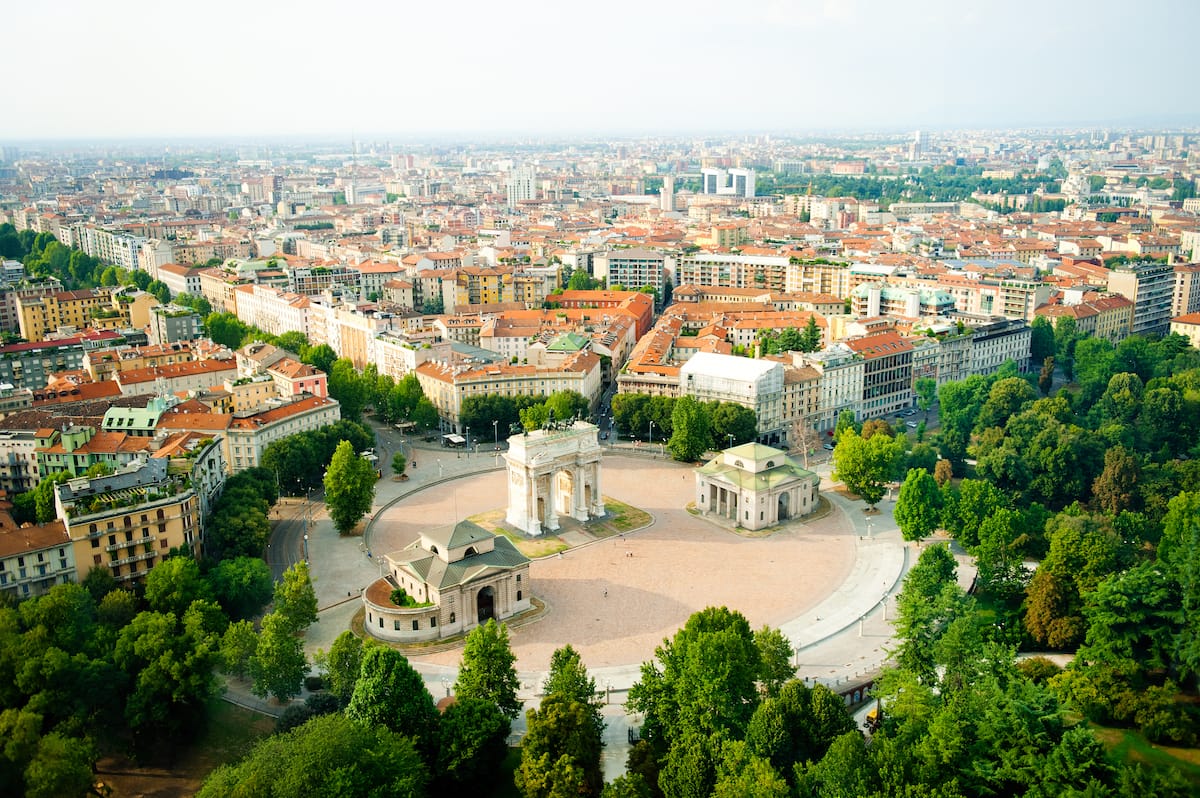 Did we miss any of the best places to visit in Milan? Let us know in the comments!
Best Milan Tours & Tickets (to Maximize Your Time!)
If you're looking for something more organized when in Milan and the surrounding area, here are some awesome Milan tours and tickets you should check out.
These tours will help you maximize your time, which is especially important if you only have a short amount of time in the city! We listed a variety so that you can pick which one is most suitable for you (and many include multiple places!):
Best Things to Do in Milan
1. Visit the Duomo di Milano
A masterpiece that took almost six centuries to complete, the splendor of the Duomo di Milano towers over the rest of the stunning city as the largest church in Italy.
It is also acknowledged to be the second-largest in Europe, and the third-largest church in the world.
In addition to tickets for self-guided tours with audio equipment in a variety of languages, there are professional tour guides available all throughout the week.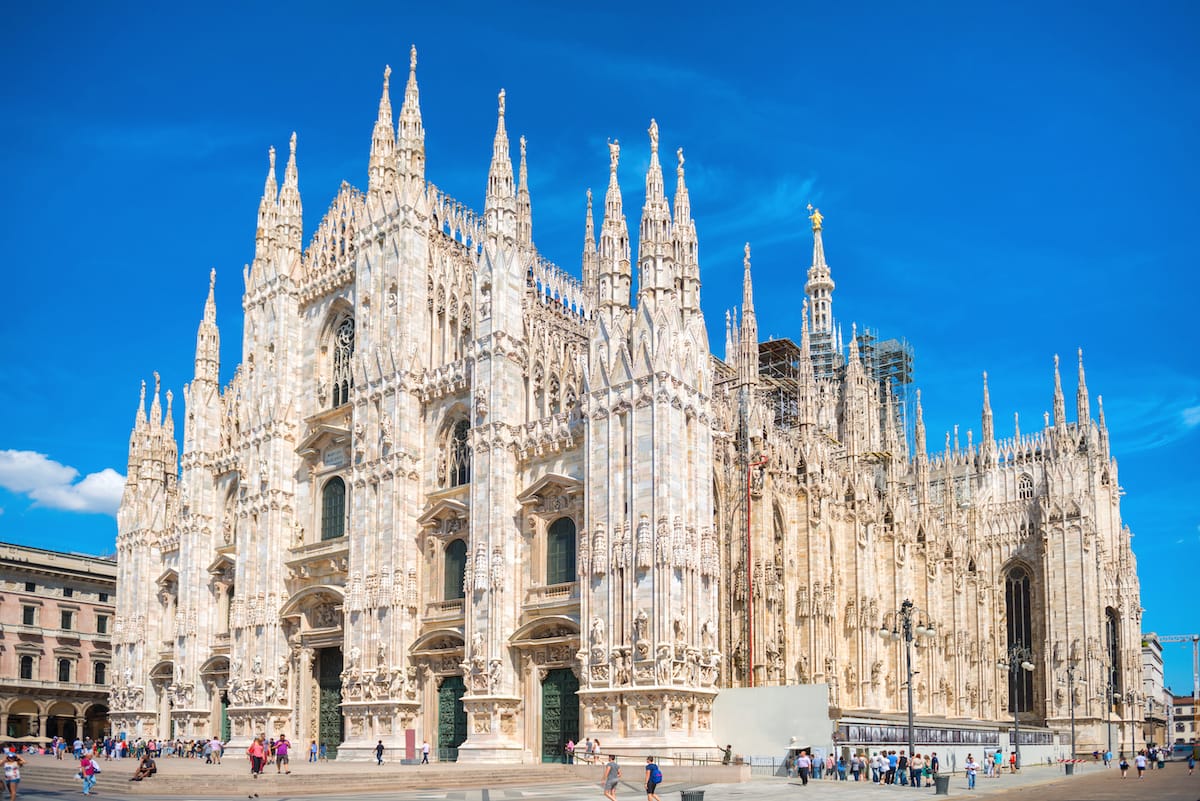 The interior will have you in awe as you marvel at the sanctuaries made out of gold, marble, and a variety of other valuable materials throughout the edifice, with an abundance of intricately carved statues, shrines, pillars, and arches.
For a panoramic view of Milan, purchase a ticket for access to the rooftop of the Duomo as well!
>> Click here to check tour rates and availability
2. Explore the Sforzesco Castle
The Sforzesco Castle is a medieval fortress that is home to numerous archives, libraries, art collections, and museums: Leonardo Da Vinci Museum, Rondanini-Michaelangelo Museum, Museum of Ancient Art, Museum of Egyptian Archaeology, Museum of Decorative Art, Museum of Musical Instruments, the Vinciana Collection Body, Museum of Prehistoric and Protohistoric Archaeology, and the Museum of Decorative Art.
For archives and libraries, there is the Art Library, the Archaeological and Numismatic Library, the Trivulziana Library, and Historical Civic Archive.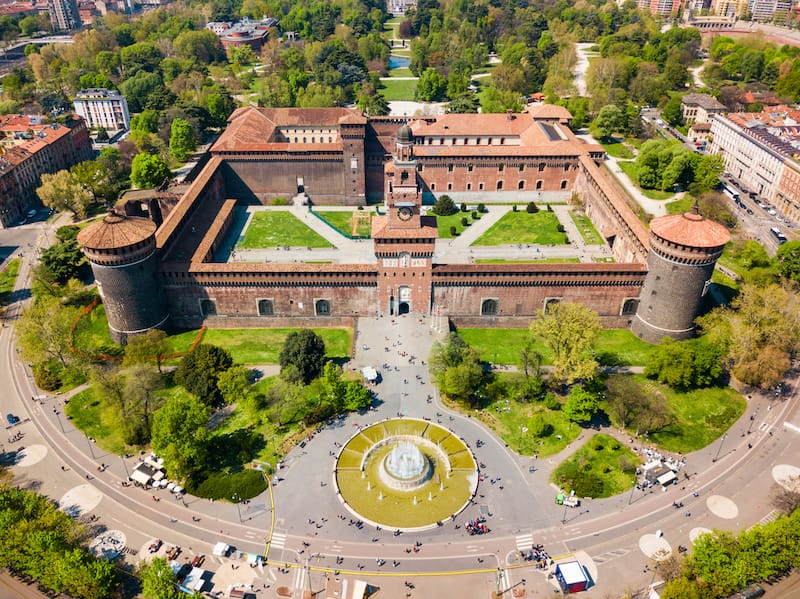 All of these amenities require a ticket, but there are options to purchase passes securing the chance to see various things back-to-back.
Otherwise, the tour of the castle itself is free, and its four towers allure you from all throughout the city.
>> Click here to check tour rates and availability
3. Check out the Grand Galleria Vittorio Emanuele II
Milan is known as one of the fashion capitals of the world, and the core of that claim is centralized in the Galleria Vittorio Emanuele II.
The renowned glass domed ceiling and pillared arched entrance of the shopping center is a luxury in its own right, let alone the variety of fashion houses, specialty boutiques, and high-end restaurants and cafes inside it.
Mosaics and paintings of mythological figures grace the walls of the Galleria, between ornate pillars and regal statues.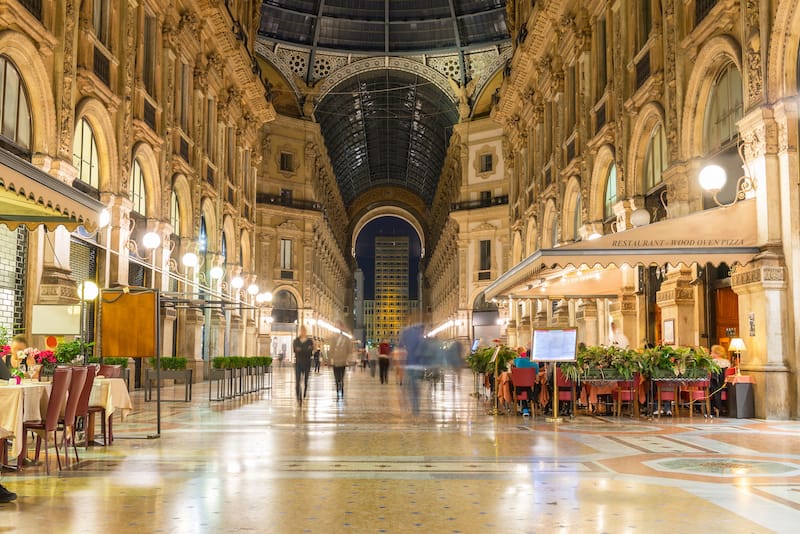 The floor mosaic is also a popular portion of the structure for pictures and selfies.
It is a four-story double arcade adjacent to the Duomo and parallels to the Piazza Reale Milano. The Cathedral Square is the iconic city center of Milan attracting tourists and locals alike.
Address: P.za del Duomo, 20123 Milano
4. Go on an Aperitivo and Street Food tour
An aperitivo qualifies as a pre-meal drink, starting at around 6.30pm and lasting until about 9pm.
The Milanese aperitivo is complemented by snacks of high quality, and in this tour it will be accompanied by street food, as well.
As you tour the historic city whilst tasting the variety of cocktails mastered by mixologists over the years, you'll learn about how Milanese beverages influenced the drinking culture of every other region in Italy.
Included in the itinerary are tours of famous Milanese vineyards, cellars, and production sights of wine.
Taste a variety of cheeses, cured meats, gourmet snacks, and signature Milanese stuffed potatoes, and learn about their preparation techniques and how the city makes even the simplest things grand.
Close the tour with a pastry and an espresso coffee.
>> Click here to check tour rates and availability
5. See the Santa Maria delle Grazie and the Last Supper Painting
The Dominican monastery of Santa Maria delle Grazie stands as a masterpiece of both Donato Bramante and Leonardo da Vinci.
The exterior of the structure reflects the architecture of the early Renaissance, with a sloping roof, and a gabled façade divided into a nave with two aisles.
The interior, however, has ogival vaults, which are painted with a rainbow snakeskin motif, and other stunning murals all throughout, including golden sun motifs.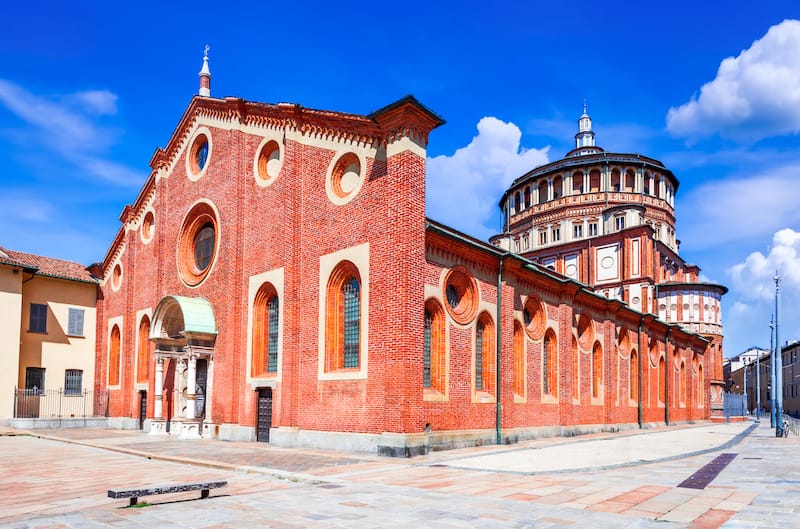 The most notable mural within the ancient monastery, and the treasure of both the Milanese and Italian Renaissance, would be the Last Supper.
The materials used to construct the monastery were sourced locally, with granite and a variety of earthenware.
There are seven chapels, a library, as well as the signature monastic refectory inside the church as well.
>> Click here to check tour rates and availability
6. Discover the QC Termemilano
Just steps away from Rota Romana is the archaic Spanish fortress with a picturesque garden enclosed within it spanning over 3,000 meters.
This elegant venue is none other than a spa, with a variety of rejuvenating and relaxing treatments available.
There are massages with a various range of time frames and target points of the body and over 30 other wellness practices.
A tram from Porta Romana was remodeled into a bio-sauna– the first of its kind– in addition to an Underwater Museum, and the main attraction– a crystal-walled pool built around the archaeological remains of the ancient fortress walls.
The complex facilitates technology with an art nouveau style, creating a relaxing experience away from city life, directly in the heart of Milano.
Address: Piazzale Medaglie D'Oro, 2, 20135 Milano
7. Travel Back in Time at the Basilica San Lorenzo Maggiore
The oldest church in Milan, the 4th-century Basilica of San Lorenzo Maggiore, features old fragments of its original ancient mosaics and frescoes, with ruins of Roman columns in its front.
The basilica's vaulted ceilings are embellished with murals and paintings, with pillars supporting the large dome, and its large open spaces display a variety of statues, a sarcophagus, and hung paintings from the 14th and 15th centuries.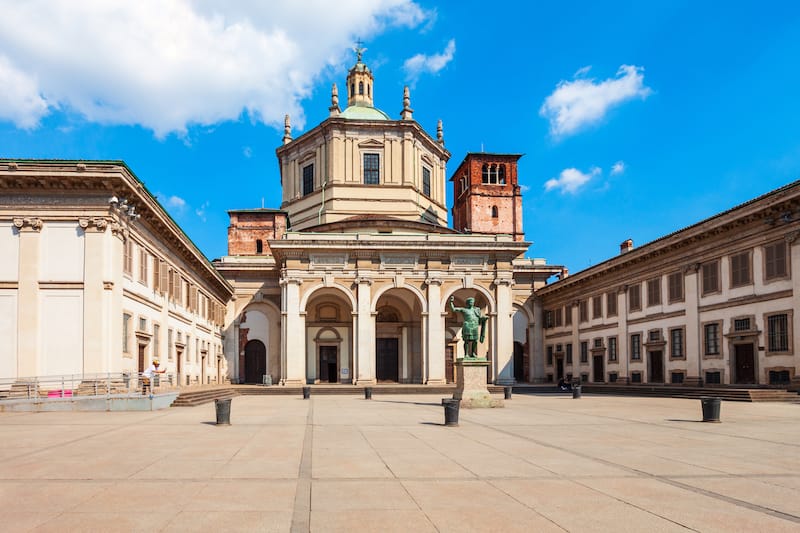 The Chapel of Saint Aquilino also holds fragments of ancient mosaics dating back to the 5th century, with unique iconography exhibiting the transition from pagan tradition to the Christian one, with an image of Christ on the chariot of the sun.
There are staircases leading to the foundation of the basilica, where you'll find massive stones taken from the Roman Amphitheater nearby.
Address: Corso di Porta Ticinese, 35, 20123 Milano
8. Wander Around Parco Sempione
Parco Sempione is a lush, green urban park with a wide open space of more than 47 hectares.
The variety of flowers spread among the lawns, as well as the trees and bushes, enclose the gorgeous artificial lake, which attracts a variety of animals and birdlife.
Stroll through the park and catch an endless amount of attractions on its borders: the Arch of Peace, the Castello Sforzesco, cafes, shops, and kiosks, and very frequently, the park hosts some sort of festival or event.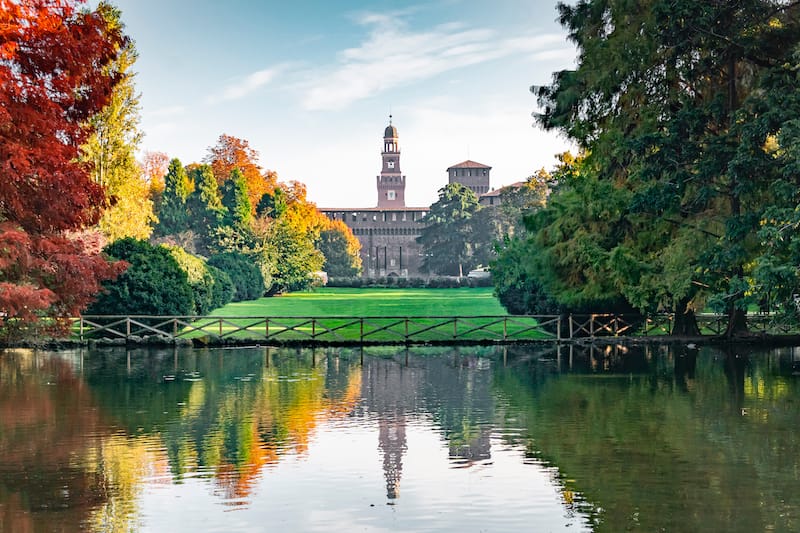 At night, the park and its nearby attractions are illuminated with vibrant colors.
The main highlight of the park, the Arch of Peace, is a stunning work of art with copper statues, including horsemen and a charioteer, towering over the park and offering splendid scenery amongst the green landscapes.
9. Indulge at Oasi del Gelato
Take a break from the hustle and bustle of the city with authentic and rich, flavorful coffee and gelato.
From single-scoop cones to a few scoops in a brioche sandwich, to a variety of specialty cakes, pies, and tarts, all with flavor profiles ranging from chocolates to nuts to fruit to coffee, Oasi del Gelato has your back.
Additionally, there are cornettos and other pastries with the option to stuff them with a variety of creams, as well as lunch options, including Friselleria, cornetto sandwiches, and Caprese salads with bread.
The freshness of the gelato is something they pride themselves on, and the coffee is a wonderful complement to any meal or snack.
Address: Via Carlo Boncompagni, 9-23, 20139 Milano
10. Enjoy Piazza dei Mercanti
Just off the Piazza del Duomo is the Piazza dei Mercanti, another beautiful square in Milan encompassing some of the most famous medieval buildings found throughout Europe.
During the medieval era, the plaza became the commercial and governmental center of the city and even housed the city's market underneath one of the building's porches.
Today, it hosts tourists and locals alike enjoying the aesthetic of the architecture of the buildings: the Palazzo delle Scuole Palatine, a place for higher education; the Palazzo della Ragione, where the courts of justice were located; Loggia degli Osii, where the judicial and notary administration and activities were; Palazzo dei Notai, where the guild of notaries was located; Palazzo dei Giureconsulti, the chamber of commerce; and Casa dei Panigarola, a notary seat but now functioning as a popular restaurant.
11. Catch a Show at Teatro alla Scala
The facade of Teatro all Scala may throw you off upon entry, as the lavish interior with velvet reds and luxurious golds and ornate engravings of the ceilings, walls, and pillars will take your breath away.
The theater room has a gorgeous chandelier hanging from a geometric floral motif in the shape of a horseshoe.
The Teatro alla Scala was designed by Giuseppe Piermarini, a prominent neoclassical architect of the time.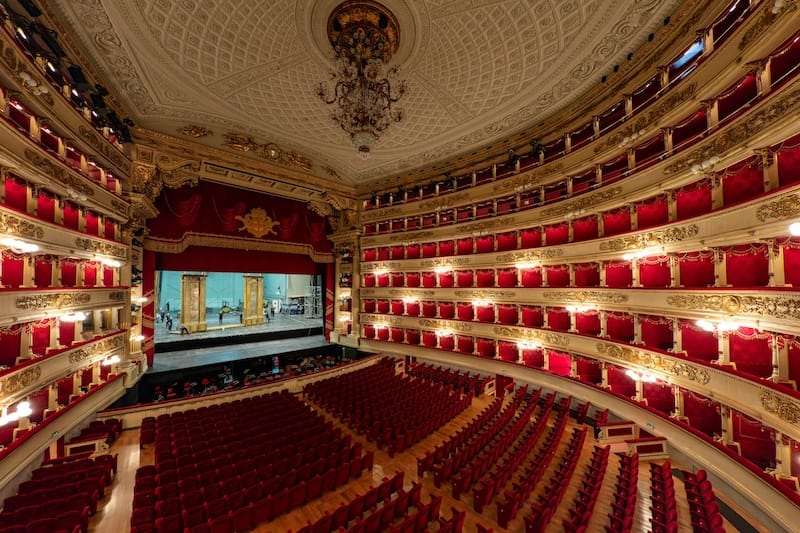 The opera house hosts a variety of events from ballets, choral concerts, and operas all the way to orchestral performances.
The theater also functions as a museum, with guided group tours and self-guided tour options available, taking you through archives and glamorous music and art rooms with statues, instruments, tools, clothing, and paintings.
The box office and event schedule are available online.
12. Eat Dinner at Panini de Santis
Experience the authentic flavors of Milan's comfort food at Panini de Santis.
With over 30 flavors, from classic, to vegan, to vegetarian, to innovative, mind-blowing combinations and flavor profiles– you'll be upset you're full after one sandwich.
The price ranges for the high quality of the food, excellent service and location, and comfortable and ambient facilities are well worth it.
Two of their best sellers, which are also two of the cheapest options on the menu, are Trentino and Soffice.
The former is a panini with Speck, fontina DOP, and cocktail sauce, whereas the latter consists of baked ham, fontina DOP, tomato, oregano, and salt.
For something with a little more action, Ronny is highly recommended, with prosciutto crudo di Parma, brie, mozzarella, white truffle cream, lemon juice, and black pepper.
Address: Corso Magenta, 9, 20123 Milano
13. Have Fun at La Balera dell'Ortica
Feast on classic Italian dishes and drinks before hitting the dance floor.
La Balera dell'Ortica has authentic dishes, prepared with heart and soul by the Di Furia family, with an open dance floor in the center, and often their restaurant hosts events as well.
It is a fun, family establishment with a jovial ambiance.
Their menu includes dishes, like Gli Arrosticini Abruzzesi, La Lasagna della Mamma Rita, Le Polpette al Sugo, La Mozzarella in Carrozza con Acciughina, and Le Polpette Cac'e Ov'.
Address: Via Giovanni Antonio Amadeo, 78, 20134 Milano
14. Visit the Villa Necchi Campiglio
Villa Necchi Campiglio is one of the three museums of Milan.
It is the historic home of the Necchi Campiglio family from the 1930s, bought and renovated by an organization called FAI.
Overall, the architectural and interior design established a unique and charming mix of styles through the influence of Tomaso Buzzi and Piero Portaluppi.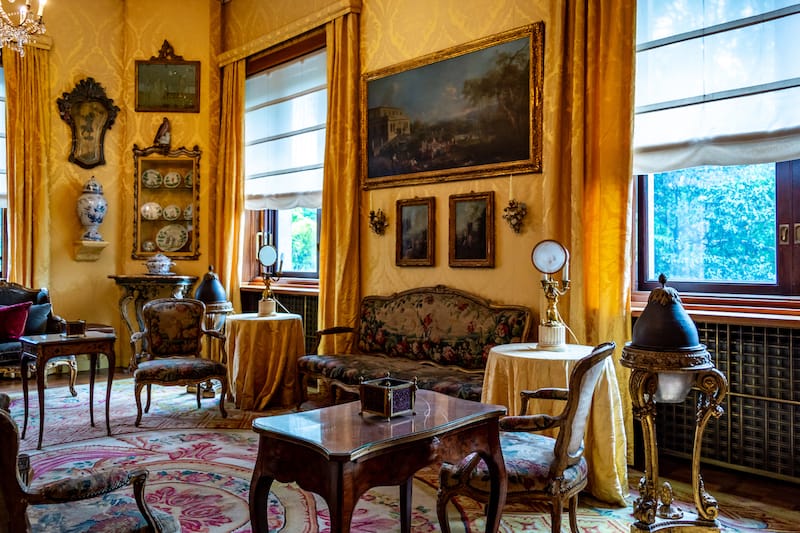 It houses a curious art collection of contemporary Italian art and refined furniture, as well as technology from the time it was renovated and inhabited.
In the villa's backyard, there is a beautiful garden with exotic plants and flowers as well as an art-deco swimming pool.
When taking the tour around the home, you can access a free audio guide with your own headphones!
Address: Via Mozart, 14, 20122 Milano
15. Go on a Day Trip to Lake Como, Bellagio, and Varenna
Take a luxury bus ride to and through Lake Como, where you'll find the vibrant towns of Como, Bellagio, and Varenna– full of stunning gardens looking across a lake with gorgeous, historic villas.
Take a walking tour through the charming towns, where in Como you can see one or two of the iconic neoclassical villas and their gardens of sculptures and flora: Villa Olmo, Villa Balbianello, Villa Carlotta, Villa Monastero, Villa D'Este, and Villa Erba, to name a few.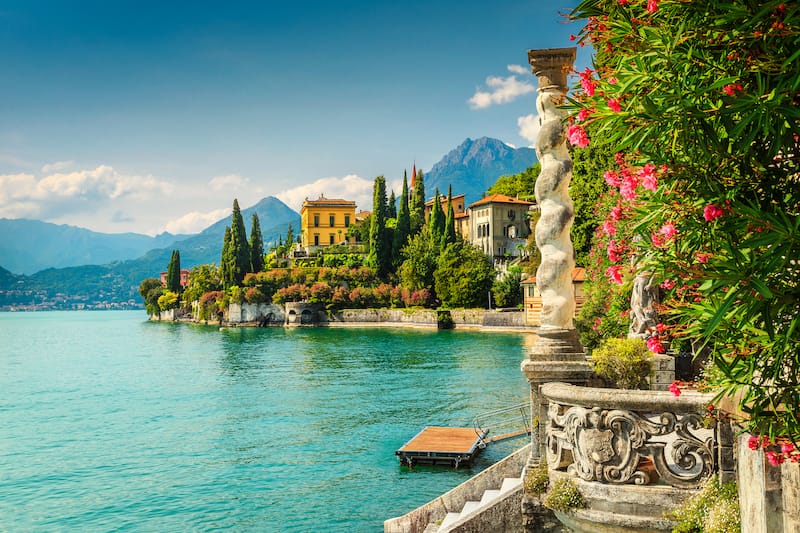 Following your strolls through the endless beauties on the coast, take a relaxing, private cruise on the lake by private boat, in which after, you'll be led to Bellagio and Varenna.
In these two colorful destinations, you can find cobblestoned streets full of boutique shops, restaurants, cafes, and wine bars. This is easily the best day tour from Milan!
>> Click here to check tour rates and availability
16. Enjoy Lunch at Bar Luce
Bar Luce is a colorful bar and café located at the entrance building of Fondazione Prada.
With a wide range of vibrant and pastel colors and an interior design inspired by Wes Anderson with Formica seats, furniture, sprightly floors, and nostalgic wood walls recollective popular culture and aesthetics from the 1950s and 1960s Italy.
The interior includes an arched ceiling and a pattern decoration of pillars and neoclassical motifs to imitate the Galleria Vittorio Emanuele.
The retro aesthetic and funky ambiance of Bar Luce is its main attraction– the food also has a funky twist, with a pink-colored tiramisu, and fun coffee and chocolate beverages with whip cream.
It's something unique in a cute part of town– it's an American twist on a Milanese café by American director, Wes Anderson!
Address: L.go Isarco, 2, 20139 Milano
17. Visit the Piazza del Duomo
The Piazza del Duomo is the heart of Milan, with the iconic Il Duomo di Milano Gothic cathedral at its crown, the Galleria Vittorio Emanuele II shopping center at its hip, and an abundance of places to socialize and dine.
It's the part of Milan where everyone meets, Milanese locals and tourists alike, for their coffee or cocktails.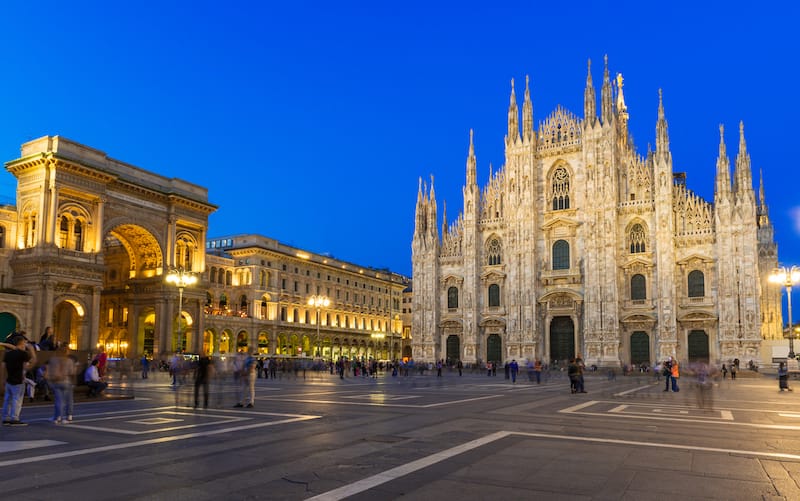 La Rinascente is another adjacent shopping center and department store to the plaza with a variety of clothing brands, specialty stores, cafes, and eateries.
There are historic botteghe along the plaza, and the adjacent streets of the prestigious Via Manzoni, Via Montenapoleone, Corso Venezia, and Via della Spiga have boutiques with haute couture, luxury hotels, stunning window displays, museums, restaurants, and an open-air shopping mall.
18. Explore the Leonardo Da Vinci National Museum of Science and Technology
The largest science and technology museum in Italy is in Milan and is dedicated to Leonardo Da Vinci for his impactful and versatile expertise.
There are permanent exhibitions on an abundance of topics from the history of telecommunication to a full run down on particle physics.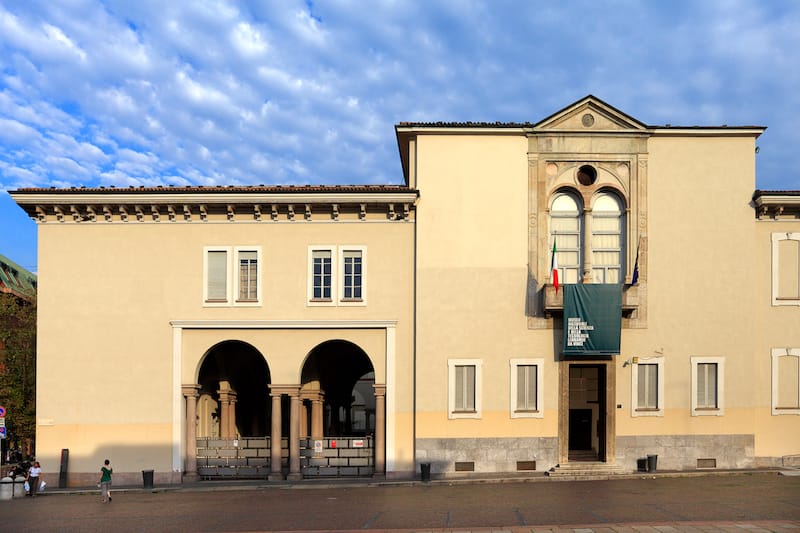 There are also exhibitions on technological landscapes and network infrastructures to the history of bypasses and railway tunnels and bypasses and their infrastructure; photovoltaic systems and renewable energy; aluminum, iron, and steel processing; plastic, rubber, and foundry processing; the basic chemical industry and manufacturing; the relationship between energy and materials; air, naval, and rail transport with submarine, rocket, ship, and plane displays; satellite technologies and space.
Of course, there are also galleries of Leonardo Da Vinci's works. Must-see highlights include a moon rock and the Vega Launcher.
Address: Via San Vittore, 21, 20123 Milano
19. Catch the Views at Torre Branca
Take a panoramic tower up for a complete view of Milan.
The Torre Branca is a hidden gem and one of the remaining industrial architecture buildings in the city.
For $6, you can ascend to the top for a little over five minutes, enjoy the 360º view of the whole city, and even take pictures from there!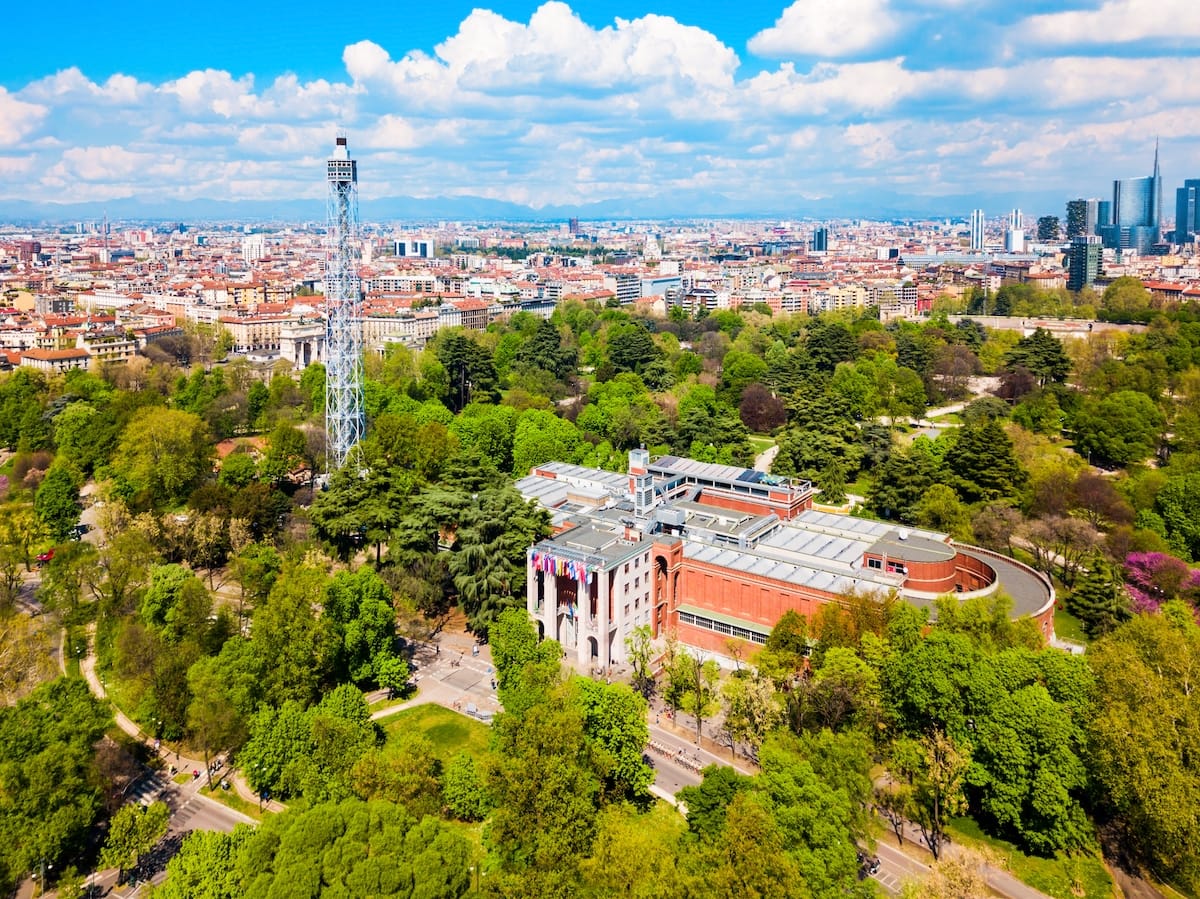 During the summertime, it's even possible to plan an ascent to time perfectly with the beautiful sunset.
You can even take a cocktail with you up the top of the tower from the nearby bar on the way there, or after you descend, in which you can also take a pleasant stroll through the tranquil Sempione Park on the way to your next stop.
Address: Viale Luigi Camoens, 2, 20121 Milano
20. Drink Coffee at the Torrefazione Moka Hodeidah Coffee Shop
A classic Italian coffee shop, a perfect stop any time during the day with a lot of history and a cozy ambiance.
With a large assortment of freshly ground coffee beans from all over the world from countries such as Ethiopia, Guatemala, Puerto Rico, Jamaica, Hawaii, India, Indonesia, and Colombia, the professional personnel can lead you in the right direction to your preference.
The coffee shop is also a tea garden with a 100 varieties of loose teas, with classical blends, Indian and Chinese black teas, green or fine white teas, and pleasant combinations.
Hodeidah has an array of delicious chocolate with nutty and dark flavors, in fine powder, as bars, and in its original bean forms.
Their pastries and dessert include biscuits, and cookies, in addition to marmalades, jams, and candied fruit.
Address: Via Piero della Francesca, 8, 20154 Milano
21. Photograph the Arco della Pace
In Piazza Sempione is the towering Arco della Pace, a triumphal arch with three arches, the middle larger than the enclosing two, constructed out of Baveno granite and clad in Crevola d'Ossola stone.
The massive Corinthian columns hold up two statues on each side, and on the top of the arch, there is a bronze sculpture of a charioteer with six horses called the Sestiga della Pace, depicting four victories on horseback.
On the monument, there are dozens of carved bas-reliefs on which a variety of other Italian artists collaborated on.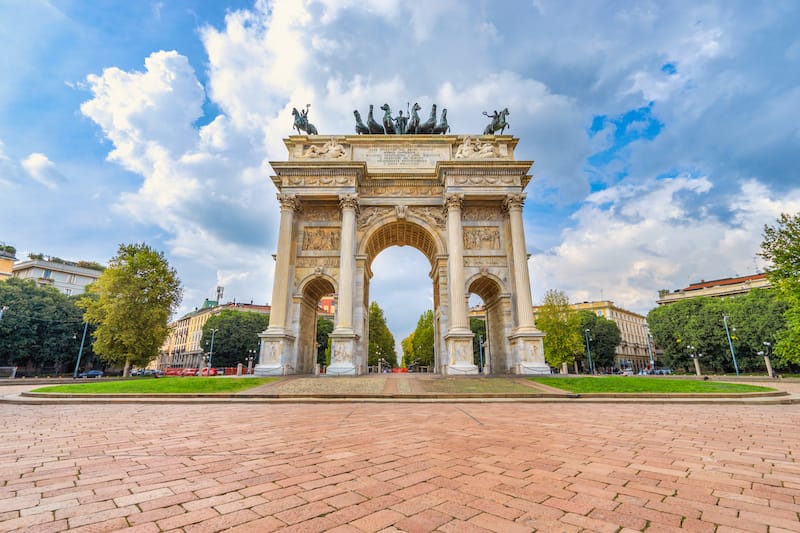 The four main rivers of the region are also depicted in the entablature above, Po, Adige, Ticino, and Tagliamento.
On both sides of the arch, inscriptions are written to express the victory and glory of the Italian Kingdom.
22. Eat Lunch at Rossini Ristorante Pizzeria
For a great ambiance, tasty, authentic food, and affordable prices per portion, Rossini Ristorante Pizzeria is an option to consider.
It is not your typical pizzeria, as it subliminally transmits Milan's wealth status in its presentation and production.
The quality of the ingredients, in addition to the attentive service, is rewarding all in itself.
An escape from the tourist traps around Milan, Rossini has the Italian flavor and variety you're looking for without the overwhelming bill.
From linguine ai frutti di mare, risotto, chianti, polpo grigliata, osso bucco, and even delicious chocolate mousse, you can have a wide variety of things to eat in your one sitting- pizzas, fresh pasta, salads, and a wonderful wine selection.
Address: Via dei Piatti, 4, 20123 Milano
23. See Pinacoteca di Brera
In Palazzo Brera, adjacent to the Brera Academy of Fine Arts is Pinacoteca di Brera, a public gallery with a collection of Italian paintings primarily from the Renaissance era, from the 13th to the 20th century.
The entrance into the museum takes you through a gorgeous courtyard enclosed by colonnades, however, make sure to reserve your tickets in advance.
Highlights in the museum include works by Caravaggio, Raphael, and Bramante.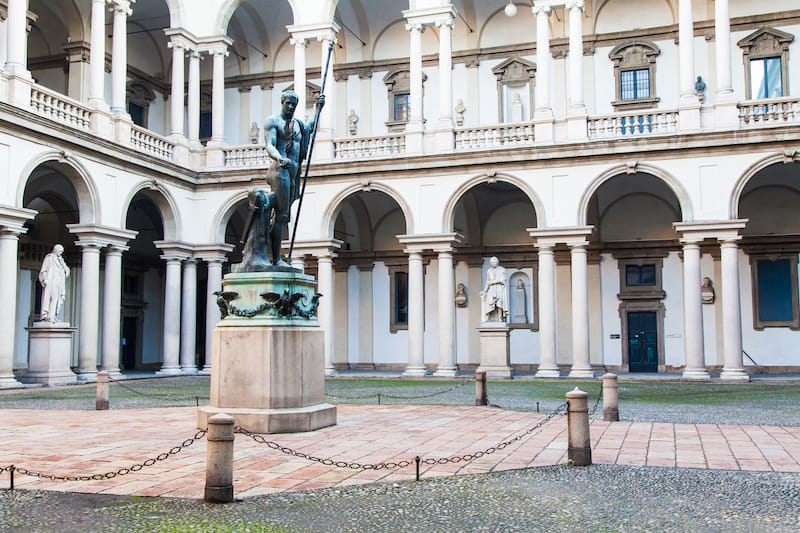 The Pinacoteca di Brera was founded by political action by the state, and over time, the gallery grew in its collection due to donations, acquisitions, and exchanges.
The collection includes Italian artwork and masterpieces taken from monasteries and churches that were under pressure during the times of the Kingdom of Italy.
Address: Via Brera, 28, 20121 Milano
24. Visit Leonardo's Horse
In 1482, Ludovico il Moro of the Sforza family commissioned the construction of the largest equestrian statue in the world from Leonardo da Vinci.
It took da Vinci a few years of studying the anatomy of horses and creating prototypes and realizations of his ideas on clay before he attempted to construct the colossal bronze statue.
Unfortunately, in 1499, France invaded the region and da Vinci was forced to flee, and the bronze in the statue was repurposed for warfare and cannons.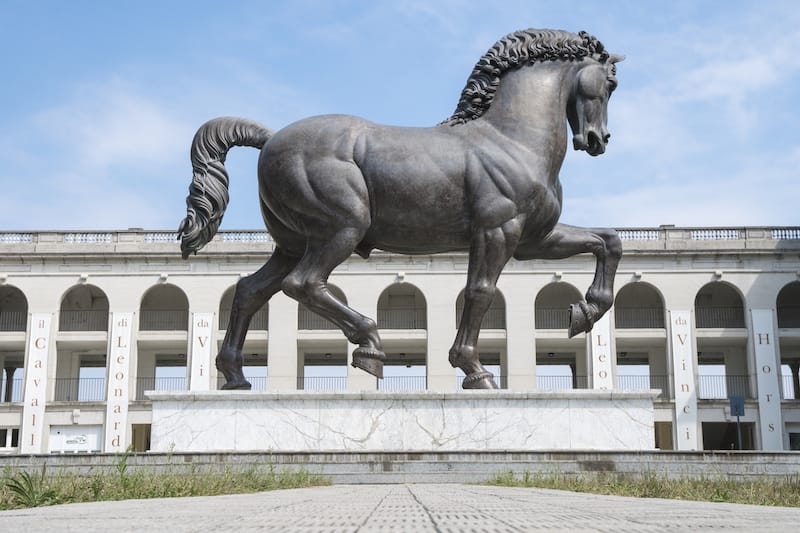 Today, Piazzale dello Sport has another massive equestrian statue, but it is created by another artist named Nina Akamu, in which was entirely inspired by the original sketches of da Vinci.
It is 7.30 meters in height and 10 tons in weight.
Address: Piazzale dello Sport, 6, 20151 Milano
25. Check Out the Museo Bagatti Valsecchi
In the Montenapoleone district of downtown Milan is the historic house museum of Bagatti Valsecchi, featuring permanent collections of Italian Renaissance paintings, sculptures, and decorative arts, collected by two brothers, the barons Fausto and Giuseppe Bagatti Valsecchi.
These two brothers not only collected all the artwork inside over their years, but also refurbished the house using 16th-century Lombardian styles, and eventually, it was revived once again using nineteenth-century Renaissance styles.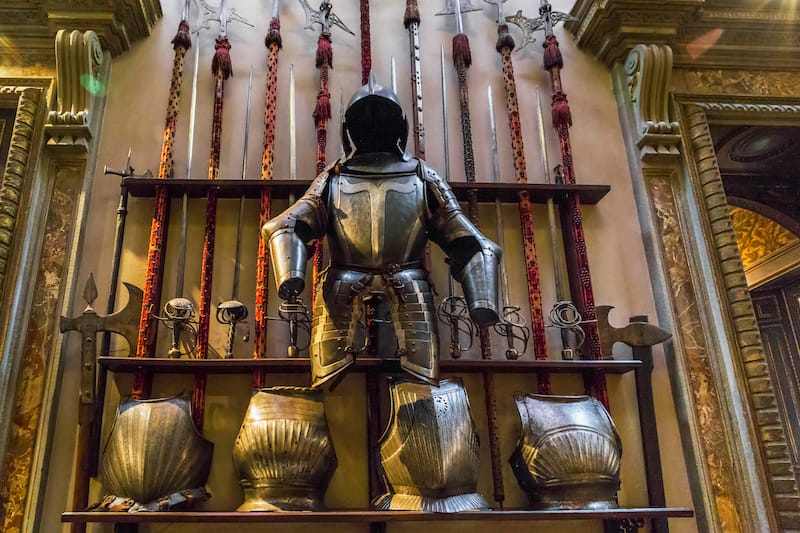 With a wonderful collection of artwork, audio guides, professional and informed guides in every room, and a restaurant outside in the yard, the €12 ticket seems absolutely worth it.
The architecture of the museum on the exterior is a beauty in its own right– with stone engravings and trimmings bordering the windows, roofs, and doors. This is a great place to check out during the winter in Milan!
Address: Via Gesù, 5, 20121 Milano
26. Stroll Throughout Parco Lambro
Parco Lambro is a large park of about 4 kilometers on the northeast side of Milan.
The Lambro River crosses it and has a variety of trees, flowers, and other plants dispersed throughout its forests: elms, tulips, magnolias, robins, ginkgo, weeping willows, black walnut, horse chestnuts, cypress, black locusts, and poplars.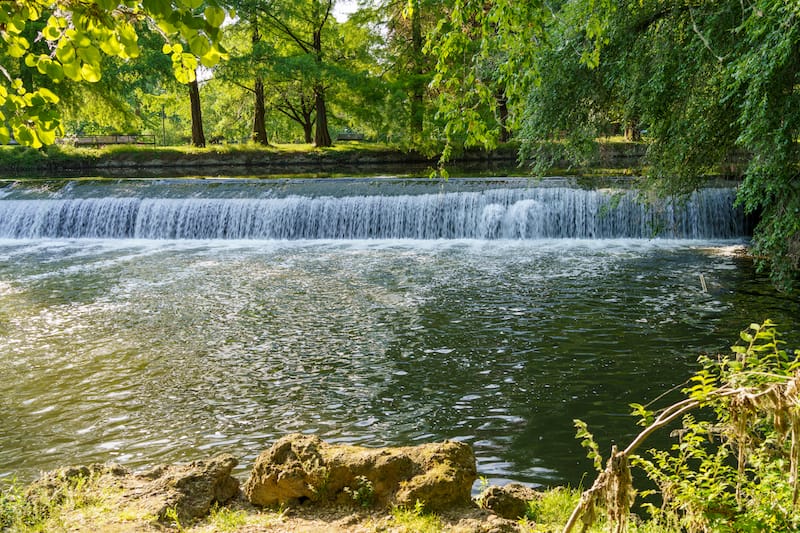 The lush green environment is a great place to relax, picnic, socialize, run, hike, and bike through. It's such a big, natural park, it makes you forget that it's only minutes away from Milan's metropolis!
There is a botanical path that leads to the different trees and flowers planted, and there are portions of the park where the original canals prior to the World War, the Molinara Canal and Isola Canal, have left their trace.
27. Walk along the Naviglio Grande
The Naviglio Grande is a prominent canal of almost 50 kilometers that begins in Tornavento and ends in Darsena, or the Porta Ticinese dock, by connecting the Ticino River.
It served as both a navigation and irrigation system between the two locations before it grew as a transport link for seven centuries and numerous other locations, thus making it a crucial part of local Milanese history.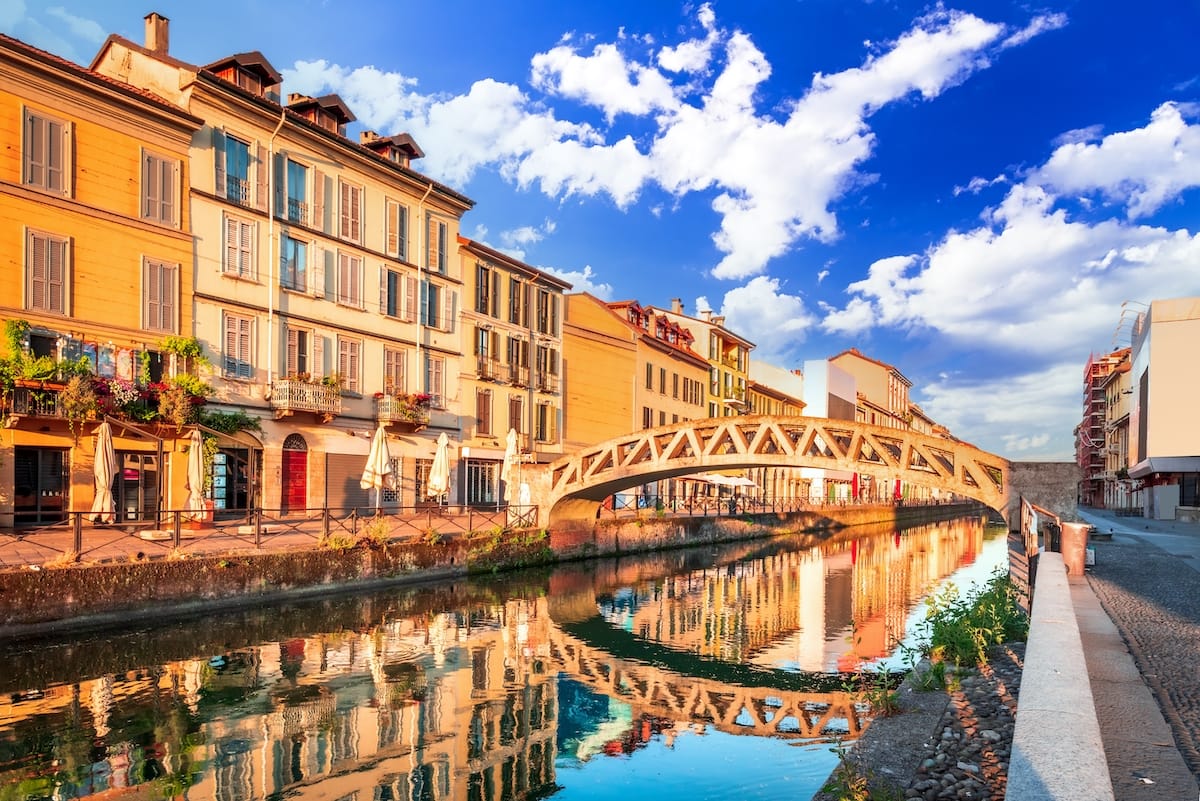 Leonardo da Vinci even took part in building and designing the canal's locks and the canal's dams. Attractions nearby include the Basilica di San Lorenzo church.
This part of town is known for its vibrant nightlife, restaurants, cafes, lounges, and bars.
The colorful buildings on the riverfront are a beautiful aesthetic, especially when the canal is illuminated at night.
28. Wander Around Leonardo's Vineyard
While working on the painting of the Last Supper in the Dominican monastery of Santa Maria delle Grazie, Ludovico Maria Sforza presented Leonardo da Vinci a vineyard with 16 rows, cultivated in the garden of the Atellani House, as a gift.
The vineyard was reopened in 2015 by the Portaluppi Foundation, the current owners of the Atellani House, the contribution of the University of Milan, and with the help of notable geneticists and vine DNA experts.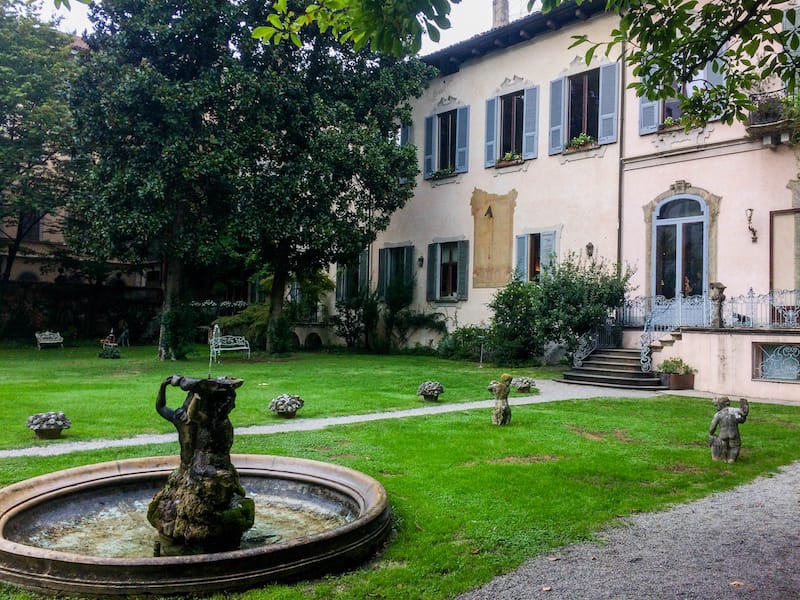 Today, it functions as a museum with the original vine stock and original rows in continuous fruition.
Take a guided tour through the gorgeous gardens, marvel at the architecture and artwork carefully organized throughout, and learn about the legends and stories of Leonardo da Vinci's times in the garden and vineyard.
Address: Corso Magenta, 65, 20123 Milano
Where to Stay in Milan
There are many amazing places to stay in Milan and here are a few of our favorites!
More Milan Travel Guides (+ Nearby!)
Pin this Milan Things to Do Guide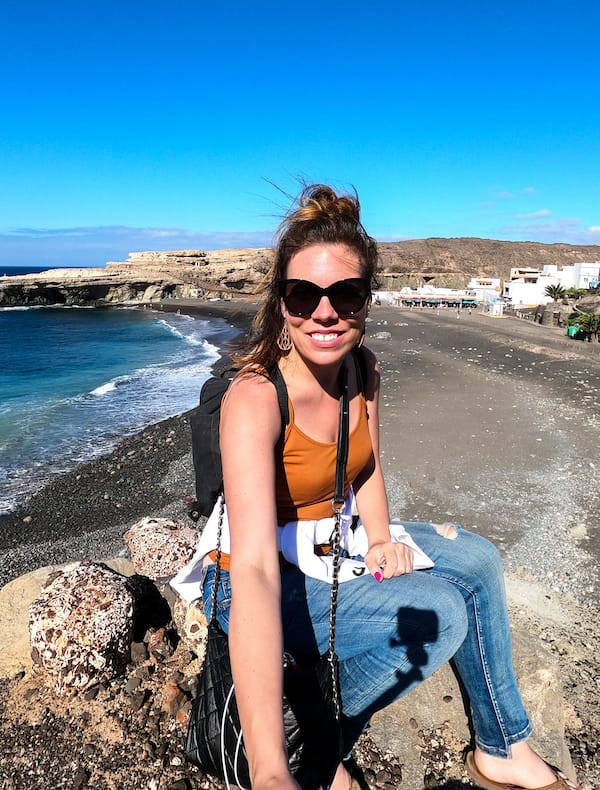 Megan is a travel blogger and writer with a background in digital marketing. Originally from Richmond, VA, she now splits her time between Frankfurt, Germany and Arctic Finland after also living in Norway, Armenia, and Kazakhstan. She has a passion for winter travel, as well as the Nordic countries, but you can also find her eating her way through Italy, perusing perfume stores in Paris, or taking road trips through the USA. Megan has written for or been featured by National Geographic, Forbes, Lonely Planet, the New York Times, and more. She co-authored Fodor's Travel 'Essential Norway' and has visited 45 US states and 100+ countries.