Many people flock to southern Italy to visit Matera, one of the most gorgeous and photogenic places to visit in Italy. This is a guide to the best tours to visit Matera from Bari, Italy in 2023.
Are you planning your trip to Matera last minute?
🇮🇹 Top Experiences and Tours in Matera:
🛌 Top Accommodation in Matera:
🚗 Looking for the best way to get around Puglia? Click here to check rental car rates for Italy!
Best Tours to Visit Matera from Bari
One of the best day trips from Bari is mystical Matera, a small city that sits in the hills of the Basilicata region of southern Italy.
The city grew to prominence due to part of the city being carved into ancient caves, which is referred to as "The Sassi".
Along with the cave-dwelling, religious buildings have also been built into the rock and a slightly newer, dramatic city sits on top of the hill and is home to 60,000 people.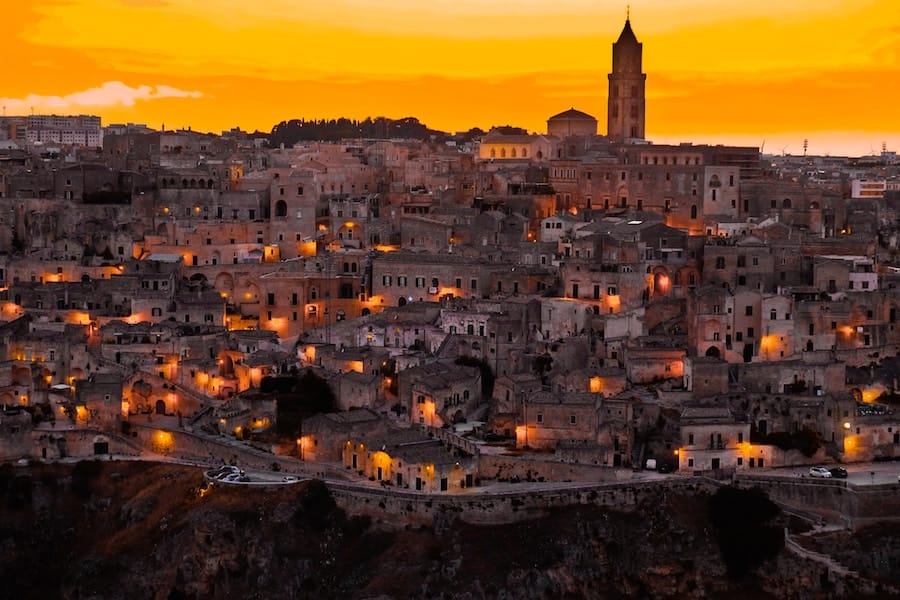 Matera History and Quick Facts
The origins of Matera are frequently debated, with some historians believing that the caves of the Sassi have been settled for around 12,000 years.
If this is correct, it would mean the city is one of the oldest continuously settled areas in the whole world.
Alternatively, more conservative views suggest that the town has only been inhabited continuously for 3,000 years, with around 100,000 years of sporadic inhabitants before that.
Either way, it is widely agreed that Matera was probably one of Italy's first-ever settlements.
Matera's more 'recent' history has been turbulent, with various invaders and rulers taking over after the city was officially in 251 BC by the Roman empire.
Sadly, during this time part of the city was destroyed as opposing forces fought to control the area. This was followed by a period where natural disasters and illnesses ravaged the city and Italy as a whole.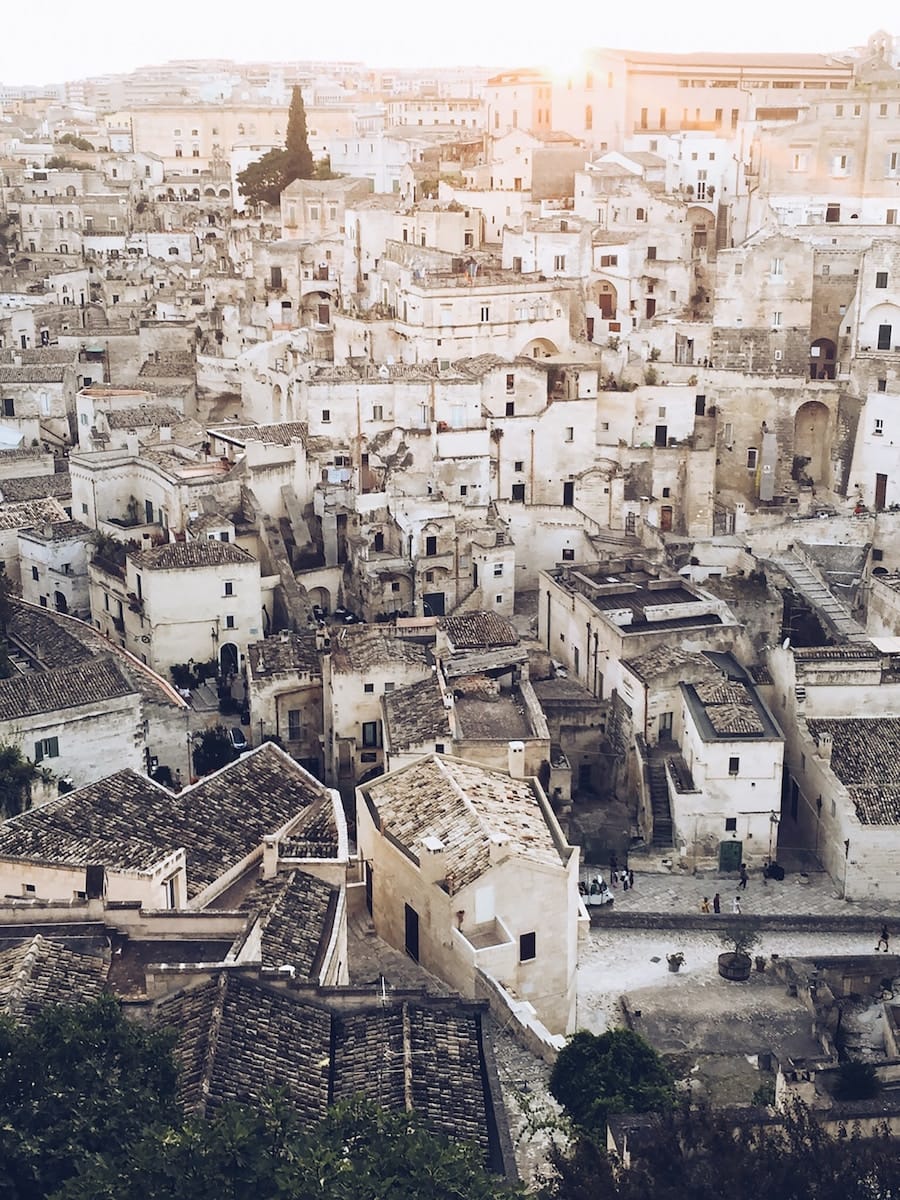 However, despite this, the cave dwellings remained inhabited until the 1950s, when they were finally deemed unsuitable for human occupation.
The Sassi was then turned into more or less a giant open-air museum. The city was granted UNESCO status in 1993.
Matera is located about 41 miles west of Bari and takes around an hour to reach it. However, if you are not planning to rent a car during your stay there are plenty of other ways to reach the magical city.
I fully recommend taking a day tour to Matera where an expert guide will take you around the city and surrounding areas.
Along with Matera, some tours include other sights in the area such as Alberobello. This guide will take you through the best tours of Matera from Bari.
Do You Need Travel Insurance for Italy?
Yes, we recommend traveling to Italy with good travel insurance. Our suggestion is to book your policy with SafetyWing, a Norwegian company that specializes in affordable travel insurance with widespread coverage all around the world, including Italy.
What to Bring to Matera
Packing for a day trip to Matera from Bari should be pretty easy but there are a few things extra I recommend to bring with you for the journey (and in general for your trip to Italy):
Italy power adapter: One thing you should know about Italy is that they use different plugs than the rest of Europe. If you have a plug with skinny prongs, it may fit fine. But, if you're trying to plug in a laptop or something with thicker prongs, you won't have much luck.
I have learned my lesson far too many times in Italy and now I always travel with a dedicated Italy power adapter. You can shop for one here.
Fodor's Essential Italy: If you're looking for a good guidebook to carry around with you on your Bari to Matera trip, we recommend Fodor's Essential Italy as Fodor's does a fantastic job covering places in great detail. Click here to buy Fodor's Essential Italy.
Italy Phrasebook: The Italian language is my absolutely favorite language on the ears and I can't get enough of it. I really wish I had more fervor for learning languages and if I did, I would certainly learn Italian.
While you can get by with English okay, this is the perfect chance to learn a few Italian words and phrases. Click here to buy an Italian phrasebook.
Matera Tours from Bari
Bari: Matera Day Trip
If you are just wanting to visit Matera for the day then I recommend taking a full day trip to Matera from Bari.
Departing from Bari, you will head up into the hills to the city. Once in Matera, your informative guide will take you around the Sassi where you will be able to explore the cave dwellings and take a look at how the people lived in these special places throughout the years.
You will also discover the incredible church buildings that have been carved into the rocks by monks from the 7th century onwards.
During the Matera tour, you will also experience amazing views over the Murgia Materana Park. The tour lasts around 8 hours and does not include lunch.
>> Click here for tour rates and availability
UNESCO's Alberobello and Matera from Bari
Take the opportunity to see two amazing UNESCO World Heritage Sites in one day.
You will visit the stunning city of Matera, where your guide will take you around The Sassi and you can explore the unique cave residences of the city. You will be taken through the fantastic history of one of the world's oldest settlements.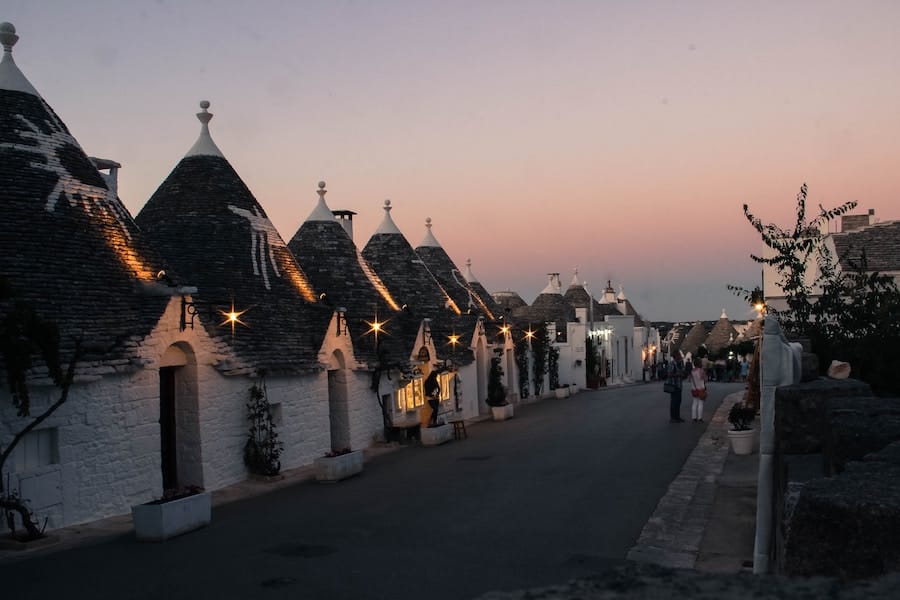 After exploring the cave dwellings, you will head to another amazing UNESCO settlement, the town of Alberobello.
The town is famous for its whitewashed, Trullo buildings that are built purely of stone, with self-supporting roofs.
You will spend the tour walking amongst the gorgeous streets and checking out the prehistoric building technique that is still in use today.
The tour lasts around 6 hours and includes hotel pick-up from Bari. There is no lunch included on the tour so you will need to bring something with you or buy something on the way.
>> Click here for tour rates and availability
Puglia Full-Day Tour: Bari, Trulli of Alberobello, Castel del Monte and Sassi of Matera
Puglia and its surrounding regions are one of the most amazing places on the planet (seriously… go there and disagree with me… it won't happen!), with so much history crammed into a small area.
After being picked up by your tour guide, you will venture out to the UNESCO Site Castello del Monte, one of the region's most mysterious buildings.
No one is sure what purpose the building is for and whether it was intended to be a hunting lodge or citadel.
Following Castel del Monte, you'll take a tour of Alberobello and walk amongst the Trulli buildings that line the streets.
You will then travel to Matera to spend time walking amongst the houses built into the caves. Your tour will end in Bari where you will enjoy a guided walking tour of the city.
This regional and Matera tour lasts around 9 hours and includes hotel pickup but does not include any meals.
>> Click here for tour rates and availability
Altamura and Matera Tour
This Bari to Matera (and Altamura) tour will take you to two ancient cities in the region. You will first visit the city of Matera, where you will explore the awe-inspiring cave dwellings that form The Sassi.
After three hours of taking in this UNESCO wonder, you will head to another of the region's ancient cities, Altamura.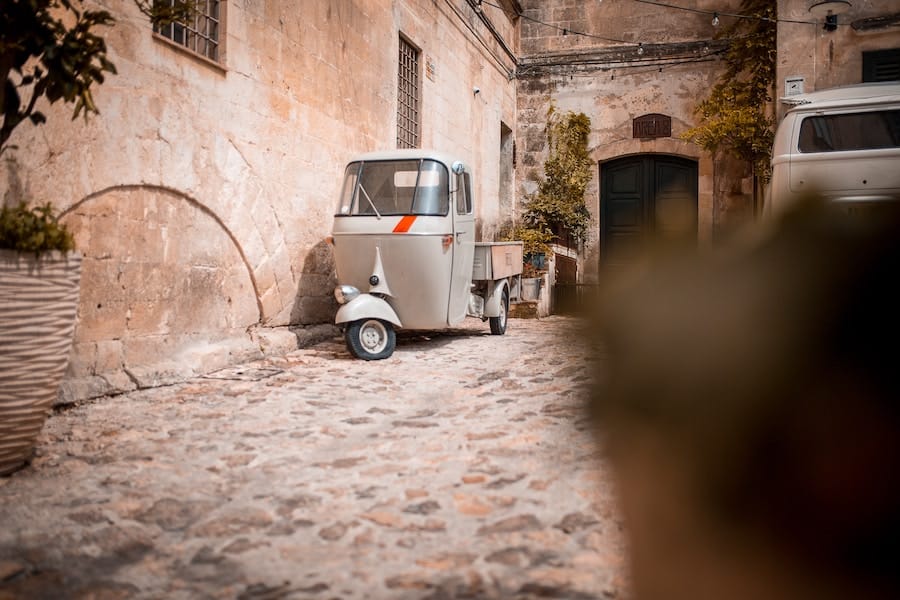 The city of Altamura is split into two different halves, the ancient city that was inhabited up until around the 10th century when it was ransacked by invading forces, and the new city built a few centuries later.
The tour will take you through the captivating streets of the city where your guide will talk you through its history.
After touring the city, you will have the opportunity to taste Pane di Altamura, a special kind of leavened bread that has received protective status.
>> Click here for tour rates and availability
Matera Cave Town & Sassi Guided Walking Tour
If you are visiting the region and planning to rent a car and drive to Matera, then I recommend taking this walking tour of the city and its cave dwellings.
A walking tour of Matera will help you get the most out of the city and learn about the impressive history of the area.
On the tour, your guide will take you through The Sassi and the baroque part of the city. Visit the 12th-century cathedral that sits proudly in the center of the city and was recently restored to its former glory.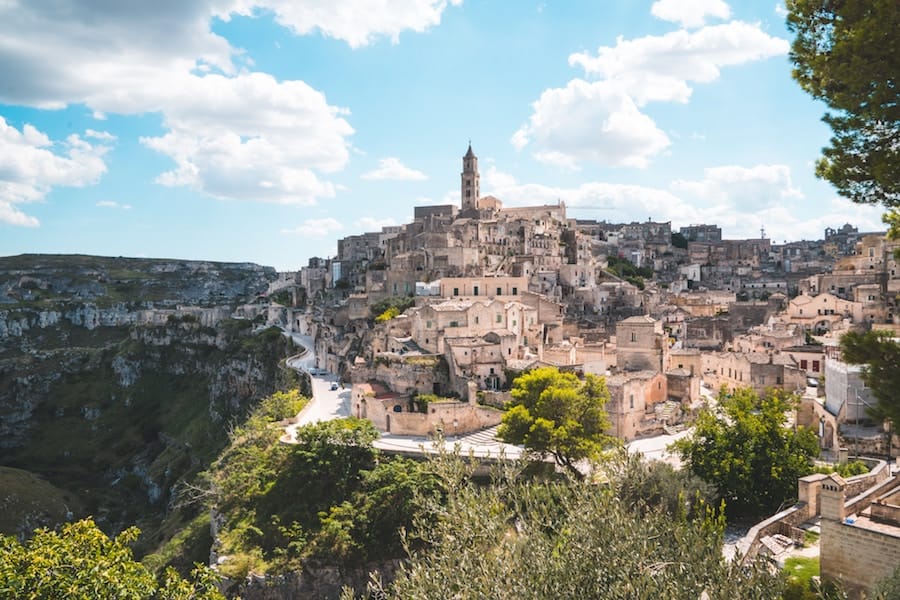 The Matera tour lasts around 2 hours and includes any entrance fees within the cost. Any food or drink on the tour will need to be covered separately.
>> Click here for tour rates and availability
Where to Stay in Bari
There are many options for where to stay in Bari, Italy in order to take these Matera day tours.
I actually have stayed at two places in Bari so I list both of the places below (I can recommend each of them happily!) as well as a budget option and a more luxurious option.
Bari is the ideal base for exploring Puglia and I am so happy I stayed there to check out the region and everything it had to offer.
Luxury
If you're seeking top-notch, five-star accommodation in Bari, look no further than iH Grande Albergo Delle Nazioni, a seaside hotel offering amazing views over the blue waters of Bari.
The luxurious hotel has an on-site restaurant and so many amenities that it'll definitely make your Bari trip memorable. Click here to check rates and availability for iH Grande Albergo Delle Nazioni.
Mid-range
I stayed at two mid-range places in Bari, one was called De Rossi Holiday and the other was B&B Cavour 124. Both were apartment accommodations and were fantastic.
At De Rossi Holiday, the rooms were all a bit different and you shared a bathroom with others but felt like you had your own privacy the entire time.
My room had a tropical feel to it and there was small breakfast eats included. This accommodation is located much closer to the old town than the one below. Click here to check rates and availability for De Rossi Holiday.
At B&B Cavour, I had a really cozy place to stay for my first nights in Bari when I visited. Again, it had a shared bathroom, but I had my own private room and it was very quiet and cozy.
B&B Cavour is located near the train station and is the perfect place to stay if you're doing day trips from Bari. Click here to check rates and availability for B&B Cavour 124.
Budget
The best-rated budget accommodation in Bari is Olive Tree, a hostel and guesthouse in the city that is pretty centrally located and has your typical, wonderful Puglia hospitality.
The property has shared living areas and bathrooms but also terraces so you can enjoy the city from the outside. Click here to check rates and availability for Olive Tree.
These are the best tours of Matera from Bari to take in 2023 and we will update them accordingly in the future.
We highly suggest you add Matera to your Puglia itinerary (even though it's not technically in Puglia at all!) and we think you will be blown away by its beauty.
If you're looking for things to do in Monopoli, we also highly suggest visiting the seaside city. We also really enjoyed Trani, a city just north of Bari.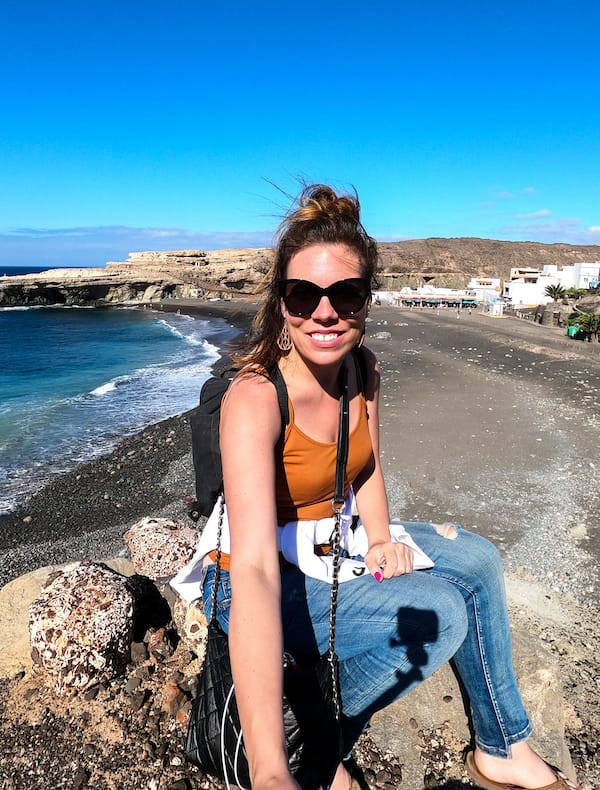 Megan is a travel blogger and writer with a background in digital marketing. Originally from Richmond, VA, she now splits her time between Frankfurt, Germany and Arctic Finland after also living in Norway, Armenia, and Kazakhstan. She has a passion for winter travel, as well as the Nordic countries, but you can also find her eating her way through Italy, perusing perfume stores in Paris, or taking road trips through the USA. Megan has written for or been featured by National Geographic, Forbes, Lonely Planet, the New York Times, and more. She co-authored Fodor's Travel 'Essential Norway' and has visited 45 US states and 100+ countries.