Cinque Terre is one of the most beautiful places to visit in Italy and everyone should put it on their itinerary when heading there. These things to know before you visit Cinque Terre will help you get started planning your trip.
Are you planning your trip to Cinque Terre last minute?
If youʻre booking your trip to Cinque Terre last minute, we have you covered. Below are some of the top tours, hotels, and more!
🇮🇹 Top Experiences and Tours in Cinque Terre:
🛏️ Top Hotels in Cinque Terre:
MADA Charm Apartments (luxury)
Real Rooms (budget)
🚗 Looking to travel around the Cinque Terre independently? Click here to check Italy rental car rates!
This is a guest post from Nicki and Paul from The Two That Do.
What to Know Before Traveling to Cinque Terre
The Cinque Terre region of northwestern Italy is famous for its breathtaking views of charismatic, color-rich fishing villages and stunning panoramas across the Mediterranean.
Thousands of annual visitors attracted by its enviable insight into the simpler life of past centuries, flock to these stunning vistas and the chance to sample the region's incredible natural products.
It is understandable why Cinque Terre attracts so many curious travelers, leaving those who haven't made the trip there vying to do so.
To ensure that you make the most of your trip to Cinque Terre and aren't simply following the masses, here is our guide to things that you should know before you visit Cinque Terre, including travel tips, where to stay and the best Cinque Terre Airbnbs and apartments, and which villages are famous for what.
Cinque Terre Travel Tips
Don't Attempt to Reach and Explore Cinque Terre by Car
If you are holidaying on the nearby Ligurian Coast or touring the verdant countryside of Tuscany, a day trip to the Cinque Terre by car will at first thought be a hugely enticing prospect.
However, quickly remove this thought from your minds!
While a couple of the villages are 'approachable' by car, it is strongly discouraged. Each of the five villages is closed to motorized traffic of any kind.
These historic centers are instead best reached by public transport and fully explored on foot.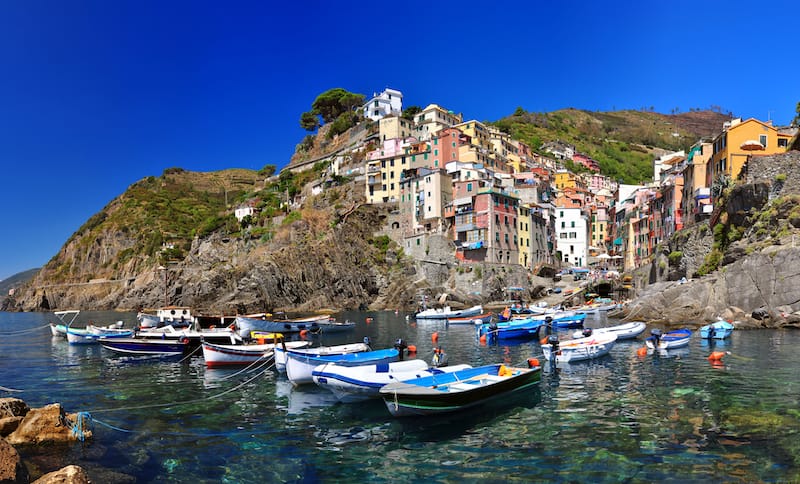 Things to Bring On Your Cinque Terre Trip
You're already planning your trip to the Cinque Terre region and so have seen countless idyllic images of villages perched on cliff faces, coastal panoramas, and tantalizing plates of food.
Despite this prior research, at first sight you will still be amazed by the sheer beauty and photogenic nature of the Cinque Terre.
This is a region that Instagram was invented for and on its own can fill exhibition after exhibition of superb and atmospheric photos.
As you explore the narrow streets and spot your own perfect angle, your smartphone or digital camera will be in your hand permanently.
There is nothing worse to kill the excitement and joy of a trip than worrying about your available battery or memory card.
Follow our all-important motto – 'Failing to prepare is preparing to fail'!
Don't Rush Your Visit!
We've all been there. We've longed for years to visit one of our bucket list destinations and then after finally making it, ended up disappointed that, in reality, it is little more than its famous 2D image.
Where is the experience, the history, or the uniqueness of this place that I have dreamed about for years? Your visit completed in no more than 30 or even 15 minutes.
This is not Cinque Terre.
The five villages of the Cinque Terre do not blur into one. They each boast their own nuances, their own reason to explore, and own dishes to sample.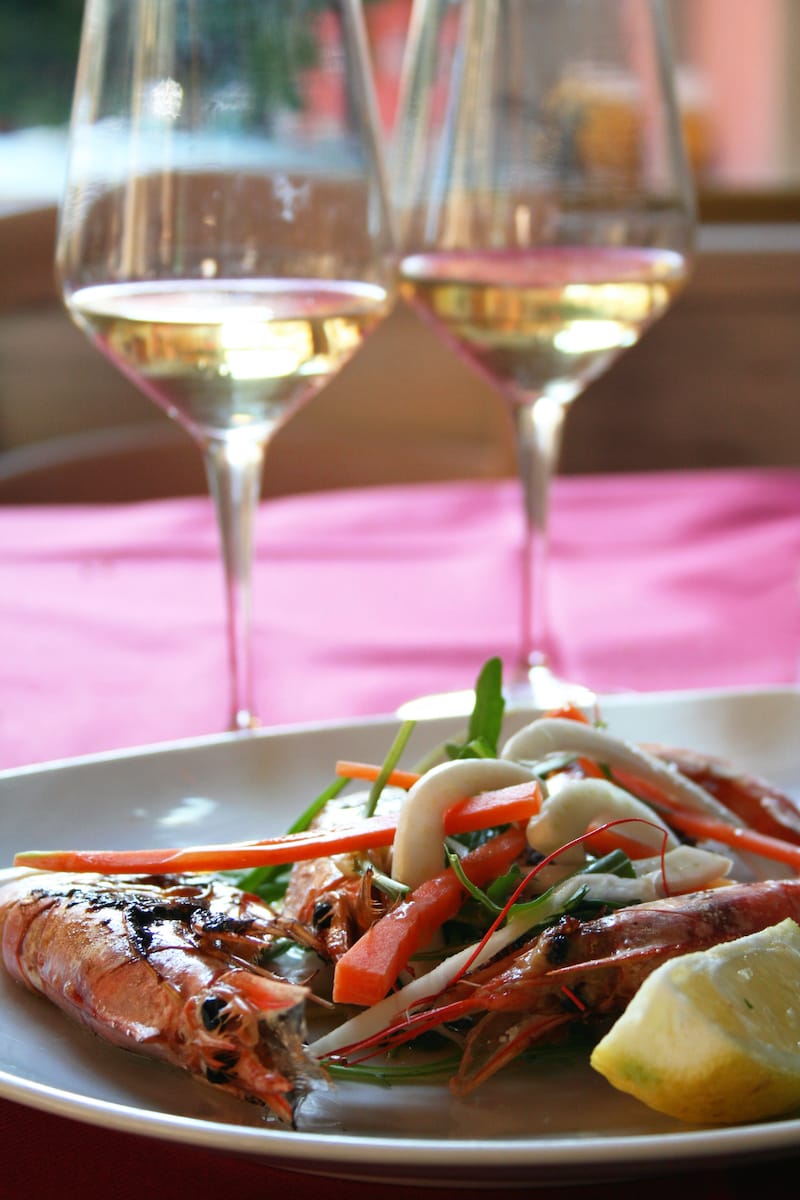 Do not try to rush your visit into half a day or even one day! If you make this fundamental mistake, you will spend most of your day on a train and clock watching as you rush between villages.
The Cinque Terre deserves to be explored to its fullest, so allow as much time as you possibly can. Your experience and subsequent memories will be so much richer.
Getting to the Cinque Terre is Easy From Other Italian Cities
Now you know not to drive but you're thinking 'how do I get there'?
Italy's efficient train system is the answer.
Trains to La Spezia, the region's principal destination, from Florence take just 3 hours. From Pisa, the journey is just 1 hour and 15 minutes.
Italy's major cities of Milan to the north and Rome to the south are just 2 1/2 and 3 1/2 hours, respectively.
Genoa, another fabulous day trip destination in Liguria, is just 1 1/2 hours away with the added benefit of services direct to each of the five Cinque Terre villages.
You Can Reach Cinque Terre by Boat
While the train may be the quickest way to reach the Cinque Terre and then move between the villages, the most memorable, and definitely most romantic way, is to travel by boat.
Ferry services run to four of the five Cinque Terre villages from the nearby ports of La Spezia, Levanto, and Portovenere.
It is also possible to reach the Cinque Terre via ferry services starting in the northern resorts of Rapallo and Portofino. Alternatively, you can take one of the popular Cinque Terre boat tour options and reach different places that way.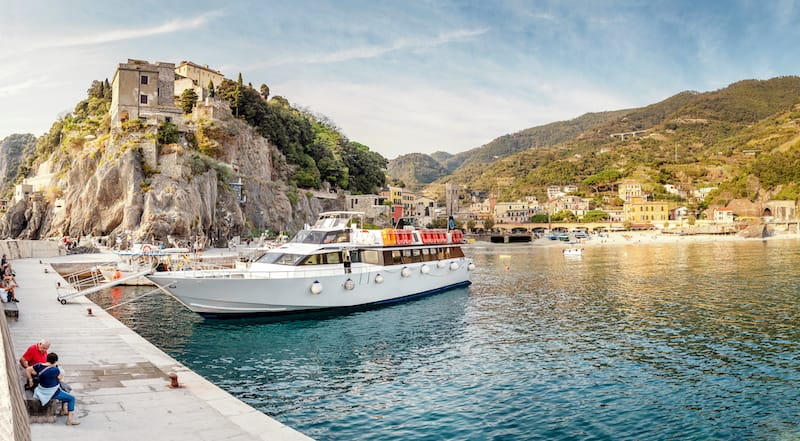 These boat services run daily between April 1 and November 1, although there may be temporary suspensions due to adverse weather conditions.
A one day ticket allowing an unlimited hop-on hop-off service will cost €30.00 for adults and €15.00 for children.
The Cinque Terre Train Card is Fabulous Value
Available at every train station within the Cinque Terre, as well as the neighboring hubs of Levanto and La Spezia, the Cinque Terre Train Card is more than just a train ticket.
Allowing unlimited train travel for the duration of your visit, the Cinque Terre Train Card also provides you with access to the Cinque Terre hiking trails, use of bus and shuttle services within the Cinque Terre region, and reduced admission to La Spezia museums.
These tricolor designed tickets are personal to the user, so do ensure you sign where indicated and, of course, validate at one of the green stamp machines prior to use.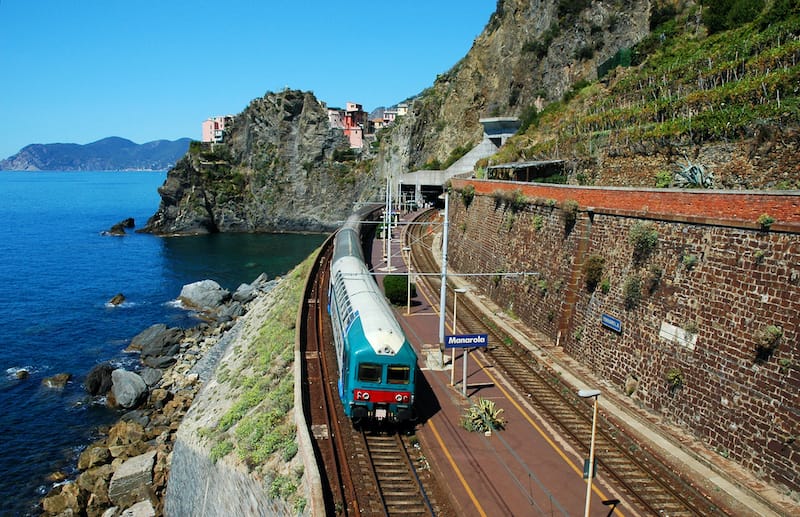 Between mid-March and November 1, Cinque Terre express runs every 20 minutes.
To illustrate the value for money savings, a single train journey between stations on the Cinque Terre is €4.00. The Train Card costs just €16.00 per day, €29.00 for two days, or €41.00 for three days.
It is important to highlight that a 'day' ticket is not for 24 hours but until midnight on the day of purchase.
Cinque Terre Hiking is Stellar
As well as the boat or train options, it is also possible to travel between the five villages on foot via the 120 km of hiking trails.
With the vast majority of these along coastal paths, these trails offer hikers magnificent views of the villages and surrounding Mediterranean.
Whilst the majority of trails are free to use the Cinque Terre Trekking Card is required to walk the two most famous trails from Monterosso to Vernazza and Vernazza to Corniglia.
The cost of a one day card for adults and children is €7.50 and €4.50 respectively. Costs for a two-day card offer a slight saving at €14.50 and €7.20.
Family cards covering two adults and two children for one or two days are also available costing €19.60 and €31.50.
Cinque Terre is Italy's First National Park
This is Italy's first national park, inducted as such only in 1999. Cinque Terre is also a UNESCO World Heritage Site.
For over a thousand years, people in the Cinque Terre region cut into the steep coastal slopes a series of flat terraces from which to cultivate crops and vineyards.
Both designations therefore recognize the area's cultural and environmental importance and efforts to preserve the delicate relationship between people and their environment.
It is difficult to argue with the description of Cinque Terre included within its World Heritage Listing.
"The harmonious interaction between people and nature to produce a landscape of exceptional beauty".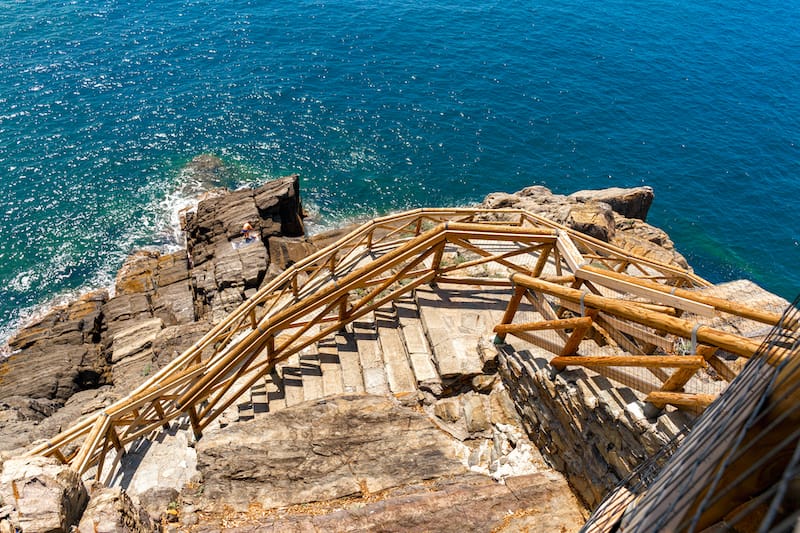 Try to Avoid the High-Season (Summer)
This is no doubt a sensible and unsurprising inclusion on this list of useful Cinque Terre travel tips! However, it remains one of our most important suggestions.
The five villages of the Cinque Terre are each delightful mazes of narrow streets boasting an alluring combination of quaint stores and restaurants arranged around a central plaza or small picturesque harbor.
However, their mystique and your feeling of proximity to history will inevitably be affected by the hordes of fellow tourists seeking iconic shots and supposedly unique experiences.
For fewer interruptions or sheep-like processions between villages, do what you can to visit during the spring or autumn months. You will undoubtedly thank me for it.
In addition to the greater tourist numbers, the summer months of July and August will often bring unbearably hot temperatures.
Our own visit (as part of our motorhome tour) coincided with Europe's hottest heatwave. We walked the delightful streets, absorbed stunning views all under 40˚ heat.
It is far from pleasant to visit even such an idyllic location under such extreme conditions.
One of the delights of this reason is the famous gelato. It's far preferable to taste it than to have it run down your arm!
Wine and Food in Cinque Terre is Amazing
Your principal reason for visiting Cinque Terre will likely be for its iconic views. While the views are sure not to disappoint, be sure to also consider eating some of the amazing natural products the region is known for.
A visit to any place on the Mediterranean coast can be enhanced by investing time on a restaurant's outdoor terrace, enjoying the glittering view and sunset with a glass of local wine.
Each of the five villages of the Cinque Terre is awash with such opportunities!
Pasta dishes are, of course, popular but regional seafood specialties should also be sought out. Match with a bottle of the local Sciacchetra wine or even topped with a glass of the always available limoncello.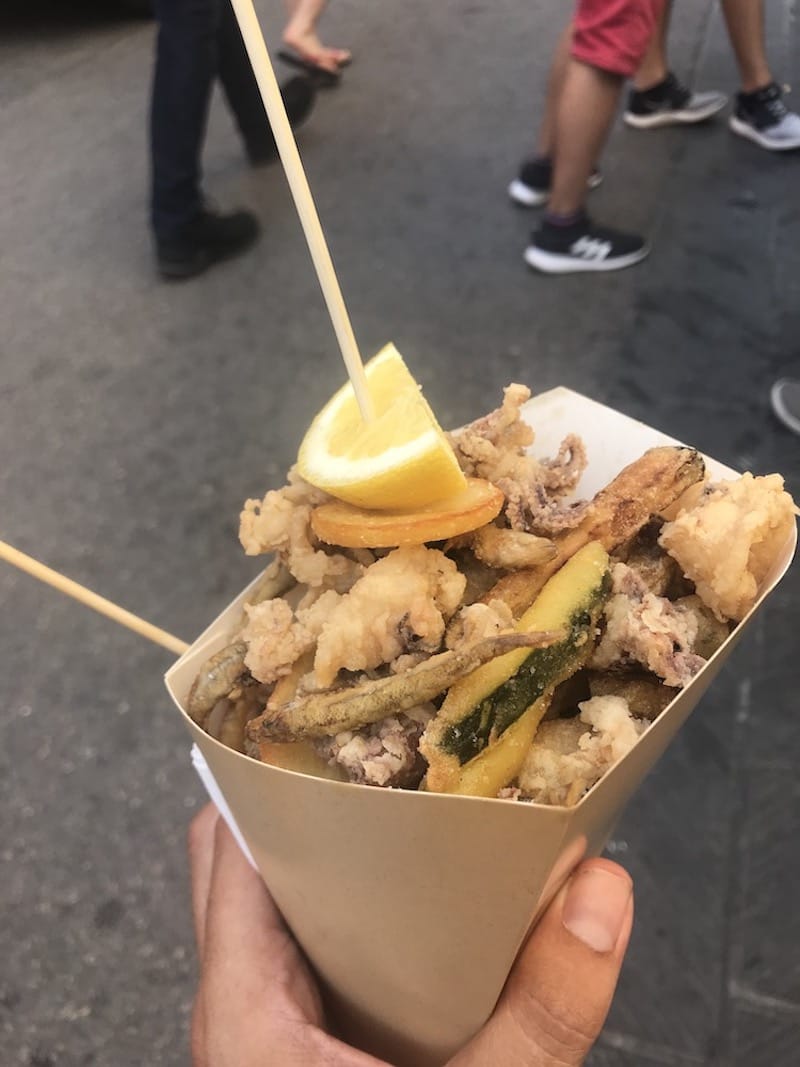 For those on the move, the Cinque Terre also boasts its own unique snack choices. Look out for Farinata, a savory and crunchy pancake made from chickpea flour or own favorite of 'Fritto Misto'.
These cones of fried seafood and vegetables are salty tastes of heaven. We picked up ours at Il Pescato Cucinato in central Riomaggiore.
For dessert, definitely opt for Corniglia's famous gelato made from honey. There are many delicious things to eat when you travel to Cinque Terre- these are just a few notable ones.
Monterosso al Mare is a Beachlover's Paradise
Monterosso al Mare is the northernmost village as well as the largest.
Boasting the only traditional strip of sandy beach in the Cinque Terre and crystal clear waters, Monterosso al Mare is popular with sun worshippers and bathers during the summer months. Look out for the rows of sunbeds and parasols to the right of the station exit.
The old town is within 5 minutes' walking distance of the station in the opposite direction and boasts a charming central square overlooked by the medieval bell tower.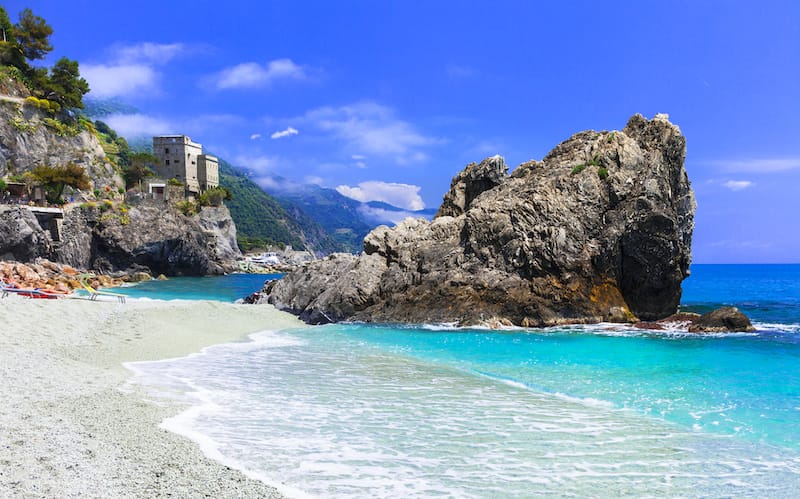 A fabulous local food and goods market is held here every Thursday morning so be sure to stick that on your Cinque Terre itinerary.
Monterosso is also famous for its plump anchovies, a local specialty and European Union Protected Designation of Origin product.
Vernazza is the Most Photographed of the Cinque Terre Villages
The only natural port in the Cinque Terre, Vernazza is a true fishing village. Centered around a coastal piazza and offering iconic views of small colorful fishing boats, Vernazza is arguably the most famous Cinque Terre destination and one of Italy's most beautiful villages.
Vernazza is also known for its simple but elegant Church of Santa Margherita d'Antiochia which is recognizable for its prominent coastal location overlooking the harbor.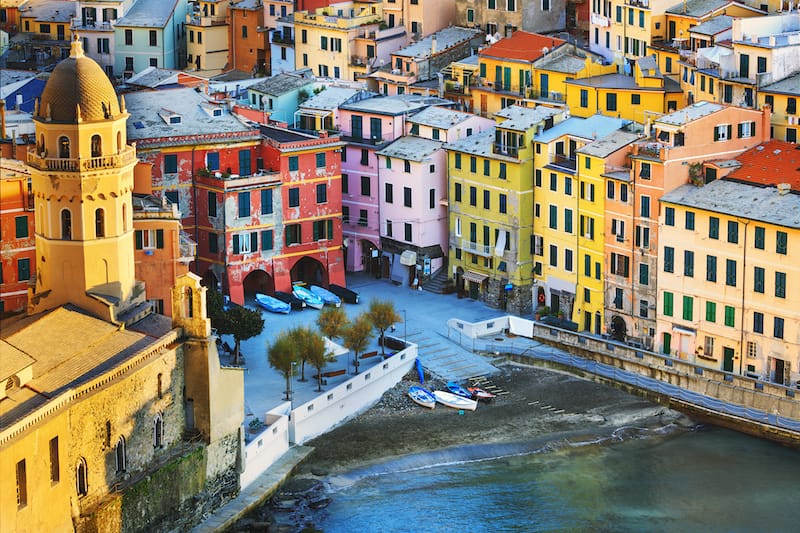 For more stunning panoramic views of Vernazza, head through the side streets to the south of the village to the clifftop Doria Castle.
However, the best views of Vernazza are gained from the surrounding mountains reached by following one of the paths to either Monterosso or Corniglia.
Corniglia is the Only Village Not to Sit Directly on the Mediterranean
Unlike the other four villages, Corniglia does not offer direct access to the sea. Instead, it sits on a rocky cliff 100 meters above the Mediterranean surrounded by vineyards and terraces. Its elevated position perfect for clifftop terraces and sunset views.
Corniglia is the oldest of the five villages and due to its high position, it is the only one from which it is possible to see the other four.
To access Corniglia from the train station, visitors will have two choices- to climb the steep series of 377 steps or take the shuttle bus, the use of which is free with the Cinque Terre Train Card.
Visit Manarola for Cliff Jumping Adventures
Via its long elevated pathways running northward, Manarola offers fabulous opportunities for iconic photographs.
With the brightly colored dwellings as a stunning backdrop, you will ask fellow visitors to take a photo of you that will inevitably find a place somewhere on the walls of your home for years to come.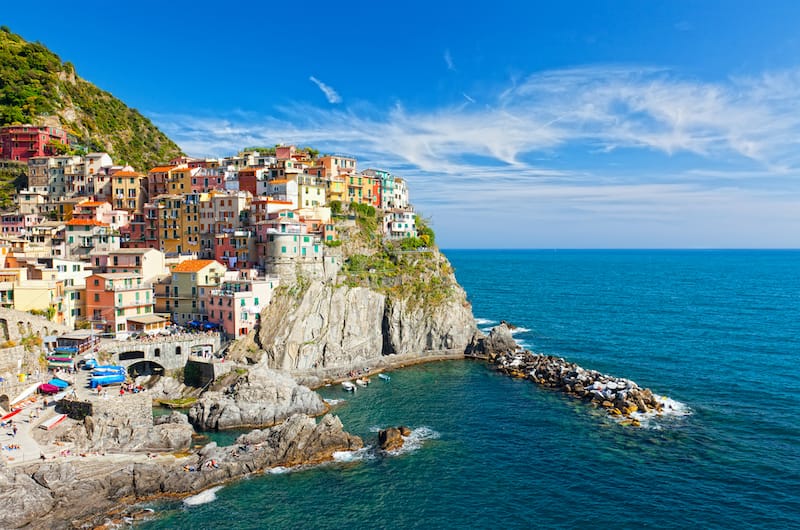 Manarola also has many opportunities to dip in the refreshing waters of the Mediterranean from the seafront walkways. The more adventurous traveler can join the many cliff jumpers to be found at the village's northern tip.
Manarola is also one of the most romantic spots in the Cinque Terre to watch the sunset.
Riomaggiore is the Most Peaceful and Quietest Cinque Terre Village
The southernmost of the five and closest to La Spezia, Riomaggiore is often the first village visited. Offering a tantalizing teaser of what lies ahead, Riomaggiore is accessed through a tunnel from the station exit.
From there, a colorful cascade of centuries-old dwellings leads down to the seafront and the slipway into the Mediterranean.
For the best photos looking back toward the village, follow the path to the right of the slipway and perch on the bottom of the steep steps leading directly to the sea below.
Visit La Spezia for Cheap Cinque Terre Accommodation
Thankfully, the Cinque Terre is not a region of large and garish hotels. It is, instead, awash with elegant guest houses, family-run B&Bs, and Airbnb options.
However, when you're looking for where to stay in Cinque Terre, the price tag is hefty regardless of the size of the accommodation.
The gateway city of La Spezia is just 7 minutes from Manarola by train and offers cheaper alternatives for overnight accommodation, as well as the opportunity to explore another town.
As well as cheaper hotel accommodation, La Spezia is also home to one of our 'Top 10 Motorhome Stops in Italy to get you off the Beaten Track.'
Cinque Terre Tours
One of the best ways to visit Cinque Terre is by joining an organized tour, especially if you're heading on a day trip from Milan or Florence (or Pisa!). These are the top-rated Cinque Terre tours.
Tours in Cinque Terre for the Active Traveler
Many people think that Cinque Terre is just for walking tours and photography.
That is definitely not the case at all! Here are some top-rated tours with our partner Adrenaline-Hunter that we recommend checking out in Cinque Terre if you're looking to be a bit more active.
Many people come to Cinque Terre on a day tour from Milan or Florence so the accommodation is sorted, but here are some top Cinque Terre accommodation recommendations for those still keen to stay in the area:
Cinque Terre is without a doubt one of Europe's most stunning destinations.
While simply arriving in such historic towns and exploring for yourself is often one of the most productive and memorable ways of traveling, Cinque Terre requires more research to make the most of your visit.
We trust that these tips to know before you visit Cinque Terre have helped you understand the region and know what to expect when traveling to Cinque Terre.
If you have questions or want to add something from your own experience, please leave a comment!
More Italy Travel Guides
Pin this Cinque Terre Travel Tips Guide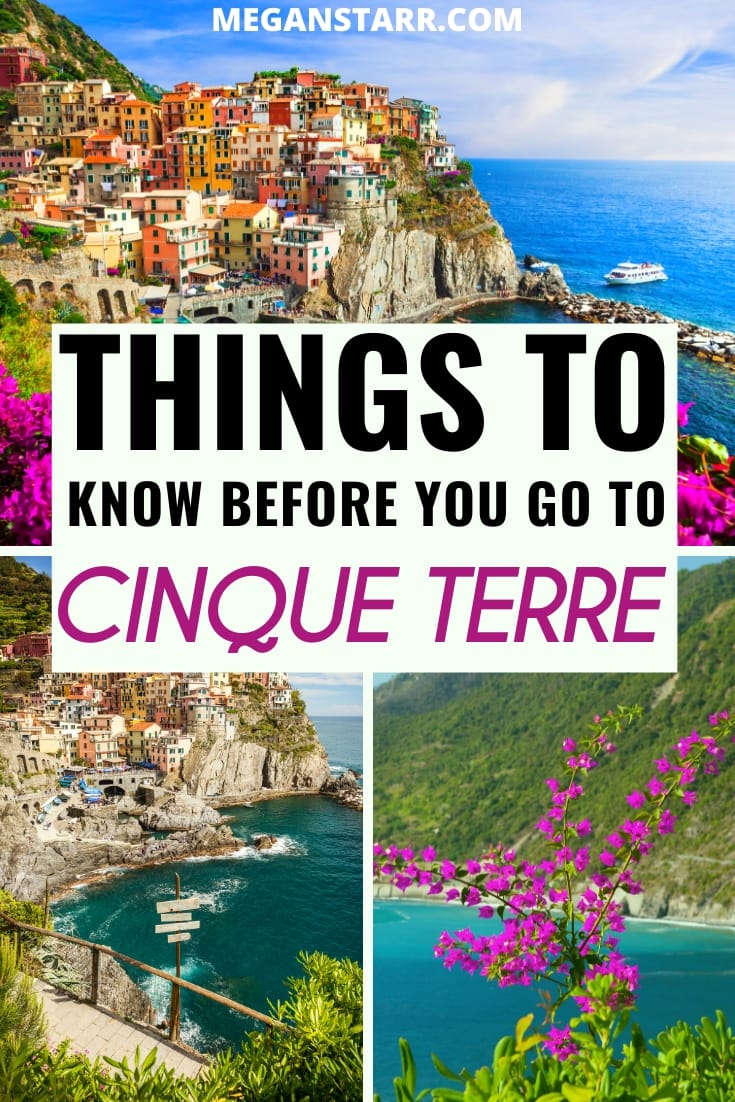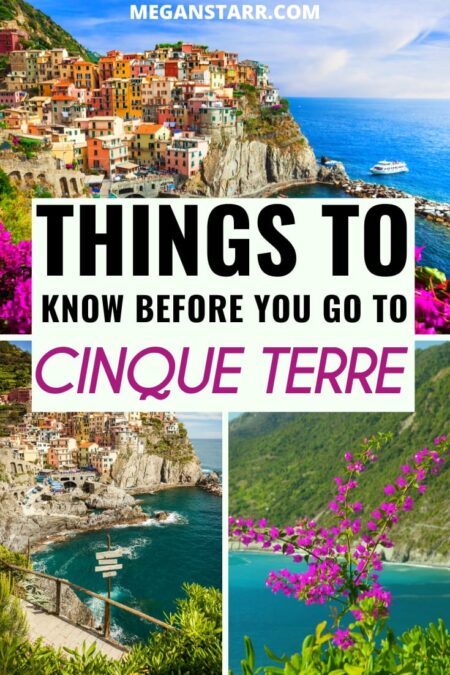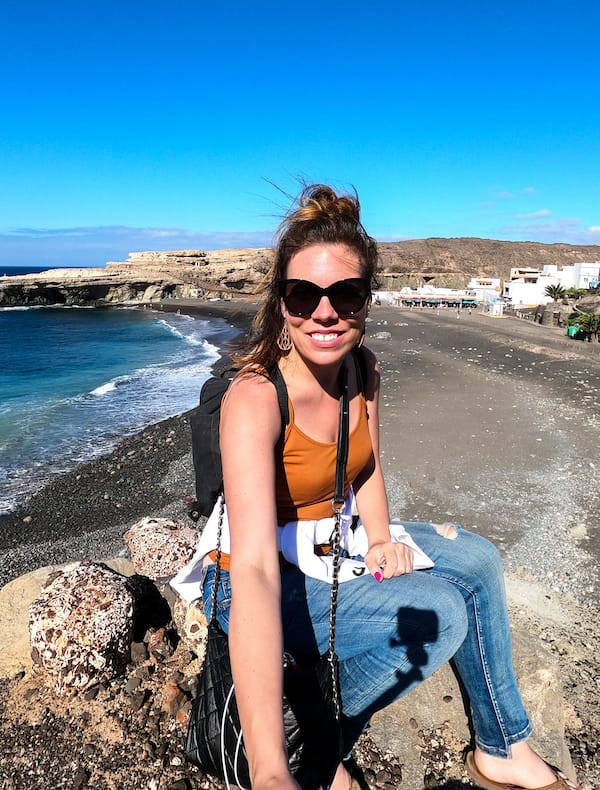 Megan is a travel blogger and writer with a background in digital marketing. Originally from Richmond, VA, she now splits her time between Frankfurt, Germany and Arctic Finland after also living in Norway, Armenia, and Kazakhstan. She has a passion for winter travel, as well as the Nordic countries, but you can also find her eating her way through Italy, perusing perfume stores in Paris, or taking road trips through the USA. Megan has written for or been featured by National Geographic, Forbes, Lonely Planet, the New York Times, and more. She co-authored Fodor's Travel 'Essential Norway' and has visited 45 US states and 100+ countries.