Planning a trip to Norway's fjord country and wondering if you can see a lot with only one day in Bergen?
While I think the city is better suited for a long weekend trip, if you plan ahead, 24 hours in Bergen can be a great introduction to the Norwegian city!
Are you planning your trip to Bergen last minute?
If youʻre booking your trip to Bergen last minute, I have you covered. Below are some of the top tours, hotels, and more!
🇳🇴 Top Activities and Tours in Bergen:
🛌 Top Hotels in Bergen:
Bergen Børs Hotel (best location; inside historic building)
Zander K Hotel (4-star gorgeous hotel by train station)
Hotel Norge by Scandic (luxury – close to airport train)
🚗 Visiting Bergen independently? Be sure to book your Norway rental car ahead of time to ensure availability!
In this guide, I will go through a suggested Bergen itinerary that I put together that I think will maximize your time there, and also leave you with a pretty good impression of the city.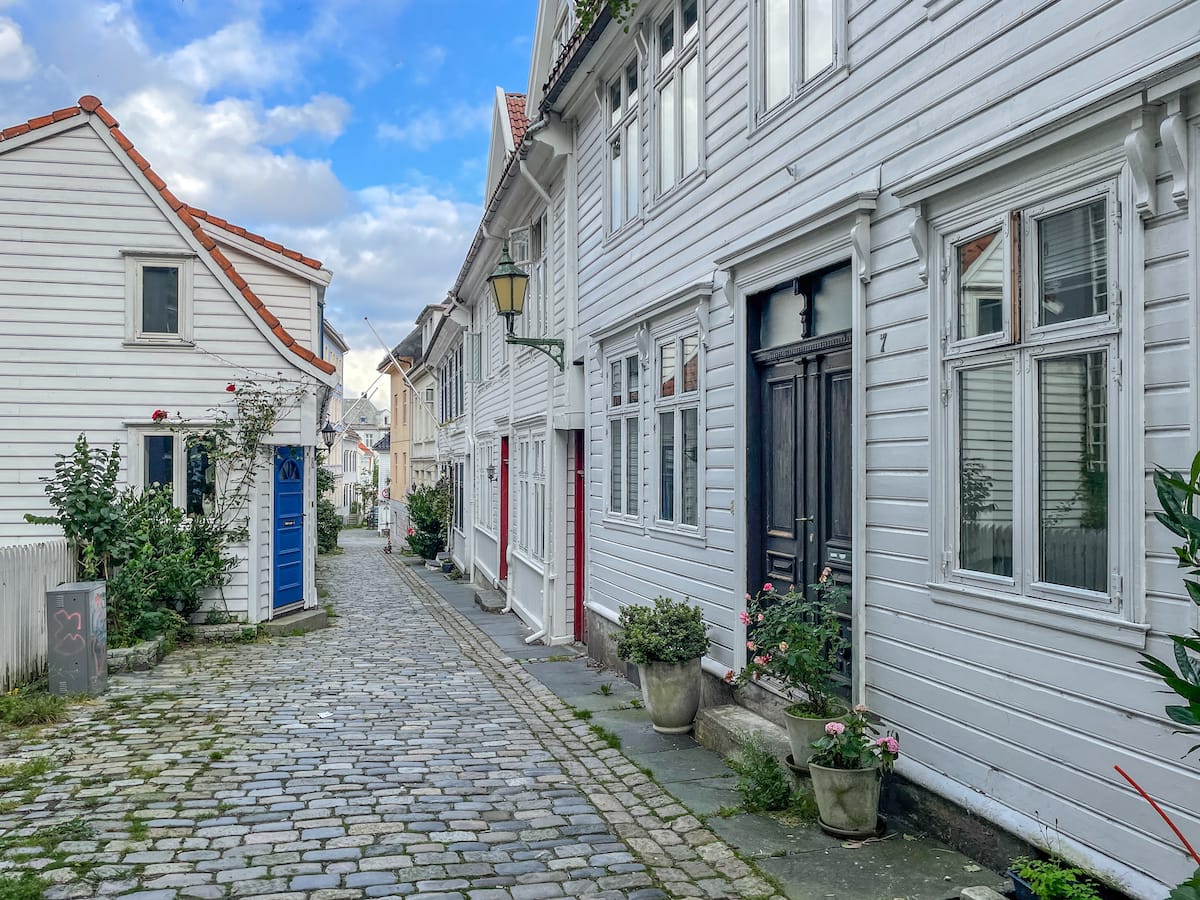 This Bergen one-day itinerary is aimed at first-time visitors, but if you've been before and think there is something essential worth showing off there, please leave a comment so they can add it to their Bergen bucket list!
One Day in Bergen: Itinerary Overview
If there is any city in Europe that allows visitors to see a lot of sites in a short amount of time, it is Bergen.
I lived there for a year and showed plenty of my guests around my 'first Norwegian home', and I feel confident that most left with a pretty good impression of the place and felt like they saw a fair amount of the city before the following days took us to the fjords.
On this Bergen itinerary, I am assuming you will start your day at around 9-10am and I am also assuming that there is a good chance you're a summer visitor!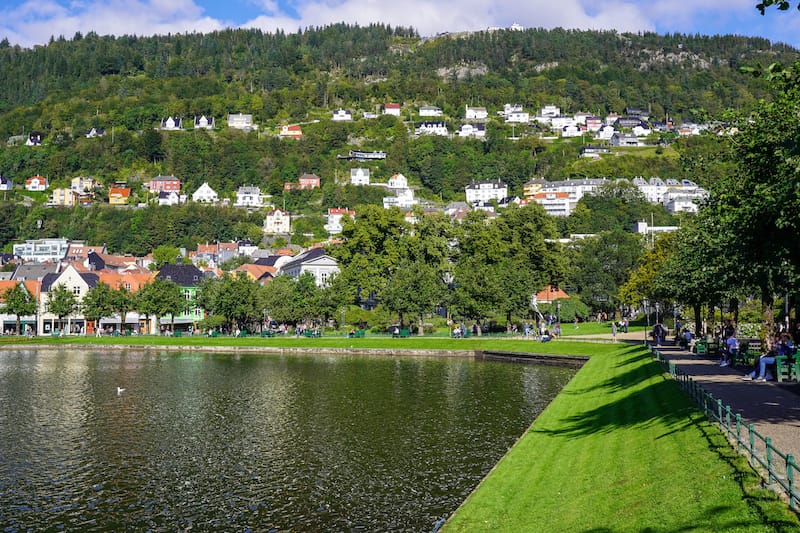 Nevertheless, most of what is on here can be done year-round, and if something is strictly seasonal, I will make sure you're aware.
At the end of this guide, I have put together a map for your one day in Bergen that highlights everything I discuss! You will be able to save it on your phone or computer to help you when you arrive in the city.
And don't worry, Bergen is easy to get around! While some of the streets may be narrow here and there, if you stick around the city center and harbor, you will never be far from the main sites.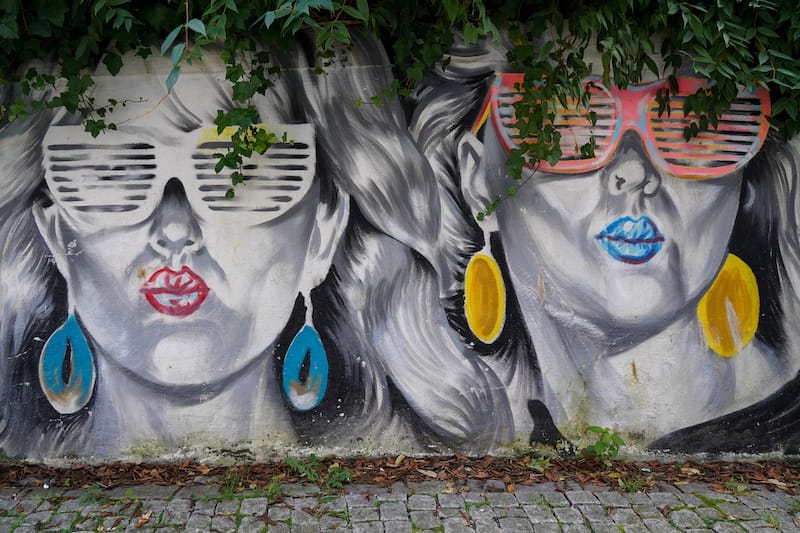 Everything on this itinerary is within walking distance of each other.
I do add a few things at the end that you can do if you have 2 days in Bergen (or even 3!). Some of those are better done by an organized tour or rental car.
If you're short on time, here is everything on my Bergen 1-day itinerary. You can read more about each place below. as well as tips to maximize your time at each stop!
Bergenhus Fortress
Bergen Museum
Bryggen
Coffee at Kaf Kafe Bryggen
Fløibanen (Bergen funicular to the top of Fløyen for that famous panorama!)
Stroll through the Bergen fish market
Lunch at Søstrene Hagelin (or Frescohallen)
Wander the streets of Bergen (more details about what to see and where to go below)
Dinner at Bryggeloft Stuene or Enhjørningen Fiskerestaurant
Drinks at 360° Xhibition
One last thing to note: I am showing you the 'touristy' side of the city. Many of these places are what people come to Bergen to see (ie. Bryggen, Fløibanen, and other Bergen icons).
🇳🇴
PRO TIP:
The Bergen Card
can be a money-saver! If you're there for a day or even longer, head to the Visit Bergen office (located right by the fish market) and get your hands on one! It offers loads of discounts and even quite a few freebies.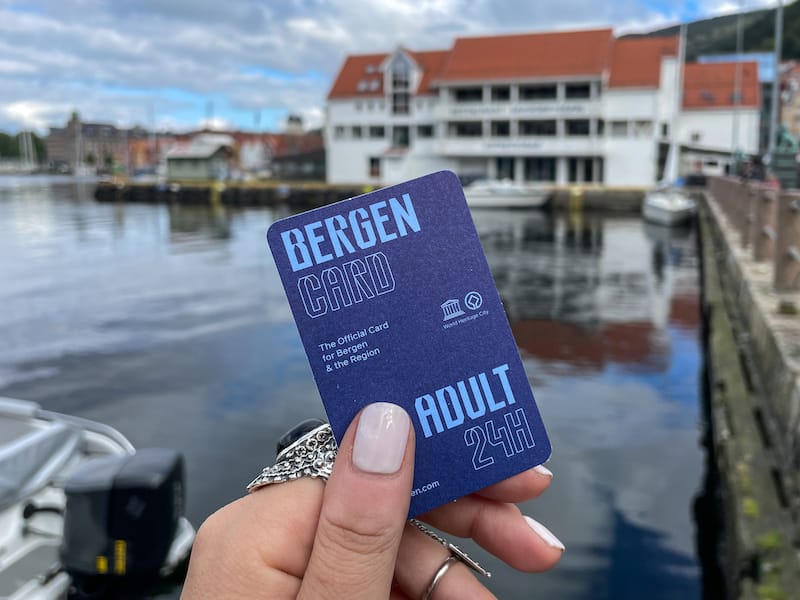 Therefore, the restaurants I mentioned in this guide are located near these attractions and landmarks. They will all have English menus and be tourist-friendly.
Where to Stay in Bergen
If you have merely one day in Bergen, your trip will be a whole lot better if you plan your accommodation in a way that you won't have to spend part of your day navigating areas of the city outside of the city center.
The best place to stay (to use this itinerary) is in the city center and close to the harbor. Therefore, everything can be reached on foot without a problem.
Here are some of my top picks for accommodation in Bergen that will make this itinerary even more hassle-free!
If you're looking for more budget-friendly accommodation, you will need to slowly move yourself out of the city center a bit.
So, just know you will likely need to take transportation to get into the city to use this itinerary (but Bergen transportation is easy and affordable).
Detailed Bergen Itinerary (and Stops for the Perfect Trip!)
1. Start Your Day at Bergenhus Fortress
I highly recommend that you start your day at Bergenhus Fortress (Bergenhus Festning).
This fortress is one of the best preserved in all of Norway, and it offers a glimpse into the history of the Hanseatic city. The fortress not only played a part in Bergen's royal history, but it also had ties to the military (and even religion).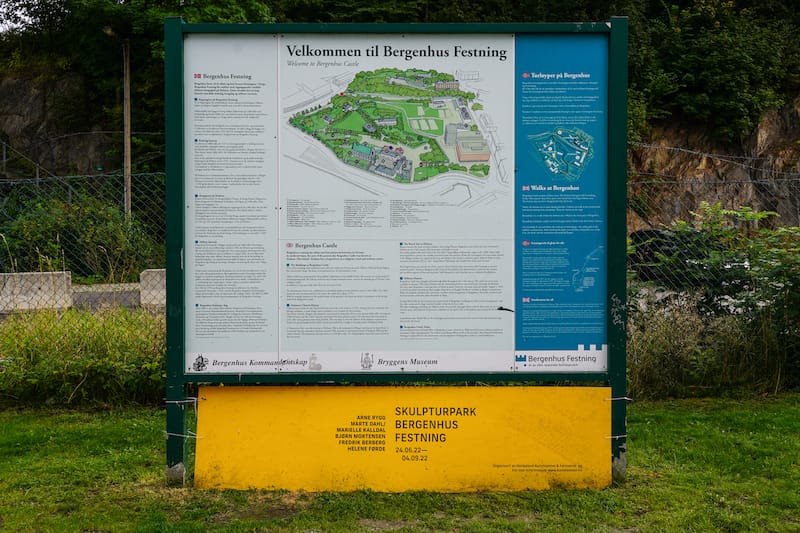 Bergenhus Fortress dates back to the early 1500s, when it was first constructed.
Over the years, it was reinforced, and it even served a purpose during WWII, when the occupying Germans used it as their headquarters in the West.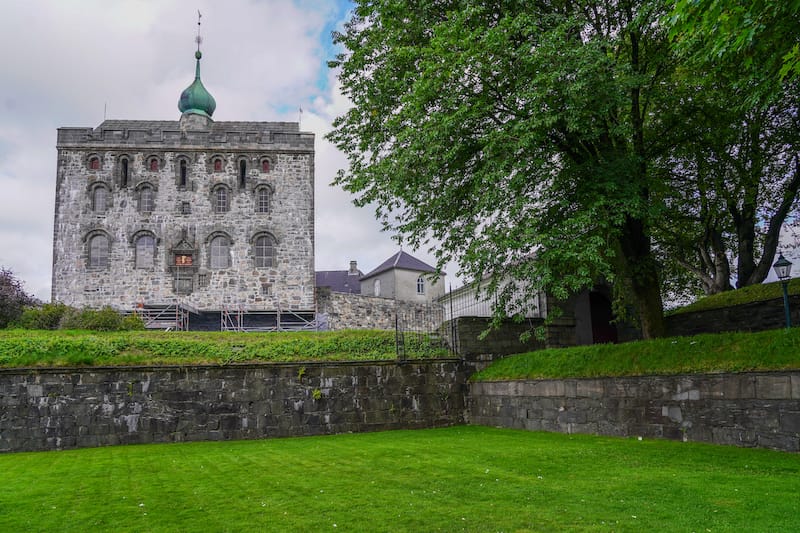 Today, you can visit Bergenhus Fortress free of charge. I recommend walking through and checking it out. There are plenty of sites as well as greenery in the area. Also, be sure to stop by the Rosenkrantz Tower (closer to the harbor).
🎶 FUN FACT: Bergenhus Fortress has been hosting concerts on its grounds for years. Everyone from Rihanna to Joe Cocker to Bruce Springsteen has performed there.
Bergenhus Fortress is open daily from 6am-11pm.
2. Learn about the City at the Bergen Museum
Interested in learning more about Bergen and its history since the Middle Ages? The Bergen Museum is a can't-miss then!
This museum is located in the Bryggen area (really close to Bergenhus Fortress, where you'll be coming from), and it houses excavation findings and archaeological material from Bergen and the surrounding areas dating all the way back to the Middle Ages.
This museum opened in 1976 and actually sits on top of the remnants of one of the oldest buildings in Bergen that dates back to the 1100s.
In 2023, adult ticket prices are 140 NOK and the museum hours vary by the season. During the summers, it opens at 10am, and during the winter months, it can open as late as 11am.
Be sure to check their website for last-minute schedule changes.
Address: Dreggsallmenningen 3
3. Explore Bryggen, a UNESCO World Heritage Site
I am sure you saw the photos of this iconic area before you even arrived in Bergen. And yes, the site is just as beautiful in person as it is in photos.
It can take hours to explore Bryggen or merely minutes, depending on what you want to see and do there. The area is a little village in its own right. You'll have everything from museums to restaurants to cafes, and more!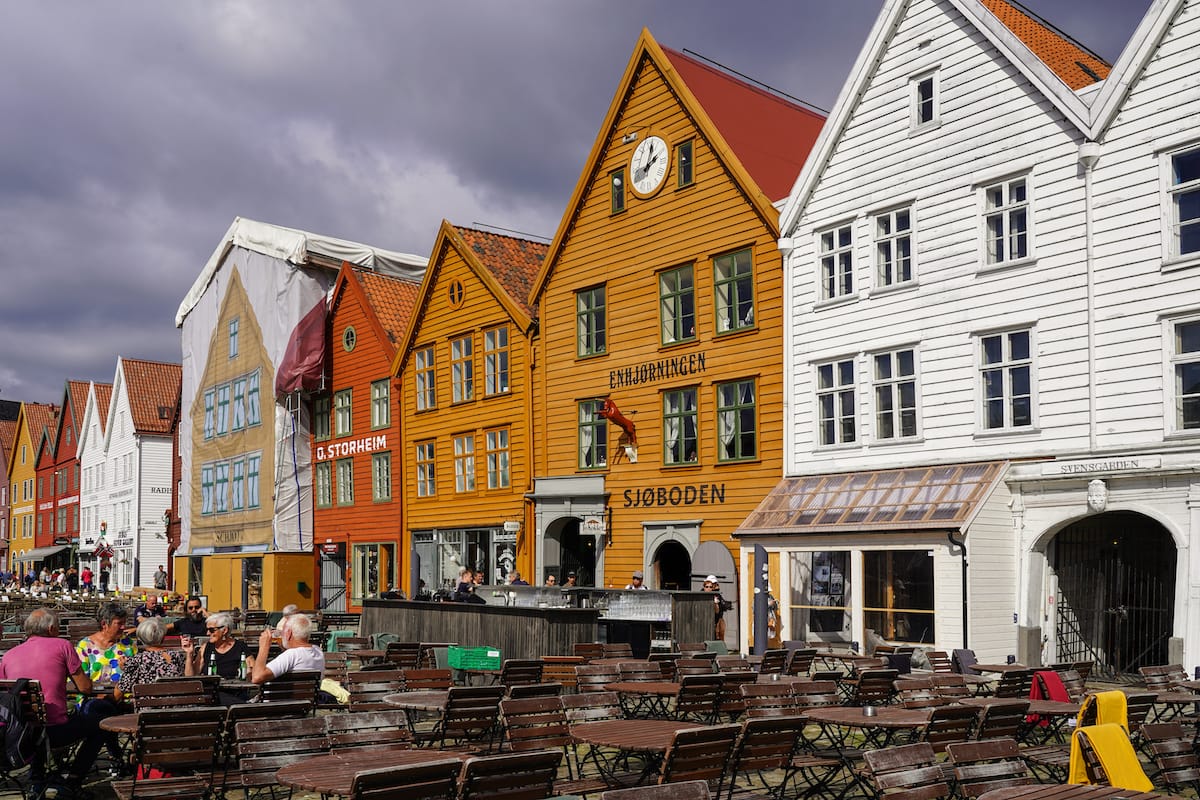 Later on the itinerary, I mention having dinner at one of the famous restaurants in Bryggen, so I would hold off eating there for now, but there is a coffee shop tucked inside called Kaf Kafe Bryggen that is worth a stop.
They have delicious coffee, tea, and baked goods, and during the summer, there is a small terrace outside the cafe. It is small but super cozy.
Some of my favorite places around Bryggen are:
Hanseatic Museum & Schøtstuene
Bryggeloftet & Stuene (a restaurant I recommend for dinner)
Enhjørningen (the second place I recommend for dinner)
Bryggen Husflid (has a large selection of Norwegian wool sweaters – not the cheapest place around, but conveniently located)
Røst (offers cute Nordic and Northern European-designed goods)
Gullsmed Per Vigeland (local jeweler's shop – I bought a beautiful ring from here)
4. Take the Fløibanen to See Bergen's Most Iconic View
This famous funicular, Fløibanen, is one of the main attractions in Bergen. It will take you from the city center (close to the harbor) up to Fløyen, one of Bergen's most famous mountains.
The ride takes anywhere from 5-8 minutes (some locals will use the funicular to get up to their homes). Fløibanen opened in 1918, and it is wheelchair-accessible, stroller-friendly, and also welcomes dogs.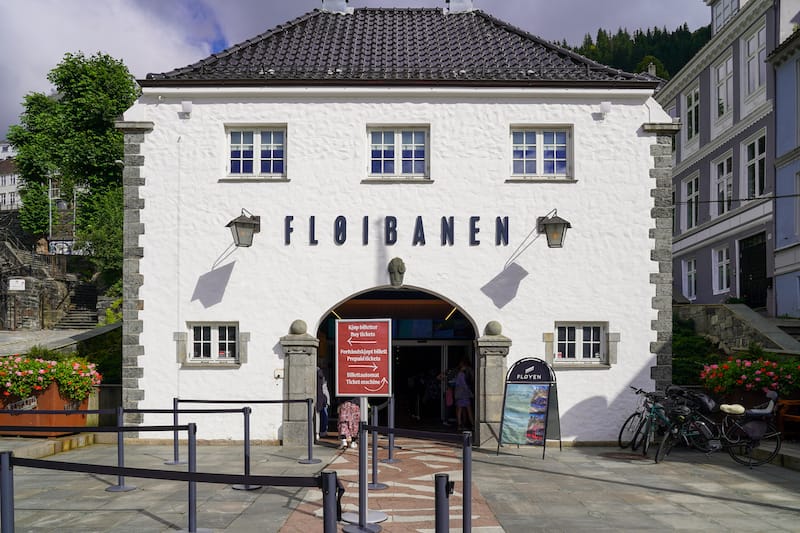 When you're riding the Fløibanen, you will head up 320 meters (1050 feet) to the top of Fløyen, where you will get the chance to take in this iconic view.
If the sun is shining, I honestly think it is one of the most beautiful city panoramas in the world.
At the top, there is a cafe, restaurant, and souvenir shop. There is also a network of hiking trails (you can even hike to Ulriken from here) and plenty of goats roaming around.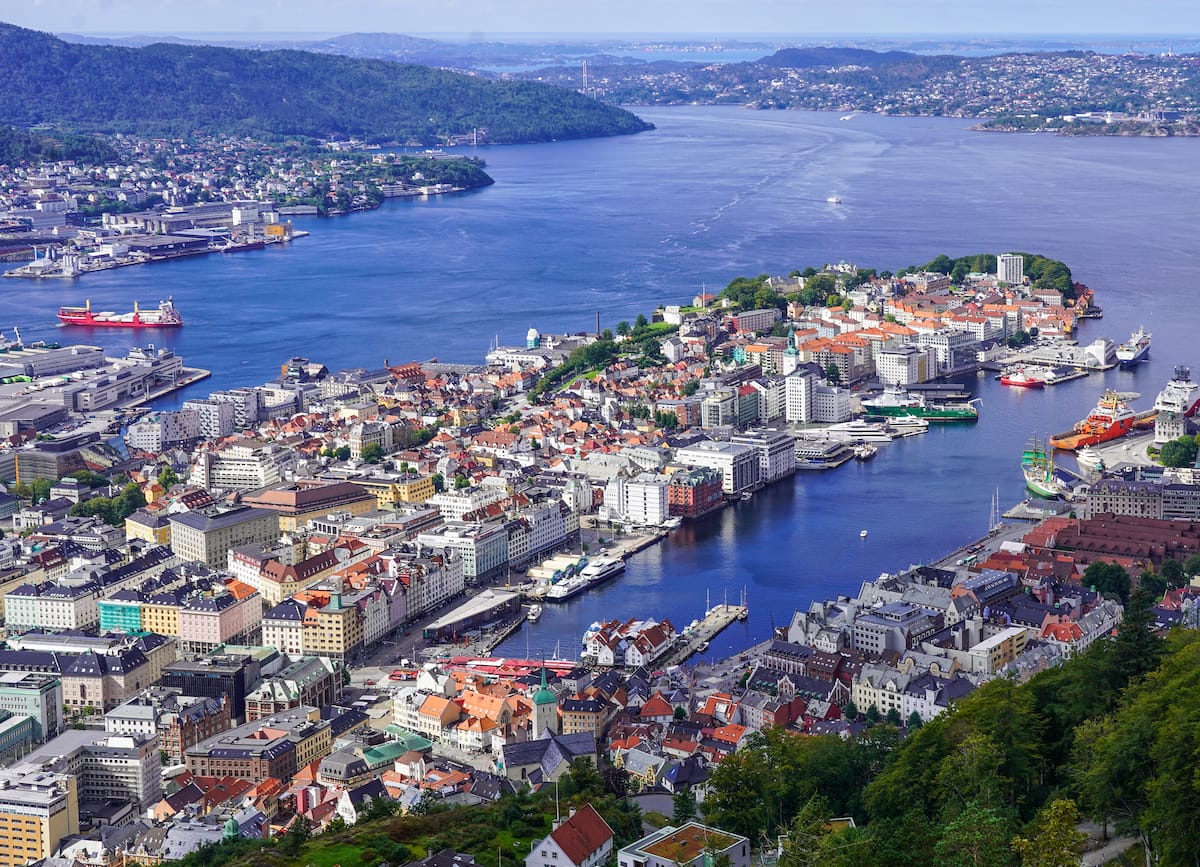 Each funicular car can hold up to 120 passengers, so even if the line is long, it moves fairly quickly. It goes every 15 minutes (and even more frequently during the high season's peak hours).
♿ GOOD TO KNOW: Not all restaurants in Bergen are wheelchair-friendly (mainly due to the city's age and use of historic buildings). But, the restaurant at Fløyen is wheelchair-accessible and a good place for lunch if you are limited with mobility and want a break for a bit.
The Fløibanen's hours vary throughout the year, but it opens at 7:30am and closes at 11pm from Monday-Friday and is open on weekends anywhere from 8am until 9am depending on the season.
You can purchase tickets right on the spot, on their website, or in their app.
5. Walk Around the Bergen Fish Market (and Eat Lunch!)
One of the most iconic sites in Bergen is the fish market, a city attraction since the 1200s.
This market is located right along the harbor, and you can find everything from fresh fish (naturally) to handpicked berries, local vegetables, and more.
The hours for the market vary depending on the season and day, but during the middle of the day, it will most likely be open for you to walk through.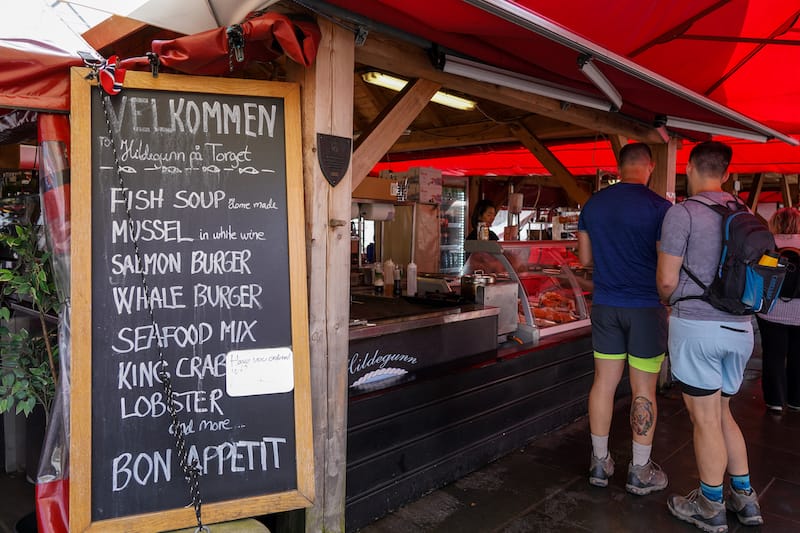 I must say that one of my favorite things about the Bergen fish market is that no one harasses you walking through it. Everyone minds his or her own business and allows you to photograph and take it all in comfortably.
If I had to give one tip to a first-time traveler to Bergen, it would be to not grab lunch here. Instead, I am going to list two places below that I think are sound alternatives to the overpriced fish market.
Søstrene Hagelin
Just a street away from the harbor is Søstrene Hagelin, a small eatery that specializes in fresh fish cakes (fiskekaker) and fish soup (fiskesuppe). Trying one of these, or both, is imperative when visiting Bergen!
This restaurant has been around for ages and is quick, easy, and affordable. If you are planning a nice sit-down dinner in the evening, I recommend enjoying lunch here.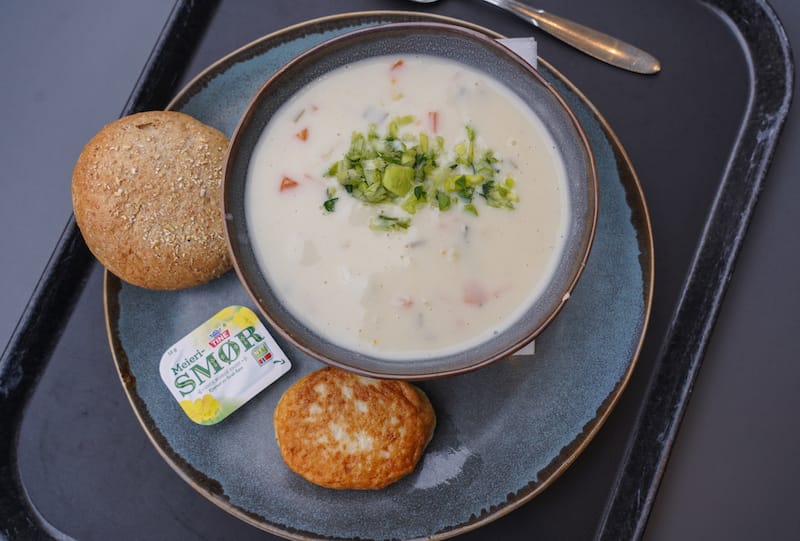 There is seating inside and at a few tables outside.
However, if the sun is making its rare appearance in Bergen, I recommend getting your fish soup or fish cakes to go and enjoying them by the harbor! Just watch out for the seagulls in Bergen, as they are relentless!
Søstrene Hagelin is closed on Sundays.
Address: Strandgaten 3
Frescohallen
Food-wise, this is not my favorite place in Bergen – but interior-wise, it is stellar.
Frescohallen is a modern restaurant (and bar) that is located in one of the city's historical buildings, a former stock exchange located not far off the harbor. You will find it at the Bergen Børs Hotel.
Adorned with frescos by Axel Revold, this place is perfect for those looking for lunch in a more luxurious setting. I went here on my last trip, and it had just opened a few months prior (May 2022).
One of the best perks of eating at Frescohallen is that it has super long hours and serves everything from breakfast to dinner (with an extensive cocktail menu throughout).
For lunch, guests will find a huge emphasis on local seafood. They also offer Champagne brunches. Frescohallen has something for everyone!
Address: Vågsallmenningen 1
6. Spend the Afternoon Strolling the Streets of Bergen
I think the best way to approach an afternoon in Bergen is to wander around and see what suits your interests best!
If you're a traveler who wants to see everything, grab a map at the tourist information center and wander about!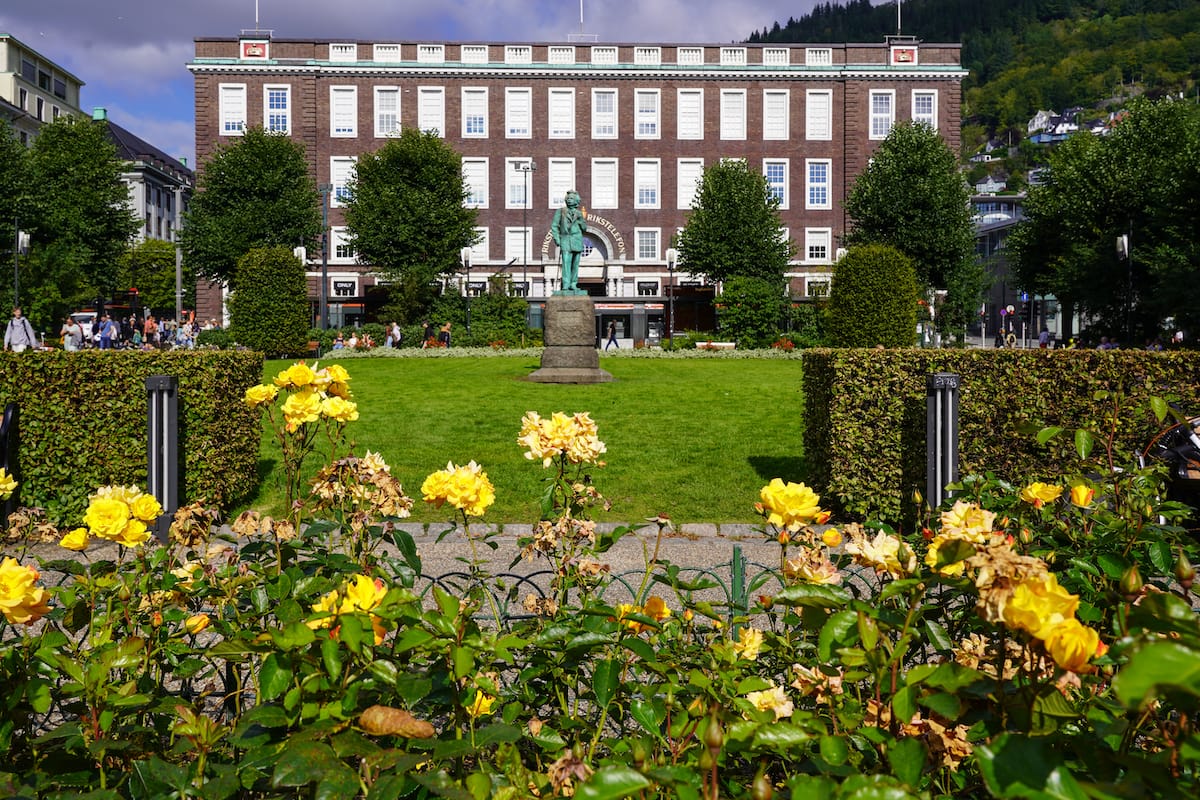 Bergen's streets are beautiful and cobbled (in many places), and there are charming corners ubiquitously throughout.
Or, you can hop into a cafe and relax. Bergen offers the best of all words. And, given that this is one of the rainiest cities in Europe, it is best to keep your afternoon open in case the weather does not cooperate.
Some places I recommend checking out in the city center are:
Torgallmenningen (main square of Bergen – has events often and is where a lot of the city's best shopping is)
Festplassen (and Byparken and Lille Lungegårdsvannet)
KODE museums (perfect for a rainy day – which means 'most days' in Bergen)
Markveien (one of my favorite streets in Bergen – it is cute and has some nice cafes and places along it)
Fjåk Chocolate Shop & Cafe (has superb hot chocolate and coffee – a must-visit in the afternoon!)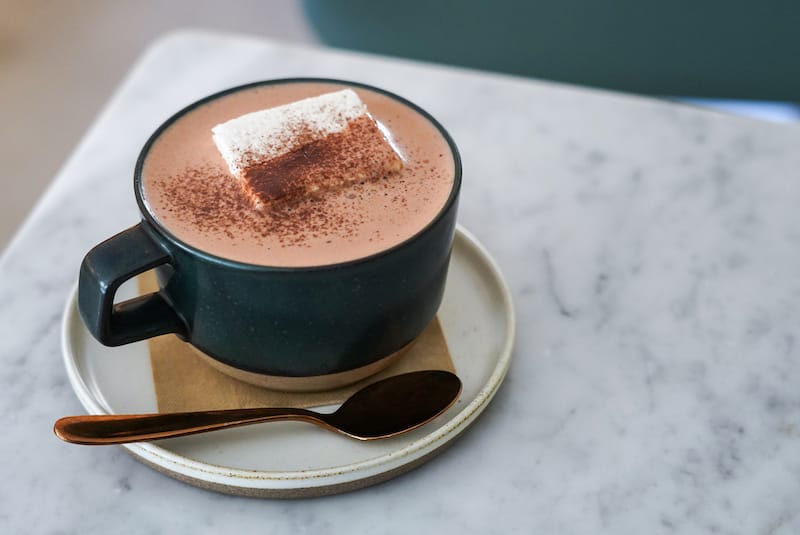 7. Have Dinner at Bryggeloftet & Stuene or Enhjørningen
I am usually super apprehensive about recommending restaurants in the most 'touristy' part of a city, but Bergen is one city that I make an exception for.
Both Bryggeloftet & Stuene and Enhjørningen are located at Bryggen. But, both are absolutely delicious. And each time I have visited them, I have encountered just as many locals as I have visitors.
Bryggeloftet & Stuene
This Bryggen restaurant has been serving Norway's second-largest city delicious food since 1910.
The family-owned eatery is the oldest restaurant in Bergen, and walking inside the building really transports you back in time (but don't worry, the food has a somewhat modern touch to it, which is nice).
On the menu at Bryggeloftet & Stuene, you will find everything from fresh seafood and shellfish to meat and game dishes. There are also vegan and vegetarian options for plant-based diners.
I have eaten here several times over the last decade and I almost always opt for seafood there (I love their mussels) but the last time I went, I ordered
If you happen to be there on Thursdays, it is raspeball day! Nevertheless, this is one of the top places to eat in Bergen.
Try to make a reservation before, as it can be tricky to get in there during the high season.
Address: Bryggen 11
Enhjørningen Fiskerestaurant
Another top Bryggen restaurant is Enhjørningen Fiskerestaurant, which actually translates to 'The Unicorn Fish Restaurant'. My favorite thing to get here is also seafood (and they have a really tasty fish soup).
Enhjørningen is situated in Bryggen's brewing quarter from the old Hansa times in the city, and the name 'Enhjørningen' actually was first mentioned in 1304.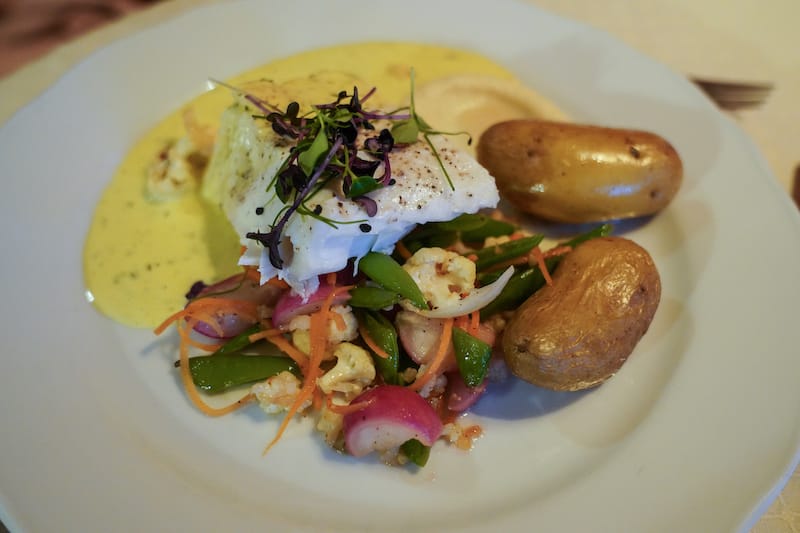 This is Bergen's oldest fish restaurant, and you will find everything on their menu, from whale carpaccio to scallops from Sotra close to Bergen.
They also have vegan and vegetarian options for plant-based eaters. Be sure to try their 'brunost is'… or brown cheese ice cream! It is absolutely incredible and the perfect way to end your day.
It is recommended to book a table.
Address: Enhjørningsgården 29 (at Bryggen)
8. Finish the Day Off with a Drink at 360° Xhibition
If you are one who loves to finish a travel day off with a drink, I recommend heading to the 7th floor of the Xhibition Center for a drink at 360° Xhibition.
This cocktail bar offers panoramic views over Bergen and the harbor and also makes a delicious cocktail (although I did get mine alcohol-free when there).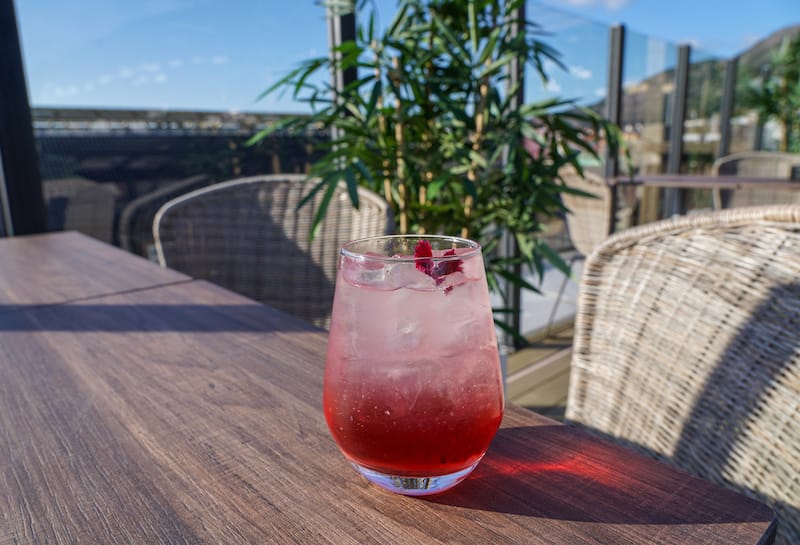 Is the weather not conducive to sitting outside? Don't worry- they offer covered spaces and indoor areas where you can enjoy your drink instead.
It is recommended to book a table in advance for your group, but if you go relatively early, you should be able to get a space somewhere with no issue.
Please note that the bar is closed on Sundays, Mondays, and Tuesdays.
Address: Småstrandgaten 3 (Xhibition Shopping Center)
More than 24 hours in Bergen?
If you have more than 24 hours in Bergen, don't worry—there is still plenty more to do!
Below are three of my top suggestions if you have additional time in Bergen.
Explore the (Quieter) Nordnes Peninsula
The Nordnes Peninsula has long been one of my favorite places in Bergen. And I manage to visit it every single time I am back in the city!
This peninsula sits on the other side of the harbor from Bryggen and offers a peaceful respite from the hectic crowds of the other part of the city.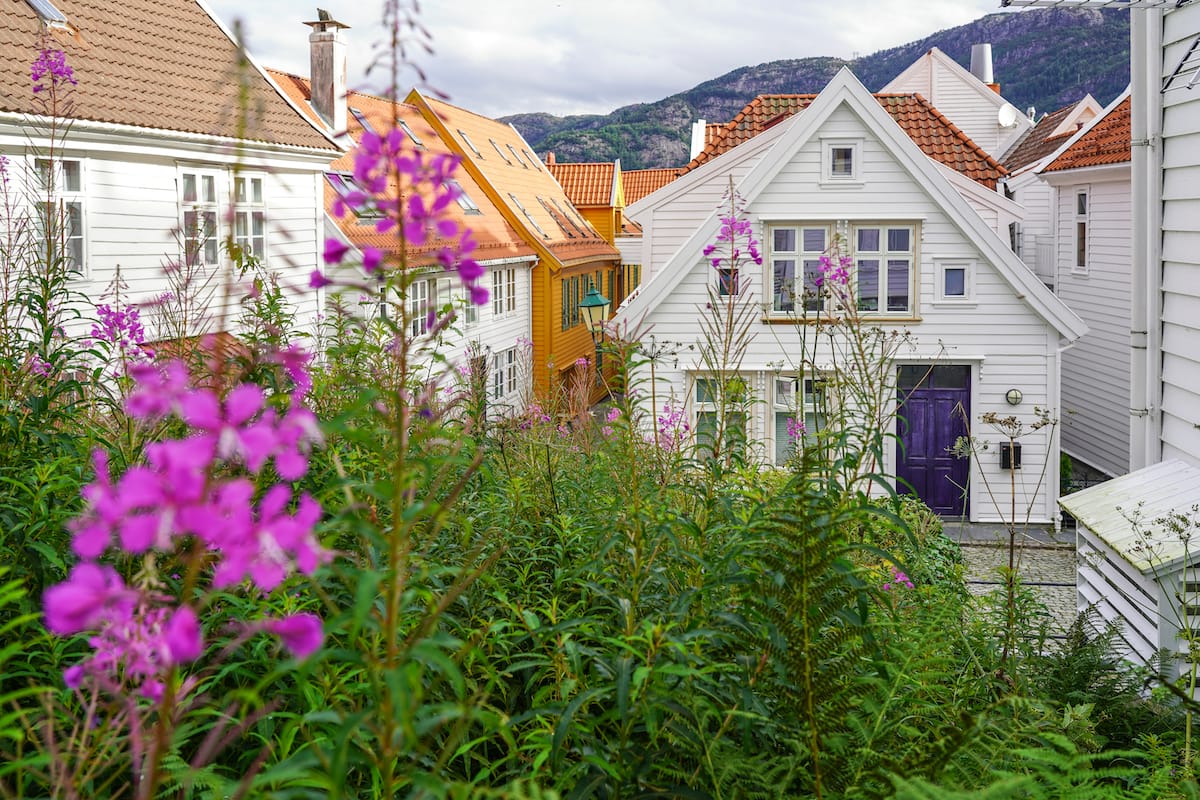 On the Nordnes Peninsula, you will find Nordnesparken (a park that overlooks the fjord). There is also a Totem Pole there, given to Bergen by its sister city, Seattle, as a birthday present in 1970.
Be sure to take a stroll down Ytre Markeveien, one of the most beautiful streets in the neighborhood.
Take a Fjord Tour to Mostraumen
If you are visiting Bergen as part of your Hurtigruten trip, I still find that this boat tour is a worthwhile trip to embark on!
Affordable and merely a half-day trip, this boat cruise through Osterfjord will take you into the heart of Bergen's fjord country and give you a nice introduction to the city!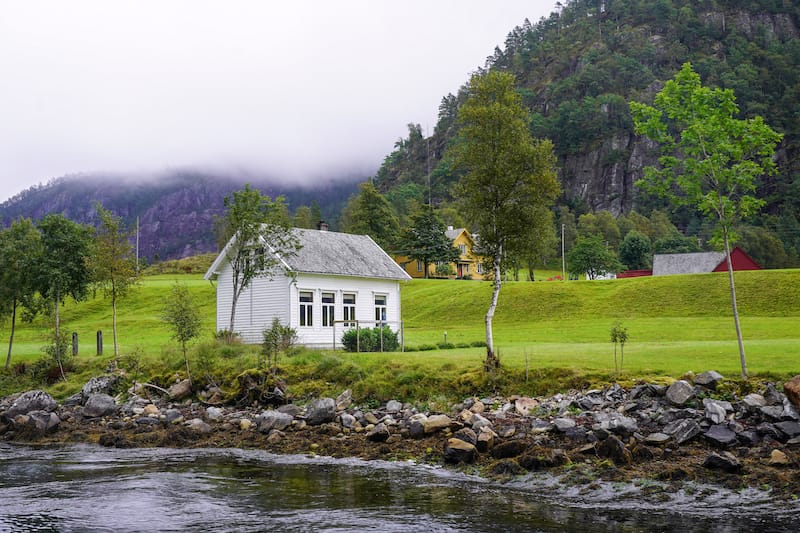 You'll end up in Mostraumen, as the tour suggests, and you will also get to see Bergsåafossen (waterfall) and a small village before venturing back to Bergen's harbor.
The trip runs most of the year (it takes a break from January 1 until March 31) and is about 3–3.5 hours long.
>> Click here to check Mostraumen fjord tour rates and availability
Go Back in Time in Gamle Bergen
If you want to check out a bit of Bergen's past, head to Gamle Bergen, the city's open-air museum that will walk you through this era.
In the early 1900s, Bergen was Europe's largest wooden city, and today, you will find 55 wooden buildings and houses from this era at Gamle Bergen… showcasing what Bergen used to look like.
Gamle Bergen is a fantastic place to spend an hour or two, but it is located a bit away from the city center in a neighborhood called Sandviken.
So, plan out your public transportation, taxi, or walk there beforehand.
Address: Nyhavnsveien 4
Map for the Bergen One-Day Itinerary
If you're looking to see the destinations on this itinerary laid out, this map will hopefully help! We also have included the 'extras' at the end of this guide in a separate section toward the end.
Want to go directly there? Click here.
🗺️ HOW TO USE THIS MAP: You can use your fingers/mouse to zoom in and out. To get more info about a place, simply touch/click the icons. Want to save this map for later use? Click the '⭐' by the map title and it will add it to your Google Maps account (Saved > Maps or 'Your Places').
I hope that your trip to Bergen makes you fall in love with the city just the way I have over the years from living there and my regular visits back!
If there is anything else you'd like to add (or ask!) to this one day in Bergen itinerary, let me know in the comments.
Let me know in the comments if you have any questions (or comments). Thanks!
More Bergen Travel Guides
Pin this 1 Day in Bergen Guide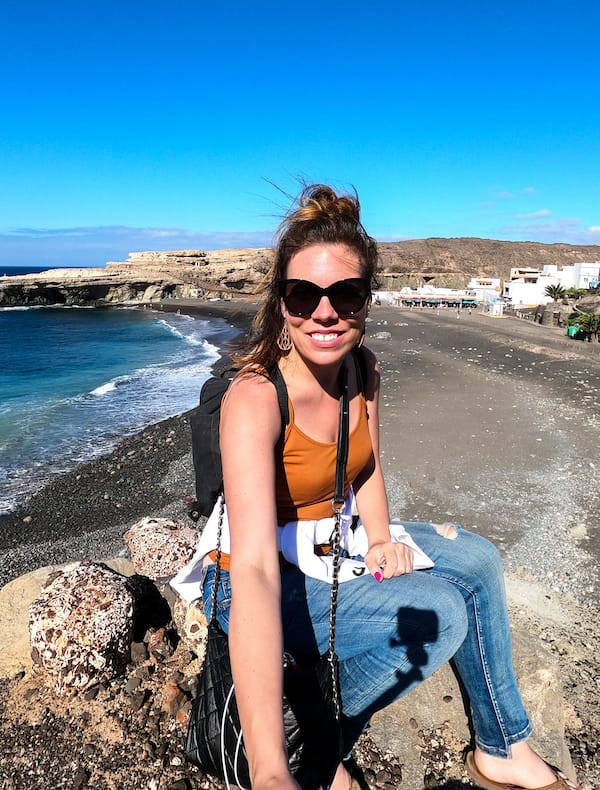 Megan is a travel blogger and writer with a background in digital marketing. Originally from Richmond, VA, she now splits her time between Frankfurt, Germany and Arctic Finland after also living in Norway, Armenia, and Kazakhstan. She has a passion for winter travel, as well as the Nordic countries, but you can also find her eating her way through Italy, perusing perfume stores in Paris, or taking road trips through the USA. Megan has written for or been featured by National Geographic, Forbes, Lonely Planet, the New York Times, and more. She co-authored Fodor's Travel 'Essential Norway' and has visited 45 US states and 100+ countries.