Are you looking for the best (and cheapest!) Bergen Airport to city options for your Norway trip? This guide details 5 easy options and discusses which one is the most affordable.
Are you planning your trip to Bergen last minute?
If youʻre booking your trip to Bergen last minute, we have you covered. Below are some of the top tours, hotels, and more!
🇳🇴 Top Activities and Tours in Bergen:
🛌 Top Hotels in Bergen:
🚗 Visiting Bergen independently? Be sure to book your Norway rental car ahead of time to ensure availability!
We hope you can find an option that fits your travel plans and group the best!
There are also Bergen Airport transfers in this guide if you're looking for a ride that is quick, easy, and planned in advance.
Bergen Airport Transfers – Summary
Here are the airport transfer options we cover in this guide:
• Bergen Bybanen (Light Rail)
• Flybussen Airport Express Coach
• Booking a private transfer
• Taxi options
• Renting a car
If you know of other alternative options for getting to Bergen city from the Airport, please leave us a comment. Also, do note that many hotels offer airport shuttles for their guests.
Before considering one of the options we list, you may want to check with your hotel to explore that option!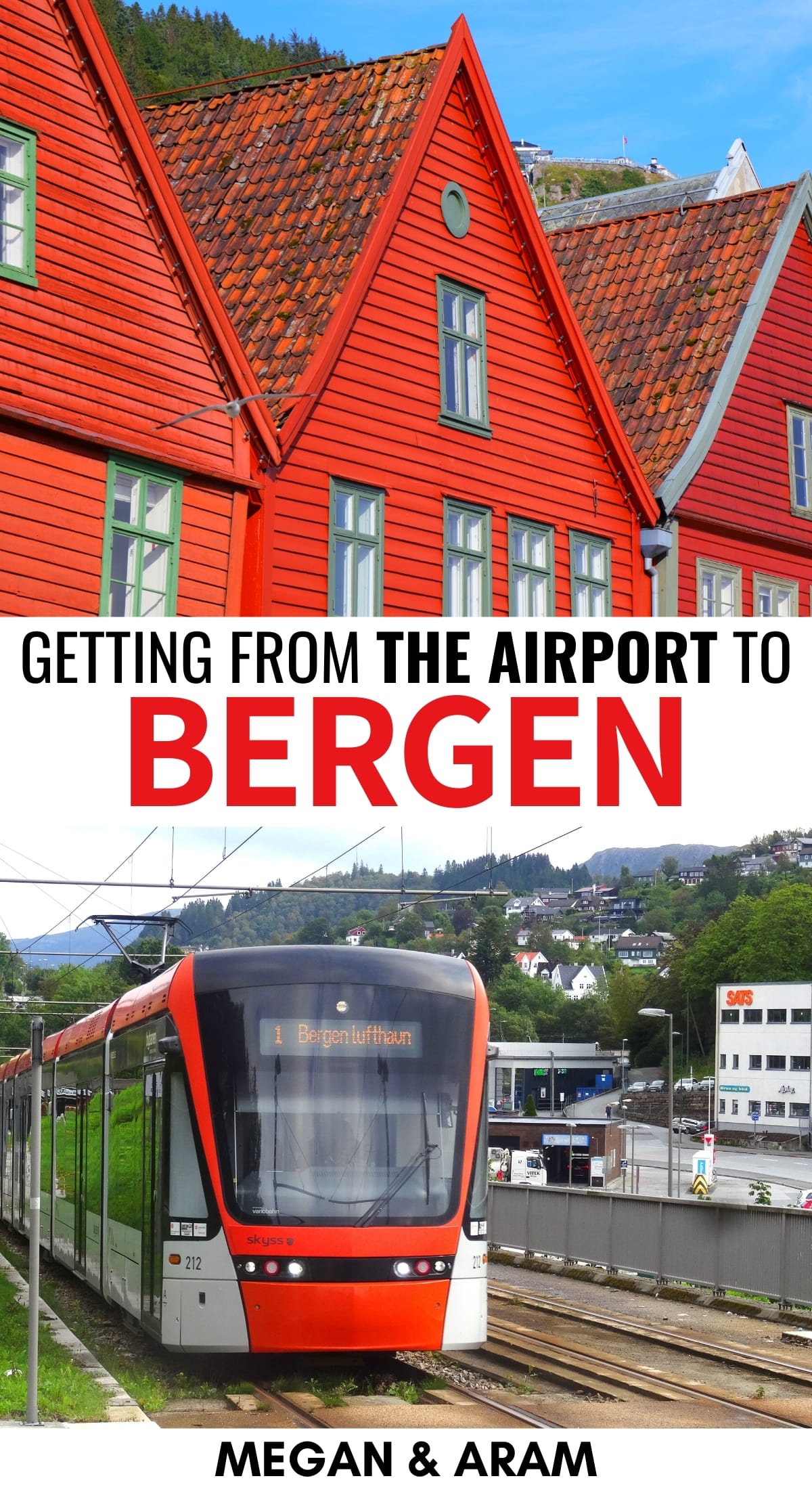 About the Bergen Airport
Bergen Flesland International Airport (known and listed as BGO) is located in Vestland County in Flesland, Bergen.
Bergen Airport is Norway's second busiest airport and in 2018, it had over 6 million passengers and is located around 18 kilometers away from the city center.
Bergen Airport to City Options
If you are interested in how to get from Bergen Airport to the city center, this guide is based on my personal experience from when I used to live in Bergen and have visited after! My most recent trip was August-September 2022.
There is more than one viable option for getting from Bergen Airport to the city center and while all are recommended, they definitely all have different price points.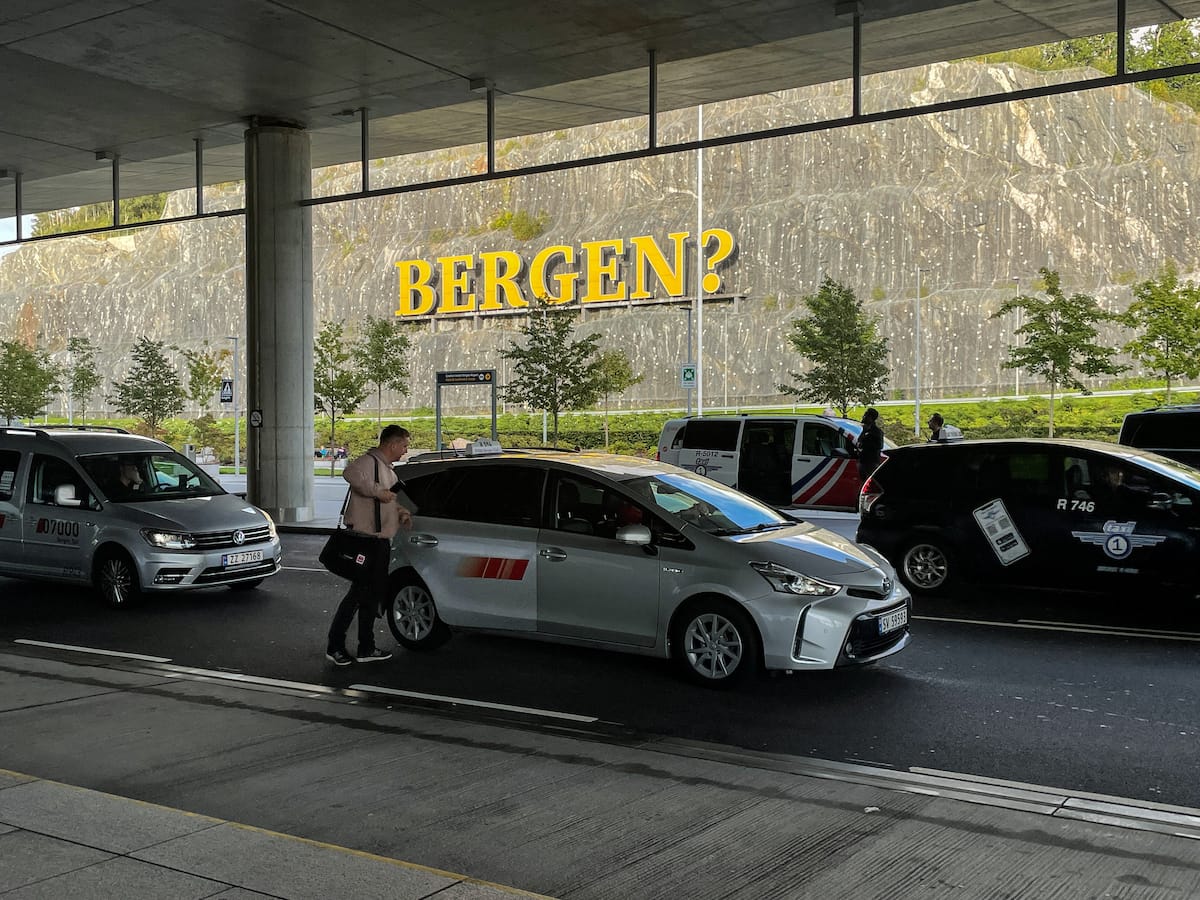 Bergen has always had pretty decent public transportation in the last decade, especially after the Bybanen was built.
We list options with the Bergen Light Rail (Bybanen), Airport bus (Flybussen), as well as taxi, rental car, and private transfer options.
Bergen has always been known as a city with great public transportation and from the airport to the city center you'll find the Bergen Light Rail (Bybanen in Norwegian) and the Flybussen (Airport bus in Norwegian).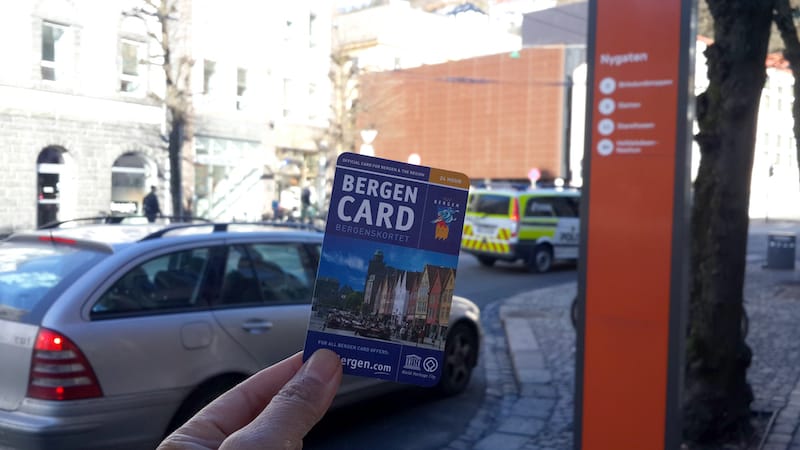 If you purchase the Bergen City Card online, you can travel on every Skyss bus and the Bybanen completely free and you'll get a 20% discount on your Flybussen ride from the airport.
Another option we cover is the option of taking a taxi from the Bergen Airport to the city or wherever you need to get. You can order one 24 hours a day but it will not be cheap.
Bybanen (Light Rail)
It might not be the quickest option from Bergen Airport to the city, but it is by far the cheapest. It takes around 45 minutes to get to the last stop, Byparken.
The Bybanen first launched in 2010 and I arrived in Bergen shortly after and rode on it long before it even went to the airport.
It quickly became my favorite mode of transportation in Bergen and I was so happy when the airport was added to the stops.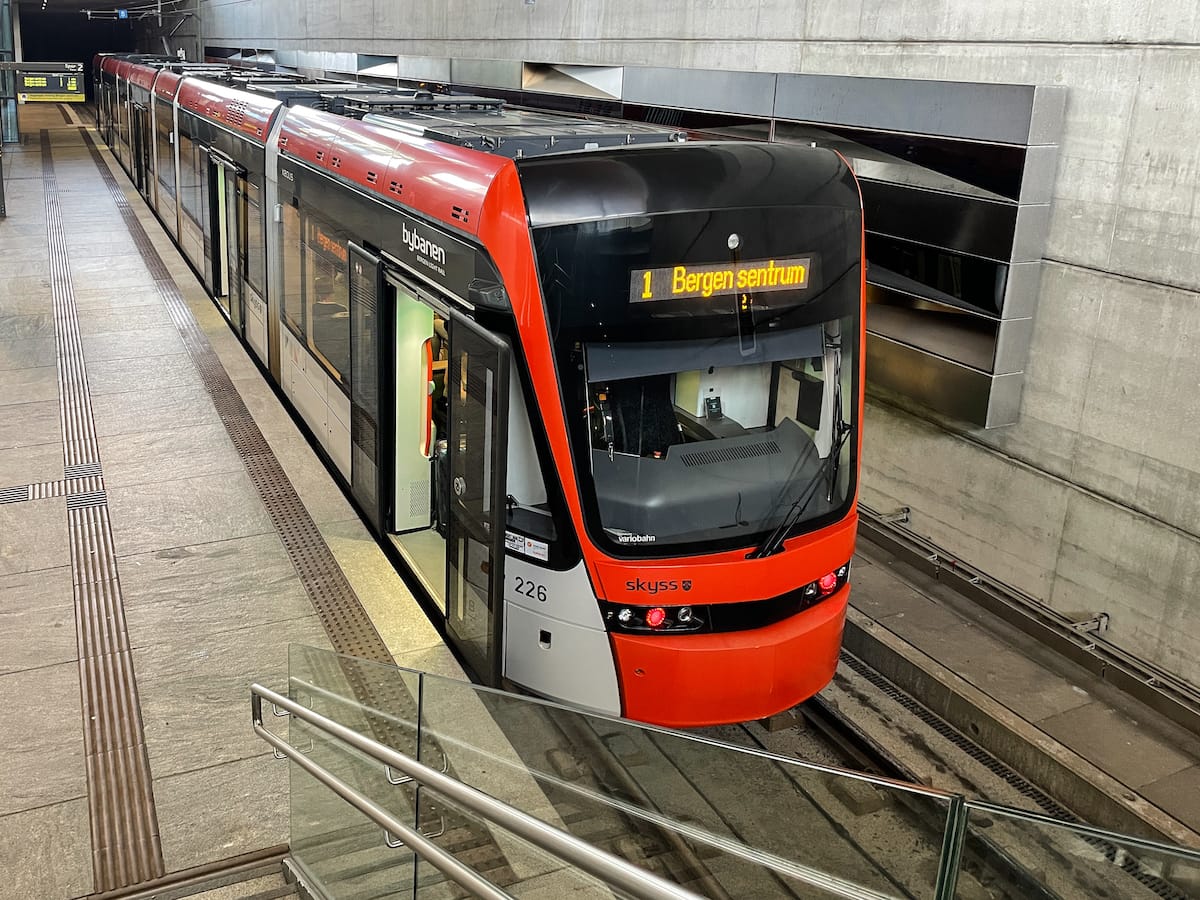 It only has one line and it starts at the airport and ends in the city center hitting up a bunch of stops along the way.
The ride will take you 45 minutes and you can get off where it is most convenient for you depending on where in the city you will be staying. It is a great option for many of the hotels and Airbnbs in Bergen.
The cost for a ticket on the Bybanen (2023 prices) is NOK 40 for adults and NOK 20 for a child. You can also buy day passes or ones for a longer duration.
Note: This price is ONLY if you buy before getting on the tram from an app, SMS, or ticket machine.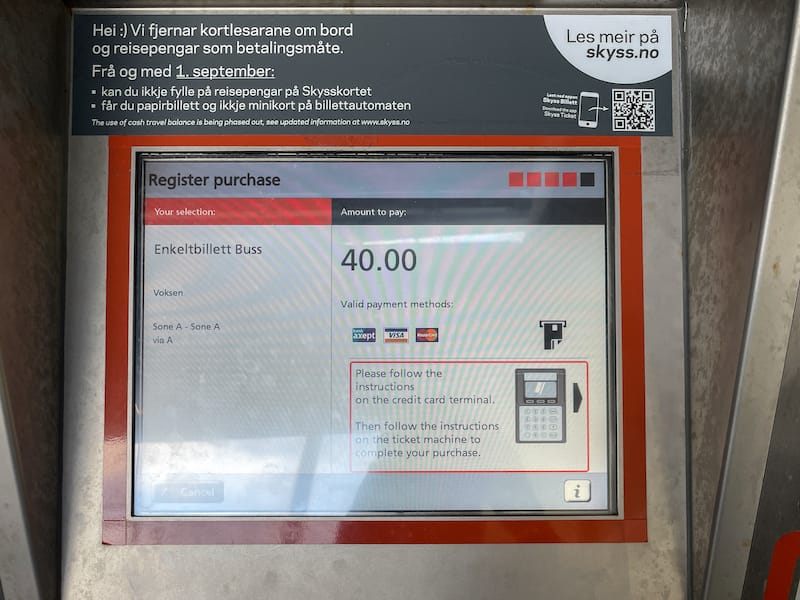 Some of the main stops along the Bybanen are Byparken (the last stop and place where you'll find access to the harbor and many of the hotels and more), Bystasjonen (the main bus station), and Nonneseter (the main train station is there).
If you are looking to get to the harbor area, you need to go to Byparken.
This is the cheapest way from the Bergen Airport to the city and is a great option for budget travelers.
Good to know: Buy the Bergen city card and not only you will use the Bybanen for free but you will also have access to multiple city attractions and sights.
Flybussen Airport Express Coach
The fastest option to get from Bergen Airport to the city center is to take the Flybussen (Airport Bus) and the trip will last only 20-30 minutes to the main bus station in Bergen city.
The buses are parked right next to the airport where you will see white and green colored buses after you will get out of the arrival doors.
Flybussen buses will depart every 10 minutes during the busier parts of the day, so there is almost always one waiting after you arrive.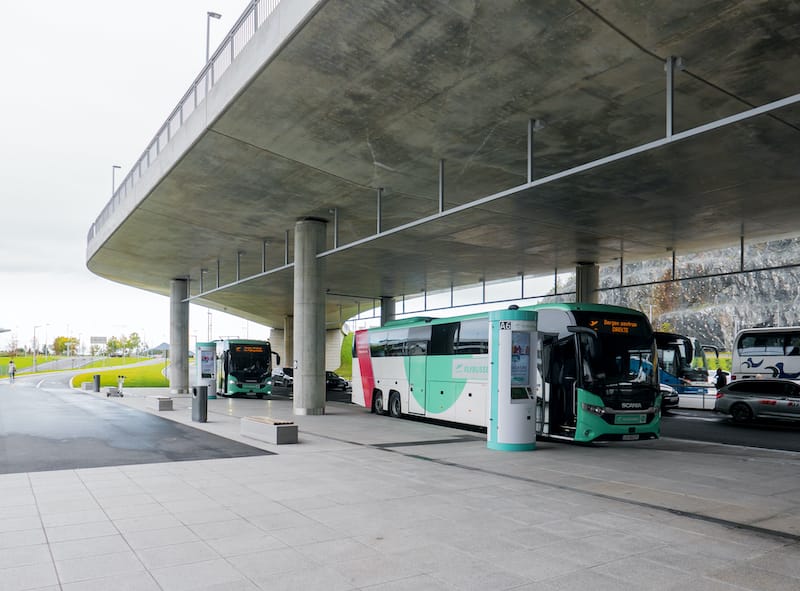 The ticket for the bus ride to the center costs NOK 149 (cheaper if you buy round trip).
The Flybussen makes several stops along the way so make sure you pay attention and get off where it is most convenient for you! The bus stops are as follows:
Bryggen / Dreggsallmenningen (close to Radisson Blu Royal Hotel)
Torget (fish market)
Strandkaiterminalen
Komediebakken
Festplassen Platform J (Christies Gate)
Bergen bus station platform N to the airport and platform I from the airport
Bergen Airport Transfers
A more expensive option, but one that is reasonable if you're staying outside the city center, is to book a Bergen Airport transfer.
These may not seem affordable if you're arriving solo, but if you're in a group, it is definitely reasonably priced!
The transfer service will pick you (and your group) up at the arrivals hall and will be waiting for your flight landing. They will have your destination information and enough room to put luggage in the vehicle.
>> Click here to book a Bergen Airport Transfer
Bergen Airport Taxi Options
Taking a taxi is always an option and it can be a fast, comfortable way to get from Bergen Airport to the city center. However, it is one of the more expensive options for the journey.
It's very easy to catch a taxi after you get out of the arrivals hall where the taxi ranks are located.
This is regardless of whether you're visiting Bergen in winter or summer. You will still see many parked there!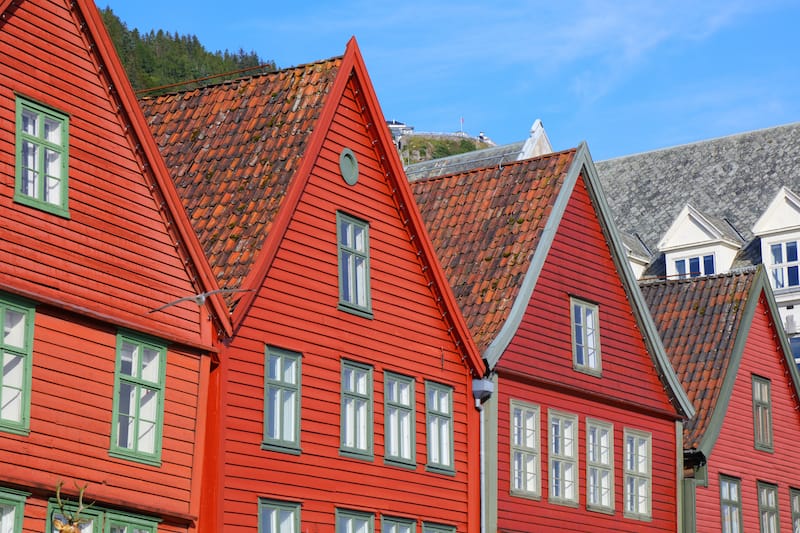 The trip time will vary depending on where you're heading and what time of day you land.
To reach your preferred destination (if the city center), the cost will be somewhere from NOK 400-NOK 500. Nights and weekends will often have escalated fares.
Renting a Car at the Bergen Airport
If you want to just get to the Bergen city center from the airport, renting a car is also an option. At Bergen Airport, you will find the standards – Hertz, Europcar, Avis, Budget, and more.
Do be ready to drive in rain, snow (if in winter) or anything else Bergen may throw your way! But, renting a car is a great way to see some amazing places near Bergen and some of the best day trips from the region.
We highly, highly recommend booking your car ahead of time if you're landing in Bergen. We use Discover Cars for car hire on the road and they are a great option for Fjord country.
>> Click here to check rental car rates in Bergen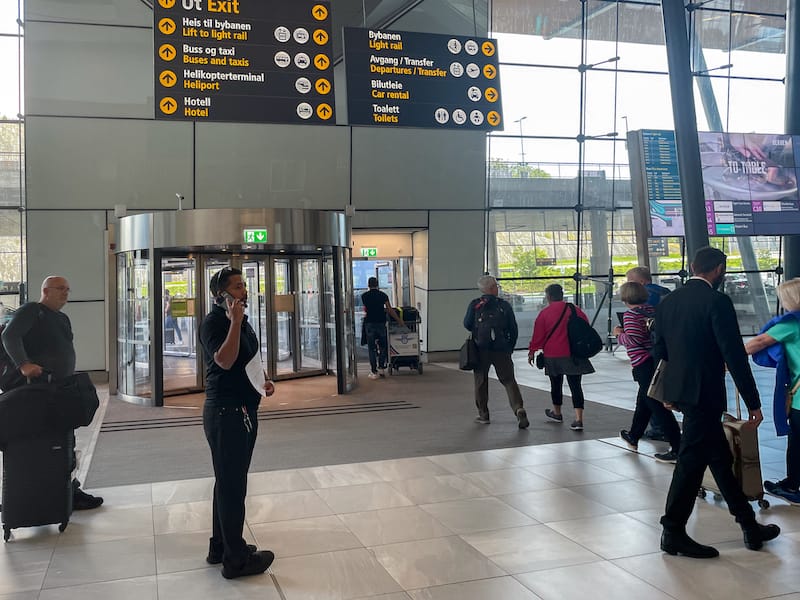 In order to return to the airport from Bergen city, just follow the same route backward. It is really easy.
If you're staying in a hotel during your trip to Bergen, be sure to ask them to ensure nothing has changed, but Bergen is so easy to navigate!
Where to Stay in Bergen
If youʻre looking for some of the best accommodation options in Bergen, here are our top picks!
We hope that this guide has served you well in planning your trip and options from the Bergen Airport to the city and back! Let us know if you have any questions!
More Norway and Bergen Travel Guides
PIN IT FOR LATER!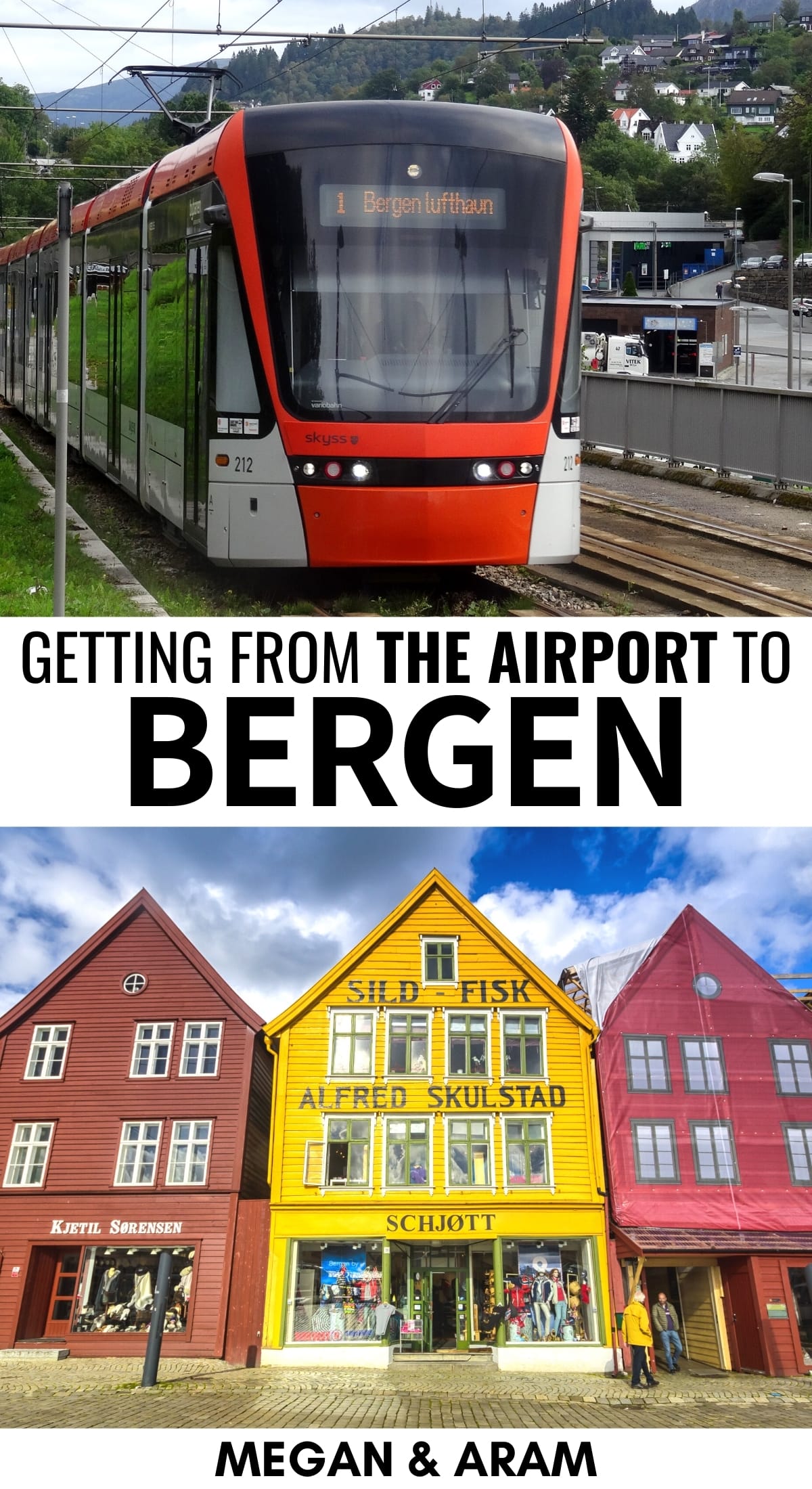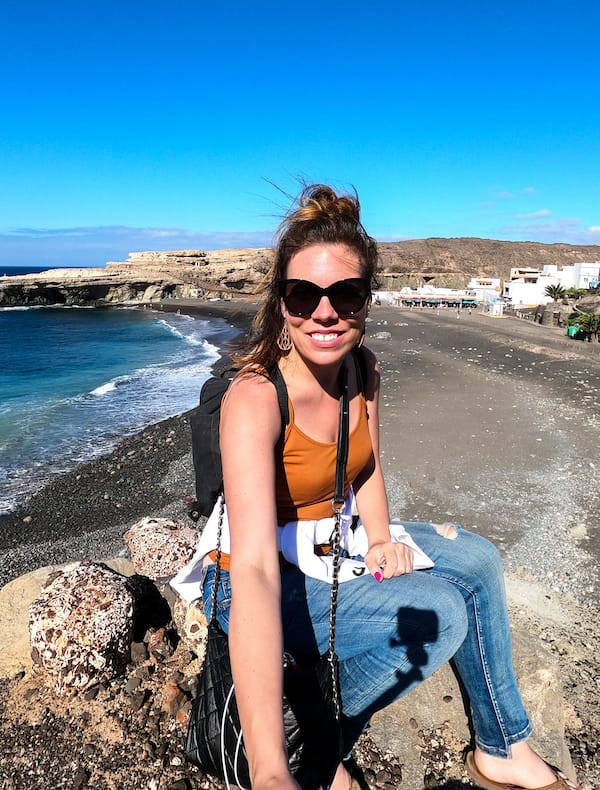 Megan is a travel blogger and writer with a background in digital marketing. Originally from Richmond, VA, she now splits her time between Frankfurt, Germany and Arctic Finland after also living in Norway, Armenia, and Kazakhstan. She has a passion for winter travel, as well as the Nordic countries, but you can also find her eating her way through Italy, perusing perfume stores in Paris, or taking road trips through the USA. Megan has written for or been featured by National Geographic, Forbes, Lonely Planet, the New York Times, and more. She co-authored Fodor's Travel 'Essential Norway' and has visited 45 US states and 100+ countries.