Planning a trip to Toulon and looking for the top things to do in Toulon, France? This travel guide has you covered!
Are you planning your trip to Toulon last minute?
Be sure to book your accommodation and tours to the Toulon ahead of time to ensure availability!
🇫🇷 Our top picks for Toulon tours:
🛌 Our top picks for accommodation in Toulon:
🚗 Looking for the best way to get around Toulon? Click here to check rental car rates for France!
Toulon is a port city located on the Mediterranean coast of France and it is known for being a huge Navy hub in France.
Capital of the Var region, Toulon is a famous port and has been a summer retreat for everyone from Parisians to cruise ship holidaymakers for many years.
However, it is more than just a port and ships passing through! If you're visiting Toulon, you will quickly notice that the city has many sandy beaches, shingle coves, and other wonderful things to do! It really is one of the best places to visit in the south of France.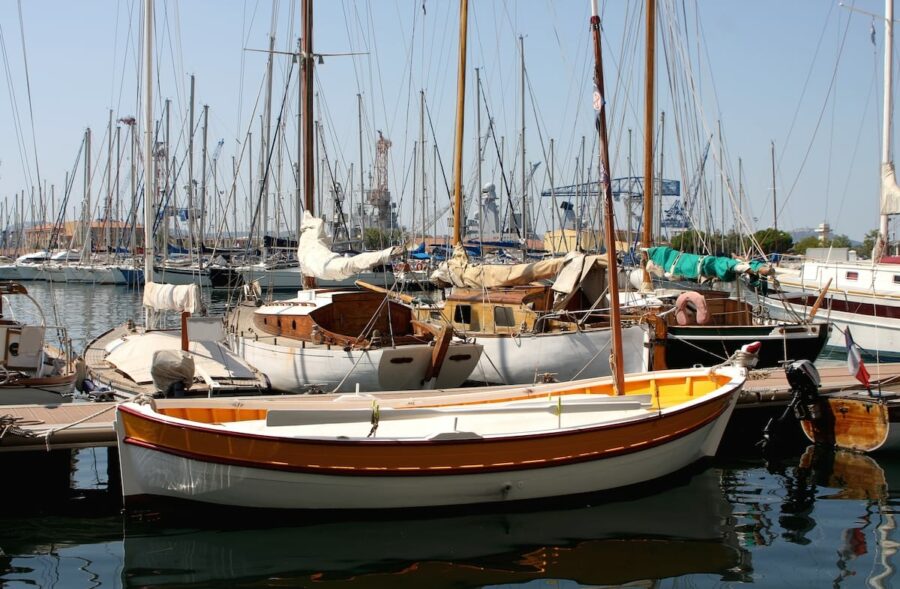 This guide details what to do in Toulon, from riding the cable car up Mont Faron to fantastic places to go shopping in the French city.
If you have any tips for attractions in Toulon, please leave them in the comments!
Best Toulon Tours (to Maximize Your Time!)
If you're looking for something more organized when in Toulon and the surrounding area, here are some awesome Toulon tours you should check out.
These tours will help you maximize your time, which is especially important if you only have a short amount of time in the city! We listed a variety so that you can pick which one is most suitable for you (and many include multiple places!):
Best Things to Do in Toulon, France
The following list showcases some of the best things to do in Toulon, one of the best weekend getaways in France.
There is far more than just what we have listed here, but this will help you keep yourself occupied whether you have merely one day in Toulon or a whole week!
1. Walk Along the Toulon Harbor
Since the Navy has been based in Toulon for many years, the Toulon harbor has become the most iconic place in town. Indeed, Toulon is a maritime-themed city, and visiting the souvenir shops along the harbor is a must-do.
The harbor is also a great spot to have dinner, as there are many restaurants to choose from.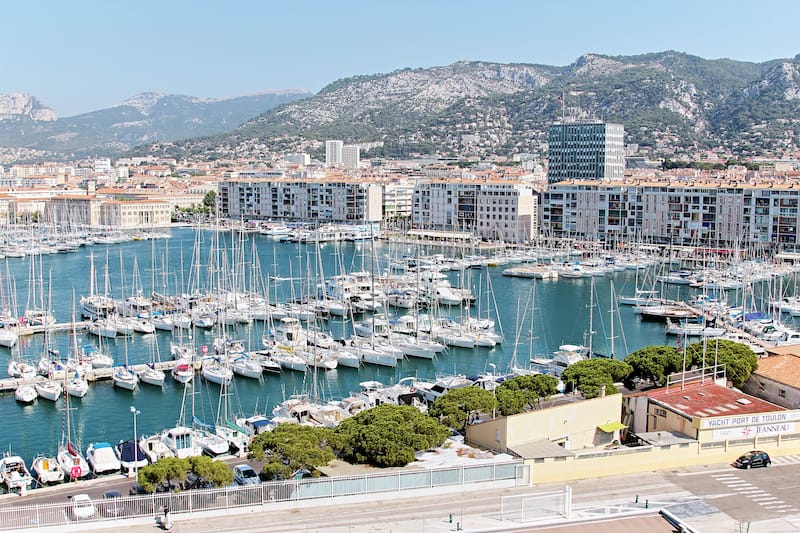 2. Head to the Top of Mont Faron
Mont Faron is a 584-meter mountain and is the ideal vista to look out over the southern France city. One of the most popular activities in Toulon is to take the cable car up to the summit.
You'll be greeted with fantastic views of the sea and the city. Once at the top, you can go for a walk or visit the Musée du Débarquement.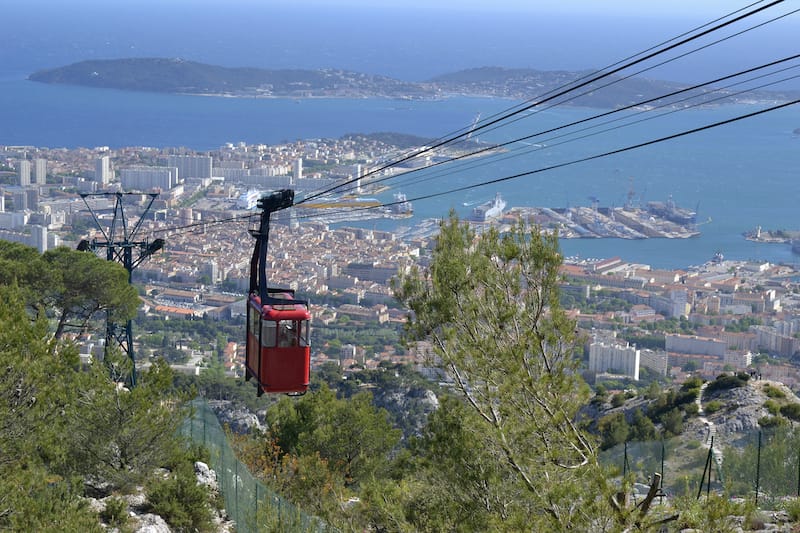 3. Find the Perfect Toulon Souvenir
There are quite a few interesting shops you can hit up when visiting Toulon. If you like food, head to the Comptoir des Fromages, where you'll find some of the most delicious cheese in the region.
It's no secret that France is the capital of fashion, so if you want to look chic and stylish, you can visit the many clothing stores in the Mayol Mall.
Finally, you can bring back a souvenir from a local shop called Oceane. It's the perfect place to buy crystals, seashells, and other unique souvenirs from Toulon and the region.
4. Visit the Notre Dame de la Seds Cathedral
The Cathedral of Toulon, also called Notre Dame de la Seds, is located in the city center and is a national monument.
Construction of the church began in the 11th century and finished in the 18th century. The cathedral has a very interesting history and is home to some works of art notably a baroque retable made by Pierre Puget.
5. Relax at the Beach in Mourillon
Well, Toulon is a seaside town, and going to the beach is definitely one of the best things to do. The city is home to several beautiful beaches, but the Plage du Mourillon, or Mourillon Beach, is the biggest and most popular one.
It's located within walking distance from the city center and with its many restaurants, bars, and children's playground, it is the perfect spot for a relaxing afternoon with friends and family. It is one of the most rejuvenating things to do in Toulon!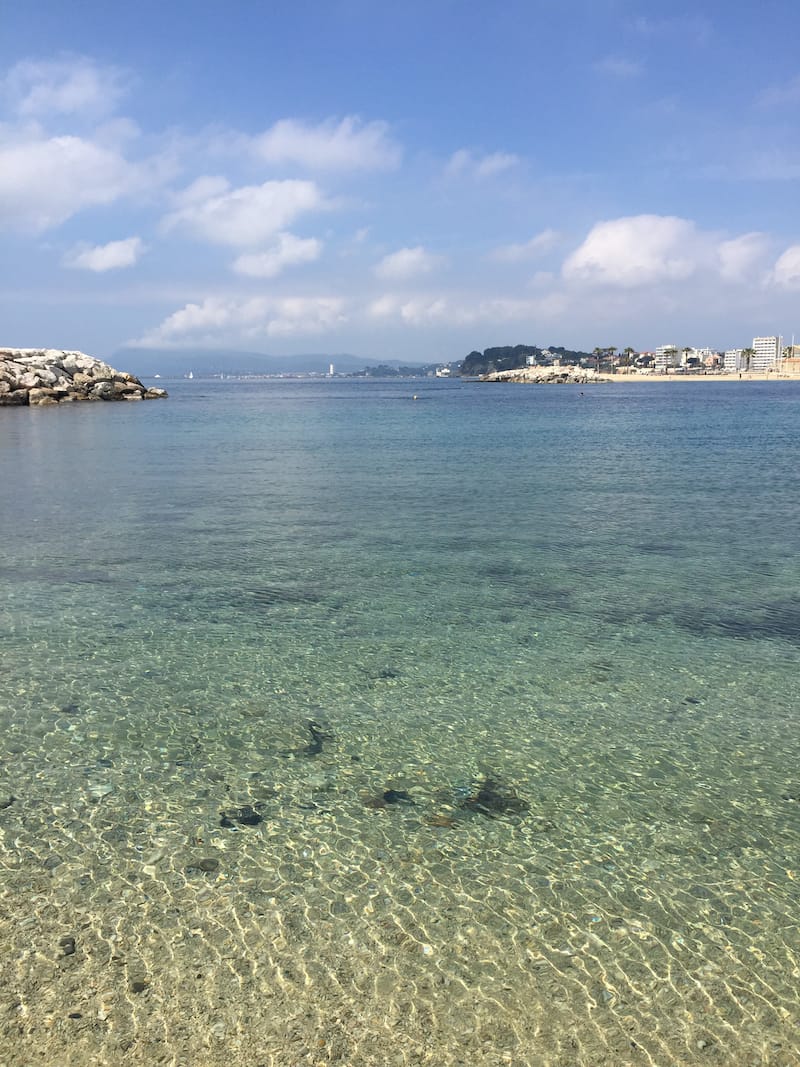 6. Learn about Naval History at the Musée de la Marine
Whether you're a history geek or simply a curious traveler, you'll love the Musée de la Marine. This museum is home to some of the best memorabilia about the French Navy.
Here, you'll find maps, model ships, and paintings from the 17th and 18th centuries. The entrance ticket to the museum is only 7 Euros, and it is definitely worth it if you want to learn more about the city and its naval history.
7. Admire the Panorama from the Tour Royale
The Tour Royale is a fort built in the 16th century. It is located at the entrance of the Port of Toulon and was used to protect the city.
Today, the tower is part of Toulon's cultural heritage and can be visited for only 2 Euros. The tower offers a beautiful panorama of the sea and the city. The tower is also the starting point of the popular Sentier des Douaniers.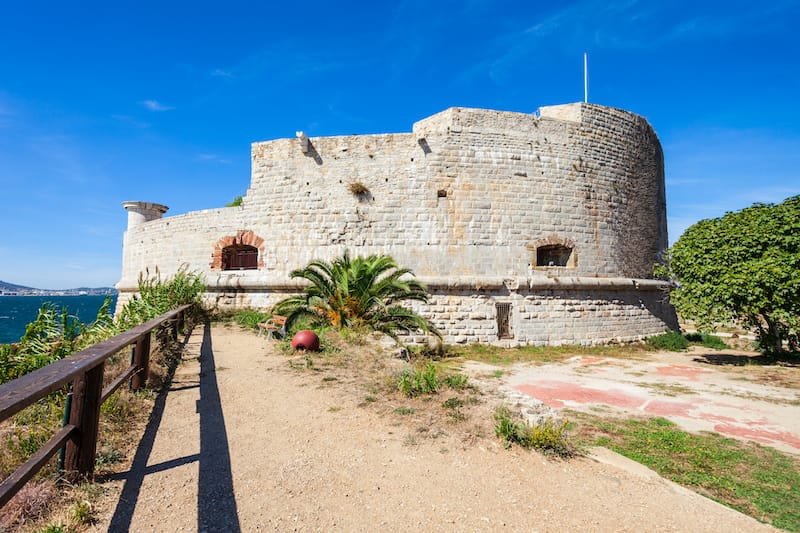 8. Explore the Beautiful Anse Magaud
Anse de Magaud is definitely one of the most beautiful places in Toulon. Home to a wild, secluded beach, this place is mostly frequented by locals.
If you're looking for an authentic experience in Toulon, then visit Anse de Magaud. It's also a great spot for snorkeling.
9. Enjoy a Drink by a Famous Toulon Landmark
Take a break and enjoy a drink in the harbor or in the city center. Toulon is packed full of restaurants and bars catering to all tastes.
You can find everything from delicious Champagne from another region in France to local treats.
My recommendations? Go to the famous Gaetano or Havana Cafe, two cozy and popular bars in Toulon.
10. Visit the Musée du Débarquement
Located at the top of Mont Faron, this military museum commemorates the Allied invasion of the coast of Provence in 1944.
The Musée du Débarquement has been recently refurbished and is now interactive, which makes it very interesting.
In this Toulon museum, you get to learn about World War II in Toulon, and see military uniforms, weapons, books, and other items. On top of that, the panoramic view from the outdoor terrace is truly amazing.
The entrance fee to the museum is only 5 Euros or you can buy a combo ticket for both the museum and cable car.
11. Walk the Sentier des Douaniers
The Sentier des Douaniers is one of the most popular walks in Toulon. It's a network of coastal walking trails that begins in Six Fours and goes all the way to Hyères.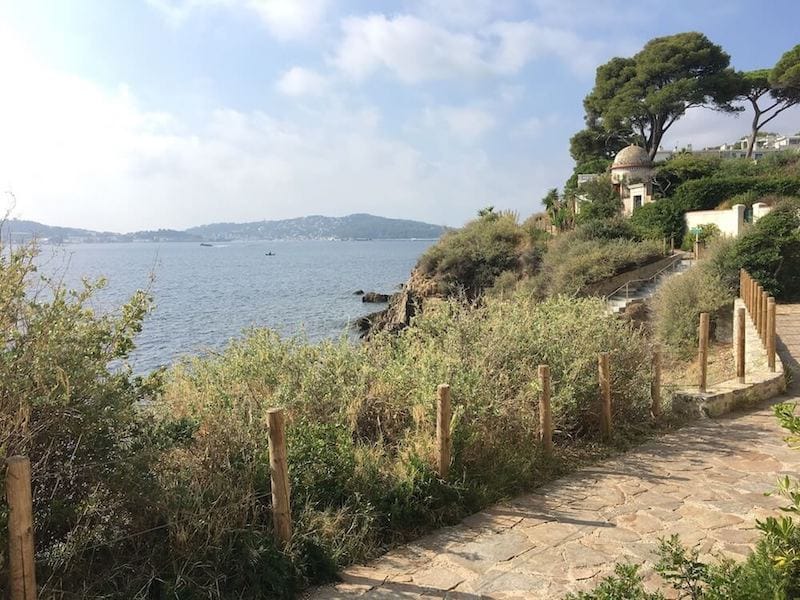 In Toulon, the trail starts at the Tour Royale and takes you along beautiful beaches, bays, and coves, and you can also discover the stunning flora of the region.
It is a great way to see the area and many of the things to see in Toulon.
12. Shop at the Local Market
Street markets are very popular in Provence, and they are the best if you're looking for local products and delicacies.
Located down the harbor, Cours Lafayette's Market is on every morning of the week except Monday. You cannot miss this colorful Toulon market when you're visiting the city!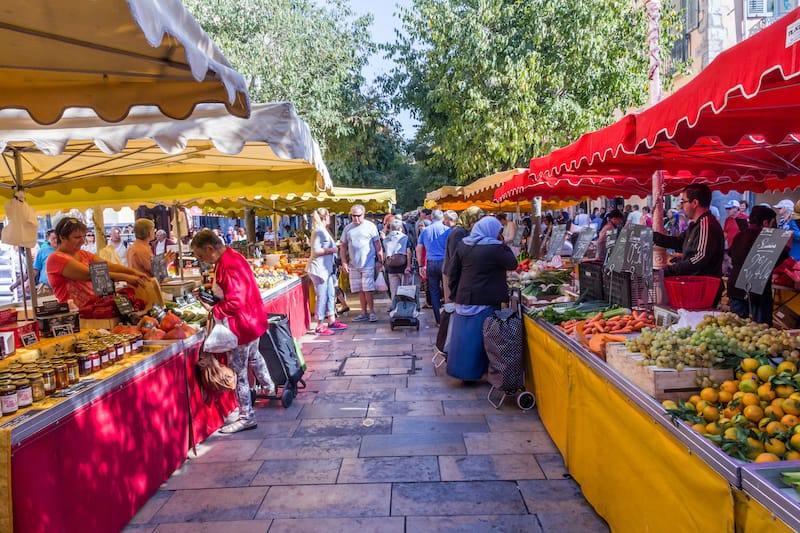 You'll love the many fruits and vegetables, cheese, flowers, and more. Don't forget to visit la Cade à Dédé, a small stand selling "cade", a typical delicacy from Toulon.
13. Discover the Kiosks of Toulon
If you like hunting for CDs, comics, and old books, you'll love the Kiosques à Livres. These kiosks are located next to Place de la Liberté and are a great place to discover French culture.
Here you can buy, sell, or exchange second-hand items. This is a must-visit place in Toulon if you're into diving into the local culture (and you might even come home with a cool item or two!)
14. Try Mediterranean Food in Toulon
French food is famous for being delicious, and Toulon is a great place to try typical Mediterranean food.
The city is home to hundreds of restaurants, among the most popular ones you'll find is L'Aromate Provencal or Restaurant Les Artistes.
15. Go to Place de la Liberté
Place de la Liberté is the most iconic square in Toulon. It's a great place for photos, and you can also admire the fountain which has its own Statue of Liberty.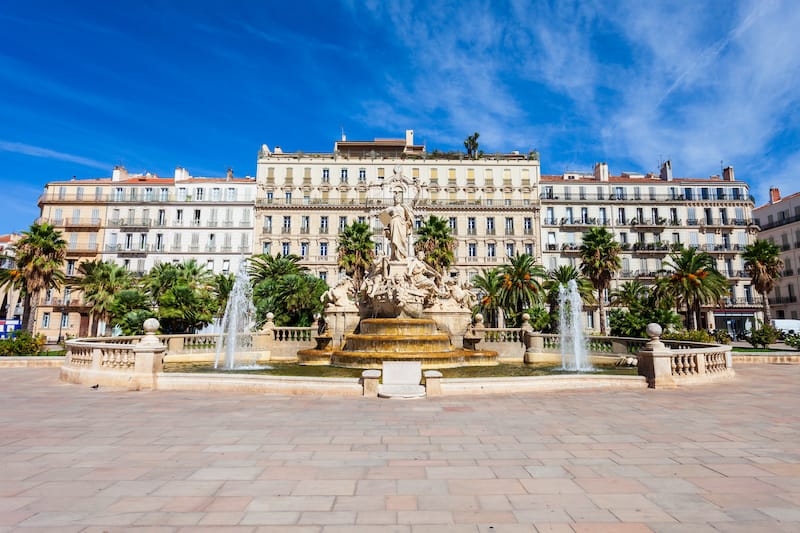 Being the fountain, you'll find the Grand Hotel, one of the oldest buildings in Toulon.
16. Learn at the Musée des Arts Asiatiques
The Museum of Asian Arts is one of the most interesting museums in Toulon. It regroups a big collection of Asian paintings, sculptures, coins, and other precious items.
The Toulon museum is well organized and it can be a great way to spend a rainy afternoon in Toulon. On top of that, the entrance to the museum is free.
17. Look at the Génie de la Navigation
Génie de la Navigation is a sculpture by French artist Louis-Joseph Daumas and is located in the harbor.
Facing the sea, this iconic sculpture represents the exploration of the sea and is carved with the names of famous sailors from all eras.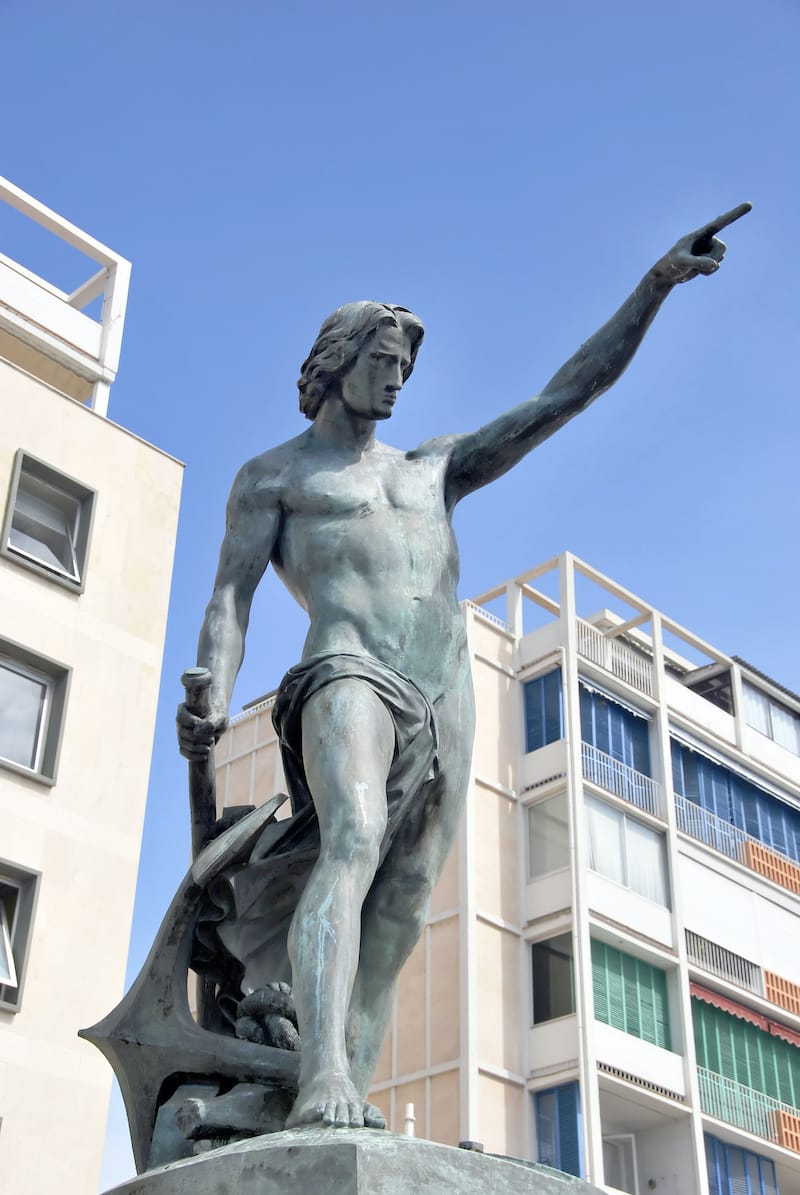 18. Take the Tourist Train
Toulon has a little tourist train that goes around the city and all the way to Mourillon Beach. It's one of the most popular things to do in Toulon among tourists and to be honest, especially those coming on a cruise ship.
The little train is a great way to see all the main sights and the bilingual commentary (French and English) will give you the opportunity to learn about the history of the city.
Tickets are only 7 Euros for adults, and 4 Euros for children, and include a 50 minutes tour with one stop where you can hop on/hop off.
19. Visit the Toulon Opera House
If you are staying longer than one day in town, going to a performance at the Opera House in Toulon is definitely one of the best things to do in Toulon.
The inside of the building is incredible, and the Toulon Opera House is the second biggest opera house in France after the Opera Garnier in Paris.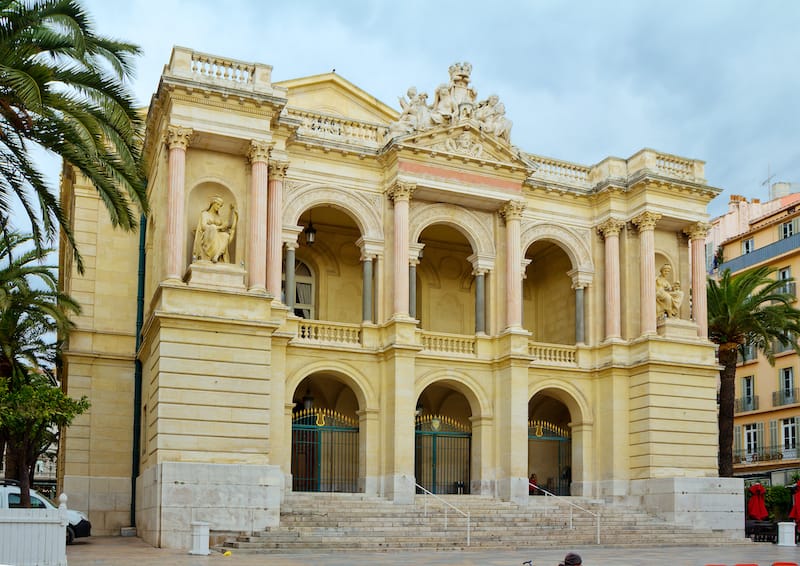 If you don't want to see a performance, you can still admire the outside of the building, and even have a drink in one of the bars and restaurants located nearby.
20. Stop at the Musée des Arts
The art museum of Toulon, or the Musée des Arts, is a beautiful building, where you'll also find the local library.
At the museum, you'll mostly find paintings and art from the beginning of the 15th to the 20th century.
Sometimes they also have exhibits with more contemporary paintings. The museum was renovated in 2019 and is a must-visit place in Toulon for art lovers.
Outdoor Activities Near Toulon (+ Tours!)
One of the top perks of booking a Toulon trip is that you will have so many nature and outdoor activities close by!
There are Toulon tours for adventurers and excursions for those looking for a more 'chilled-out' experience.
Here are some of the top things to do in Toulon and nearby that are organized:
Things to Know Before Visiting Toulon
Here are some of the FAQ for those visiting Toulon for the first time, including the best time to visit, how to get there, and some of the most epic Toulon day trips.
Best Time to Visit Toulon
The high season in Toulon is during the summer months, from June until August.
Therefore, accommodation in Toulon will be in its highest demand and most expensive.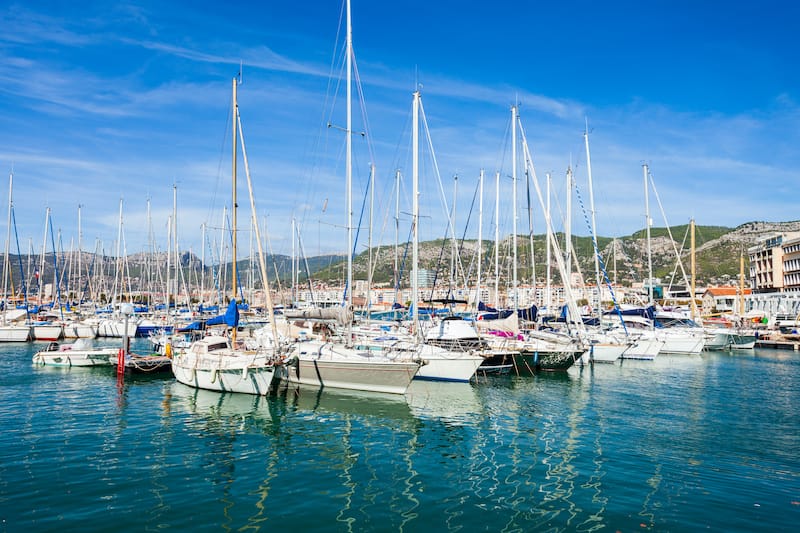 Another plus of traveling to Toulon during the summer is that rain is very unlikely, averaging only 1-2 days a month with precipitation!
However, if you're looking to beat the crowds and have Toulon a little less touristy, opt for visiting the city during the shoulder season (spring or autumn).
Worthwhile Day Trips from Toulon
Toulon is a great base for some fantastic day trips! Here are some of the two best day tours from Toulon that you should consider adding to your southern France itinerary!
Île de Porquerolles: This Mediterranean Island is about an hour's ferry ride from Toulon and is one of the best day trips from Toulon.
It is the largest of the Golden Islands and you can go snorkeling, biking, hiking, and much more when visiting!
Bormes-les-Mimosas: This charming village is located around 40 kilometers away from Toulon and is known for its hillside homes and spectacular views.
You can see a church that dates back to the 16th century called Chapelle Saint-Francois-de-Paule and much more by going on this popular Toulon day trip.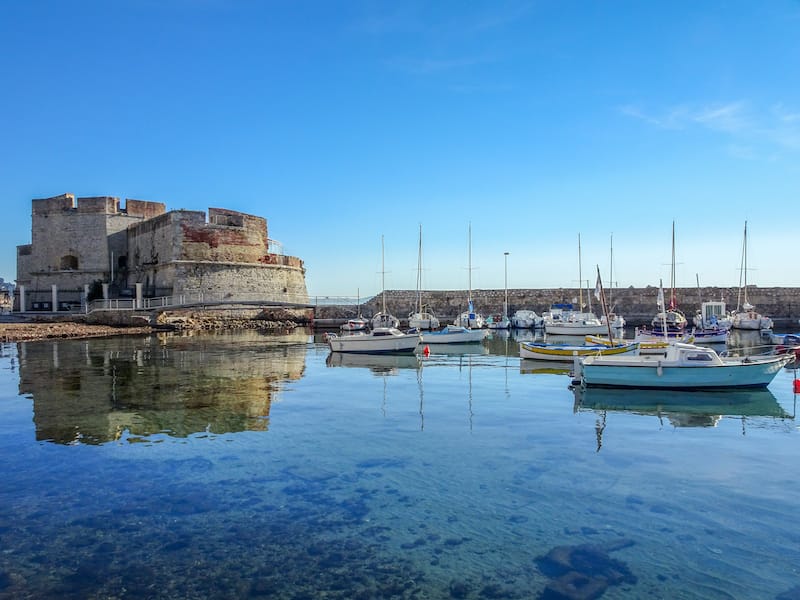 Where to Stay in Toulon
The best area to stay in Toulon is near the harbor and the old city. Most of the popular Toulon attractions listed in this guide are in that vicinity and will make exploring easy!
Here are our top picks of hotels in Toulon for any budget:
Luxury Hotels: There are not many luxury hotels in Toulon. The Best Western Plus La Corniche is located near the famous beach at Mourillon and you can even upgrade for sea-facing rooms!
Or, you can opt for a stay at OKKO Hotels Toulon Center, a modern hotel that is located 1.4 miles from Lido Beach.
Mid-range Hotels: You will find several Toulon hotels in this category and some of our favorites, particularly for location, are The Originals Boutique located in the heart of the city opposite the train and bus stations, and Hotel Amiraute, a gorgeous hotel located near Place de la Liberte and the harbor.
Budget Hotels: There are many hotels in Toulon that are good for those on a budget and one of the most famous budget chains in Europe is Ibis and the Ibis Budget Toulon Centre is located near many of the main sights in Toulon and won't break your wallet!
Map of Toulon Attractions
To add this map to your Google Maps account, click the 'Star' icon next to the map name. You can then view it on your cell phone or computer by heading to your Google Maps account, click the menu and add it to 'Your Places'.
Should You Travel to Toulon, France?
So, is Toulon, France worth visiting?
Toulon is a city definitely worth visiting, even for just a day! There are plenty of things to do in Toulon to keep you busy, and you'll love the vibrant and colorful atmosphere of this Southern France city.
Whether you want to visit all the fascinating museums, go to the beach, or simply stroll around the city center, you will definitely enjoy your trip to Toulon on the French Riviera. Click here to check out some of the best hikes in France to add to your itinerary!
Author Bio: Camille is a jewelry maker and blogger over at Crystal Healing Ritual. Dedicated to traveling sustainably, she has been roaming the world and living abroad for over 7 years. When she's not traveling, you'll find her hiking or reading a good book.
More France Travel Guides
Pin This Toulon Things to Do Guide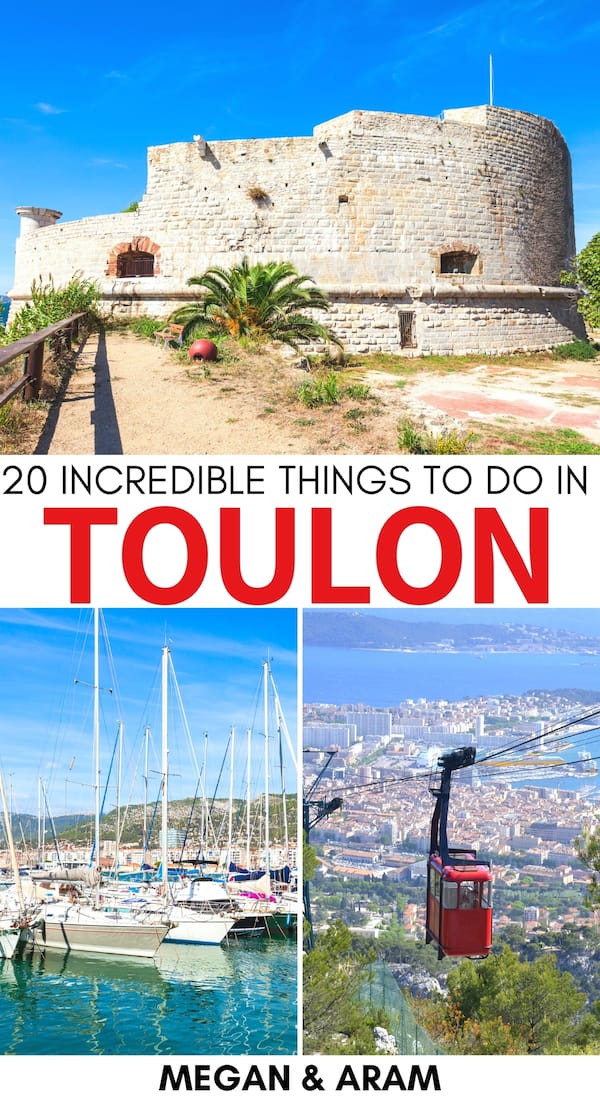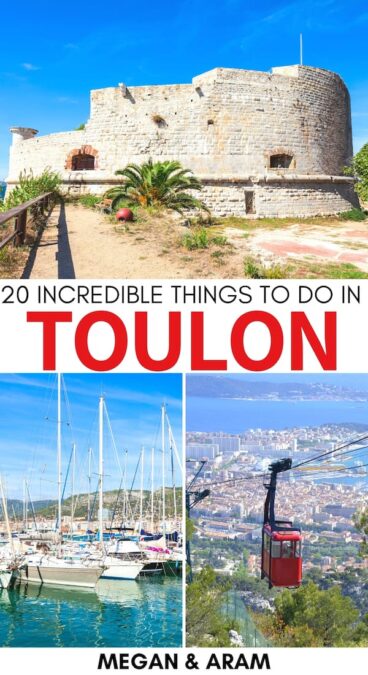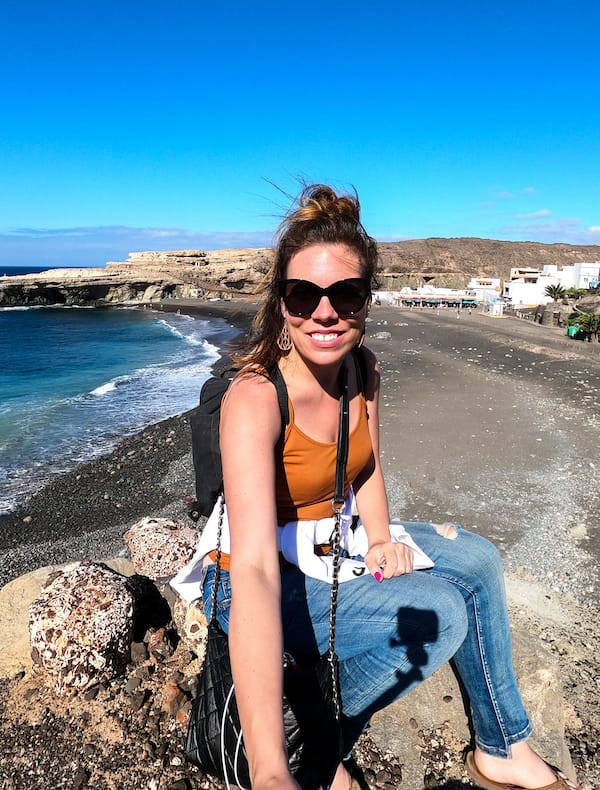 Megan is a travel blogger and writer with a background in digital marketing. Originally from Richmond, VA, she now splits her time between Frankfurt, Germany and Arctic Finland after also living in Norway, Armenia, and Kazakhstan. She has a passion for winter travel, as well as the Nordic countries, but you can also find her eating her way through Italy, perusing perfume stores in Paris, or taking road trips through the USA. Megan has written for or been featured by National Geographic, Forbes, Lonely Planet, the New York Times, and more. She co-authored Fodor's Travel 'Essential Norway' and has visited 45 US states and 100+ countries.