Are you looking to spend 2 days in Montpellier and are searching for places to put on your Montpellier itinerary? You've come to the right place!
Are you planning your trip to Montpellier last minute?
If youʻre booking your trip to Montpellier last minute, we have you covered. Below are some of the top tours, hotels, and more!
🇫🇷 Top Experiences and Tours in Montpellier:
🛌 Top Hotels in Montpellier:
🚗 Looking for the best way to get around Montpellier? Click here to check rental car rates for France!
This guide to a weekend in Montpellier covers the top attractions in the city – and even includes some restaurants to enjoy delicious French cuisine at!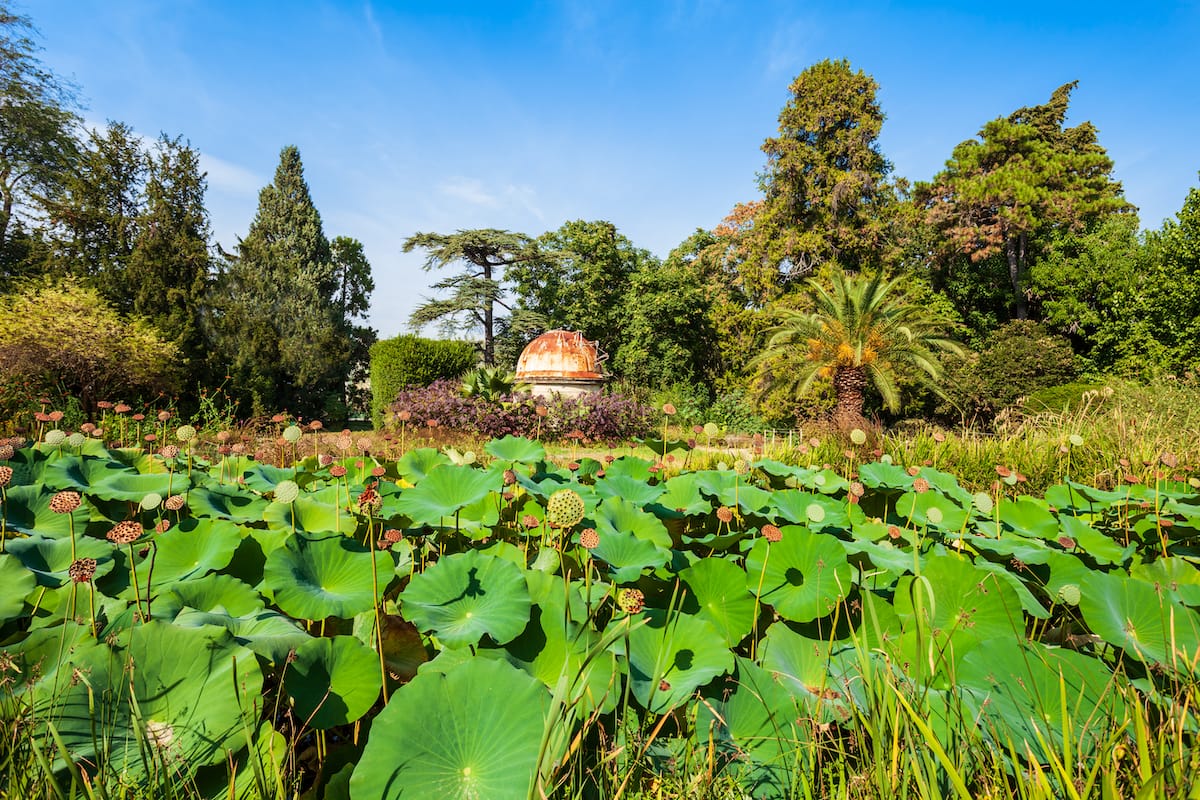 Did we miss anything on this Montpellier itinerary? Let us know in the comments!
How to Get Around Montpellier
You won't have any problems getting around Montpellier as the city is home to an efficient transport system, with everything from trams to bicycle rentals.
If you're looking to visit some areas outside of the city (which we wholeheartedly recommend), then your best option is to rent a car.
We find that Discover Cars offers the best deals, so make sure you check them out.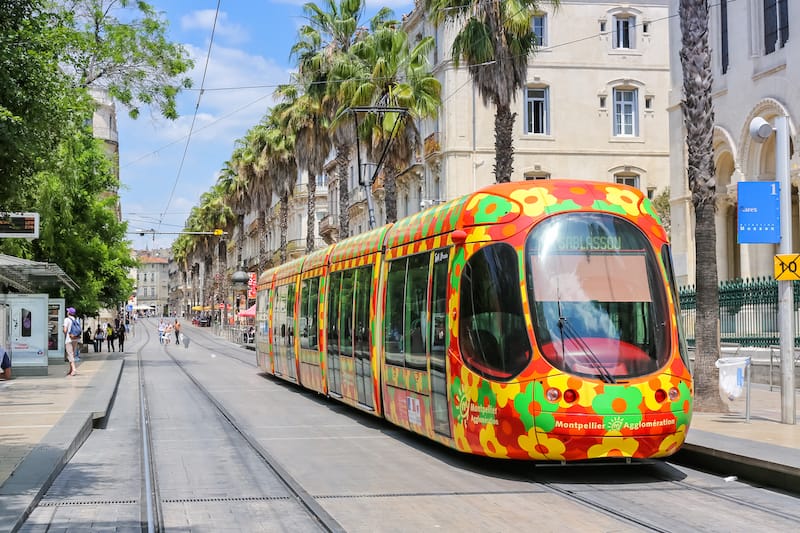 There are 4 tram lines and 84 tram stations in Montpellier, which makes it one of the best ways to get around the city.
Not only that, but this city offers a variety of bus services, and these will take you to the popular tourist sites.
The great thing about Montpellier is that it's a very walkable city, as many of the tourist attractions are located close together.
For those who'd prefer to get around by bike, you may want to check out the Velomagg service.
Best Time to Visit Montpellier
When it comes to the weather, May-September is typically the best time to visit. Temperatures can reach up to 29℃ (84℉) during these months, and you'll have plenty of sunshine.
However, the summer months of July and August can get extremely busy. This is the peak season as it coincides with the school summer holidays so just keep that in mind.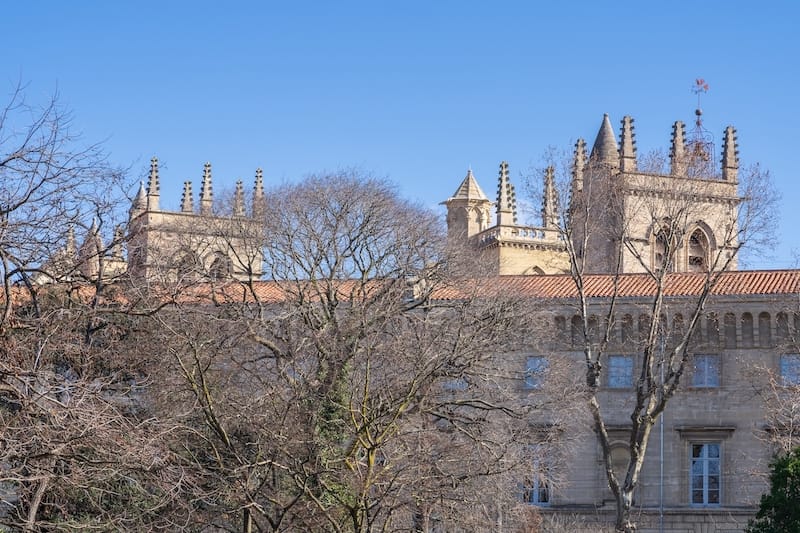 To enjoy the weather without the crowds, stick to the months of May, June, and September.
You'll also save on accommodation this way which is always a bonus.
The months of April and October tend to encounter relatively good weather too. Prices will be cheaper, but temperatures will be cooler.
Montpellier Itinerary Overview
Day 1 Overview
Place de la Comédie

Have lunch in Montpellier

Musée Fabre

Pavillon Populaire

Esplanade Charles-de-Gaulle
Day 2 Overview
Jardin des Plantes de Montpellier

Montpellier Cathedral

Arc de Triomphe

Grab dinner in Montpellier

Have some fun at Game Taverne
Day 1 in Montpellier
Place de la Comédie
Your first stop on this Montpellier itinerary should be Place de la Comédie. It's often referred to as the 'beating heart of the city' and is the most famous square here.
Place de la Comédie dates back to the 18th century and is home to two very important emblems. These are the Opéra Comédie which is a beautiful theater and the statue of the Three Graces, which can be found at the fountain.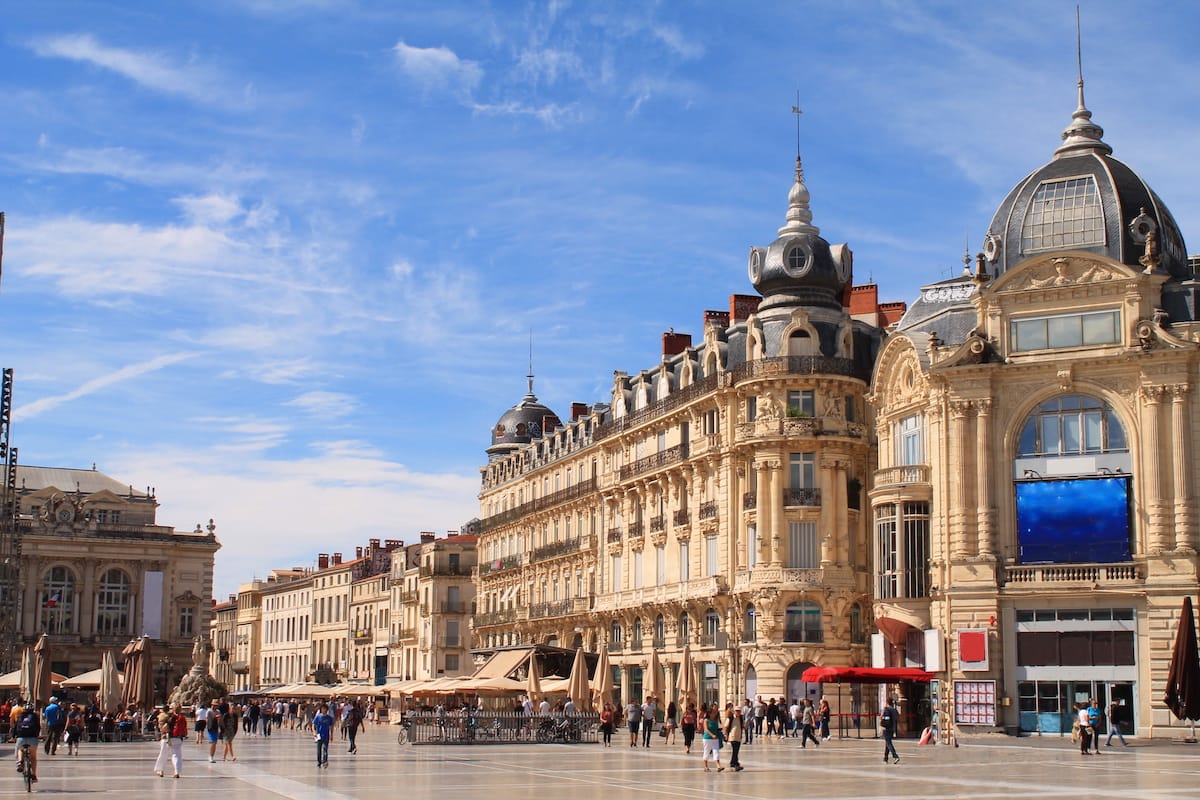 Aside from its breathtaking architecture, the square has plenty more to offer. For starters, it's just a short walk from Musée Fabre and Pavillon Populaire. You'll also find a variety of shops, cafes, and restaurants in the area.
This famous square is even pedestrianized, so you don't have to worry about cars as you wander around. Place de la Comédie is located at the heart of the tram network too, which is another reason why it's so popular.
Have Lunch in Montpellier
After a morning of exploring, it's time to grab some lunch. You won't be short of amazing options in this city so there's something for everyone.
To make the most of your time, we'd recommend finding somewhere that lines Place de la Comédie.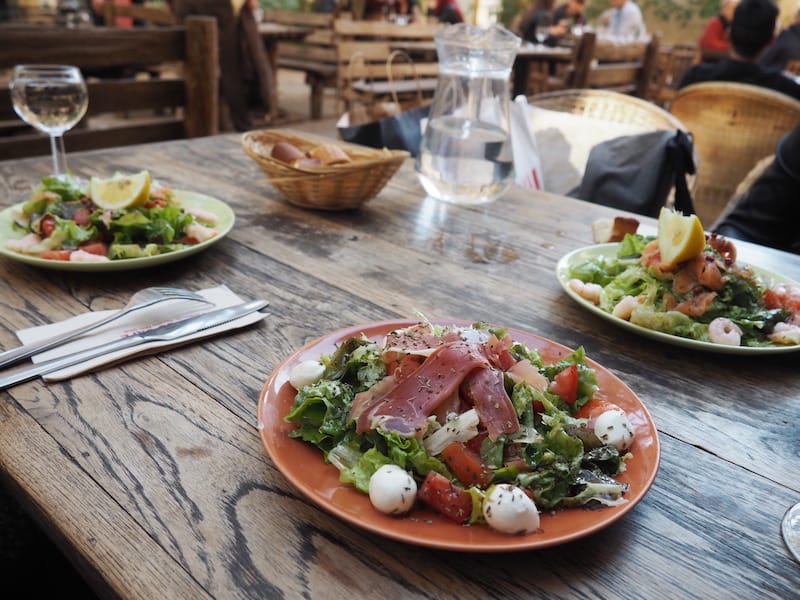 There are also some fantastic eateries that are just a short walk away from the square! This way, you can have dinner and then head straight to the next attractions.
Here are some great restaurant options:
Musée Fabre
During your 2 days in Montpellier, you just have to visit Musée Fabre! It's one of the most important museums not only in France but in the whole of Europe.
Musée Fabre was founded in 1825 by a local painter called François-Xavier Fabre. In fact, some of his paintings are still on display here.
Although it used to be small, this museum is now home to one of the world's largest collections of European art. Some of the artwork here dates back 600 years, while others are from the 20th century.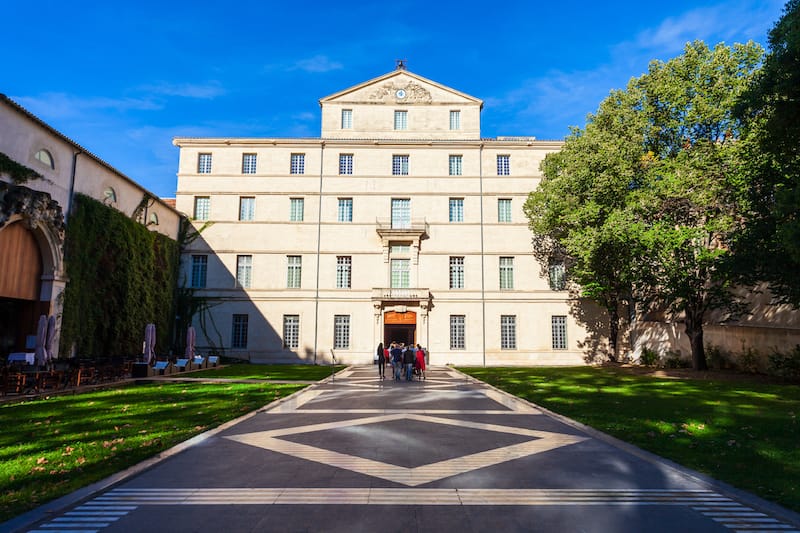 Notable artists that are featured in Musée Fabre include Fréderic Bazille, Pierre Soulages, Delacroix, and Géricault.
Address: 39 Bd Bonne Nouvelle, 34000 Montpellier
Pavillon Populaire
After exploring Musée Fabre it's time to visit Pavillon Populaire, which is just a 3-minute walk away. It's free to visit and is a photography space that holds three exhibitions throughout the year.
No matter what's on at the time, this place guarantees an interesting visit.
This is especially the case if you're a keen photographer. There are often small booklets given out too, and these will give you some more information.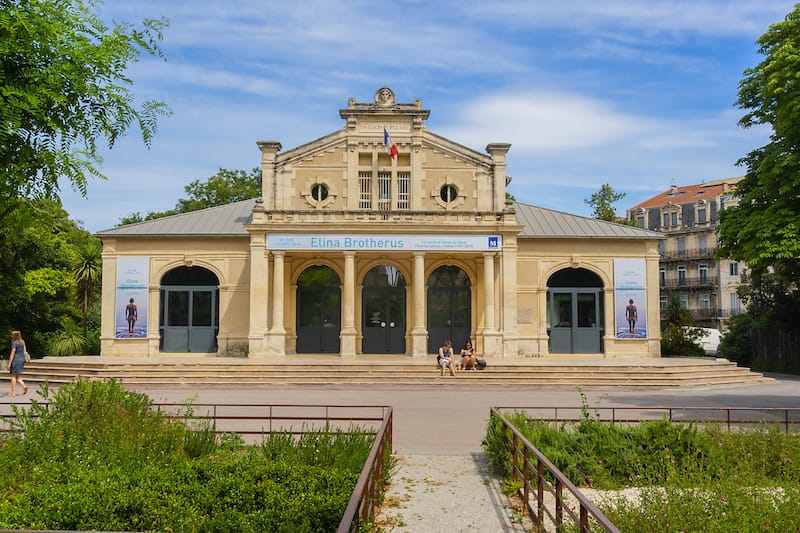 If you're planning to visit Pavillon Populaire then just keep an eye on the opening times. During midday, it's shut for an hour so you'll need to time your visit.
Going off Google, it's also shut on Mondays.
Not only is the art space impressive, but the building's architecture is pretty incredible too. Sometimes there are even free posters on offer if you're looking for a souvenir.
Address: Esplanade Charles de Gaulle, 34000
Esplanade Charles-de-Gaulle
Pavillon Populaire is located in this area, so you won't have to walk far to get here. Esplanade Charles-de-Gaulle is an urban park that's located right in the city center.
Covering an area of nearly one hectare, there's plenty of room to wander around and relax. Within this park, you'll find lots of benches where you can take a seat and simply watch the world go by.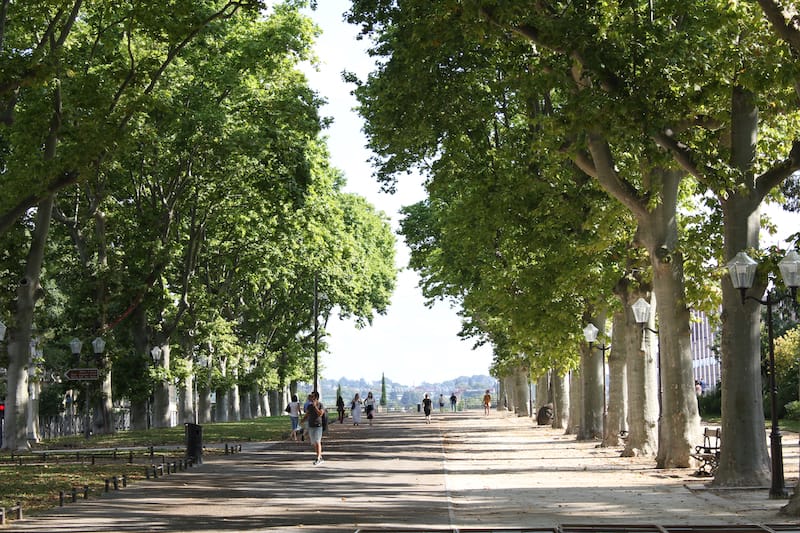 There are also a couple of things you'll want to see including the Pradier Fountain which has been around since 1845. You'll find a variety of sculptures throughout Esplanade Charles-de-Gaulle too and plenty of beautiful flowers.
Seasonal markets are also often held in this urban park, so check to see if there's anything on during your visit. Although popular, the park still retains a laid-back vibe which is always a bonus.
Address: 8 Av. du Pont Juvénal, 34000
Day 2 in Montpellier
Jardin des Plantes de Montpellier
To start off day 2 of this Montpellier itinerary, you'll want to visit Jardin des Plantes de Montpellier. This gorgeous botanical garden dates back to 1593 which makes it the oldest in France!
The gardens were created by Pierre Richer de Belleval, and have undergone several restorations throughout the centuries. Today, they're the perfect spot for a relaxing stroll.
As you wander through Jardin des Plantes de Montpellier, you can visit a bamboo forest, look for carp in the lotus pond, and admire a 100-year-old Hackberry Tree.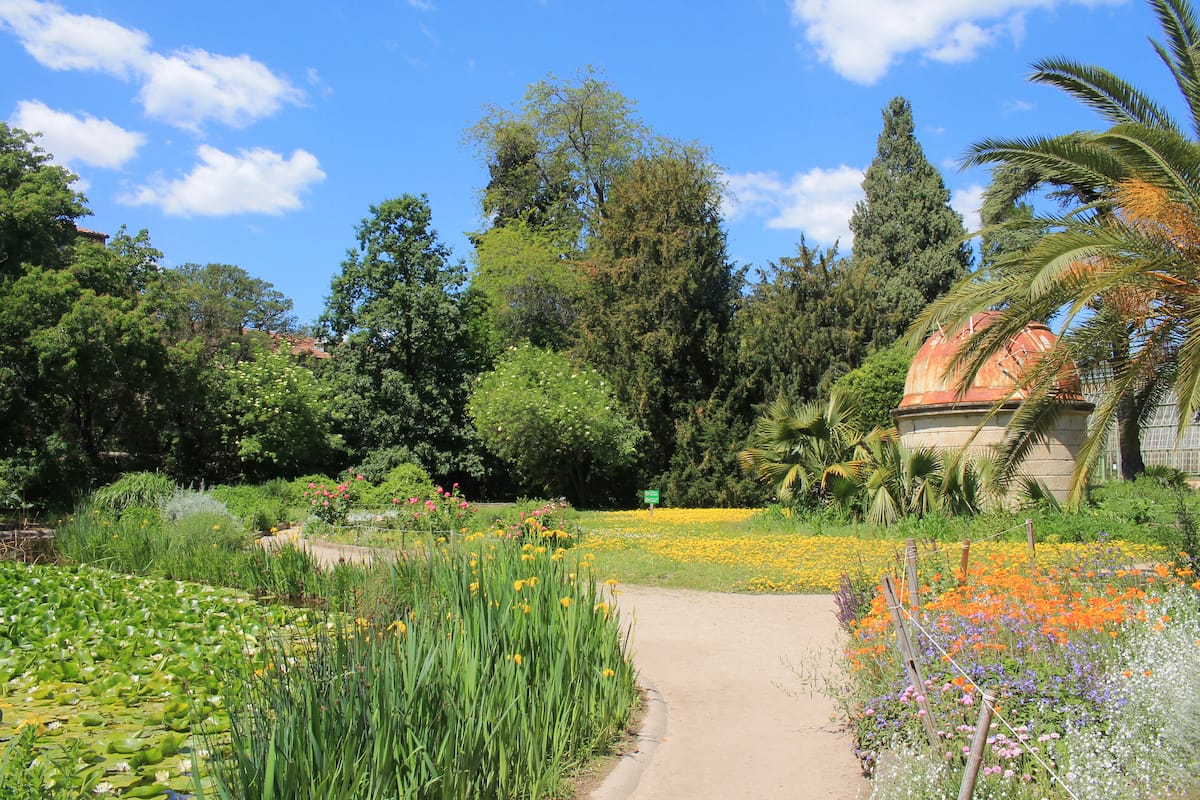 There's also a greenhouse here that you can visit which is home to a variety of cacti species.
Opening hours depend on whether you're visiting during the summer or winter months, so make sure you research this in advance. You can either visit for free or there are guided walks available.
Address: Boulevard Henri IV, 34000
Montpellier Cathedral
There's no denying that this city offers incredible architecture, but no Montpellier itinerary is complete without visiting the cathedral. This Roman Catholic Church is dedicated to Saint Peter and was commissioned back in 1364.
It then became a cathedral in 1536 so it's got plenty of history. Classified as a historical monument, this incredible building is the only medieval church to have survived the War of Religions.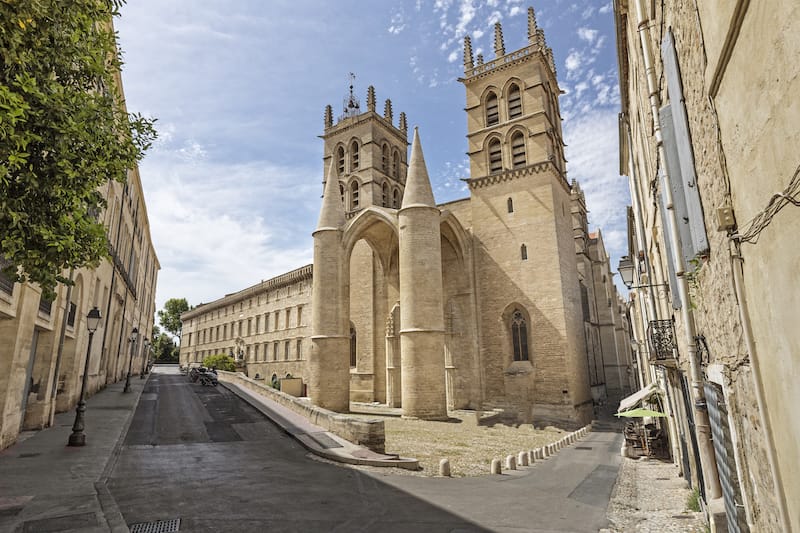 One of the first things you'll notice about the Montpellier Cathedral is the striking porch which is supported by two huge pillars. The church's interior is breathtaking too, as it's home to an artwork called 'The Fall of Simon the Magician'.
Make sure you also head up the Urbain V tower! You'll need to walk up around 200 steps to get there, but from the top, you'll be treated to amazing views of the city.
Address: Rue Saint-Pierre, 34000
Arc de Triomphe
Although the most famous Arc de Triomphe is located in the capital of Paris, Montpellier has one of its own. It's been around since the 17th century and was dedicated to King Louis XIV of France.
Also known as Porte du Peyrou, the Arc de Triomphe is one of the city's most famous landmarks.
You'll find it at the end of Jardins du Peyrou, and it's close to a variety of other attractions. While here, you can wander around Promenade du Peyrou.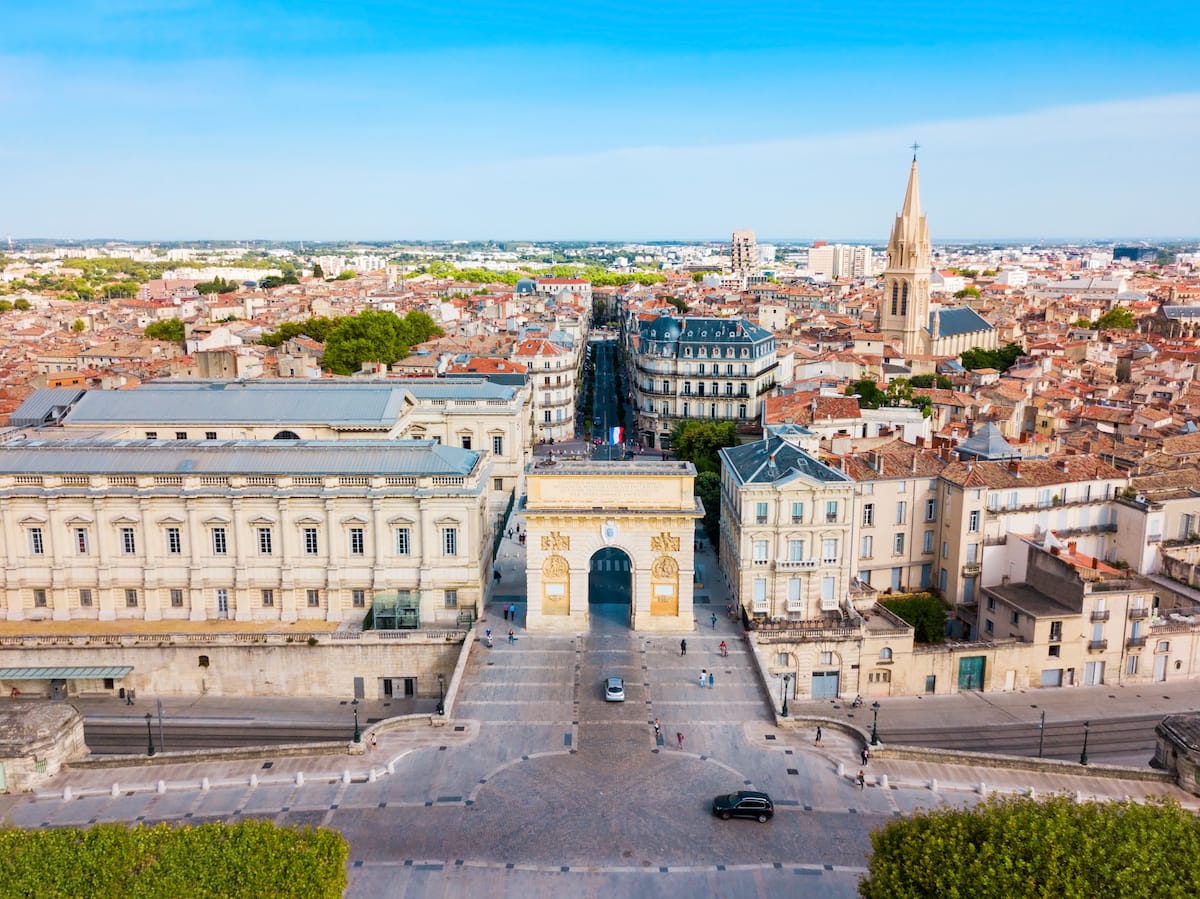 Montpellier's Arc de Triomphe is undeniably impressive. However, for the best experience, you'll want to walk up to the top on a guided tour.
You'll get to learn so much about this landmark and the views from the top are incredible.
If you head here just before sunset, the arch is all lit up so it makes for some fantastic photographs.
Address: Rue Foch, 34000
Grab Dinner in Montpellier
As you would have already had some delicious food yesterday no doubt, you might already have a favorite restaurant.
However, if you're looking to try somewhere new, then you won't be short of options.
To avoid recommending the same options as before, we've included options that are close to the attractions you'll have visited today.
This way, you can head straight for dinner as we're sure you'll be hungry!
Here are some other fantastic restaurant options for Montpellier:
Have Some Fun at Game Taverne
To finish off your Montpellier itinerary head to Game Taverne. This funky game bar is set across two floors and boasts an inviting atmosphere.
First of all, there are a variety of beverages to choose from including tailor-made cocktails.
If you're still feeling a bit peckish after dinner, then this place also offers Tapas.
However, the highlight of this bar has to be the variety of board games on offer, that you can enjoy while having a drink. In fact, there are over 500 games stored in their library, so there's bound to be something to your liking.
After an action-packed 2 days in Montpellier, it's time to relax and reminisce on your trip. What better way to do this, than with a cocktail in hand, playing one of your favorite board games?
Address: 22 Rue de Candolle, 34000
Do You Have 3 or More Days in Montpellier?
Take a Wine & Food Trip to Pic Saint-Loup
If you have longer in Montpellier then you'll want to head out on a day trip. This fantastic wine and food trip will take you to Pic Saint-Loup, so you'll get to appreciate the local countryside.
There are two starting times (10:00 am & 3:30 pm) and the tour lasts for around 4.5 hours. During this time, you'll get to visit two boutique wineries, admire the beautiful scenery, and head to a family home. Here, you'll enjoy a farm-to-table meal!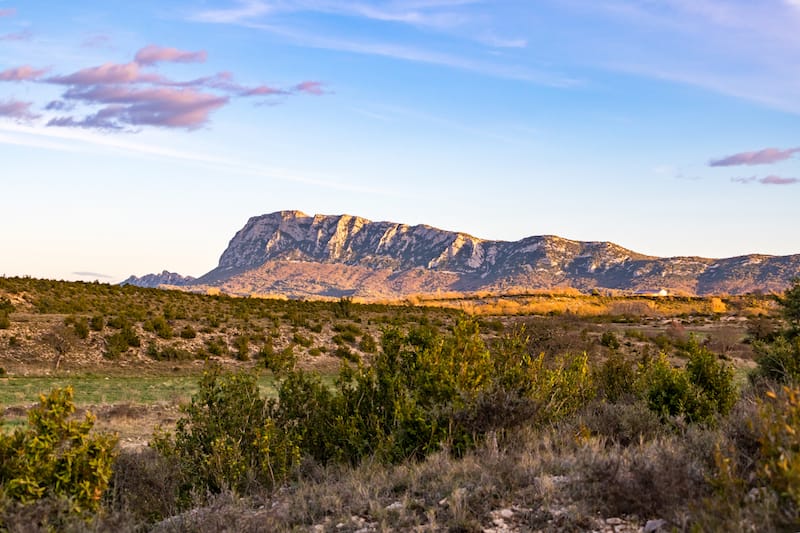 Not only that, but you'll make a quick stop in a medieval village, where you can snap some photographs. As you can see, this incredible tour has so much to offer.
You'll have an English guide with you throughout the day and they'll be happy to answer any questions that you may have.
>> Click here to check tour rates and availability
Aqueduc Saint-Clément
If you'd prefer not to head out of Montpellier then check out Aqueduc Saint-Clément.
This impressive aqueduct dates back to the 18th century when it was used to transport water into the city.
Water was taken from the Saint-Clément spring, where it then traveled over 14 km (8.7 miles) to reach the water tower in Peyrou.
Although it's not in use today, it's still a place that you'll want to include in your itinerary if you have an extra day.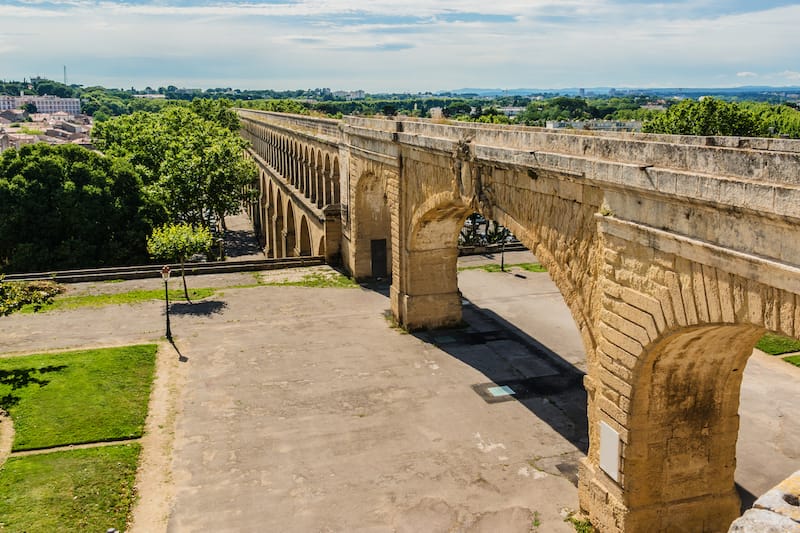 The surrounding area of Les Arceaux takes its name from the viaduct's arches. It's another great place to wander around, especially as the Arceaux Market takes place here. This is the place to come if you're after local produce.
Home to beautiful gardens, mansions, and the aqueduct of course, there's plenty to see in this area.
Address: Aqueduc des Arceaux, 155 Rue Hilaire Ricard 85, 34000
Go on a Day Trip to Mourèze
Mourèze is undeniably one of the most beautiful places you'll come across in France.
At the edge of this village, you'll find the Cirque de Mourèze, a natural spectacle that attracts tons of tourists every year.
This natural amphitheater is full of limestone rock pinnacles that have been eroded over the years.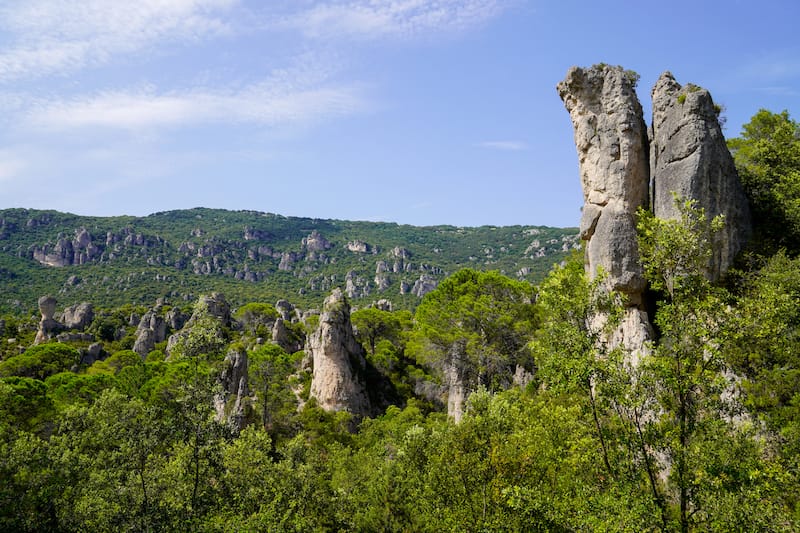 This area covers around 1000 acres of the Dolomites, and the best way to explore is by heading out on a hike.
However, if you're short on time, then this day trip from Montpellier will take you to Mourèze, as well as Saint Guilhem Le Désert, and the Salagou Lake. It includes transport, a local guide, and parking, so all the logistics are covered for you.
For those planning to hire a car, the drive takes just under an hour. This will give you the flexibility to explore the surrounding area too.
>> Click here to check tour rates and availability
Château de Flaugergues
If you have longer than 2 days in Montpellier then check out Château de Flaugergues. This huge country house has been in the same family for over 300 years, and it's believed to be the oldest folly (châteaux) in the city center.
You can take a guided tour of Château de Flaugergues which we highly recommend. This way, you'll get to appreciate the building's interior, Flemish tapestries, and antique furniture.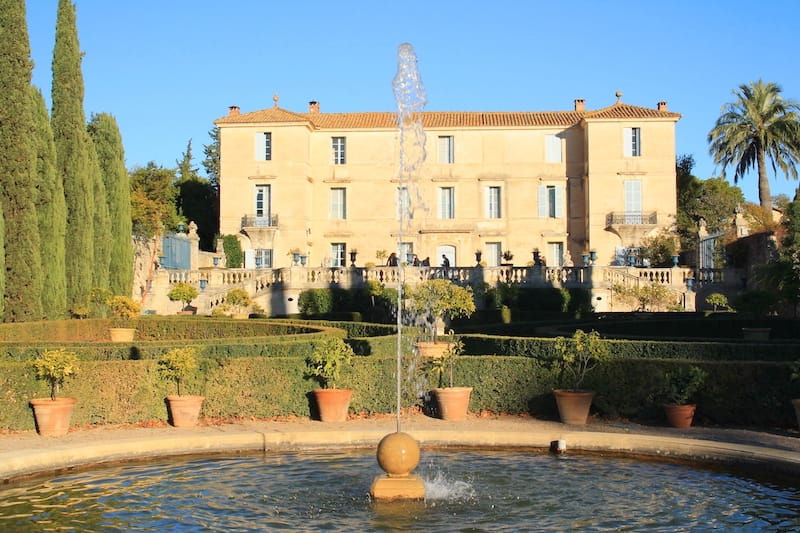 While here, make sure to spend some time exploring the grounds too. You'll find a variety of gardens, a bamboo plantation, and wrought iron sculptures, so there's plenty to see.
In fact, this château is one of the last wine properties in Montpellier, and there's a 25-hectare vineyard on-site. You can taste some of these wines in the on-site restaurant, which also serves food.
Address: 1744 Avenue Albert Einstein
Relax Along the Mediterranean Coastline
Finally, if you have the time then why not head to some of France's beaches?
The Mediterranean Sea is just a 20-minute drive away, so you won't have to go far. You can also head there on public transport but that will take more time out of your day.
Along this stretch of coastline, you'll find a variety of resorts. This includes Palavas-les-Flots (which is the closest), Carnon, and La Grande-Motte, which is located further along the coast.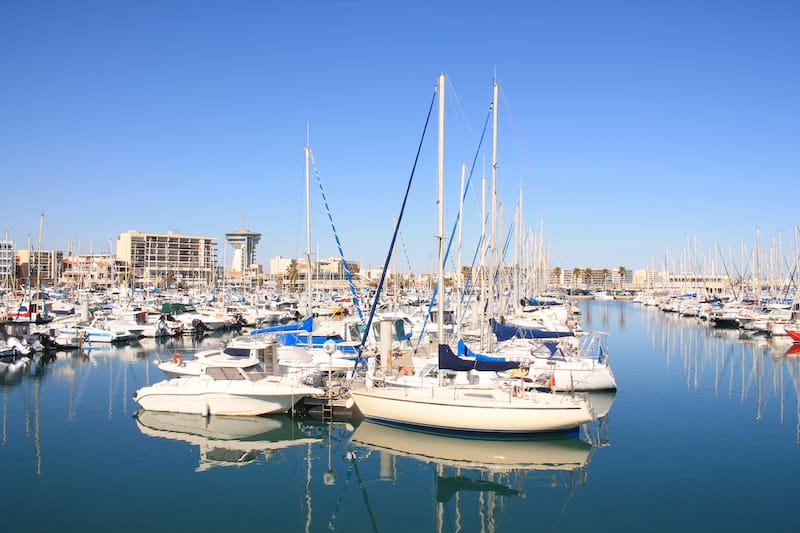 In this area, there are plenty of Blue Flag beaches so you'll be spoilt for choice. If you're looking to relax, simply pick one and spend the day there. You won't be short of amenities either.
Montpellier is a fantastic city, but sometimes you're just in the mood for swimming in the sea, relaxing on the sandy shores, and dining by the seafront.
Where to Stay in Montpellier
If you're looking for a great option for a place to stay, these are some of the top picks in Montpellier!
Did we miss any of the best things to do with 2 days in Montpellier?
What is missing from this Montpellier itinerary that should be on it? Let us know in the comments!
More Southern France Content
Pin this 2 Days in Montpellier Itinerary