France is heaven for perfume lovers as it is the epicenter of the industry these days. And, one of the coolest things to do when there is to sign up for a Paris perfume workshop!
Are you planning your trip to Paris last minute?
Be sure to book your accommodation and tours to/from Paris ahead of time to ensure availability!
🇫🇷 Most popular tours/experiences in Paris:
🛌 Top lodging options in Paris (all budgets!):
La Maison Favart (Luxury option near the Opera)
Ibis Hotel in Clichy (Budget – I stayed here and recommend)
Tilsitt Etoile (Mid-range)
🚗 Looking for the best way to get around Paris? Click here to check rental car rates for France!
This guide will detail my experience at a fragrance workshop in Paris, why I think you should book the experience, and exactly what to expect when you do!
I booked my perfume making in Paris experience with Molinard through Viator as they will send you confirmations and a voucher beforehand in English, making the process super easy and organized!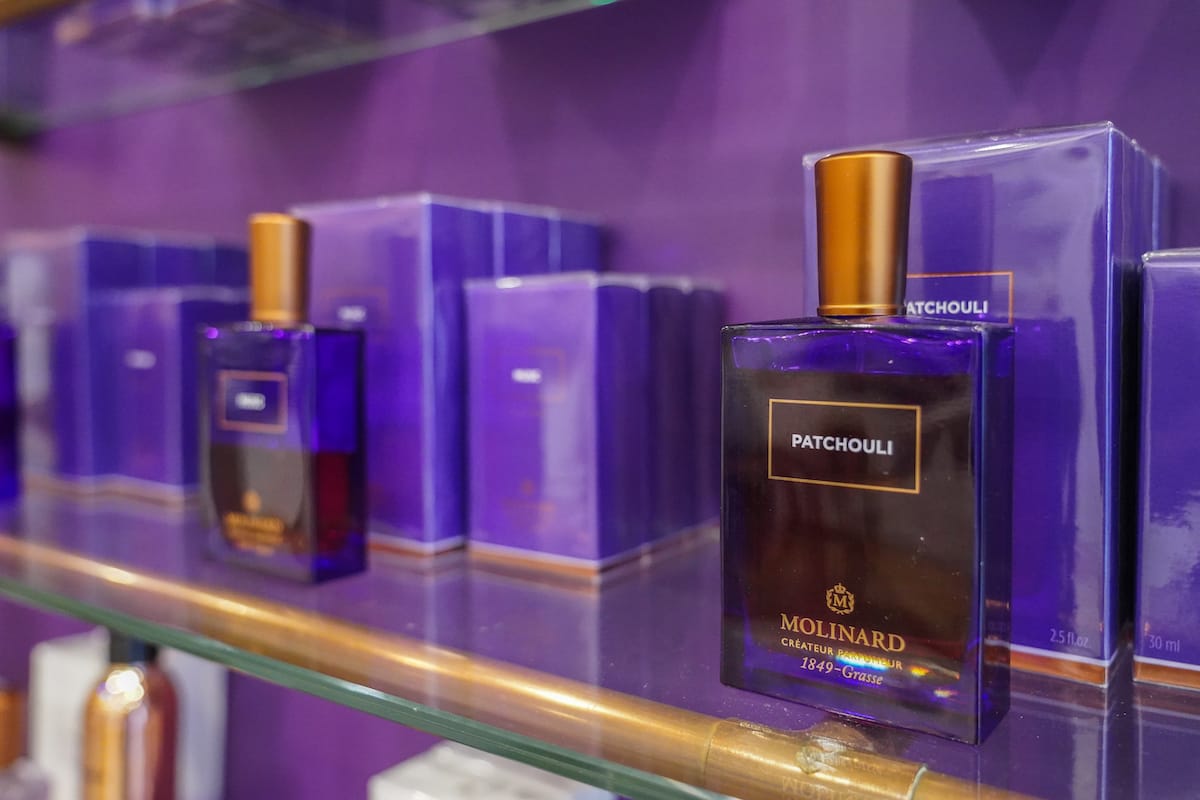 Is there anything you'd like to know before you create your own perfume in Paris?
Let me know your questions about this Paris perfume workshop in the comments if so! Thanks!
Should You Make Your Own Perfume in Paris?
Yes. 1000%! Perfume's origins actually date back to the Egyptians and the Greco-Roman civilizations and it was originally for religious purposes before being used for seduction and pleasure.
And perfume's origins in Europe can mostly be traced back to Venice before it showed up in France in the 16th century.
During this time, perfume became synonymous with wealth and refinement and that has been passed down to modern times (along with everyone wearing it these days!).
BOOK HERE: Paris Perfume Workshop
Anyway, most of us wear perfume and most of us also don't know much about what goes into the actual perfume.
It is quite a creative and intricate process and I think this perfume workshop at Molinard will help you realize how important each and every note is during the process.
This was one of my favorite experiences I have ever had, to be honest. But, I am a huge perfume enthusiast (especially with niche perfumes).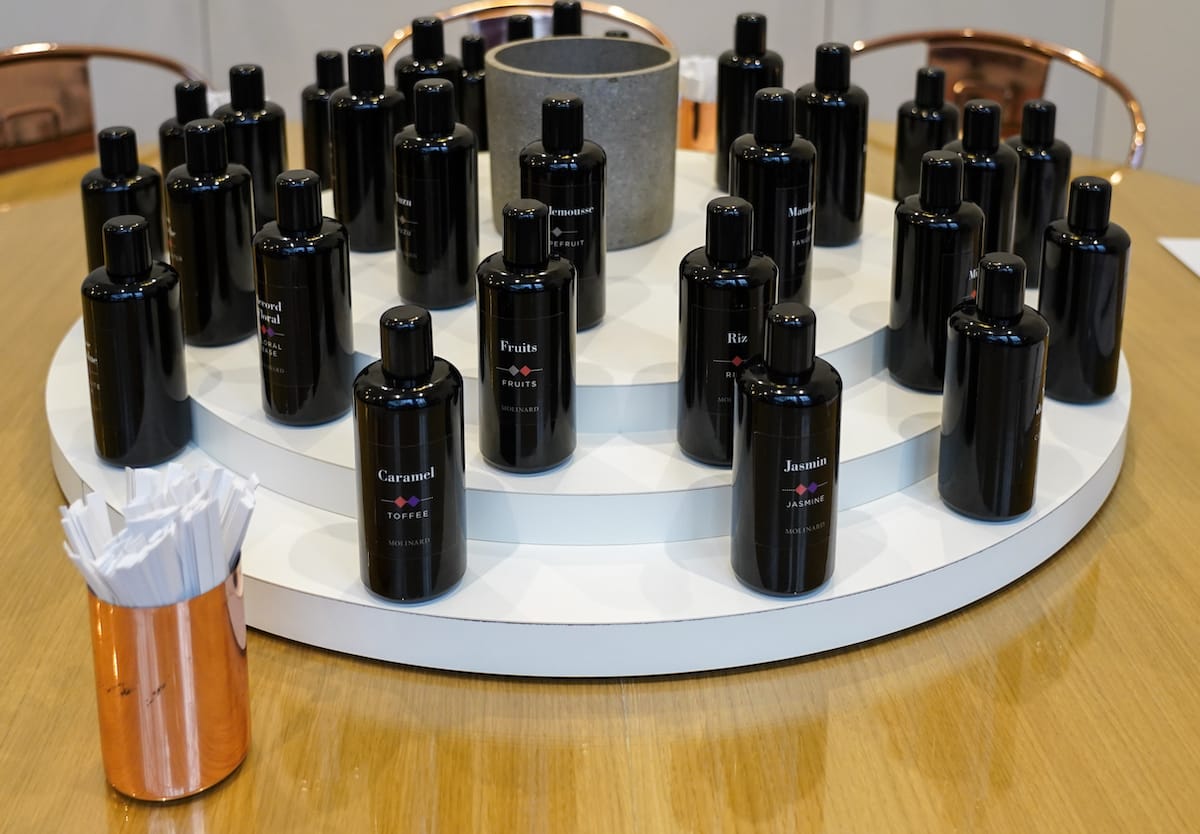 The best thing about creating your own perfume in Paris at this Molinard workshop is that you get to take your creation home with you!
You'll get your entire 50ml bottle as a souvenir of your time at the workshop and can wear it daily!
Or, like me, you can push it to the back of your collection because you decided to create perfume on an empty stomach and got hungry for toffee notes. Whoops…
How to Book a Paris Perfume Workshop
Duration: approx 1.5
Pick-up: None – you need to get to the meeting point
Meeting Point: 72 Rue Bonaparte, 75006 Paris
Language: English, French
CLICK HERE TO BOOK!
I would recommend booking your perfume workshop in Paris before your trip to ensure availability.
The workshops are small and intimate and despite having more than one on certain days, you may struggle to secure a spot if you do not book ahead of time!
In fact, I wanted to go another day and waited too long to book and it was full so I had to stick around Paris longer than expected to do this (I wasn't so sad about that).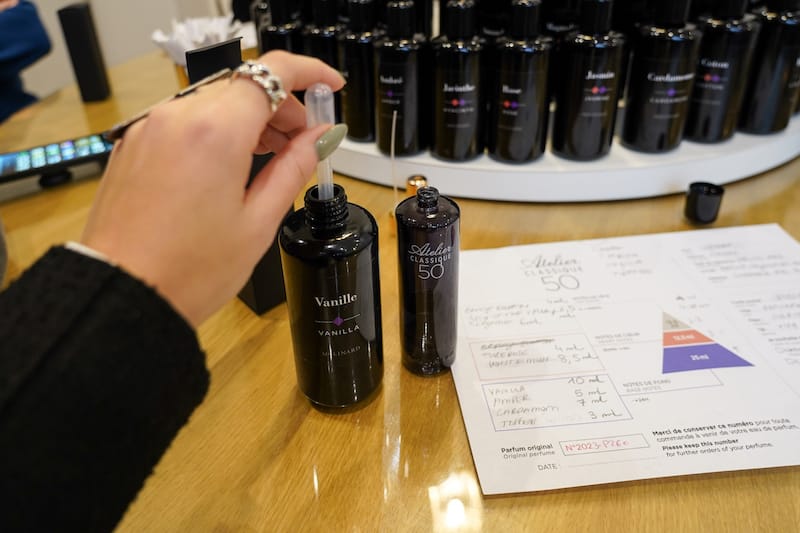 I booked my workshop through Viator with Molinard as they were able to send me a confirmation in English beforehand and confirm everything.
Unlike a lot of Viator tours and experiences, this Paris fragrance workshop is non-refundable once you book. So, be sure your days are accurate and that you're certain you'll make the day of the experience!
Book your perfume workshop here!
My Experience Creating Perfume at Molinard
My experience started at 11am and lasted about 1.5 hours in total. I had to get over to the Molinard shop which is located at 72 Rue Bonaparte.
From there, you will head inside to check-in (just show your voucher!) and hang out in the shop until the rest of the participants get there.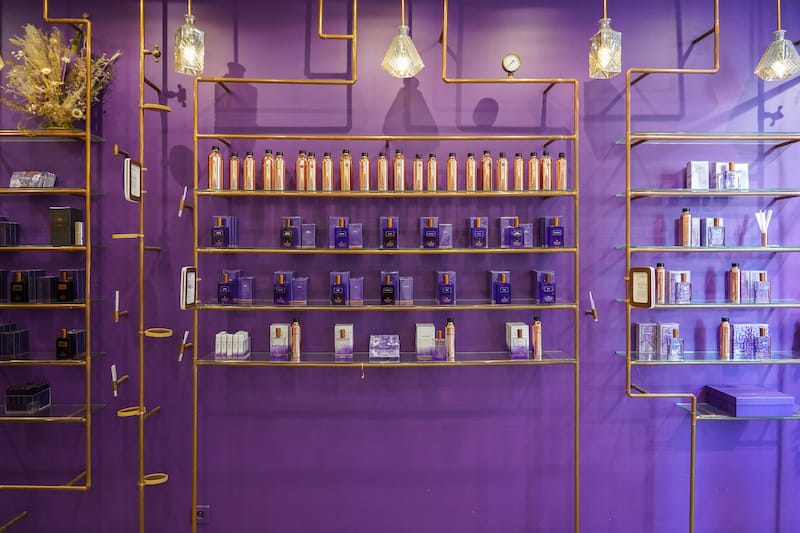 We had a total of 6 people at our workshop – two couples and two individuals. Everyone was French except me and extremely nice. We all helped each other find the fragrance notes we were all looking for.
The instructor taught us about theory before we started with the scent testing.
I know quite a bit about perfumes so I knew the theory part, but getting to smell the individual fragrance notes was a big deal for me as I don't get that chance when perfumes already come made!
BOOK HERE: Create your own perfume in Paris
You have a fair amount of time to smell the different scents and write down what you like for the top, heart, and base notes before she will come around and give us the proportions of each to put into the final product.
She probably cried deep inside at my toffee mixed in with heavy white florals on my sheet but smiled and put a small number there to go into the final product.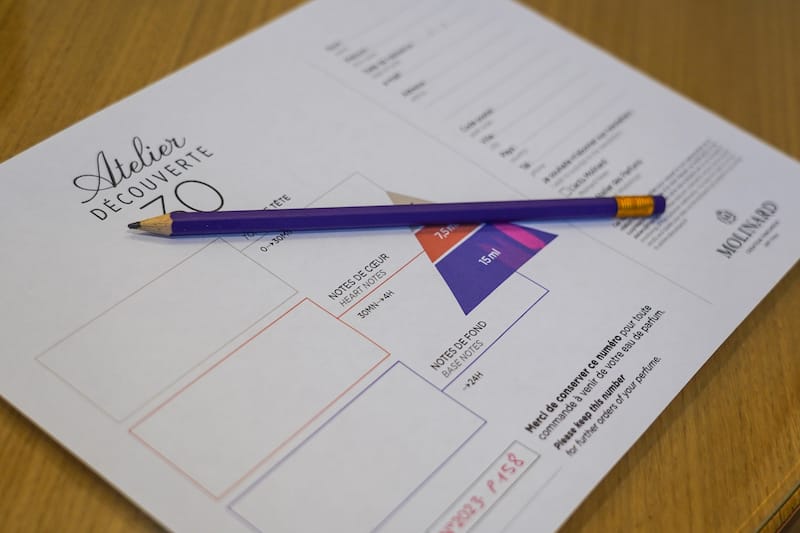 From there, you can start putting together your own creation!
Once done, you will need to shake it and let it sit for a week before it is ready for regular use. But, you can do a quick test before leaving to see your creation!
I absolutely loved this Molinard perfume workshop. I already plan to do another to create something better when back in Paris!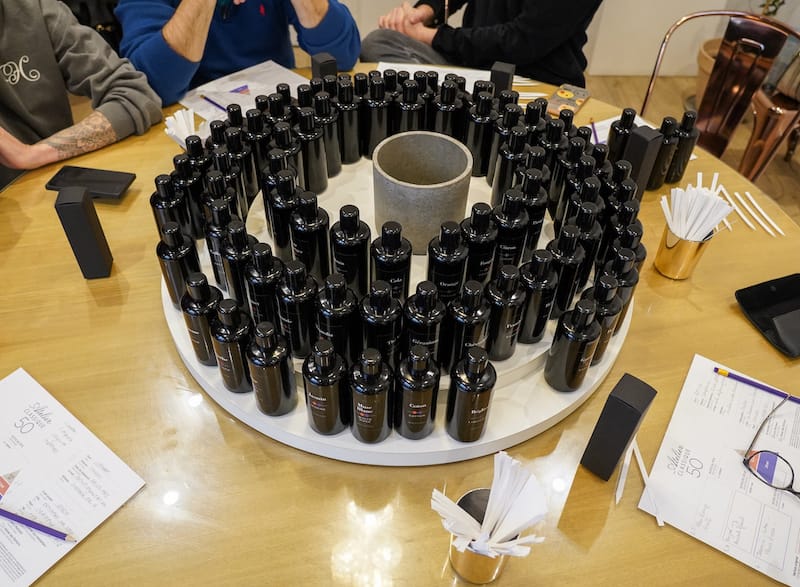 Paris Fragrance Workshop FAQ
Does the instructor speak English? Yes! They will have someone there that can speak both English and French (my instructor was part French, part Irish!) to help you along! If your group is mixed, he or she will speak both.
Will the scents give you a headache? They didn't for me. But, if you are sensitive to smells, you have coffee beans available and you can take a small break.
Do remember that you're smelling individual fragrance notes so it is not the same as smelling an already-made perfume.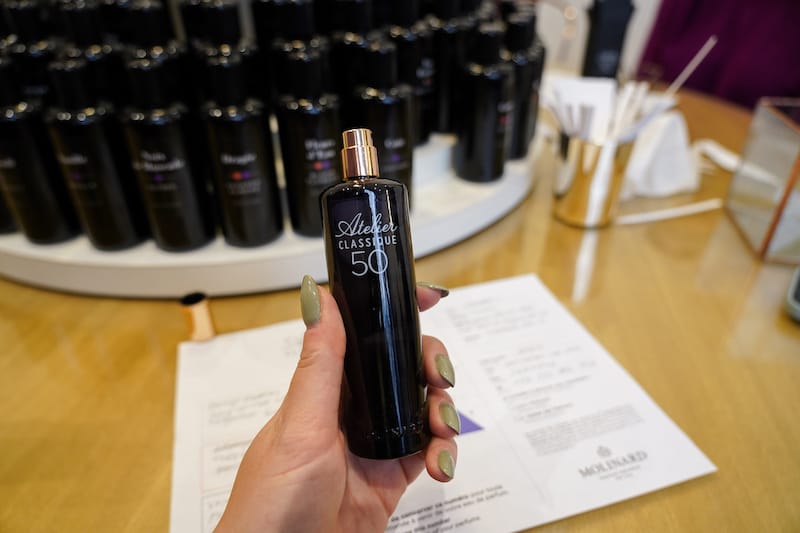 What do you wear to the Paris perfume workshop? It says to dress nicely for it, but to be honest, I didn't have anything that nice with me as I was coming from a trip to Western Sahara.
I wore a black blazer, leggings, and black sneakers. I put on a ton of silver jewelry to make myself feel 'dressier'. Out of our group, I probably dressed up the most… so it is nothing to stress over!
BOOK HERE: Make your own perfume in Paris
Why Molinard and not another perfumery? Molinard was founded in Grasse in 1849 and is still a family-run business.
They have many classic perfumes and many of their bottles are even collector's items today! This is why I was excited to do my perfume workshop with them.
What if you love your perfume and want more? I hope you love your creation! If so, they keep everything on file and give you a certificate with your 'number' on them that they have on file.
So, you can reorder your own creation and they will deliver it right to your doorstep!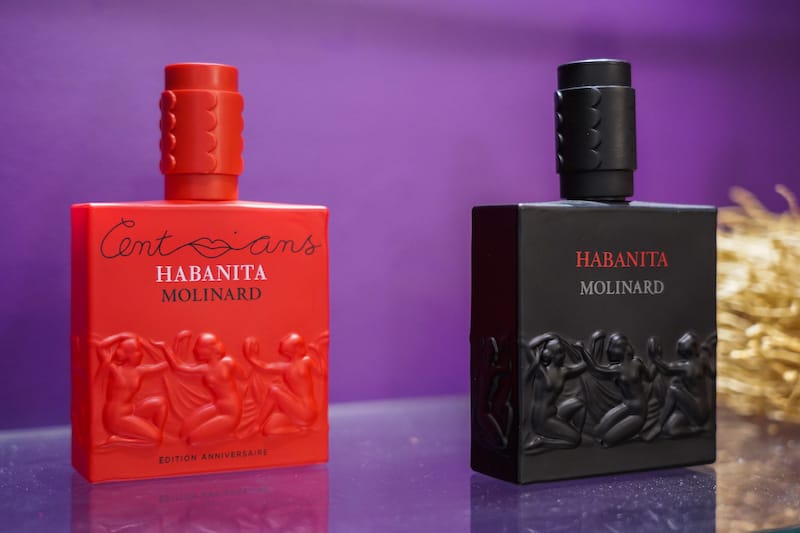 Any tips before your experience? Do not come hungry. I think I made my perfume based on what I would have enjoyed eating at the moment. I love gourmand perfumes but I was actually hoping to make a light, spring scent.
Didn't work out for me! Also, do not come wearing heavy perfume.
I didn't really think about it that morning, but I sprayed on Initio's 'Atomic Rose' and that is all I could smell for the better half of the day, and I think it played with my nose a bit (and perhaps the others around me).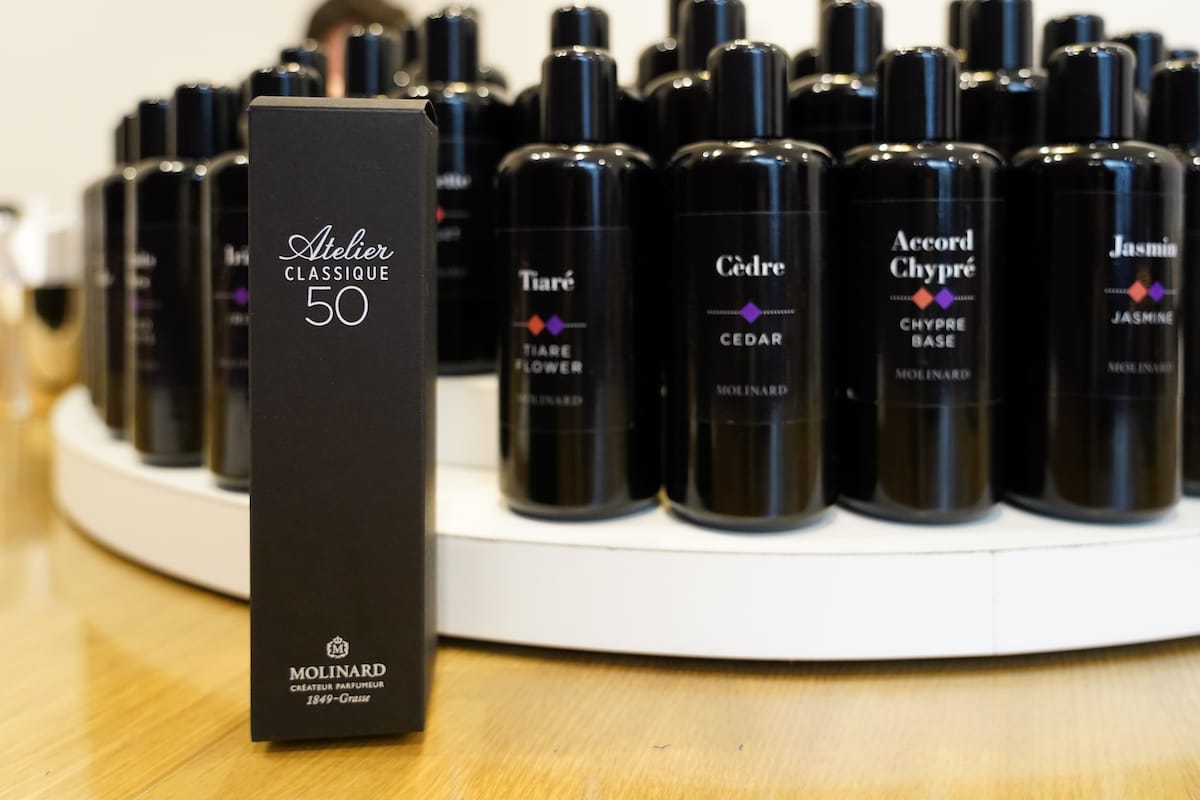 I really hope that if perfume interests you as it does me, you sign up for this Paris perfume workshop with Molinard when you're in the city!
It was easily one of my favorite experiences and I am already looking forward to a return trip! Let us know if you have any questions!
Book your perfume workshop here!
More Paris Travel Guides
Pin this Perfume Workshop in Paris Guide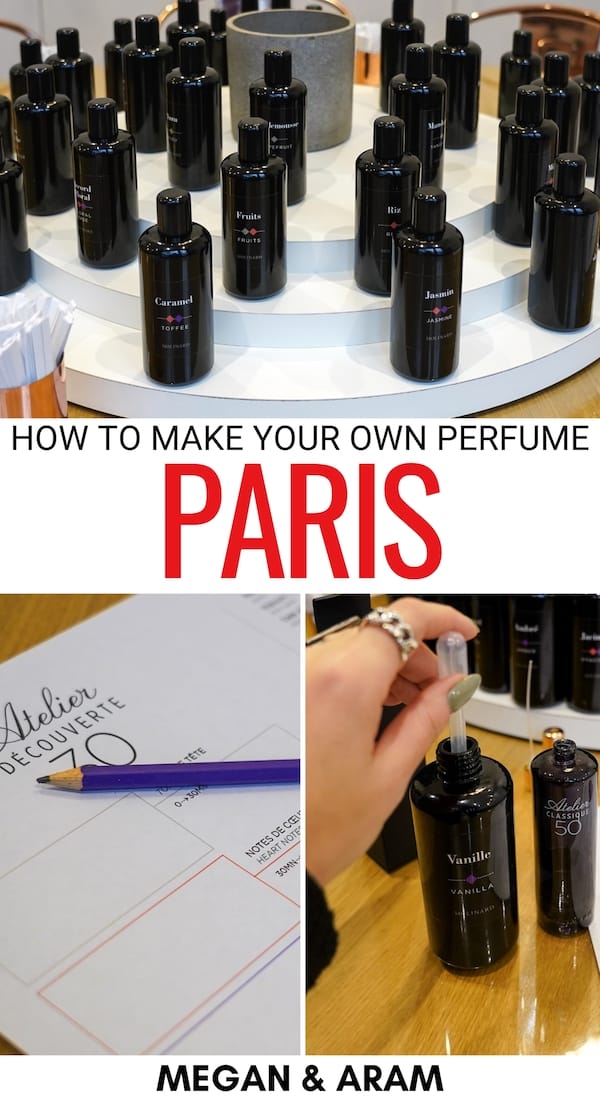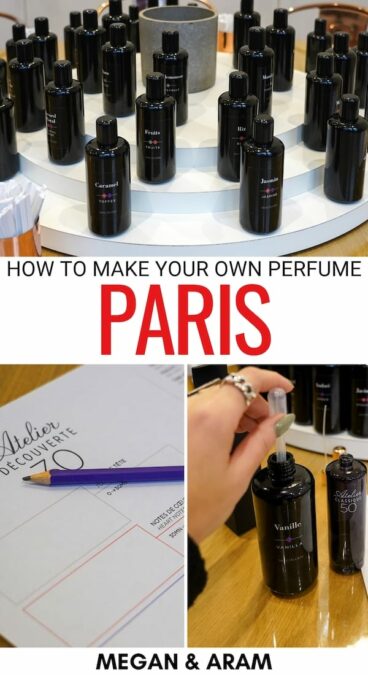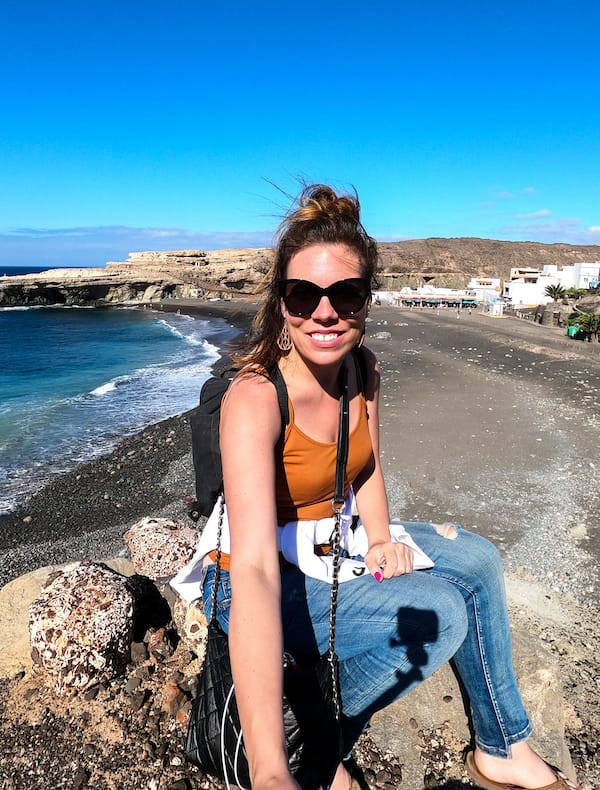 Megan is a travel blogger and writer with a background in digital marketing. Originally from Richmond, VA, she now splits her time between Frankfurt, Germany and Arctic Finland after also living in Norway, Armenia, and Kazakhstan. She has a passion for winter travel, as well as the Nordic countries, but you can also find her eating her way through Italy, perusing perfume stores in Paris, or taking road trips through the USA. Megan has written for or been featured by National Geographic, Forbes, Lonely Planet, the New York Times, and more. She co-authored Fodor's Travel 'Essential Norway' and has visited 45 US states and 100+ countries.