Are you looking at visiting the Louvre on your upcoming Paris trip? This guide details everything you need to know – including Louvre travel tips, ticket info, best tours, and more!
Are you planning your trip to Paris last minute?
Be sure to book your accommodation and tours in Paris ahead of time to ensure availability!
🇫🇷 Most popular tours/experiences in Paris:
🛌 Hotels in Paris near the Louvre:
🚗 Looking for the best way to get around Paris (and nearby)? Click here to check rental car rates for Paris!
Throughout this guide, you will find answers to all of your questions (well, we hope) about the Musée du Louvre!
We dive into how to skip the line, where to enter the museum, and even how to see the Mona Lisa without waiting in that notoriously long line.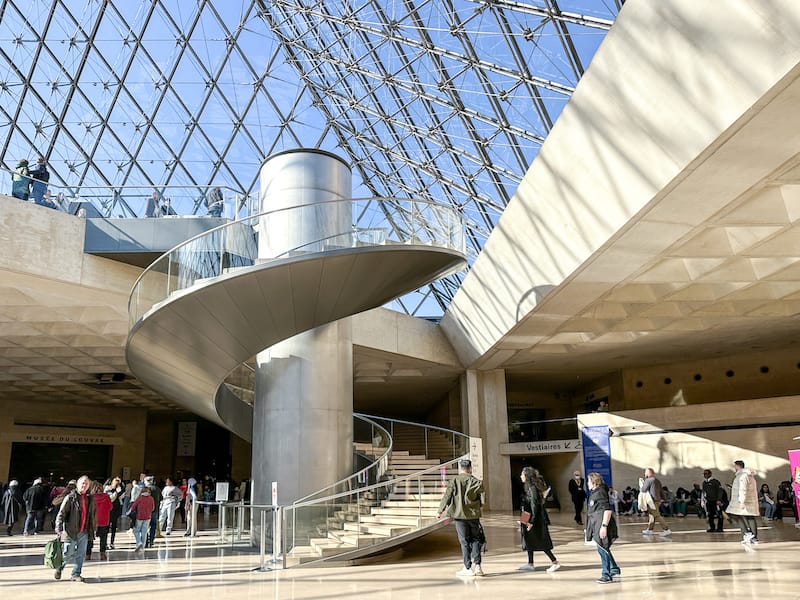 If we miss anything, or you have additional questions about planning your Louvre visit, let us know in the comments.
Please note that this guide is written for first-time visitors and those who have never stepped foot inside before! Thanks!
Quick Louvre Museum Facts
The Louvre and its galleries cover around 15 acres… making it the world's largest museum.
Previously, the museum was a fortress, as well as a royal palace before opening as an art museum in 1793 (with merely 537 paintings!). Today, it boasts more than 480,000 pieces of artwork.
🔎
Looking for the best tours and tickets to the Louvre?
Here are a variety of options to consider for your trip to the Louvre:
The Louvre's iconic pyramid (there are actually 5 – but talking about the main one that comes to mind) was designed by Chinese-American architect I. M. Pei in 1983.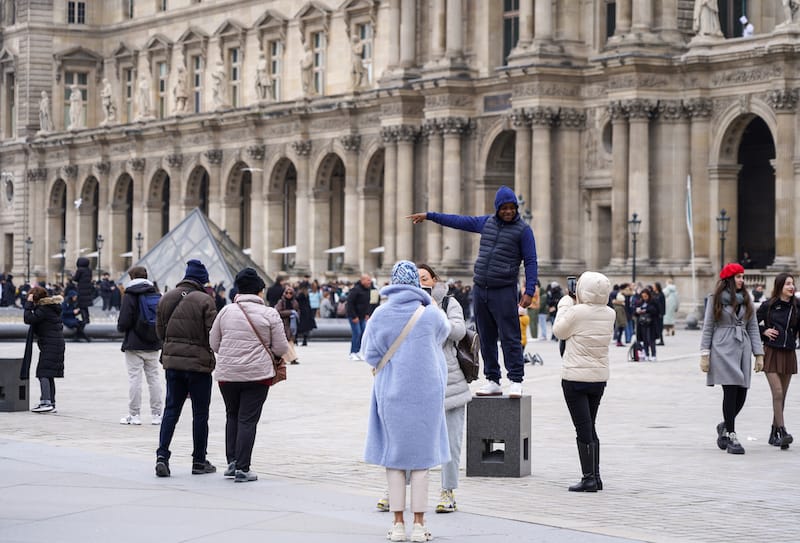 This renowned museum is actually the most-visited art museum on the planet… and is actually the most visited museum as a whole.
Before the pandemic, the Louvre was getting around 45,000 visitors daily, but the museum has capped that number these days to around 30,000 people. Around 60% of those 30,000 people are first-time visitors.
🌟 INTERESTING FACT: The Mona Lisa was never regarded as the most famous painting in the Louvre prior to being stolen in 1911. It took 2 years to recover and has been world-famous since!
I find it so cool that people visit the Louvre more than one time when in Paris (I was one of them!) because you can always discover something new inside, whether it is exhibits you previously couldn't make it to, or new ones passing through.
My latest visit was to see the Islamic Silk Road art coming over from Uzbekistan (it was remarkable)… but I wandered through the entire museum as though I was visiting for the first time.
Layout of the Louvre
There are three wings at the Louvre: The Denon Wing, Sully Wing, and Richelieu Wing.
These three main areas are where you'll find most of the visitors (with Denon being the most popular) and it is best to map out your Louvre trip beforehand in order to not miss anything you're wanting to see:
The Denon Wing: This wing is the main entrance to the museum and houses some of the most famous and popular exhibits, such as the Mona Lisa, the Winged Victory of Samothrace, and the Apollo Gallery. It also includes galleries devoted to Italian and French painting, as well as Islamic art.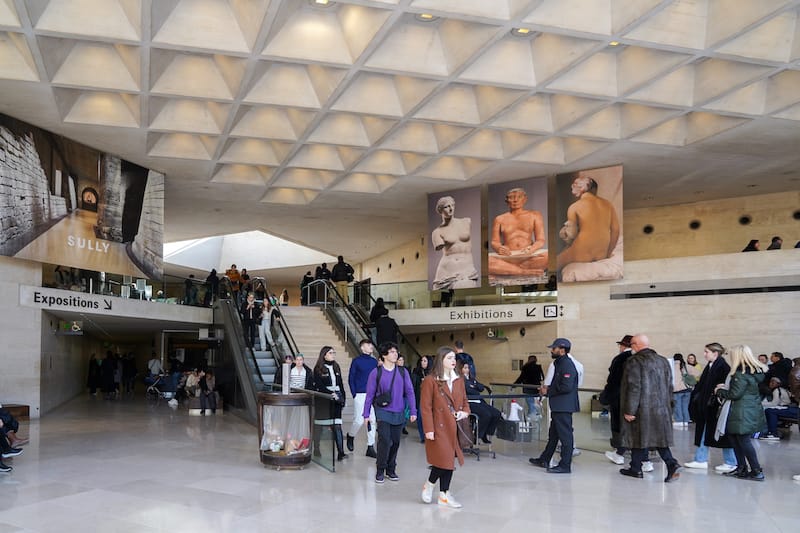 The Richelieu Wing: This wing is located to the north of the Denon Wing and contains decorative arts, including furniture, ceramics, and tapestries, as well as prints and drawings, ancient sculptures, and medieval and Renaissance art.
The Sully Wing: This wing is located to the east of the Denon Wing and houses the museum's oldest collections, including Egyptian and Near Eastern art, Greek and Roman antiquities, and medieval art.
Things That are a Must See at the Louvre
If you're looking for the best things to do at the Louvre (and the best exhibits to see!), here are some of the favorites.
BOOK HERE: Skip-the-line Louvre ticket
The Great Sphinx of Tanis
I am a huge fan of Egyptian art and this is located in the Egyptian Antiquities area of the museum in the Sully Wing in Room 12. It dates back to 664-525 BC (the 26th dynasty).
The Great Sphinx of Tanis is over 4 meters tall and is constructed with pink granite. Experts believe that it is supposed to depict Pharaoh Amenemhat II.
The Winged Victory of Samothrace
This sculpture is of Nike, the Greek goddess of victory and the Winged Victory of Samothrace is located in the Denon Wing at the top of the Daru staircase.
The 2-meter-tall statue is world-famous for being a Hellenistic masterpiece and it is definitely worth checking out on your Louvre visit!
The Mona Lisa
What kind of list would this be without putting the most iconic painting, the Mona Lisa, on it?
This Leonardo da Vinci artwork is one of the world's most famous and it is located in the Denon Wing on the museum's first floor in Room 711.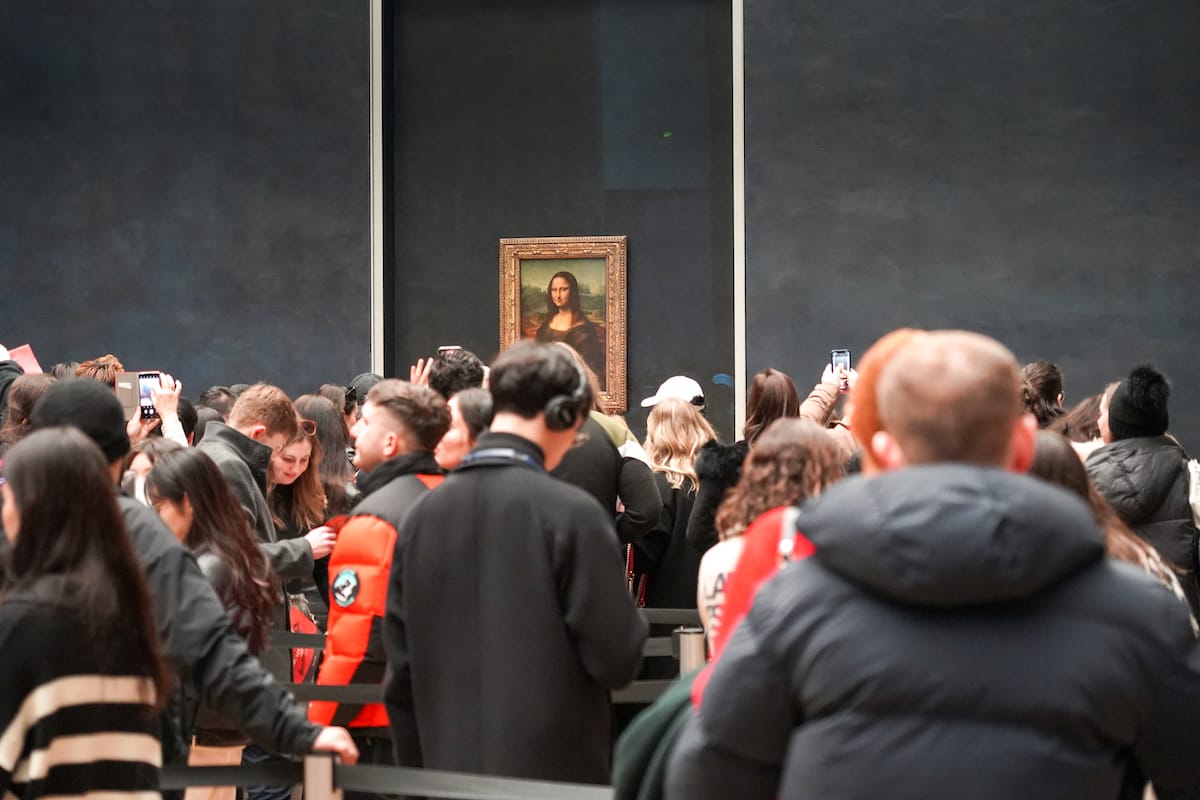 There are plenty of signs throughout the entire museum pointing you in that direction! You will, without a doubt, experience a line to see the Mona Lisa.
This famous painting depicts a woman who is believed to be Lisa Gheradini and is over 500 years old. It is one of the most recognizable symbols of Renaissance art.
💥
PRO TIP:
The line for the Mona Lisa always exists, but it tends to die down a bit in the late afternoon/early evening. Alternatively, you can book a
skip-the-line Mona Lisa ticket
so you can get right up there!
I have actually never had enough patience to wait in line to see it up close as I think there are many other famous paintings in the Louvre equally as deserving of a visit, but if you're going to travel all the way to Paris, I reckon the wait is worth it.
The Raft of the Medusa
The Raft of the Medusa is a renowned painting by Théodore Géricault, a French artist, that depicts people struggling to survive a wreck on the ship Méduse.
It is considered a masterpiece of French Romanticism and can be found in the Denon Wing in Room 77.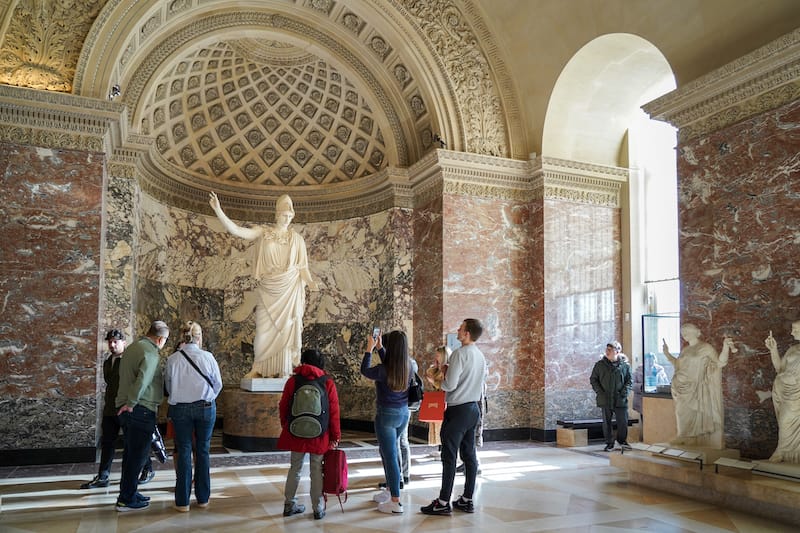 Venus de Milo
Located in the Sully Wing in Room 16 is the Venus de Milo, an ancient Greek sculpture that showcases Aphrodite (Venus). It is believed to date back to 130-100 BC.
The statue is also referred to as the Aphrodite of Milos and is 2 meters tall.
Planning Your First Trip to the Louvre
Best Time to Visit the Louvre
The Louvre is going to be packed no matter what time you visit. It is currently a timed entry situation there, so it is managed as efficiently as possible for a place that gets tens of thousands of visitors daily.
With that said, the best time to visit the Louvre is in the morning (most people arrive mid-morning), late afternoon, or early evening.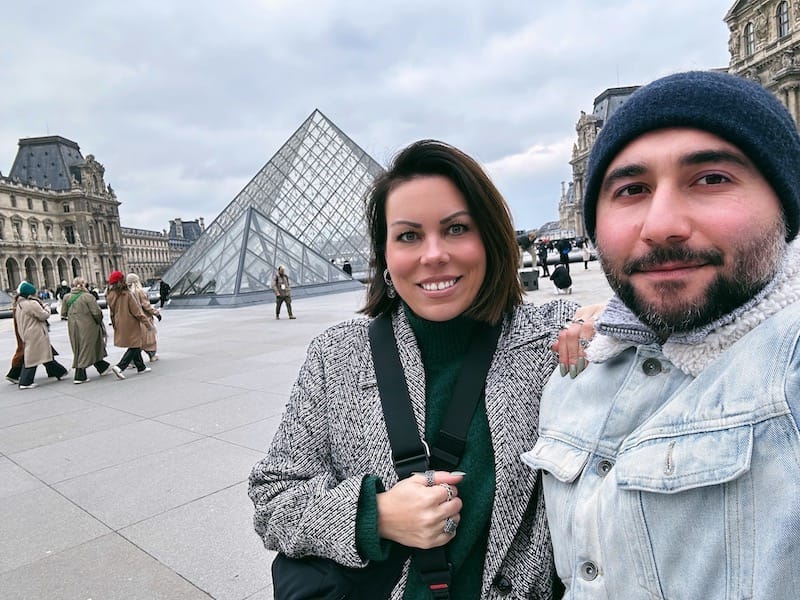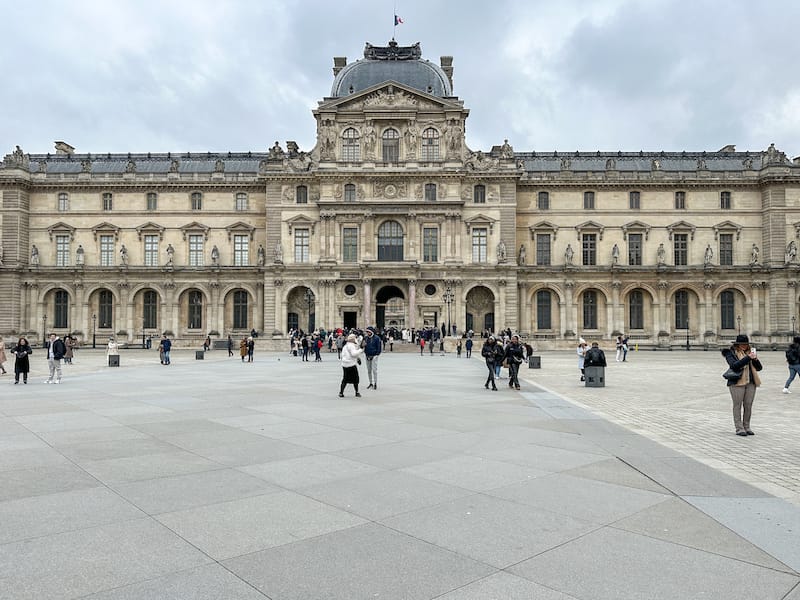 I also find these times are more manageable because the entrance areas tend to be less busy with people grabbing lunch and doing afternoon shopping, etc.
If you're looking to visit during the summer, expect the Paris museum to be at its busiest. Therefore, it is best to visit during the off-season from November until March.
🌟 GOOD TO KNOW: While early spring is 'technically' the low season for a Paris trip, many European school kids are on school break throughout this time and the museum can actually be unexpectedly crowded!
The best days of the week to visit the Louvre are typically Wednesdays and Thursdays. Fridays offer extended hours, so it is also a great option for those looking to visit!
Louvre Opening Hours (and Dates)
I will state this first because it is the most important piece of information: THE LOUVRE IS CLOSED ON TUESDAYS.
If you are booking a tour or ticket in advance, you will learn this easily.
But, if you're taking your chance and going to the museum with the hopes that you can get one of the allotted tickets the day of, you'll be super disappointed if you show up on a Tuesday.
The opening hours for the Louvre in 2023 are:
Monday: 9am-6pm
Tuesday: CLOSED
Wednesday: 9am-6pm
Thursday: 9am-6pm
Friday: 9am-9:45pm
Saturday: 9am-6pm
Sunday: 9am-6pm
The last entry into the museum is one hour before closing and the museum starts to clear the rooms and galleries out 30 minutes before closing.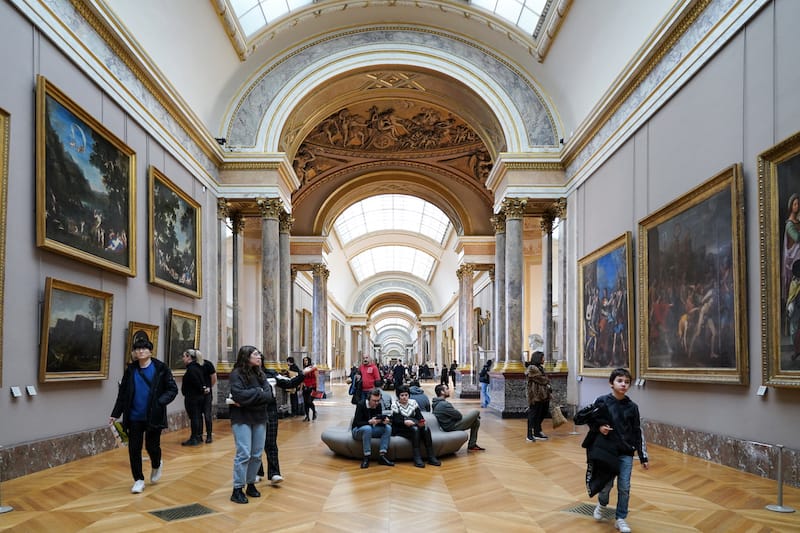 The Louvre Museum is closed on the following days:
January 1
May 1
December 25
Any public holiday that falls on a Tuesday (if it falls on any other day of the week, the Louvre remains open)
How to Get to the Louvre Museum
The Louvre is super-centralized in Paris and you can reach it by walking, car, metro, bus, taxi, or even on a bike!
Please do note that if you book a tour, you will most likely be meeting your tour guide and group at the Louvre and will need to make your way there yourself.
Getting to the Louvre by Metro
If you're taking the metro to the Louvre, you will need to get off at Pyramides (Line 14) or Palais-Royal/Musée du Louvre (Lines 1 and 7).
These are the closest Louvre metro stations to get off at, but you can easily take it to some other stations nearby and walk (and with fewer crowds).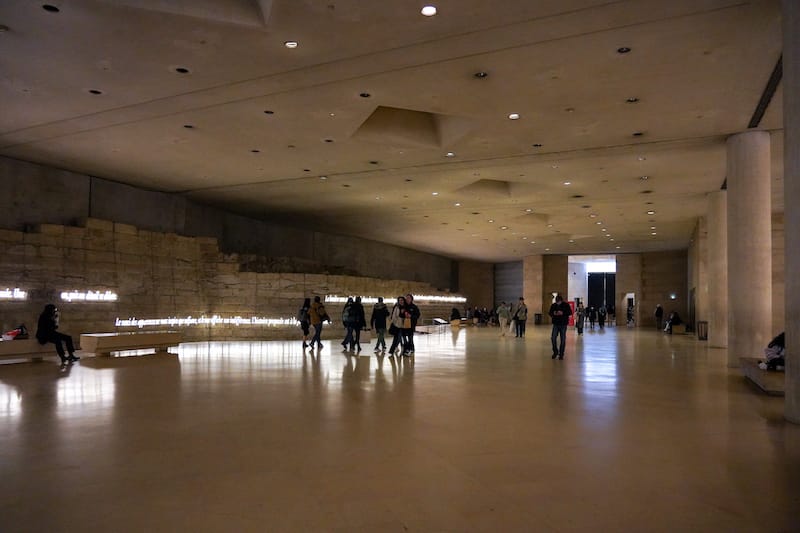 Getting to the Louvre by Bus
Several buses also take visitors to the Louvre. You can reach the Louvre by bus numbers 21, 27, 39, 67, 68, 69, 72, 74, 85, or 95.
Getting to the Louvre by Taxi
You can also reach the Louvre by taxi. I take Bolt and Uber around Paris, so that is how I tend to get around when I am not too lazy to walk… but there are also taxi stands in several places that will be a bit more expensive, but with less wait time.
If you're taking a taxi to the Louvre, it is best to get dropped off at the Carrousel roundabout area and picked up at Place André Malraux.
The area is very crowded, so this can be a bit stressful. I recommend walking away from the museum area a bit and catching a cab with an app.
Driving to the Louvre (and Parking at the Louvre)
If you're coming by car, there is a car park located underground at 1 Avenue du Général Lemonier. This will take you to the Carrousel entrance.
The Louvre car park is open from 7am-11pm daily. Those with disabilities will get a reduced rate.
Parking tariffs are kind of pricey if you exceed three hours.
Three hours of parking is €15 and then you pay the 24-hour rate which is €50. Click here to see more about parking at the Louvre.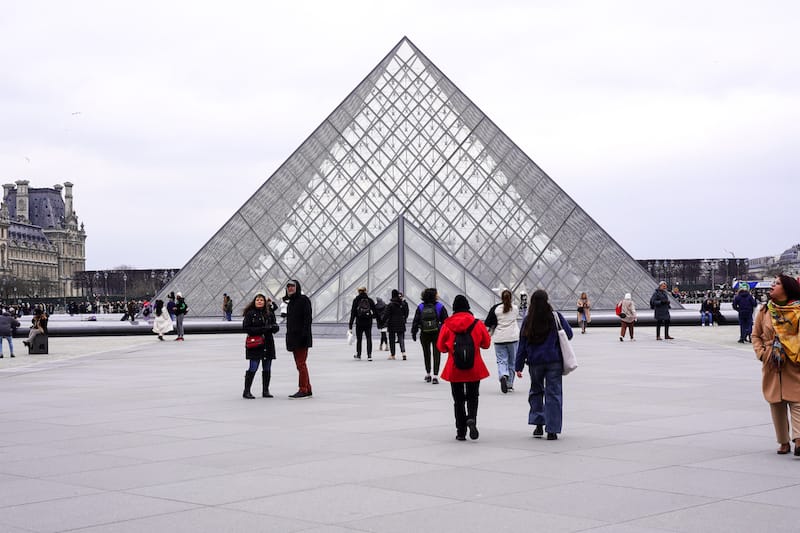 Louvre Entrances
There are 4 entrances to the Louvre. They are as follows:
Pyramid
Carrousel (99 Rue de Rivoli)
Richelieu (Rue de Rivoli)
Porte des Lions (Quai Francois Mitterrand)
💥 PRO TIP: The Pyramid is considered to be the museum's main entrance. I, personally, always use the Carrousel entrance as I like walking around the shops beforehand (and it never seems as chaotic).
Once there, you will find 4 queues for visitors:
Visitors without tickets
Visitors with tickets
Visitors with membership cards
Priority access (this includes staff and disabled visitors)
You'll be able to grab a map in your desired language around the entrance area, as well.
Do note that the English ones are often out, so if you don't have the patience to wait around for them to get restocked, download the museum app or a guide beforehand on the Louvre's official website.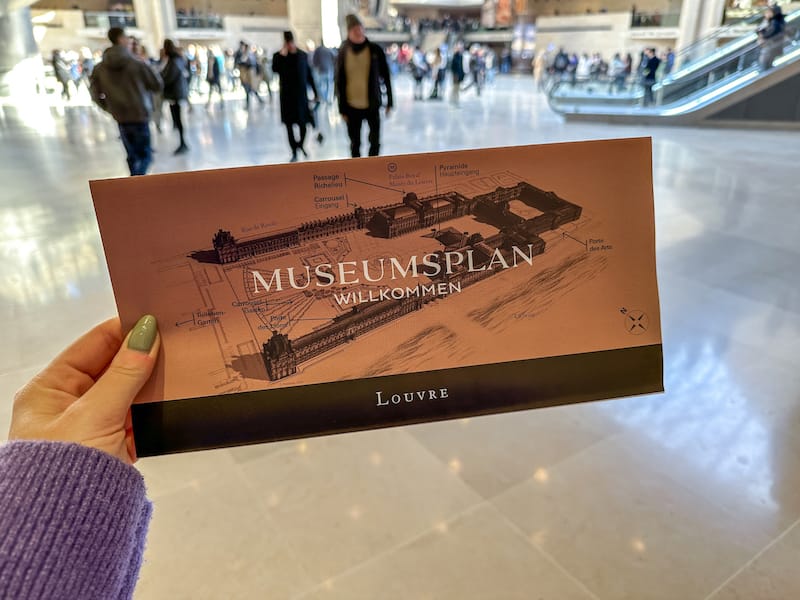 If you're looking to figure out the best Louvre entrance for you – here are some quick notes:
Visiting without a ticket: Pyramid
Visiting with a ticket: Pyramid, Carrousel, Porte des Lions
Visiting in a wheelchair: Pyramid
Visiting with a stroller/pram: Pyramid, Carrousel
Visiting with a membership card: Richelieu
Visiting with a larger group: Richelieu
Louvre Museum Accessibility Information
The Louvre Museum is accessible to all guests, but you do need to plan ahead a bit if you have disabilities or impairments. Please read more on the museum's official website.
Physical Disabilities
The only entrance that is accessible for those in a wheelchair is the Pyramid entrance.
You will get priority access once you get to the queues to enter the museum (and those accompanying you will also get priority access).
You can, technically, go through the Carrousel entrance, but it is a bit more complicated to locate the elevators.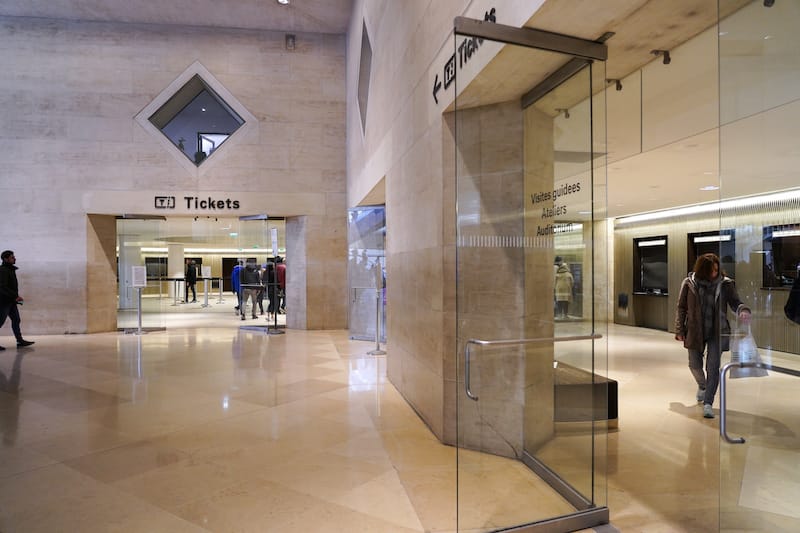 If you are visiting the Louvre and are not wheelchair-bound but have mobility issues, the museum lends out wheelchairs, folding chairs, and canes free of charge.
Inquire at the Help Desk (it is located below the Pyramid). Canes with metal tips are not permitted at the Louvre. All restrooms are disabled-friendly and accessible for all.
Visually Impaired
The Louvre offers an escort service for visitors with visual impairments. They will also escort you from the nearest metro stop to the museum. To find out more, visit the Info Desk below the Pyramid.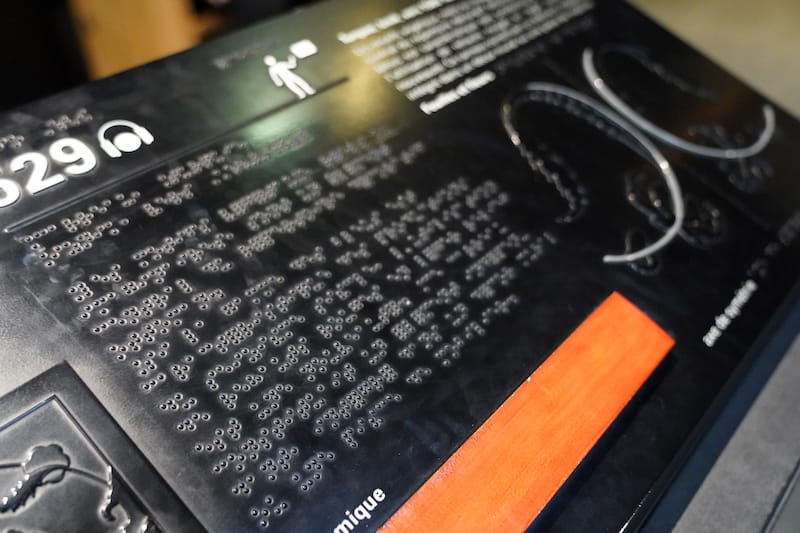 There are a few dedicated spaces within the museum that offer additional aids for those with visual impairments – you will find tactile devices in the Islamic Art collections, for example.
Hearing Impaired
The museum offers hearing loops for those with assistive listening devices. You can find them below the Pyramid.
Louvre Ticket Options
Skip-the-Line Tickets for the Louvre
If you're looking to secure your Louvre tickets, it is best to do so in advance. I would also highly, highly recommend booking a skip-the-line ticket ahead of time to avoid queues when visiting the Louvre.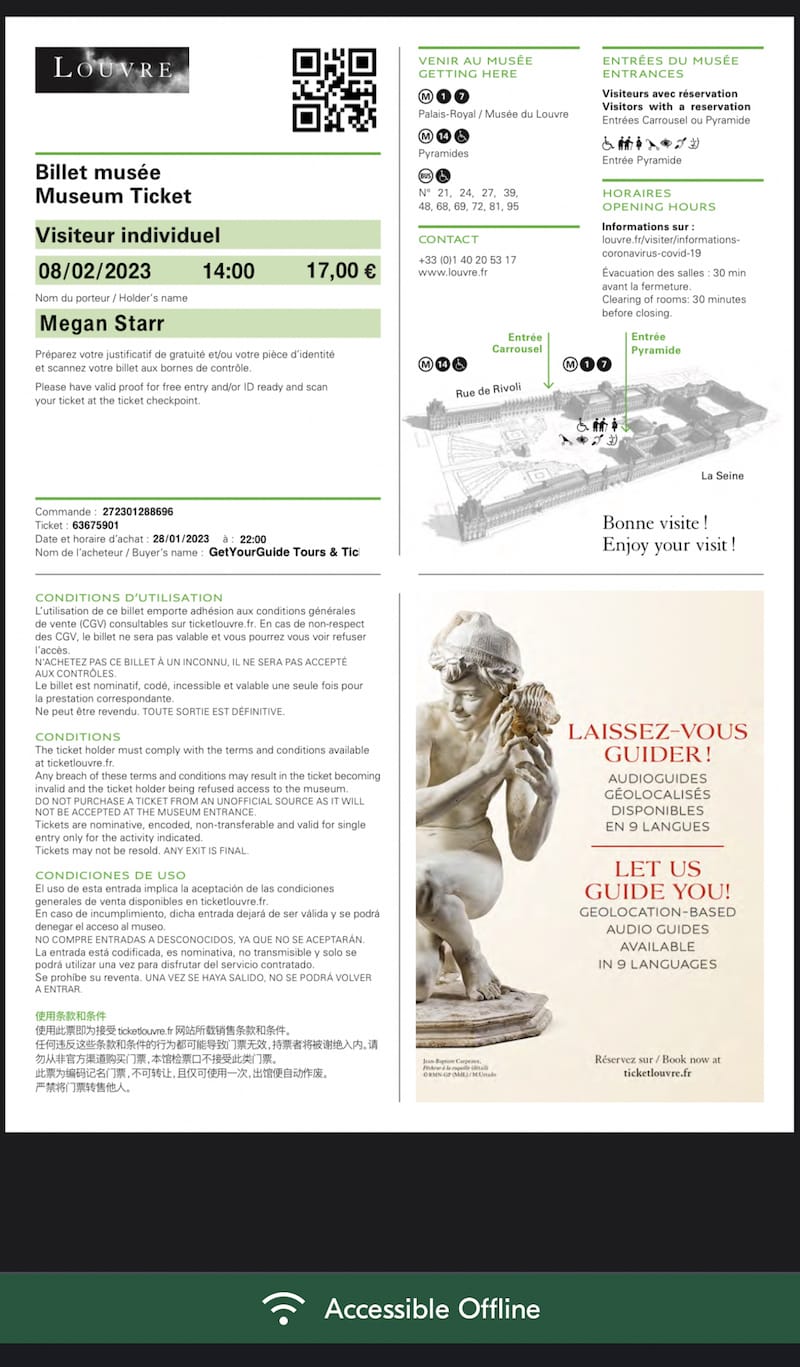 When you book your tickets online, you pay a small premium (like €2), but you are guaranteed a time which is the most important thing over the small increase in the Louvre ticket price (trust me!).
If you show up on the day to visit, there are a limited number of slots and you may not get a chance to actually see the museum at all.
BOOK HERE: Skip-the-line Louvre ticket
Those under 18 years old (with ID) can access the museum for free. And those that are 26 and younger and are a resident of an EEA country can also get tickets to the Louvre for free.
Free entry is also permitted for art teachers, artists affiliated with the Maison des Artistes or AIAP, ICOM/ICOMOS members, journalists (with national or international press cards), job seekers, people in income support, and disabled visitors (as well as the person accompanying them).
Here are the best options for purchasing a ticket to the Louvre:
Please note that if you opt to take your chances and buy a ticket at the Louvre on the spot, they no longer take cash as a payment, so have your card ready.
Also, it is good to know that you can not re-enter the museum on the same ticket if you have exited with it (unless you purchase a ticket that allows multiple entries).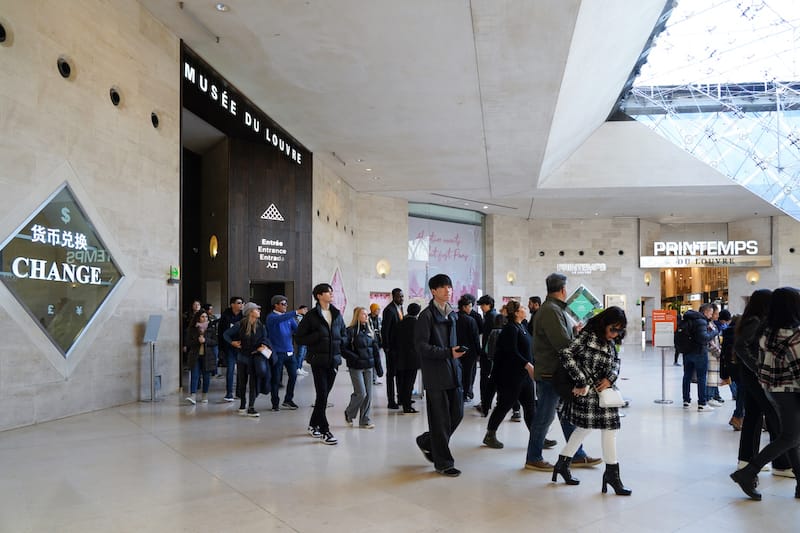 Your ticket to the Louvre Museum gives you access to all permanent and temporary exhibits in the Louvre and the Musée National Eugène-Delacroix if you visit within 48 hours of first use of your ticket (otherwise the museum is €7).
The Tuileries Gardens are free to visit.
Louvre Tour Options
You have a few options when going to the Louvre – you can do so independently, or with a guided tour.
I have only ever gone independently and created my own Louvre self-guided tour as I don't like to be rushed, but now I kind of wish I had gone with an actual tour guide so I knew a bit more about what I was looking at (and could ask questions)!
Taking a guided tour of the Louvre allows you to hit up the most famous paintings in the Louvre (and sculptures!) while gathering the insight and knowledge behind each of them.
It also means that you won't have to spend hours scouring around the vast museum trying to find your way to those pieces of art!
BOOK NOW: Guided tour of the Louvre
You will get priority access with your skip-the-line ticket and will be able to spend 2 hours with an expert to learn more about what you're seeing.
The tour is offered in six different languages – including English, Spanish, Italian, German, French, and Portuguese.
Some of the highlights of the Louvre tour include seeing Napolean's apartment decor, the Mona Lisa, Venus de Milo, and the Egyptian sphinx and mummies.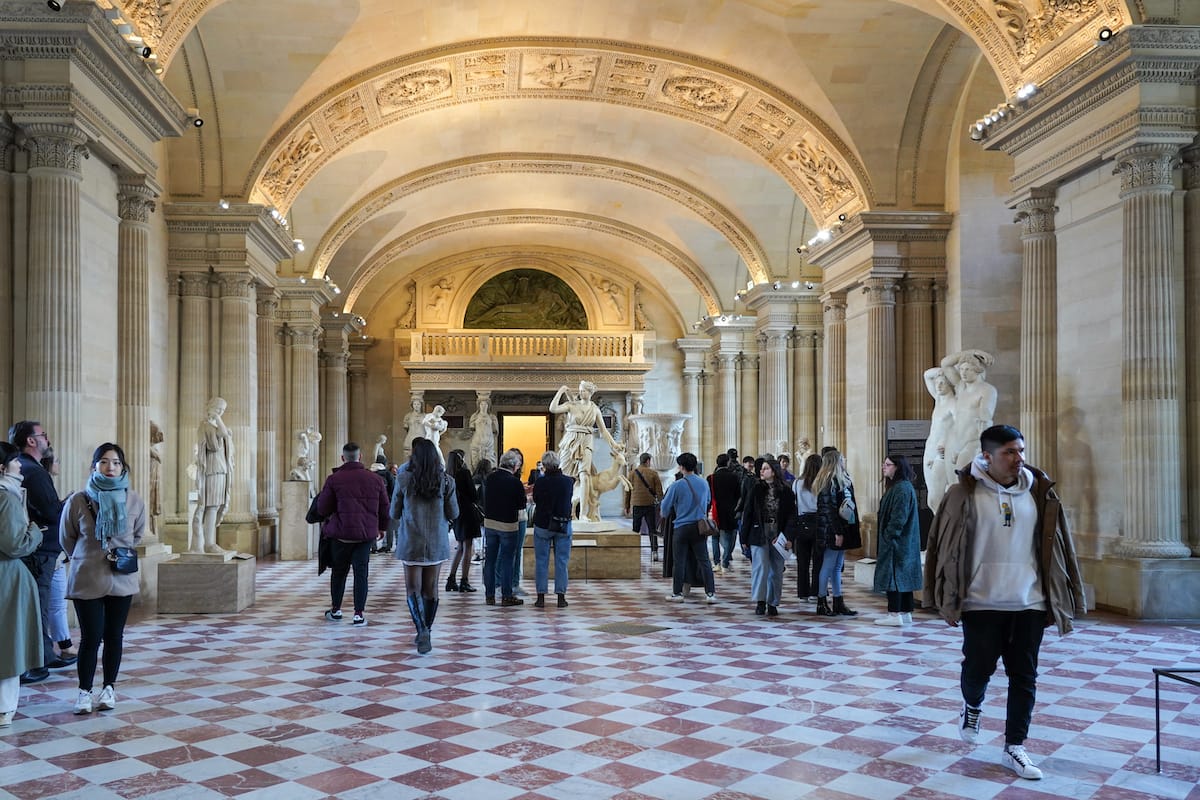 If you already have a ticket to the museum or are a museum pass holder, you can book this cheaper. The tour also includes a headset.
>> Click here to book a guided tour of the Louvre
Helpful Tips for Visiting the Louvre
I have visited the Louvre multiple times and here are some of my top Louvre tips to make your trip a success!
1. Wear comfortable walking shoes. This seems like the most repetitive thing to tell travelers over and over on my guides, but I seriously can not stress this enough! This museum is HUGE and you will do a lot of walking.
2. Download the museum map beforehand. You can always grab one when there, but the English language one was out each and every time I checked for it.
I grabbed the German version, which was fine, but it would have been much easier to have downloaded the museum map on my phone in the first place.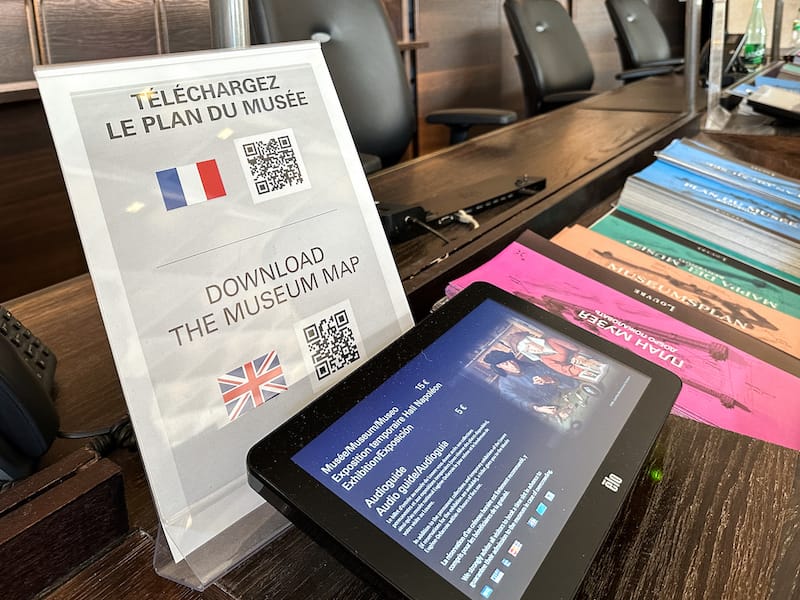 Museum maps are available in 7 languages if you get one at the museum. You can download the online version here.
3. Don't bring a lot of stuff with you. There are lockers on-site, but they are not huge and bringing a lot of stuff will only be more annoying than anything else.
Also, don't bring too many heavy things around the museum with you or you'll be stuck toting them around all day.
4. As noted above, book your ticket and time slot at the Louvre ahead of time.
The museum is packed during the high season (and even in the low season) and this ensures you a spot on your desired day.
BOOK HERE: Skip-the-line Louvre ticket
5. If you want to purchase souvenirs from the Louvre, you can do so at the shop and library in the museum.
However, if you have limited luggage space, you can actually order many things online at the official Louvre boutique shop! While they do not ship to every country, they do ship to several, so be sure to check online beforehand.
6. Be sure to visit the Tuileries Gardens. These gardens are free of charge and are exquisite!
They are open in the low season (last Sunday in September until the last Saturday in March) from 7:30am-7:30pm and open during the high season from the last Sunday in March until the last Saturday in September from 7am-9pm.
During the summer months (June, July, August), they are open for extended hours from 7am-11pm. These times are subject to change on public holidays.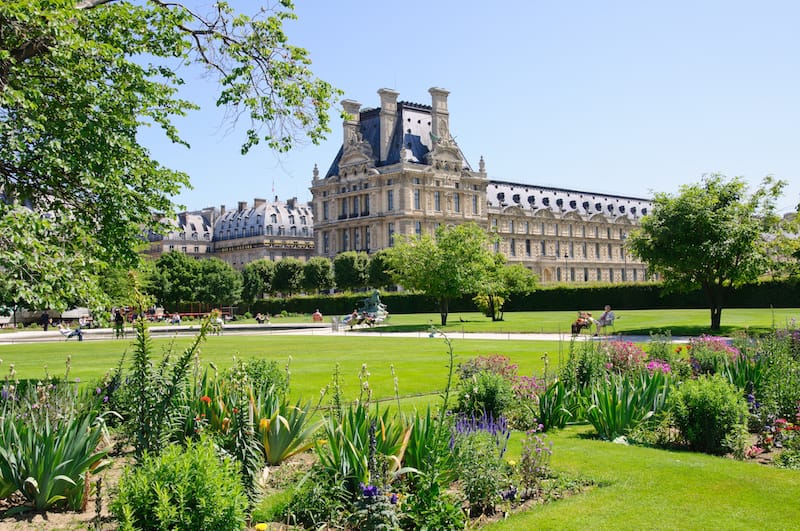 7. Many people do not realize that the Louvre ticket is actually a combined ticket with the Musée Eugène-Delacroix.
You will have access to this museum located at 6 Rue de Furstenberg within 48 hours of the first use of the ticket. It is worth checking out!
8. Forego lunch at the restaurants and cafes at the Louvre. I definitely think it is best to eat before coming or to bring your own snacks (including water!) with you.
While you can't eat in the galleries themselves, there are plenty of benches and spaces throughout where you can snack and not pay an arm and a leg for food and drinks.
🥐 INSIDER TIP: You can find some pretty good French food near the Louvre at Le Louvre Ripaille (1 Rue Perrault). They offer retro stylings, escargot, and delicious wines! The are open for lunch and dinner only.
9. Beware of pickpocketers in the museum and the metro stations nearby.
I have only ever had an issue at the Eiffel Tower metro stops but I do know it is a common thing in most public areas in Paris (and all larger cities around the world).
10. There is a security checkpoint, of course, at the Louvre. I find that the Carrousel entrance tends to be the best place to go through as I have never had to wait in line long at this entrance.
11. There is wifi at the Louvre for those who do not have service or an EU data plan. Just connect to 'Louvre_Wifi_Gratuit' when you're inside.
12. Rooms like the one the Mona Lisa is in (Room 711 in the Denon Wing) are best visited later in the day.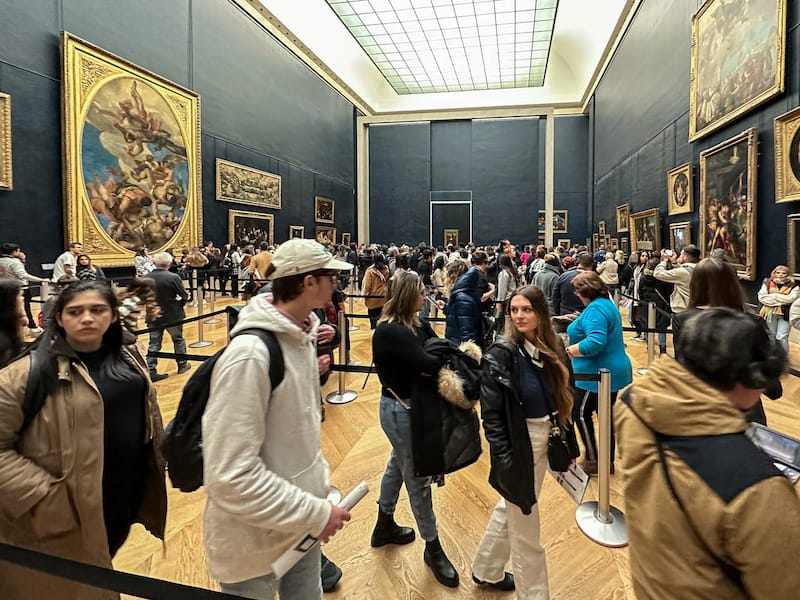 While I don't encourage you to just show up for an hour before closing, I do think it is best to plan the lesser-visited areas of the museum (ie. Richelieu Wing) during the afternoon and head to the popular places in the Denon Wing later in the day.
Louvre Museum FAQ
Can you change your Louvre ticket time?
If you've purchased tickets to the Louvre and need to change your ticket time or postpone the date, you can do so directly on the website (under the 'My Orders' tab) where you purchased them, or with Get Your Guide (where I purchased mine from!).
Be sure to wait for your newly confirmed ticket to ensure everything worked and is saved in the system.
BOOK HERE: Skip-the-line Louvre ticket
Can you bring food to the Louvre?
Yes, you can bring water and small snacks inside with you. But, do not eat them in the gallery rooms or around any of the artwork, of course.
You can also check out the restaurant in the mezzanine of the Louvre if you fail to bring something!
I would recommend bringing a water bottle and filling it up once inside, rather than toting around plastic water bottles. France is pretty good about having water fountains dispersed in public areas, and even in museums like the Louvre.
Do you need to buy Louvre tickets in advance?
Technically, no. But, you risk not being able to get one of the few tickets available on-site daily. I would never risk this on a trip to Paris. You can buy your Louvre tickets here.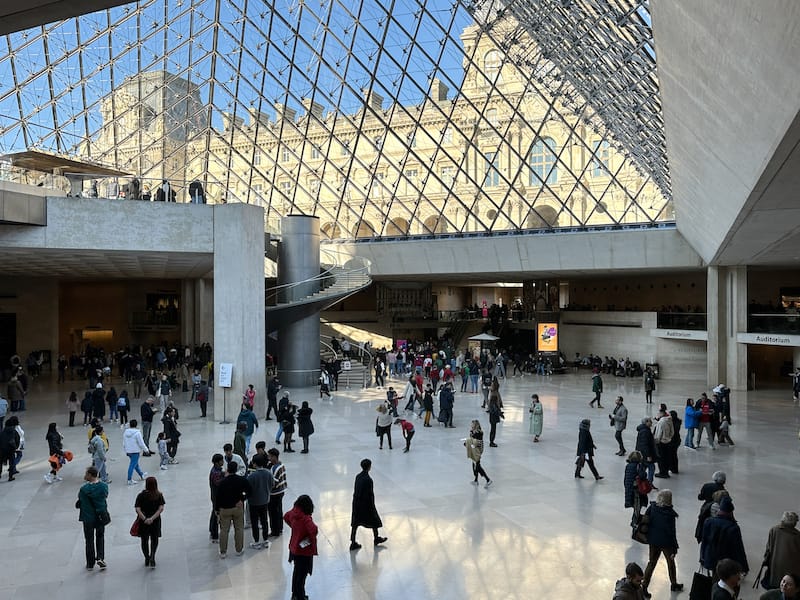 How long do you need at the Louvre?
To be honest, this will vary from person to person. I would recommend at least 3 hours minimum to visit the Louvre.
This allows you to still enjoy some of the best day trips from Paris (and half-day trips) like Versaille.
Can you bring backpacks to the Louvre?
Yes, if it is small. Otherwise, you will need to leave it in the luggage lockers underneath the Pyramid.
Are luggage lockers free in the Louvre?
Yes, luggage lockers are free and whatever you store in the must be collected the same day. Items exceeding 55 x 35 x 20 cm will not fit into the lockers and are not permitted inside the museum.
Do not bring suitcases to the Louvre.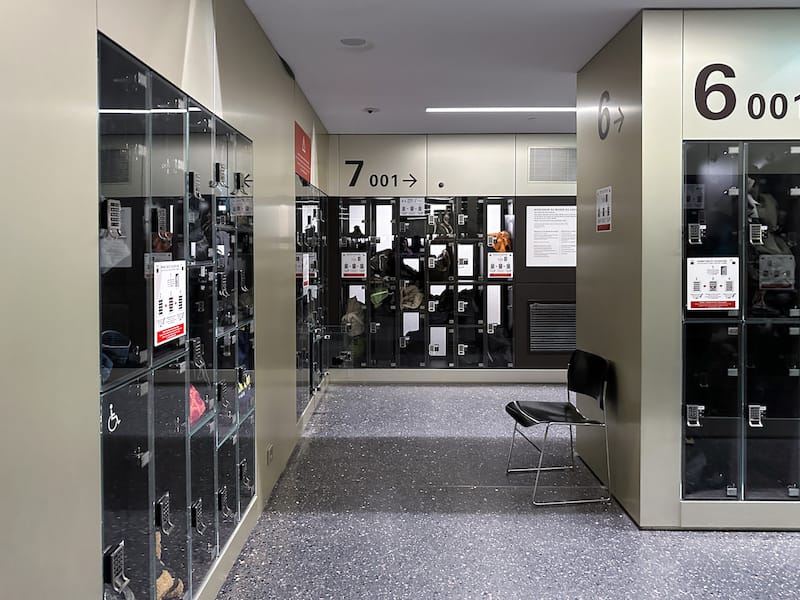 What is the Louvre dress code?
Your usual clothes will be fine. But, do realize that the museum is crowded and you may get hot if you wear too much clothing! Also, wear comfortable shoes.
You can leave your jacket behind in the lockers if you're visiting Paris in winter and don't want to tote it around.
Can you take pictures in the Louvre?
You are permitted to take photos and videos in the Louvre's permanent collections as long as you are using them for personal reasons.
Selfie sticks, flash, or lighting are not permitted inside the museum.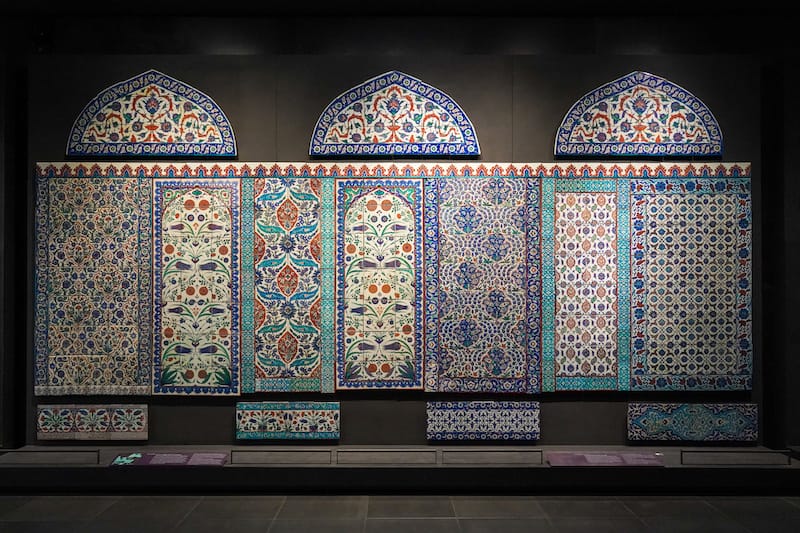 Some temporary exhibits also band photography and videography. Keep an eye out for signs indicating this!
Can you take pictures of the Mona Lisa?
Yes, you can take a photo of the Mona Lisa. But, you will need to wait your turn!
Other Places to Visit Near the Louvre
If you're looking to add on a few other places to visit near the Louvre, here are some of our favorites:
Notre Dame Cathedral (1.4km) – still under construction but worth the walk over to check it out.
Musée d'Orsay (1km)
Tuileries Garden (800m)
Place Vendôme (950m)
Palais Garnier (1.3km)
Best Hotels Near the Louvre
If you're looking to stay near the Louvre, you'll find plenty of accommodation close by.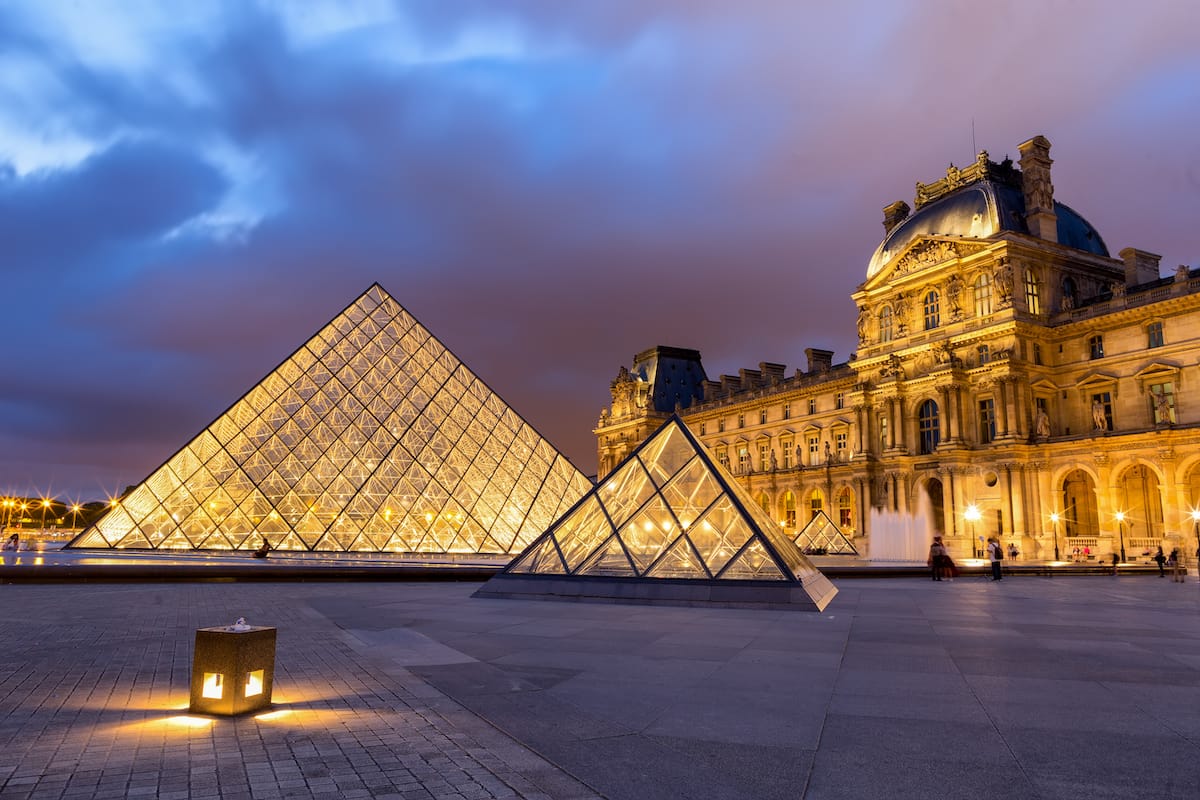 But, be warned that this is a very touristy area (and not too far from other main Paris attractions), so it will not be the cheapest area to stay in.
Here are some of the best hotels near the Louvre:
Did we miss anything you'd like to know about visiting the Louvre in 2023?
Let us know your Louvre travel tips, questions, concerns, or tricks in the comments! Thanks!
More Paris (and France) Travel Guides
Pin this Louvre Travel Tips Guide