Are you looking for the best small towns in France to add to your bucket list? Keep reading because we've got you covered!
Below, we have gathered a lot of our friends and fellow bloggers to ask what their favorite French town is, including what to do in each and where to stay when there!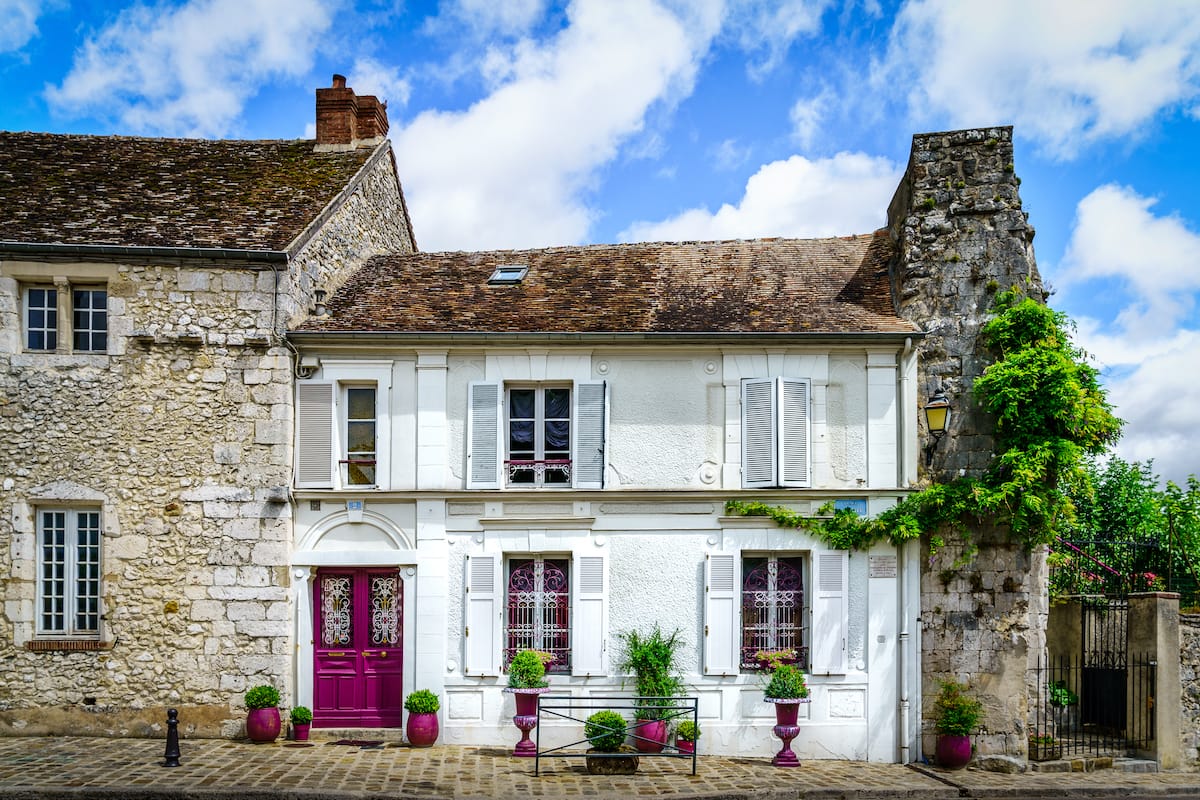 Did we miss any charming small towns and villages in France? Let us know your favorites in the comments!
Best Small Towns in France (+ Villages!)
1. Langres
Contributed by: Leyla of Offbeat France
Langres may be a small town, but it has a lot of superlatives.
It has the longest continuous ramparts in Europe (including a 3.5km path) and has been voted France's best-walled city, which is not bad for a country filled with walled medieval towns.
Walking along the ramparts is fun, but there's a lot more to do here.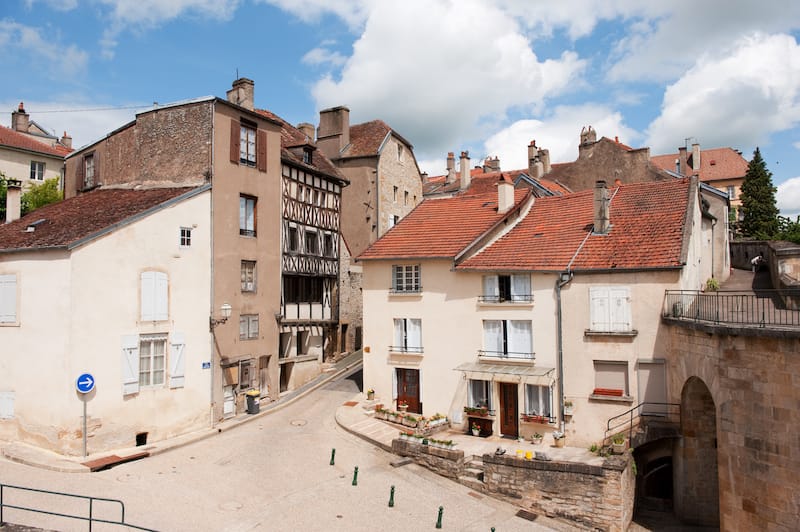 Langres has several architectural gems worth seeing, with houses dating back to the Renaissance.
For a town this size (well under 10,000 inhabitants), it has two major museums: the Museum of Art and History, built around a 12th-century chapel, and the Maison des Lumières, France's only museum dedicated to Denis Diderot, star of the Enlightenment and co-author of the Encyclopedia, the 18th-century compendium of all knowledge believed to be available to humanity.
While you're here, please do taste some Langres cheese (it may be smelly, but its taste is smooth and rich), and if you're spending the night, there's only one place for you: Hotel de la Poste, the oldest hotel in France.
2. Amboise
Contributed by: Lisa of Waves and Cobblestones
Amboise is one of France's charming small towns, with an amazing location in the heart of the picturesque Loire Valley.
The Loire Valley is filled with fabulous châteaux, and Amboise is no exception. Visit the Château Royal d'Amboise and marvel at the incredible architecture of this royal residence.
The Château du Clos Lucé was home to Leonardo da Vinci for several years. Be sure to explore the gardens — they contain working models of many of his engineering inventions and designs.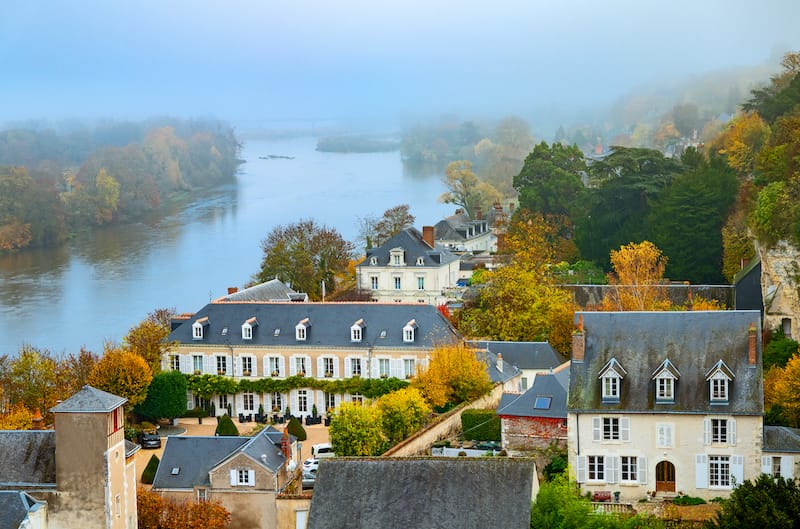 Amboise is a great home base for visiting the most famous châteaux in the Loire Valley, such as the Château de Chenonceau and the Château de Chambord.
Splurge on an unforgettable Loire Valley hot air balloon ride and glide over iconic châteaux. You'll feel like you're in a fairy tale!
Stay at the Hôtel Le Manoir Les Minimes. This 5-star hotel is located on the banks of the Loire River and has amazing views of the Château Royal d'Amboise.
​​3. Riquewihr
Contributed by: Editor's Choice
Riquewihr is one of the most beautiful and best-preserved medieval towns in the Alsace region in eastern France!
It is on the Alsatian Wine Route, which is especially famous for its white wines, so make sure you stop at one of the many small vineyards, such as Domaine Dopff au Moulin, for a fantastic wine-tasting experience.
In town, stroll through the small but picturesque streets past colorful buildings, and make your way to the main street, Rue du General de Gaulle.
This will lead you to the Dolder, the belfry and watchtower, and the Dolder Museum, which showcases historical artifacts from the town's long past.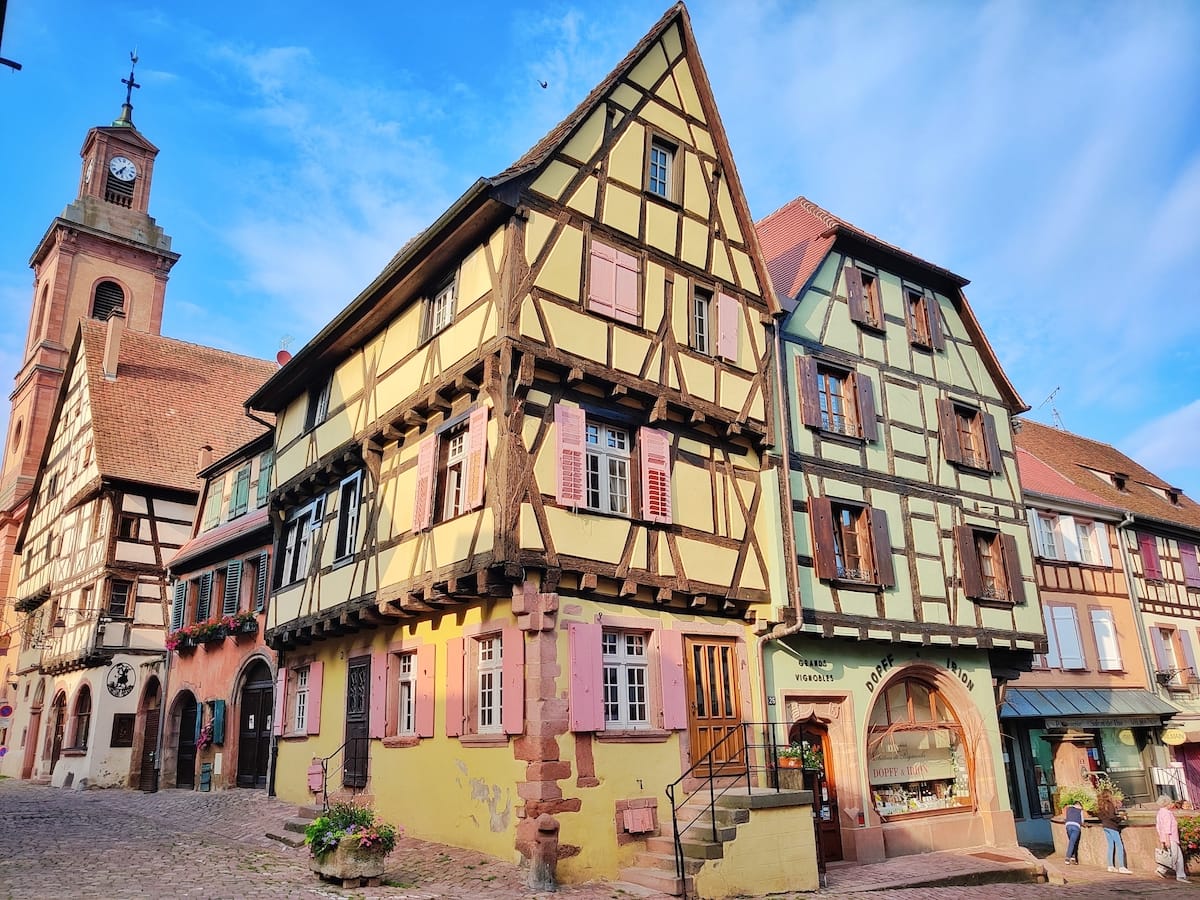 Don't miss exploring the city's ramparts, which are in two parts: the first fortification was built in the 13th century, and the second in the 16th century.
Before leaving, taste some of the regional dishes such as tarte flambee, choucroute, spaetzle, and cordon bleu.
If you're looking for a place to stay, opt for Le B. Suitees, Chambres & Restaurant. It is located in the heart of the town and has two on-site restaurants.
This is a great place to visit if you're traveling to Strasbourg and looking for a cute town nearby.
4. Cassis
Contributed by: Jo of World Wild Schooling
Cassis is a picturesque fishing town in southern France famous for its crystal-clear waters and traditional architecture.
The charming Port of Cassis is filled with pastel-colored houses, quaint boats, and luxurious yachts. Don't limit yourself to the port; the Old Town's narrow streets are worth exploring too.
When visiting Cassis, you'll enjoy some gorgeous beaches, such as Plage de la Grande Mer and Plage du Bestouan.
However, the real gem in Cassis is the Calanques. Choose between a hike or a boat tour to the three best of them, Calanque de Port Miou, Calanque de Port Pin, and Calanque d'en Vau and marvel at the scenic views.
For the most impressive views of the Mediterranean Sea, make your way to Cap Canaille, France's highest sea cliff.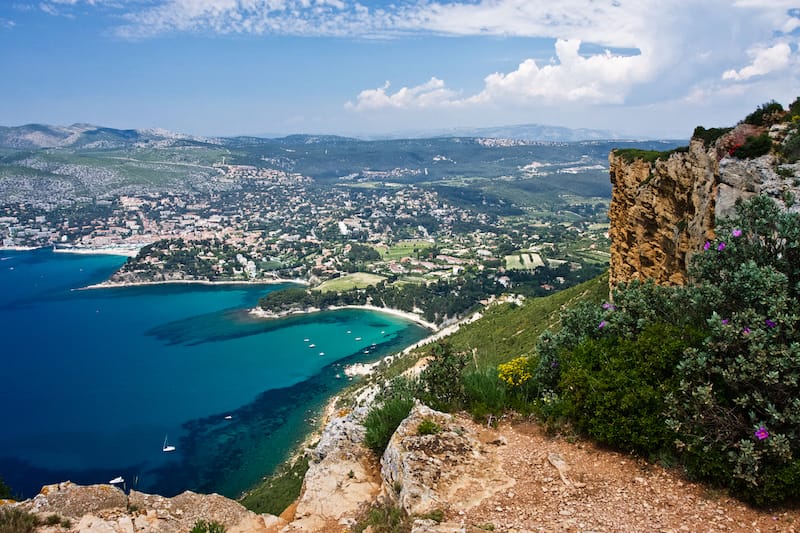 When you are in southern France, experience the local culture firsthand by strolling through the bustling markets with fresh produce.
The Cassis weekly market is held every Wednesday and Friday morning at Place Baragnon in the historic center.
If you are a wine enthusiast, you can't miss tasting the local wines of Cassis and a visit to a local winery, such as Clos Sainte Magdeleine.
For fine dining, visit the Michelin-starred La Villa Madie, and for seafood, visit La Nonna D'oro right at the port.
For accommodation, the Hotel Les Roches Blanches Cassis in the town center offers an outdoor pool with sea views and luxurious rooms.
5. Chartres
Contributed by: Chris of Explore Now or Never
Just southwest of Paris, Chartres is world-famous for its Notre Dame Cathedral.
Pilgrims have been visiting Chartres since the 12th century to walk the labyrinth in the long, deep nave of the church and peek at a silk relic of the Virgin Mary's veil.
The cathedral is the main attraction here due to its vivid stained glass featuring the color known as "Chartres blue".
For a unique experience, visit during the Festival of Light, when a colorful montage of lights is projected onto the cathedral at night. In 2023, this event takes place on September 16.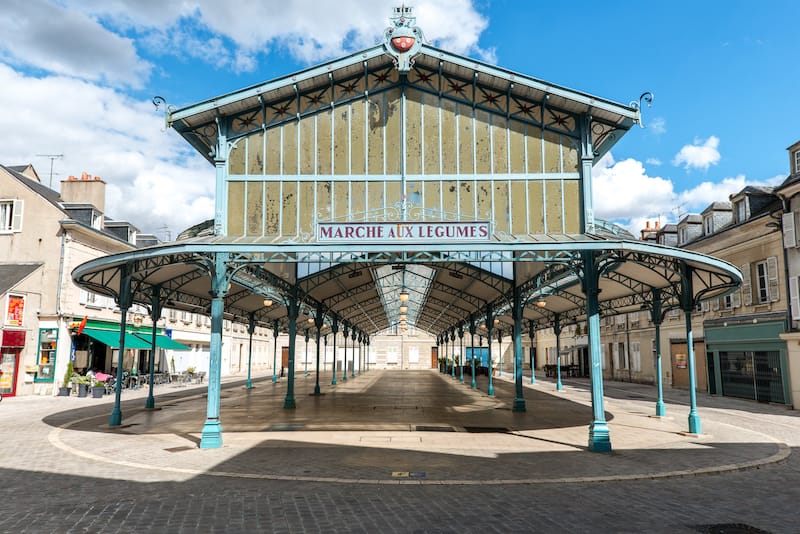 Beyond seeing the cathedral, you'll also want to leave time for wandering La Mason Picassiette, a historic home covered with intricate mosaics, and to ogle the traditional Normand-style timbered homes that line the scenic cobblestone streets here.
Be sure to stay centrally for walkability; Jehan de Beauce makes a great choice with its on-site restaurant and renovated 1930s vibe.
Epicureans should reserve ahead at Restaurant Le Georges for a memorable and traditional French meal.
Cafe Serpente, just across from the cathedral, makes the perfect spot for a coffee or glass of wine with a view.
6. Hautvillers
Contributed by: Editor's Choice
Hautvillers, a quaint little village in the Champagne region, is known best as the home of Dom Perignon, a monk born in the 17th century who played a vital role in the development and popularization of the region's sparkling wine.
Visit the Abbey of Hautvillers to learn more about the development of champagne and to see Dom Perignon's grave. It is an essential if you're spending a weekend in Champagne country (or longer).
Take a stroll through the charming old streets of the town and admire the gorgeous views over the region, as Hautvillers sits at the top of a little hill.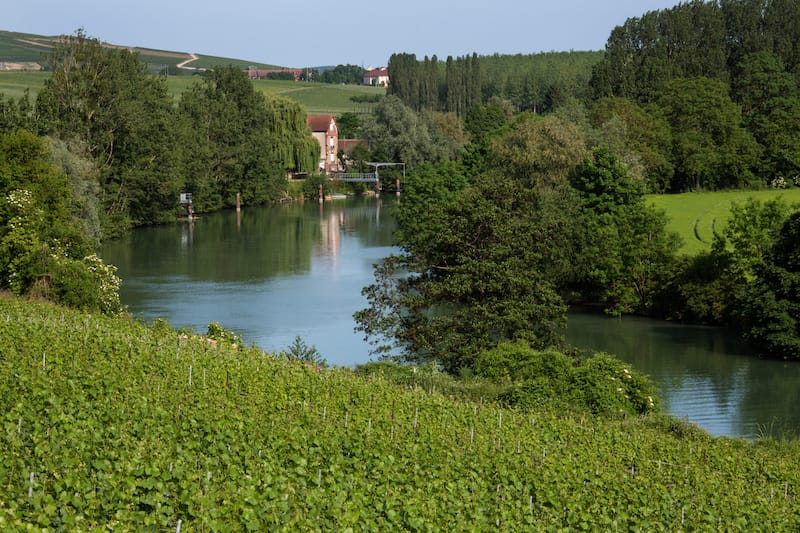 There are also quite a few family-run wineries where you can enjoy a champagne tasting, with Champagne Marion-Bosser, Champagne Fernand Lemaire, and Champagne Joseph Desruets included in the many options.
Hautvillers is in an area of natural beauty, so take some time to explore the lovely forested area on trails such as the Monks' Circuit or the Pic Noir.
There are not many options for places to stay in Hautvillers due to its small size, but the nearby Royal Champagne Hotel & Spa is a fantastic option for a luxury stay in Champagne country!
7. Saint-Jean-Cap-Ferrat
Contributed by: Sarah of CosmopoliClan
The most exclusive destination on the French Riviera is also very much under-the-radar.
Unlike flamboyant Saint-Tropez and swanky Cannes, Saint-Jean-Cap-Ferrat is all about understated luxury and discrete indulgence. This chic peninsula town is where the wealthiest unwind in complete tranquility.
Tucked away in the verdant hills and overlooking idyllic bays are their luxurious estates. Other visitors prefer to retreat at the ultra-upscale Grand-Hotel du Cap-Ferrat.
The picturesque town center of Saint-Jean-Cap-Ferrat is home to an enchanting marina, and the bay is dotted with exclusive yachts.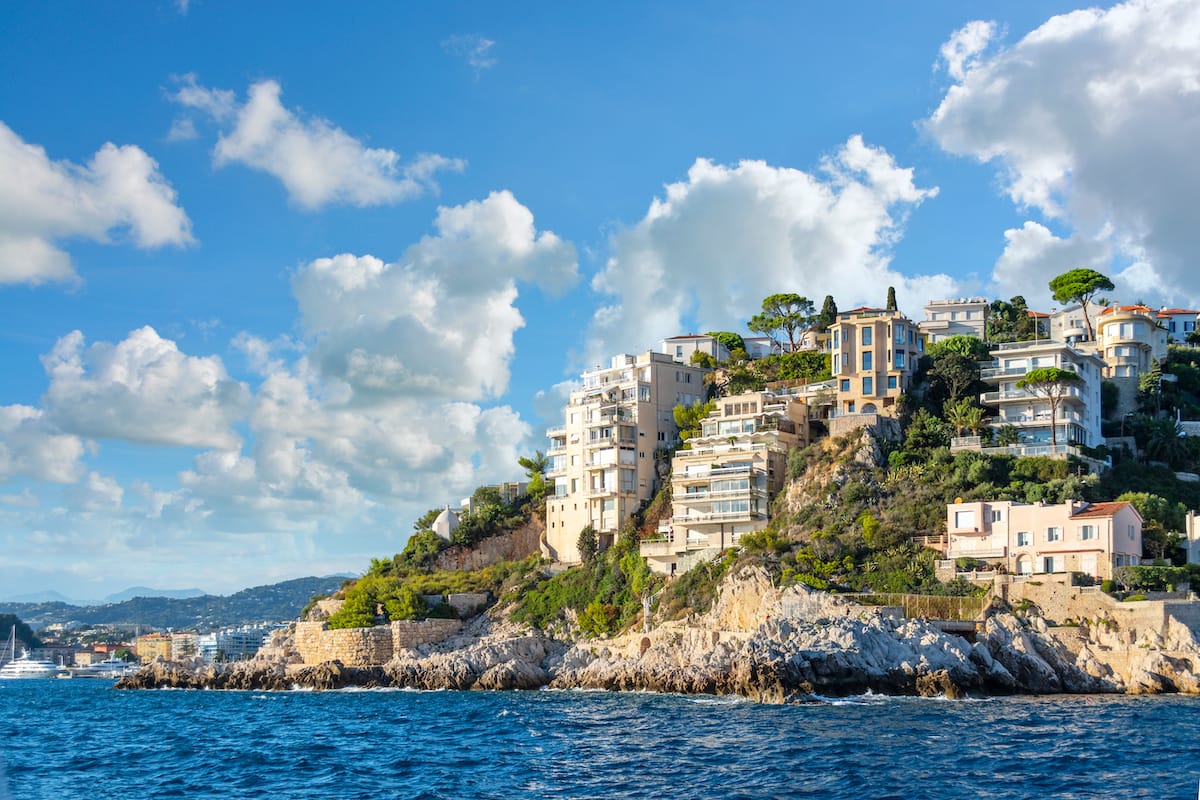 The handful of streets that make up the center are lined with bakeries, boutiques, and seafood restaurants (Mademoiselle, for one).
Saint-Jean-Cap-Ferrat's history is one of aristocrats and artists. The most iconic beach in Saint-Jean-Cap-Ferrat, Paloma Beach, was named after Picasso's daughter.
And Villa Santo Sospir, also known as the Tattooed Villa, is filled with sketches by Jean Cocteau.
But Saint-Jean-Cap Ferrat's main highlight is the emblematic Villa Ephrussi de Rothschild with its grandiose gardens that overlook the bays of Villefranche-sur-Mer and Beaulieu-sur-Mer.
8. Saint-Malo
Contributed by: Faith of XYU and Beyond
The rugged shores of Saint-Malo, Brittany was the starting point for pirates and adventurers who roamed the seas looking for gold and new lands to conquer.
During WWII, the town of Saint-Malo was almost entirely destroyed due to fierce bombing, but the place was rebuilt from the ground up and restored to its medieval splendor over a 12-year period.
The Old Town, or Intra Muros, is surrounded by ancient ramparts that enclose the town and St. Malo Castle, and you can walk the entire route, taking in superb views of the beaches and islands.
St. Malo Castle was built in 1424 and was stormed during the French Revolution, but these days it houses the Town Hall, the Museum of History of Saint-Malo, and the Museum of Ethnography.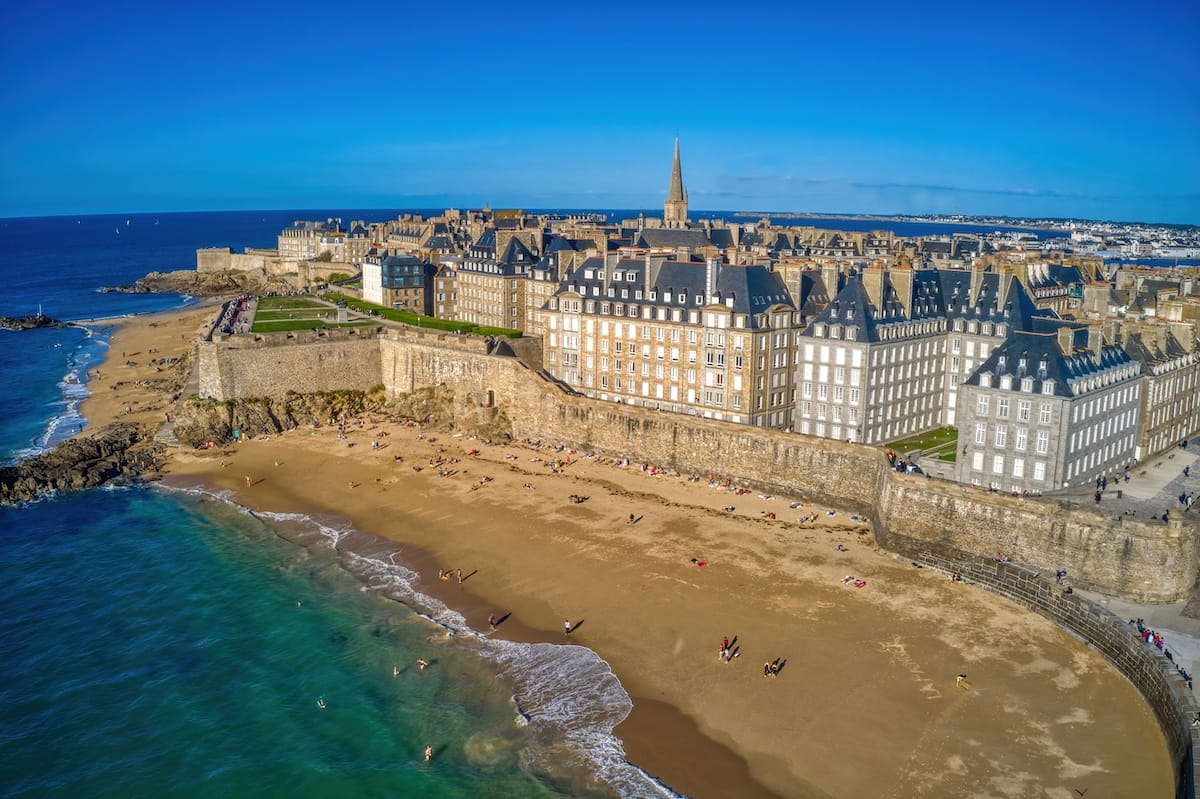 The ramparts of St. Malo are made up of towers from the 14th through the 15th centuries and curtain walls and bastions from the 17th and 18th centuries.
When walking the ramparts, you can see the town's cobbled streets, medieval houses, and beautiful views of the golden sands and the port.
From the ramparts, you can see the Gothic Saint-Vincent Cathedral, where you can visit the great explorer Jacques Cartier's tomb and admire the stained glass windows and fine gargoyles.
Foodies will want to buy some of the world's best handmade butter at Maison du Beurre Creamery and stop for an amazing lunch.
The best place to stay in Saint-Malo is the Hôtel de France et Chateaubriand, a historical monument in the heart of Saint-Malo.
9. Chamonix
Contributed by: Editor's Choice
Chamonix is a beautiful little village perched in the Alps, offering access to this beautiful mountain range and its most famous peak, Mont Blanc.
You don't need to be a super fit mountain climber to enjoy the views from Mont Blanc; take the cable car to the summit and enjoy the view!
L'Aiguille du Midi also offers unparalleled 360-degree vistas that can be easily reached with a 20-minute cable car ride from Chamonix. Visit the Mer de Glace, France's largest glacier, where you can hike around and get a glimpse inside the glacier in the Grotte de Glace, a 100-meter-long cave.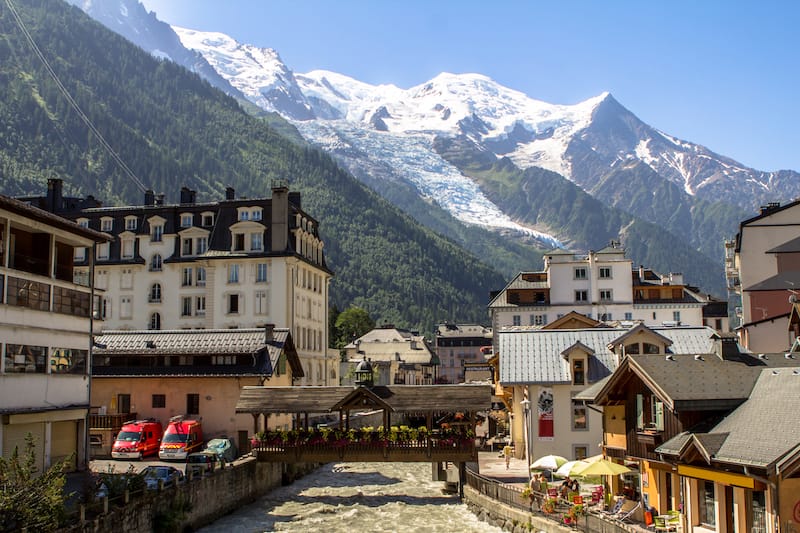 In town, don't miss the interesting Crystal Museum, featuring crystals and minerals from the surrounding regions.
If you visit in the winter, make sure you try the classic cold-weather dish raclette, a delicious cheese that is melted over potatoes and other garnishes.
There are plenty of beautiful places to stay in Chamonix, but a top-rated option is definitely Chalet-Hotel Hermitage, where you'll be merely a 5-minute walk from the train station and can enjoy stunning views of Brevent and Mont-Blanc.
10. Quiberon
Contributed by: Soline of On the Road Diary
Located on the south coast of Brittany, the town of Quiberon is at the very tip of the peninsula and could almost be an island. It is a nice town that gets pretty animated in the spring and summertime.
It has picturesque cobbled streets, beach volleyball games, famous ice cream corners, and summer clothing shops.
You can also get a great taste of French cuisine at the Michelin-starred restaurant Le Petit Hôtel du Grand Large.
The drive to Quiberon is pretty scenic. First, you will pass the Isthme de Penthièvre, where you can see the ocean on both sides of the road.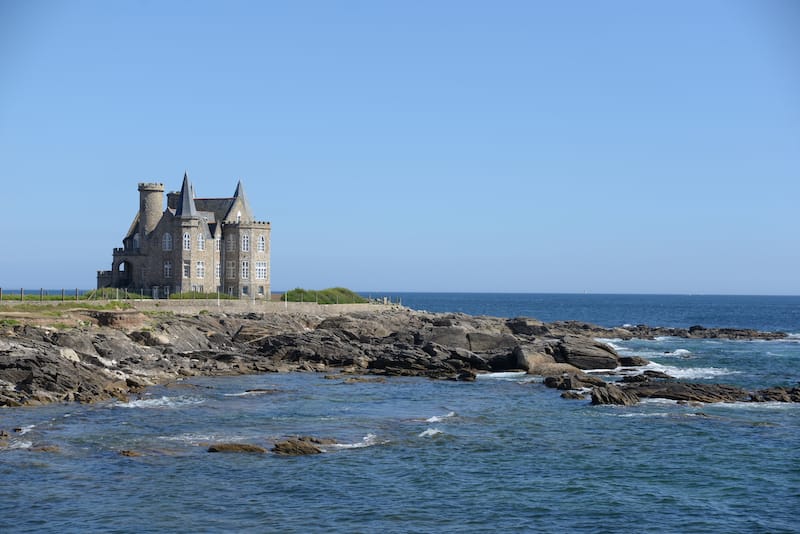 Only 22 meters wide at its narrowest point, it links the Quiberon peninsula to the mainland.
Then, for around 20 to 25 minutes, you will drive along a stunning coastline called the Côte Sauvage, which means wild coast.
It is recommended to stop to see the impressive cliffs, the pierced rock, and the beautiful secluded beaches!
You can stay at the Best Western Hotel Le Bellevue in Quiberon, a nice hotel with a swimming pool only 150 meters from the beach.
11. Provins
Contributed by: Esther of Dreams in Paris
When you think of small towns in France, one that cannot go unmentioned is Provins, located just 90km (55 miles) from Paris.
A medieval town that has maintained its original charm, Provins still stands out for its fortifications that were once used for defense! Today, they tell a story of the town's past.
While in Provins, start by strolling the cobblestoned streets to take in the beauty of the half-timbered houses and later visit the underground passages (Les Souterrains de Provins) that were prominent for trading during the Middle Ages.
However, the highlight will be climbing Cesar Tower to take in the views of Provins and see the bells of the nearby church, Eglise Collégiale Saint-Quiriace, and the rooms that were once used as prison cells.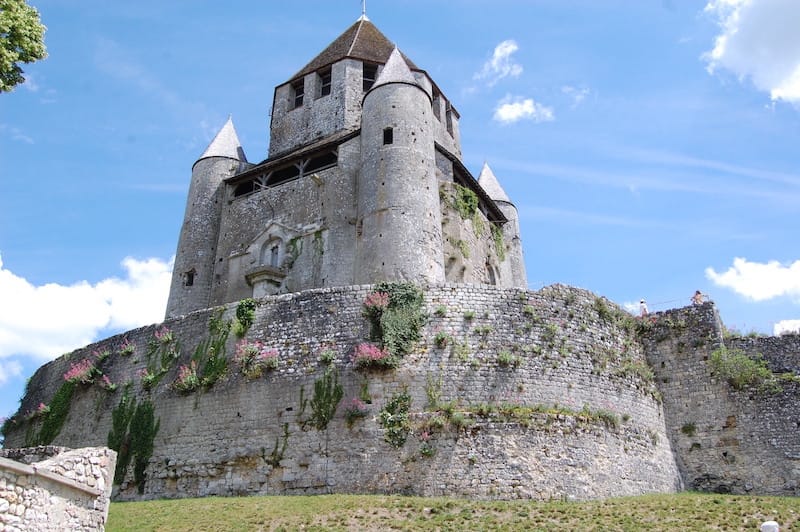 Besides these and walking on the fortified ramparts, other things to do in Provins include; watching a knights' show (La Légende Des Chevaliers Spectacle Equestrio) to get a glimpse of life in the Middle Ages, attending a medieval festival (Les Médiévales De Provins) that celebrates the town's history through food, music, dance, and parades if you visit in June, or taking a stroll through the La Roseraie De Provins to see a variety of roses Provins is known for.
And if you start to feel a bit peckish, you can enjoy French food at Banquet des Troubadours while being treated to a fun show!
Although you can visit Provins on a day trip from Paris, you can opt to stay overnight to fully soak in its beauty by staying at Le César Hôtel, located in the heart of the medieval part of the town.
12. Collioure
Contributed by: Claire of Why Visit Barcelona
Collioure, in southern France, is a beautiful little coastal town and is well worth a visit on a weekend trip from Barcelona or Perpignan, or for a longer stay in the South of France.
The harbor is lined with cafes and seafood restaurants, and the bell tower of the 17th-century Notre-Dame-des-Anges Church (a former lighthouse) provides plenty of photo opportunities!
Collioure's beauty inspired many artists over the years, in particular Derain and Matisse, whose works are exhibited in the town's Modern Art Museum.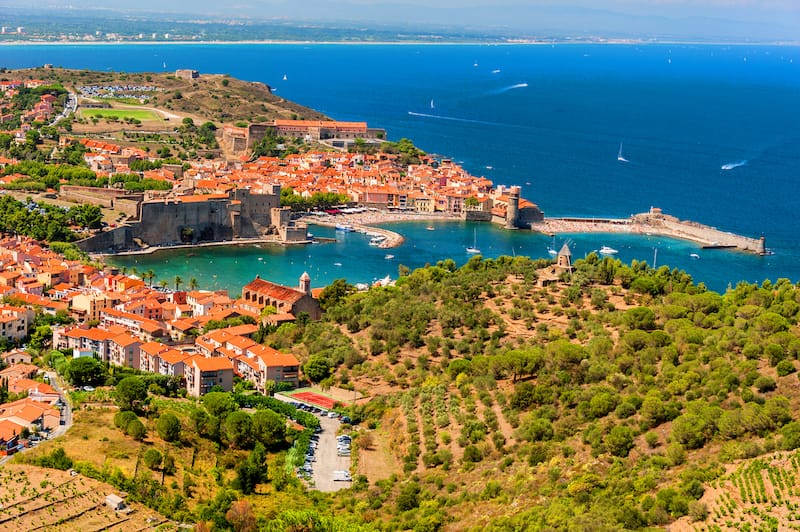 Other top things to do in Collioure include a visit to the Royal Castle of Collioure and a walk up to the Moulin, a medieval windmill with great views – or just relax on the beach!
You'll also find excellent food and wine in Collioure.
Le Trémail is a low-key restaurant serving delicious classic French dishes and seafood, or nearby Casa Léon is more expensive but does have a view of the harbor as you eat.
The hotel Le Relais Des Trois Mas is a great choice for accommodation, with an outdoor swimming pool and terrace overlooking the port.
13. Eze
Contributed by: Editor's Choice
Eze, a small medieval village perched on a cliff, gives you stunning panoramic views of the gorgeous French Riviera. It is an ideal day trip from Nice, Monaco, and more!
Wander through the winding stone streets of the village, shop for gifts and souvenirs at the many quaint shops, and find the lovely little church with an interesting cemetery behind.
Then, make your way to the jewel of Eze, the fascinating Exotic Botanical Garden. This multi-tiered garden showcases a huge variety of plants, especially cacti, and offers amazing sea views.
Afterward, stop for a coffee or bite to eat at the Le Nid d'Aigle restaurant. Don't miss the free tour at the Fragonard Perfume Factory, a French maker of fine perfumes.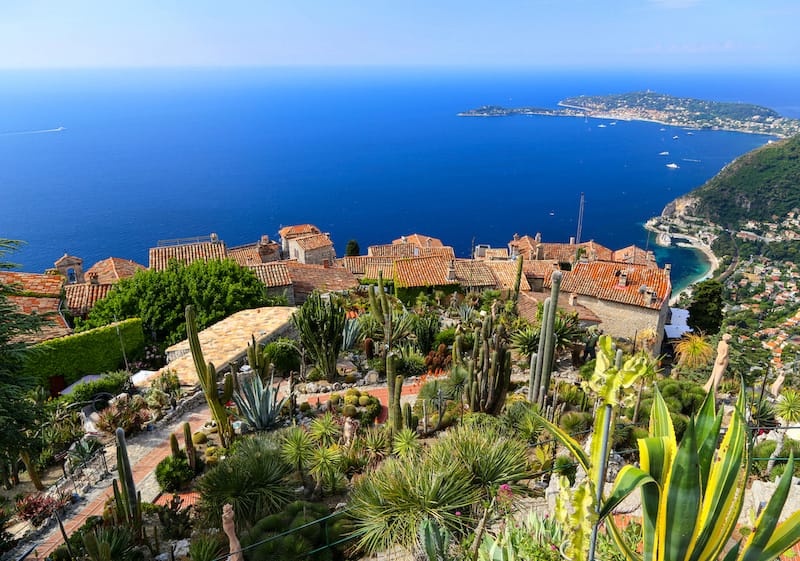 There are two parts to Eze: the hilltop village, and the seaside town, with a steep path connecting the two.
For some beach time, you can walk down the path after you're done in the village to lounge by the sea.
Eze has limited options of places to stay, and all are super luxurious – like the Chateau Eze, a 5-star converted chateau with views over the Mediterranean Sea.
14. Honfleur
Contributed by: Lowri of Many Other Roads
Honfleur, in Normandy, is one of the best small towns to visit in France. Located a mere 2-hour drive from Paris, Honfleur provides an unforgettable experience.
The harbor at Vieux Bassin lies in the heart of the town and offers amazing views across the estuary of the Seine.
It is lined with old buildings and also provides plenty of shops, restaurants, and galleries for visitors to explore.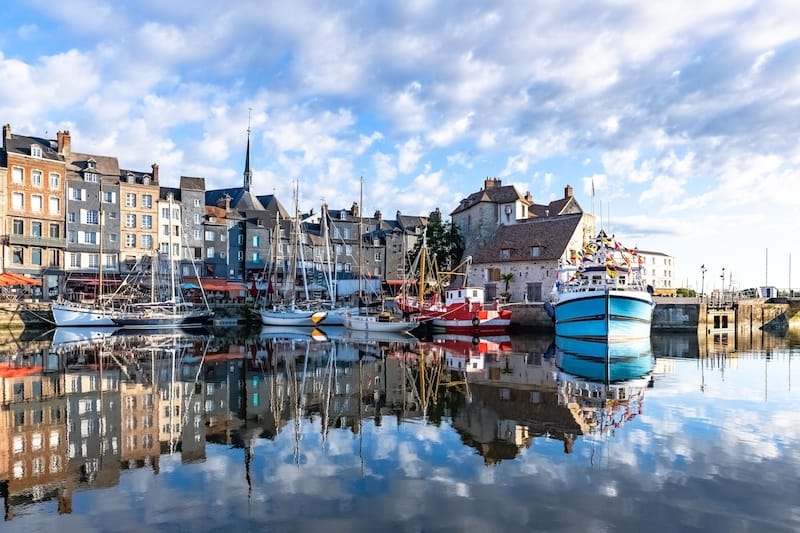 Speaking of food, Honfleur has some delicious seafood on offer. One place you should dine at is La Grenouille where you can get amazing scallops.
One thing that shouldn't be missed is a visit to the Eugène-Boudin Museum, dedicated to art about Honfleur. It provides an insight into the history and culture of this beautiful place.
For a great place to stay, book yourself into the Best Western Le Cheval Blanc – Centre- Vieux Port.
From here, you can get a wonderful view of the port, and it offers an excellent location for further exploration.
15. Giverny
Contributed by: Chloe of Chloe's Travelogue
Giverny is a charming French country town in Normandy. It makes an excellent day trip from Paris, as it is only 80km away, or a stop on a road trip to Normandy.
The small village is best known for its beautiful nature, which inspired Claude Monet.
The French impressionist painter spent his last 40 years in Giverny, where he painted his masterpiece, Water Lilies.
Monet was an avid painter-gardener. With a passion for nature and colors, he designed and landscaped a pond filled with water lilies and willows and an exuberantly colorful flower garden.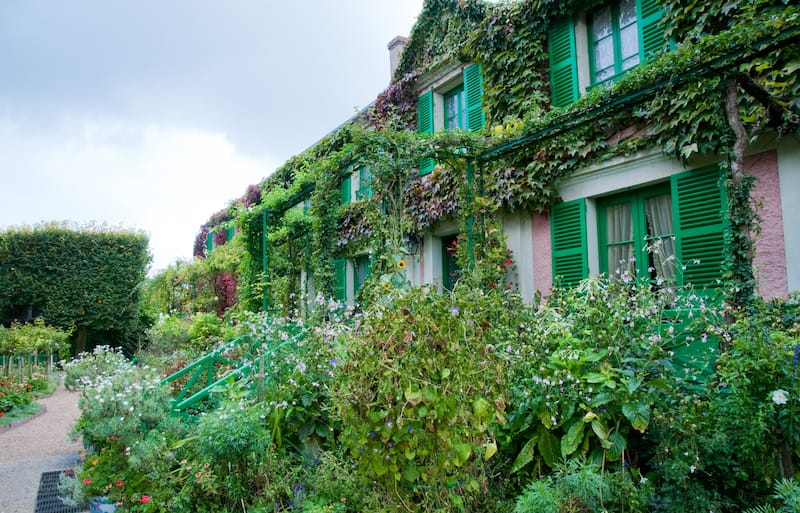 All of which became the subject of his paintings until the end of his life.
While you will not find any of Monet's original paintings (there are some replicas on display), Monet's House and Gardens is the place to immerse yourself in the stunning nature that gave him his greatest artistic inspiration.
Monet's House and Gardens are open from April 1 to November 1. As it can be crowded, it is best to visit early in the morning and avoid the weekends.
For those looking to stay overnight in Giverny, check out Orpheus Lodge to experience idyllic French countryside life.
16. Hunawihr
Contributed by: Paul of Paulmarina
Hunawihr is a small village of 600 souls in the historical and German-influenced region of Alsace.
Recognized as one of the most charming villages in France, Hunawihr was established in the 7th century amidst former Roman vineyards.
A legend tells the tale of Huna, a local female saint and village name-giver, who would wash the clothes of the sick and poor in the main fountain.
Incidentally, the same fountain is still found in the same place, near the fortified church on the hill, right next to some of the most prestigious vineyards in Alsace. The pride of the hamlet is the Rosacker Grand Cru wine.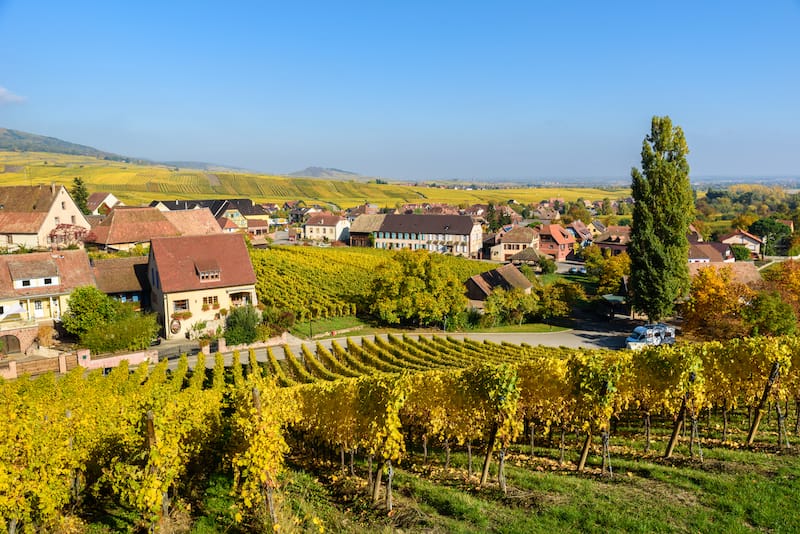 Visitors can join a special guided vineyard tour to the Rosacker vineyard, and, of course, a wine-tasting session of an Alsatian Gewürztraminer or Riesling white wine is a must.
Families and nature lovers will appreciate a stop at the Butterfly Gardens and Naturoparc, which are all about local animal diversity.
An event-rich day should be celebrated with traditional food at Chez Suzel, and a cozy apartment can be found just down the road at Chez Emilie & Charles.
17. Epernay
Contributed by: Editor's Choice
This charming small French town is tucked away in the Champagne region but is still easily accessible at just an hour and a half from Paris by train.
Stroll around the historic town center in Epernay, where you'll find the most famous champagne houses and underground champagne cellars lining the Avenue de Champagne, the gorgeous Notre Dame cathedral of Epernay, and the Chateau Perrier, a stunning example of Late Romantic Era French architecture.
This chateau and garden is now a fascinating museum about champagne and regional history.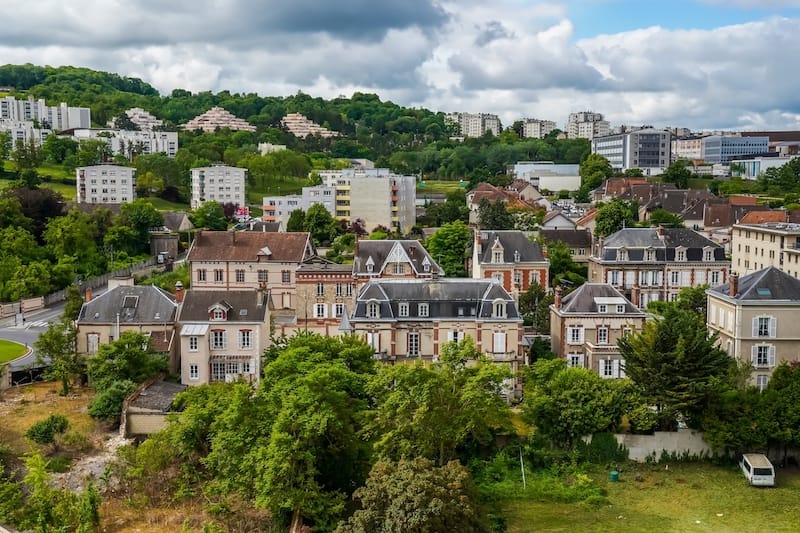 Take an afternoon to visit some vineyards for a champagne tour and tasting, from big names like Moet et Chandon to smaller family-run estates.
If you are interested in the history of champagne, head to the village of Hautvillers, right by Epernay, to see the Abbey of St. Pierre, where Dom Perignon, a monk who greatly contributed to champagne production, is buried.
Epernay is a great place to base yourself for a Champagne itinerary, and La Cave de l'Avenue de Champagne is a fantastic, luxurious hotel to consider for lodging.
It is a beautiful B&B with a warm breakfast and champagne each morning!
18. Saint-Émilion
Contributed by: Natali of She's Abroad Again
Just half an hour outside of Bordeaux, you'll find the charming town of Saint-Émilion. This medieval town, surrounded by vineyards and chateaux, is one of the most picturesque places in France.
As it is located in the middle of the Bordeaux wine region, the most popular thing to do in Saint-Émilion is to taste the regional wine.
Don't worry about the language barrier, the French speak English, and you'll get to learn some basic French wine vocabulary too!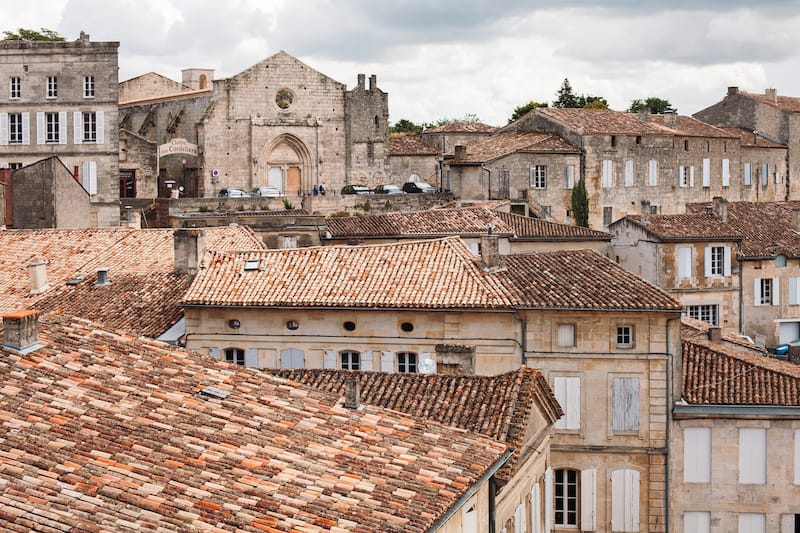 Other fun things to do in Saint-Émilion are visiting the unique Monolithic Church of Saint-Emilion, seeing the King's Tower, and simply getting lost in winding cobblestone streets.
A unique spot to grab a drink and a snack is Les Cordeliers. If you want to sample all the local delicacies, go for their signature picnic basket!
Saint-Émilion is a small town, so you can't go wrong with wherever you stay.
Demeure des Girondins is a lovely apartment right in the center of the city, so you feel like a Saint-Émilion local.
19. Jarsy
Contributed by: Claire of The Fearless Wandress
The village of Jarsy is located just south of Annecy in northeastern France, nestled in the heart of the little-known Bauges Regional National Park.
This verdant, bucolic town is a paradise for outdoor enthusiasts, who will love the lack of tourists! While it's a quiet town, there are plenty of options to stay active and enjoy the surrounding nature.
The most convenient option when visiting Jarsy is to base yourself at the centrally-located Hôtel Arcalod with its adjoining restaurant, which offers breakfast in the morning and a hearty array of locally-sourced dishes for dinner.
Then, spend your days on hikes to peaks like Pointe de l'Arcalod, the highest point of the Bauges, or Croix d'Allant, with stunning 360-degree panorama views all to yourself (and maybe a few cows).
In the village itself, don't miss the charming neogothic Church of Saint-André, erected in 1866 thanks to a subsidy from Napoleon III!
20. Biarritz
Contributed by: Kristin of Global Travel Escapades
If you're ready for a beach getaway, consider visiting beautiful Biarritz. This seaside town has about 25,000 residents but offers visitors plenty of activities to partake in!
For starters, be sure to visit the Sainte-Eugénie Church of Biarritz.
This Neo-Gothic church was completed within the last century and features gorgeous stained glass windows.
Afterward, you can then make your way to one of Biarritz's many stunning beaches, such as the popular Grande Plage, to soak up the sun or swim in the clear blue waters!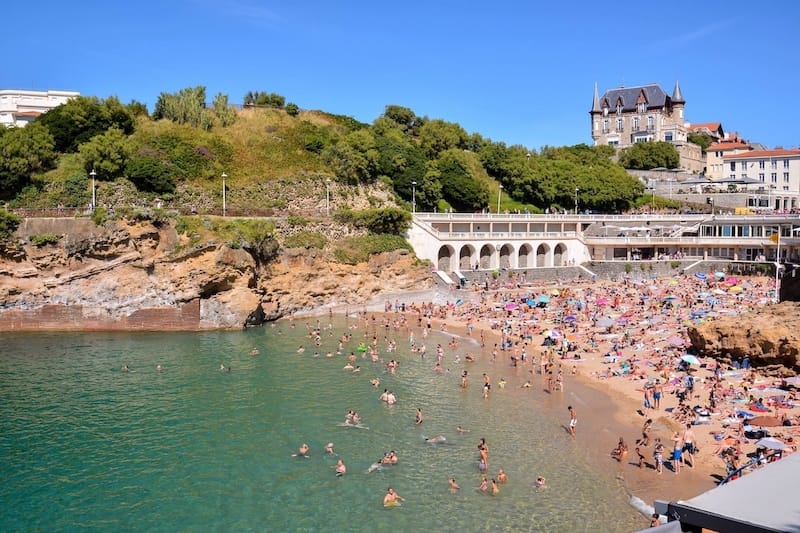 Or, if you're feeling lucky, visit the local casino that's right in the heart of the city and the center of Biarritz's social scene.
And when you're ready to grab a bite to eat, make your way to Restaurant L'Impertinent! It's a high-end restaurant with a tasting menu that includes seven courses!
Lastly, for places to stay, check out the beautiful 5-star Hotel du Palais!
21. Saint-Jean-Pied-de-Port
Contributed by: Alya of Stingy Nomads
Saint-Jean-Pied-de-Port is a charming small town in the southwest of France, near the border with Spain.
The town is situated at the mouth of the river Nive in the picturesque valley of the Pyrenees.
For many centuries, St.Jean-Pied-de-Port has been a gateway for pilgrims from all over Europe to Santiago de Compostela in Spain.
The historical center of the town consists of the main street, Rue de la Citadelle, a cobbled street that runs uphill between two town gates, Porte St-Jacques and Porte d'Espagne.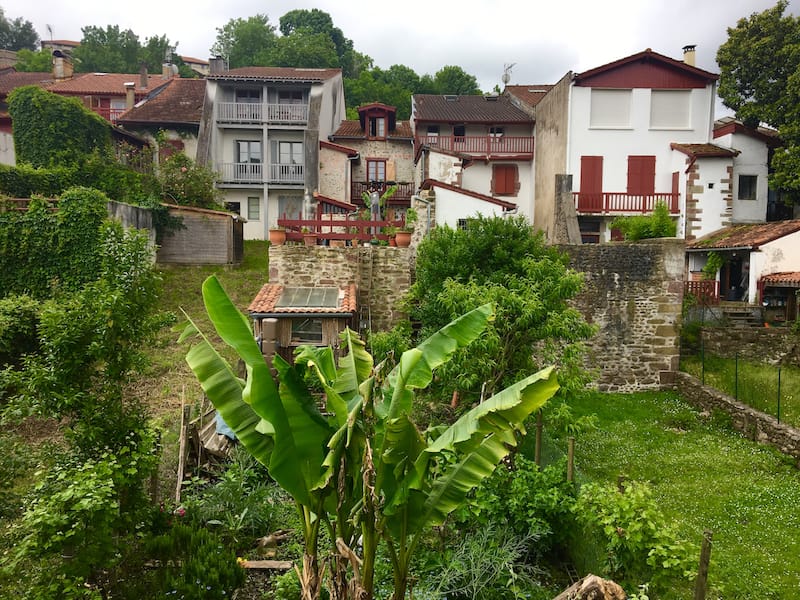 Notre-Dame-du-Bout-du-Pont, an old Gothic church built in the 14th century, is one of the town's architectural gems.
The citadel, an ancient fortress on the top of Mendiguren Hill, offers the best views of the town and the valley.
Restaurant Comme A La Maison is one of the best places to eat in town. Their menu includes traditional French cuisine, homemade pasta, and desserts.
Gîte BIDEAN is a fantastic place to stay in the very center of St.Jean-Pied-de-Port.
The best way of getting to St.Jean is by train from Bayonne. The journey takes 1 hour to get there.
22. Beaune
Contributed by: Jenifer of The Evolista
Beaune is a charming small town in France's Burgundy wine region.
One of the most visited places in town is the Hôtel-Dieu, a 15th-century hospital and now a museum that offers stunning architecture and an audio guide that brings the rooms to life.
If visiting on a Saturday, take a stroll through the bustling market with fresh produce, artisanal food items, clothes, crafts, and more at Place de La Halle.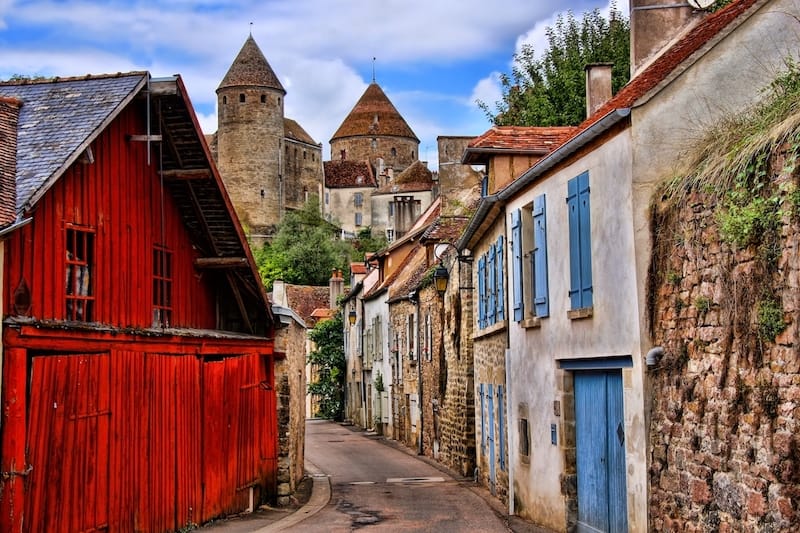 Foodies will also appreciate a special meal at the Michelin-starred restaurant, Clos du Cèdre.
One of the best things to do in Beaune is to sign up for a Burgundy bicycle and wine tour. It's a great way to see the vineyards, sample local wines, and visit a medieval castle.
There are also plenty of places in town to taste wine, including the large cellar at Marché aux Vins. Stay in the historic center at the lovely aparthotel, La Maison de Maurice.
23. St-Mère-Église
Contributed by: Flor of Travel Ruta del Mate
Stepping into St-Mere-Eglise, you'll be captivated by its picturesque streets, traditional Norman houses, and local shops.
This charming town holds immense historical significance as it was the first town liberated by the US Army on June 6, 1944, during the Normandy landings in World War II.
The iconic church, with a paratrooper's dummy hanging from its spire, symbolizes the bravery of the soldiers who fought there and is a must-see attraction.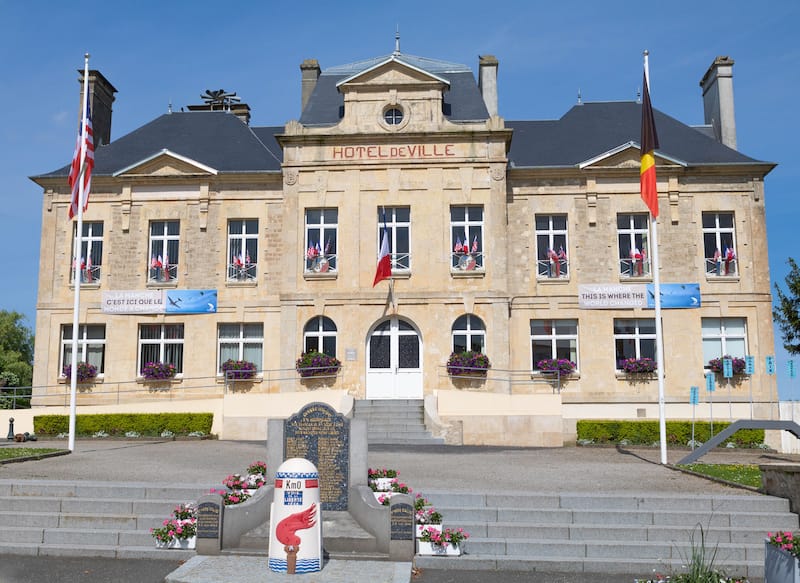 The Airborne Museum will take you on a journey through time, showcasing a vast collection of artifacts and immersive exhibits that recount the story of American paratroopers.
Guided tours of nearby battlefields allow firsthand exploration of the remnants of the conflict, while Utah Beach, one of the D-Day landing sites, offers both a historical significance and a vast expanse of sand to explore.
For a comfortable stay, consider the Hôtel du 6 Juin, located centrally in town.
It provides easy access to the town's attractions, serving as an ideal base for your St-Mere-Eglise adventure.
Did we miss any of the best small towns in France?
Let us know your favorite villages in France in the comments!
More France Travel Guides
Pin this France Small Towns Guide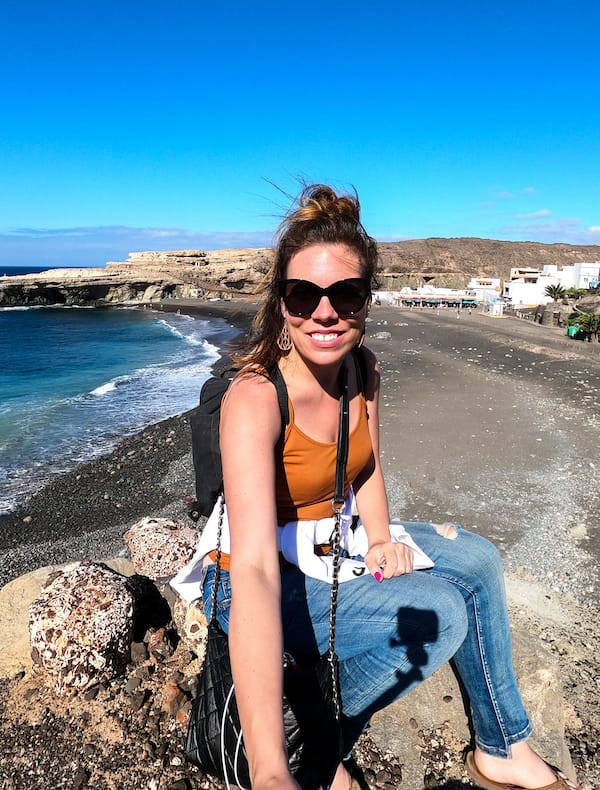 Megan is a travel blogger and writer with a background in digital marketing. Originally from Richmond, VA, she now splits her time between Frankfurt, Germany and Arctic Finland after also living in Norway, Armenia, and Kazakhstan. She has a passion for winter travel, as well as the Nordic countries, but you can also find her eating her way through Italy, perusing perfume stores in Paris, or taking road trips through the USA. Megan has written for or been featured by National Geographic, Forbes, Lonely Planet, the New York Times, and more. She co-authored Fodor's Travel 'Essential Norway' and has visited 45 US states and 100+ countries.