Are you looking for a way to spend 2 days in Nice? This Nice itinerary has you covered!
In this guide, we detail how to enjoy an amazing weekend in Nice – and some of the best places to eat and wander about in the French city!
Did we miss any of the best things to put on an itinerary for Nice? Let us know in the comments!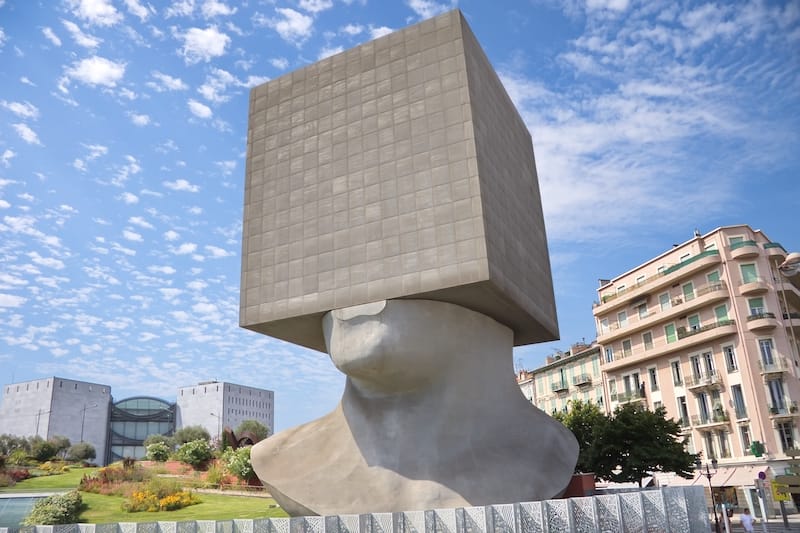 2 Days in Nice Itinerary Overview
Day 1 Overview
Castle Hill
Vieille Ville
Cours Saleya
Place Massena
Promenade
Check out one of Nice's best beaches
Day 2 Overview
Cimiez
Museums
Take a Day Trip
Day 1 in Nice
Walk to the Top of Castle Hill
Cradled in the Mediterranean coastline of France (Or the French Riviera), is the Colline du Château, or "Castle Hill" of Nice.
Historically speaking, Nice originated from "Nikia" or a fourth-century Greek settlement. With its mosaics, waterfall, and cathedral ruins, the 92 m hill site is almost a fairytale.
The 11th-century wonder includes an observation deck, perfect for panoramic views and photos, and undoubtedly one of the best things to do in Nice!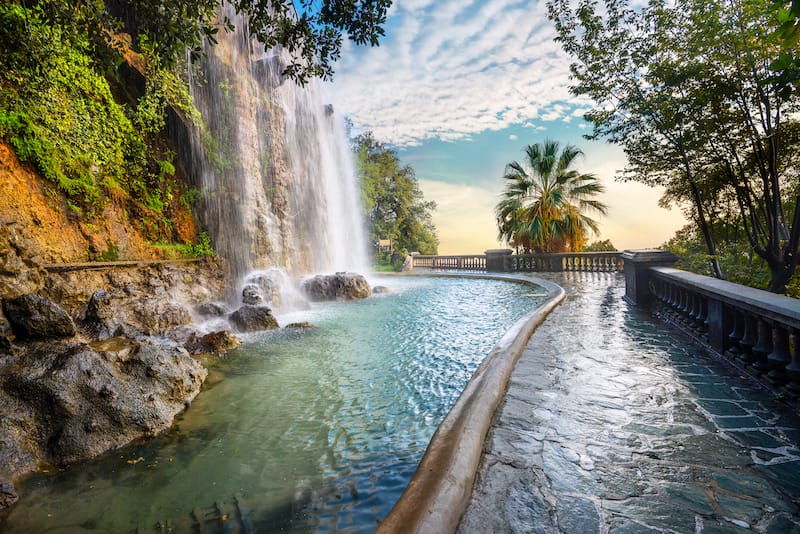 One can also see the Old Port of Nice in Eastern Nice from the other side of the hill, while the "Old Town" is situated in the western region.
You can access the top of the hill through l'ascenseur ("elevator" in French!) or by stairs. Luckily, there is a public toilet and restaurant available to visitors of the demolished castle.
On top of that, Castle Hill incorporates two cemeteries overlooking Nice, one being a Jewish necropolis and the other Catholic.
Explore Vieille Ville's Place Rossetti
The Place Rossetti or the heart of the Vielle Ville (or "old town" in English) is truly a hidden gem of Southern France and lies not too far from both Castle Hill and the seaside.
While taking a stroll here, you will come across a fountain and the Cathedral Sainte Reparate, which originates from the thirteenth century.
Despite the church appearing unassuming at first, its interior is extremely ornate and includes high ceilings, frescoes, a dome, stained glass windows, and traditional religious iconography.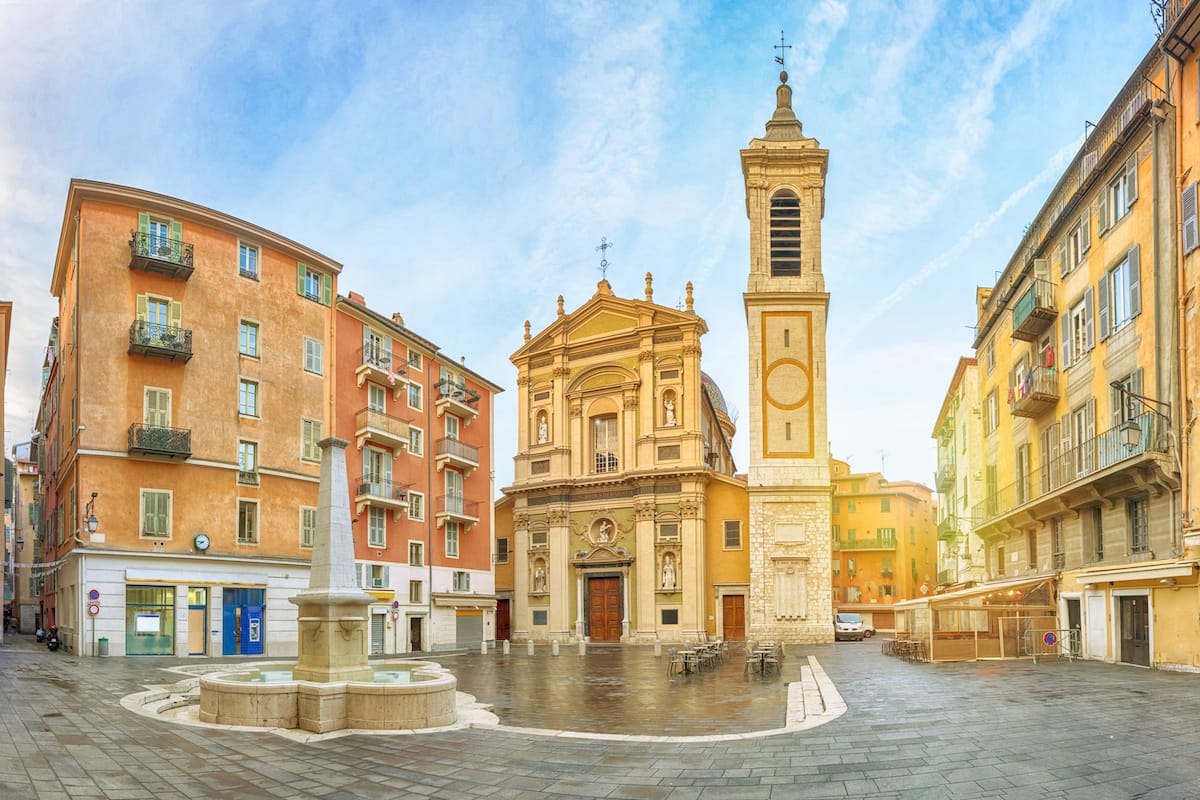 The cathedral is also free to visit. Moreover, the other nearby buildings were built in the Italian Baroque style and are so old that they seem to be leaning forward.
After enjoying the fine dining of the public square, don't forget to stop by the renowned Fenocchio's ice cream shop for dessert!
Check Out Cours Saleya
With its enticing displays, free samples, and variety of fresh products sold, it truly is no wonder why locals and tourists alike rave for the Cours Saleya in Nice, France.
The most popular section of this open-air market is the Marche aux fleurs or flower market, which also includes an assortment of fruits and vegetables.
As a great bonus, you will come across spices, olives, honey, and soaps on sale as well as friendly vendors willing to help out.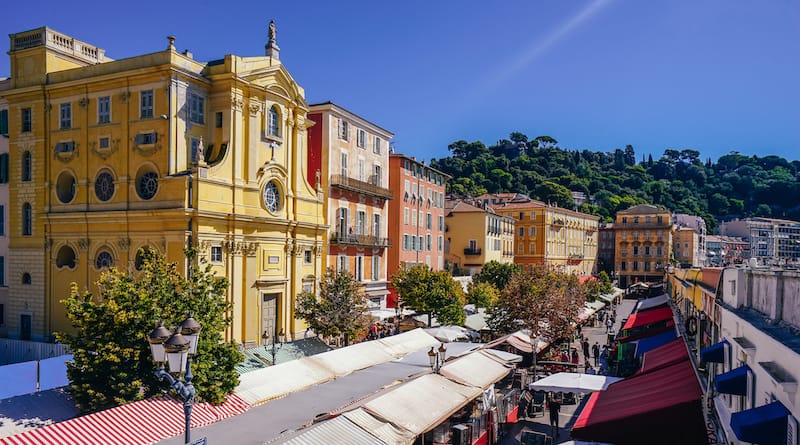 However, if you happen to stop by on a Monday, you won't find gifts from Mother Nature, but rather the Marche a la Brocante.
This antiques/flea market offers vintage clothing, furniture, jewelry, books, and other sorts of treasures, all perfect for any retro-lover!
Be sure to also stay tuned for the Marche artisanal nocturne, or the evening crafts market available during summer and early fall.
Address: Cr Saleya, 06300 Nice
Wander around the Place Massena
The Place Massena or Nice's main square is most remarkable for its greenery, fountains, and aura of tranquility.
In addition, the site consists of the Promenade Paillon, which was built over the Paillon River during the 19th century.
The river now flows underground through a canal and empties into the sea. Here, you will certainly encounter the sculpture of Apollo, with other sculptures depicting the planets and solar system encircling the Greek god.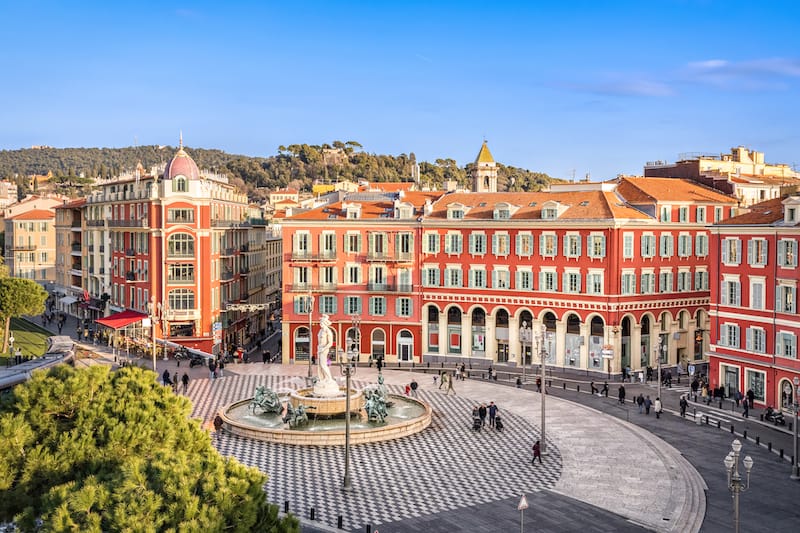 Place Massena is also famed for its sculpture of the Greek goddess Nikia and futuristic statues on high poles (which are illuminated at night!).
Be sure to also check out the Alan amphitheater, bronze Venet's Arc, and Albert I garden.
Also, the east of Promenade Paillon provides fun for the entire family, as it offers the Water Mirror (Miroir d'eau) or a fountain for children to play in and even a playground with equipment shaped like sea critters.
Walk Down the Promenade
During the 18th century, it was quite the trend for English aristocrats visiting Nice, France to wish to socialize comfortably and enjoy the beachy climate in spite of the irregular shoreline.
As a result of the finances and efforts of the English, the Promenade des Anglais, or "Walkway of the English" was established.
The seafront walking area stretches 7 kilometers, gives an uninterrupted view of the sea, and is decorated with palm trees everywhere.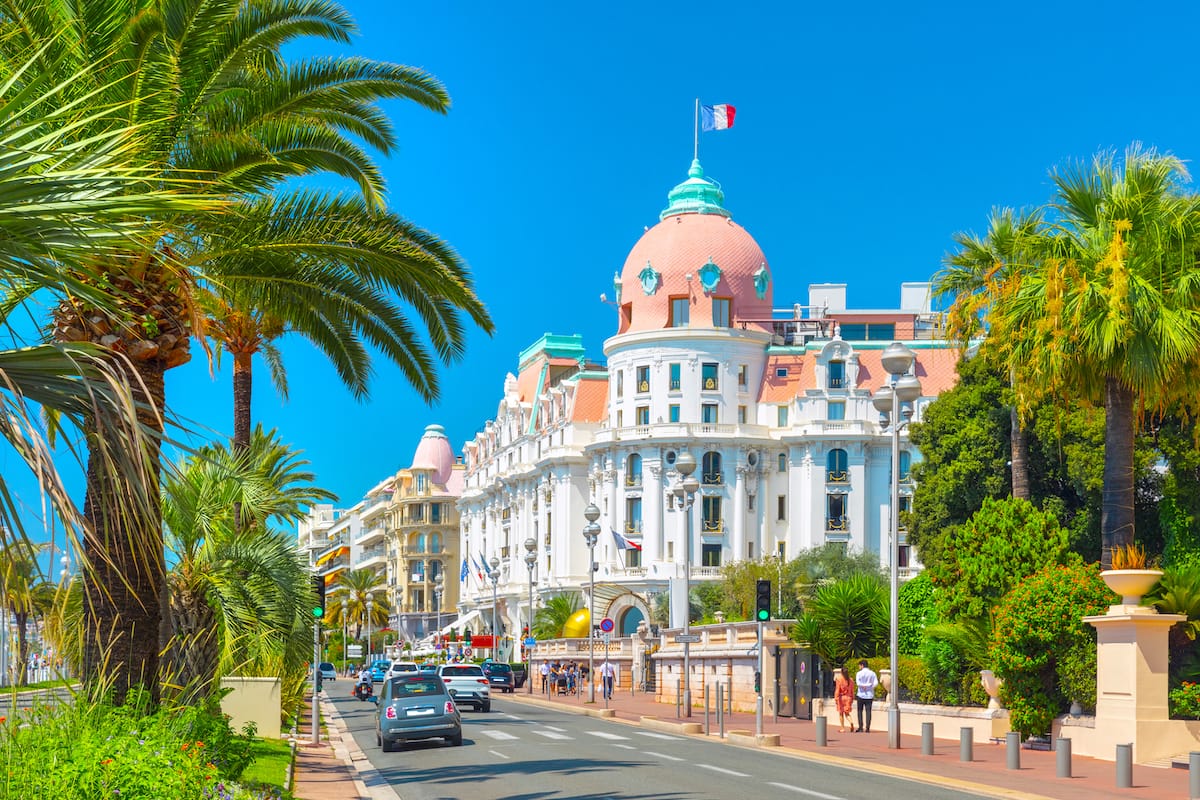 For those who are more "sporty," the walkway is most definitely ideal for roller skating, running, or biking.
Here, you might also stumble upon picnickers privately dining by the shore, artists painting, and buskers performing. As for entertainment, revel in the nearby parks, villas, museums, luxury hotels, casinos, and beaches.
However, watch out for pickpockets or how most bars and restaurants may be packed to the brim. Nevertheless, enjoy promenading at the promenade!
Spend a Little Time on the Beach
Since April to October serve as "beach season" in Nice, France, a perfect spot to visit is the Opera Plage. It is a must, even if you only have two days in Nice!
Ever since 1889, the former Opera House pavilion has prevailed as the oldest private beach in Nice.
If hungry, reserve a seaside table and enjoy the restaurant's menu, or instead shop for a new swimsuit from the beach's very own collection.
In addition, by the western end of the Promenade des Anglais, you will find the disability-friendly Carras beach with its easy access and lifeguards on duty.
The Carras is also the only site in Nice that is pet-friendly and for jet-skiing. Check out its Cabanes bleues (blue cabins) and borrow free books and magazines.
Lastly, be sure to not miss the Plage des Flots Bleus (Blue Floods beach) near the Nice airport and explore its flamboyant Cap 3000 shopping mall with over one hundred and fifty shops!
Day 2 in Nice
Go Up to Cimiez and See the Roman Ruins and Arena
Cimiez's Roman ruins, Franciscan garden, and olive grove are all evocative of France's historical ties to the Roman empire.
When visiting this northern district of Nice, remember to take public transport, as Cimiez sits upon a hill. At first, you will come across an intersection between Avenue de Cimiez and Avenue Regina, which contains the Excelsior Regina.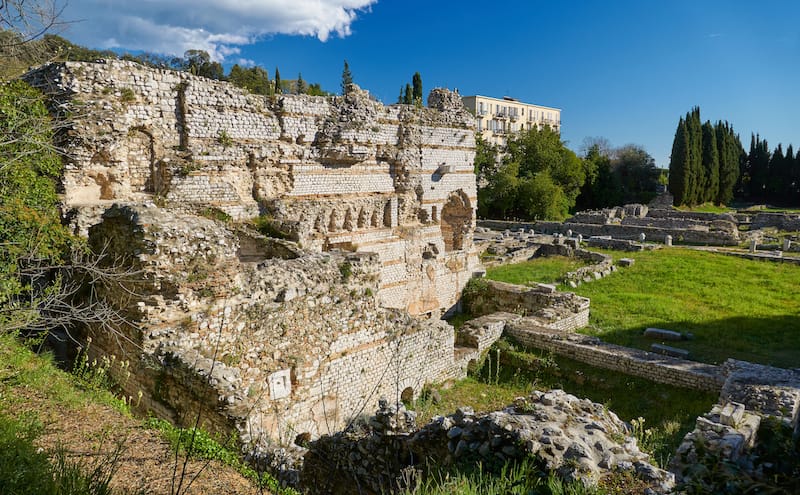 This apartment building accommodated the British Queen Victoria during her excursions to France. However, merely 100 meters away, you will uncover the ruins of a Roman arena in front of the Archaeological Museum.
In fact, the museum is situated where an ancient city was excavated and presents exhibits of antiquated jewels, tools, and pottery.
Behind the museum, you will pass an olive grove and encounter the ninth-century Cimiez monastery. After visiting the historic cemetery by the church, explore the garden of the monastery and enjoy the enchanting panoramic view of Nice.
Check Out a Museum in Nice
"Lines, angles, triangles, squares, carried me far away to enchanting horizons," said Marc Chagall, the Russian-born French artist. Interestingly enough, you can certainly see this quote come to life in his pieces here at the Musee National Marc Chagall.
Explore mesmerizing exhibits of Chagall's works pertaining to themes of love, world peace, and religion with family and friends!
Gaze at how Chagall's art beautifully combines themes of fauvism, surrealism, and cubism.
This museum also displays Chagall's stained glass art depicting biblical iconography.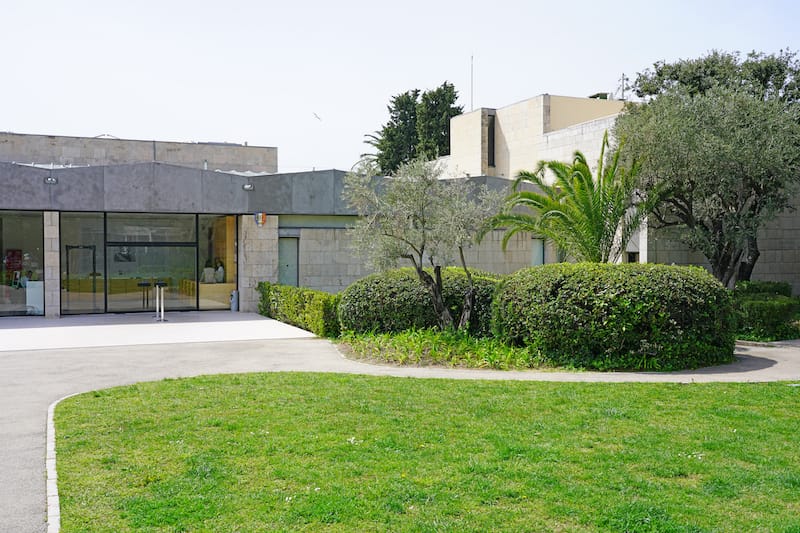 Moreover, the architecture of the building is characterized by a sense of calmness, as the interior lets in much light and is made of limestone and plaster.
Chagall also supervised the addition of the mosaic overlooking the pool during the construction of the museum in 1973.
As a cherry on top, the site includes a bookshop, cafe, and garden. It is the perfect place to spend some time in winter!
Address: Av. Dr Ménard, 06000 Nice
Take an Afternoon Trip to Côte d'Azur (and Beyond)
Looking to have some fun? As a first stop for an afternoon trip, head over to Antibes Juan les Pins in Côte d'Azur, France.
"Must-sees" here include the Picasso Museum, Cap d'Antibes walkway, and Marineland sea park.
Next, head over to Eze, or a hilltop medieval village cradled between France and Monaco. Walk through the narrow pathways and marvel at the architecture, both dating back to the Middle Ages.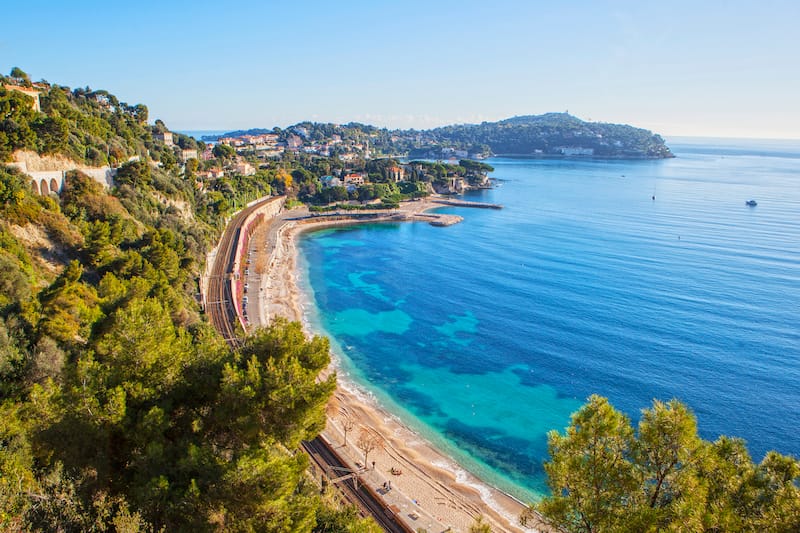 The elevation also gives incredible views. Try to take a bus to avoid hiking up from the station.
Afterward, visit St. Jean Cap Ferrat, located in the heart of the French Riviera. This area is best known for its highly ornate villas and is thus called the "Peninsula of Billionaires."
Discover the nearby walking trails, beaches, and museums as well. Lastly, relish in the beauty of Villefranche-sur-Mer and its pastel-colored villas, deep blue waters, and Old Town streets.
>> Book your day trip to Côte d'Azur from Nice
Where to Grab Food and Coffee in Nice
Arlequin Gelateria
Looking for a treat? Ever since June 2006, the Arlequin Gelateria has been giving all of Nice, France a sweet tooth! This gelato shop offers artisanal gelatos akin to those of Milan.
Be sure to relish in their creamy ice creams or sorbets made of seasonal fruits. In addition, the Gelateria also bakes an assortment of mini pies.
These bite-sized desserts are often topped with fresh fruits, chocolate, or cream. Many have criss-cross, swirly or wavy designs or drizzles from the sauce.
The shop also has a second location in Milan known as "Cesar Milano" and is usually open from 11 A.M. to 8 or 9 P.M.
With such tasty flavors, simple yet sweet creations, and a very aesthetic ambiance, it really is no wonder why the slogan of the Arlequin Gelateria is, "Notre glace est faite avec amour," or "our ice cream is made with love."
Address: 9 Av. Malaussena, 06000 Nice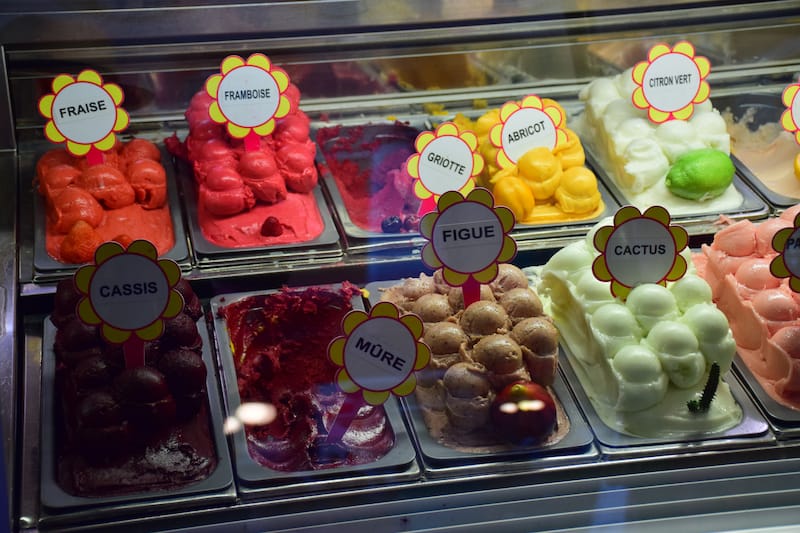 Fenocchio Gelateria
Ready to tickle your taste buds? Tucked in Nice's old town and on its Place Rossetti, the Fenocchio Gelateria or Maitre Glacier (master ice cream parlor) has been satisfying locals and tourists alike ever since its opening in 1966.
From the start, the Fenocchio family has been at the helm of the firm and has even added a second location by the Cours Saleya flower market.
With 94 flavors to choose from, dig into the classic ice creams, sorbets, or frozen cakes.
All products are traditionally crafted in a factory up on a hill in La Gaude and are made of top-tier, carefully selected raw materials.
It is no surprise that the shop boasts such unique flavors including but not limited to cactus, lemon verbena, beer, lavender, rosemary, pain d'epices (spice bread), corn, tuna fish, and so on.
Children can also enjoy menu selections specialized for kids.
Address: 2 Pl. Rossetti, 06300 Nice
Olive & Artichaut
Venture over to Olive & Artichaut for dinner time. Found in the Old Town in Nice, this Michelin award-winning restaurant uses both regional and local fresh products to craft delectable plates.
Despite the menu being on the smaller side, its selections are embellished with quality. Entrees include asparagus risotto, Iberian-style pork joint, anchovy flatbread, roasted lamb, and so on.
Furthermore, the Velo olive (or olive bicycle) is a feature like no other. The restaurant's bike is equipped with a small stove and ingredients packed inside.
The Velo Olive arrives at meetings, business events, birthdays, communions, and other sorts of local events. A chef then proceeds to prepare dinner right in front of the diners, similar to a benihana dining experience.
So, what could be the chef's secret to pulling this all off? As he puts it, "tout assaisonner avec amour" ("to season everything with love").
Address: 6 Rue Sainte-Reparate, 06300 Nice
Socca
Socca is a savory rustic flatbread made of chickpea flour, water, and olive oil.
Its texture is quite similar to that of a crepe and is sometimes peppered or prepared with caramelized onions. It is naturally gluten-free, vegan, and vegetarian.
Originating in Italy and initially being referred to as "farinata," this pancake-like treat spread all throughout the Ligurian coast and the Cote d'Azur.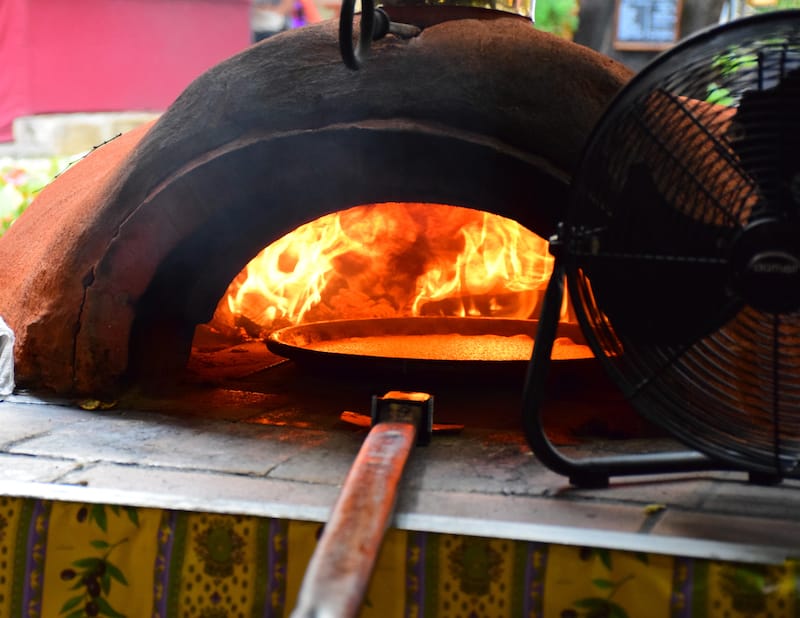 Some theories also speculate that the flatbread may have originated in Egypt or Mesopotamia.
At the Chez Rene Socca in Nice, you can munch on the regional bread snack or even try la pissaladiere, or a flatbread topped with caramelized onions, herbs, anchovies, and olives.
This restaurant truly emits a very comforting energy and upholds authentic Provencal traditions. As for dessert, try nibbling on the tarte aux blettes, or a sweet tart with pine nuts and raisins.
La Rossettisserie
When with loved ones, pay a visit to La Rossettisserie restaurant of old Nice. With its warm ambiance and traditional menu, it is fantastic for a family dinner.
To start off your meal, mouthwatering appetizers include duck spread with pickles, shrimp cocktail with eggplant caviar, poached eggs with lentils, the classic ratatouille, sausage, or sardines served on toast and flatbread with anchovies.
Supper options mostly involve roasted or grilled meat dishes, such as various meat joints or chicken with herbs.
After all, the name of the restaurant (Rossettisserie) translates to "place specializing in barbecued meat." Side dish selections are baked potatoes, tomato salad, ratatouille, or mashed potatoes.
Be sure to save some room for dessert and satisfy your cravings with tiramisu, fruit cups with cream, creme brulee, and seasonal fruits.
Fortunately, if you arrive with ten or more people, you can receive discounted meal combinations for under 30 euros.
Address: 8 Rue Mascoinat, 06300 Nice
Armavir Restaurant
Named after an ancient Armenian village, the Armavir restaurant located in Nice, France serves Armenian and Mediterranean cuisine.
With its hearty dishes, large portions, delectable menu, and Armenian tableware and decorations, diners here can find pleasure in the Armenian eating experience.
Entrees at Armavir incorporate meat and barbeque dishes, Lavash (Armenian flatbread!), savory crepes, cheeses, Lahmajoun (Armenian "pizza"), and omelets with Basturma (Armenian pastrami).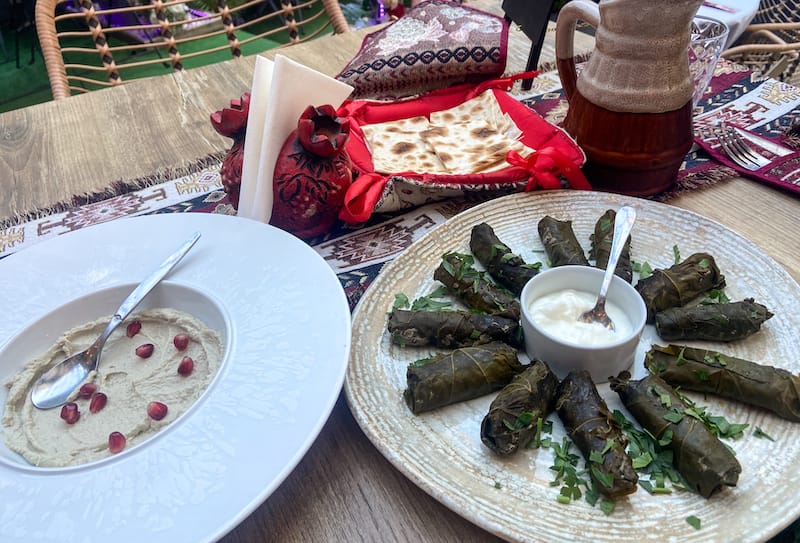 There are vegan and vegetarian options included, examples being Armenian salads, stuffed vegetables, spreads, and soups.
As an old Armenian expression states, the food is so tasty, you will eat your fingers as well! Pour yourself a drink and enjoy Armenian sludge coffee or tea.
Raise a toast with wine, vodka, beer, Cognac, or any other sort of Armenian alcoholic beverage. After all, wine first originated in the caves of ancient Armenia!
As for dessert, a dessert menu can be requested for daily specials.
Address: 40 Bd Risso, 06300 Nice
Vabbuo Cucina E Pizza
Want to grab a bite? Head over to Vabbuo Cucina E Pizza! The cozy lunch spot brings Italian flavors and hospitality to Nice, France.
In addition, the staff is known for being friendly and easily switching between English, Italian, and French. Feast on authentic eats, including pizza, seafood, burgers, and spaghetti, all topped with fresh herbs, local vegetables, and savory sauces.
Popular dishes here include calamari, fettuccine ai frutti di mare, the pizza burger and so on. Desserts such as tiramisu and pastiera napoletana are also available.
Luckily, on Mondays through Fridays, you can receive a discount by paying only roughly 14 euros for the choice of either the soup, plate, or salad of the day with a beverage on the side.
Please note that the average price for meals is 20 euros. It is also best to make a reservation ahead of time. Bon appetit and buon appetito!
Address: 10 Rue Meyerbeer, 06000 Nice
More than 48 Hours in Nice?
If you have 3 days in Nice (or more) – you will find plenty of cool day trips you can plan – and we cover our favorite one below!
Cannes
Cannes, best known for its annual film festival, exudes luxury, marine life, and Mediterranean vibes all around.
Lying on the Gulf of Napoule, the area is encircled by ravishing beaches. Its Croisette Boulevard serves as an oceanfront promenade area shaded with palm trees and is home to several designer brand stores and Le Vieux Port.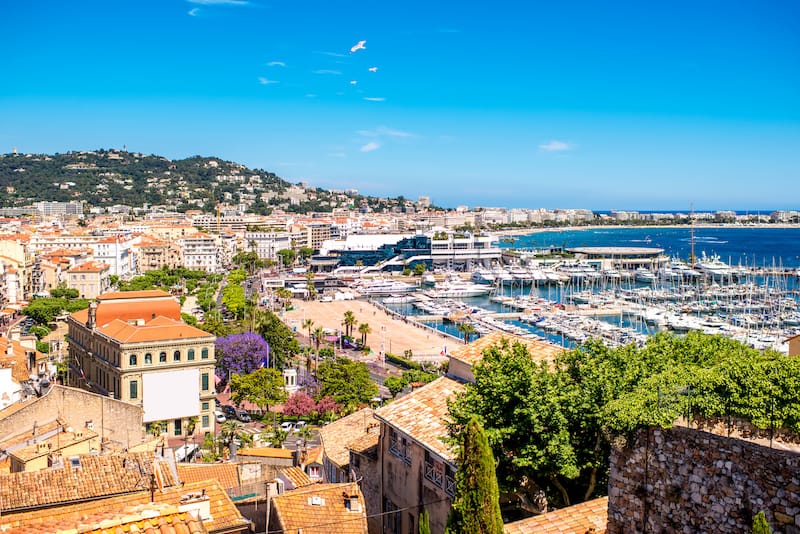 Cannes also boasts luxury hotels, casinos, and even an international market for flowers. Le Suquet, or "the old town" is also perfect for all history lovers, as it flaunts magnificent Roman ruins, pre-Renaissance era churches, and several museums.
In regards to transportation, one can easily manage on foot. However, the town also offers bus, taxi, train, and boat services of varying prices and schedules.
Yachts and transatlantic liners are also accessible by sea ports. Remember to also raise toasts with Lerina, or a Chartreuse-like liqueur originating from l'îles de Lérins!
>> Book your day trip to Cannes from Nice
How to Get to (and Around!) Nice
The main way to reach Nice is via the airport. Luckily, there is an airport only 8 km away from central Nice, the Nice Cote d'Azur Airport (NCE), which also hosts international flights.
The airport offers buses and trains to get to the center of the city afterward.
If you're including Nice in your itinerary for a general France trip, the whole country is connected via the SNCF train network, meaning that you can catch a train right from Paris or another major Western European city.
Be sure to book the trip in advance. It takes around 6 hours to reach Nice from Paris.
It's also possible to drive, of course, if you or someone you know is able to drive in France.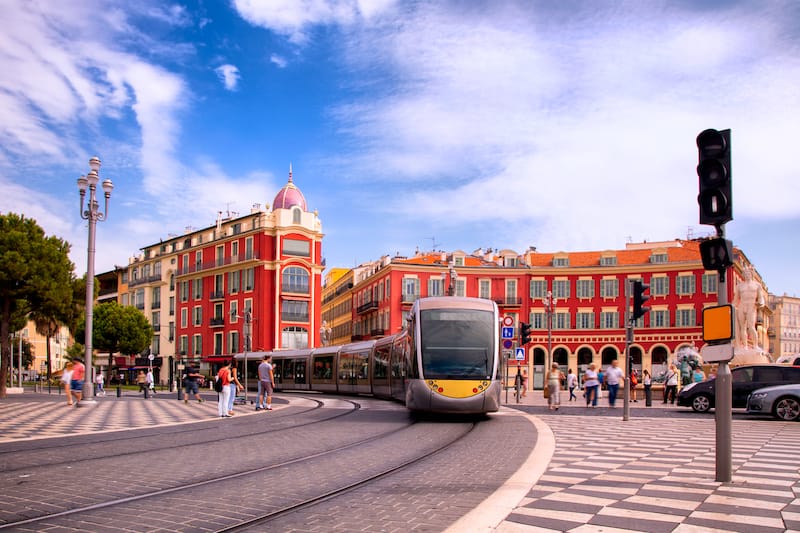 Nice is a very walkable city, which means that you can easily reach many destinations on foot, providing great exercise and an even better opportunity to catch the beauty of the city.
You can also catch the tram, which can be found anywhere in central Nice. It costs €1.50 per ride.
You can also check out the other options, such as €10 for 10 journeys, €5 for a 24-hour pass, or €15 for a 7-day pass, all of which are great if you plan to stay in Nice for longer.
Uber also operates in Nice and is generally recommended in comparison to regular taxis, especially from a price point.
Best Time to Visit Nice
Nice is a beautiful place to visit any time of the year, especially considering that the town sees as much as 300 days of sunshine every year.
With that being said, Nice is most popular during the summer months- between June and August. This also happens to be the high season, which means more crowds and higher prices.
Therefore, the best time to visit would be the shoulder seasons- autumn and spring- because you still get to enjoy the warm weather without the huge crowds.
It's also recommended to visit in January, which is the quietest month in Nice, allowing you to explore every corner of the city.
Where to Stay in Nice
There are plenty of amazing places to stay in Nice – and these are some of our top picks!
We hope you found enough information to help you plan an amazing 2 days in Nice!
If you have any questions about planning your Nice itinerary – let us know in the comments!
More France Travel Guides
Pin this Weekend in Nice Itinerary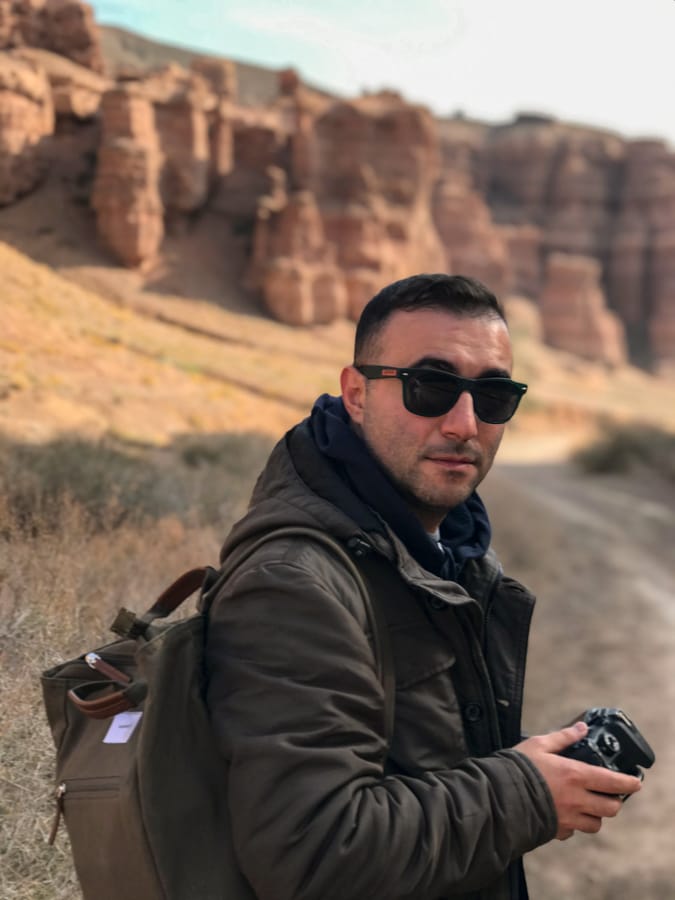 Aram is a travel blogger and writer from Armenia who spends his time between Spain and his home country. He is passionate about music and football (the European kind) and covers a lot of Western European destinations on the blog. Aram is a laidback traveler who enjoys meeting new people and finding the best food in each city that he visits (hence his frequent trips to France, Italy, and Greece!). He has been featured in (or written for) Forbes, BBC, The Guardian, Fodor's Travel, and more.