Are you looking for the best day trips from Nice, France for your upcoming trip? From Grasse to Monaco to Cannes and beyond, we cover the most popular (and most beautiful!) ones here.
This guide to Nice day trips will include information on what to do there, how far the destination is from Nice, and even day tours that will help those not renting a car.
Did we miss any of the top places to visit near Nice, France?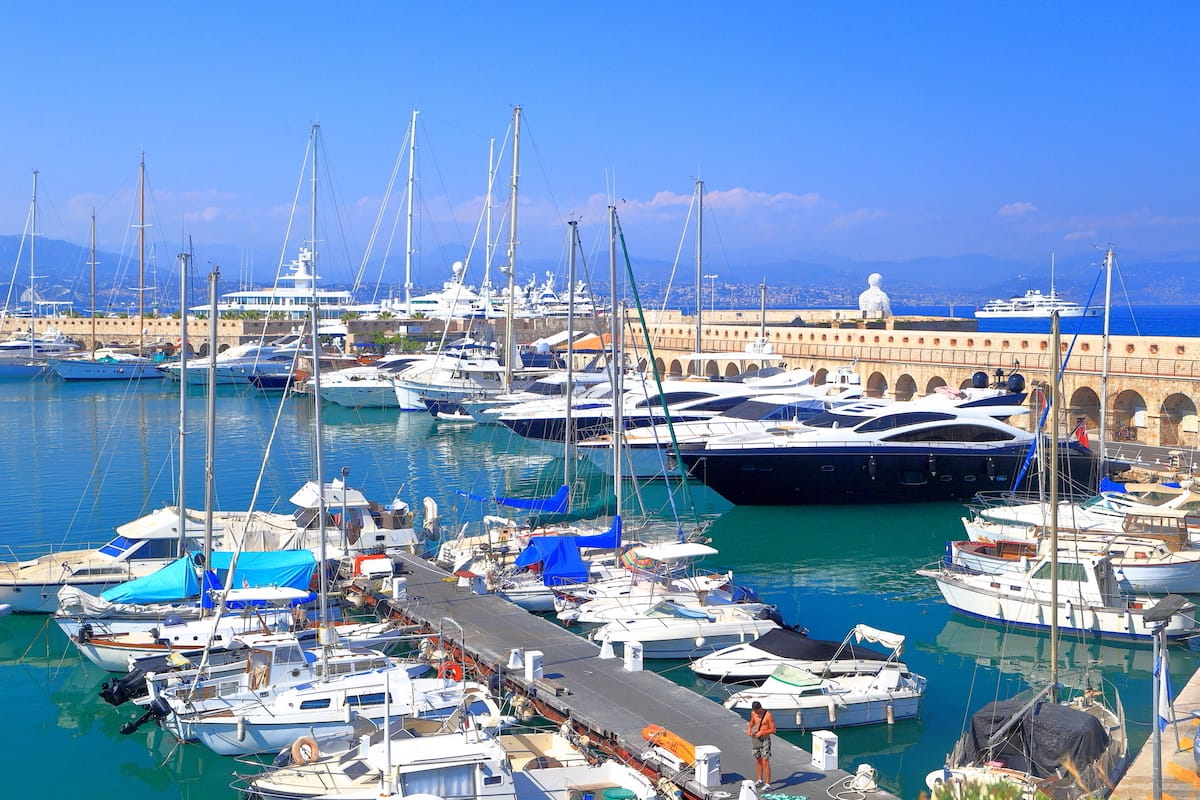 Let us know which day tours from Nice we missed (and why we need to include them)!
Best Day Trips From Nice, France
1. Monaco
Distance from Nice: 20.6 km (26 minutes)
➡️ Check Monaco day tour options
Nestled on the sun-kissed shores of the French Riviera, Monaco is a famous playground for the rich and famous.
This is where glamor, sophistication, and sublime natural beauty meet, and it is easily one of the most popular day trips from Nice!
Witness the remains of the former princes of Monaco at the Monaco Cathedral, try your hand at the 300 slots at the Monte Carlo Casino, and so much more on a day trip from Nice to Monaco!
Attached to the same building of the casino is the Opera de Monte Carlo, dating back to 1870, where you can catch more than just operas or sip a glass of bubbly at the luxurious open-air terrace.
If you are visiting in May, then that's the right time to watch a race at the Formula One Monaco Grand Prix.
Immerse in tranquility at Saint-Martin Gardens, indulge in retail therapy at Le Metropole Shopping Center, and tour the Prince's Palace to see the Blue Room, Throne Room, and Palatine Chapel.
Day Tours to Monaco from Nice
An easy way to visit Monaco without the hassle of renting a car or using public transportation is to take a day tour there.
There are a few options from Nice that not only offer you a chance to see Monaco but also other remarkable places nearby (like Eze and Antibes).
Here are our top picks for Nice day tours to Monaco:
Half-day trip from Nice to Eze, Monte Carlo, and Monaco (the most booked day tour from Nice)
French Riveria in one day (full-day tour takes you to Monaco, Antibes, Cannes, and more!)
Round-trip ferry tickets to Monaco from Nice (great for independent travelers)
2. Gorges du Verdon
Distance from Nice: 140.3 km (2 hours, 5 minutes)
➡️ Check Gorges du Verdon day tour options
Gorges du Verdon is another great day trip destination from Nice, which offers endless opportunities for hikers, nature lovers, and adrenaline junkies.
This natural river canyon allows you to get your daily dose of adrenaline while jumping in the water, climbing rocky gorges, and rafting in cold waters.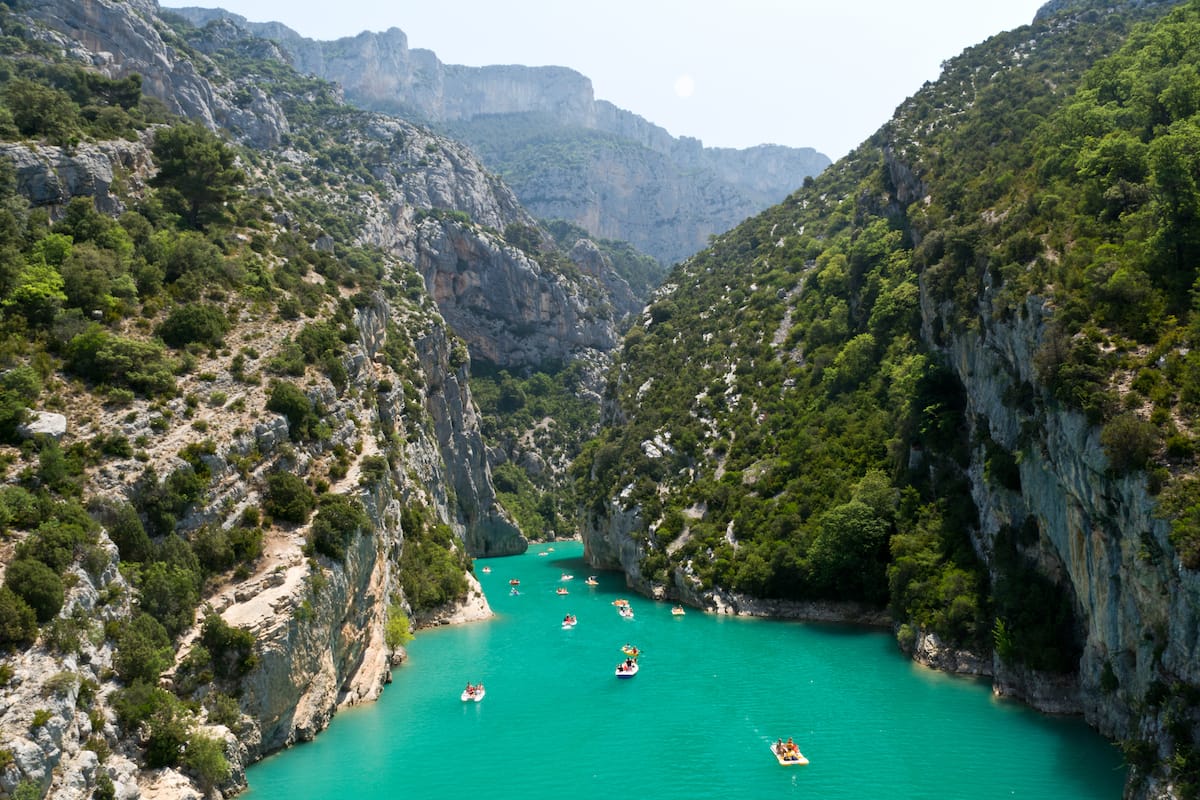 Try bungee jumping from the 182-meter Pont de l'Artuby, take in magnificent views from Galetas Bridge, and visit nearby Moustiers-Sainte-Marie, packed with historic architecture, cobbled streets, and quaint cafés.
Hop on an electric boat on Lac de Sainte-Croix, head to rafting the Upper Verdon which runs between Allos and Saint-André-les-Alpes, or take a guided canoe tour of the prehistoric La Baume Bonne cave on the Verdon near Quinson.
Hike the Sentier Blanc Martel or Sentier L'Imbut, drive along Route des Crêtes, or enjoy paragliding to experience the splendor of the Verdon Gorge from above.
>> Book a Gorges du Verdon day trip from Nice here
3. Cannes
Distance from Nice: 33.3 km (34 minutes)
➡️ Check Cannes day tour options
Cannes is a top French Riviera destination that will treat you to stylish boulevards, marinas filled with luxury yachts, fashionable restaurants, designer boutiques, private beaches, and more.
No need to mention that the prestigious Film Festival of Cannes draws the world's biggest stars to this legendary seaside resort.
Stroll along Boulevard de la Croisette, lined with palm trees, casinos, and designer boutiques, feast on French flavors at Marché Forville, and visit Eglise Notre-Dame de l'Espérance to marvel at the inspiring heights of its Gothic vaulting.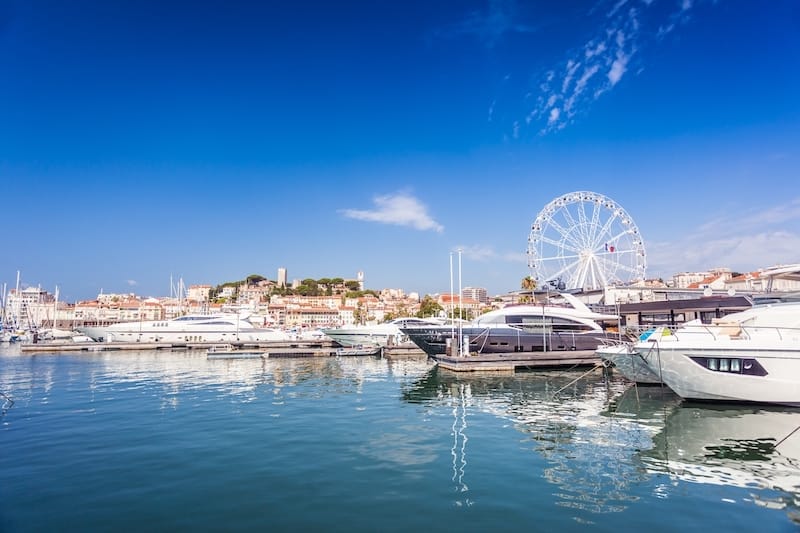 History buffs won't regret adding the Musée des Explorations du Monde, Le Suquet, and Villa Rothschild to their bucket lists.
The Old Port is one of the top Cannes attractions, which hosts the Cannes Yachting Festival in September and features sleek-looking yachts, floating palaces, chic bars, and restaurants.
Head for the sand at Croisette Beach, step inside Chapelle Bellini and enjoy a short hike at La Croix des Gardes.
>> Click here to check day tour rates to Cannes from Nice
4. Eze
Distance from Nice: 12.3 km (18 minutes)
➡️ Check Eze day tour options
Escape the city's hustle and bustle at Eze, a medieval gem built on a hillside overlooking the pristine Mediterranean Sea.
If you are driving to Eze, make sure to pull over at "The Bella Vista" to wow at the majestic views of Eze Village and Côte d'Azur.
Once you enter this enchanting village, you will step back in time as you get lost in this labyrinth of cobblestone streets.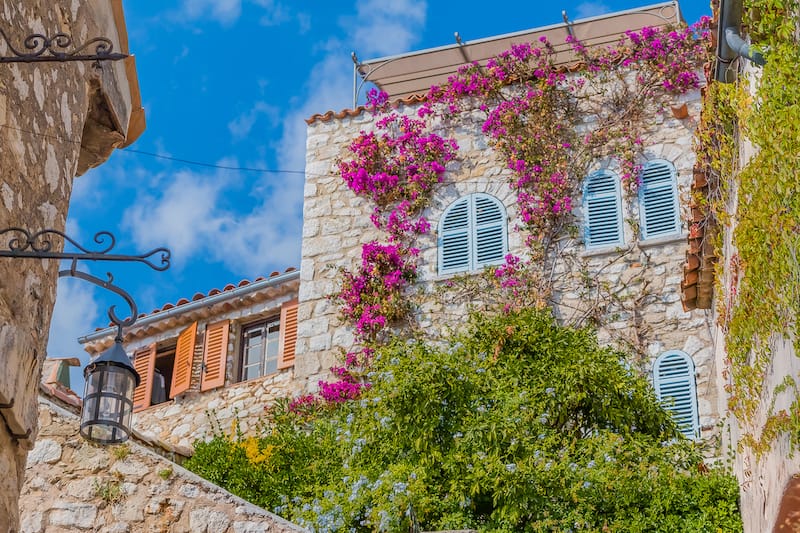 Step inside the neoclassical 18th-century catholic Église Notre-Dame-de-l'Assomption, escape into the world of green at Èze's Jardin Exotique and spend a few hours at the cemetery right next to the exotic garden.
When hungry, head to Les Remparts Restaurant at the 5-star Chèvre d'Or Hotel to enjoy lunch with a view. Hike the Nietzsche Trail, explore the ruins of Eze Castle, and tour the Fragonard Perfume Factory to pick rose-and-musk-scented souvenirs for your loved ones.
The Chapelle de la Sainte Croix, Eze-Sur-Mer Beach, and Galimard Perfume/Soap Factory are other not-to-miss sights.
>> Book a day tour to Eze from Nice here
5. Grasse
Distance from Nice: 45.5 km (45 minutes)
Those who have a passion for perfumes should definitely add the fragrance capital of France, Grasse, to their bucket list.
First head to Musée International de la Parfumerie to immerse in different scents at the museum's aromatic sensing points.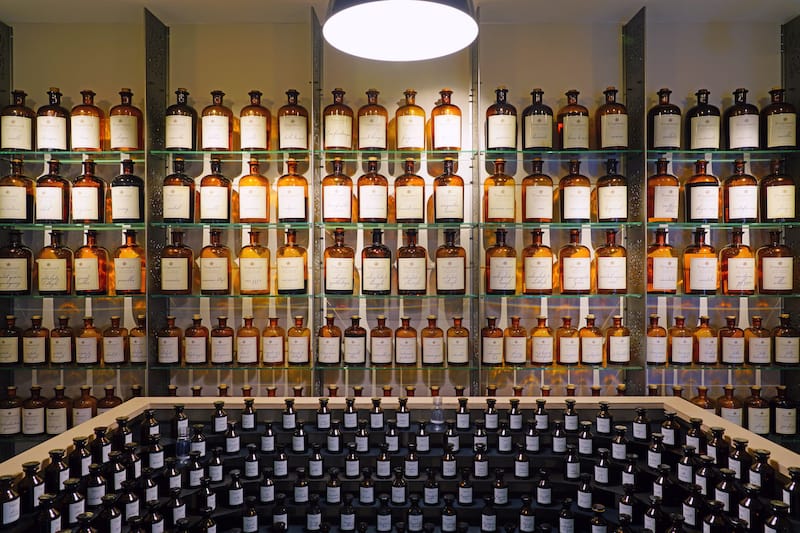 Visit Fragonard Art Museum to get an idea of what the perfume industry meant for France and Musée Provençal du Costume et du Bijou to see an outstanding collection of traditional Provençal clothes and jewelry.
Dive deep into the history of olive cultivation at Domaine de la Royrie, check out the modern art of Colline des Gardettes at the Fondation Maeght, and soak up the unique charm of the Old Town which features many restaurants, cafés, and shops.
🌹
GRASSE TIP:
As noted above, Grasse is the world's perfume capital! If you find yourself in Grasse, it is imperative that you sign up for this
'make your own perfume' workshop
. It is the best souvenir!
Outdoor enthusiasts can visit Gorges du Loup, attend the Jasmine Festival, and wander the lavender fields.
Your Grasse trip won't be complete without visiting Cathédrale Notre Dame du Puy, Les Grottes de Saint-Cézaire, and La Domaine de Manon.
6. St. Jean Cap Ferrat
Distance from Nice: 10.3 km (18 minutes)
Once a fishing and farming village being part of the town of Villefranche-sur-Mer, St. Jean Cap Ferrat in Provence-Alpes-Cote d'Azur is a playground for celebrities, royalty, and big spenders.
And one of the top things to do in Nice is to pay it a visit!
Those who want to get a glimpse of the city's rich cultural heritage should visit the Saint Hospice Chapel and church of Saint John the Baptist.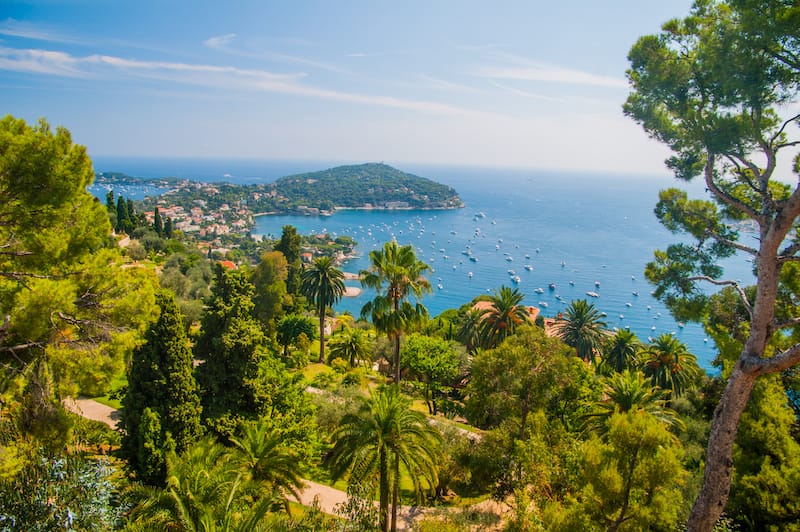 Close to the chapel, you can see Saint-Hospice Point featuring the maritime cemetery, and just below the chapel is another historic gem, the Belgian Military Cemetery, which houses those who died at the villa Les Cedres during WWI.
Marvel at the grandeur of Villa Ephrussi de Rothschild, a Renaissance-inspired palace where you can tour the extensive art, porcelain, furniture collections, and gardens.
Take a relaxing stroll along the Maurice Rouvier Promenade, embark on the Tour of Cap-Ferrat, and soak up the sun at Cros deï Pin Beach.
Other areas of interest are Cap-Ferrat Lighthouse, Musée des Coquillages, and Paloma Beach.
7. St. Paul de Vence
Distance from Nice: 32.2 km (38 minutes)
St. Paul de Vence, a fairytale village perched high on a hilltop, is one of the best day trips from Nice.
Rue Grande is the village's main street featuring ​​the Provencal style of cobblestone streets called calade and lined with modern art galleries.
Explore Cimetière de Saint-Paul-de-Vence, sit by the Place de la Grande Fontaine, and admire the diverse art scene at Fondation Maeght.
The 17th-century Chapelle des Pénitents Blancs is another masterpiece decorated with stained glass, oil on canvas, mosaics, and sculptures.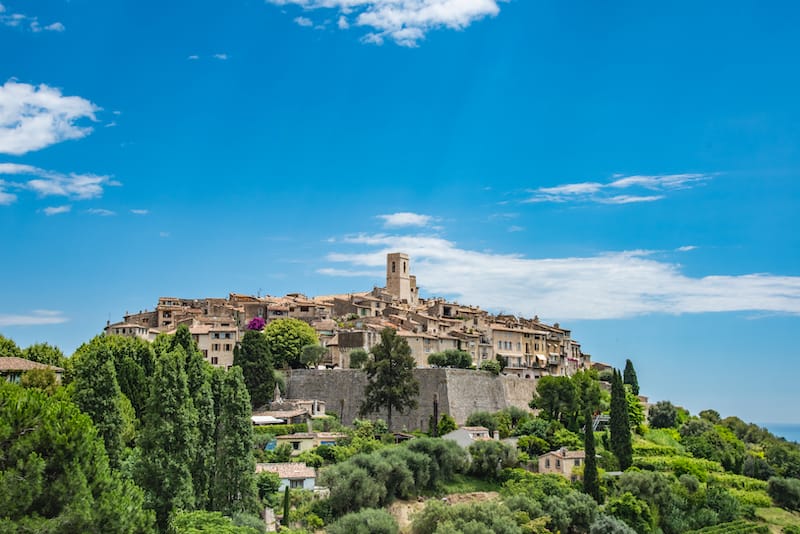 Don't miss hiking Baou de Saint-Jeannet, dining in style at La Colombe d'Or, and feeling a sense of spirituality at Eglise Collégiale Saint Paul, dating back to the 14th century.
Tour de l'Espéron is your perfect option to get a glimpse of an impressive reminder of Saint Paul's rich past.
Rounding off your tour at La Petite Cave de Saint Paul is a must, where you can find an array of fine wines and liquors.
8. Entrevaux
Distance from Nice: 74.4 km (1 hour, 10 minutes)
Entrevaux is a medieval fortified village that invites you to step back in time in a fairy tale setting.
Crossing a narrow ancient drawbridge and passing through the imposing Royal Gate in the fortified walls, you will enter this medieval hilltop village where you can get lost in the winding alleys dotted with ancient houses, squares, and fountains.
Make sure to climb up a paved path to the Citadel fortress perched 156 meters above the village to take in the panoramic views of the village and Var Valley.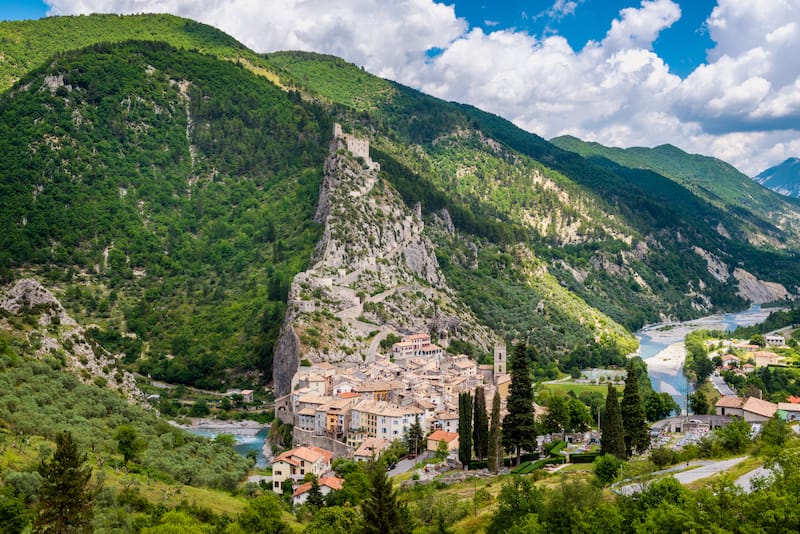 The 17th-century Lady of the Assumption (Notre Dame de l'Assomption) is another masterpiece found at the other end of the village.
The cathedral has nothing extraordinary from the outside, but don't let its exterior fool you. Once you push the door, you will be mesmerized by its Gothic architecture mixed with magnificent baroque decorations.
9. Aix-en-Provence
Distance from Nice: 178.1 km (1 hour, 57 minutes)
Aix-en-Provence is the perfect getaway for those who appreciate elegance, high culture, and a slow-paced lifestyle.
Start your trip by wandering the charming streets of Old Aix, which are packed with marvelous architecture, charming markets, classic French galleries, cafes, and historical features.
Immerse in art at Fondation Vasarely, get lost in Rue des Tanneurs or Rue de la Vallerie and gaze out at the 14th-century bell tower and dozens of elaborate statues at Aix Cathedral.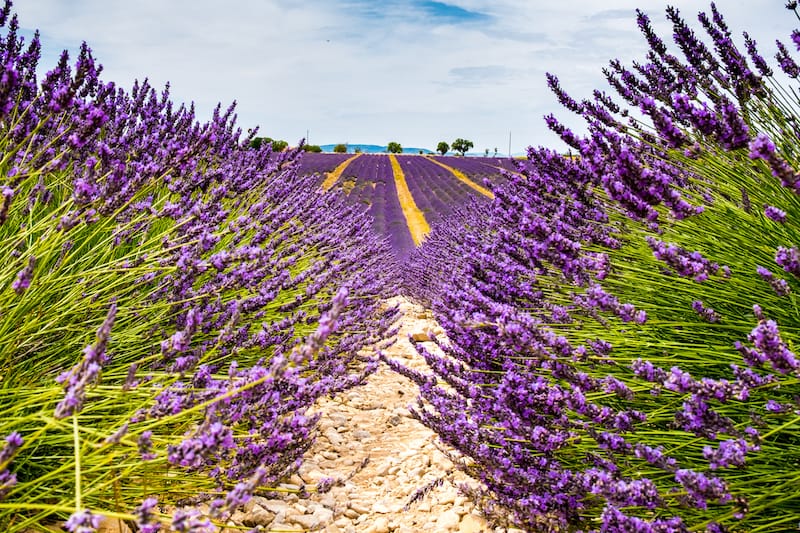 Your Aix trip won't be complete without visiting Cathédrale Saint-Sauveur, Musée des Tapisseries, Atelier de Cézanne, Terrain des Peintres, and Pavillon de Vendôme.
Don't miss admiring 12,000 paintings, sculptures, and historical artifacts at Musée Granet, getting a real taste of Provençal delights at food markets on Place des Prêcheurs and having an alfresco lunch at one of the cafes at Cours Mirabeau.
Before leaving, head to Musée du Calisson to pick the local favorite Aix delicacy for those you left at home.
10. Iles des Lerins
Distance from Nice: 27 km (1 hour, 43 minutes by ferry)
Just off the coast of Cannes, you will find Iles des Lerins (Lerins Island), which offers a serene and tranquil escape amidst an unspoiled setting.
Ile Sainte-Marguerite is the largest of the Lérins Islands and features the Fort Royal, a 17th-century fortress and prison that housed the Man in the Iron Mask.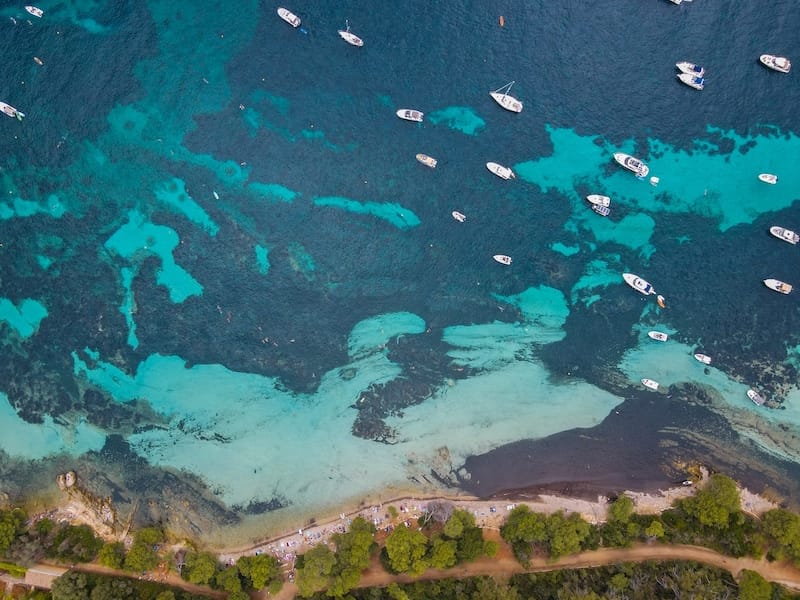 Inside you can tour the maritime-themed museum to see various artifacts. Explore peaceful forests of pine and eucalyptus trees at Point de la Convention, enjoy bird watching at Batéguier Pond, and hike the Chemin de Ceinture if you're in search of a quiet place to swim.
Your next stop should be Ile Saint Honorat, the smaller one of the two main islands. Highlights of the island are the Abbey of Lerins, home to Cistercian monks who produce wine and liqueurs, the Monastère Fortifé fort, St Pierre, and St Caprais.
For an unforgettable experience, dive into the Jason deCaires Taylor underwater ecomuseum to witness six stone giants in the sea bed that represent the faces of Cannes residents.
11. Massif de l'Esterel
Distance from Nice: 78.3 km (1 hour, 12 minutes)
If you are looking for a day trip destination packed with unique natural attractions, then look no further than Massif de l'Esterel.
It is a volcanic mountain range covering 32,000 hectares which offers a wide range of fun activities for every age group.
Seasoned hikers can challenge themselves by hiking Pic du Cap Roux, Pic de l'Ours, or Cap Dramont in the heart of unspoiled nature.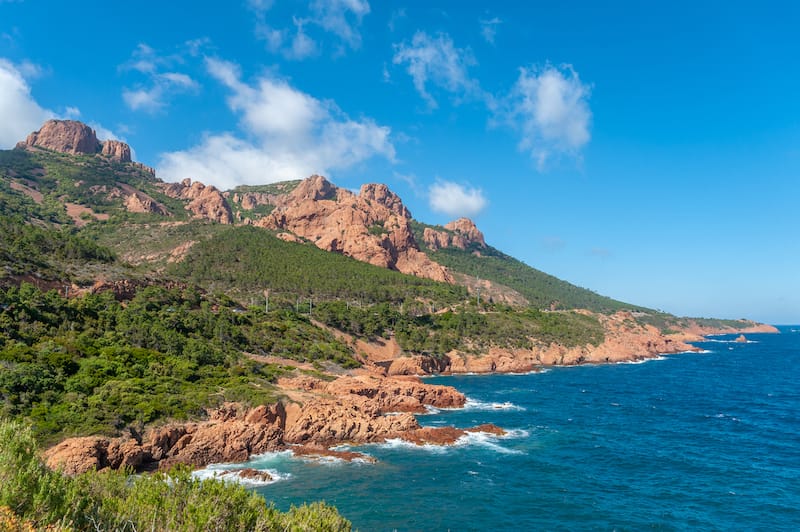 The 360° panoramic views will reward your efforts. Guided or self-guided tours are offered for horseback riders, mountain bikers, and hikers.
Take your friends and family and opt for a kayaking trip along Esterel Creek to discover Estérel from a different angle.
A scenic drive along the Corniche d'Or (Golden Road) promises mesmerizing scenery of red rocks and coastline.
Meet the dolphins at the Pelagos sanctuary, discover the Fréjus cathedral cloister, canoe at Roquebrune-sur-Argens, and sip Provenance wines at the Domaine du Clos des Roses.
12. Cassis
Distance from Nice: 200.5 km (2 hours, 10 minutes)
Cassis, a charming Provençal fishing village in the South of France, should be on any traveler's list of day trips from Nice.
People watching and admiring the views of the Port de Cassis is one of the top things to do in Cassis. It's a great place to indulge in a diverse shopping and dining scene.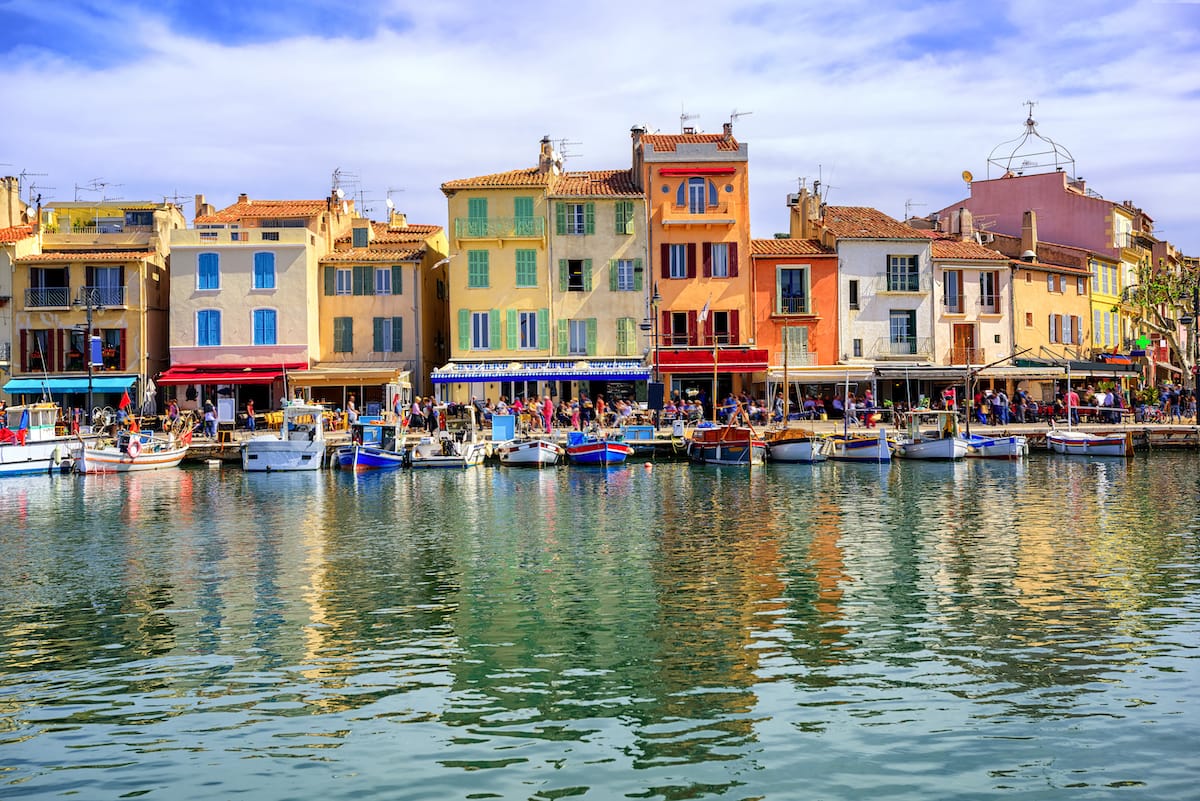 Buy fresh fruits and veggies at Cassis Market, get your daily dose of vitamin D while sunbathing at Plage de la Grande Mer, and hike inside the Calanques National Park to get a chance to swim at remote beaches.
Those who don't want to hike the Calanques can take a boat tour or rent a kayak to explore the coastline.
Dive deep into the town's past at the Chateau de Cassis, take in breathtaking views from Cap Canaille, and try Cassis wine at Domaine du Bagnol.
13. Mercantour National Park
Distance from Nice: 51 km (56 minutes)
Outdoor adventures await you at Mercantour National Park, a haven for nature lovers and adventure seekers alike.
This stunning alpine destination boasts crystal-clear lakes, miles of hiking trails, large mountain pastures, protected larch woodlands, diverse flora, and more.
Lace up your hiking boots and head to hiking the Grande Traversee du Mercantour, which crosses the valleys of Tinee and Vesubie and will reward you with hypnotic scenery along the way.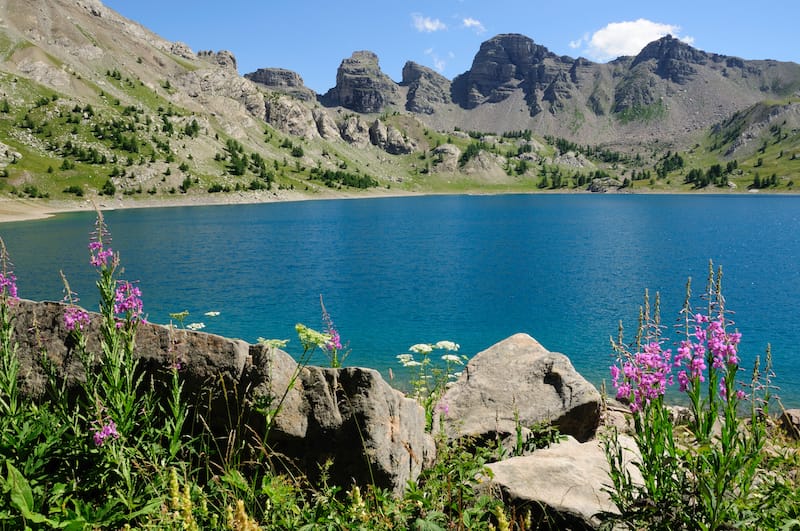 Thrill seekers should try caving, climbing, sliding down waterfalls, and abseiling off cliff faces at the Vallee de la Roya to the Maglia Canyon.
The Bollenne Canyon in the Vesubie Valley is the perfect place for white water rafting and canoeing adventures. Rock climbing, mountain biking, and paragliding are other popular activities in the park.
If you're visiting Nice in winter, you can try out a ski touring trip and join ​​a snowshoeing tour.
14. St. Maxime
Distance from Nice: 67 km (2 hours, 39 minutes by train)
Whether you're traveling with your family, want to vacation with friends, or just looking to escape with your significant other, St. Maxime, located in the Gulf of Saint-Tropez, has you covered.
Start by walking through the old town dotted with architectural gems, cafes, and restaurants. Spend the day at the beach for some sun, sand, and sea.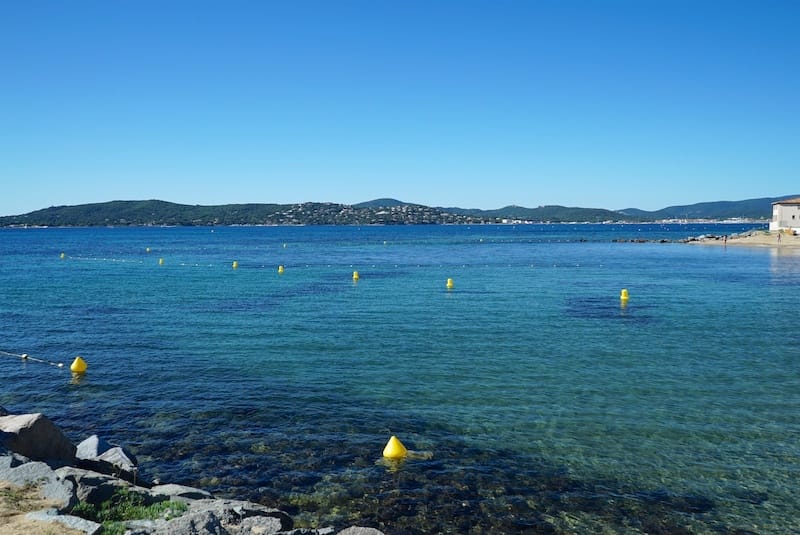 Plage de La Nartelle is a real haven for water sports enthusiasts, while Plage du Centre Ville is ideal for sunbathing and going for a dip in the ocean.
Admire the boats on the Port of Sainte Maxime, play a good round of golf at The International Golf of Sainte-Maxime Course, and get wet and wild at Aqualand Water Park.
Popular events you shouldn't miss are the Sainte-Maxime Free Flight World Masters, Bastille Day festivities, a free live concert at the Theatre of the Sea, the Mimosa Floral Parade, and the Sainte-Maxime Christmas Village.
15. Antibes
Distance from Nice: 23 km (31 minutes)
Nestled between Nice and Cannes, Antibes is a summertime vacation destination offering everything from pristine beaches and open-air markets to epic museums and boutique shops.
Wander at a leisurely pace in Vieil Antibes (Old Town), marvel at unique masterpieces created by Picasso at the Picasso Museum, and sunbathe on Plage de la Salis.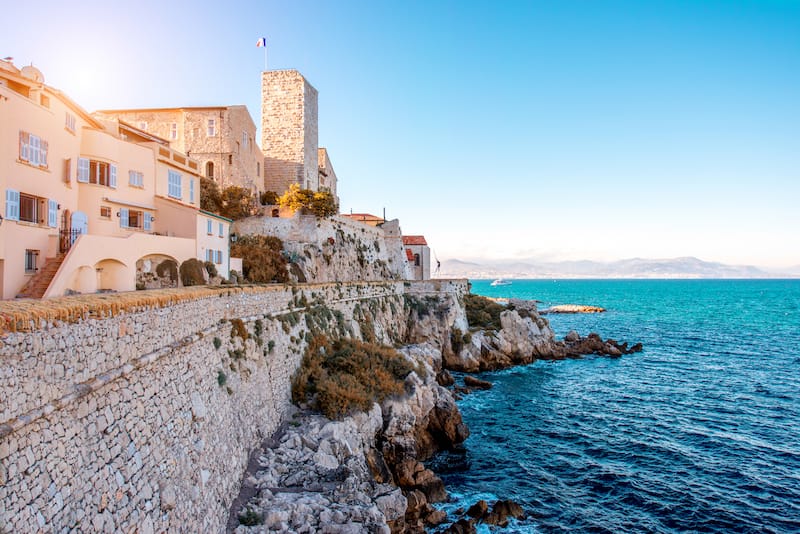 Everyone loves a good market with local specialties, and the Marché Provençal is one of the best in town, offering everything from fruits and veggies to charcuterie and herbs.
Step back in time at Fort Carré, climb up to Garoupe Lighthouse, and stroll along Picasso Trail to witness the nature that inspired the legendary artist.
Before leaving, check out Cathédrale Notre-Dame, Cap d'Antibes, Musée d'Archéologie, Le Nomade and Port Vauban.
16. Marseille
Distance from Nice: 198.3 km (2 hours, 21 minutes)
Marseille is the second-largest city in France, which blends the old and the new in exciting ways.
Notre Dame de la Garde is one of the most famous landmarks in the city, where Romanesque and Byzantine architecture, mosaic interior, and a 12-meter-high statue of the Madonna and Child will make your jaw drop.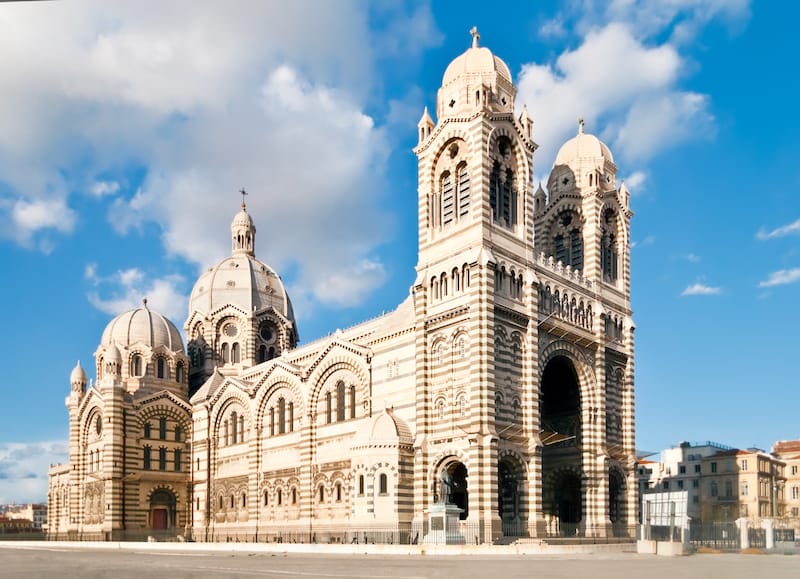 Take a boat ride to Les Calanques, wander around the Vieux Port, browse through art galleries at Le Panier, and sail to Château d'If.
Palais Longchamp, the oldest museum in Marseille, is an absolute heaven for art lovers. It houses an impressive collection of masterpieces by Italian and Provençal artists that date from the 17th century to the present day.
Hunt for treasures at Musée d'Histoire de Marseille, admire Boulevard Longchamp and dive deep into Mediterranean history at MuCEM.
Where to Stay in Nice
If you're looking for some of the top places to stay in Nice, these are some excellent options!
Did we miss any of the best day trips from Nice? Let us know your favorite Nice day trips in the comments.
More Nice Travel Guides (+ South of France)
Pin this Nice Day Trips Guide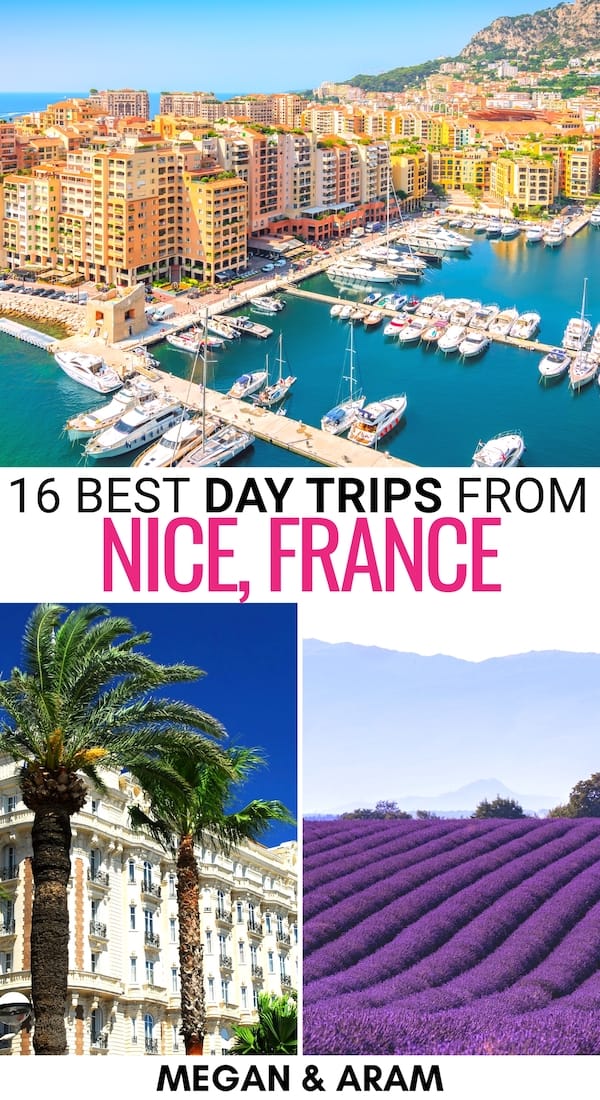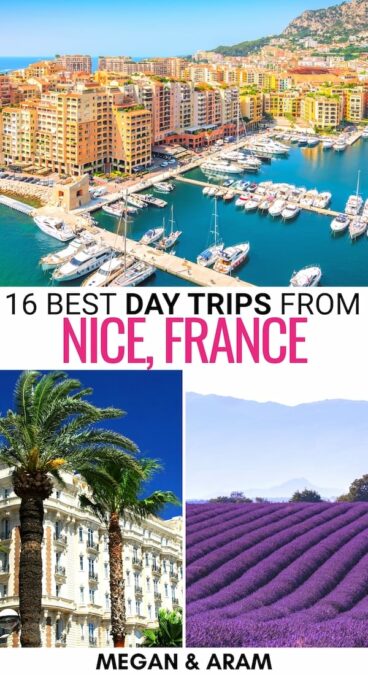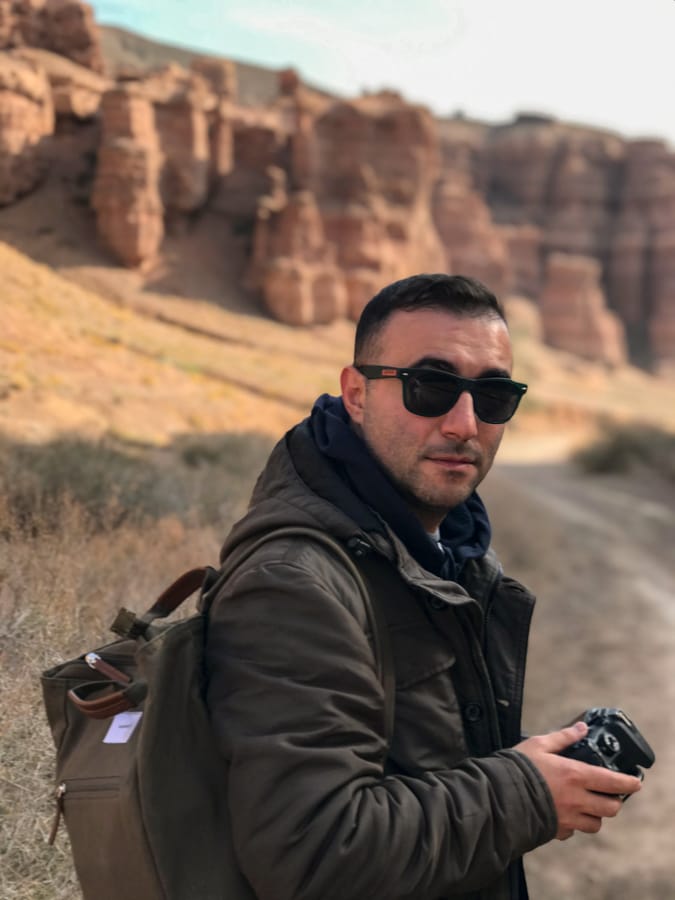 Aram is a travel blogger and writer from Armenia who spends his time between Spain and his home country. He is passionate about music and football (the European kind) and covers a lot of Western European destinations on the blog. Aram is a laidback traveler who enjoys meeting new people and finding the best food in each city that he visits (hence his frequent trips to France, Italy, and Greece!). He has been featured in (or written for) Forbes, BBC, The Guardian, Fodor's Travel, and more.