Are you looking for the best things to do in Strasbourg? This guide has you covered!
Are you planning your trip to Strasbourg last minute?
If youʻre booking your trip to Strasbourg last minute, we have you covered. Below are some of the top tours, hotels, and more!
🇫🇷 Top Experiences and Tours in Strasbourg:
🛌 Top Hotels in Strasbourg:
🚗 Looking for the best way to get around Strasbourg? Click here to check rental car rates for France!rental car rates for France!
If you're seeking the top Strasbourg attractions, museums, historical sites, and more… you've come to the right place.
This guide discusses some amazing day trips from Strasbourg, as well as the top places for sightseeing in the city.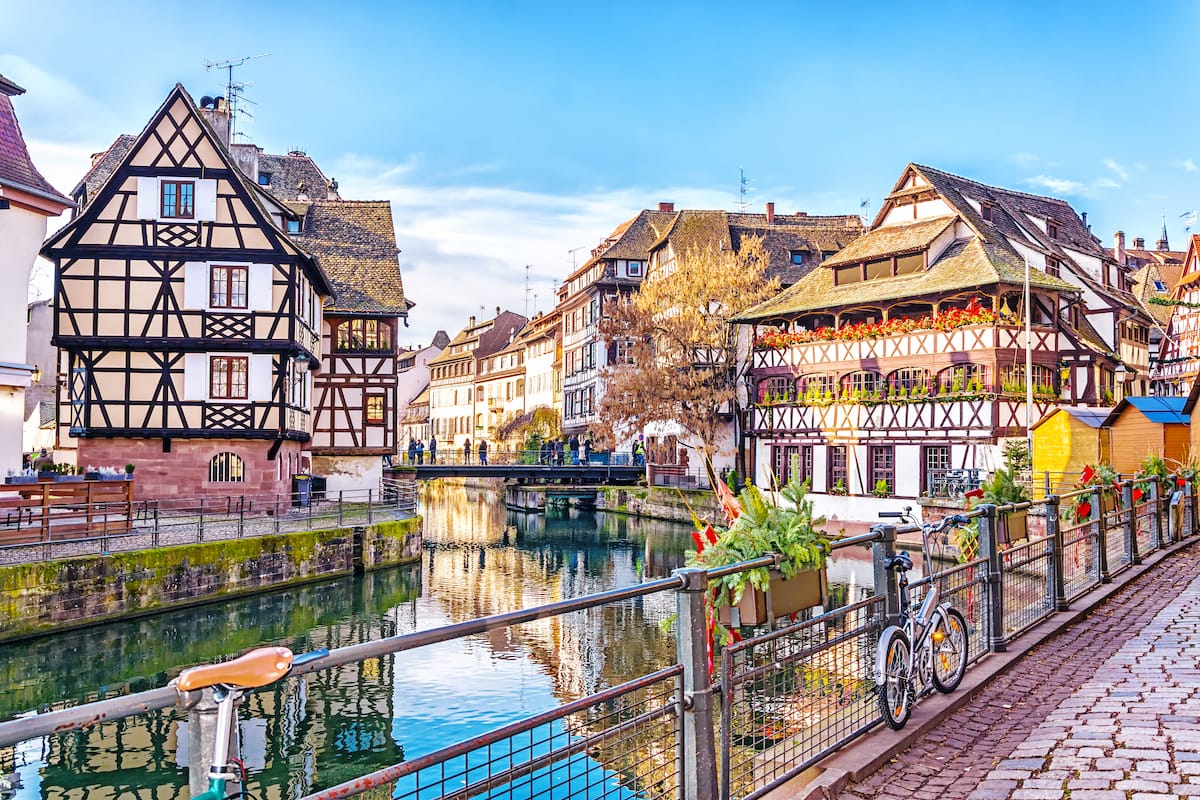 Did we miss any of the most important landmarks in Strasbourg worth visiting?
Let us know what to do in Strasbourg for first-time visitors in the comments. Thanks!
Best Strasbourg Tours (to Maximize Your Time!)
If you're looking for something more organized when in Strasbourg and the surrounding area, here are some awesome Strasbourg tours you should check out.
These tours will help you maximize your time, which is especially important if you only have a short amount of time in the city! We listed a variety so that you can pick which one is most suitable for you (and many include multiple places!):
Best Things to Do in Strasbourg, France
1. Take a Strasbourg Food Walking Tour
If you're a foodie visiting Strasbourg, taking a food walking tour is an absolute must. The city is known for its delicious and unique culinary traditions, and a walking tour is a perfect way to experience two things at once.
Your tour will take you through the central part of Strasbourg, exploring the top local food shops, bakeries, and markets, where you can sample some of the region's most famous dishes.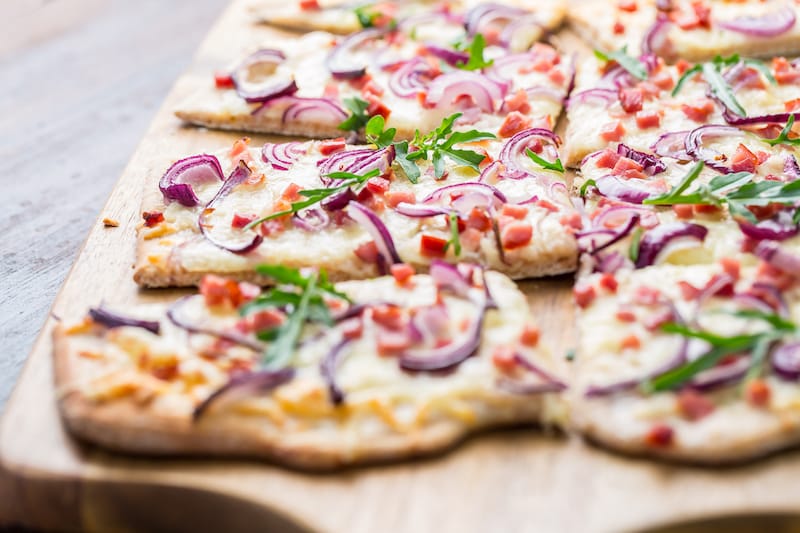 You will have five stops to sample local delicacies like charcuterie, flammekueche, gingerbread, a thin crust pizza-like dish topped with bacon and onions, a hearty sauerkraut stew served with sausages and other meats, a cheese tasting, and more.
For beer lovers, this tour will be a double pleasure with local beer and wine tastings at famous breweries.
>> Click here for food tour rates and availability
2. Embark on a Black Forest and Baden-Baden Day Trip
Have you explored every corner of Strasbourg? If yes, get ready to cross the border for a one-day trip to the Black Forest, Germany. The place is as mysterious and captivating as its name.
The first stop will be the Black Forest with its many hiking trails, winding through dense pine trees, past picturesque lakes, and waterfalls.
You can take a short walk before moving to your next location, the historic spa town of Baden Baden. It is known for its many thermal baths and spas, attracting guests for centuries.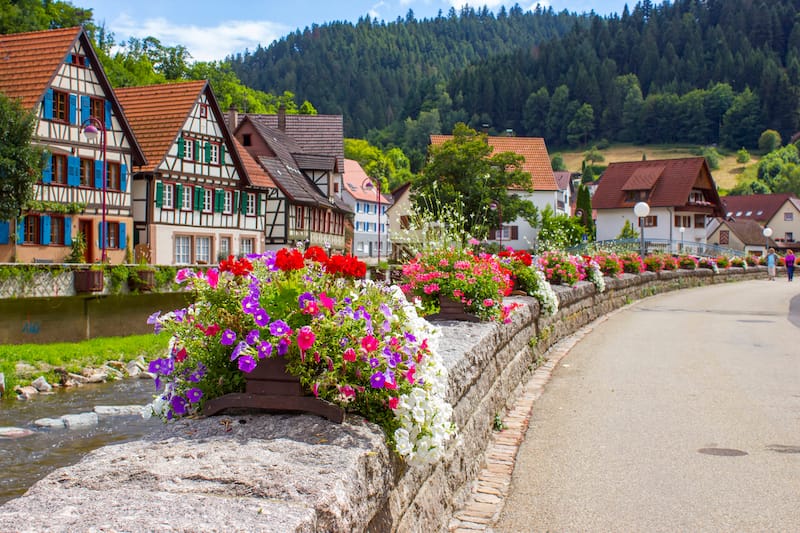 Unfortunately, you may not have time to relax in one of the town's many luxurious spas, but you can stroll through the beautiful gardens, and parks, and see the famous Baden-Baden Casino, which has been entertaining visitors since the 19th century.
Your trip wouldn't be complete without a visit to the stunning Mummelsee Lake, the highest, the largest, and the deepest of the Seven Cirque Lakes.
Before returning to Strasbourg, you will sample the famous Black Forest cake and cured meat.
>> Click here for Black Forest tour rates and availability
3. Go on an Alsace Medieval History Day Trip
Get your chance to dive into Alsace's rich history and culture on your medieval history day trip from Strasbourg to Alsace.
The first stop on your tour should be the stunning Haut-Koenigsbourg Castle. This imposing castle was built in the 12th century, sitting atop a hill and overlooking the Alsace region.
You will explore the castle's ramparts, towers, and courtyards.
What is Alsace without wine? And yes, your tour will follow the Alsace Wine Route with several stops at medieval villages, including Riquewihr with its 16th-century Thieves' Tower.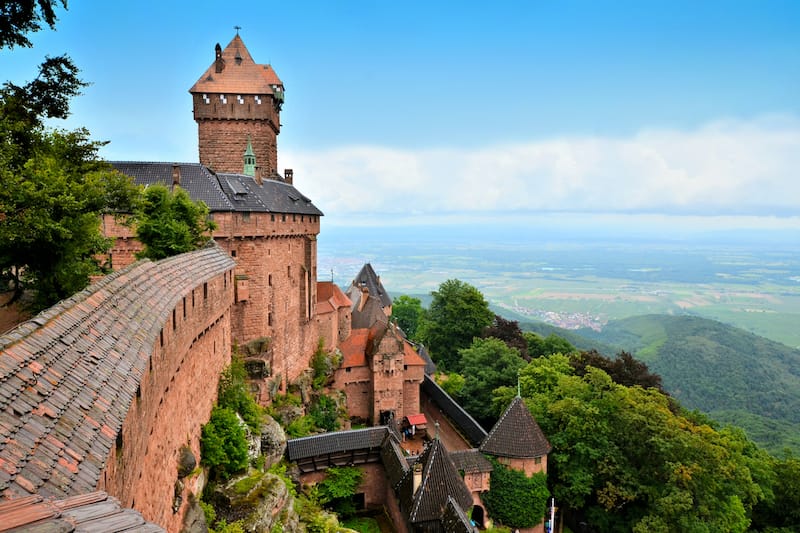 Before the last stop, you will see Kayserberg with its fortified bridge and finally reach the city of Colmar.
It is known for its well-preserved medieval and Renaissance architecture, including the beautiful half-timbered houses of the Little Venice neighborhood.
Don't forget that your trip to Alsace also offers the chance to sample some of the region's delicious cuisine and wine: choucroute, tarte flambée, and kougelhopf.
>> Click here for tour rates and availability
4. Marvel at the Astronomical Clock
The Astronomical Clock in Strasbourg is an absolute must-see attraction for travelers who appreciate history, culture, and engineering.
It is one of the world's oldest astronomical clocks, dating back to the Renaissance period, located in the Strasbourg Cathedral.
The clock presents artistic and scientific elements with its intricate design, making it a true masterpiece of craftsmanship.
As you explore the clock, you'll be amazed by the complex mechanisms that display the movements of the sun, moon, and stars.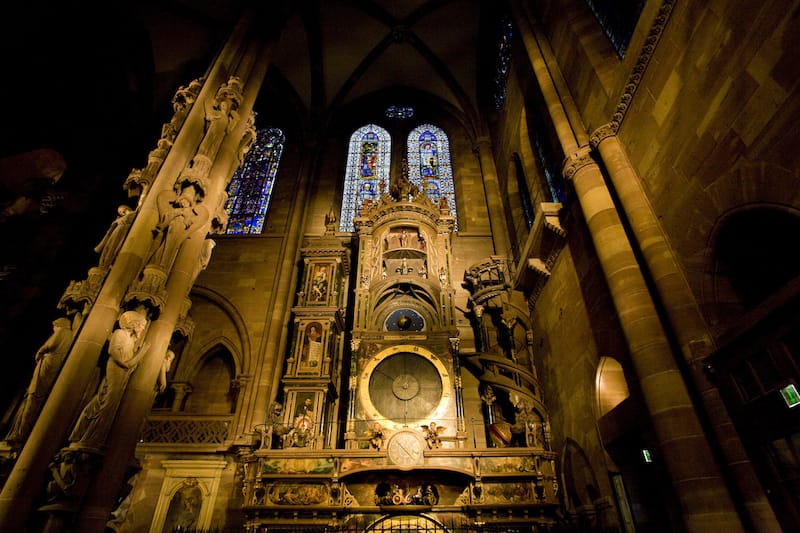 At every hour, the twelve apostles parade past Christ in a stunning spectacle that must be seen to be fully appreciated.
The clock also has an animated rooster that crows at noon, a calendar that shows the date and various festivals, and it performs different actions at different times.
You can admire the clock for free when the cathedral is open or visit it as part of a guided tour of the clock tower to gain an in-depth understanding of its history and operation.
As you climb to the top of the tower, you'll be treated to breathtaking views of the city and its surroundings.
Address: 67000 Tramway de Strasbourg, 67000 Strasbourg
5. Photograph the Cathédrale Notre Dame de Strasbourg
The Cathédrale Notre Dame de Strasbourg in the city's heart is one of the most visited cathedrals in France. The cathedral itself is a sight to behold.
Standing over 142 meters tall, it is one of the tallest cathedrals in Europe with an intricate design.
The breathtaking interior changes the views of no less impressive facade. While you walk along the long nave, look around to see the stained-glass windows and spot the huge organ with animated figures.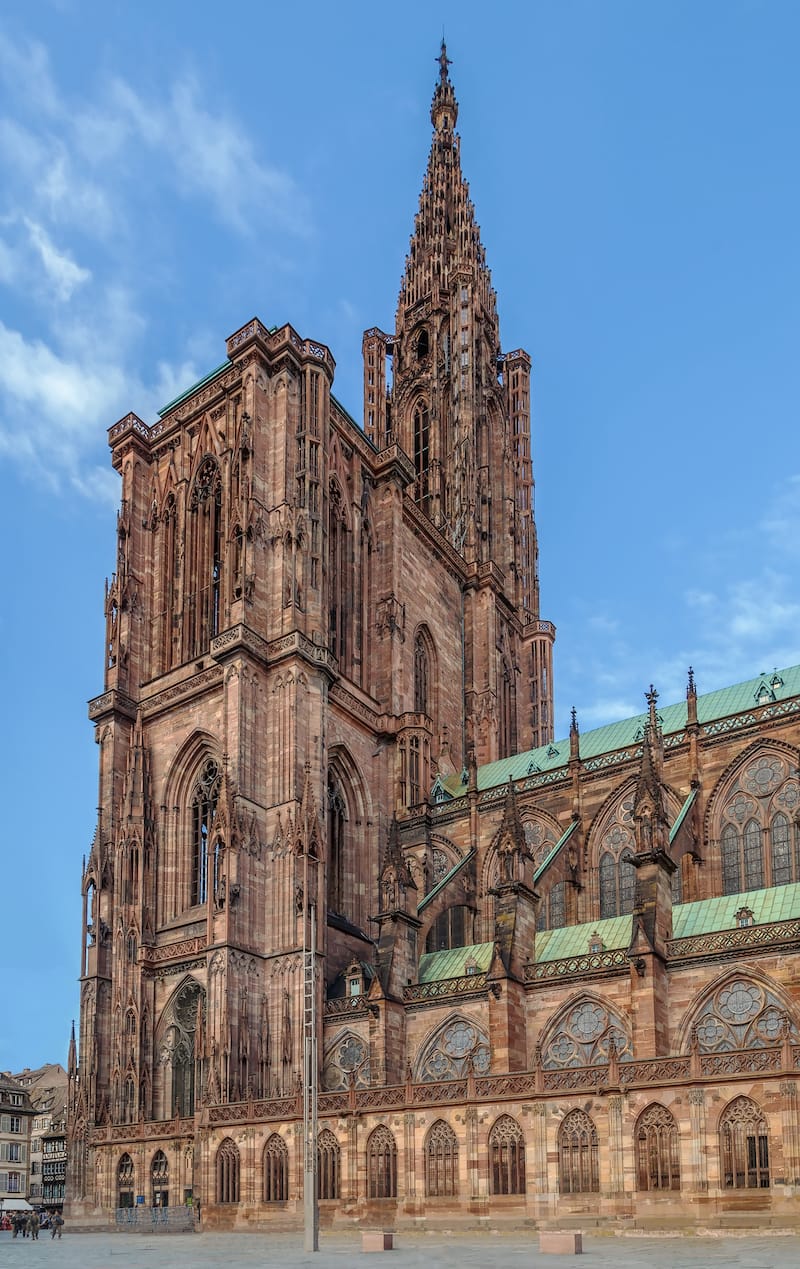 One of the cathedral's highlights is its famous astronomical clock, dating back to the 16th century.
The clock is a marvel of engineering and artistry, and you can witness the clock's mechanism in action during the daily performance at 12:30 pm.
Another popular attraction at the cathedral is the climb to the top of the tower. The stairs are steep, but the view from the top is absolutely breathtaking.
Address: 67000 Tramway de Strasbourg, 67000 Strasbourg
6. Peruse the La Petite France Neighborhood
La Petite France is a charming neighborhood famous for its picturesque half-timbered houses, narrow canals, and quaint bridges.
A must-visit spot in La Petite France is Rue du Bain-aux-Plantes, known for its adorable white houses. At the end of the street, you'll find Pont du Faisan, a small bridge that pivots during the day to allow boats to pass by.
Another popular attraction in La Petite France is the Vauban Dam, which was once a defensive structure but now houses art exhibits. From the rooftop terrace, you can take in stunning views of the surrounding area.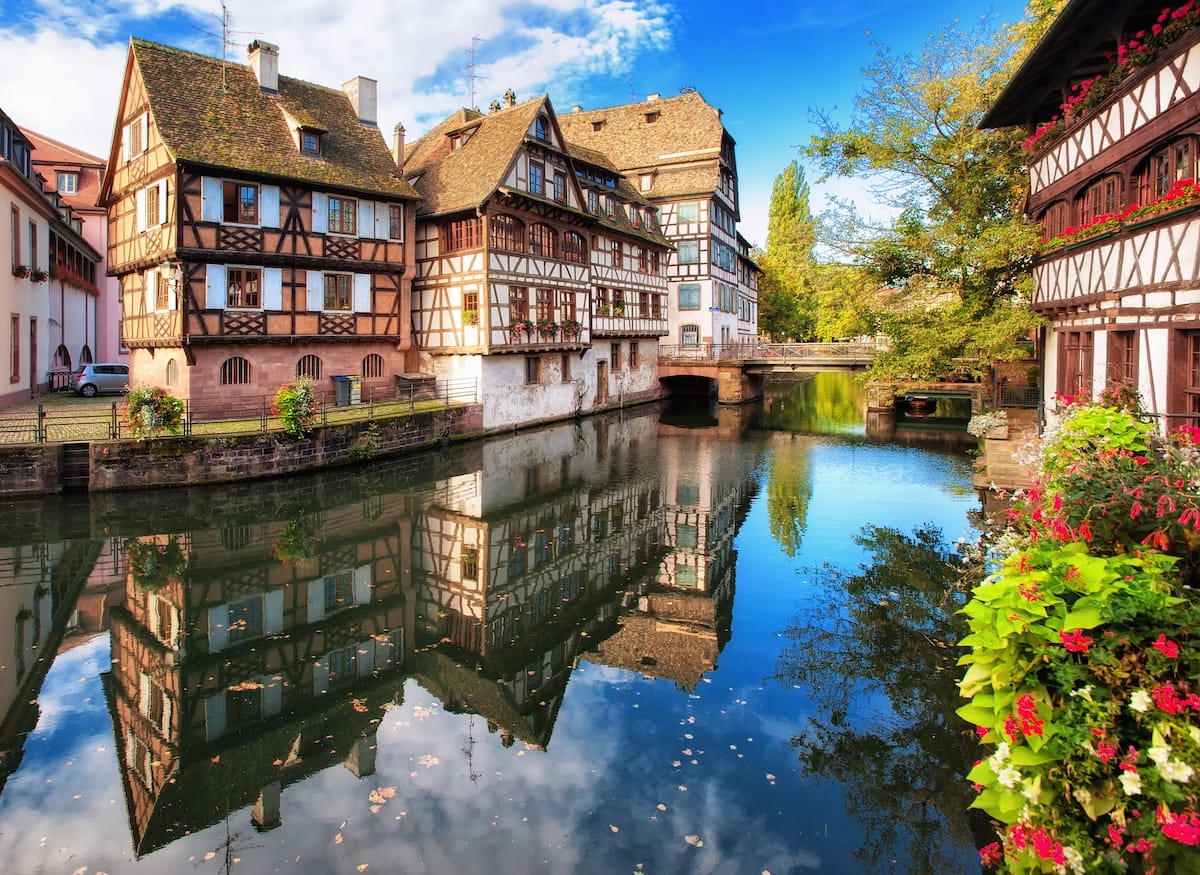 No trip to La Petite France would be complete without sampling some of the neighborhood's famous food and drink.
Be sure to try local specialties like choucroute (sauerkraut), flammekueche (a type of thin-crust pizza), and Alsace wine, renowned for its crisp, fruity flavors and versatility when paired with food.
There are plenty of popular restaurants to choose from, including Le Pont Tournant, L'Épicerie, and Restaurant Au Petit Bois Vert.
7. Rejuvenate at Parc de l'Orangerie
Parc de l'Orangerie is a vast and stunning park popular among residents and guests looking for a spot to relax and unwind in a beautiful natural setting.
Covering over 26 hectares, it is one of the largest and most beautiful parks in Strasbourg, with stork breeding, neat alleys, playgrounds, fountains, and more.
Walking along the alleys, you will see storks here and there, the symbol of Alsace.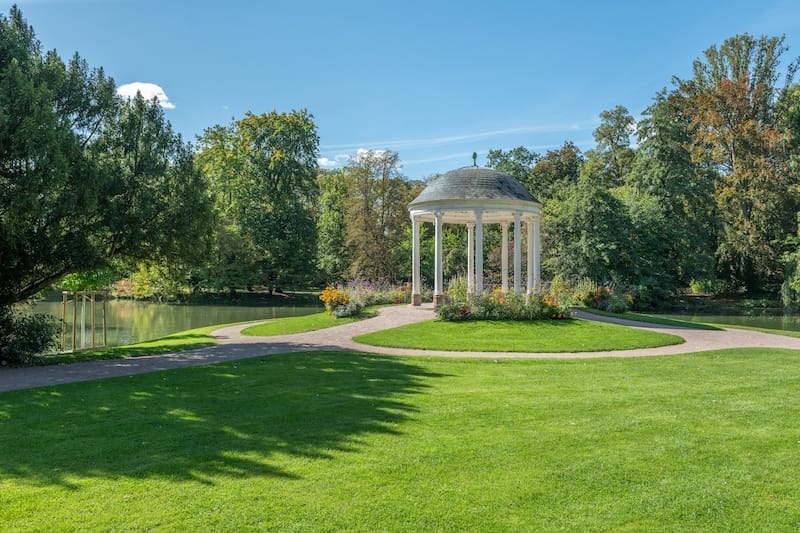 One of the highlights of Parc de l'Orangerie is its beautiful lake, surrounded by lush greenery with stunning views of the park and the city beyond.
For those traveling with children, Parc de l'Orangerie is also home to family-friendly attractions, including a small zoo, a mini-golf course, and a playground.
It is a popular destination for sports enthusiasts, with tennis courts and neat trails for jogging.
8. Wander the Palais Rohan
The Palais Rohan is a magnificent 18th-century palace that hosted such names as Louis XV, Marie Antoinette, and Napoléon Bonaparte, and now it houses three museums.
Before entering, admire the stunning facade with ornate sculptures, carvings, and decorations. Once you enter, you will see beautiful frescoes, tapestries, and furnishings.
The first place to visit is the Museum of Decorative Arts with its unique furniture, ceramics, glassware, and textiles, all of which showcase the finest examples of craftsmanship from the 17th to the 19th centuries.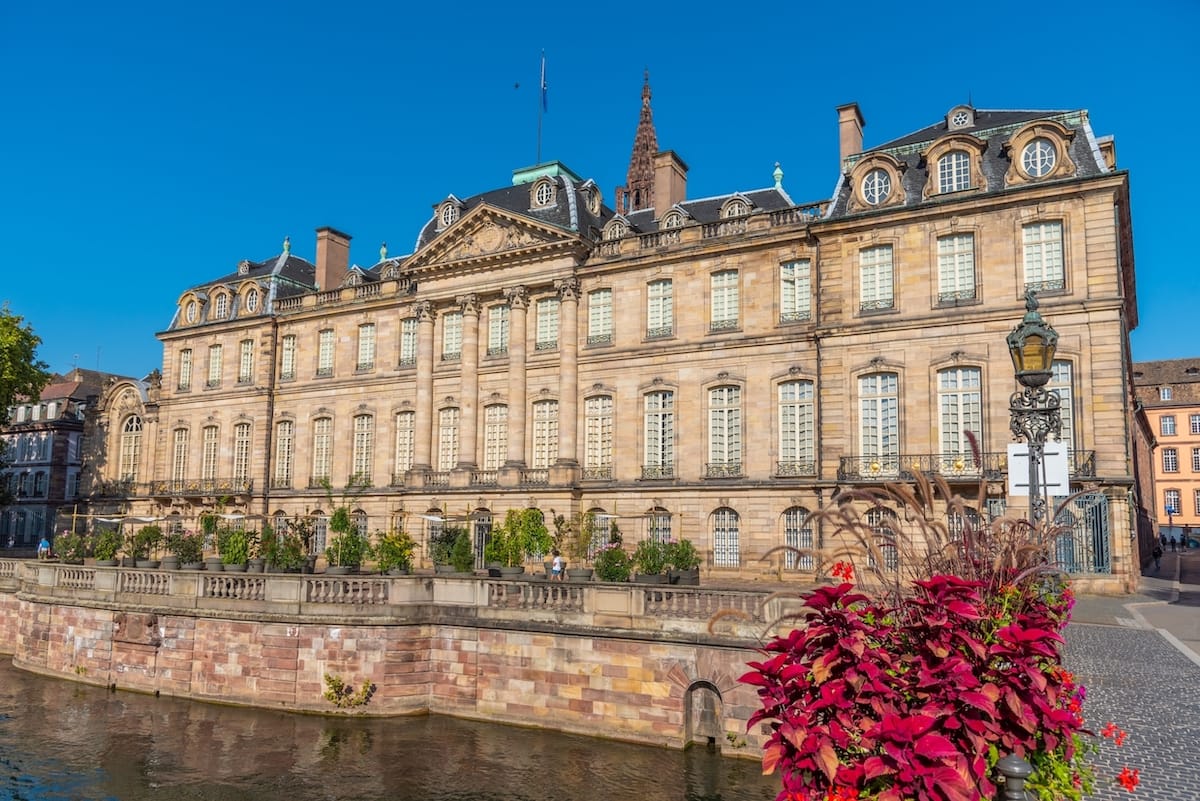 The Museum of Fine Arts is another highlight of the Palais Rohan, with a collection that spans over 500 years of art history.
You can see works by Botticelli, Goya, and Rubens, as well as those by local artists and lesser-known figures.
Your final stop is the Museum of Archaeology, showcasing the rich history of the Alsace region.
Find numerous artifacts, including prehistoric tools, Roman mosaics, and medieval jewelry, all of which offer a glimpse into the region's fascinating past.
Address: 2 Pl. du Château, 67000 Strasbourg
9. Go Back in Time at the Alsatian Museum
The Alsatian Museum is a fascinating and unique experience in a 16th-century building, presenting the rich history and culture of the Alsace region and its rural life.
Over 5,000 artifacts offer a glimpse into the region's past and how people lived, worked, and celebrated.
One of the museum's highlights is the reconstruction of several typical Alsatian interiors, including a rural farmhouse, a traditional shop, and a bourgeois living room.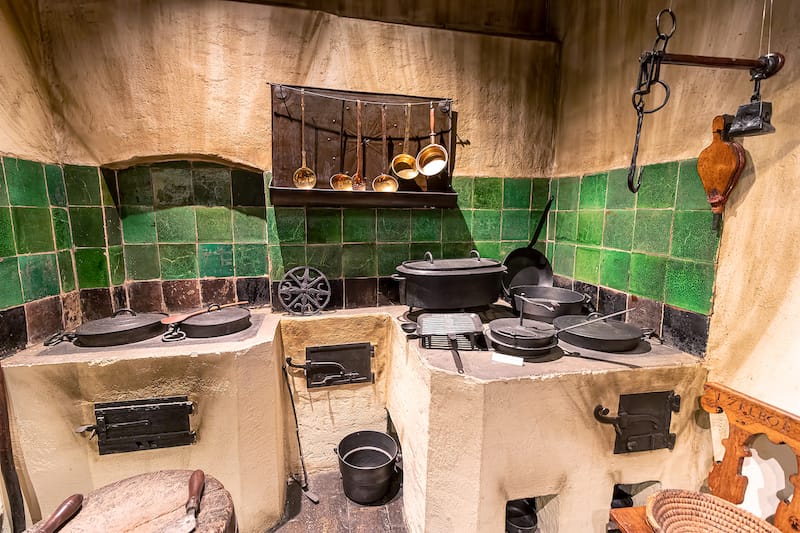 These reconstructions are incredibly detailed, with period furniture, textiles, and decorations, giving visitors a vivid and immersive experience of the Alsace region's culture and history.
It also has an extensive collection of artwork, including paintings, prints, and photographs, that depicts the Alsace region and its people throughout the centuries.
The museum has extended into neighboring buildings, becoming a "district" of museums with renewed collections of exhibits. All the buildings are wheelchair accessible.
Address: 23-25 Quai Saint-Nicolas, 67000 Strasbourg
10. Visit the Famous Strasbourg Christmas Markets
Strasbourg during the Christmas holidays is a magical experience. The city transforms into a winter wonderland, with twinkling lights, festive decorations, and a bustling Christmas market that attracts visitors from around the world.
If you plan your trip around this time, make sure not to miss the most exciting Christmas markets in Strasbourg.
The Strasbourg Christmas market, also known as Christkindelsmärik, is the oldest and one of the largest in France, dating back to the 16th century.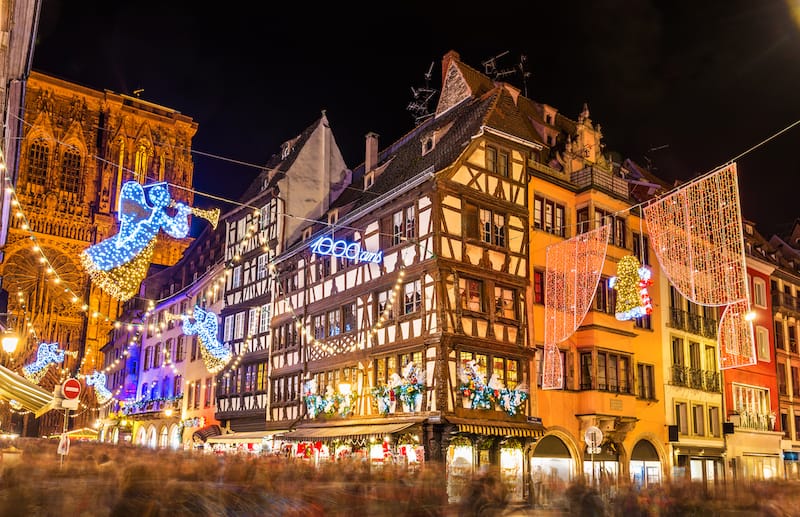 You can browse over 300 wooden chalets that sell handcrafted gifts, local food and drinks, and traditional Christmas decorations.
The market also features a giant Christmas tree, a skating rink, and daily concerts and events.
Thirteen more Christmas markets are crossing the Old Town, completing this fairy tale, open from November 21 to December 23.
If you can't manage to visit them all, at least visit the Christmas markets at Place Kléber, Place Gutenberg, Place de la Cathédrale, Place Broglie, and Place du Château.
11. Visit the Place du Château
Place du Château is one of Strasbourg's most iconic and historic landmarks, hosting many of the city's most important buildings and attractions.
The most eye-catching building is the imposing Palais Rohan, a magnificent 18th-century palace that once served as the residence of the city's prince-bishops.
The square is also home to the Strasbourg Cathedral, a stunning example of Gothic architecture, with its towering spires, intricate carvings, and stained glass windows.
Look around to find the Ancienne Douane, a beautiful Renaissance-style building that once served as the city's customs house.
Today, the building is home to the Museum of Alsatian Life, giving you a glimpse into the daily lives of the region's people.
If you're looking to soak up some of the city's history and take a break after a long walk, be sure to visit Place du Château.
It is a perfect spot to enjoy the afternoon sun or evening breeze, with several cafes and restaurants nearby, including In Vino Veritas, Le Tire-Bouchon, Restaurant Au Dauphin, and more.
Address: 16 Pl. de la Cathédrale, 67000 Strasbourg
12. Enjoy an Alsace Half-day Wine Tour
Known for its scenic vineyards, charming villages, and delicious wines, Alsace makes an excellent half-day escape for wine enthusiasts like you seeking a memorable experience.
The main highlights of your Alsace wine tour are two local wineries where you'll get a chance to learn about the wine-making process, walk through the vineyards, and taste a variety of wines, including Riesling, Gewürztraminer, Pinot Gris, and Muscat.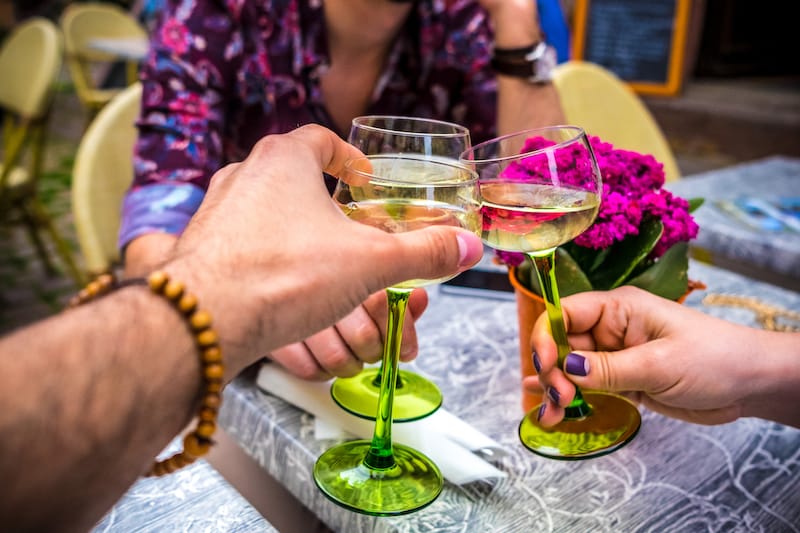 While traveling to Alsace, you will explore the region's quaint villages, including Riquewihr, Eguisheim, Colmar, and Obernai, one of the most beautiful towns in the region, with its half-timbered houses.
You will take a short guided tour to see the picturesque squares, winding alleys, and old churches.
Once you pass the rolling hills, lush vineyards will open up to you, and you will have hours to smack the taste of Alsace.
>> Click here for rates and availability
13. Visit the European Parliament
If you're interested in politics and European history, a visit to the European Parliament in Strasbourg is a must. The European Parliament, located in the heart of the city, provides visitors with an inside look at EU processes.
One of the main highlights of a visit to the European Parliament is attending a plenary session. You can watch these debates from the public gallery, where you can witness firsthand the political and diplomatic processes at work.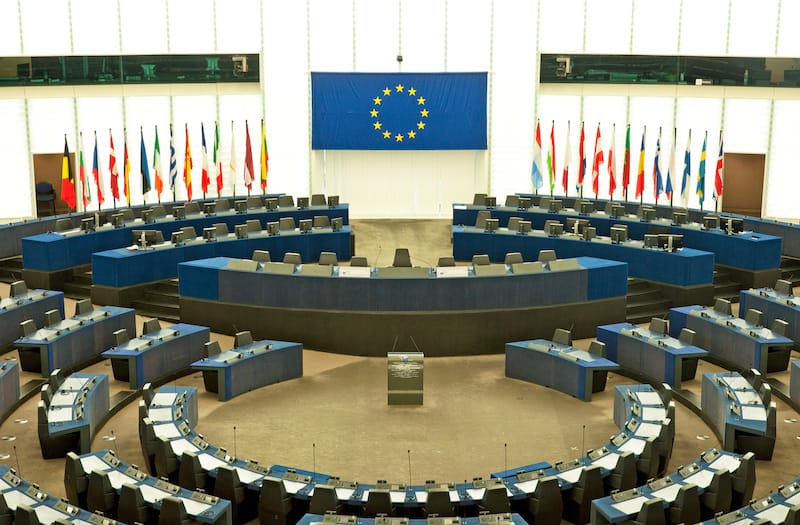 Open to visitors from Monday to Saturday, you can take a guided tour of the building to explore the Parliament's striking architecture, which blends modern design with traditional Alsatian features, and learn about the history of the European Union.
Finally, you will see the most impressive hemicycle: the circular chamber where plenary sessions are held. This stunning room features a massive central podium, surrounded by rows of desks for parliamentarians.
Address: All. du Printemps, 67070 Strasbourg
14. Walk through the Grande Ile
The Grande Ile, encircled by the Canal du Faux Rempart and the River Ill, is the historic center of Strasbourg and the best place to start exploring the city.
Packed with rich culture, architecture, and history, the Grande Ile will definitely make you fall in love with the city.
One of the must-see landmarks in the Grande Ile is the Strasbourg Cathedral.
This stunning Gothic cathedral is over 1,000 years old and features detailed carvings, stained glass windows, and a soaring spire that dominates the city skyline.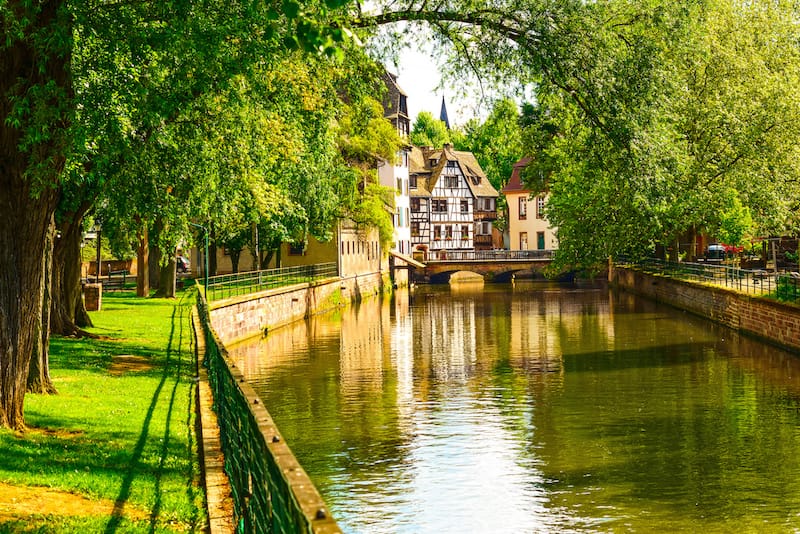 Next, take a stroll to the Petite France neighborhood, a picturesque area known for its half-timbered houses, winding canals, and charming streets.
You will walk along the canals and take in the beauty of the old town while stopping at cafes and shops along the way.
As you walk through the Grande Ile, you'll come across the Place Kléber, the largest square in Strasbourg.
Also, don't miss the views of the Palais Rohan, the Covered Bridges, and the footbridges that cross the Ill River.
Address: 24 Rue Thomann, 67000 Strasbourg
15. Admire the Église Saint-Thomas
The Église Saint-Thomas is a stunning example of Gothic architecture and one of the city's most beautiful churches. The church's rich history is closely connected with the cultural and religious history of the region.
Before entering the church, you will be welcomed by its stunning facade, which features scenes from the Bible with delicate tracery, intricate sculptures, and soaring spires.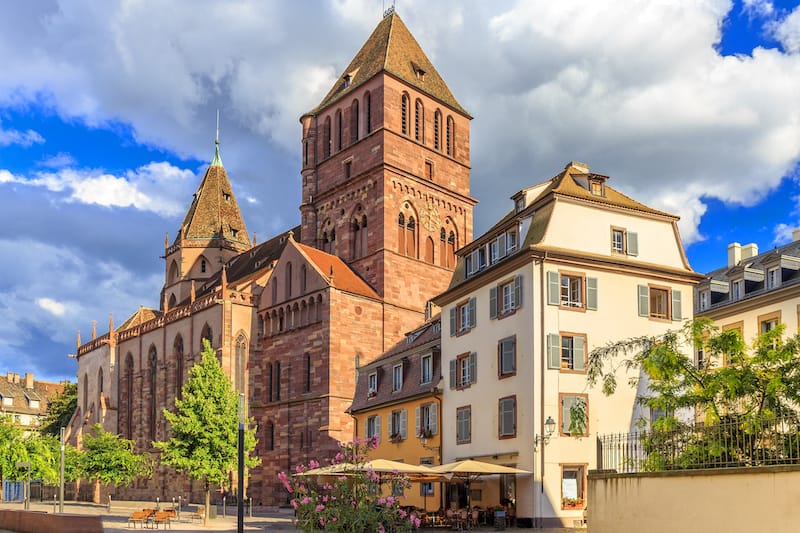 Inside the church, you will marvel at the beautiful stained glass windows dating back to the 14th century, the church's nave, supported by a series of elegant pillars and arches, and its magnificent organ that was praised by Mozart himself.
The church, built in the late Gothic style, has two towers, a square one over the main entrance and a hexagonal tower, both giving the church that unique vibe of Gothic architecture.
Address: 11 Rue Martin Luther, 67000 Strasbourg
16. Check Out the Barrage Vauban
The historic dam of Barrage Vauban is the most popular attraction in the La Petite France neighborhood. The 17th-century building served for military purposes, protecting the city from flooding and attacks.
Today, it offers a spectacular panoramic view of the city's historic center.
This 120-meter-long covered bridge with 13 arches across the River Ill was a unique and innovative structure for its time.
You can climb the top of the dam's terrace to enjoy the views of the Strasbourg Cathedral, the Petite France neighborhood, and the surrounding canals.
The view from the top of the Barrage Vauban is particularly stunning at sunset when the sky is lit up with beautiful colors.
Besides its beautiful facade and perfect location, the Barrage Vauban hosts the Museum of Modern and Contemporary Art, which showcases contemporary artwork from both French and international artists.
Address: Pl. du Qur Blanc, 67000 Strasbourg
17. Have a Coffee at Place Kleber
Place Kleber is Strasbourg's main square, always bustling and crowded with tourists and locals.
Named after the French general Jean-Baptiste Kleber, the square boasts unique architecture, cute cafes, and restaurants perfectly blended into the whole scenery.
The central part of the square is occupied by General Kleber's statue, surrounded by beautiful gardens and fountains, making it a popular spot for locals and tourists alike to gather and relax.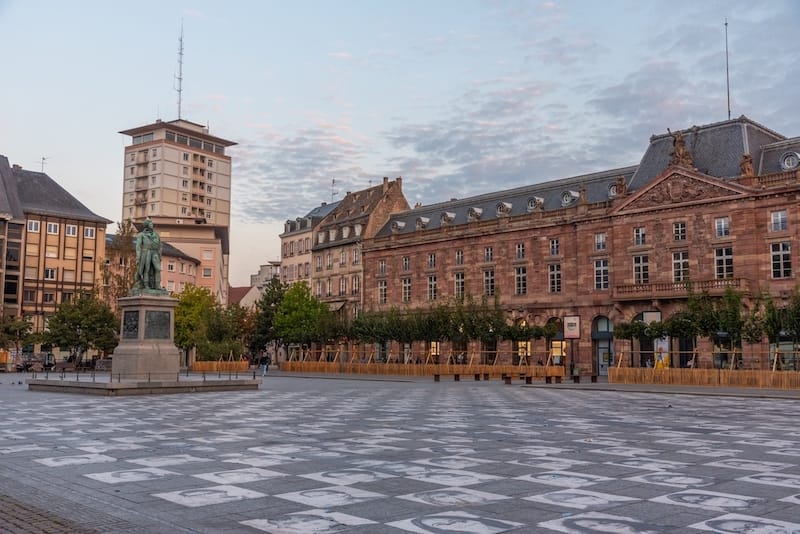 But that's not all: Place Kleber has a rich history, with stunning buildings like the Aubette that have been expertly preserved and restored.
Whether you're an architecture buff or simply appreciate a good aesthetic, the Art Deco interior of the Aubette is sure to leave you breathless.
And let's not forget about the shopping! From luxurious fashion boutiques to charming souvenir shops, Place Kleber offers a diverse array of retail options that cater to all tastes and budgets.
You can even find unique handmade treasures like artisanal chocolates and one-of-a-kind jewelry.
Address: Pl. Kléber, 67000 Strasbourg
18. Eat at a Traditional Winstub
Every new culture reveals a bouquet of flavors and tastes. Strasbourg will show you the colors of Alsatian flavors and traditions.
One of the best ways to experience authentic cuisine is by eating at a Winstub. It is not the name of a restaurant but a culture that was once popular among the working class.
People used to enjoy wine served in pitchers and homemade food.
Today, winstubs are local bistros with a cozy atmosphere where you will be treated to local Alsace wine served in rutscherle traditional glass. The shape was perfect for sliding the glass down the table, so try it yourself too.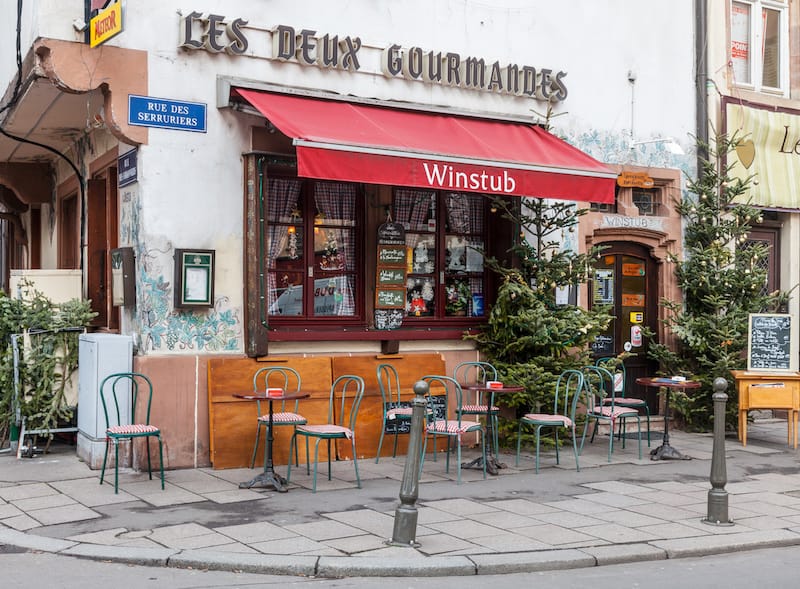 What about the cuisine? The food here is typically Alsatian with traditional flavors and served without sophistication, just the way they were served for centuries.
From must-try dishes, make sure to taste Wädele (ham) with Grumbeerekiechle (potato pancakes), Bibeleskäs (creamy white cheese seasoned with garlic and herbs), Bäckeoffe, and Choucroute.
Any of Strasbourg's Winstub is worth a visit, but if you are looking for a special place, you can visit Chez Yvonne, the place celebrities enjoy visiting.
19. Stay at the Historic Kammerzell House
The Kammerzell House is a stunning example of Renaissance architecture, standing in perfect harmony next to the Cathedral.
This historic building dates back to the 15th century and is considered one of the most iconic landmarks in the city.
The fantastic facade decoration is inspired by Roman and Greek antiquity and scenes from the Bible. It is worth exploring all four sides of the building to see its magnificence with carvings and 75 glass windows.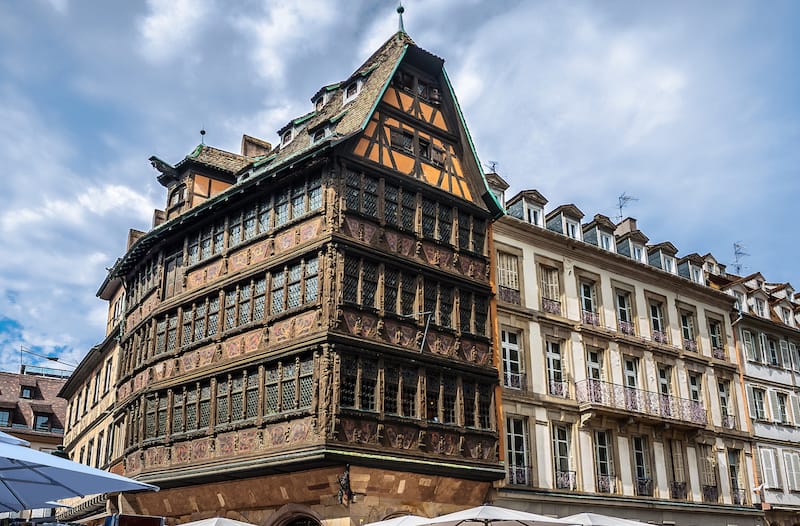 Once the house of a local cheese merchant, the Kammerzell House is now also home to a hotel and a restaurant.
The hotel has only nine rooms and is very popular.
If you haven't managed to book a room, you can at least have dinner in the restaurant, sampling the best French delicacies, such as sauerkraut, baeckeoffe, and tarte flambée, which are all made with locally sourced ingredients.
Address: 16 Pl. de la Cathédrale, 67000 Strasbourg
20. See the Strasbourg Museum of Modern and Contemporary Art
The Strasbourg Museum of Modern and Contemporary Art is a must-visit attraction for art lovers and history buffs alike.
The museum occupies a huge glass building on the banks of the River Ill and is home to an impressive collection of modern and contemporary art.
You can explore numerous exhibits, featuring works by some of the most famous artists of the 20th and 21st centuries.
These include pieces by Monet, Rodin, Gauguin, Kandinsky, Pablo Picasso, Joan Miró, and Andy Warhol, among many others.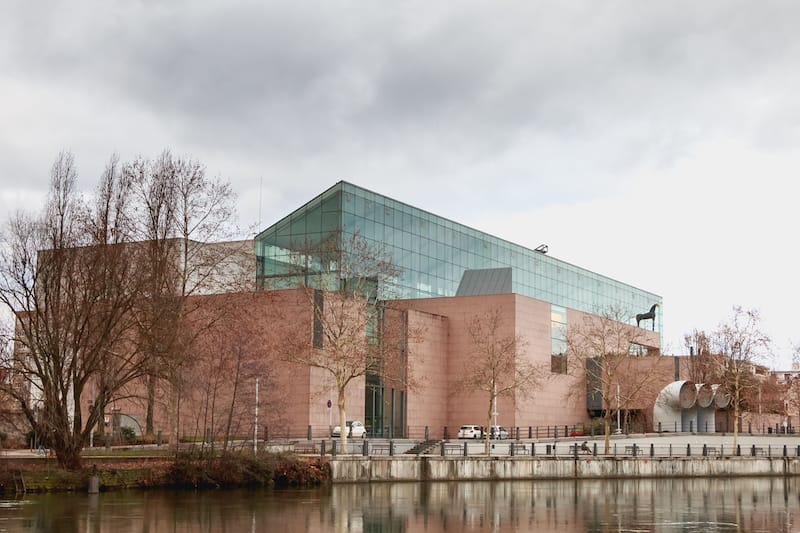 The museum also hosts temporary exhibitions with works by emerging artists showcasing new trends in the art world.
Acting as a modern platform connecting artists and enthusiasts, the museum also offers a variety of educational programs and events.
The venue holds guided tours, workshops, and lectures; all designed to help visitors learn more about the history and significance of modern and contemporary art.
One of the museum's highlights is its beautiful location on the River Ill. Once you finish exploring its halls, you can visit the museum's library and a bookstore, and finish your cultural tour at a restaurant.
Address: 1 Pl. Hans-Jean-Arp, 67000 Strasbourg
21. Take a Day Trip to Colmar
One destination not to miss from Strasbourg is Colmar, a beautiful town just a short train ride away, known for its beautiful canals, well-preserved medieval architecture, and rich history.
Upon arriving in Colmar, you can stroll through the town's historic center. Thanks to its compact size, you can easily explore it by visiting one architectural gem after another.
You will see Gothic-style Saint Martin's Church and the Renaissance-style Koïfhus building, and wander about the Tanners' Quarter and Place de l'Ancienne Douane with half-timbered houses.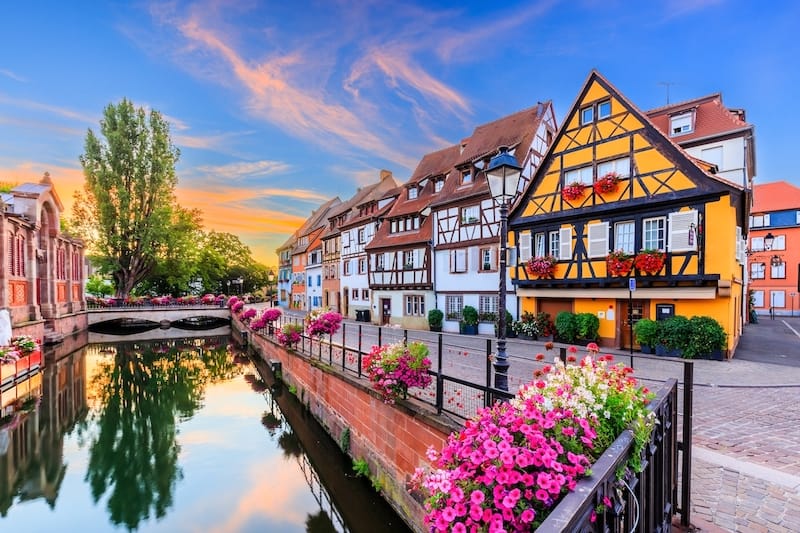 The next highlight is the beautiful Little Venice area. This picturesque neighborhood is filled with narrow canals, charming bridges, and flower-filled balconies, just like in Venice.
You can even take a boat tour of the canals for a unique perspective on the town's beautiful architecture and scenery.
Finally, spice up your trip with food and wine from local markets and wine cellars.
The town is known for its delicious Alsatian cuisine in Lyd'ile restaurant with specialties like tarte flambée (a type of flatbread) and choucroute (a dish made with sauerkraut and meat).
>> Click here for Colmar day trip rates and availability
22. Check Out the Three Ponts Couverts
The Ponts Couverts, or "Covered Bridges," are one of the main attractions in La Petite France.
The bridge complex consists of three bridges and four towers that used to serve as part of the city's defensive system. Today, it offers a unique glimpse into the history and architecture of Strasbourg.
Originally, there were four towers: St. Martin, St. John, St. Nicholas, and St. William, which were used to defend the city against invaders.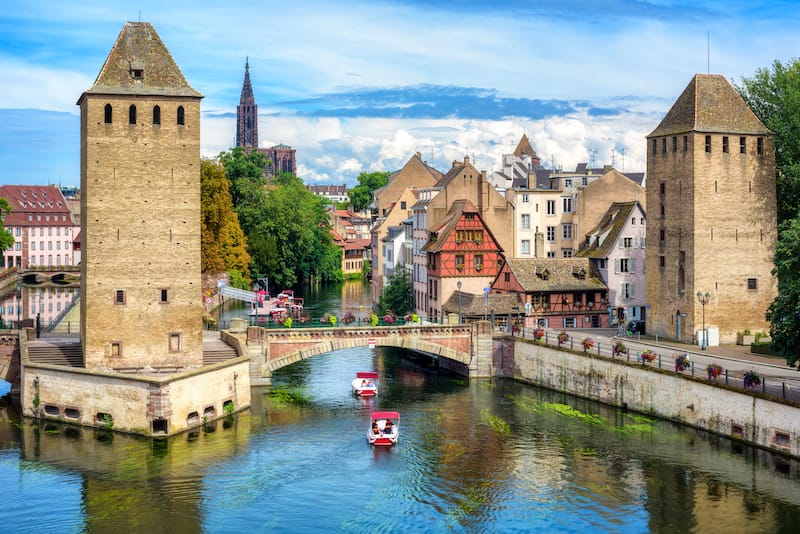 Only three remain today, creating a beautiful scene with covered bridges and a river. You can climb the towers to catch a view of the canals and the neighborhood.
During the summer, the bridges are illuminated at night and provide a stunning backdrop for concerts and other cultural events.
In December, the area is transformed into a festive Christmas market, with holiday decorations and traditional Alsatian food and drinks.
Where to Stay in Strasbourg
If you're looking for the best places to stay in Strasbourg on your trip, below are some of our top picks!
Did we miss any of the best things to do in Strasbourg in this guide? Let us know your favorite places to visit in Strasbourg in the comments!
More France Travel Guides
Pin this Strasbourg Things to Do Guide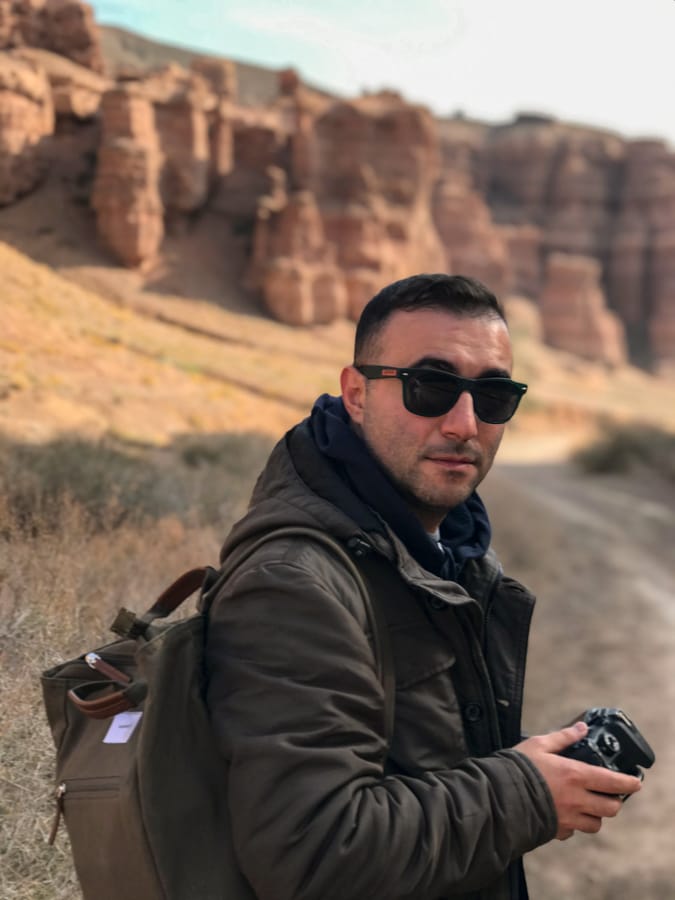 Aram is a travel blogger and writer from Armenia who spends his time between Spain and his home country. He is passionate about music and football (the European kind) and covers a lot of Western European destinations on the blog. Aram is a laidback traveler who enjoys meeting new people and finding the best food in each city that he visits (hence his frequent trips to France, Italy, and Greece!). He has been featured in (or written for) Forbes, BBC, The Guardian, Fodor's Travel, and more.