Helsinki, Finland is one of my favorite cities. I continue going back there year after year (many times a year) and always find something new that excites me.
While I think you can spend heaps of time there and never get bored… this guide is a one day in Helsinki itinerary for those just getting their feet wet with the city.
One Day in Helsinki Itinerary
This first-timers guide to Helsinki will instruct you on how to spend a day in Helsinki visiting the main sights and where I suggest you eat when doing so.
As mentioned before, it really does take a lot longer to explore Helsinki and truly get a taste of the capital city… but many have a layover or are simply venturing up for a day from Tallinn… so this is for you!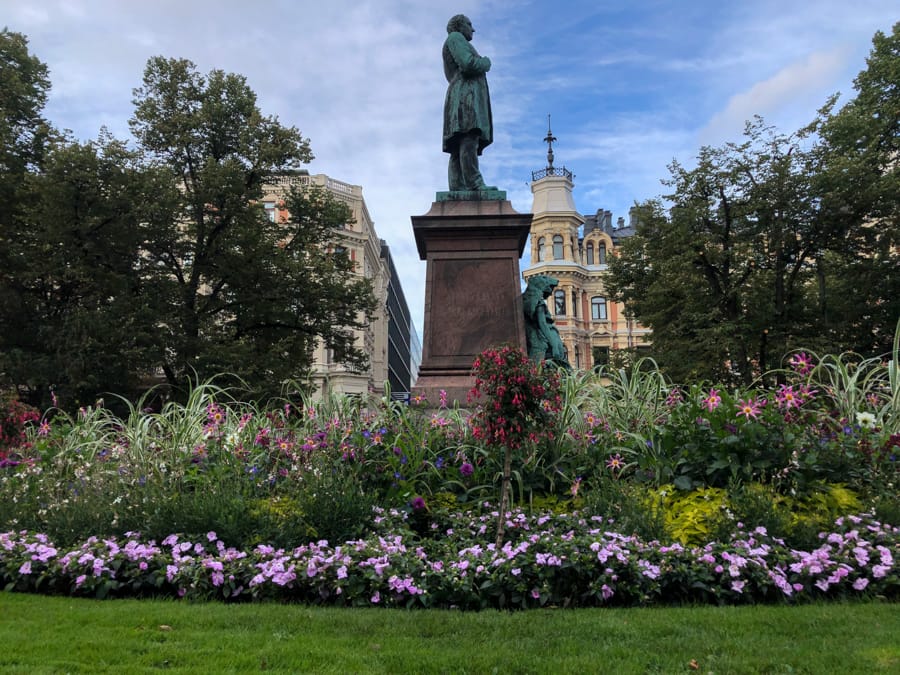 If you have anything to add to this Helsinki itinerary, please drop it in the comments for travelers to add to their list. Click here if you're looking for what to pack for Helsinki.
I will add a few other suggestions in this post of things I think you should bring with you for your Helsinki visit.
Do You Need Travel Insurance for Finland?
You absolutely should invest in good travel insurance for Finland. While you likely won't have to use it, you really never know what could happen in a place.
Finland is a bit rough weather-wise in winter, so that will possibly not be on your side.
We recommend using SafetyWing, a Norwegian insurance provider that offers quality coverage worldwide and at a very affordable price compared to competitors.
>> Click here to get a Finland travel insurance quote

What to Pack for Helsinki
I recommend bringing a solid ten things on my Helsinki packing list that I mentioned above.
But, here are a few things that I think you should bring along with you any time of the year that you go:
Finland guidebook: A lot can be said about still purchasing guidebooks. While blogs are super helpful when planning a trip, a guidebook can be an excellent resource for when you're on the ground. No one wants to be glued to their mobile trying to plan a trip while they are actually there! I recommend Lonely Planet's Finland guidebook. It has a lot of practical information along with some hidden secrets of Helsinki. Click here to buy the Lonely Planet Finland guidebook.
Rain jacket: A blue sky over Helsinki probably just means rain is on the horizon. I have been to this city a handful of times and blue skies are deceiving as the Baltic Sea will just throw whatever it wants at you. Obviously, in winter, the rain turns to snow. But, I highly recommend bringing along a stylish rain jacket that will keep you dry at all times. Click here to see my rain jacket recommendation from Rains Journal.
Klean Kanteen water bottle: This is something I take everywhere but it is imperative in Finland as the drinking water from the tap is exceptional. Plastic sucks and we need to be better about not using it. By investing in a Klean Kanteen, you can be part of the solution and not the problem.
Reusable Coffee Cup: If you like coffee, Helsinki will be your dream city. Finland actually statistically drinks more coffee than any other nation in the world. Five cups a day. That is possibly five cups you will throw away in a day. Bring your own and even some places will offer a discount for you bringing in your own cup. I recommend Bru stainless steel reusable coffee mugs… they travel so well and won't break in your suitcase! Click here to check out Bru's stainless coffee cups.
Helsinki City Pass
A sound investment when traveling to any city in the world is swiping up a city card. Helsinki City Card is a pass that offers you discounts and free admission to several places around the Finnish capital city.
It is a pretty kickass deal if you compare the pricing to all the potential savings that the card can give you!
>> Click here to get the Helsinki City Pass
Best Helsinki Tours
Helsinki is easy to get around on foot but if you only have one day in Helsinki, you may want to consider taking a tour if there is something you're absolutely dying to see before leaving.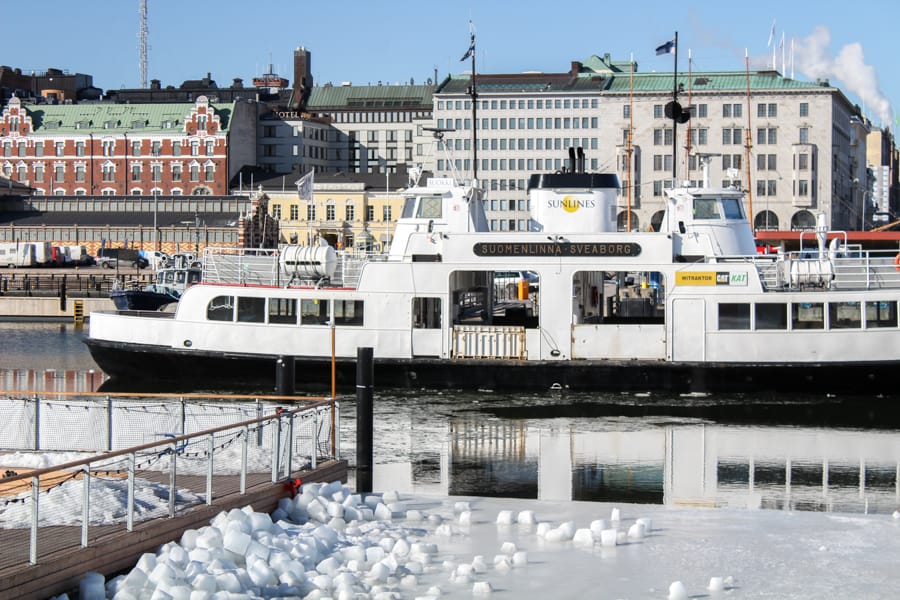 There are some recommended tours that will help you get a good taste of the city (and I included a day trip to Tallinn in case you landed on this post and it is NOT your first time in Helsinki!):

What to See in Helsinki in One Day
When I put this guide together, I have put the things in an order that makes sense. I will include a map at the end so that you can see where everything is located.
I also created it so that you can swap things around if you're wanting to see something at a different time of the day. Please let me know if you have any questions by email or in the comments and I'll do my best to answer them in a timely manner.
Visit the Helsinki Cathedral
This gorgeous white Cathedral is arguably the most iconic symbol of the city. Everyone knows it from near and afar… and believe it or not, it is just as beautiful (if not more beautiful) in real life.
The Helsinki Cathedral dates back to the 1800s and was actually called St. Nicholas' Church until Finland's independence in 1917.
It was also featured in Da Rude's 'Sandstorm' video… which is a throwback if I've ever seen one (and I never knew he was Finnish, on the other hand).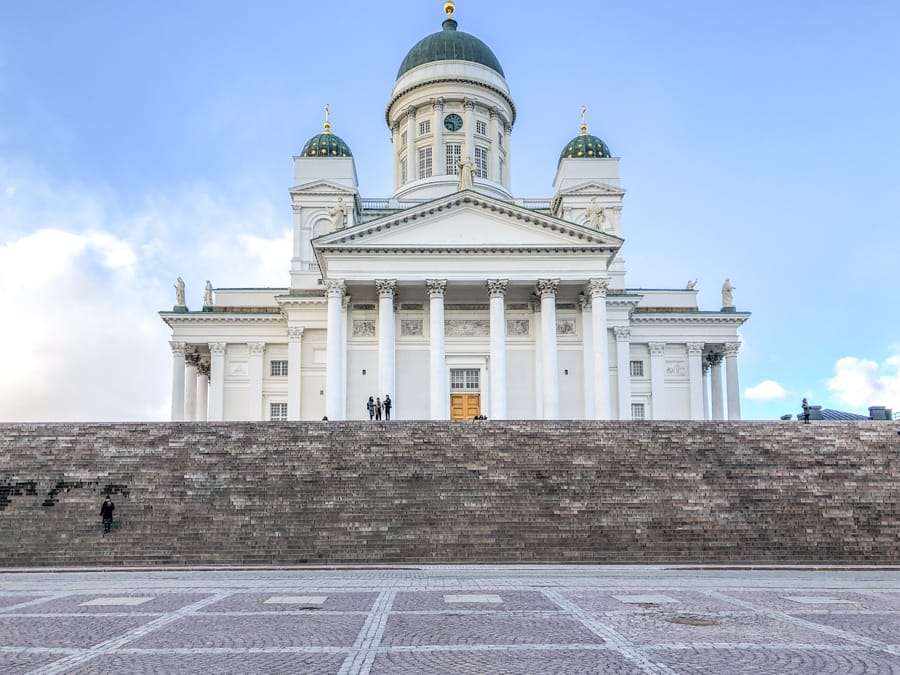 My favorite thing about the Helsinki Cathedral is that it is kind of situated in an unassuming place. You can be strolling alleys and suddenly stumble upon it out of nowhere. And it's huge… so it is hard to understand how this happens. You can see it from afar but it is sheltered in between buildings in the city center.
Whenever I have shown someone Helsinki that has never been I always allow the Cathedral to sneak up on them and it takes them by surprise. Also around the religious site are some great cafes like El Fant Coffee and Wine or the Helsinki City Museum. You're also especially close to the harbor area.
You can find the Helsinki Cathedral at Unioninkatu 29 in the center of Helsinki.
See the Uspenski Cathedral
I promise no more churches will be on this guide. I love the Uspenski Cathedral, however, because it is located near the water and is a stark contrast to the Helsinki Cathedral. This church is said to be the largest Orthodox church in Western Europe. I don't know if that is true… but let's go with it.
Designed in the 1800s by Russian architect Aleksey Gornostayev and consecrated in 1868, this ostentatious church is located on the Katajanokka peninsula of Helsinki and overlooks the city. It is pretty much impossible to miss it as the area around it is pretty open.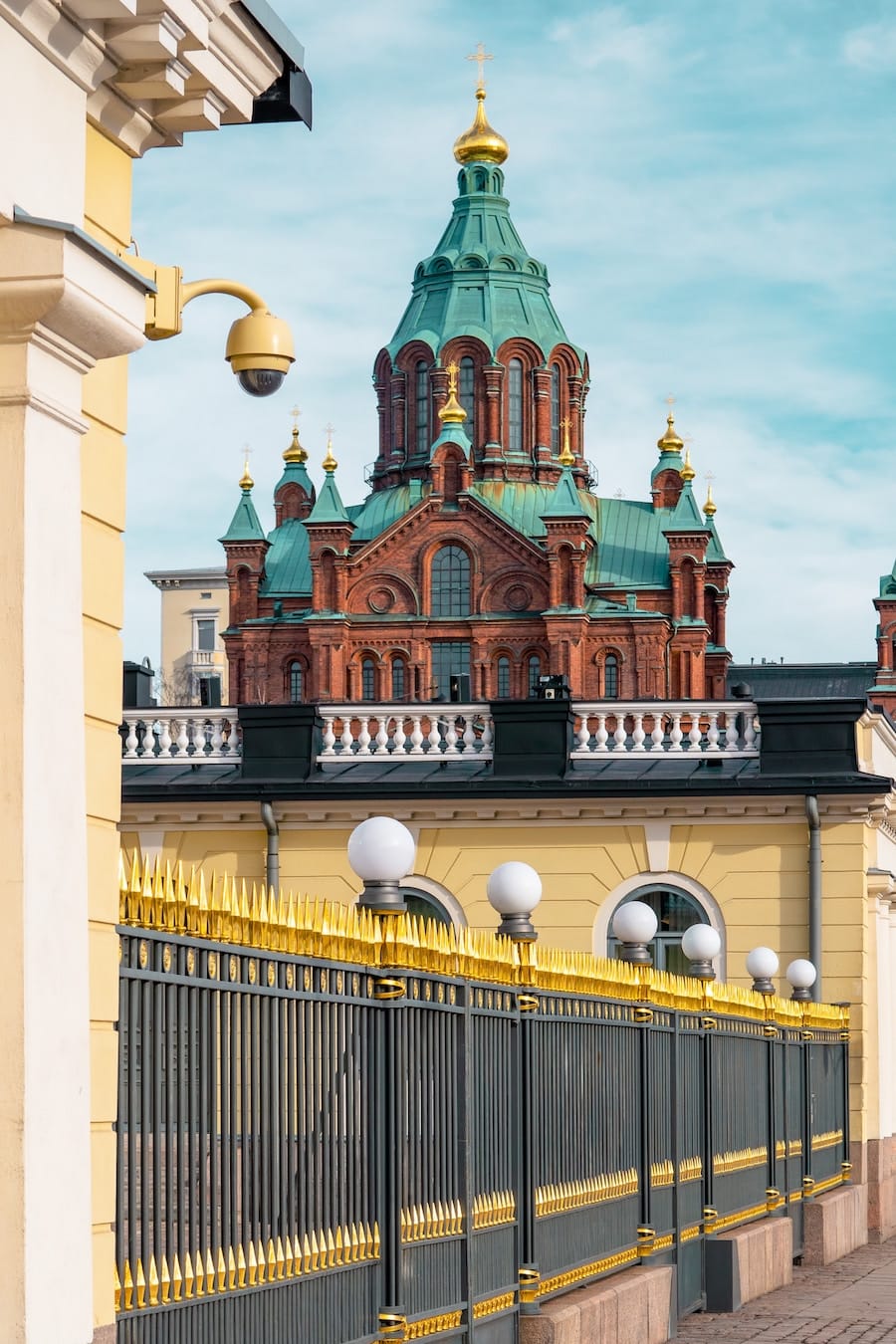 While I am not a huge fan of visiting churches when I travel, this one and the Helsinki Cathedral are definitely ones you will want to grab a photo of or go inside and check out as they represent a large piece of history for the Finnish capital city.
You can find the Uspenski Cathedral at Kanavakatu 1 in Helsinki.
Walk Around Helsinki's South Harbor
One of my favorite things to do in Helsinki is to walk around its different seaside parks and areas that hug the Baltic Sea.
While you won't get to do this too much in the quieter areas of Helsinki if you merely have one day there, you can still stroll around the South Harbor which is located pretty much in the heart of the city and near both aforementioned churches.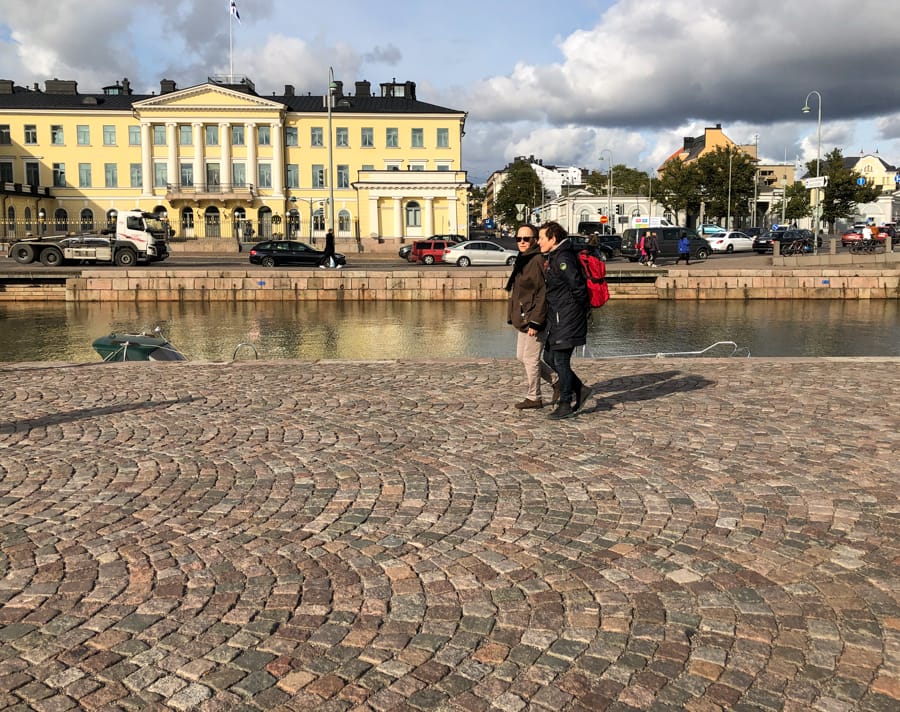 The South Harbor is where the boat goes to Suomenlinna and some of the other nearby islands. It is also an area with a lot of souvenir stalls and places to get a quick bite to eat.
Helsinki's South Harbor is definitely built up for tourists so it may not be the best place to pick up gifts to bring home… but it is a place worth checking out for sure.
Visit Suomenlinna UNESCO World Heritage Site
Another iconic piece of Helsinki history is the Suomenlinna Fortress, a vast sea fortress sprawling eight islands around four kilometers away from Helsinki.
Finished in 1748 to barricade Helsinki from Russian expansion, the fortress has since become a UNESCO World Heritage Site and a popular place to visit for those who love history and beautiful nature.
You can reach Suomenlinna from the South Harbor and there are boats going out there regularly.
If you're really looking to get deep into the history of the fortress, I suggest taking a tour with an informative guide who can skillfully present this information to you.
>> Click here to book tickets and a tour to Suomenlinna
Have Lunch at Allas Sea Pool
Allas Sea Pool is one of my favorite places in Helsinki, actually. Something about its proximity to the sea (literally being right on it) and its vibe is just contagious and cool. I recently had dinner there and the food was extremely delicious and well-presented.
They have a cafe downstairs that is a great place to grab a quick bite to eat once you arrive back from Suomenlinna. They have small eats there and they are pretty affordable.
If you're looking for something a bit more luxurious, try out the restaurant called Allas Wine & Dine upstairs. It was really delicious and I am vying to go back there.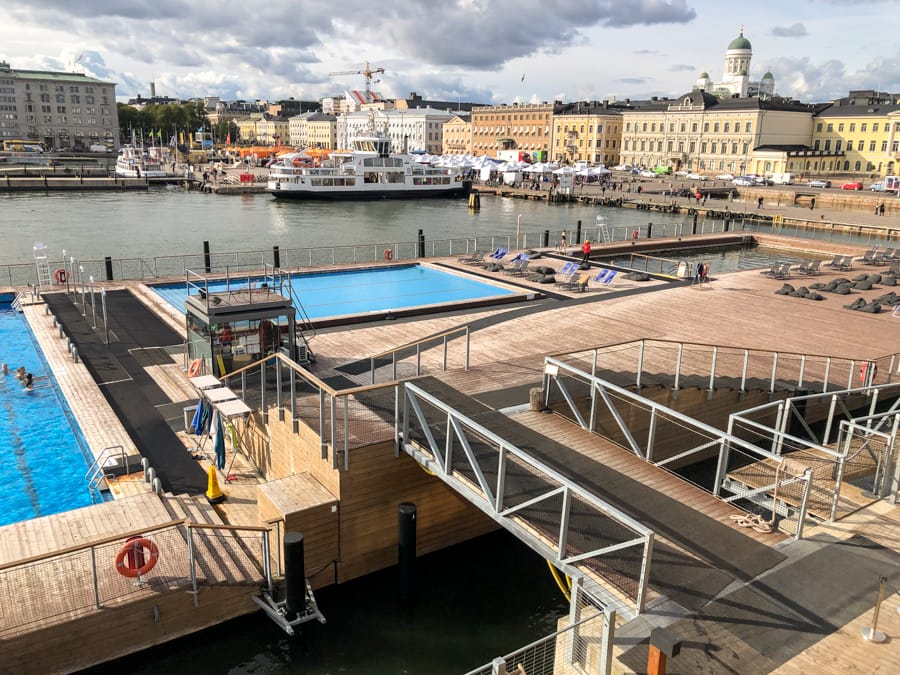 Not only is the food great at Allas, but the views, sauna, and terraces are also pretty epic. Even if you don't decide to dine there, head to the top and get a few photos! It is worth it- promise!
You can find Allas Sea Pool at the South Harbor in Helsinki with the address Katajanokanlaituri 2-1.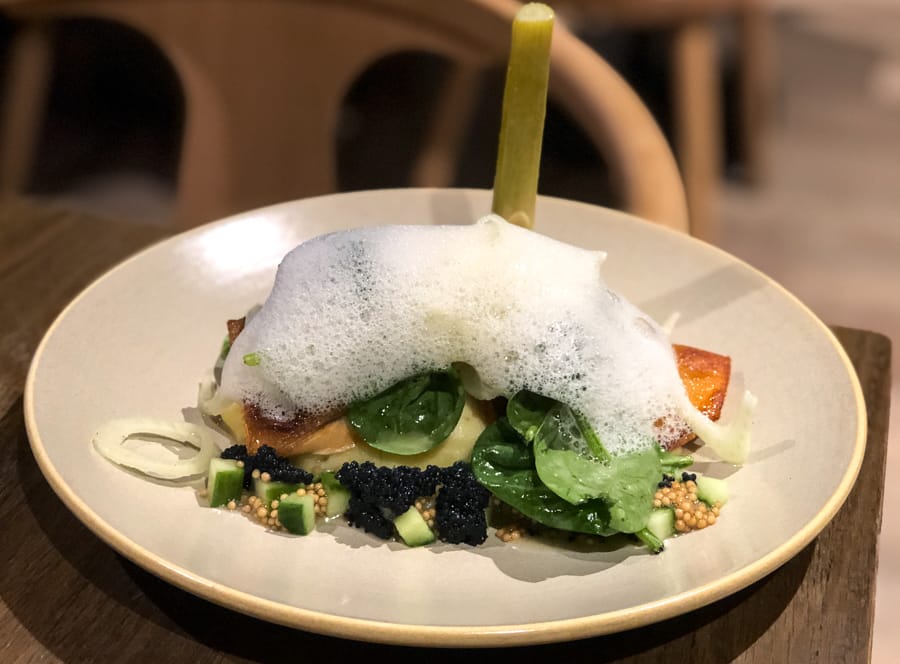 Admire Alvar Aalto Architecture at Finlandia Hall
Another piece of prime architecture in Finland's capital that needs to be added to your Helsinki itinerary is the famous Finlandia Hall, a concert hall and cultural hub designed by Finland's most famous architect, Alvar Aalto.
I have been inside a few times but didn't see it all, unfortunately. Nevertheless, the architecture is spectacular and a great representation of what makes Aalto so renowned.
You can find Finlandia Hall on Töölönlahti Bay at Mannerheimintie 13e in Helsinki. The inside is closed on weekends.

Check Out the New Oodi Library
The Finns voted on how to celebrate their 100th year of independence in 2017 and they opted to build a… library? Yep, you read that right.
The Oodi Library is a new piece of remarkable architecture gracing the city of Helsinki and it is located close to the main train station.
Oodi Library has multiple floors and acts as a cultural center and not just a library. One floor has books on it but the rest of it hosts events, has coworking areas, and much more.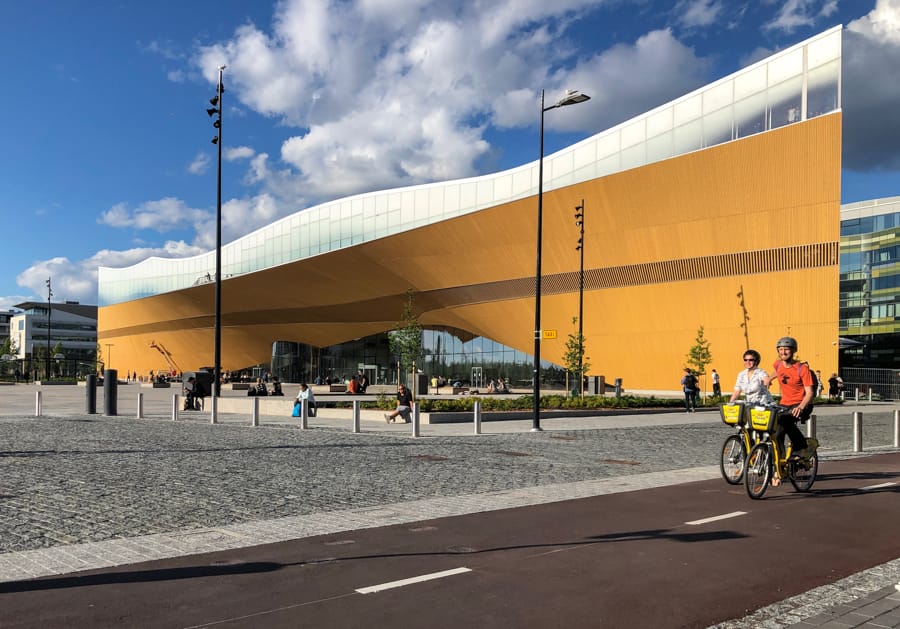 This is a modern library and what a space like this should be in 2019 and I think we can learn a lot from the Finns when it comes to respecting education and literature.
You can find Oodi Library near the main station at Töölönlahdenkatu 4 in Helsinki. It is open 7 days a week.
Venture to Helsinki's Design District
This is easily my favorite part of Helsinki, as cliche and basic as that may sound. I love strolling the streets and seeing how much the Finns appreciate design.
It leaves me inspired and it also is remarkable to see how much their design and aesthetic have influenced design in other parts of the world, including my home country, the US. Here are a few places I love in the Design District:
ANDANTE Coffee Shop
This is one of my favorite coffee shops in the world. The interior is so freaking cool and well-designed and it gives it a unique vibe that can only mean you're in Helsinki. But, what's even better than the design is the actual coffee.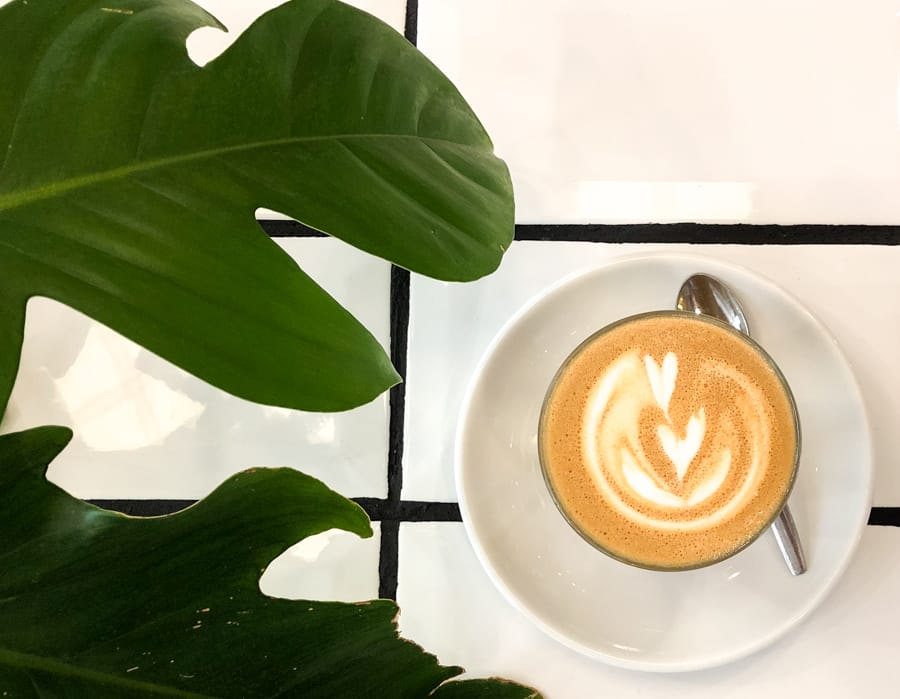 Coffee in Scandinavia and the Nordics can be a bit sour for me at times, but the coffee at ANDANTE is made special to your liking. The baristas there are insanely good and all are friendly and welcoming.
If you have to pick one place in Helsinki to get a pourover or flat white at, let it be this place. Trust me.
You can find ANDANTE Cafe in Helsinki's Design District at Fredrikinkatu 20. They close at 6pm, so make sure you get there for a coffee before that.
Go International at the Armenian Grill House
Aram is Armenian and I live in Yerevan, so it is no question that we like things that have to do with Armenia here. So, I was pretty surprised to find Armenian food in Helsinki.
Recently opened, the Armenian Grill House is in the heart of the Design District and is a great option if you're looking for something different to try for the evening.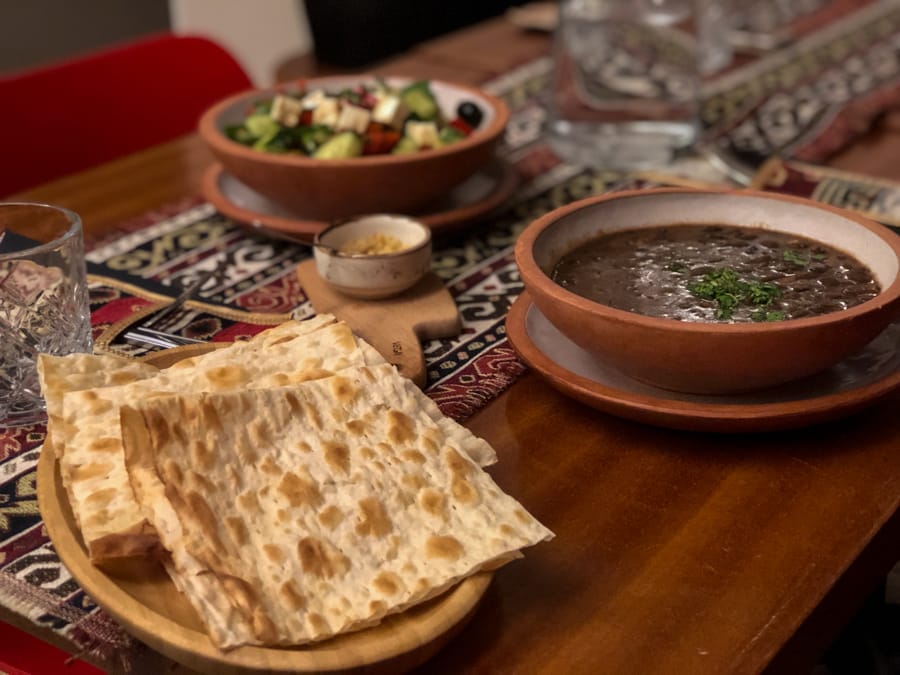 If you only have one day in Helsinki, however, I recommend just popping in here to grab an Armenian coffee or to get a quick soup if it is cold.
Finnish food is absolutely delicious and if it's your first time in Finland, you really should take advantage of Helsinki's booming restaurant scene. But, if you have been to Helsinki many times… have dinner there! I did and it was super delicious!
The Armenian Grill House is closed on Sundays and is located at Punavuorenkatu 3 in Helsinki.
Have a Craft Beer at 8-bit Brewing
Last year, gypsy brewer 8-bit Brewing opened a location in the Design District. The interior has an industrial feel with a bit of a geeky attitude (in the best way possible!)
I really loved the interior and although I didn't get to enjoy a beer because I am taking the year off from drinking, I highly suggest grabbing a local beer while you're in the area.
They also serve food inside. You can find 8-bit Brewing and their taproom inside of Restaurant Lönkka at Lönnrotinkatu 11 in Helsinki.

Get Used at Relove (Freda)
On Fredrikinkatu in the Design District, you will find Relove, a second-hand store with a cool and quirky cafe inside.
This is a great place to make a stop to check out some used goods as well as have a coffee (I mean, we have to have five coffees a day to keep up with the Finns… surely you need another).
Buying second-hand is not only fun, but it is also good for the environment.
If you're looking at bringing home a piece of Helsinki, please do consider purchasing something second-hand or something that is not just 'fast fashion'.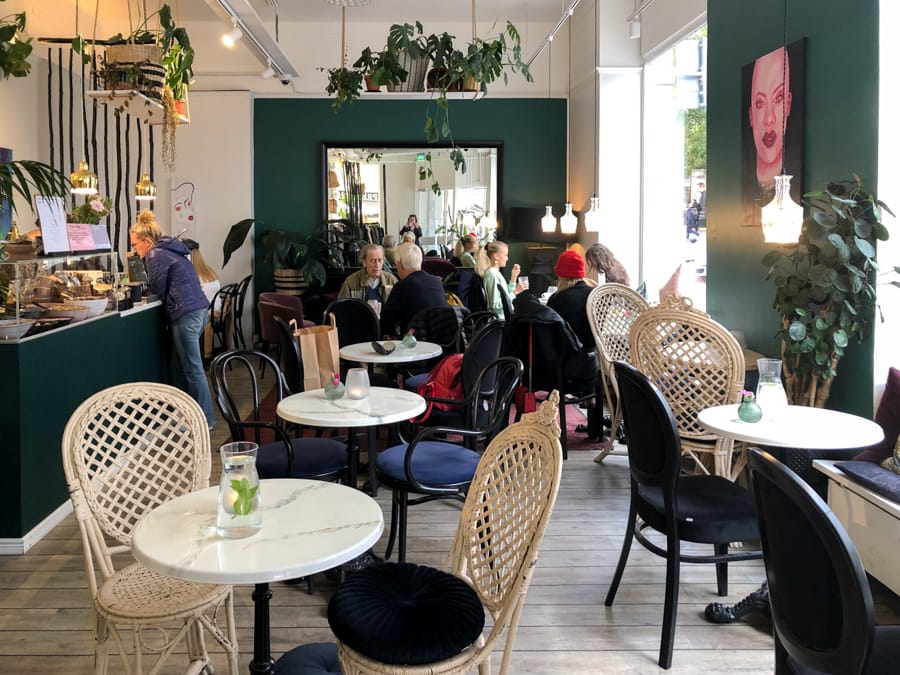 You can find Relove at Fredrikinkatu 25 in the Design District of Helsinki. They close pretty early (either at 1700 or 1900 depending on the day)… so go early!)
Have Dinner in Helsinki
There are quite a few options for where to eat in Helsinki. I am listing two that I think are exceptional options. One is a bit pricier and for someone looking to splurge.
The other is a more affordable vegetarian restaurant that truly has options for everyone, in my opinion.
Restaurant Savoy
This Helsinki dining spot has been feeding hungry patrons for more than eighty years and is located in the city center of Helsinki.
When you go inside, you will need to take an elevator to the top floor and there you will find the beautiful dining area that was built by Alvar Aalto and his wife, Aino (apparently she was the mastermind behind it all).
The setting is more open and connected with nature during the summer as they open the terrace but I found it especially cozy even on a chilly, autumn day.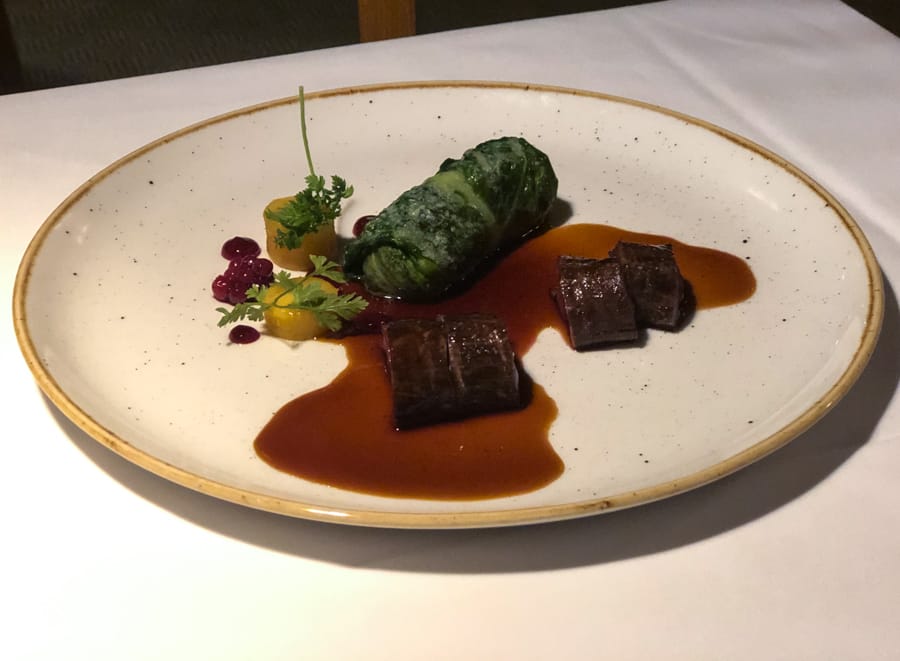 The menu rotates and I enjoyed venison and rutabaga with a bulgar wrapped in kale. It was perfection on a plate. The chef even sent out a welcoming gift with a mushroom soup topped with shaved truffles.
The main dishes will run you around $55, or you can opt for a three-course menu for around $125.
I will state that you should book a table in advance and dress appropriately. I wore tore up jeans, Vans sneakers, and a sweater because I didn't realize I would end up there and I was ashamed of my clothing even though they didn't turn me away and gave me a table that belonged to someone who canceled last minute.
Sorry, Savoy! Thanks for taking me in regardless!
You can find Restaurant Savoy at Eteläesplanadi 14 in Helsinki. You can book a table by visiting their website. They are closed on Sundays.
Yes Yes Yes
Helsinki does a killer job at catering to all food restrictions and diets and Yes Yes Yes is one of the most popular vegetarian restaurants in the city. It is located in the Design District and easily has one of the coolest interiors and vibes of any restaurant in Helsinki.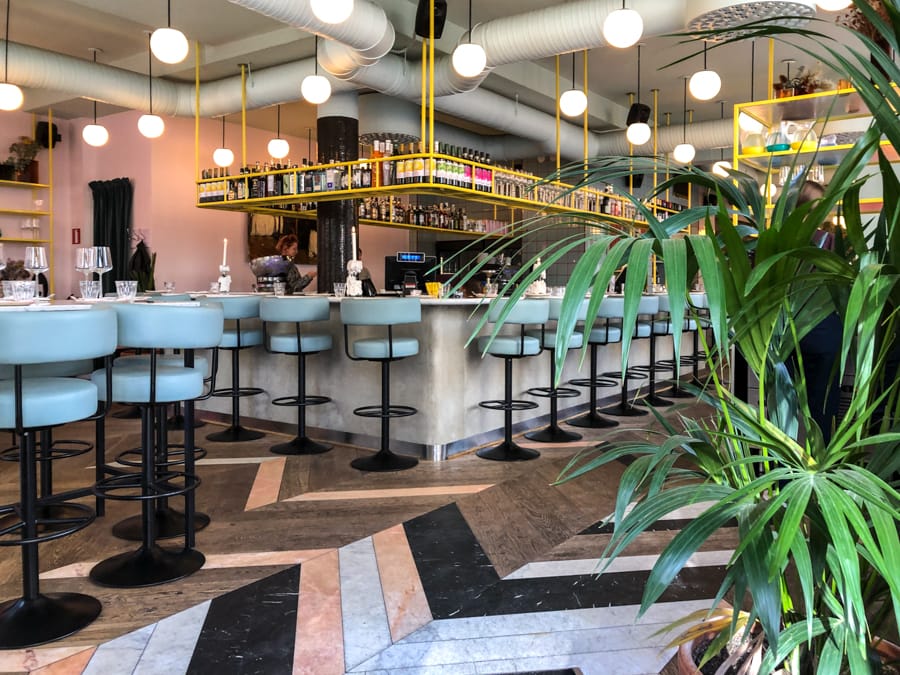 The Instagrammable restaurant has a full bar and the kitchen has something to satisfy all tastes even if you're a meat-eater going veggie for the night or someone who is vegan.
This place is truly epic and a must-visit in Helsinki if you're looking for a great place for dinner.
You can find Yes Yes Yes at Iso Roobertinkatu 1 in the Design District of Helsinki. You can book a table on their site. They're closed on Sundays.
End Your Evening at Löyly Sauna
If you're looking for one last Finnish experience to have before you move on, head to Löyly, a sauna right on the Baltic Sea. Finland does saunas well… I mean, they originated in Finland so they should. But Löyly is special.
This place is a restaurant, sauna, terrace, and so much more. If neither of the restaurants I listed above suits your dining needs, Löyly just might be the winner.
Be sure to book a table in advance. You can find Löyly at Hernesaarenranta 4 in Helsinki.
To get there from the area around Stockmann in the city center, you will want to take bus 14 from wherever you are in the city. You can also take a taxi out there, but it will be comparatively more expensive.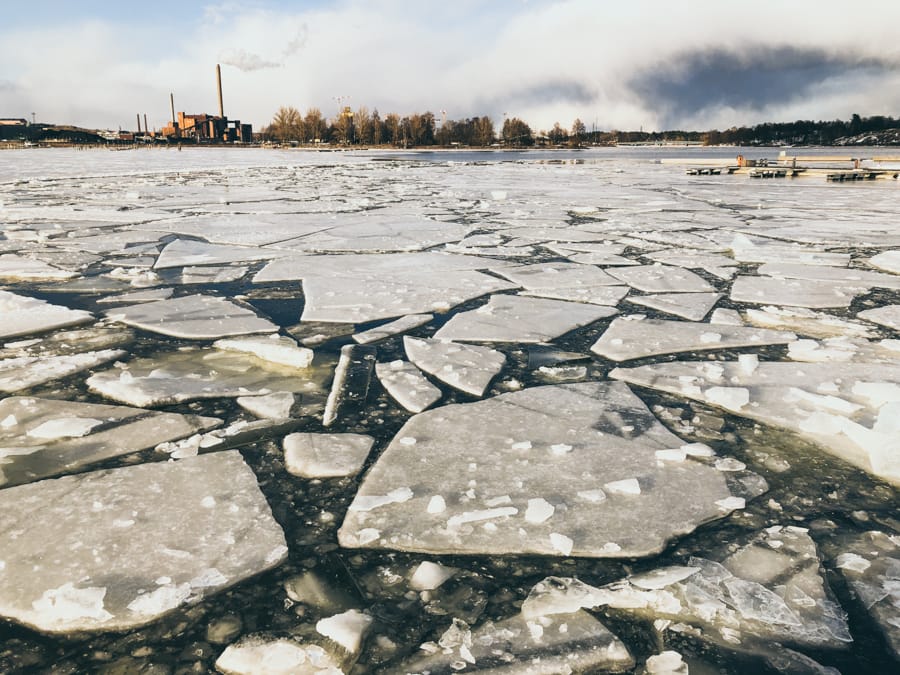 Do You Have Two Days in Helsinki?
If you have an additional day in Helsinki, there are still some cool experiences you can have but one of my favorite recommendations is to either take a trip to Tallinn (seriously… Tallinn in winter is like the winter wonderland you didn't know existed in Europe!) or head over to Nuuksio National Park, a gorgeous park in Espoo that will make you feel like you've been dropped in a remote forest somewhere far away from people.
>> Click here to book a trip to Nuuksio National Park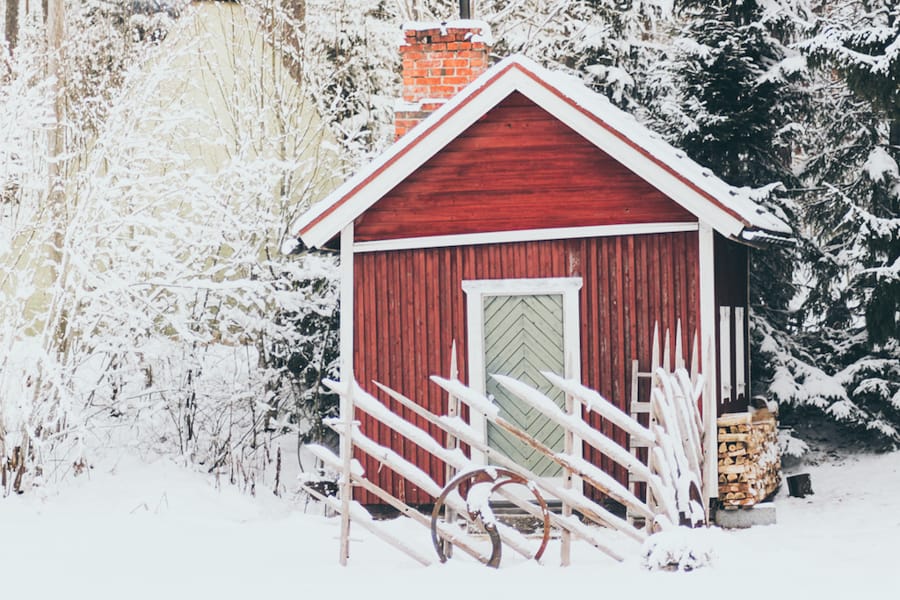 Another recommendation I have is to head to Porvoo. I actually went there recently and haven't written about it yet, but I found it to be such a wonderful day trip from Helsinki. This tour will take you there and it is pretty affordable.
>> Click here to book a trip to Porvoo
Where to Stay in Helsinki
Helsinki has an abundance of options for where to stay. I have stayed at several places in the capital city over the years and have a lot of recommendations. While I tend to stay away from budget hostels there, they do exist.
I simply stay away from them as they tend not to be small and intimate like other cities; hostels in Helsinki are larger and I think apartments are just as cheap.
Here are three places I have stayed at in Helsinki and why I recommend them:
Hotel F6 (Upper Mid-range): This boutique hotel sits along one of the most popular shopping streets in Helsinki. The hip accommodation will be suitable for those looking for a unique place to stay in the city. It is in such an ideal place for this guide and the accommodation is much more affordable than in other places, in my opinion. Click here to check rates and availability.
GLO Hotel Kluuvi (Upper Mid-range): Another design-esque hotel is GLO located right in the city center and a perfect location to make this one day in Helsinki itinerary happen. You have a lot of shopping nearby as well (Stockmann is extremely close). In true Finnish fashion, this hotel has sauna offerings and the bathrooms in each room are pretty awesome. Click here to check rates and availability.
Scandic Simonkenttä (Mid-range): Not quite a designer place to stay but still pretty nice is the Scandic Simonkenttä. It is located in a pretty good spot and it is just a really comfortable place to crash for the night and is nearby a lot of public transportation. I love Scandics because they have a good breakfast and I'm not even ashamed to admit that. Click here for rates and availability.

Helsinki Itinerary Map
It is definitely feasible to get a good impression of Helsinki in a day. While I don't think one day in Helsinki will cover everything the city has to offer, or anything close to it, it is a great start and will hopefully inspire you to make a return trip!
If you have any other items you think should be on this Helsinki itinerary, please send me an email or leave it in the comments.
More Finland and Helsinki Travel Guides
** I have been to Helsinki like 15-20 times. I was recently hosted by Helsinki Marketing when there and have been hosted there on other occasions, too. All opinions about this mega-cool city are my own.