Rudesheim am Rhein, or Rudesheim, is one of the top spots to visit in the Rheingau wine region of Germany. I have been multiple times and I always find many things to do in Rudesheim that I never object to returning!
This is a complete guide on how to visit Rudesheim and what to do when you're there. It contains practical information, tours, travel tips, and other details to help you confidently plan your trip to Rudesheim.
In the end, we also give a suggested Rudesheim itinerary and other information on where to stay and places to visit nearby.
Please note that these photos are taken at various times of the year as I have been several times! We also discuss when the best season and time for visiting Rudesheim is in the post.
If you have any suggestions for what to do in Rudesheim, please leave a comment for other visitors to see!
Quick Facts About Rudesheim am Rhein
Location: Rheingau wine region in Germany
State: Hesse
Closest Large City: Frankfurt
Population: 9,949
Area: 51 km²
Known for: Rhein castles, UNESCO World Heritage Site region, wine, festivals and Christmas markets
Why You Should Visit Rudesheim
Rudesheim is this small town that genuinely has so much packed into one area that you will definitely keep occupied visiting for an entire day! Just like Bamberg is known for its beer, Rudesheim is renowned for its wine!
And while it is a place to drink and consume a lot of German wine (most notably, Riesling), you can do a lot more there such as eat tasty German food, down a cup of Rudesheim coffee, and take a boat trip down the Rhein to check out castles.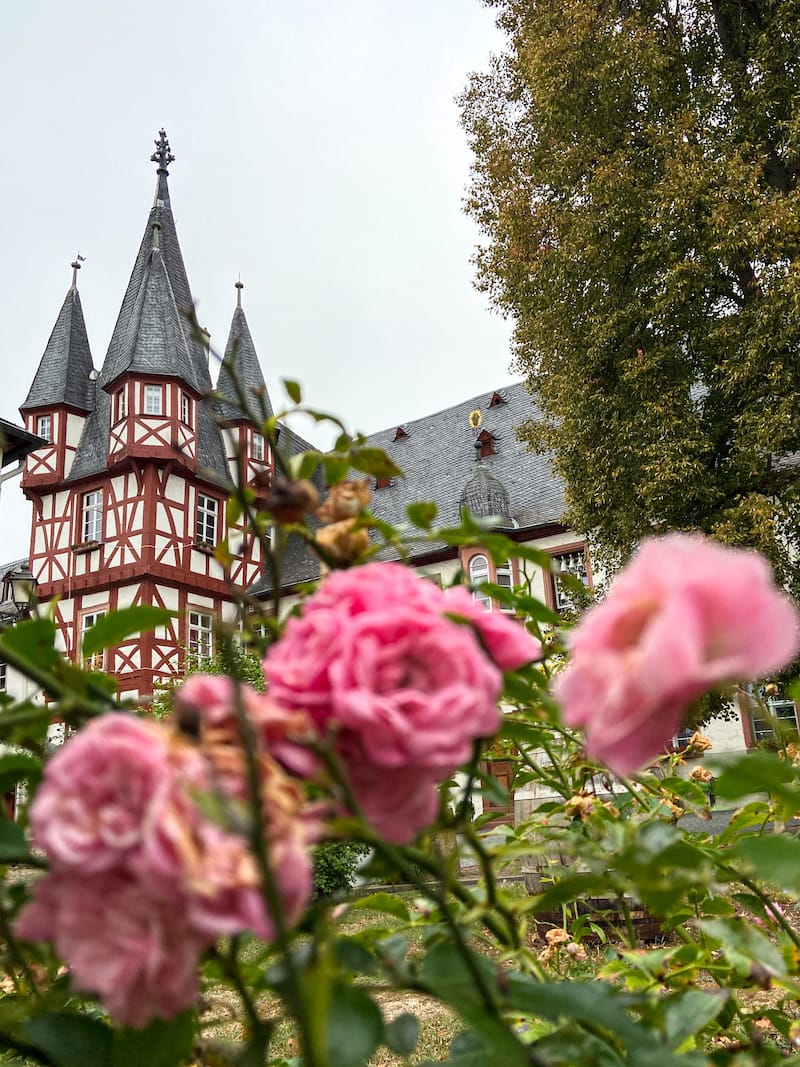 In addition to having a plethora of things to do in Rudesheim, you can also do a little bit of hiking and activities while there. Alternatively, you can visit during one of the many festivals that the Rheingau town hosts.
Rudesheim is a charming place to visit and a fantastic day trip from Frankfurt or several other places in Hessen and beyond.
How to Get to Rudesheim
Getting to Rudesheim is fairly easy if you're based in Frankfurt for your Germany trip. It is also an easy place to travel to if you're in Wiesbaden or Mainz or anywhere else close to Frankfurt. You can see our tips for how to get to Rudesheim below.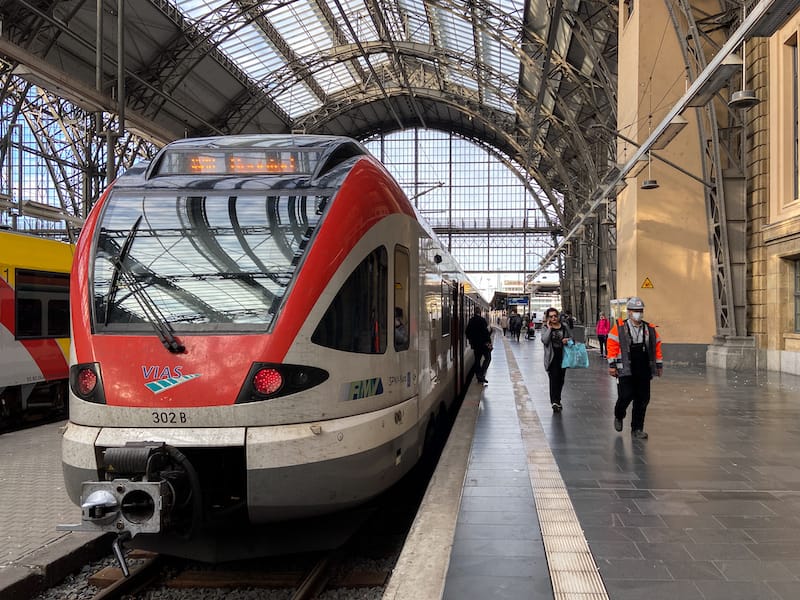 Getting from Frankfurt to Rudesheim
The easiest place, in my opinion, to get to Rudesheim from is Frankfurt. The trains leave in the direction of Neuwied from Platform 24 regularly at the Frankfurt Central Station (Frankfurt Hauptbahnhof).
You can purchase at the train station before your train departs and the journey is around 1 hour and 11 minutes and you will also pass through Wiesbaden on the way.
If you're looking for timetables from Frankfurt to Rudesheim, head over to the Deutsche Bahn website.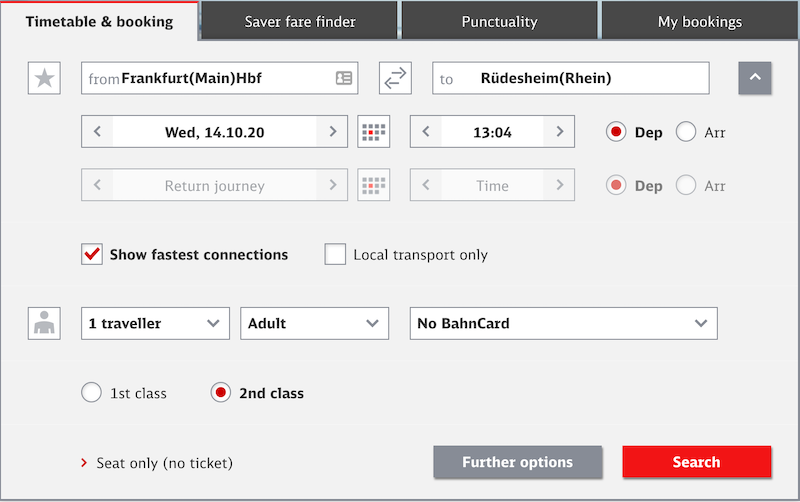 The ticket price from Frankfurt to Rudesheim is 12.50€ per person (one-way). A day ticket for one person is 24€.
If you're with multiple people, it is actually cheaper to book a group ticket on RMV's website. The group ticket price is 35€ for a group of 5 people or less. This is an all-day ticket.
Tours to Rudesheim
Alternatively, you can reach Rudesheim by taking an organized tour from Frankfurt. We recommend booking one through our trusted partner, Get Your Guide, as they are a German company that only works with top-quality partners at their destinations.
Their tours offer cancellation up to 24 hours in advance and you will be able to get a full refund if you do need to cancel your Rudesheim tour. The one below is from Frankfurt.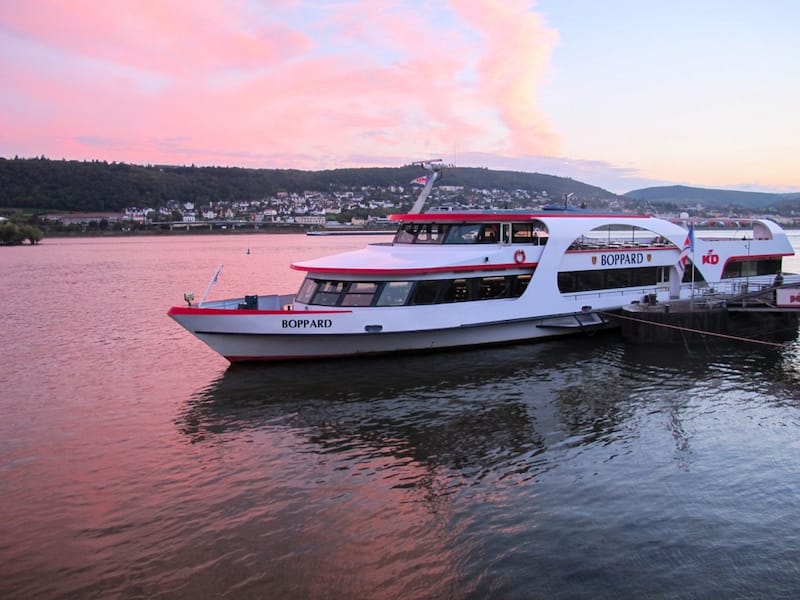 This tour is a day trip through the Rhein Valley from Frankfurt.
The 7-hour tour will take you on a boat cruise through Rudesheim and then onward to Niederwalddenkmal, Assmannshausen, and Sankt Goarshausen. You will even get to ride the cable car at Assmannshausen when there.
>> Click here to check tour rates and availability
Best Time to Travel to Rudesheim
Rudesheim is one of those places in Germany that is pretty much a desirable destination regardless of the time of the year.
While it is cold in the winter and hot in the summer, there are always festivals and events happening and Rudesheim is renowned for its colorful and lively Christmas markets.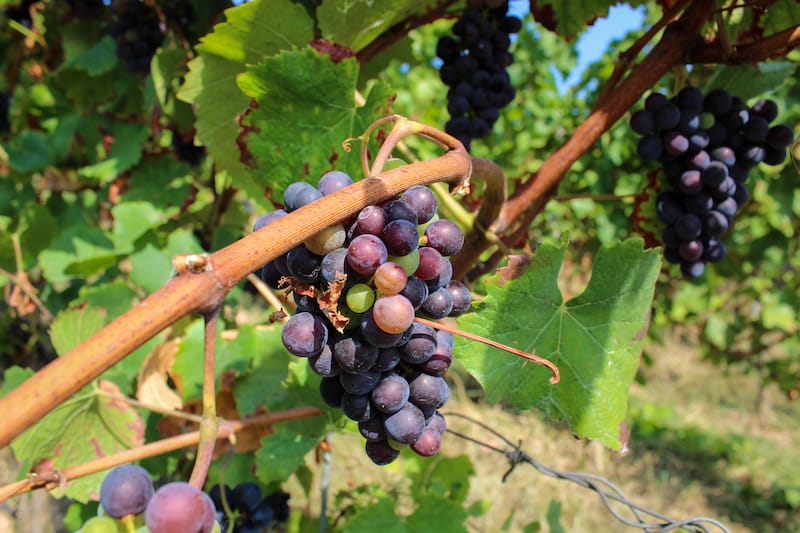 One issue that has occured in recent years is that climate change in Germany has completely changed the wine harvest season in Rudesheim. The grapes used to be harvested at the end of September but now they are being harvested in early to mid-August.
So, if you're going to the Rudesheim wine harvest, just look up beforehand to see when it will take place. It will likely be the end of the summer, however.
Christmas Market in Rudesheim in Winter
If you're considering visiting Rudesheim in winter, you will definitely find plenty of activities waiting for you!
Rudesheim is known for the Rudesheim Christmas Market which takes place annually in the old town. You will find vendors, kiosks, and a cozy vibe throughout the town.
There are also plenty of Christmas Rhine cruises that will depart from Rudesheim and take you up and down the Rhine with delicious wine and spectacular castle views.
Below are two popular Christmas boat tours in Rudesheim to consider if you end up in Rudesheim in winter.
Another fantastic reason to travel to Rudesheim during winter is that there are so many delicious restaurants in the town that offer Christmas dinners and heavy, German food perfect for the cooler weather.
Pair that with some wine and Rudesheim coffee and you're all set!
Rudesheim in Summer
A wonderful reason to head to Rudesheim in summer is to experience the wine harvest! The wine harvest takes place earlier and earlier each year due to climate change but if you plan your Rudesheim trip ahead a bit, you should be able to catch it.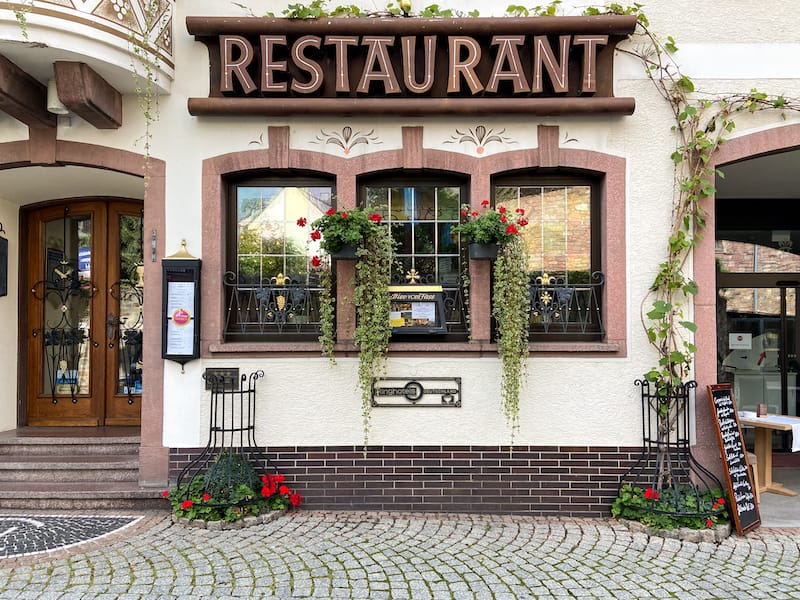 In addition to attending the wine harvest, the summer in Rudesheim is comfortable and there are many hikes in the surrounding area and the landscapes are so green! It is also a great time to take a boat tour on the Rhein.
What to Do in Rudesheim
This next part contains all the best things to do in Rudesheim. While there is actually more to do than this, these are ten of my favorite things!
As usual, your trip to Rudesheim will vary depending on what time of the year you visit the town, but each season offers a variety of other things to do to replace the ones listed that may be out of season.
If you have any ideas of what to do in Rudesheim, please leave a comment below. Thanks!
1. Enjoy Rüdesheimer Kaffee (Rudesheim Coffee)
One of the must-try things in Rudesheim is Rüdesheimer Kaffee, an alcoholic coffee drink that you can find ubiquitously throughout the town.
It uses a local brandy called Asbach Uralt and it combines with sugar cubes and is flambeed until everything dissolves. It is sweet but actually not rancid at all (I hate alcoholic coffee) and I quite liked it.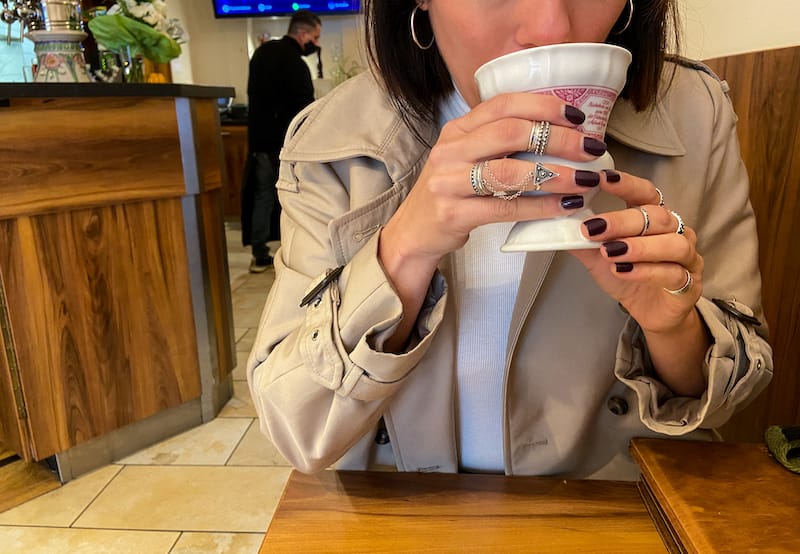 Rudesheimer Kaffee is rather expensive at 8.50€ or so per coffee, but it is something essential to try when traveling to Rudesheim!
I drank my Rudesheimer Kaffee at Restaurant Graf von Rudesheim when there. They put on the whole presentation and have a spacious terrace and an indoor seating area.
2. Ride the Rudesheimer Seilbahn
One of the essential things to do in Rudesheim is to take a ride on the Seilbahn, a cable car that takes you from the old town to the Niederwald Monument that overlooks all of the vineyards and the Rheingau.
The Rudesheimer Seilbahn runs daily but the hours vary depending on the time of the year. You can see the hours here.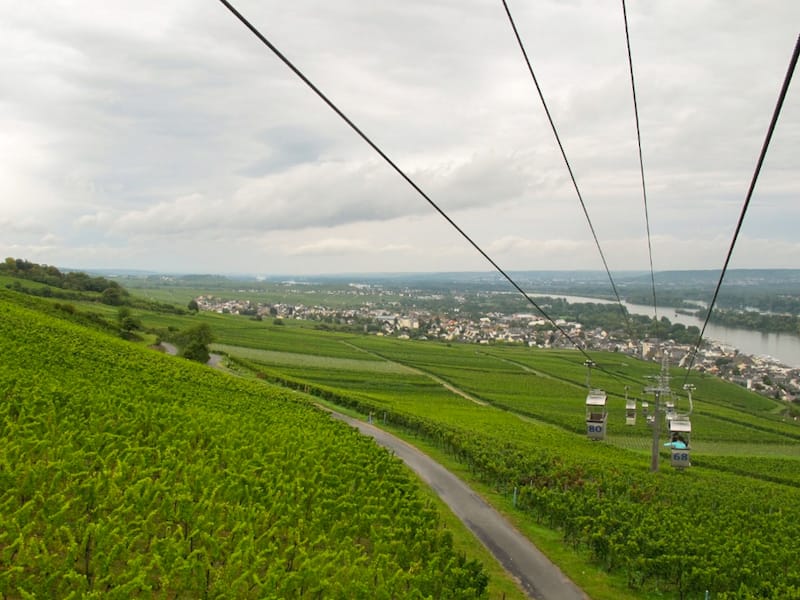 Rudesheim Seilbahn ticket prices are as follows:
Adults: €6 (one way) and €9 (roundtrip)
Children (5-15 years old): €3 (one way) and €4.50 (round trip)
There is wheelchair access, so anyone can ride it. In addition, well-behaved dogs are also permitted to ride.
3. Take a Rhein Boat Trip
Another must-do activity in Rudesheim is to hop on a cruise down the Rhein and take in the views of the castles and vineyards.
Not only are the boats affordbly priced, they also offer drinks on board (for an upcharge) and they will be one of the most memorable things to do in Rudesheim.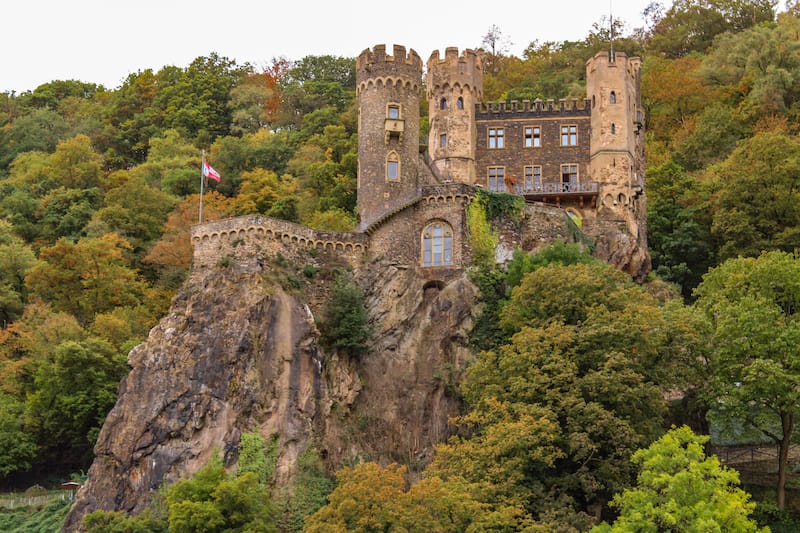 I took this specific boat tour on the Rhein (it was only €12!) and it was not the most luxurious cruise as it was only 1.5 hours and spent a lot of time at ports before turning around and going back to Rudesheim, but for only €12, it allowed me to see many castles and take a trip down the river, which was amazing.
>> Click here to check rates and availability for a Rhein boat trip
4. Eat Zwiebelkuchen
I'd be lying if I didn't say that one of my favorite things about Rudesheim is eating Zwiebelkuchen, or Onion Cake, there. This local delicacy is served at various restaurants throughout the town and the main season for the stuff is early autumn.
The cake is made of onions, diced bacon, cream, and caraway seeds and it is so deliciously tasty that I continue going back to Rudesheim for more and more!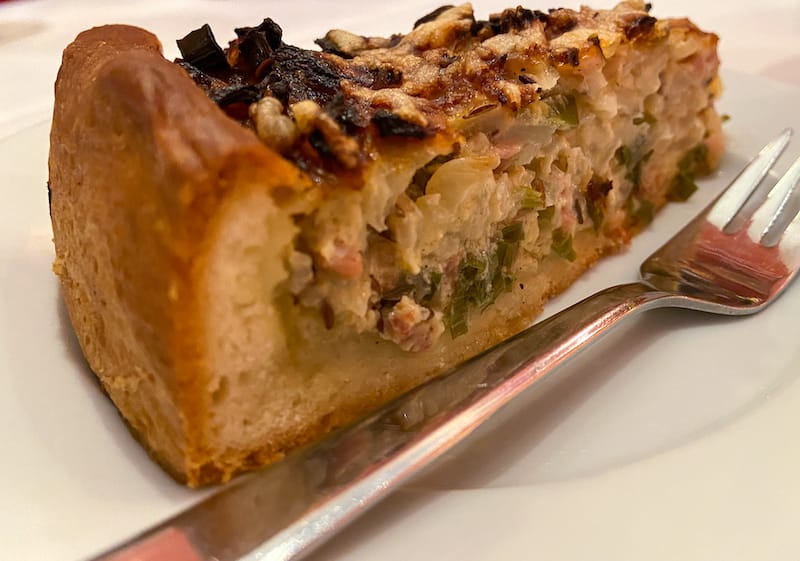 You can find Zwiebelkuchen almost anywhere in Rudesheim during the right season. The last place I enjoyed it at was right on the river at Restaurant Cafe Rosenberger.
5. Visit a Middle Ages Torture Museum
Right in the middle of Rudesheim, you will find the Folter Museum, a Middle Ages Torture Museum. It is a 'medieval torture museum with a modern message', as it states on their website.
The museum is educational and enlightens visitors on stories from four centuries ago… that still happens today in some places around the world.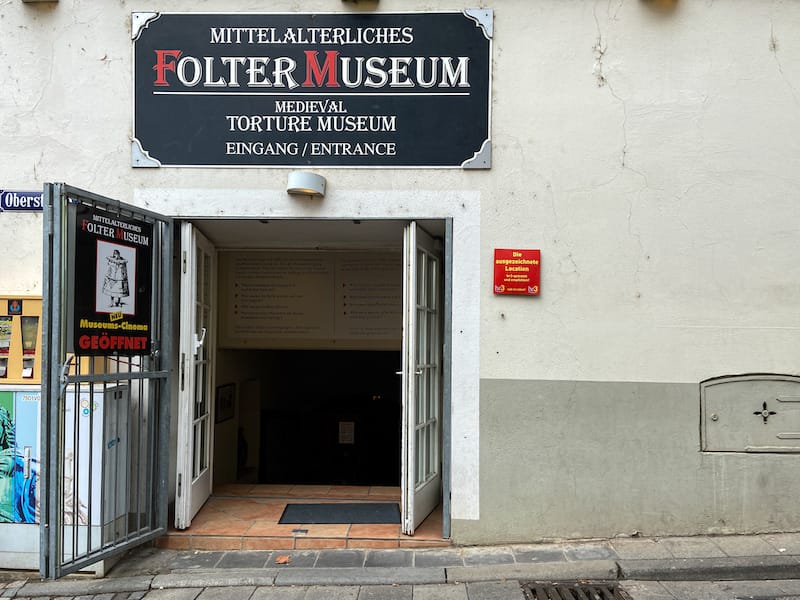 Inside, you will see whipping posts, gallows, stretching ladder, knee screws, breast talons, heretic forks, guillotine, iron lockjaw, and much more.
The interactive museum has many documents and photos available showcasing the heinous activities that used to take place centuries ago and humanizes the events in a way that will leave guests captivated. It is one of the top attractions in Rudesheim.
6. Try Rudesheim Federweisser
Another must-try in Rudesheim is Federweisser, a special type of wine that comes from the area and is a seasonal treat.
It is often referred to as 'young wine' or 'new wine' and the appearance comes from a suspended yeast called 'strum'. It usually hovers around 9% alcohol but can go all the way up to 11.5%.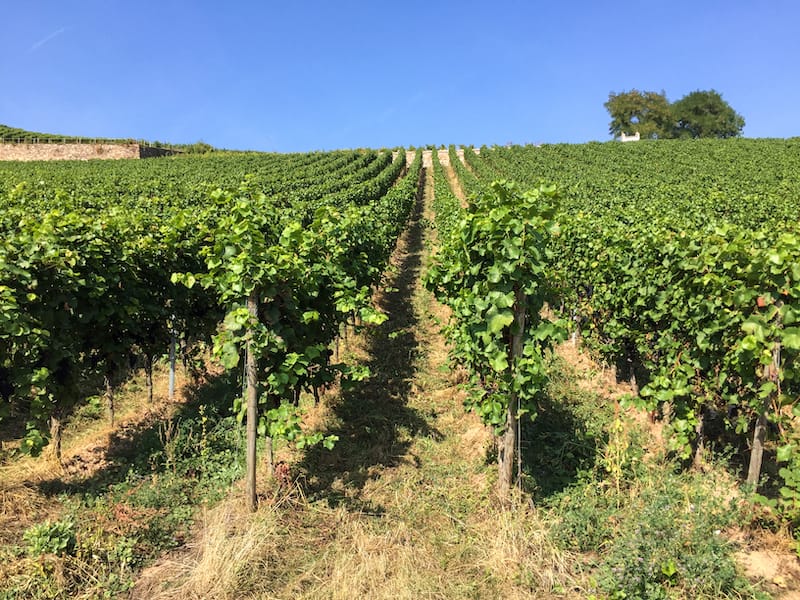 One thing to note is that Federweisser is usually rather refreshing and light. The best time of the year to drink Federweisser depends on the wine harvest in Rudesheim but it is usually available from September until October (earlier and earlier each year, however!). It is best served with a slice of Zwiebelkuchen.
You can find it at almost any establishment in Rudesheim during the season.
7. Visit Boosenburg Castle
Right once you get off the train or boat, you will see Boosenburg, a lowland castle located in Rudesheim. It is part of the Rhine Gorge World Heritage and has been since 2002.
The 12th-century castle is locally known as Oberburg and is located slightly near Bromserburg.
It is one of the most Instagrammable and photogenic places to visit in Rudesheim and is a must-see for visitors.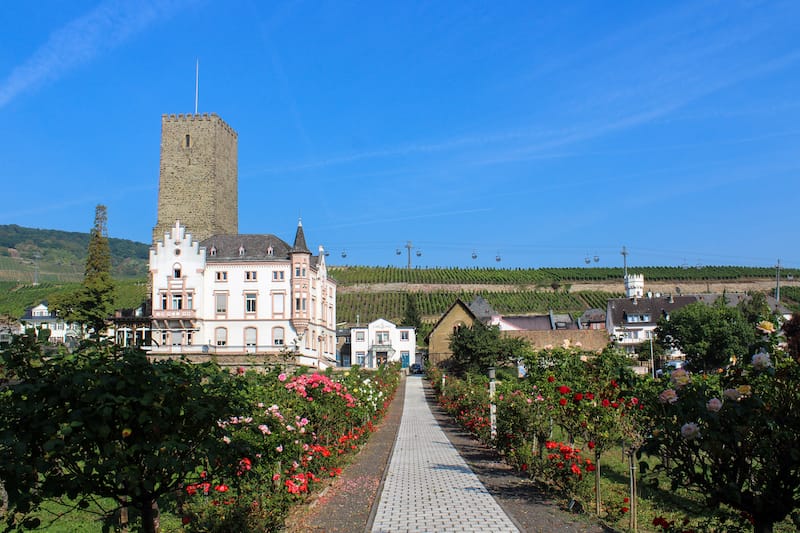 8. Eat Schnitzel at Jakobsklause
German food is heavy and hearty and it pairs so well with wine and beer that I have no complaints as someone who lives in the country.
One of the best things to eat in Rudesheim is a large schnitzel and bratkartoffel (potatoes).
While there may be other dishes people recommend when there, I know from personal experience that schnitzel soaks up alcohol quite well and it will allow you to keep going and tasting these delicious wines in Rudesheim!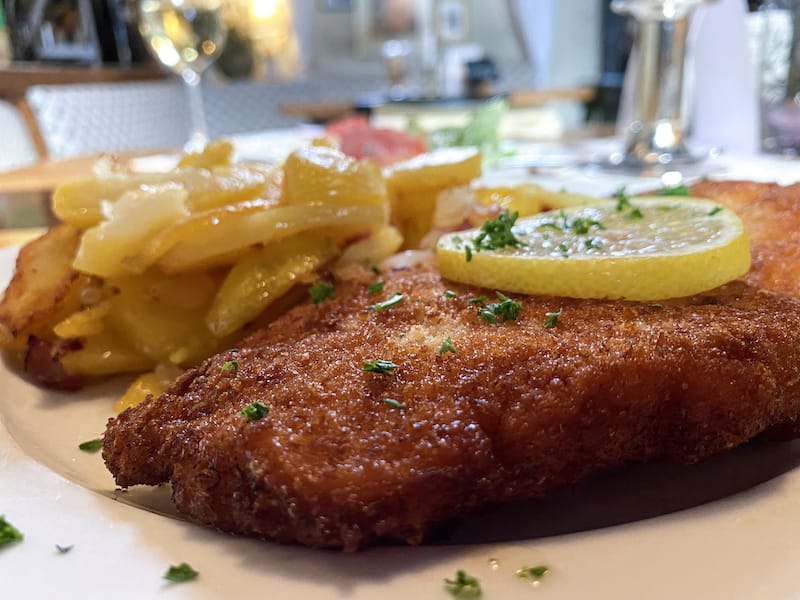 My favorite place to get schnitzel at is Jakobsklause right at a square of the same name and St. Jakobus Church.
They have a spacious outdoor terrace and a traditional, spacious area to eat inside as well. It is also rated as one of the best restaurants in Rudesheim.
The customer service was fantastic and they had a variety of wines to accompany their menu options.
9. Check Out Georg Breuer Winery
Rudesheim is teeming with traditional restaurants and wineries, so when I stumbled upon Georg Breuer Winery in the middle of the town, I was in for a real surprise.
Georg Breuer Winery specializes in Riesling and particularly, dry Rieslings (my heart is happy as I really don't love sweet wine). They also have some Pinots and lighter Burgundies in their Rheingau portfolio.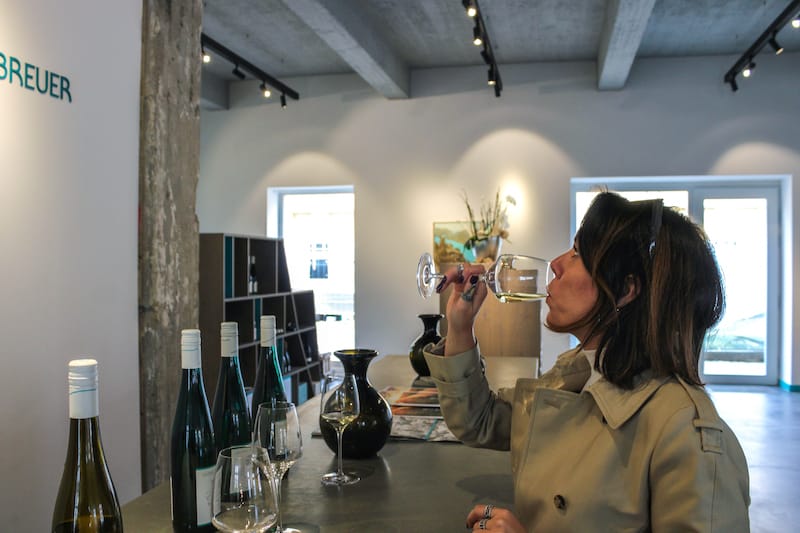 The coolest thing about this winery in Rudesheim is that the place doubles as an art gallery. It is very modern and interesting and the woman that helped me when there was friendly and extremely knowledgeable.
They also have a wine cellar and restaurant downstairs. I did a quick tasting of their Rieslings and even took a delicious bottle home!
10. Hiking in Rudesheim
One of the absolute best things to do in Rudesheim is to go hiking!
Above the town and Rhein sits the Niederwald, a forest that is also part of the Rheingau UNESCO World Heritage Site.
You can go by foot from Rudesheim to the next-door quarter called Assmannshausen and it will give you some of the most impressive views over the river!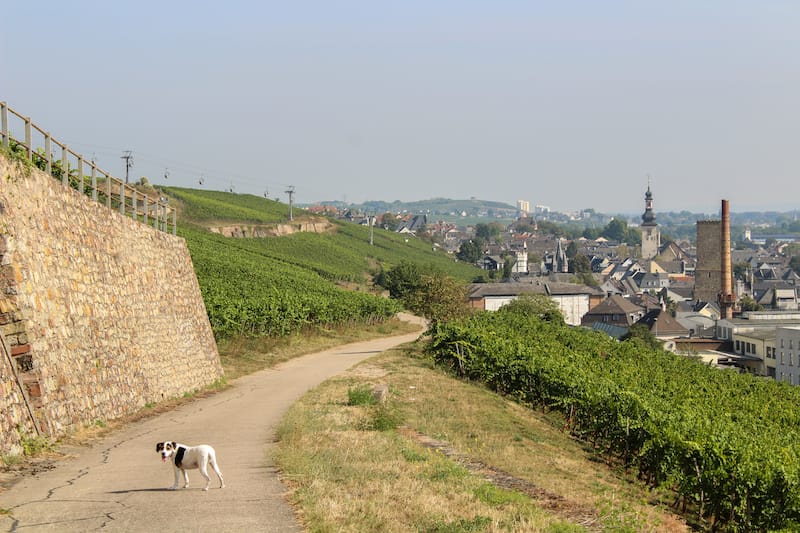 Rudesheim is also situated along the Rheinsteg, a trail that covers a 320-kilometer distance that runs between Bonn and Wiesbaden and winds through the Upper Middle Rhine Valley UNESCO area.
You will also be located right at the Hildegard of Bingen Trail, a 6.7-kilometer loop trail that cuts through the vineyards of Rudesheim to Eibingen. It covers many of the main Rudesheim landmarks.
Some of the shorter hikes in Rudesheim are:
Freiligrath Route
Ostein Route
Potters' Way
Monastery Route
Rhine Romantic Route
Trip to Rudesheim Map
To add this map to your Google Maps account, click the 'Star' icon next to the map name. You can then view it on your cell phone or computer by heading to your Google Maps account and going to 'Your Places'.
Other Places to Visit Near Rudesheim
If your itinerary for Rudesheim is part of a larger Germany trip, then there are so many awesome places to visit near Rudesheim that often are overlooked due to this town's popularity.
Below are a few of my favorite places near Rudesheim that you should consider visiting on your Rheingau trip.
Bingen am Rhein
Sitting across the river from Rudesheim is the town of Bingen. Bingen am Rhein has a long history and the Mouse Tower that sits in the middle of the Rhein is the site in which the story of a cruel lord who was eaten alive by mice takes place.
Within the town, there are plenty of other beautiful old buildings and sites along with some newer constructions, such as the Old Rhein Crane.
There are several music events that take place in Bingen, along with the region's largest wine festival.
Eltville
Sitting at the beginning of the Rheingau, Eltville is the largest town in the valley. The town is full of beautiful buildings and castles, including the beautiful Electoral Castle with colorful rose gardens.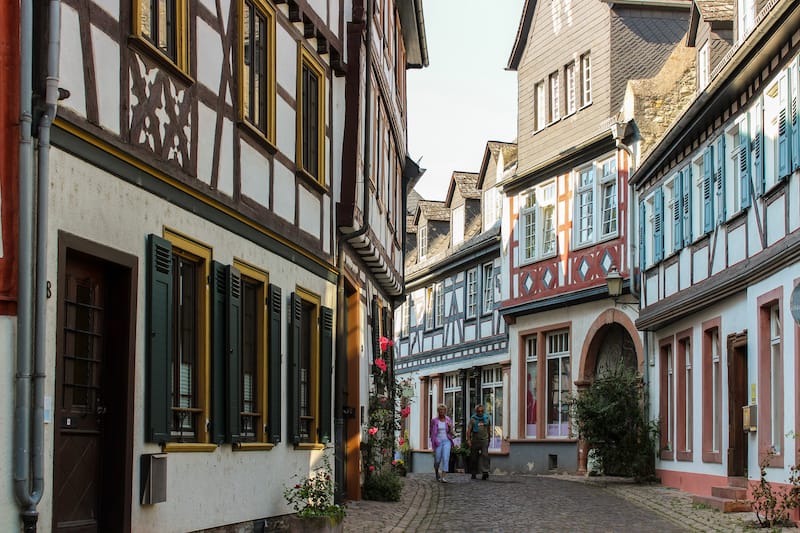 During the summer months, the town is a hive of activity with various cultural events that often highlight the region's spectacular produce and wines.
Assmannshausen
Although Assmannshausen is officially part of Rudesheim, it is separated from the main town by a bend in the river.
There are a few wineries in the town that specialize in red wine. There are several hiking routes that start off from Assmannshausen, which take you up into vineyards and forests behind Rudesheim.
Suggested 1 Day in Rudesheim Itinerary
If you're spending merely one day in Rudesheim, you will be able to see quite a bit if you plan ahead! Here is our quick 1 day in Rudesheim suggested itinerary for travelers:
Morning
Arrive in Rudesheim
Head to Restaurant Graf for a Rudesheimer Kaffee and breakfast pastry or cake
Ride the Rudesheim Seilbahn and visit the monuments and vantage point
Afternoon
Evening
Walk the streets of the Rudesheim Old Town and photograph
Visit Boosenburg Castle and the grounds (or take photos of it!)
Go to Restaurant Cafe Rosenberger for dinner
Have a dry Riesling wine at Georg Breuer Winery (and buy a bottle to-go!)
This Rudesheim itinerary is for those who are visiting for a lot of hours and are not doing a quick pass-through of the city! You should be able to squeeze in many things if you plan your trip in advance and don't just show up and expect to know what to do.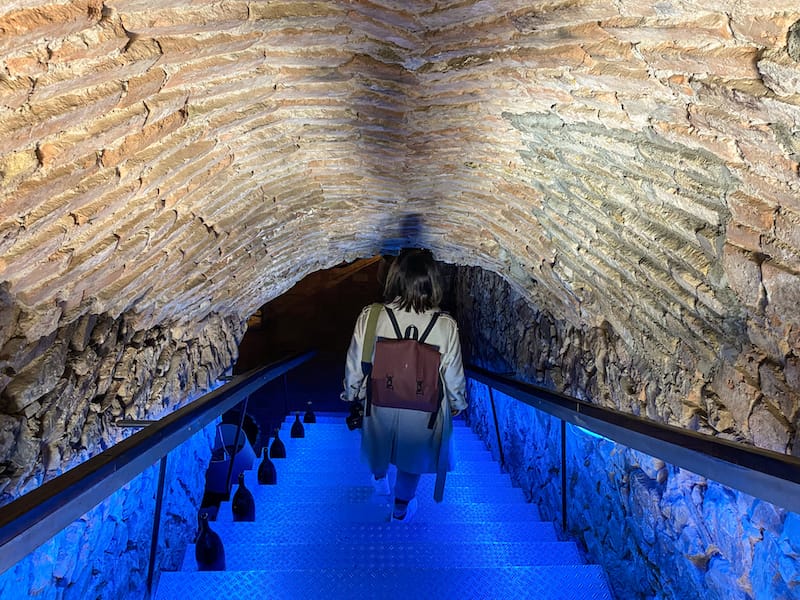 Where to Stay in Rudesheim
I typically advise visiting Rudesheim as a day trip from Frankfurt, but if you're planning to stay overnight there, you will find a few options throughout the town.
Below are a couple of recommended places to stay in Rudesheim am Rhein.
We hope that this guide to the best things to do in Rudesheim has helped you plan your trip and see all the wonderful reasons to visit the Rheingau town! If you have questions, pop them into the comments section!
Pin These Rudesheim Travel Tips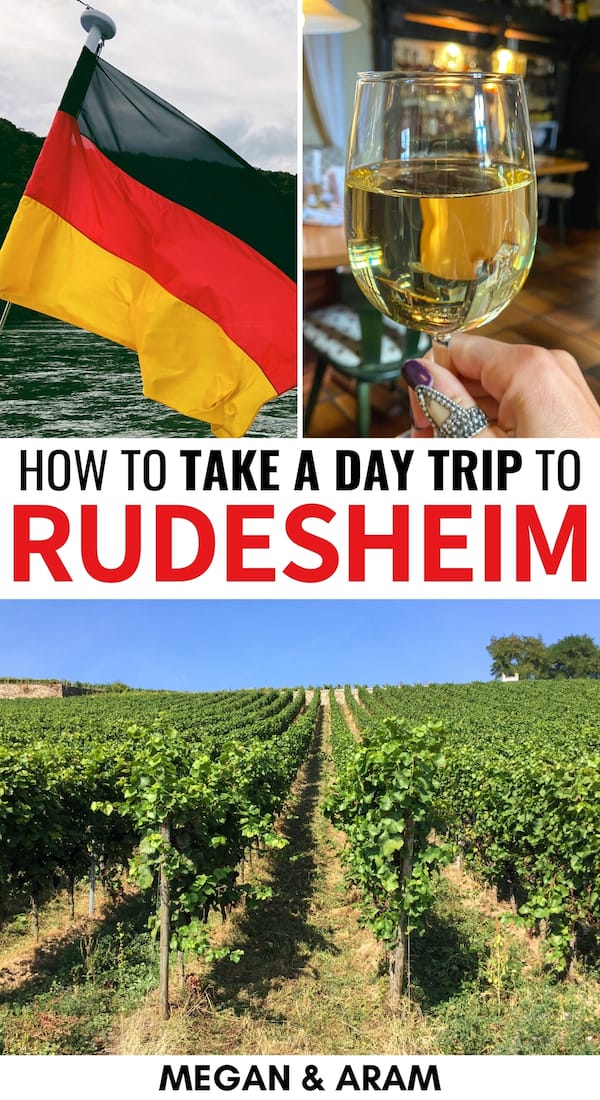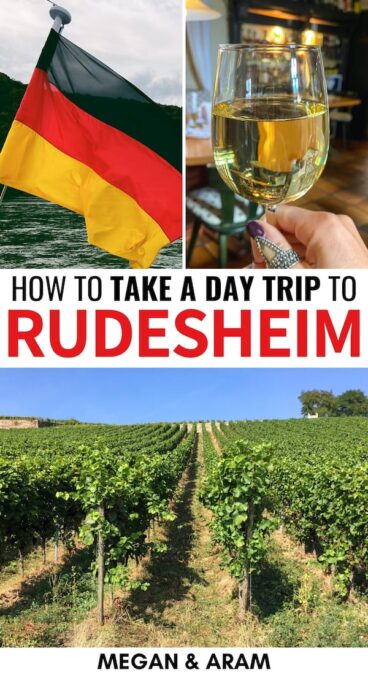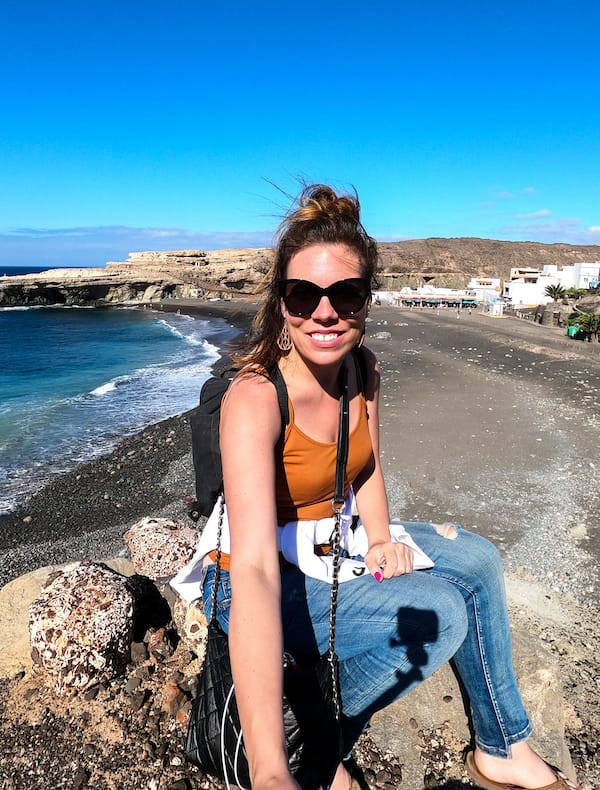 Megan is a travel blogger and writer with a background in digital marketing. Originally from Richmond, VA, she now splits her time between Frankfurt, Germany and Arctic Finland after also living in Norway, Armenia, and Kazakhstan. She has a passion for winter travel, as well as the Nordic countries, but you can also find her eating her way through Italy, perusing perfume stores in Paris, or taking road trips through the USA. Megan has written for or been featured by National Geographic, Forbes, Lonely Planet, the New York Times, and more. She co-authored Fodor's Travel 'Essential Norway' and has visited 45 US states and 100+ countries.