Are you looking for the best things to do in Helsinki, the innovative and colorful capital of Finland? If so – we've got you covered!
From UNESCO World Heritage fortresses to cozy cafes that are a perfect rejuvenation spot in winter, this guide covers some of our top things to do in Helsinki for first-time visitors.
And of course, we included a couple of public saunas!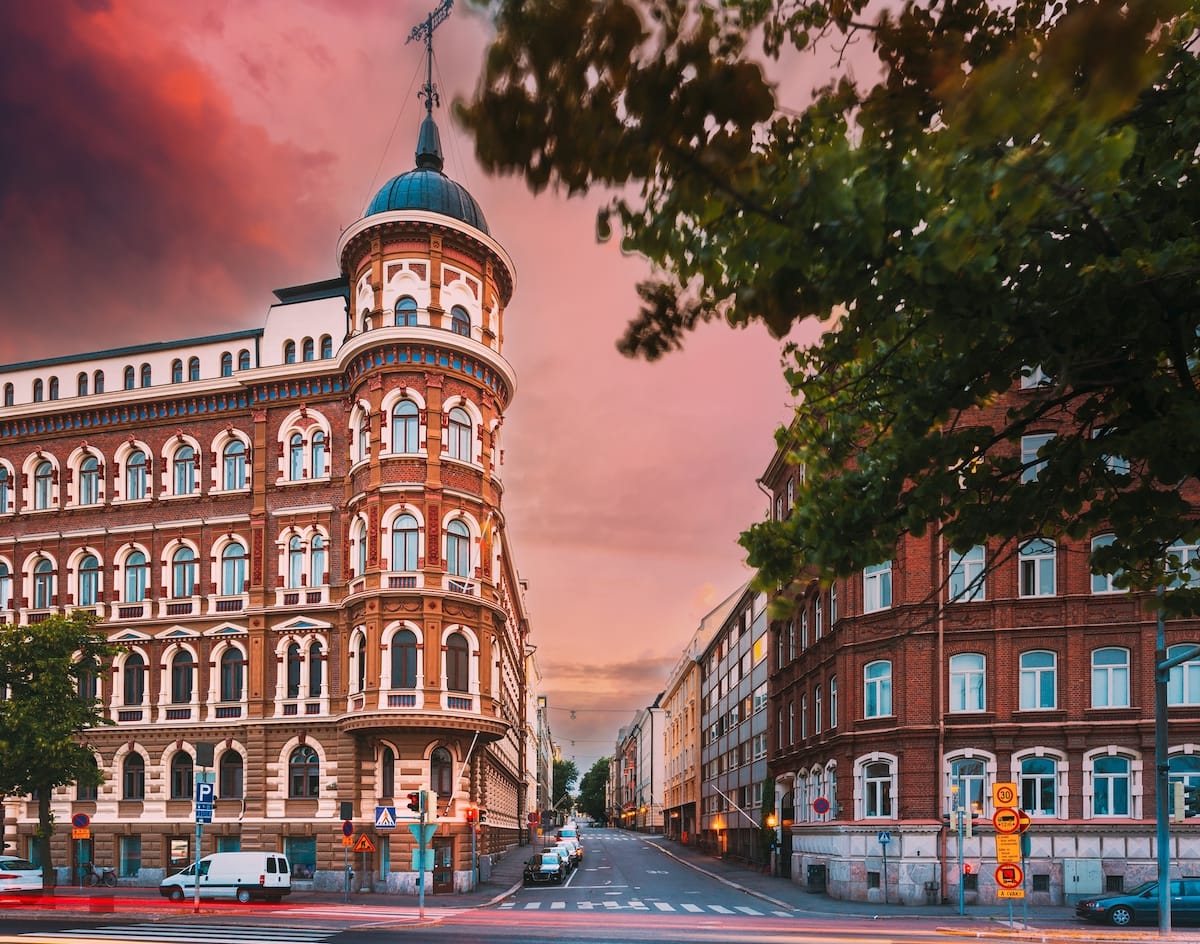 Did we miss any of the best Helsinki landmarks and places to visit? Let us know your favorite attractions in Helsinki in the comments. Thanks!
Best Things to Do in Helsinki
1. Take a Boat to the Suomenlinna Fortress
The Suomenlinna Fortress occupies a group of islands off Helsinki, presenting a priceless collection of history and culture.
Built in the 18th century as a maritime fortress, the architecture and the landscape of the fortress presents a mixture of different eras and historical events: the Kingdom of Sweden, the Russian Empire, and the Republic of Finland.
Today, the Suomenlinna Fortress is a UNESCO World Heritage Site and a museum behind the six kilometers of defense walls with tunnels and beautiful parks.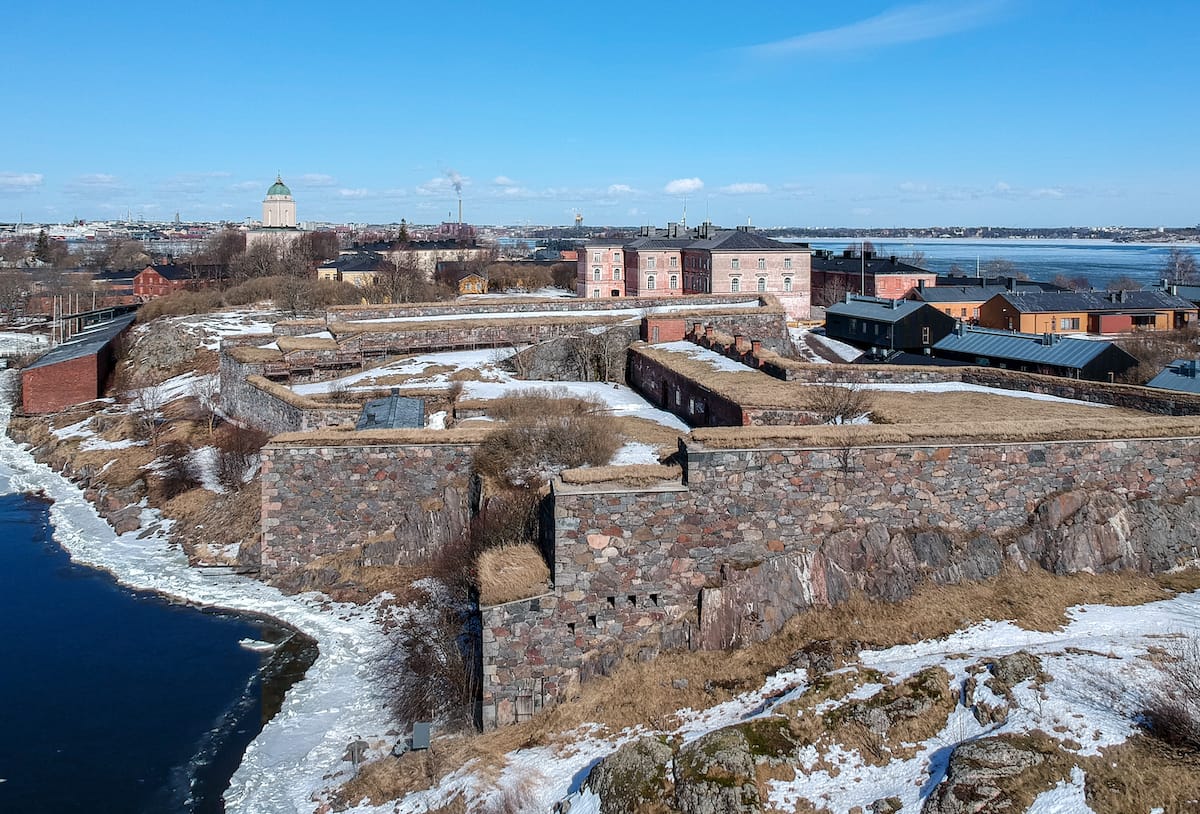 Actually, there are several museums on the territory that regularly host guided tours. There are walking paths across the island, marked with blue signs that lead you to the main attractions and museums.
If you want to stay on the island, there is a small hostel, a cafe, and a supermarket.
You can reach the fortress by ferry every day. It takes only 15 minutes one way.
2. Rejuvenate at the Löyly Sauna
Löyly is called the urban oasis in Helsinki, where you can relax and have an exceptional experience.
The name literally means the steam that rises when throwing water on hot stones. Löyly is a new concept of a traditional public sauna mixed with a restaurant, aimed at reviving the public sauna culture in Finland.
The location of the sauna is just perfect- the waterfront panorama and the coastal park are only the beginning of your complete recreation and relaxation.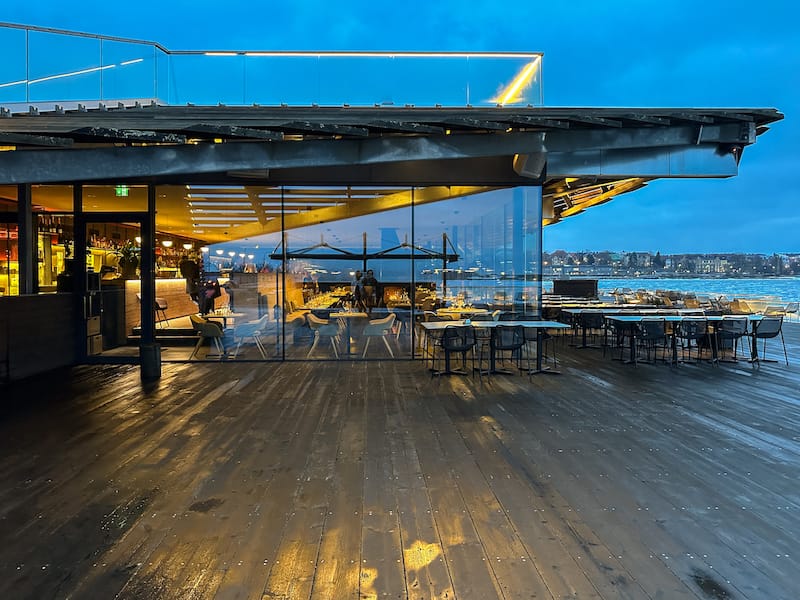 The building is divided into two sections: the saunas and the restaurant with a sea view. You can choose one of the three saunas: continuously wood-heated, once-heated, and smoke saunas.
There is also a spa zone with a cold-water pool, a fireplace, and access to an outdoor seating zone with views.
The restaurant has a year-round terrace to relax on, but you can always choose a warm hall to dine in. The menu includes ecological and locally produced food.
Address: Hernesaarenranta 4, 00150 Helsinki
3. Relax at the Allas Sea Pool
Allas Sea Pool is one of the top attractions in Helsinki, which every tourist should visit at least once!
The public complex is located next to Market Square and offers swimming zones, three saunas, a café, and a restaurant with amazing views of the Baltic Sea and SkyWheel Helsinki.
One of the swimming pools has the waters of the Baltic constantly purified with a UV water purification system. Dare to enter the pool because the water is extremely cold!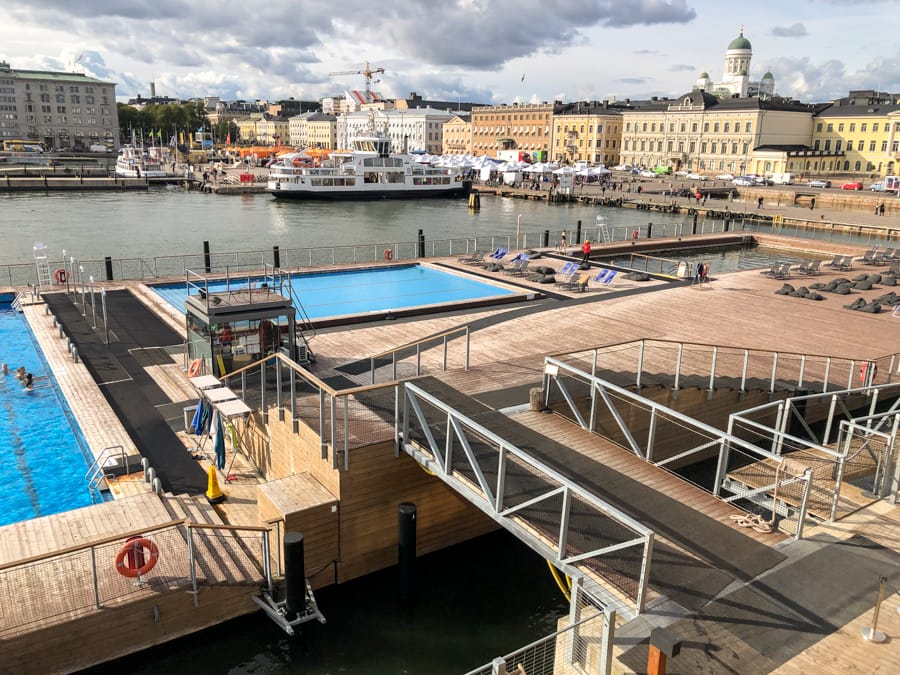 There is also a kid's pool also used for water exercises. The saunas are divided into men's, women's, and those for special reservations.
Seagrill Beach House, a seafood restaurant with tropical cocktails, occupies the second floor of Allas Sea Pool.
The guests can rent a swimming suit and a towel or buy one in the Allas Shop.
Address: Katajanokanlaituri 2a, 00160 Helsinki
4. Check Out the Helsinki Cathedral
The symbol of Helsinki, the Cathedral, is one of ten Evangelical Lutheran Churches of Finland and the main church of the Diocese of Helsinki.
The central landmark is located on the north of Senate Square, attracting all the tourists.
Every day at noon, the Helsinki Cathedral holds a prayer service accompanied by organ music.
On Saturdays and Sundays, the church holds an evening service and a Sunday Eucharistic service.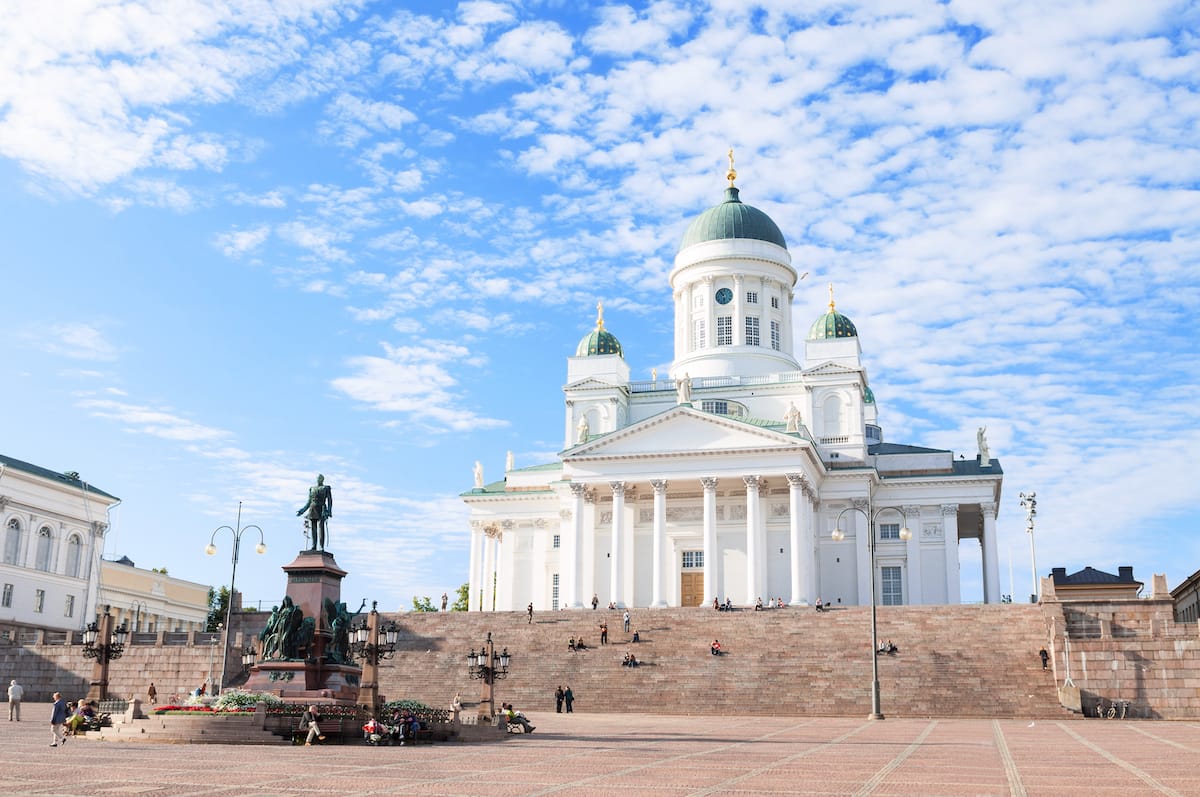 You will see the parish sing with the choir, a characteristic practice of the Lutheran Church dating back to the 16th century.
There is an admission fee at the cathedral that is voluntary and valid during visiting hours. The donations go to the congregation.
Address: Unioninkatu 29, 00170 Helsinki
5. Stop by the Uspenski Cathedral
The largest Orthodox church in Northern and Western Europe is the Uspenski Cathedral, located in the Katajanokka district, Helsinki, capturing attention with its huge golden cupolas and red brick facade.
Its magnificence is emphasized by its location: the church is built on the highest hill in the district and has a 33-meter-high cupola.
The 13 domes of the church are visible from every corner of Katajanokka. It is one bright example of Russian influence on Finnish history.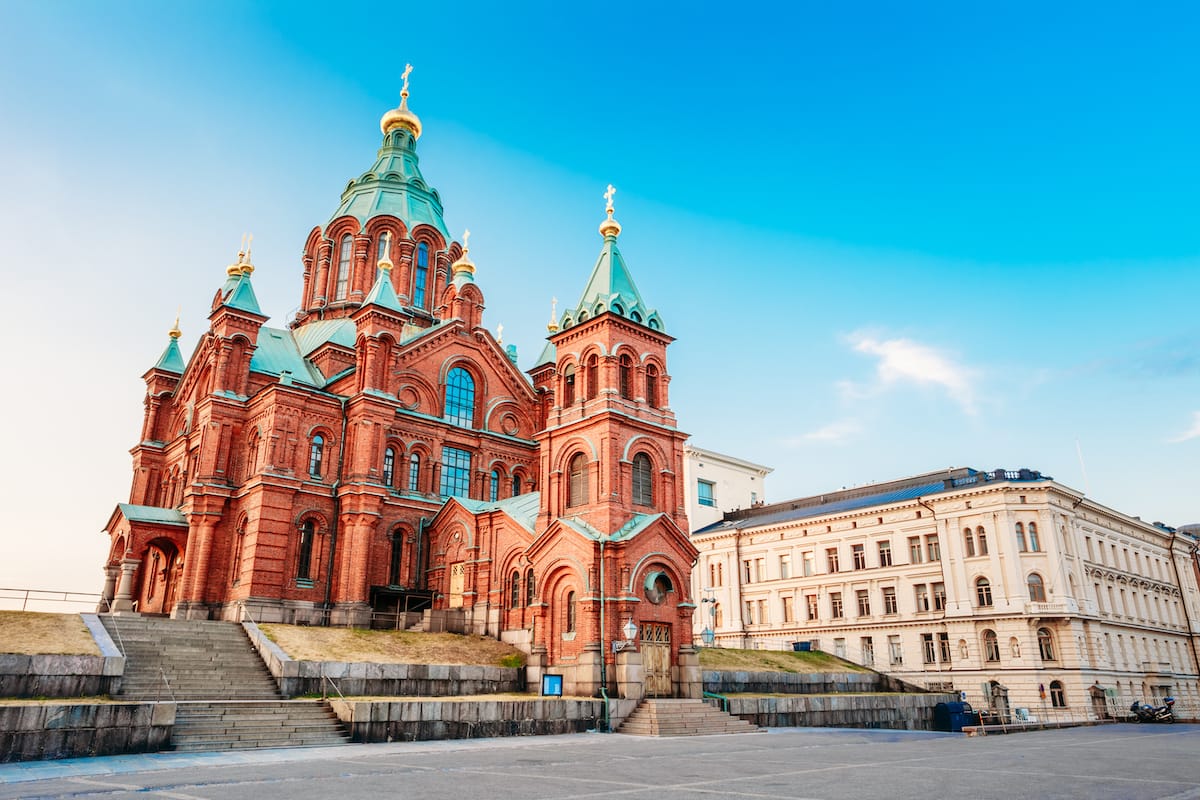 Uspenski Cathedral is one of the main pilgrimage destinations for the Kozelshchyna wonderworking icon of the Mother of God, a priceless treasure of the Finnish Orthodox Church.
Even if you are not a pilgrim or a member of the Orthodox Church community, a visit to Uspenski Cathedral is worth it to admire the rich interior, columns, colorful mosaics, and religious paintings.
Address: Kanavakatu 1, 00160 Helsinki
6. Take a Stroll around Market Square
Market Square is a popular spot in Helsinki for fresh products and cafes with fresh food.
Open every day from 8:00 a.m. to 5:00 p.m., the market at the east end of Esplanade Boulevard hosts thousands of visitors who come to taste the best coffee, delicious sandwiches, salmon steak, and even reindeer salami.
Besides great food, you may find handicrafts, souvenirs, jewelry, and clothing. Unique items like reindeer skin and Russian fur hats can also be found on the market.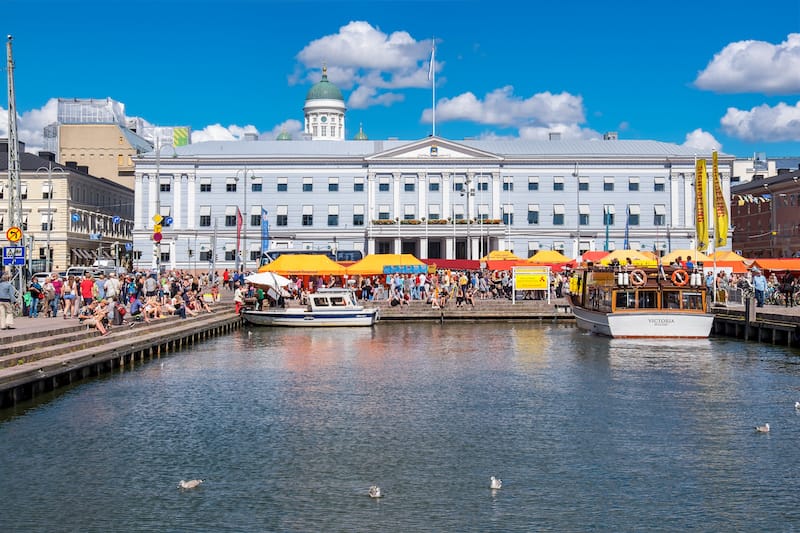 Esplanade Boulevard and Market Square are always crowded, but the place gets really busy in October when it hosts the oldest Helsinki Baltic Herring Market, held since 1743.
If you visit the market during the long Helsinki winter, you can get warm under heated tents with a cup of hot coffee.
7. Take a Day Trip to Tallinn
A day trip to Tallinn, Estonia, is a great way to explore the city and its many attractions.
Start your day by taking a walking tour of the Old Town, a UNESCO World Heritage Site, to explore the cobblestone streets, admire the architecture, and visit some of the city's most famous landmarks, such as Toompea Castle and St. Olaf's Church.
Afterward, take a stroll along the waterfront promenade and enjoy views of the harbor. Stop for lunch at one of the many restaurants in this area before heading to Kadriorg Park.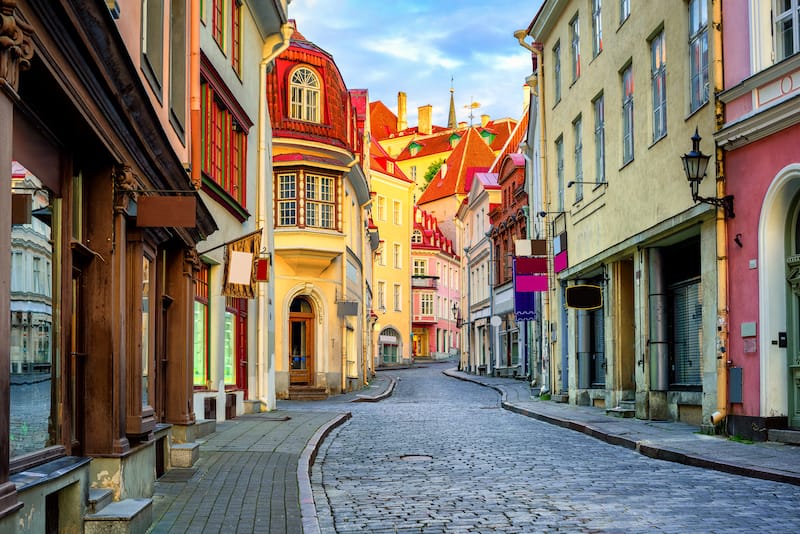 This park is home to several museums, galleries, beautiful gardens, and sculptures. In the afternoon, take a boat ride across Lake Ülemiste to explore some of the islands in the area.
Finally, end your day with a visit to one of Tallinn's many bars and restaurants for dinner and drinks, for example, Depeche Mode Bar, Must Puudel cafe-restaurant and bar, Sveta Baar, Paar Veini winery, and more. They are some of the best places to visit, especially if you're visiting Tallinn in winter!
After a 10-hour tour, you'll board the ferry back to Helsinki.
>> Click here to check tour rates and availability
8. Take a Day Trip to Nuuksio National Park
Nuuksio National Park is a beautiful and popular destination just a short drive from Helsinki. It is a great place to escape the city and enjoy fresh air and nature.
Your tour of the park will start at the Espoo visitor center, where you will learn more about the park's history, flora, and fauna. It has interactive exhibits, a shop, and a cafe.
Nuuksio has a network of trails that wind through forests, over hills, and along lakes and streams.
There are trails for all levels of fitness, ranging from short and easy to longer and more challenging.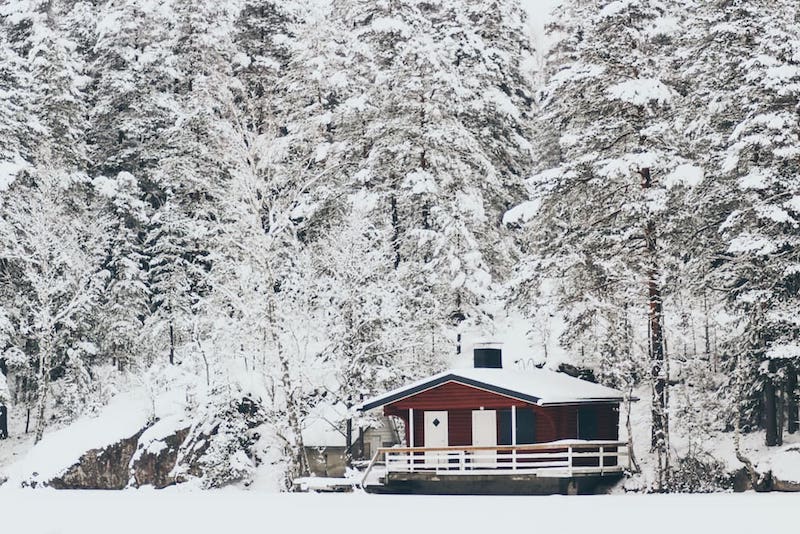 Some popular trails include the Old Spruce Trail, the Hawk's Nest Trail, and the Blueberry Trail.
Nuuksio National Park has several lakes and streams perfect for swimming or paddling in the summer. You can bring your own equipment or rent kayaks or canoes at the park.
There are several designated picnic areas in the park to enjoy a meal surrounded by nature. You can bring your own food or stop at one of the park's kiosks or cafes for refreshments.
>> Click here to check tour rates and availability
9. Take a Day Trip to Porvoo
Porvoo is a charming city located just 50 kilometers east of Helsinki.
It is the second-oldest city in Finland and is known for its picturesque old town, a charming neighborhood with narrow cobblestone streets, colorful wooden houses, and picturesque canals.
You will have 5 hours to embrace the vibes of the town.
Once you have finished exploring the Old Town, head to Porvoo Cathedral, dating back to the 14th century, one of the oldest churches in Finland.
Afterward, take a stroll along the riverbank or visit one of the many museums in town. If you have time, climb the steep hills to the north of Old Town to discover archaeological sites and two fortresses, Iso Linnamäki and Pikku Linnamäki.
In the afternoon, enjoy lunch at one of Porvoo's many restaurants before heading out for some shopping in the Vuorikatu neighborhood.
Finish off your day with a boat ride on Lake Saimaa for some stunning city views from afar.
>> Click here to check tour rates and availability
10. Admire the Oodi Library
Oodi is the central library of Helsinki. Located in the heart of the city, it is a modern and visually stunning building that serves as a learning hub and a place for cultural exchange.
The library offers a wide range of services and resources, including books, e-books, magazines, newspapers, music, films, and games.
It also has a number of public computers and Wi-Fi access, making it a convenient place to work or study.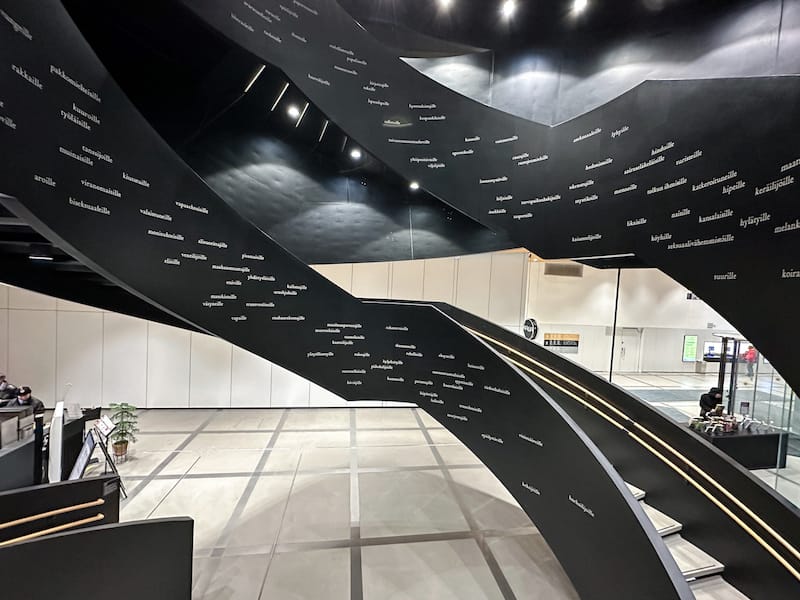 The most impressive hall is "Book Heaven" on the top floor, a modernist library with a 360-degree panoramic view of the city.
In addition to traditional library services, Oodi also has a number of spaces and facilities, designed to support creativity, innovation, and community engagement. These include a workshop, a recording studio, a cinema, a theater, and a cafe.
The Oodi library is open to everyone with no admission fee. It is a popular space for both locals and tourists, with its beautiful architecture and activities!
Address: Töölönlahdenkatu 4, 00100 Helsinki
11. Stop by the Sibelius Monument
Sibelius Monument, dedicated to the renowned composer Jean Sibelius and designed by Eila Hiltunen, is one of the unique places that should be on every Helsinki itinerary!
The monument is located in Sibelius Park, a popular recreational area in Helsinki.
The monument consists of a series of stainless steel tubes arranged in a wave-like pattern, representing the themes of nature and music that were central to Sibelius's compositions.
The tubes are welded together to create a musical score, with the notes and rest visible on the surface of the monument.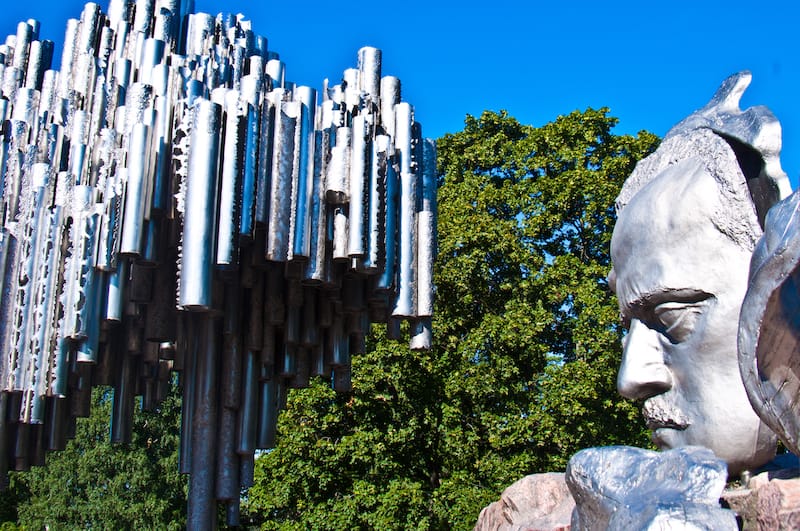 The monument is about 20 meters (66 feet) tall and has become an iconic symbol of Helsinki, attracting many visitors and tourists each year.
By the way, the smaller version of the monument is located in Paris at the UNESCO headquarters, but it doesn't have the majesty of the original one!
Address: Sibeliuksen puisto, Mechelininkatu
12. Visit the Helsinki Design Museum
The internationally recognized Design Museum presents the richest collection and history of Finnish design. The museum exhibits designs through digital exhibitions and living narratives.
The Design Museum occupies the former building of the Brobergska Samskolan high school in central Helsinki and has a collection of over 100,000 objects, including furniture, textiles, fashion, and industrial design.
It is known for its comprehensive collection of Finnish design, including works by iconic designers such as Alvar Aalto, Tapio Wirkkala, and Ilmari Tapiovaara.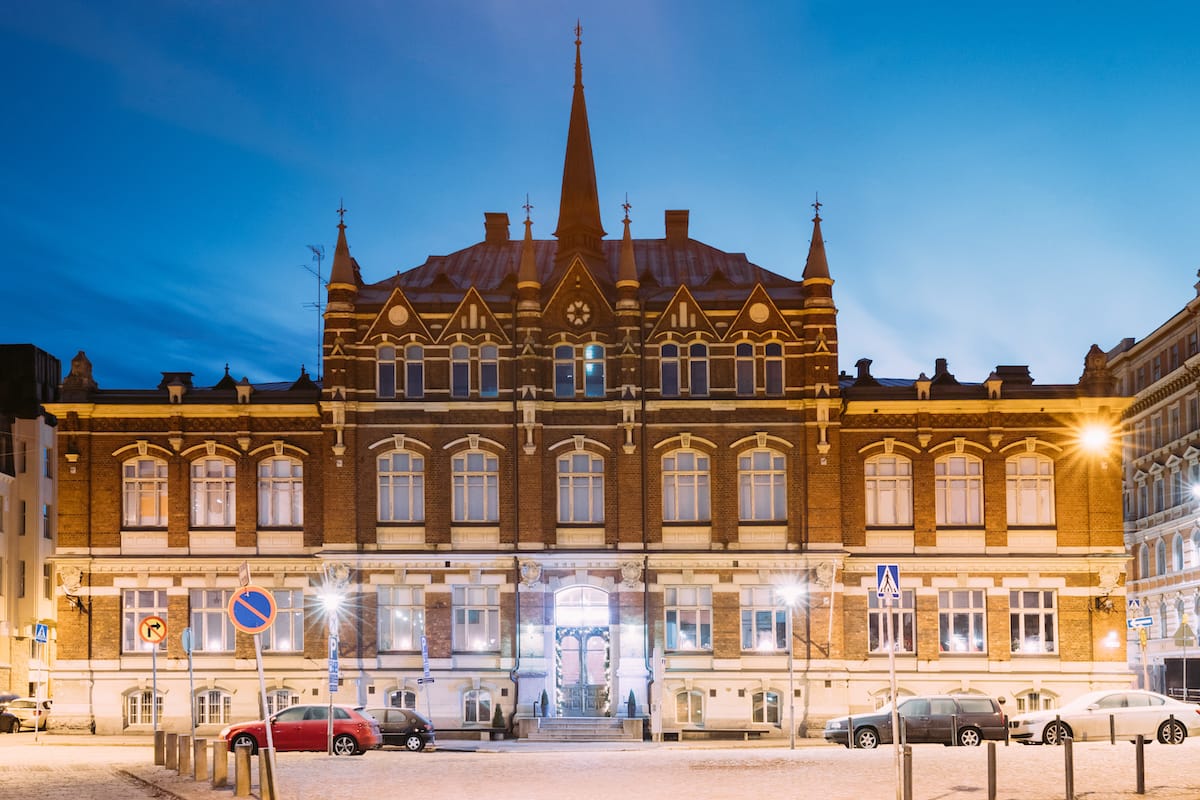 In addition to its permanent collection, the Design Museum Helsinki also hosts temporary exhibitions and events, that highlight the work of contemporary designers and design trends.
You will have the opportunity to see the latest design innovations and learn about the creative process behind the objects on display. Finish your excellent day with coffee at the lovely Design Café Taito.
Address: Korkeavuorenkatu 23, 00130 Helsinki
13. Find Aalto Architecture around the City
Finland is known for its distinctive architecture that blends seamlessly with the surrounding natural beauty. Most of the iconic pieces of Finnish architecture are the works of Alvar Aalto.
This time, let's search for Aalto architecture in Helsinki.
One of his most significant architectural pieces is the Alvar Aalto Museum, a building characteristic of his architecture. The exhibitions are focused on his life and work.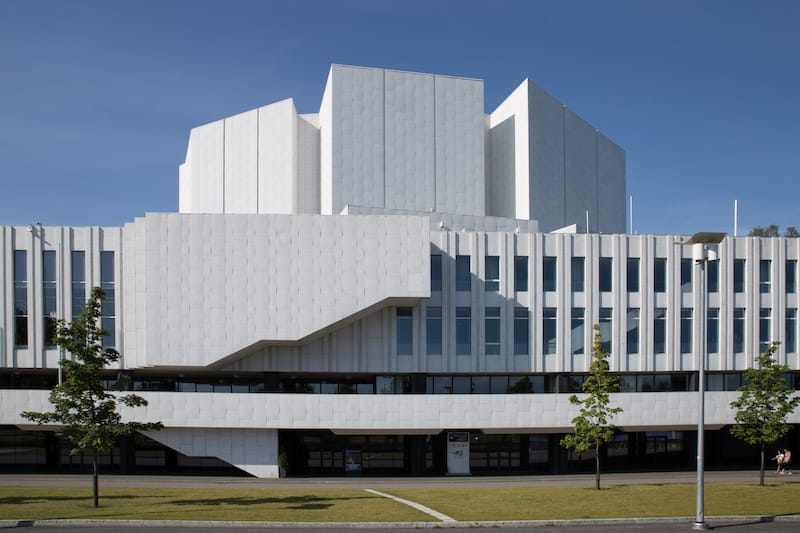 There is also a Café Alvar downstairs for coffee and lunch with an à la carte menu. Unfortunately, the museum will be closed until the summer of 2023 for renovation.
Villa Mairea is another bright example of Aalto architecture, completed in 1939. It was originally designed for his friends.
Finally, visit the University of Technology, where Aalto is a renowned alumnus. He also designed a large part of the university's campus in Otaniemi.
14. Hang Out in the Helsinki Design District
The Design District Helsinki is one of the renowned areas packed with design shops, museums, art galleries, showrooms, restaurants, and more.
The district is a significant part of Helsinki's cultural life, boosting its reputation and attracting creative businesses.
Covering 25 streets with 200 buildings, the Design District is home to one of the oldest museums in the world, the Design Museum, which opened in 1873.
The museum occupies a neo-gothic building and stores over 75,000 objects and 100,000 paintings.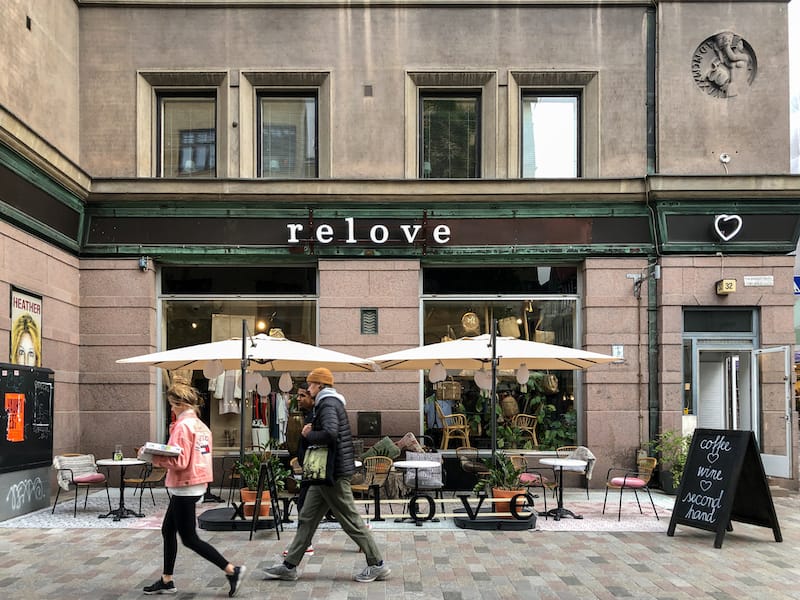 Another world-famous place to visit in Design District Helsinki is the Marimekko clothing and textile shop, presenting the products of Finnish factories.
For a snack and cup of coffee, you can stop by Lokal Café & Shop, featuring hand-crafted ceramics, art pieces, furniture, and exceptional coffee.
For dinner, choose Spis, a restaurant with a Scandinavian interior, fish and meat dishes, and Nordic specialties.
Address: c/o Paja&Bureau – ei käyntiosoite, Korkeavuorenkatu 7,00140 Helsinki
15. Go International at the Armenian House Restaurant
In the center of Finnish culture, there is one unique restaurant called Armenian House, a haven for Armenian culture and cuisine with authentic flavors straight from the beautiful and mountainous country of Armenia.
The restaurant attracts guests with its cozy atmosphere, but the main reason people love this place so much is the food and high-class service for a great price!
As part of a traditional Armenian dinner, you will be treated to appetizers like lavash, eggplant rolls, a meat platter, marinated vegetables, and salad.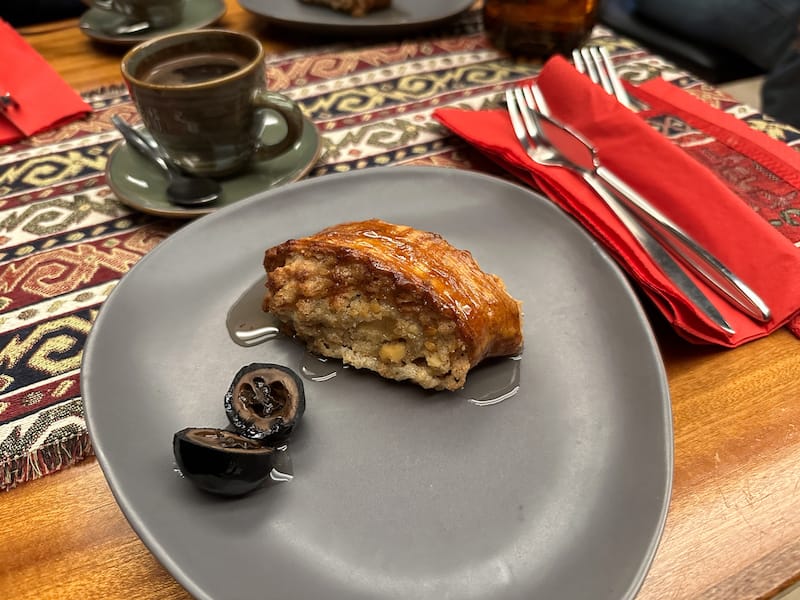 For the main dish, you can choose between meat and vegetarian options. You can even score some arishta there!
Most ingredients are delivered from Armenia, so authenticity and quality are assured!
The menu is completed with an excellent wine cart, including Armenian wines. Armenian Ararat brandy has its unique place, but if you prefer a lightly alcoholic beverage, you can taste Armenian beers. Don't forget to order gata for dessert!
Address: Punavuorenkatu 3, 00120 Helsinki
16. Enjoy Fine Dining at Savoy Restaurant
Restaurant Savoy, which has been around since the 1930s, presents a unique mixture of Finnish and French cuisines by top chefs.
The Michelin-guide listed restaurant is located on the 8th floor with panoramic views of Esplanade Park.
But the key feature of Savoy is the cuisine: traditional food is upgraded with a modern edge, sometimes with notes of Russian influence. Wine is always paired with food.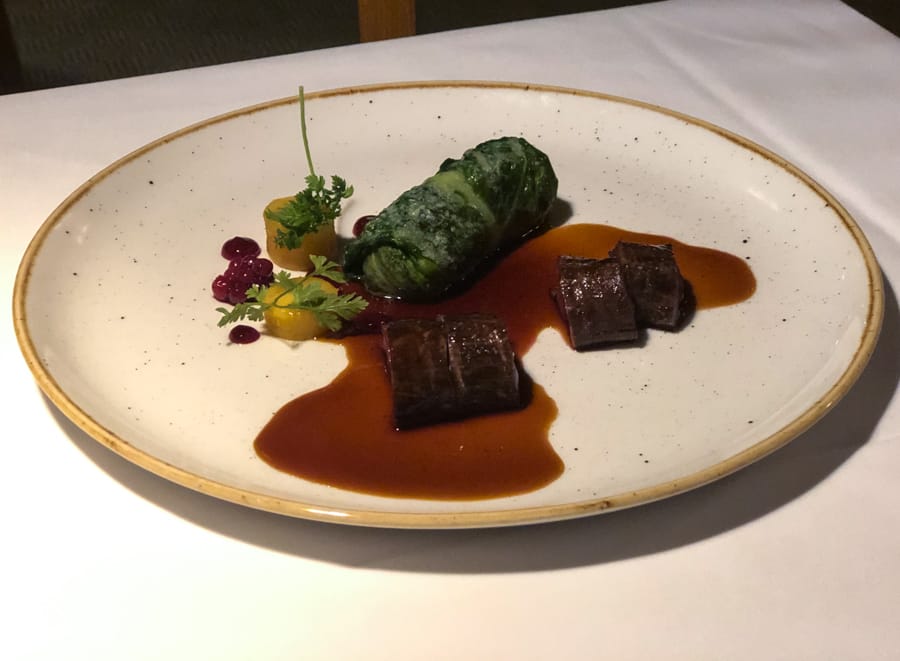 Here you will enjoy an interior rich in wood details, plants, and warm fabrics. And even after 80 years and renovations, the vibes are still there.
The signature dish of Savoy is vorschmack, served with oven-baked potato, sour cream, beetroot, and pickles. It sounds quite simple, but the presentation is beyond imagination!
Address: Eteläesplanadi 14, 00130 Helsinki
17. Casually Enjoy Pizzeria via Tribunali
If you missed authentic Italian pizza while visiting Finland, remember the name Pizzeria Via Tribunali in Helsinki, a local and visitor favorite for Neapolitan pizza.
Pizza has no boundaries, so don't be surprised to get true Naples vibes in Helsinki.
Pizzeria Via Tribunali has several restaurants in Helsinki, and they are all very popular.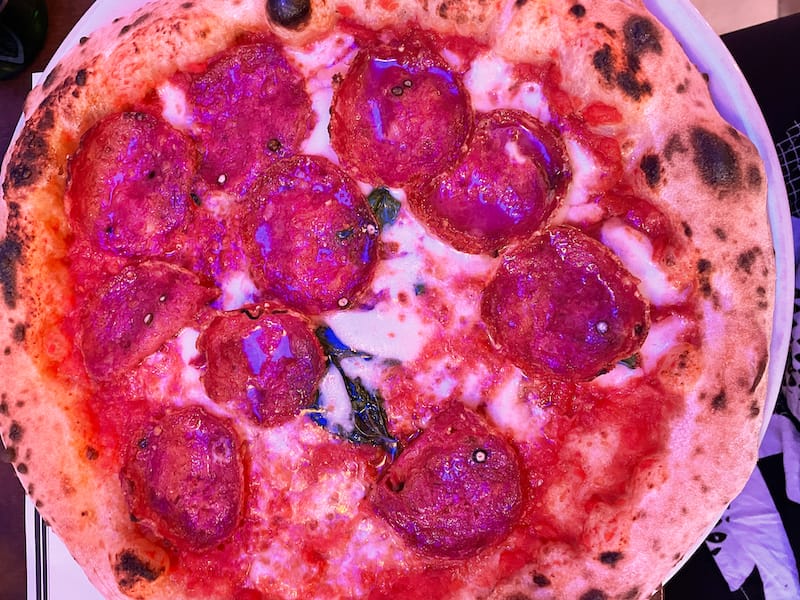 The feature and the policy of the pizzeria are "first in, first served," meaning they don't take reservations. If there are no tables, you can have a cocktail at the bar and wait for your table.
You can reserve a table at Centrum or Katajanokka restaurants if you have a large group (8 or more people).
The menu includes 12 traditional pizzas and gluten-free pizzas made with gluten-free ingredients.
Address: Sofiankatu 4, 00101 Helsinki
18. Get Cozy at the Best Helsinki Coffee Shops
Did you know that Helsinki is considered a coffee city? Traditional coffee is filter coffee, which competes with modern cappuccinos and espressos.
If you are a coffee lover, there are dozens of ideal locations to enjoy your morning or afternoon cup of this revitalizing drink.
Svante Hampf's Kaffa Roastery
The most highly-rated cafe in the Punavuori district is a must-visit place in Helsinki, with excellent coffee by expert baristas and its own micro-roastery.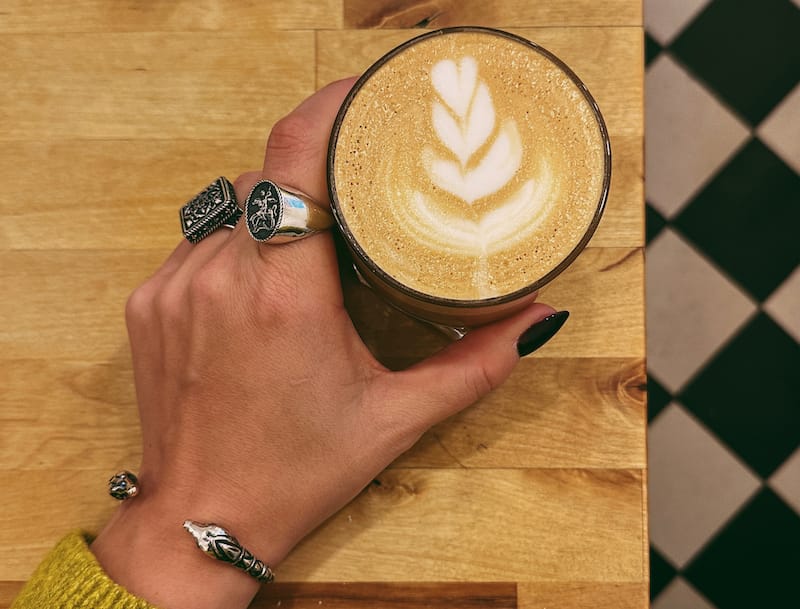 La Torrefazione
If you love Kaffa Roastery's coffee, you can find it in La Torrefazione on Aleksanterinkatu, where you will be treated to exclusive coffee.
Sävy
Behind the brick walls, you will find the vintage interior of Sävy cafe, with old furniture and chandeliers and, of course, excellent coffee.
19. Take a Ride on the Helsinki Tram
Helsinki trams are a separate kind of art. They are one of the oldest tram systems in the world, dating back to 1891, and they are still the best choice that works flawlessly for moving around the city center.
Actually, the Helsinki tram is ranked as one of the best in Europe and the world.
Praised as a true city attraction, city trams are always crowded with tourists seeking authentic experiences.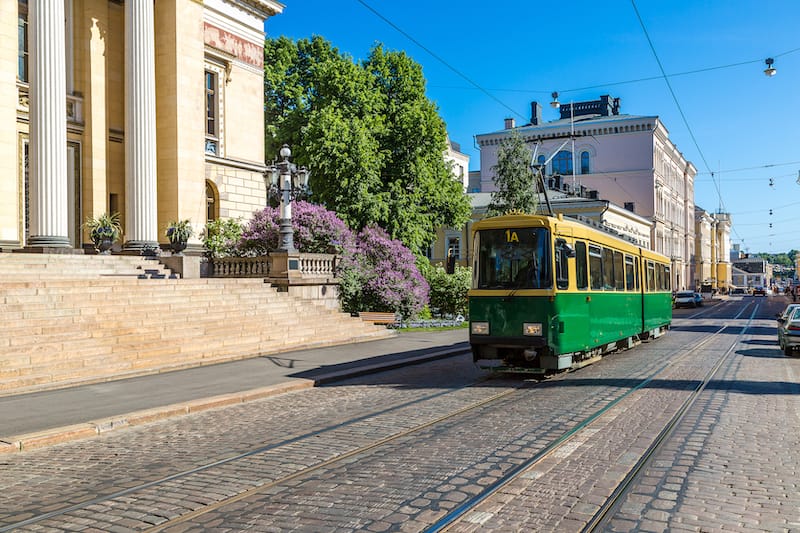 Tram 2 has the traditional sightseeing route, including all the major attractions. To find architectural spots, take trams 4 and 6.
A tour on the tram will help you discover hidden locations like secret parks, beaches, cozy cafes, flea markets, and endless views of the beautiful city.
20. Try a Sipoonkorpi National Park Half-Day Hike
Sipoonkorpi National Park is a protected area with unspoiled and wild nature, dense forests, rivers, small lakes, and cute villages in traditional style.
The wild forest is a wonderful place for hiking, rock climbing, cycling, and skiing.
The best way to explore the beauty of the park is to take a half-day hike with a guide through the coniferous forest, exploring interesting geological formations.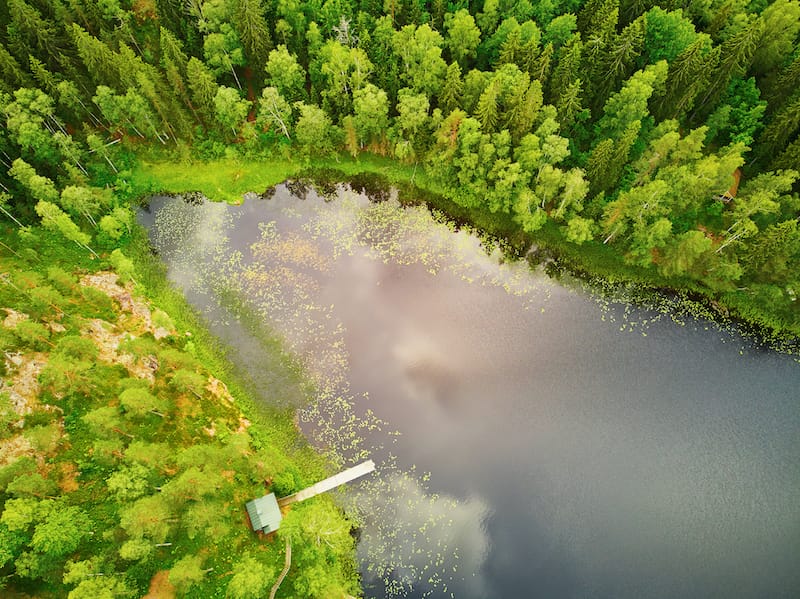 Sipoonkorpi National Park was established to protect endangered animals and species, and it is now a popular destination for hikers who come for a 3.5-hour hike.
There are several trails that can be combined into one, for example, a 1-hour Byabäcken nature trail combined with a 2-hour Korvenportti trail.
Go for a longer 4.8-km Kalkinpolttajan nature trail that circles around the forest, reaching one of the villages.
>> Click here to check tour rates and availability
21. Enjoy Thrills at Linnanmäki
Finland's oldest and most beloved amusement park, Linnanmäki, is situated in Alppila, Helsinki.
With over 40 rides, a myriad of games, and delicious eateries and cafés, it has something to offer everyone and is one of the best things to do in Helsinki with kids.
Perhaps the most iconic feature of the park is the wooden roller coaster, which has been providing thrills and spills since 1951!
The service and safety in the park are at the highest level. Each ride has its own admission requirements that must be strictly adhered to.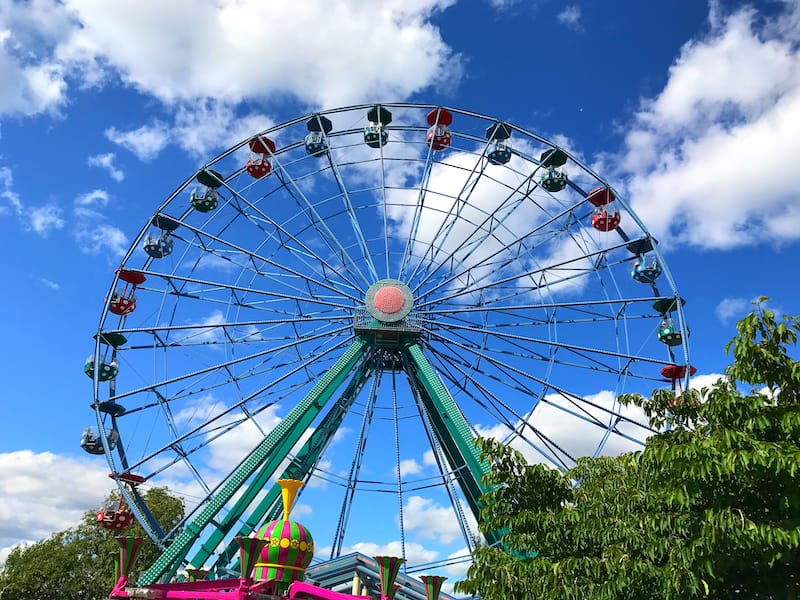 The entrance to Linnanmäki amusement park is free, and you can even have 8 free rides.
Events and concerts are regular, so there is always a chance you will take part in one of them during your visit.
The park is open from May until the last days of October. Before closing for the winter, the amusement park organizes a carnival of lights, illuminating all the rides and the territory.
22. Check Out the National Museum of Finland
The National Museum of Finland presents the history of Finland from the Stone Age to the present, with over half a million objects showcased in the heart of the city.
The impressive building has a granite facade and steatite decoration, considered one of the most important national-romantic architectural pieces.
As soon as you enter the museum, you find yourself in a vaulted central hall that then leads to different departments.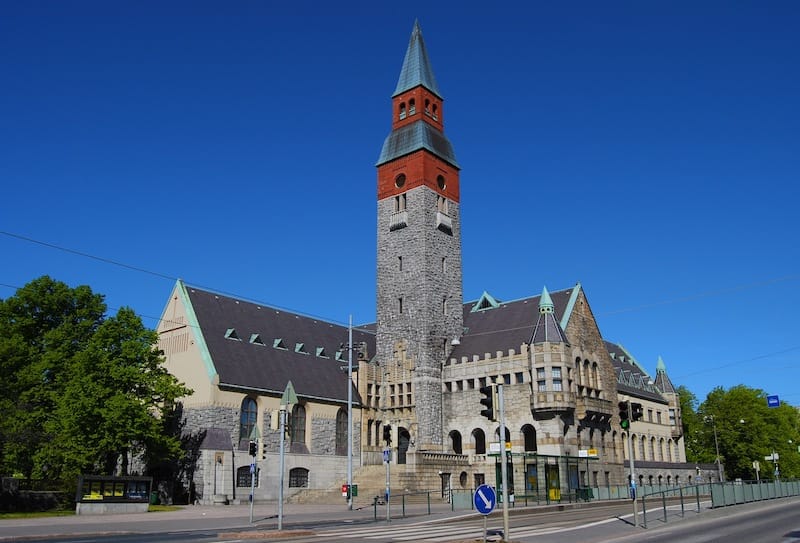 The exhibits are divided into three sections: Prehistory, Story of Finland, and Otherland. Prehistory depicts the items brought by the first humans to the Nordic region 10,000 years ago.
The other two exhibitions showcase the history of Finland from the Middle Ages up to its independence.
If you have visited the museum with kids, there is a Workshop Vintti on the third floor with an interactive exhibition of Finland's history and culture.
After exploring the museum, have coffee and snacks at the café and shop for souvenirs in the museum shop, all located in the museum.
Where to Stay in Helsinki
There are plenty of amazing places to stay in Helsinki, and these are some of our favorites:
Did we miss any of the best things to do in Helsinki?
Let us know your favorite Helsinki attractions and places to visit in the comments. Thanks!
More Finland Travel Guides
Pin this Helsinki Things to Do Guide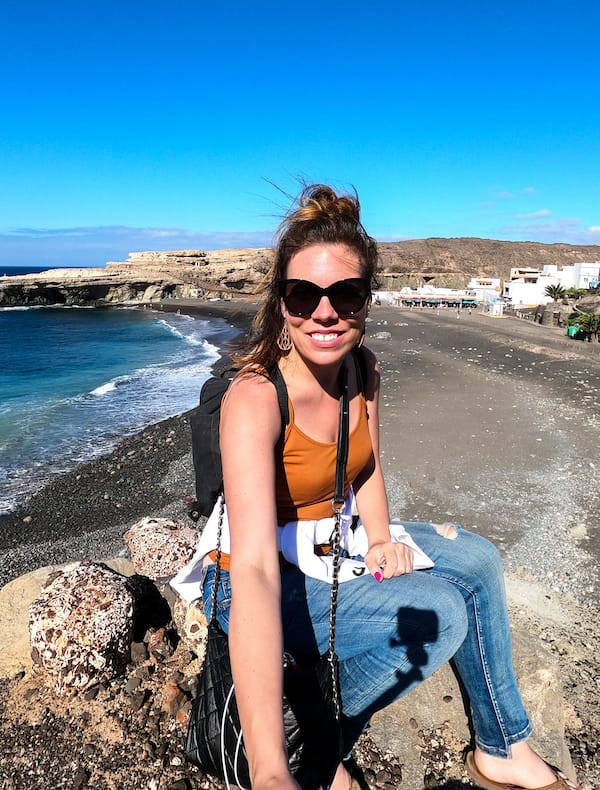 Megan is a travel blogger and writer with a background in digital marketing. Originally from Richmond, VA, she now splits her time between Frankfurt, Germany and Arctic Finland after also living in Norway, Armenia, and Kazakhstan. She has a passion for winter travel, as well as the Nordic countries, but you can also find her eating her way through Italy, perusing perfume stores in Paris, or taking road trips through the USA. Megan has written for or been featured by National Geographic, Forbes, Lonely Planet, the New York Times, and more. She co-authored Fodor's Travel 'Essential Norway' and has visited 45 US states and 100+ countries.