One place I always find myself during winter is Finland. And these are some of my favorite things to do in Helsinki in winter!
There is genuinely never a bad time to visit Finland.
Sure, a Finn might tell you to refrain from the harsh winter temperatures but give me a pair of snowshoes, a hot coffee (Finns drink more than any other nation!), and a country that has an insane sauna culture… I am there.
My trips spent during winter in Helsinki are always some of the most relaxing vacations I take… and I hope that I can give you some ideas of what to do during the winter months and Christmas in Helsinki.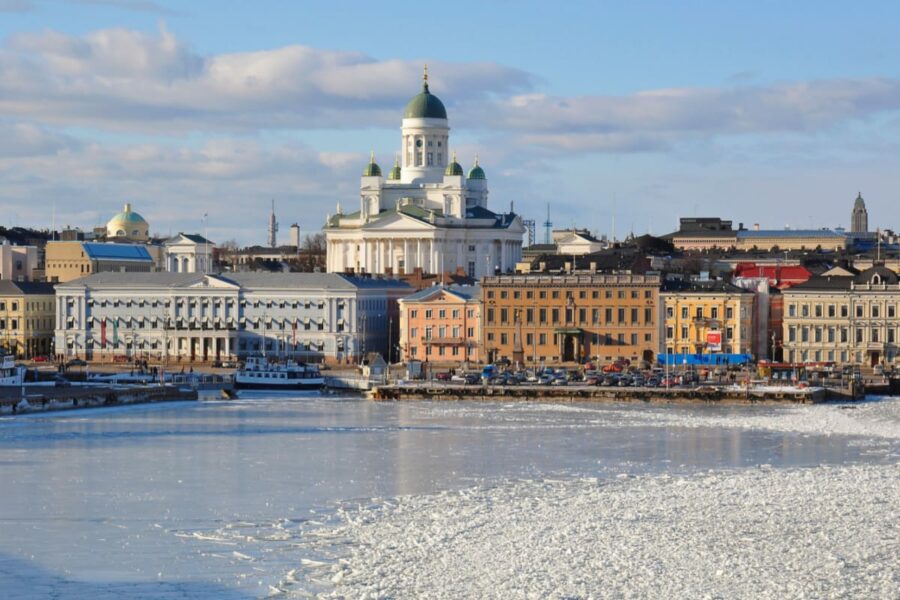 This guide also contains some exciting tours and activities, tasty coffee shops, and some worthwhile day trips.
Did we miss anything exciting to do in Helsinki, Finland in winter? Let us know your tips and thoughts in the comments!
When is it Winter in Helsinki?
Technically speaking, winter in Helsinki starts in December and lasts until the start of March.
But, letʻs be honest, it will feel like winter far beyond that to travelers!
I would say expect ʻwintryʻ conditions from November until April or so.
Each year is a bit different, however, so check it out prior to coming to the city!
Helsinki Winter Daylight Hours
Is Helsinki dark in winter? Yep! Unless you have visited Arctic Finland on the trip, you will definitely think that Helsinki is super dark during the winter months.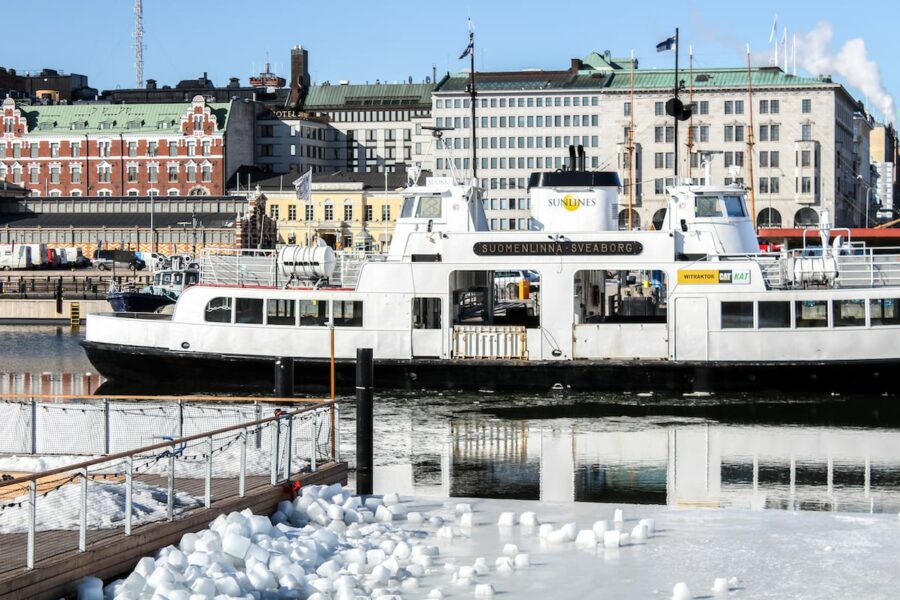 At winter solstice, the sun rises at around 0924 and sets at 1513! So, be prepared for a lot of darkness.
But, donʻt worry, there are cozy cafes and lots of candles to make you feel comfortable and so that you can enjoy the winter there.
Helsinki Winter Temperatures
How cold does it get in Helsinki? The winter weather can vary from an average high of 1C in December to an average low of -7C in February.
So, expect temperatures floating around these numbers throughout the colder months.
Does it Snow in Helsinki?
Yep! It usually should but climate change has its hands on the city just like anywhere else, so it is harder to predict these days.
Whenever I have been to Helsinki in winter, I have had snow and the Baltic Sea even had partially frozen closer to the city!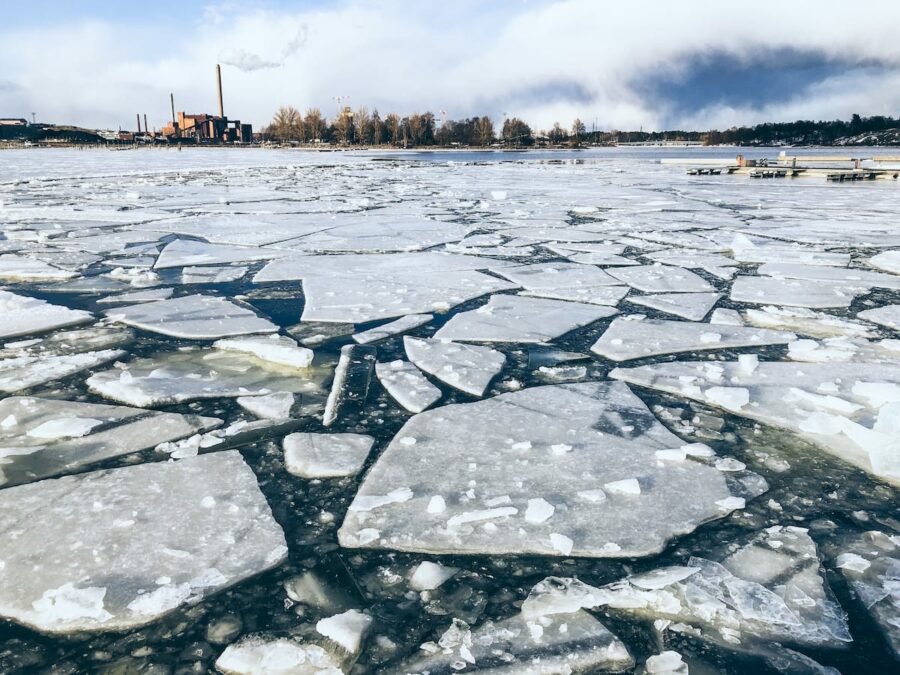 The average snowfall (or rain) in December in Helsinki is 58mm (or 2.3 inches).
You can expect snow from the end of October until the middle of April on average.
January is the snowiest month in Helsinki.
Can You See the Northern Lights in Helsinki?
No. I mean, on a random occasion, you might get extremely lucky but Iʻd place a million-dollar bet that you wonʻt see them when you are there if you stay in the city.
If they are super powerful, you might be able to see them by venturing out of the city where there is less light pollution, but good luck!
If you are keen to see the northern lights in Finland, head north! Rovaniemi is a great starting point and I have seen them every time I have been to the Arctic city.
How to Get to Helsinki
There are many ways to get to Helsinki! You can get there by flight, bus, train, or ferry. And, of course, you can drive there.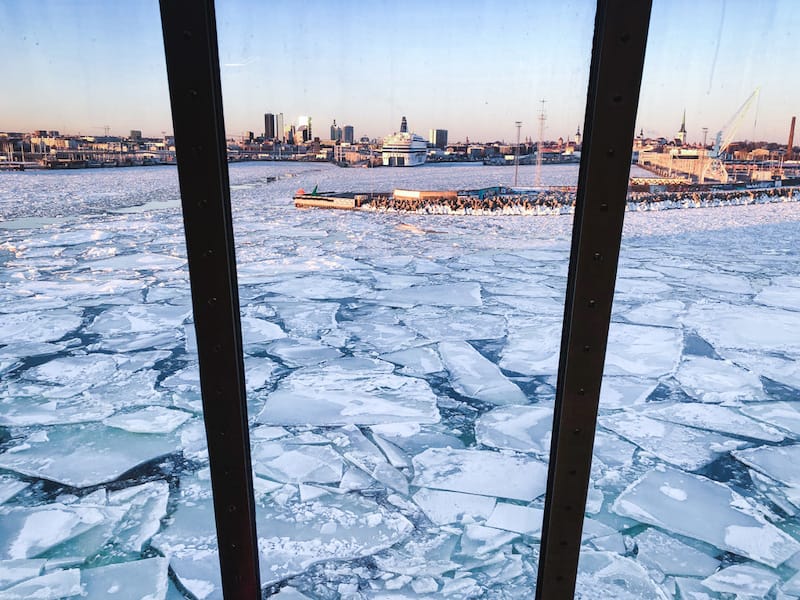 I have only visited by ferry and flight, however. The Helsinki-Vantaa airport is easily accessible and you can hop on the airport train or bus to the city with ease.
Arriving by ferry (especially on a day trip from Tallinn) is also easy and you will arrive at the main port of the city which is close to downtown.
Another cool thing to note is that Helsinki is the starting point for a north pole cruise!
So, if youʻre looking to head as far north as you can, you will need to get to Helsinki to do so (and then youʻll arrive back in Helsinki by boat). Really cool!
Best Winter Helsinki Tours
While Helsinki is one of the easiest cities to navigate (seriously, the Nordics have their stuff together and tourists will find the cities so organized and structured), it is still a good idea to arrange experiences and tours if you have a few days there!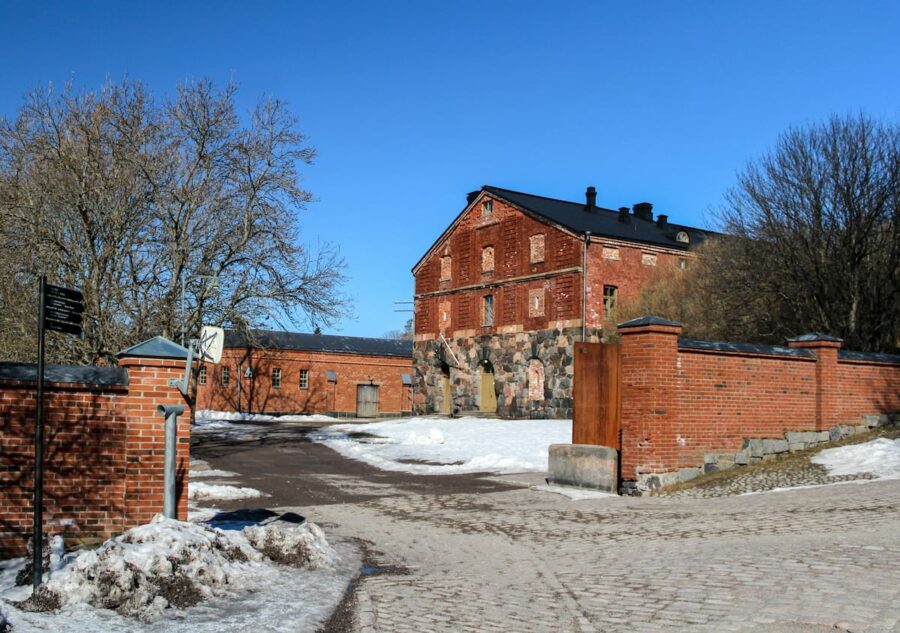 Some of the best things to do in Helsinki are best when organized for you or an activity you simply canʻt do by yourself.
Here are some of our favorite Helsinki winter tours:
Best Things to Do in Helsinki in Winter
1. Go Ice Skating in Helsinki
One of the best things to do in winter is to go ice skating! And, youʻll find plenty of places to go ice skating in Helsinki.
Some of the popular favorites are:
Oulunkyla Sports Park
Kapyla Sports Park (has a hockey rink, as well)
Pukinmaki Sports Park (free!)
Lassila Sports Park (also free and has a cafe)
Right by the train/bus station, youʻll also find the Helsinki Icepark (Jääpuisto Ice Park) which is open during the winter for those looking to skate.
It is located in the Vironniemi neighborhood and does charge a small entry fee.
It has been closed for a few years but should be reopening and usually runs from December until March!
They have a cafe near where you can grab a hot chocolate and some delicious Finnish pastries.
2. Drink Coffee in the World Coffee Capital
The Finns really do drink more coffee than any other nation and it is said that they drink up to 8-9 cups of coffee… per day!
So, it would be remiss of you to visit Helsinki and not explore some of its coffee shops!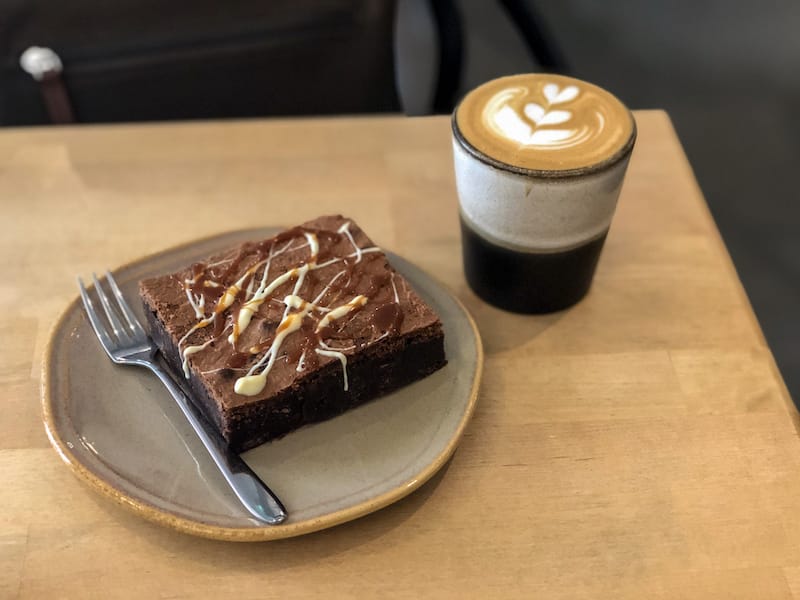 Some of my favorite cafes in Helsinki are:
Andante Specialty Coffee
Restaurant We Got This
Kaffa Roastery
Johan & Nystrom (has multiple locations)
But, while you can find a good cup of coffee at these cafes, you can really just find standard black coffee anywhere in Helsinki and it is always going to be pretty tasty.
3. Try Floating in a Survival Suit
It is only a 1.5-hour activity and it is one of Helsinkiʻs best-rated!
You basically get to pretend youʻre on an Arctic adventure and put on a thick floating suit!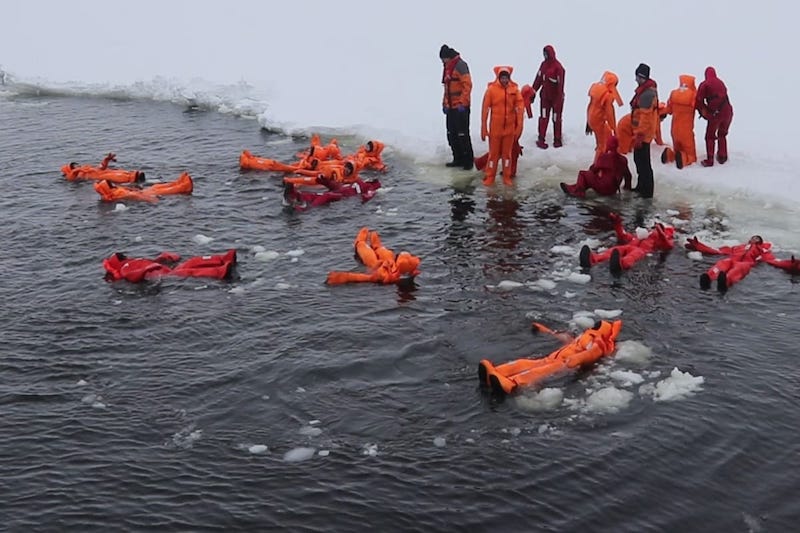 You will then get to hop into the icy water where youʻll be warm and weightless as you admire the scenery around you. It was such a cool experience but does take some adjusting if youʻre claustrophobic like me.
This activity is meant for everyone except those with mobility impairments or that are under 5ʻ1″ (155cm) tall.
>> Click here to check rates and availability
4. Enjoying Helsinkiʻs Best Hot Chocolate
Finns are famous for their coffee drinking but did you know that they make a mean hot chocolate too?
Donʻt worry, we already covered coffee in the guide (I couldnʻt leave that out) but youʻll find plenty of delicious cups of cocoa in the city and it is imperative to give one a go!
Xocolab Helsinki (artisan chocolates with hot chocolate on the menu!)
Chjoko (handmade laskiaispulla and cocoa – delicious!)
El Fant – Coffee & Wine Bar (I usually get coffee here but their hot chocolate is also quite good)
5. Marvel at the Helsinki Cathedral
Another Helsinki landmark that you can visit at any time of the year (but has fewer crowds during winter!) is the iconic Helsinki Cathedral.
Built in a neoclassical style, this church was designed by Carl Ludvig Engel and is easily the most photographed place in the city (on a global scale).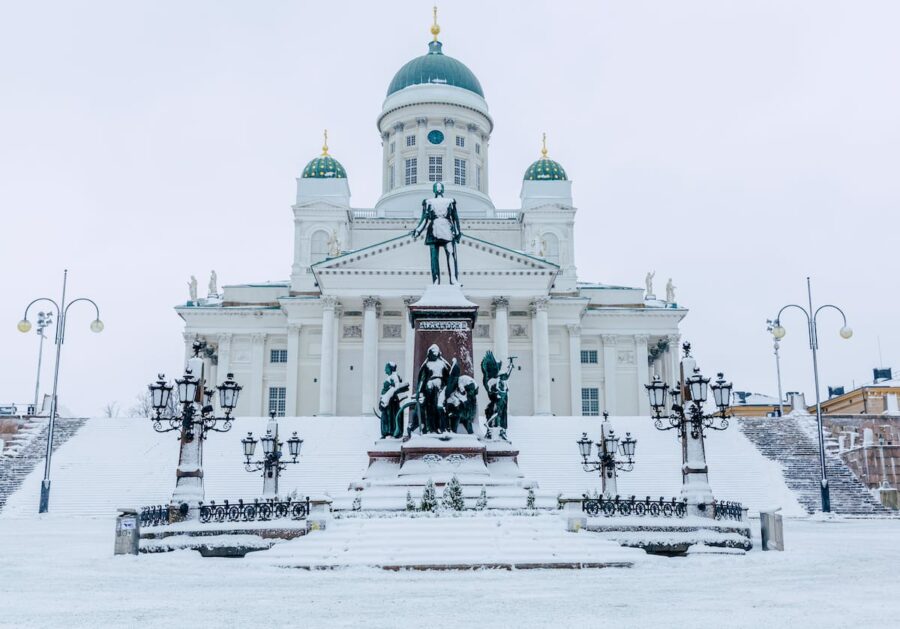 It was originally built from 1830-1852 and while I have never been inside, I love strolling and grabbing some photos before finding a cafe or restaurant nearby to take it all in!
This is a must-visit in Helsinki!
Address: Unioninkatu 29
6. Visit the Helsinki Design Museum
I can confidently say that Helsinki has some of the best museums in Europe.
The Helsinki Design Museum has three locations (Nuutajarvi, Iittala, and Arabia) and is definitely worth a visit when youʻre in the city as it gives a glimpse into why the Finns are so famous for their design!
During the winter, youʻll find fewer hours (from September 1 – May 31) as it is open Tuesdays (1100-2000), Wednesdays through Sundays (1100-1800) and is closed on Mondays.
An adult ticket is around 12 Euros and 6 Euros for children.
I have visited the museum located in the Helsinki Design District and it is able to be reached via Tram #10 or Bus #24 (close to the harbor and Esplanades).
Address: Korkeavuorenkatu 23
7. Check Out the Helsinki Christmas Market
While it may not be among the most popular Christmas market destinations in Europe, the Helsinki Christmas Market (Tuomaan Markkinat) is still worth a visit if youʻre in the country during the time it is held!
When visiting, you will get a chance to see works by local craftsmen and women as well as a lot of food stalls, an old-time carousel, and more!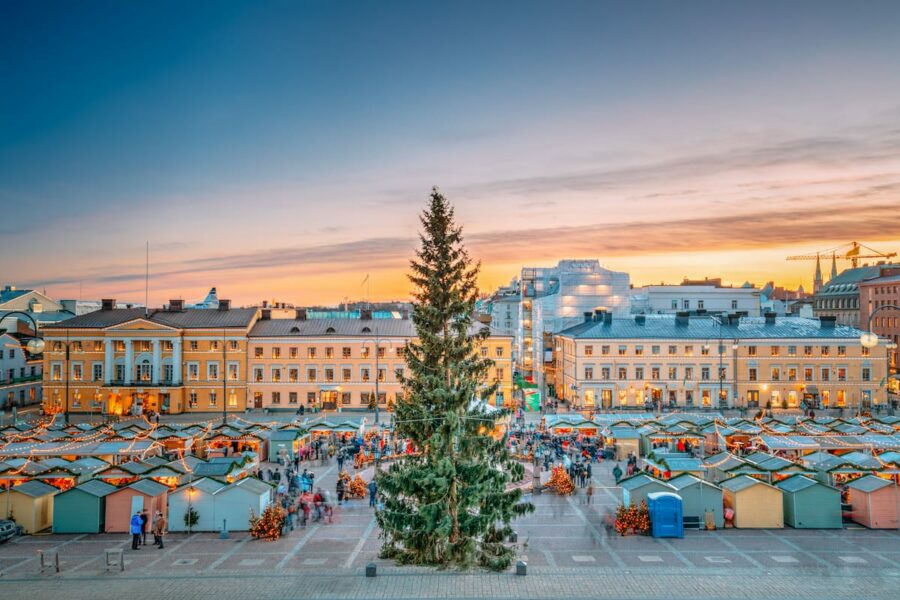 It is visited by over 300,000 people annually and is definitely a must-visit place during winter in Helsinki!
It is also the oldest outdoor Christmas market in Helsinki and is held from December 1-22 at Senate Square.
8. Rejuvenate Yourself in a Finnish Sauna
If there is one thing that Finland is highly recognized for, it is its sauna culture.
Not only is it the birthplace of the word ʻsaunaʻ, but the world sauna capital is up in Tampere a little bit further north.
But, Helsinki is a gem for sauna culture too!
If youʻre visiting Helsinki in winter, we strongly advise you to take a few hours (or days!) to visit one of the cityʻs best public saunas.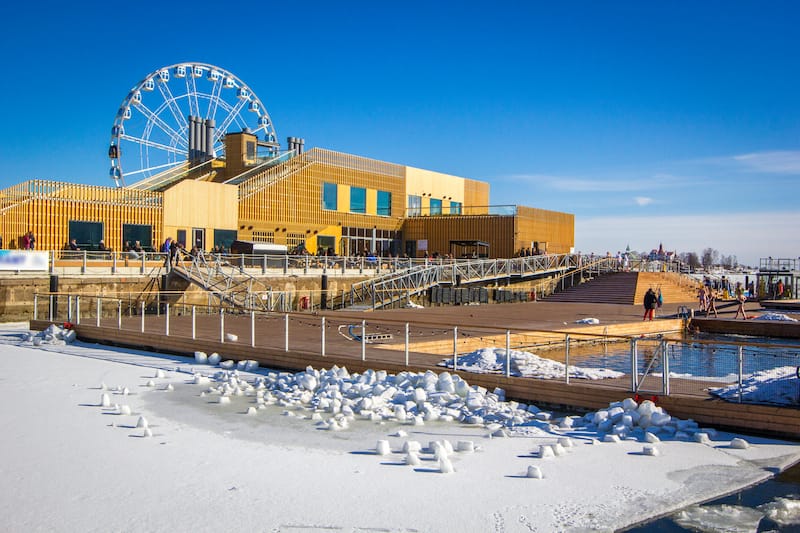 Many of them offer dining experiences and much more. It is an entire experience and one that is not to be missed. Here are some of the best public saunas in Helsinki:
Allas Sea Pool (I have been here several times and even eaten at its restaurant)
Sauna Hermanni(been around since the 50s)
Kotiharjun Sauna (last wood-heated traditional public sauna in the city)
Löyly (another favorite of mine – an entire complex!)
9. Take a Day Trip to Tallinn
While I strongly advise spending as much time in Helsinki as possible, it would be silly to not hop on a ferry to Tallinn for a day trip if you have enough days on your itinerary!
Tallinn, Estonia is a mere 2-hour ferry ride across the Baltic Sea and it is just as easy to do during the winter as it is during the summer.
I have actually only taken this ferry during the winter months and
I never experienced rough seas (knock on wood) but I did experience horribly cold temperatures when I got to Tallinn – so dress warmly!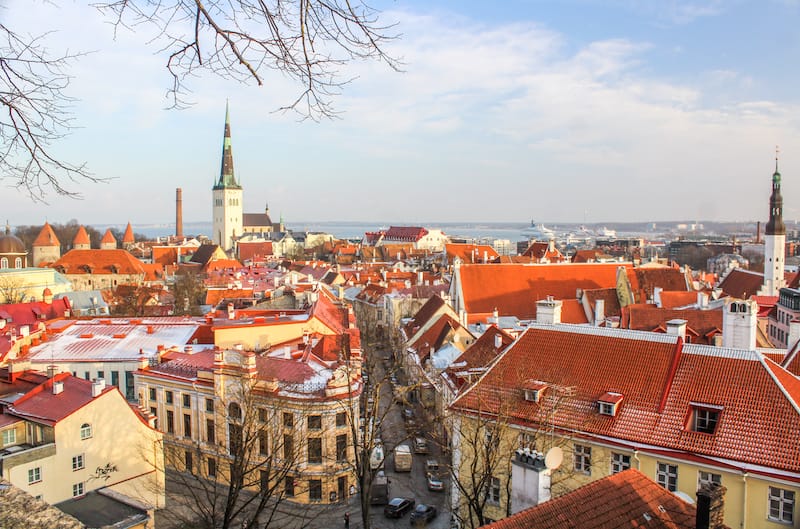 In Tallinn, the ferry port is quite close to the city so you can get off and walk into the city or grab a taxi/public transportation there.
The city has some cute Christmas markets and youʻll find plenty to do in Tallinn in winter, but some of the cityʻs top attractions are:
Alexander Nevsky Cathedral
Tallinn Old Town (UNESCO World Heritage Site)
Toompea Hill
Town Hall Square (in the Old Town where the markets are)
One thing I would definitely advise when taking this trip is to book your tickets early.
While it might not seem as though it would sell out in the winter, a lot of Baltic residents actually work in Helsinki and will take this ferry for those purposes. It is not just a tourist boat! So, book early and secure your place ASAP!
>> Click here to book your Tallinn ferry tickets
10. Connect with Nature in Nuuksio National Park
Another place I absolutely love near Helsinki is Nuuksio National Park.
And, while some people love strolling through a forest during the summer, I have to say, I much prefer the peacefulness of one during the winter!
Nuuksio National Park is located around Espoo, Finlandʻs second largest city by population. It is fairly easy to reach via trail or bus (take the S, U, L, or E to get from Helsinki to Espoo).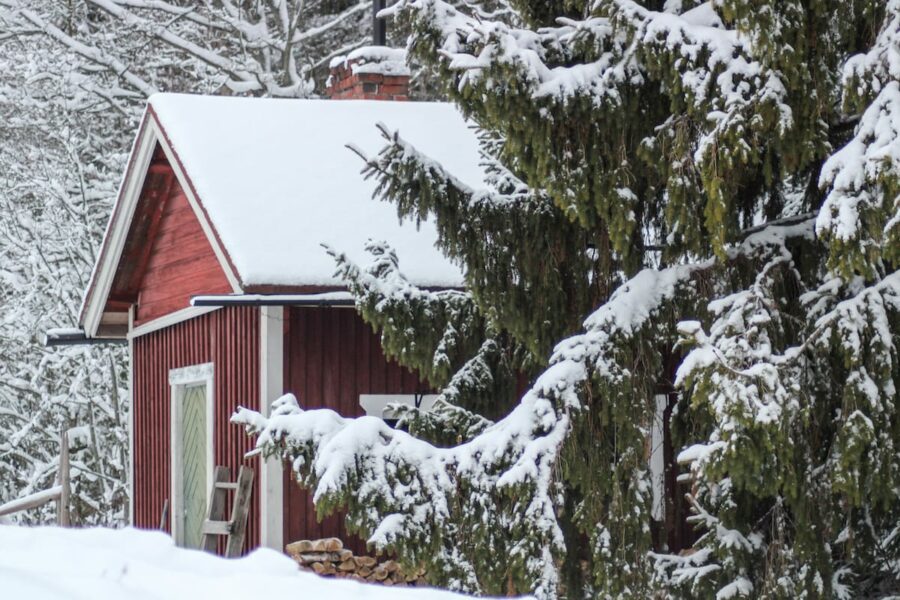 Depending on where you want to go in the park, you will have to take another bus/train and you can see more here.
Once youʻre there, you can do a variety of winter activities from snowshoeing to ice fishing to winter hiking (and more)!
I had my trip planned with Eventure, a company that specializes in sustainable tourism in Nuuksio.
I went both snowshoeing and ice fishing and then ended my day in a kota with coffee and pancakes.
I seriously think this was one of my favorite travel experiences to date as it was my introduction to this special Finnish forest!
>> Click here to check rates and availability with Eventure
11. Indulge in a Cinnamon Bun
Okay, I can eat these any time of the year, but there is something so special about sitting down to enjoy one with a cup of coffee during the winter.
I used to love them during Christmas time in Oslo with a Julebrus (Christmas soda) but in Helsinki, it is all about the coffee, a candlelit cafe, and some headphones on.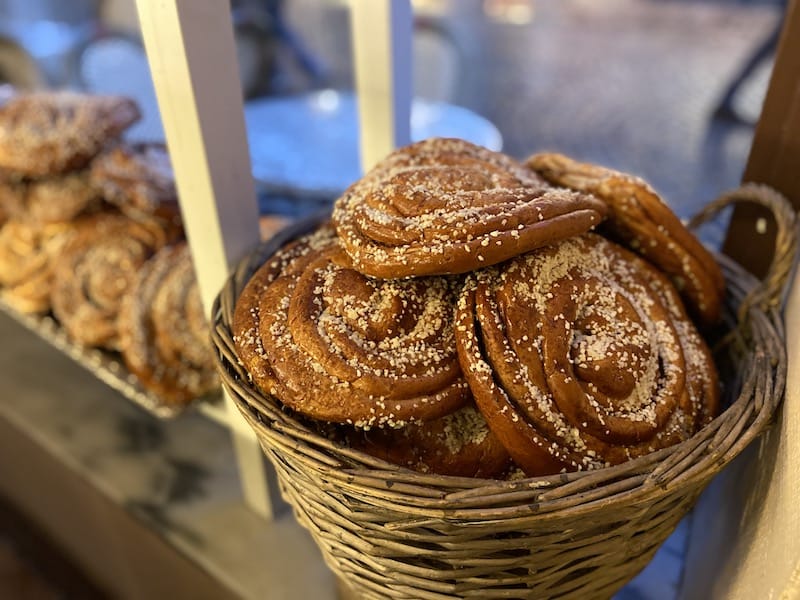 You can find them literally anywhere in the city… but some of the top-rated places for a cinnamon bun (korvapuustit) are:
Story Old Market Hall
Gateau Kruununhaka
Cafe Regatta (best atmosphere by the sea in Toolo!)
12. Go on a Day Trip to Porvoo
I must admit, I have only visited Porvoo in summer, but my goodness I canʻt even imagine how charming the city is during the winter.
Around 50,000 residents call Finlandʻs second-oldest city home.
What has made Porvoo famous with travelers is its accessibility from Helsinki and its gorgeous wooden buildings throughout.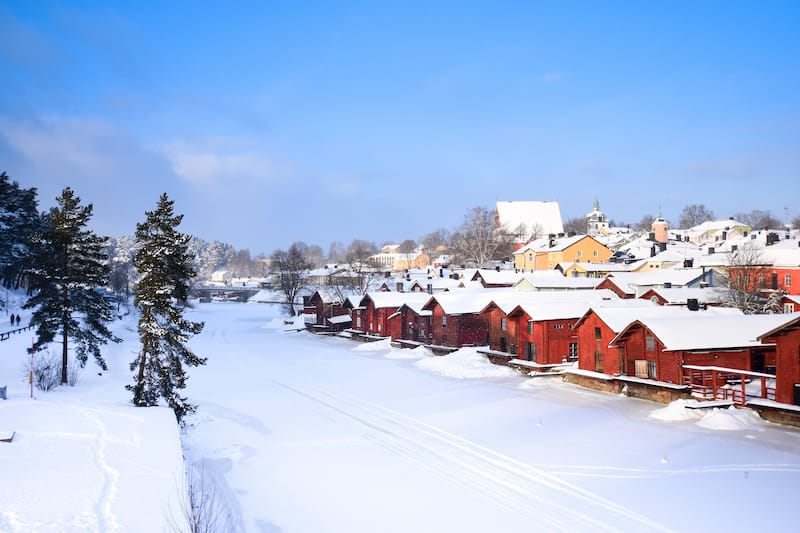 You can find traditional food, culture, and more in Porvoo and I highly recommend a visit!
Some of the main places to visit in Porvoo are:
Fiskars village (home to over 200 artists)
The National Urban Park (contains Old Wooden Town)
The Little Chocolate Factory (delicious hot cocoa!)
Restaurant Salt (I had a nice meal here)
If youʻre not interested in taking a bus by yourself and would rather visit as part of an organized excursion – no worries, it is easy!
This 5-hour tour will take travelers from Helsinki to Porvoo for a wintry day trip with an expert guide.
The bus transfer to and from (about 12 Euros pp) is not included.
>> Click here to check tour rates and availability
13. Go Back in Time at the Suomenlinna Fortress
Another canʻt-miss place for any Helsinki itinerary is the Suomenlinna Fortress.
The construction of this UNESCO World Heritage Site began in the mid-18th-century when Finland was still part of neighboring Sweden.
The famous structure requires a ferry or boat to reach (or you can take a tour).
Ferries run regularly (year-round) from Market Square to the island and it is about a 15-20 minute journey in total.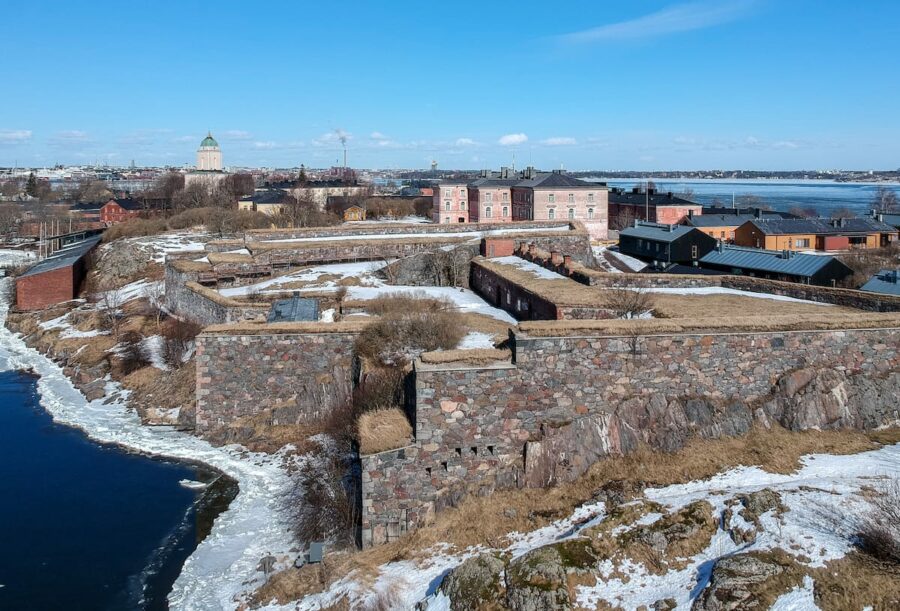 During the winter months, there are sheets of ice you will pass on the way and itʻs really beautiful!
While not all parts of the site are accessible for those with mobility impairment, there are a few areas that are (as well as accessible toilets).
If you get hungry out there, youʻll find the following:
Restaurant Suomenlinna Brewery
Bastion Bistro
Viaporin Deli & Cafe
Valimo
Restaurant Walhalla
Restaurant Adlerfelt
Cafe Silo
Linna Bar
Cafe Samovarbar
…and more!
There is no entrance fee for the site and a total of around 800 people live on the island (and 400 people work there throughout the year).
14. Go to the Lux Helsinki Light Festival
An exciting festival that takes place every January in Helsinki is the Lux Helsinki lights festival.
This festival started in 2009 and is free of charge.
This festival goes across the city and youʻll see colorful light displays along a few kilometers of the city (that changes from year to year).
It is definitely one of the best things to do in Helsinki in winter for those looking for a little light during the long, dark nights!
15. Go Cross-Country Skiing at Kivikko Ski Hall
In 2016, the Kivikko Skiing Hall reopened 15 minutes outside of Helsinki for enthusiasts of cross-country skiing! The track is about 850 meters with additional add-ons of 200 meters.
The entire width of the track is 6-8 meters and there is even a sauna for you to relax in after your adventure.
One great thing is that you can actually rent skis there, making it the perfect place for a traveler visiting the country during winter.
Address: Savikiekontie 4
What to Pack for Winter in Helsinki
Basically, I just advise you to ʻdress warm!ʻ for your trip to Helsinki in December, January, and February… but here are a few notable things I would pack (or I recommend):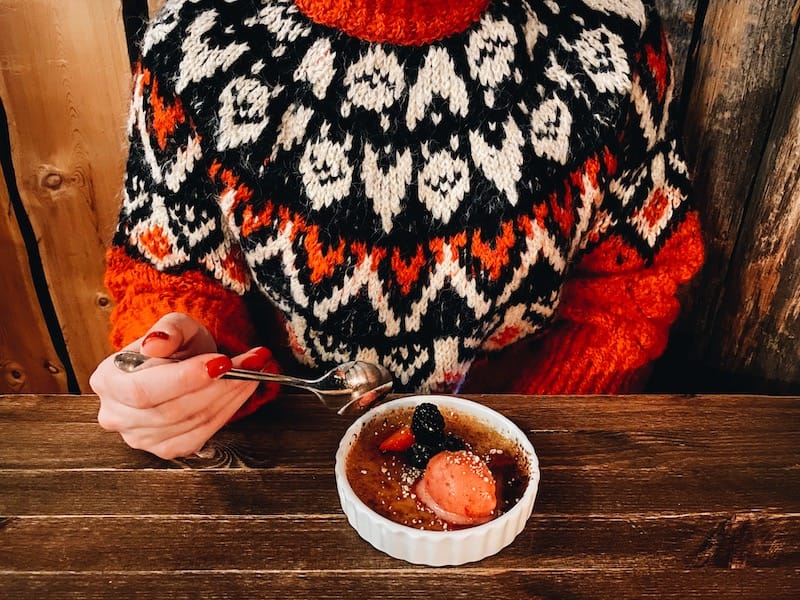 If you're seeking a general packing list for Helsinki, we have that too!
Where to Stay in Helsinki
If youʻre looking for the best places to stay in Helsinki, look no further than some of our favorites below.
These cover all budgets and are many places that I have personally stayed on my many trips to Finlandʻs capital.
Did we miss any of the best things to do in Helsinki in winter? Let us know your favorite activities and places to visit on a winter trip to Helsinki in the comments. Thanks!
More Finland and Helsinki Travel Guides
Pin this Winter Trip to Helsinki Guide