Germany isn't quite known for having waterfalls ubiquitously dotting its landscape, but they really do exist!
Last summer, I had the chance to visit Germany's highest waterfall- the Triberg Waterfall (or Triberg Wasserfall) inside of the densely mysterious Black Forest, a place known for its Black Forest Cuckoo Clocks and haunting forests.
How to Easily Visit Triberg Waterfall in Germany
To let you in on a secret… it's not actually Germany's highest waterfall, but it is known for being such because it is the most accessible of the large waterfalls.
There is even a sign that promotes it as such. And, even though my photos couldn't capture its true height, it really is pretty tall with multiple cascades at 163 meters (535 feet).
I'm a nature lover. I love glaciers, waterfalls, deserts, forests, remote landscapes, and just anything that puts me outside beneath the clouds or stars.
So, I've always wanted to go to the Triberg Waterfall despite hearing it is slightly touristy and commercialized.
Heading there during the summer months was probably not the finest of ideas if the talked about tourism was a real thing, but my travel partner, dog, and I decided to give it a go anyway.
And we decided to do it by public transportation.
This post will take you on a trip to and through Triberg and to the lauded Triberg Waterfall, which happened to be one of my favorite trips of 2017!
Click here if you're looking for more information about traveling to the Black Forest in Germany.
Getting to the Triberg Waterfall
Getting to the waterfall is pretty easy as it is well connected by the German public transportation system and motorways.
If traveling from Frankfurt by public transportation, do expect around a 3.5 to 5-hour journey, depending on the train route taken.
If you are coming from Stuttgart to Triberg via public transportation, you can expect a 3.5 to 4-hour journey by train.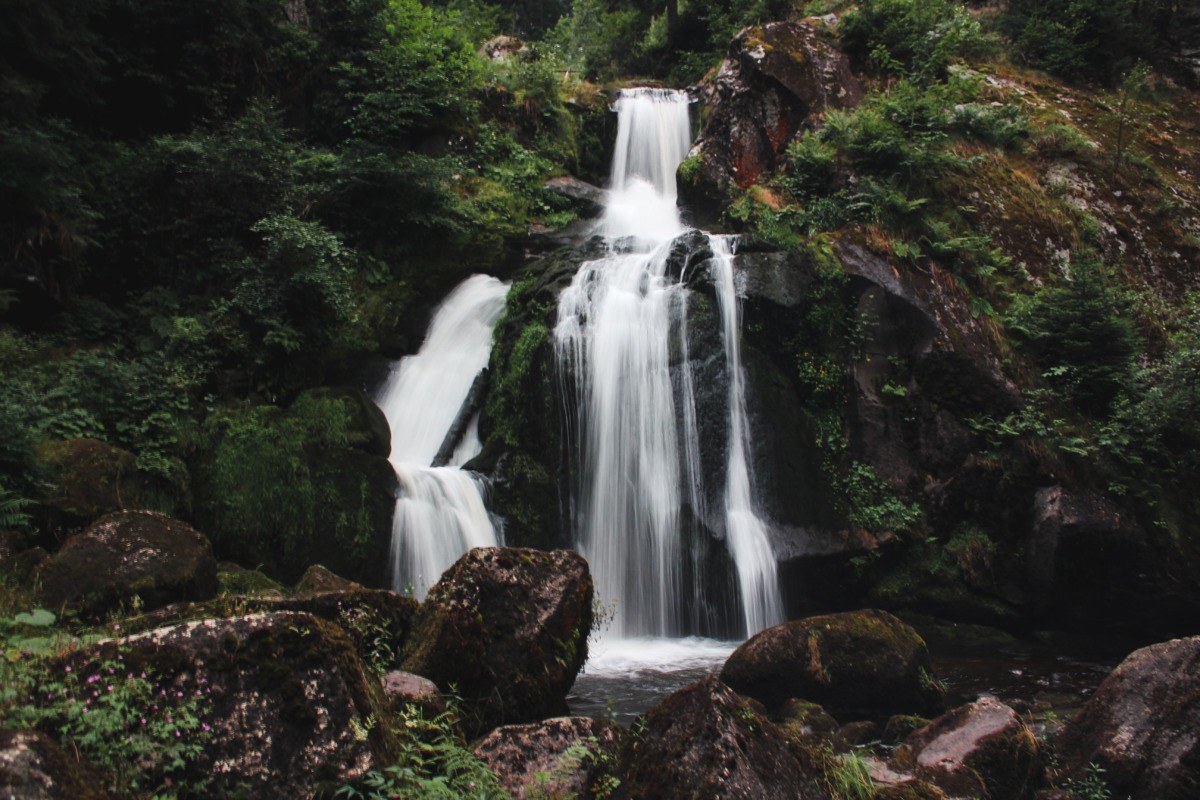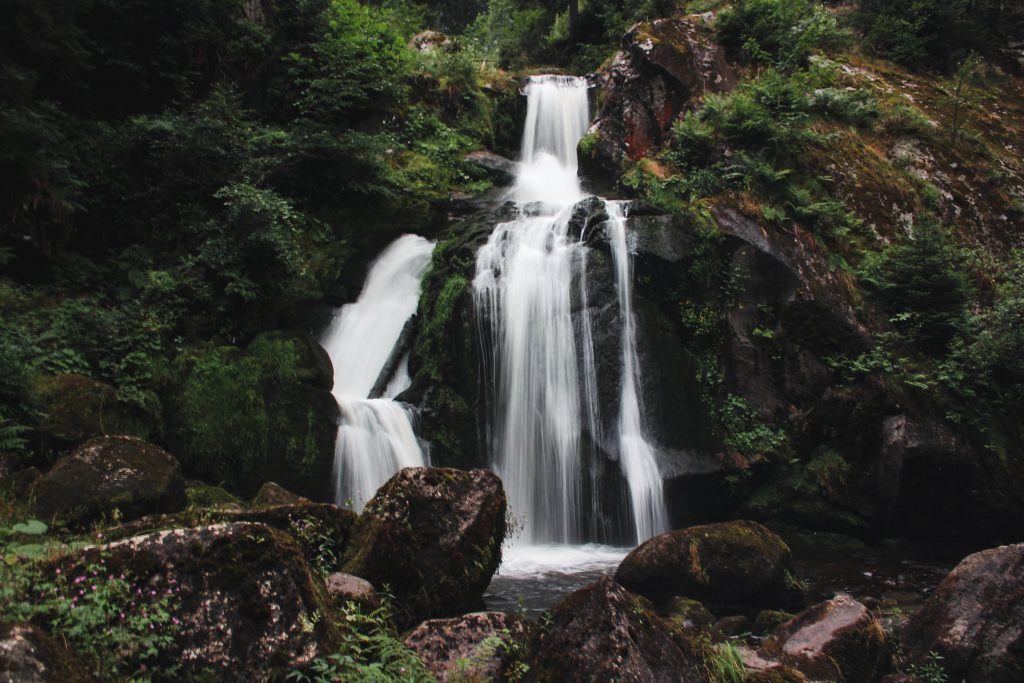 Schönes Wochenende Ticket
The cheapest way to get to Triberg is with the Schönes Wochenende Ticket (only on weekends). This ticket is offered by Deutsche Bahn on weekends encouraging locals to explore the country at an affordable price.
The cost of the ticket is €44 per person and only €5 per person after (up to the fifth person).
The ticket must be purchased in advance and ID must be carried by the person who purchased for verification purposes. The ticket lasts for the duration of the day and you are only permitted to use the 'slower' trains.
For example, the trains that you can take are labeled as S-Bahn, RB, RE, IRE. The ticket also includes local buses, metros, etc. You can not take anything labeled ICE.
To read more information about how to get to Triberg from Frankfurt and Stuttgart, continue reading.
To Triberg from Frankfurt
We decided to embark on the formidable task of visiting the Triberg Waterfall on a day trip. While four to five hours each way doesn't seem quite as daunting as I made it sound, imagine doing that with a restless dog.
While traveling around Europe with a dog is pretty easy, he still wasn't loving the idea of having spent around ten hours of his day sitting on public transportation.
To get to Triberg from Frankfurt, I think it is best to download the Deutsche Bahn app and check routes and fares there.
Sometimes their website doesn't show every destination, but the app is consistently pretty good. Once in the app, search from Frankfurt Hbf (main train station) to Triberg.
It will offer up several options. Here is where it gets tricky- the fares are kind of pricy. But, as noted above, you can purchase a Schönes Wochenende Ticket if going on the weekend and it makes it significantly cheaper if traveling in a group.
To find the routes available and the fares, please see a search query from the app below: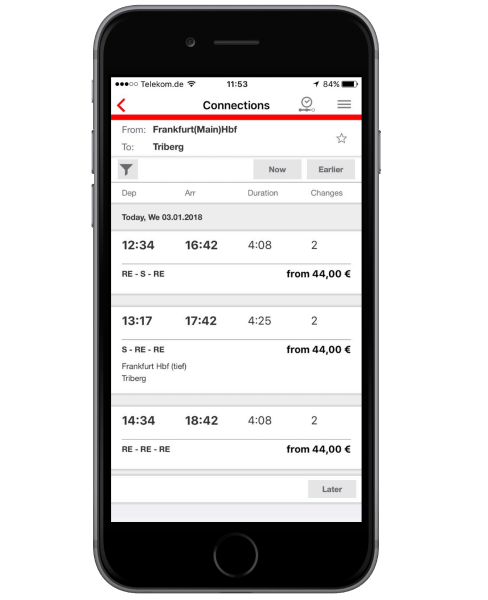 To Triberg from Stuttgart
Getting to Triberg from Stuttgart isn't too different than getting there from Frankfurt, with the exception of locations and layovers on the trains.
The cheapest way to make this journey on public transportation is by taking advantage of the Schönes Wochenende Ticket described above.
To find the routes available and the fares, please see a search query from the app below: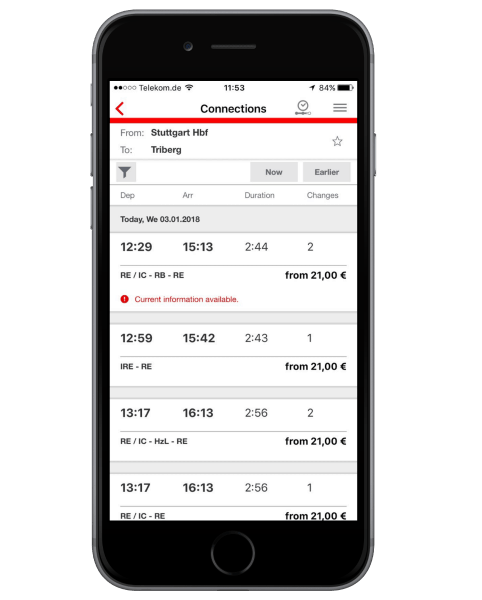 Getting to Triberg by Car
Reaching Triberg by a rental car or a personal automobile is fairly straightforward. There is plenty of parking in the area and you can even park a distance away near the trains to ensure you get a spot.
There is a parking garage in the city center and there are spaces by the mountain lake, at Scheffelplatz, or Adelheid.
The walk to the waterfall and the town is only a few hundred meters (half a mile at most). The map below shows where Triberg is located.
Arriving in Triberg
Once you arrive by train in Triberg, you will have a little bit of walking to do. Just follow the signs into the town center and toward the waterfall.
Don't worry, they are easy to read and find. This is not a hidden gem of a place in Germany and there will likely be other tourists doing the same thing you're doing.
Once you go up the hill toward the town, you will start passing restaurants, bars, souvenir shops, etc. You're heading in the right direction.
You can stop for a bite to eat before heading to the waterfall if you intend on spending some time hiking in the forest or photographing the cascades.
There will be some restaurant recommendations later in the post.
About the Triberg Waterfall (Triberg Wasserfall)
As noted at the beginning of this post, the Triberg Waterfall is not really Germany's highest waterfall, despite the signs and tourist information stating so.
It is, on the other hand, Germany's highest waterfall when it comes to accessibility. The waterfall has multiple cascades and is 163 meters, or 535 feet.
The largest waterfall in Germany is actually Röthbach Waterfall, near alluring Lake Königssee in Upper Bavaria.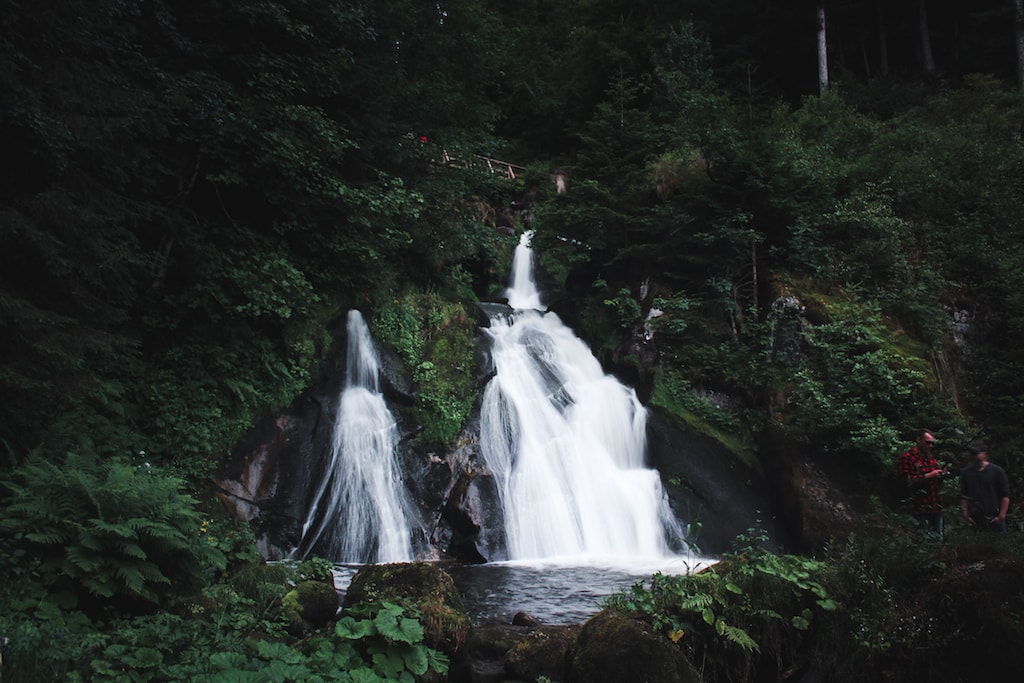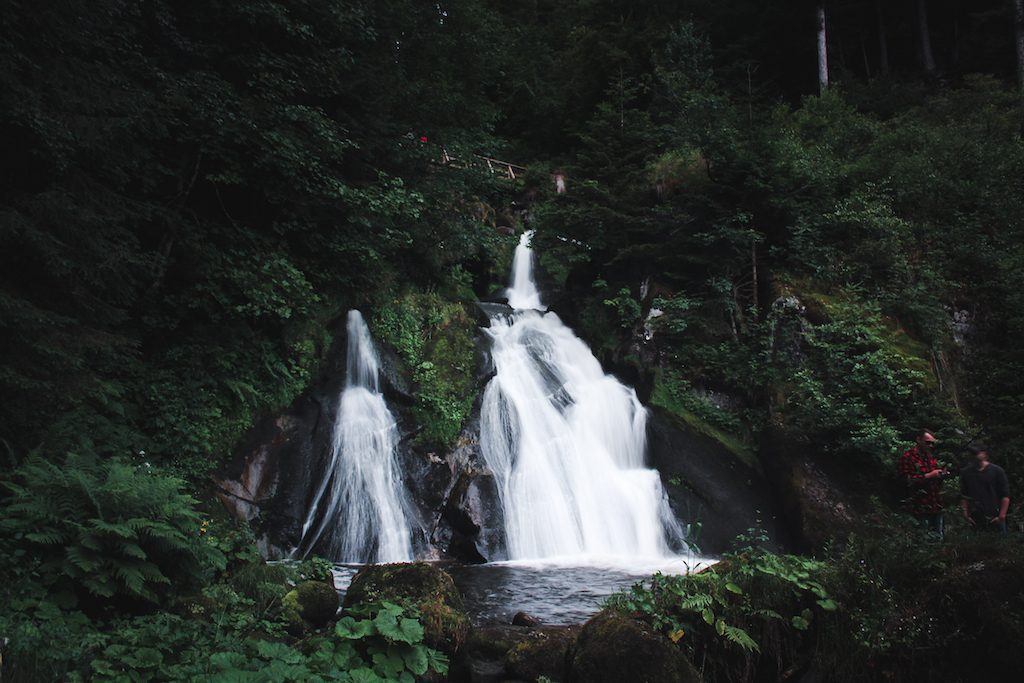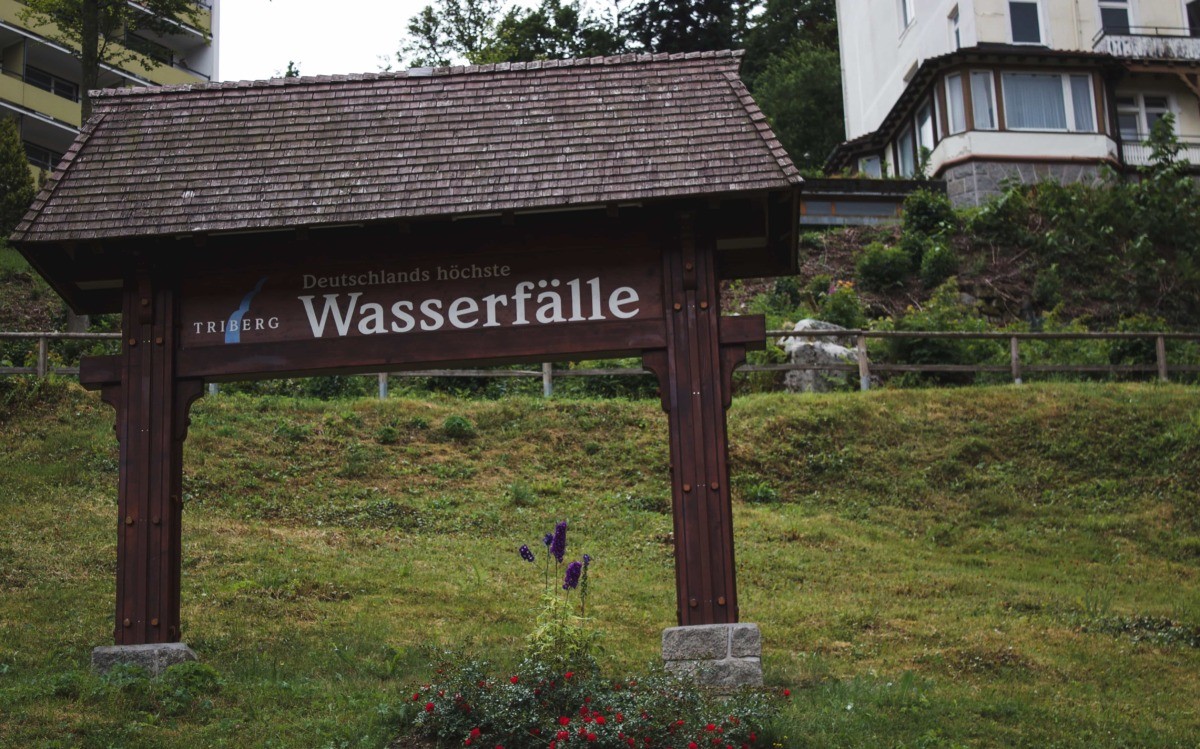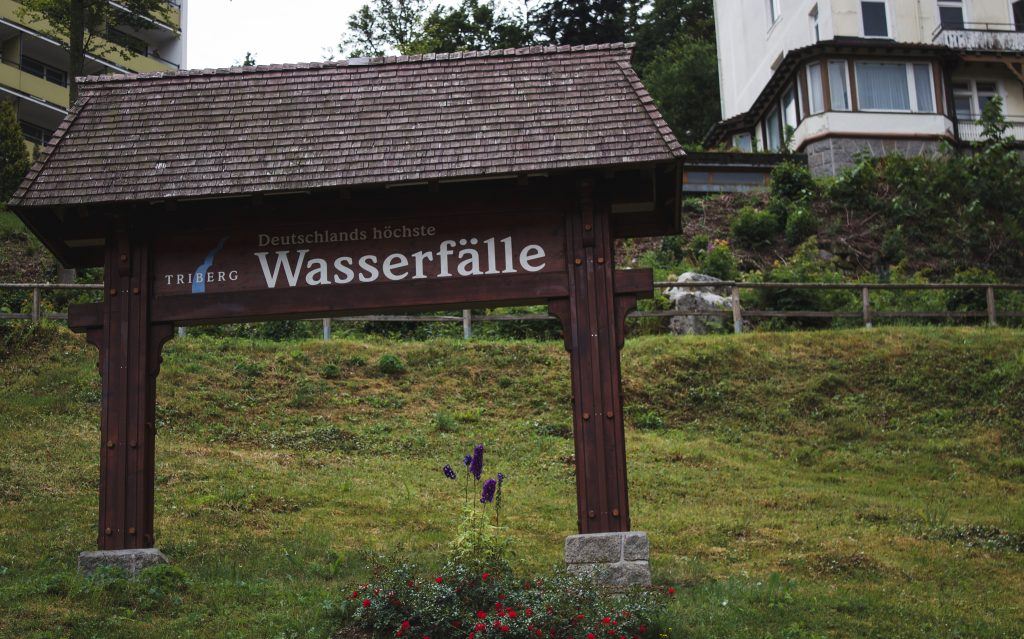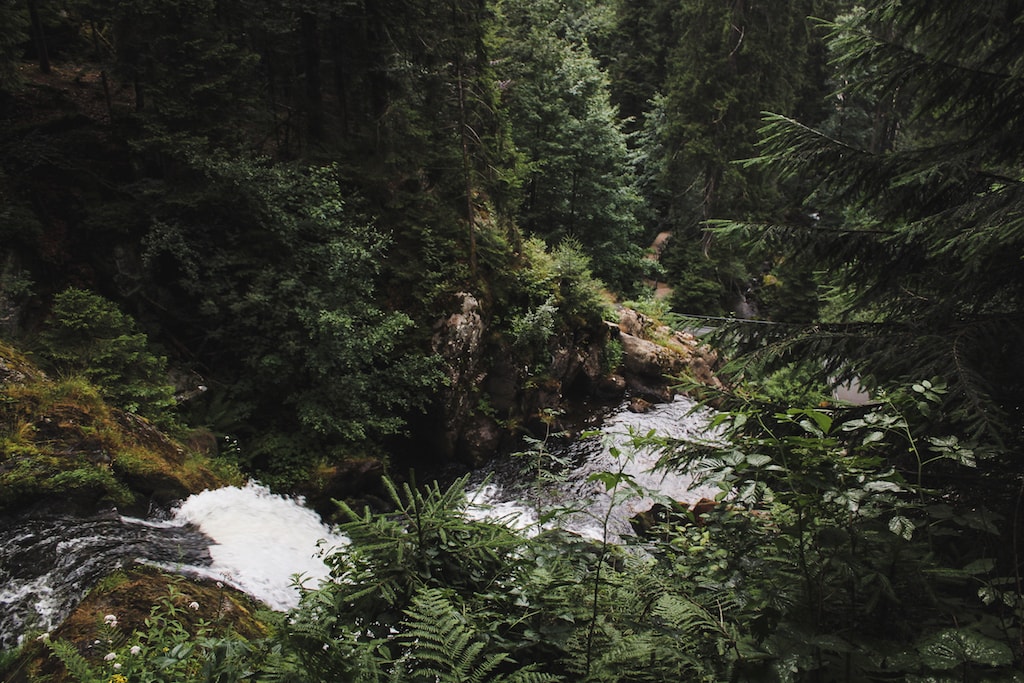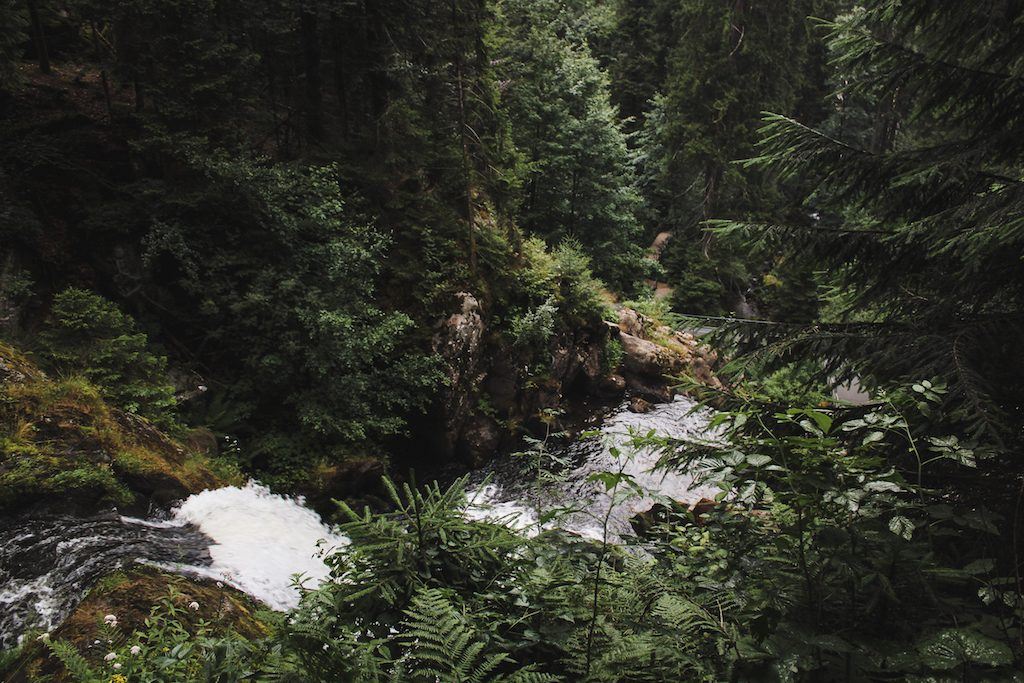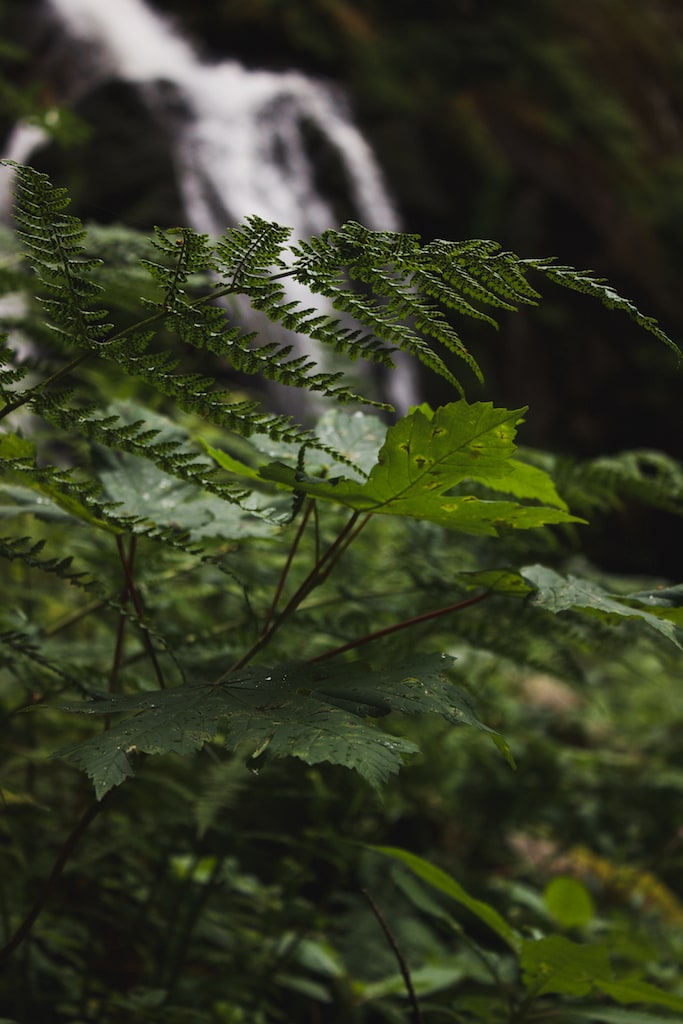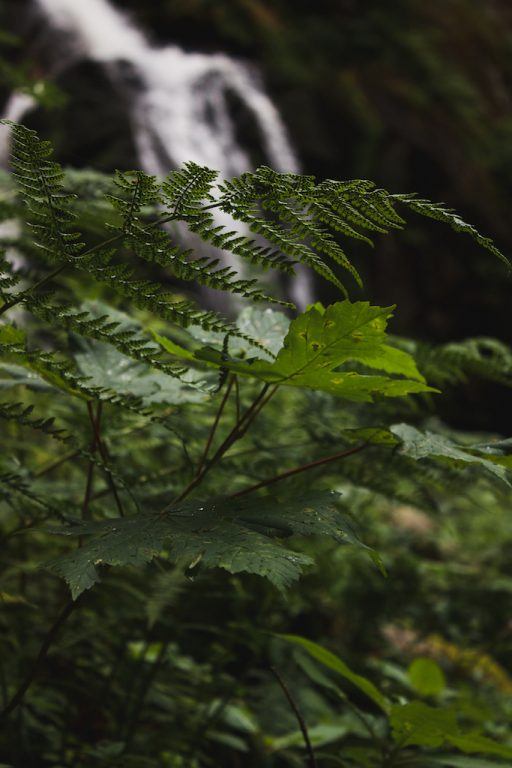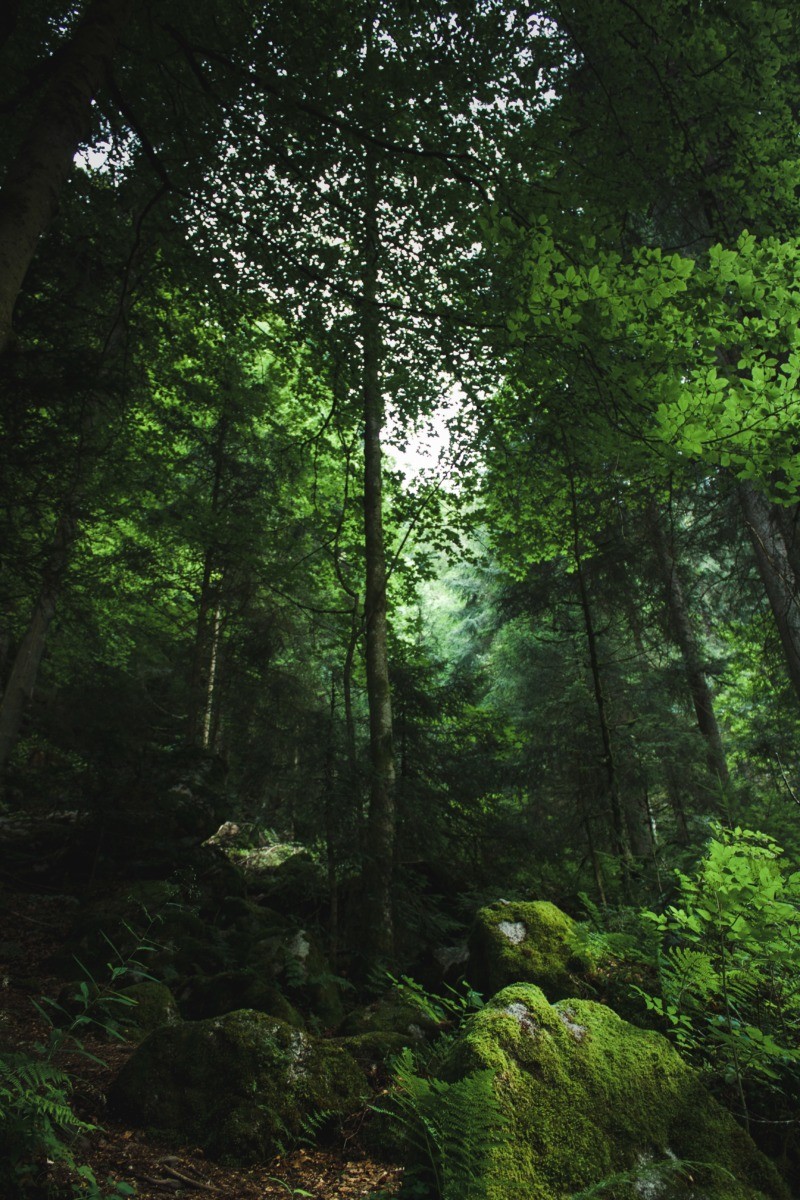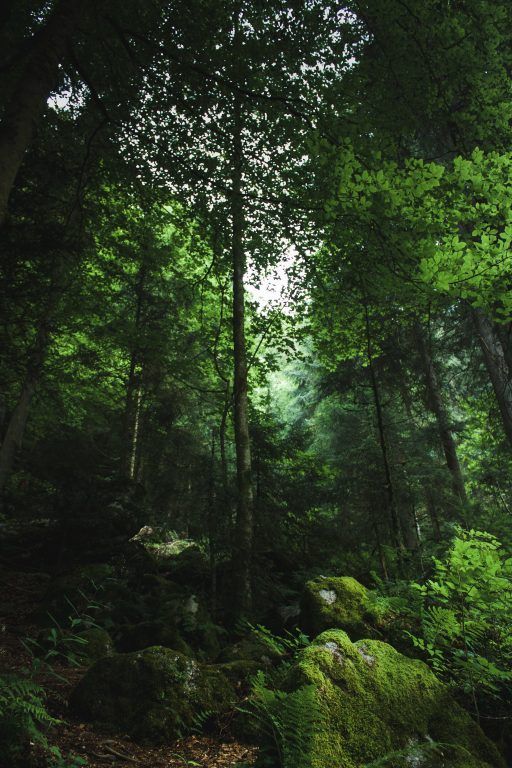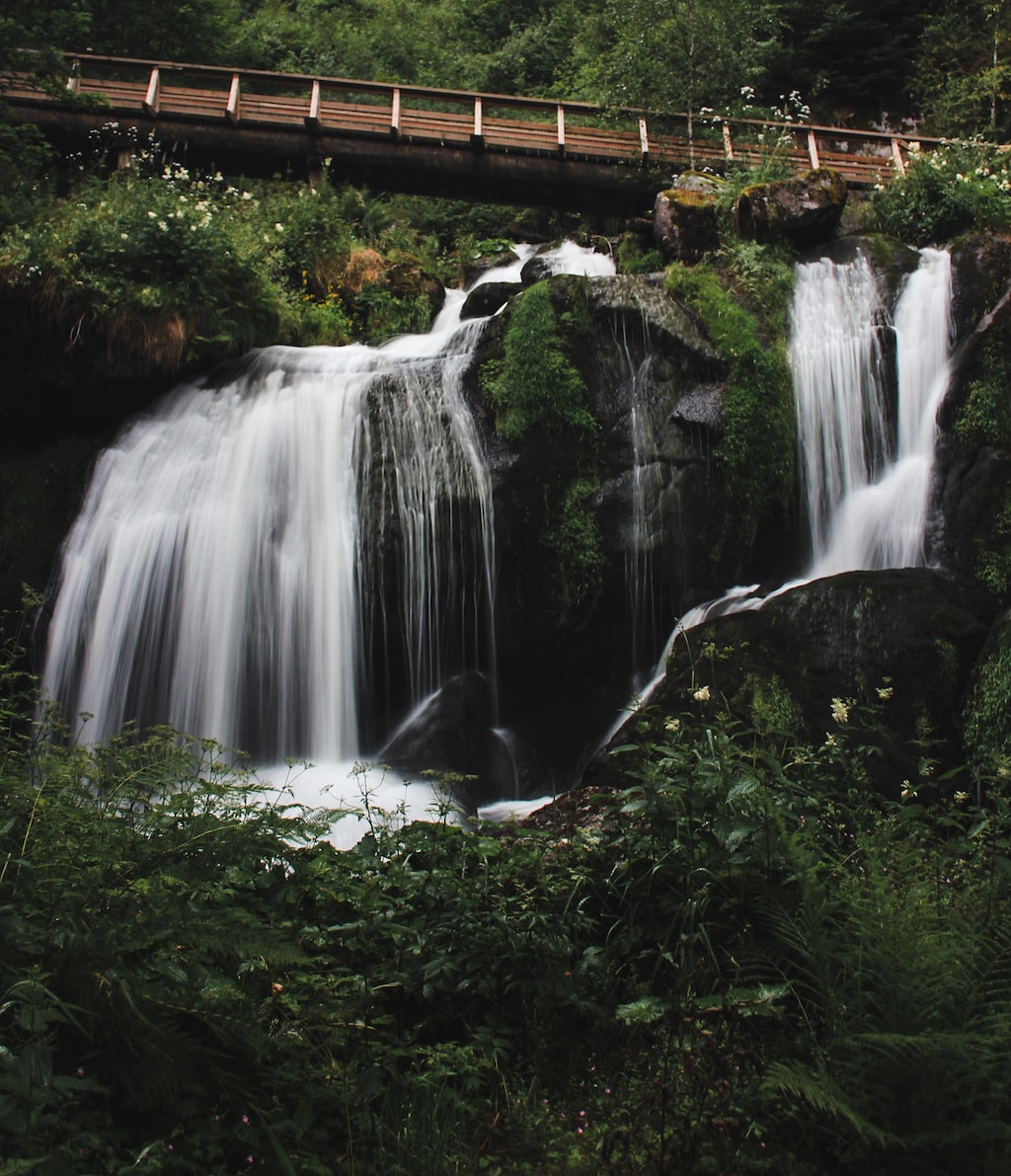 Triberg Waterfall in Summer
We went to the waterfall in the summer. Needless to say, there were a few other tourists there, albeit not as many as I expected.
We never felt like the place was ruined by the number of people visiting and everyone seemed pretty friendly and captivated by the nature.
The majority of the tourists that day were Americans, but we also saw several Germans and a couple of Australians.
Fortunately, the summer heat in the Black Forest isn't extreme and the temperature was very agreeable. The dense trees also offer shelter from the heat.
If you're going to plan your trip last minute, try going after major rainfall as the waterfall will be at its most powerful.
Triberg Waterfall in Winter
The waterfall is open year-round and offers equally as stunning views during the colder months.
Because of the short daylight hours experienced in Germany during winter months, the town has the waterfall lit up until 2200 each night.
I really intend on getting to the waterfall during winter after a deep freeze here in Germany to check it out for myself!
They say that waterfalls are good for colds and when you're feeling a bit under the weather due to the ionization of the air… either way, nature is good for the soul.
Admission to Triberg Waterfall
The admission to the waterfall depends on the season you're going in. There are winter prices and summer prices, with summer prices being more expensive, naturally.
Below are the prices that are currently in effect for visiting for each season. The waterfall does offer family rates, which is awesome!
Dogs are permitted and are no charge.
Winter Admission Prices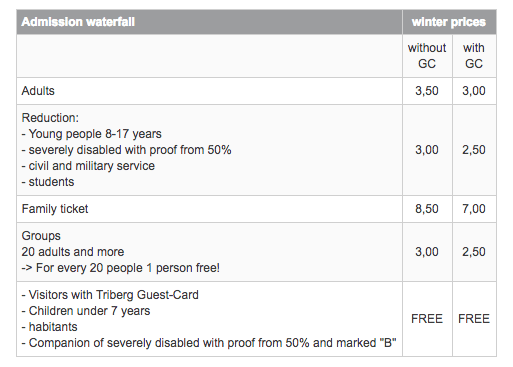 This table is taken from Triberg Stadt's website. Check here for the latest updated prices.
Summer Admission Prices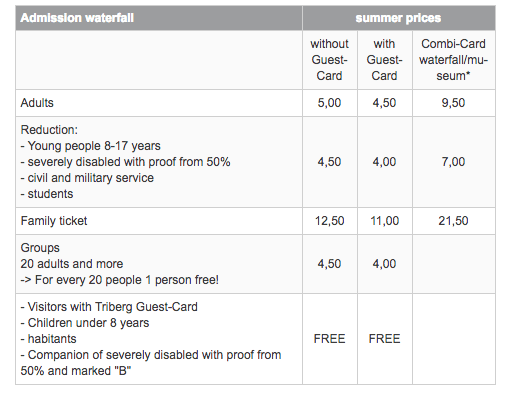 This table is taken from Triberg Stadt's website. Check here for the latest updated prices.
Hiking Opportunities at Triberg Waterfall
Perhaps my favorite thing about the Triberg waterfall was the endless amount of hiking trails and opportunities. Getting to the waterfall itself is simple and anyone can do it- young or old.
If you are active, you can check out the waterfall and then take off for an adventure in the enigmatic Black Forest.
The arresting scenery will transplant you into a world that you've only read about in fairytales. It truly is stunning. Below is an easy hike I recommend that can be completed by anyone.
Easy Hike Around Triberg (2.1 km / 1.3 mi)
This hike begins at the entrance of the waterfall and ends on the other side of the town. You will walk up the waterfall on the marked trails and then go around it through an open path in the forest.
You will see the ropes course to the left and you can continue on past as you overlook the Maria in der Tanne church which stands prominently in the town.
Continue on until you end up down by the lake. There is a charming restaurant there… they have really delicious Black Forest cake if that is your sort of thing (it was definitely mine!)
This hike is super easy and can be done with young kids, older friends and family members, dogs, and strollers. Once you're down by the lake, just make your way back to the city center and you will be back at the entrance for Triberg Waterfall.
To get exact directions for this hike, check out this website. You will also find other hikes with varying difficulty in Triberg that may be more suitable depending on your skill and time.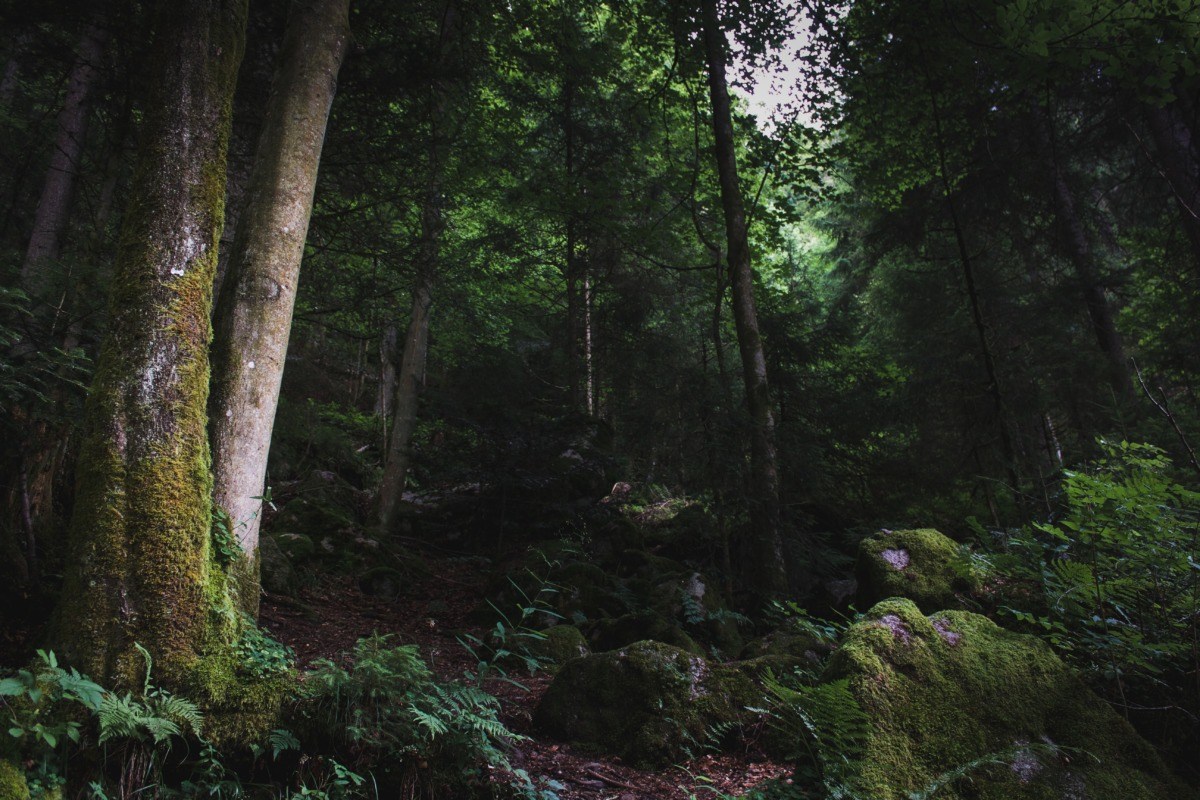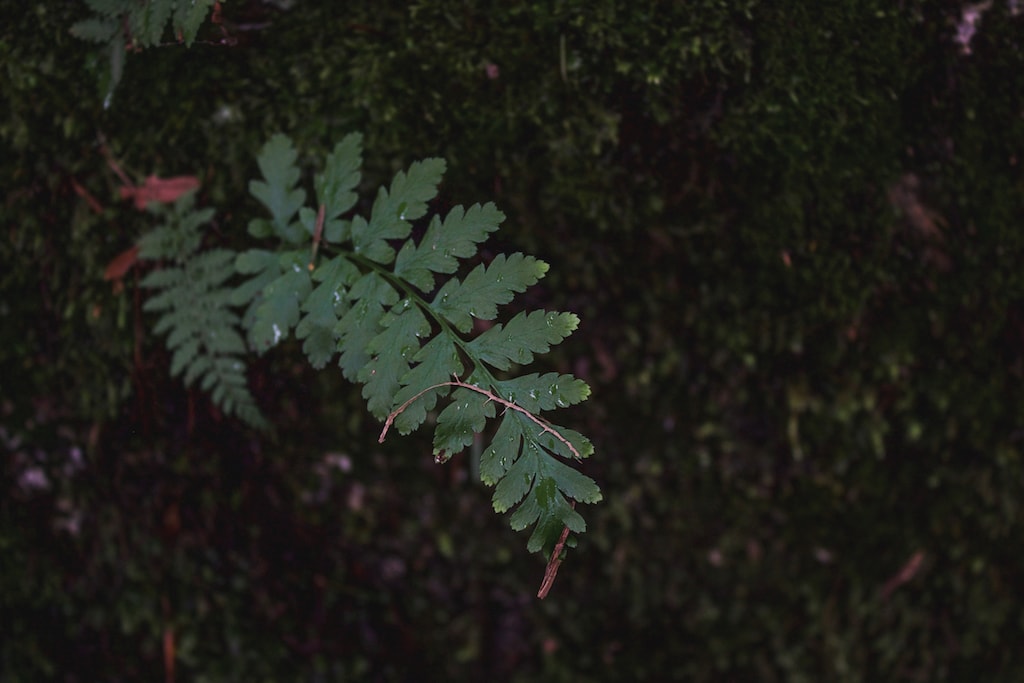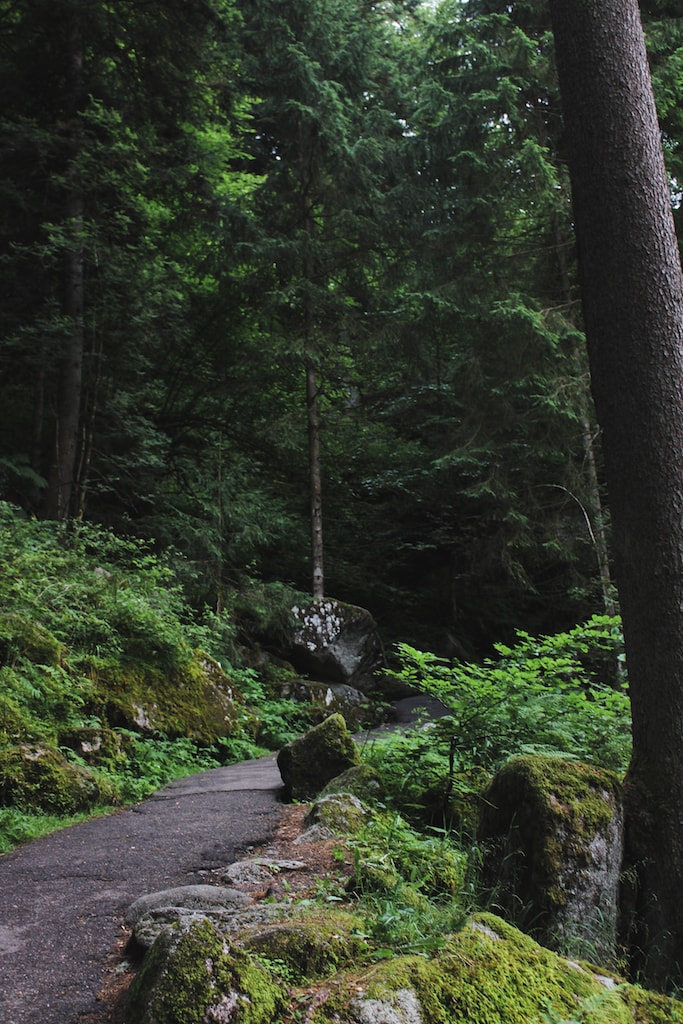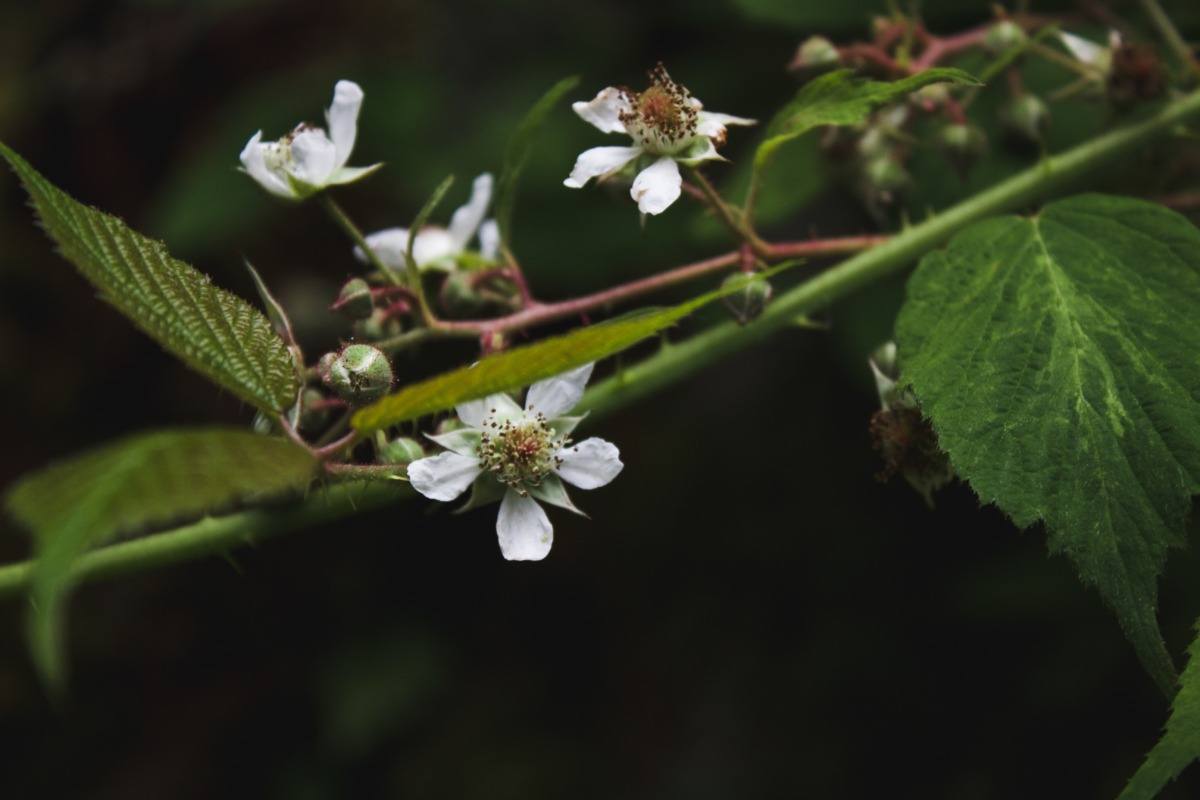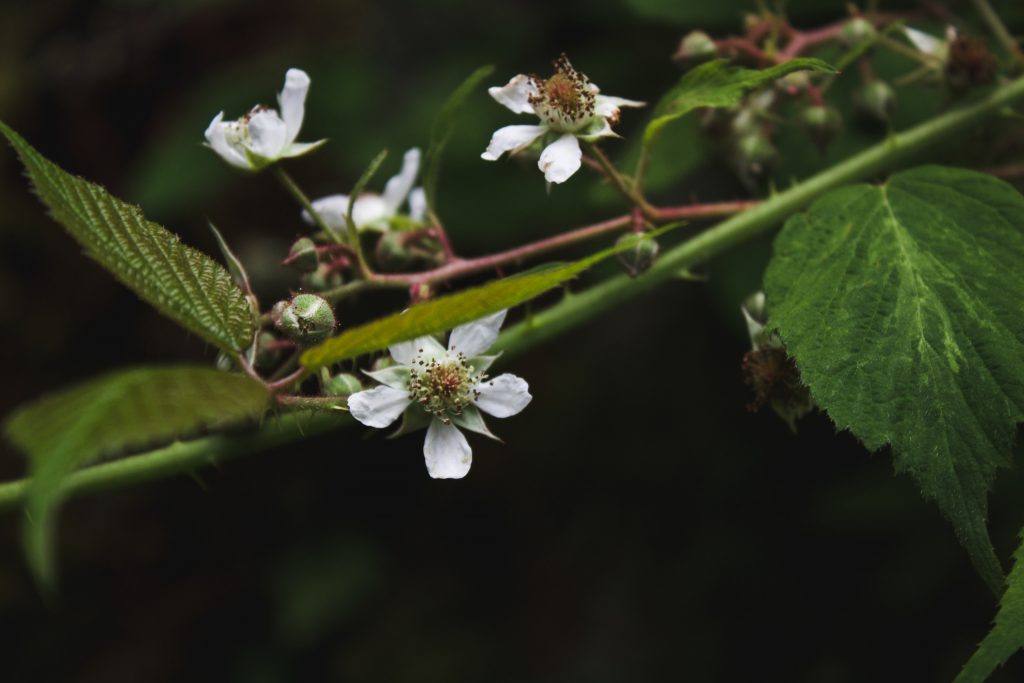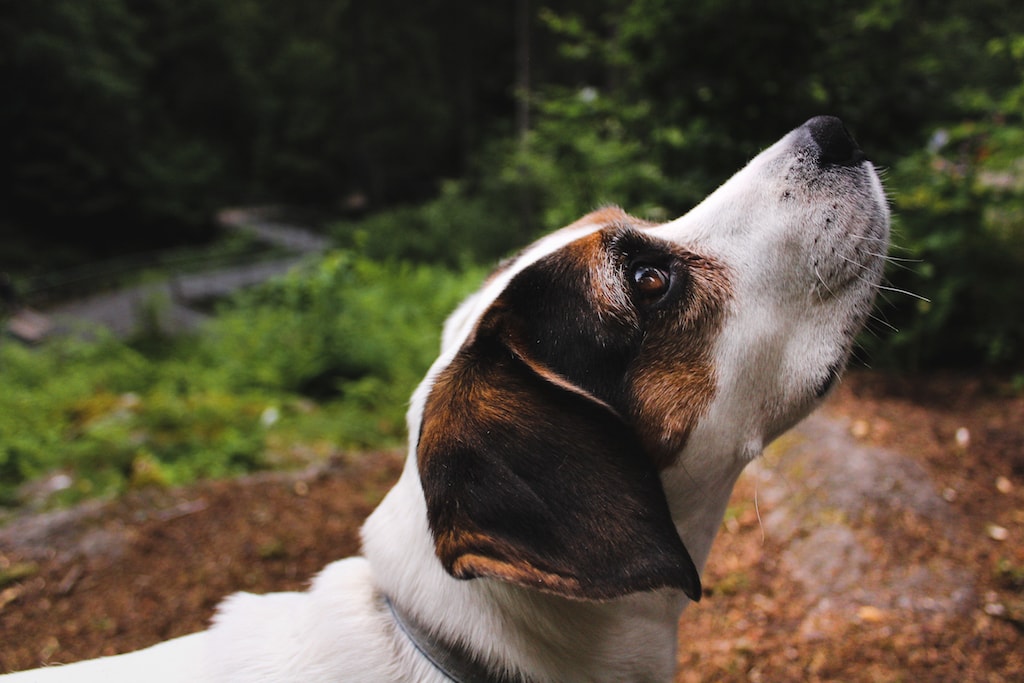 What to Bring on your Hike (and Travel Tips)
First off, I will state that in winter, the area can freeze over a bit. Be prepared for ice and slippery ground.
If there is extremely volatile weather, the park itself may close, so be sure to call ahead to see if things are looking rough in the area.
On the other hand, you don't need to take too much with you on the hike and when visiting the waterfall.
Below are a few suggestions that I personally think are helpful when hiking the area as well as things that help when photographing the falls.
Klean Kanteen Steel Bottle. I always bring my Klean Kanteen with me when traveling, especially around Germany.
This BPA-free stainless steel bottle can easily be filled up with the clean and palatable drinking water that Germany has on all taps. You can purchase here.
Durable Hiking Boots. While the easy hike may not require such, a nice pair of boots would still be useful when trekking around the waterfall.
It can be a bit muddy and due to the canopy of trees over the waterfall, it can take a while to dry the ground. I recommend the Keen if you're looking for an all-purpose boot.
I've been wearing their products for years, from Colombia to the Faroe Islands, and I love them. You can find a pair similar to mine here.
Neutral Density Filters. If you're looking to photograph the waterfall with long exposures, you're going to want an ND filter. There are several on the market.
You don't want to go to cheap, but you also don't need to spend hundreds of dollars on one if you're an amateur photographer.
Even though the Triberg waterfall is hidden in the forest, the sun peeps through the trees randomly, making it impossible to photograph a long-exposure without the appropriate filter. I recommend this set by Tiffen (you can find different sizes there as well).
Sturdy Tripod. Guess what I didn't have while at the waterfall? A sturdy tripod. My pictures are all slightly blurry because of it.
Not much I can do now, but next time I go back, I'll have a good and sturdy tripod with me to prevent this from happening again.
I recommend this tripod by MeFoto as it is sturdy and compact and the perfect travel companion. You can find out more information about it here.
Camera Remote. If you're trying to photograph the falls, you will definitely find use in a good remote to help you do so as a means of eliminating shake to the camera.
I sometimes use my app on my phone (Canon), but I do have a cheap remote that accompanies me on travels that help with long exposures. Click here to see which remote I recommend.
Other Activities and Sights in Triberg
Triberg is super family-friendly and there are so many activities for young kids, adults, teenagers, and senior citizens. I think that is probably the biggest perk in the area.
Below are several activities and highlights other than the waterfall that can't be missed when in Triberg.
Nature High Ropes Course
Having your feet planted on the ground is completely overrated. While I'm afraid of heights, I do love a good ropes course, pending that the ropes course isn't insanely high up (this one isn't).
Suitable for children and adults (ages 8 and older), this ropes course is open from April through October if the weather is good.
Built with safety in mind, the ropes course is a fan favorite in Triberg and is a great family activity depending on the ages of the kids. You can find out more, including admission fees and opening hours, here.
World's Largest Black Forest Cuckoo Clock
Triberg is also home to the world's largest cuckoo clock. As a kid, I was very familiar with Black Forest cuckoo clocks as I grew up in Germany for a few years.
Older Americans seem to love them and while as a kid I found them annoying, I do appreciate them as an adult.
Triberg is the ideal place for lovers of the cuckoo clock. The world's largest one can be found at Eble Uhrenpark (Schonachbach 27).
It took five years to build and is definitely worthy of being checked out when in Triberg. Click here to find out more.
World's Smallest German Cuckoo Clock
I am surprised Dubai hasn't tried building something to compete with the largest and smallest cuckoo clocks in the world yet, but for the time being, Triberg has this claim to fame.
The world's smallest German cuckoo clock is at Uhrenfabrik Hubert Herr (Hauptstr 8) in Triberg and proudly stands at 13.5 centimeters tall.
To find out more information about the world's smallest Black Forest cuckoo clock, click here.
Triberg Spruce Ham
Forget German cuckoo clocks for a moment and think about food! Triberg's famous version of Black Forest ham is the Triberger Fichtenschinken, or Triberg spruce ham.
You will see several places in Triberg offering up tasters and quantities for sale of this famous ham.
The ham is flavored by the earthy spruces trees that line the area and it is known for being tender, juicy, and moist, hence its significant popularity.
A recommended place to enjoy this special ham is at Restaurant Bergseestüble (Clemens-Maria-Hofbauer-Str. 19 ) in Triberg.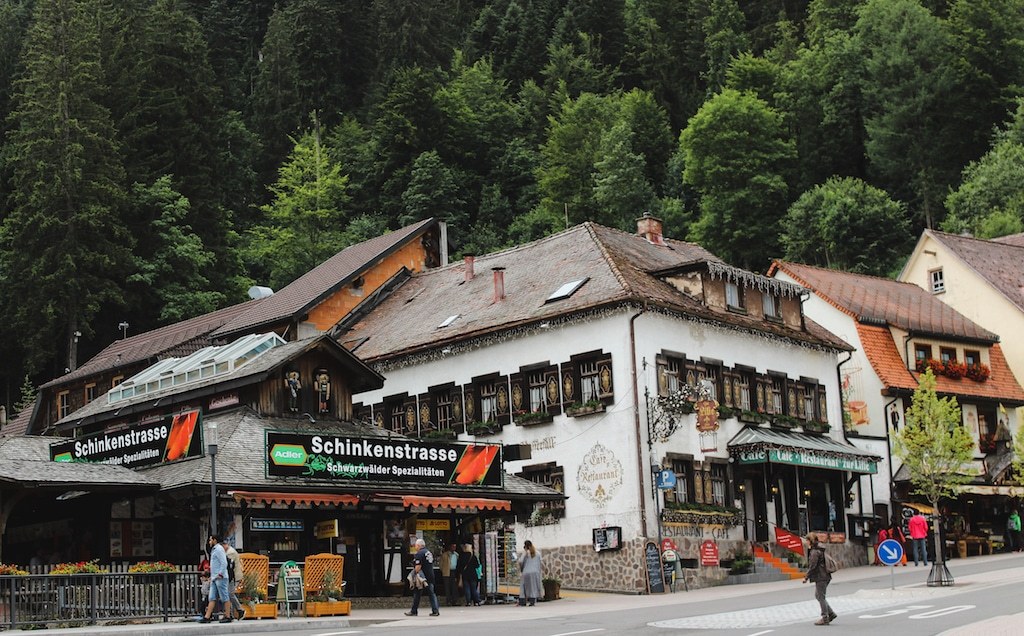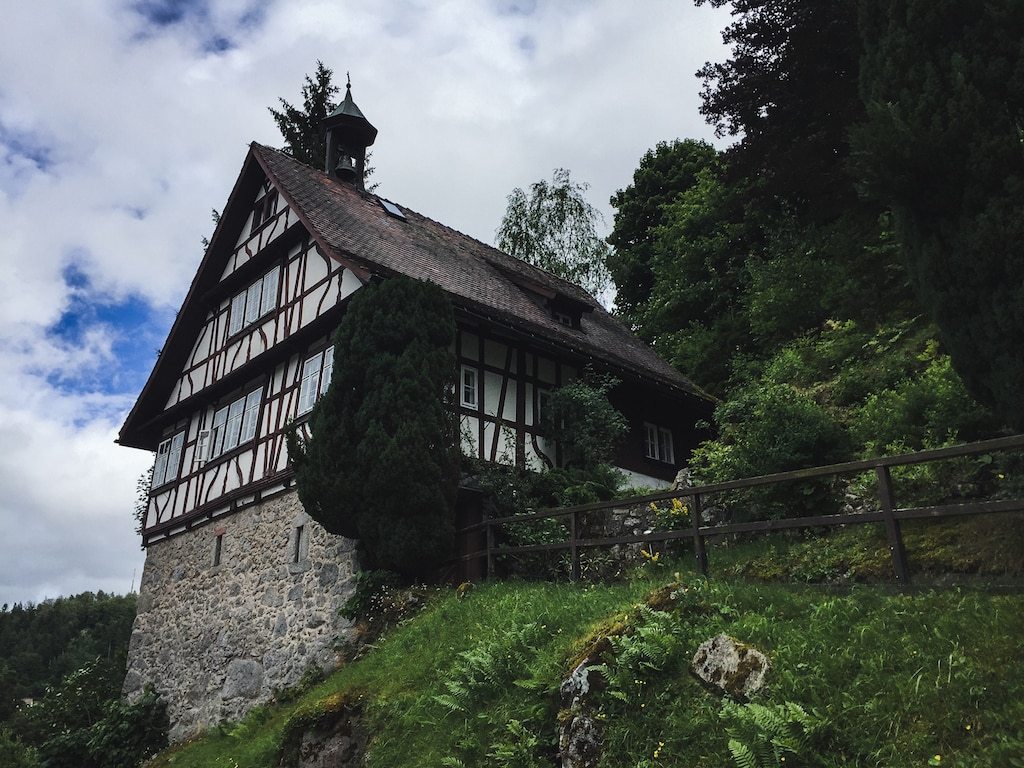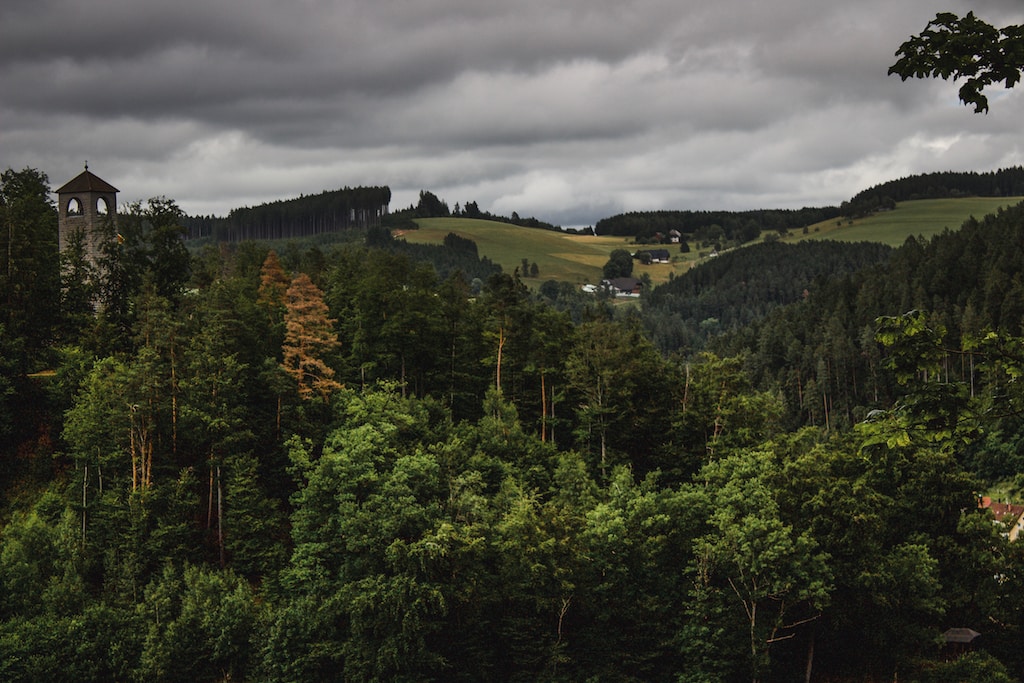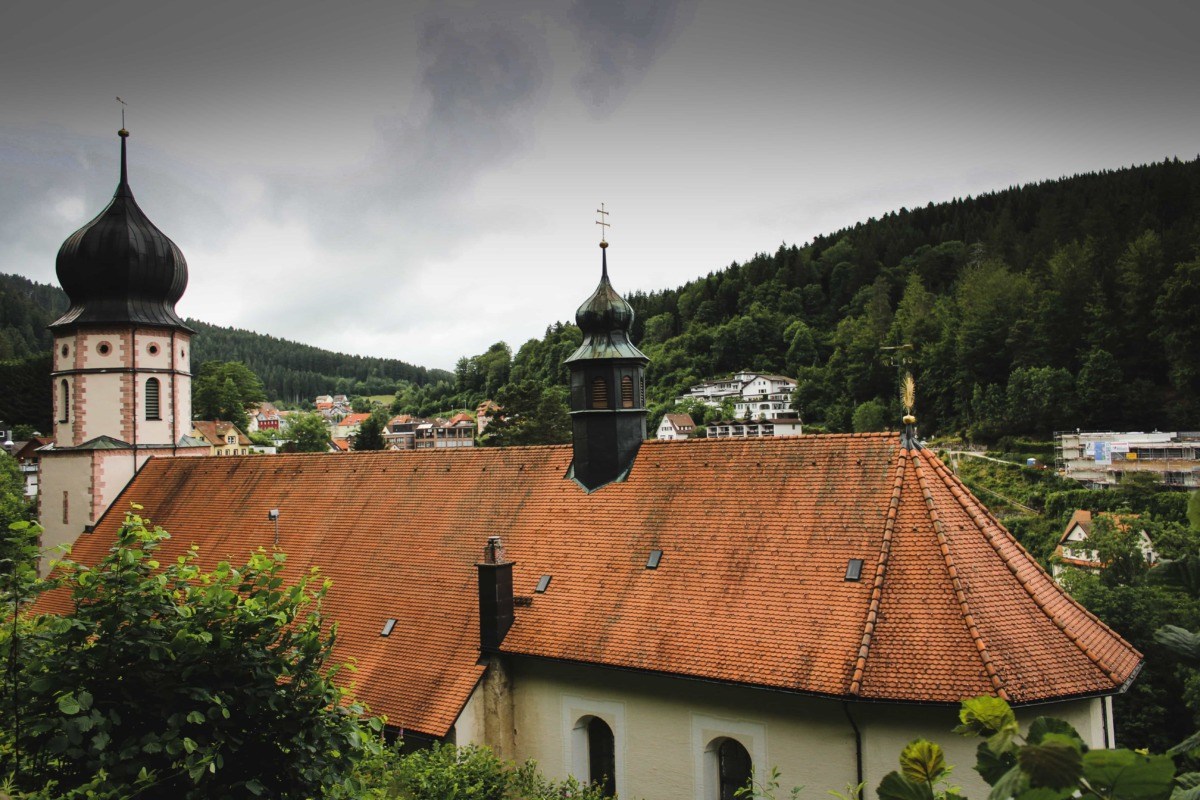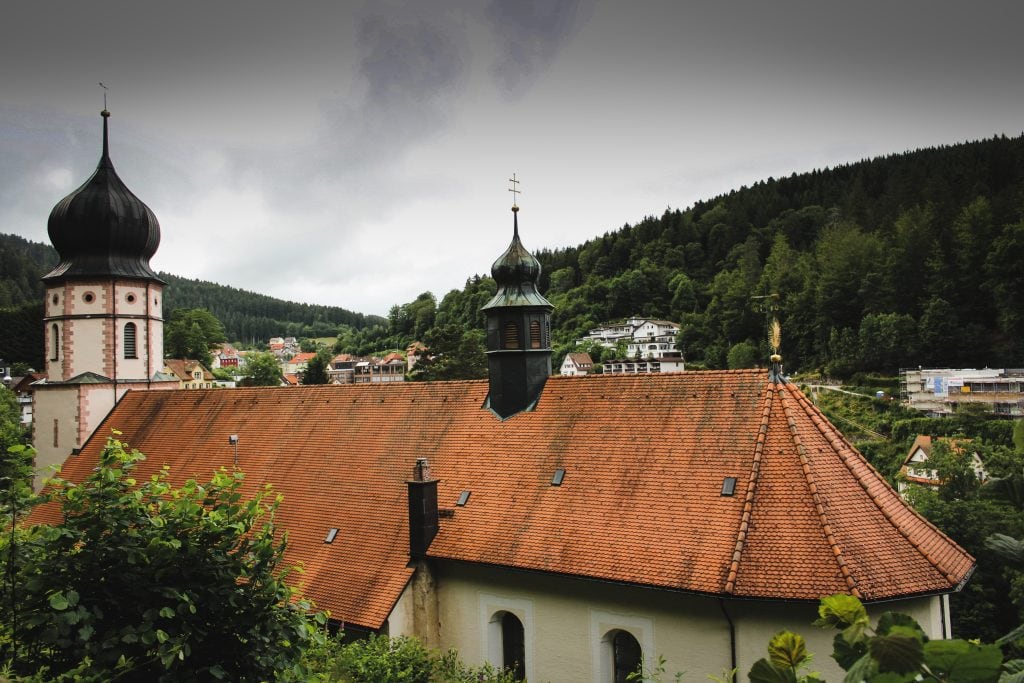 Where to Eat in Triberg
Triberg is home to several high-quality restaurants. From Black Forest cake to Triberger Fichtenschinken to delicious Schnitzel, it is easy to find a place to eat at almost any hour of the day.
Many establishments are also dog-friendly. To find a conclusive list of all of the restaurants in Triberg, follow this link.
When we were there, we ate at Wirtshaus Alt-Tryberg as we were starving and it was the first place we encountered that day.
They happily took in my misbehaving pup, so we ordered food and a beer and carbed up before our hike to and around the waterfall. The food was affordable and tasty.
After our hike and photographing the waterfall (and taking refuge from a large storm that rolled through!), we found ourselves for a post-hike beer and Black Forest cake at Restaurant & Pension Bergseestüble, the same place mentioned above that is renowned for their Triberger Fichtenschinken.
This was the perfect stop as it is right on a small lake with a playground and area for my dog to run around.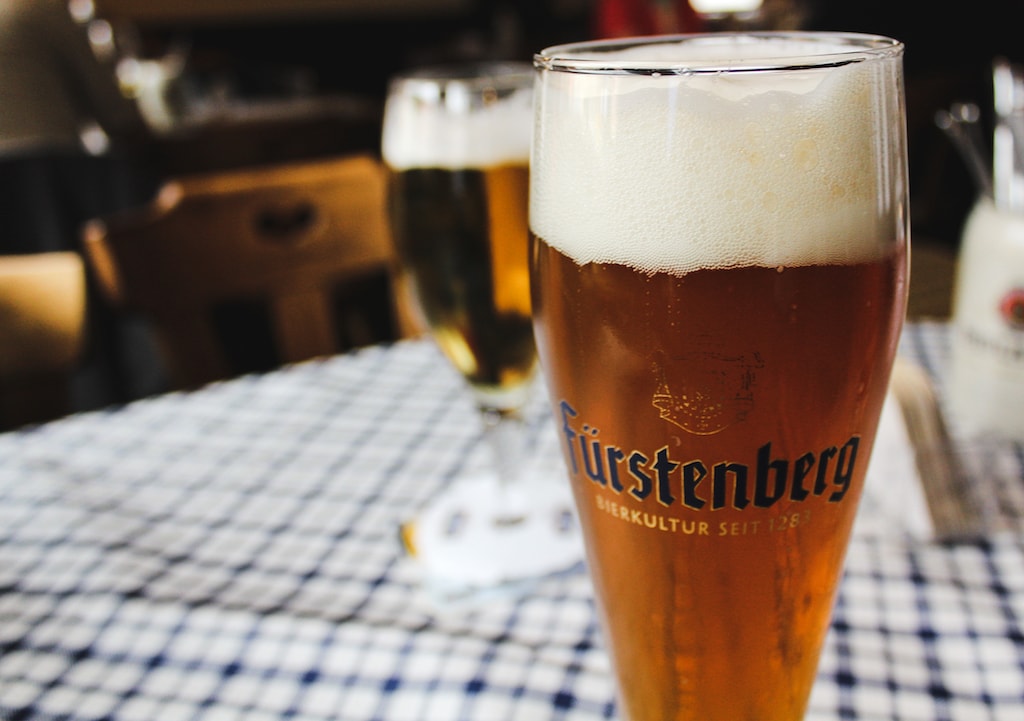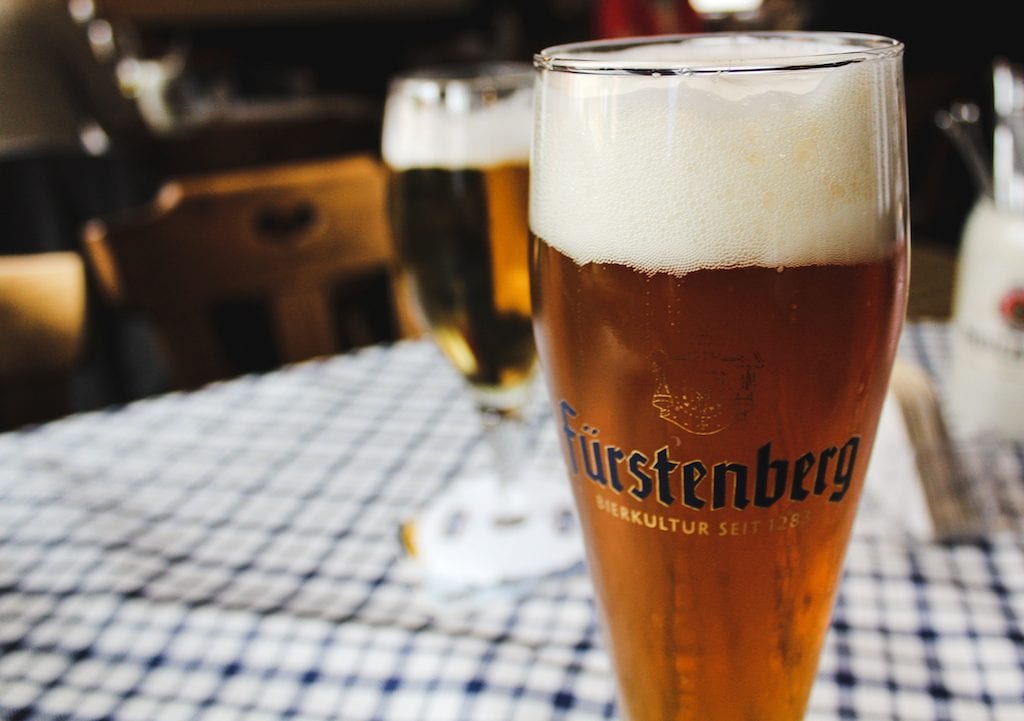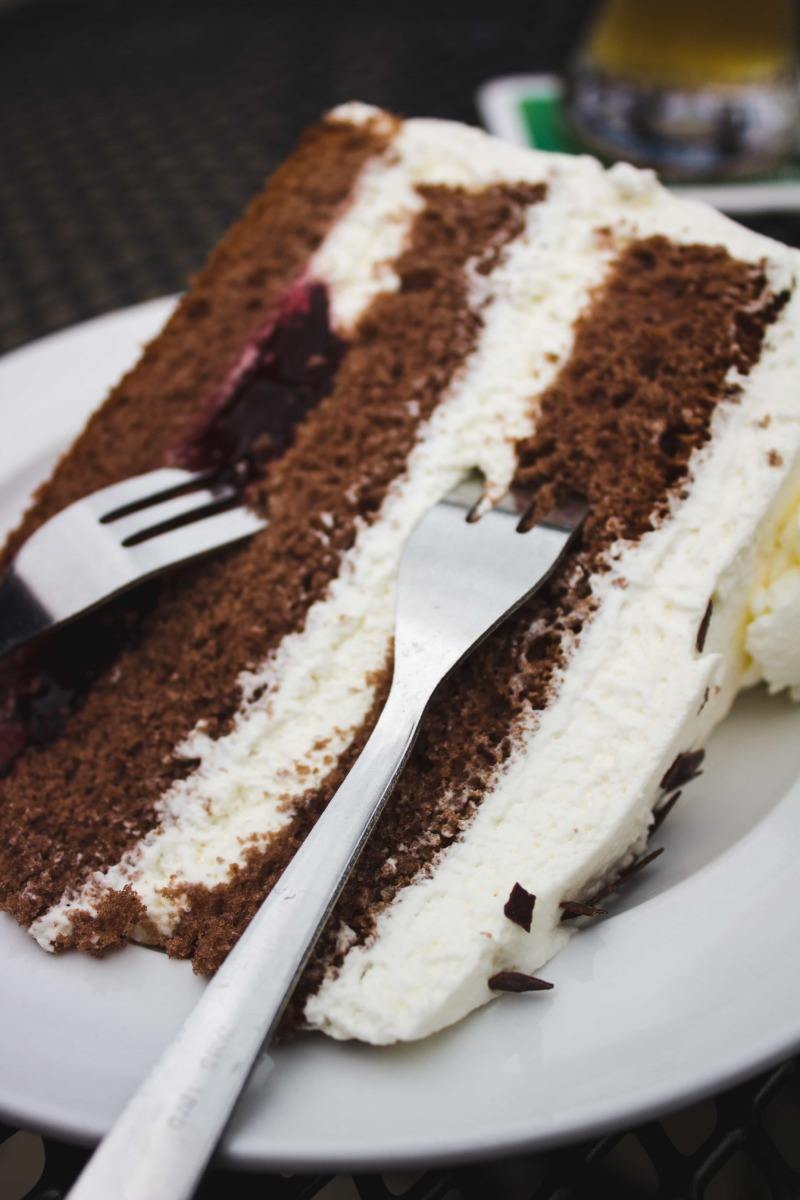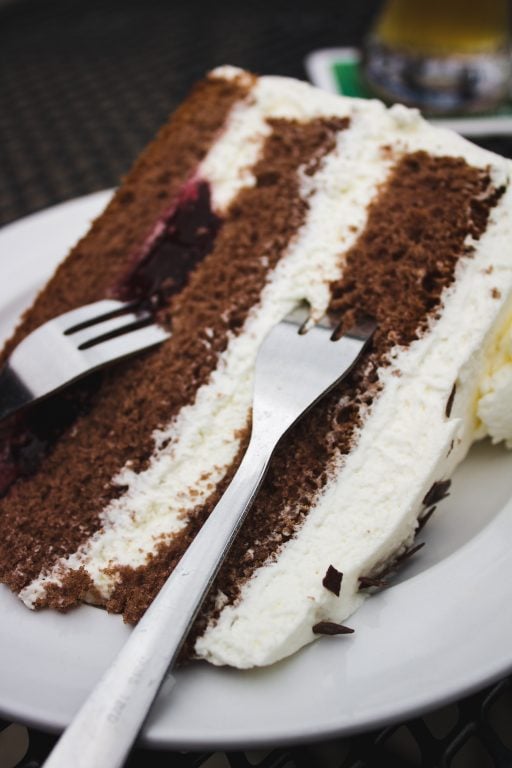 The Best Hotels in Triberg
There are several options for places to stay in Triberg.
The following hotels and guesthouses come highly recommended if you are looking to stay overnight in the city and take advantage of being so close to the refreshing and revitalizing nature (and all are located within half a mile of the waterfall itself):
Best Western Triberg
The Best Western Plus Schwarzwald Residenz is a perfect place for families to stay when visiting Triberg and the Black Forest.
The apartment-style hotel features free and fast wifi, a sauna, and an on-site restaurant. They also have private parking available for their guests.
The property is located at Bürgermeister-De-Pellegrini-Strasse 20, 78098 Triberg, Germany. Click here to find out availability and rates for the Best Western Triberg.
Pension & Apartments am Bergsee
The Apartments am Bergsee has a playground and sun terrace, making this place very attractive for the summer visitors with families and young children.
There is an on-site restaurant. Every room comes equipped with a flat-screen television, kettle, and private bathroom.
The Pension & Apartments am Bergsee is located at Clemens-Maria-Hofbauerstr. 19, 78098 Triberg, Germany. Click here to find out availability and rates for Pension & Apartments am Bergsee.
Ferienwohnung King
Another apartment-style type of accommodation in Triberg, the Ferienwohnung King is a spacious property that is perfect for families visiting the area and the Black Forest.
They have free, private parking on-site and every apartment comes equipped with a kitchen, television, and dining area. Ferienwohnung King is located at Im Sägedobel 32, 78098 Triberg, Germany. Click here to find out availability and rates for Ferienwohnung King.
Hotel Garni Central
The Hotel Garni Central is located in the center of the town and a stone's throw away from the waterfall. Every room comes with a cable television and a bathroom.
Every morning, there is a large breakfast buffet for guests and there is also an Italian restaurant inside of the first floor. Hotel Garni Central is located at Hauptstraße 64, 78098 Triberg, Germany. Click here to find out availability and rates for Hotel Garni Central.
Parkhotel Wehrle
The Parkhotel Wehrle is beautiful and offers a view of the mountains and the Black Forest on its terrace. They have an on-site restaurant and free wifi is extended throughout the property and is fast.
Private parking is available to guests. Parkhotel Wehrle can be found at Gartenstr. 24, 78098 Triberg, Germany. Click here to find out availability and rates for Parkhotel Wehrle.
In conclusion, the Triberg Waterfall is a must-visit if you are a nature lover and living in or traveling to Germany. The Black Forest is an important and beautiful place in German history, folklore, and culture.
If you're interested in visiting more than just the Triberg Waterfall on your trip to the Black Forest, this tour may be a great place to start.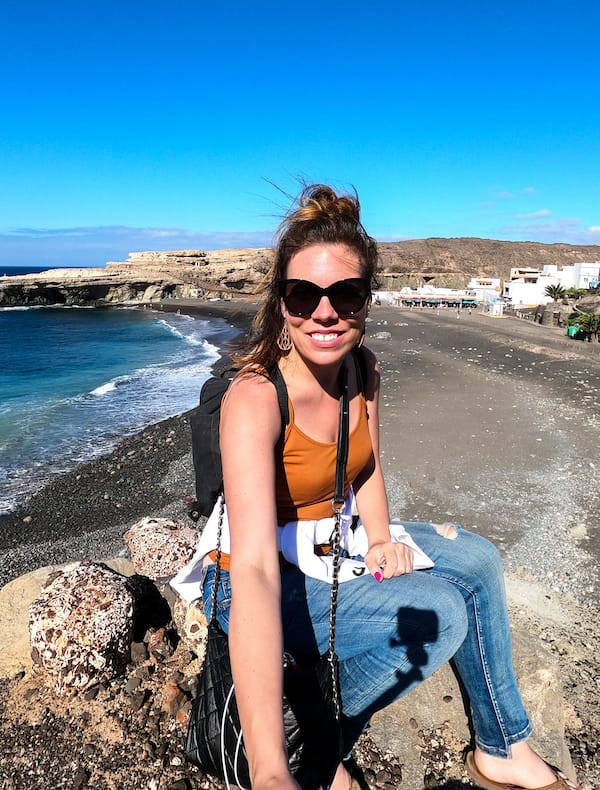 Megan is a travel blogger and writer with a background in digital marketing. Originally from Richmond, VA, she now splits her time between Frankfurt, Germany and Arctic Finland after also living in Norway, Armenia, and Kazakhstan. She has a passion for winter travel, as well as the Nordic countries, but you can also find her eating her way through Italy, perusing perfume stores in Paris, or taking road trips through the USA. Megan has written for or been featured by National Geographic, Forbes, Lonely Planet, the New York Times, and more. She co-authored Fodor's Travel 'Essential Norway' and has visited 45 US states and 100+ countries.