If you're looking at renting a car in Norway for your upcoming trip – great decision! But, there are plenty of things to know before you rent one!
This guide will detail what to know before you rent a car in Norway… from the best type of cars to rent to some quick tips for driving in Norway.
Are you planning your trip to Norway last minute?
🚗 Renting a car in Norway: Discover Cars is our top pick for rental cars in Europe (and abroad)! They have several add-ons and also offer full-coverage insurance as an option, which is crucial for me. They also have a huge inventory of cars to choose from – something suitable for every traveler!
🇳🇴 Tours and excursions in Norway: Can't rent a car in Norway? Definitely consider taking a tour! You can find some of the best tours in Norway with our trusted partners GetYourGuide, Manawa (great for active travelers), and Viator.
🛌 Booking a hotel in Norway: We use Booking.com for all hotels in Norway – many also offer last-minute cancelation.
If we missed anything on this post about car rental in Norway, let us know in the comments! Thanks!
Note: Below, you will find a lot written by Abbie, but also tips and pieces were written by Megan (who used to live in Norway and has spent a lot of time there, even in recent years).
Why Rent a Car in Norway?
Covering an area of 385,207 square kilometers (148,729 sq mi), Norway is the largest of all the Nordic countries including Finland, Denmark, and Sweden.
Thanks to its size, there's a lot to see, so renting a car is the best way to get around.
🇳🇴 GOOD TO KNOW: If you struggle to pay attention when driving, Norway is not the place to drive. The scenery (in every inch of the country) is breathtaking and it makes it a challenge to pay attention to the road.
There's no denying that Norway has an efficient and extensive public transport system, with its variety of bus, train, and ferry services.
As such, you shouldn't have any problems traveling between the country's most popular destinations.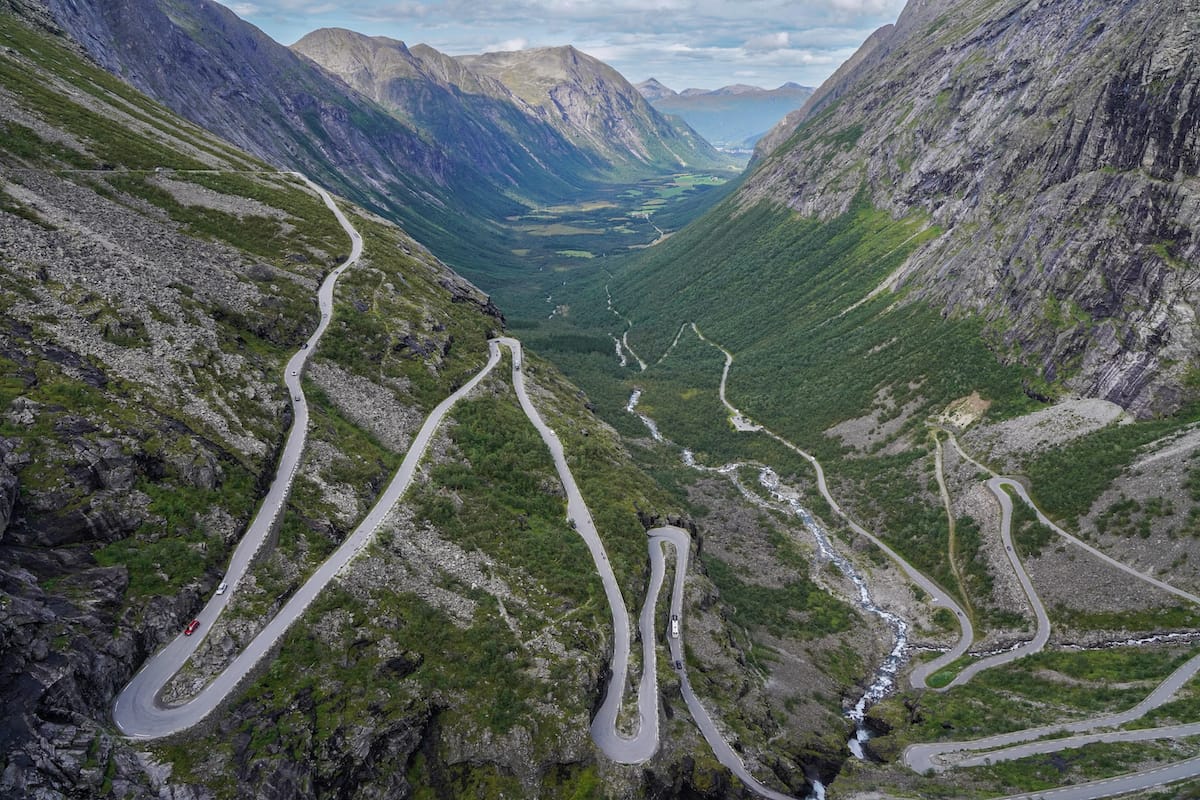 However, if you're heading to the more rural parts of Norway, then you're going to need a car. Public transport in these areas of the country is infrequent or doesn't exist at all.
Renting a car also means you won't be reliant on public transport schedules elsewhere in the country, and will allow you more flexibility. You'll also get to visit some fantastic off-the-beaten-track locations.
What Do You Need When Renting a Car in Norway?
If you're planning to rent a car in Norway, then there are a couple of things to know.
Firstly, you need a driver's license and this needs to have been valid for at least a year. Luckily, if you're from one of the EEA (European Economic Area) countries, then that's all you need to rent a vehicle.
If your license is from another country, then typically you can use it for up to three months, even if it's a temporary stay.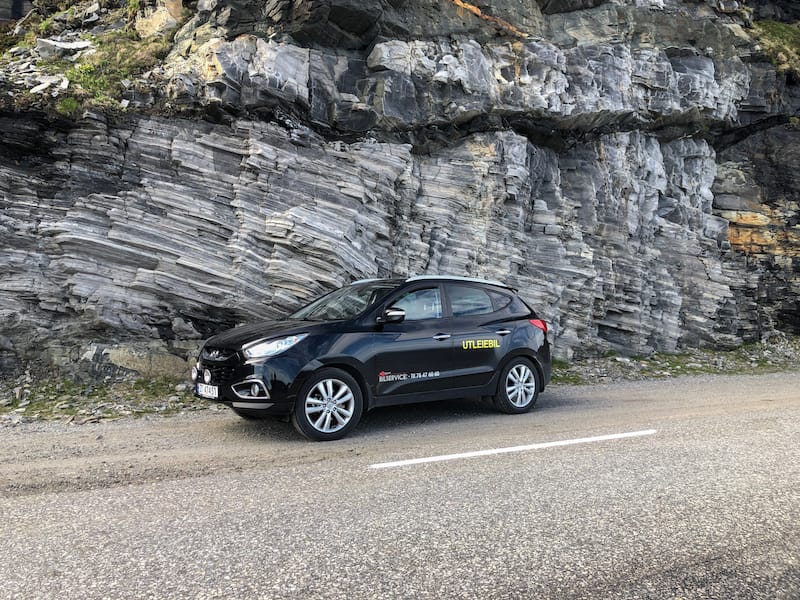 For those who are unsure, it may be worth picking up an International Driver's Permit anyway, as they're often very cheap.
Unfortunately, you'll find that most rental companies in Norway require a credit card.
This is so a holding charge can be placed on the card, in case the car comes back damaged or is stolen.
Some companies will allow you to rent a vehicle with a debit card, but you'll need to check this in advance.
Where to Rent a Car in Norway?
When visiting Norway, many people fly into the capital of Oslo. Now there are two airports near the city; Oslo Lufthavn (50 km from the city center), and Torp Sandefjord Airport (110 km away), with many low-cost airlines flying to the latter.
At both these airports, you'll find a variety of renowned rental companies including Avis, Europcar, Hertz, and Sixt, although Oslo Lufthavn has more variety.
💥 QUICK TIP: I have rented with several companies in Norway and abroad and the only company I had a bad experience with was Green Motion. Apparently, others have too. I would stay away from them.
For the best deals, we'd recommend booking in advance with Discover Cars.
This online comparison website is really easy to use; all you need to do is input the location and your preferred dates, and they'll find you the cheapest prices.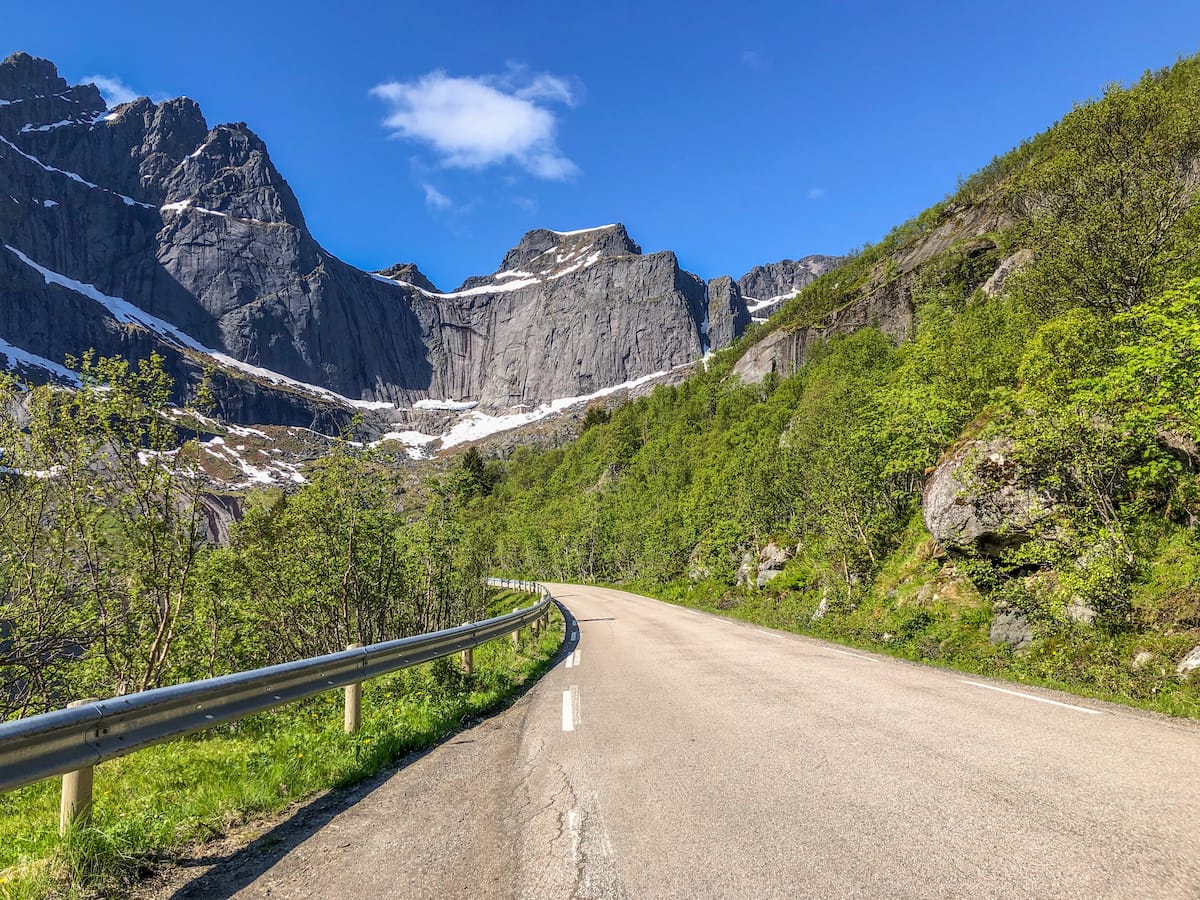 What's great about using Discover Cars, is that you can still pick your rental up from the airport so you'll have the best of both worlds.
That's always a bonus as rental prices at the airport themselves tend to be more costly, so you'll save money this way!
Car Rental Insurance in Norway
No matter where you're planning to rent a car, you always want to check your insurance, as rental companies can sometimes be sneaky with this.
In Norway, it's mandatory for fire and third-party liability insurance to be included with your rental.
You'll typically find that Collision Damage Waiver (CDW) is included too, so you won't have to worry about your insurance.
💡
GOOD TO KNOW:
If you do not have your own full coverage insurance (like me), I recommend you
purchase it through Discover Cars
at the time of booking. It is super affordable, and I have actually had to use it in Finland before. I was paid back by Discover Cars within a week of submitting my claim.
However, some rental companies will offer more comprehensive insurance packages, which may include theft protection and a lower excess, so it's worth taking a look if you don't mind paying a bit extra.
If you don't want to add on additional insurance, the price will differ depending on what you include and which company you go for.
Lastly, we'd recommend keeping your insurance documents on you at all times, so that if anything were to happen, you have the insurance policy on hand.
Things to Know Before Hiring a Car in Norway
1. The Age Limit for Car Rental in Norway
The minimum age limit is one of the most important things to know when renting a car in Norway. You have to be 19 to rent a car in the country and also have had your license for at least a year.
Not only that, but some companies will only rent to you if you're over the age of 21, so you'll want to check that before you book.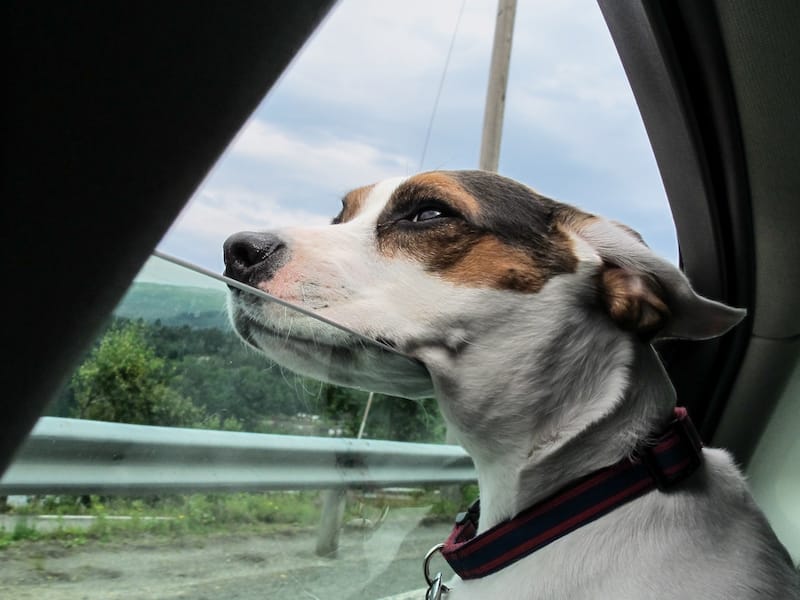 For those under the age of 25, you'll likely have to pay a young driver's surcharge fee too, which will add to the rental cost.
Your age will also have an impact on the type of vehicle you can rent so just keep that in mind.
2. Make Sure You're Aware of Winter Rental Requirements
In the winter, the weather in Norway is extremely harsh with plenty of snow, ice, and freezing temperatures.
Conditions tend to worsen as you head further north too, so that's something you'll want to be aware of.
If you're planning to visit Norway during the winter then it's a legal requirement for your vehicle to have winter tires. These tires will offer you more grip in snowy conditions.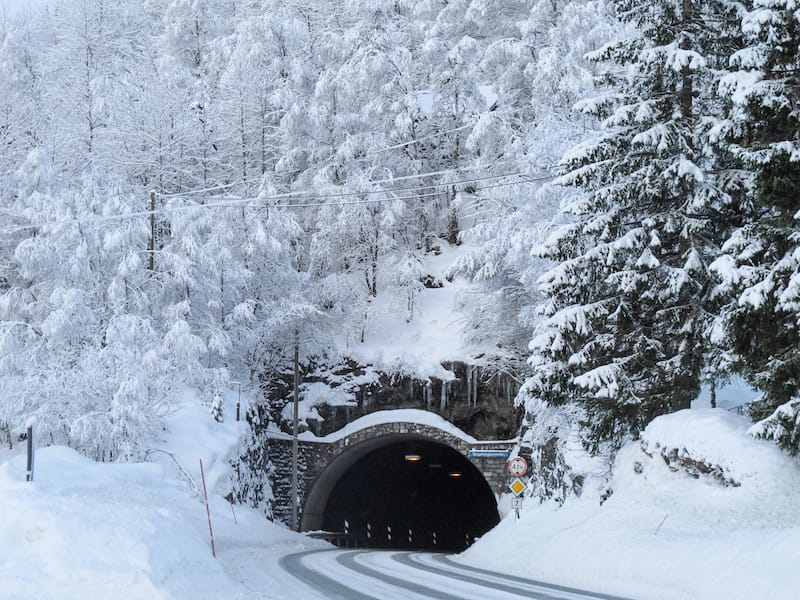 Snow chains aren't required though, so you won't need these.
Rental companies will be aware of the winter rental requirements anyway, but just make sure you double-check upon collecting your vehicle.
If winter tires haven't been fitted before collection, you'll be driving illegally.
3. Decide Whether You Require a One-Way Rental
Norway is one of the largest countries in Europe, so there's a lot to explore.
As such, many people opt for a one-way rental so they can pick the rental up in one location and drop it off in another.
Not only that but Norway is bordered by Finland, Sweden, and Russia, so some travelers opt to continue through Europe and extend their trip.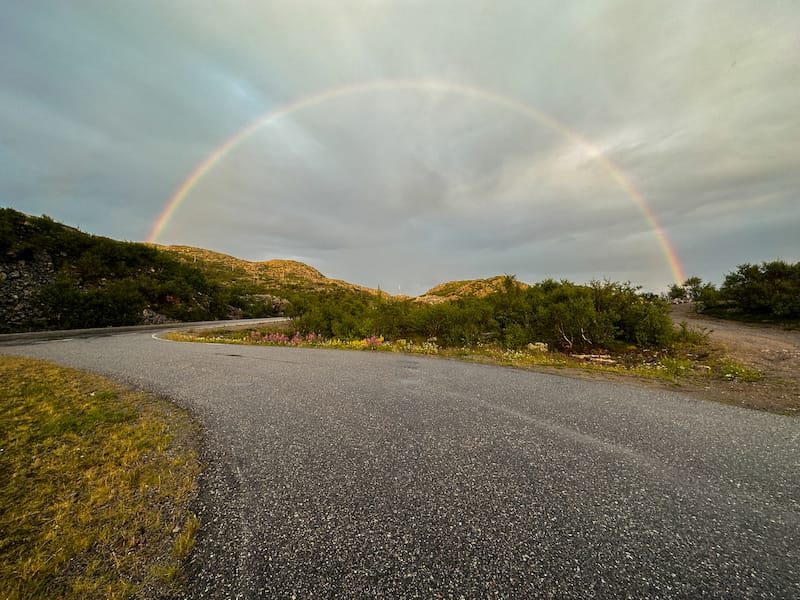 If that's the case, then you'll need to choose a company that offers one-way rentals, along with cross-country rentals.
Many rental companies do offer this, but you'll often find that it's more expensive.
Make sure you double-check this before you book, as you may invalidate your insurance if you head into another country without prior notice.
4. Renting in Norway (Tends to Be) More Expensive than in EU Countries
While you can find exceptions to this rule – it is generally more expensive to book in Norway versus renting a car in Finland, Sweden, or Denmark.
Also, if you're not an EU/EEA citizen, prices are almost always higher.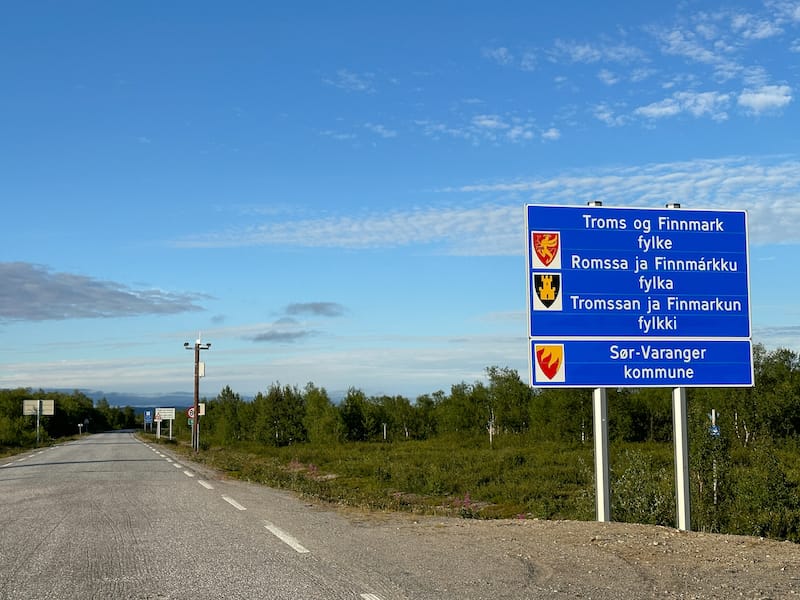 So, if Norway is not your only destination on your Scandinavia/Nordics trip, I highly recommend also quoting prices in another country and rerouting your trip to start and finish there, as opposed to Norway!
If you road trip from Finland/Sweden to Norway, you may have to pay an extra 'crossing borders' fee, but it is around 60 Euros or so and still can work out cheaper.
5. Book Early to Get the Best Deals
Public transport is extensive in Norway, but even still, many people choose to rent a car to get around. Not only does it offer you flexibility, but it often works out cheaper in the long run too.
As Norway is such a popular road trip destination, rentals can sell out quickly, especially during the summer. Because of this, we'd recommend booking your rental in advance to secure the best prices.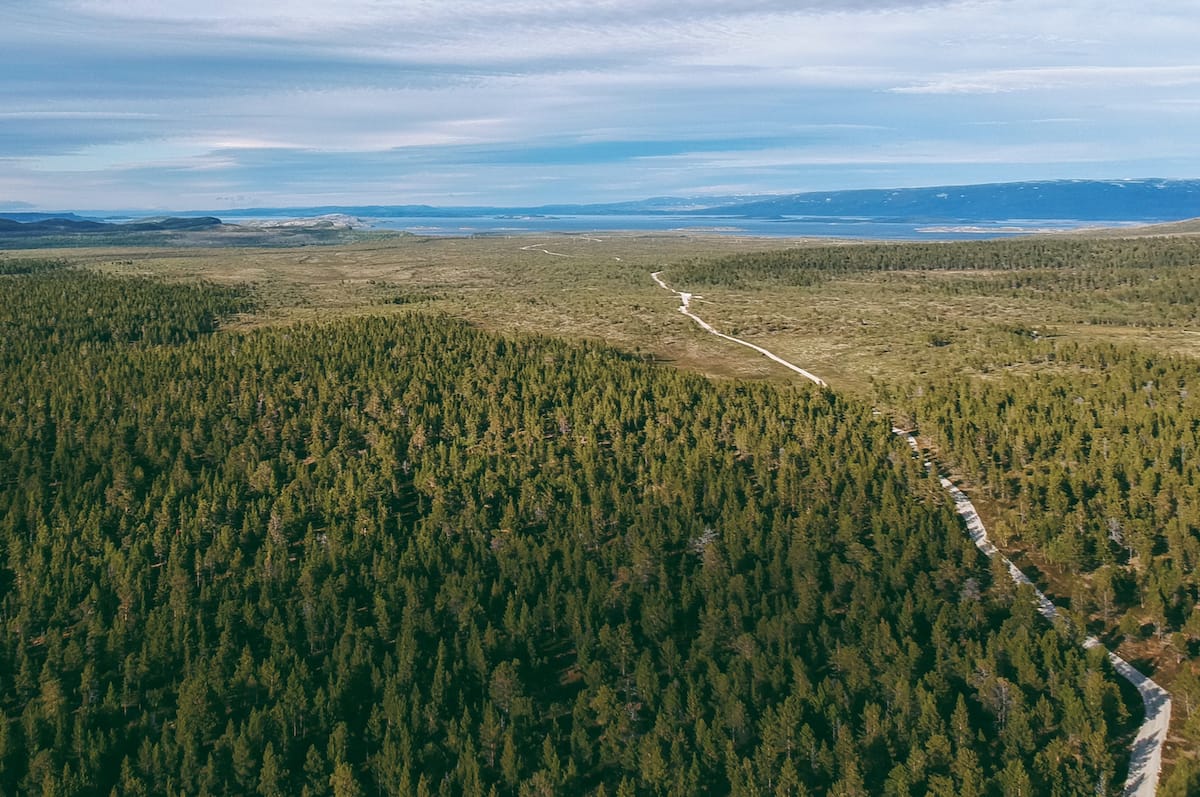 Whenever we travel, we use Discover Cars as we find it offers us the cheapest prices.
It's also really easy to use, as you simply need to input your dates and location, and you'll be given the vehicle availability for that time period.
6. Have an Idea of the Kind of Car You'll Need
Norway is one of the most mountainous countries in Europe, so it's a good idea to have a rough itinerary planned out.
That way, you can see whether you'll just be sticking to the main highways, or you're planning to venture off into more rural areas.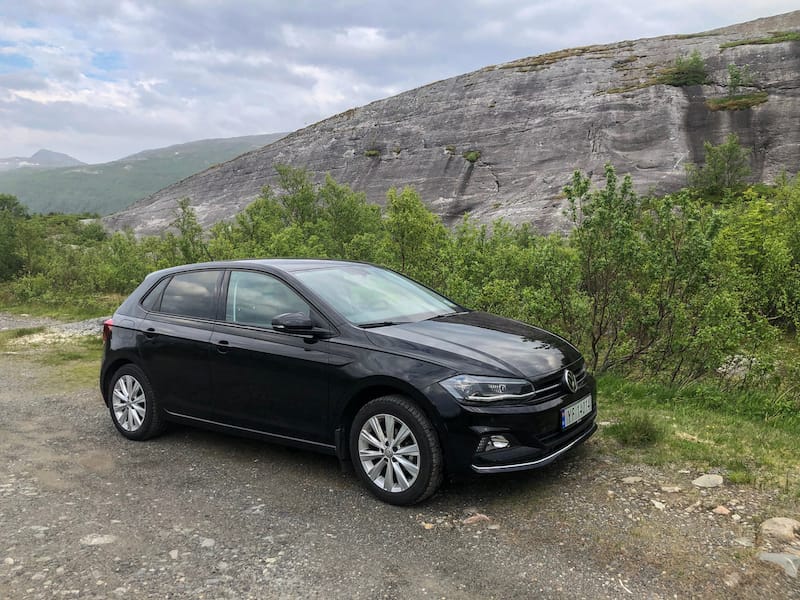 If you're planning to visit the major tourist destinations and are sticking to the main roads, then you can opt for a small car, as this will do you just fine.
For those planning to traverse Norway's mountainous regions (especially during winter), you'll come across steep hillsides, narrow lanes, and rugged terrain, so a 4X4 may be the way to go.
🚗 INSIDER TIP: I have never gotten a 4×4 in Norway and actually find that smaller cars work better for me. The roads in the west are NARROW and navigating a larger car is difficult. They also eat up gas.
However, these are often much more expensive so just keep that in mind.
7. Renting an E-Car in Norway
When renting a car in Norway, you may have the option to rent an electric car. Or, they may just ask you if you want the upgrade!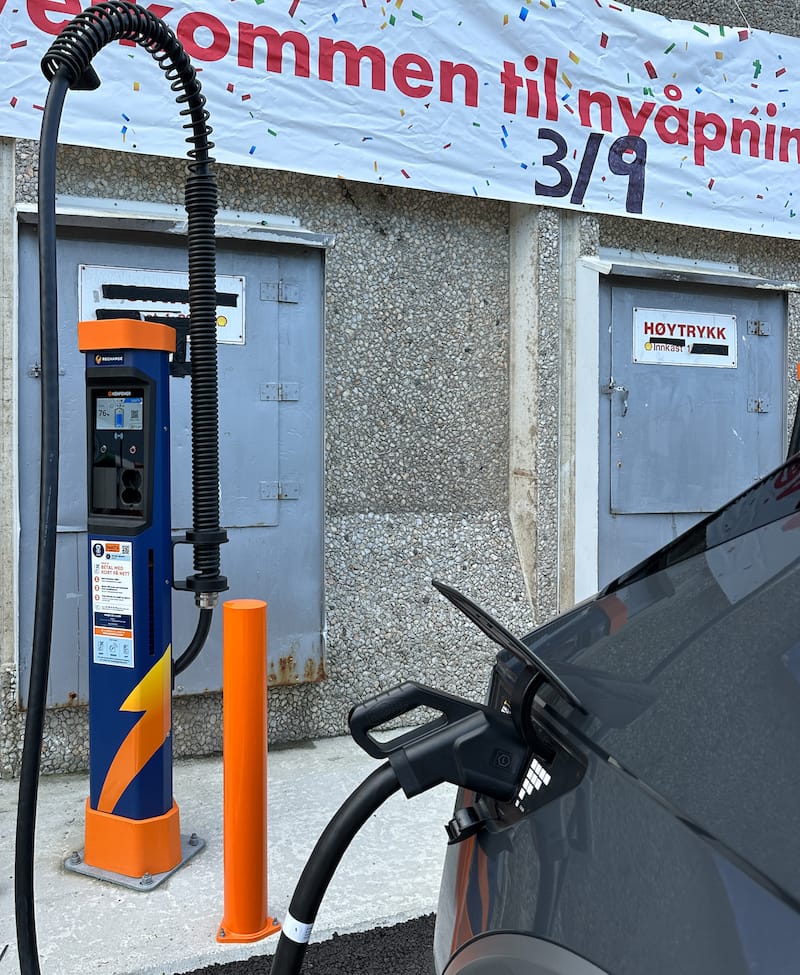 While this is a wonderful option, you will need to ensure you're comfortable and have the flexibility to charge your vehicle on your journey(s).
On my latest Norway road trip, I was asked if I wanted to upgrade to an electric car. I said yes!
Charging Your Electric Car in Norway
One thing that can be a bit daunting is finding places to charge your e-car. I recommend downloading the app 'Elton'.
With this app, you can plug in your route and it will show you charging stations along the way.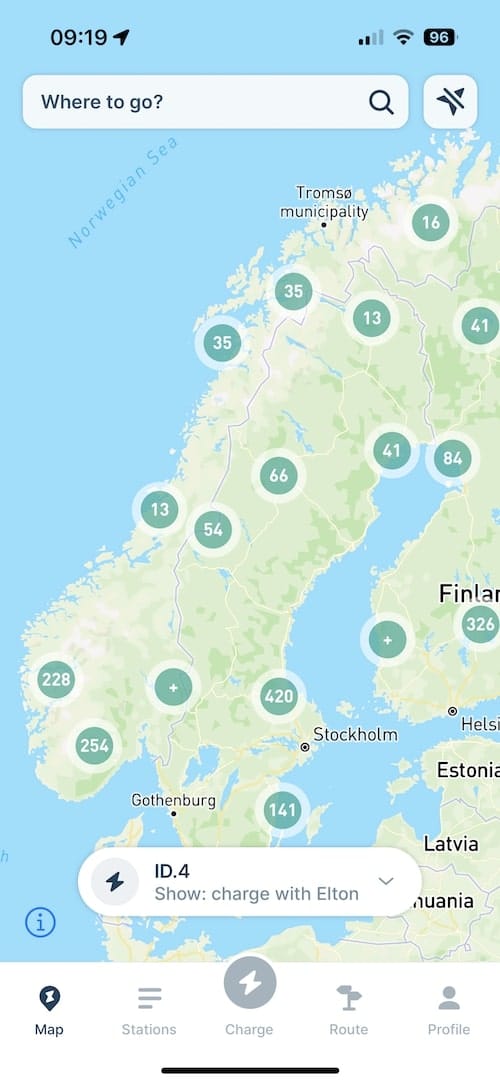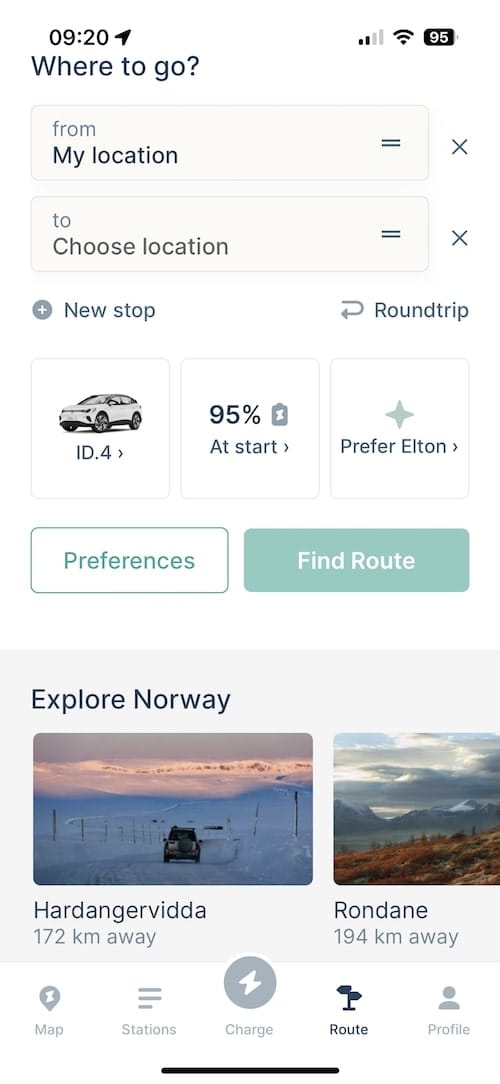 It also allows you to pay on there and sync everything in one place (I found my US card didn't work at many charging ports that were not on this app, to be honest).
Charging stations are not created equal – some are fast chargers (can do within 20-30 minutes) and others may require an overnight park.
So, plan your trip accordingly!
8. Make Sure You Check the Fuel and Mileage Policies Before You Book
No matter where you rent a car, you'll want to check the company's mileage and fuel policies. Although not typically the case for renowned companies, some rental companies can be rather sneaky with this!
The great thing about Norway is that the majority of companies include unlimited mileage so you won't incur any extra costs this way.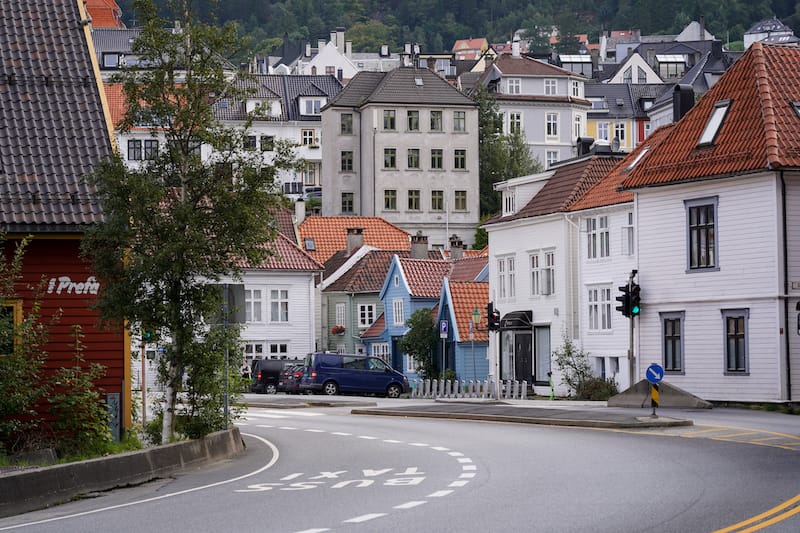 If you can, definitely opt for a rental that includes this so you don't have to worry about how many miles you do.
Before you book your vehicle, make sure you check the fuel policy too.
The 'full to full' policy is typically used, where you'll pick up the car with a full tank, and will have to return it in the same way.
9. How to Save Money on Car Rentals
If you're anything like us, you're always looking for more affordable ways to do things!
As we've mentioned previously, we find that Discover Cars tends to offer the cheapest prices, and we've had some great deals with them in the past.
BOOK HERE: Affordable rental car in Norway
Better yet, Discover Cars offers free cancelation so you can book your vehicle in advance, without having to worry about losing money if your plans change.
For those looking to save money, we'd steer away from one-way rentals as these can be more expensive.
Opting for a smaller car will also save you cash, although you may find that another vehicle is more suited to your needs.
10. Upon Collection, Inspect Your Rental
After you've booked your vehicle, all that's left to do is pick it up from the airport or rental depot. Before you take it from the pick-up point, make sure you inspect the vehicle first.
Some companies across the world are known to rent out poorly maintained vehicles, and then try to charge you for damages upon their return (Green Motion was problematic for me – I have had bad experience with this!).
Now, this isn't a 'known scam' in Norway, but it's best to be cautious.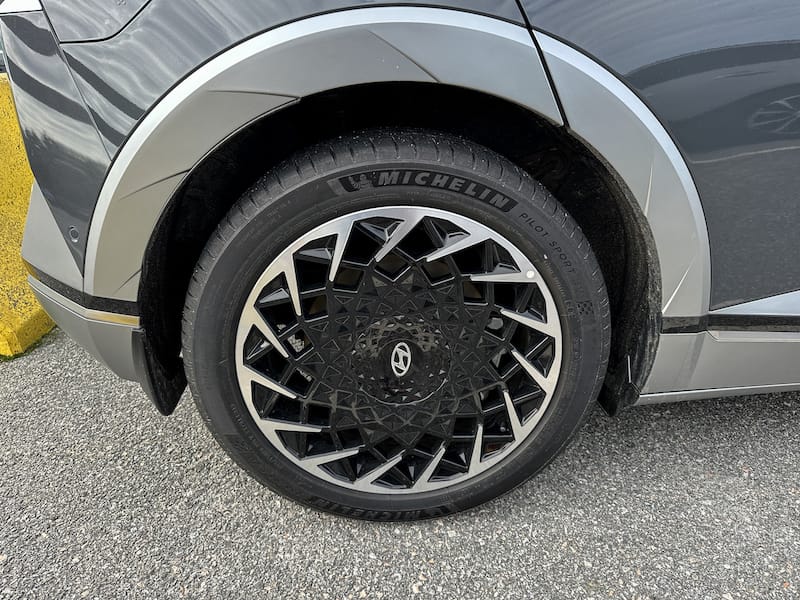 To avoid any issues like this, we always recommend taking pictures of the car, especially if you spot any damages, scratches, or stains.
Luckily, if you go with a reputable company, you're unlikely to encounter issues like this!
11. You'll Be Driving on the Right Side
If you're from the likes of Australia, Japan, or the United Kingdom, then you'll be used to driving on the left side of the road.
Like the majority of Europe, Norway drives on the right, so this will be an unusual concept for some!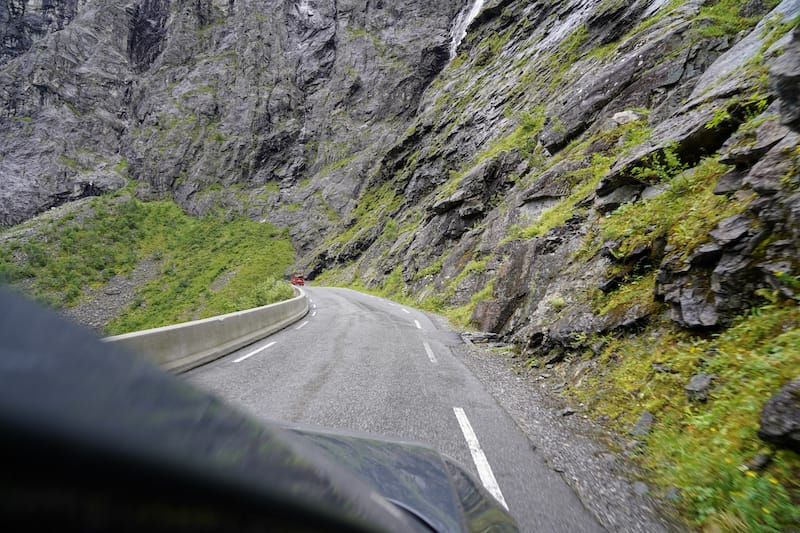 For those who aren't quite sure when it comes to driving on the right, it's best to pick up your rental and then take it somewhere quiet.
This way, you can get used to driving on the opposite side of the road before heading off on your adventure.
If you're feeling anxious about this, then it always helps to watch online tutorials and YouTube videos, so you can get an idea of the road rules.
12. Parking in Norway
Norway has plenty of parking lots, but not all are free of charge. If you're on a budget, ask your hotel/lodging where the nearest free parking lot is.
When renting a car in Norway, it is imperative that you pay all of your parking fees at the time of parking and you can not pay them in the end like ferries.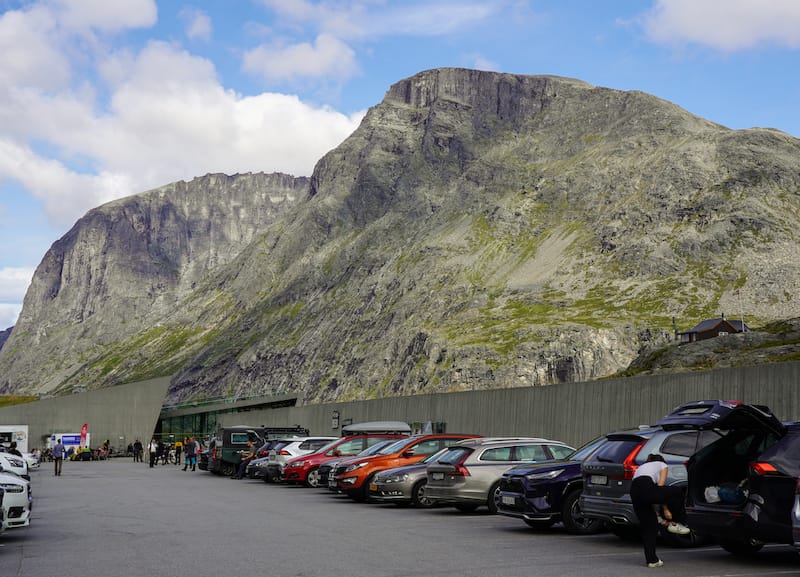 Easypark is an app that shows nearby parking garages and lots and allows you to pay right in the app.
I highly suggest downloading it before your trip!
13. Keep an Eye on the Speed Limit
The last thing you want on your trip is to be hit with a speeding ticket, so make sure you keep an eye on the speed limit.
Speeding is taken very seriously in Norway, and you'll find speed cameras posted up and down the country. The fines are also very expensive.
⚠️ GOOD TO KNOW: You may not see as many speed limit signs across Norway as you do in other countries. If you have a navigator/GPS, it will generally say the limit – but also just keep in mind to stick with 50km/h in urban areas and 80km/h outside of that unless you see otherwise.
Typically, within cities and urban areas, the speed limit is set at 50 km/h (31 mph). When it comes to open roads, this increases to 88 km/h (49 mph).
If you're driving along the main highways, then the speed limit is generally 90 km/h (55 mph) unless signs state otherwise.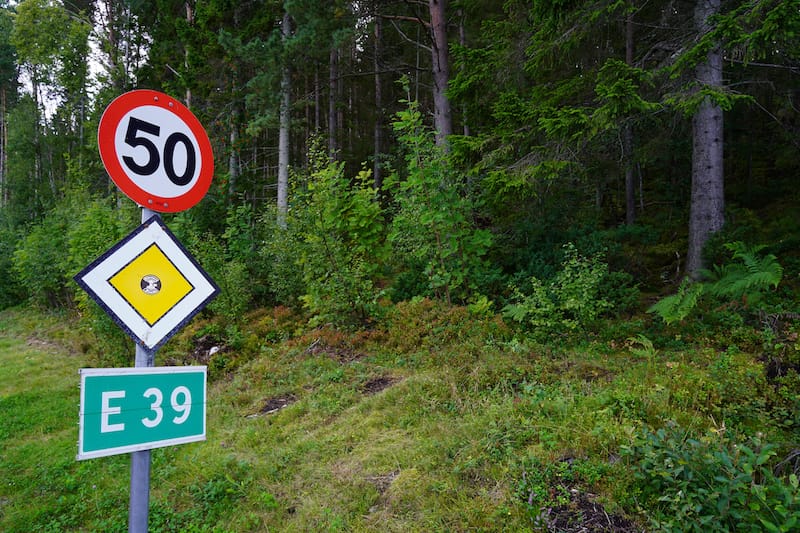 Parts of Western Norway tend to have lower speed limits than Oslo and places in the east.
For those traveling to Norway during the winter, you'll likely be driving below the speed limit anyway.
14. Look out for Potential Hazards
Generally, the roads in Norway are well-maintained but you'll find that some roads are very narrow, especially in the country's mountainous areas so it's important to exercise caution.
You'll also want to watch out for wildlife when driving through rural areas, as elk, moose, and deer have been suddenly known to jump into traffic.
🦌 GOOD TO KNOW: In Northern Norway, reindeer are quite common on the roads. I find they are more skittish than Finnish reindeer (that will camp on the road), but be on alert for them at all times!
For those exploring the Northern regions, reindeer herds also make their way onto the roads.
Driving in winter offers its own set of hazards including snow and black ice. The days are short during this time too, so you'll find yourself driving in darkness a lot.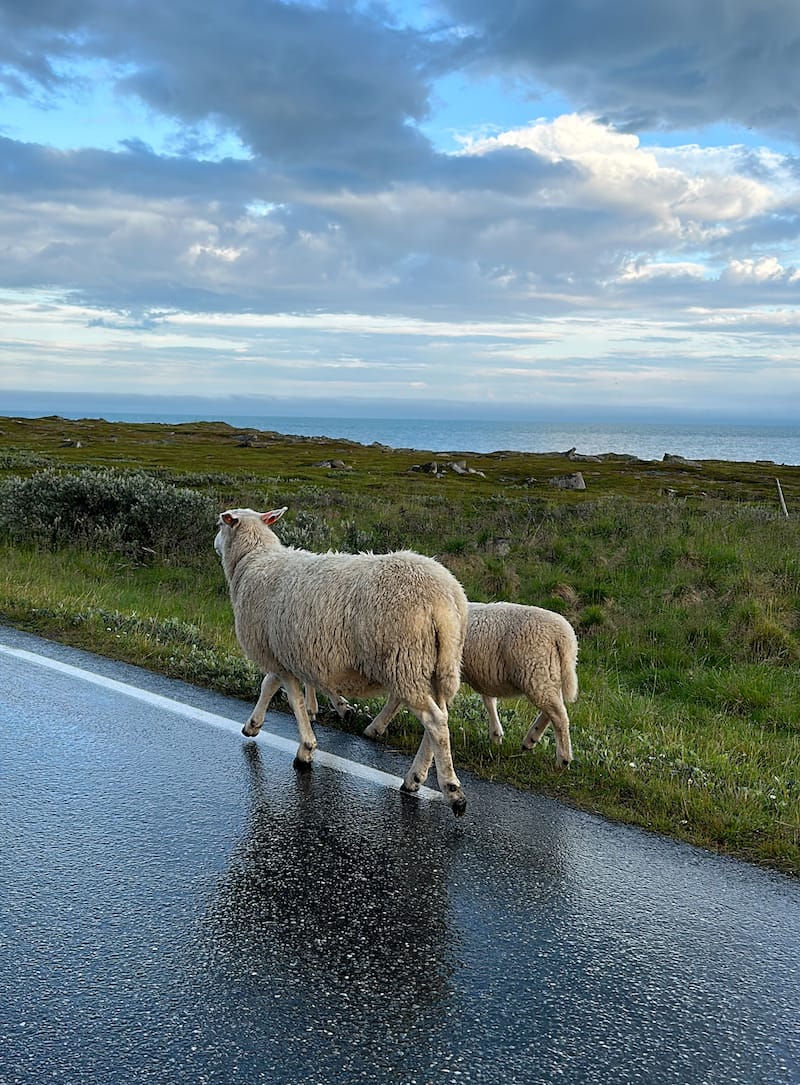 Another thing to be wary of is that there can be long distances between gas stations.
15. Sharing the Roads
In Norway, you will find SO many RVs and motorcycles.
A lot of Germans and Dutch come up this way for an extended vacation and will bring their campervans with them.
Just be very cautious going around sharp turns or blind spots as you never know when someone will sneak up upon you!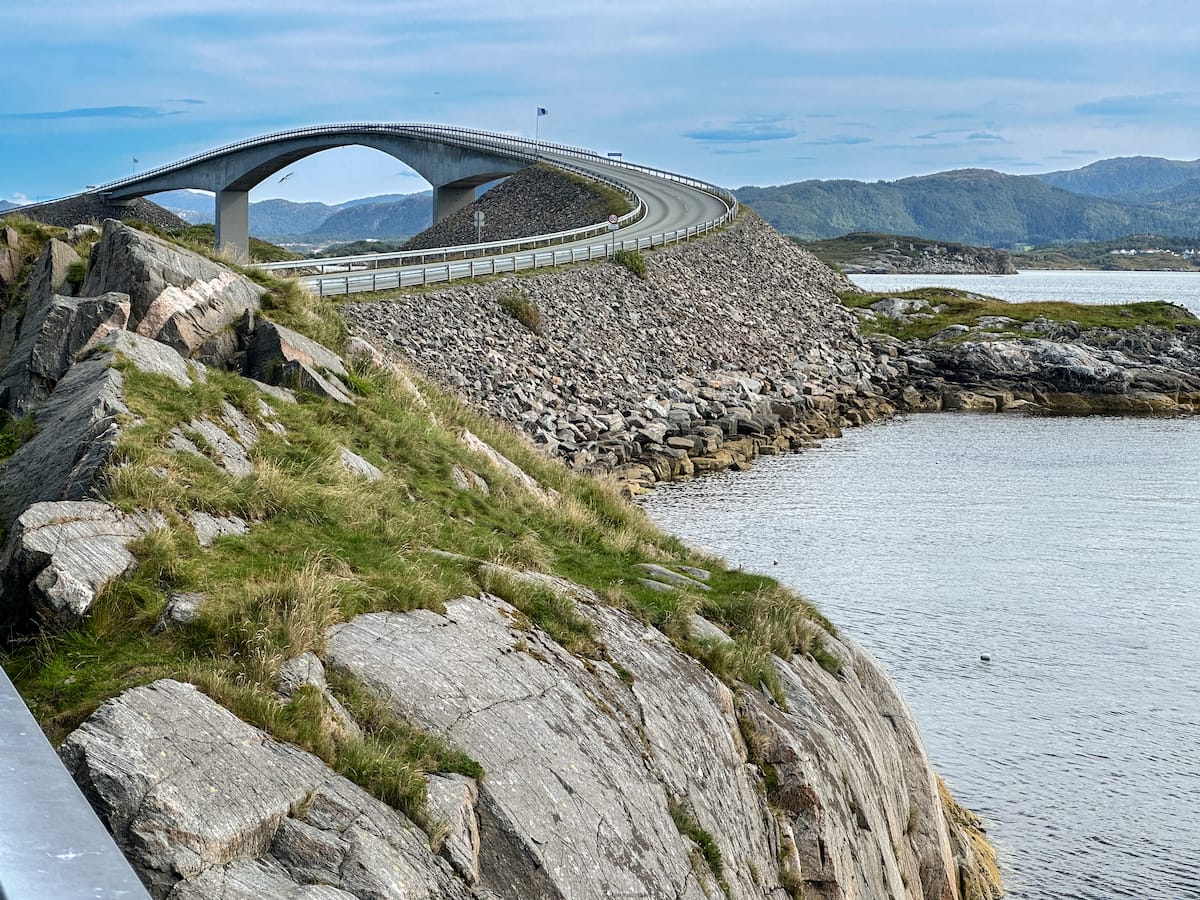 If you are in a very unpopulated area and there are many open roads – you can let those pass you by just pulling a little right and slowing down.
I wanted to take it slowly on the Varanger Peninsula and let everyone pass me so I could admire the scenery (and sheep).
16. You May End Up on a Ferry
Norway is home to countless islands (okay, there are actually 239,057 of them!) and you will inevitably end up on a ferry at some point – especially if you're traveling on the western side of the country.
Some islands are connected by undersea tunnels, some by bridges, and others by ferry.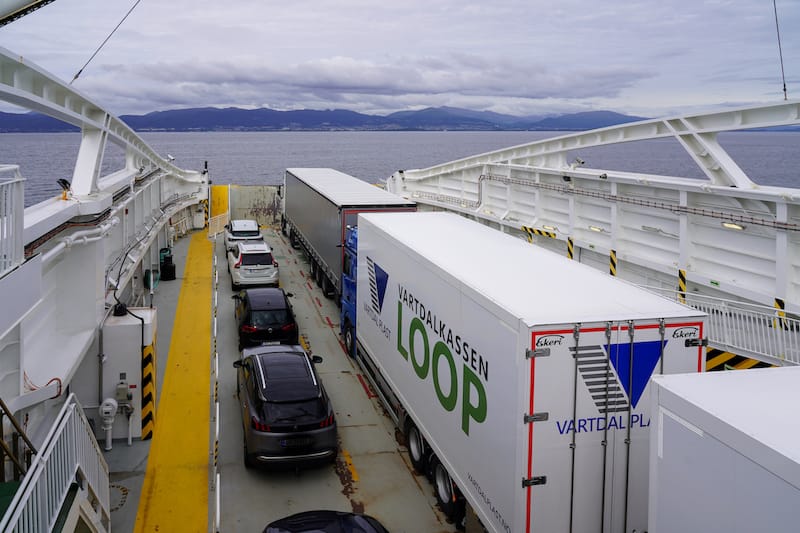 Fortunately, the process is easy (and pretty first-class – Norwegian ferries are incredible).
If you are renting a car in Norway, generally the vehicle will come with an autopass that covers these ferries. You WILL be charged the ferry tolls at the end of your rental period, however.
🔋 INSIDER TIP: In Norway, electric cars get significantly reduced rates on ferries. I was baffled at how cheap our ferries were when we got the bill at the end of our rental period when we had an e-car!
Chat with your rental car company at the time of pick-up to discuss this to verify all of that, however.
17. Make Sure You Have a GPS
Phone signal is pretty good throughout Norway, and you'll be able to get 4G and 5G in the majority of places.
However, if you're exploring the more rural areas of the country, then a phone signal isn't a guarantee which can be a real problem.
💡 GOOD TO KNOW: If you have a navigator on your car, you will also likely have the speed limit posted on the navigator. This is extremely helpful!
For this reason, we recommend having GPS during your road trip. This could be a handheld Garmin device or you could opt for a sat nav, although these will often incur an extra cost when renting a car.
This way, you won't be reliant on having an internet connection to get around, which is a huge bonus, especially if you're heading into the country's wilderness.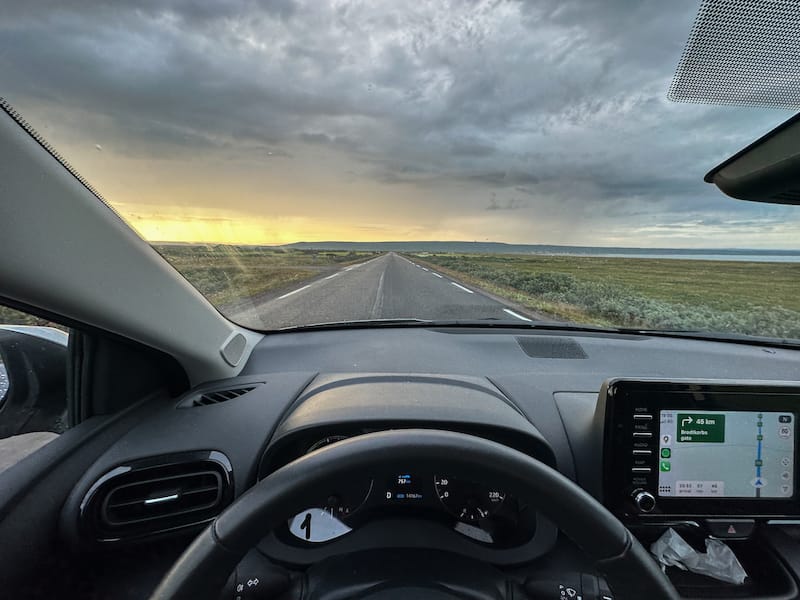 On the other hand, Google Maps (offline maps) works beautifully in Norway – so be sure to download one before you head out.
18. Create an Unforgettable Itinerary
Many people choose to start their Norway adventure in the capital of Oslo as this amazing city has so much to offer.
From there, you can then head all the way up the coastline, stopping at a variety of awesome destinations along the way.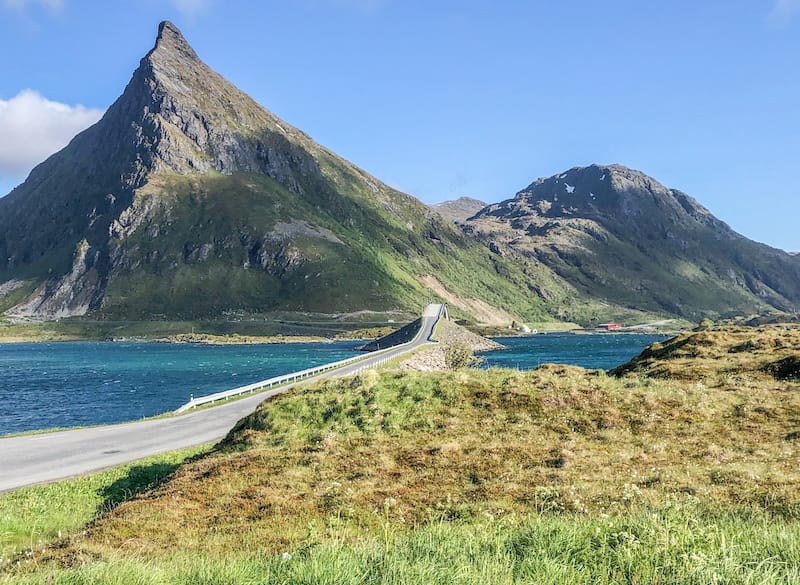 Some of the best places to visit in Norway include Bergen, Tromso, Stavanger, and Geirangerfjord (from Ålesund or somewhere else nearby).
Don't forget about the Lofoten Islands either which are home to some of the most dramatic landscapes in the country, as well as Norway's iconic fjords.
If you don't mind heading from the mainland, Svalbard is another fantastic destination.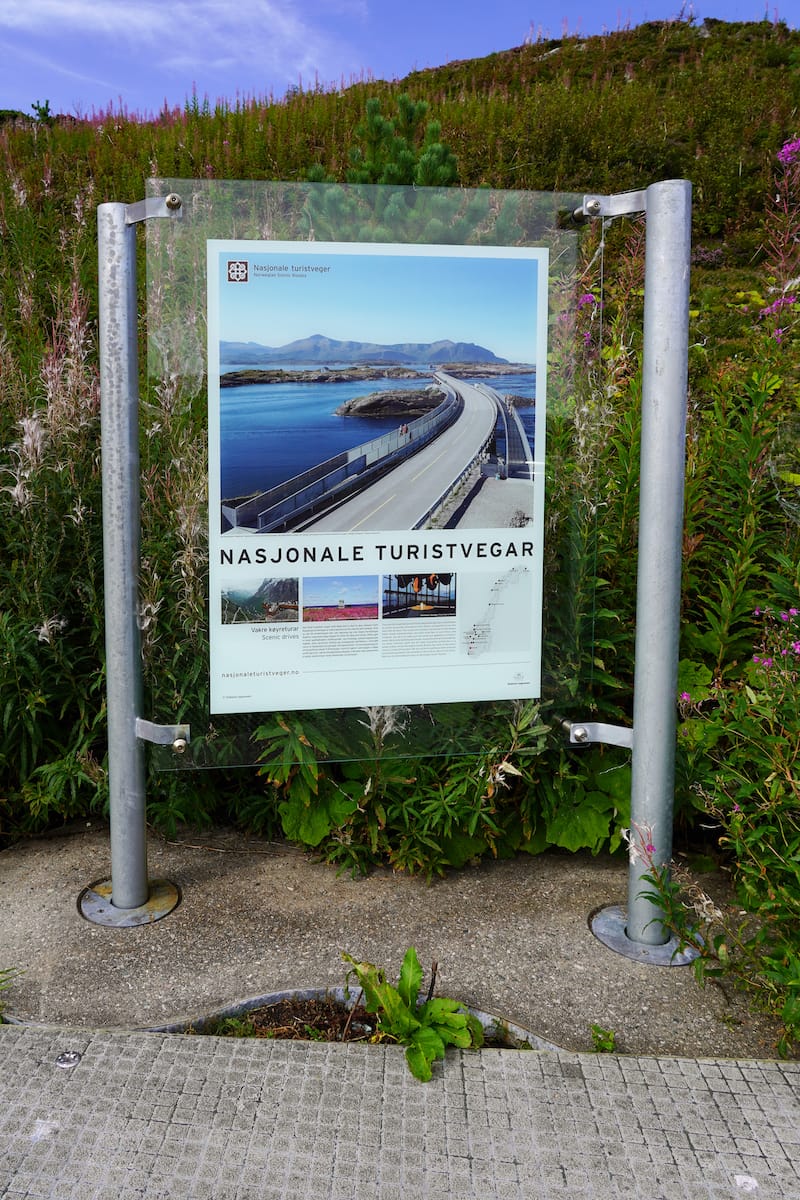 Although it's an island, you won't need your rental, as there aren't many roads anyway (and you can't leave certain areas without a guide).
19. Wild Camping in Norway (and Allemannsretten)
You are permitted to wild camp in Norway as long as you're not on anyone's private land (most land is public).
This is due to a right called Allemannsretten which means that every man has the freedom to the land in Norway.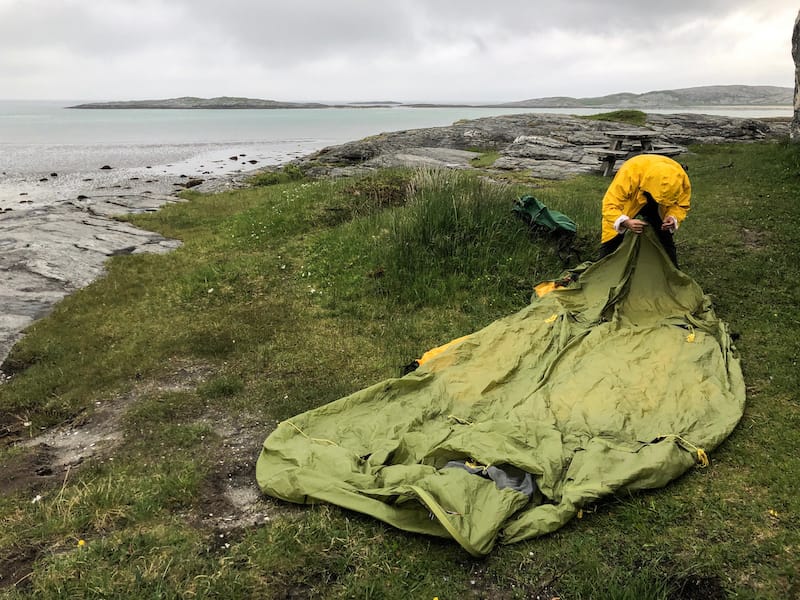 Therefore, you can pitch a tent anywhere that doesn't have a sign saying otherwise (and not close to houses).
Beware – you can NOT park RVs just anywhere.
20. Dropping off Your Rental
Now, it's time to drop off your vehicle. Of course, the location will depend on whether you booked a one-way rental so just keep that in mind.
The majority of travelers tend to fly in and out of Norway, so they pick up a rental at the airport.
After exploring, you'll then drop the rental off at the same location, which is really convenient especially if you've got a flight to catch.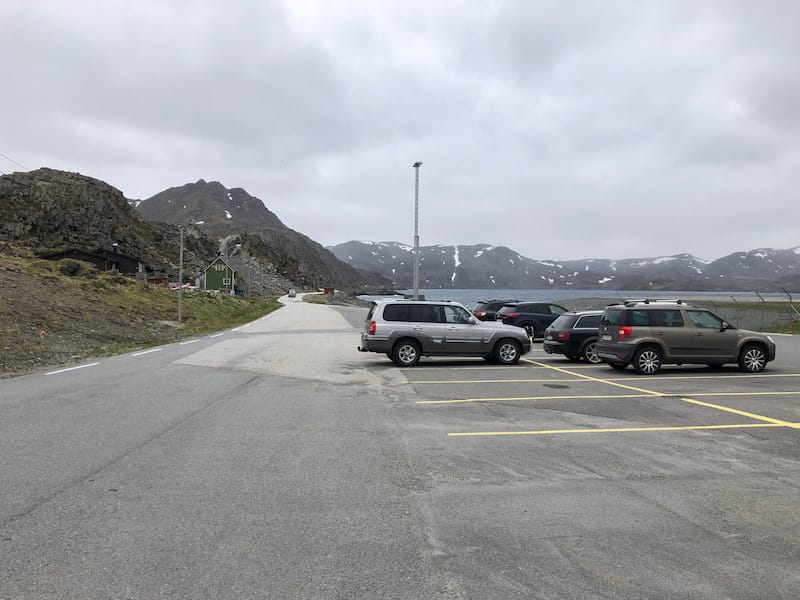 Before you sign any paperwork, the rental company will do a quick check of the vehicle to see if there's any damage.
If you're flying out of the country, allow plenty of time for this, just in case the company is running behind.
Did we miss anything you'd like to know before renting a car in Norway? Let us know in the comments!
More Norway Travel Guides
Pin this Norway Car Rental Guide