No trip to Northern Norway would be complete without a husky safari in Tromso!
This guide details what to expect when dog sledding in Tromso, including how to book the best tour for you and your group.
Planning your trip to Tromso last minute?
Below are some of the top tours, hotels, and more! Donʻt forget to plan ahead when visiting Tromso and nearby!
🇳🇴 Top Activities and Tours in Tromso:
🛌 Top Hotels in Tromso:
Radisson Blu (luxury)
Thon Hotel Tromso (mid-range – I have stayed here!)
Smarthotel Tromso (budget option – I have stayed here too!)
🚗 Visiting Tromso independently? Be sure to book your Norway rental car ahead of time to ensure availability!
In this guide, recommend the best dog sledding tours in Tromso for all types of travelers, regardless of whether you're fit and active or chilled out and just keen to relax on your Tromso winter vacation!
If there is anything we left out or if you have any questions about dog sledding in Tromso, please let us know in the comments or send us a message.
Should You Go Dog Sledding in Tromso?
No trip to the Arctic would be complete without dog sledding.
While this can be a bit controversial and I have had some issues with other animal activities in the Arctic, dog sledding is something I went into not wanting to do because I thought it would be unethical but is something I quickly realized was enjoyable and actually fun for the dogs.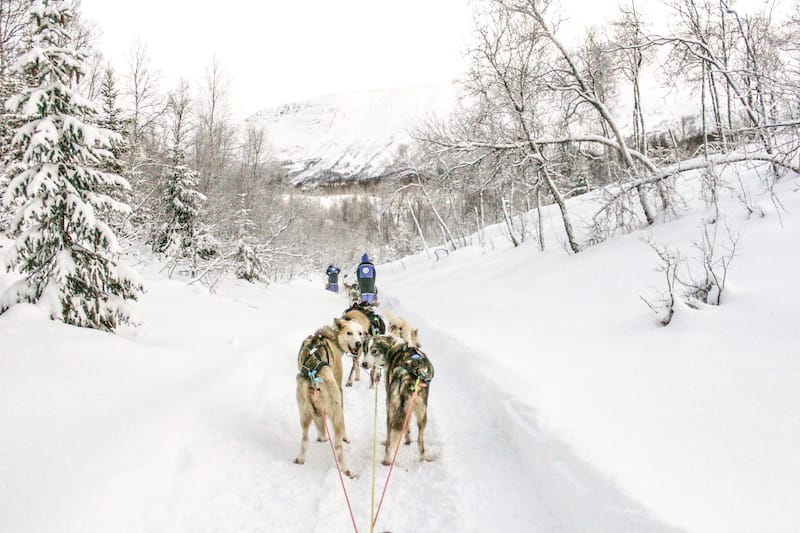 Dog sledding has been a way of life for many in the Arctic throughout history, with Indigenous people employing our furry companions to help traverse the wintry landscapes of the north for 9,000 years.
The specially bred dogs have been fine-tuned over the years to become the ultimate runners, able to move quickly through the deep snow and follow migration routes that have been used for centuries under the watchful eyes of their handlers.
While there are many dog breeds used in husky sledding, when you are dog sledding in Tromso, you will typically find the Alaskan Husky pulling your sled.
Although roads have now been built in Northern Norway, you will see many Sami (the Indigenous people of Northern Norway and the Nordics) using dogs to herd their reindeer south each season.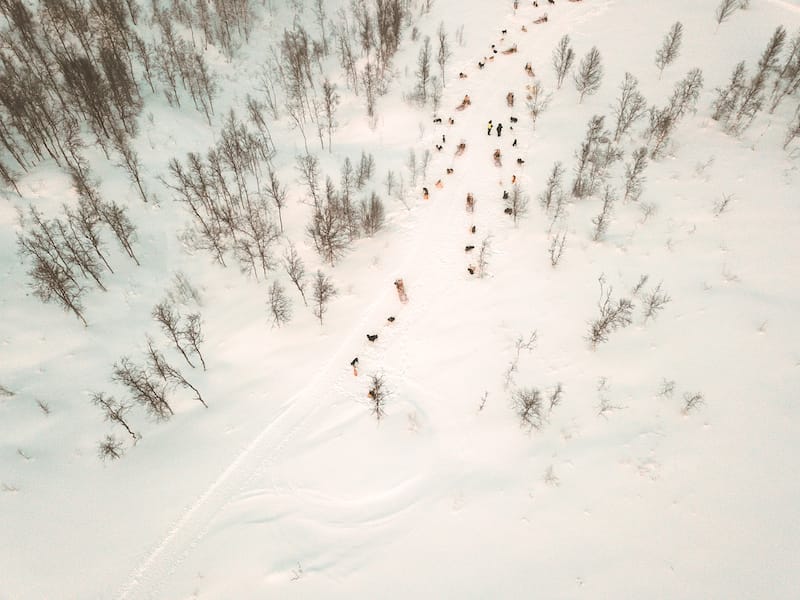 However, as tourism has grown in the Arctic, dog sledding businesses have popped up to provide tourists with this unique and enjoyable experience.
It truly will be one of the most memorable things you will ever do on any of your travels, so I highly recommend it!
Tromso Dog Sledding Tours (in this Guide)
To be honest, there are so many tours for those looking to go dog sledding in Tromso… but I think there are only a few that are worth the price.
And many of these tours are 'combos'. We can recommend combo tours all day long, but at the end of the day, we believe that the Tromso dog sled companies are experts in just that – dog sledding.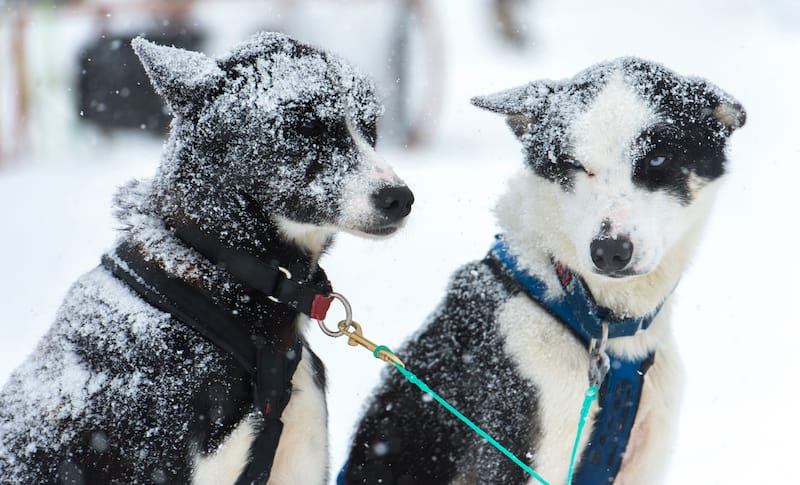 Each and every tour on this guide is run by people who live, eat, and breathe dog sledding adventures.
The company will often contract the journey out to a family or professionals who are experts in what they do.
We highly recommend booking one of these half-day tours alongside another tour in the evenings (we recommend some throughout).
The price of a combo tour is usually the same as booking two separate tours, anyway. And, if something goes awry, like a lack of snow, your entire tour is not a miss!
Here is a quick list of the tours we recommend in this guide:
Here are some tour recommendations based on regulations and skill level:
Best Tromso dog sledding tour for kids: We recommend this one that is 2 hours long or this one that is guided and only 1 hour long.
Best Tromso dog sledding tour for travelers who are not active: We recommend this tour for those who are not in great shape or active. You will be a passenger and not have to do any of the mushing.
Best Tromso dog sledding tour for active travelers: This half-day tour is self-guided and a fantastic option. Also, this full-day tour is a great option for those who are looking for a longer experience and adventure.
Best Tromso Dog Sledding Tours (Half-Day Options)
1) Dog Sledding Day Excursion in Tromso (Most Popular Option!)
Duration: 4.5 hours
Languages: English
Seasonality: November-April
Meeting Point: Scandic Ishavshotel in Tromso
CHECK PRICES HERE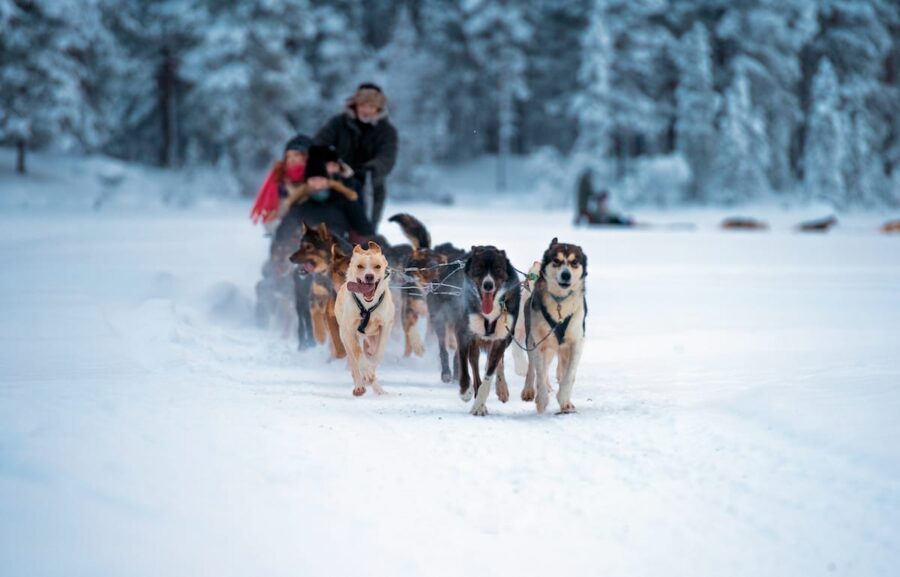 This is one of the most popular Tromso dog sledding tours and it is run by Arctic Travel Company.
You will be picked up at Scandic Ishavshotel and will be transferred out into the wilderness to a husky farm! There are multiple time slots to choose from for this tour.
No experience is needed as you learn to be a musher (driver) of the sled or you can sit back and relax throughout the 2-hour journey that takes you on a Norwegian wilderness adventure.
Once your trip is over, you will have a chance to enjoy delicious chocolate cake along with some coffee and tea before arriving back in Tromso.
They will provide warm clothing for you but don't forget a hat and gloves! There will be two people per sled and you can take turns mushing!
The minimum age is 7 and people of all fitness levels are welcome!
Good to know: This trip has multiple start times but I recommend going as early as possible which will give you plenty of time to relax, have dinner, and then set out for an evening northern lights trip!
This is the best way to maximize your time in Tromso.
2) Morning Guided Dog Sledding in Tromso Excursion
Duration: 4 hours
Languages: Norwegian, English
Seasonality: November-April
Meeting Point: Scandic Ishavshotel in Tromso
CHECK PRICES HERE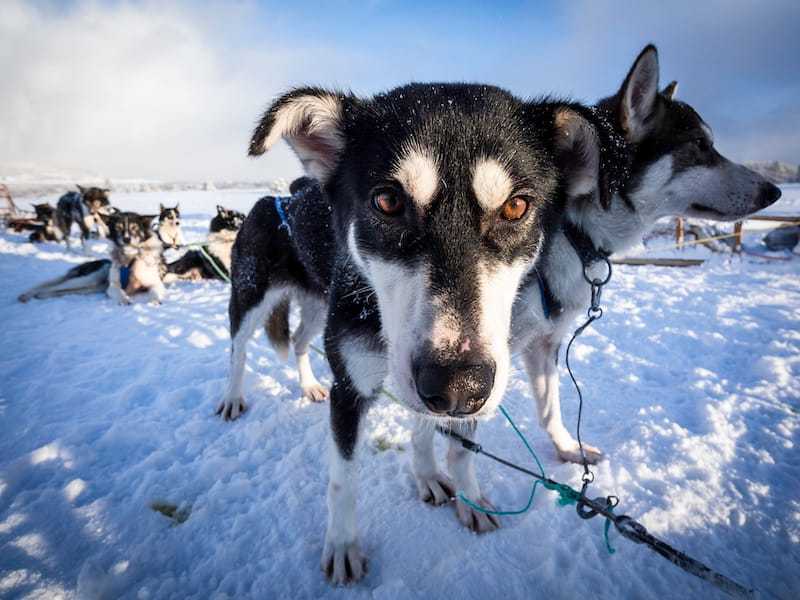 Operated by Norwegian Travel, this husky safari is a fantastic pick if you're looking for a half-day tour around some of Northern Norway's finest scenery.
The tour leaves from Radisson Blu and will guide you out to Breivikedet where you can admire the endless landscapes.
You will be a dog-sledding passenger and will have around one hour of thrills as you and your team of dogs wind through the Norwegian landscapes.
Professional guides assist and make sure your journey is comfortable but extremely enjoyable!
After the journey wraps up, you will get a chance to hang out with the dogs and will have a chance to try a delicious cake. You'll be able to enjoy it around a fire.
This is a more relaxed journey than the one mentioned above, so it is meant for younger kids, families, the elderly, and those looking to photograph their experiences.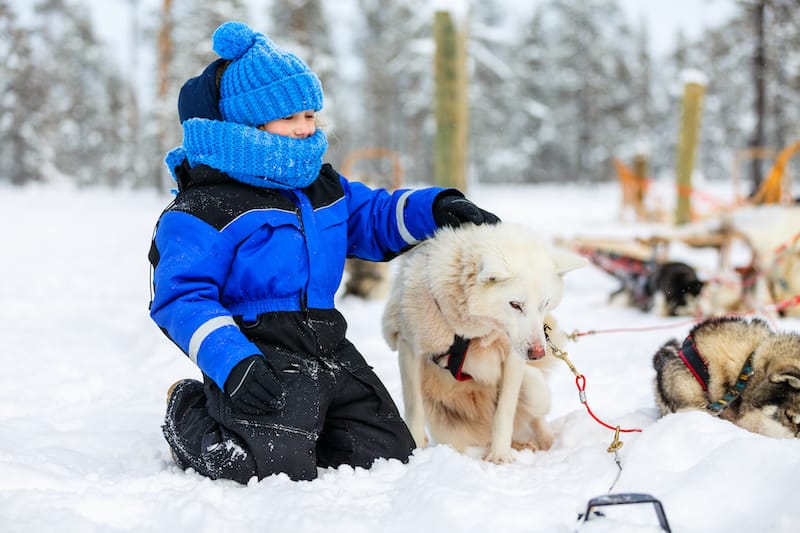 You will be given a meeting time prior to the journey and all transport to and from Tromso is included. There are multiple time slots to choose from!
The company will also provide warm clothing but please do bring some wool (long underwear) to keep warm!
Good to know: This is the best Tromso dog sledding tour for children and elderly travelers. You will be a passenger on the journey and won't have to do the physical labor (which, trust me, is challenging!)
Book this alongside an evening northern lights tour and you won't regret it!
3) Morning Self-Drive Dog Sledding in Tromso Tour
Duration: 4 hours
Languages: Norwegian, English
Seasonality: November-April
Meeting Point: Radisson Blue (Sjogata) in Tromso
CHECK PRICES HERE
If you're an active traveler, this is the best Tromso dog sledding tour for you!
The tour listed above was all about the relaxing ride as you're pulled by a team of huskies in Tromso. But this tour… is all about the action!
You will be transported to the snowy Norwegian landscapes with Tromso Wilderness Center where you'll end up on a husky farm.
You will be informed how to drive a sled and your partner and you can take turns driving and riding if you wish.
Your Tromso mushing experience lasts for about 1 hour (give or take 10 minutes) and when you're done, you'll have a chance to meet the dogs and get to know them (including the puppies).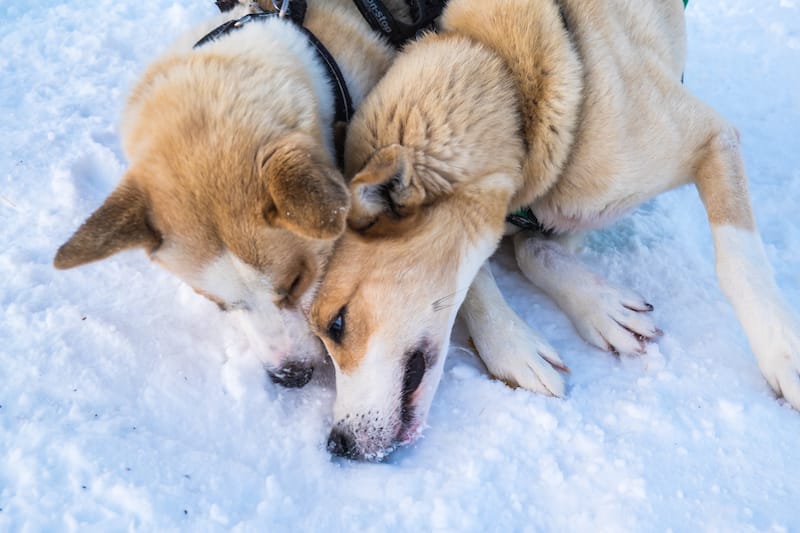 Then, you will have a hearty and hot lunch of Bidos, a reindeer stew.
For this journey, it is important to have good physical condition. If you're usually active, you should be fine. You must be 16 years of age to take this tour (no exceptions).
Outdoor clothing is provided but it is recommended to wear wool or something warm underneath.
Good to know: This tour leaves you room for another tour that same day! I definitely recommend a northern lights tour that evening.
This northern lights sailing excursion is fantastic if you're looking to get out on the water and opt for a different kind of journey.
If you're seeking a tour that is on land, this is one of the best northern lights tours in Tromso!
Full-Day Tromso Husky Sledding Tours
Full Day Dog Sledding Expedition in Tromso
Duration: Full day
Languages: Norwegian, English
Seasonality: March-April
Meeting Point: Radisson Blue (Sjogata) in Tromso
CHECK PRICES HERE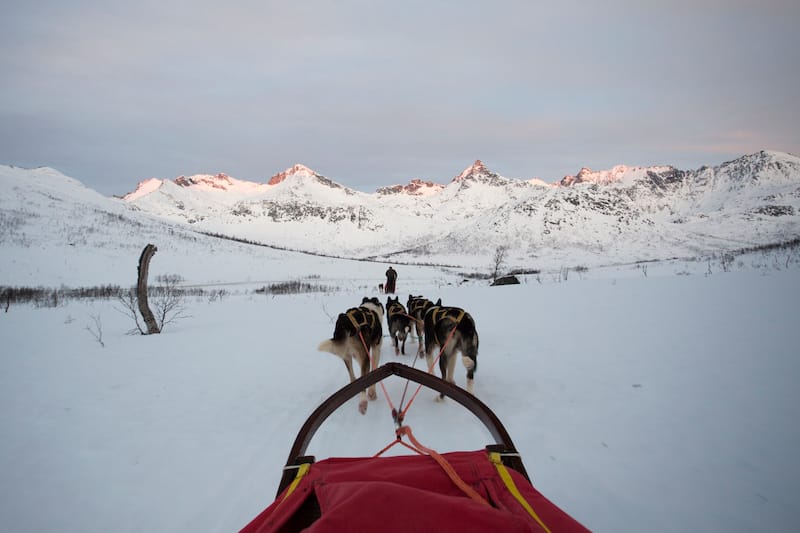 If you're in Tromso in early spring, this is a one-of-a-kind adventure that is perfect for the sportier traveler and the one who is ready for some thrills throughout Northern Norway's exciting landscapes!
You will have a full-day Tromso dog sledding trip ahead of you where you will be responsible for your own pack of huskies and will be able to do the mushing yourself.
The journey lasts for 6 hours and you will be winding over the scenery on Kvaloya (one of the largest islands in Norway).
After your Tromso mushing adventure is over, you will head to a lavvu (Sami tent) to enjoy Bidos (reindeer stew with veggies), sweet treats, and tea/coffee.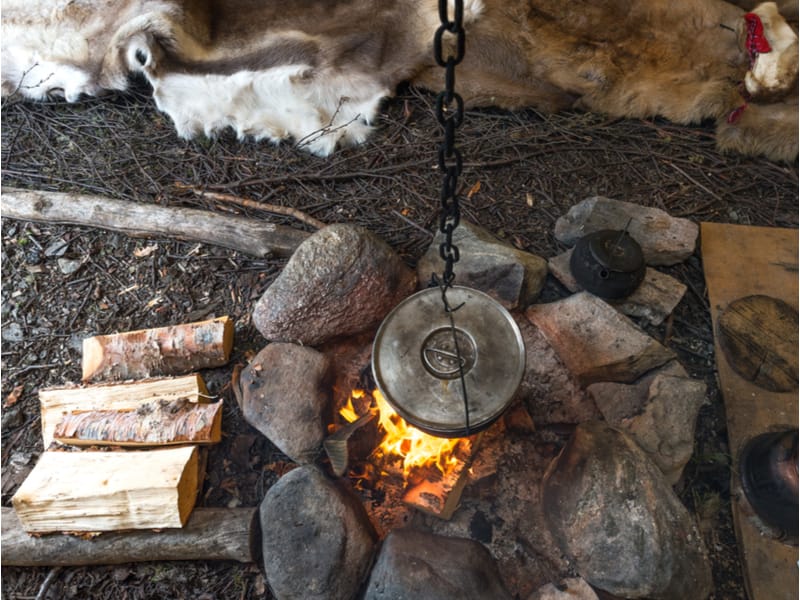 One of the best things about the experience is that you sometimes have a chance to see other wildlife along the way – even snowshoe hares, moose, reindeer, foxes, and more!
In order to book this tour, you must be 16 years of age.
Be sure to dress warm (wool is recommended), but they will have additional outdoor clothing to help keep you cozy throughout the journey.
Please ensure you are of the right fitness level to successfully complete (and enjoy!) this tour.
Tromso Husky Puppies Experience (Off-Season Option)
Puppy Training at the Husky Home
Is there anything better in this world than puppies? A rhetorical question as we know there isn't.
On this amazing excursion, you will be able to take part in training the next generation of sled dogs.
These little pups who have been born to race and hopefully be champions which require a lot of training and need to learn to work as a team if they are going to be successful.
With a guide, you will take the puppies on a hike in the mystical Arctic countryside. Along the way, you will play games with the puppies which will help their development.
Once you have completed the hike, you will have an opportunity to cuddle and play with the little pups.
The 4.5-hour excursion also includes lunch at the husky center. Please note that this tour is not available to book out of season.
What to Pack for Dog Sledding in Tromso
I am listing these suggestions based on the things I did bring with me and thought were a good idea in addition to the things I failed to bring along that I wish I had not forgotten at home or at my hotel.
You can also read my guide about what to pack for Norway in winter if you want to know more!
Dog Sledding in Tromso FAQ & Practical Info
Is Dog Sledding in Norway Ethical?
This is a tough question and I understand why many think it isn't. Is horseback riding ethical? It really depends on the person.
For example, I found my whale watching tour in Tromso to be a bit unethical in the way it was run.
I also found the reindeer sleigh experience to be a bit unethical and I don't recommend that part of the Sami experience, personally.
But dog sledding in Tromso? I had to find out for myself to see how I felt afterward.
What I found in Tromso specifically was that the dogs were well taken care of and Norwegian people had high standards for their treatment of these worker pups.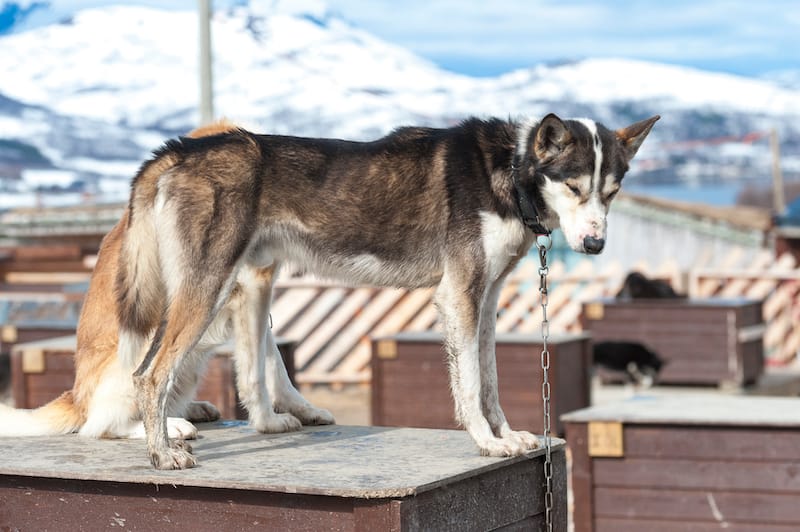 The dogs were SO excited to see us and were eager to get running.
They were barking loudly, tails wagging back and forth, and they all looked like I did on Christmas Eve growing up. This put me at ease and the entire journey was exactly this way.
The dogs all had names that matched their personalities, individual homes, and name tags on those homes. You could tell the owners took special care of each and every one of them.
I can not vouch for other destinations around the world, but I found dog sledding in Norway to be ethical.
Temperatures and Weather When Dog Sledding in Tromso
One thing that people don't realize is that the temperatures in Tromso will hardly reflect what you will experience on these tours as they are inland or in the countryside a bit. The temperatures are much colder!
When I went on my Tromso husky tour, it was -20C (or -4F). It was COLD. I had a huge parka on and they gave us some additional clothing but it was not the most enjoyable experience when it came to the weather.
By the end of the journey, my feet were frozen and I had to sit by the fire in the lavvo just to come back to temperature.
To be honest, I had been extremely sick prior to this with the flu, so I probably shouldn't have participated anyway.
But, I am glad I opted to do so anyway… it was a blast!
Can Kids Go Dog Sledding in Norway?
Yes, they can, but they will likely need to be accompanied by an adult or an expert musher. It is best to sign up for a 'guided' dog sledding tour in Tromso rather than a self-guided one.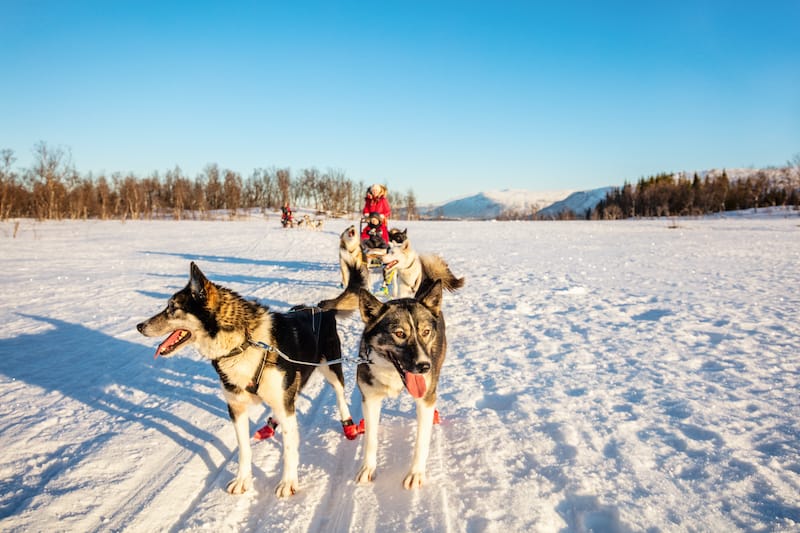 Please also note that many of the self-guided tours do not allow kids under 16 on them, anyway.
Is Driving a Dog Sled Hard?
If you opt for a self-guided dog sledding tour, you will have to navigate yourself and your sled. It is a bit challenging if you've never done it and are in lousy shape.
But, if you're in good shape, you will pick it up quickly and have no issue with the process.
Guided dog sledding tours are a great alternative if you're not sure your stamina can keep up.
Can You Go Dog Sledding in Summer?
No. But, you can go see the huskies in training by booking a tour to meet the puppies!
You will get to learn how they train from a young age for their future work (and you can play with them).
You can also do this during the shoulder seasons when snow is not around. I did this in autumn actually (but when I was dog sledding in Rovaniemi!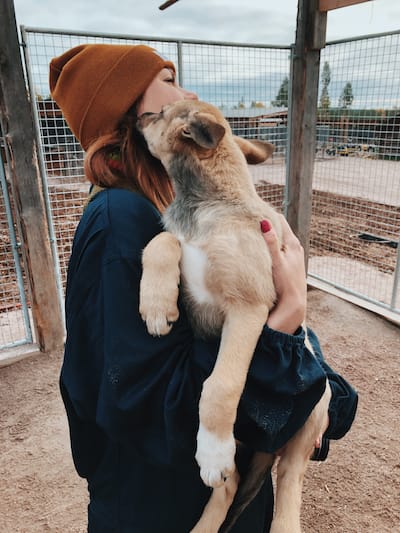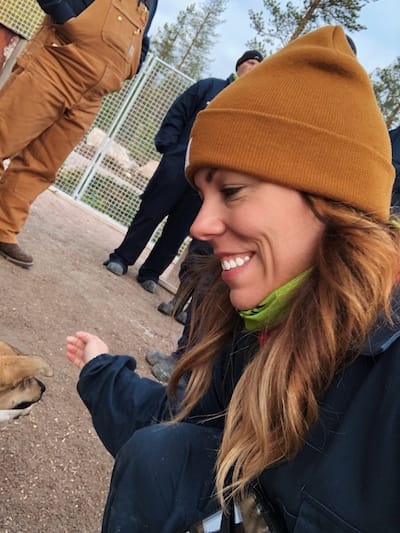 Other Tromso Winter Tours You Might Like
One of the greatest things about the city is that there is something for every type of traveler… whether they arrive solo, in a family, or as part of a couple.
These are a couple of recommended tours in Tromso we think you would like if you're keen on booking a Tromso husky safari:
There are so many great dog sledding in Tromso tours available that I hope this guide helps you choose the one that is the best fit for you and your group.
I honestly think that Norway is one of the best places to go dog sledding in Europe (and the world). God tur!
More Norway & Tromso Travel Guides
Pin this Dog Sledding in Tromso Guide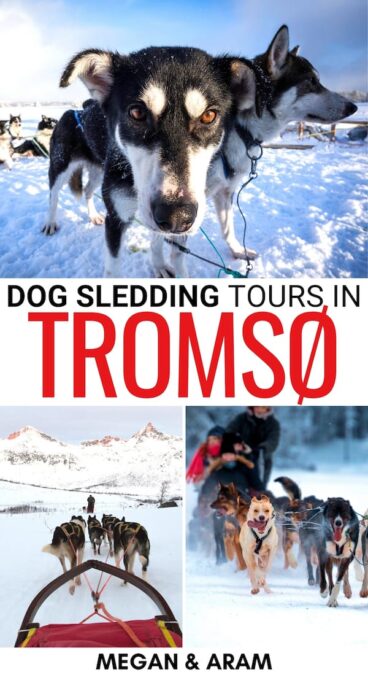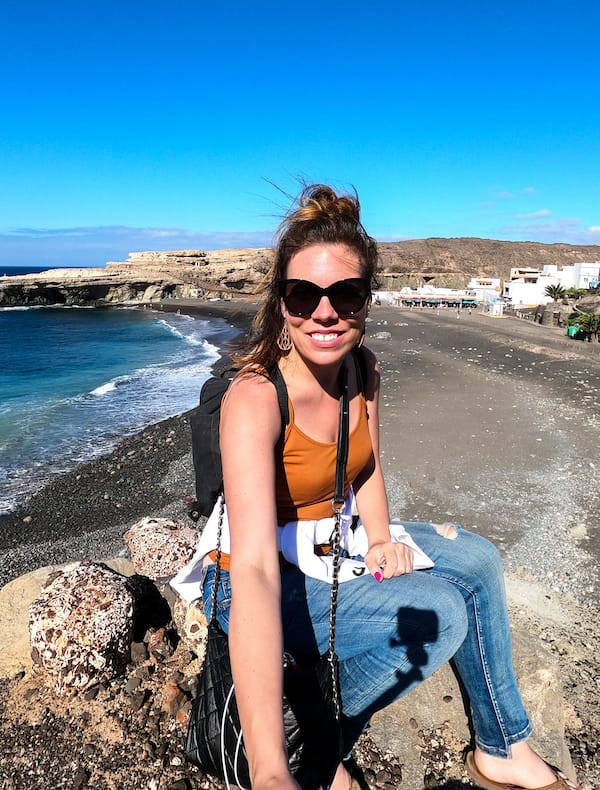 Megan is a travel blogger and writer with a background in digital marketing. Originally from Richmond, VA, she now splits her time between Frankfurt, Germany and Arctic Finland after also living in Norway, Armenia, and Kazakhstan. She has a passion for winter travel, as well as the Nordic countries, but you can also find her eating her way through Italy, perusing perfume stores in Paris, or taking road trips through the USA. Megan has written for or been featured by National Geographic, Forbes, Lonely Planet, the New York Times, and more. She co-authored Fodor's Travel 'Essential Norway' and has visited 45 US states and 100+ countries.