Are you looking for the best weekend breaks in Portugal for your upcoming trip? If you are, keep on reading!
These are the best Portugal weekend breaks that I have rounded up from some bloggers who love the country as much as we do!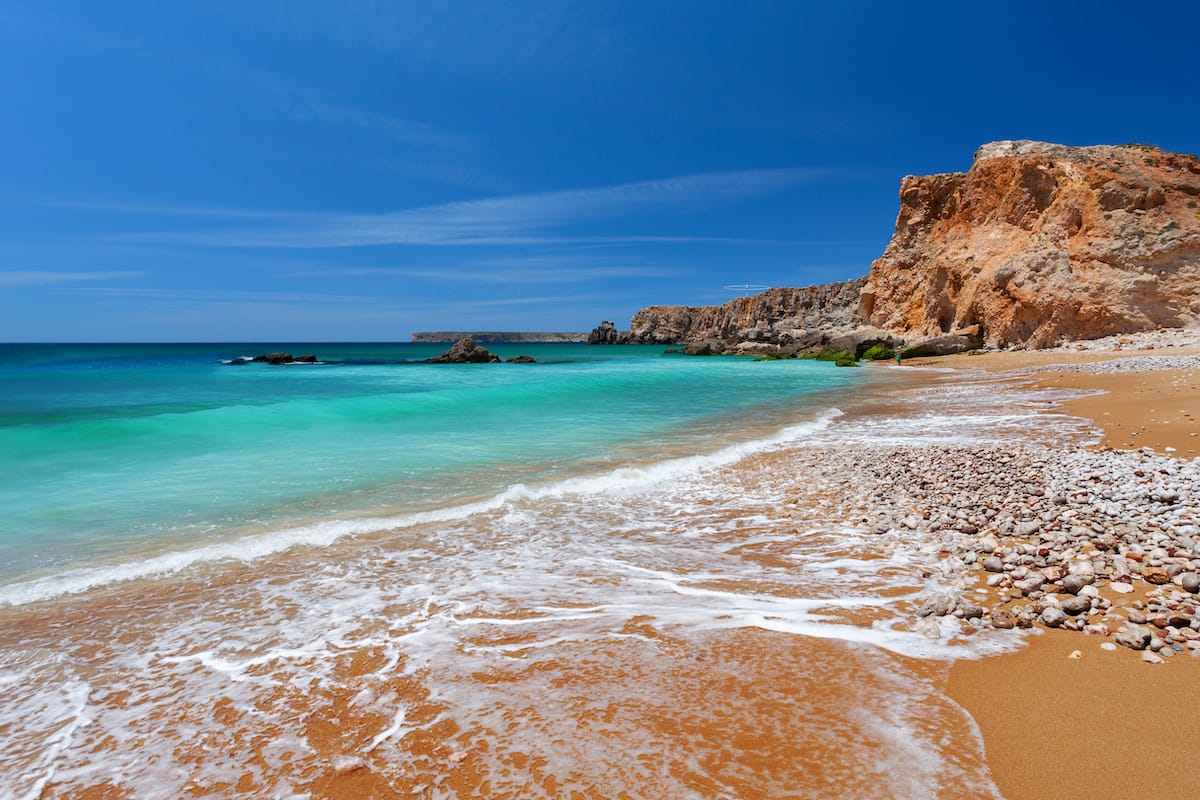 From small coastal cities to the capital city, these are some fantastic options for a weekend escape!
Did we miss any amazing weekend getaways in Portugal? Let us know your top picks in the comments (and why you recommend them)! Thanks!
Best Weekend Breaks in Portugal
1. Tavira
Tavira highlights: Tavira Castle, Praia do Barril, Praca da Republica, Tavira Island
Recommended by: Linn from Amused by Algarve
Tavira is located in southern Portugal and is a wonderful place to go for a relaxing weekend break in a less-crowded part of the Algarve.
There are a lot of wonderful things to do in Tavira. The town center is beyond charming and getting lost in the streets will take you through the old Fisherman's quarter where you will see the traditional tiled houses.
Take a walk in the gardens of the ruined Tavira Castle and climb the castle walls for city views.
Nearby, you will find the Camera Obscura where you can see the city from a different perspective.
Make sure you cross the Roman Bridge to the other side of the river where you will find most restaurants and bars!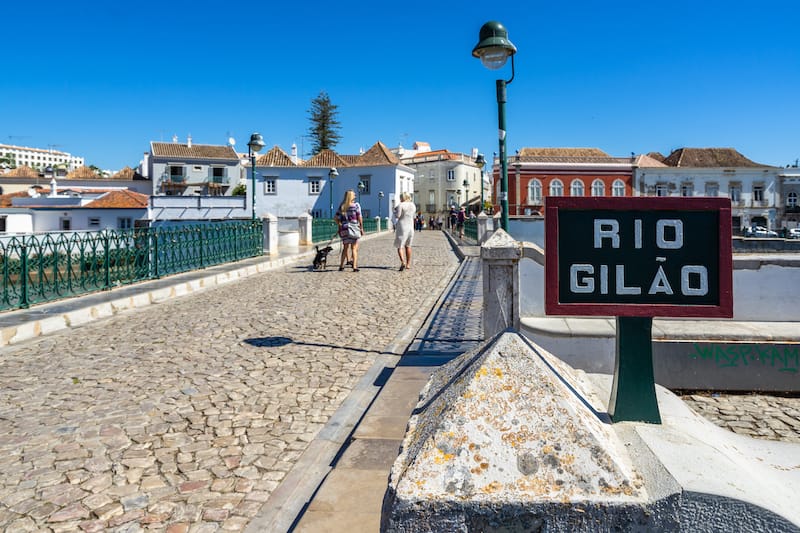 However, a real hidden gem you should try out for lunch is the little vegan and zero-waste shop Veganices. They have a couple of outside tables and exquisite eco-friendly, vegan food on the menu!
But, the main attraction of Tavira is Tavira Island which forms part of Ria Formosa Natural Park.
You can take the ferry straight from the town, which will take you to Tavira beach, or you can drive past the tiny fisherman's village of Santa Luzia to walk or take the little tourist train across the island to the quirky Anchor Cemetery.
Where to Stay in Tavira
A good place to stay in Tavira is Al-GharbTavira Eco GuestHouse right next to Tavira bus station and within walking distance of all the attractions in town.
>> Discover the best Tavira hotel options here
2. Lisbon
Lisbon highlights: Jeronimos Monastery, Belem Tower, Castelo de S. Jorge, Santa Justa Lift
Recommended by: Editors' Choice
Lisbon is a beautiful place with colorful streets ready for you to explore! Regardless of whether you visit Lisbon in winter or summer, there is an endless number of things to do!
It's a hilly city, which makes for some great viewpoints across town. Start your weekend in Lisbon by getting to know the city by tram– take the historic Tram 28 line and marvel at the beautiful palaces and interesting people you will pass.
Visit one of the famous "miradouros" (outlooks), such as Miradouro das Portas do Sol or Miradouro de São Pedro de Alcântara, for gorgeous views.
Another interesting place with great views is St. George's Castle, which sits at the top of the Alfama district overlooking the city. This old fortress was first built over 2,000 years ago and has many layers of history to explore.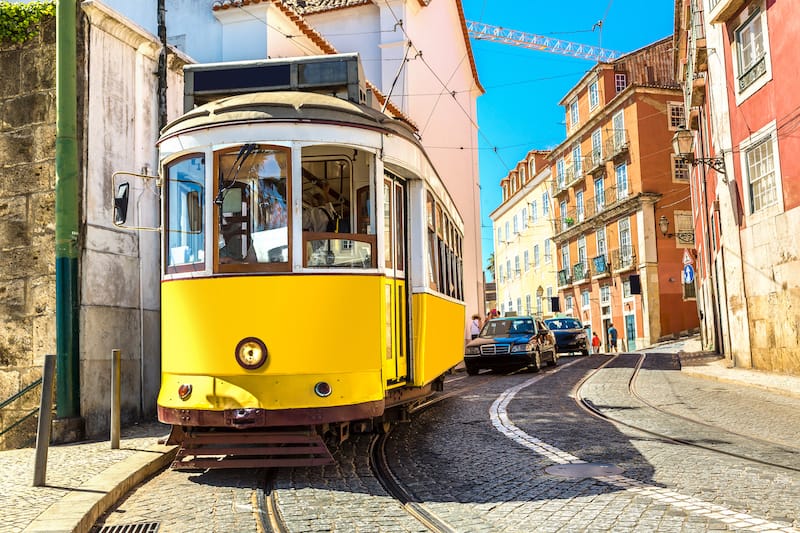 To get a taste of Portuguese cuisine, check out the food market hall Mercado de Campo de Ourique, where you can sample different types of Portuguese foods.
Don't forget to taste pasteis de nata, the world-famous Portuguese custard tart!
Enjoy a walk around the Belem neighborhood, which has fascinating landmarks like the Jeronimos monastery complex, the Belem Tower, several museums, and beautiful views of the Tagus River.
Admire the art and sculptures as you stroll around Praca do Comercio, or sit at a cafe and people-watch here at Lisbon's main square.
There are many day trips from Lisbon that you can embark on while there if you have more than merely a weekend!
Where to Stay in Lisbon
Jardim da Lapa Boutique Hotel is a fantastic option for accommodation where you'll find an outdoor swimming pool, spacious garden, and private parking. Rooms also have air-con and a breakfast buffet!
>> Discover the best Lisbon hotel options here
3. Lagos
Lagos highlights: Ponta da Piedade, Praia do Camilo, Meia Praia, Porto Mos Beach
Recommended by: Emily from Emily Embarks
Thinking about hitting the beach this weekend? Lagos is one of the most popular picks when it comes to the best weekend breaks in Portugal!
Located on the western coast of the Algarve, Lagos is world-renowned for its stunning beaches and vibrant nightlife scene.
Spend your days lounging on Praia do Camilo, a long stretch of sandy beach surrounded by gorgeous grottos, or exploring the historic Old Town.
While you're there, don't miss the iconic Ponta da Piedade, a series of stunning rock formations which are best viewed by boat or from atop the nearby cliffs.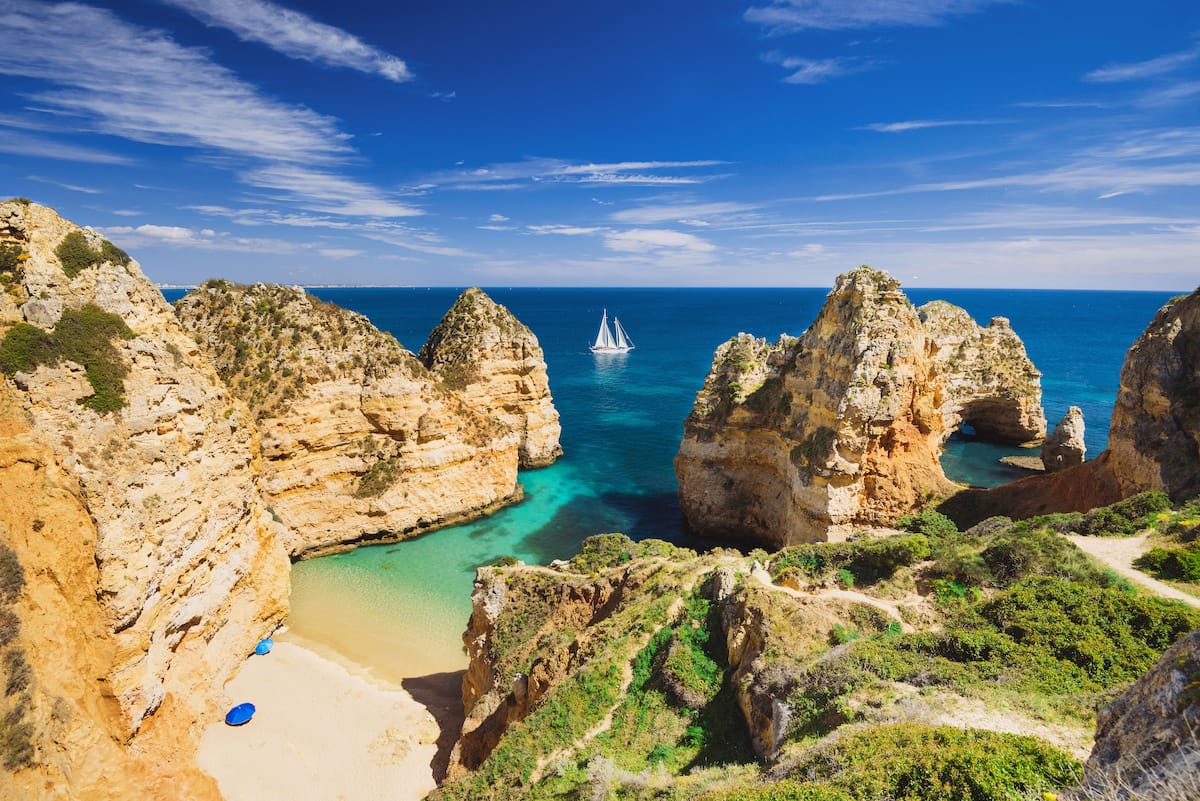 After you soak up some sun, hit the streets for a night out in Lagos. The Marina de Lagos is known for its bars, restaurants, and lively atmosphere, with Luca's Rooftop Restaurant offering the best views just south of Praia do Pinhão.
End the evening with drinks and live music at one of the many beach bars dotting Meia Praia before making your way back to the Boutique Hotel Vivenda Miranda for an evening massage at their Charme D Orient Spa.
Wake up to a fresh Portuguese breakfast highlighting the region's local ingredients.
Not only does Lagos make an exceptional summer destination, but it's also a beautiful spot to escape the winter blues! With mild temperatures and far fewer tourists, Lagos is a fantastic winter destination to consider.
Where to Stay in Lagos
As noted above, the Boutique Hotel Vivenda Miranda is home to the wonderful Charme D Orient Spa and offers a delicious, local breakfast each morning!
>> Discover the best Lagos hotel options here
4. Porto
Porto highlights: Clerigos Church and Tower, Porto Cathedral, Luis I Bridge, Livraria Lello
Recommended by: Editors' Choice
Porto is the perfect-sized city for a weekend getaway– it's small enough to be walkable and big enough to have plenty of things to do.
There are several breathtaking churches in Porto, such as the Gothic church of Sao Francisco or the beautifully tiled Baroque Igreja do Carmo church.
Don't miss touring the Palacio da Bolsa, a stunning building from the 19th century.
For some fresh air, walk across the Luis I Bridge. From there, you can take the Barredo stairs down to the colorful Ribeira neighborhood (a UNESCO World Heritage Site!), a great place to stroll and observe the everyday life of Porto's residents.
Make sure to venture into the back alleys away from the touristy riverfront area to enjoy a more authentic experience!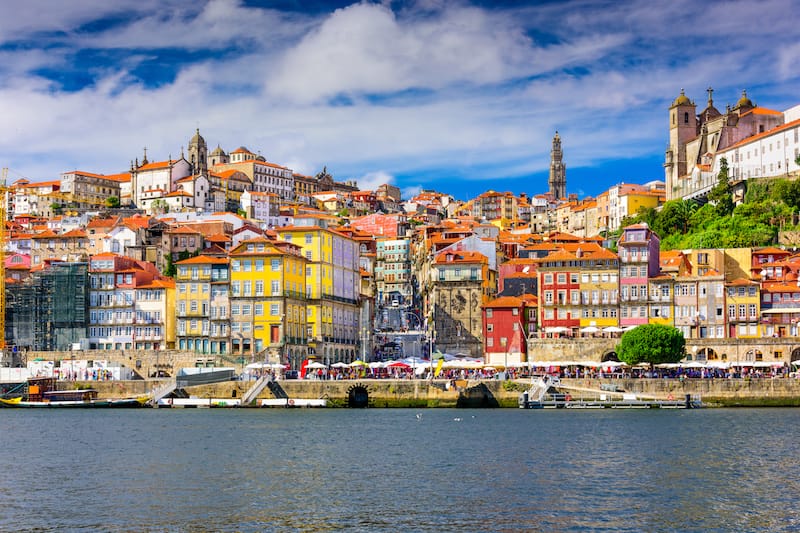 To taste some local dishes (which is one of the best things to do in Porto, let's be honest!), check out Tasco restaurant for a variety of small plates or Bacalhau for fresh seafood.
Port wine also comes from the Porto area, so make sure you stop by a wine cellar to try this famous drink in its hometown.
If you're a book lover, don't miss out on visiting the gorgeous bookshop, Livraria Lello. Although its popularity has risen dramatically in the past few years and therefore is quite crowded by afternoon, it's still worth going to, especially if you hit it early in the morning when there are fewer people.
Where to Stay in Porto
A wonderful mid-range hotel option in the center of Porto is the Porto A.S. 1829 Hotel, located in the historical center in a historical building!
>> Discover the best Porto hotel options here
5. Douro Valley
Douro Valley highlights: Wine, wine, wine!
Recommended by: Alyssa from An Apple a Plane
Terraced hillsides filled with grapes plunging along the infamous Douro River create the panoramic weekend of a lifetime!
Consider exploring the UNESCO World Heritage Site of Douro Valley just over an hour's drive outside of Porto on your next weekend break.
With activities ranging from boating and hiking to wine tours and exploring small towns, there is truly something for everyone.
Travelers argue a trip is not complete without a river cruise or boat rental to explore the famous river.
Outdoor enthusiasts will enjoy many hiking trails woven throughout the wine estates or birdwatching up to 170 bird species living in Douro Valley.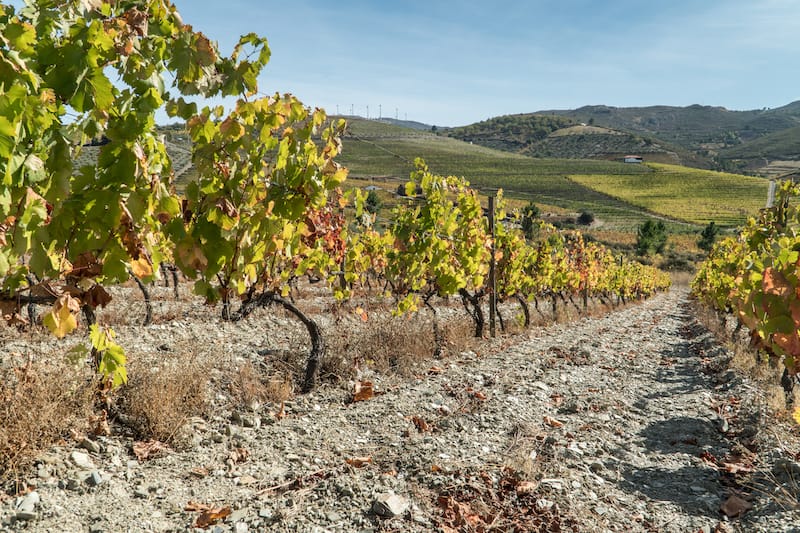 In between activities, be sure to drive on the Miradouro De Estrada Nacional 222', voted as one of the world's best drives!
Car access is recommended when visiting Douro Valley in order to optimize flexibility in the region, such as completing the scenic drive and exploring far throughout the valley. Some visitors prefer to take a direct train from Porto to Regua.
Regua is one of the first towns at the start of Douro Valley and houses the Douro Museum where visitors can learn about the traditions and history of this ancient wine region.
Where to Stay in the Douro Valley
At the end of a long day, visitors enjoy soaking in the panoramic views from their quinta, or country estate. Quintas boast huge popularity in the area and provide visitors with a family-like stay in a comfortable guest house with views. Quinta de La Rosa is a highly recommended family option.
>> Discover the best Pinhão hotel options here
6. Obidos
Obidos highlights: Castle of Obidos, Igreja de Santa Maria de Obidos, Lagoa de Obidos, Santuario do Senhor da Pedra
Recommended by: Editors' Choice
The small town of Obidos was once the residence of Queen Urraca of Leon in the 1200s, who ended up funding many of the monuments in town.
At the top of a hill overlooking the town sits the Obidos Castle, a historic building originally dating back to the 700s!
Many of Portugal's queens stayed here, but nowadays, it is a hotel where you too can stay! If you're not a guest at the hotel, you can still go look around the castle.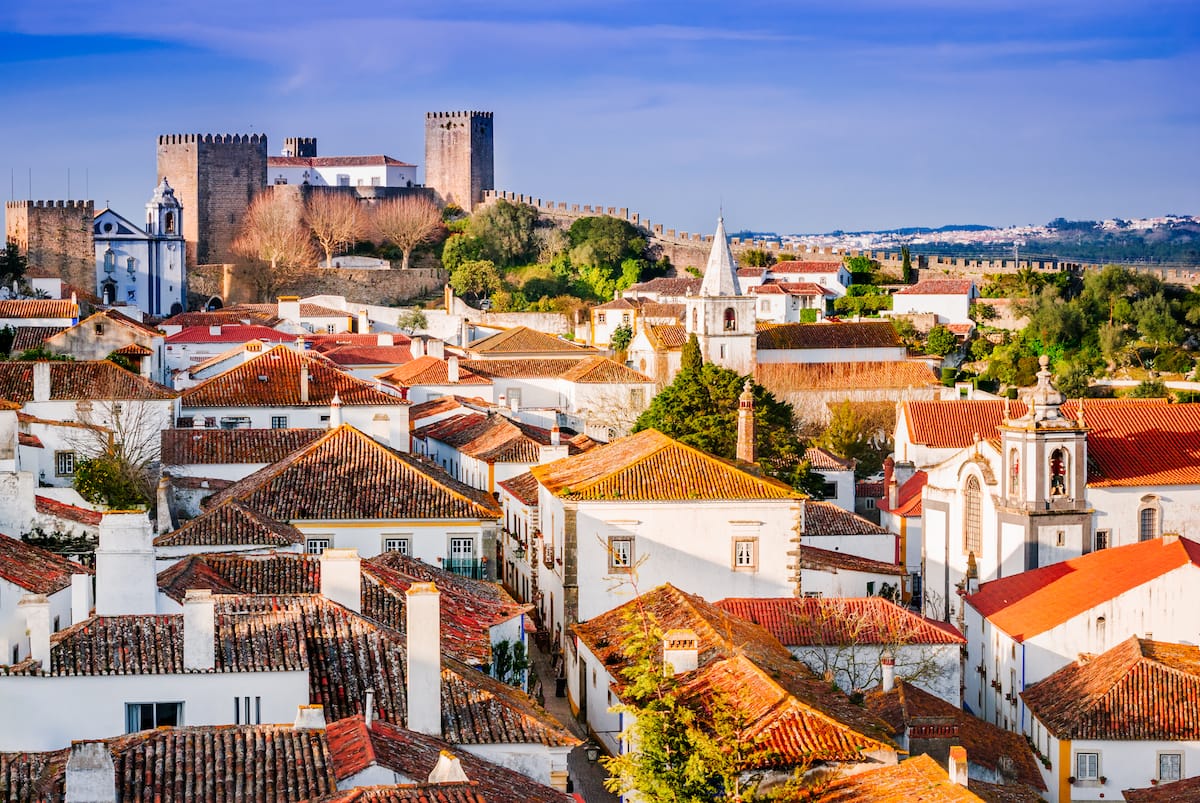 In town, wander through the gorgeous small streets of the Old Town, right after you pass under the Porta da Vila. One of Obidos's lovely churches is the Igreja de Santa Maria, which is beautifully decorated with centuries-old tiles.
In the southern part of town, you can see a 16th-century aqueduct. This was a gift of Queen Catherine of Austria, the wife of a Portuguese king, to supply the town with fresh water.
It's a testament to its solid construction that we can still see it today, having withstood large earthquakes and centuries of wear.
Lastly, if you're visiting in July or August, don't miss the medieval festival in town, with costumed actors, events, delicious food, and handcrafted souvenirs!
Where to Stay in Obidos
A highly-recommended hotel in the city center of Obidos is Pousada do Castelo de Obidos. Located in a 700-year-old castle, it is a luxurious place waiting to treat guests to the best of the region!
>> Discover the best Obidos hotel options here
7. Ericeira
Ericeira highlights: Praia da Baleia, Mafra National Palace, Santa Marta Park, Foz do Lizandro
Recommended by: Annelies from Travelers & Dreamers
Ericeira is a small Portuguese fishing village located a 35-minute drive northwest of the lively capital city Lisbon.
It's the perfect weekend getaway if you like to escape the bustle of the capital and enjoy a more relaxing vibe on the Portuguese coast.
Ericeira is known for being the first World Surfing Reserve in Europe and there is plenty to do that will keep you busy whether you like your weekend to be active or rather calm and laidback.
For thrill-seekers, taking surf lessons in Ericeira should be on top of your list. Ericeira boasts some of the best surf schools in Europe and there are a dozen to choose from in and around the town center.
Make sure you pick one that is certified by the Portuguese surf federation. Three Surfers Surf School and Extra Surf School are good ones!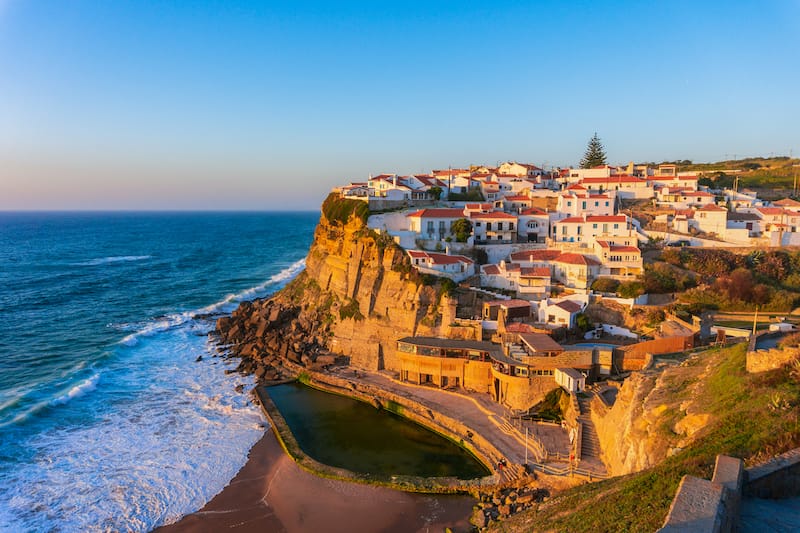 If you like it more laidback, then Ericeira is a great place to pamper yourself for a few days as the city is dotted with a large array of yoga schools and wellness centers.
There are a few ones like Yoga Ericeira for yoga classes and Sandhi House for massage treatments that will make a trip to Ericeira definitely worth your while.
For a more alternative experience, head to House Of The Rising Mojo where you can join in for Cacao ceremonies and ecstatic dancing.
Add to that the gorgeous natural surroundings of dramatic cliffs, big waves, and lovely beaches and you are surely in for a treat.
Where to Stay in Ericeira
Sandhi House is a great guesthouse in Ericeira right by the beach. For a healthy lunch, head to Green Is Good. In the evening, you can spoil your tastebuds with a fancy dinner at Mar de Latas.
>> Discover the best Ericeira hotel options here
8. Aveiro
Aveiro highlights: Aveiro Museum, Aveiro Lagoon, Infante Dom Pedro Park (City Park), Ponte Lacos de Amizade
Recommended by: Linn from Brainy Backpackers
One of the best weekend breaks you can take in Portugal is to the quaint town of Aveiro, also known as Portugal's Venice.
Among the most popular things to do in Aveiro is to cruise the canals on a colorful Moliceiro. These wooden boats, which resemble Venice's gondolas once used to be working boats to remove algae from the canals.
After the process became automated, instead of getting rid of the boats, the locals painted them in bright colors and made them a unique symbol of Aveiro and the main drawing point for tourism.
On board, your guide will give interesting information about the history of the Moliceiros and the landmarks you will pass on the tour. But Aveiro is so much more than its canals!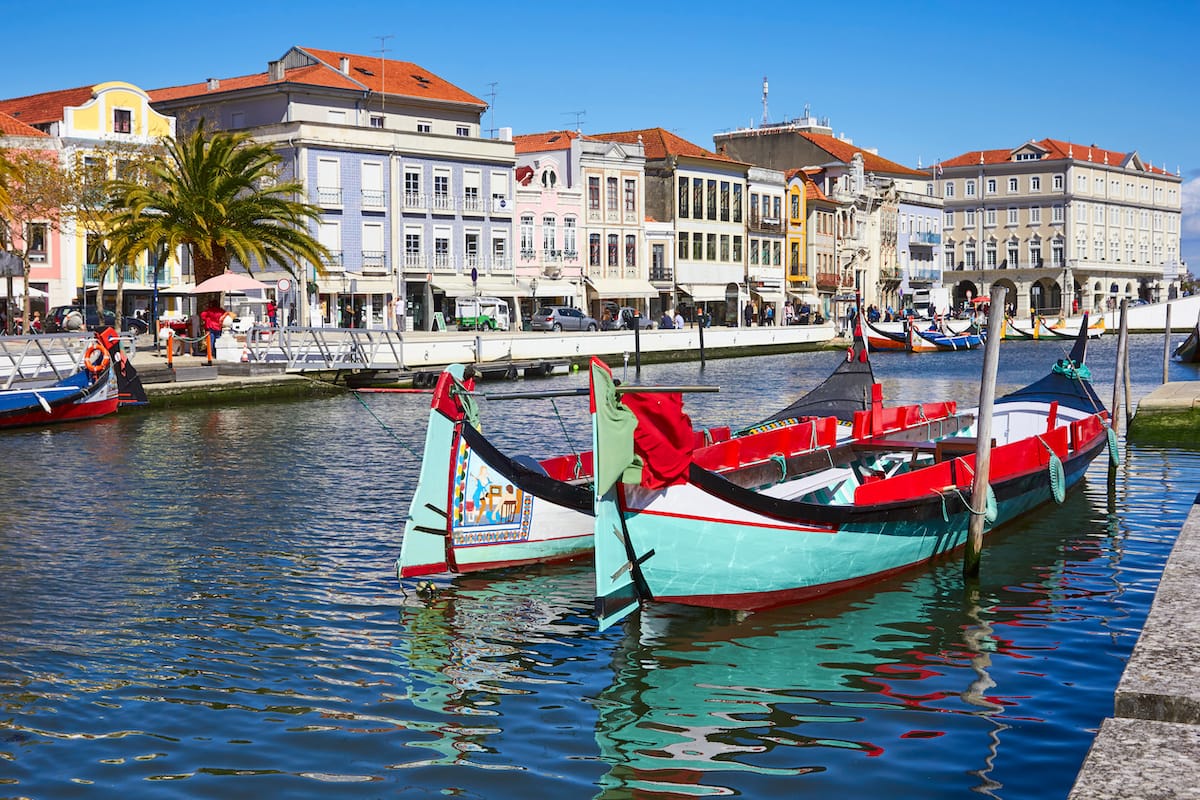 It has a beautiful cathedral and right next to it you find the Aveiro Museum inside what is one of the oldest convents in Aveiro, where you should see the cloister, church, and chapels while you are there.
From Aveiro, you can rent a bike to cycle the Passadiços de Aveiro which is a beautiful boardwalk along the Ria de Aveiro. It is particularly beautiful at sunset, and popular among bird enthusiasts for the unique bird species found in this area.
Nearby, you should also visit Costa Nova which has reached Insta-fame for its distinctive, striped houses in bright colors.
Aveiro is full of lovely restaurants, but particularly Raiz is a lovely vegetarian restaurant with homemade eco-food.
Where to Stay in Aveiro
Stay centrally in the Hotel Alfonso V. It is merely 7km from the beaches and it has an in-house bar and snooker table.
>> Discover the best Aveiro hotel options here
9. Peniche
Peniche highlights: Fort of Peniche, Cabo Carvoeiro, Consolation Beach, Baleal Beach
Recommended by: Editors' Choice
If you're looking for a quiet, relaxing beach getaway, Peniche is a perfect spot. Located only an hour's drive from Lisbon, it's an easily accessible escape from the crowds of the city.
Enjoy some time strolling through the little town and down the beach. Peniche is well-known for its fantastic waves, so it's a surfer's paradise.
To get a great view of the ocean and learn a little more about the history of this town, visit the 16th-century fort on the hill and the museum inside.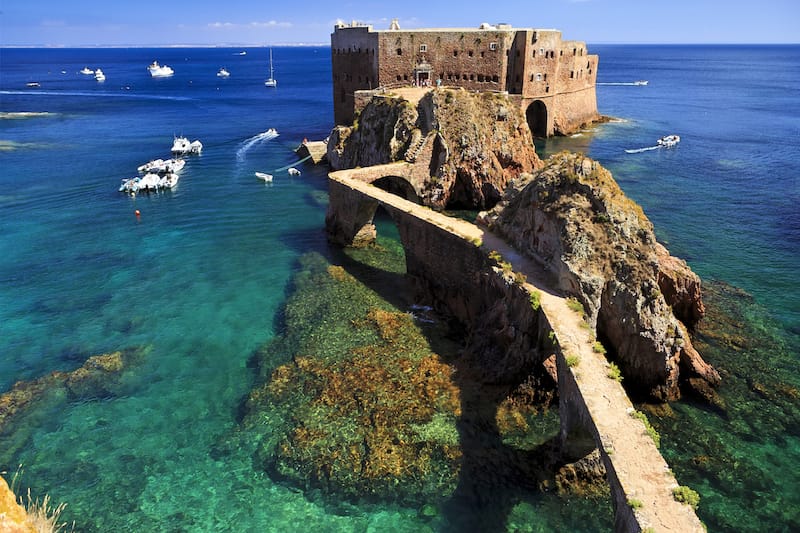 Another great viewpoint is at the westernmost point of mainland Portugal, Cabo Carvoeiro.
Just off the coast of Peniche lies a small archipelago, the Balengas. These islands are uninhabited but there is an old fort to visit and gorgeous crystal-clear waters with breathtaking views.
It's definitely a must-see while in Peniche; you can get there by ferry or private boat.
Where to Stay in Peniche
MH Peniche is a wonderful place to stay if you're looking for affordable luxury at a 4-star property with a good location. There is an indoor pool, outdoor pool, air-con, a sauna, and a hot tub!
>> Discover the best Peniche hotel options here
10. Evora
Evora highlights: Temple Romano Evora, Chapel of Bones, Museum Frei Manuel do Cenaculo, Igreja e Mosteiro de Sao Francisco
Recommended by: Kate from Our Escape Clause
As the capital of Portugal's Alentejo region, Évora is simultaneously laid back and deeply interesting.
Without a doubt, the most famous attraction is its 17th-century Chapel of Bones, which just may be one of the most striking ossuaries in Europe!
Other fun things to do in Évora include stopping by the Roman Temple of Évora (though you can't go inside) and visiting the city's 800-year-old Gothic Cathedral, which offers not only a small museum, peaceful cloisters, and a beautiful interior but excellent views of the city and surrounding area from above.
Giraldo Square, with its impressive fountain, and the bustling Rua Cinco de Outubro shopping street are also worth a stop.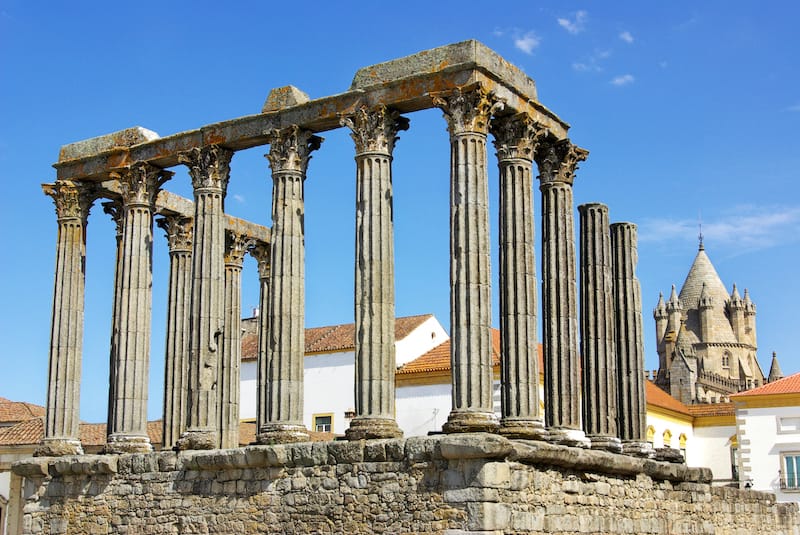 If you're looking for a great lunch spot, you can't go wrong with Dom Joaquim for local cuisine (be sure to make a reservation in advance).
By enjoying a full Portugal weekend break in Évora, you'll have the opportunity to get beyond the city center, something many day-trippers from Lisbon sadly miss out on.
Outside of the city center, you'll find some truly impressive megaliths that are 2,000 years older than Stonehenge, the biggest grouping of which is at Cromlech of the Almendres.
The beautiful Alentejo Wine Route can also be found outside of Évora.
Where to Stay in Evora
The memorable Évora Olive Hotel features 2 pools and an on-site restaurant and makes for a wonderful retreat when visiting Évora.
>> Discover the best Evora hotel options here
11. Coimbra
Coimbra highlights: Se Velha Coimbra, Igreja de Santa Cruz, Mosteiro de Santa Clara-a-Velha, Portugal dos Pequenitos
Recommended by: Editors' Choice
Coimbra is a lovely little city to explore one weekend. It has several magnificent UNESCO World Heritage Sites, such as the centuries-old Coimbra University.
While there, don't miss the Joanina Library, a gorgeous Baroque-style library considered by many as one of the most beautiful in the world. Next, head to the university's impressive botanical gardens for a pleasant stroll in a green space.
There are several interesting monasteries to explore including the Monastery of Santa Cruz and the Monastery of Santa Clara-a-Velha.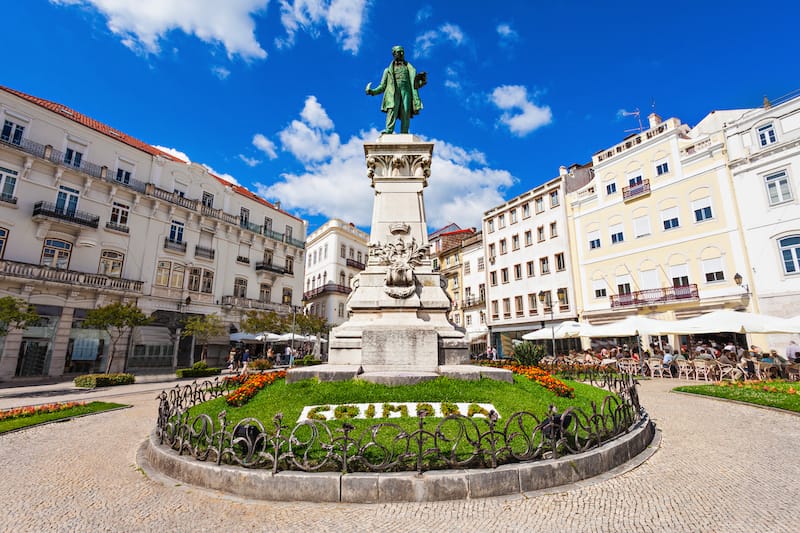 Se Nova, which means New Cathedral, is not very new, being built in 1598, but is still in great shape and well worth a visit.
For something a little quirky, check out Portugal dos Pequenitos, a little village with miniature replicas of some of Coimbra's famous buildings.
The Mondego River runs through Coimbra, and you can get a great view of the city and river by strolling across the colorful Pedro and Ines Bridge.
Lastly, indulge in some traditional Portuguese dishes at the delicious No Tacho restaurant.
Where to Stay in Coimbra
Sapientia Boutique Hotel is a highly-rated property in the heart of Coimbra with luxury at an affordable price. You'll find a bar and terrace on-site, as well as a restaurant.
>> Discover the best Coimbra hotel options here
12. Porto Covo
Porto Covo highlights: Praia da Samoqueria, Pessegueiro Island, Buizinhos, Marquis of Pombal Square
Recommended by: Alya from Stingy Nomads
Porto Covo, a picturesque coastal town 170 km south of Lisbon is a great place for a weekend break filled with adventure activities.
The town has a nice historical center with cobbled streets, white-washed red-roofed houses, a beautiful square with a church, and a small sandy beach hidden between the cliffs.
Porto Covo is a perfect place to come to unwind and relax by the sea and enjoy the tranquility of a small fishermen's town.
Surfing, hiking, and cycling are the most popular outdoor activities in Porto Covo.
The beaches north and south of the town are known for good waves! There are spots for beginners and for experienced surfers. A couple of surf schools in the vicinity offer lessons and gear rental.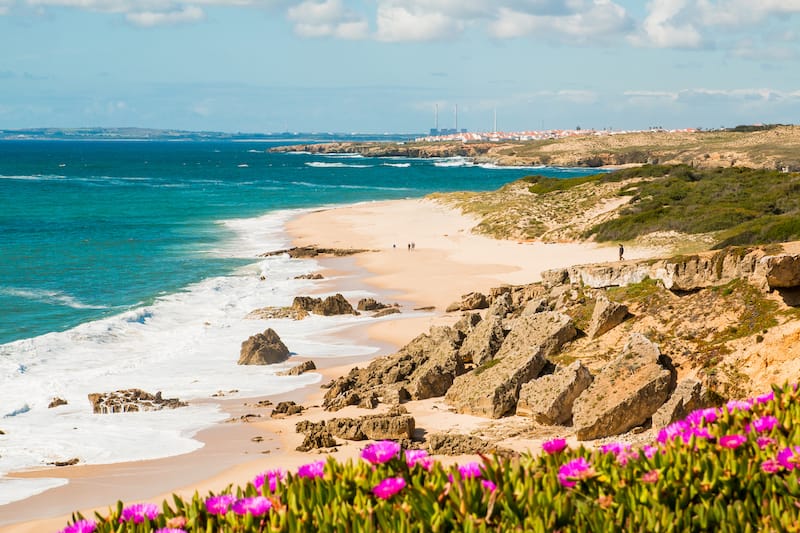 There are several hiking trails of different lengths and difficulty levels in and around Porto Covo including the famous Fishermen's Trail.
The route from Porto Covo to Vilanova de Milfontes is a great option for those who want to spend the day hiking, exploring beaches, and enjoying nature.
Cycling along the coast is another popular activity here. If you have a paddle board or a kayak you can launch it in Porto Covo and paddle along the coast in either direction… if you're lucky you might spot dolphins!
It's easy to get to Porto Covo from Lisbon by bus, making it a great day trip or weekend getaway from the capital city.
Where to Stay in Porto Covo
Ahoy Porto Covo is an amazing place to stay in the town. It is a great budget option that has a 24-hour reception.
>> Discover the best Porto Covo hotel options here
13. Nazare
Nazare highlights: Nazare Beach, Mirador del Suberco, Forte de Sao Miguel Arcanjo, Champel of the Miracle's Memory
Recommended by: Editors' Choice
This old fishing village of Nazare boasts some of the best surfing waves in Europe, especially in the winter months.
It also has a huge, crescent-shaped sandy beach that is perfect for laying out or walking along.
Along the beach, there is an open-air museum of brightly-colored traditional Portuguese fishing boats you can look at up close.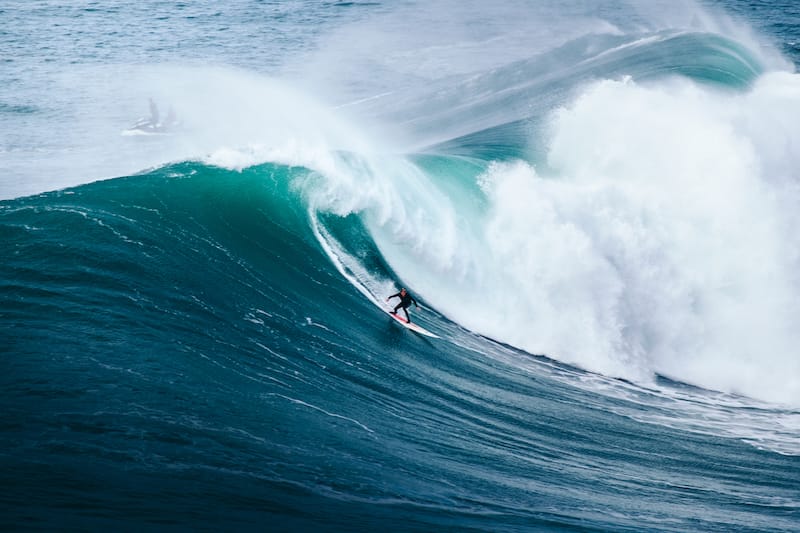 Next, make your way through the old fisherman's housing district, where you can get a taste of the local life. At the edge of the district, take the funicular up to the O Sitio neighborhood, which has gorgeous views over the town and out to the ocean.
Once up the hill, check out the Sanctuary of Our Lady of Nazare, a beautiful church decorated with classic Portuguese tiles.
You can also visit the 16th-century São Miguel Arcanjo Fort for amazing views and some exhibits explaining more about the region's surfing culture.
Finally, take advantage of the sea's proximity and sample some of Nazare's deliciously fresh seafood.
Where to Stay in Nazare
Hotel Mare is located in the heart of Nazare and is merely 100m from the beach! This hotel has rooms with balconies, free wifi, and air-con. It is fantastic for couples!
>> Discover the best Nazare hotel options here
14. Sagres
Sagres highlights: Cabo de San Vicente, Sagres Fortress, Lighthouse of Cabo de Sao Vicente, Praia do Beliche
Recommended by: Campbell from The Algarve Family
The Algarve region, on the southern coast of Portugal, is renowned for its hot weather and long sandy beaches.
The "off the beaten track" beach town Sagres in the Algarve is a fantastic location for a weekend break away. This quiet seaside town is renowned for outdoor activities like surfing and hiking.
Sagres has three beautiful sandy beaches; Praia do Martinhal, Praia da Mareta, and Praia do Tonel.
Mareta Beach is located right inside town. Protected from the wind and the large oceanic swells, this long, clean, sandy beach is good for sunbathing and spending a day enjoying the ocean.
Surfing in Sagres is excellent due to its unique location on the southwest tip of the Algarve. Experienced surfers ride waves on the west coast with big swells coming in from the Atlantic Ocean, the more sheltered south coast offers smaller waves.
There are plenty of surf shops and schools in Sagres where you can rent a board or take surfing lessons.
Tonel Beach is also a very popular surf spot. There are several spectacular hiking trails along the coast that can be reached from the town.
For a longer hike, you can follow the Fisherman's Trail, a well-known, multi-day hike and walk the stage from Sagres to Lagos.
Sagres is located 10 km southeast of the southwesternmost tip of continental Europe and has two well-known spots for admiring sunset; Cabo de S.Vicente and Cabo de Sagres.
Drive or take a tour to these capes for breathtaking views of the Atlantic Ocean and the rugged coast at sunset.
Where to Stay in Sagres
Mareta Beach House is a fantastic guesthouse located on the beach and is highly recommended!
>> Discover the best Sagres hotel options here
15. Cascais
Cascais highlights: Praia do Guincho, Boca do Inferno, Praia da Rainha, Tamariz Beach
Recommended by: Sarah from CosmopoliClan
Cascais is a coastal gem near the capital and a popular gateway to the Sintra mountains.
When King King D. Luís made it his holiday destination in the late 1930s, the former fishing village transitioned into a beloved retreat for aristocrats.
The city's architecture, featuring elegant mansions, aristocratic palaces, and tastefully converted fishermen's houses, still reflects that grand history. The microclimate makes Cascais an attractive destination from early spring to late autumn.
One of the most popular things to do in Cascais is biking along the coastal trail to the Boca do Inferno rock formation or to surfer hotspot Praia do Guincho.
Another favorite is a leisurely stroll over the promenade to Estoril. This coastal boardwalk is lined with restaurants and overlooks some of the most amazing beaches of the wider Lisbon area.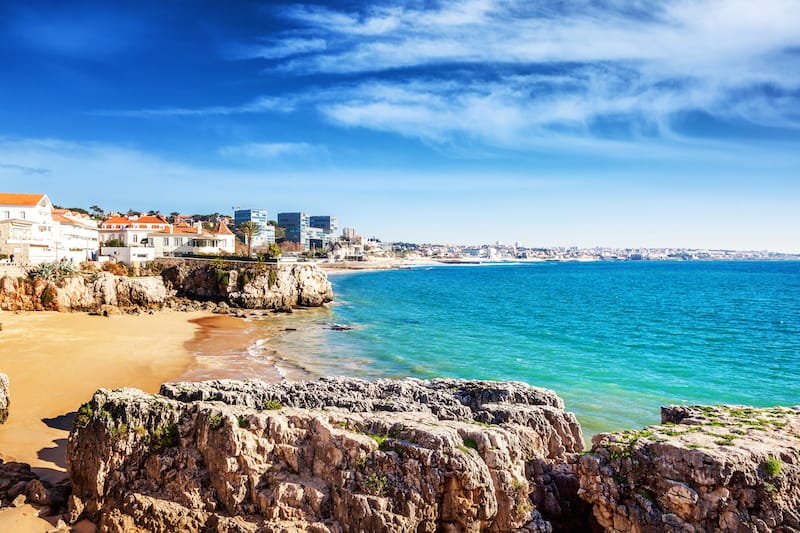 In addition to its outdoor attractions, Cascais is also home to a thriving art scene. The Cidadela Art District, where you can see artists at work and their art on display, can be found within the walls of the Cascais Citadel.
The Nossa Senhora da Luz de Cascais fortress also houses the prestigious hotel Pestana Cidadela Cascais as well as the Museum of the Presidency.
In addition to this cultural site and located within walking distance, there's also the Bairro dos Museum and the Casa das Histórias Paula Rego. Cascais is also known as a premium shopping destination.
Upscale boutiques can be found at Avenida Valbom and a convivial book market at Jardim Visconde da Luz.
End your weekend in Portugal with a delectable seafood cataplana from one of the restaurants near the marina.
Where to Stay in Cascais
A fantastic lodging option in Cascais is the Pestana Cidadela Cascais – a 5-star luxury hotel that overlooks the sea and the Cascais Marina.
>> Discover the best Cascais hotel options here
16. Sintra
Sintra highlights: Pena Palace, Castelo dos Mouros, Park and Palace of Monserrate, Sintra National Palace
Recommended by: Ann from The Road is Life
The pretty town of Sintra is set in a scenic location within the Serra de Sintra hills, just under one hour from Lisbon.
In the 19th century, Sintra became a popular place for Portuguese nobility to build extravagant mansions and palaces.
Nowadays, Sintra is a tourist hotspot attracting more than 3 million visitors per year. There are many great things to see and do in Sintra making it an ideal weekend break in Portugal.
With a concentration of stunning palaces to visit, fascinating history to discover, and beautiful natural scenery, you certainly won't be bored.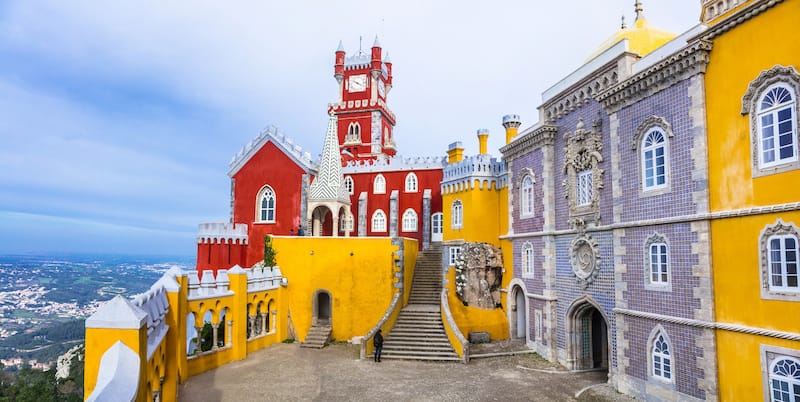 The vibrant Pena Palace is the most popular attraction of Sintra and resembles a scene from a fairy tale. This colorful palace sits high on a hilltop boasting sweeping views over the town and surrounding landscapes below.
Pena Palace attracts large crowds and long queues so it's best to visit first thing in the morning and get your tickets online before you go.
Other must-see palaces during your weekend in Sintra are Quinta da Regaleira, Castle of the Moors, Monserrate Palace, and the National Palace of Sintra.
If you're seeking traditional Portuguese cuisine at a highly-rated restaurant in Sintra, be sure to check out Nau Palatina.
Serving delicious local dishes with great ambiance and friendly service, you won't want to miss this lovely dining experience.
Where to Stay in Sintra
It's best to base yourself near the town center of Sintra for easy access to all of the town's attractions. Casa de Pendoa offers spacious self-catering apartments in a convenient location near Sintra town.
>> Discover the best Sintra hotel options here
17. Olhao
Olhao highlights: Culatra Island, Fuseta Beach, Mercados de Olhao, Armona Island
Recommended by: Paulina from Paulina on the Road
Do you want to spend a fun weekend in Portugal? Olhao is a perfect destination to head to, then! The city has stunning beaches, bars, restaurants, and other top sights.
The best time to visit the city is from April through November.
If you are a nature lover, visit the Parque Natural da Ria Formosa. It is one of the most significant wetlands in Europe. You can opt for a boat trip to explore this beautiful marine park!
Pay a visit to the Museu da Cidade to learn more about Olhao's history.
In the evenings, opt for a stroll along the marina! The light sea breeze makes it the best spot to get a hint of calmness.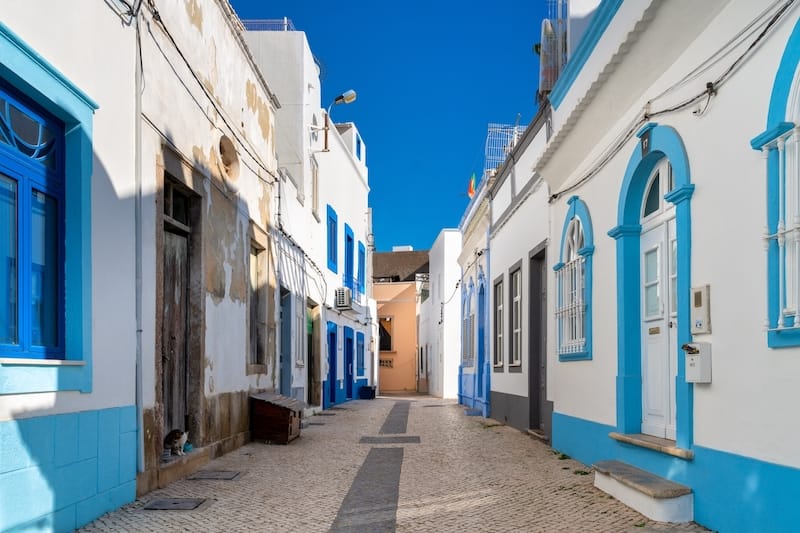 Be sure to stop by the Igreja Matriz de Nossa Senhora do Rosário. You can reach out to the bell tower and witness the breathtaking view.
Another thing you must do in Olhao is to visit Ilha do Farol. You can also pop into the lively cafes and restaurants.
At the famous Mercado (market), can look for fresh fish, meat, fruit, and vegetables. You can also grab a drink or snacks at any outdoor table.
There are amazing restaurants like Pizza na Pedra, Vai e Volta, Prazeres, O Horta, etc and they offer the best flavors around the city.
Where to Stay in Olhao
Are you thinking of where to stay in the Algarve? There is an array of great options for accommodation in Olhao.
Some budget-friendly options are Pure Formosa Concept Hotel, Quinta Ria Formosa, and Casa Rosa Villa.
Pedras Verdes Guesthouse, Octant Hotels Vila Monte, and Real Marina Hotel & Spa are great options for a luxury experience.
>> Discover the best Olhao hotel options here
18. Albufeira
Albufeira highlights: Praia da Falesia, Praia dos Pescadores, Playa de Oura, Marinha Beach
Recommended by: Abbey from Trips on Abbey Road
If weekend breaks in Portugal are on your mind, you need to stop by Albufeira. This coastal Portuguese town was once a small fishing village but today is much more of a holiday destination.
You should start your weekend break by exploring the Old Town. Here you will find beautiful white-washed buildings and cobblestoned-lined streets. Head down to the town square and take in the beauty with a cup of coffee or fresh juice at the Beach Caffè it is right on the beach and very affordable.
To learn a little about the history of Albufeira, the Archaeological Museum is located in the old Town Hall building and it is stunning inside. Then make your way to the local beach the Praia dos Pescadores, also known as Fisherman's Beach.
This is one of the best beaches in Albufeira because it is right on the edge of Old Town, and very easy to access. There are escalators and elevators to help you get down the steep Portuguese hills and onto the sandy shore.
If you wanted to stay on land for lunch, stop by Casa Del Mara is is right next to the tunnel that leads you into town. Or grab a bite to eat at one of the many restaurants that overlook the famous Fisherman's Beach.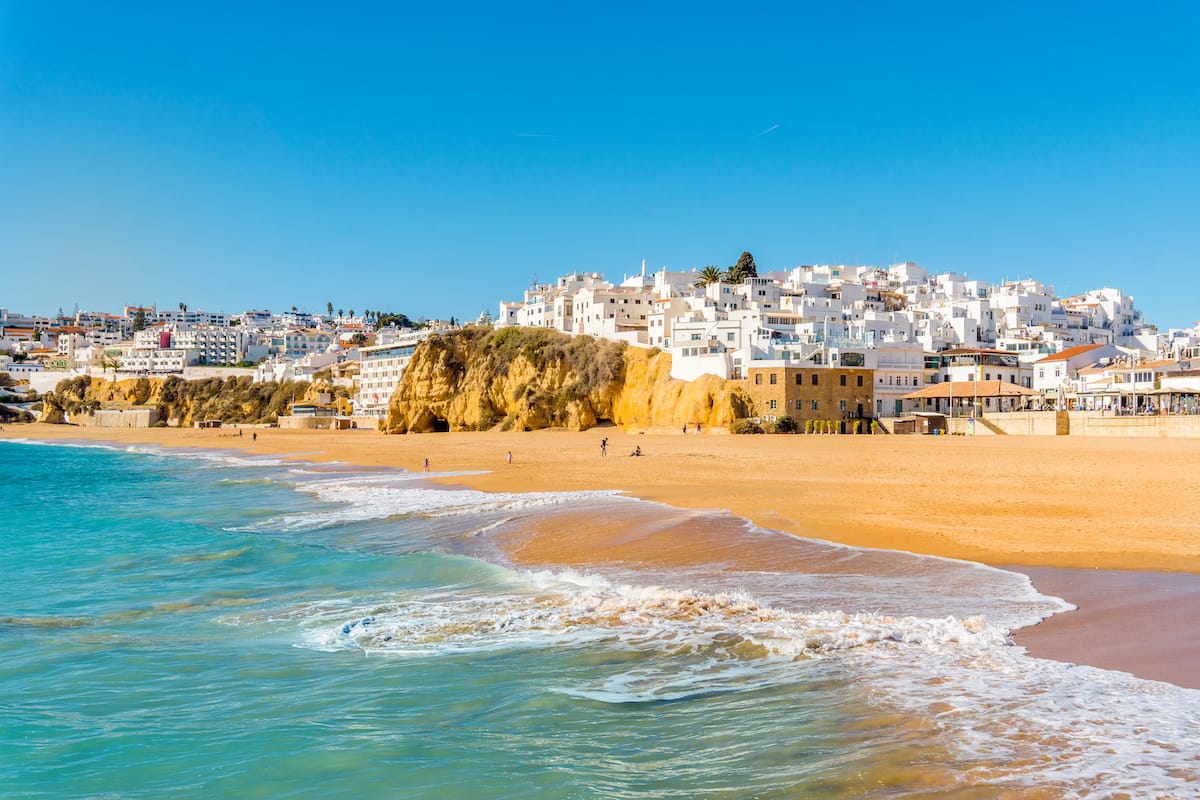 The nightlife in Albufeira is one of the best reasons to plan a weekend break here. You can visit Avenida Francisco Sá Carneiro, also known as the "strip".
Plus, it is just a short 10-minute drive away from Old Town! There are buses, and affordable taxis around to help you get here.
No matter what time of the year you visit, there will always be some kind of party going on. Check out Matt's Bar, home to the famous bucking Bronco. A few other popular stops to visit while on the strip would be sunset and Wild&Co.
While you are on the Strip, there are plenty of different cafès, and the delicious Clay Oven Indian Tandoori has the best Indian food in all of Albufeira.
Where to Stay in Albufeira
One of the best places to stay on your weekend breaks in Portugal would be the Inatel Hotel, it is located also on the Praia dos Pescadores beach, and they have a lovely patio out back where you can sit and watch the waves.
>> Discover the best Albufeira hotel options here
Did we miss any of your favorite weekend breaks in Portugal? Let us know your top picks in the comments! Thanks!
More Portugal Travel Guides
Pin this Portugal Weekend Getaways Guide