One of the most underrated destinations in Spain is the city of Zaragoza. There are many things to do in Zaragoza, from witnessing epic historical sights to eating some of Spain's most delicious food.
Are you planning your trip to Zaragoza last minute?
If youʻre booking your trip to Zaragoza last minute, we have you covered. Below are some of the top tours, hotels, and more!
Top Experiences and Tours in Zaragoza:
Top Hotels in Zaragoza:
Hotel Reina Petronila (Has a pool!)
Catalonia El Pilar (In the Old Town!)
El Mirador de Zaragoza (Amazing view!)
This is a curated guide about what to do in Zaragoza, Spain. Let us know if you have any additional suggestions!
Best Things to do in Zaragoza, Spain
This post will highlight everything you need to keep occupied for some time spent in Zaragoza, Spain.
It not only includes things to do in Zaragoza, but it also gives some tour options at the end of how to see some of these places with ease.
You can also check out our guide to the best Airbnbs in Zaragoza if you're seeking accommodation, as well.
If you have any questions, please leave a comment below.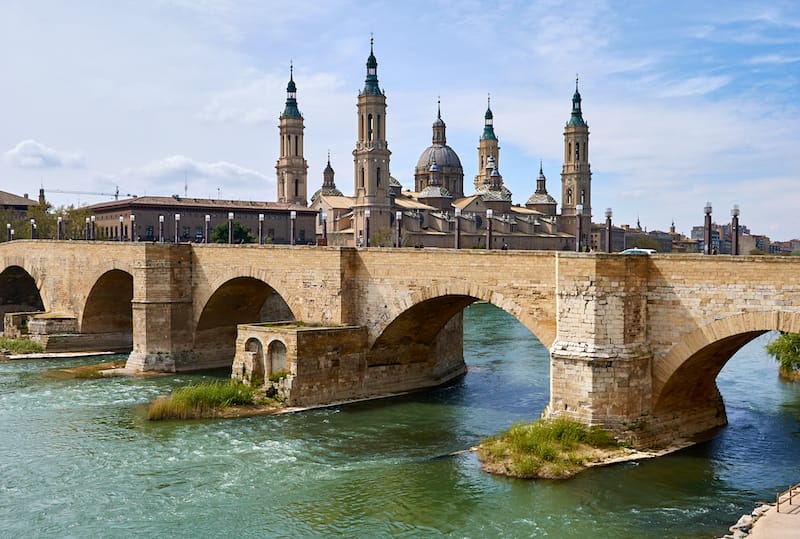 Do You Need Travel Insurance for Spain?
It is highly recommended that you book travel insurance for Spain. The suggested provider is SafetyWing, a Norwegian company with a great record, widespread policies, and affordable coverage.
That is what we use here and we have used it all over Europe and it has kept us covered at all times.
>> Click here to get a Spain travel insurance quote
Zaragoza Tours
One of the best ways to see this amazing Spanish city is to take a tour. While there are many things to do in Zaragoza, it can be difficult to truly understand what you're seeing or doing at the moment without the help of an experienced guide.
Here are some of our recommended tours for Zaragoza:

What to Do in Zaragoza
Zaragoza Central Market
This bustling market is considered the heart of modern-day Zaragoza. It was built in 1903 and features high, arched ceilings and beautiful, sturdy columns.
Hundreds of stalls sell everything from seafood to vegetables to cheese and, of course, local Zaragoza specialty chocolate. This is truly a can't-miss on your itinerary for Northern Spain.
Browse through the market and see what the locals have for sale. The market is located right near the sunny, beautiful Plaza del Pilar – why not pick up some yummy local ingredients and have a picnic?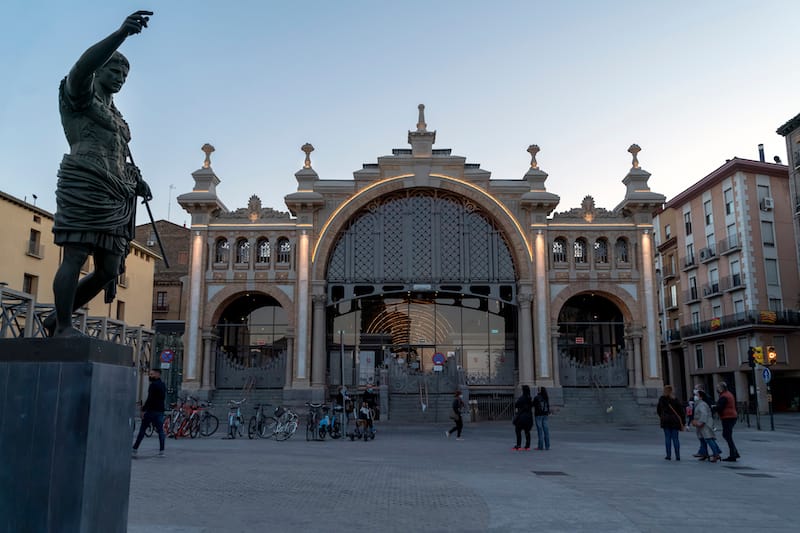 QUICK TIP: Markets can be overwhelming and it can be hard to navigate what is actually local and what is used in some of the favorite dishes of the region. By joining this Zaragoza midday market and tapas tour, you will have a local guiding you around showing you exactly that!
Plaza Pilar
Surrounding the Basilica is the Plaza Pilar- an open, sunny space perfect for strolling and relaxing. A waterfall and reflecting pool decorate one end while several statues of Spanish historical figures fill the center.
Take a moment to relax with the plentiful seating provided around the Plaza. Perfect views of the Basilica make for an excellent location to take memorable photographs of your Zaragoza trip.
Basilica of Our Lady of Pilar
The spiritual heart of Zaragoza is this stunning church dedicated to the Virgin Mary, patron of the Aragon region.
It is believed to have been the first church ever solely dedicated to Mary. It commemorates her appearance to the Apostle James to encourage him while preaching in Spain.
The Basilica is open for both tours and regular services featuring songs played on a historical organ.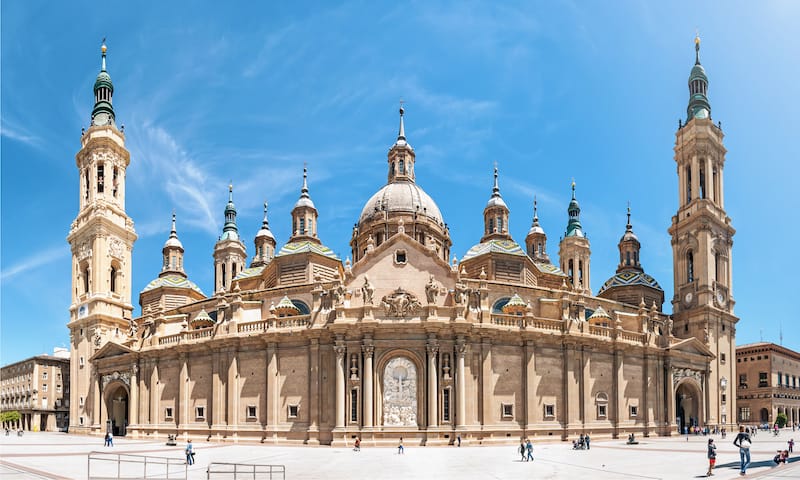 Cathedral de Salvador de Zaragoza
Another history-rich religious location is this soaring cathedral, typically called "La Seo" or "The Holy See" for short. It was originally built as a Muslim mosque before being converted to a cathedral by King Alfonso I of Aragon.
"La Seo" is best known for providing an example of five distinct architectural styles: Roman, Gothic, Renaissance, Baroque, and Aragonese Mudéjar. Because of this, it was declared a World Heritage Site by UNESCO.
Aljafería Palace
This heavily fortified palace was originally constructed to house the area's Muslim rulers before being taken over by Catholic conquerors. In the 18th century, it served as a military barracks for several decades due to its sturdy walls and excellent defenses.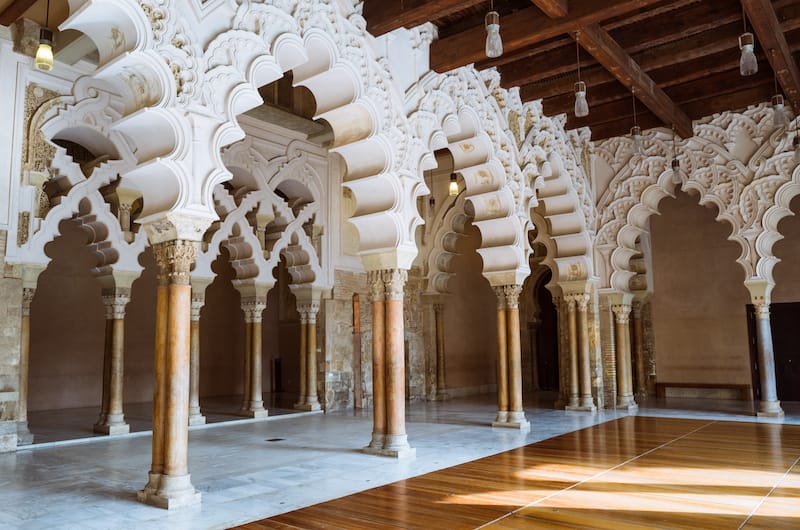 Today, the Palace hosts sessions of the Parliament which governs the Aragon region. However, it is also open for tours where its elegantly carved ceilings and original preserved flooring can be viewed.
San Felipe Plaza
Another gorgeous place to relax is the sunny San Felipe Plaza. Once, this open courtyard was home to a 95-foot tall tower.
However, the town voted to remove the tower when it began to lean dangerously to one side. Today, pictures and paintings of the tower still remain on display in the plaza.
San Felipe Plaza is ringed with delicious restaurants and cafes, including the world-famous Montal. Pair your relaxing afternoon with a local tapas lunch to share and enjoy!
Monasterio de Piedra (Stone Monastery)
Located just outside of the city, this day-trip destination combines the best of all worlds: history, food, and natural views. Look out over a beautiful canyon and waterfall from one of several observation platforms.
Visit a museum chronicling the history of the monastery and its wine production.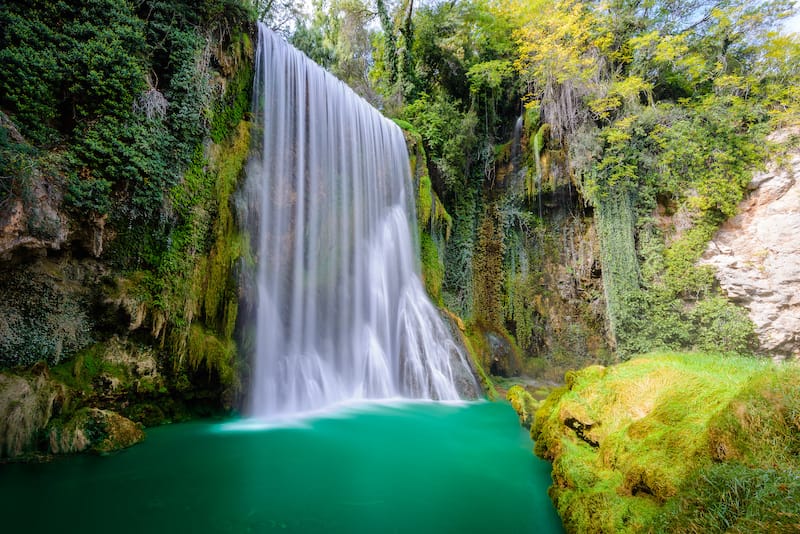 Don't forget to pick up a few souvenirs of your visit. There's something for everybody – the Monastery is home to the Aragon region's famous wine and chocolate!
Caesaraugusta Forum Museum
The city of Zaragoza was built over the ruins of Caesaraugusta, an ancient Roman forum founded in 14 BC and named in honor of Emperor Caesar Augustus.
Although it was later destroyed by the Muslim and Catholic inhabitants of the area, a number of ruins and artifacts remain.
The Forum museum covers the history of Caesaraugusta from its founding to its destruction. You will leave with a much greater appreciation for the centuries of memories located right beneath your feet as you travel through Zaragoza.
Caesaraugusta Theater
The centerpiece of the Roman ruins is this theater, which was once believed to be able to seat up to 6000 people at a time. It was excavated in 1972, revealing the remains of walls, rows of seats, and even the stage.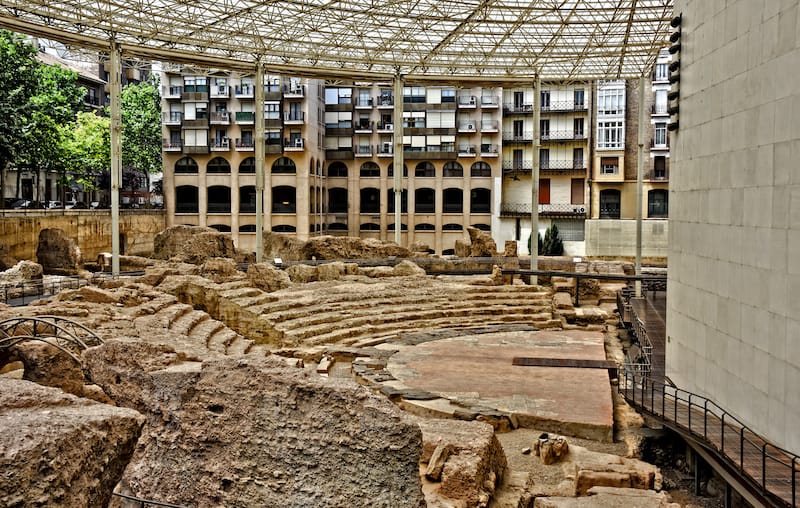 Visitors to the Theater can enjoy an audiovisual presentation by historical experts about the sort of events and performances that might have happened here.
You can also view a 3-D model of what anthropologists believe the Theater looked like in its prime.
Calle de Alfonso
Zaragoza's main street runs from the Basilica through the center of the city. It is closed to cars and primarily designed for walking.
You can take a leisurely stroll past old-style homes, modern stores and businesses, and popular restaurants and cafes serving local specialties.
Regular Calle walkers and tourists alike express amazement at how calm and open this street remains, even during "rush hour" at the end of the day!
Caesaraugusta Public Baths
Public Baths were the heart of daily life in the long-ago Roman Empire. Caesaraugusta's Baths are believed to have included hot and cold pools, saunas, toilet facilities, steam rooms, stretching and exercise rooms, and rooms where patrons could receive massages.
Today, you can take a tour of these facilities and view well-preserved remnants of the building's original marble tile.
Tour guides explain the purpose of each room and the role which baths would have played in the life of a Roman citizen.
Aragonese Institute of Contemporary Art and Culture
Zaragoza is also known for its embracing of modern Spanish art and culture. This museum was remodeled in 2005 and features a unique, glittering design that serves as a landmark throughout the city.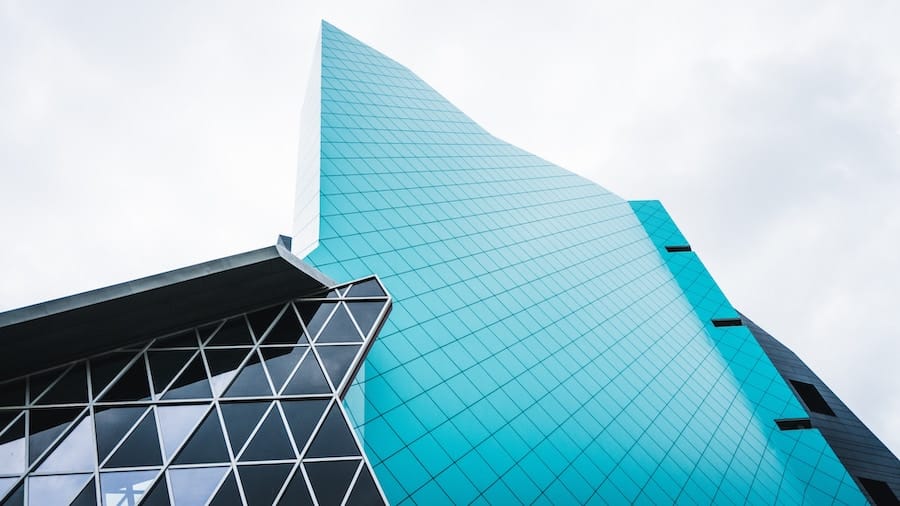 Although it features the work of many artists, the Institute's centerpiece is a collection by famed Aragonian sculptor Pablo Serrano. It also includes several pieces by internationally famous artists Picasso and Andy Warhol.
Zaragoza City Museum
This museum is divided into two sections, focusing on Fine Art and Architecture respectively. It covers the history of Zaragoza, from the ancient days of Caesaraugusta to the art and culture of modern Aragon.
In particular, learn about the development of the Church in Aragon, and the conflicts between Muslim and Catholic forces that defined the city's history.
Many stunning tapestries and church artifacts are contained within the City Museum's walls.
Museum of Pablo Gargallo
Pablo Gargallo's works have unfortunately been overshadowed by other artists named Pablo, such as Serrano and Picasso. However, both his finished sculptures and his original sketches and engravings are contained here, at his very own museum in Zaragoza.
Gargallo was a native of Aragon, and his work exemplifies the turbulent times of the late 19th and early 20th centuries.
His museum is located alongside the Pablo San Felipe, and offers plenty of places to rest and relax before continuing your journey into art and history.
Origami Museum
When you hear the words "Origami Museum," Spain is probably not the first place you think of. However, Zaragoza is home to none other than its very own collection of origami from around the world and throughout the ages.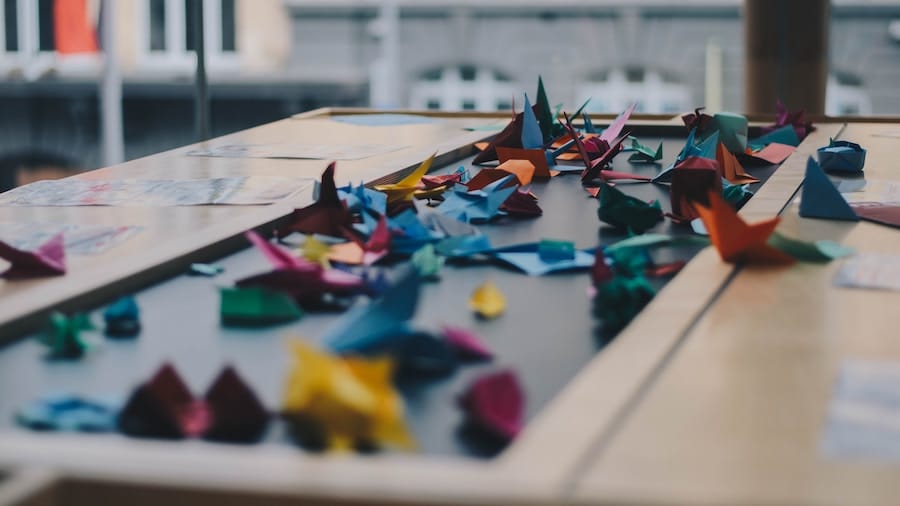 The Zaragoza Origami Museum was the first museum in all of Europe specifically dedicated to the art of origami. It is staffed by experienced professionals who also offer workshops and classes in various origami techniques. You can make your very own souvenir to bring home!
Museum of Francisco de Goya
Francisco de Goya is another artist closely associated with Zaragoza, as he called the city his home between the years of 1762 and 1774. During this time, he produced numerous paintings, all of which are currently on display in this fantastic museum.
Goya's art can be seen all around the city, from the various museums to the halls of the Basilica itself.
Pay tribute to this influential painter by visiting his very own museum, which is housed in a Renaissance-style building and also features exhibits about his life and time in Zaragoza.
Exhibition Hall La Lonja
"La Lonja," meaning "The Fish Market," was originally built in the 1540s when Zaragoza's officials wanted to move merchants and commercial exchange away from the church building.
Today, it is used to house art exhibitions from all around the world. Pick up a schedule to see what's in town!
Even if La Lonja isn't hosting any events during your visit, you should still stop by – the building itself is a stunning example of Renaissance and Mudéjar architecture.
Ebro River
The Ebro River wends its way through central Zaragoza, separating the modern and "old town" districts of the city. You can rent a kayak for the day to see the city at your own pace, or perhaps enjoy a stroll or a picnic along its beautiful banks.

Jose Antonio Labordeta Park
Travel by bus to this gorgeous park located just a short trip outside central Zaragoza. Labordeta Park – named for a 20th-century Aragonese singer-songwriter – boasts the highest point in the city.
From the top of the hill, you can see the entirety of the town spread out before you, from the flowing river to the spires of the Basilica.
Imperial Canal
This historic canal exits Zaragoza and travels north towards the towns of Gallur and Tudela. Its banks are perfect for both biking and hiking.
For those who are interested in devoting time to exercise and fitness on your trip, the Imperial Canal is exactly the spot you have been looking for.
Puente de Piedra (Stone Bridge)
Its Spanish name may simply mean "Stone Bridge," but this picturesque spot offers so much more than its simple title. It was remodeled several times and currently serves as an example of 15th-century Gothic architectural styles.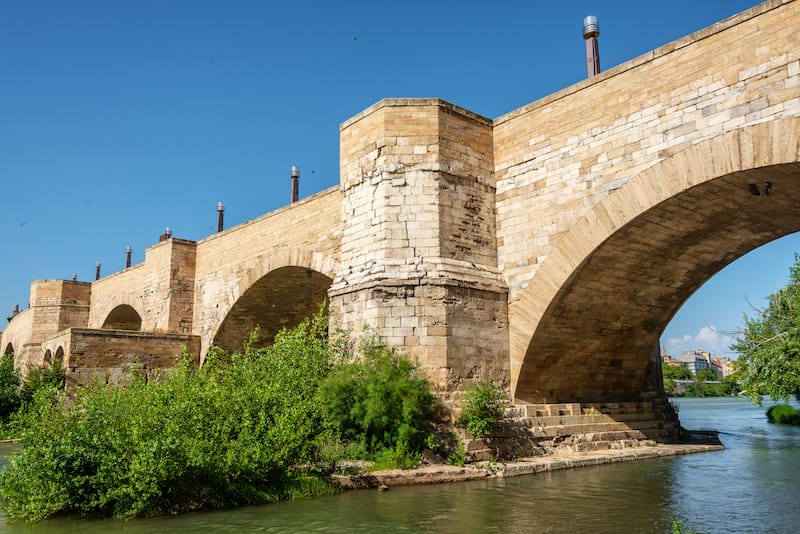 Travel through time as you cross the bridge, moving between the historic and modern districts of Zaragoza. Don't forget to pause in the middle to look at yet another excellent view of the Basilica!
Zaragoza Water Park
After a sunny day of walking around, take some time to cool off at the Zaragoza Water Park. Raft down the river or rent a distinctive "swan boat" for a more leisurely paddling experience. There's also plenty of slides, playground equipment, and interactive fountains for the kids.
In the summer, the water park is open 24 hours a day, so you can have some fun whenever the mood strikes!
Montal Restaurant & Leaning Tower Museum
Enjoy a traditional Spanish meal at Montal Restaurant in the San Felipe Plaza. In addition to a menu filled with local delights, Montal features a wall of photos and paintings dedicated to the Leaning Tower which once stood in the plaza.
In addition to both indoor and outdoor seating, Montal offers a deli counter. Feel free to grab lunch on the go!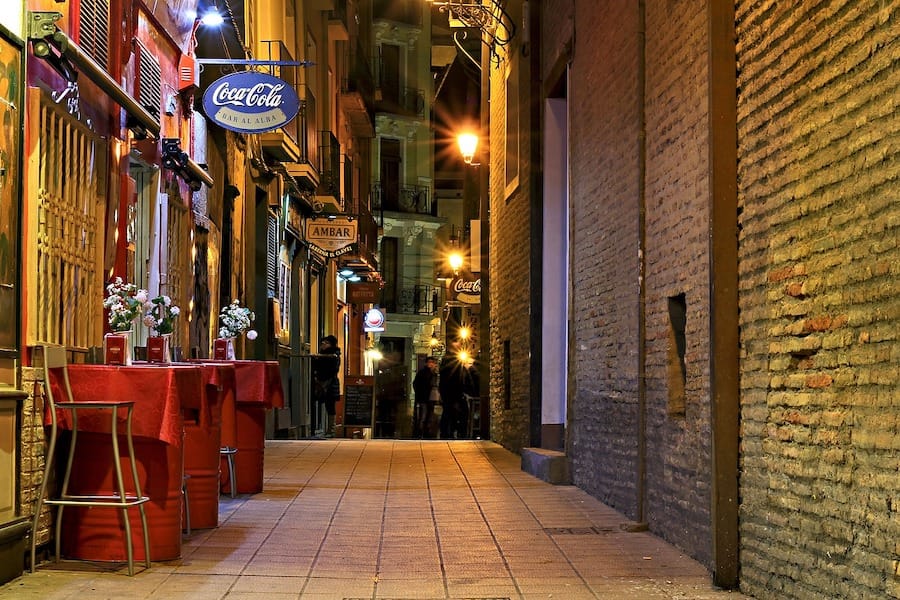 QUICK TIP: Olives are big business in Spain and this region. If you're keen to learn more and take an olive oil tour, this Zaragoza midday olive oil tour and a visit to the old town of Belchite is the perfect way to learn more (and EAT!)
La Clandestina Café
For a leisurely brunch in Zaragoza, there's nowhere better than La Clandestina Café. Featuring a variety of traditional Spanish dishes, this quaint café is best known for its bold, sweet desserts.
Fans also recommend the local vegetable salad, and the steak and tuna tataki.
Just keep in mind that La Clandestina can fill up fast – definitely make a reservation to guarantee yourself a seat!
Whether it's the centerpiece of your entire trip or a simple stop along a pilgrimage or other longer journey, Zaragoza is definitely not a place to miss.
From its storied past to its commitment to preserving Aragonese art, architecture, and culture, Zaragoza has a little bit of something for everyone.
QUICK TIP: If you're keen to learn more about delicious Spanish wine over local food, try this wine tasting and tapas tours in Zaragoza to educate yourself more on the regional food and drinks.
Start planning your trip today – and be sure to tell us all about your favorite sights and experiences once you arrive back home!

Tours in Zaragoza Mentioned in Post
Here are a few of the tours we mentioned throughout the post that we think are worthwhile Zaragoza tours to book for your trip.
These will give you the chance to capitalize on the many things to do in Zaragoza in an easy and efficient manner.
Did we miss any of the best things to do in Zaragoza? Let us know in the comments!
Where to stay in Zaragoza
More Spain Travel Guides