Are you considering signing up for a Barcelona tapas tour on your upcoming trip to Spain?
This guide details how to book the best tapas tour in Barcelona, what to expect, and how to make the most of your experience! Keep reading for more…
Are you planning your trip to Barcelona last minute?
If you're booking your trip to Barcelona last minute, we have you covered. Below are some of the top tours, hotels, and more!
🇪🇸 Top tours and tickets in Barcelona:
🛌 Top hotels in Barcelona:
ME Barcelona (luxury option—has an outdoor pool!)
Praktik Vinoteca (near Plaça de Catalunya)
Violeta Boutique (fabulous budget option)
🚗 Looking for the best way to get around Barcelona? Click here to check rental car rates for Spain!
Barcelona is renowned for its food, and in particular, its tapas (and the culture that surrounds them).
So, when our content editor, Lena, headed to Barcelona, we encouraged her to take this Barcelona tapas tour so she could get a real taste of the cuisine on her first trip to Barcelona.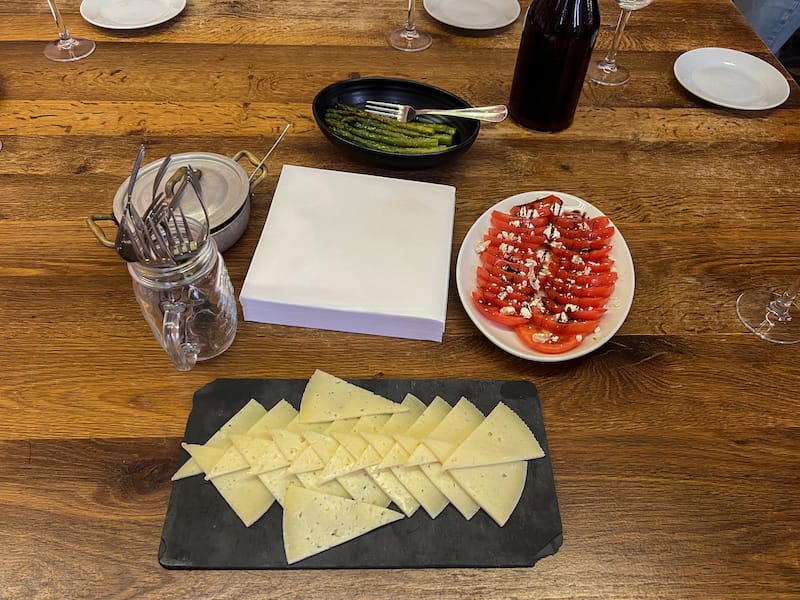 She has written up her experience below (as well as taken photos of her tapas tour!) – and also discloses whether or not she thinks the experience was worth it.
Let us know if you have any questions – we will help answer them (and she will chime in with her thoughts). Thanks!
Why I Signed Up for a Tapas Tour in Barcelona
To be honest, I didn't know that much about Barcelona or Catalan culture, so I thought that the best way to learn more about it was to sign up for a tapas tour!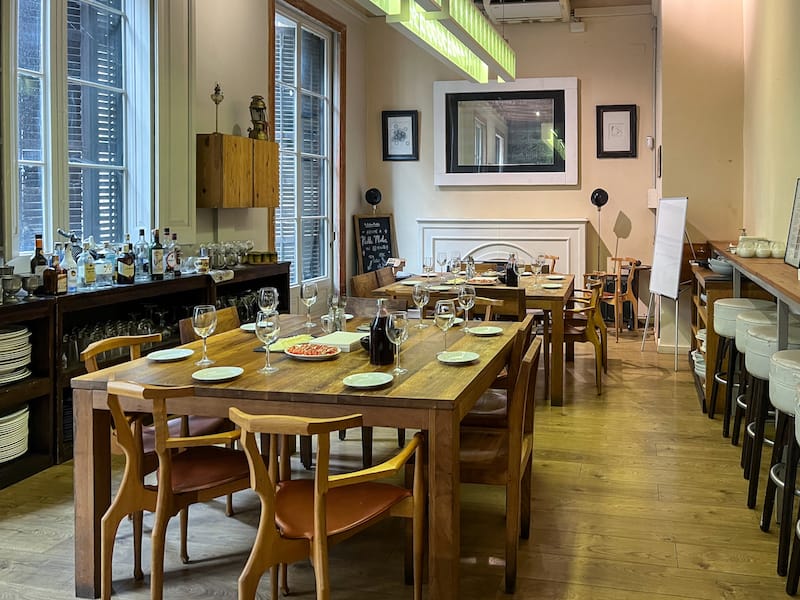 One of the best ways to learn more about the country you're visiting is by trying the food, because it gives you better insight into the culture, history, and mentality of the people, as well as more information on what the region is famous for.
As I had never been to Barcelona before, I truly wanted to indulge and learn as much as I could about this amazing culture and history.
BOOK HERE: Best Barcelona Tapas Tour
I also wanted to enjoy the fact that Barcelona is located on the coast, giving it access to some of Europe's tastiest seafood.
How to Book the Best Barcelona Tapas Tour
I booked my tapas tour through Get Your Guide, which proved to be a fast and reliable method (and I know Megan and Aram use them for most of their tours in Europe).
All you need to do is check the availability based on the dates of your visit and select the starting time. Then, you can choose the option to book now or add it to your cart if you want to explore some other tours available in Barcelona.
Afterward, you can check out and reserve your spot on the tour! The tour can be canceled for free up to 24 hours in advance in case something comes up.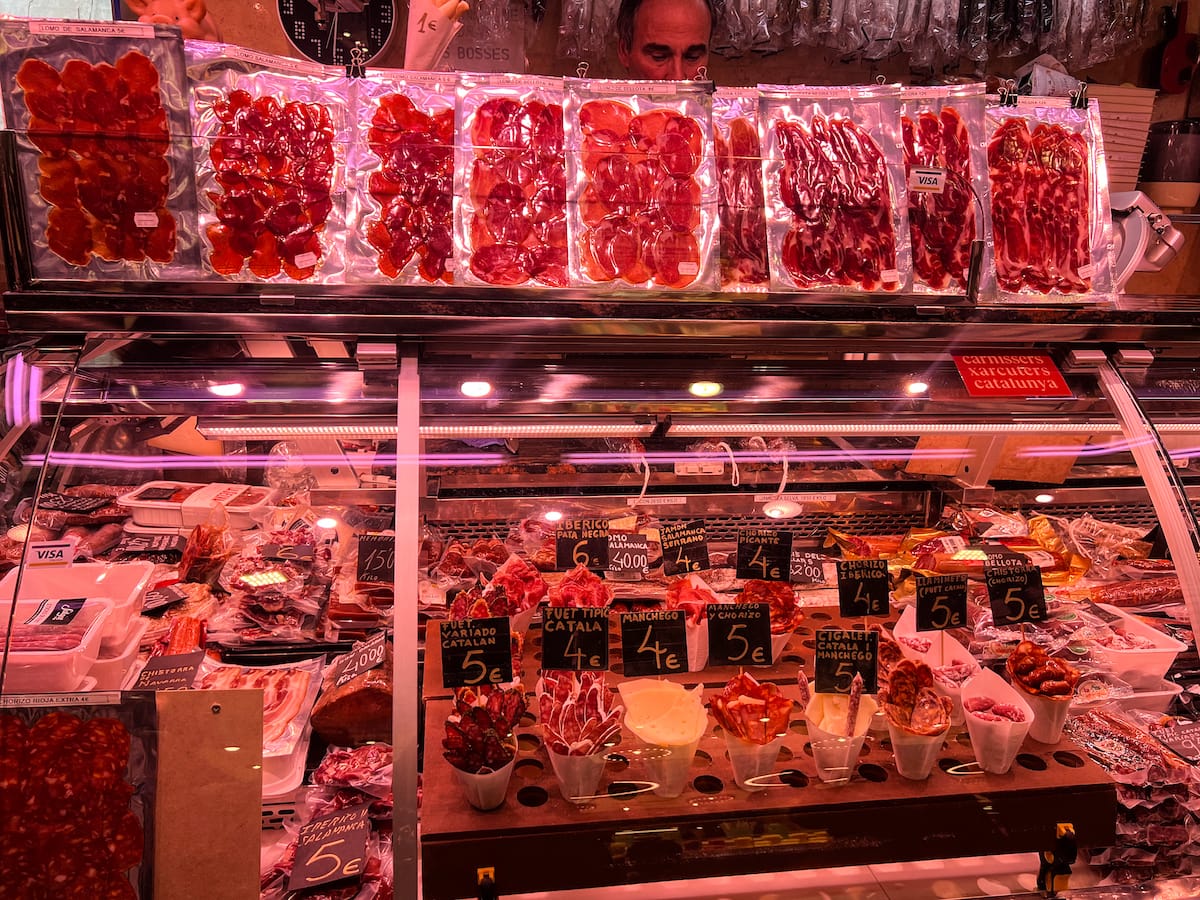 Once the tour is confirmed, you will receive an email containing information about it as well as an electronic voucher that you will present to the tour guide on the day of the tour.
The guide will also generally email the day before the tour to confirm details or other crucial information.
Book your Barcelona tapas tour here!
Where to Meet on the Day of the Tour
The meeting point for this tapas tour was right in Barcelona's Gothic Quarter, which is famous for its architecture and narrow streets.
The address was Carrer de la Boqueria, 27, 08002 Barcelona, Spain, right in front of the 'Travellers Nest Bar'.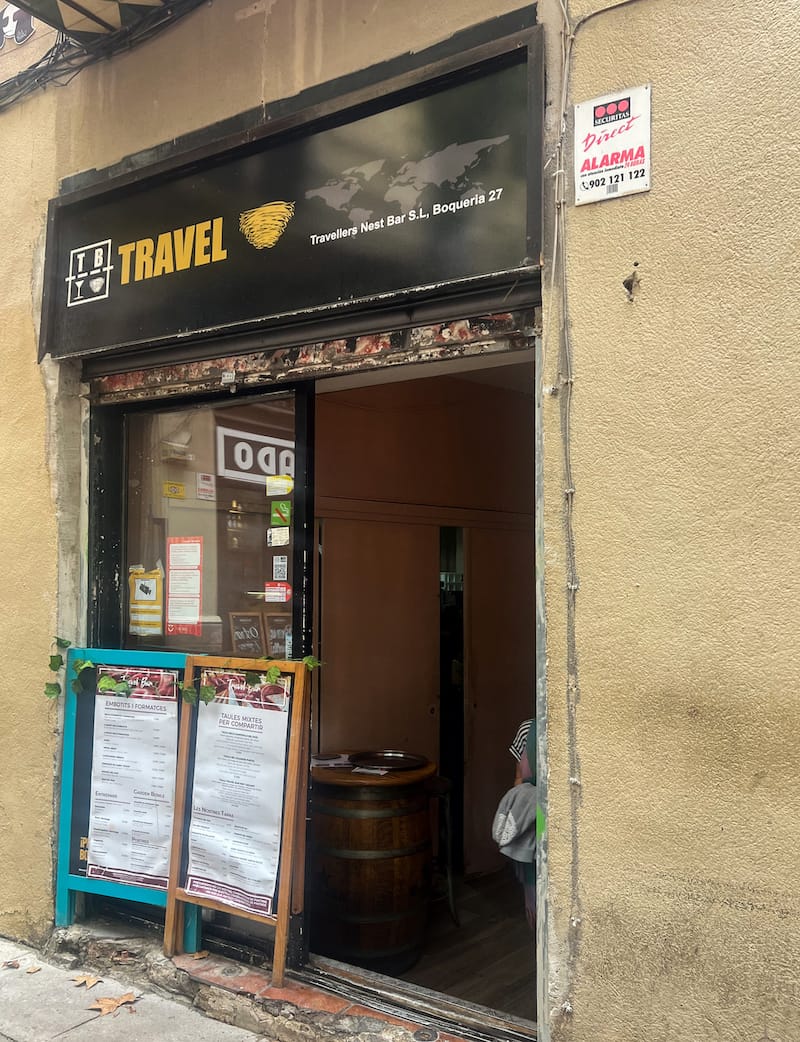 You may want to double-check the meeting point for your specific tour, which can be found in the Get Your Guide app, just in case your tour embarks from a different location.
My Experience and Highlights from a Tapas Tour in Barcelona
Duration: 3 hours
Meeting Point: Carrer de la Boqueria, 27, 08002 Barcelona, Spain
Language: English
CLICK HERE TO BOOK!
When you arrive, be sure to provide the tour guide with your name and your travel voucher, which can be accessed via the Get Your Guide app even without an Internet connection.
The tour guide will also ask about your dietary preferences, such as if you are vegan or vegetarian, or if you have any allergies.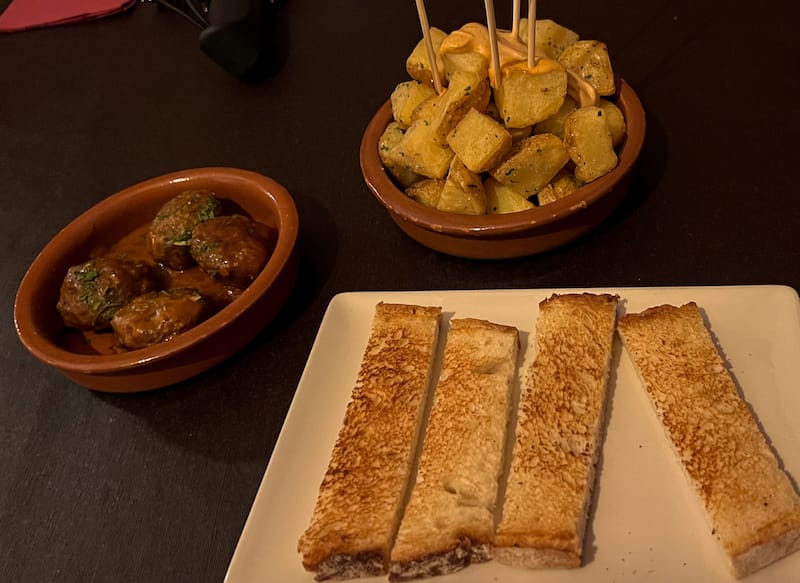 One of the participants in my tour had celiac disease, and she was able to be accommodated just fine, so having any dietary restrictions shouldn't be a major concern if you're interested in this tour.
When the tour begins, the guide will provide you with a brief introduction as well as some background on tapas and traditional Catalan cuisine.
Then, it's time to start the tour!
Learning About What Tapas Are
To start with, you might be wondering what tapas are (or maybe you have enjoyed them in restaurants in your local area). The tour will explain in further detail, but I will give a brief overview below!
Tapas refers to appetizers or snacks. They are common in Spanish cuisine, and they can be served hot or cold.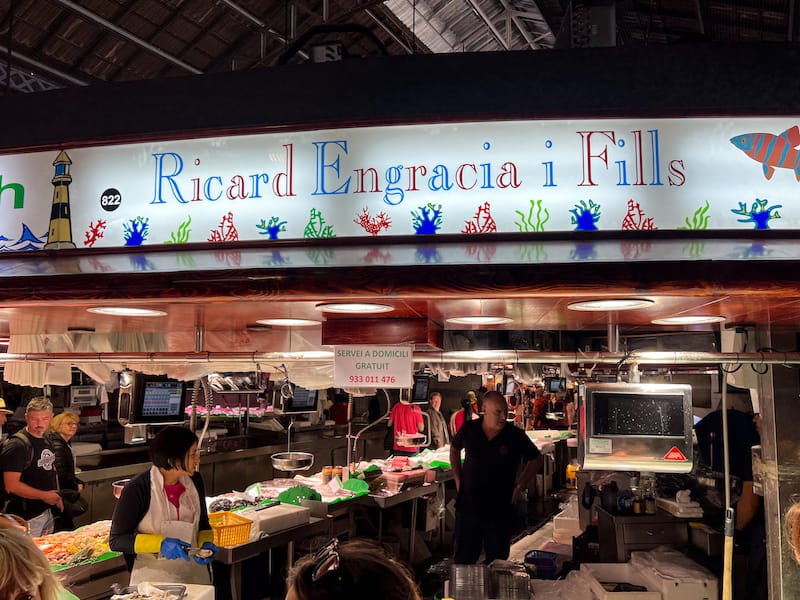 As a result, some of the tapas we were served were hot, while others were cold.
Also, it's possible to combine tapas to make an entire meal (I was certainly full by the end of the tour), or you can order them as an appetizer before your main meal at a restaurant. Simply put!
Try Amazing Spanish Wine and Starters
At the first restaurant, we had three different starters and an amazing wine that tasted almost like something you would want to save for Christmas due to the strong flavors.
We started with a red vermouth called Espinaler Vermut Rojo, which had 15% alcohol and included oregano, mint, and caramel.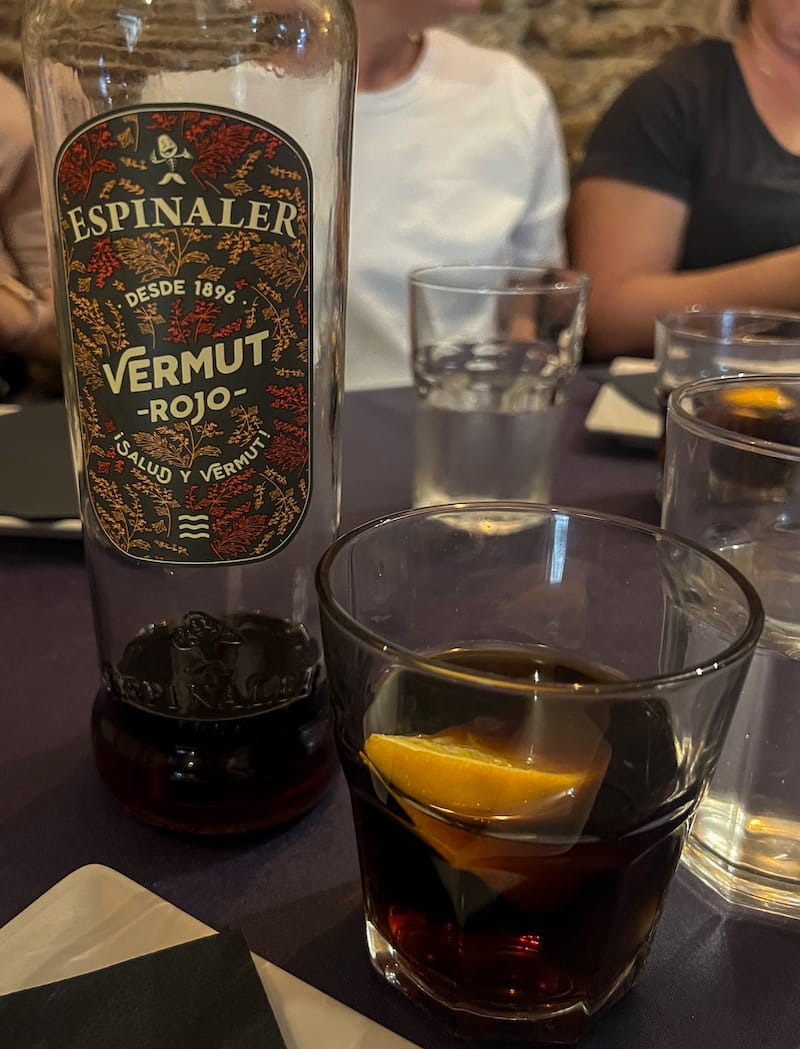 Then, we were served the tapas, called pinchos, or spikes, which originated in the Basque country.
The first one consisted of green peppers, also called the godfather pepper, with deep-fried courgettes (zucchini) and two types of pork, one of which was blood sausage, and the other was a sweeter meat.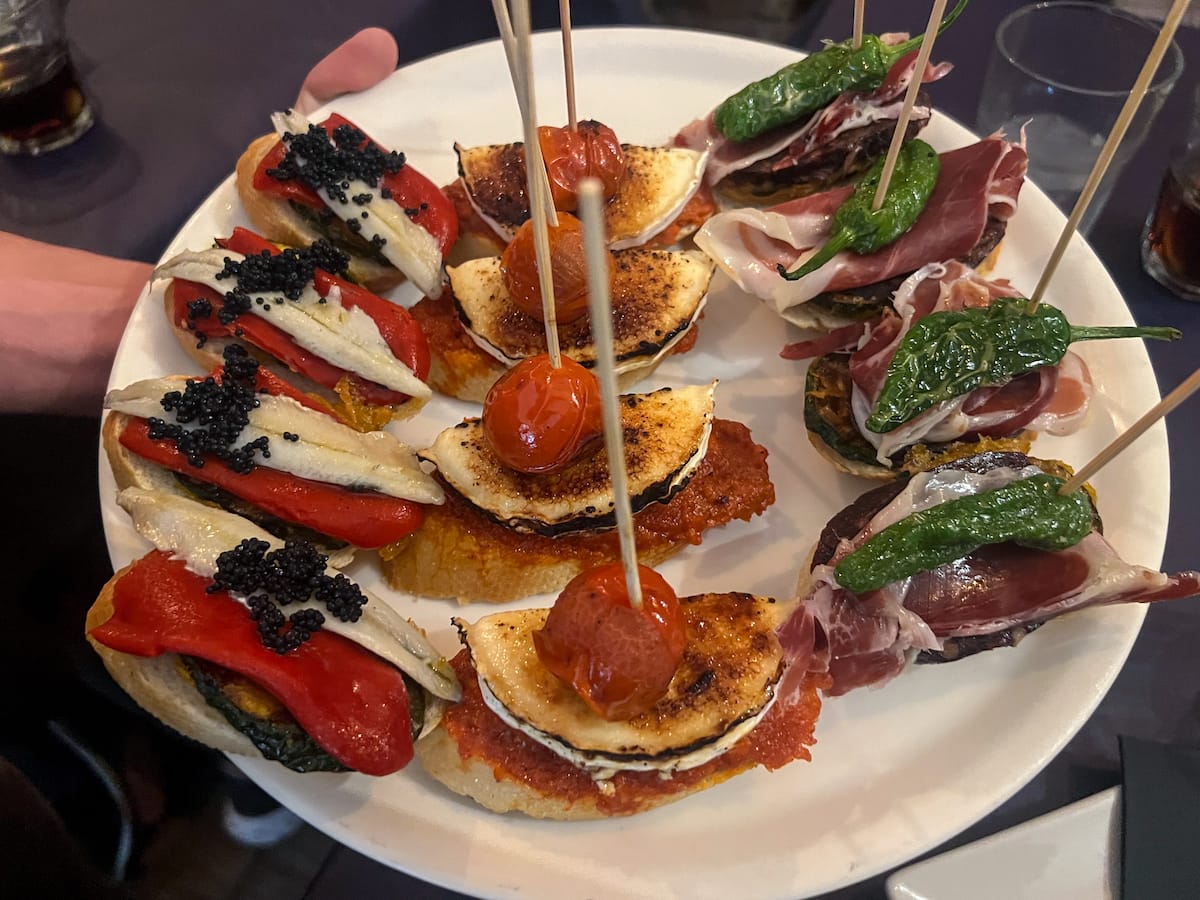 Then, we had an appetizer with courgettes and sweet red bell peppers that were slightly steamed and topped with salty fish and caviar.
Finally, we tried out tapas with Sobrassadas (a type of Spanish sausage) and paste, topped with caramelized goat cheese and a fried red cherry tomato.
Check Out the Famous La Boqueria
Our next stop was the world-famous La Boqueria market, which you've probably seen before on TikTok as one of Barcelona's top travel sites.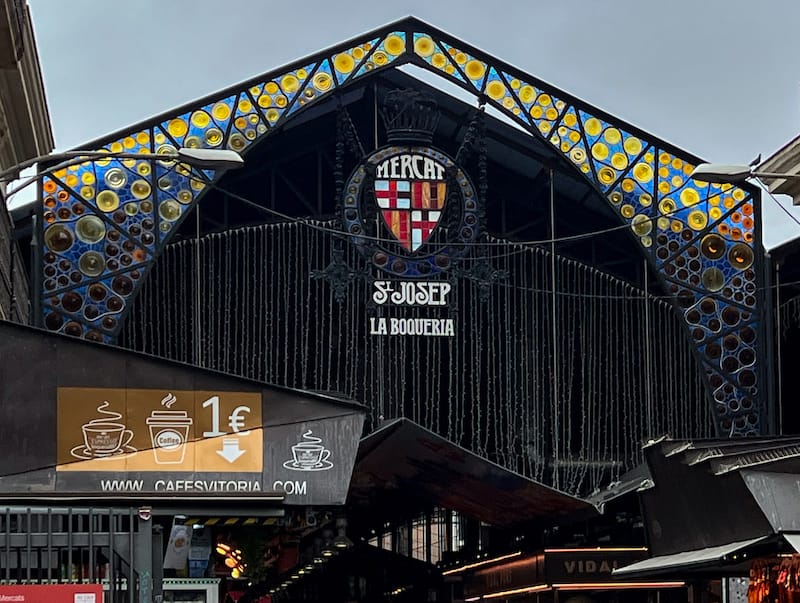 Indeed, there was more food than you can ever imagine here, and there were so many vendors that it was impossible to choose one to visit!
Here, we tried oysters with cava (Spanish champagne), as well as small chistoras (a small cured sausage) and manchego cheese, which is made from sheep's milk.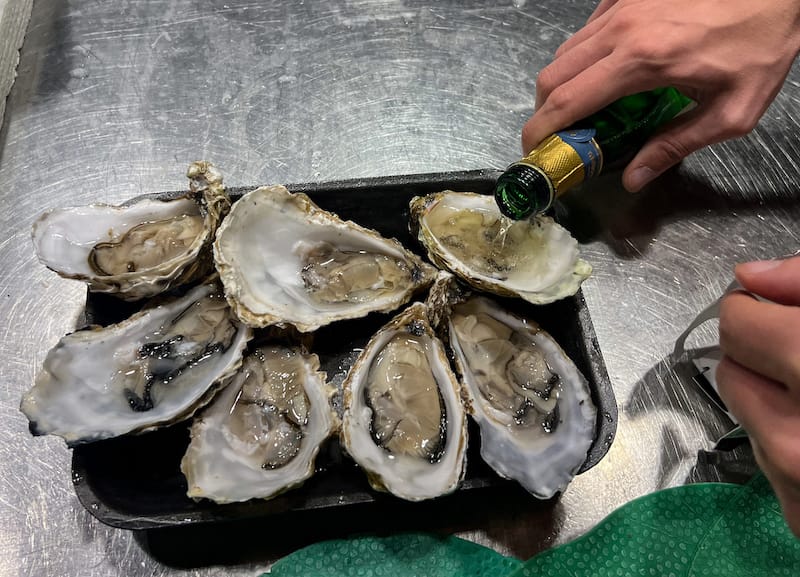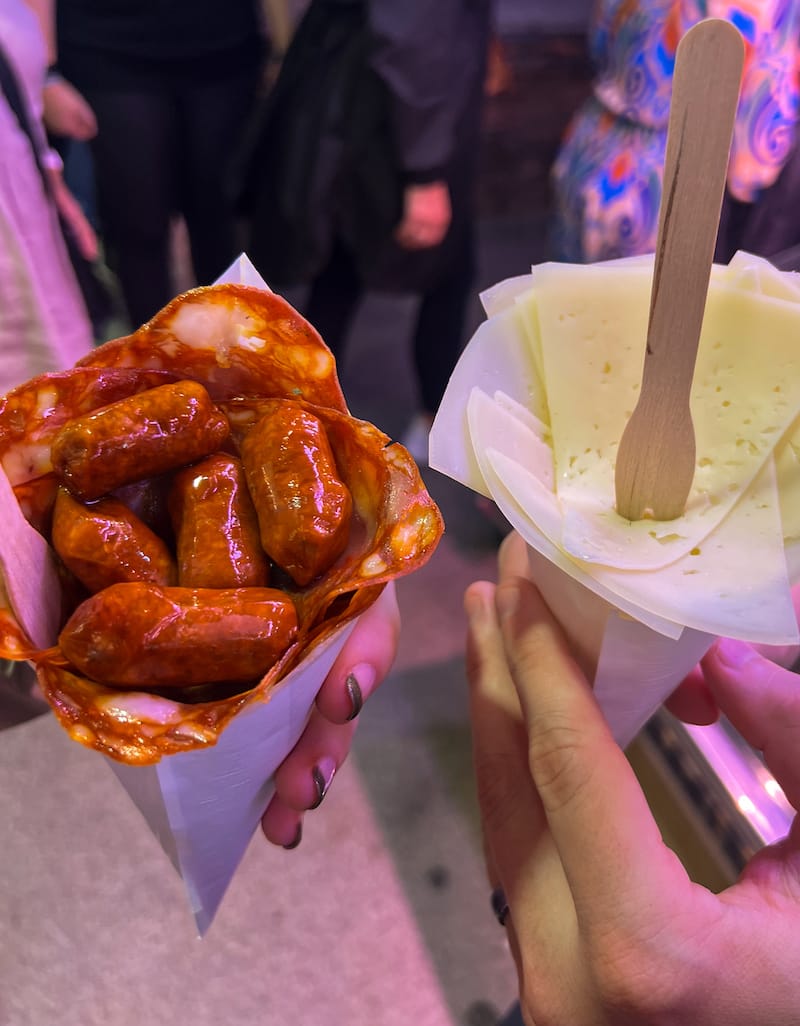 Of course, not everyone in our group tried the oysters, but I recommend that you give it a try to get the most out of the experience!
Visit a Private Kitchen
The third place we went on the tour was the Volana Test Kitchen, which is only available upon reservation.
Each dish was prepared exclusively by a private chef, and the small restaurant provided us with authentic Catalan countryside vibes, despite being right in the heart of the Gothic Quarter.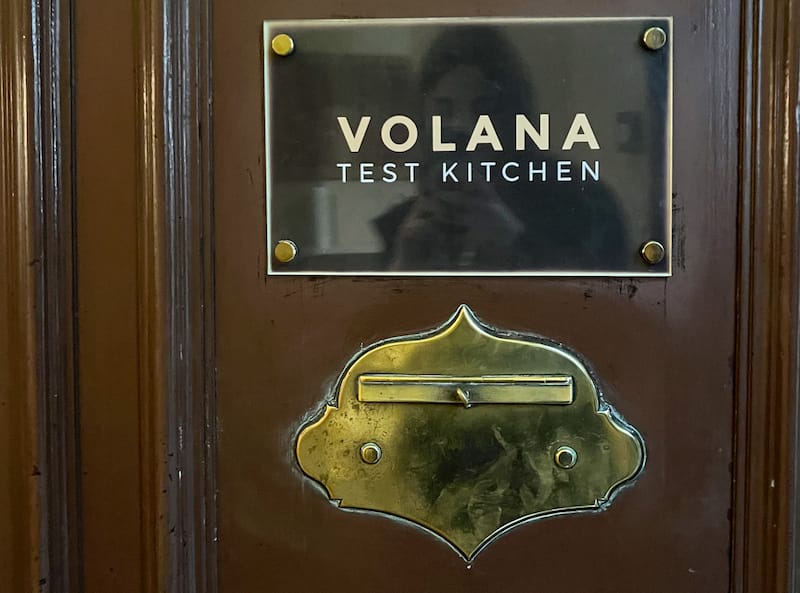 Here, we started with a tomato salad topped with goat cheese and balsamic vinegar. Next, we had sides of asparagus seasoned with salt and honey, as well as more manchego cheese.
The main dish was more chistora sausage cooked in a cider sauce.
BOOK HERE: Barcelona's Best Tapas Tour
To drink, we were served a Rioja wine from the north of Spain. In this wine, the grapes are pressed earlier, which provides a smoother taste.
Enjoy a Tapas Bar Right by the Beach
Our final stop was a tapas bar located not too far from Barceloneta Beach, giving us the perfect seaside vibes to end the tour.
We had multiple tapas here. First, and what was the favorite of everyone on the tour, was the patatas bravas, which translates to "mean potatoes."
They were essentially fried potatoes topped with a bravas sauce consisting of tangy mayonnaise, pepper, and chili peppers.
The potatoes weren't spicy, I would say!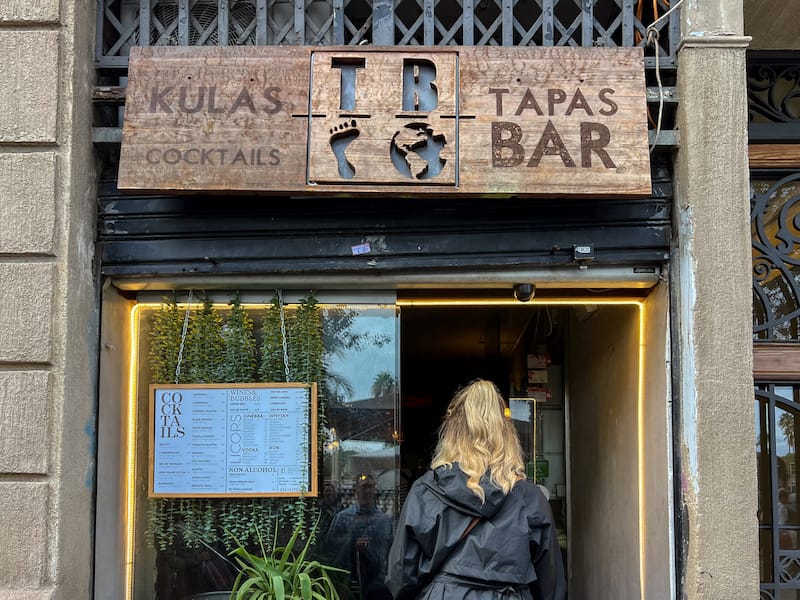 Next, we had pork and beef meatballs. Due to the Spanish Inquisition, as the tour guide explained, the Spanish incorporated a lot of pork into their meals because pork is not allowed to be eaten in Islam.
These meatballs were covered in a carrot and saffron sauce. I thought they were delicious!
Next up, we had green peppers. For dessert, we had a traditional Easter cake topped with almonds and powdered sugar.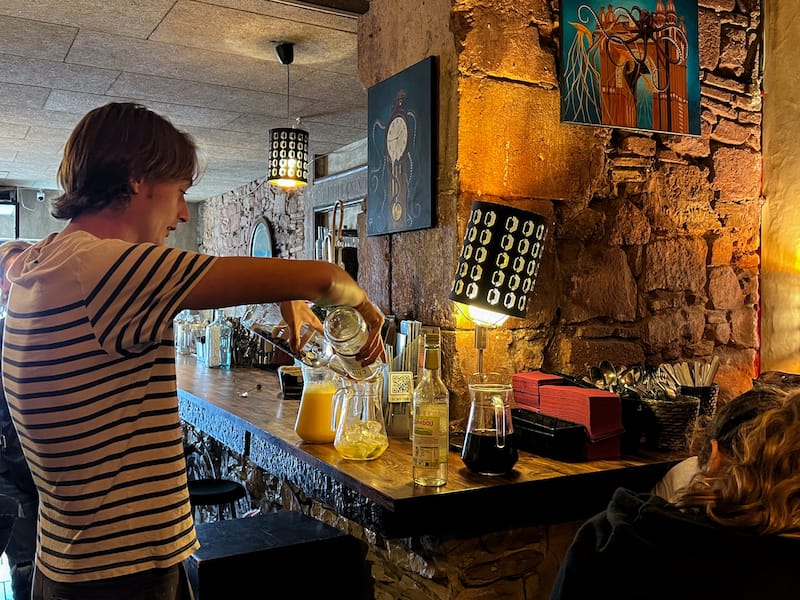 To drink, the tour guide provided us with a demonstration on how to make the famous sangria, which consists of vodka, red wine, fruit juice (in this case, we had it with orange juice), and sugar syrup.
And that marked the end of the tour! We were able to chat with our group members throughout the tour, and as you can imagine, the people participating were from all over the world and all different walks of life.
Also, be sure to give the tour guide a small tip if you enjoyed it!
Who Can't Take This Tapas Food Tour?
There was a lot of walking involved, so if you have limited accessibility, you may unfortunately face some difficulties. It was also not suitable for children under 18 years old.
Although there was alcohol involved, some of the people in the group opted out of drinking, and you certainly don't have to drink if you don't want to or can't. As an alternative, water was provided everywhere.
As mentioned earlier, if you have any dietary restrictions, the tour guide will ask you about them at the beginning of the tour, so be sure to specify that accommodations will be made for you.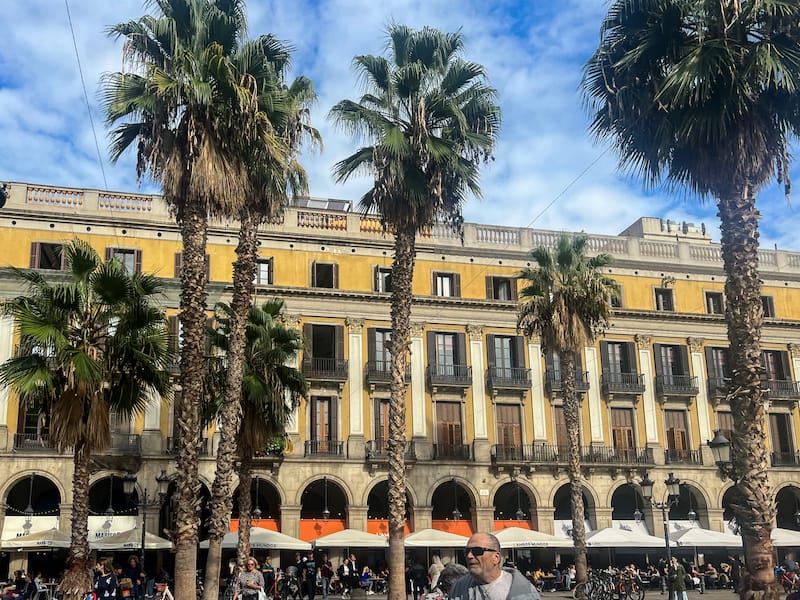 Definitely dress appropriately, too! You will want to wear comfortable shoes, as there will be a lot of walking throughout Barcelona's Gothic Quarter.
Additionally, you will want to take a jacket if you're not going in the summer, and as always in Barcelona, watch out for your belongings!
I wore a fanny pack just in case, as we were in highly crowded areas for much of the tour.
Should You Take a Tapas Tour in Barcelona?
Tapas are one of the most integral parts of Catalan cuisine, so you shouldn't pass up this opportunity to try these excellent appetizers and small plates!
It's also a great way to explore the city some more on foot because we were able to see some beautiful sites along the way. Be sure to have your camera ready!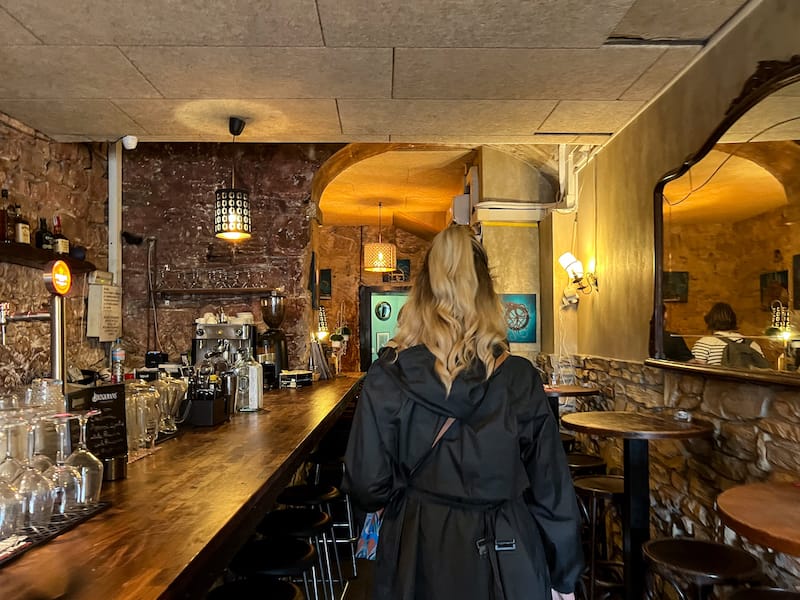 As someone who had never been to Barcelona before and who didn't know much about the culture or history, I feel that this tour provided me with this added insight, and I was able to try out some delicious food as a result.
Book your Barcelona tapas tour here!
Do you have any questions about taking a tapas tour in Barcelona?
Let us know your Barcelona tapas tour questions… and also let us know what your favorite part was if you have already taken one yourself!
More Spain Travel Guides
Pin this Barcelona Tapas Walking Tour Guide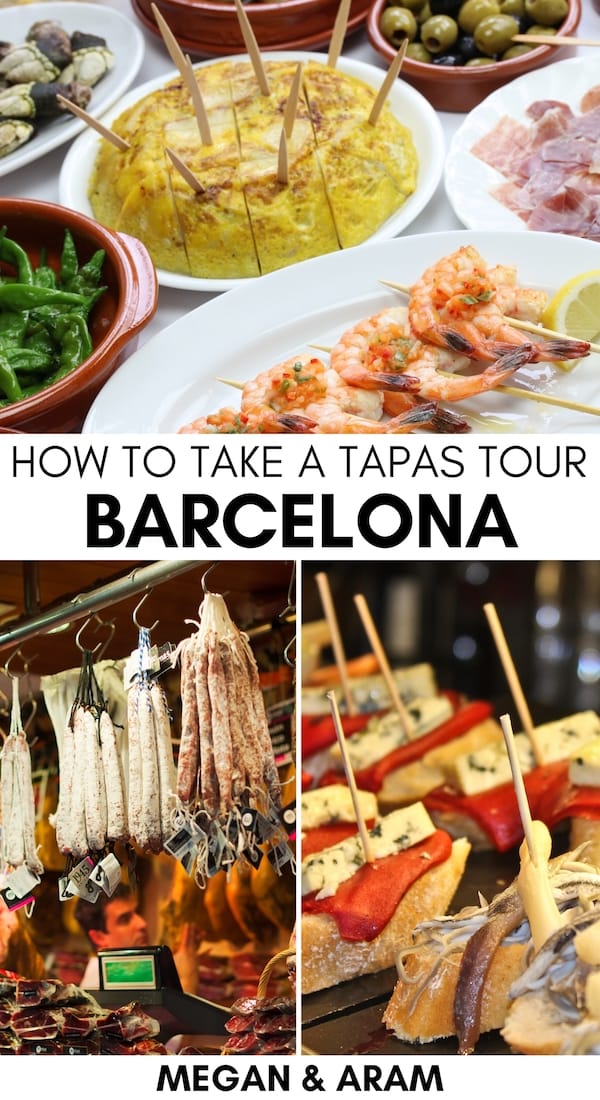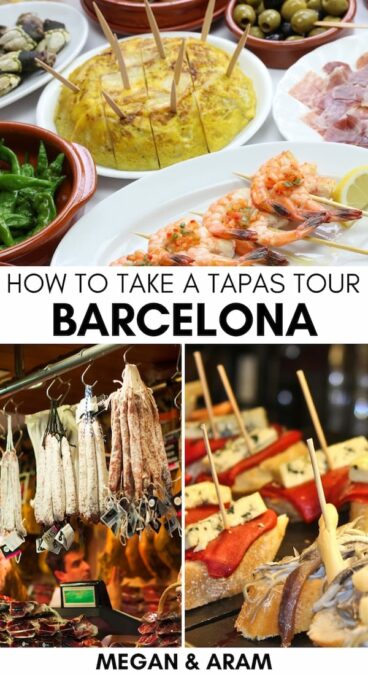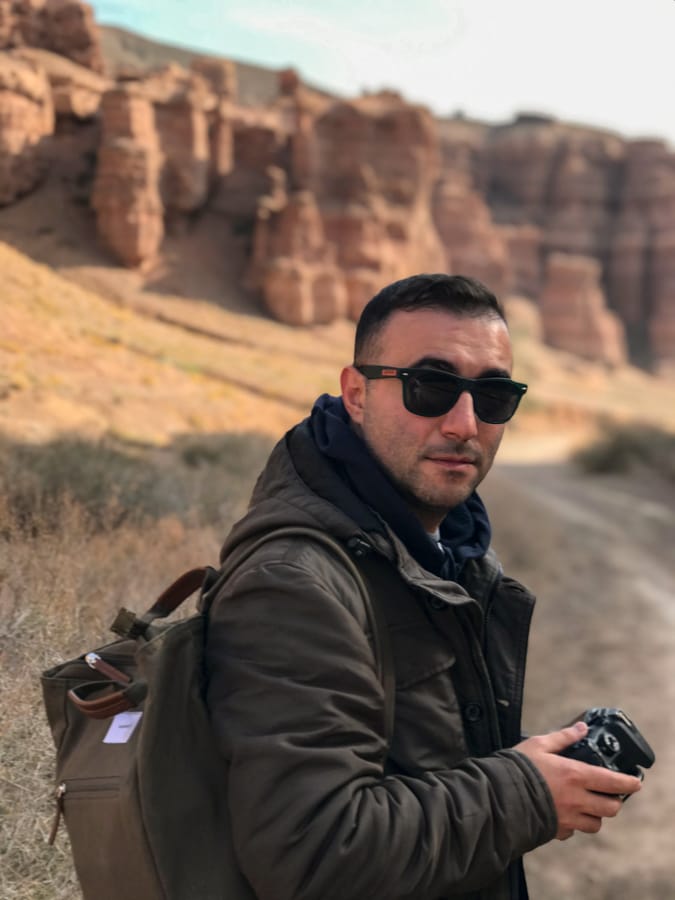 Aram is a travel blogger and writer from Armenia who spends his time between Spain and his home country. He is passionate about music and football (the European kind) and covers a lot of Western European destinations on the blog. Aram is a laidback traveler who enjoys meeting new people and finding the best food in each city that he visits (hence his frequent trips to France, Italy, and Greece!). He has been featured in (or written for) Forbes, BBC, The Guardian, Fodor's Travel, and more.