Are you looking for the best things to do in Valencia in winter? This guide covers all the most festive places during winter in Valencia!
Are you planning your trip to Valencia last minute?
If youʻre booking your trip to Valencia last minute, we have you covered. Below are some of the top tours, hotels, and more!
🇪🇸 Top Experiences and Tours in Valencia:
🛌 Top Hotels in Valencia:
🚗 Looking for the best way to get around Valencia? Click here to check rental car rates for Spain!
From eating churros aside sweet hot chocolate to checking out the top attractions during Christmas in Valencia… we cover all of our top favorites in the Spanish city!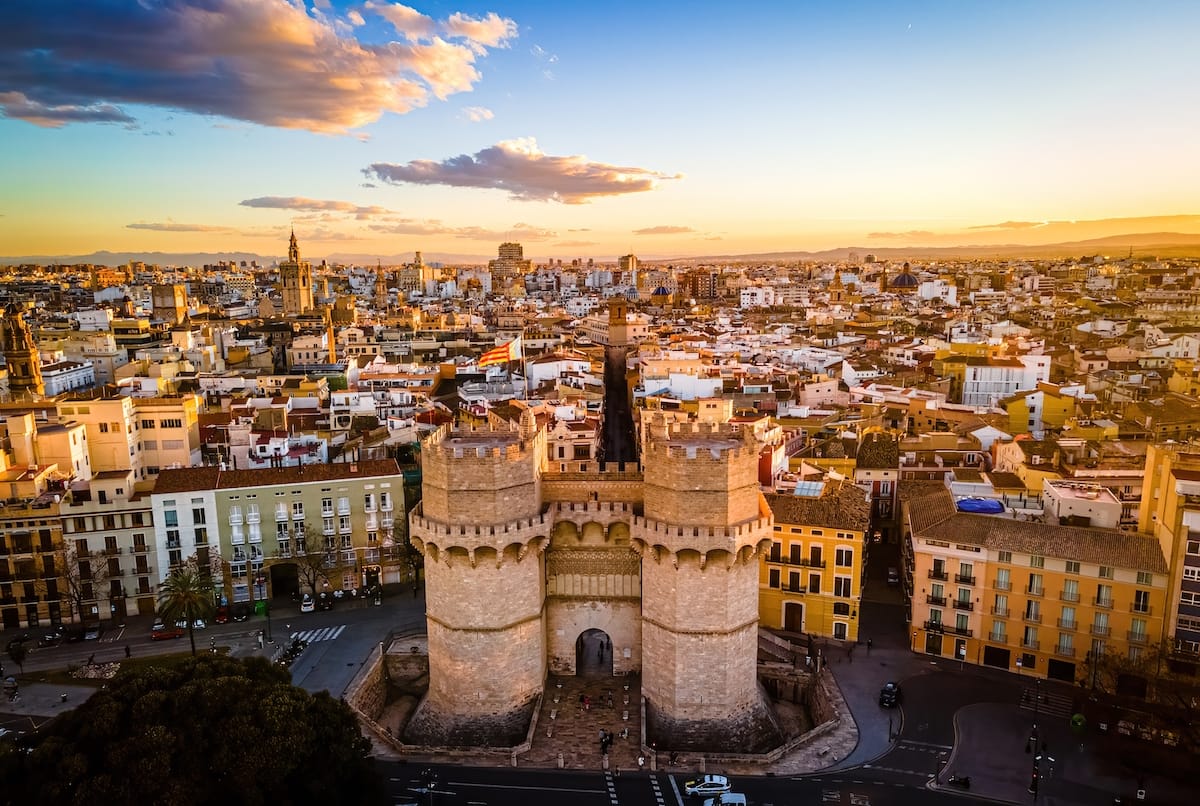 Did we miss any of the top things to do in Valencia in winter? Let us know your tips in the comments.
Winter in Valencia Quick Facts
Valencia Winter Temperatures
Like most of Spain, Valencia is known for its mild winters, which causes people to flock to the city to escape the cold.
Most of the winter in Valencia is rainy and windy, but not as cold as in other places.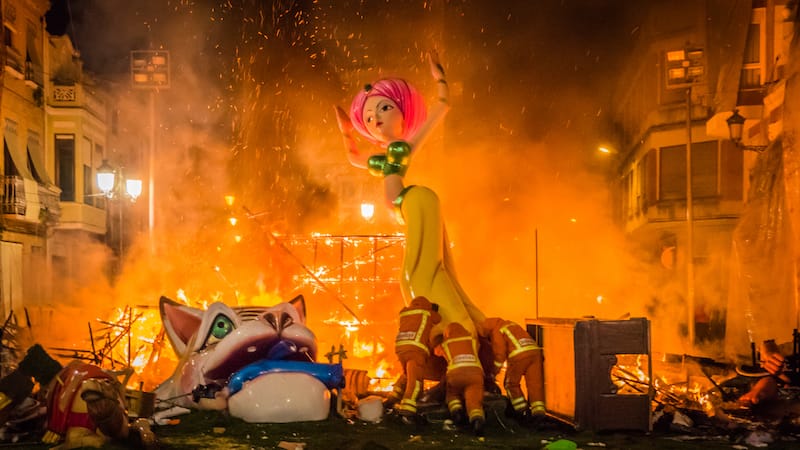 Here are the average temperatures throughout the winter in Valencia:
December in Valencia: Highs, 11.4°C (53°F). Lows, 5.9°C (42.6°F)
January in Valencia: Highs, 16.4°C (61.5°F). Lows, 5°C (41°F)
February in Valencia: Highs, 11.4°C (52°F). Lows, 5.6°C (42.1°F)
March in Valencia: Highs, 19.5°C (67°F). Lows, 7.8°C (46°F)
Does it Snow in Valencia?
It is very, very unlikely that you'll see snow during your visit to Valencia.
Snow in the city is extremely rare. If you're looking for a winter wonderland, you'll have to head further north!
Best Things to Do in Valencia in Winter
1. Admire the Christmas Lights in the Old Town
You're in for a treat if you're Christmas in Valencia. It transforms into a fairytale city just in time for Christmas, filled with Christmas trees, glamorous lights, and festive decorations.
Take a stroll through Ayuntamiento Square, which is one of the city's most magical areas, where you can see the main building lit by twinkling holiday lights, have hours of fun on the incredible ice rink, grab a bite from food stands, and enjoy a fun Christmas train ride to admire the festive decorations and the shop's windows.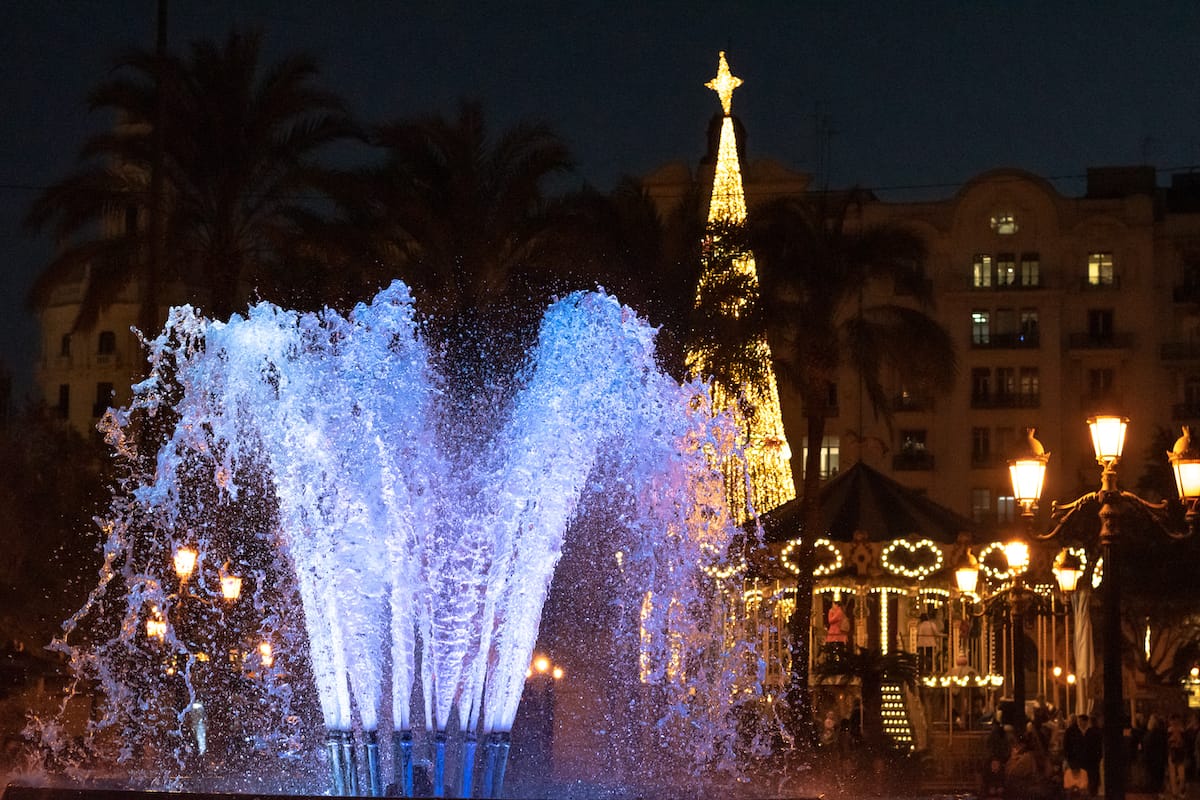 The Old Town is packed with more than 140 street lamps decorated with Christmas motifs, Christmas trees in 13 neighborhoods, 117 decorative arches in 27 streets, along with 17 "Happy Christmas" signs in the villages, and another 3 in city neighborhoods.
2. Visit the City of Arts and Sciences
The City of Arts and Sciences is a must-visit attraction year-round, but exploring it during the holiday season will make you immersed in the Christmas spirit.
This scientific and cultural leisure complex features Oceanogràfic (Europe's biggest aquarium), Hemisfèric (digital 3D cinema offering a huge 900-meter concave screen), Science Museum, Palau de les Arts, Umbracle, L'Assut d'Or, and CaixaForum Valencia.
Please note that you will need tickets to enter the Science Museum, the Hemisfèric, and the Oceanogràfic.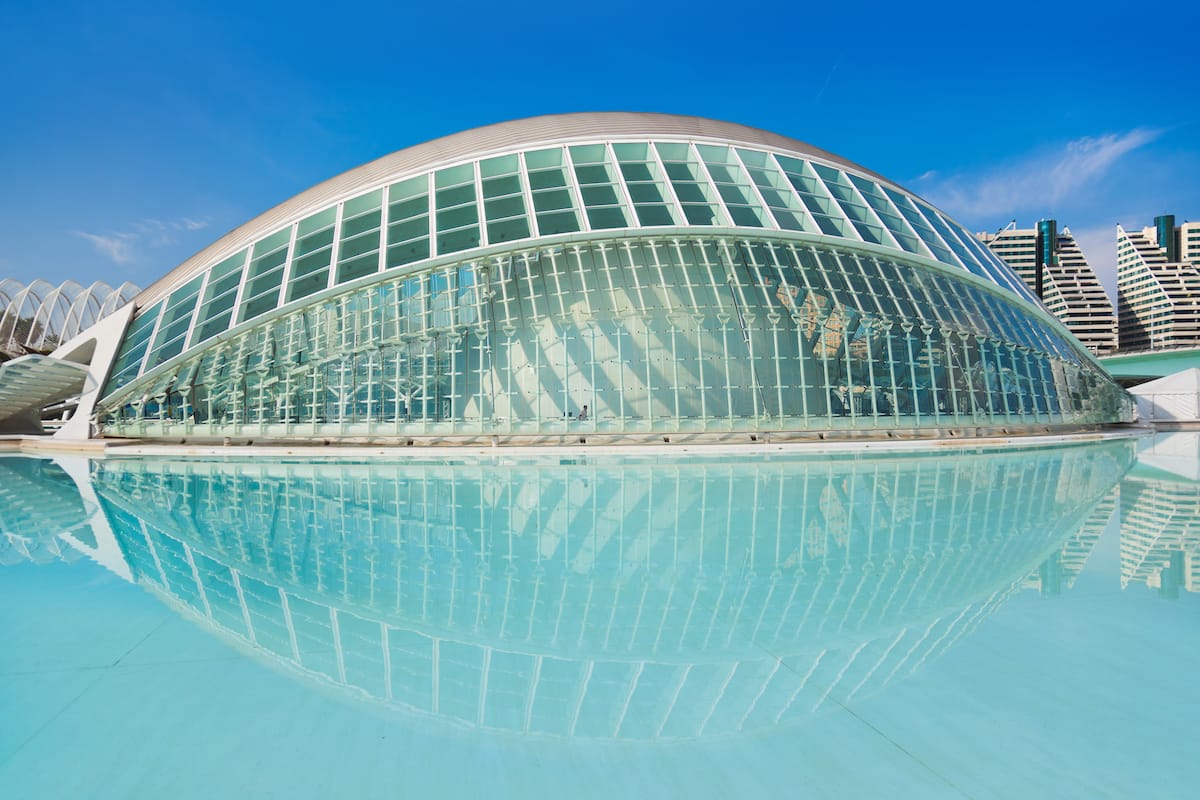 Show off your skating skills at the Ice Rink near Hemisfèric, attend a Christmas art workshop, check out food trucks when hungry, explore seven different marine environments at Oceanogràfic and take part in a variety of Christmas events.
This is also the perfect place if you are visiting with kids. Here they can catch a puppet show, jump on the trampolines or play mini golf in the playground and enjoy colorful workshops and Christmas shows.
3. Take a Tour of the Old Town (that Includes Tapas!)
Experience the historic Old Town like a local with this Old Town, Wine & Tapas Tour. Food is one of the things that make Valencia one of the best weekend trips in Spain!
Explore the picturesque streets of Valencia and marvel at unique architectural styles dating back to the Roman, Moorish, Baroque, and Gothic periods as your friendly guide shares with you the rich history of the city's hidden gems.
First, you will visit some of Valencia's most famous plazas, such as Plaza de la Reina and Plaza de la Virgen, then head to the Church of San Nicolas to wow at its breathtaking interior and hypnotic frescoes.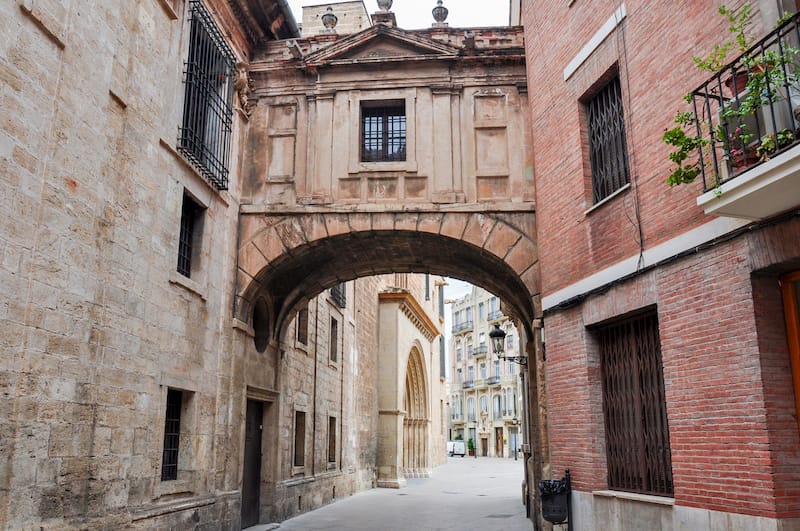 This tour also gives you exclusive access to the historical monument in the heart of Old Town, which dates back to the 11th century.
Here you can get a taste of delicious Valencian cuisine and local produce by savoring a mouth-watering 10-course tapas meal which is perfectly paired with a selection of prizewinning regional wines.
>> Click here to check tour rates and availability
4. Visit Christmas Markets in Valencia
Swinging by traditional Christmas markets in Valencia is a must to soak in that festive spirit. From mid-November to the end of January, cozy Christmas markets get sprinkled all over the city.
Featuring more than 900 stalls, Mercado Central is the biggest market hall in Europe.
Here you can find all the ingredients for Christmas meals, such as cheese, ham, olives, oranges, turrón, horchata with a farton, wines from Utiel-Requena, and more.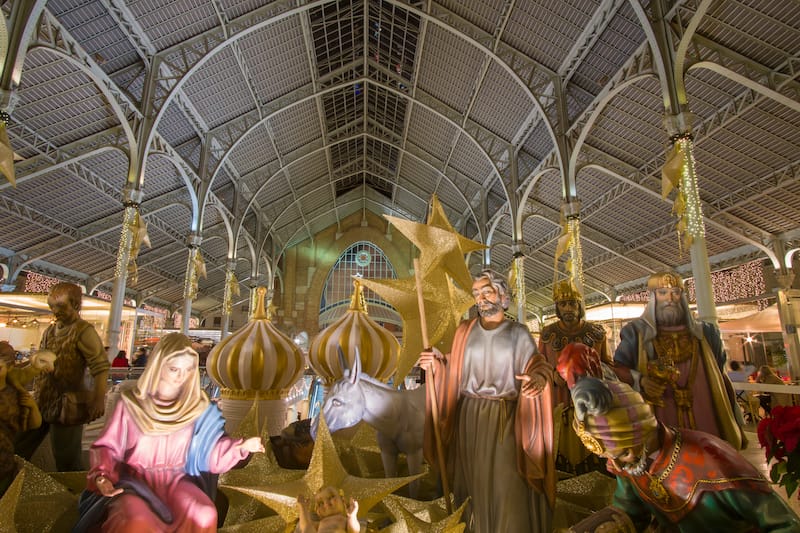 Check out Feria de Artesanía to pick the perfect artisanal items for your loved ones.
Jul Konstruktion market is another must-visit one with a refined Nordic aesthetic, where you can find a wide range of pieces by artists and fashion designers, as well as accessories and décor.
Those looking for clothes, toys, Christmas decorations, paintings, crafts, and more should definitely visit Mercado de Reyes, nestled around Cabañal Market, which features more than 240 stalls packed with Christmas treats.
5. Enjoy Hot Chocolate and Churros at Valor
When it's winter in Valencia, it's the real time for churros and hot chocolate. Reward yourself with those perfect winter treats at Chocalatería Valor.
Order their crispy, fried-to-perfection churros lightly dusted with sugar and dip it in their signature, piping hot, delicious hot chocolate for a truly local experience.
Operating since 1881 and featuring a few locations all over Madrid, locals and tourists alike line up in front of Valor to get a taste of this historic establishment's iconic churros and thick hot chocolate.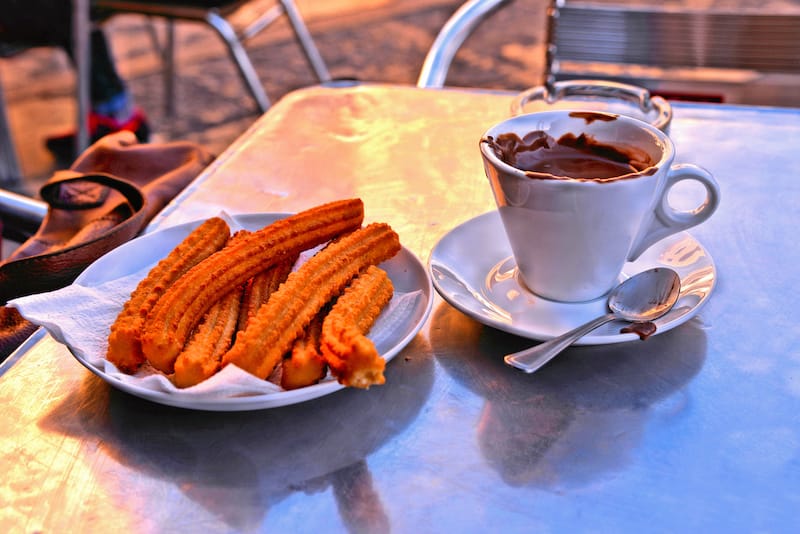 In addition to some of the best churros in Valencia, here you can also get your hands on a wide range of chocolates that will definitely make your body winterproof.
The only difficult thing here is to choose what to order from so much variety!
6. Stroll along Uncrowded Beaches
Chase the winter sun while strolling along gorgeous beaches without the summer crowds. The winter temperature in Valencia makes many locals head to the beautiful beaches to cheat on winter with a slight hint of summer.
One of the most popular and busiest beaches in Valencia is Playa del Cabanyal (Las Arenas Beach). This is a real party hotspot, where party enthusiasts sip cool drinks at the many beach bars and enjoy the exceptional ambiance.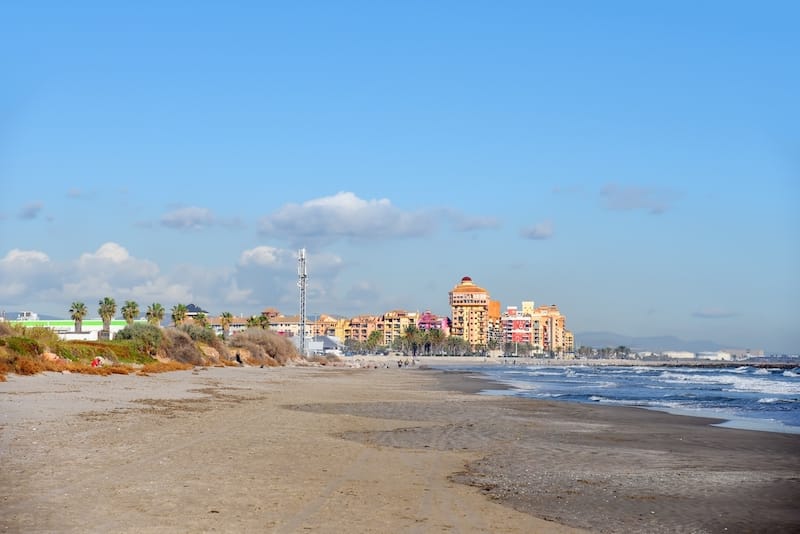 Playa de Malvarrosa Beach is another beautiful beach perfect for families with kids. It features free fitness equipment for sports fans, a volleyball area, soccer goals, and playgrounds for children.
Take a stroll along the promenade at Playa de la Patacona Beach (Alboraya) to take in the little sunshine, and admire the beautiful sea colors and golden sandy beach, which makes for an extremely enchanting winter experience.
Here you can also find some really hip bars lining the sand behind the huge palm trees.
7. See the City from Torres de Serranos
If you're after one of the best views of Valencia, then make sure to climb up Torres de Serranos.
Once it was one of the 12 gates built towards the end of the 14th century as part of the defense walls of Valencia, protecting the city from enemies.
Now only two of the walls are standing, creating the perfect opportunity to take in the mesmerizing views of Valencia from above. The Towers are an excellent example of breathtaking gothic architecture.
You can climb only for 2 euros, but if you visit on a Sunday, you can access it for free.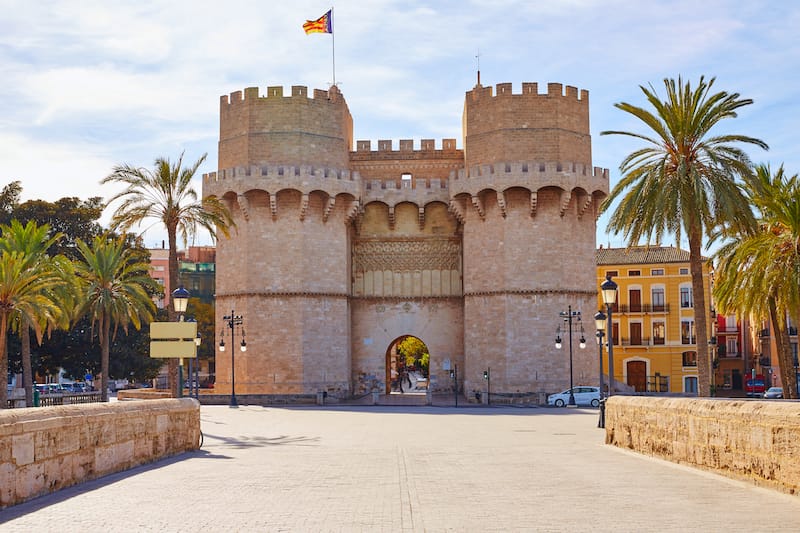 On the last Sunday of the month of February, "La Crida" takes place at the foot of the towers.
This is the opening ceremony of the Fallas festival, where Valencians and visitors enjoy live music, admire spectacular fireworks, and celebrate their culture, language, and traditions by participating in this month-long festival.
8. Explore the Hidden Gardens of Jardin de Monforte
Nature lovers can escape the city's hustle and bustle in the hidden gardens of Jardin de Monforte, a lovely place for a winter walk.
Tucked away in the old orchard of the Baron of Llaurí, it is the last remaining example of 19th-century historical-artistic gardens in Valencia.
Once a venue for royal parties and weddings back in the 19th century, it later became a protected area and opened to the public in 1973.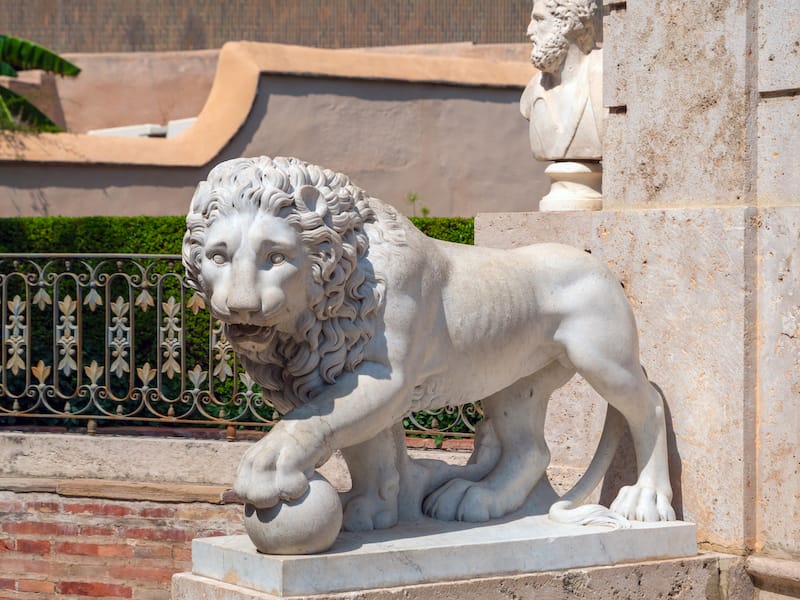 More than 12,000 square meters of land, divided into three parts, is home to the small Neo-classical style palazzo, a number of marble statues, a lengthy bougainvillea tunnel, ponds, beautiful rose gardens, fountains, pergolas, orange trees, cypresses, etc.
The Marquis de San Juan's old pleasure pavilion is designed in the 19th-century French academic rococo style by Sebastián Monleón Estellés.
The main floor is built in the form of a Greek cross, and the interior features allegorical figures.
9. Check Out the Valencia Cathedral
Channel your inner history buff at Valencia Cathedral, nestled in the area called El Carmen, in the heart of the old town of Valencia.
Dating back to the 13th century, this Gothic-style building links Plaza de la Reina and Plaza del Virgen and features many elements from the Romanesque to Baroque eras.
The Chapter house (nowadays the Chapel of the Holy Chalice), the lantern tower, the Miguelete door, and the Door of the Apostles were built in the 15th century.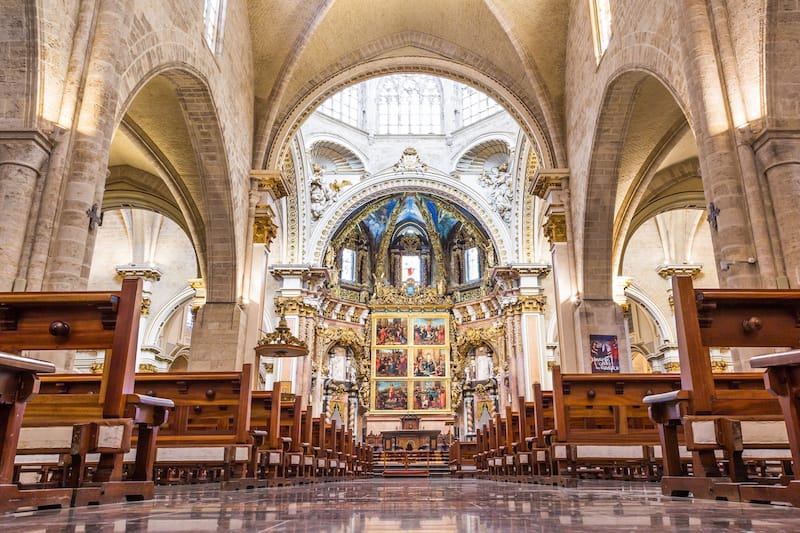 The Cathedral is home to many valuable treasures, such as Renaissance frescoes of the main altar, the Holy Chalice, and 90 works in Gothic, Renaissance, and Mannerist styles, including masterpieces by Maella Goya and Juan de Juanes.
Other highlights are the Baroque-style Door of the Irons and the Romanesque-style doors of Palau or of the Almoina.
Don't forget to climb 207 steps to the top of Miguelete Tower to take in the breathtaking panoramic views of the city.
10. See a UNESCO Site at La Lonja de la Seda
Immerse in the city's rich heritage in 15th century La Lonja de la Seda, which was used as a maritime trading center and a silk exchange. Dating back to 1469, this masterpiece of Gothic civic architecture is the symbol of the Golden Age of Valencia.
Relive the Exchange's commercial splendor at the La Sala de Contratación (Trading Hall) with its eight lofty helicoidal columns, the room where important deals once took place.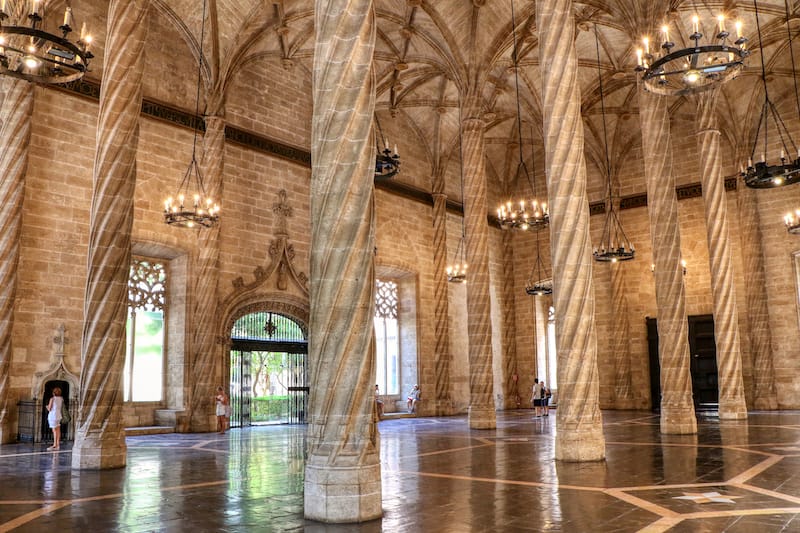 The building also features the Consulado del Mar (Consulate of the Sea), built between 1506 and 1548 in the Renaissance style, and the central tower with a prison for silk thieves on the two upper floors, and the Gothic chapel of the Virgin of Mercy at the lower floor.
The outside of the city's famous silk exchange is decorated with all kinds of special sculptures, including 40 medallions and 28 gargoyles with satirical and salacious depictions. The Silk Exchange has been a UNESCO World Heritage Site since 1996.
11. Take a Day Trip to Bocairent
Embark on a full-day trip from Valencia to discover the old town of Bocairent.
This Bocairent and Covetes dels Moros day trip allows you to delve deep into the history and heritage of one of the most beautiful Berber villages perched on the rock.
You have the option to choose between a shared tour or a private one. Here you can wind your way through labyrinthine streets and witness houses half-carved into the stone.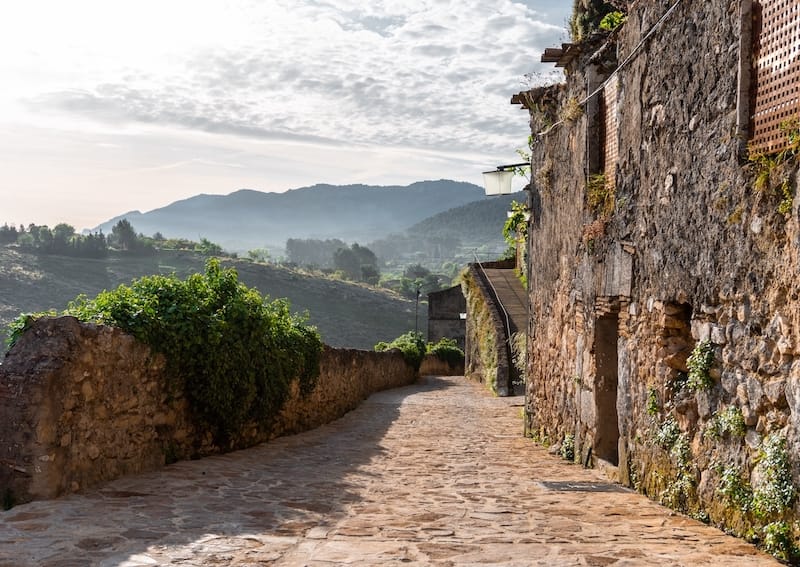 Among the highlights of the tour are the snowfield located in the town, the church of the Asunción offering an extraordinary goldsmith's museum, the Plaza de Toros dating back to 1843, and the town's most famous monument.
The latter features the set of caves called "Covetes dels Moros," excavated by the Berbers, which you should visit for a true one-of-a-kind experience.
Round off your tour by tasting local products, such as herbero and pericana liqueur.
>> Click here to check day trip rates and availability
12. Enjoy the Three Kings Parade on January 5
When the holiday season rolls around, Three Wise Men (Los Reyes Magos) take the center stage on the evening of the 5th of January every year.
In Valencia, the Three Kings arrive by sea in Valencia Marina at about 4:30pm.
You can see them during their magical parade, locally known as Las Fiestas de Reyes, around 6pm when they move from Paseo de la Alameda through city streets to Plaza del Ayuntamiento, accompanied by dance, music, and live entertainment.
Throughout the night, the three kings (Melchor, Gaspar & Baltasar) hand over their presents to Spanish children, who often set out plates of food or sweets for los reyes magos.
There is a belief that good kids get presents on the morning of the 6th while naughty ones are supposed to receive a lump of coal.
After opening the gifts, it's time for Three Kings Day lunch which features some appetizers, a hearty main course, and roscón de reyes, the crown jewel of the los reyes magos celebration.
13. See the "Valencian Sistine Chapel," (San Nicolas de Bari Church)
Visiting the San Nicolas de Bari Church is the perfect way to spend a few hours out of the cold while admiring the Baroque decorations and breathtaking frescos of one of the city's architectural gems.
Also known as the Valencian "Sistine Chapel," it is amongst the first twelve Christian parish churches in Valencia, established right after the Christian Reconquista.
The exterior won't give you much of a clue as to what's inside, but once you enter, you will marvel at the perfect union of the Gothic structure and the Baroque decoration.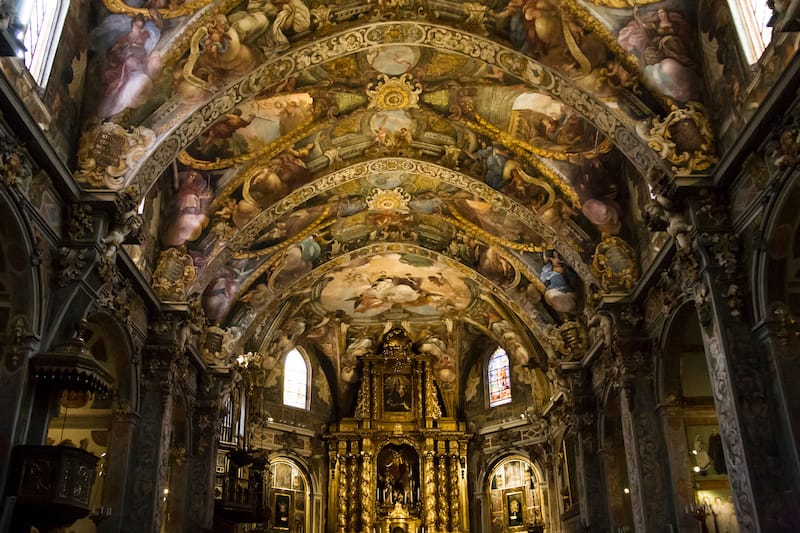 Erected as a parish church around 1242, the church was restyled in pure Gothic between 1419 and 1455, but later, between 1690 and 1693, it was recoated in Baroque style.
Now you can admire epic frescos designed by Antonio Palomino and painted by Dionis Vidal, which depict the lives of San Nicolás de Bari (Saint Nicholas) and San Pedro Mártir (Saint Peter Martyr).
14. Watch a Flamenco Performance at Cafe del Duende
Your Valencia trip won't be complete without making the best of the local culture.
Seeing a Flamenco performance may probably be one of the fiery and passionate experiences during your whole winter visit.
Make your way down to the Café del Duende, where you can indulge in an absolutely brilliant Flamenco show performed by professional flamenco bands coming from Valencia and other parts of Spain or from abroad.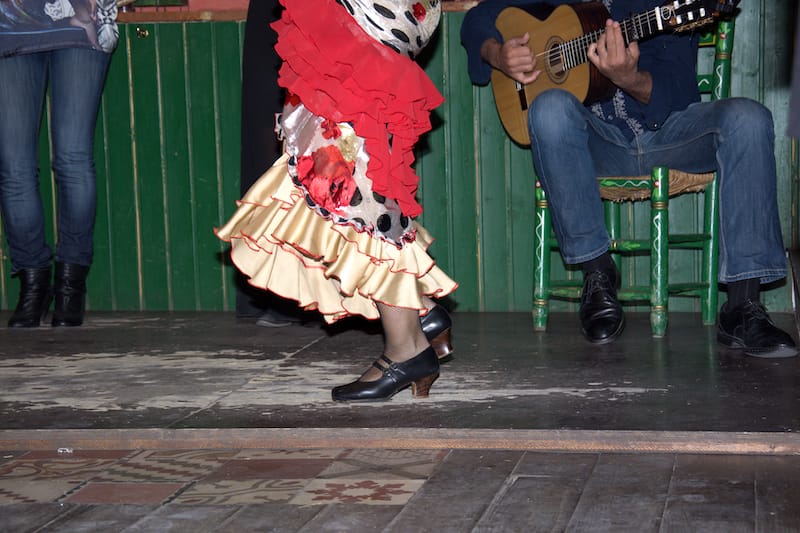 The combination of hand-clapping, foot-stomping, and acoustic guitar creates that soul-stirring experience. Depending on the subgenre of flamenco, it can express love, passion, sadness, or pain.
The cafe offers 1-hour live flamenco shows every Thursday (09:30pm), Friday and Saturday (10:00pm), and Sunday (8:00pm).
Since they don't take reservations, make sure to visit at least 1 hour before the show to get a table.
15. Peruse the Neighborhood Barrio del Carmen
Barrio del Carmen is a thousand-year-old city neighborhood nestled in the Ciutat Vella, the city's old quarter.
Once enclosed by the Muslim and Christian walls, now all you can see are the Serranos and Quart Towers that represent Valencia's most iconic medieval remains.
This bohemian territory is also packed with street art and is home to must-visit museums, such as the IVAM, the Carmen Centre, and the Beneficencia Cultural Centre.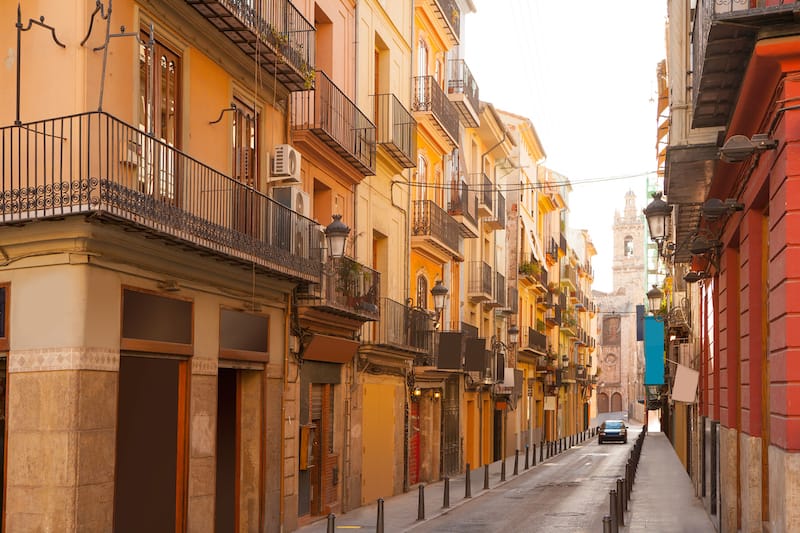 Among the highlights of Barrio del Carmen are the stunning Portal de la Valldigna, the impressive frescoes of San Nicolás Church, the centennial Plaza del Árbolm, the tiny House of Cats (Casa de los Gatos), and long-standing businesses with centuries of history.
Barrio del Carmen is also the perfect place for nightlife enthusiasts. When night falls, you can head to grab a drink in one of the dozen bars or restaurants surrounding Plaza del Tossal.
Where to Stay in Valencia
If you're looking for the best place to stay in Valencia, you will have plenty of options. Here are some of our top picks!
Did we miss any amazing things to do in Valencia in winter?
Let us know your thoughts in the comments! Thanks!
More Spain Winter Guides
Pin this Winter in Valencia Guide