There are not many activities as cool as horseback riding in the Lofoten Islands that you can partake in when in this otherworldly part of Northern Norway.
We have gone riding on Icelandic horses twice with Hov Gård in two different seasons and had two totally different experiences (but both were good!).
This post details our Lofoten horseback riding experiences, what to expect before you go, and other things to do on Gimsøy Island.
Horseback Riding in the Lofoten Islands
The Lofoten Islands are easily one of the most beautiful places in the world.
I went once during winter and this trip was during the summer and I firmly stand by that remark as I really can't think of anywhere similar or remotely comparable to these dramatic islands.
During my first trip, I went horseback riding in Lofoten with Hov Gård (formerly Hov Hestegård) and came down with the flu the day of the Lofoten excursion.
I was traumatized. It was set to be my first time on a horse and I was definitely in no condition to be anywhere besides my hotel bed.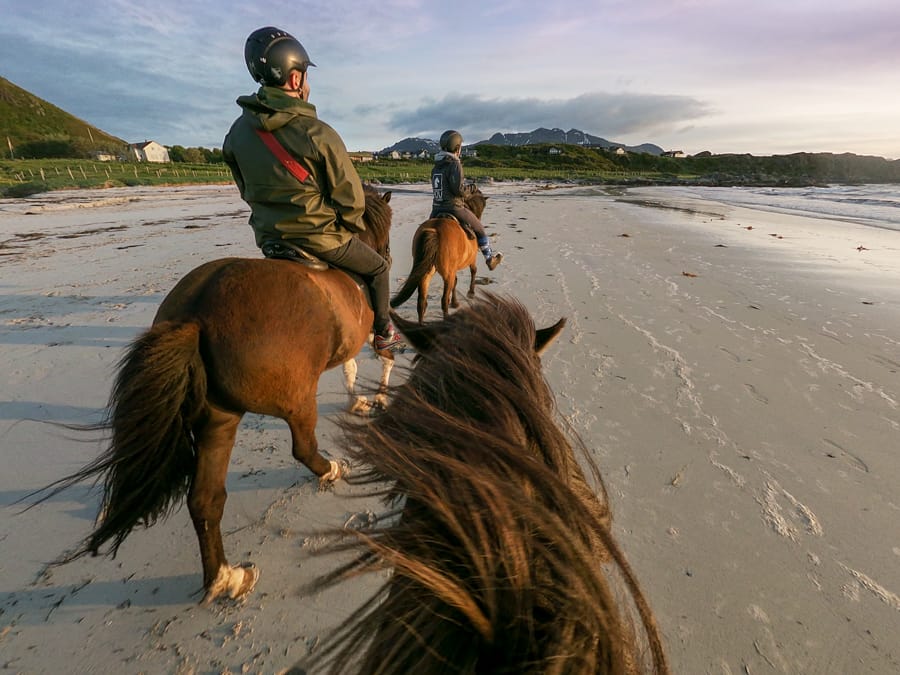 When I arrived at Hov Gård on Gimsøy Island, I could barely stand up. I attempted to get on top of my horse, Mimir, and the poor thing could quickly sense how tense and stressed I was and we quickly discovered it was just not going to happen.
I sat on the beach that day and tried to hold back tears as I knew the flu would likely ruin a few days of my trip.
Hov Gård was awesome and everyone that worked there was incredibly friendly and I was so bummed out to not get to enjoy the full experience.

Lofoten Horseback Riding with Hov Gård: Round Two
Aram and I recently went to the Lofoten Islands. It was my second time there and his first time. We were working on a mega tourism project in the islands and in Northern Norway.
One thing to know about Aram is that he has such a fascination and admiration for horses.
While I love all animals, he is really drawn to horses and their relationship with humans.
I knew that this was the perfect time to hit up Hov Gård for a redemption ride and to introduce him to the most famous horses in the Lofoten Islands.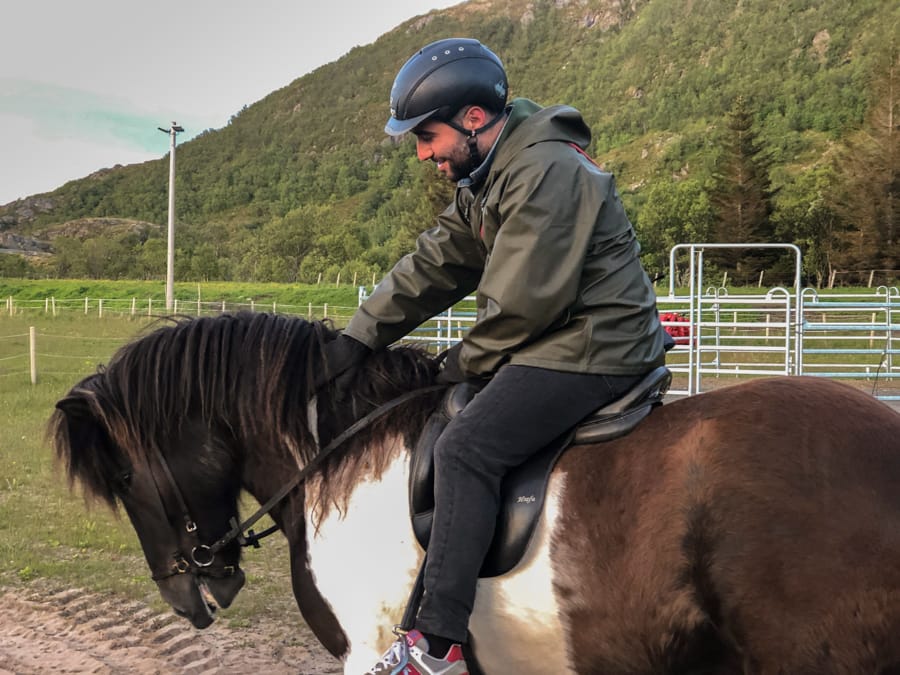 Not only does Hov Gård have Icelandic horseback riding, but they also now have a restaurant and some lodges along the seafront that are newer since my last visit.
This gave us a chance to see how the horseback riding in Lofoten experience could go during the summer and with more amenities on-site.
We arrived at Gimsøy's Hov Gård on a gorgeous evening and were prepared to do a little horseback riding on the beach.
Before heading out on horseback, we were keen to enjoy dinner at the new eatery they had built since I was last there called Restaurant Låven.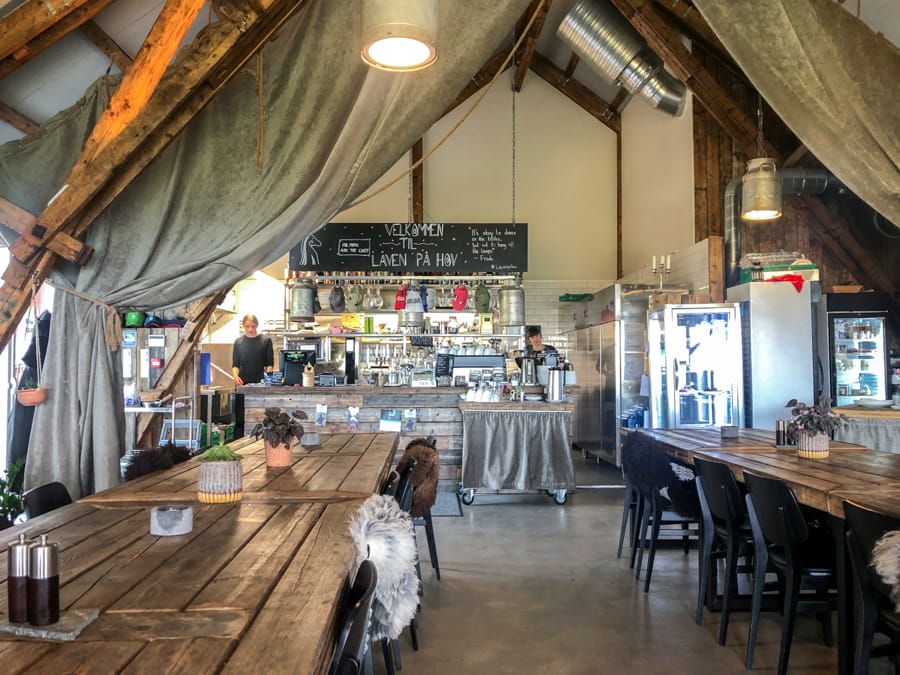 We ordered a shrimp and mayonnaise open-faced sandwich (reker og majones smørbrød) and mussels in a spicy sauce. Both were extremely delicious and worth the trip alone! We also ordered a vanilla ice cream for dessert that was just as tasty.
I had the opportunity to ride Mimir again. Mimir and I had a bad introduction in 2017 as I was sick and he could sense how tense and awful I felt.
I soon realized that Mimir was the perfect fit for me because his curious personality and love for food were pretty much the same as mine. Aram had a chance to ride Lundi, one of the calmest and coolest horses at Hov Gård.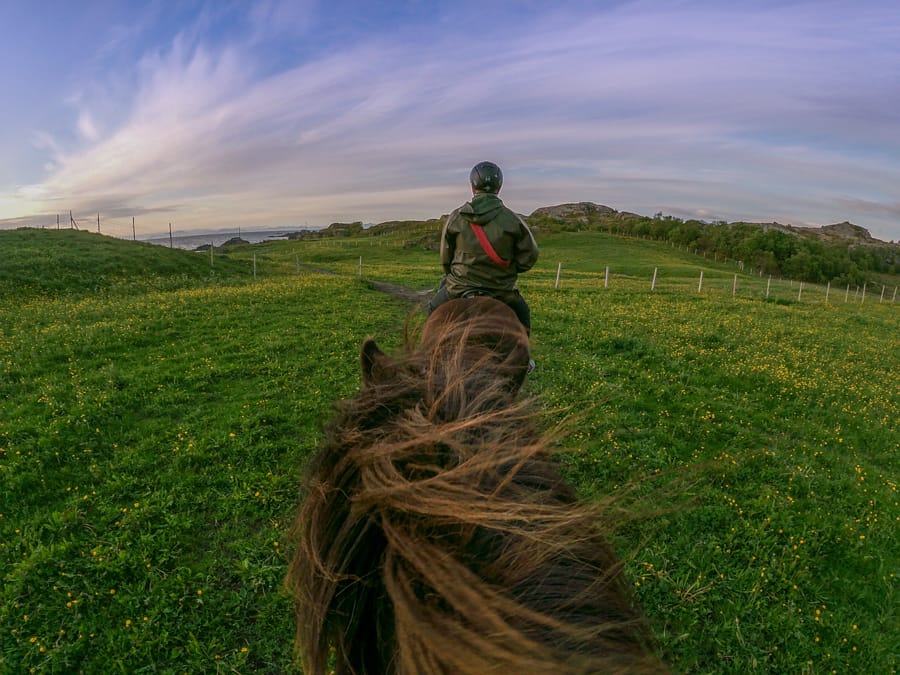 The ride was stellar. It took me a while to gain trust in Mimir as I had a bad incident in Kyrgyzstan on a horse while trekking Song Kul but once I was able to trust Mimir, we were the perfect match.
Aram hopped on Lundi and was like a pro. I was blown away as he hasn't properly ridden a horse before our experience horseback riding in Lofoten.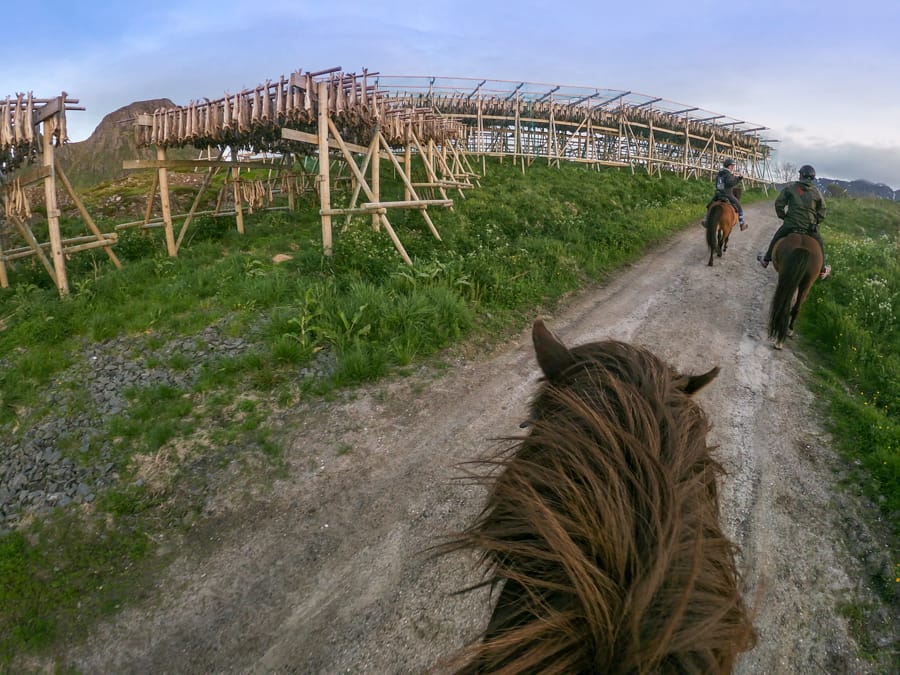 The entire Lofoten horseback riding excursion on Gimsøy lasted about an hour and a half and was an absolutely incredible experience. You will go on the beach as well as some trails right along the coast.
The trails were well marked and we had an expert rider from Hov Gård leading the way. The horses know where to go and genuinely enjoy the trip around the coastal trails. I can not recommend horseback riding in Lofoten with Hov Gård enough.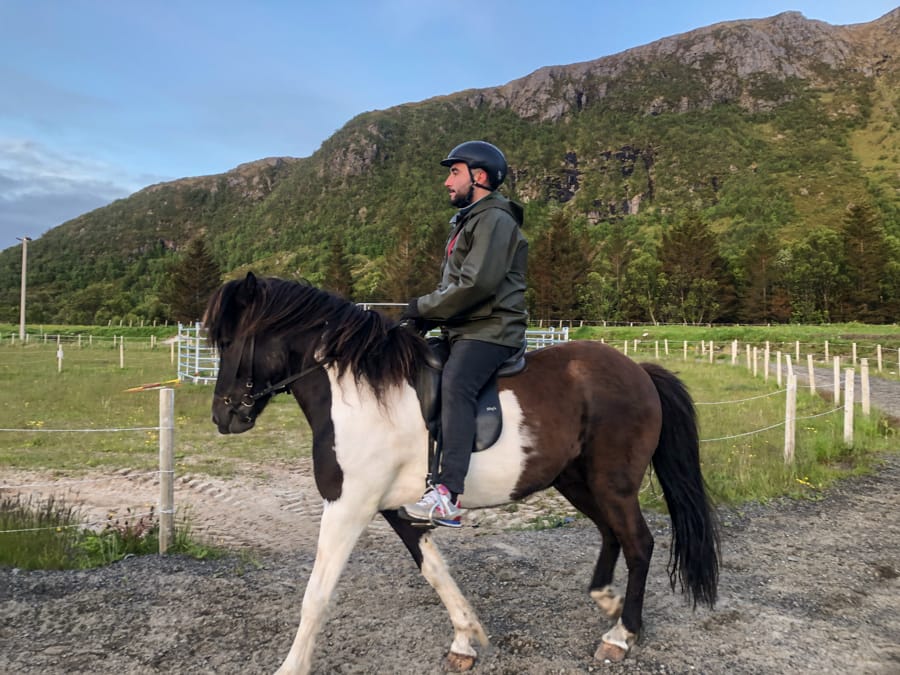 I felt redeemed from my prior experience and Aram is still raving about his Lofoten horseback experience still today.
An experience that I thought would cause me a bit of stress ended up being one of the most relaxing and calming experiences of our entire trip to Northern Norway.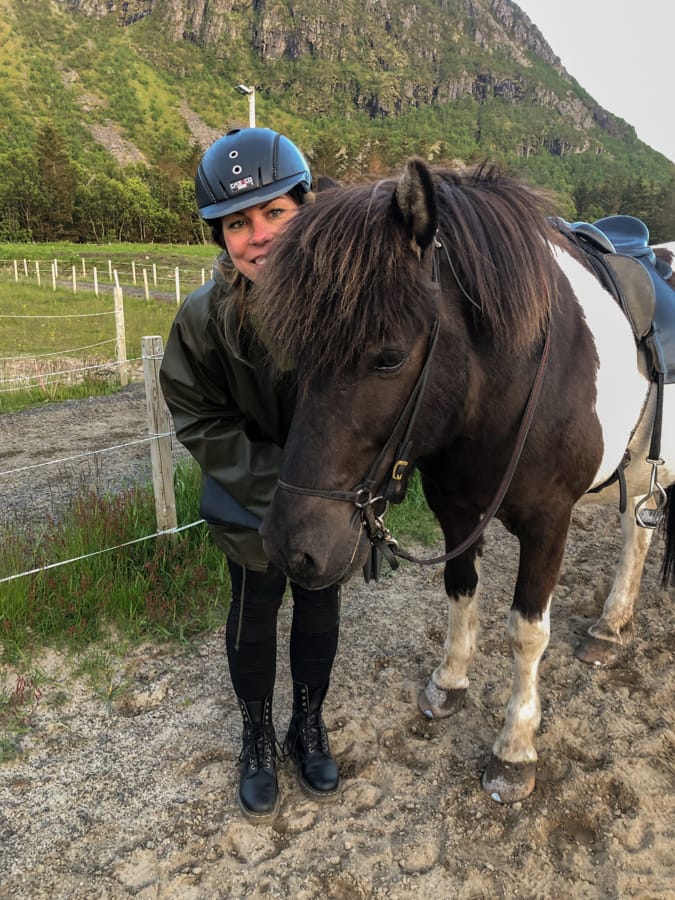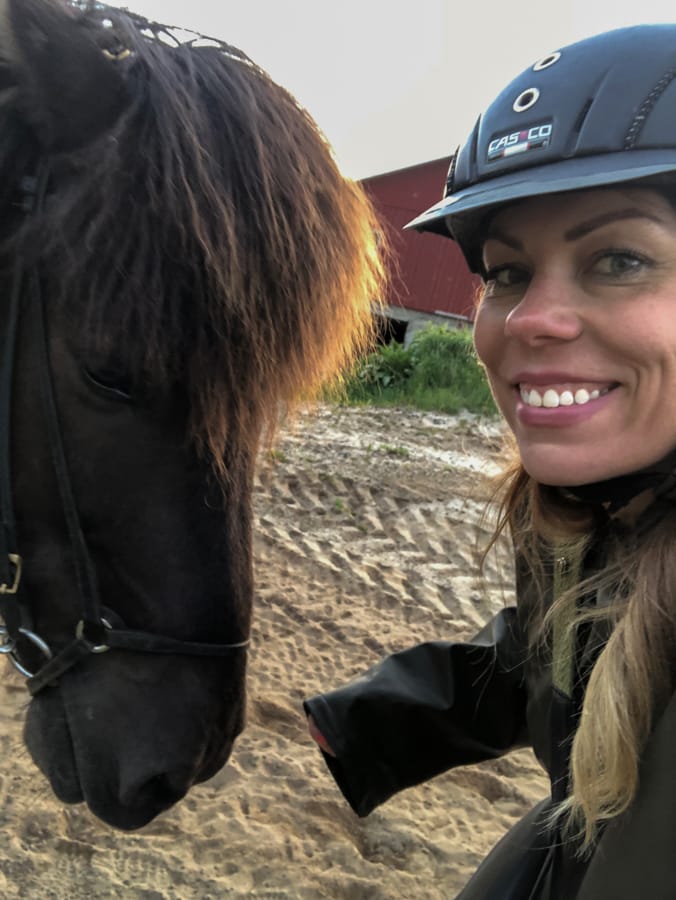 About Hov Gård and its Icelandic Horses
Hov is on the island of Gimsøy in the Lofoten Islands and is one of the oldest settlements on the islands.
Hov Gård is located at Gimsøysand on one of the most beautiful beaches on all of the islands. The farm has around 48 horses and they take especially great care of them all.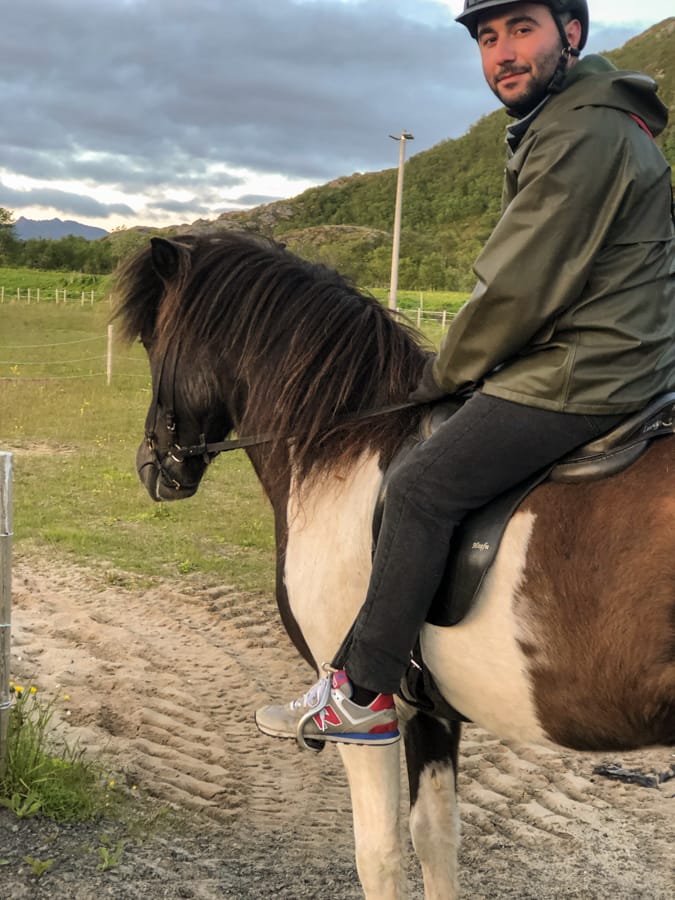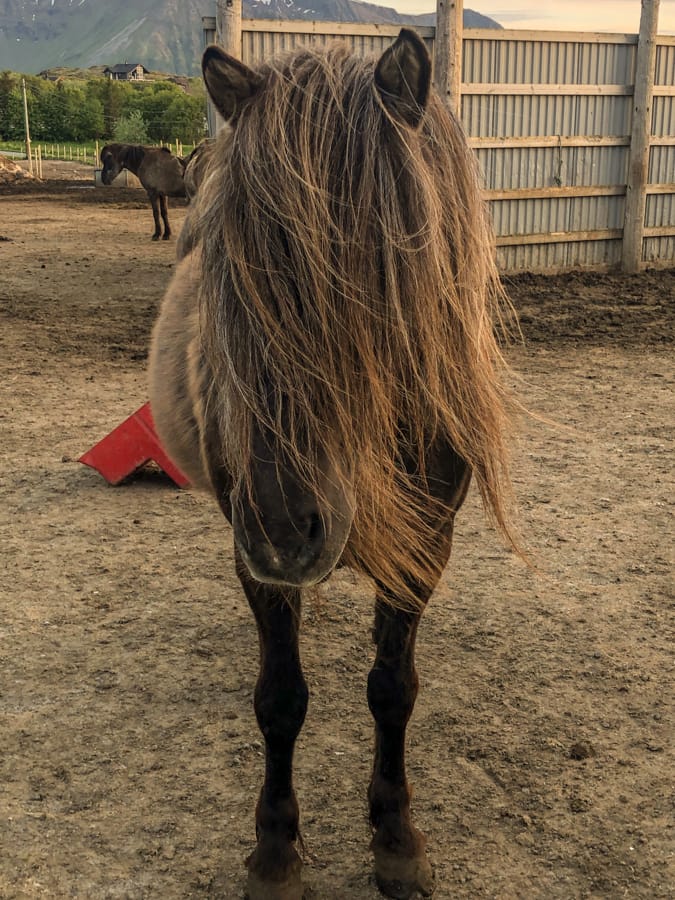 Each horse has its own name and the workers know each's personality very well.
One thing that not many people know is that Icelandic horses actually originate in this area of Norway and were brought to Iceland by the Vikings and Norwegian people. Pretty interesting, huh?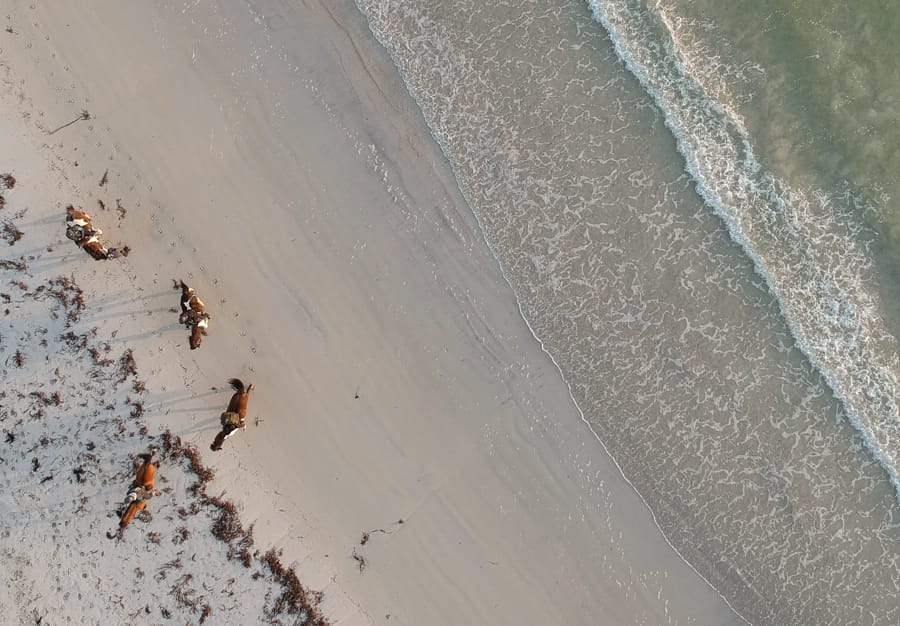 Restaurant Låven at Hov Gård
When I was at Hov Gård a couple of years ago, there was no restaurant on-site and once the horse riding experience on Gimsøy ended, you left and went to your next excursion or destination.
Fortunately, there is now a restaurant there called Låven and the food is so delicious. We had dinner there before our midnight sun horseriding experience.
We ordered mussels and a shrimp sandwich as mentioned above. We also both enjoyed a chai latte that was the best one we have both ever had.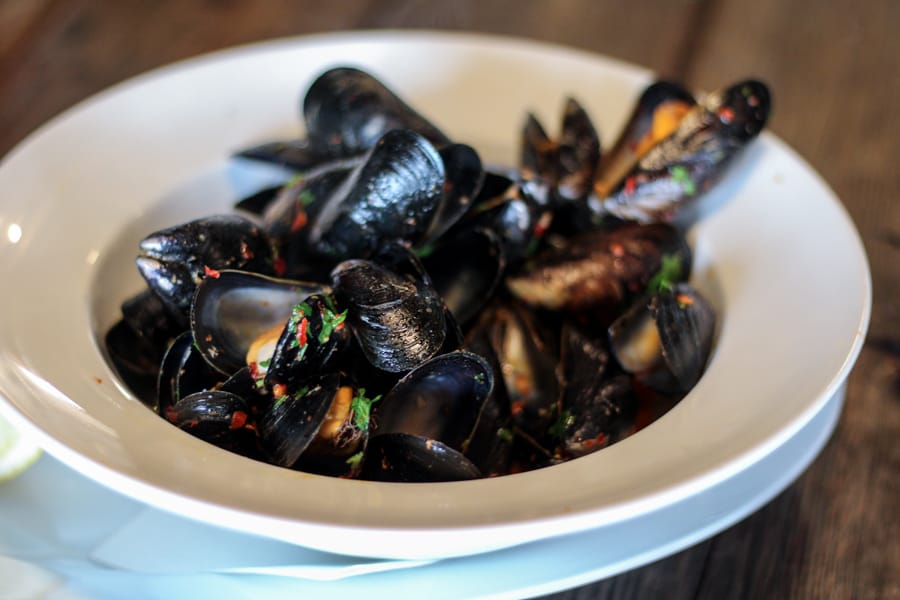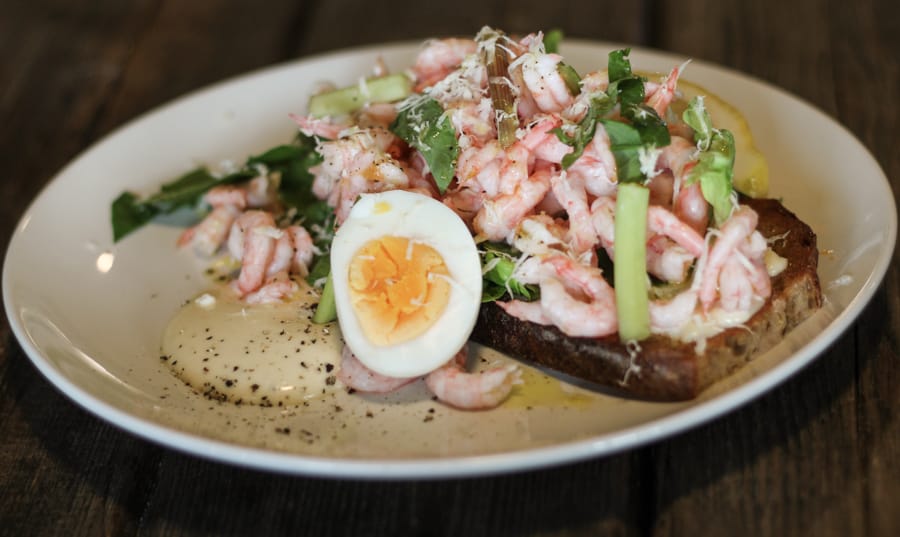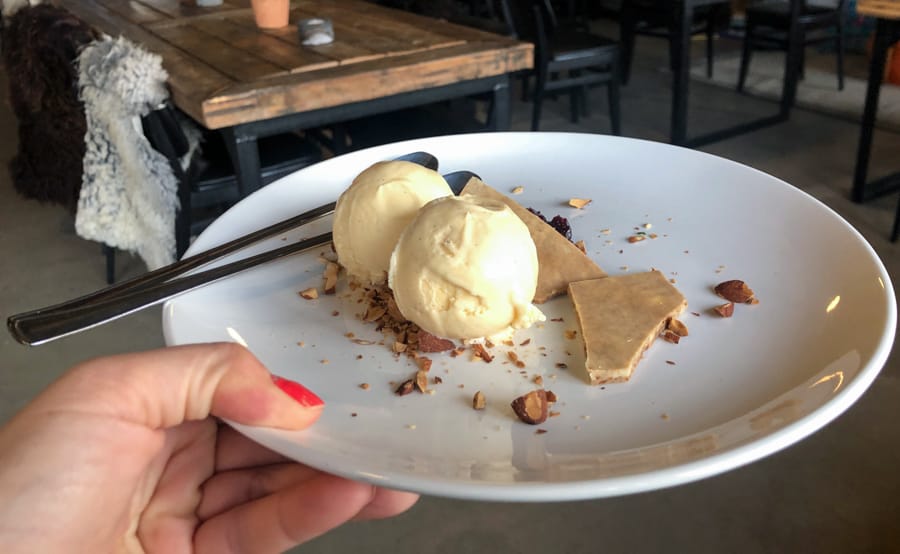 We highly recommend stopping into Låven before (or after) your horseback riding excursion in Lofoten! We thoroughly enjoyed it and are certain you will too.
Lofoten Links Lodges
Also around the farm, you will find several lodges with large windows that face the sea and the north. These are part of Lofoten Links, a world-famous golf course owned by the same people that own Hov Gård.
These lodges vary in price depending on the size and location, but they are the perfect place to scope out the northern lights during the winter. If you'd like additional information on them, click here.
Riding Tours at Hov Gård
There are several different tours depending on the season and your taste that are offered at Hov Gård. I have participated on two different ones: Lofoten by Horse (I went in winter) and Horseback riding under the Midnight Sun (summer, of course).
Their tours are for beginner, intermediate, and expert riders… so don't let your skill level put you off of riding! I am very much a beginner and, of course, Aram is too. Hov Gård was able to put us atop the right horses for our skill levels.
If you want to know all Lofoten horseback riding tour offerings by Hov Gård, click here.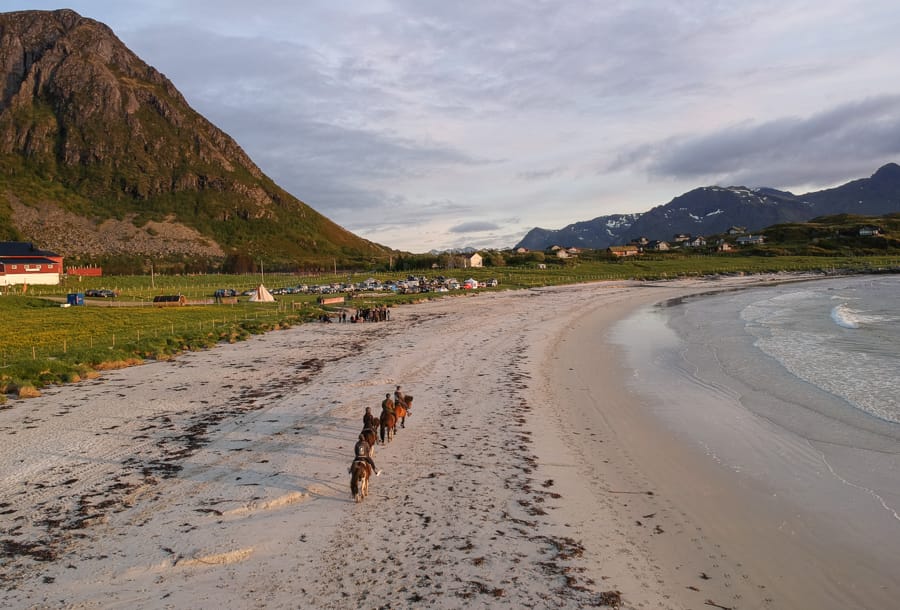 Getting to Gimsøy
The best way to visit Gimsøy island is to drive there in a private car. Taking a Lofoten road trip is definitely something you must engage in when in the Islands and Gimsøy definitely should be on your list.
The island is easy to drive to and offers unique scenery from wetlands and protected areas to sandy, picturesque beaches.
Click here to check out Lofoten rental car options

What to Bring on a Lofoten Horseback Riding Tour
Fortunately, Hov Gård has pretty much everything you need. During the winter months, they have insulated jackets and pants that will easily slide on top of your regular clothing.
During the summer, they have rain jackets that will keep you warm in the evenings and also offer protection from bad weather.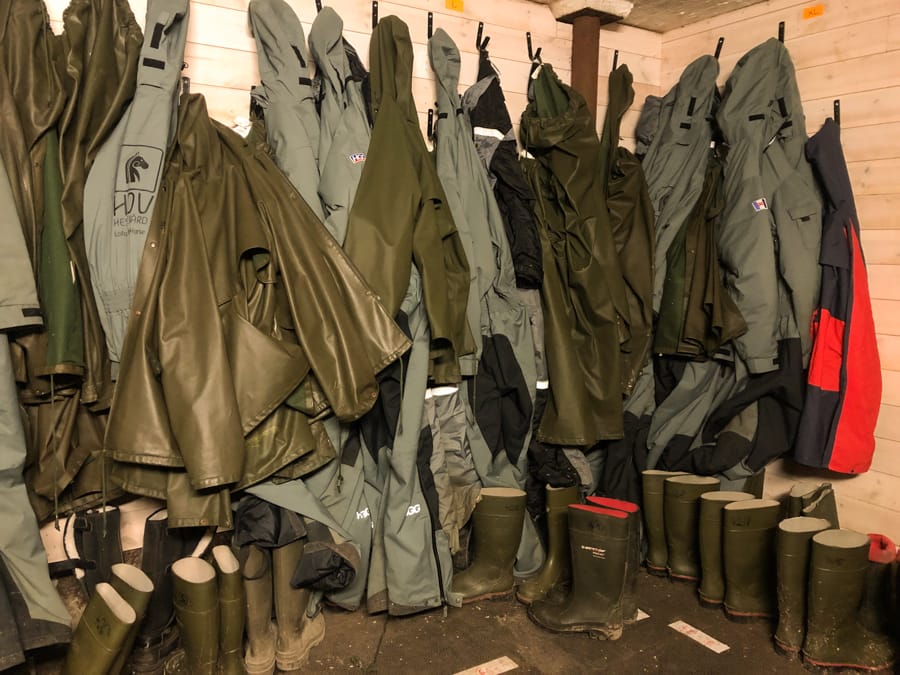 But, I do suggest you bring along the following things:
Warm gloves: They do have some gloves there, but if you're like me and used to wearing a certain pair, bring your own!
I have a pair of handmade, Nordic mittens that I wear as I find gloves don't keep me nearly as warm as I'd like. I used these when I was living in Norway and I swear by them still!
GoPro Camera: If you're down to take some photos of your horseback riding tour, definitely bring along a GoPro camera, especially if you're a beginner.
It takes some adjusting to ride the horse and moving around with a camera on top of it will be a bit difficult for the riders and the horse. I find a GoPro with a stick mount works best as you can still grip the harness while riding along the coastal trails.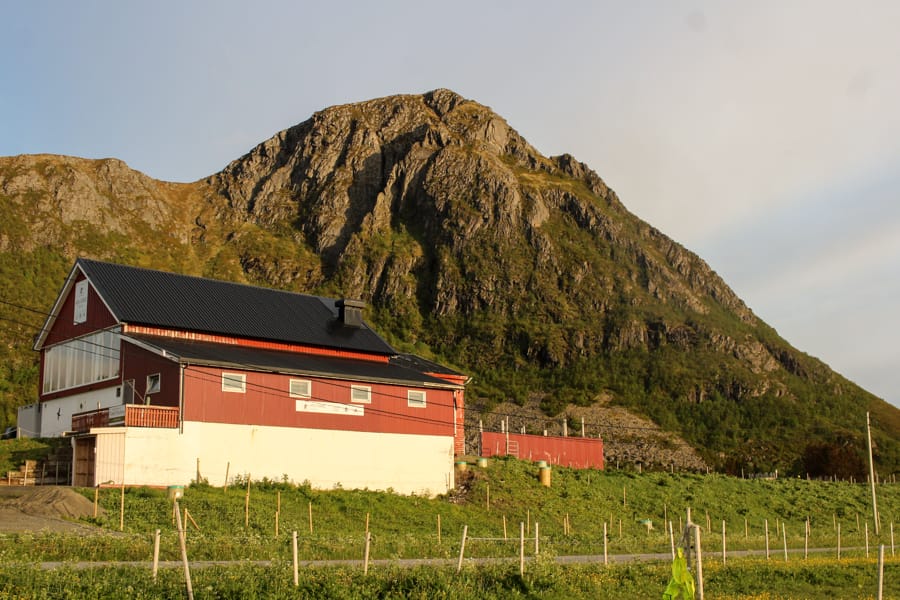 **Thanks so much to the crew at Hov Gård for inviting us on a redemption ride on their gorgeous Icelandic horses and for an evening underneath the midnight sun. It was absolutely one of our highlights from our entire trip and we can't wait to go back and do it again! All opinions are our own.
If you're looking for additional information about Hov Gård, you can call them at +47 975 59 501, email them at info@hovgard.no, or pay them a visit at Tore Hjorts vei 471 (8314 Gimsøysand).
More Lofoten Islands Travel Guides