Svolvaer, Norway is the gateway to the Lofoten Islands and is actually one of the most beautiful places in the north of Norway. In addition, there are many things to do in Svolvaer – from delicious food to idyllic rorbuer and more.
This is a guide on what to do in Svolvaer, Norway.
If there are any places to visit in Svolvaer that we missed, let us know in the comments. Thanks!
Best Things to Do in Svolvaer Overview
Every time I enter a new town in Northern Norway, I just assume that it will be similar to the last based on the small population and immediate appearance.
I quickly discover that every city and town in Northern Norway has its own personality and styling and the city of Svolvaer in the Lofoten Islands is no exception.
When I arrived at Svolvaer Airport, I was pretty relieved as I realized that we would be in a fairly sizeable city initially on our trip. We could stock up on food and everything else we needed without much of an issue and it was a relief.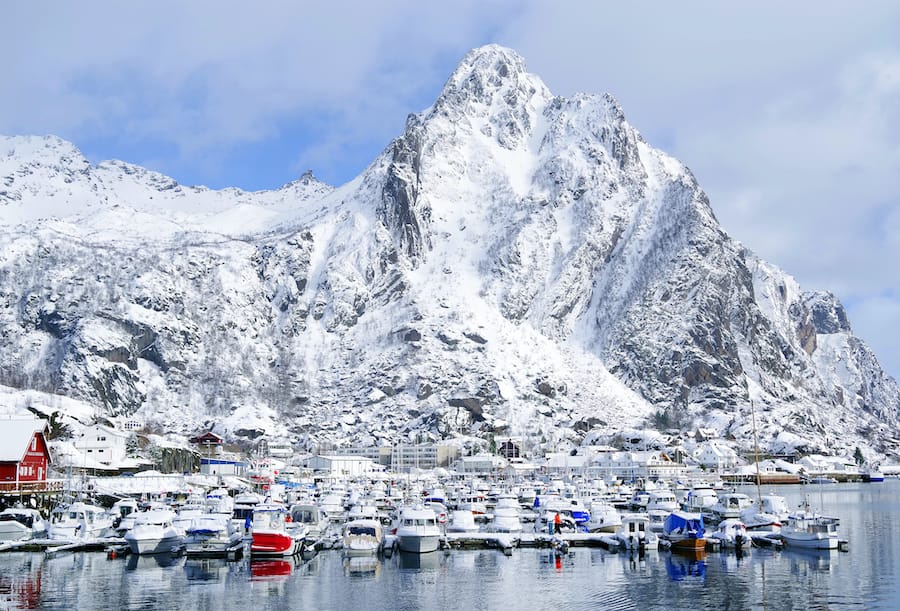 Svolvaer was dramatic and jaw-dropping at first. Usually, when you see a city that leads to one of the most beautiful archipelagos in the world, you think the scenery will gradually become more and more beautiful.
That is not the case with Svolvaer. The city hits you like BOOM. High peaks that drop off into the ocean, idyllic red rorbuer atop the ocean, and sick scenery for days.
While I don't think Svolvaer is the best base for your entire trip to Lofoten, I do think that you should stay there a night or two as there are several activities based in the area and many epic things to do in Svolvaer, nonetheless.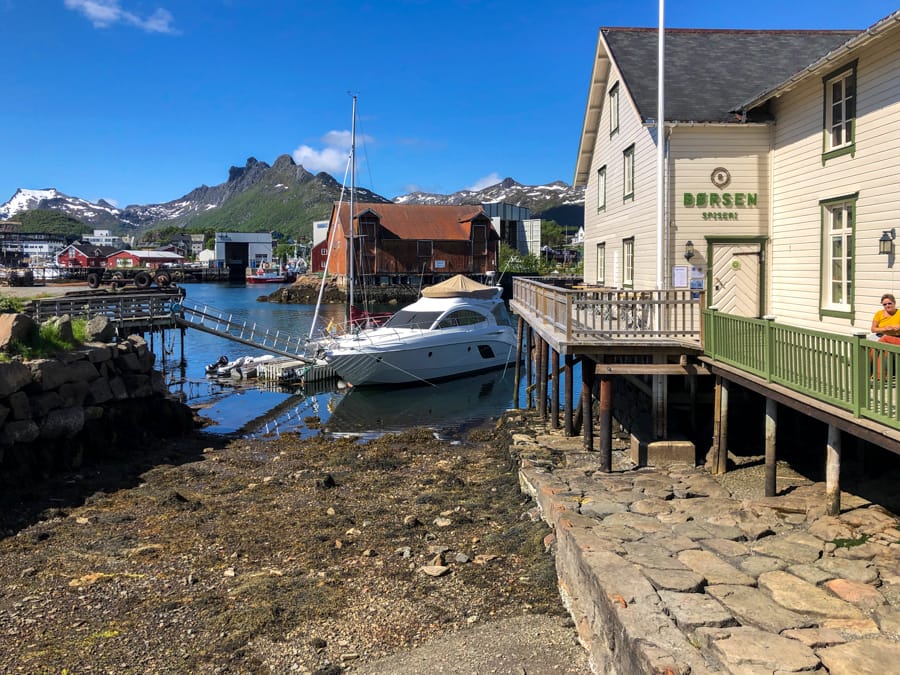 This is a guide on what to do in Svolvaer, the gateway to Lofoten and a city of about 5,000 people.
What to Do in Svolvaer
We have broken this guide into different sections to make it easy to navigate. We will discuss places to eat in Svolvaer, along with places to drink and socialize.
We also discuss cultural places and museums in Svolvaer. There will be a place for Svolvaer tours and activities as well as a few worthy day trips.

Svolvaer Restaurants, Pubs, and More
Go to Magic Ice Lofoten
When entering an ice bar, you expect a really grandiose entrance with a fairytale carpet leading into a frozen wonderland. Magic Ice will let you down on that… but it more than makes up for it on the inside!
The frozen bar sits inside an unassuming building and it was truly a cool experience that I got to share with Megan when we were there.
Magic Ice has ice-cold drinks, tables and seats made from ice, different sculptures decorated with LED lighting, and many other interesting things worth seeing inside.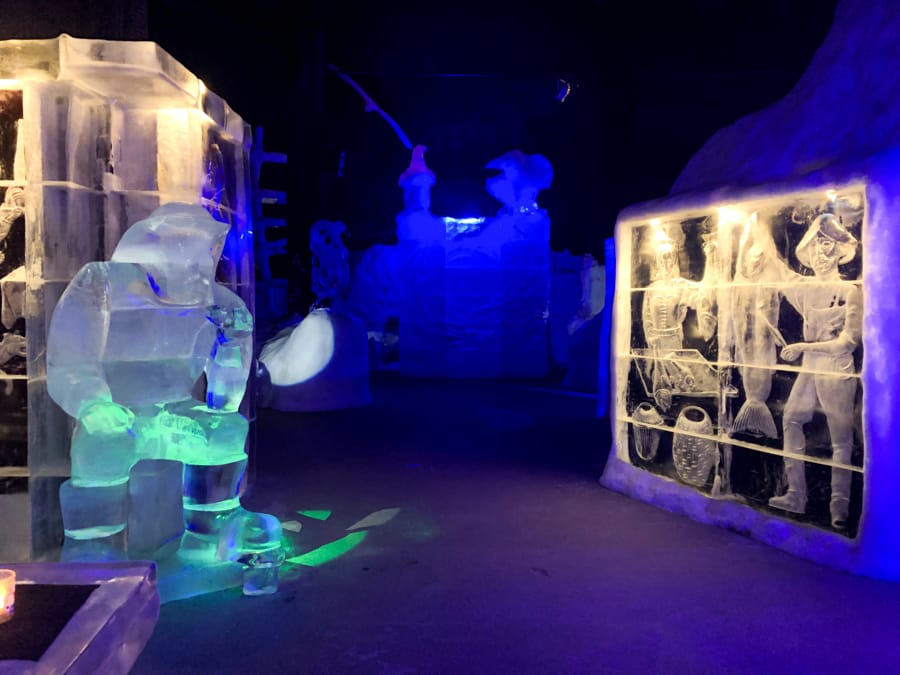 The staff was exceptionally friendly, something that was ever-present in the Lofoten Islands, and they took us around the ice bar and detailed its history for us. There are Magic Ice Bars in Oslo, Bergen, Reykjavik, Svolvaer, and Tromso.
If you're not visiting Lofoten in winter and want a taste of true Norwegian winter, head inside and experience the cold for yourself.
It's located on the first floor of the factory on the harbor. You can find Magic Ice Bar at Fiskergata 36 in Svolvaer. Wanting to check out the best ice hotels in Norway? Click our article to see the top four in Norway.
Take a Lofotpils Brewery Tour
One of our favorite things to do when traveling is to seek out local craft beer breweries.
This was no exception in the Lofoten Islands where we got in contact with Andreas Thorvardarson, a creative entrepreneur who pursued his family's dream of owning a successful brewery in the most stunning group of islands in the world.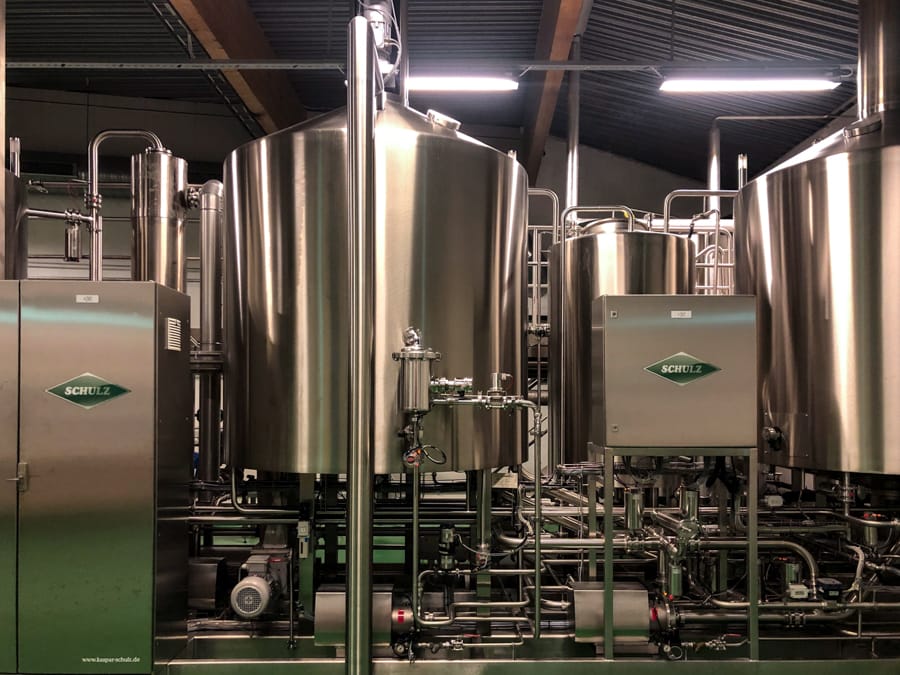 Lofotpils has a fantastic portfolio of tasty beers ranging from a pilsener to a stout to an amber ale and more. Their slogan is 'smaken av rå natur' (a taste of raw nature) and that it surely is.
The ingredients and water used in the beer have a purity that just resonates with you after you take a sip.
The brewery may only have a handful of people working there (six at the time we visited), but the excitement the beer ignites in the islands is pretty astounding.
We love supporting small and independent businesses and Lofotpils is one of those that is vying to make an impact in the islands and Svolvaer.
In addition to having awesome beer, Lofotpils founder has started a music festival called Høllafæst in Svolvaer.
The festival takes place in July and one of Megan's favorite bands, Highasakite, will be performing this year alongside several others. As if you needed another excuse to visit the Lofoten Islands…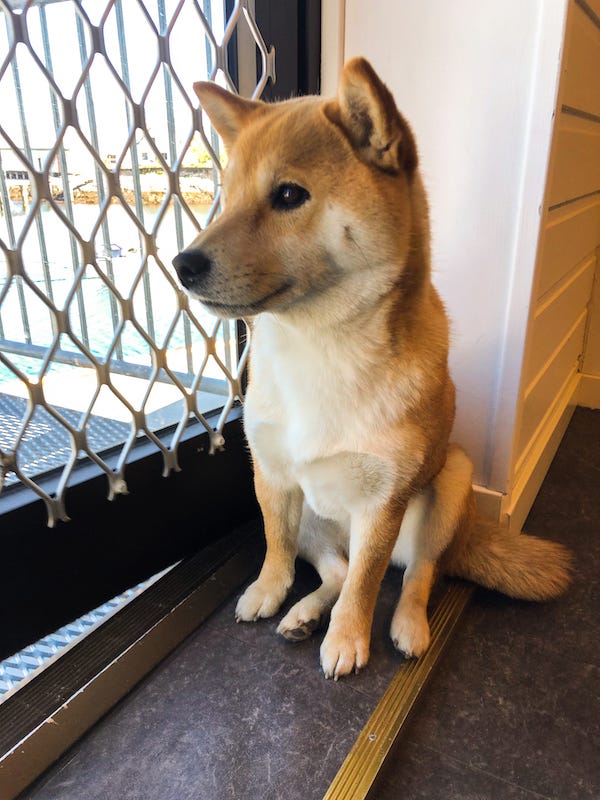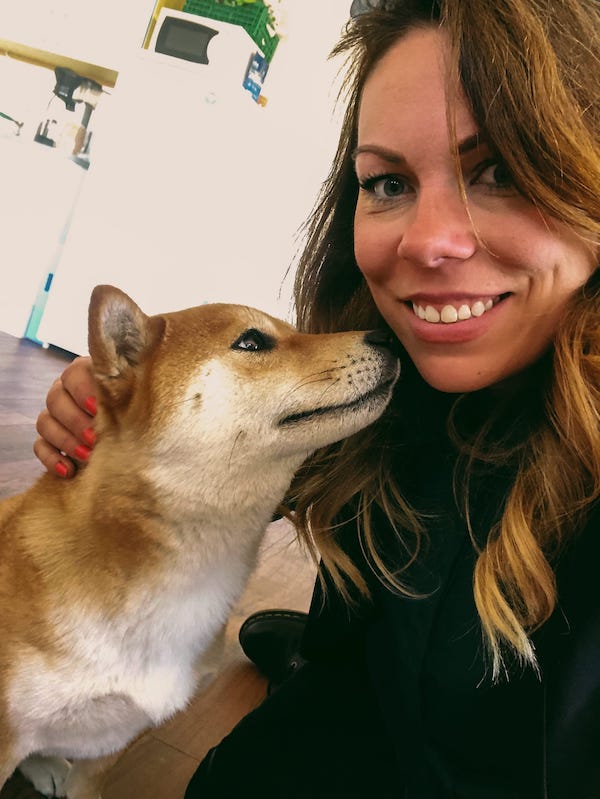 You can schedule a brewery tour with Lofotpils if that is your interest. You can find them at Fiskergata 36 in Svolvaer. Otherwise, you can find their beer at many grocery stores and bars all around the islands. Be sure to enjoy one on your Lofoten trip!
Enjoy Fiskegrateng at Paleo Arctic
Fiskegrateng is one of the most basic Norwegian dishes, but when places get it right- it is so satisfying and delicious. Paleo Arctic is a restaurant located in the city of Svolvaer that has a great menu and one of the best fiskegratengs I have ever had on it.
Fiskegrateng is simply fish gratin. Cheesy, full of seafood, and topped with crunchy breadcrumbs- it is such a guilty pleasure and one of the simplest types of food that will put a smile on your face when you're visiting Svolvaer.
You can find Paleo Arctic at Thon Hotel Lofoten Torget in Svolvaer. To find out more, check out their website.

Svolvaer Tours, Adventures, and Experiences
Stay at Svinøya Rorbuer
I remember Megan telling me that long before she ever made her first trip to the Lofoten Islands, she dreamt about staying at Svinøya Rorbuer. And when she finally made it there, that was her booked accommodation and she was over the moon about it.
When we visited Svolvaer together, she took me to exactly where she stayed and walked me around Svinøya's Rorbuer and I understood immediately why she loved it and had longed to stay there.
It was dreamy and kind of like a perfect little village that the rest of the world forgot.
Not only are these Lofoten fisherman cabins cozy, but they also have an eatery called Børsen Spiseri that is part of the Svinøya experience.
The wooden restaurant serves traditional Norwegian food and Megan got to enjoy Christmas dinner there a few times when she first went to Lofoten during winter.
Staying at Svinøya Rorbuer and eating at Børsen Spiseri (at any time of the year, but especially if you're spending Christmas in Europe and in the north!) is one of the best things to do in Svolvaer.

Go on a Sea Eagle Safari
One of the best Svolvaer activities you can participate in is a sea eagle safari. Megan participated in a Lofoten sea eagle safari from Svolvaer to Trollfjorden a few years back and still raves about how much fun it was.
The best thing about the sea eagle safaris, except for the majestic animals themselves, is that it runs year-round, which is pretty rare with tours in Northern Norway since most excursions are seasonal.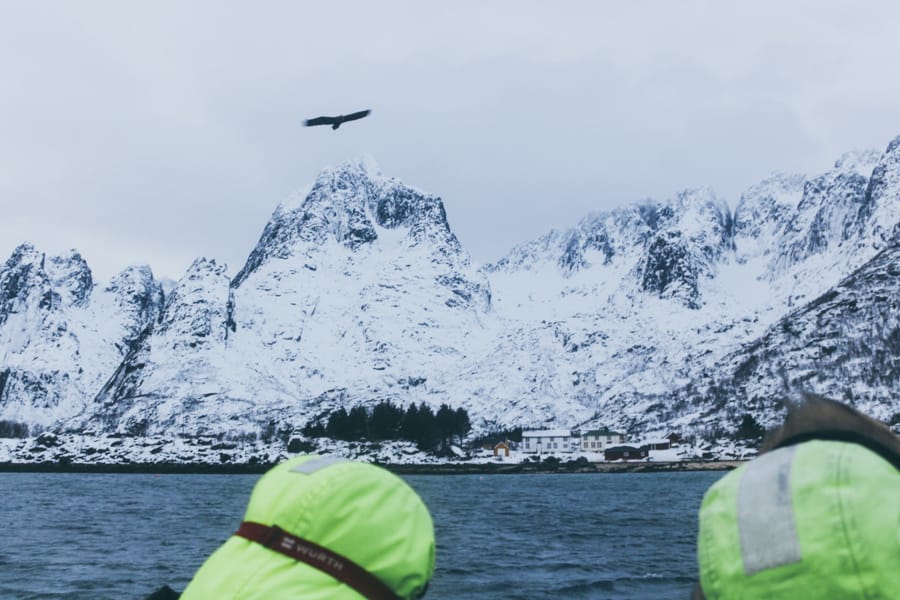 Even if you're not one who enjoys bird watching, this tour takes you through a mysterious fjord and one of Norway's most famous ones… meaning it is worthwhile, even if just for the views.
Try Climbing Svolværgeita (Geita)
If you're more daring than us, you should try your hands at Svolværgeita, or simply just 'Geita', an imposing rock formation over Svolvaer that has become an adventurer's bucket list item.
Geita means 'goat' in Norwegian and the name is taken from the shape of the rock since it looks somewhat like a goat.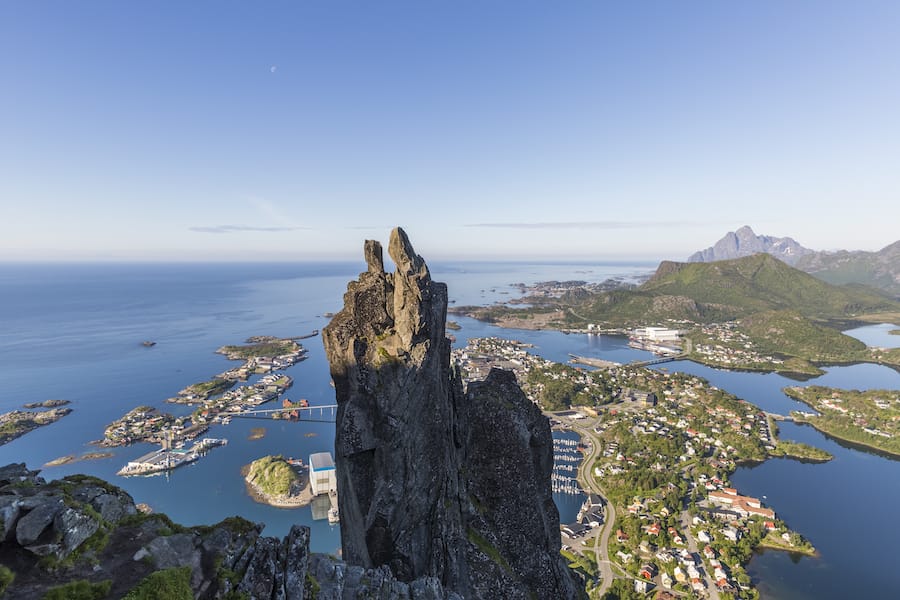 You can actually do a little climbing here with the help of experienced guides. They state that there are opportunities for experienced climbers and beginners but you must be somewhat fit.
This experience only runs during the summer months (starting on June 1) so if this is an activity you're interested in, go for it! Click here for additional information.
Climbing Svolværgeita is definitely one of the Svolvaer things to do for adventurous travelers!
Go Snowshoeing in Lofoten
If you're looking for a killer winter activity in Lofoten, definitely try snowshoeing. This is the first place Megan tried snowshoeing and she says it was one of the coolest experiences in the Lofoten Islands during the winter months.
There are several tours that will take you snowshoeing and one of the best things about them is that they run during the day so you can actually get a chance to really take in your surroundings as there will be a bit of light as you do it.
Megan opted for an evening tour when she did it and wishes she had done it during the day instead. You can see her recommended tour here.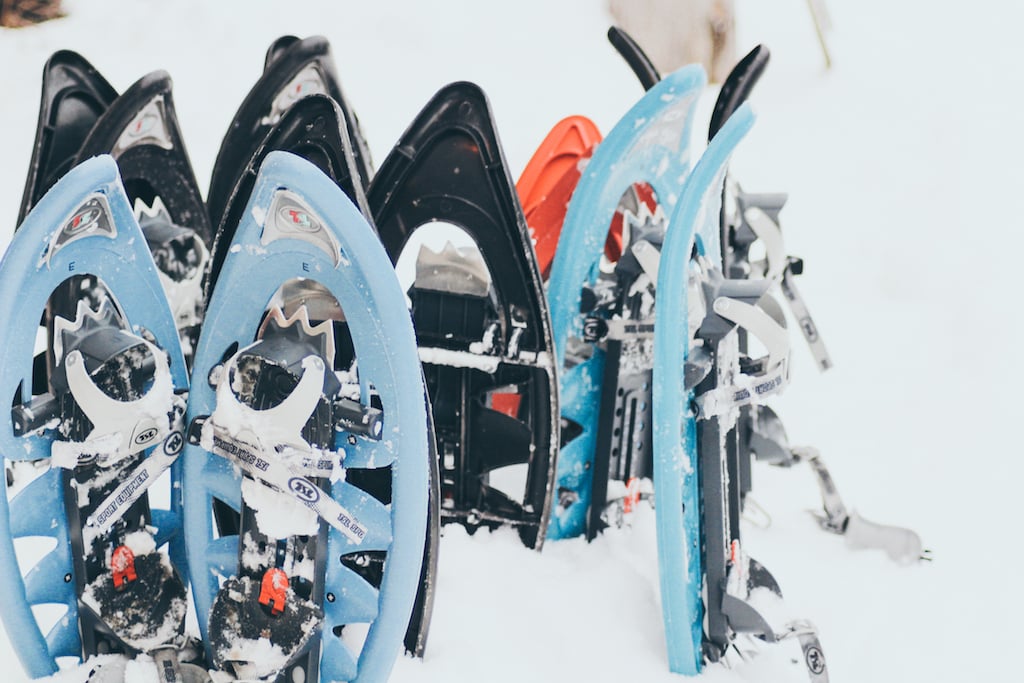 This tour takes you to the same place she went- an area by Svolvaer called Kabelvåg and it will take you around the forested hills. You may get lucky and see a moose or other wildlife but either way, you will have epic views.
Snowshoeing is definitely a great Svolvaer activity and one you should sign up for when there. Who knows, you might even get lucky enough to have a chance to photograph the northern lights!
Culture and History in Svolvaer
Visit the Lofoten Krigsminnemuseum
If you're visiting Svolvaer, you definitely should make a stop at the Lofoten Krigsminnemuseum, a place in the city that commemorates WW2 and has been in operation in Svolvaer since 1996. Inside the museum, you will find equipment, guns, vehicles, and many other historic artifacts from WW2 and how Norway had an involvement in it.
You can find the Lofoten Krigsminnemuseum at Fiskergata 3 in Svolvaer.

Check Out Galleri Stig Tobiassen
As you take the time to walk around Svolvaer, be sure you don't miss the local art gallery, Galleri Stig Tobiassen.
It is part-gallery, part-shop and there are many famous works from famed Norwegian artist, Stig Tobiassen, and you can also purchase one of his masterpieces there. If you're into art, this is definitely something to add to your Svolvaer itinerary.
Visit Kjeøya Kystbatteri
One of the best places to visit in Svolvaer for history lovers is Kjeøya Kystbatteri, a WW2 bunker in the Lofoten city.
Norway had many cities that were damaged during WW2 and the Lofoten Islands experienced their fair share of impact from the infamous war.
In the southern part of Svolvaer, you will find Kjeøya Kystbatteri, an old WW2 bunker located in a very photogenic area. There are also stockfish drying racks in the area, making it very picturesque.
You can find Kjeøya Kystbatteri at Gunnar Bergs vei in Svolvaer.
Where to Stay in Svolvaer
There are several places to stay in Svolvaer but Megan highly recommends staying at Svinøya Rorbuer if you're able to. She took me there when I traveled to Svolvaer and I totally understood why she loved staying in the Lofoten fisherman cabins on the sea.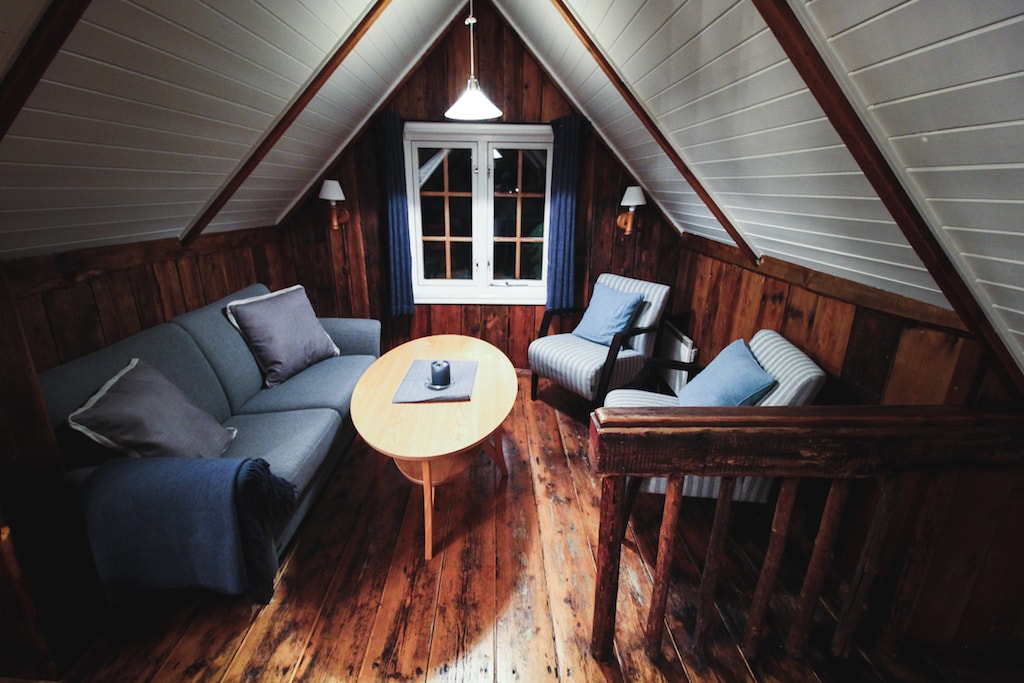 It was stunning. I also stayed at rorbuer in another village in Lofoten and it is an incredible experience.
Here are our recommendations that suit all budgets for traveling to Svolvaer:
If you have any questions pertaining to our Svolvaer travel guide, please send us a message or leave a comment! Be sure to check out our guide on what to do in Henningsvær if that is next on your list!
More Lofoten Islands Travel Guides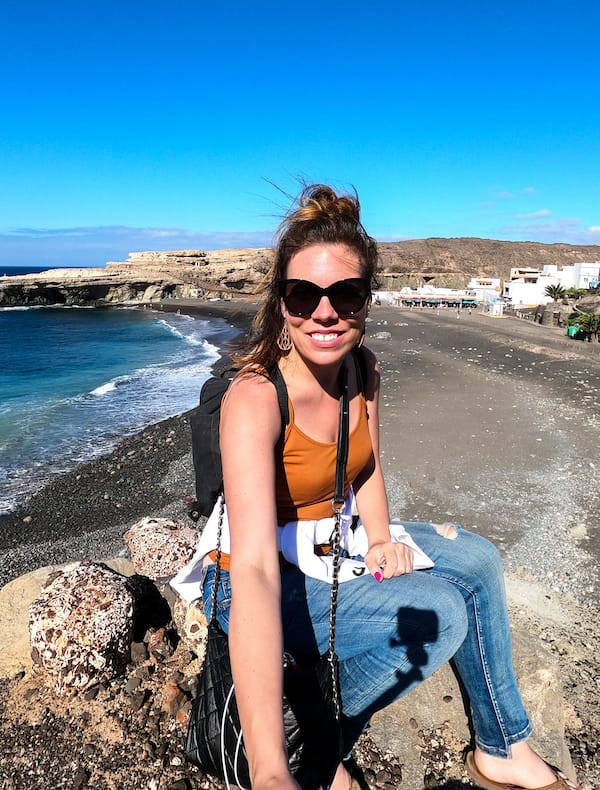 Megan is a travel blogger and writer with a background in digital marketing. Originally from Richmond, VA, she now splits her time between Frankfurt, Germany and Arctic Finland after also living in Norway, Armenia, and Kazakhstan. She has a passion for winter travel, as well as the Nordic countries, but you can also find her eating her way through Italy, perusing perfume stores in Paris, or taking road trips through the USA. Megan has written for or been featured by National Geographic, Forbes, Lonely Planet, the New York Times, and more. She co-authored Fodor's Travel 'Essential Norway' and has visited 45 US states and 100+ countries.