The Lofoten Islands are full of some of Norway's most charming and colorful fishing villages. But, none are truly as charming as Henningsvær, a village of just over 500 people that sits on an island amongst several other small islands.
This is a guide to things to do in Henningsvær, Norway including places to stay, restaurants to eat at, and more.
Are you planning your trip to Henningsvær last minute?
If youʻre booking your trip to Henningsvær last minute, we have you covered. Below are some of the top tours, hotels, and more!
Top Experiences and Tours in Henningsvær:
Visiting Lofoten independently? Be sure to book your rental car ahead of time to ensure availability!
Top Hotels in Henningsvær:
Henningsvær Bryggehotell (we stayed here!)
Best Things to Do in Henningsvær
Many of us have seen the photo of the epic football field sitting on the edge of a small island yet we couldn't pinpoint exactly where this photo was taken.
Little did I know that this very location was Henningsvær, Norway, a village in the Lofoten Islands that would turn out to be one of the coolest stops on our Lofoten road trip.
As a football fan, I was excited to see this dramatic island and cozy town that Megan constantly described as one of her favorite places to visit in Norway.
To be honest, I was really excited to see this football field in person.
Everything in the Lofoten Islands is photogenic but Henningsvær is truly one appealing location and the secret is out- thousands of tourists are flocking to this historic island fishing village annually.
We drove to Henningsvær from where we were staying in Nusfjord and the road had some of the most mind-blowing scenery.
We stopped several times to snap pictures and just bask in the Lofoten sunshine (yes, it happens on occasion).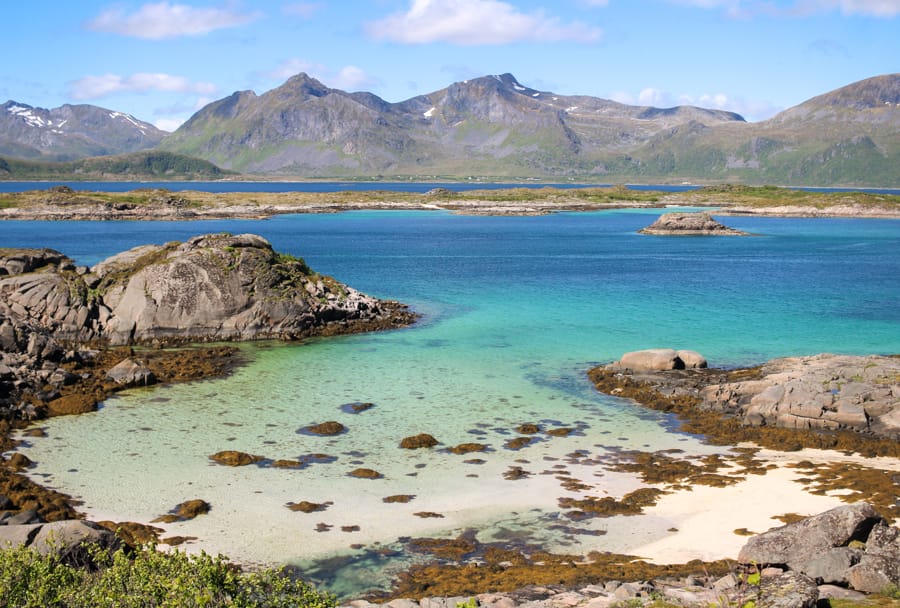 We saw mountains, crystal clear water with sandy beaches, beautiful bridges connecting islands, and more. It took us much longer to arrive in Henningsvær than we imagined it would!
This guide will take you on a tour of things to do in Henningsvær, Norway … from cozy cafes to photography locations in Henningsvær's vicinity to horseriding on a nearby island… you will have a better idea of what to do in Henningsvær and hopefully, this guide will help you plan your Lofoten itinerary a little bit better.
If you have any additional recommendations for what to see in Henningsvær, please drop them in the comments for us to check out on our next trip and for other travelers to add to their plans! Thanks.
Just a quick note that we have been to Henningsvær in both winter and summer… so all photos are ours and they will change based on the season.
If you have any questions about what the village is like in summer or winter, feel free to shoot us a message!
Cultural Things to do in Henningsvær
Galleri Lofotens Hus
The Galleri Lofotens Hus is a fairly large museum located right on the harbor in Henningsvær.
It spans multiple floors and is a family-run establishment and a vital part of the life and culture of Henningsvær.
It has more than 100 unique and beautiful paintings of Lofoten and Northern Norway's lifestyle really emphasizing its fishing history.
The museum offers a variety and is a wonderful place for families or a solo traveler.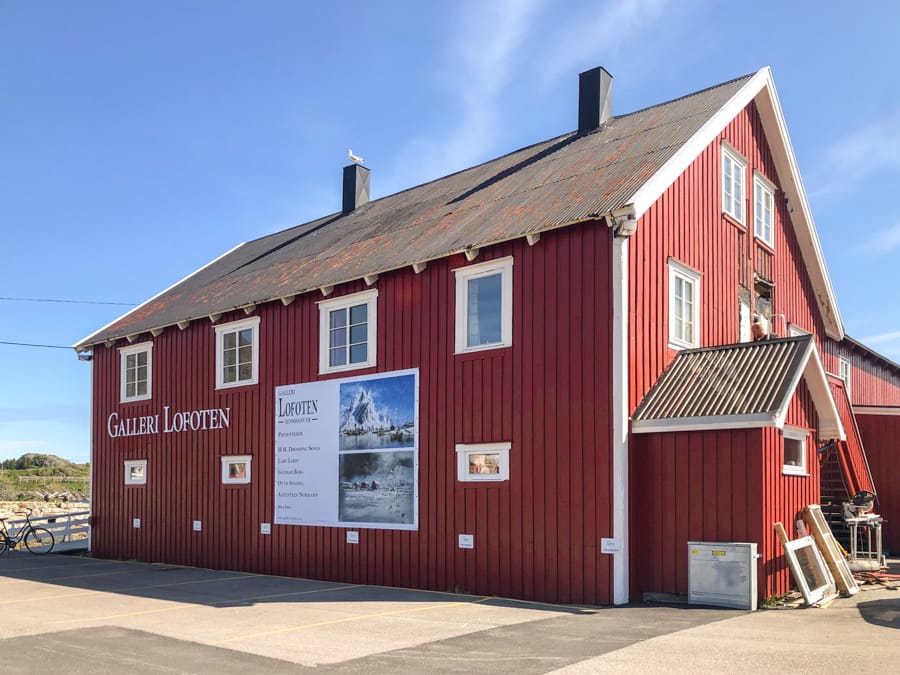 There is also a cinema room where you can watch a brief film of photography by the previous owner of the museum (his children now run the place after he passed).
The photo film is spectacular and it showcases Lofoten photos (particularly of fishing and fishermen) from before the time when digital cameras were a thing.
If you're looking for things to do in Henningsvær, definitely add this gallery to your list.
Kaviar Factory
One of the coolest places to visit in Henningsvær is this old caviar factory that has been transformed into a contemporary art museum.
The factory used to be a stable workplace on the island and provide many jobs and really connected well with Henningsvær's rich fishing history.
Once the factory was left abandoned, a wonderful couple named Venke and Rolf Hoff purchased it and gave it new life.
Its inspiring location right on the sea easily makes it a gallery with the best view in the world, in our opinion.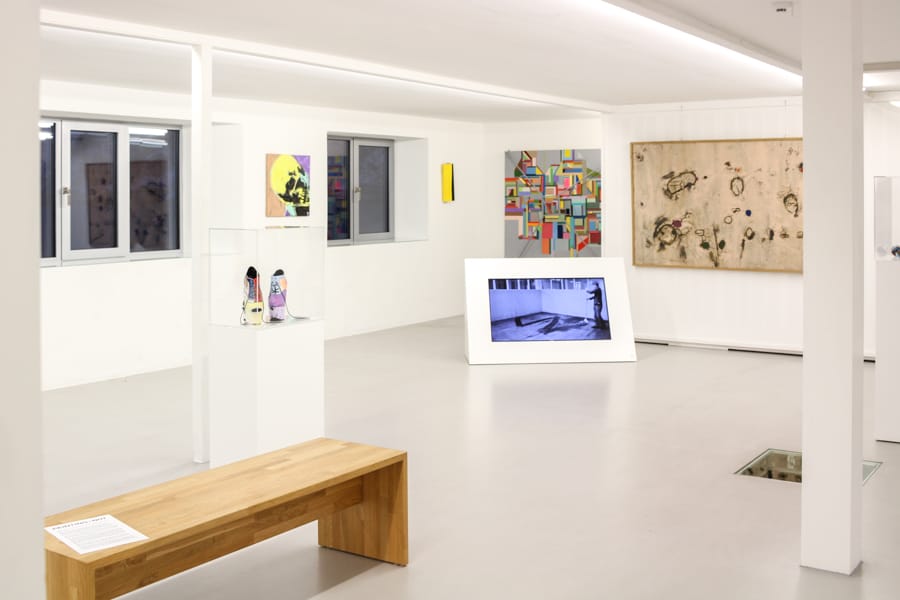 The coolest thing about the Kaviar Factory is that it gives aspiring artists with varying perspectives a place to showcase their works.
These creatives have been from places all over the world and their works have been brought here, to small Henningsvær, Norway… and that is pretty special.
Historical Places to Visit in Henningsvær
Heimgårdsbrygga and Henningsvær Harbor
Heimgårdsbrygga is the old fishery that was built at the beginning of the 19th century.
It is one of the oldest constructions in Henningsvær and inside, you can view the old fishing equipment, boats, and many other local artifacts from this era.
One of the most notable things about Henningsvær is that its old fishing history is crucial to the development of the village and the way life even transpires today.
The harbor area in Henningsvær has converted a little for tourism needs, but you can see remnants of this fishing culture everywhere along the harbor side.
Not only are the docks beautiful, but they are also a key part of the past and present of Henningsvær.
Henningsvær Restaurants, Bars, and Cafes
There are so many restaurants, cafes, and bars in Henningsvær that you will think you're in a village with far more than just 500 people (okay, tourists account for a lot of this development, but still!)
The best thing to do in Henningsvær is to grab a hot coffee or cocoa at a charming cafe.
There are places for everyone and new places are opening all the time. This section details some of the best Henningsvær restaurants, cafes, and bars.

Eat Stockfish at Henningsvær Bryggehotell
If you're looking to eat some delicious, local fare, look no further than the Henningsvær Bryggehotell right on the harbor.
They have an array of different dishes for the hungry traveler, but I highly recommend ordering their signature dish that contains stockfish right from the amazing Lofoten Islands.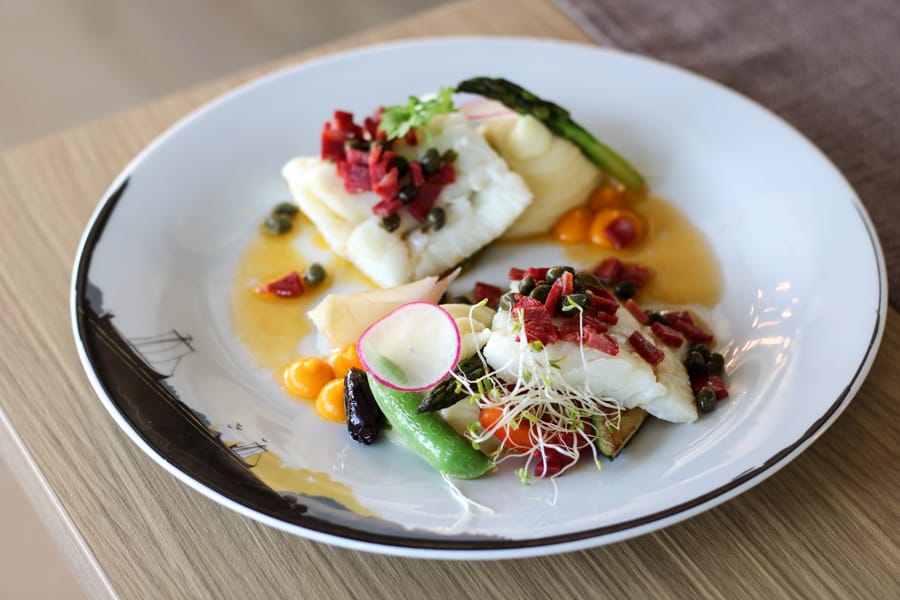 Henningsvær Bryggehotell is part of the historic Classic Norway Hotels group and visiting the hotel and its restaurant is a great experience in itself.
What we really loved the most about the stockfish dish was that it had a southern European twist to it with the chorizo and capers.
We had stockfish a dozen times in Norway on our trip and this was the most memorable simply for the unique flavors that made it stand out.
This is a must-visit Henningsvær restaurant (and a great hotel to stay at which we mention below!)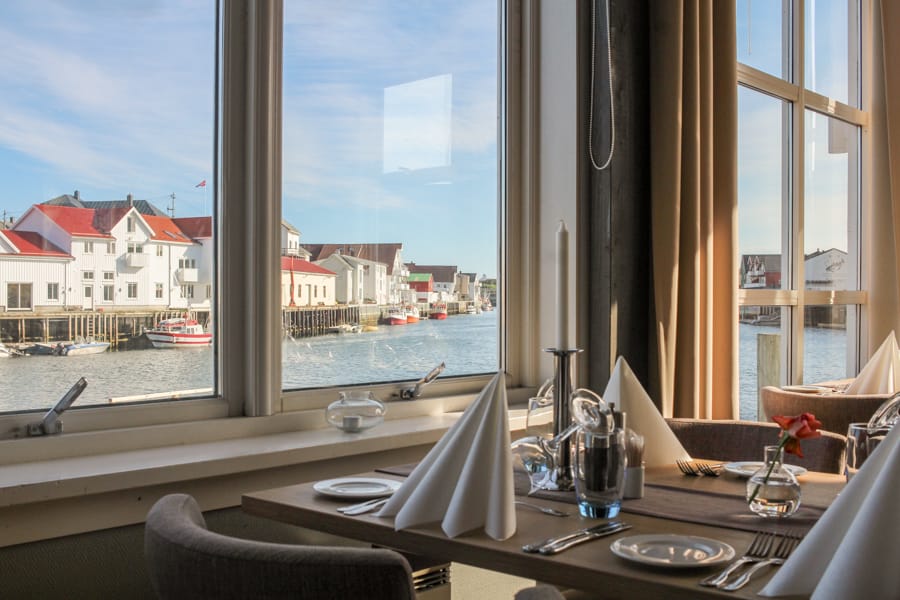 Have Coffee at Henningsvær Lysstøperi & Cafe
This cute coffee shop is where I enjoyed a delicious Americano under the midnight sun (okay, I was there during the day anyway).
They have a great selection of food and the staff was very friendly and cordial.
After I finished my coffee, I chatted with a member of the staff who told me that there was a room next door that was for making homemade candles.
Pretty awesome, right?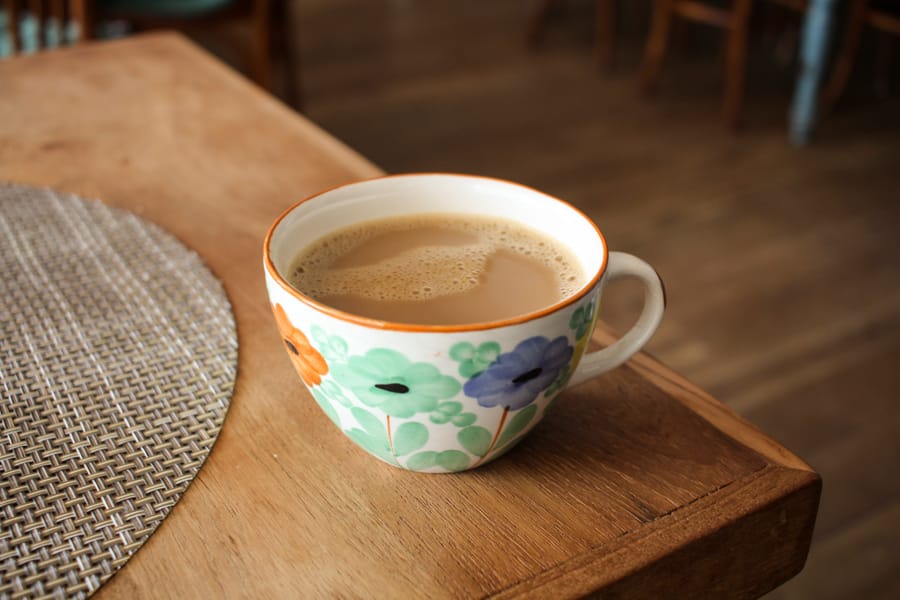 I definitely recommend visiting Henningsvær Lysstøperi & Cafe when you're around as it is one of the best cafes in Henningsvær. And you can even bring home a little Norwegian souvenir with their candle offerings.

Enjoy Dinner at Fiskekrogen Henningsvær
This lovely restaurant is one of the most recommended restaurants in Henningsvær and it is located right on the port and has a really epic view.
The menu selection is vast and they serve sizable portions of local, fresh seafood alongside many other international dishes. A meal at Fiskekrogen Henningsvær will make your time on this island very memorable!
Fiskekrogen Hennningsvær has been serving locals and tourists since 1989.
Spend the Day at Trevarefabrikken
My favorite place in Henningsvær was Trevarefabrikken, hands down.
The concept of this place is so cool, hip, and almost chaotic in an endearing way that made me fall in love with it.
The story of the building is also pretty fascinating as it was built in 1948 and was a factory for cod-liver oil production, shrimp peeling, and also was home to a carpentry shop.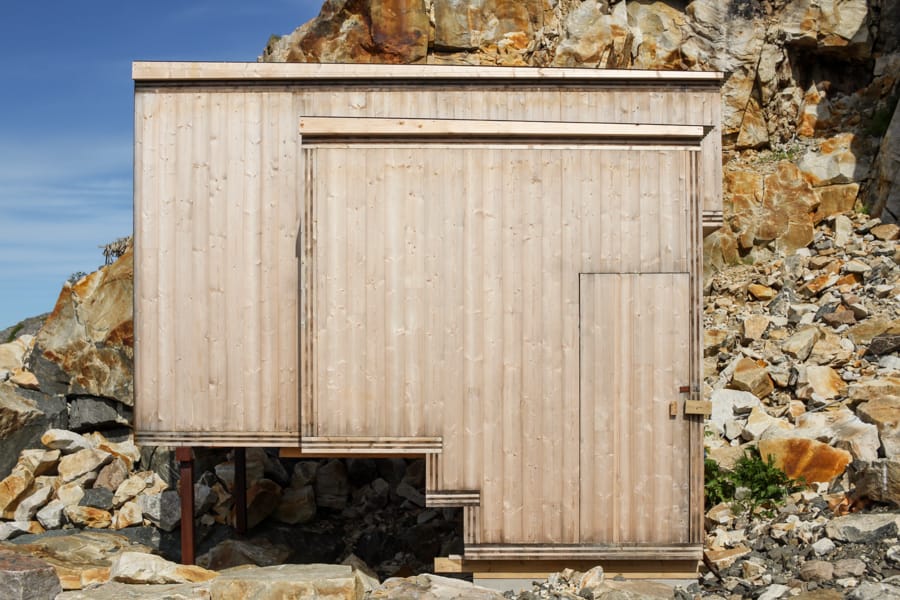 In 2010, the factory was sold to four Norwegians (two pairs of brothers) from the Bergen area who fell in love with Henningsvær and wanted to make a cool and innovative spot for locals and those passing through.
As a result, Trevarefabrikken was born and now has a coffee shop, restaurant, guest house, sauna with a view over the sea, beer bar, areas to play games, open-air BBQ spots, and an inspiring area to work in for digital nomads.
This was undoubtedly one of the coolest places I have ever visited and I can't wait to go back for another visit, and to hopefully stay there!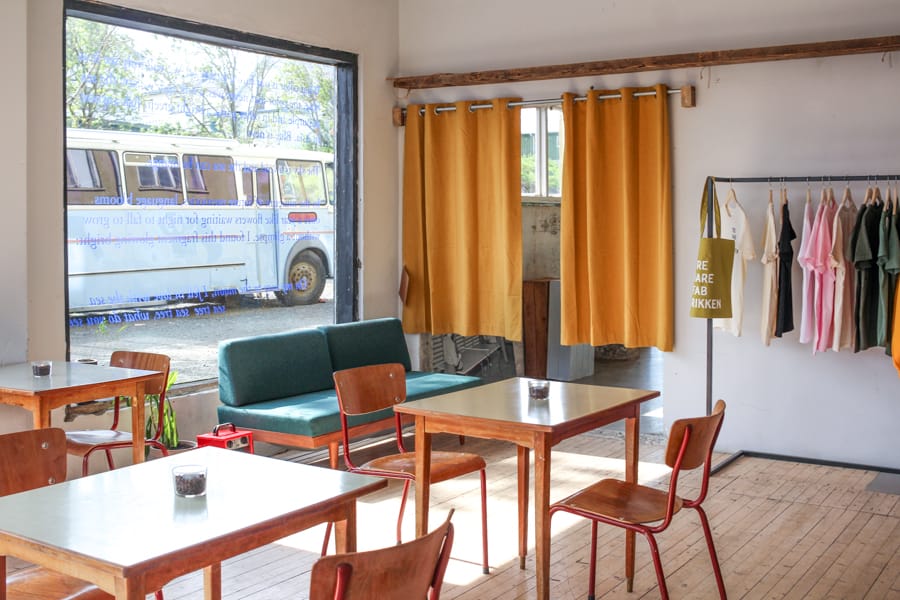 Shopping in Henningsvær
There are many cool places to shop in Henningsvær from shops that specialize in olive oil to cafes that have candles for sale (see above).
One of the best things to do in Henningsvær is to peruse the small streets and find a place that you connect with personally. We have listed one of our favorite finds in the city below.
MIN
This cool boutique is one of the best places to do a little shopping in Henningsvær.
Interestingly, you can find pretty much anything here from larger, popular brands to smaller, local designers. It is located inside of a pink, wooden house and you can't miss it when in Henningsvær.
MIN is definitely a place to not leave empty-handed!

Enjoy Nature and Views in Henningsvær
There are many places to take in the pristine nature of Henningsvær inside of the village and within close vicinity of it. We recommend the following two places for nature lovers when visiting the Lofoten fishing village.
The Famous Henningsvær Football Pitch
This famous football pitch had gained international recognition for being one of the best locations for a football pitch based on the several drone shots that have been taken of it.
Of course, not everyone has a drone or needs to get a photo from the same angle, but it is still worth walking over to the pitch and seeing the rocks and lighthouse that are close to it.
If you do decide to drone the Henningsvær football pitch, please take into consideration that Norway's drone laws only allow you to fly 150 meters high.
Don't be a douche and ruin it for the rest of us. This photo below is merely 50 meters high and still showcases the entire village and the field.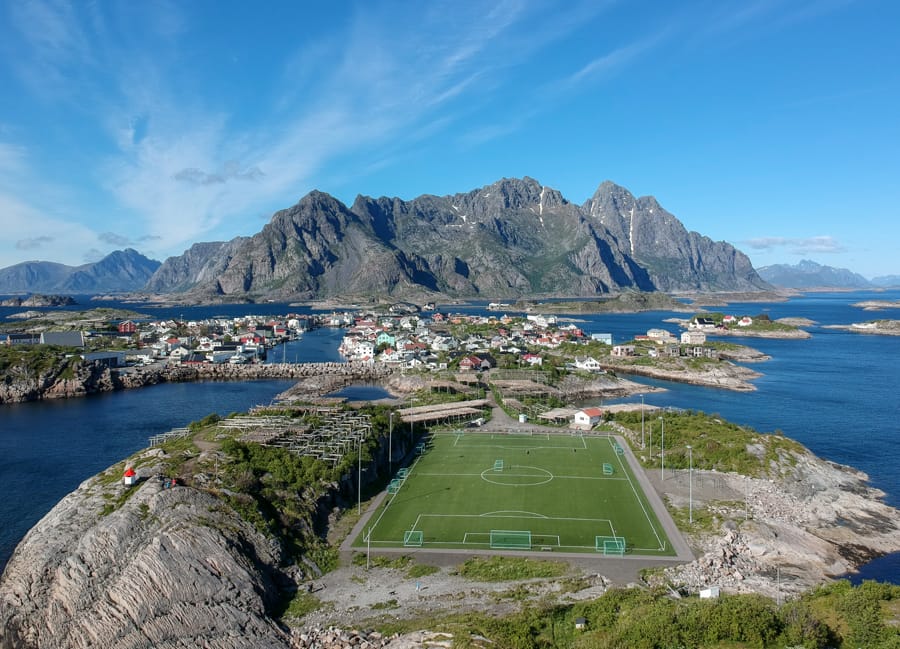 Also, please be aware of the weather and birds in the area when you send a drone up. You're right on the sea and the birds may be in abundance.
Don't disturb them with your drone just for a photo of the football pitch, please. Wait until they move away a bit and then send it up.
Stop at a Local Beach on the Way to Henningsvær
The drive to Henningsvær is one road and it is sick. And by sick- we mean really sick. The water is aqua and will take your breath away.
Park in a safe spot so that cars during the corners can see you and soak it all in. Scenes like this are what the Lofoten Islands are all about. And you will never forget your time there.
The beach below will easily be seen on the way to Henningsvær as you drive around it. Keep your eyes peeled.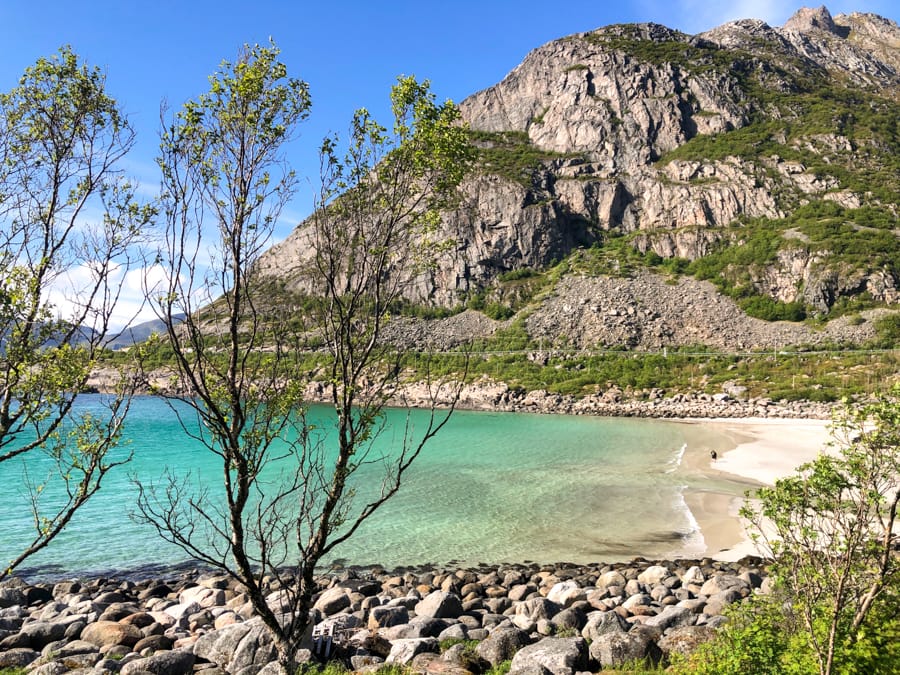 Go Horseback Riding on Gimsøy
Close to Henningsvær is the island of Gimsøy. This island is very sparsely populated but home to one of the coolest activities in all of the Lofoten Islands.
You can head over to Hov Gård and go horseback riding in the Lofoten Islands atop a beautiful, Icelandic horse. The best thing about horseback riding there is that the views are epic.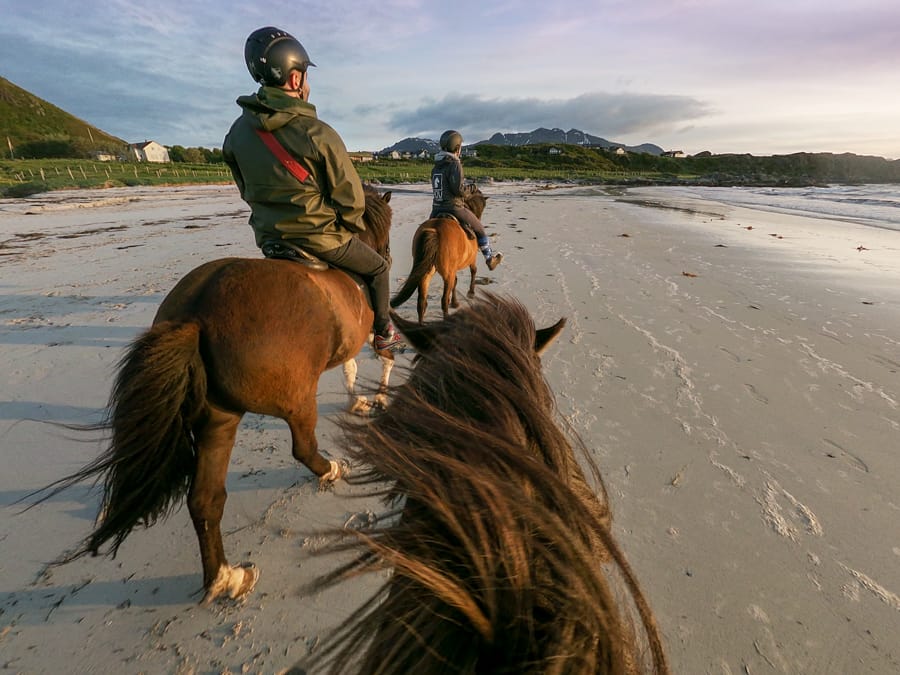 You will ride along a clear beach with killer views when you're on Gimsøy. Hov Gård also has a cafe and eatery inside that you can take a break in for a few hours and enjoy the relaxed vibe in this part of Lofoten.
They offer tours year-round from riding underneath the aurora or the midnight sun.
>> Click here to find out more about riding with Hov Gård
Take a Brewery Tour at Lofotpils in Svolvær
If you drive a bit, you will end up in the unofficial capital of the Lofoten Islands, Svolvær. There, you will find the amazing brewery, Lofotpils.
We had a chance to tour this brewery with Andreas and it was really a great experience and gave us a true taste of what the Lofoten Islands have to offer… in the form of beer!
You can find Lofotpils all throughout the islands but nothing beats enjoying it at the brewery itself.
They have an outstanding portfolio of beers that match the seasons and incorporate the local ingredients in the Lofoten Islands.
And the beers are just spectacular because the water being used is so pure and superior to water anywhere else.
>> Click here to inquire about a brewery tour at Lofotpils
Best Time to Visit Henningsvær in the Lofoten Islands
When is the best time to visit the Lofoten Islands? Well, we can't really answer that because it depends on what you're traveling there for.
If you want snow, northern lights, and seeing dark skies often, well… obviously winter is the right season for you to travel in. And it is beautiful that time of year.
If you're looking for bluer skies, midnight sun, and hiking… summer is your best bet. The shoulder seasons offer a bit more unpredictability.
We personally think that both seasons have an abundance to offer and that you should venture there regardless of the season!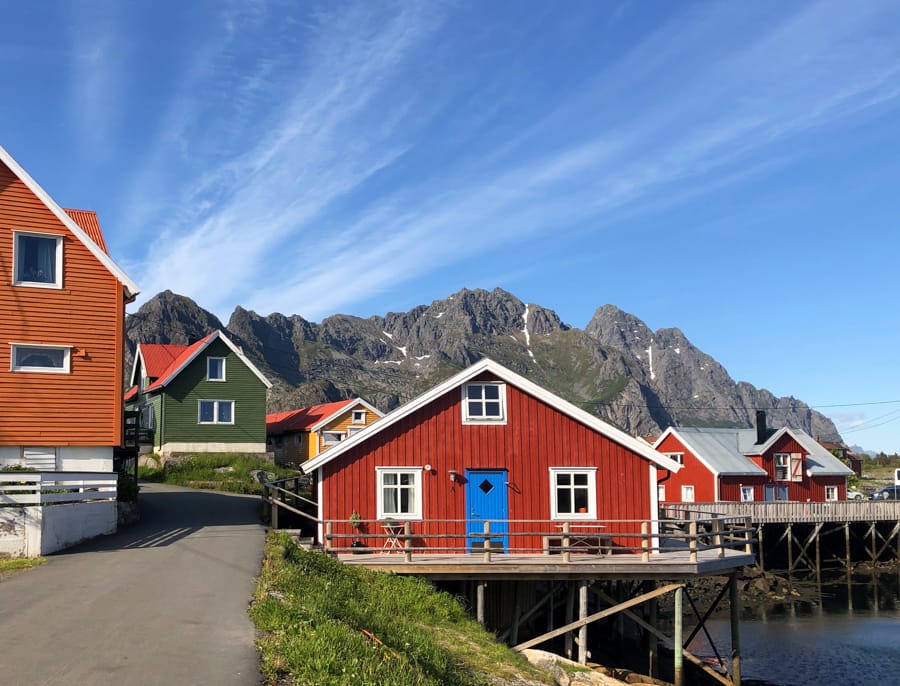 Where to Stay in Henningsvær
There are a few places to stay in Henningsvær but our recommended suggestion is to definitely stay at Henningsvær Bryggehotell!
Not only is this hotel part of the Classic Norway Hotels group and has a great charm to it but it is also friendly, has a wonderful on-site restaurant, exceptional breakfast, and views to die for!
We will be writing an entire post about our experience there in the near future but we definitely recommend this for those traveling to Henningsvær.
–> For current rates and availability click here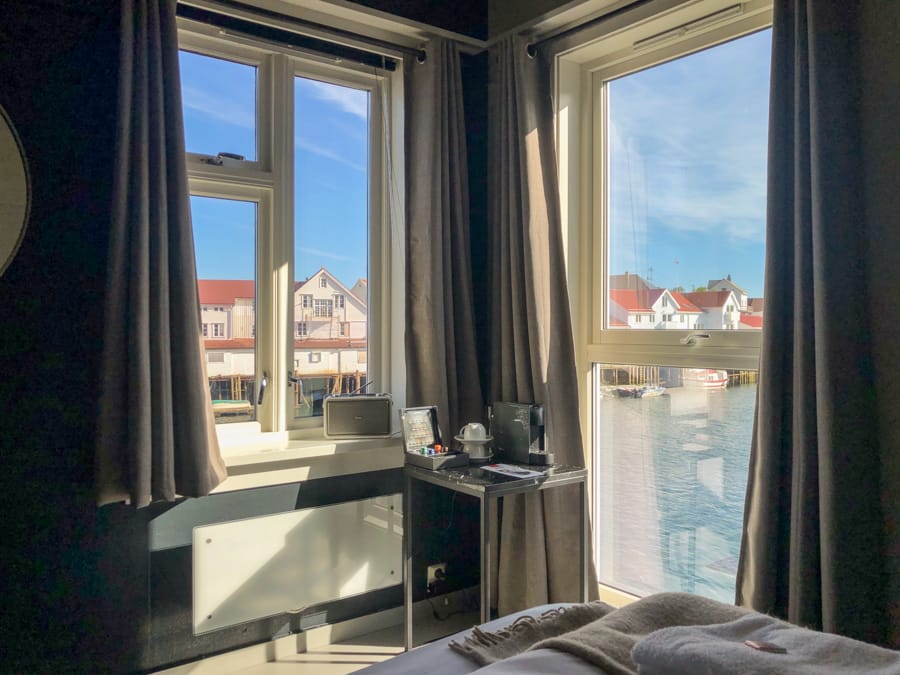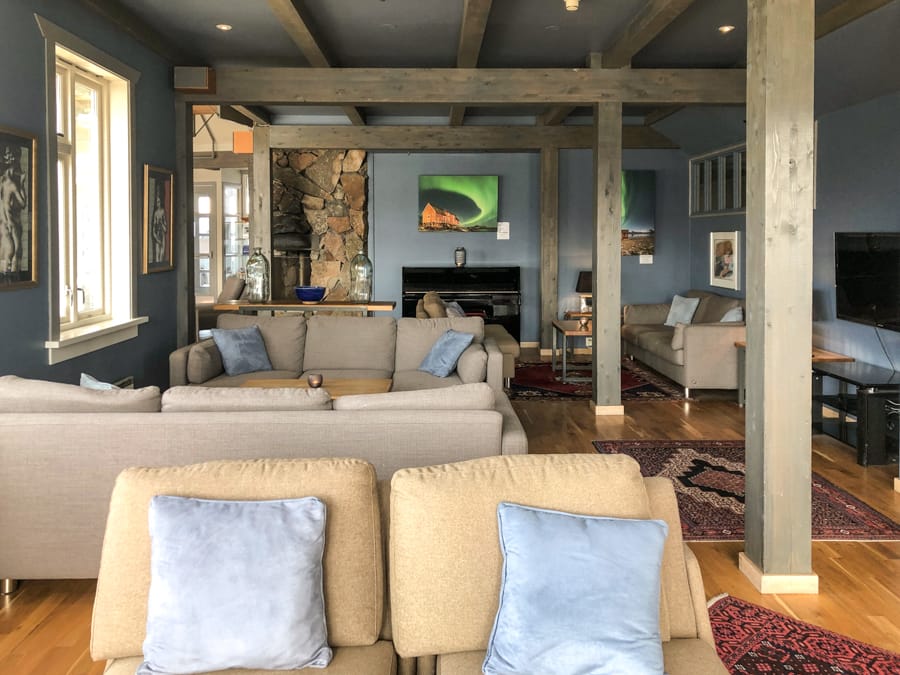 Another place we recommend staying at is Trevarefabrikken… the same place we noted above under places to eat and enjoy oneself at. They have a guesthouse inside and offer accommodation to travelers.
>> Click here to get rates and availability for Trevarefabrikken
How to Get to Henningsvær
There are many ways to get to Henningsvær, but the best option is by renting a car yourself and driving there. As we mentioned, the views are sick and you will want to stop every 5 minutes to grab a photo of them.
Getting to the Lofoten Islands, in general, can be done via ferry from Bodø, flights on Widerøe into Leknes or Svolvær, or by taking a bus or driving from somewhere else.
In the Lofoten Islands, there are public buses that run through the islands, albeit not as often as one might like.
>> You can view the bus schedules here
Renting a Car in the Lofoten Islands
We highly recommend renting a car in the Lofoten Islands. We loved the ease of driving around the islands and there are so many places that you're able to pull over to and just walk around or take in the views.
While gas is expensive in Norway, we didn't find it to be such an outlandish amount that we would discourage others from this mode of transportation.
>> Click here to check Lofoten rental car rates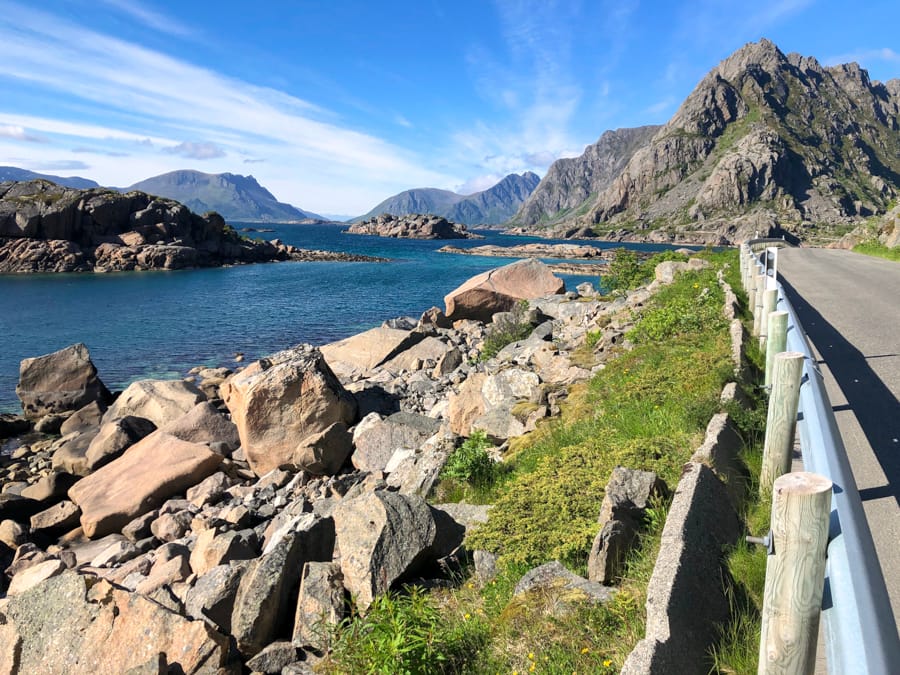 Henningsvær is one of the most stunning places in the Lofoten Islands and we really recommend you add it to your Lofoten itinerary.
We hope this guide on what to do in Henningsvær will help encourage you to make the trip there and give you an idea of what to do when there.
Please let us know if you have any questions in the comments section!
More Lofoten Islands Travel Guides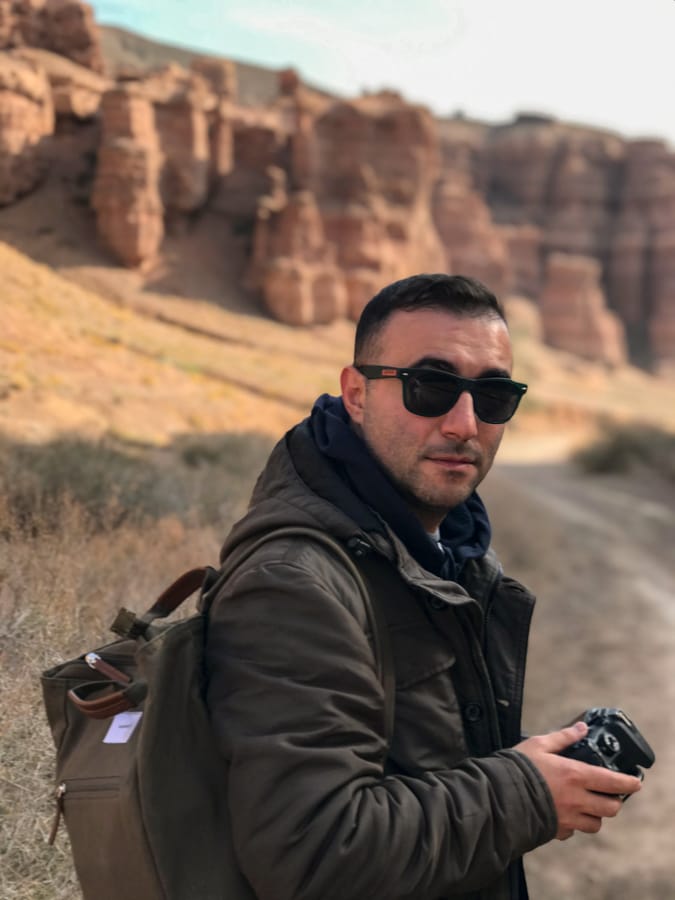 Aram is a travel blogger and writer from Armenia who spends his time between Spain and his home country. He is passionate about music and football (the European kind) and covers a lot of Western European destinations on the blog. Aram is a laidback traveler who enjoys meeting new people and finding the best food in each city that he visits (hence his frequent trips to France, Italy, and Greece!). He has been featured in (or written for) Forbes, BBC, The Guardian, Fodor's Travel, and more.