Bodø, Norway might just be one of the most underrated and underappreciated cities that I've ever been to.
This is a guide to the best things to do in Bodø and it includes where to eat, what to see, and the amazing natural areas that surround Bodø.
Are you planning your trip to Bodø last minute?
If youʻre booking your trip to Bodø last minute, we have you covered. Below are some of the top tours, hotels, and more!
Top Experiences and Tours in Bodø:
Top Hotels in Bodø:
Scandic Havet (we stayed here!)
If you have any suggestions for what to do in Bodø, please drop them in the comments!
Best Things to Do in Bodø
Very few cities knock me off of my feet these days. Everywhere tends to feel the same and is either overhyped or underappreciated by other travelers.
It is very rare that I end up surprised at a destination and that it stuns me or overturns a preconceived opinion I formed about it.
I spent four years living in Norway and no one really spoke about Bodø. Literally, no one. I never had a good or bad opinion about the city and was left quite apathetic about visiting.
So, I never did.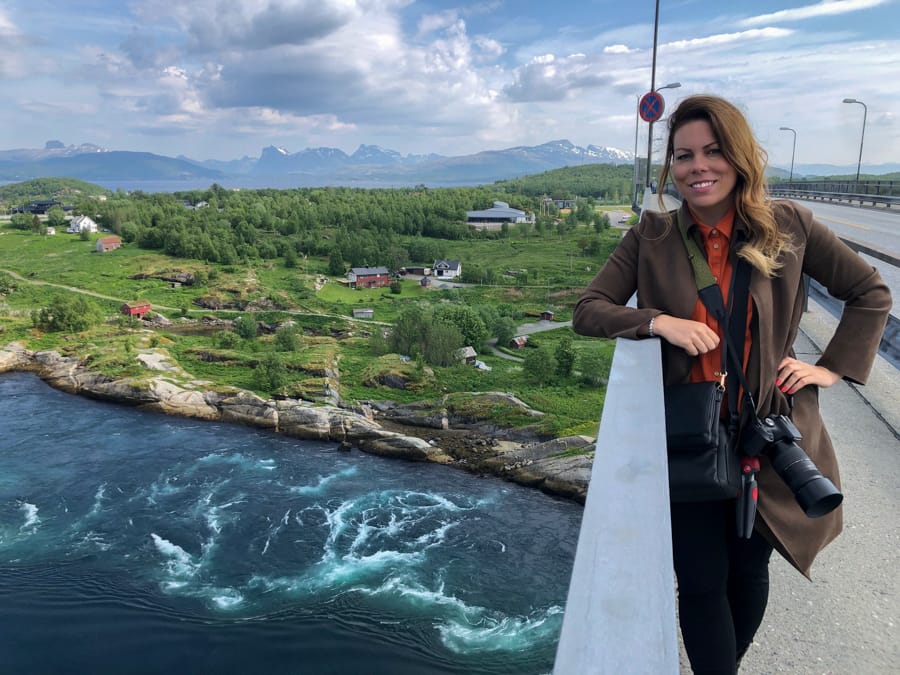 That all changed in June 2019 when I went up there for a few days with an open heart and mind to work on updating my Norway content on here as well as do some research for a side project.
Aram and I flew there from Oslo and had the chance to spend three days exploring the western Norwegian city.
Since we found Bodø to have quite a bit to do for travelers, we decided to create a guide of the best things to do in Bodø to help others fall in love with the city the way we did.
We definitely recommend renting a car from the airport to do a lot of the local excursions, however. You can manage some by bus, but it will leave you really limited and at the mercy of public transportation's sometimes infrequent routes.
This list is divided into different sections to help you find what to do in Bodø easier.
If you have any suggestions of what to see in Bodø, please leave it in the comments section!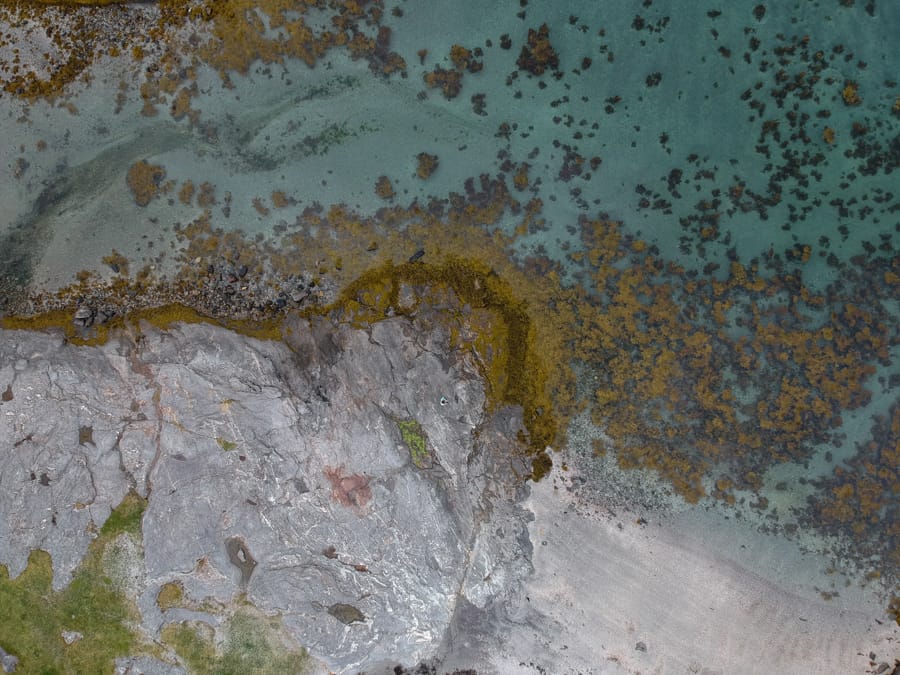 How to Rent a Car in Bodø
While most of this 'things to do in Bodø' guide can be done with public transportation, it will really not leave you a lot of wiggle room to play around or take photos, etc.
We highly recommend renting a car in Bodø. We picked ours up from Bodø Airport and returned it easily to the same place.
Click here to check rental car rates and availability in Bodø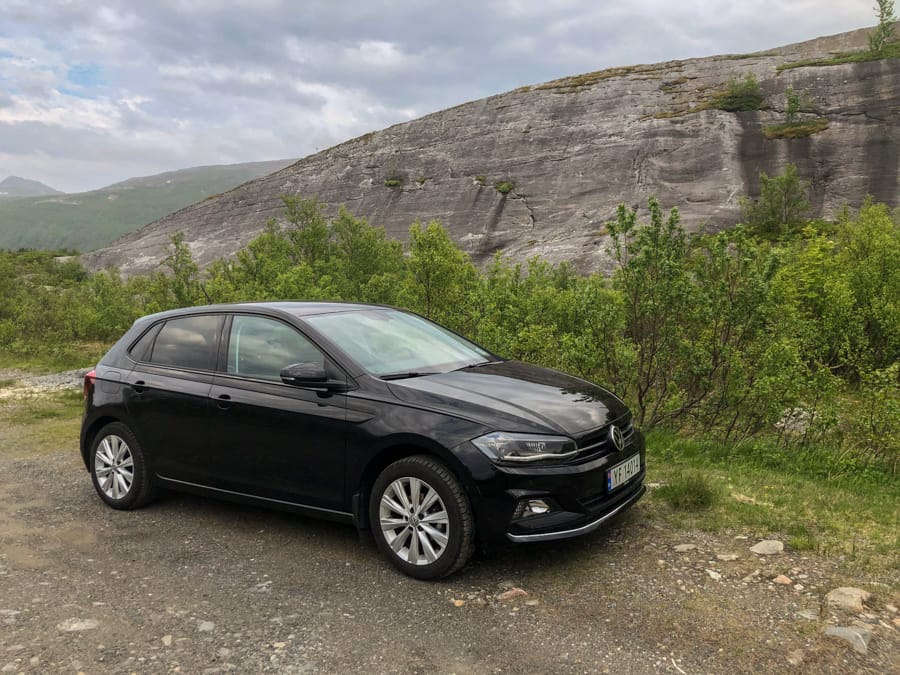 Renting a Bike in Bodø
Another option for getting around, particularly in the Bodø city center is to rent a bike.
You can hire a bike in Bodø by going to the Opplev Nord center in the city or also from the airport (as long as you're in touch with the tourism office beforehand).
In order to arrange this, contact them at www.opplevnord.no.
The rental price includes a bike, helmet, pump, and basic tools. All bikes are unisex.
What to Do in Bodø
This list is broken down into historical things to do, cultural things to do, places to eat and drink, and local day trips or nearby sights that we deem worthy of a visit (take mind- there are a lot that didn't make the list as we were cut short on time!)
Hopefully, this gives you a better idea of what to do in this amazing and colorful Norwegian city.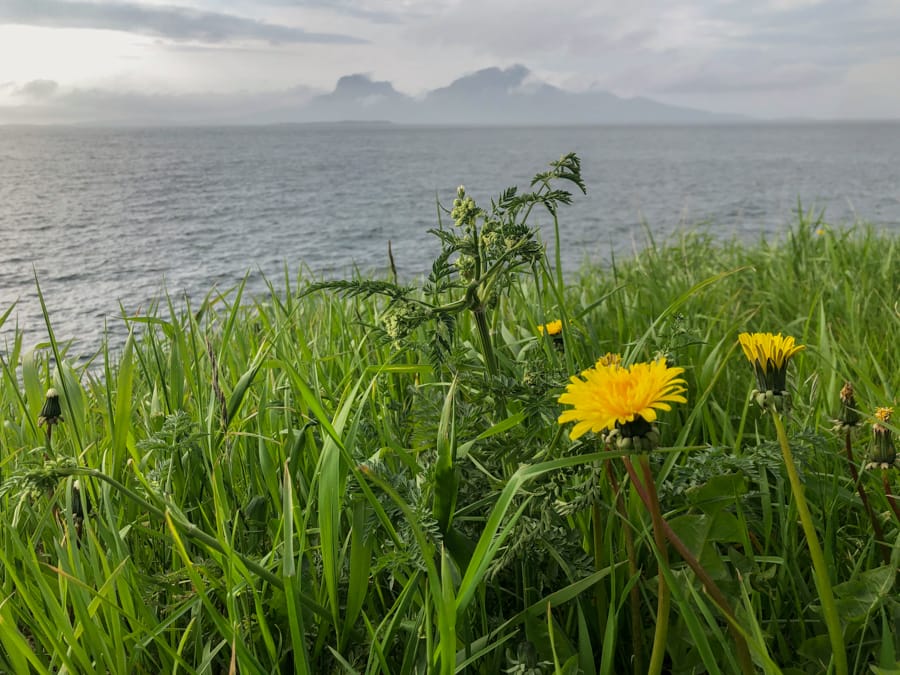 Historical Things to See in Bodø
Step Back in Time at Kjerringøy Trading Post
One of the most famous places to visit outside of Bodø is Kjerringøy Trading Post. Located around 40 kilometers from the city center of Bodø, you will definitely need a car to visit here if you want to do so independently.
You can also take public transportation, but you will spend a lot of time doing so and you won't get the chance to stop and photograph the many beautiful views and sights along the way.
Kjerringøy Trading Post (or Kjerringøy Handelssted as referred to in Norwegian) is the country's best-preserved trading post (there were hundreds of them spread throughout the country and particularly in Northern Norway).
This trading post dates back to the 19th century and has history that goes into the 20th century.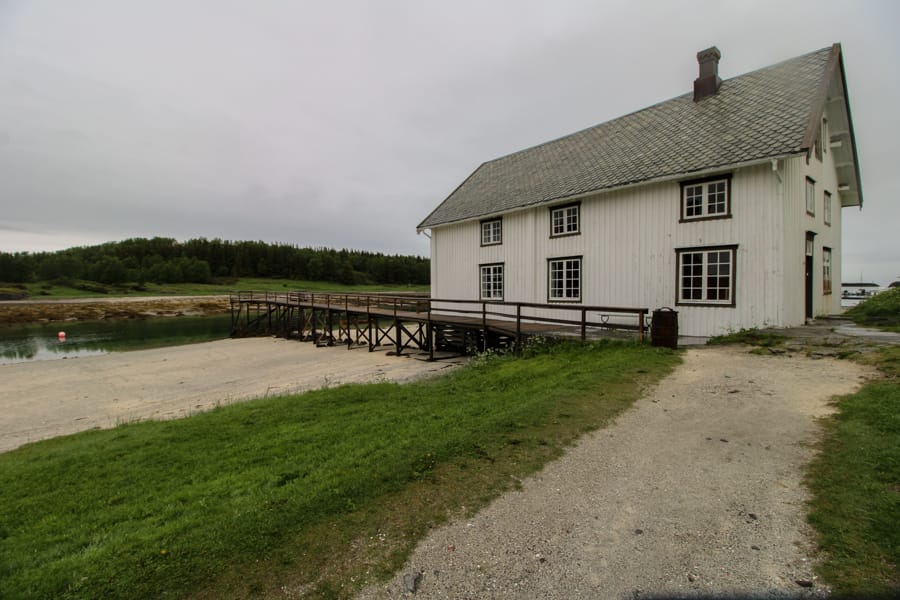 The history is pretty remarkable and it will detail Norway's place in the world a little more in-depth.
We had a guide show us around (thanks, Lise!) and she gave us insight into the many buildings that dot the area that make up the historic trading post.
There is also a cafe on-site where you can grab a fresh coffee and a delicious, Norwegian waffle. You will learn a substantial amount about the history of Norwegian people at Kjerringøy.
To get to Kjerringøy Trading Post from Bodø, you will need to drive north on the RV834 until you reach Festvåg where you will need to hop on a ferry across the narrow Mistfjorden.
The ferry crossing is only 10 minutes long and you don't even get outside of your car. The prices of the ferry are:
If you're looking to reach Kjerringøy by public transportation, you will need to go to this website and put in your routes. They are not too frequent, to be honest, so your best bet is to go by car.
If you want to learn more about Kjerringøy Handelssted or book a guided tour for your visit, check out their website. Adult tickets are 100 NOK.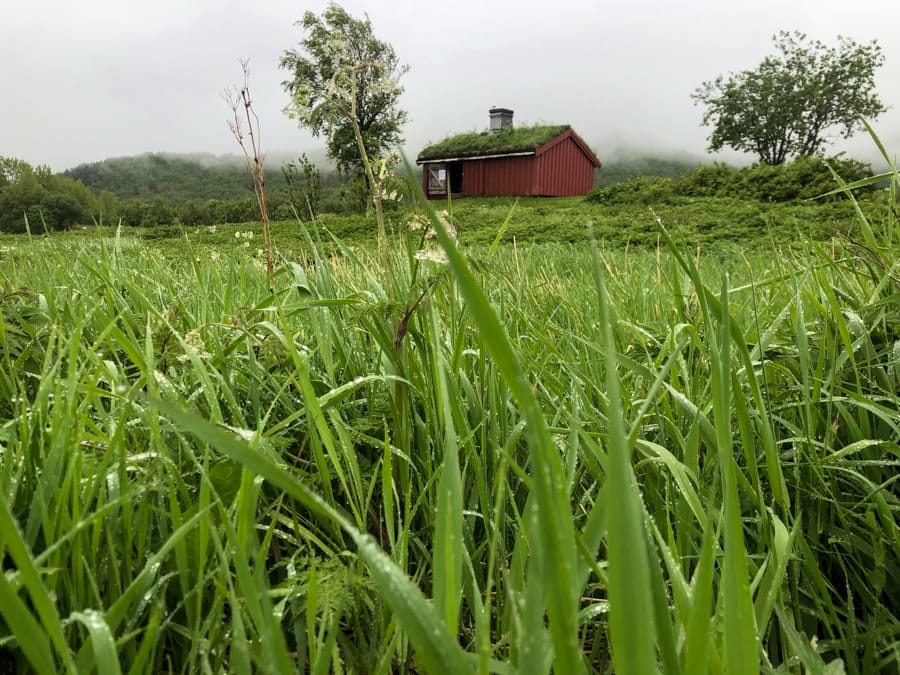 Check out the Bodø Domkirke
The Bodø Domkirke is a really recognizable site in the Nordland city. You will undoubtedly see it when you're perusing the streets of Bodø and it is one of the best things to do in Bodø if you're into the city's architecture and history.
The church was originally built in 1888 and was later destroyed during WW2. Bodø Domkirke was rebuilt in the 1950s and stands as you see it today.
You can find the Bodø Cathedral at Torvgata 12 in the city center of Bodø.
Visit the Nyholms Fort and Lighthouse
If you're in or around the Bodø harbor, you will easily see the Nyholmen Fortress and Lighthouse across the water. This protective fort dates back to 1810 and was later abandoned in 1835.
What currently stands was reconstructed in 2000.
It is easy to get out there since only one road drives you to the area… but if you have clear skies, you can see it fairly well across the harbor area.
The lighthouse sits atop a 7.4-meter high structure and the original lighthouse was built in 1875.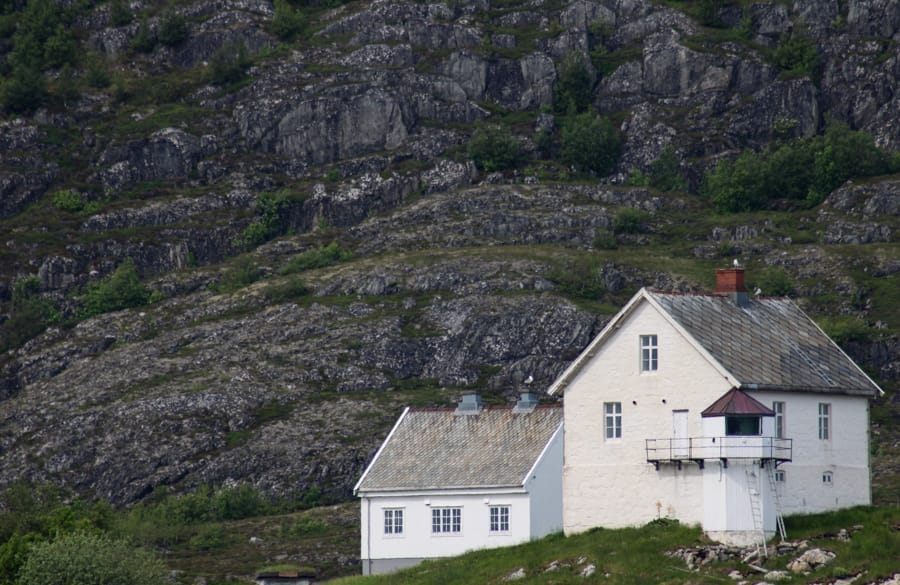 See WW2 History at Batterie Dietl
When we were driving around, I remember seeing this place on a map with a history and sightseeing marker. Curious what it was, I tried searching in Google for it and it took me to auto stores.
Turns out, Google had the wrong name in the search engine and the correct one is Batterie Dietl. This is a very famous historical sight in Bodø with heavy WW2 ties.
Batterie Dietl is one of the largest coastal forts from WW2 in Europe. There are cannon bunkers there and they even offer hourly tours during the summer months from 11am-6pm.
Okay, Google… you now owe me. I wish I had gotten the chance to see this. It can be found at Bø on Engeløya (Engel island).
Day Trips from Bodø
Immerse Yourself in Nature at Sjunkhatten National Park
One of the unexpected highlights from our trip was stumbling upon Sjunkhatten National Park.
To be honest, we didn't really know that the park was on our way to Festvåg and near Mjelle Beach and we were just driving around and came across the park.
Sjunkhatten National Park gained its national park status in 2010. It is 417.5 square kilometers and all is a protected area with sick views, animals, and a lot of amazing flora.
We didn't have a chance to hike too far into it, but we walked around for a bit and photographed as the clouds circled their way around us.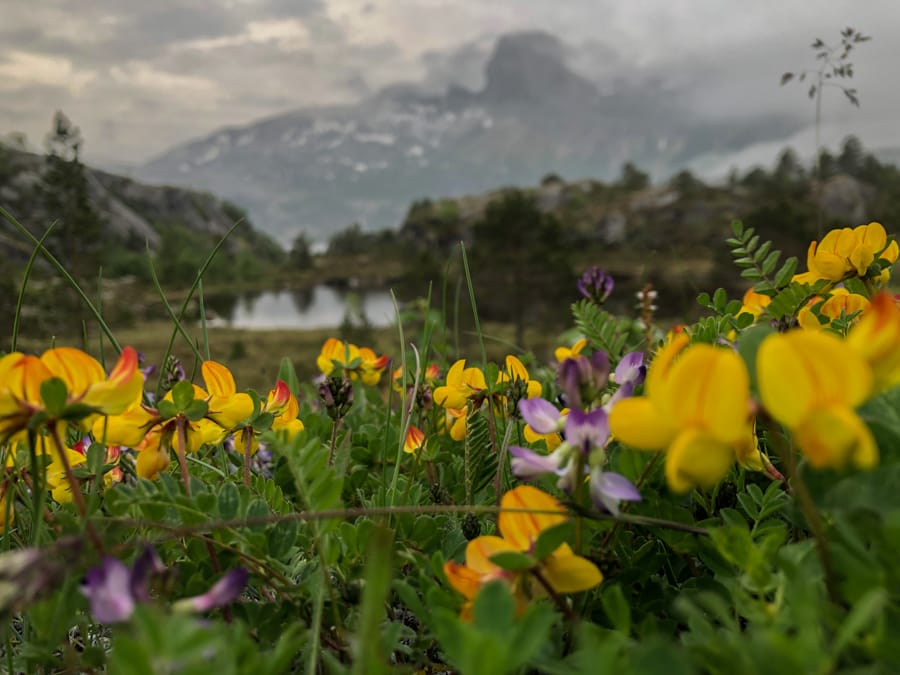 If you're looking for a nice day hike (or even longer), definitely head out to Sjunkhatten National Park. It was easily one of the highlights from our visit to Bodø.
Camp on or near Mjelle Beach
Aram and I decided it would be a brilliant idea to camp at Mjelle Beach for a night. We had planned to trek out that way when the rain decided to make an appearance… and never leave.
We quickly and sloppily set up our tent and camped underneath the rain that was incessant throughout the night, but it was definitely an experience we will never forget (because I whined all night about being cold and no one slept).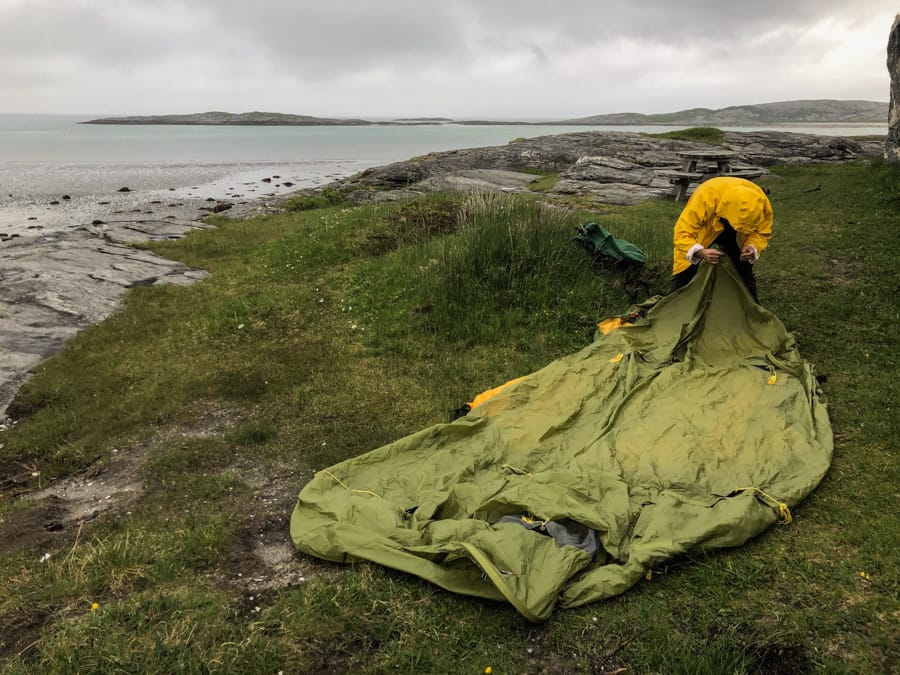 Mjelle Beach is stunning. Some may disagree with me but I find beaches in Northern Norway to rival some of the most beautiful ones in the world despite the colder climate.
Bodø has its fair share of gorgeous ones and Mjelle is one of them. The area surrounding it is a treat, as well.
To reach Mjelle, you must walk about 30 minutes from the parking lot. We walked for 5 minutes and were drenched and set up the tent.
Either way, the entire area is stunning and worth a visit if you're looking for what to do in Bodø. Click here to read more about our camping in Norway experiences (including this one!)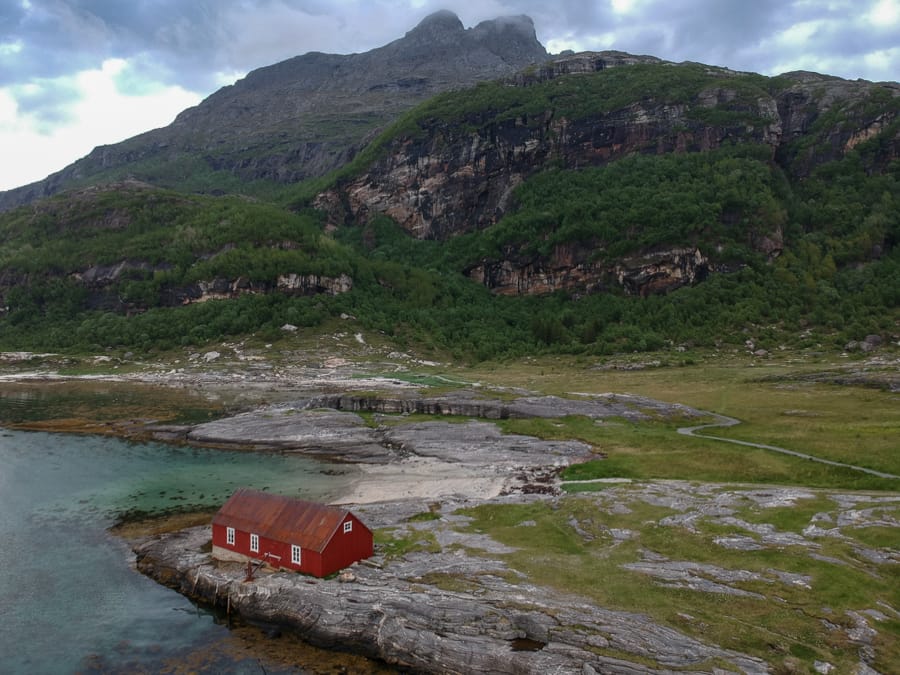 Hike to Ausvika Beach
Sadly, we didn't make it to Ausvika this trip.
We heard it was beautiful, but we were fighting with the weather while in Bodø (don't worry, we got sun the rest of our Northern Norway trip and were spoiled) and it just didn't make sense to go to this beach when the city had many gastronomic delights waiting for us.
This is a popular hike and beach and definitely should be on your list if the weather permits and you want to do something outdoorsy.
Get a View Over Bodø at Mount Rønvikfjellet
Another activity we didn't have time for was hiking Mount Rønvikfjellet. There are several incredible hikes in the area… but this one gives you a killer view over Bodø and is highly recommended by locals. Oh well… next time!
See the World's Largest Whirlpool at Saltstraumen
I knew that the Bodø area was home to the world's largest whirlpool (maelstrom) at Saltstraumen, but I really wasn't sure if it would live up to the hype.
I actually didn't think it would for whatever reason. On our last day in Bodø, we drove out to Saltstraumen to see what it was all about. The phenomenon happens every six hours so you really have to plan accordingly.
Once we arrived, I was blown away. It actually was way cooler in real life than what I had seen in photos.
It was one of the most humbling and mesmerizing natural phenomenons I had ever seen and Aram and I couldn't get away from it. We expected to ride out there, grab a few photos, and leave.
We stayed for quite some time and just took it all in without an enormous amount of photos.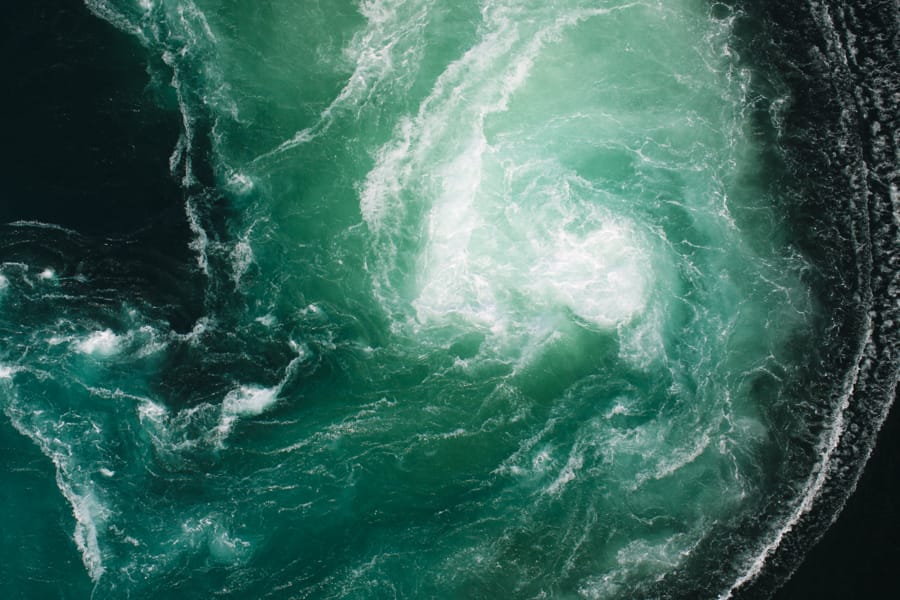 It is best to reach Saltstraumen by personal car. But, if you're cruising around via public transportation, you can definitely get out there.
It is just over 30 kilometers from Bodø city center and you can check bus routes here. To be honest, if you take public transportation, it may take you some time as the buses won't necessarily leave frequently.
You can also book an organized tour out to Saltstraumen. There are RIB safaris out there that come highly recommended.
We considered this option but ended up driving in the end which worked well for us. But, the boat trip would have undoubtedly been epic, too.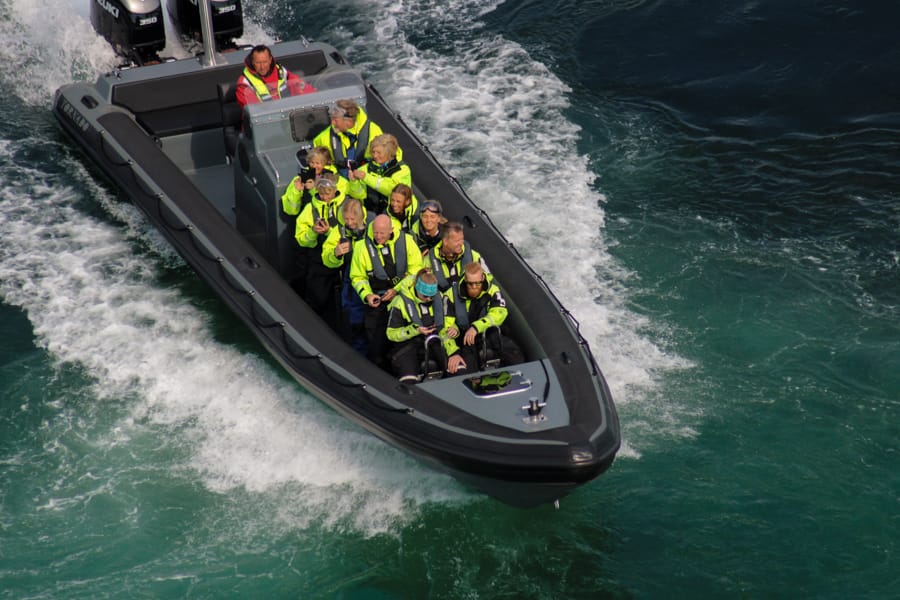 If you're keen to book a RIB safari, you can check out more here. I also found out that there are snorkel tours out to Saltstraumen that you can book which is pretty cool.
When the current changes direction, the area becomes a fisherman's paradise, so I can imagine that snorkeling there is epic. Click here to find out more about Saltstraumen snorkeling tours.

Places to Eat in Bodø
LystPå
Imagine my surprise when I discovered extremely high-quality (I'm talking Michelin-star level) food in Bodø of all places.
I had no idea what I was in store for in Bodø when it came to food, but I was extremely delighted and this easily became one of my favorite Scandinavian food cities.
LystPå was one of the best places I've ever had the pleasure of eating at in the north. The restaurant opened in December 2016 and has been serving the locals of Bodø and the city's travelers ever since.
What makes LystPå so great is that the food is superior quality but without the pretentious atmosphere.
I love good, high-quality food but I don't frequent places that are often serving this as I find them uncomfortable and too many forks cause me anxiety.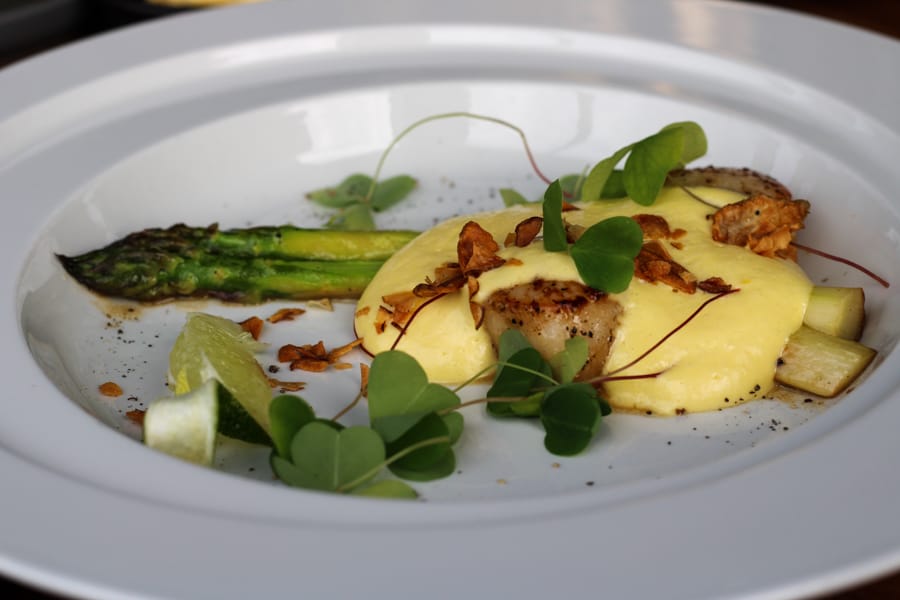 We had the chance to dine at LystPå and try some of their best dishes- from their stockfish signature to a monkfish dish that is still leaving me salivating.
We even got to taste the best cheese in the world (a gouda style from Fana near Bergen) at LystPå.
LystPå is also a wonderful place for wine lovers. They are consistently rated as one of the best wine restaurants in Norway and offer a very exclusive bottle selection in-house with over 150 labels.
If you're looking for cooking classes or to feed a large group, this is also a great place to do so.
I highly, highly recommend hitting up LystPå during your stay in Bodø. And email me photos of your food so I can envy you.
You can find LystPå at Storgata 7a in Bodø city center.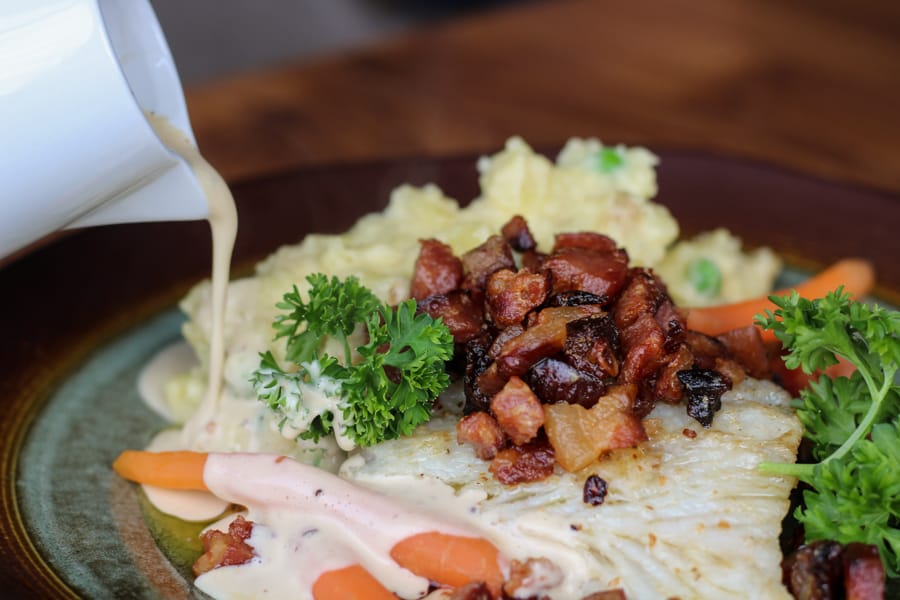 Hundholmen Brygghus
If only I was drinking this year… that is the only thing that could have possibly made our visit to Hundholmen better than it already was.
This gastropub and restaurant would be my go-to place if I lived in Bodø (or if it was located anywhere else in the world).
Hundholmen is located in the heart of Bodø and has microbrews and one of the coolest atmospheres I've ever come across.
There are different sections inside that all have their own feel and cater to unique groups of people. This is a place for everyone- families, couples, or the solo traveler. They offer an array of non-alcoholic drinks.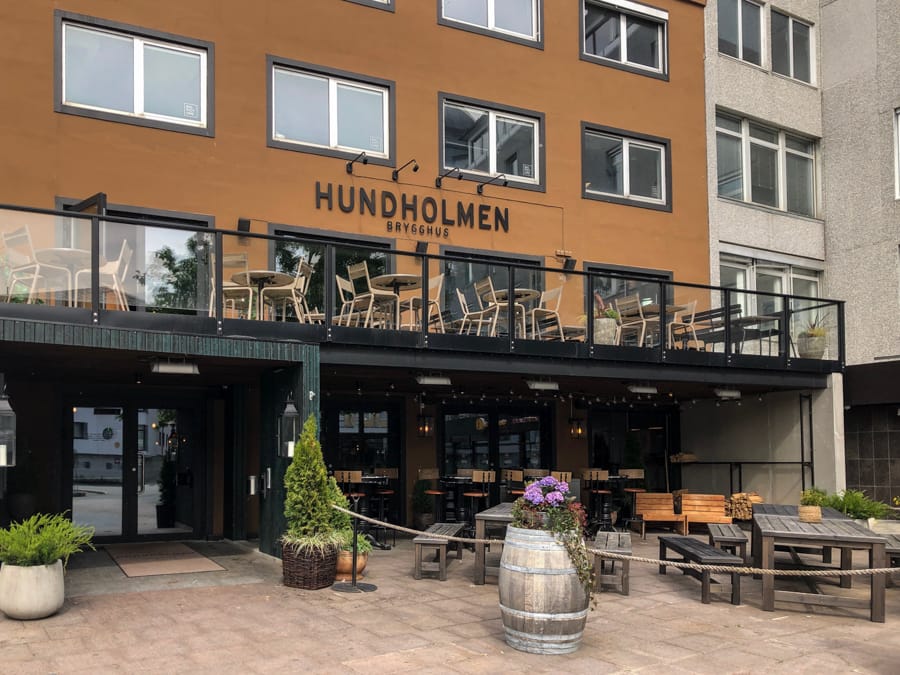 They produce anywhere from 10,000-15,000 liters of beer annually and they love to experiment and try new products and flavors but they keep four consistently on draught.
Having opened in November 2016, Hundholmen is definitely one of the best additions to Bodø's restaurant and nightlife scene.
As for food, they have insanely good fish soup, burgers, and even a massive tomahawk steak with all the fixins' (I spent a year living in Texas as I think that was the only phrase I adopted).
And on a side note, they have the most grappa in all of Norway and the selection keeps on growing thanks to Kjetil's frequent trips to Italy (he is one of the owners and easily one of the coolest guys in Bodø- stop in and tell him Aram and I said hello!)
Hundholmen also offers fantastic views of the midnight sun and harbor during the summers. You can find the establishment at Tollbugata 13 in Bodø city center.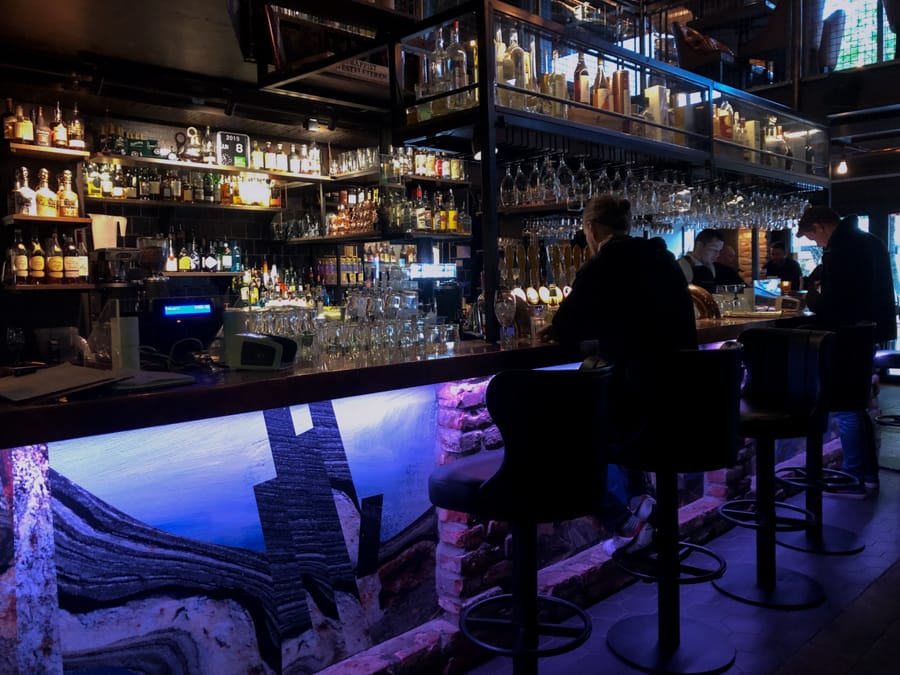 Økohjornet
Another place I didn't get to enjoy while in Bodø. But, I am listing it here because it gets raving recommendations and has options for vegans, vegetarians, and those on a raw diet.
This is definitely a place where you can get exactly what you need and then some. They have several homemade and conscious small eats as well as drinks.
You can find Økohjornet at Torvgata 10c in Bodø.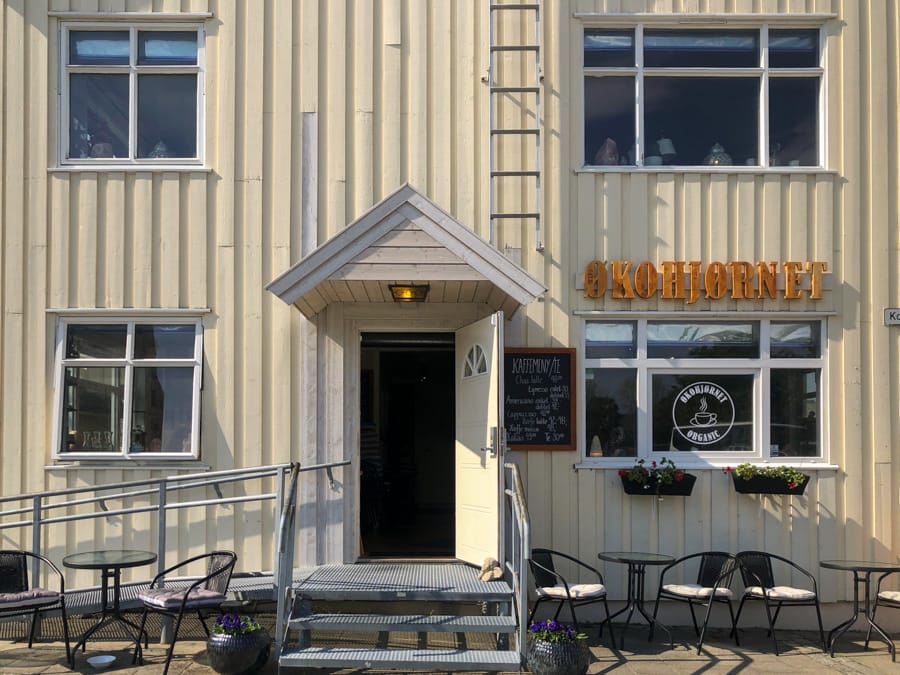 Melkebaren Cafe
I was actually tipped about this cafe from the lovely Renate at Renates Reiser. She told me that this was the place to go to to try the local favorite, møsbrømslefse.
Møsbrømslefse is lefse that is made with melted brown cheese and sugar. I have an obsession with brown cheese and was determined to enjoy this Bodø favorite.
We went to Melkebaren on a Sunday.
Big mistake. They don't have møsbrømslefse on Sundays because the place that supplies them doesn't work. So, I settled for a coffee and macaron.
Both were delicious and I enjoyed my time at Melkebaren and definitely think it is a cafe worth checking out when in Bodø. Try to aim for any other day except a Sunday, however. Møsbrømslefse awaits.
You can find Melkebaren at Industrigata 1 in Bodø.

Dama Di Bar
This bar seems to be Bodø's epicenter of fun from pretty much every person I spoke with. Unfortunately, due to time constraints, Aram and I did not get to spend a night there.
But, we will take everyone's word on it. Dama Di is an artistic bar and almost a cultural center of sorts even though they may not prefer that wording as there are actual things as cultural centers in Norway.
But- there is street art, art, music, drinks, and socializing. That is cultural to me and I definitely am heading there next time I head to Bodø. I don't doubt that it is one of the best things to do in Bodø.
You can find Dama Di Bar at Sjøgata 18 in Bodø.

Bjørk
We, unfortunately, didn't have a chance to eat at Bjørk on our recent trip to Bodø. The restaurant with a modern flair and Italian twist came highly recommended by every single person we talked to.
They use a wood-fired oven for pizzas and offer local seafood as well as other European and Italian dishes. Next time we make it to Bodø, Bjørk Restaurant is at the very top of our list. You can find Bjørk inside of Glasshuset.
You can find Bjørk at Storgata 8 inside of Glasshuset in Bodø.
Bådin Craft Beer
Okay, so Bådin is a local craft brewery and is not an actual bar or pub. If you read this blog, you know we have an affinity for delicious craft beer and supporting local businesses, so it would be remiss of us not to put Bådin on here.
You can find their beer in local supermarkets but I recommend heading to Glasshuset shopping center and grabbing one at Gulating Bottle Shop. They have a huge selection of Norwegian craft beer so pick up quite a few things, if you can!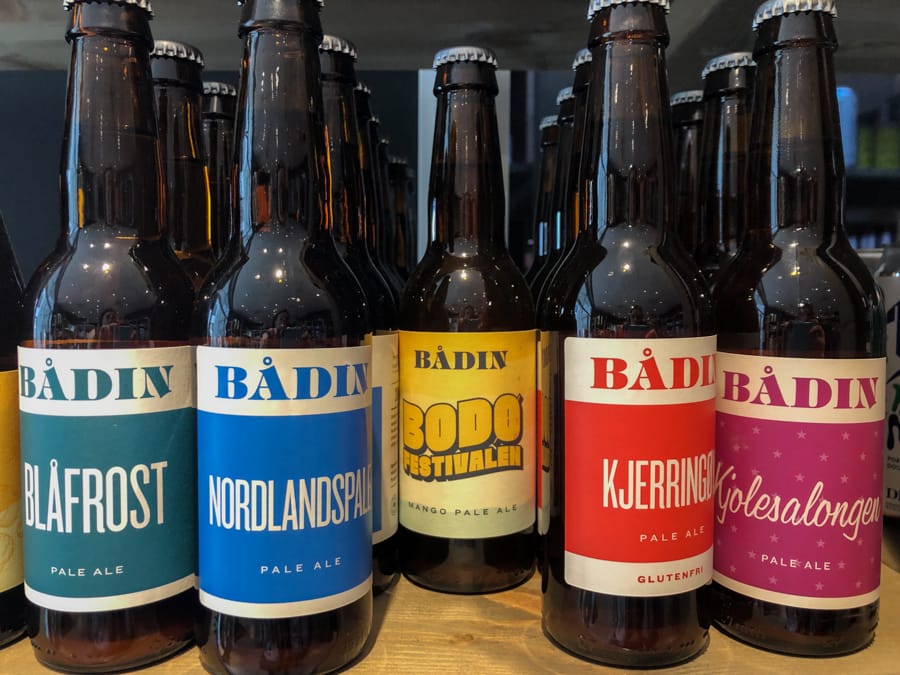 Craig Alibone Chocolate
I first saw Craig Alibone chocolate when I was at a cafe called Brødrene Berbusmel in Bodø. Truth be told, I have never been much a chocolate lover.
When I moved to Norway, I started to indulge here and there because Norwegian chocolate kicks the crap out of American chocolate… but I still didn't crave it or spend money on it often.
However, I have started to recently really appreciate artisanal chocolate.
I partially blame Paroma at Year of the Monkey because she brought me some artisanal chocolate from San Francisco that was unbelievably good when she visited Armenia. But, nevertheless, visiting Craig Alibone was high on my Bodø list.
The shop is small but perfect. It is the ideal mix of minimalism with color and friendliness.
The woman working helped me pick a few chocolates and I ate them really fast and probably not in a very refined way. I didn't care. It was outstanding.
I tried a Szechuan pepper and sea buckthorn chocolate as well as the best-seller, Saltstraumen salty caramel. My life is forever changed.
Even if you're not a huge chocolate fan, head in and grab a small one just for taste. And they even offer bars that you can take home which are such great gifts for your loved ones back home.
You can find Craig Alibone at Storgata 3 in Bodø.
Brødrene Berbusmel
We ended up at Berbusmel on our first evening in Bodø and what a great introduction the cafe was!
The newer establishment is located right in the city center of Bodø and offers everything from the tastiest, freshly-baked bread to local oils, meats, and cheeses.
The wifi worked exceptionally well and this is the perfect place for digital nomads or those needing to get some work done. The cafe is large, open, and extremely comfortable.
You can find Berbusmel at Storgata 7 in Bodø.

Cultural Things to do in Bodø
Marvel at Bodø's Street Art
I was intrigued when I found out that Bodø was home to some colorful and immense street art murals. Even Atle Østrem, one of the most famous Norwegian street artists whose work is recognizable to many, can be found gracing the facades of buildings in Bodø.
There was a street art festival called UpNorth held in Bodø in recent years and much of the urban art you'll find can be attributed to that.
My favorite one was this one- "A Kiss Between Cultures" by Argentinian artist Graciela Gonçalves Da Silva. It can be found at Sandgata 6 in Bodø.

Stormen Library and Concert Hall
Bodø is home to one of the most famous cultural centers in Europe (and afar).
The Stormen Library and Concert Hall is kind of the epicenter of several of the city's activities from theatrical performances to urban art.
Even the outside of it is built with aesthetics in mind and it was a blast to chill outside of it for a while and enjoy the views of the harbor.
You can find the Stormen Concert Hall at Storgata 1B beside the harbor in Bodø.


Norwegian Aviation Museum
We didn't have much time for museums in Bodø, but this is definitely one that has been put high on my list for my next trip to the Norwegian city.
There are many things to do in Bodø and one of those things is to visit the Norwegian Aviation Museum. You can find relics from WW2, the Cold War, and civil aviation inside.
The Norwegian Aviation Museum also has interactive experiences for visitors, including specialized ones for children.
You can find the Norwegian Aviation Museum at Olav V Gate in Bodø.
Bodø Harbor
I am a sucker for a good harbor. Bodø's harbor did not disappoint. While there is only so much you can say about a beautiful place that a city keeps boats, I still encourage you to head down there and relax by the sea.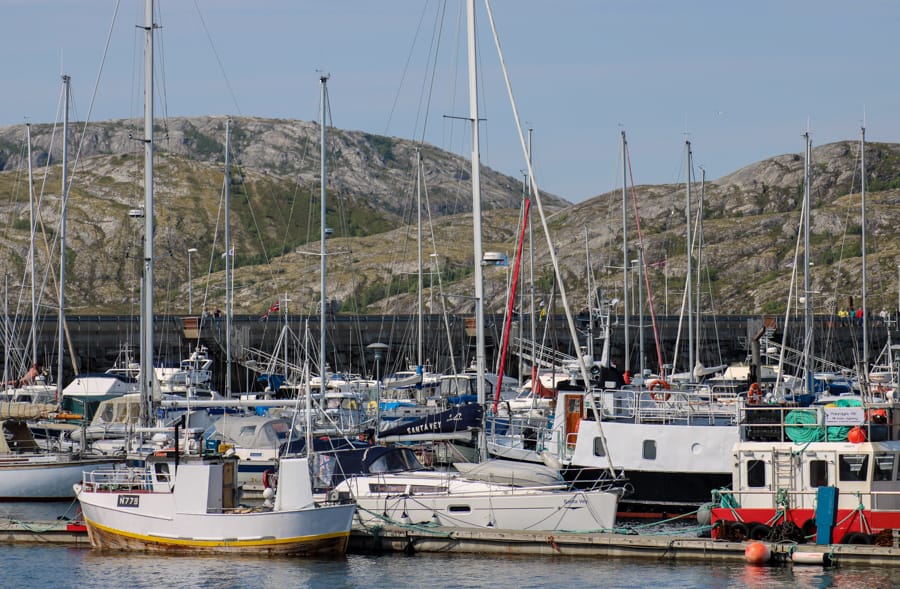 Where to Stay in Bodø
There are several places to stay in Bodø. We stayed at Scandic Havet and had a fantastic time. The hotel was located on the sea and they have a bar at the top that offers panoramic views of Bodø.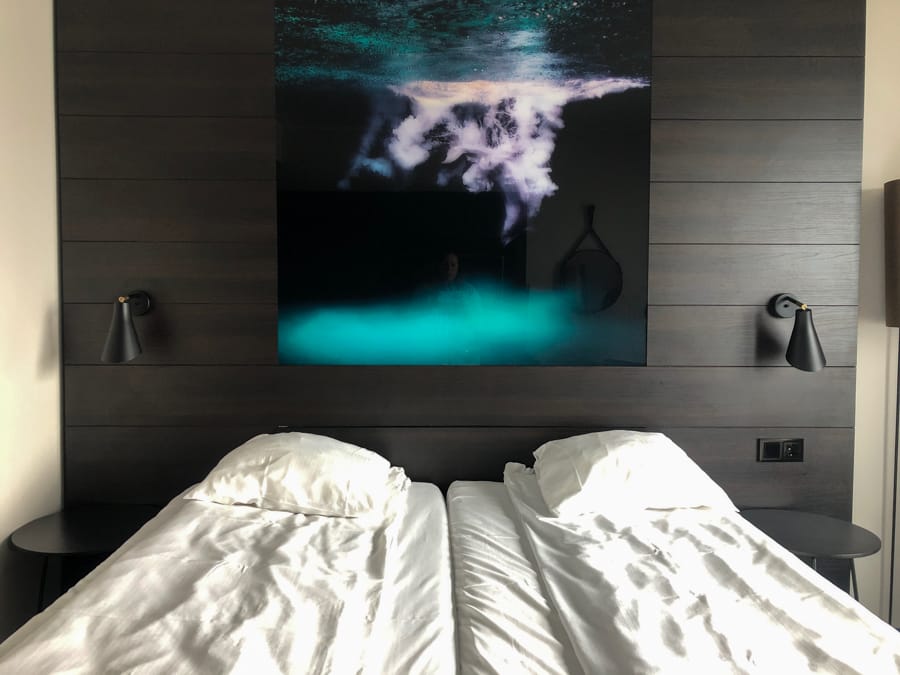 This is the perfect place to grab a drink and check out the midnight sun. The rooms were cozy and comfortable and it easily had one of the best hotel breakfasts I have had in ages. The staff was also extremely friendly.
Click here to check rates and availability | Click here to read reviews on TripAdvisor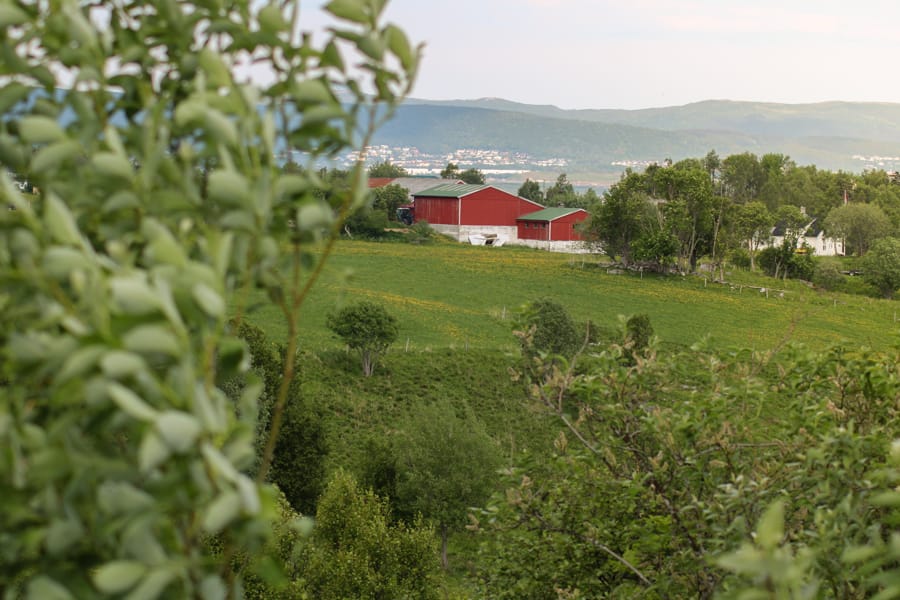 Where to Stay Outside of Bodø
If you're looking for a unique stay somewhere close to Bodø, I definitely suggest heading to Fleinvær and staying at The Arctic Hideaway.
Located in Gildeskål, this accommodation is a mixture of modern and classic coastal and it is just cool. It is best to stay here with groups but it is also available for private use.
I can't imagine a better place to witness the northern lights, to be honest. I am definitely staying here next time I am in the Bodø area for a night.
Click here to check rates and availability | Click here to read reviews on TripAdvisor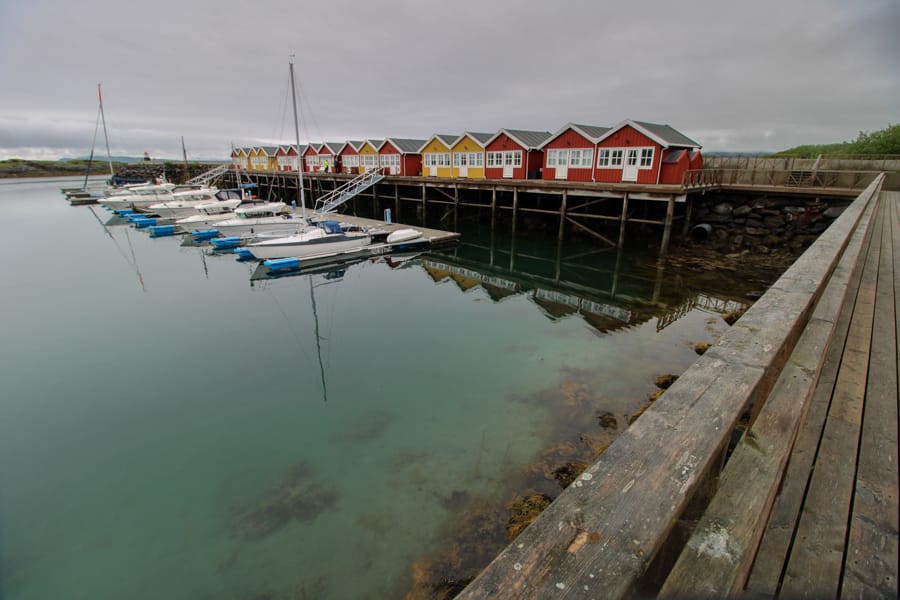 There are so many fantastic reasons to visit Bodø and while I will go more into detail about that in a separate post, I hope this post gives you an idea of what to do in Bodø and will encourage you to make a visit to this underrated Norwegian city!
Please leave any comments on amazing things to do in Bodø that you know of.
**Aram and I were guests of Visit Bodø and Visit Northern Norway when we were visiting the lovely city. Special thanks also to LystPå and Hundholmen for inviting us in and treating us to your delicious food and atmosphere. All opinions are our own.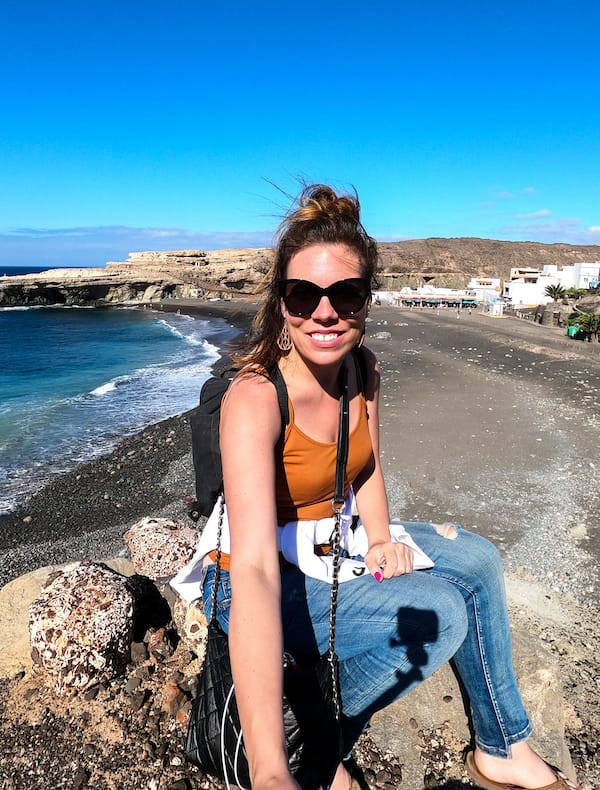 Megan is a travel blogger and writer with a background in digital marketing. Originally from Richmond, VA, she now splits her time between Frankfurt, Germany and Arctic Finland after also living in Norway, Armenia, and Kazakhstan. She has a passion for winter travel, as well as the Nordic countries, but you can also find her eating her way through Italy, perusing perfume stores in Paris, or taking road trips through the USA. Megan has written for or been featured by National Geographic, Forbes, Lonely Planet, the New York Times, and more. She co-authored Fodor's Travel 'Essential Norway' and has visited 45 US states and 100+ countries.