What better time of the year to get in touch with nature than September? Visiting these US national parks in September will blow your mind and leave memories for years!
In September, the weather is still warm, but not so hot in most places that it's sweltering. In addition, you get to see the beautiful fall foliage and admire nature at its finest (depending on the park, of course)!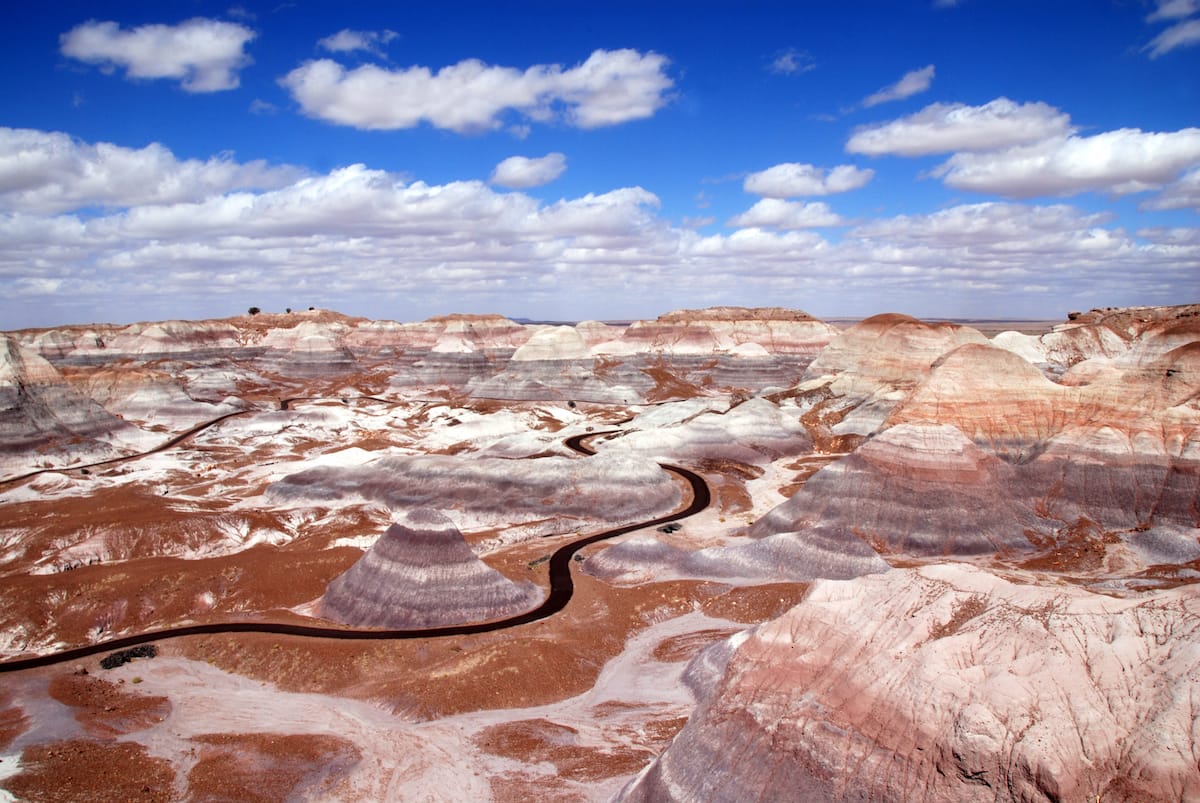 While the West Coast and many parks head into fall a bit earlier than the East Coast, youʻll find that the usually crowded East Coast parks become less crowded when kids are back in school.
These are the best national parks to visit in September. Let us know if your park didnʻt make the cut and why it is so awesome to visit in early fall! Thanks!
Best National Parks to Visit in September
1. Zion National Park
Location: Utah
September Average Temperature: highs around 83F and lows around 53F
Go there for: hiking with fewer crowds, stargazing opportunities
Utah in the fall is astonishingly beautiful and Zion National Park in September is the ultimate place to experience all of that beauty.
This US national park has the title of being one of the most scenic and adventurous parks in the United States. Here you can combine a hike or a drive through canyons while leaves are falling in the brisk autumn air.
The fall season in Zion is excellent for hiking and exploration One of the activities that you must do to enjoy Utah's fall at its fullest is drive through the Zion Canyon Scenic Drive.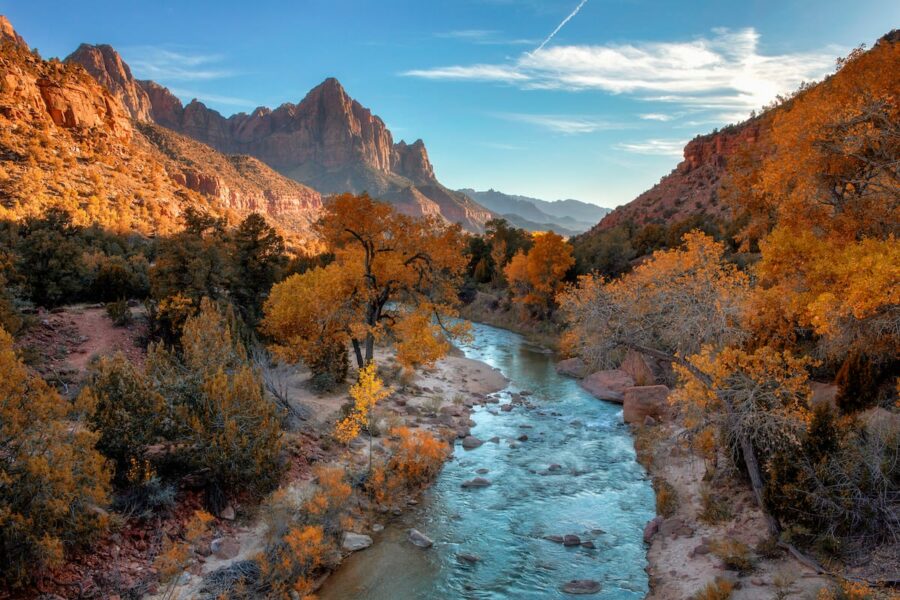 For hiking, there are quite famous trails like Angels Landing or some that are less known (but no less impressive!) like Watchman Trail, Cable Mountain, and Taylor Creek. Some are great even in the winter too!
If you like exploring such locations on tours, one of the best here is the Zion Sunset Jeep tour – fast speed and some extraordinary views.
The location of this park has some of the clearest skies, making it perfect for memorable stargazing. We also should mention the horseback ride in the White Mountains that is unlike any other.
This one-hour tour combines two of Southern Utah's most popular activities: horseback riding and exploring gorgeous slot canyons.
2. Petrified Forest National Park
Location: Arizona
September Average Temperature: highs around 84F and lows around 53F
Go there for: tolerable temperatures after the summer heat
Petrified Forest National Park has something for everyone, and luckily, fall is the best season to visit this Arizona national park.
If you're curious about where the name of this park comes from, it's the fallen and petrified trees, dating back 225 million years.
You can start exploring the park by making the first stop at Tiponi Point, located close to the visitor center, or going through the short trail of Painted Desert Rim.
As far as things to see, there is Painted Desert Inn, which has a history of more than 100 years and once was a hotel and restaurant. It's an epic sight!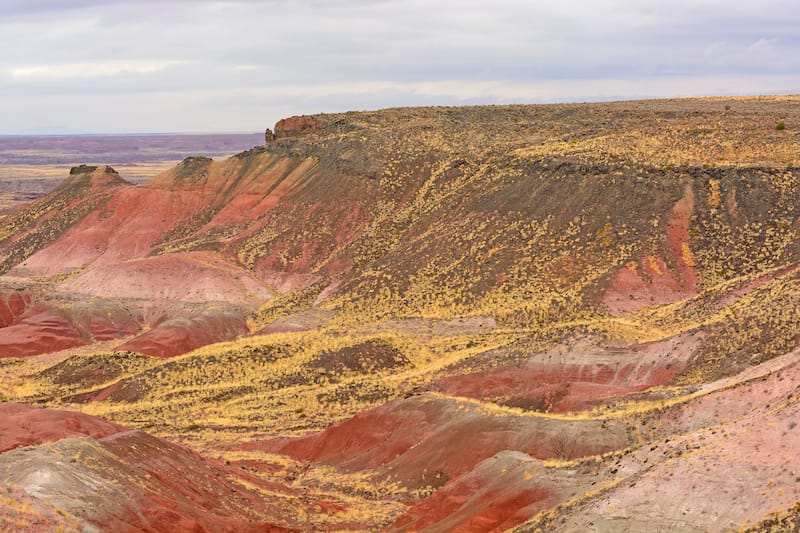 There is an interesting spot in the area where Petrified Forest Road joins Route 40. There is an old Studebaker car parked here. Another impressive sight is Newspaper Rock with more than 600 petroglyphs made by the Puebloan tribe.
When it comes to hiking, trails like Blue Mesa with its blue and gray colors, Jasper Forest, Crystal Forest, Long Logs, and Giant Logs are among the most visited ones.
Lastly, note that this park only has the option of wild camping as there are no designated campgrounds here.
3. Lassen Volcanic National Park
Location: California
September Average Temperature: highs around 70F and lows around 35F
Go there for: warmer before winter sets in, fall colors start showing up
Lassen Volcanic National Park is known for its amazing hydrothermal phenomena, which include plopping mud pots, boiling pools, and roaring steam vents. It truly is one of the most underrated national parks in the US!
During the fall season, most of the park is open. Only some parts might be closed because of snow. Manzanita Lake Campground remains open until then, while the Southwest Campground is open all year.
If you're planning to hike, consider Lassen Peak Trail. It takes you to the summit of one of the largest plug dome volcanoes in the world.
You can also try Brokeoff Mountain. They are both some of the most popular places to visit in Lassen National Park!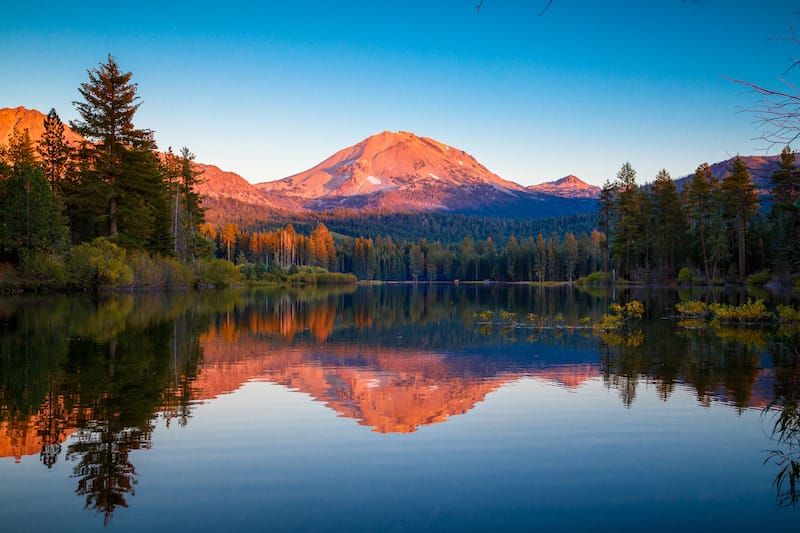 However, both involve high altitudes and you might experience considerable snowfall. If you're looking for the beautiful fall colors around this park, you won't see them as the trees here are mostly evergreen.
Still, there are areas with trees that change color, including Manzanita Lake, Hat Meadow, valleys in the Southwest Area, and Devastated Area.
Note that the famous Loomis Museum is closed during the fall months. There is a visitor center of Kohm Yah-mah-nee, located one mile from the Southwest Entrance. It's open year-round.
4. Big Bend National Park
Location: Texas
September Average Temperature: highs around 78F and lows around 58F
Go there for: tolerable temperatures, hiking opportunities
Big Bend National Park gets a lot of rainfall during the fall season, but it's great for visitors who are longing for milder temperatures. Another advantage of visiting this park during September is that there are significantly fewer crowds.
Big Bend is famous for its awesome mountain range that is perfect for hikers, climbers, and outdoor lovers in general.
The park has a remote location and hence not many people visit throughout the year. Still, there are a lot of things to do and see, so consider it on your national parks list.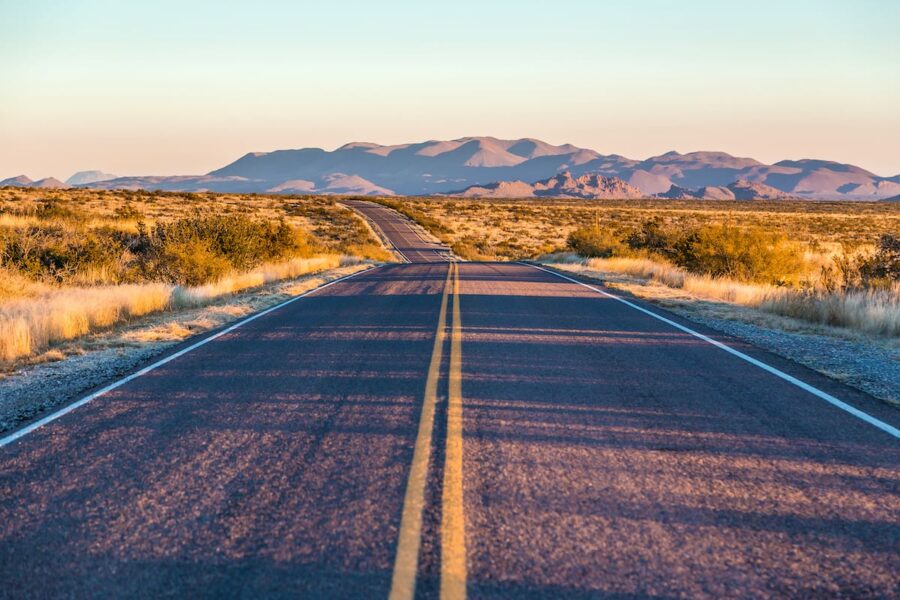 To get a stunning overview of the park, go through the Cruise Down Ross Maxwell scenic drive. This is a 30-mile road featuring some of the best views of the area.
If you're up to hiking, our suggestion would be hiking Santa Elena Canyon – a 1.7-mile trail that has the closest view of the Rio Grande. Another easy and picturesque one is Tuff Canyon with a distance of only 0.75 miles.
Let's not forget to also talk about some of the overlooks and places that are worth visiting like Sotol Vista, the Window View Train (best for sunsets), and Emory Peak (the highest point in Big Bend).
5. Glacier National Park
Location: Montana
September Average Temperature: highs around 60F and lows around 38F
Go there for: perfect temperatures before winter arrives, roads are still open
Many might find this surprising (especially if you've been here during summer), but fall is considered to be the best time to visit Glacier National Park.
Though the climate might feel a little cold, it still has great fall colors in addition to all the fun that is guaranteed in this park!
One of the true "musts" that you should not miss in any case is driving along Sun Road.
After this, you can choose one or a few of the extraordinary hikes near Many Glacier, Two Medicine, St Mary's, and Apgar. These are the best trails if you want to see fall colors in mid-September.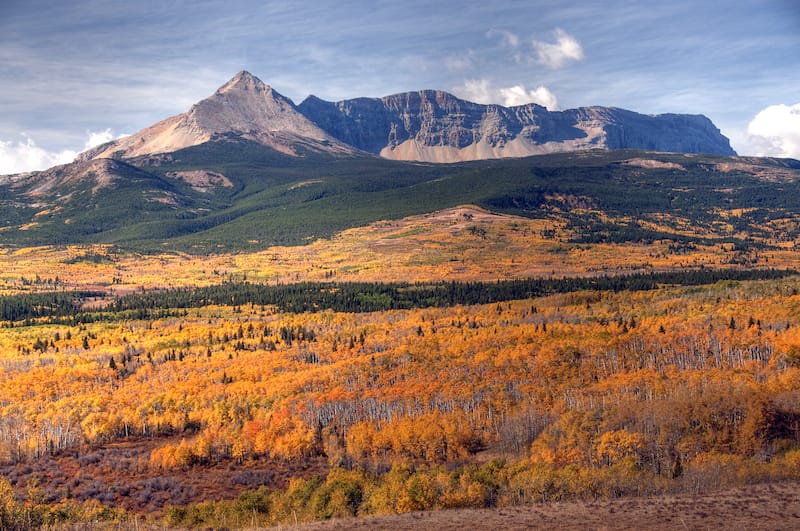 For those who want to go on an exciting bike tour, Camas Road in the North Fork is perfect.
On the list of noteworthy sites, there is also Lake McDonald – the largest lake in the park, providing stunning vistas and a few recreational activities.
Last but not least, there is Logan Pass, which is one of the top areas in Glacier National Park. This is the highest point you can reach with a car (6,466 feet) and it offers extraordinary scenes of lakes, mountains, nature, and the skyline.
For directions and exhibitions, check out the visitor center at Logan Pass.
6. Great Sand Dunes National Park
Location: Colorado
September Average Temperature: highs around 73F and lows around 44F
Go there for: comfortable temperatures and gorgeous foliage on the route there from Denver
For all those searching for great hiking or camping opportunities and amazing horizons, Grand Sand Dunes National Park is the absolute best!
Though temperatures get cooler, early fall is great here as it has comparably fewer crowds. The park is located around 3.5 hours from Denver and is known to be beautiful and quiet.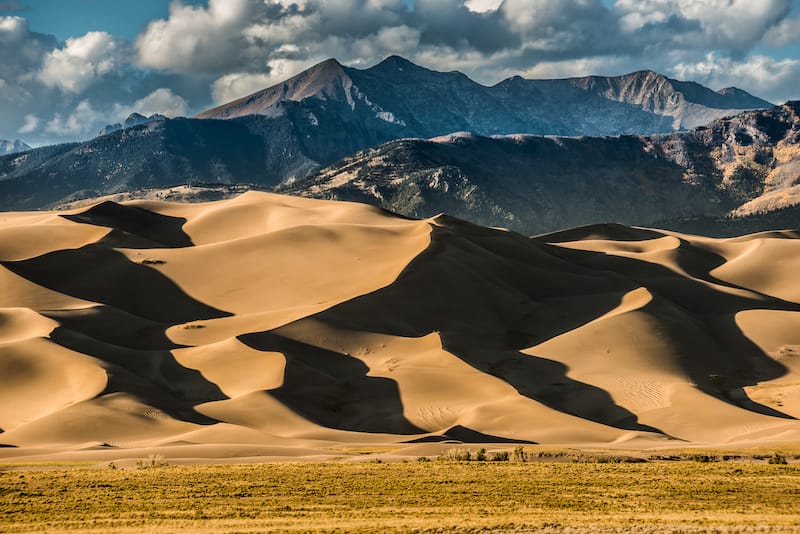 Right after you get here, you should dip your toes in the sand and hike through "non-official" trails that are visible from the footsteps of others who have already crossed the same path.
There are other popular activities here like sandboarding and sand sledding.
When it comes to off-sand hiking, the most famous options with splendid views are the Sand Ramp Trail and the trails in Music Pass and the Upper Sand Creek Basin.
A September visit is absolutely best for those who are into stargazing. This month of the year is the best for spotting the Milky Way!
7. Mt. Rainier National Park
Location: Washington
September Average Temperature: highs around 46F and lows around 30F
Go there for: fewer crowds with still decent temperatures before winter arrives
Mt. Rainier National Park is also a great option on this long list of national parks that are good for visiting in September and early fall. It provides a combination of good weather and fewer crowds.
One way to enjoy the fall colors and atmosphere at Mt. Rainier is by driving the Chinook Scenic Byway. However, a more active and all-inclusive way to enjoy it is the hiking trails, of course!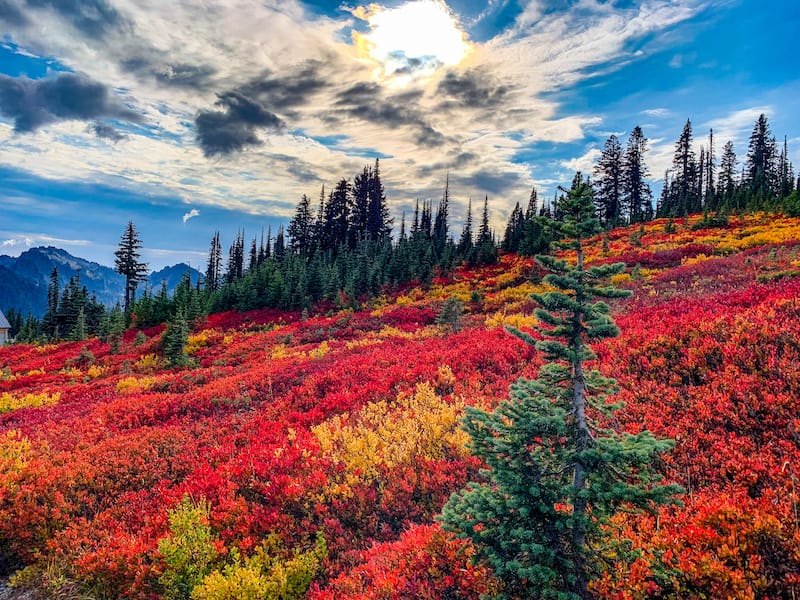 Skyline Trail, for example, is a much-loved spot and features some extraordinary wildflowers during other seasons (and foliage during fall!), while Naches Peak Loop is amazing with its jaw-dropping views of Rainer.
A few other equally impressive hikes include Reflection Lakes Loop, Silver Falls Trail, and Burroughs Mountain Trail.
These paths will take you through fragrant pine forests, meadows, waterfalls, shining lakes, and mountain peaks. By the way, all of these hikes are loops, so there is no need to go back the way you came in.
8. Hawaii Volcanoes National Park
Location: Hawaii
September Average Temperature: highs around 73F and lows around 55F
Go there for: fewer crowds once schools back in, cheaper hotels and flights in fall
Though there might be a lot of rain in Hawaii in September, it's still a great time to explore this park that has a prominent history and a stunning ecosystem.

Hawaii Volcanoes National Park is popular with its huge volcanoes and eruptions, and believe us, there is much to explore here (even if you have more than one day).
Some of the best fall recreations here are going into Thurston Lava Tube, discovering the Pu' u Loa petroglyphs, and driving through the Chain of Craters road.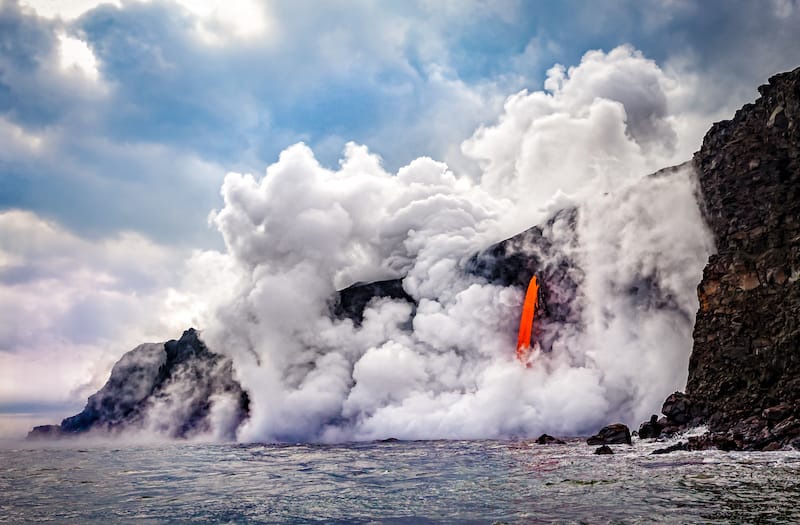 Another awesome way to spend your time in this park is to hike the Kilauea Iki trail. This 4-mile hike has moderate difficulty and transfers you through a solidified lava lake.
One of the most memorable things to do here is to catch one of the volcanoes while it's erupting. If you get lucky, you may reserve a helicopter tour to see this as closely as possible.
Also, don't miss the Thruston Lava Tube which is 600 feet long and 20 feet high, Crater Rim Drive with its amazing views, and Devastation Trail, which was buried by the 1959 eruption.
As you can imagine, this park is pretty mystic and epic, making it definitely worth checking out!
9. Grand Teton National Park
Location: Wyoming
September Average Temperature: highs around 66F and lows around 32F
Go there for: beautiful fall foliage, hiking opportunities before winter arrives
Located in Wyoming, Grand Teton National Park covers nearly 310,000 acres and includes the main peaks of the Teton Range and the majority of Jackson Hole's northern areas.
Get excited because fall is a great time to visit Grand Teton, home to stunning hiking trails and climbing routes.
This season brings fewer crowds, which is always better, isn't it? And the temperatures allow you more comfort than if you were visiting in winter. You will also have the chance to explore wildlife as if you have the whole park to yourself.
You may start your journey at the Craig Thomas Discovery and Visitor Center and plan out your day.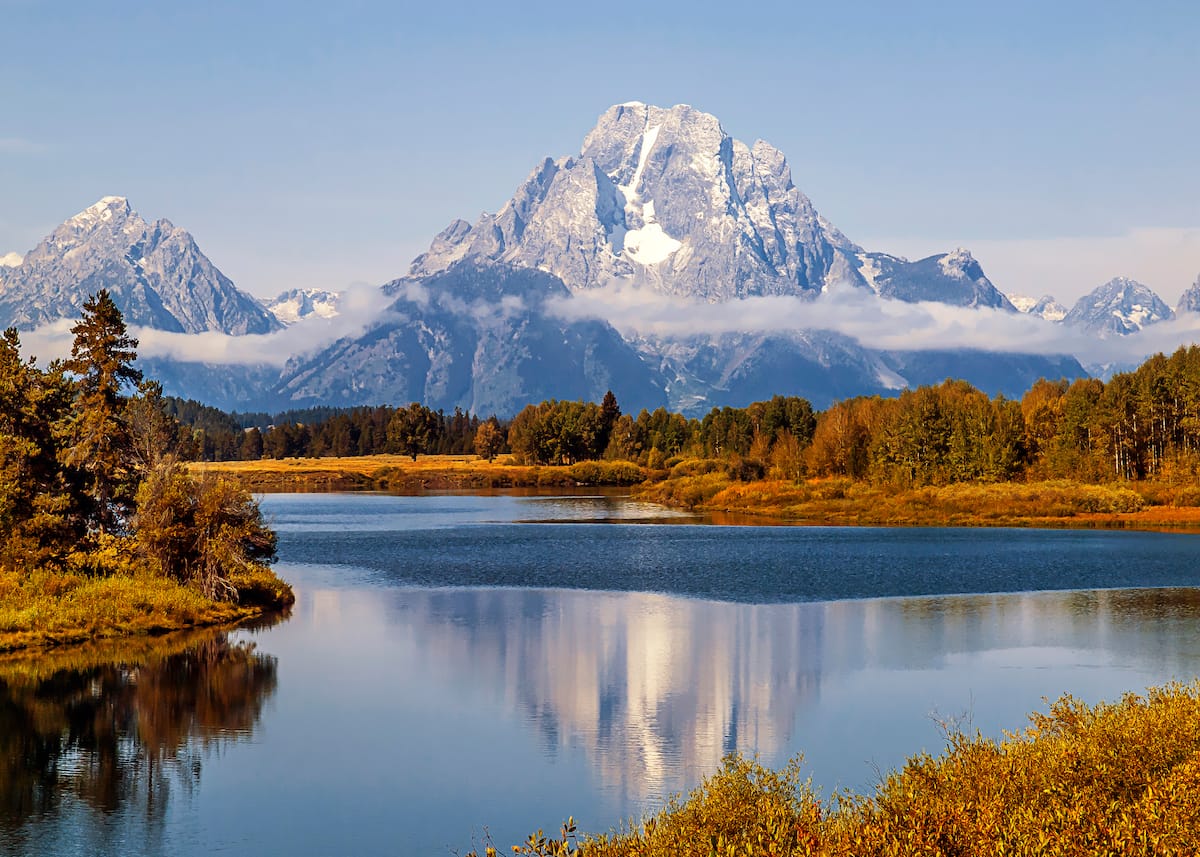 In case you're into camping, the views don't get any prettier than in Grand Teton, so consider spending time at Jenny Lake or the Gros Ventre campgrounds.
Want to see one of the most beautiful lakes? Easy! Visit Jenny Lake and you'll know why we say so.
Also, we suggest going on a good old hiking trip. The hard thing here is choosing the trails because there are a lot of options that will leave you quite impressed.
Some of those are Phelps Lake, Bradley-Taggart, Emma Matilda, and Two Ocean Lake. Visitors can also participate in some of the various activities that Jackson Hole has to offer.
Another popular activity at the site is fly fishing, where you can catch browns, rainbows, and native cutthroat trout. And, be sure to visit nearby Yellowstone in September (the crowds have left and it is so beautiful).
10. Channel Islands National Park
Location: California
September Average Temperature: highs around 74F and lows around 59F
Go there for: fewer crowds after summer, hiking opportunities (and water activities!)
Being praised for its unique flora and fauna, Channel Islands National Park is another much-loved US national park.
In addition to a large number of beautiful sea caves, this location is also known as the "untouched" part of coastal southern California.
This is a great choice for all those looking for an enjoyable, quiet, early-fall getaway.
If you're planning a one-day visit, the best islands would be Santa Cruz Island or Anacapa Island. The first is awesome for hiking, while the second has stunning views and many seabirds. In Santa Cruz, camping is highly recommended.
You can choose either the Scorpion Ranch campground or the Del Norte campground.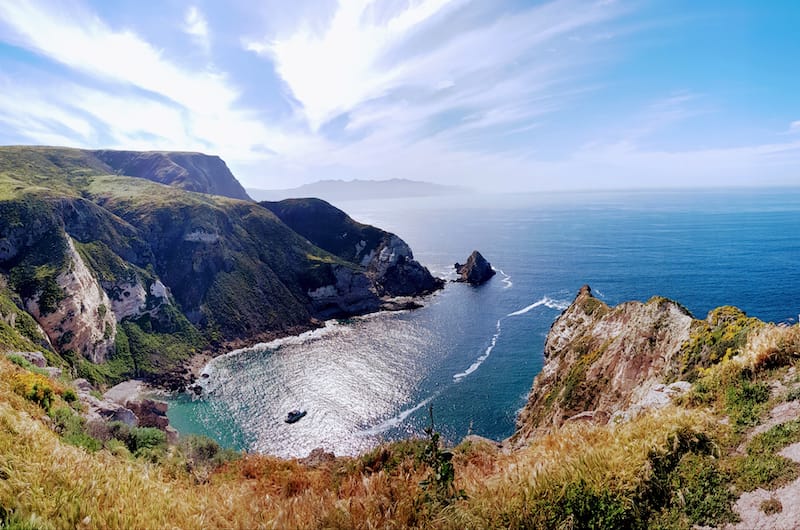 Santa Rosa is the second-largest island of the park, but note that you will need good layers of clothes and a windbreaker.
You can also check out Santa Barbara, which has around 5 miles of hiking trails.
And lastly, there is San Miguel Island, famous for having the most count of sea lions and elephant seals in the world. They're located at Point Bennett (a 16-mile roundtrip hike).
In almost all of the locations, you can entertain yourself with swimming, sailing, snorkeling, and kayaking, too.
11. Denali National Park & Preserve
Location: Alaska
September Average Temperature: highs around 43F and lows around 27F
Go there for: fall foliage, hiking, and still have access to the park and grounds
Fall in Denali National Park is magnificent. Thanks to the high elevation, the alpine and subalpine tundra turn to rich fall colors by late August.
Now comes the question – what is there to do at Denali during the fall season? First of all, hiking! Even though no guided activities are available, you can get access to the trails through the Winter Visitor Center.
Keep in mind that the hikes in this Alaska national park are mostly not marked and it's more of a trail-less wilderness.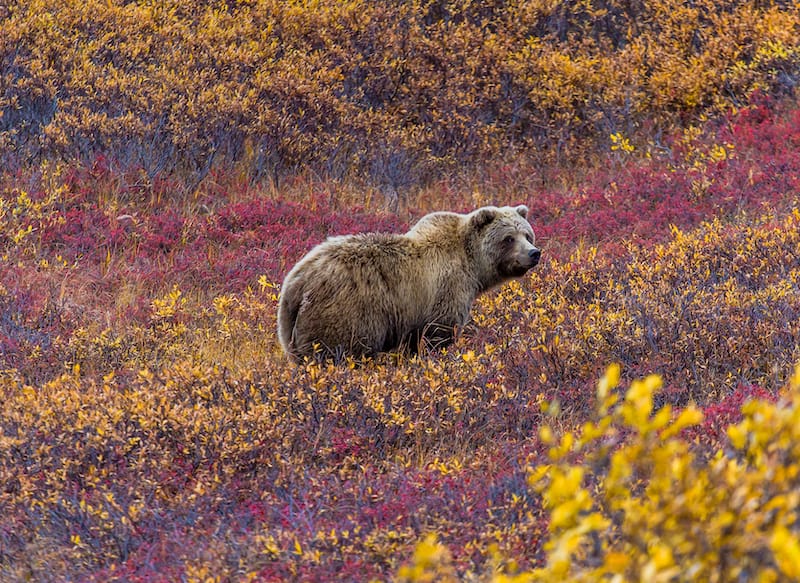 A beautiful sight that should not be missed here is the Teklanika River, after which you can carry on with your trip and look for aurora borealis, or the northern lights.
All those interested in learning more about the park are welcome to stop by the Winter Visitor Center (inside the Murie Science and Learning Center).
Other activities include camping at the Riley Creek Campground (the only campground that is open here year-round) and backpacking, which is available year-round with a free backpacking permit.
12. Carlsbad Caverns National Park
Location: New Mexico
September Average Temperature: highs around 79F and lows around 57F
Go there for: hiking trails that can be explored with more comfortable temperatures, backcountry camping
Carlsbad Caverns National Park can easily be described with one word – breathtaking. It has extensive rock formations to make your fall getaway quite remarkable!
To explore the caverns, you have two main options: hike on self-guided trails or join a ranger-led tour.
Note that the second option might take longer, but you will learn more about the history and geology of more than 300 known limestone caves.
Alternatively, you can take part in the Bat Flight program (watch the Mexican Free-Tail Bats fly from the Carlsbad Caverns entrance), discover North America's fifth-largest chamber and the world's 28th-largest situated on the Big Room Trail, or take the Walnut Canyon Desert Drive and enjoy 9 miles of dirt road, which gets into the Chihuahuan Desert wilderness area.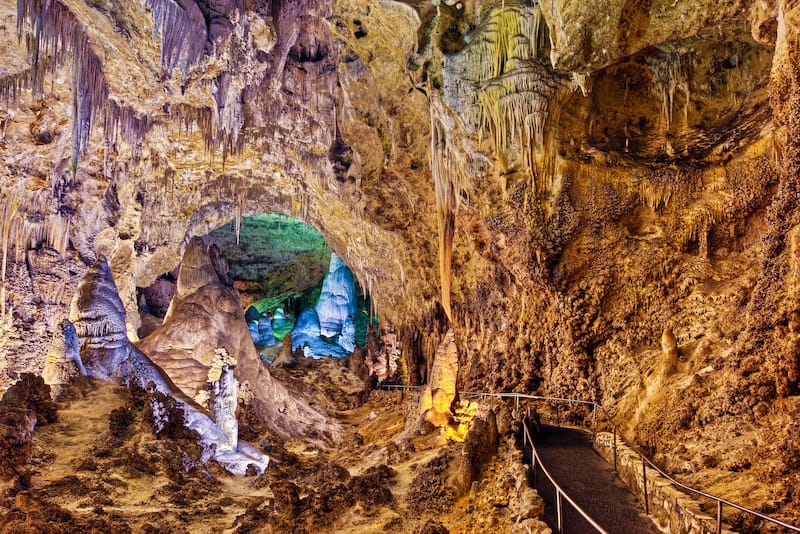 For those interested in staying at the popular New Mexico destination, note that there are no hotels and no front-country campgrounds in the park, but backcountry camping is allowed with a permit.
Chosa Campground or Guadalupe Mountains National Park are also good choices to consider.
When visiting, one thing you should keep in mind is that it's cold inside the caverns, so bring some warm clothes with you.
13. Kings Canyon and Sequoia National Parks
Location: California
September Average Temperature: highs around 65F and lows around 26F
Go there for: pass includes both national parks, hiking opportunities before winter arrives
Kings Canyon National Park and Sequoia National Park are all about high peaks, beautiful landscapes, and stunning waterfalls. It has similarities to Yosemite Valley but is beautiful in its own way, too.
These national parks host the world's largest remaining grove of sequoia trees and you can see the best of Sequoia in one day (and spend a second day in Kings Canyon).
Make sure to go to Crescent Meadow Road in the Giant Forest and pass through a tree tunnel, which is estimated to be around 2,000 years old. It's a stunning tourist attraction and definitely worth a visit.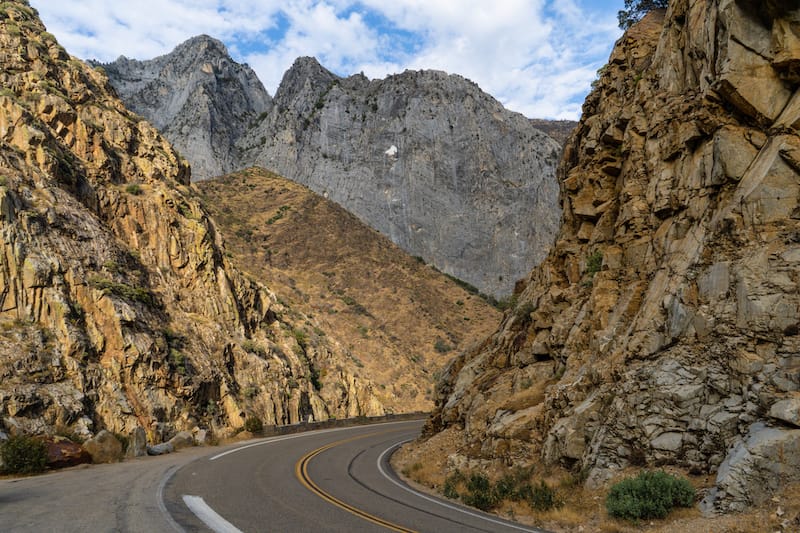 There is no way to go around this park and not pay attention to its flora, especially the trees, and especially the huge sequoias.
You should plan to visit General Sherman Tree, the largest tree in the world by volume.
Also, we suggest taking the General Grant Tree Trail and getting to the second-largest Giant Sequoia and the centerpiece of Grant Grove. These are two must-sees!
Adventure lovers can challenge themselves with a visit to Moro Rock, which has great climbing opportunities.
For some underground exploration, Crystal Cave is perfect, while for those who want to stay above the ground more, check out the waterfalls like Roaring River Falls, Grizzly Falls, and Mist Falls. They are all worth spending the time to visit for sure.
14. Theodore Roosevelt National Park
Location: North Dakota
September Average Temperature: highs around 75F and lows around 42F
Go there for: comfortable weather before winter, hiking
Extraordinary landscapes and an abundance of recreational opportunities- this is how we can describe this historical national park.
Though the park gets many visitors during the summer months, the fall season is also a good time of the year to think about visiting this area.
You can start your exploration at the Painted Canyon Visitor Center. Here, you'll get your first sight of the Badlands from a high overlook.
Devote some time to driving through the 36-mile Scenic Loop Drive, where in addition to dramatic scenery, you'll also learn about the history and features of the park. Camping is another popular activity here.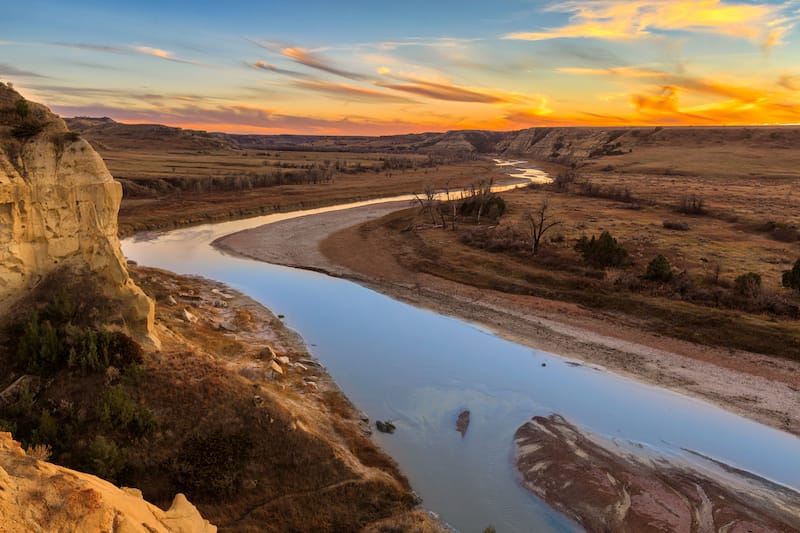 Evening programs in the South Unit's Cottonwood Campground and Juniper Campground take place regularly during the fall and engage a lot of visitors.
Do you love spotting animals in their natural habitat? Theodore Roosevelt National Park is a great place for it thanks to herds of American bison, wild mustangs, bighorn sheep, elk, mountain lions, and mule deer.
Lastly, thanks to the beautiful landscape, hiking is another popular activity.
Boicourt Trail, which is located halfway on the Scenic Loop Drive, gets you to a spectacular overlook with amazing views of the North Dakota badlands and rolling prairies.
15. Rocky Mountain National Park
Location: Colorado
September Average Temperature: highs around 59F and lows around 38F
Go there for: beautiful fall foliage and easy access from Denver, fewer crowds
Rocky Mountain National Park is widely known for its marvelous landscape and stunning views, but paired with the fall foliage, it gets even better.
The park is situated at an elevation of 14,259 feet and in addition to beautiful nature, Rocky Mountain is home to a wide range of wildlife, like elk, moose, black bears, cougars, grizzly bears, coyotes, and more.
Hiking in Rocky Mountain is a popular activity, especially during the early fall when the temperatures are mild. It is genuinely a good day trip from Colorado Springs and Denver both.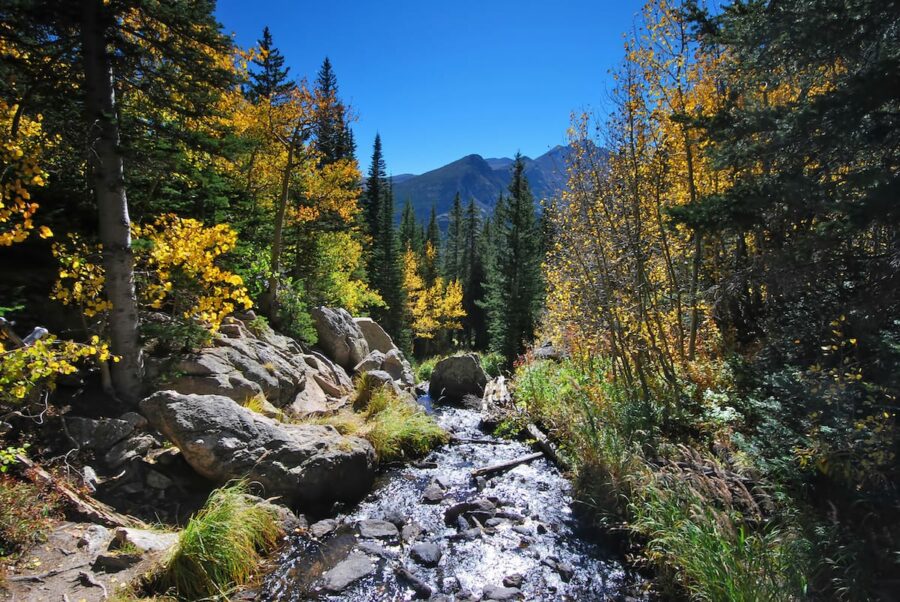 The most-visited trails are Sky Pond, Continental Divide Trail, and The Glacier Gorge Hike. Good alternatives to hiking are bicycling and backpacking.
For bicycling, Trail Ridge Road and Old Fall River Road are open in September and are a good challenge to try out.
It's also recommended to go on a scenic drive here in the Rocky Mountains. In the early fall season, Old Fall River Road and Trail Ridge Road are rated to be among the best routes.
Last but not least, one of the best advantages of visiting this park during the fall is probably the Autumn Gold Festival, which is all about celebrating everything relating to fall.
16. Acadia National Park
Location: Maine
September Average Temperature: highs around 67F and lows around 48F
Go there for: start of fall foliage (although usually happens in early October!), fewer crowds
September is the perfect time to visit Acadia National Park! The temperatures are just right, the summer crowds are gone, and the fall foliage crowds are yet to arrive. And, it is warmer than winter, of course!
There is so much to explore in the nearly 50,000 acres of park along Maine's Atlantic coastline.
Take a drive down Park Loop Road for gorgeous views of both the mountains and coastline. This road also provides access to several popular spots like Sand Beach and Jordan Pond.
There are two major sections to the park- West and East Mount Desert Island. Both sides of the island have Visitor Centers and campgrounds. The east side of the island is the more frequented area of Acadia.
Some highlights on the east side are Sand Beach, hiking along the coast on the Ocean Path trail, tide-pooling at Bar Island, picnicking at Jordan Pond or eating at the historic Jordan Pond House restaurant (Acadia's only restaurant!), and watching birds at Otter Point.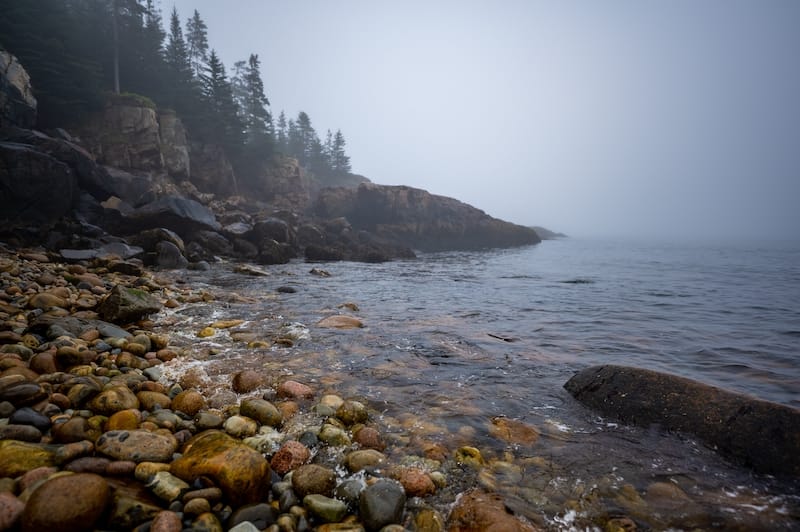 The west side of the Maine island is less frequented, so check out that side for a more secluded and serene day.
Great activity options include hiking Beech Mountain Trail, tide-pooling at Seawall, and checking out the Bass Harbor Head Light Station, one of Acadia's three lighthouses.
Acadia National Park also includes several other islands and peninsulas, most accessible by boat or ferry only.
September is a great month to check out some of the programs Acadia offers, such as ranger-led bike rides and stargazing nights.
There's so much to do at Acadia National Park, so take advantage of September's nice weather, and low crowds, and get out there to hike, bike, drive, paddle, birdwatch, or stargaze!
17. New River Gorge National Park & Preserve
Location: West Virginia
September Average Temperature: highs around 74F and lows around 55F
Go there for: tolerable temperatures and the end of whitewater rafting season
Nestled in the Appalachian mountains, the newest National Park (established in 2020) encompasses one of the continent's oldest rivers and its valley, the New River Gorge. September is a great time to visit for a less crowded experience, as summer vacations are over.
The temperatures at New River Gorge National Park & Preserve are warm and pleasant with cool evenings. There are so many activities available at the park, such as hiking, biking, camping, rock climbing, paddling, picnicking, whitewater rafting, fishing, and birdwatching.
One of the park's showpieces is the New River Gorge Bridge, a scenic steel bridge perched 876 feet above the river.
Opened in 1977, this bridge cut down travel time across the river from a 40-minute drive on winding mountain roads to a less-than-one-minute drive across the bridge. It is one of the most photographed spots in West Virginia!
Another gem of the park is Sandstone Falls, the largest waterfall on the New River. If you're up for a thrilling adventure, the whitewater rafting season continues through September.
There are several licensed outfitters offering guided tours, with options for either a calm river float or an exhilarating whitewater experience.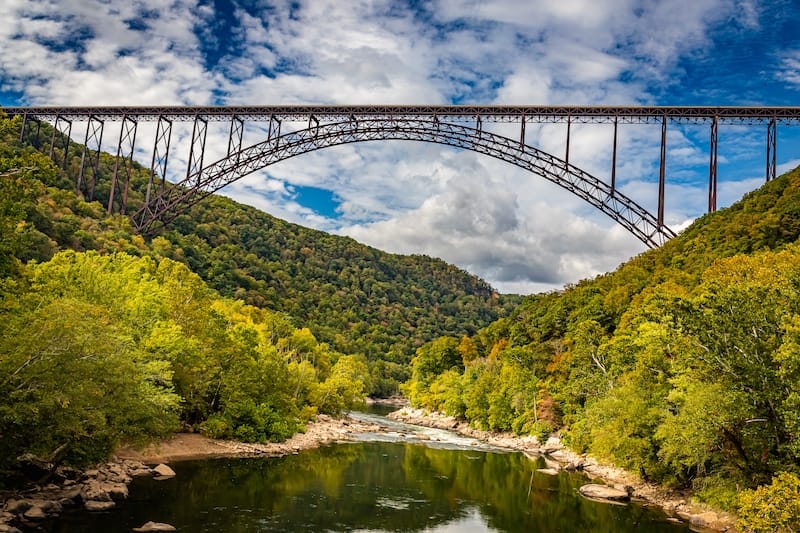 For hiking, there are over 100 miles of trails to explore, winding through forests and up mountain peaks. Grandview is a great place for hiking, with stunning views of the gorge.
Another fan-favorite hike is the Glade Creek Trail, which follows a beautiful stream and waterfalls through the forest. Make sure to stop at the Visitor Center first to get maps, updated trail information, and ranger tips.
Lastly, if you are interested in seeing what life was like for the early 18th-century settlers of the area, check out the Trump-Lilly Farm or the Richmond Hamilton Farm, both subsistence farms with old farmhouses, barns, and other outbuildings to explore.
We hope that you found the best national parks to visit in September useful for planning your upcoming spring travels. Do you have a favorite National Park in September? Let us know in the comments!
You Might Also Like:
Pin This US National Parks in September Guide