Are you planning a trip to Grand Teton National Park in winter? While most flock to the US national park in summer, it truly is magical during the winter months.
This guide details everything to know before visiting Grand Teton in winter – including things to do, what to expect, and travel tips. It also lists items to bring on your Grand Tetons winter trip!
Here are some of the top Grand Teton winter tours if you're seeking that instead:
If we left anything off of this guide, please leave a comment! And if Yellowstone is next on your travel list, be sure to check out our guide for visiting Yellowstone in winter.
Reasons to Visit Grand Teton National Park in Winter
As winter takes its cold icy grip, the idea of visiting Grand Teton National Park can be somewhat daunting. However, with the snow and frigid temperatures, a new world is created and a trip to Grand Teton in winter is spectacular!
The brunt of winter lasts from the beginning of December right through to the beginning of March.
During this period, some of the park becomes inaccessible due to high snowfall levels and protective areas set up for the wildlife, which are pushed down from the mountain tops by the temperamental weather.
The main upshot of visiting Grand Teton National Park during winter is the lack of crowds, who are put off by winter challenges despite there being plenty to do.
This guide will take you through everything you need to know about visiting Grand Teton National Park in winter, along with some fantastic things that you can do there.
Quick Facts about Grand Teton NP
Location: Wyoming
Size: 310,000 acres
Annual Visitors: 3,405,614 (2019)
Established: February 26, 1929
Closest city: Jackson
Grand Teton National Park Highlights: mountains, proximity to Yellowstone, some of the best cross-country ski trails in the world, wildlife diversity
When is it Winter in Grand Teton?
True winter is between December and March. However, many of the roads, facilities, and all the campgrounds shut down between November and April.
As the snow falls on the higher grounds, the roads and hiking paths become perfect trails for cross-country skiing and snowshoeing.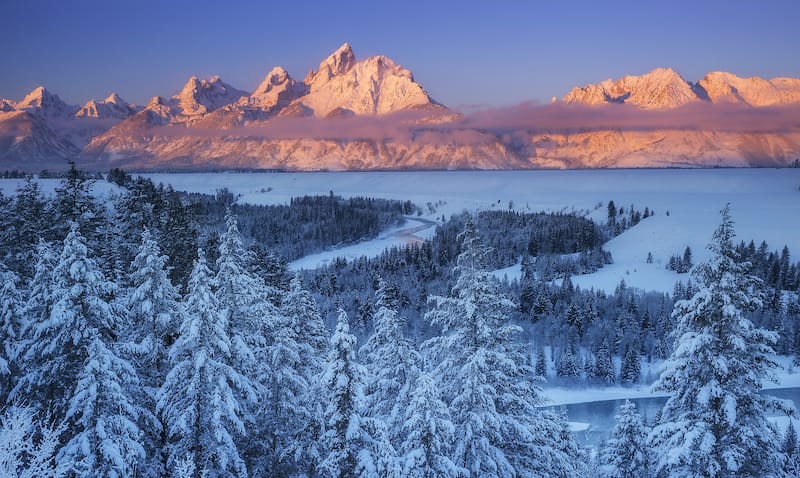 How Cold Does it Get in Grand Teton? (Temperatures & More)
The weather stays consistently cold during winter, with average temperatures stuck below freezing throughout December to the end of February.
During the winter, the snowfall is relatively heavy, with frequent blizzards whiting out the park. Between blizzards and lighter snowstorms, there is often a decent amount of sunshine.
| | | | |
| --- | --- | --- | --- |
| Month | Average high | Average Low | # Rainy days |
| December | -4C / 25F | -16C / 3F | 12 |
| January | -4C / 25F | -18C / 0F | 12 |
| February | -1C / 30F | -16C / 2F | 10 |
​
Does it Snow in Grand Teton National Park?
Yes! There is plenty of snowfall in Grand Teton National Park. Snowfall depends on the month but on average, December and January are the snowiest months with around 40 inches (1 meter) of snowfall each month.
There are often blizzards, which dump vasts amounts of snow and will usually close some of the roads that are open year-round.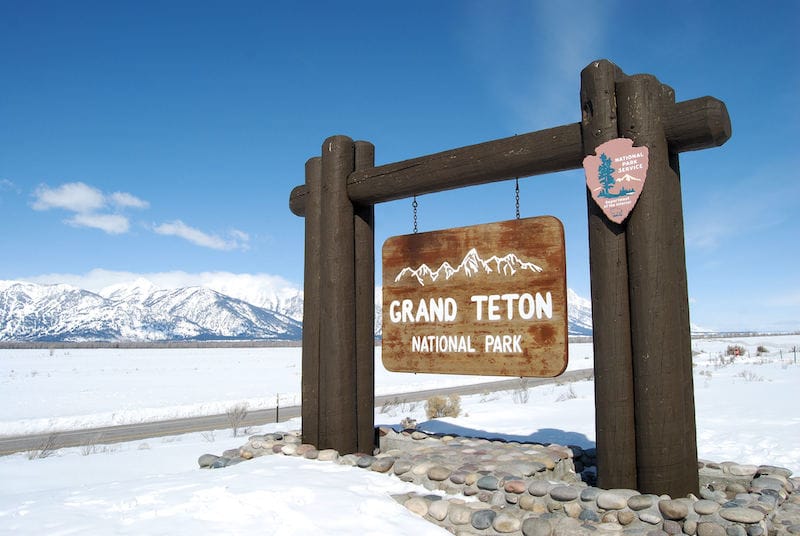 Higher up in the mountains, there tends to be far more snow, which will also arrive earlier in the year. While the snow can be a hindrance, it is great for those hoping to spot some of the park's local residents with the icy conditions pushing the animals down into the mountain valleys.
What to Wear When Visiting Grand Teton National Park in Winter
To fully enjoy winter in Grand Teton National Park, you will need to dress appropriately. The temperatures are well below freezing, and thick heavy-duty winter clothing is a necessity.
Other than dressing in layers, there are a few essential clothing items that you will need to bring with you to this beautiful national park. Below are three of the most essential clothing items to pack, from my experience.
Winter Parka
One of the most important things to wear is a high-quality parka jacket. A decent parka will last a lifetime, and it is worth investing in a top-quality jacket from a brand that specializes in making clothes for colder climates.
I have an amazing parka jacket from the Norwegian company Helly Hansen, who specializes in making coats for the Arctic. I own the Helly Hansen Svalbard Parka, which has kept me comfortable and warm during several trips to the Arctic.
Sorel Snow Boots
After a decent parka jacket, the next most crucial clothing item is a pair of snow boots. There is nothing worse than getting cold feet, as once the cold gets into your boots, there is no warming them back up until you get out of the snow.
Sorel makes some of the best snow boots going, and I have trusted their boots to keep my feet warm for years. The boots are specifically designed for the Arctic and include thick warm woolen insoles and removable lining that will keep your feet warm in the coldest of temperatures.
While I have owned several pairs over the years, these are my favorite ones.
The boots are great on their own but I do recommend purchasing a size larger than you normally would, so you can also wear a pair of thick woolen socks for extra warmth.
Crampons
If you are anything like me, you will need all the extra grip you can get on the icy pathways of Grand Teton National Park. Crampons conveniently clip on to the bottom of your boots and help keep you upright as you walk around.
One of the best benefits of crampons is protecting your back from severe pain caused by constantly trying to keep you upright on the ice. I have used several brands over the years but have now settled for a pair of Yaktraks, which have recently saved me from many falls.
Additionally, I highly recommend bringing a good pair of mittens with you, as they are far more effective at keeping your hands warmer than regular gloves. Along with thermal underwear and hats. I tend to purchase hats from some of my favorite Scandinavian designers, as they are always stylish and practical.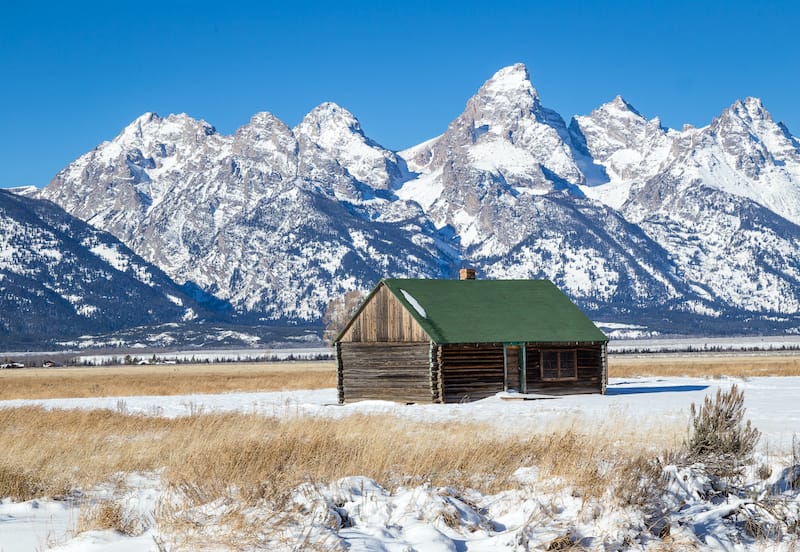 What to Pack for Grand Teton in Winter (Gear & Miscellaneous)
While packing the correct clothing is often a challenge, there are also several non-clothing items that I personally don't leave the house without, especially if I travel to colder climates.
Powerbank
In cooler temperatures, smartphones have to use up more power to keep their internal temperatures at the optimum level. This additional workload means they often run out of battery quickly when it's cold.
Bringing a power bank on your trip is the perfect way to ensure you don't find yourself with a dead phone while you're out exploring Grand Teton National Park.
I recommend purchasing a power bank with at least 25,000 mah as you will be able to charge your phone multiple times throughout the day. Click here to buy my recommended power bank on Amazon.
Spare Camera Batteries
If like me, you are a keen photographer, I suggest taking spare batteries for your camera. The cold weather impacts camera batteries far more than is often considered.
I have found that while my camera's battery lasts for days on end in warm destinations, the battery can deplete within hours in cold settings. Along with spare batteries, I also bring along a USB battery charger, which can be plugged into a power bank.
Dry Bags
The weather in Grand Teton National Park can often turn quickly, and you will want to make sure your equipment stays dry and safe.
I always use dry bags when I travel; they are brilliant at keeping things dry and safe while looking stylish. I use these bags from The Friendly Swede.
Things to Know Before Traveling to Grand Teton in Winter
Traveling to Grand Teton National Park in winter is not an easy undertaking and I have to assume you have some prior information or experience before deciding to undergo this trip.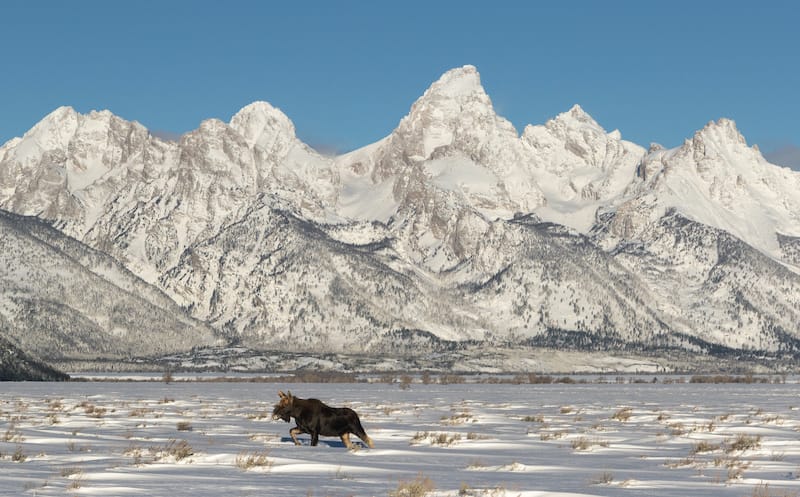 Much of the park is shut due to snow levels and to protect the wildlife within that has been forced to live in more concentrated areas. However, there is still plenty of park to explore, which can be done on your own or with one of the incredible tours available.
Unlike nearby Yellowstone National Park, Grand Teton Park is slightly more accessible, with various roads remaining open, depending on the snow levels.
Both the main highways through the park are plowed throughout the winter and stay open. Granite Canyon Entrance, Moose Entrance, and Moran Entrance are open all year round, and during the winter months, provide access to some areas of the park as well as cross-country skiing and hiking trails.
To make the most of your trip, I recommend a mix of self-exploration and guided tours. This will allow you to experience some of the park's more inaccessible areas while enjoying some solitude along the hiking trails close to the entrance.
The main difficulty of planning your Grand Tetons trip is that the weather is interchangeable, and it is well worth having a Plan B and Plan C.
Facilities Open at Grand Teton
While some of the park is open during winter, most of the facilities and all the campgrounds shut from November to April.
The Jackson Hole and Greater Yellowstone Visitor Center in Jackson remain open throughout the year. You can talk to a ranger from the visitor center, along with various other services, including a winter park guide.
For those wanting to stay within the park limits, the Triangle X Ranch is open throughout the winter and is the only accommodation option within the park itself.
Things to Do in Grand Teton During Winter
Surprisingly, despite the adverse weather conditions during winter, there is still plenty to do in and around Grand Teton National Park. This guide will take you through some of the best things to do in Grand Teton National Park in winter, along with some great guided tours.
Snowshoeing
One of the best ways to get around the trails in the park is by snowshoe. Snowshoeing is one of my all-time favorite winter activities and Grand Teton National Park is perfect for it.
As the snowfall covers the roads and they become inaccessible to cars, the routes make incredible trails that wind through the park.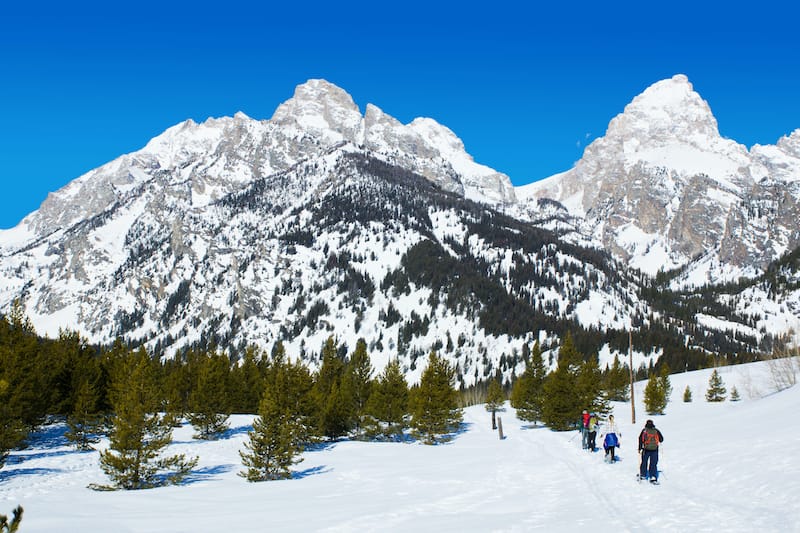 Some of the trails through the park are groomed regularly, but some paths will involve a little more work to forge a path through the snow.
For beginners, I recommend walking Teton Park Road from Taggart Lake Trailhead, which is normally groomed, with compacted snow.
As you walk along the trail, keep an eye out for animal tracks as they wander the lower ground in search of food. On Tuesdays, Thursdays, and Saturdays, you can go on a guided snowshoe experience with one of the park's rangers. These need to be booked in advance through the park services.
Alternatively, embark on an amazing 4-Hour Easy Snowshoeing Tour with an expert guide. You will be picked up from Jackson and head to the national park where you will embark on a 4-hour walk.
As you walk through the snow trails, your guide will teach you all about the area's ecology, pointing out any interesting animals or animal tracks you may encounter along the way.
Along the route, you will make plenty of stops to enjoy the views of the park and the imposing Teton Mountain range; your guide will also provide some beverages and local organic snacks. The snowshoeing trail is considered to be one of the easiest, so it is therefore suited to all abilities.
>> Click here for tour rates and availability
Cross-Country Skiing
There is a network of cross-country skiing trails throughout the park, known for being some of the most impressive in the world. The beautiful trails carve their way through the snow, where you can effortlessly glide through the powder and enjoy the tranquility of the park.
For those looking for something a little adrenaline-inducing, the Teton Mountains are perfect for backcountry skiing and snowboarding.
Head into the mountains and tackle some of the most challenging backcountry skiing in the USA. Experienced backcountry skiers and boarders can head off on their own into the wilds, or seek out an experienced backcountry guide who can help you explore the expansive wilderness.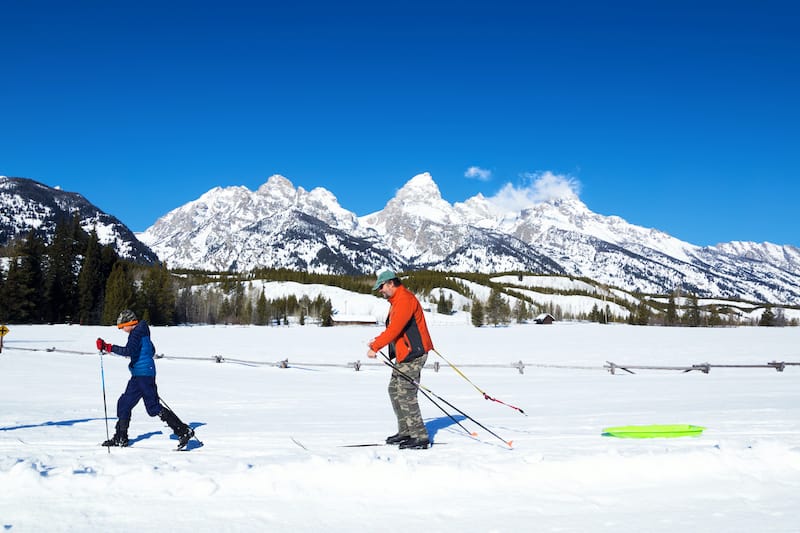 For those planning to backcountry ski, you will need to check avalanche reports and make sure people know where you will be in case of an emergency.
For those looking to experience cross-country skiing for the first time, I highly recommend taking a 4-Hour Beginner Cross-Country Ski tour.
Departing from Jackson, your tour will start off with learning the basics of cross-country skiing, which is distinctly different from regular skiing. Once you have grasped the basics of skiing, you will embark on the perfect beginner's trail, taking in the stunning scenery and learning all about the wildlife and ecosystems of Grand Teton National Park.
The activity is suitable for beginners, and there will be plenty of stops with snacks along the route, although I recommend having a minimum level of fitness to complete the tour.
>> Click here for lesson rates and availability
Wildlife Watching
When winter arrives in Grand Teton National Park, the snow falling the higher ground pushes the diverse range of wildlife down into the valley and forests at the base of the mountains, where they are forced to live in much more confined areas.
The park is home to plenty of wildlife, including wolves, elk, bison, and birds, all of which can often be spotted if you know the signs to look out for.
One of the best ways to spot the local residents is to go on a wildlife tour. The 4-Hour Wildlife Safari Adventure is an incredible tour, where you will head out into the depths of the park to search for elusive animals.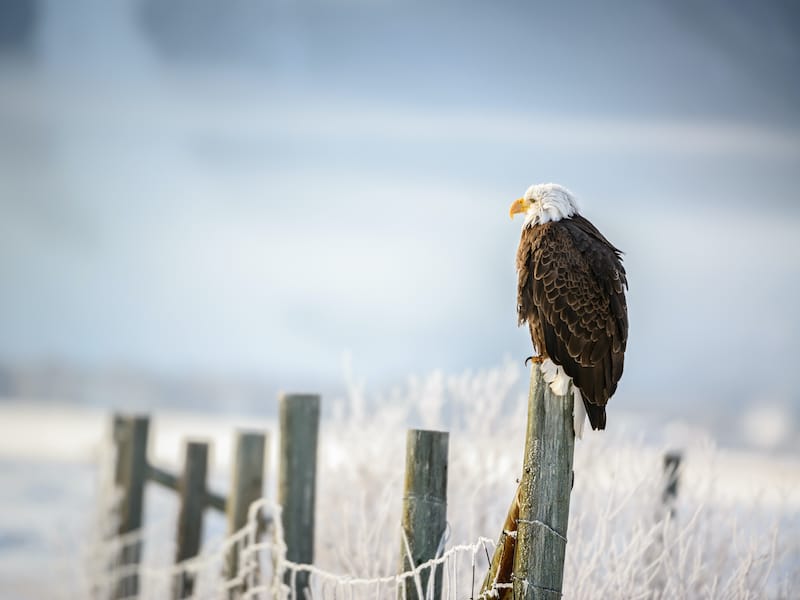 As you make your way through the park in a specially designed vehicle, your guides will teach you all about the park's history and how to spot and track the park's various inhabitants. Along the way, you will make stops, and a high powered scope will be set up so you can see far off animals, especially if you encounter a pack of wolves in the distance.
Along with the high-powered scope, each person will have their own set of binoculars to use for the duration of the tour. This is one of the best tours to take in Grand Teton National Park in winter.
>> Click here for tour rates and availability
Snowmobiling
Unlike Yellowstone National Park, snowmobiling is less prevalent in Grand Teton Park due to strict rules regarding where you are allowed to ride.
For those looking to snowmobile on their trip, there are several areas where it is permitted. Grassy Lake Road is open to all snowmobilers, without any limit on snowmobile types or the need for a professional guide.
Snowmobiling is also allowed on Jackson Lake, which freezes over winter, although this is mainly to provide ice fishing access, and you will need to have a snowmobile that meets the BATs standard.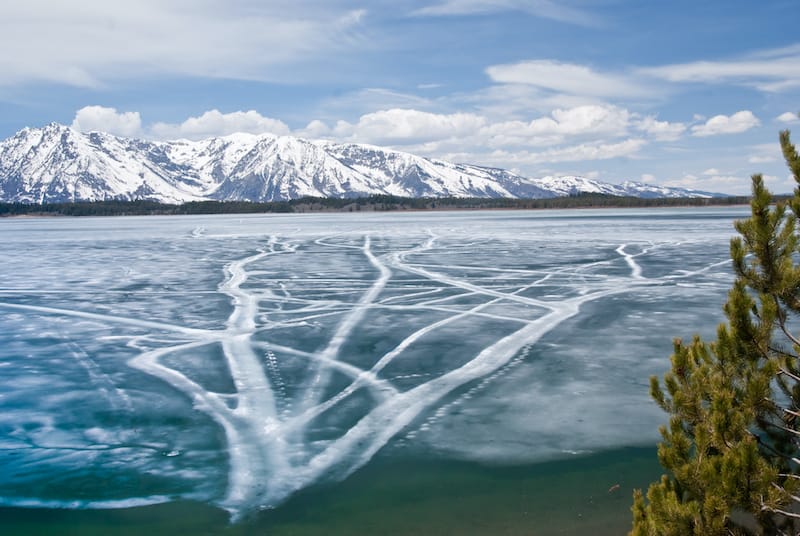 For those looking to take a snowmobile tour, the Heart Six Snowmobiling tour is an amazing day tour where you can take in beautiful views of the Teton Mountain range and the surrounding snowy landscapes.
After a morning of exploring nature and learning about the area's wildlife, you will make a stop at Buffalo Valley Cafe for lunch, which is only accessible by snowmobile during winter. After lunch, you will head back on the snowmobiles for a few more hours of fun before the tour ends, and you are taken back to Jackson.
>> Click here for snowmobile tour rates and availability
Check Out Ancient Petroglyphs
To the north of Grand Teton National Park in Dubois, you'll find some fantastic examples of ancient petroglyphs carved into the rocks by the Shonsho Native Americans.
The petroglyphs detail early life in the American west and depict the vast array of wildlife that roamed the plains and mountains.
The best way to visit the petroglyphs is with an organized tour, as along with the fantastic petroglyphs, you will get to experience Grand Teton National Park in winter and some of the wildlife that is featured in rock carvings.
The Grand Teton National Park and Petroglyph Tour is the perfect way to experience both Grand Teton National Park and the Shoshone Petroglyphs.
After being picked up from Jackson, you will head to Grand Teton, where you travel through the park, keeping a watchful eye out for wolves, elk, bison, and other local animals.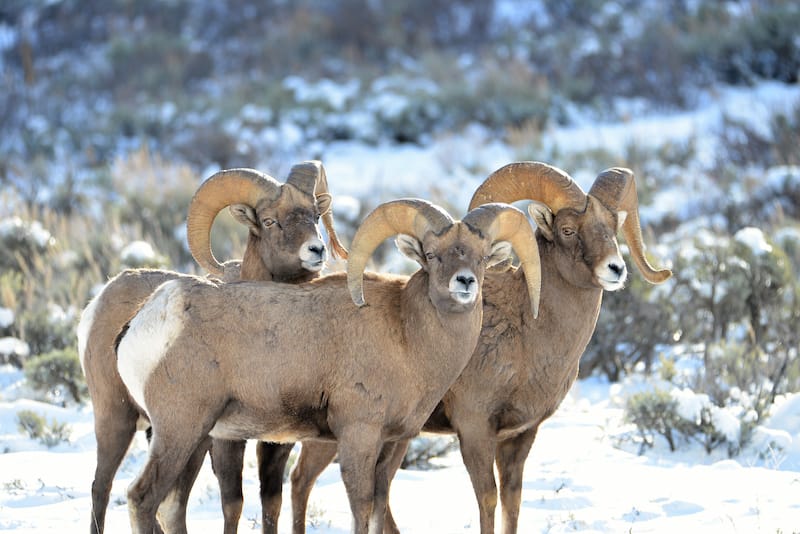 After traversing through the park with plenty of stops, you will head to the National Big Horn Interpretive Center to learn all about the largest wild sheep in North America. You will also get to see the sheep in their overwintering grounds, where over 200 individuals gather each year.
After a warming lunch in the town of Dubois, the tour will visit the petroglyphs, and your expert guide will teach you all about the history of these ancient drawings before heading back to Jackson.
>> Click here for tour rates and availability
4 Day Grand Teton and Yellowstone Tour
The beauty of visiting Grand Teton is that you can visit Yellowstone on the same trip. Both parks are insanely beautiful and distinctly different, with plenty to see and do in each of them.
While visiting both parks during the warmer months is relatively easy, winter poses several challenges as many areas are shut due to high volumes of snow.
You will need to be booked on multiple tours to witness the full beauty of the parks. Thankfully, there is a 4-Day Grand Teton and Yellowstone Winter Tour, which includes the highlights from each park and takes the hassle away from having to arrange everything yourself.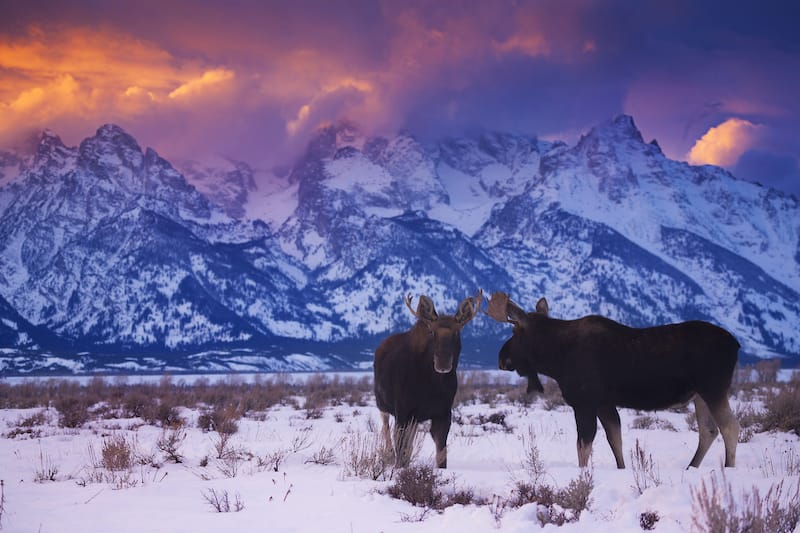 On the first day, you will depart from Jackson and spend the day wildlife spotting in Grand Teton NP, with the hopes of seeing moose, wolves, and elk. That evening, you will spend the night in Jackson before waking up early for the second day.
The second day will start off with a visit to the National Elk Center, where over 5,000 elk live. The second part of the day will be spent traveling to West Yellowstone via the continental divide.
Once in West Yellowstone, you will have some free time to explore the historic town where you will spend the night. Day three will be spent exploring more of Yellowstone Park with a snow coach tour to Old Faithful, where you will get to watch the geysers erupt. Travel back towards West Yellowstone in the afternoon, with plenty of stops to take in the park's natural beauty and hopefully seeing some of the animals that inhabit the park.
On the final day, you will depart West Yellowstone, visiting the Hebgen Lake Earthquake site and the surrounding areas before the tour finishes in Jackson Hole.
The tour includes three nights of accommodation, but you will need to book a night in Jackson prior to the tour, finishing and one in Jackson Hole at the end of the tour.
>> Click here for tour rates and availability
Grand Teton National Park Lodging Options
There are a few different options for where to stay in Grand Teton during winter. You can camp at one of the designated sites in the park, stay a camp nearby, or find lodging near one of the entrances.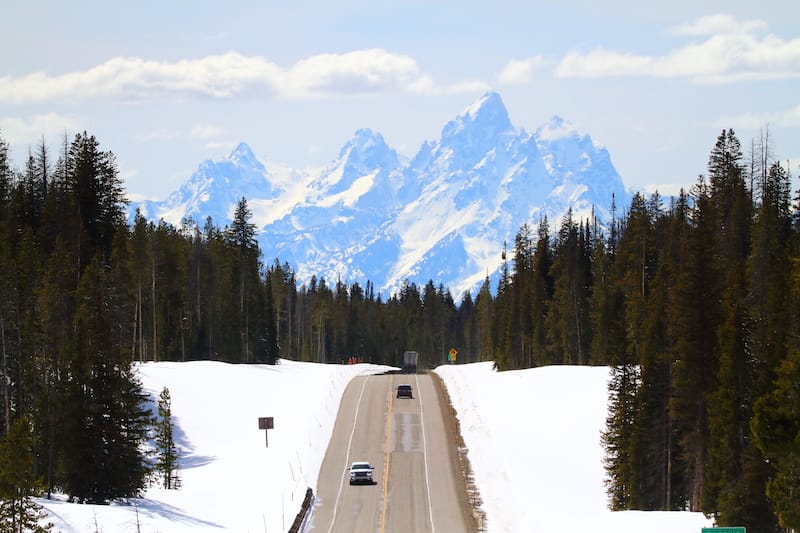 Below are some recommendations for where to stay in Grand Teton National Park in winter.
Staying in the Park
If you're opting to stay inside of Grand Teton National Park, you have a couple of options. They are listed below:
• Triangle X Ranch
• Dornan's Spur Ranch Cabins
Camping Near GTNP and YNP (Winter Options)
Here are the campgrounds that are open during the winter that you can stay near Grand Teton NP and Yellowstone NP. If you're not registered on Hipcamp, you can get $10 off your first booking after signing up with my code.
• Fisherman's Paradise (Idaho)
• Jim Bridger Historic Cabin 3 (Montana)
• Southfork of the Shoshone River (Wyoming)
Airbnb
Are you considering an Airbnb stay instead? Be sure to check out our guide to the best Airbnbs in Grand Teton National Park – we have chosen options that range from luxury to long-term and more!
If you're considering staying closer to Yellowstone for the trip, you can view our top Airbnbs near Yellowstone guide instead!
Renting an RV
Another unique alternative for your trip to Grand Teton National Park in winter is to rent an RV. While I definitely wouldn't recommend doing this without feeling comfortable driving one or on roads during winter, it is a viable option for many adventurous travelers.
This RV located in Greybull, Wyoming is an affordable (from $98/night) option that sleeps 4 people and will give you a nature experience out in one of the country's most beautiful spots. Click here to check availability with Outdoorsy.
Should You Book a Winter Trip to Grand Teton National Park?
Absolutely! You will encounter far fewer crowds during the Grand Teton winter months and it will be a magical and ethereal experience!
We hope that this guide to Grand Teton National Park in winter has helped you plan your trip and know what to expect before traveling there. Please share your Grand Tetons winter tips below.
ABOUT THIS LAND
Grand Teton National Park is on the unceded land of the Shoshone, Bannock, Blackfoot, Crow, Flathead, Gros Ventre, Nez Perce peoples. We ask you to join us in acknowledging their communities, their elders both past and present, as well as future generations.
We also acknowledge that Grand Teton National Park was founded upon exclusions and erasures of many Indigenous peoples, including those on whose land these US National Parks are located.
⇒ Do your research before visiting National Parks and places in the US. Native Land and Whose Land are good starting points.
⇒ Hire Native guides when possible and encourage National Parks and government organizations to start hiring them.
⇒ Donations matter. Part of the proceeds from this blog is donated monthly to the Native Women's Wilderness.
Additional Reading:
Pin This Winter in Grand Teton National Park Guide