Are you heading out for an adventure in Sequoia and Kings Canyon? These are the best hikes in Sequoia National Park and Kings Canyon, including trails for all skill levels!
Situated 140 miles south of Yosemite, Sequoia National Park is a little over four hours from Los Angeles and five hours from San Francisco.
Best Hikes in Sequoia National Park – Overview
One of California's most beautiful parks (and one of the best in the USA!), Sequoia shares a border with nearby Kings Canyon and is full of trails ranging from easy to advanced, serene to tourist haven, and everything in-between.
Home to icons like Moro Rock and the General Sherman Tree, there are still plenty of quieter trails to be found, such as Little Baldy and Tokopah Falls.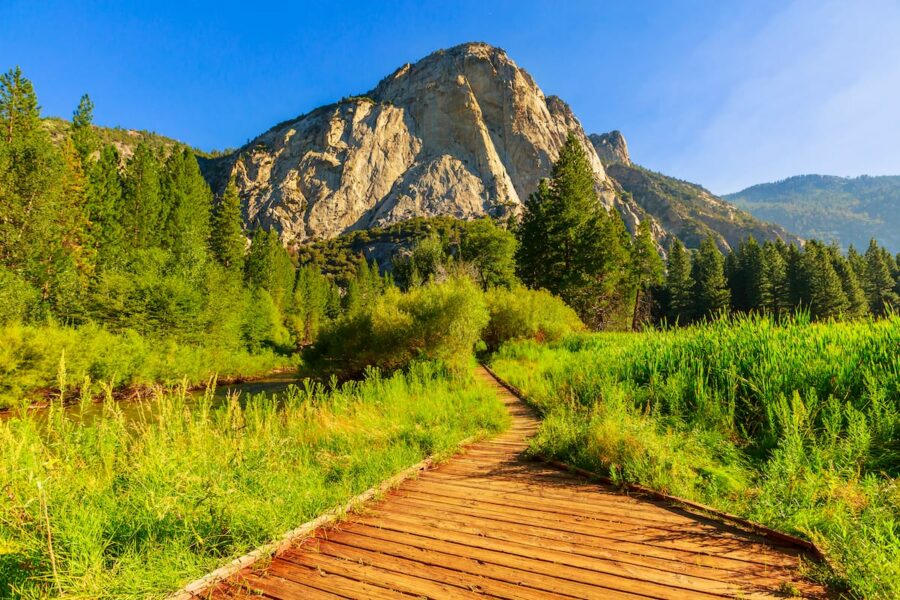 Pack your bags and don't forget your hiking shoes, as these are the best hiking trails in Sequoia National Park (and Kings Canyon).
If you need a place to stay after these Sequoia National Park hikes, this guide contains every single Sequoia lodging option in the national park.
Hiking Trails in Sequoia National Park – Quick List
Easy
General Sherman Tree Trail
Congress Trail
Big Trees Trail
Crescent Meadow Loop Trail
Moderate
Moro Rock Trail
Tokopah Falls Trail
Marble Falls Trail
Little Baldy Trail
Difficult
Heather Lake, Emerald Lake, and Pear Lake Trail
Mineral King to Eagle Lake Trail
Alta Peak Trail
Franklin Lakes Trail
Monarch Lakes Trail
Easy Sequoia National Park Hikes
General Sherman Tree Trail
Distance: 0.8 Miles
Route Type: Out and Back
Elevation Gain: 154 Feet
Difficulty: Easy
Home to the largest tree in the world by volume, General Sherman is a must-see for anyone visiting the park for the first time, despite its classification as a tourist attraction.
Standing at nearly 275 feet tall and 36 feet in diameter, visitors can take two different trails to the famous tree. The main trail is 0.8-miles downhill starting at a parking lot located off Wolverton Road.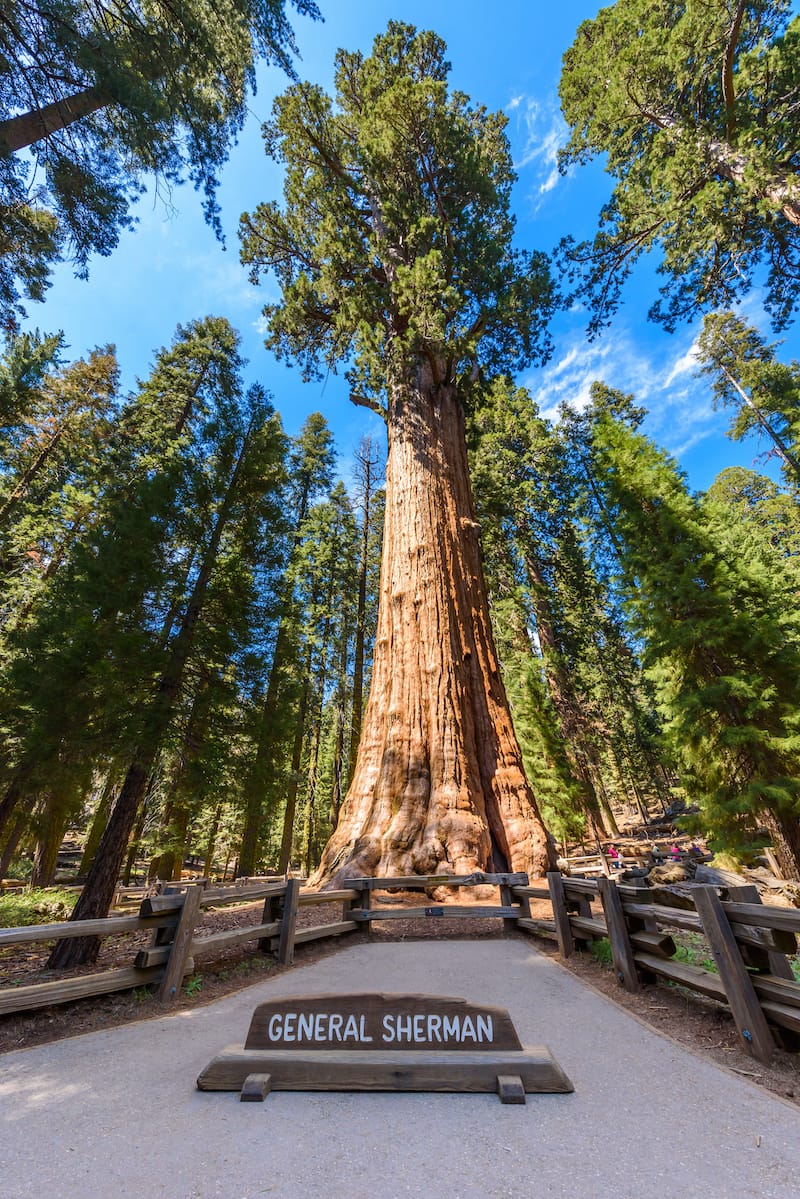 The walk down is quite easy, but backup is much more difficult as there are stairs and a steep incline most of the way. For those with disability placards, visitors can park in a small lot located at the edge of Generals Highway.
A wheelchair-accessible trail starts here and is only a short walk to the tree. For those who do not want to hike the main trail, but don't have a placard, visitors can ride the park shuttles during shuttle season to this small parking lot.
During the winter, Wolverton Road closes and the small, accessible parking lot becomes available to all visitors. Although this trail is not steep, do proceed cautiously as it can be both snowy and icy.
Congress Trail
Distance: 3 Miles
Route Type: Loop
Elevation Gain: 495 Feet
Difficulty: Easy
An easy, paved trail beginning at the famous General Sherman Tree and into the heart of the Giant Forest, this trail is perfect for nearly every skill level.
Starting at the largest tree in the world, this trail is also home to quite a few more of the bigger trees found in the park. It comparatively features the most sequoias of any trail in such a short distance within the park.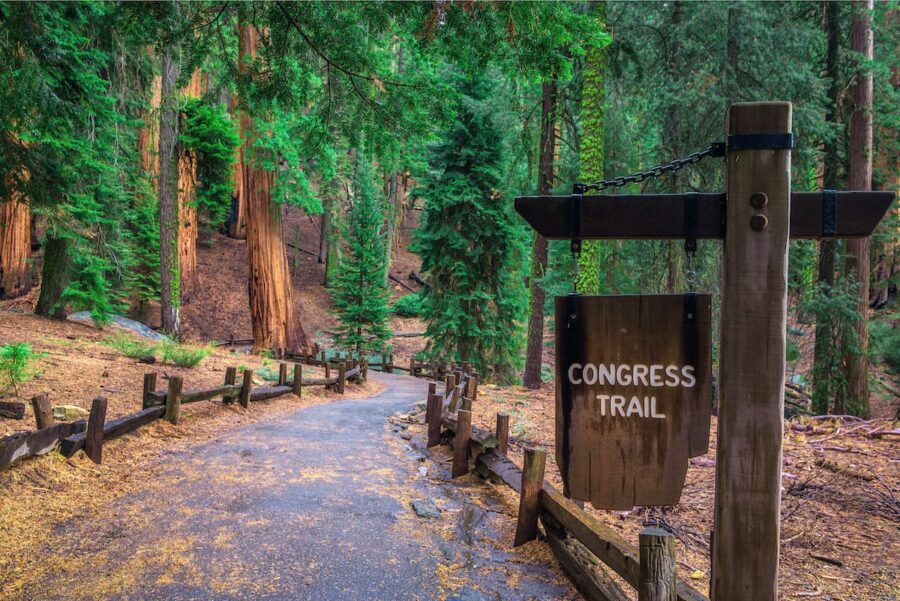 Follow the loop and stay on the paved trail, continue to stay left and hikers won't get lost. Although General Sherman tends to be a tourist hot spot, Congress Trail is often quiet in comparison and should not be passed up.
Big Trees Trail
Distance: 1.3 Miles
Route Type: Loop
Elevation Gain: 121 Feet
Difficulty: Easy
Another easy trail in the park, this paved and leveled path serves as an accessible look into a classic Sierra Nevada meadow.
Lined with a few sequoia trees and educational placards, this is the perfect trail for those with kids and looking for a valuable experience. Also a wheel-chair-friendly hike, this trail cannot be missed.
Crescent Meadow Loop Trail
Distance: 1.8 Miles
Route Type: Loop
Elevation Gain: 206 Feet
Difficulty: Easy
Offering a gentle hike, this trail is one of the most family-friendly offerings found in the popular US national park. From a variety of scenery to a hollow tree, as well as a house made from another hollow tree, this loop is ideal for both adults and children.
Located near the end of Crescent Meadow Road, this trail features a paved path, which is also shared with the High Sierra Trail with a few hikers heading nearly 60 miles to Mount Whitney.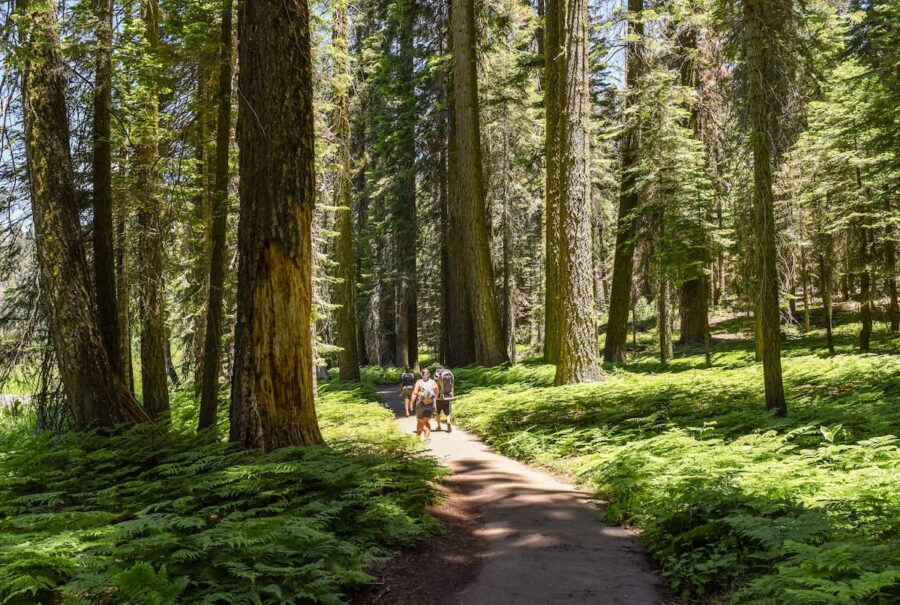 Continue to follow the paved trail around the meadow for a glimpse of Tharp's Log, which is a home created out of a fallen Sequoia tree.
Moderate Sequoia National Park Hikes
Moro Rock Trail
Distance: 0.4 Miles
Route Type: Out and Back
Elevation Gain: 187 Feet
Difficulty: Moderate
One of the most popular trails in the park, Moro Rock is found near the entrance of the park. Do not let the 0.4-mile distance trick you, as the hike to the summit is quite brutal.
Not for the faint of heart, a quarter-mile, 300-step staircase leads to a spectacular view of the Great Western Divide and the western half of Sequoia National Park.
A dome-shaped granite monolith, this sort of sight is common within the Sierra Nevada, but not nearly as accessible as Moro Rock.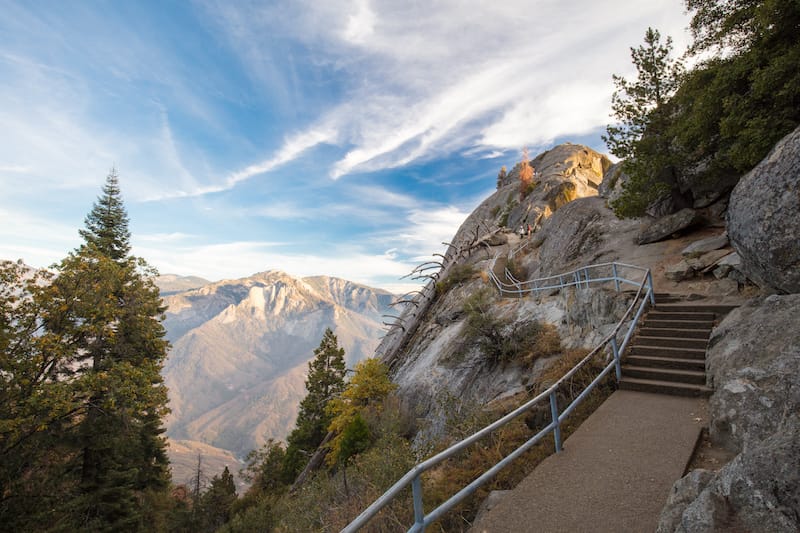 During the winter months, the trailhead is seasonally closed due to heavy snow. From Memorial Day in late May through most of the summer, the road reopens and shuttling is required both on weekends and holidays.
Visitors may park their vehicles at the Giant Forest Museum or any shuttle stop and hop on the free shuttle to the trailhead.
During the winter months, visitors are welcome to snowshoe or cross country ski up the road to the trailhead, but be aware the stairs on the trail are quite icy and it is better to not summit this time of year.
Tokopah Falls Trail
Distance: 4 Miles
Route Type: Out and Back
Elevation Gain: 639 Feet
Difficulty: Moderate
Although not a short trail, Tokopah Falls Trail is perfect for those of most abilities and in search of a leisurely trek along a creek to a cascading 1,200-foot waterfall. It is one of the best waterfall hikes in Sequoia and Kings Canyon.
Home to the tallest fall found within the park, hikers start near the Lodgepole Visitor Center and General Store, then either walk or drive up towards the parking lot found at the trailhead within the Lodgepole Campground.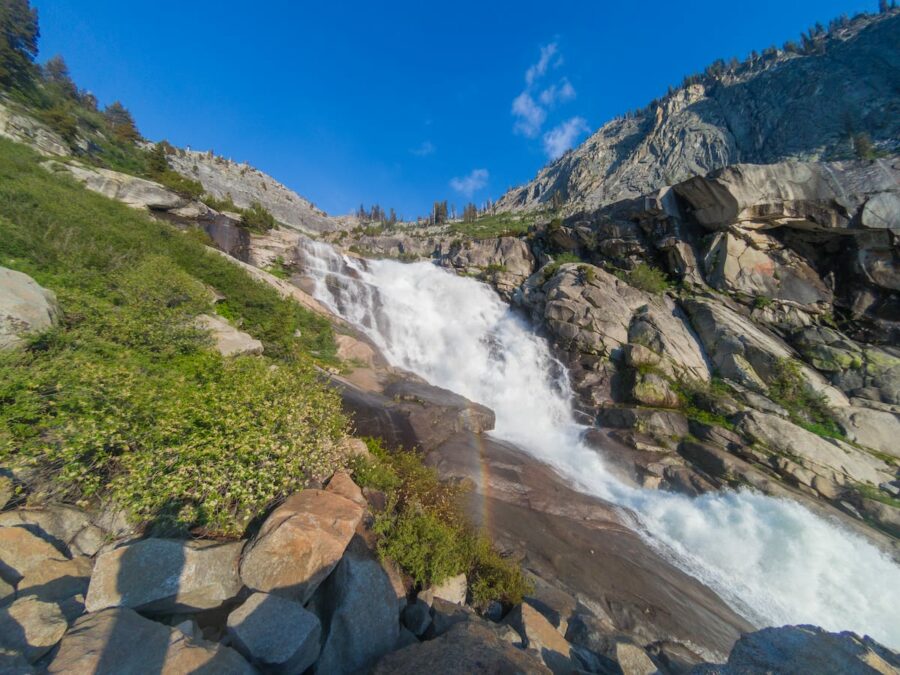 Truly one of the more spectacular hikes in this park, hikers travel under towering pines trees, vast meadows, and near an impressive 1,600-foot peak named Watchtower.
Open year-round, pack a lunch in the spring, and enjoy the snowmelt while marmots run around your feet. Or bundle up for a hike along snow-capped peaks and looming fog. It is one of the most beautiful waterfalls in California!
Marble Falls Trail
Distance: 7.4 Miles
Route Type: Out and Back
Elevation Gain: 1,627 Feet
Difficulty: Moderate
Beginning at the Potwisha Campground, this wildflower-lined spring hike travels up through a canyon to a stunning waterfall destination. Park at the small parking lot near the trailhead or across the road in the bigger lot.
Featuring a steep elevation increase, hikers start near site 14, then start along a service road.
Turn left when arriving at the posted arrow along a single-track through abundant and diverse wildlife, not limited to cottonwoods, oak, redbuds, and more.
Quickly climbing uphill, the trail soon finds itself several hundred feet above a rushing river. After the canyon, the trail levels out near the falls.
Once done, the hike is quite literally all downhill from there, heading down the same trail back to the parking lot.
Little Baldy Trail
Distance: 3.3 Miles
Route Type: Out and Back
Elevation Gain: 793 Feet
Difficulty: Moderate
A short trail with a major payoff at the end, Little Baldy features a panoramic view of Silliman Crest and the Great Western Divide.
Park at the bottom of the trail near Dorst Campground and hike uphill through a couple of switchbacks and a quiet forest with marmots wobbling down the trail.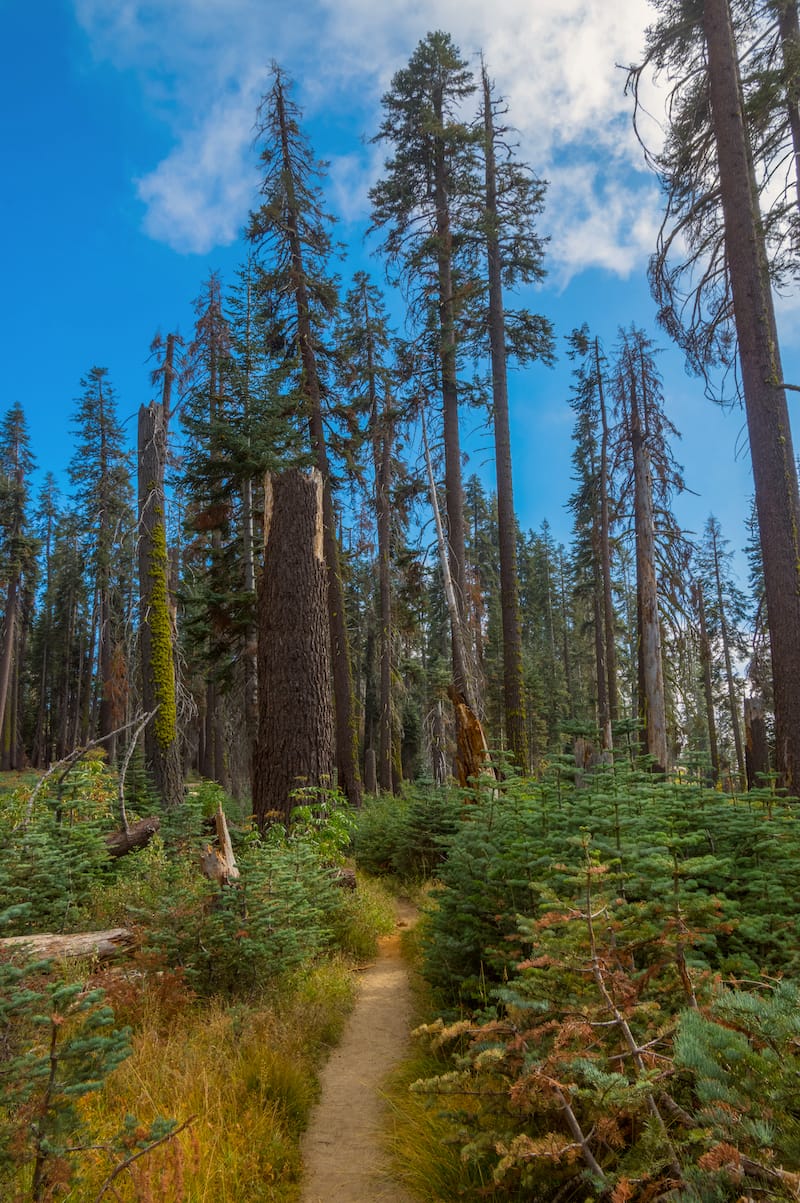 One of the park's most underrated trails, Little Baldy is especially stunning in the spring when the wildflowers are blooming. Pack a lunch and eat it at the summit or hike up before sunset for a painted sky.
Be sure to bring a flashlight to safely hike back down if wanting to catch the gorgeous sunset.
Difficult Sequoia and Kings Canyon Trails
Heather Lake, Emerald Lake, and Pear Lake Trail
Distance: 11.8 Miles
Route Type: Out and Back
Elevation Gain: 2,913 Feet
Difficulty: Hard
The perfect summer trail, pass through four stunning lakes alongside towering granite hills and dense forest. Set in a glacier-carved basin, these lakes truly are the essence of a stunning high sierra landscape.
The first lake, Heather, is located 4.1 miles into the trail and just a mile beyond that is Aster Lake. Not too long after, Emerald lake is tucked into a glacier-carved bowl and the final lake, Pear, is located just 1.1 miles further.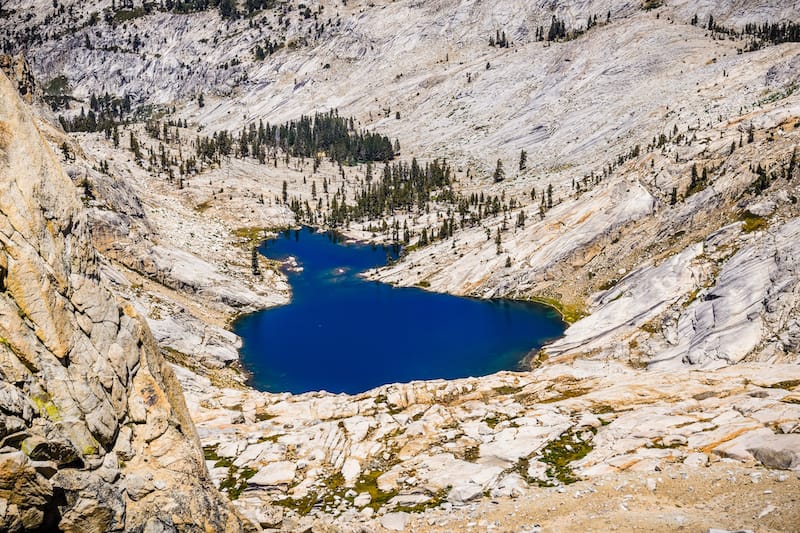 Backpacking permits are hard to obtain for this trail due to the limited number of camping spots along the lakes. Start early on the trail and visiting all four lakes in an afternoon is definitely possible.
Mineral King to Eagle Lake Trail
Distance: 6.5 Miles
Route Type: Out and Back
Elevation Gain: 2,214 Feet
Difficulty: Hard
Nestled high in the mountains within the Mineral King region of Sequoia National Park, this steep day trail climbs nearly 2,200 feet over 3.6 miles.
Not for the faint of heart, this trail begins at the end of Mineral King road at the Eagle-Mosquito trailhead. Hiking up to the west rim of the valley, cross over a wooden footbridge.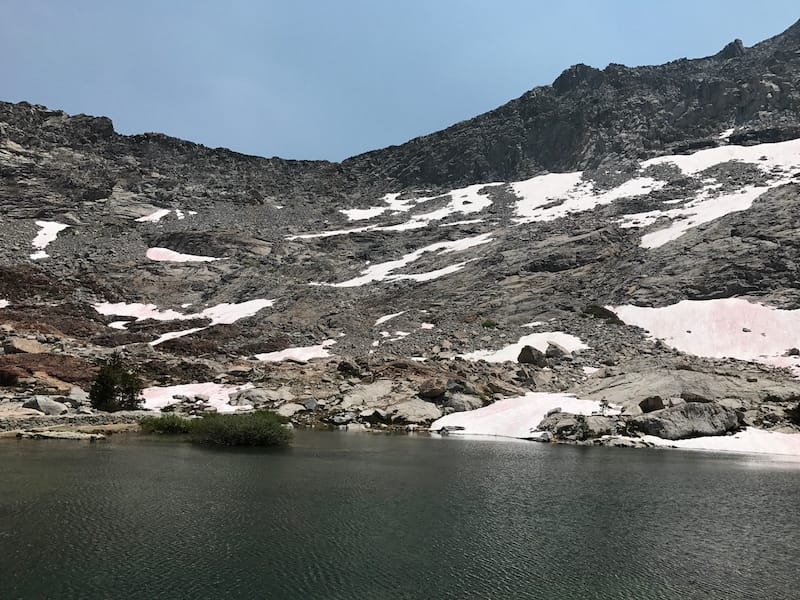 After one mile, turn right at the White Chief Trail junction, at this point, there is a change from straight track to multiple switchbacks, quickly scaling to a high elevation.
Just 1.7 miles away, lies Eagle Lake, then either head up to a few more lakes and to the north shore of the main lake.
Be sure to utilize one of the nearby bear lockers in the parking lot and stay aware of marmots in that area, who are known to chew wires in cars. They are quite adorable but very destructive — do not underestimate these guys!
Alta Peak Trail
Distance: 14.9 Miles
Route Type: Out and Back
Elevation Gain: 4,064 Feet
Difficulty: Hard
Found near the town of Three Rivers, this panoramic destination features a strikingly beautiful trail with everything from alpine flowers to Foxtail Pine, and lush forests.
Not for the faint of heart, this strenuous climb quickly becomes steep as the air begins to thin. Start at the Wolverton parking lot and begin the intense 8% grade climb through a dense forest and vast meadows alongside a rushing creek.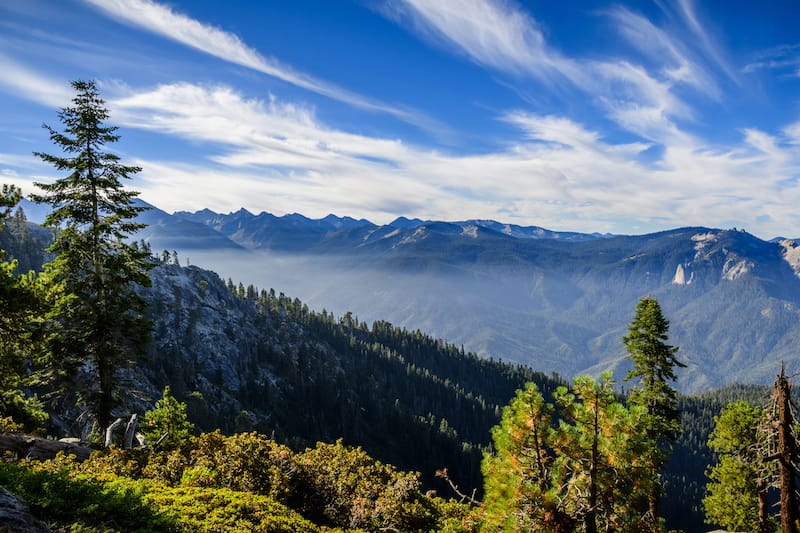 After hiking for a while, the trail quickly goes to a strenuous 15% grade, which makes one feel as if the end is nowhere in sight, then soon it becomes 23% for the last bit.
All the pain is with it for a striking view of the Great Western Divide at the end.
Franklin Lakes Trail
Distance: 11.2 Miles
Route Type: Out and Back
Elevation Gain: 3,458 Feet
Difficulty: Hard
Hidden within a high-altitude region of the park, Franklin Lake is packed with dramatic ridges and alpine lakes. Found in the Mineral King area, this trail is not highly trafficked — perfect for those who want solitude.
Turn onto a narrow and poorly maintained road for 25 miles, while winding up the mountain, pay the fee at the kiosk, and head toward the trailhead. Permits are required for those looking to backpack overnight.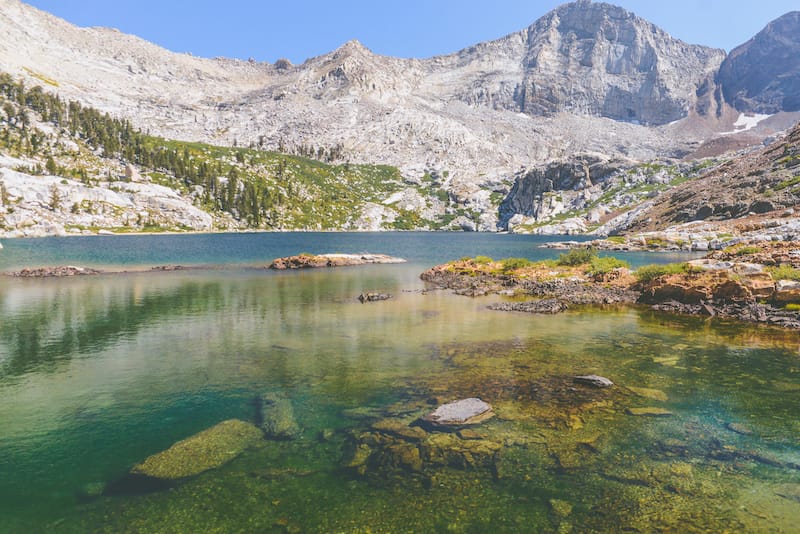 Starting near a corral of horses, trek through a leveled portion of the valley. Almost one mile in, pass by a large waterfall on the left and eventually make way to a series of switchbacks, which is also the beginning of a nearly constant ascent.
Continue left toward Franklin left at the Farewell Gap junction, then a glimpse of the lake will appear a few miles further.
Enjoy the afternoon picnicking or make camp at one of the tent sites for the night. Head back down toward the trailhead when ready to go home.
Monarch Lakes Trail
Distance: 8.4 Miles
Route Type: Out and Back
Elevation Gain: 2,650 Feet
Difficulty: Hard
Home to the perfect day hike from Mineral King Valley to Monarch Lakes, this trail starts at the Sawtooth Trailhead with a series of steep switchbacks.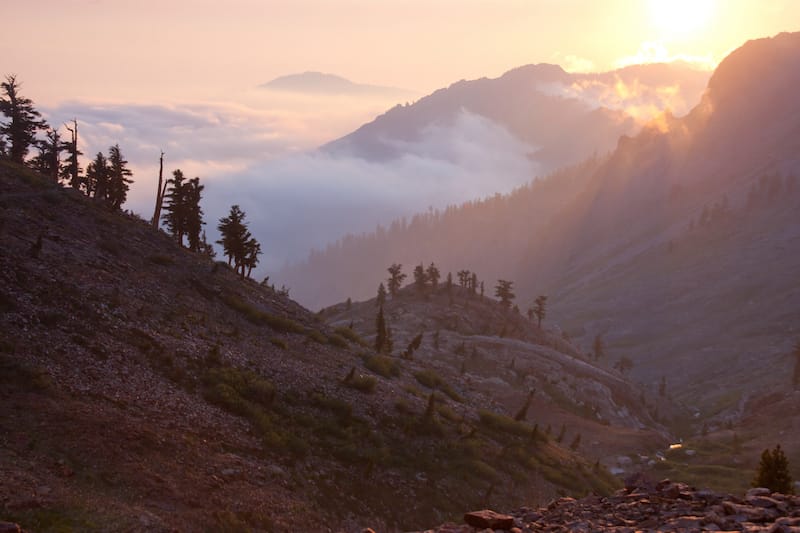 Turn right at the Timber Gap junction, then continue climbing to a stunning view of the valley and a small meadow. More switchbacks lie ahead after exiting a pristine forest, which appears to be countless.
There are just 1.2 miles left to Lower Monarch lake after turning left at the Crystal Lake Trail junction.
Take a breather once arriving at the gorgeous lower lake, which is nestled perfectly into the hillside. Gather the last bit of energy for an extra half mile toward Upper Monarch Lake, which is absolutely worth the exhaustion.
Head out the same way you came in after enjoying time at the final destination.
What to Pack & Wear
Your packing list for Sequoia National Park will truly depend on the season you head there and the trail you decide to hike on. Here are some essentials that will be useful no matter which trail you decide to embark upon.
Hiking boots: I swear by my Keen Targhee hiking boots and they are an excellent choice for traipsing the wild trails at Sequoia and Kings Canyon. Click here to see the Keen hiking boots I use.
Reusable water jug: Water is so essential if you're on one of the hikes in Sequoia and you definitely need to remain hydrated. I always tote along a Klean Kanteen water jug with me for the journey.
Sunscreen: While not every hike seems like you would need sunscreen, some of the ones on this guide are pretty exposed and you will want to put sunscreen on before your hike if you want to help protect your skin!
Hiking poles: There are some trails on this guide that have loose rock and you will want to bring along a set of trekking poles with you for safety purposes. Trust me!
ABOUT THIS LAND
Sequoia & Kings Canyon National Parks are on the unceded land of the Mono (Monache), Yokut, Tübatulabal, Paiute, and Western Shoshone peoples. We ask you to join us in acknowledging their communities, their elders both past and present, as well as future generations.
We also acknowledge that Sequoia & Kings Canyon NPs were founded upon exclusions and erasures of many Indigenous peoples, including those on whose land these US National Parks are located.
⇒ Do your research before visiting National Parks and places in the US. Native Land and Whose Land are good starting points.
⇒ Hire Native guides when possible and encourage National Parks and government organizations to start hiring them.
⇒ Donations matter. Part of the proceeds from this blog is donated monthly to the Native Women's Wilderness.
Did we miss any of the best hikes in Sequoia National Park and Kings Canyon? Let us know your favorite Sequoia hiking trails in the comments!
More Sequoia National Park Guides
Pin this Sequoia Hiking Trails Guide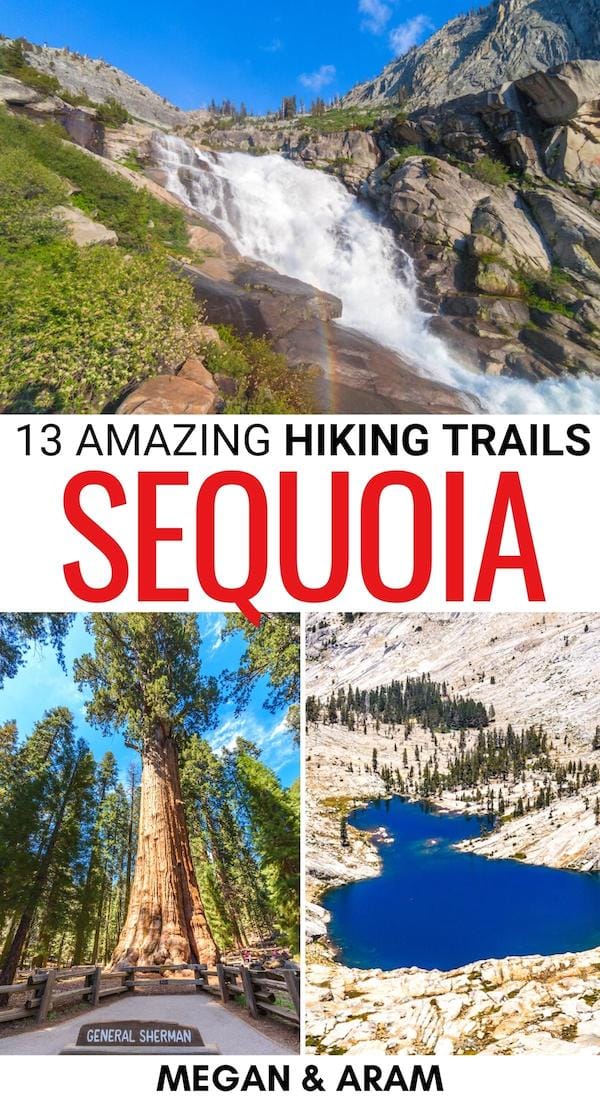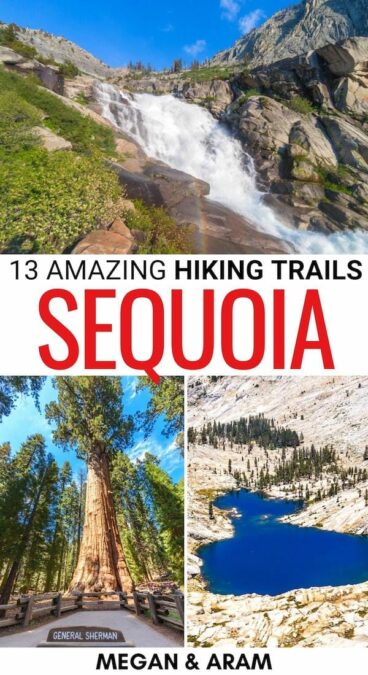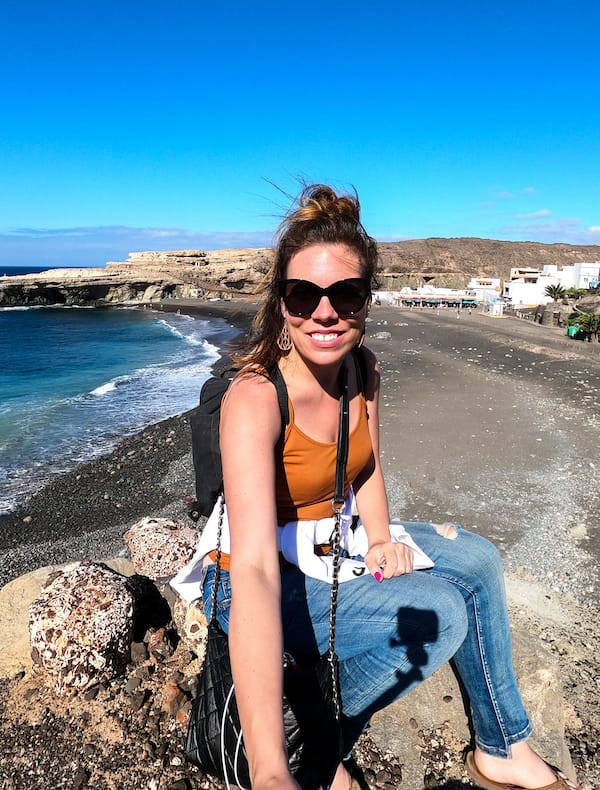 Megan is a travel blogger and writer with a background in digital marketing. Originally from Richmond, VA, she now splits her time between Frankfurt, Germany and Arctic Finland after also living in Norway, Armenia, and Kazakhstan. She has a passion for winter travel, as well as the Nordic countries, but you can also find her eating her way through Italy, perusing perfume stores in Paris, or taking road trips through the USA. Megan has written for or been featured by National Geographic, Forbes, Lonely Planet, the New York Times, and more. She co-authored Fodor's Travel 'Essential Norway' and has visited 45 US states and 100+ countries.