There is truly something magical about Zion National Park in winter. It offers a feeling of anonymity and connection with nature that very few places in the US offer these days!
Are you planning your trip to Zion last minute?
If you're traveling to Zion National Park last minute, you want to ensure you have lodging and tours booked ahead of time! Below are some of our top picks in town!
Best day tours in Zion National Park:
Visiting Zion NP independently? Be sure to book your rental car ahead of time to ensure availability!
Best Lodging near Zion National Park:
Visit a lot of National Parks? Secure your annual National Parks Pass here for only $79.99!
Winter in Zion National Park may not be for everybody depending on your reasons for visiting Zion.
But, if you plan your trip well, you will keep occupied and fall in love with this famous US National Park.
This guide details why you should visit Zion in winter and what you can do there, including where to stay, practical tips, and things to know before going.
Reasons to Visit Zion National Park in Winter
In my opinion, Zion National Park is one of the best US National Parks to visit in January and other winter months.
While other places in Utah, such as the Bonneville Salt Flats, are not ideal winter destinations, Zion is!
The crowds are not ever-present like during other times of the year and you can really connect with the humbling nature in a way that is just not as easy during summer or the shoulder seasons.
During the high season, visitor numbers at Zion NP are around 500,000 per month (May-September). During the winter, it is around 100,000 per month (December is around 170,000 monthly).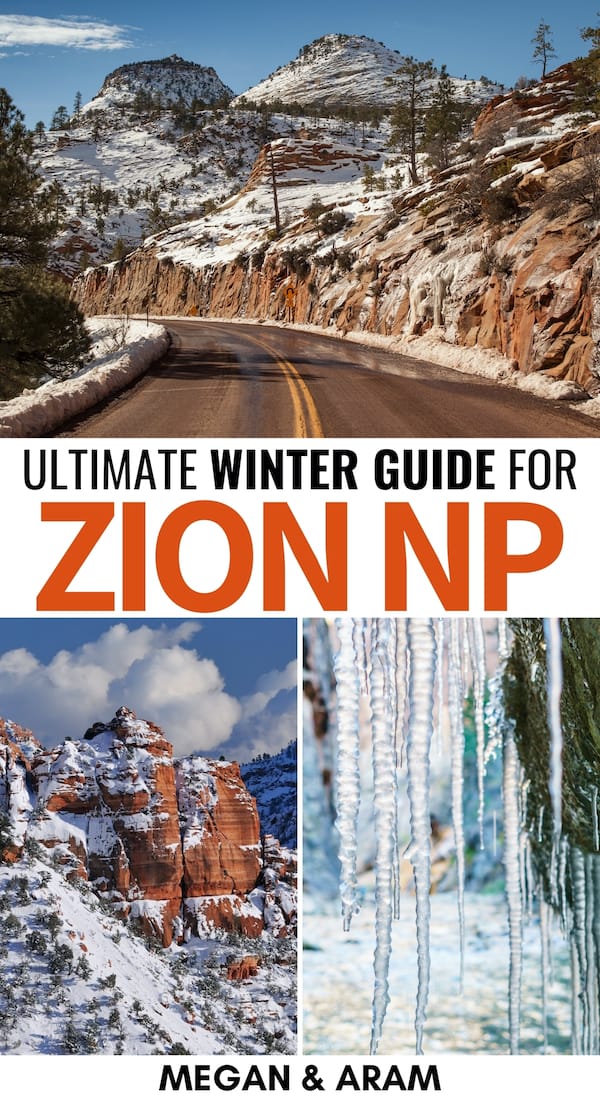 Some of the things you can do in Zion National Park during winter are taking scenic drives, hiking and backpacking, cross-country skiing and snowshoeing, camping, photographing, and wildlife watching.
Zion in winter is never all that cold, either, making the trip more comfortable than expected and allowing you to enjoy activities with far less clothing, unlike Yellowstone in winter or some of the parks in the northern US.
Quick Facts about Zion NP
Location: Utah
Size: 146,597 acres
Annual Visitors: 4,488,268 (2019)
Established: November 19, 1919
Closest big city: St. George, UT (Las Vegas is a good base)
Zion National Park Highlights: Angel's Landing hike, otherworldly red rock landscapes, The Narrows, canyoneering, Zion Canyon scenic drive
When is it Winter in Zion?
Winter in Zion National Park is relatively short, actually.
It begins in December and is usually gone by the end of February, as spring flowers tend to bloom earlier than in other places in the western United States.
How Cold Does it Get in Zion? (Temperatures & More)
It definitely depends on what month you're visiting for how cold it gets. Here is a small breakdown of the winter months with average temperatures and the number of 'rainy' days.

| | | | |
| --- | --- | --- | --- |
| Month | Average high | Average Low | # Rainy days |
| December | 9C / 48F | -5C / 24F | 6 |
| January | 10C / 50F | -4C / 25F | 7 |
| February | 9C / 49F | -4C / 24F | 7 |
​
Does it Snow in Zion National Park?
Yes, it usually does snow in Zion National Park in winter. The park will usually see about 2.5 snowfall days and an accumulation of about 4.2in (106.7mm).
Snow tends to melt quickly in Zion and it doesn't leave the roads dangerous and most hikes are safe with the exception of a rare patch of ice.
What to Wear When Visiting Zion National Park in Winter
One great thing about visiting Zion in winter is that it is never extremely cold, so you can just wear layers and take them off accordingly. However, you still need to pack some winter gear!
Here are my recommendations for what to wear and bring to Zion National Park in winter:
Note: I am a huge fan of REI for all of my winter gear in the US, but I also love throwing minimalistic Scandinavian brands into the mix.
I am listing an array of my favorite winter gear below.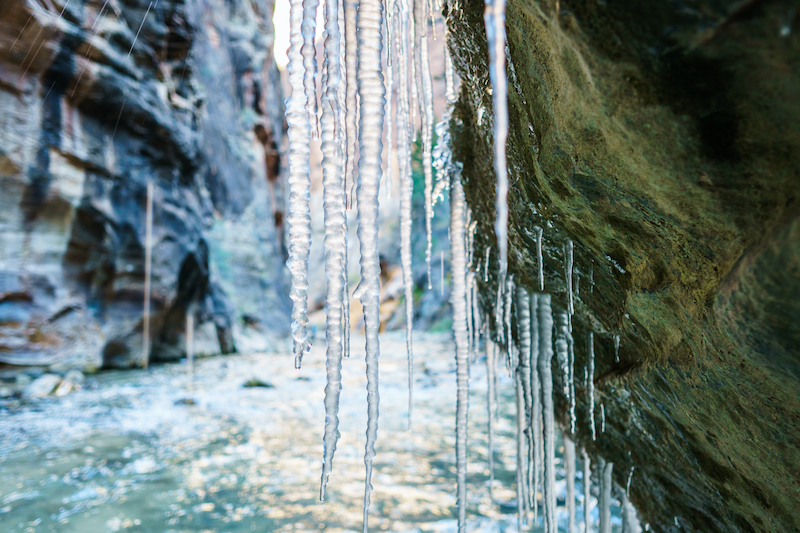 What to Pack for Zion in Winter (Gear & Miscellaneous)
Packing the right clothes is always the most challenging part, but you need to consider the other things you will bring with you, too.
Below are some items I always tote along in winter when I travel to cold places and will definitely make a great addition to your Zion trip.
Mobile Power Bank
The weather will deplete your cellphone battery. I repeat- the weather WILL deplete your cellphone battery.
Bring a mobile power bank with you to ensure you can snap photos whenever you want!
Click here to purchase my recommended power bank on Amazon.
Extra Camera Batteries
If you're into photography but have never photographed in a cold setting, you're going to want to ensure you have a few extra batteries to bring along for the ride.
The camera battery will deplete quicker in subzero temperatures just like phone batteries do.
I also travel with a USB charger for camera batteries that I can stick in my mobile power bank in case times get tough. Click here to find a USB charger for camera batteries.
Dry Bags
It may be snowy or rainy and the weather will be a bit off-putting on certain days on your winter in Zion vacation… so don't let it ruin your equipment or gear!
I travel with dry bags just as an extra precaution and they have served me well all over the world.
These dry bags from the Friendly Swede are my favorite.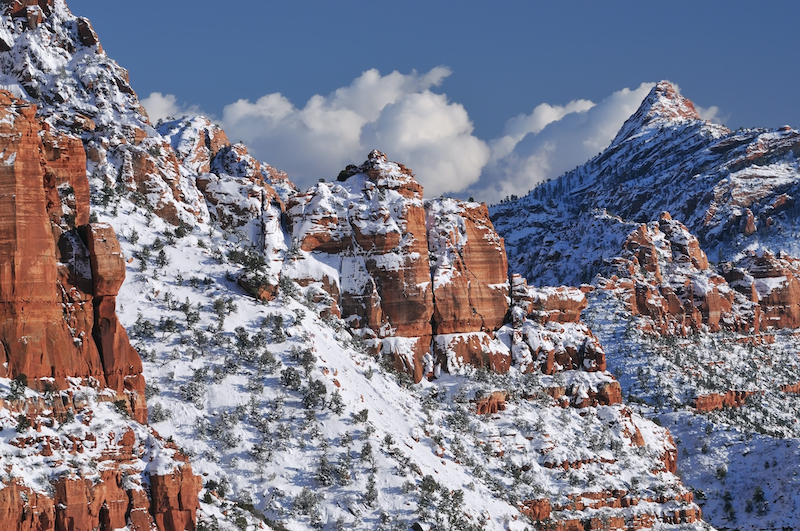 Things to Know Before Traveling to Zion National Park in Winter
While Zion stays pretty much open during the winter months, there are definitely a few things you need to know before visiting then.
Here are some of the important planning tips for Zion National Park that we think you should be made aware of prior to visiting the Utah park.
How Many Days in Zion National Park?
One of the most frequently asked questions is how many days does one need in Zion National Park in winter?
If you are not a hiker, you really can see most of what you will desire to see within one day.
We also recommend adding Zion National Park as a stop if you are taking a road trip from California to Arizona and have an extra day of unplanned activities.
If you enjoy hiking, I would recommend at least 3 days in Zion National Park during winter.
This will give you ample time to complete Angel's Landing and The Narrows, both of which are some of the best hikes in the United States.
Canyoneering is also a popular activity year-round in Zion, so it will give you a chance to do that, as well.
Roads in ZNP in Winter
The main road that provides access to Zion National Park is US Highway 9. During the Zion winters, the Canyon road is rarely covered in snow because it tends to melt so rapidly.
When the highway cuts into Zion's eastern portion, it increases in elevation and goes along ridges where snowfall is more prevalent. The highway is plowed, however, and open year-round, but just stay cognizant of things right after a major storm.
Kolob Canyons Road is usually open during the winter but can be closed temporarily during snowstorms or shortly after.
This is the road that provides gorgeous vistas that are extremely beautiful during the winter months, but there are also some trails that can be treacherous during winter on this road.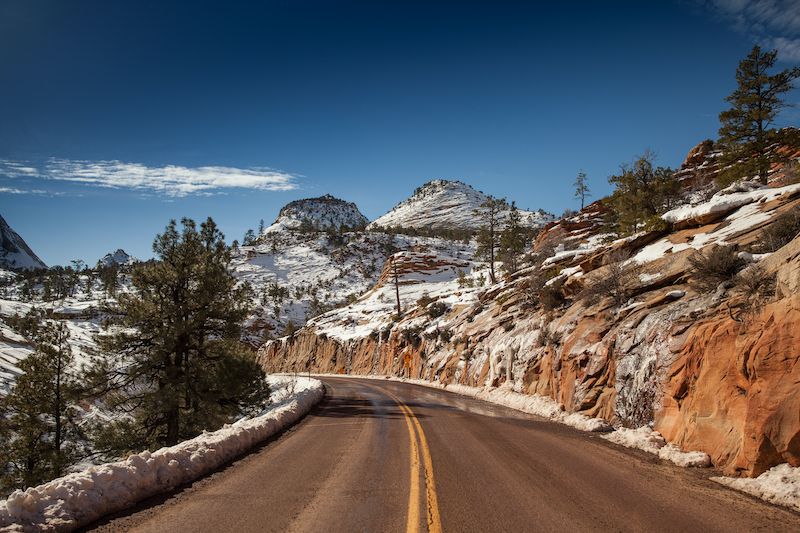 Kolob Terrace Road is often closed during heavy snowfalls during the winter months.
This road goes through Zion NP and then into an area of private land where you will see many cabins and accommodations.
The people living in these cabins are allowed to drive snowmobiles around in order to get to their homes but please note that snowmobiles are forbidden for recreational use in Zion National Park.
While people may not think of driving there in winter, Zion is still a fantastic stop on a Colorado to California road trip (and many more)!
Facilities Open in Zion in Winter
Park shuttle buses tend to not run during the winter except during holidays such as the week between Christmas and New Year's Day and on Presidents' Day weekend.
The South Campground closes during the winter months and there is a portion of Watchman Campground that also closes during the winter.
In addition, the Human History Museum is closed during winter in Zion but the film about the park can be viewed at the Zion Canyon Visitor Center which remains open year-round.
Zion National Park Visitor Centers
There are three visitor centers in Zion National Park but only two consistently operate during the winter months.
The first is the Zion Canyon Visitor Center and the second is the Kolob Canyon Visitor Center. They are both closed on December 25, but remain open during the winter with the following hours:
Zion Canyon: 8:00am to 5:00pm
Kolob Canyon: 8:00am to 5:00pm
Click here for more information about Zion Park facilities.
Zion National Park Entrance Fee
To enter Zion National Park, it is $35 per car. This will give you 7 days in Zion National Park.
However, I highly recommend purchasing an America the Beautiful Pass for $79.99.
This pass gives you access to over 2,000 US national parks and monuments all for a one-time fee! It is so worth the money!
>> Click here to purchase your National Parks Pass for $79.99!
Things to Do in Zion in Winter
One of the best reasons to visit Zion National Park is to go hiking. And, fortunately, there are plenty of winter hikes in Zion that you can partake in during your trip there.
In addition to winter hiking in Zion, you can also enjoy several other activities from scenic drives to photography and more. Below are some of the top things to do in Zion National Park in winter.
Angel's Landing Hike
Hiking during winter in Zion is one of the best activities and it will give you an experience that is unparalleled by others.
Angel's Landing is one of the most popular hikes in Zion National Park and it is accessible year-round.
The hike is difficult and there is a probable chance that there will be snow on the trail. The trailhead is at the Grotto Parking Lot and you'll also find restrooms there.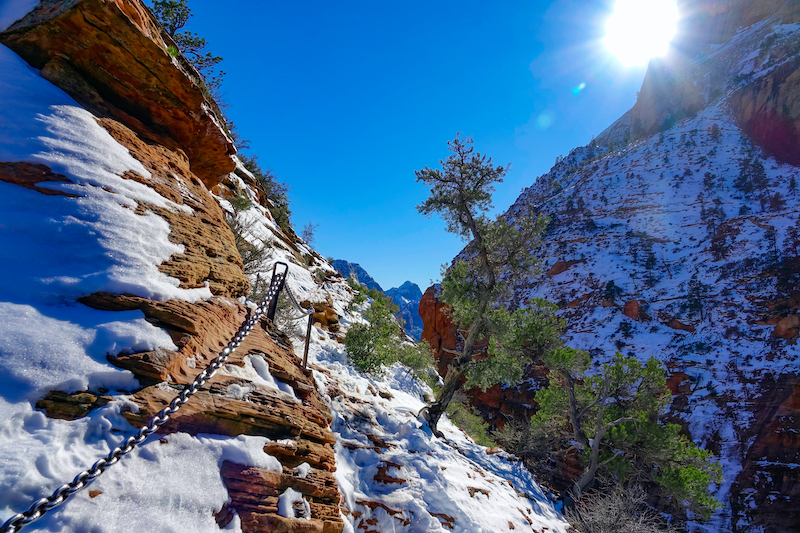 The out-and-back trail is around 5.4 miles long and takes about 4 to 5 hours to complete.
There will likely be snow on the trail, as mentioned before, so be sure to wear proper footwear.
Many parts of the trail have chains you can latch onto for support, but I recommend you bring along a pair of crampons or spikes to assist you!
This Zion hike involves a little climbing (there are chains to help!) and can be really dangerous for someone who is not experienced… so please don't attempt tackling Angel's Landing during winter unless you are a seasoned hiker.
Go Wildlife Watching
Another popular winter activity in Zion National Park is to go wildlife watching.
The park is renowned for its diverse array of wildlife and while the tourists keep to minimal levels during the winters, many animals are still out and about doing their thing.
It is not uncommon to see eagles, wild turkeys, deer, elk, and bighorn sheep in Zion National Park in winter (many smaller species are hibernating during the winter).
Over 8 species of mammals, 291 bird species, 44 species of reptiles/amphibians, and 8 species of fish call wonderful Zion National Park home and you will likely get the chance to witness something while there.
Snowshoe to Observation Point
If you're an adventurous traveler visiting Zion National Park in winter, you definitely should throw on some cross-country skis or snowshoes and make your way to Observation Point via the East Rim Trail.
This is definitely one of the most beautiful views in Utah and even though it can be a bit of a challenge to reach in winter, if you're experienced, it should be added to your Zion bucket list!
Drive Through Zion Canyon
If you're seeking what to do in Zion in winter, definitely consider driving Zion Canyon!
During the heavy tourist season from May until September, shuttle buses take park visitors around Zion MP, stopping at trailheads and the main highlights.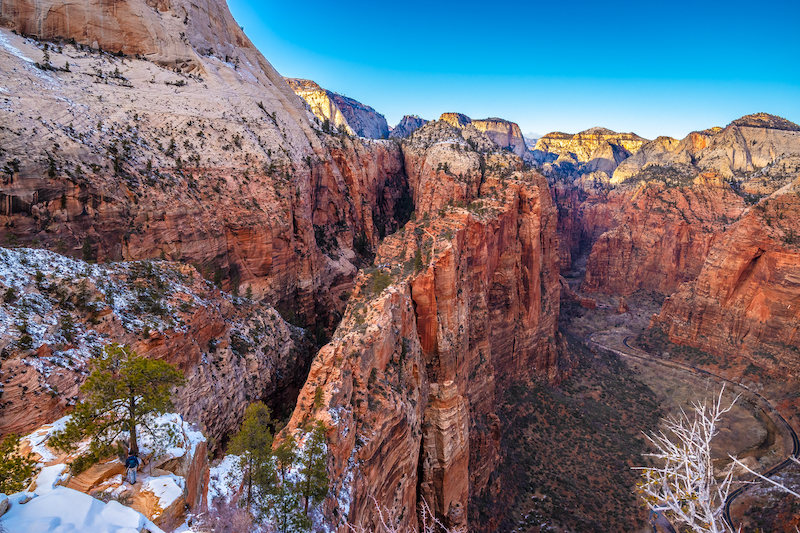 However, in winter, the shuttle buses don't run frequently (or at all) and you can drive through Zion Canyon independently.
This drive is a 6.5-mile scenic thoroughfare that goes along the Virgin River and offers insanely beautiful views of the canyon and its rock formations.
There are also designated stops along the way where you can get out, stretch your legs, and soak up Zion National Park's beauty.
Hike The Narrows
Most people don't think of The Narrows as a prime Zion hiking spot during winter, but if you dress properly, it is one of the most stunning spots to hike during the colder months simply for its obscure rock formations and fewer hikers around.
This is the narrowest section of Zion Canyon and the walls are a thousand feet tall with a small river running through it.
It is easily one of the most popular spots in the park and it requires hiking through the Virgin River.
Your feet WILL get wet, which is uncomfortable without proper footwear in winter.
The water levels are also higher during the winter months and The Narrows will likely close occasionally during spring when the snowmelt raises the river too high.
So, winter is not a bad time to go if you're dressed for it!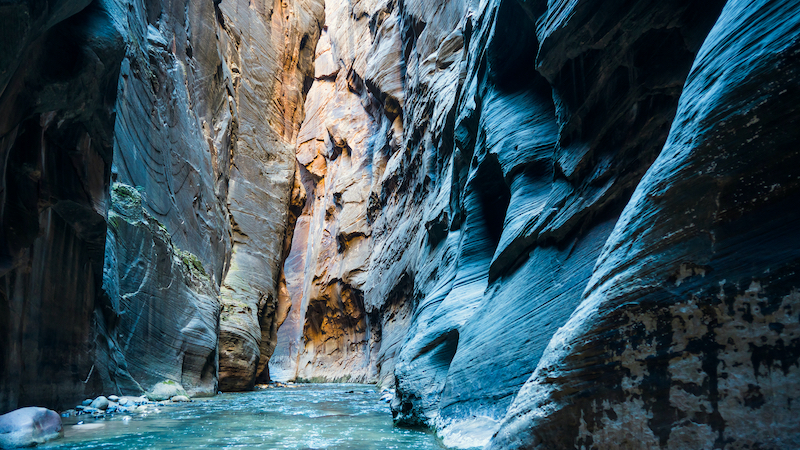 It is best to bring waterproof shoes and trekking poles along with you for the hike through The Narrows.
How to Get to Zion National Park in Winter
The best way to reach Zion National Park in winter is either by personal car (or rental car) or via a tour from Las Vegas.
If you are not used to driving in winter weather, I recommend getting a 4-wheel drive for the park.
While the roads are plowed frequently and snow rarely builds up, if a storm does come through, it will help you confidently drive the Rim without fear of something happening. Click here to check rental car rates in the United States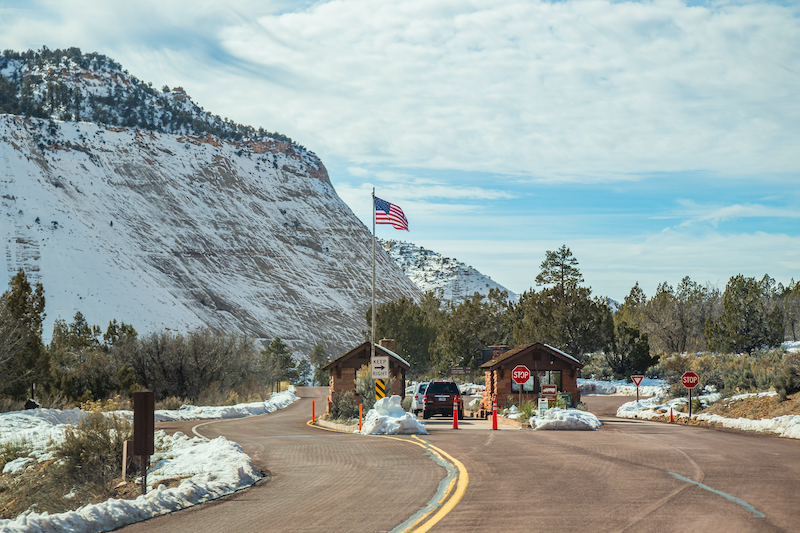 Zion National Park Winter Tours from Las Vegas
Another great way to see Zion National Park in winter is via a tour from Las Vegas.
There are a couple of tours that are fantastic options for easily seeing Zion NP from Las Vegas (and it combines Zion with other amazing parks!)
Below are three options for Zion tours from Las Vegas that you will want to consider during the winter:
Zion National Park Winter Accommodation Options
There are plenty of reputable places to stay in Zion National Park and around the area.
Here are some of our top picks of places to stay in and near Zion – broken down into hotels, Airbnbs, RV, and camping/glamping options.
If you're camping in Zion National Park and are not a member of Hipcamp, also be sure to use our code here to receive $10 off your first booking!
Hotels near Zion National Park
Many people visit Zion as a day trip from Las Vegas, but if you're keen to stay somewhere near the park but in a city large enough to find things to do, I recommend staying in St. George, Utah.
Alternatively, you can stay near the entrances to Zion in Springdale, Orderville, and Cedar City (near the Kolob Canyons entrance).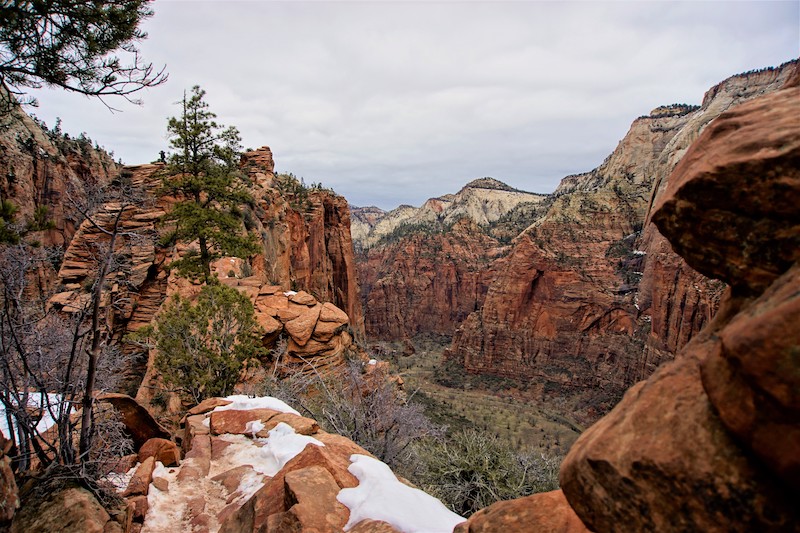 Camping During Winter in Zion National Park
There are three campgrounds in Zion National Park. South Campground and Watchman Campground are located near the south entrance to Zion.
Lava Point Campground is an hour from Zion and is located on Kolob Terrace Road (there are no campsites in Kolob Canyons).
Availability and closures are marked and up-to-date on the National Parks' website here.
If you're not looking to stay at one of these designated camp areas, here are some ones outside of the park that offer campsites and glamping opportunities during the winter:
Renting an RV
Another unique alternative for your trip to Zion is to rent an RV.
While I definitely wouldn't recommend doing this without feeling comfortable driving one or on roads during winter, it is a viable option for many adventurous travelers and those wanting to see more than one park in Utah.
Should You Book a Winter Trip to Zion?
Truth be told, Zion is one of the best US national parks to visit in December, January, and February.
While snowfall does occur there, it is definitely a great park for those looking for little closures and many activities still taking place.
If you're into winter hiking, visiting Zion National Park in winter is a fantastic choice.
The scenery will completely blow your mind and leave you planning a return trip!
Additional National Park Reading
Here are some of our month and season guides to visiting US national parks. Be sure to check them out!
Additionally, you might be interested in our other Utah national parks and attraction guides below:
Pin This Zion Winter Guide for Later