October happens to be one of the most beautiful times of the year to get in touch with nature and visit one of America's many national parks. These are the best national parks in October!
Whether you enjoy outdoor activities like hiking and biking or you simply want to enjoy the beauty of nature, there are many national parks throughout the country that have lots to offer.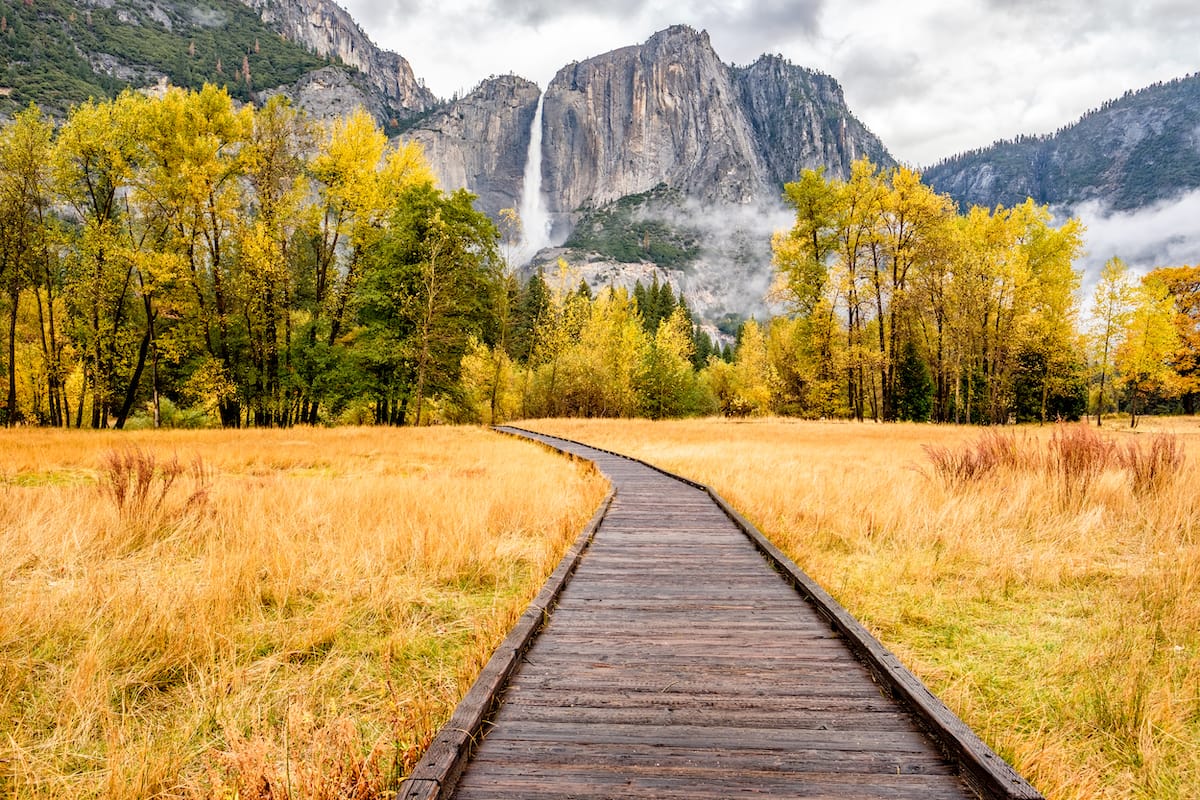 And, for a lot of the US, this is peak fall foliage! Some of the parks listed on this October National Parks round-up are there solely for the vibrant fall colors!
Did we miss any of the best national parks to visit in October on this guide? Let us know in the comments. Thanks!
Best National Parks to Visit in October
1. Great Smoky Mountains National Park
Location: Tennessee and North Carolina
October Average Temperature: highs around 63F and lows around 36F; 10 days of rain
Go there for: fall foliage, no entrance fee, cabin experiences
Great Smoky Mountains National Park, lying on the border of Tennessee and North Carolina in the heart of the Blue Ridge Mountains, is a great escape for any season, but the most stunning time to visit is definitely from mid-October to early November when vibrant colors adorn the forest-covered mountains.
It's clear to see why this is the most visited national park in the United States, as it features some of the best foliage in the country with brilliant colors ranging from scarlet red and burnt orange to bright yellow and even glossy purple.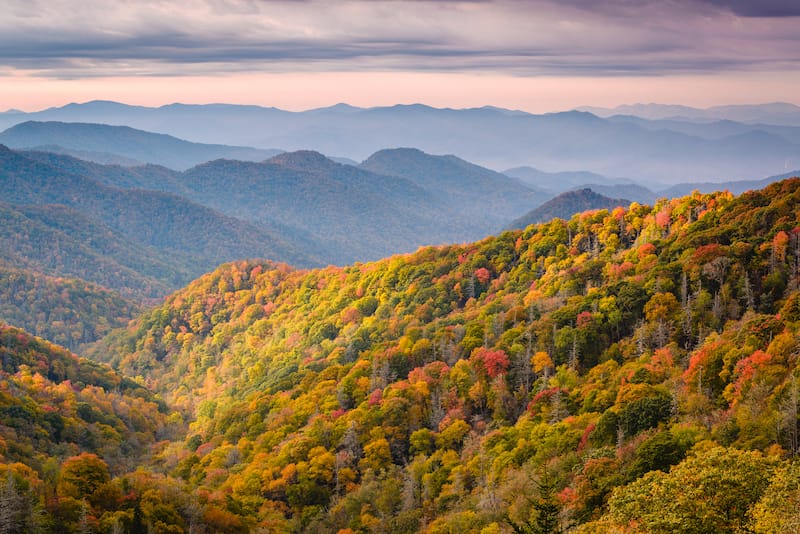 This 520,000-acre natural playground is home to 800 miles of hiking trails (including more than 70 miles of the Appalachian Trail), front and backcountry camping, Laurel Falls, Rainbow Falls, Clingman's Dome, 1,300 species of native plants and animals, and majestic mountain landscapes.
Your first stop should be a visitor center, either at Cades Cove, Sugarlands, Oconaluftee, or Clingmans Dome, to get more information about the park, ranger-led programs, trail maps, the gift shop, and natural history exhibits about the park.
Those after hypnotic views should hike Mount Cammerer or Alum Cave Trail, while more seasoned hikers shouldn't miss hiking or biking the 11-mile Cades Cove Loop.
2. Acadia National Park
Location: Maine
October Average Temperature: highs around 55F and lows around 38F; 9 days of rain
Go there for: hiking before it gets too cold, fall foliage, birdwatching
Known as the crown jewel of the North Atlantic Coast, Acadia National Park is brimming with oceanfront landscapes, miles of hiking and mountain biking trails, diverse wildlife, and cozy fall vibes.
The park covers Mount Desert Island and the Schoodic Peninsula in Maine. Acadia is underrated in winter and also an afterthought for many in mid-fall.
Begin your exploration of the park at the Hulls Cove Visitor Center. The last two weeks of October are the perfect time to witness fall's gorgeous color palette in the park.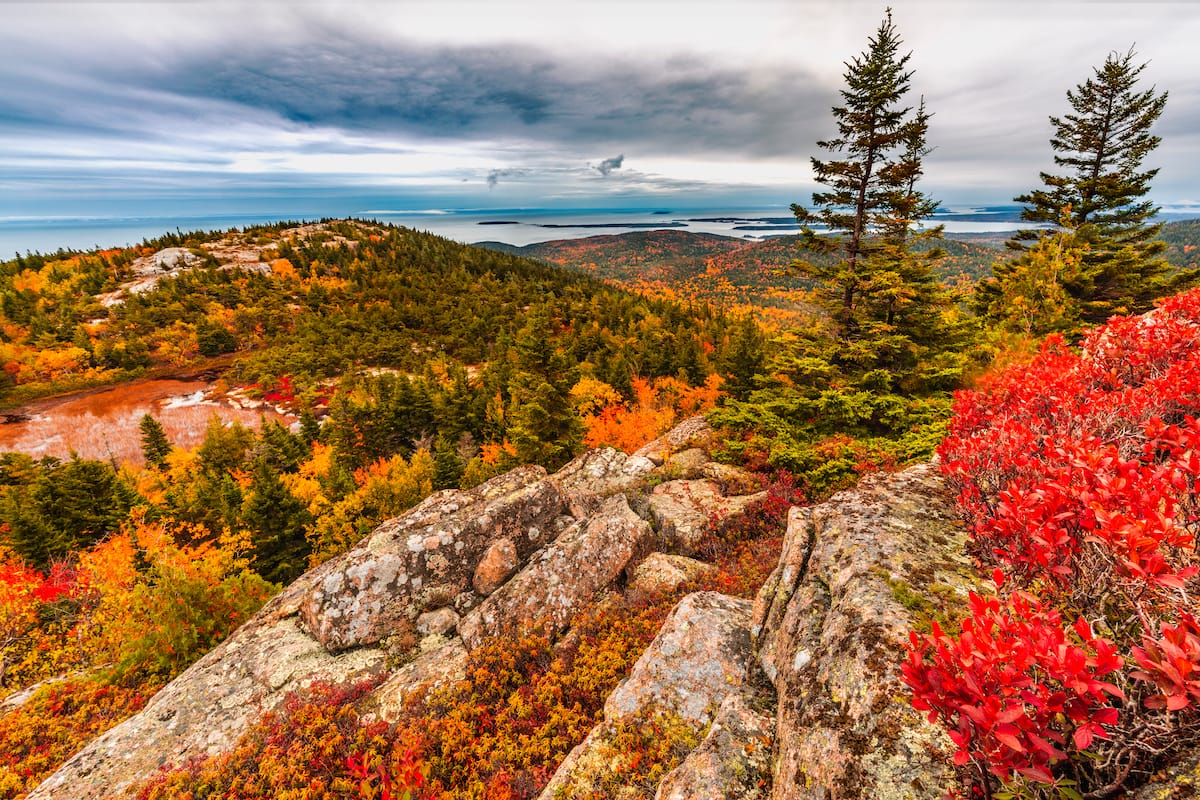 Beyond leaf-peeping, fall visitors can take in jaw-dropping sunrise views on top of Cadillac Mountain, hike the Beehive Loop Trail or Jordan Pond Path, enjoy a booming show at Thunder Hole, go boating, canoeing, and fishing in Great Long Pond on Mount Desert Island, and more!
You can also bike the 27-mile Park Loop Road, keeping an eye out for some of the roughly 300 bird species that live in the park.
Sand Beach is another notable attraction in the park, and while it's probably too chilly to swim in the fall, it's a great spot for a picnic.
Those who want to squeeze the most out of their visit can take a narrated trolley tour with Oli's Trolley to learn about the area's history and geology.
3. Everglades National Park
Location: Florida
October Average Temperature: highs around 86F and lows around 73F; 10 days of rain
Go there for: mosquitoes starting to leave, hiking trails, still 'summery' temperatures
As the summer heat and humidity abates, October is a great time to visit Everglades National Park and it is an easy day trip from Miami.
Rich in native history, this United States' UNESCO World Heritage Site and International Biosphere Reserve is home to more than 200,000 alligators.
Drive to one of the visitor centers, such as the Gulf Coast, Shark Valley, Ernest F. Coe, or Flamingo Visitor Centers, and start exploring the park from there.
In this area, you can also find Florida panthers, peacocks, American crocodiles, coral snakes, mangroves, grass marshes, cypress swamps, pinelands, hardwood hammocks, etc.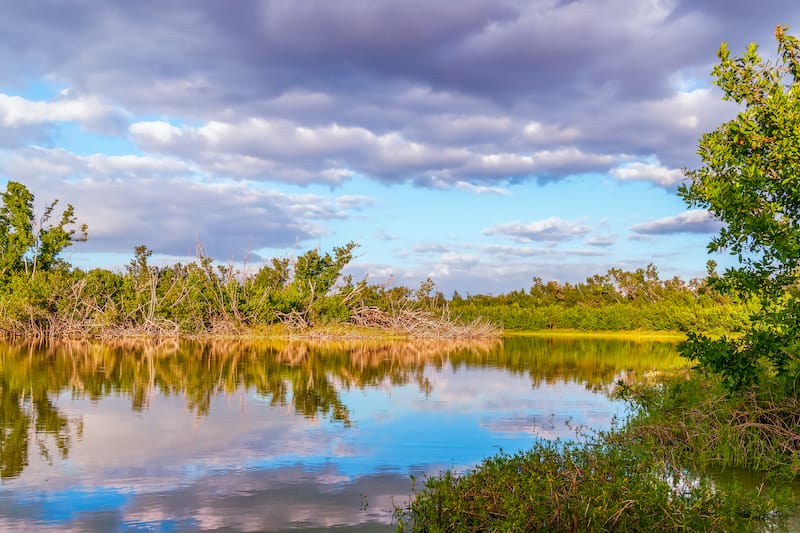 The Pine Island Trails, accessible from Ernest F. Coe Visitor Center, are the perfect option for hiking and biking.
The Tamiami Trail "Triathlon," including a 15-mile bike ride, a 3-mile walk, and a 3.5-mile kayaking route, is another option for adventurous visitors.
Experience that only-in-Florida environment and see alligators while gliding over the sawgrass and cattails on an airboat ride.
Go camping in elevated Chickee huts, take a boat tour from the Flamingo or Gulf Coast Visitor Centers to admire an abundance of wildlife, hike through Shark Valley to enjoy the view of sawgrass marshes and pine flatwoods, bike along the Snake Bight Trail, and browse the Smallwood Store in Chokoloskee.
4. Grand Canyon National Park
Location: Arizona
October Average Temperature: highs around 83F and lows around 58F; 2 days of rain
Go there for: epic viewpoints, not as hot as summer, many other sights nearby
The canyons of Grand Canyon National Park are already mesmerizing, but when you throw in the fall colors, the views become even more epic.
The South Rim is open year-round, while the North Rim is only open until October 15. So, get there early in the month!
First, pop over to the Visitor Center, open 8am-4pm daily, to be informed about the weather conditions, get trip planning and hiking information, and watch a short 20-minute informational movie detailing the park's history.
Then you can visit Mathers Viewpoint and walk the Rim Trail, both of which are very close to the Visitor Center.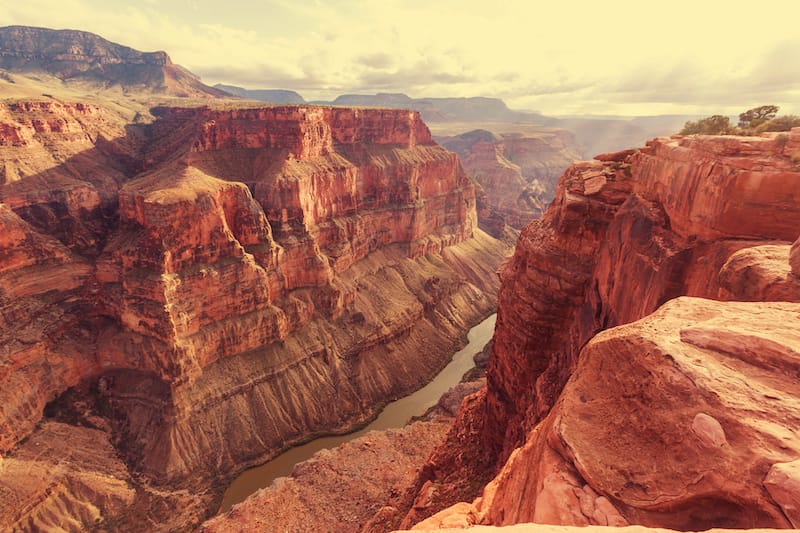 Rim Trail will lead you to the Grand Canyon Village where you can experience the beauty of the canyons without too much hiking.
Take in majestic sunrise views at Mathers Point or Yavapai Point, hike the South Kaibab Trail, the Rim to Rim Trail, or Bright Angel Trail for the staggering vistas of the Grand Canyon, experience the thrill while whitewater rafting in the Colorado River, see the canyon come alive with color at sunset at Pima Point, and camp under the stars in Mather Campground or North Rim Campground.
Please note that you will need a backcountry permit to camp within the Grand Canyon. This is easily one of the most iconic places in Arizona and the US!
5. Shenandoah National Park
Location: Virginia
October Average Temperature: highs around 58F and lows around 39F; 6 days of rain
Go there for: fall foliage at its peak, mild temperatures, hiking opportunities
A visit to Shenandoah National Park in the fall should be on everyone's bucket list!
October adorns the park in breathtaking hues of fall colors which draw leaf peepers in Virginia and the surrounding states.
You will find two visitor centers in the park: the Dickey Ridge Visitor Center, featuring exhibits and maps highlighting park nature, and the Harry F. Byrd Visitor Center, showcasing the park's history and offering ranger-led programs and guided hikes.
October's stunning foliage also makes it the busiest time to visit the park, especially in the middle two weeks.
To get the best views of this golden paradise, consider hiking to the top of Old Rag Mountain or Thorofare Mountain.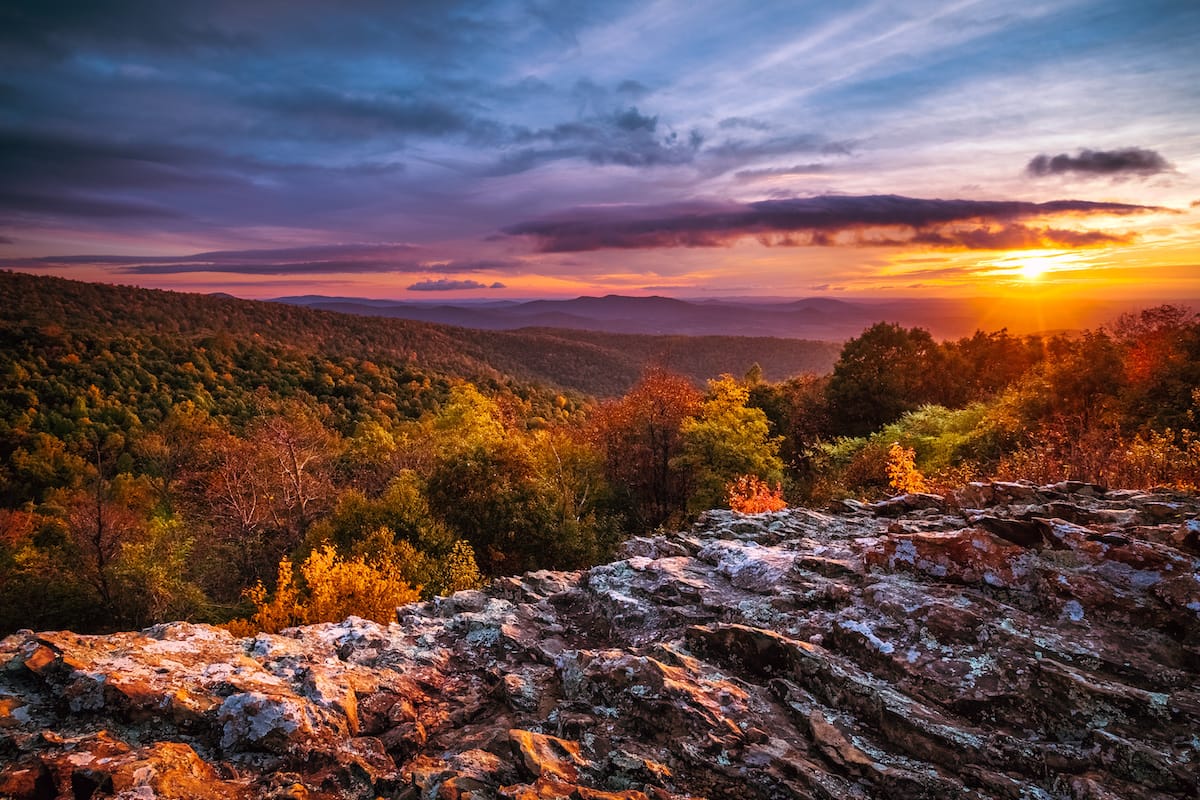 Admire Dark Hollow Falls or Doyles River Falls, enjoy a picnic at Big Meadows, and marvel at fall foliage from Stony Man.
Taking a scenic drive along Skyline Drive, the main 105-mile road through the park is a must for every visitor.
It features around 70 different overlooks which will reward you with spectacular views of Shenandoah Valley and the Blue Ridge Mountains.
Adventure seekers will love some of the best fall hikes, like the 9-mile round trip to Little Stony Man Overlook, the 6.5-mile round trip Mary's Rock, and the 5.2-mile round trip Whiteoak Canyon Falls hike.
6. Yosemite National Park
Location: California
October Average Temperature: highs around 72F and lows around 41F; 3 days of rain
Go there for: perfect temperatures with little rain, hiking trails, camping opportunities
Mid-October is the perfect time to capture the peak fall colors of Yosemite National Park, as big-leaf maples, California black oaks, and Pacific dogwoods flaunt brilliant shades of yellow, red, scarlet, orange, and bronze.
Start your tour in Yosemite Village, where you can visit the Yosemite Valley Visitor's Center, fuel up for adventures at Degnan's Kitchen, and browse the Ansel Adams Gallery for some unique souvenirs.
Fall also makes the park one of the world's most scenic hiking destinations.
If you are a novice hiker, you can try hiking Wawona Meadow Loop, which will lead you to the famed Valley Floor.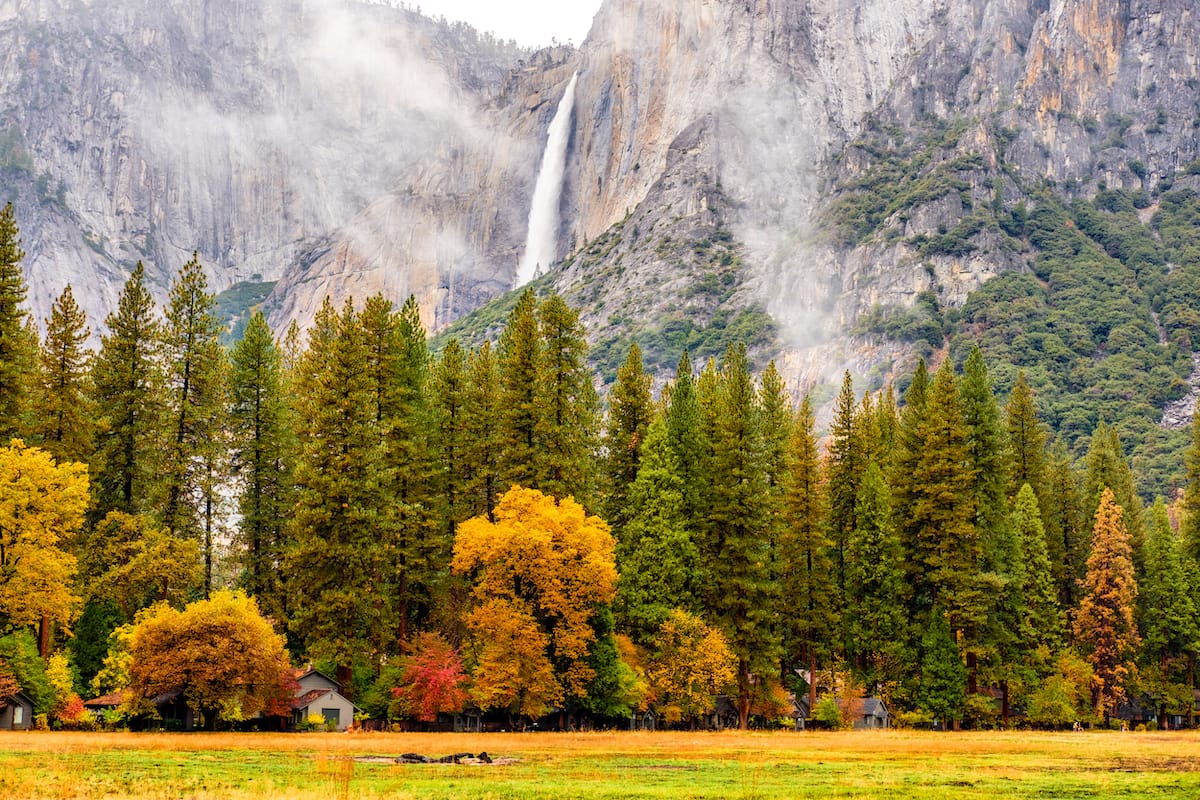 For heart-pumping adventures, consider hiking the Mist Trail to Vernal and Nevada Falls, Half Dome, Yosemite Falls, Cathedral Lakes, Sentinel Dome, and Cloud's Rest, which will reward you with breathtaking views along the way.
Enjoy bird watching in the Sierra Nevada, explore El Capitan (one of the world's most difficult climbs), admire Bridalveil Falls, visit Taft Point or Tuolumne Meadows, drive Tioga Road, and enjoy a picnic at Yosemite Creek picnic area.
Among the park's highlights are Glacier Point, Yosemite Valley, and Mariposa Grove, which you can explore through guided tours, like the two-hour Valley Floor Tour or the four-hour round-trip Glacier Point Tour.
7. Dry Tortugas National Park
Location: Florida
October Average Temperature: highs around 85F and lows around 75F; 7 days of rain
Go there for: summer-like temperatures, snorkeling, and water activities
Only accessible by boat or seaplane, Dry Tortugas National Park, one of the least-visited U.S. National Parks, is best known for its crystal clear waters and rich marine life.
This remote 100-square-mile park is home to seven small islands, secluded white sand beaches, coral reefs, and vibrant underwater life.
The centerpiece of the park is the 19th-century Fort Jefferson, one of the nation's largest 19th-century forts, which was used as a prison camp during the Civil War.
Embark on a guided tour of the fort or Garden Key Island to learn more about the island's history, soak up the Florida sun on white sand beaches, hop in a kayak to explore the shoreline of the uninhabited Bush Key Island, and camp at Dry Tortugas to have a million nighttime stars all to yourself.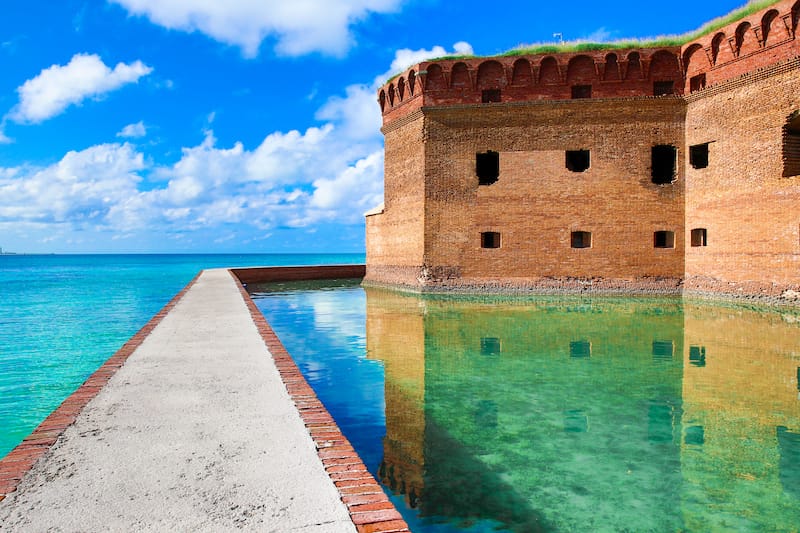 Dry Tortuga is a snorkeler's paradise due to being nestled in the southwest corner of the Florida Keys Reef System.
Beginner snorkelers can snorkel along the walls of the fort in the South Swimming Beach to see coral, while seasoned snorkelers can check out the South Coaling Dock ruins.
Don't expect to see a lot of birds there in October, as nesting season generally ends in September.
Please note that this is a free national park, but you must get a tour to get out there (making it not free!). Also, note that it is still the tropics season, so keep an eye on things before your trip!
8. Arches National Park
Location: Utah
October Average Temperature: highs around 71F and lows around 41F; 3 days of rain
Go there for: gorgeous weather compared to summer/winter, hiking opportunities
If you want to visit a red-rock wonderland and marvel at the stunning orange and red landscape in cooler temperatures and without summer crowds, then add Arches National Park to your October bucket list.
One of the most popular national parks in Utah, this park is home to more than 2,000 sandstone arches, hundreds of soaring pinnacles, and massive rock fins which attract visitors from all over the world.
Adrenaline junkies will feel at home here, as the park has the perfect setting for rock climbing, canyoneering, hiking, mountain biking, backpacking, camping, stargazing, scenic flights, 4×4 tours, etc.
As an International Dark Sky Park, the park features guided stargazing programs throughout the fall season.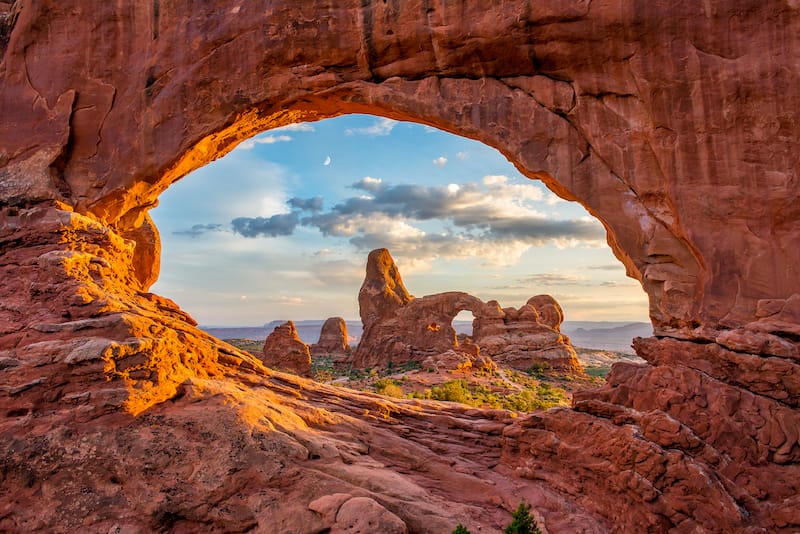 Start your hiking journey from the famous Delicate Arch Trail to find Ute Indian Petroglyphs and be rewarded with mesmerizing sunrise or sunset views.
If you are visiting with the kids, try some of the easy hikes, like Sand Dune Arch, Landscape Arch, or North and South Windows.
Fiery Furnace, a maze-like canyon spanning about 2 miles, is another highlight offering incomparable sunset scenery.
Those who want to witness a wide range of arches in one go should hop on the Devil's Garden Trail. Please note that hiking without permits is prohibited.
9. Death Valley National Park
Location: California
October Average Temperature: highs around 93F and lows around 62F; 0 days of rain
Go there for: can actually explore a little in the mornings after the summer temperatures
When the scorching heat of the summer resides, it's time to explore the magical Death Valley National Park.
Your first stop should be Furnace Creek Visitor Center to purchase national park passes, speak with park rangers, view the exhibits, and watch a 20 minute park film.
If you are after majestic sunset views, then make sure to climb the highest dune at Mesquite Flat Dunes.
Enjoy sunrise or sunset at Zabriskie Point, sleep under a jaw-dropping star-filled sky at Furnace Creek Campground, check out Devil's Golf Course, walk out on the salt flat at Badwater Basin (the lowest point in the US), and hike up to the Natural Bridge.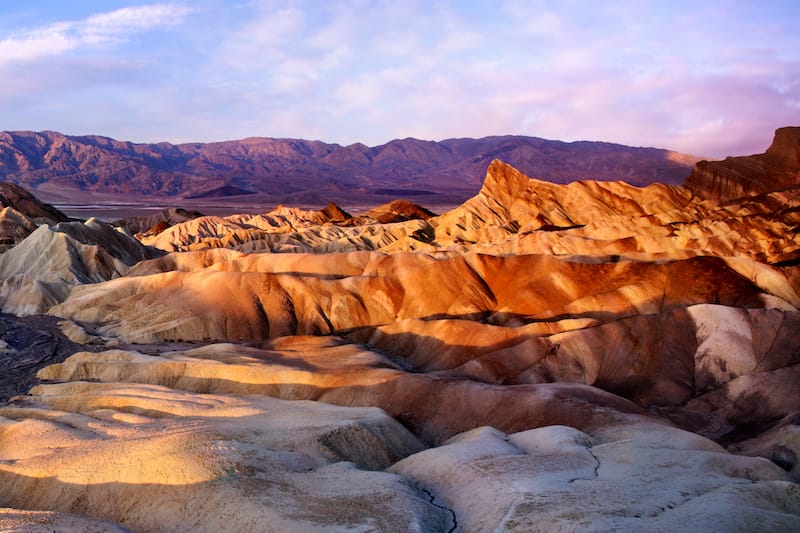 Thrill seekers can enjoy off-roading while exploring the badlands at Twenty Mule Team Canyon.
Another reason to visit the park in the fall is that camping and guided ranger tours start in October.
Dante's View, about 5,000 feet above sea level, is the highest point in the park, where you can take in a 360-degree view of the park and the Furnace Creek area below.
For a one-of-a-kind experience, follow Artist's Drive to witness Artist's Palette, the world's most stunning naturally painted canyons.
It is easy to spend two days in Death Valley and see one of the most iconic places on the planet!
10. Congaree National Park

Location: South Carolina
October Average Temperature: highs around 75F and lows around 52F; 6 days of rain
Go there for: mild temperatures and fewer mosquitoes than summer, no entrance fee
Nestled on the banks of the Columbia River, Congaree National Park is a real arboreal paradise perfect for an October getaway.
The park is home to the biggest old-growth bottomland hardwood forest left in the Southeast.
The astonishing biodiversity comprises loblolly pine, American elm, cherrybark oak, sweetgum, feral pigs, bobcats, river otters, alligators, and deer.
Pop over to Harry Hampton Visitor Center to check out self-guided and ranger-guided education programs.
Fishing, canoeing, backpacking, camping, kayaking, bird-watching, and hiking are among the main fall activities at Congaree.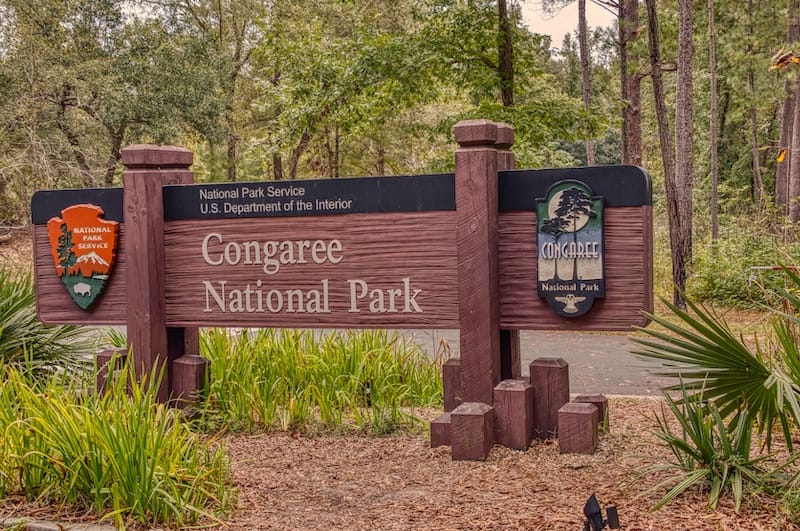 Experience the beauty of the park by hiking the 2.4-mile Boardwalk Loop Trail, Sims Trail, or Weston Lake Trail, or hop on the Oakridge Trail to get up close and personal with unique wildlife.
More adventurous types may want to consider the 11-mile Kingsnake Trail or Fork Swamp Trail to discover the park's hidden corners.
Paddle along the 50-mile Congaree River Blue Trail or canoe along the Cedar Creek Canoe Trail and keep your eyes peeled for river otters, turtles, deer, and sometimes even alligators.
Don't forget your camera to snap the peak fall foliage colors!
11. Saguaro National Park
Location: Arizona
October Average Temperature: highs around 86F and lows around 57F; 2 days of rain
Go there for: better temperatures than summer, hiking opportunities
Immerse in the dramatic beauty of the Sonoran Desert at Saguaro National Park, a perfect day trip from Tucson.
Named after the gigantic indigenous saguaro cacti which are sprinkled through the park, this 91,000-acre park is divided into two sections, with the Rincon Mountains section in the east and the Tucson Mountains section in the west.
Even though the park can be quite hot in early fall, mid-October makes it the perfect time to explore the park.
Head to the Red Hills Visitor Center to learn more about the unique geology of the Tucson Mountains, or visit Rincon Mountain Visitor Center to browse the bookstore and information station.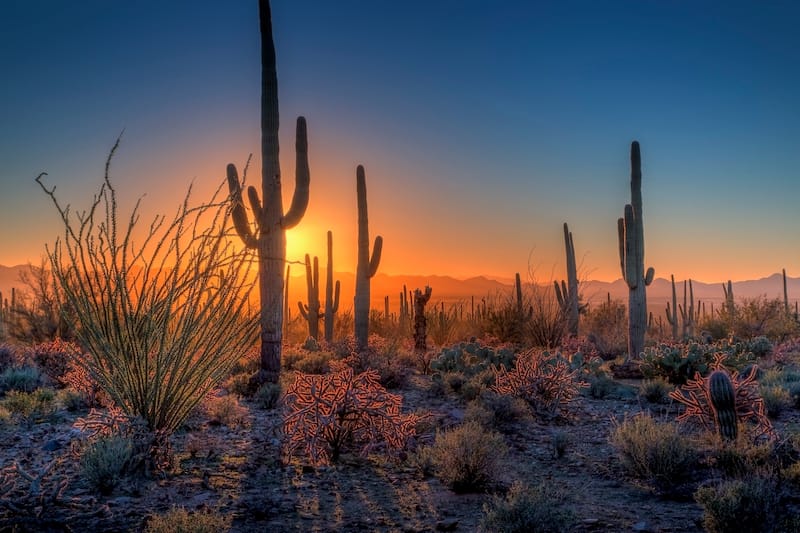 The latter is also the starting point for a scenic auto/bike tour around the Cactus Forest Loop Drive.
For a close-up view of this magical desert wonderland, hike Desert Ecology Trail lined with interpretive signs and a number of shelters with benches to rest from the desert heat.
You can also take a scenic drive along the Cactus Forest Scenic Loop Drive to marvel at the stunning views of the Rincon Mountains or camp at the nearby Gilbert Ray Campground.
For your daily dose of adrenaline, climb Javelina Rocks and soak in the mesmerizing views from the top.
12. Cuyahoga Valley National Park
Location: Ohio
October Average Temperature: highs around 62F and lows around 46F; 7 days of rain
Go there for: gorgeous fall colors, waterfalls, free US national park
When it comes to fall colors, it doesn't get any better than Cuyahoga Valley National Park.
Nestled between Cleveland and Akron, Ohio's only national park is home to forests, wetlands, and a plethora of recreational activities.
Admire magnificent blooming wildflowers while hiking the Oak Hill Trail, canoe, and kayak down the Cuyahoga River, take a ride on the historic Cuyahoga Valley Scenic Railroad, and explore the historic Everett Covered Bridge or Beaver Marsh.
Adventure lovers shouldn't miss hiking, biking, or running the 87-mile Ohio and Erie Towpath Trail that stretches along the Cuyahoga River.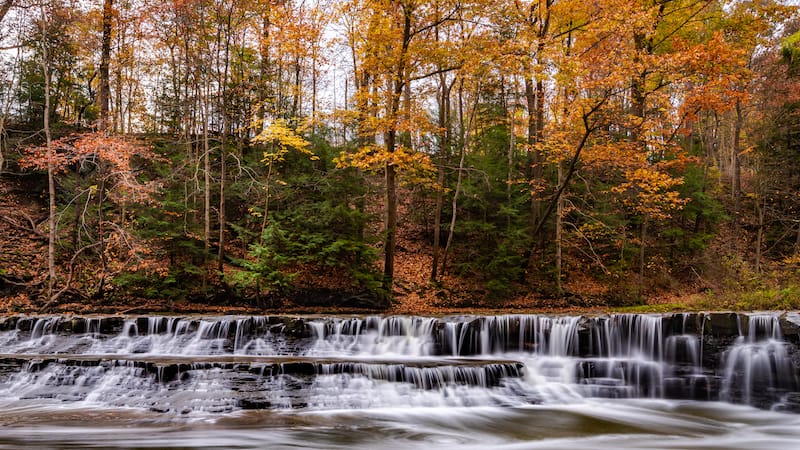 After discovering the hidden Blue Hen Falls and viewing Ohio's highest waterfall, Brandywine Falls, surrounded by vibrant fall foliage, hike among rock formations on the 1.8 miles of Ledge Trail.
For a glimpse into the past, stop by the Boston Mill Visitor Center for a ranger-led discussion of the history of the Cuyahoga River, which caught fire several times.
Here you can also grab a souvenir to take home a piece of Cuyahoga Valley with you.
Don't forget to photograph Bridal Veil Falls, visit the farmers market, and delve deep into the park's history at the Canal Exploration Center.
13. Haleakala National Park
Location: Hawaii
October Average Temperature: highs around 65F and lows around 48F; 7 days of rain
Go there for: iconic sunrises, hiking opportunities, one of the best spots on Maui
Haleakalā National Park, located in Maui, is an epic destination throughout the year, but for one of the best experiences, you should absolutely visit in October. The weather is just perfect for outdoor activities!
The park is home to Haleakalā's native mammals, such as seals, turtles, and bats, as well as the Hawaiian goose and Hawaiian petrel.
Begin your exploration of the park at Haleakalā Visitor Center to get pertinent info about the park, weather conditions, and the history of the area.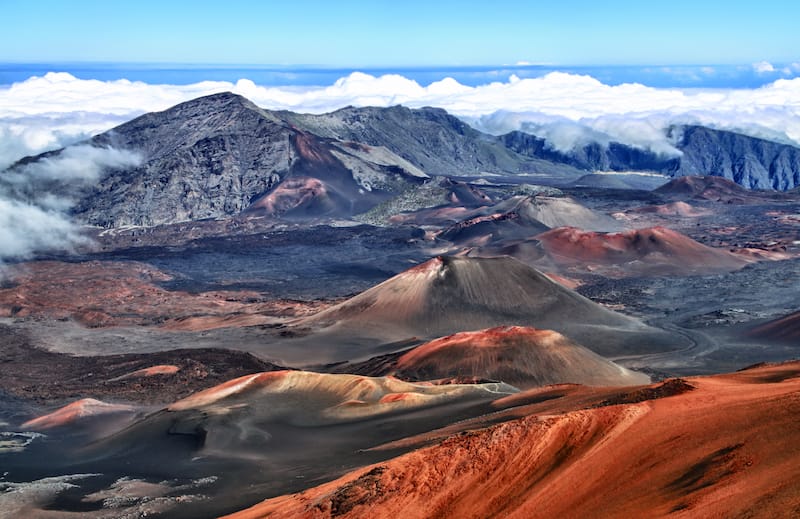 Hiking enthusiasts can hike down into Haleakalā Crater, the main attraction at the summit area, or explore Halemau'u Trail or Sliding Sands trail to take in the most spectacular views in the crater area.
Get to the highest point at Red Hill to marvel at the stunning views of the Northwest and the crater below, admire sunsets at Haleakalā Summit, and sleep under the stars at the Kīpahulu Campground.
The Kīpahulu District of Haleakalā National Park is another must-visit spot for serene paradise lovers.
Hike the Pipiwai trail to observe gorgeous waterfalls, an impressive bamboo grove, and huge old banyan trees.
Please note that swimming is not recommended here due to a number of safety concerns.
Ranger programs and drive-up camping are available in Kīpahulu.
14. Mesa Verde National Park
Location: Colorado
October Average Temperature: highs around 61F and lows around 36F; 5 days of rain
Go there for: history combined with nature, lovely temperatures during the day, hiking trails
Fall is a wonderful time to dive into the history of an ancient culture and admire nature within Mesa Verde National Park.
First, head to the Mesa Verde Visitor and Research Center for park information and trail conditions.
Hike the Knife Edge, Point Lookout, or Prater Ridge Trails deep into Spruce Canyon for mesmerizing views over Montezuma Valley, the San Juan and La Plata ranges, and the north escarpment of Mesa Verde.
For a glimpse into the Native American culture here in Mesa Verde, visit the Sun Temple.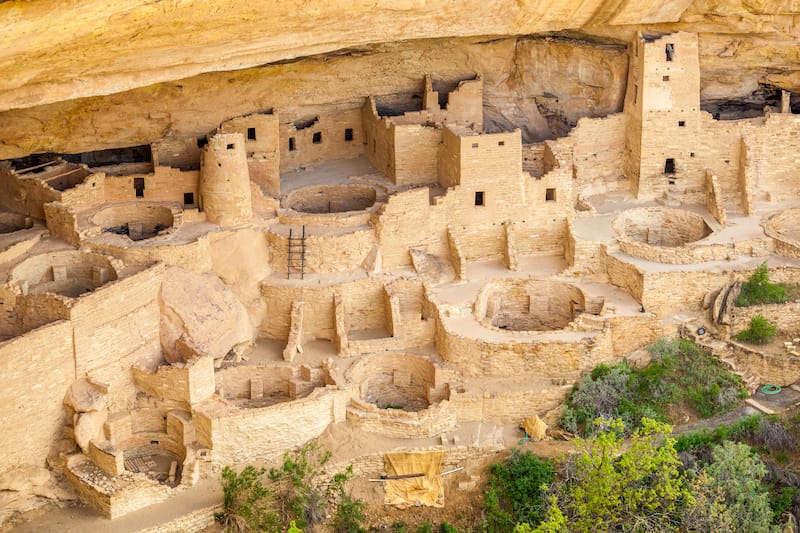 Driving along the Mesa Top Loop road, you will witness many vital historical and cultural sites of the Ancestral Pueblo people.
Cliff Palace, Long House, and Balcony House are several of the can't-miss well-preserved and breathtaking cliff dwellings (for which you need tour tickets for ranger-led tours).
Some of the top things to do in Mesa Verde are to admire the Square Tower House, the tallest cliff dwelling in the Park, camp at Morefield Campground, visit the Spruce Tree House Overlook, and stop at Step House to tour a reconstructed pit house.
Head to the Far View Sites to understand how people survived on the mesa top.
Before leaving, make sure to hike the rugged 2.4-mile Petroglyph Point Trail to marvel at a significant panel of Ancestral Pueblo rock writing.
This is one of the most underrated national parks in the US!
15. Mammoth Cave National Park
Location: Kentucky
October Average Temperature: highs around 72F and lows around 47F; 6 days of rain
Go there for: better temperatures than summer, fall foliage, fewer tourists in shoulder season
Mammoth Cave National Park is the world's longest cave system and a UNESCO World Heritage Site and it is located in Kentucky!
Quieter than summer and warmer than winter, early to mid-October is the perfect time to explore the world of forests, rivers, and mountains exploding into an array of orange, gold, and red above the surface.
Start your park visit at the Mammoth Cave Visitor Center to learn more about the park at the exhibit area. To visit Mammoth Cave, you need to join a tour.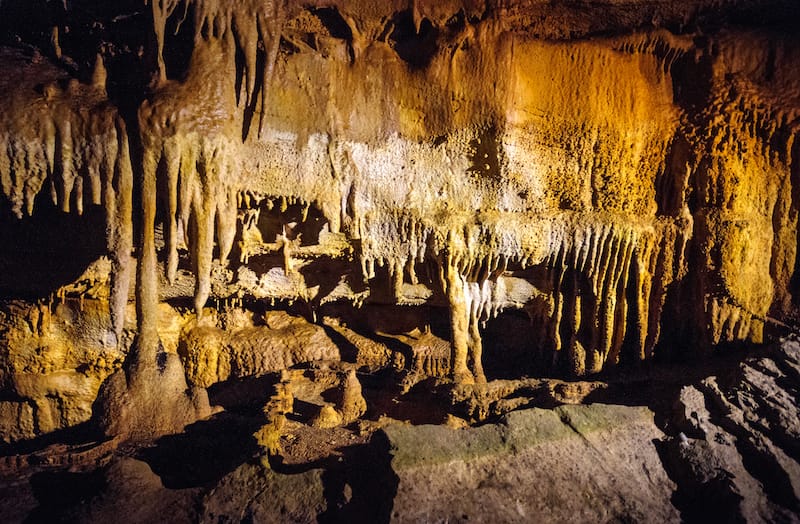 If this is your first time exploring Mammoth Cave, make sure to pick the Historic Tour to learn about the history of the cave, see the Mammoth Dome, squeeze through Fat Man's Misery and view the old saltpeter mines.
Join the Frozen Niagara Tour to see stalactites and stalagmites, or the Domes and Dripstones tour to discover the hidden corners of the cave, or the Gothic Avenue Tour to witness "historic graffiti"- candle-written signatures dating back to the 19th century.
Camp at the Mammoth Cave Campground or Maple Springs Campground, take a ridge-top walk to Sunset Point to gaze over hills covered in vibrant fall hues, bike Big Hollow Trail, and canoe or kayak along the Green River.
Did we miss any amazing national parks to visit in October?
Let us know your favorite national parks in October in the comments. Thanks!
You Might Also Like:
Pin this US National Parks in October Guide