One of the lesser-known national parks on the west coast is Lassen Volcanic National Park. This guide details the best things to do in Lassen Volcanic National Park, including travel tips and where to stay!
Did we miss any important tips for visiting Lassen National Park? Let us know in the comments! Thanks!
About Lassen Volcanic National Park
Located in northeastern California, this gorgeous national park is as unique as it is rich and is an American gem.
The most prominent place to visit in the park is Lassen Peak which just so happens to be the largest plug dome volcano… in the world!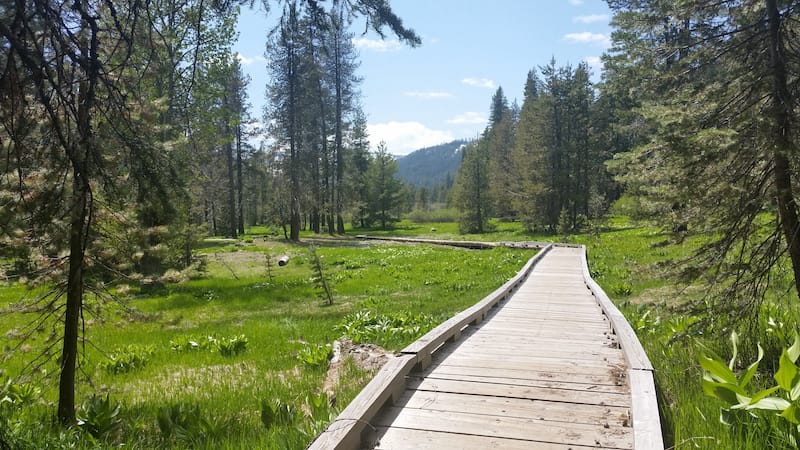 In addition, this US national park is one of the few places in the world where you can find all 4 types of volcanoes – cinder cone, stratovolcano, shield, and plug dome.
Inside the park, you will find several hiking trails, hot springs, boiling mud pots, and fumaroles. It became a US national park in 1916.
Best Time to Visit Lassen National Park
Travelers to Lassen Volcanic National Park need to know what the park is not easily accessible all year round and, unfortunately, the optimal travel season to visit it is short.
If you are planning to visit the park, you need to realize that the best time to visit Lassen Volcanic National Park is in summer. The roads remain open during the summer months until the first snowfall (usually in October).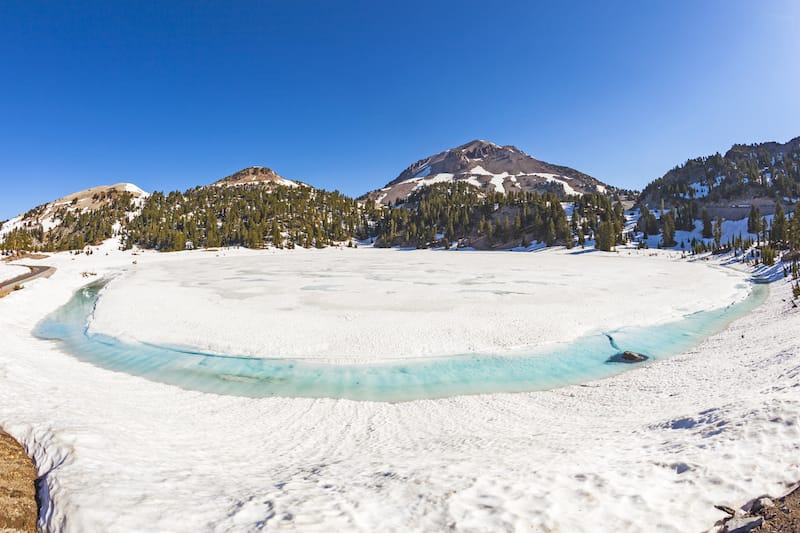 Only a few part parts of the park are accessible in winter but do remember that this California national park receives a fair amount of snow – so prepare beforehand!
What to Pack
Almost all visitors to Lassen Volcanic National Park are looking to do some hiking so be sure to pack accordingly. It is recommended to take along sunscreen, good hiking boots, a water jug (with extra water), a flashlight, and layered clothing.
Best Things to Do in Lassen Volcanic National Park
Bumpass Hell
Bumpass Hell is home to the largest concentration of hydrothermal features inside of the gorgeous Lassen Volcanic National Park. It is a must-visit on your Lassen National Park itinerary!
This area is where geology comes alive, to put things mildly! You will see steam vents, fumaroles, and over 16 acres of mud pots and boiling springs.
The history behind this place is rather interesting. It was first explored by pioneer Kendall Vanhook Bumpass, who ended up with an amputated leg due to stepping on one of the boiling mudpots without knowledge that it was there.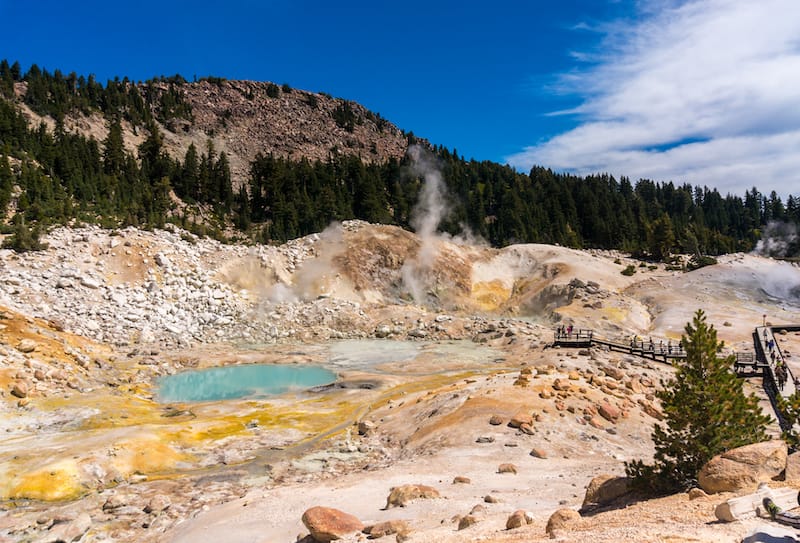 Today, everything is well-marked and the trail is 3 miles, round-trip. Along the Lassen trail, you will also have a chance to see Mount Tehama, a volcano that had its last eruption nearly 500,000 years ago.
Beware- the rotten egg sulfur smell is pungent here and you will truly be able to smell the area before you come upon it! The largest fumarole in the park, Big Boiler, is located along the route.
The best time to visit Bumpass Pass is during the summer because the area can get nearly 30 feet of snow during the winter months!
Ridge Lakes Trail
Located inside Lassen Volcanic National Park, the Ridge Lakes Trail is a moderate trail that is located near Old Station, CA. It is about 2 miles in length and you will find a lake along the way.
With an elevation gain of around 987 feet, it is a fantastic place to go bird watching and is best used from March until October (or when the first snowfall arrives in Lassen).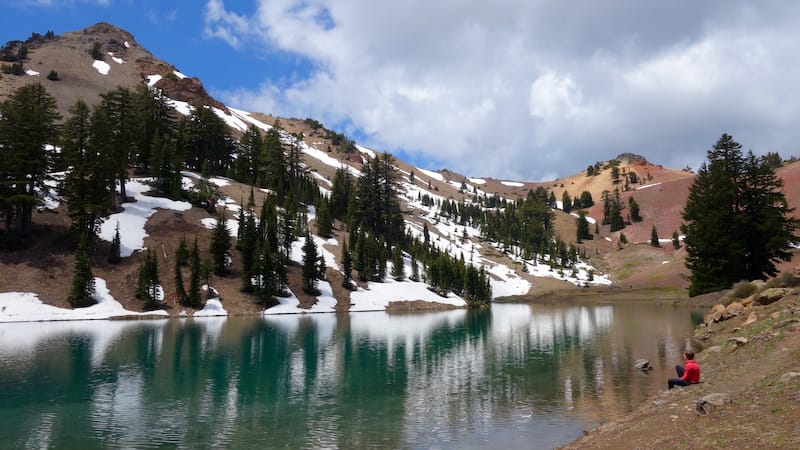 The snow can stick around until into July, but the lakes are worth the hike! They are a vibrant emerald and sapphire color (depending on the season) and if you hit them during the wildflower bloom, be prepared for your jaw to drop!
Please be aware that if you embark on this hike earlier in the season, you may need crampons and to proceed with caution. The lakes can be frozen all the way until June!
You can easily snowshoe this trail if you opt to go during the winter (but please be a skilled hiker, first and foremost).
Manzanita Lake
Three hundred years ago, Manzanita Creek was dammed by a rock landslide from the northwest side of the Chaos Crags that led to the formation of Manzanita Lake and, later on, the debris known as Chaos Jumbles.
Fishing is one of the most popular activities here. At the lake and surrounding park, you can find the Loomis Museum, campground, and the Historic District of Manzanita Lake.
Manzanita Lake is very picturesque and a place to admire the surreal scenery. It is also an epic place for birdwatching.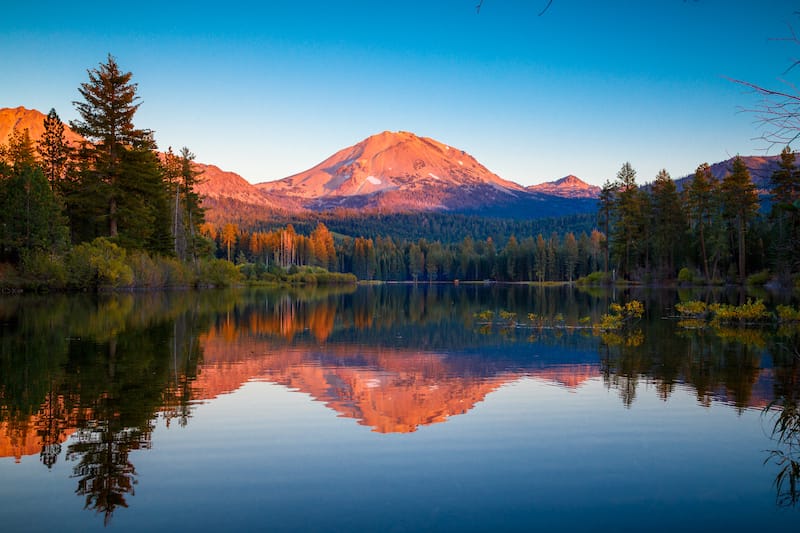 If you're interested in walking on the road to Manzanita Lake, there is a flat trail around the lake, which is ideal for novice hikers. This part is also great for bird watchers, fans of wildflowers, and a hangout with friends.
You can access the 2-mile, loop trail from the launching area of the boat or from behind Museum Loomis. It is rated as easy when it comes to difficulty. If you find yourself in need of instructions, make sure to consult with park authorities.
King's Creek Falls
King's Creek Falls is a well-known waterfall in Lassen Volcanic National Park and is a famous tourist attraction.
What stands out more than the waterfall itself is the similarity of its trail to the most popular Mist Trail (especially the part leading up to Vernal Fall) at Yosemite National Park, one of the nation's most visited parks.
King's Creek Falls trail is an excellent way to discover the Lassen's wilderness or simply chill by a nice waterfall while there. The path leads down a stream to the cascade, so it is quick to make the descent there.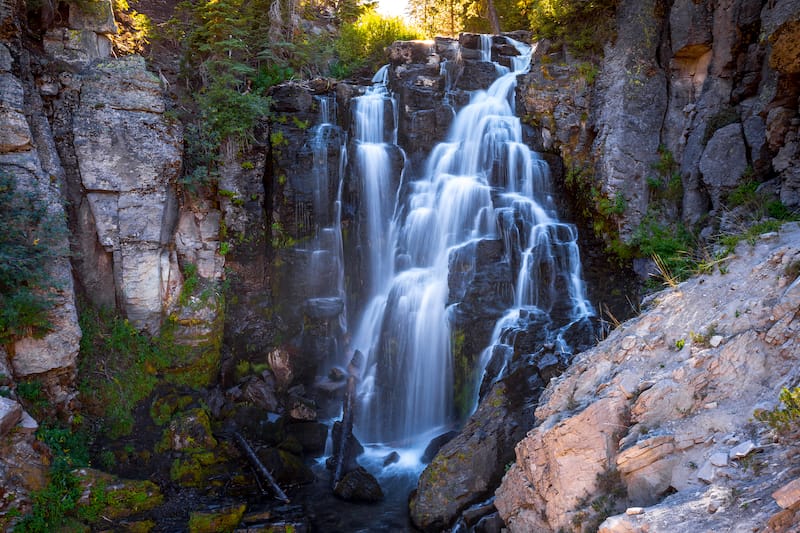 However, you should note that the entire path is uphill. The spot you don't want to miss out on during this walk is the spectacular Kings Creek Drop, the 40-foot waterfall right at the very end and right at the center of your park journey.
This is one of the most beautiful waterfalls in California simply for its surrounding landscapes! Be sure to add this to your itinerary for Lassen Volcanic National Park.
Devil's Kitchen Trail
One of the best hiking trails in Lassen National Park is the Devil's Kitchen Trail. The second-largest hydrothermal is accessible from this route and it will take you through the lush Warner Valley forest and meadows.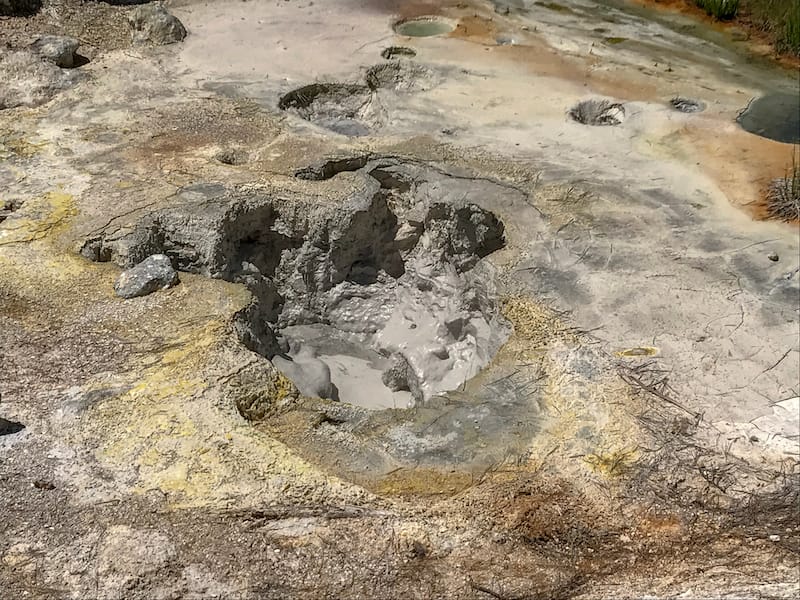 Many hikes inside of the national park begin at Warner Valley Trailhead, and this one is no exception. It will wind throughout the park for about 4.2 miles and takes about 2 hours to complete. The loop trail is fairly easy but does boast an elevation change of 440ft.
Along the trail, you will get to witness boiling mudpots and springs, as well as steam vents.
Lake Helen
Lake Helen is a glacial, or tarn lake, located in Lassen Volcanic National Park. It is situated about 2.600 feet west of the Bumpass Range, which is located south of Lassen Peak in Northern California's Shasta Cascades area.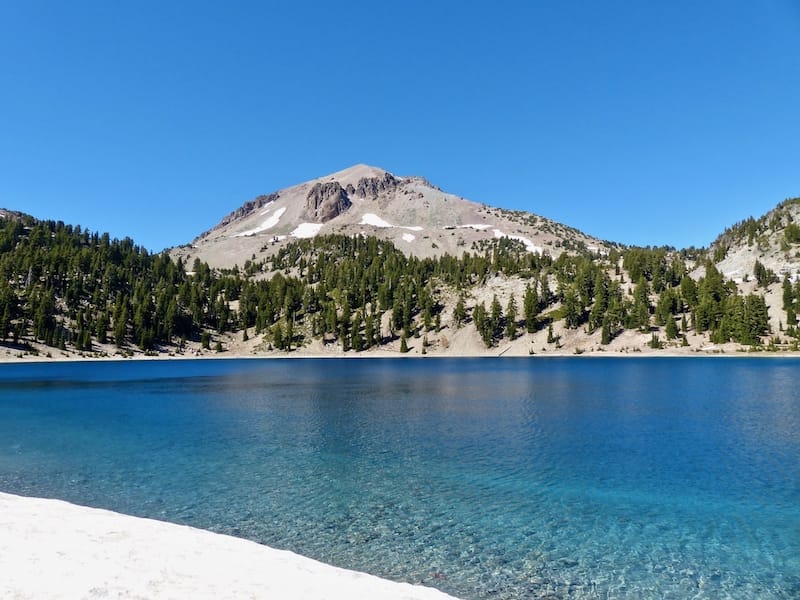 The lake is named after Helen Tanner Brodt, the first pioneer explorer female to complete the Lassen Peak Summit in 1864. This lake is a must-visit if you're looking for what to do in Lassen Volcanic National Park.
Cinder Cone Trail
With a starting point at Butte Lake's parking lot, you can expect a 2.4-mile hike to the base and a 4-mile hike to the summit on the Cinder Cone Trail.
Best hiked from June until November, the Lassen trail is a fan favorite if you're looking to get up and close to the dramatic volcano and it is one of the best things to do in Lassen National Park.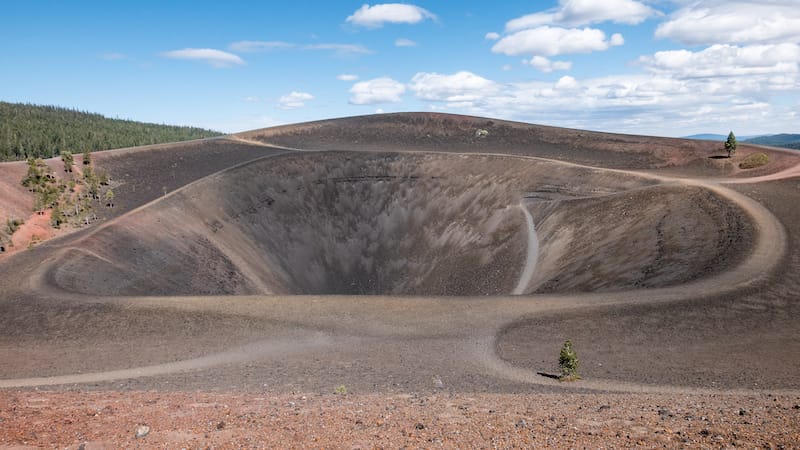 The trail can be rather challenging due to the sand-like cinders, but the views at the end are well worth it!
From the top, you will be gifted with views of the Painted Dunes as well as the lava beds from the lava flow. This trail is a part of the Nobles Emigrant Trail that is a California National Historic Trail.
You won't find many amenities in the area but you can get fresh drinking water from the campground at Butte Lake.
The Painted Dunes
The Painted Dunes are multicolor pumice fields created by volcanic ash oxidation that have sculpted the Lassen National Park region in Northern California as a result of volcanic eruptions.
The ash was brightly oxidized on painted dunes when it dropped into lava streams while it was hot. The dunes are located near Cinder Cone, a 700-meter elevated volcano that allegedly last erupted in the 1650s. It is a geological wonderland!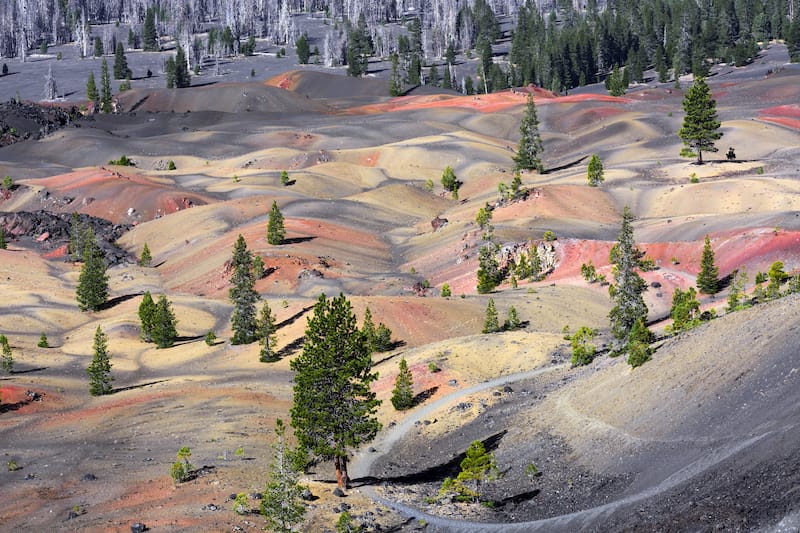 Cinder Cone is a substance that started as blobs of gas-powered lava hurled into the sky during eruption but collapsed into a rock that was hardened with volcanic cavities induced by trapped gas bubbles, a material comprising scoria.
Later, like many cinder cones, lava flows from the foundation burst out and the wonderful lava beds in Lassen Volcanic National Park came to exist.
Echo Lake Trail
The 4.7-mile-long Echo Lake Trail is an out-and-back trail that is located inside Lassen Volcanic National Park. It is moderately trafficked and of moderate difficulty and is a must for hiking enthusiasts.
Best used from July until October, you can expect a fantastic trail near Old Station used for hiking, backpacking, and running. Echo Lake is gorgeous but beware that the area around it is poorly marked.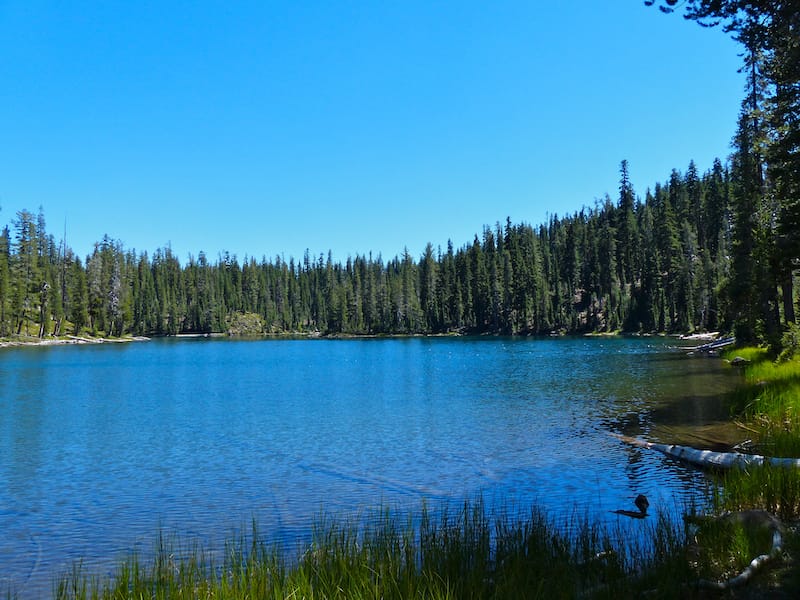 Depending on the time of the year and rainfall, it can be swarming with mosquitoes, so prepare if you're like me and get bitten easily!
The trail often has snow on it until June.
Mount Tehama
Another can't-miss attraction in Lassen Volcanic National Park is Mount Tehama (also referred to as Brokeoff Volcano or Mountain). This stratovolcano is located in the Cascades and is the second tallest peak inside the national park.
This famous volcano actually connects visitors to Lassen Peak, the highest peak inside of the park.
The Lassen landmark was active anywhere from 387,000-590,000 years ago it later became a favorite for new settlers during the 1800s.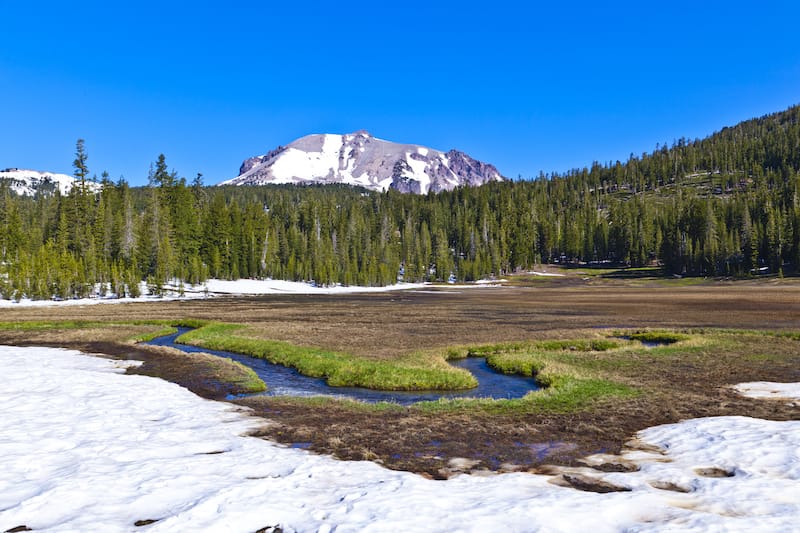 Along the trail that leads you to Mount Tehama, you will find a lot of variety in its flora and fauna – including western white pine, lupines, birds of prey, pika, and more.
The trail to Mount Tehama is around 7.4 miles long and will gift hikers with views of Lassen Peak, Chaos Crags, Mount Diller, and Mount Conard.
It will take you around 4-6 hours to hike the trail, but it is definitely one of the best hikes in Lassen Volcanic National Park!
Lassen Volcanic National Park Lodging
There are not many hotels in or around the Lassen Volcanic National Park and the nearest option is a place called Drakesbad Guest Ranch. In addition, you can camp at Warner Valley Campground.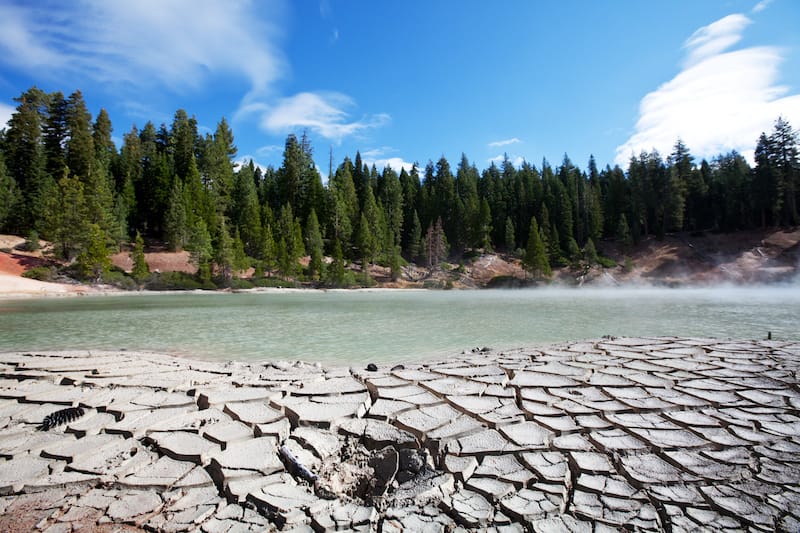 Otherwise, you will find the best lodging options for Lassen National Park about 20 minutes away which is ideal for those traveling by car. Accommodation can be found in some of the nearby small towns.
Highlands Ranch Resort
This place is a modern, cottage-style house that is surrounded by colorful fields and mountains. There is also a restaurant located nearby, making this an optimal spot to crash at!
>> Click here to check rates and availability
Village at Childs Meadow
Another great option of a place to stay near Lassen Volcanic National Park is a cozy hotel called the Village at Childs Meadow. It also has an on-site restaurant with American cuisine, spacious rooms, and a cocktail bar.
>> Click here to check rates and availability
Have you ever visited Lassen Volcanic National Park? Let us know your favorite things to do in Lassen Volcanic National Park, including the best trails, sights, and more! Thanks!
ABOUT THIS LAND
Lassen Volcanic National Park is on the unceded land of the Atsugewi, Yana, Yahi, and Maidu peoples. We ask you to join us in acknowledging their communities, their elders both past and present, as well as future generations.
We also acknowledge that Lassen Volcanic National Park was founded upon exclusions and erasures of many Indigenous peoples, including those on whose land these US National Parks are located.
⇒ Do your research before visiting National Parks and places in the US. Native Land and Whose Land are good starting points.
⇒ Hire Native guides when possible and encourage National Parks and government organizations to start hiring them.
⇒ Donations matter. Part of the proceeds from this blog is donated monthly to the Native Women's Wilderness.
More California National Park Guides
Pin this Lassen Volcanic National Park Things to Do Guide