Thinking of where to go this November? Why not get in touch with nature and visit a national park? These are the best national parks to visit in November!
With everything from scenic vistas, sloping mountains, and luscious forests to beautiful fall foliage, November can be the ideal time to visit many national parks across the United States.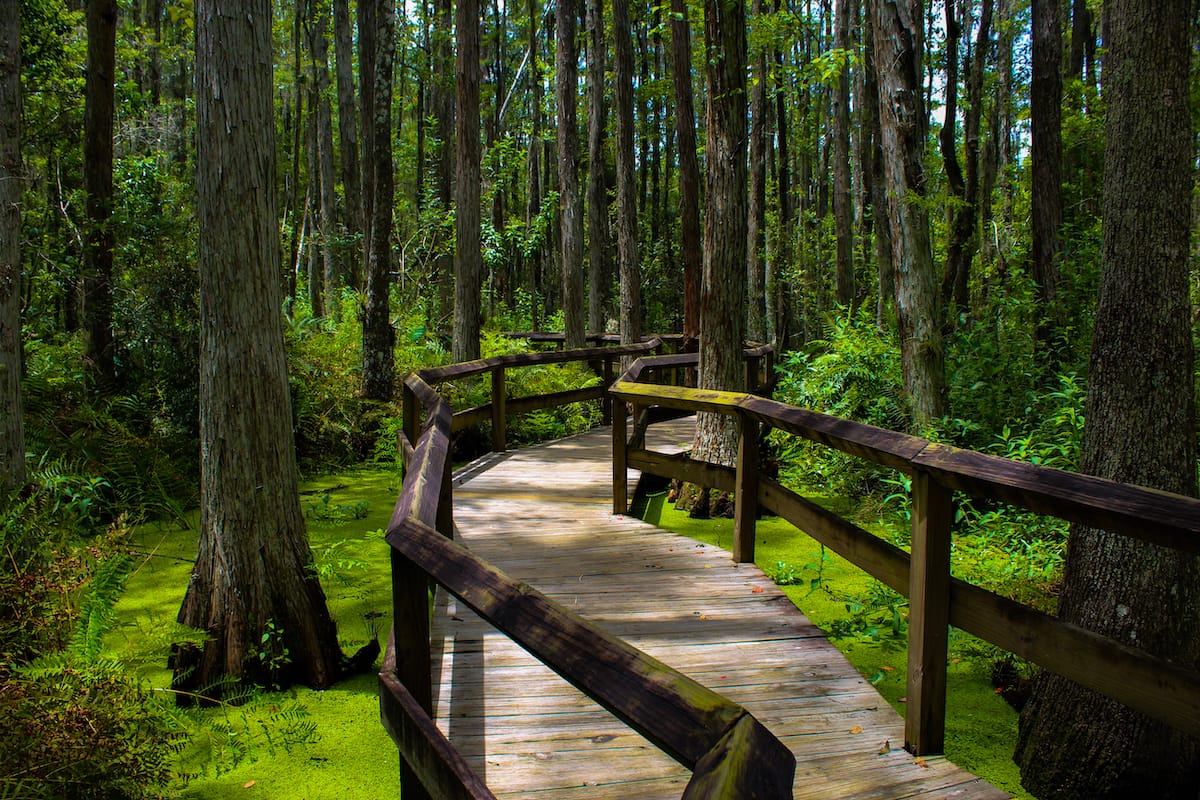 The best part is that November doesn't tend to be peak season for many of them, meaning that you can escape some of the crowds and hot temperatures
This can guarantee the trip of a lifetime, allowing you to see even more than you would during the peak season!
Here's our round-up of the top national parks in November! Let us know your favorite in the comments.
Best National Parks to Visit in November
1. Everglades National Park
Location: Florida
November average temperature: Highs around 79F and lows around 70F
Go there for: subtropical atmosphere, hiking trails, wildlife, observation tower
Known as the largest subtropical wilderness in the United States, Everglades National Park is also known as a World Heritage Site and a Wetland of International Importance.
It's located in South Florida and has an area of 1.5 million acres. Because of this, planning beforehand is very important here.
In case you're interested in hiking, try out a short walk on the Anhinga Trail, where you'll certainly get a chance to see many types of wildlife, including turtles, herons, and even alligators.
You can also take a tour boat or kayak through Florida Bay for a chance to see a crocodile, manatee, or dolphin.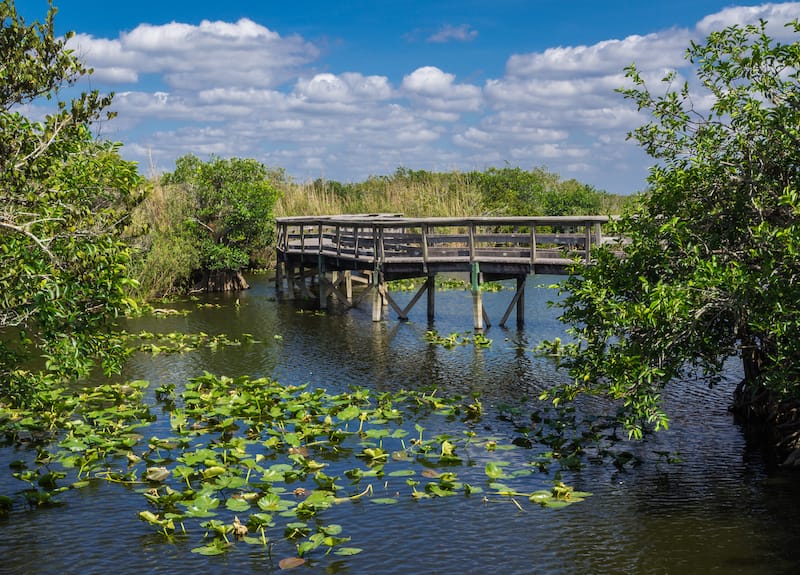 If you're more of a fan of views from the top, climb atop Shark Valley's 65-foot observation tower.
Alternatively, enjoy the pinelands via bike, paddle through the mangroves on Nine-Mile Pond, or tour the historic Nike Hercules missile base.
Strong cold fronts can occasionally bring lower temperatures here, but such events are uncommon as it's a subtropical region. The weather here in late fall is mild and with clear skies.
If you're visiting, it is one of the best day trips from Miami and you can even get an organized tour from there.
2. Grand Canyon National Park
Location: Arizona
November average temperature: Highs around 52F and lows around 24F
Go there for: popular bucket list location, colorful layered rocks, warm Arizona weather
The world-renowned Grand Canyon does not need an introduction. In fact, it is one of the most visited national parks in the States!
Multicolored layered rocks here create breathtakingly beautiful vistas and contain a history of millions of years. The South Rim is the more popular sector of the Grand Canyon.
Learn more about the area's nature and history through a ranger program and walk the Trail of Time, passing through the Yavapai Museum of Geology and Verkamp's Visitor Center along the canyon rim (1.2 miles).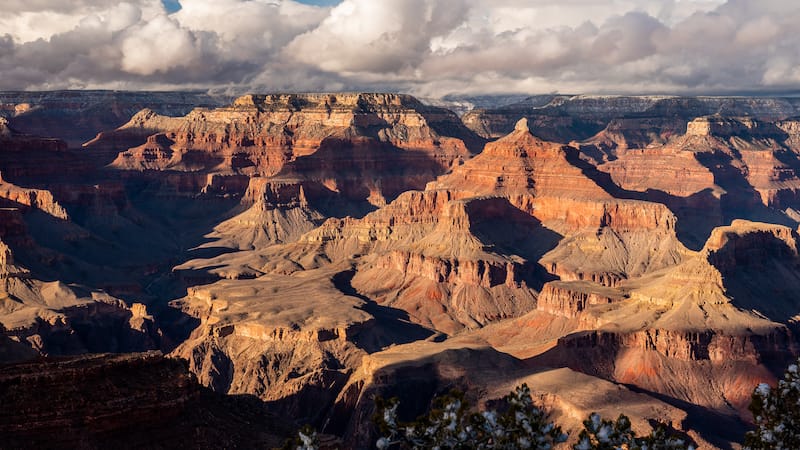 Be sure to check out Desert View Drive, which is the only scenic road on the South Rim open to private vehicles, or maybe get some raft trips along the Colorado River.
There is truly a lot to choose from, so be sure to plan ahead.
If you enjoy visiting less-traveled locations, get to the North Rim. Here you'll find the Grand Canyon Lodge and one campground.
November has all the chances of being the best time to visit the Grand Canyon as the weather is still warm and there are fewer crowds.
3. Black Canyon of the Gunnison
Location: Colorado
November average temperature: Highs around 50F and lows around 27F
Go there for: views of cliffs, challenging trails and routes, winter sports
Black Canyon of the Gunnison is all about deep and steep cliffs, ancient rock formations, water, and sky.
Hikers have the opportunity to choose from trails that range from non-challenging routes like the Uplands Trail and Rim Rock Nature Trail to quite strenuous ones like the Oak Flat Loop Trail.
For those who are up for a real challenge, it's advised to explore the inner part of the canyon through some hard-level hiking, rock climbing, and kayaking.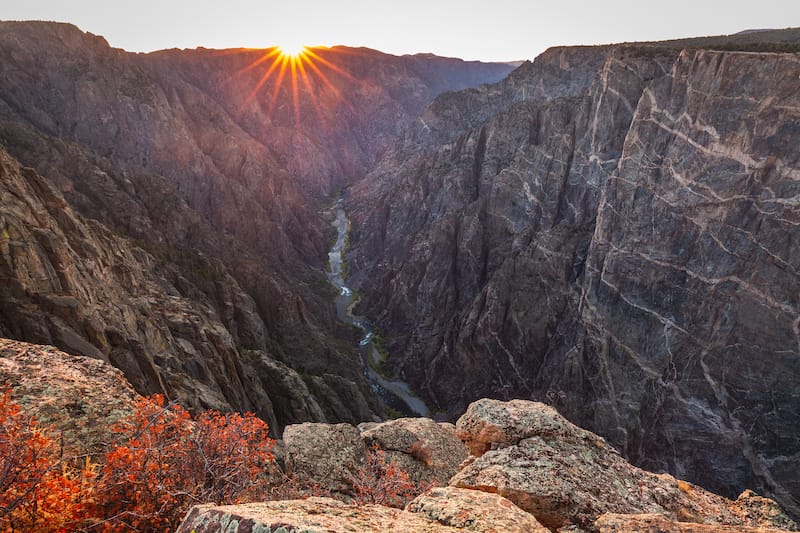 Alternatively, you can spend some time fishing at the Gunnison River, night sky viewing, or passing through gorgeous scenic routes.
From late April until mid-November, the South Rim Drive is normally open to automobiles.
When it comes to the rest of the route, it does not allow automobiles, but it's open to cross-country skiing and snowshoeing if the weather permits.
4. Arches National Park
Location: Utah
November average temperature: Highs around 56F and lows around 30F
Go there for: natural stone formation, sunset views, many opportunities for recreational activities
Reddish rock formations, amazingly beautiful sunsets, and trails with dream-like views can all be seen at Arches National Park.
This is the world's densest concentration of natural stone arches with over 2,000 documented arches, pinnacles, balancing rocks, fins, and more.
When it comes to recreational activities, the list is pretty long in any season in Arches National Park.
Though, the most popular thing to do is to drive through the 18-mile scenic road. Camping is also another popular activity among visitors.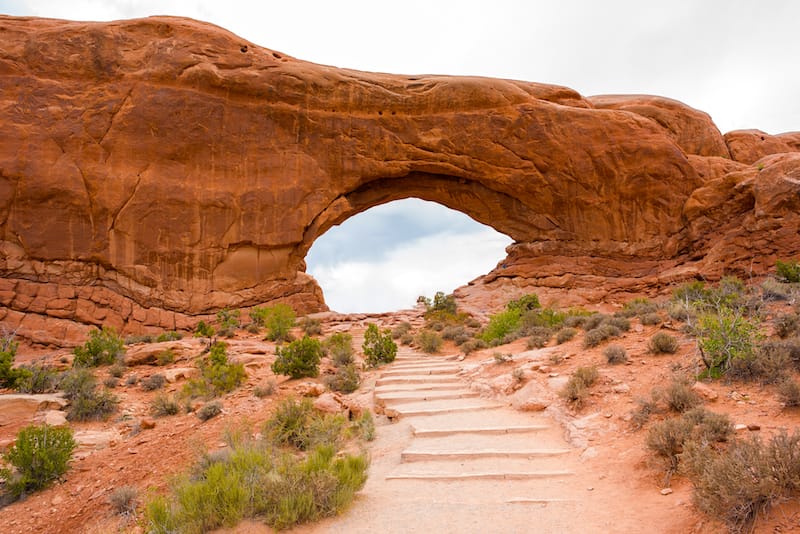 The campground at Devils Garden will surely leave you amazed.
Moreover, you can choose a trail ranging from 15 minutes to 5 hours and get to know the area more thoroughly.
November is the perfect month to visit this national park!
Just consider that the temperature is on the cooler side, so you might want to bring some warm clothing, especially if you're going to spend the night here.
5. Saguaro National Park
Location: Arizona
November average temperature: Highs around 74F and lows around 48F
Go there for: seeing the Saguaro cactus, plenty of trails, educational opportunities
Saguaro National Park is considered to be the icon of the American Southwest!
Located near the city of Tucson, this area is home to the majestic Saguaro cactus plant and is the ideal day trip!
If you wish to learn some history and interesting facts about the park and its inhabitants, then choosing one of the guided, ranger-led programs might be the best option.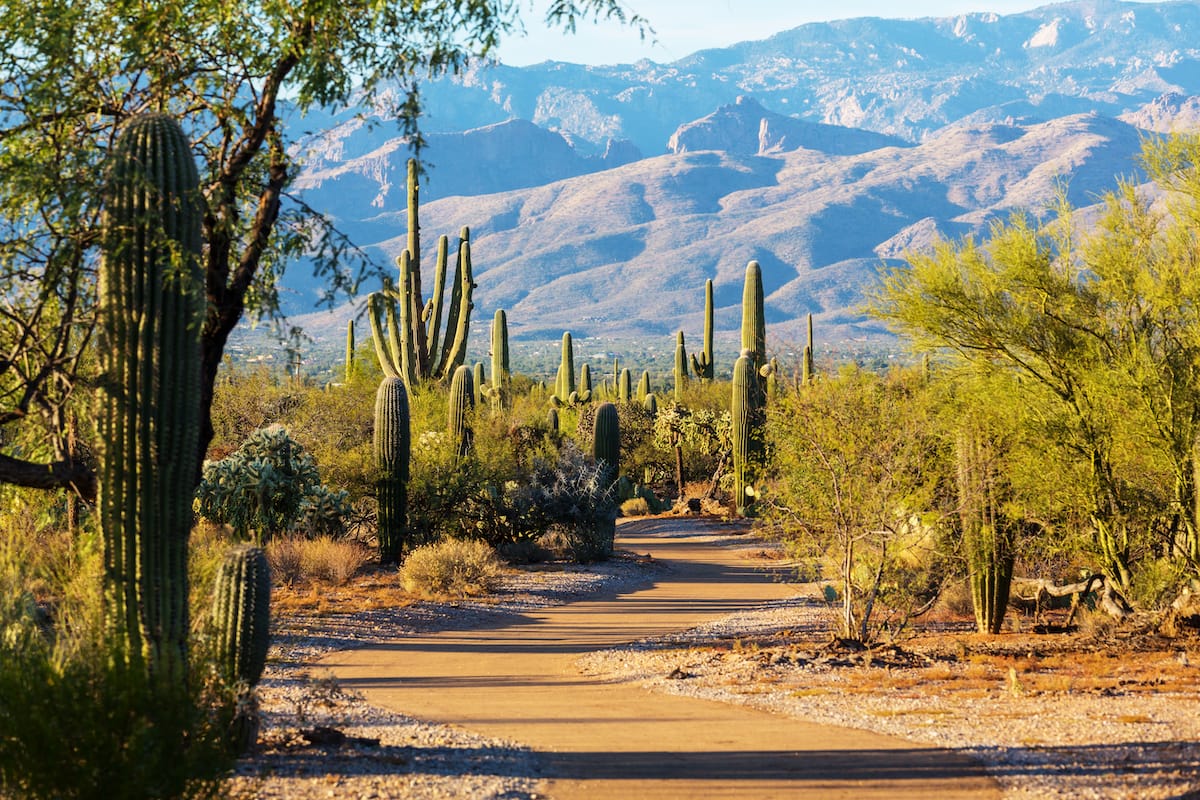 On the other hand, you can choose one of the trails from Saguaro East, including Freeman Homestead Trail or Loma Verde Loop, or from Saguaro West, including Wild Dog Trail or King Canyon/Gould Mine Loop.
Visiting this park during the fall not only offers lower temperatures but also fewer crowds.
Moreover, as the summers tend to get too hot, the timeframe from October to April is considered to be the best time to visit the area, especially for hikers.
6. Joshua Tree National Park
Location: California
November average temperature: Highs around 62F and lows around 41F
Go there for: year-round adventures, camping trips, plenty of outdoor recreational opportunities
Open year-round, Joshua Tree National Park is where two ecosystems, the Mojave and Colorado, come together. It is an easy getaway from Palm Springs!
Camping is a very popular recreational activity in Joshua. There are nine developed campgrounds with about 500 campsites.
The most prominent ones are Black Rock, Cottonwood, Jumbo Rocks, and Ryan campgrounds. The pricing ranges from $20-25 per night.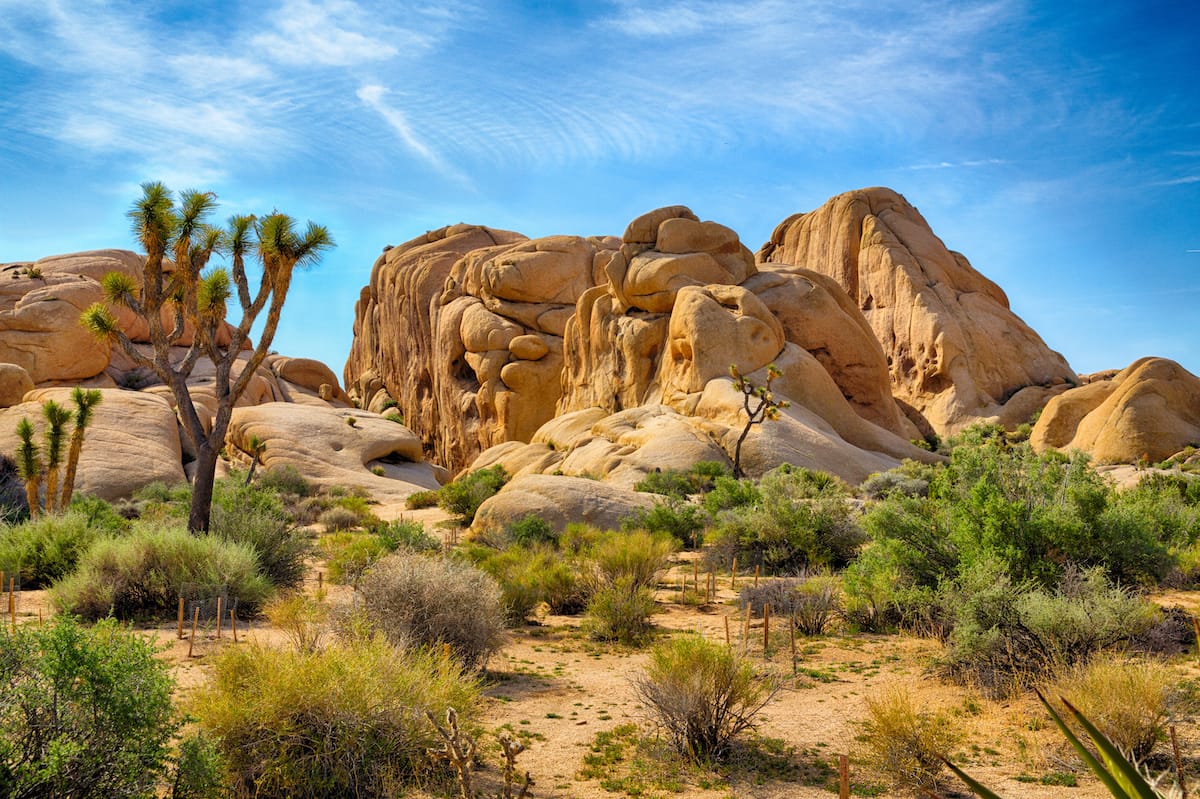 Hikers have a chance to explore about 300 miles of trails of their choice, partake in a ranger-guided tour, or enjoy some birdwatching in the area.
Those looking for a challenge can organize a backpacking tour, but be mindful of the fact that a lot of preparation is needed for this one- after all, it's a desert!
The high season here is from October to May. One of the best times to visit this park for hiking or rock climbing is in late fall.
October and November offer the most comfortable, mild temperatures. One thing to note – there is no cell service throughout the park, so keep that in mind when visiting!
7. Guadalupe Mountains National Park
Location: Texas
November average temperature: Highs around 67F and lows around 40F
Go there for: stunning views, museums, hiking trails
Guadalupe Mountains National Park is prominent for not only protecting the four highest peaks in Texas and the most extensive Permian fossil reef in the world, but also for its spectacular night skies, desert, dunes, canyons, and so on.
You can plan a visit either for a few hours or for a whole week because there is a wide variety of activities that visitors can partake in.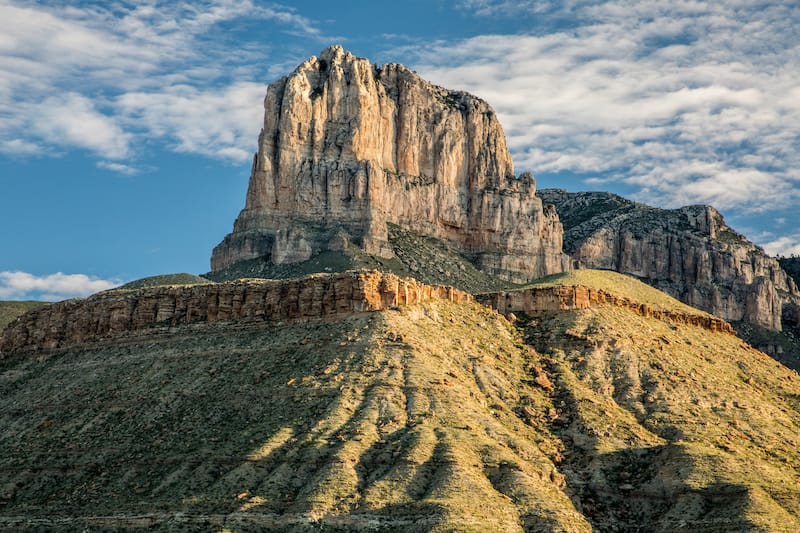 If you're here on a short trip, it's advised to stop by the Pine Springs Visitor Center, walk through the museum, and check out the Pinery Nature Trail, the Smith Spring Trail (2.3 mi. round-trip), and the Devil's Hall Trail (4.3 mi. round-trip).
If you're lucky enough to be here in November, you'll witness the fall colors, which typically begin in mid-October and continue through mid-November.
Guadalupe Mountains NP is one of the least-visited national parks in the US.
8. Congaree National Park
Location: South Carolina
November average temperature: Highs around 67F and lows around 43F
Go there for: hiking trails, kayaking, canoeing, camping
Located in central South Carolina, this park is the host of champion trees, a perfect place to enjoy some kayaking and canoeing opportunities and much more.
Hiking at Congaree might be one of the best ways to unwind in a forest full of giant hardwoods and towering pines.
Those who enjoy kayaking and canoeing can encounter various representatives of wildlife like river otters, deer, turtles, and wading birds. You might see an alligator or two, too!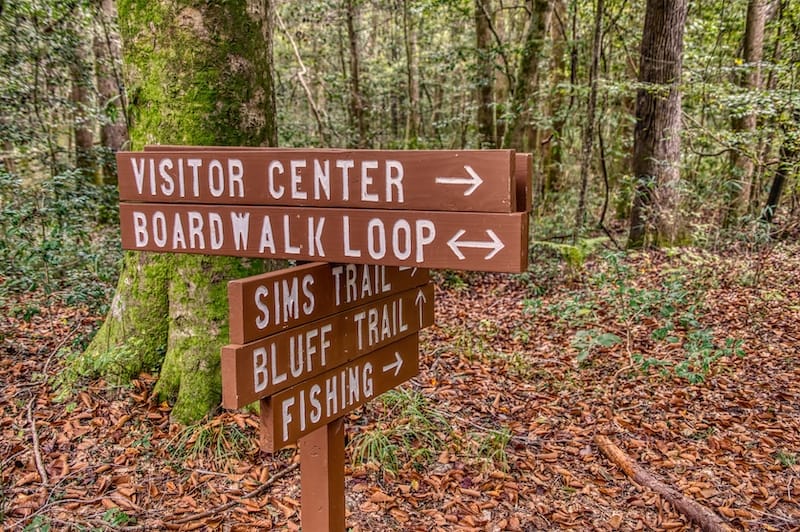 Other popular activities here are fishing, participating in ranger programs, and camping.
The park has two designated campgrounds: Longleaf Campground and Bluff Campground.
If you want to avoid winter floods or hot summer temperatures, fall is considered to be a good time to visit Congaree.
One cool thing to note is that this is one of the free national parks in the US!
9. Death Valley National Park
Location: California
November average temperature: Highs around 77F and lows around 48F
Go there for: seeing the hottest and driest national park in America, stargazing, and outdoor activities
Death Valley is also considered the "land of extremes." It's the hottest, driest, and lowest national park in the US. But, it becomes mild during winter and the shoulder seasons!
Don't get misled by its name; there is, in fact, a lot of "life" here.
Outdoor explorers will find astonishingly diverse history, wildlife, and topography to explore in this park.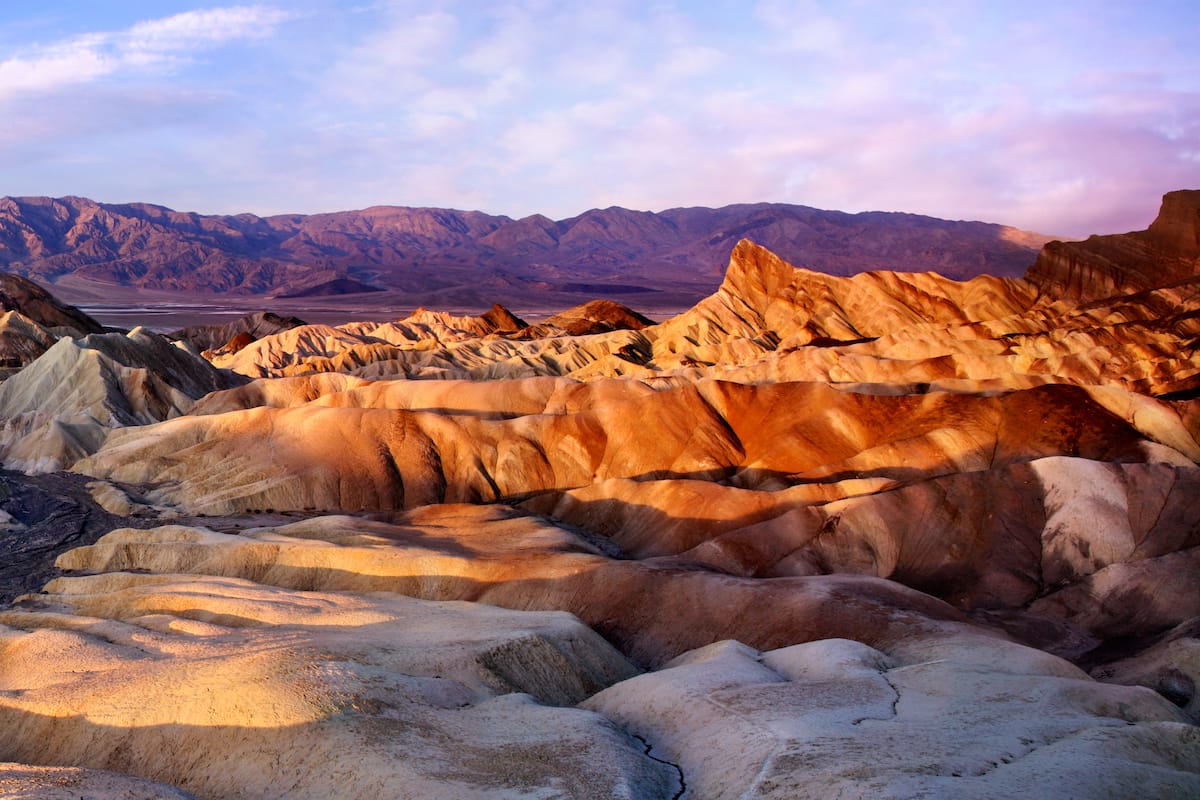 The most widely known sights are the Artists Palette (learn about the park's volcanic past here), Badwater Basin (a very memorable sight; a landscape of salt, which is the lowest point in North America), and Zabriskie Point (for those who like to overlook all the scenic views from the top).
This place is heaven for stargazing lovers, as the park has no closing time and is beautiful both during the day and the night.
If you are more inclined to explore the park with an active lifestyle, like hiking, full hook-up camping, challenging backcountry riding, or running/trail running, get excited as all of these are possible here!
The fall season starts in late October in Death Valley, with clear skies and generally warm but pleasant temperatures.
10. Bryce Canyon National Park
Location: Utah
November average temperature: Highs around 45F and lows around 23F
Go there for: unique rock patterns, fun programs, canyons, and great views
Bryce Canyon National Park is a very unique park composed of not single canyons, but hoodoos (irregular patterns of rock).
Most visitors spend a full day here and plan beforehand to get the most out of their visit.
Bryce Amphitheater is a must-see in this park. It's a canyon of eroded spires and provides visitors with the most magnificent views.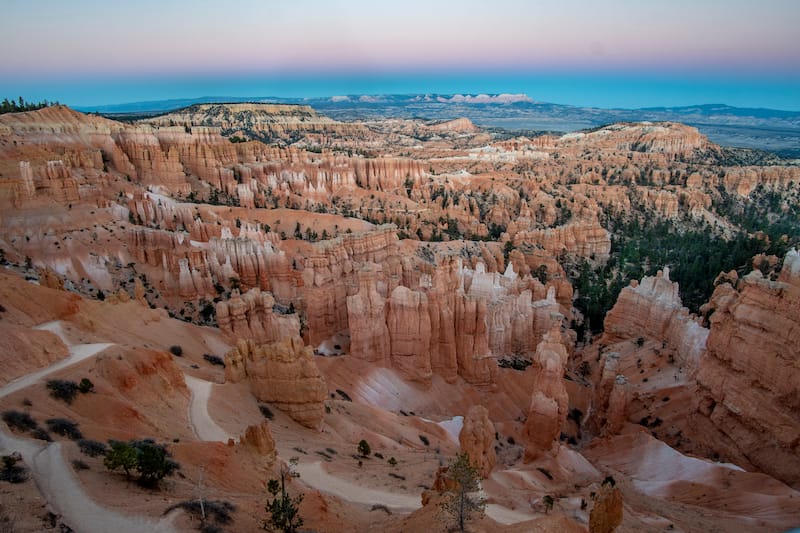 To get here, you'll just need to get to one of the four viewpoints: Bryce Point, Inspiration Point, Sunset Point, or Sunrise Point.
To explore the hoodoos close-up, you might want to choose a hiking trail with a convenient difficulty level.
To get more informed about the geology of the park, consider participating in a ranger program.
Another remarkable thing to do here is going on an astronomy program or on a moon hike, both are options during the winter as well!
When visiting Bryce Canyon in November, you have the benefit of being here without worrying about the huge crowds. In November, you may go on trails that are usually crowded in the summer.
11. Grand Teton National Park
Location: Wyoming
November average temperature: Highs around 38F and lows around 14F
Go there for: abundance of hiking trails, boating and paddling opportunities, stunning views of nature
Grand Teton National Park is truly epic and no one can deny that! It has a unique serenity, is full of extraordinary wildlife, and is a complete heaven for hiking enthusiasts.
Starting with mountains, valleys, and lakes, and ending with amazingly distinct wildlife and abundant forests, it's hard to imagine someone who will not enjoy the time spent here.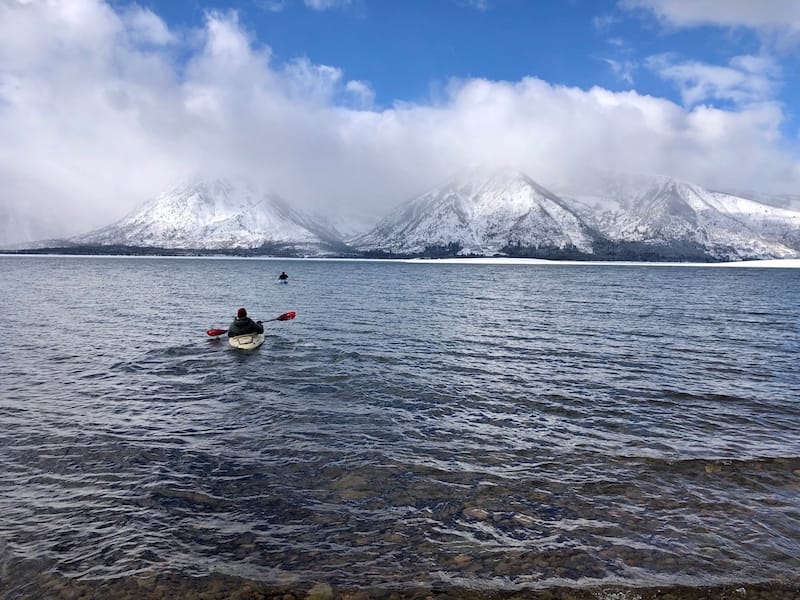 Most of the hiking trails are steep with high elevations and sudden weather changes.
Still, hikes like Aspen Ridge – Boulder Ridge, Christian Pond Loop, Grand View Point, Garnet Canyon, and others are definitely worth the struggle.
Other activities visitors partake in include boating or paddling on Jenny, String, Leigh, or Jackson Lake, fishing at picturesque alpine lakes, climbing to reach some iconic peaks or just going through some scenic drives for your own pleasure.
Keep in mind that if you're going to visit this park in late fall, some of the activities may be restricted, so do prior research before visiting.
12. Channel Islands National Park
Location: California
November average temperature: Highs around 69F and lows around 57F
Go there for: checking out California's beautiful coast, waterfront activities
Channel Islands National Park does the duty of protecting coastal southern California.
Being isolated for thousands of years, the five distinct islands of the park are home to a variety of beautiful sights and a unique ocean environment.
The names of the islands are San Miguel, Santa Rosa, Santa Cruz, Anacapa, and Santa Barbara.
Here you have all chances of finding your favorite water-related activity from diving and snorkeling to surfing and tide pooling.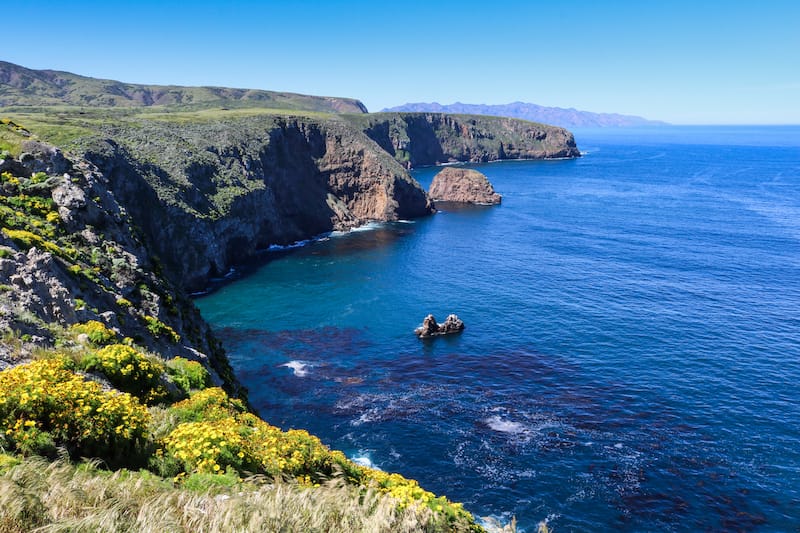 Choose one of the hiking trails to San Miguel Island or Santa Barbara Island and begin your own adventure.
Camping is also possible here. Alternatively, spend your vacation boating or kayaking the clear blue waters of the ocean.
Prior planning is crucial here as you're going to find a very limited amount of accommodations after your arrival.
Also note that fall is considered the best season here for snorkeling, diving, kayaking, and swimming.
13. Cuyahoga Valley National Park
Location: Ohio
November average temperature: Highs around 50F and lows around 37F
Go there for: more than enough land to enjoy, beautiful nature, quests
One of the main recreational areas for Ohio locals and visitors, Cuyahoga Valley is home to 33,000 acres of deep forests, waterfalls, rolling hills, and open farmlands.
When here, you can choose your desired route from over 125 miles of hiking trails.
Paths like the Ohio & Erie Canal Towpath Trail are easy to pass and are accessible to all visitors, while there are some more challenging ones that require hikers to cross streams with stepping stones or log bridges.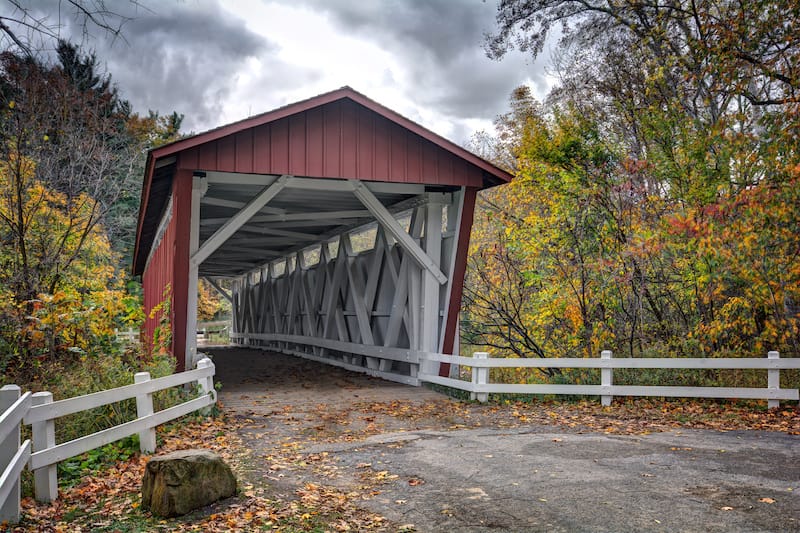 You can paddle through the river here, but bringing your own equipment is a must. Additionally, visitors can golf here, lie down and enjoy a picnic, or go fishing.
Those who love a quest can try their skills here while finding clues and quest boxes in the area of the park. The questing season runs from April 15 through November 15.
14. Mount Rainier National Park
Location: Washington
November average temperature: Highs around 37F and lows around 24F
Go there for: spectacular views of volcanoes, campgrounds, outdoor activities
Mount Rainier is the highest volcanic summit in the contiguous US, standing at 14,410 feet. It is a fantastic weekend getaway (or long day trip) from Seattle in winter and late fall!
Outside of Alaska, it has the world's largest alpine glacial system and the world's largest volcanic glacier cave system in the summit crater.
Mount Rainier itself is a spectacular example of Cascade volcanism and it is the Cascade Range's second most seismically active and dangerous volcano.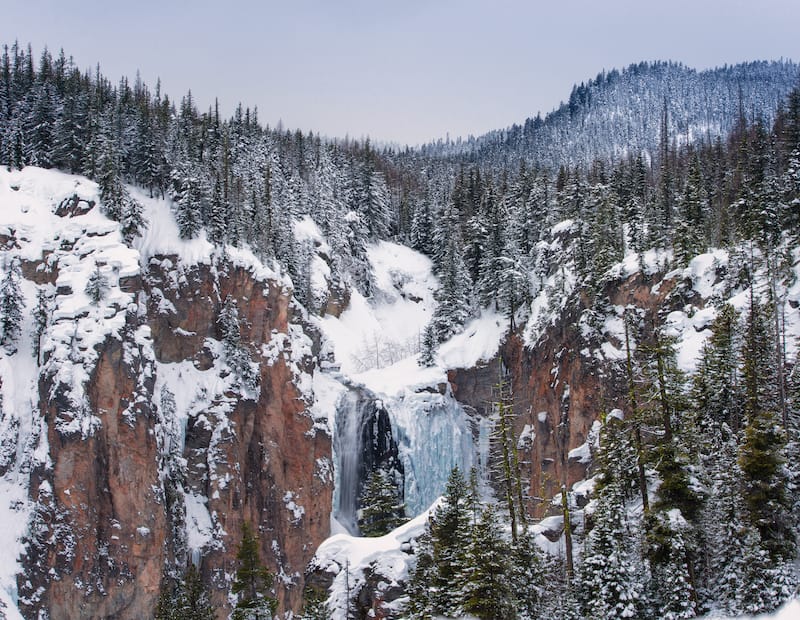 Three visitor centers, a museum, various wilderness and climbing centers, and ranger stations are located among Mount Rainier National Park's five developed regions.
There are three main drive-in campgrounds and two inns within the park that offer to lodge.
There are excellent opportunities for scenic drives, hiking, and mountain climbing that demand good physical condition.
Roads and facilities may be open and closed seasonally, so double-check those before visiting.
Note that it might be rainy in November, and weather conditions changes may happen pretty rapidly and randomly here.
15. Mammoth Cave National Park
Location: Kentucky
November average temperature: Highs around 58F and lows around 39F
Go there for: unique cave tours, more than 85 miles of trails
Mammoth Cave National Park holds the world's longest known cave system, and not only that. If you're here, then going on a cave tour is a must!
There are a variety of different kinds of cave tours offered to suit all interests, ranging from dirt trail hikes to an underground river and walks to see hundreds of dripstone formations.
By the way, in case you want to spend some recreational time outside of the caves, know that the park also offers over 85 miles of hiking and biking trails.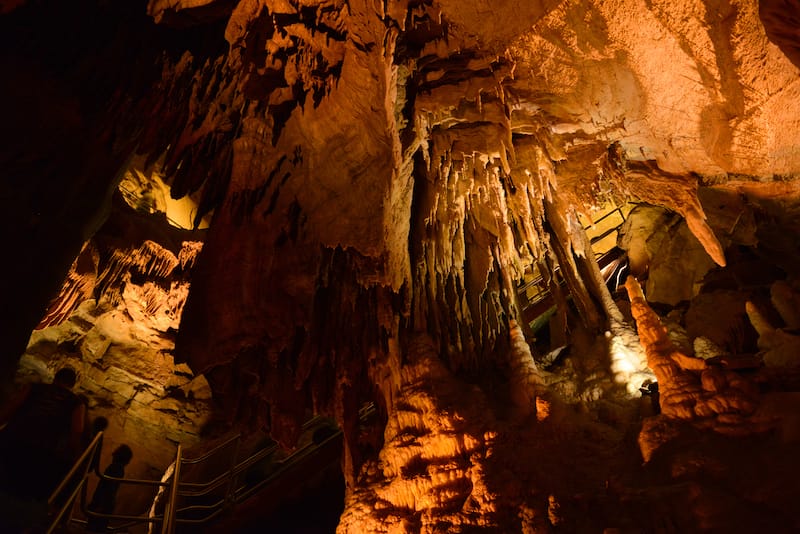 Here you can take all the pleasure from the beautiful wildlife and scenic views along the forested rolling hills in late fall.
November to February are considered to be the best months for visiting Mammoth Cave.
Visiting during that season gives you the advantage of enjoying the park more quietly, especially if you get up early in the morning- at that time the tours are usually not fully booked.
Did we miss any amazing national parks to visit in November?
Let us know your favorite national parks in November in the comments. Thanks!
You Might Also Like:
Pin this US National Parks in November Guide