If you're seeking a unique place to go hiking in California, Channel Islands National Park will offer spectacular views and trails for all levels.
This is a guide to hiking in Channel Islands National Park, including Santa Cruz hiking tips, where to camp, and more!
Channel Islands National Park Hiking Guide
We have split this guide into different sections according to the island and the hikes available there. We have also specified the level of difficulty for each of the trails as well as their distance.
At the bottom of this guide, there are some suggested packing items to make your hiking trip to Channel Islands NP far easier!
These trails can all be done within one day and don't technically require staying overnight on the island at a campsite.
However, we do recommend that if you want to get the most of your time there and enjoy the gorgeous sunrises and sunsets you can witness on the islands.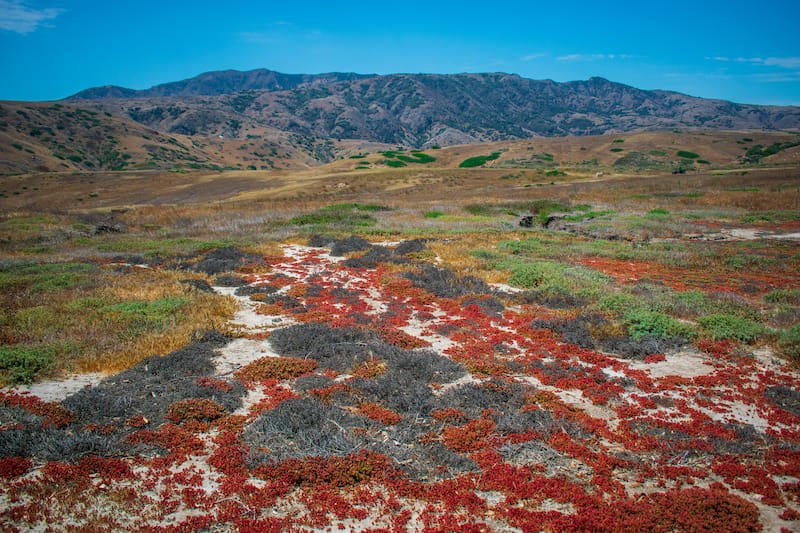 The three islands we highlight for hiking are Santa Cruz (most popular with several hiking opportunities), Santa Rosa, and Anacapa Island.
We also give a few tips for each island that will help you plan your Channel Islands National Park hiking trip accordingly.
Santa Cruz Hiking Information
The most popular place to go hiking in the Channel Islands is in Santa Cruz. It is also a popular spot for cave kayaking in the Channel Islands. The island is the largest, closest, and has the most trails and opportunities for outdoor enthusiasts.
Once you're dropped off at Scorpion Beach, the island is your oyster. You can embark on hikes straight from your drop-off point and the island is home to two mountain ranges, a large valley inland, and dramatic coastal walks. It truly is diverse and spectacular and visitors adore the place.
This island is truly fantastic for day-trippers, but it also offers multi-day hikes that are a great option for those with a more adventurous spirit. As a result, we have listed camping opportunities below to help you plan your trip.
Just a note: You are not allowed to explore Santa Cruz island beyond the National Park boundary that leads into the Nature Conservancy. You will see a fence marking this territory off. Please don't trespass.
Rules & Regulations
Some tips for hiking on Santa Cruz Island:
Stay on the trails and avoid animal trails.
Do not get close to rocky cliffs and never throw rocks into the water as there are several people kayaking below.
Never hike alone! Use the buddy system to ensure your own safety and the safety of others.
Dogs and other pets are not allowed on the islands.
No smoking! Wildfires are prevalent and this will help prevent them. You can smoke on the beaches, however.
Scorpions, ticks, and poison oak are common on Santa Cruz Island.
Do not ever feed the wildlife. Also, store your food well!
NEVER EVER LITTER. Leave no trace.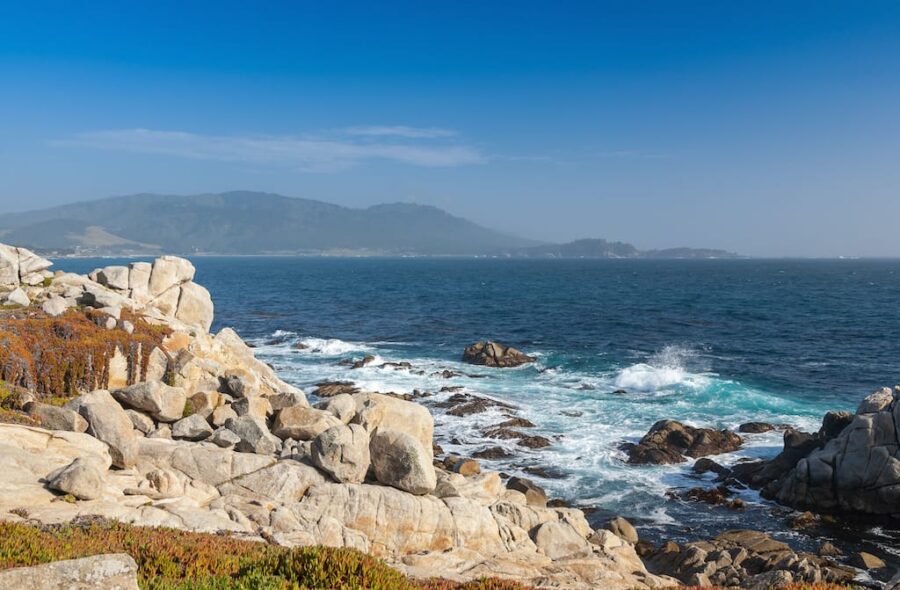 Santa Cruz Trails Starting at Scorpion Beach
Historic Ranch Trail
Distance: 0.5 miles
Trail type: Loop
Difficulty: Easy
This easy hike is the perfect short walk for those not capable of enduring a more difficult hike but still wanting to enjoy the nature of the Channel Islands.
The Historic Ranch trail is flat and gives you the chance to explore the Scorpion Ranch dating back to the 1800s without having to go up climbs and descents.
It is a loop trail and you'll see many exhibitions detailing life a while back at the visitor's center.
Cavern Point Loop
Distance: 2 miles
Trail type: Loop
Difficulty: Moderate
This is a can't-miss trail in Channel Islands National Park and is a fan favorite for those that love overlooks and wildlife.
The Cavern Point Loop trail is a place where you can even do some seasonal whale watching. Bring binoculars if you're hoping to spot some out in the wild!
If you're looking to avoid a steep incline, you will need to hike clockwise on the Santa Cruz trail which begins at the campground close to site #22 and then loop back to Scorpion Anchorage.
The downward part of this trek can be a bit tough for some hikers, so be warned.
You will not find water sources along the hike so be sure to fill up at the Scorpion Beach campsite before heading out. There is nowhere to throw trash away, either, so be mindful.
Scorpion Canyon Loop
Distance: 4.5 miles
Trail type: Loop
Difficulty: Moderate-Difficult
This is another loop trail that leaves from Scorpion Beach and is marked as being anywhere from moderate to strenuous depending on your physical condition.
The Scorpion Canyon Loop is the ideal trail for those wanting a bit of a challenge and incredible views but also for those wanting to go at their own pace. The trail is hilly and great for those getting there in the morning with a late afternoon pickup. This is the perfect hike to add to your USA bucket list if only for the views you'll get!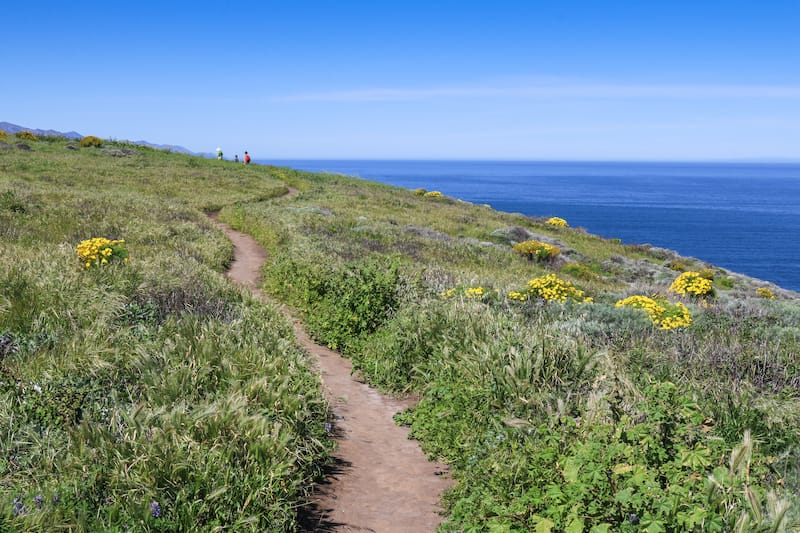 If you want to avoid the steep climb uphill, hike clockwise from the oil well to the campground.
This trail is known to be a bit overgrown so be sure to check for ticks once done. It is also not a shady trail so be sure to wear sunscreen.
Smuggler's Cove Trail
Distance: 7.7 miles
Trail type: Out & Back
Difficulty: Difficult
This trail is amongst the more popular ones in the Channel Islands and it is the perfect day trip hike for those looking for a moderate-difficult level trail.
You would need to get to the Channel Islands in the morning and arrange a late afternoon pick up if you're in good shape and capable.
On this hike that departs from Scorpion Beach, you will have a chance to see stellar views over the Pacific and even some wildlife if you get lucky. It is not uncommon to see the rare island foxes along this route. You will also see plenty of wildflowers during the spring months and heaps of lizards.
There is a steep incline at the start of the hike but it tapers off a bit after a long duration of the hike. Toward the end, it will decrease dramatically and you will eventually arrive at a picnic area along a rocky beach. There are toilet facilities at Smuggler's Cove.
You can relax on the beach for a few hours and soak up the California sun or you can add on a second trail such as Yellowbacks, Smuggler's Canyon, or the San Pedro Point trail.
Your return hike will be of a similar fashion and difficulty. It is recommended to not embark on this hike if you're not in a decent physical condition to do so. Also, be sure to have the right supplies and things on you such as water and sunscreen.
Montanon Ridge Loop
Distance: 10 miles
Trail type: Loop
Difficulty: Difficult
If you're a serious hiker, this is the trail for you. This 10-mile loop is strenuous and the trail is not maintained and is a bit wild. You will need to carry a topographic map with you to ensure your own safety. You can get to this trail via Smuggler's Road or the North Bluff Trail near Potato Harbor.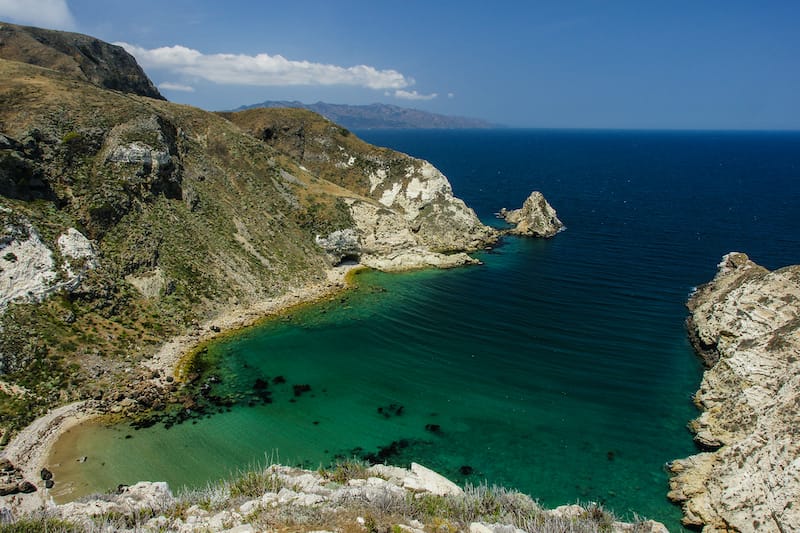 Bring plenty of water with you (around 3 liters or more) and lunch as you won't have opportunities along the way to grab anything.
In addition, this hike is entirely exposed so you will need to bring sunscreen and some type of covering.
Santa Cruz Trails Starting at Prisoner's Harbor
Pelican Bay
Distance: 4 miles
Trail type: Out & Back
Difficulty: Moderate-Difficult
This trail can only be walked along by Island Packers boat concessioner passengers.
The hike gifts those on the trail amazing ocean views and the water glistens with a greenish-blue hue the entire time, dazzling those who get to witness it.
This trail goes through private property, hence the organized fashion of it. You will go up and down some ravines and you will need to be in good physical condition to do so.
To have a guide for the trail, it will be no extra charge, but it is required. In addition, the hike will take up almost the entire allotted time you get on Santa Cruz, so plan accordingly.
There are other trails that lead from Prisoner's Harbor, such as Prisoner's Harbor (0.5 miles), Del Norte Overlook (3 miles), Del Norte Camp (7 miles), Navy Road (8.5 miles), Chinese Harbor (15 miles), and China Pines (18 miles). To view more about these hikes, click here.
Camping on Santa Cruz Island
If you're hoping to stay overnight on Santa Cruz, you have two options. You can camp at Scorpion Beach right at the place where you will likely arrive on Santa Cruz. There is a campsite there with all the amenities.
Alternatively, you can go backcountry camping at Del Norte Campsite. This campsite is quite the hike to get to and not for an inexperienced hiker or camper. There are only four campsites there that allow four people at each. For more information, click here.
Santa Rosa Hiking Information
Another island that is fantastic for hiking in Channel Islands National Park is Santa Rosa, known for its diverse flora and fauna and incredible views over the Pacific.
This island is where many of North America's significant historical finds were located- such as the Arlington Springs Man, the oldest human remains ever discovered in North America. These bones date back 13,000 years and the history on the island will make you feel like you're on another planet.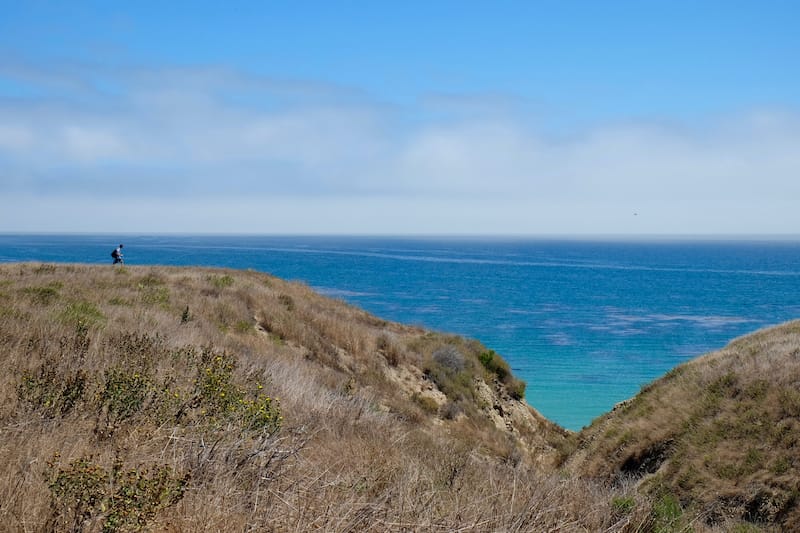 There are also 6 plant species on Santa Rosa Island that are not found anywhere else in the world, which is pretty cool! It is also renowned for its Torrey Pines, one of the rarest species of pines on the planet.
Click here for a map of the trails on Santa Rosa Island.
Rules & Regulations
Some tips for hiking on Santa Rosa Island:
The ranch buildings in Bechers Bay are not permitted or open for visitors unless you have booked a tour beforehand.
The back beaches and sand dunes (including Skunk Point and north of East Point) are closed to hikers from March 1 until September 15 for seabird breeding. This bird is listed as threatened so please take this seriously.
Do not disturb the seabirds, seals, and sea lions ever.
Stick along the paths and trails and do not follow animals trails
Never hike alone. Use the buddy system.
Beware of poison oak, ticks, scorpions, and more! Do a thorough check after hiking to make sure you don't have ticks on you.
Don't smoke- wildfires are prevalent in the Channel Islands. Smoking is only permitted on designated beaches.
Don't feed the wildlife ever.
Always pick up your trash! Leave no trace.
Santa Rosa Trails
Water Canyon Beach
Distance: 3 miles
Trail type: Out & Back
Difficulty: Easy
This is not so much of a hike as it is a coastal walk. This route goes along Water Canyon Beach and offers some really fantastic Pacific views.
Becher's Bay is gorgeous but can be a bit windy, so refrain from this hike if it is too crazy! The pier is not accessible from the beach if the tide is high, just FYI.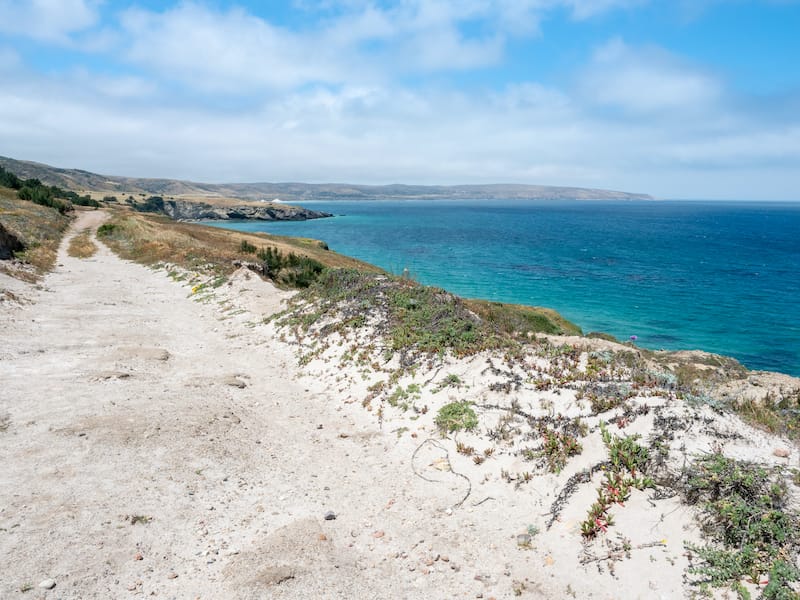 To find out if the winds are too dangerous, just ask a park ranger that is near the beach. The beach is renowned for its dreamy white beaches against the bright blue waters.
Water Canyon
Distance: 3 miles
Trail type: Out & Back
Difficulty: Moderate-Difficult
Not to be confused with the hike along the beach, this Santa Rosa trail is stunning and one of the top ones to enjoy on your trip there.
The trip to the mouth of Water Canyon is only 3 miles but the canyon continues for another 6 miles all the way to Soledad Peak, where it ends. This is not an easy hike and ranges from moderate to difficult and it is an off-trail hike… so prepare accordingly!
If you manage this Santa Rosa hike, you'll be rewarded with a walk through a sandstone canyon and gorgeous water flowing through it year-round.
The hike into the canyon is known for being steep and off-trail.
Torrey Pines
Distance: 5 miles (or 7.5 miles depending on route)
Trail type: Out & Back or Loop (depending on route)
Difficulty: Moderate-Difficult
The Torrey Pines trail has two different options associated with it- either the 5 miles, moderate hike, or the 7.5, more strenuous loop trail.
The advantage of hiking this trail is that you will get a chance to see one of the rarest pine trees in the world, the Torrey Pine.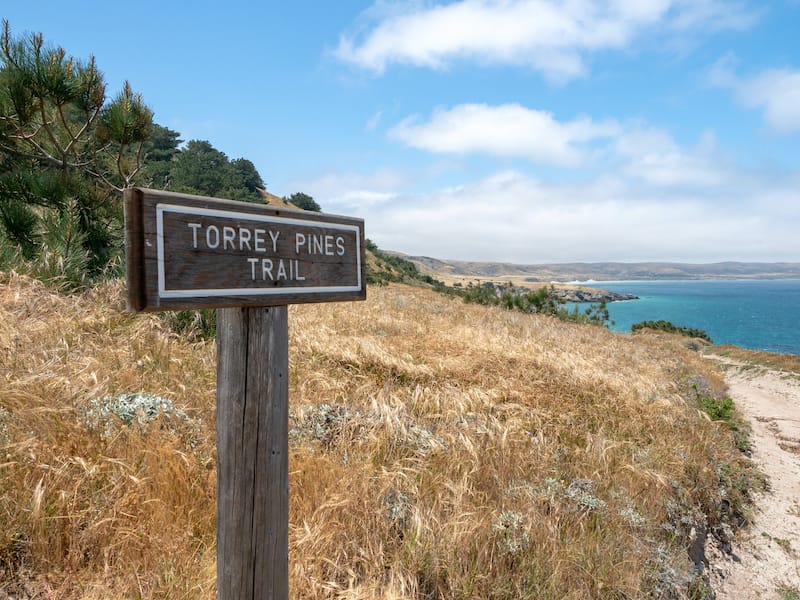 The easier route of the two will take visitors along the Coastal Road and the difficult one will lead trekkers on a loop trail to the top of the grove. You will be greeted with insanely beautiful views from up there.
Lobo Canyon
Distance: 9 miles
Trail type: Out & Back
Difficulty: Difficult
This trail is known for being one of the more challenging ones on Santa Rosa Island but definitely a favorite among those hiking in Channel Islands National Park.
Hikers will be greeted with a jaw-droppingly beautiful canyon with sandstone cliffs, a stream that is there year-round, interesting vegetation, and coastal views.
It is 9 miles from the pier to the mouth of the canyon and this is recommended only for very experienced hikers. Bring plenty of water and someone to hike with!
You will first hike through the hills and scrublands of the island and the inbound trail will end af Lobo Canyon's mouth. It is definitely worth the hike and one of the best hikes in the Channel Islands!
Camping on Santa Rosa Island
It can be very windy on Santa Rosa Island and camping can be a challenge. The only place to set up camp is at Water Canyon Beach and there are only 15 sites available and it is $15 per site.
You must have a reservation in advance in order to camp and the weather may require you to be flexible with your plans.
Anacapa Hiking Information
Anacapa Island is a beautiful and rugged island in Channel Islands National Park and while the trail system is not as developed as Santa Cruz and Santa Rosa, it is definitely worth planning a trip out there to give it a whirl.
Anacapa is made up of three islands/islets and you are unable to hike on the Middle and East Islets.
The trails on Anacapa create a figure-eight loop with several attractions along the way from the overlook at Inspiration Point to sea lion spotting at Pinniped Point.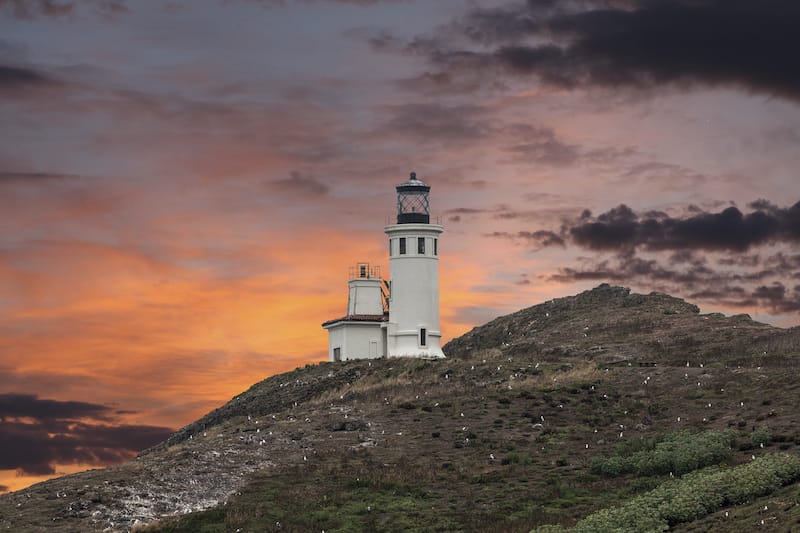 You can also witness dramatic and mind-blowing rock formations at Cathedral Cove and the island's most popular sight- the Lighthouse on the West Coast.
If you're looking to go camping on Anacapa Island, there is a campsite set up on the eastern part of the island.
What to Bring Hiking in Channel Islands NP
Naturally, WATER! It is scarce and you will need to stock up before going on your Channel Islands National Park hike. Also, be prepared for the weather and what it can potentially bring to your day. It can be windy and there may not be many shelters, so also bring sunscreen and dress accordingly.
Here are some recommendations for what to bring with you to the Channel Islands:
Reusable Water Jug: I recommend always having a reusable water jug with you at all times. The California sun can be so inviting but also dehydrating! There are almost always freshwater sources available in and around the area but do bring some with you just in case!
I travel the world with my Klean Kanteen water jug and I think it is the perfect one to get the job done when hiking! You can see the one I use here.
Keen Targhee Hiking Boots: I have been wearing the same style of hiking boots for years and I love my Keen Targhees. They have taken me from the Faroe Islands to Kazakhstan and beyond. They are durable, lightweight, and a great accompaniment for the Channel Islands.
Lightweight Daypack: If there is one thing I have too many of, it is daypacks. While I love my Sandqvist and Ucon Acrobatics Bags, I opt for something a bit more lightweight when hiking or exploring the outdoors.
My top recommendation is the Osprey Ultralight Daypack. It is durable and well-made and will be an effortless accompaniment for your day hike. Click here to check out color options and purchase.
Larabars: When I travel, I always keep some type of 'bars' on me and my favorite are Larabars. I have been eating these for well over a decade and they are perfect for exciting day hikes as they are richer and more filling than their size indicates!
You can buy a variety box or just purchase your favorite. Click here to purchase a box of Larabars for your trip.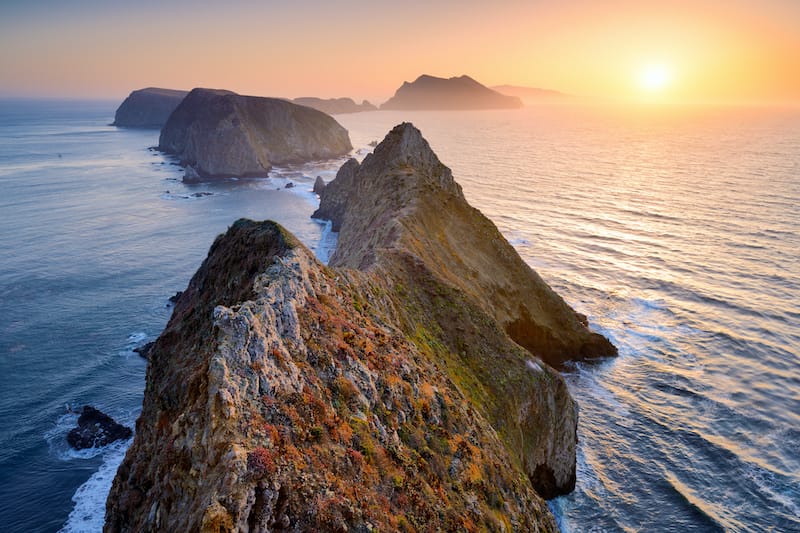 Where to Stay in Ventura & Oxnard
If you're not camping in the Channel Islands and are merely visiting the islands as a day trip, you will want to make sure you find a great place to stay either in Ventura or Oxnard beforehand. Here are our top recommendations for Airbnbs in both California cities.
Ventura
If you're leaving on your trip to the Channel Islands from Ventura, there are several fantastic Airbnb and hotel options in the city. Many of them have awesome views.
Oxnard
Here are some great hotels and Oxnard Airbnbs we recommend.
ABOUT THIS LAND
Channel Islands National Park is on the unceded land of the Chumash and Tongva peoples. We ask you to join us in acknowledging their communities, their elders both past and present, as well as future generations.
We also acknowledge that Channel Islands NP was founded upon exclusions and erasures of many Indigenous peoples, including those on whose land these US National Parks are located.
⇒ Do your research before visiting National Parks and places in the US. Native Land and Whose Land are good starting points.
⇒ Hire Native guides when possible and encourage National Parks and government organizations to start hiring them.
⇒ Donations matter. Part of the proceeds from this blog is donated monthly to the Native Women's Wilderness.
We hope that this guide to hiking in Channel Islands National Park has encouraged you to take a trip there and experience all the national park has to offer!
More Southern California Travel Guides