There is truly nothing like spending a weekend in Toronto. The cosmopolitan city has something to offer every visitor and this Toronto itinerary will help you plan your first trip to Canada's most populous city!
Are you planning your trip to Toronto last minute?
If you're traveling to Toronto last minute, you want to ensure you have lodging and tours ahead of time! Below are some of our top picks in town!
Best Hotels and Lodging in Toronto:
Top-Rated Attractions & Tours in Toronto:
Toronto is a historic city filled with tasty restaurants, awe-inspiring museums, and beautiful viewpoints. Although most of the tourists visit in the summer months, there's still plenty of exciting things to do during the winter in Toronto.
It is also often referred to as the most multicultural city in the world – bringing you flavors, cultures, and everything else into the city just shy of 3 million inhabitants.
You could spend years exploring every corner of the city, but if you only have time for a weekend trip to Toronto, this itinerary will help you plan out your time there!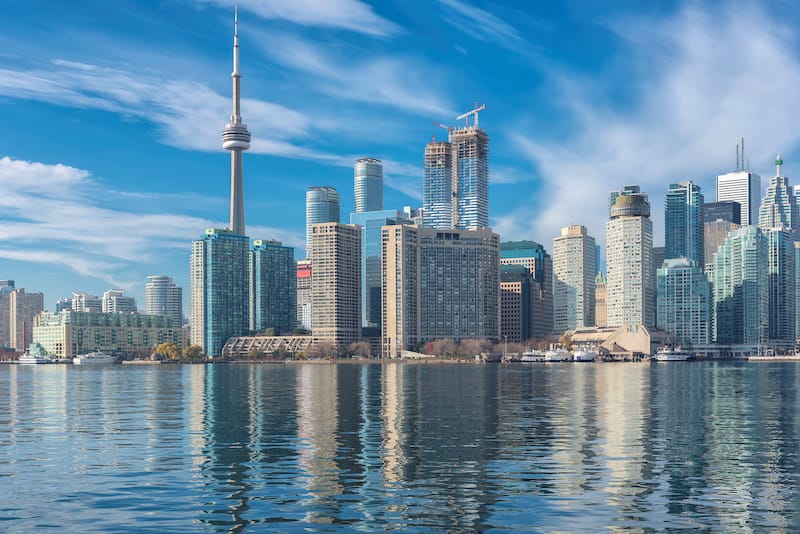 Did we miss anything you should do with merely 2 days in Toronto? Let us know in the comments!
Toronto Itinerary Day 1
Welcome to Toronto! The first day of your weekend in Toronto itinerary will be spent eating tasty cuisine, taking in some of Toronto's gorgeous views, and exploring the local nightlife scene.
Breakfast and Explore the Historic Distillery District (Morning)
St. Lawrence Market is one of Toronto's oldest and most famous markets.
Founded in 1803, vendors have been selling fresh produce, pastries, meats, seafood, and crafts at this market for over 200 years.
They also offer fun events like cooking classes, knife skills, and on-site tastings. It's the perfect spot to explore, do some shopping and try out a couple of stands for breakfast on the first day of your 48 hours in Toronto.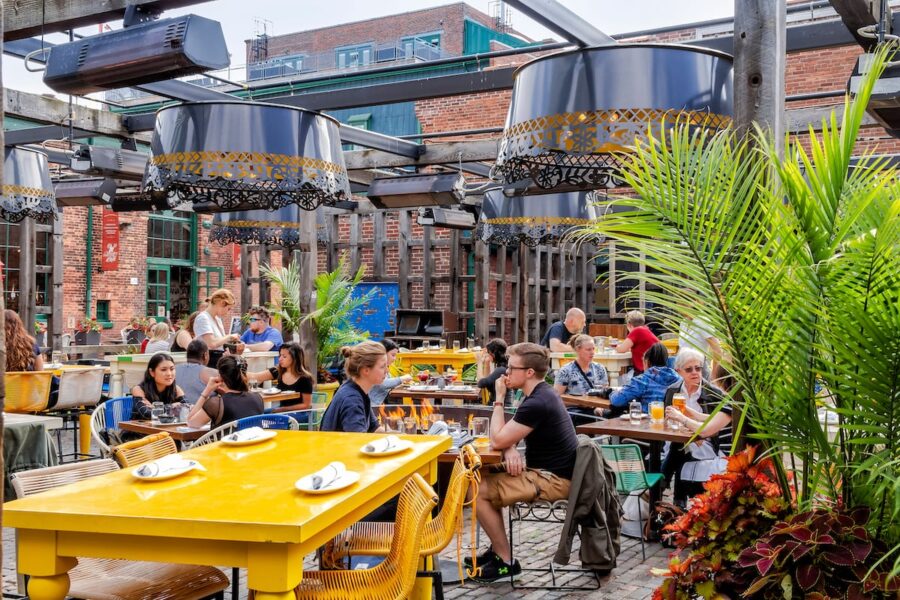 Carousel Bakery's peameal bacon sandwiches are a Toronto staple and a must-try when visiting St. Lawrence Market.
Peameal bacon is wet-cured, unsmoked bacon made from pork loin rolled in cornmeal that's mostly found in Southern Ontario. Make sure to try it with the maple mustard for the perfect combination of salty & sweet!
After breakfast at the market, head over to Toronto's historic Distillery District. In 1831, James Worts and his brother-in-law, William Gooderham, opened a mill for grinding grain.
BOOK HERE: Toronto Distillery District Historical Tour
Shortly afterward, Gooderham added a distillery to the mill to produce whiskey. At one point, Gooderham & Worts was the largest distributor of whiskey in the world, until WWI and Prohibition brought their success to a standstill.
Twenty years ago, a group of developers sought out to transform this collection of Victorian Industrial buildings.
The Distillery District we know today opened in 2003 and contains boutiques, restaurants, coffee shops, art galleries, and theatres. It's a wonderful place to spend a morning wandering and shopping to your heart's content!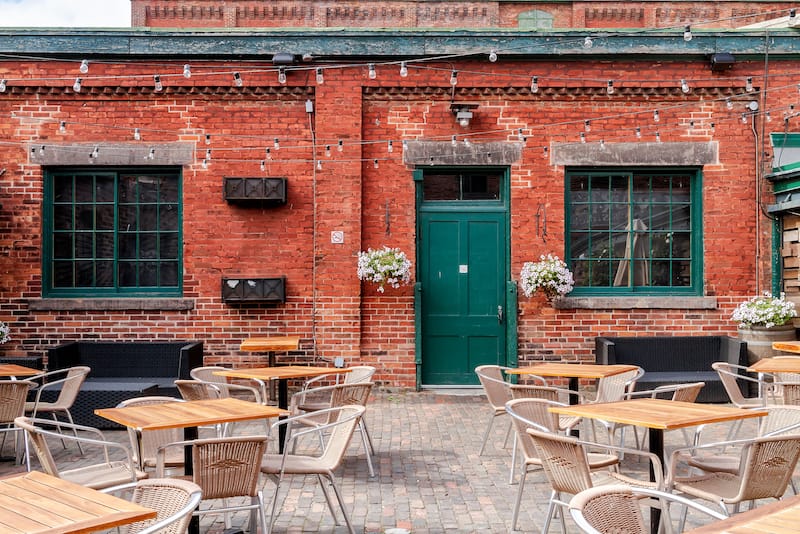 If you get the chance to visit, make sure to stop by Wildly Delicious. This quaint little shop sells maple syrup, sauces, chutneys, cheese, home goods, and more!
Take the Elevator Up the CN Tower (Afternoon)
Many people are looking for the differences between Montreal vs. Toronto – and one thing that is very evident is that Montreal does not have the CN Tower!
So, after spending the morning exploring, shopping, and snacking, it's time to head to this famous Toronto attraction!
To see the best views in the city, pay 38 CAD for a ticket that will take you up 147 floors to the top of the tower.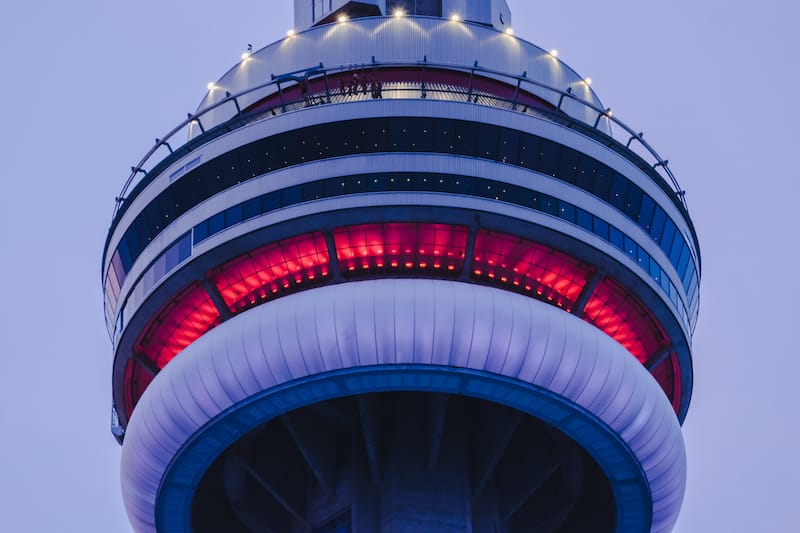 If you're feeling extra adventurous, you can pay 200 CAD and sign up for the CN Tower Edgewalk. They'll strap you into a harness and allow you to walk around the very top of the tower…1,815 feet in the air!
While you're in the area, make sure to check out Toronto's famous Gooderham Building.
This famous building, also known as the Flatiron Building, is located on a wedge-shaped corner of Wellington East, Front, and Scott Streets and is one of the most photographed spots in Toronto.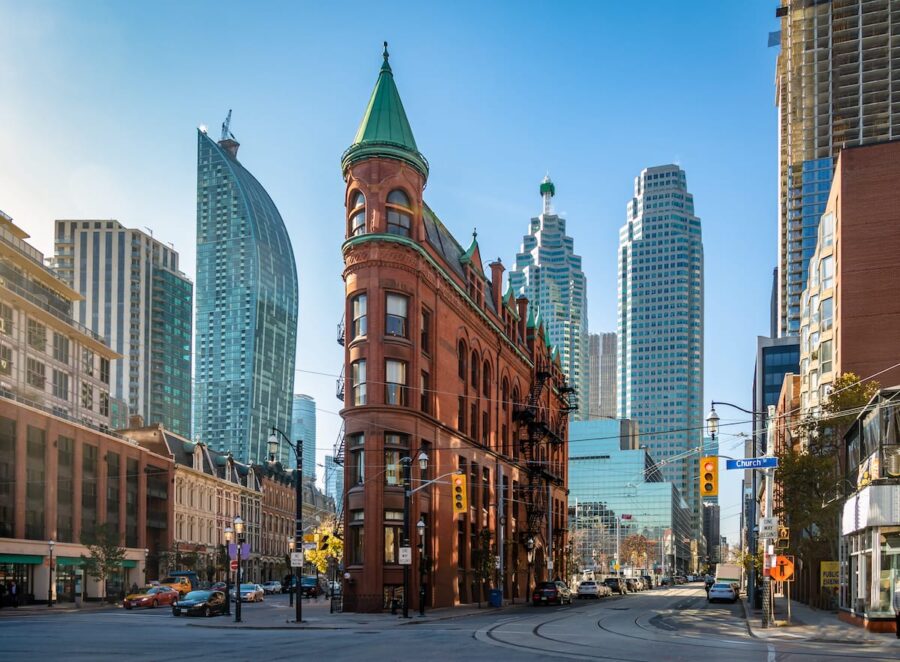 Dinner and Toronto's Nightlife Scene (Nighttime)
It's your first night in Toronto and it's time to enjoy some of the city's tasty dining options and best nightlife spots!
Start the evening with an Instagram-worthy, Caribbean-themed dinner at Chubby's Jamaican Kitchen in the Fashion District.
The interior of the restaurant is covered in pink lights and colorful plants and the whole place smells like smoked pork and fried plantains. Chubby's also offers a wide variety of delicious handmade cocktails.
Although you can't go wrong with anything on the menu, I would highly recommend trying the jerk pork with jasmine rice and fried plantains. Click here for more must-try restaurants in Toronto!
After eating your fill of Jamaican cuisine, head over to Toronto's famous Adelaide St. for some of the city's best nightlife. This street is filled with live music venues and boutique bars and is guaranteed to keep you entertained all night long!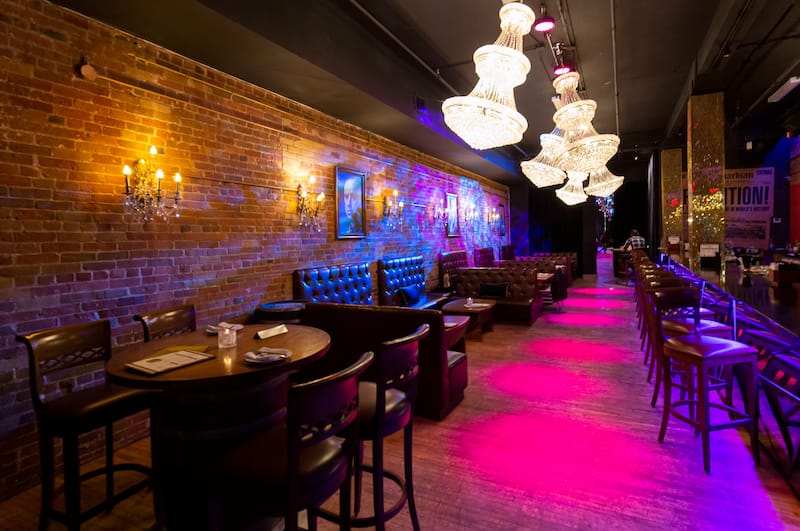 Start the night out at Bar Torino for some delicious cocktails and a wide selection of craft beer. Or, if you're looking for some budget-friendly cocktails and live music, The Jive might be more your speed.
Additionally, The Elephant British Pub is a great spot for sports fans looking to drink with friends and watch the latest game.
Still wide awake and ready to dance? Thankfully, Adelaide St. has plenty of options for club enthusiasts.
Try Zhivago, a funky, graffiti-covered dance club that's underground themed and known for its weekly events. HQ Complex is another great option for those hoping to dance the night away in Toronto!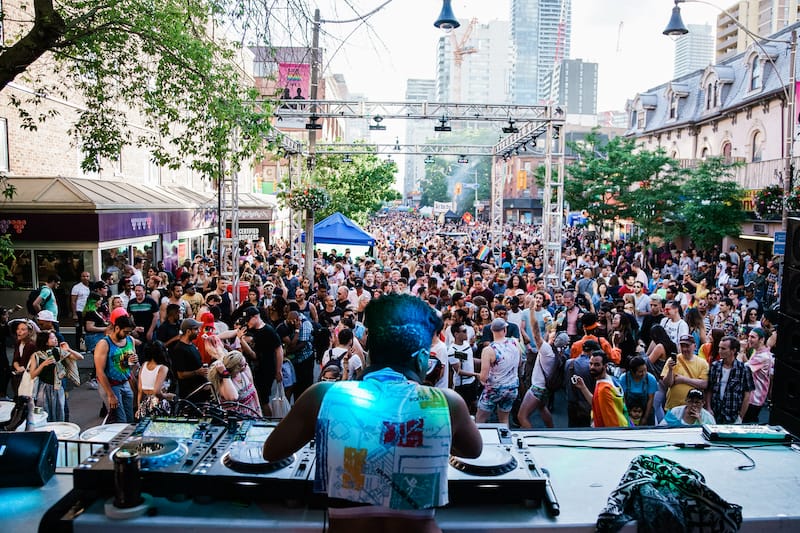 Toronto Itinerary Day 2
Hopefully, you're not too hungover from your night on Adelaide St.! Day two of your 2-day Toronto itinerary is as jam-packed as day one, so put on those walking shoes.
Boozy Brunch (Morning)
Start your second day in Toronto off right with some boozy brunch in Toronto's Liberty Village. SCHOOL is consistently voted one of Toronto's best brunch spots for good reason.
You've probably already guessed the theme of the restaurant, but don't get this popular brunch spot confused with a boring, middle-school classroom.
SCHOOL is decked out in, well, school-themed decor with a blackboard, red apples on every table, and a whole wall of clocks set to "school's out" at 3 o'clock.
Although the menu has something for everyone, SCHOOL is definitely known for its sweet brunch options like the Black n' Blue Flapjacks, Krispy Krunchy French Toast, and Apple Crumble Cakes.
They also have some tasty boozy brunch options like The Bubbly Redhead made with Aperol, Chambord, Prosecco, and fresh-squeezed blood orange juice.
Visit the Royal Ontario Museum (Afternoon)
After brunch, it's time to test your knowledge at one of Toronto's most popular museums, the Royal Ontario Museum. ROM is one of the largest museums in North America and the largest museum in Canada.
An entrance ticket costs 23 CAD (18 CAD with a student ID) and the endless exhibits will keep you occupied for hours. Spend the afternoon wandering and learning about world culture, natural history, art, dinosaurs, and more!
BOOK HERE: General Admission for the Royal Ontario Museum
If you have time after exploring the Royal Ontario Museum, head over to Nathan Phillips Square to take a picture with the famous "Toronto" sign.
If you're visiting Toronto in winter, you can also rent a pair of skates and ice skate the afternoon away in this famous city square!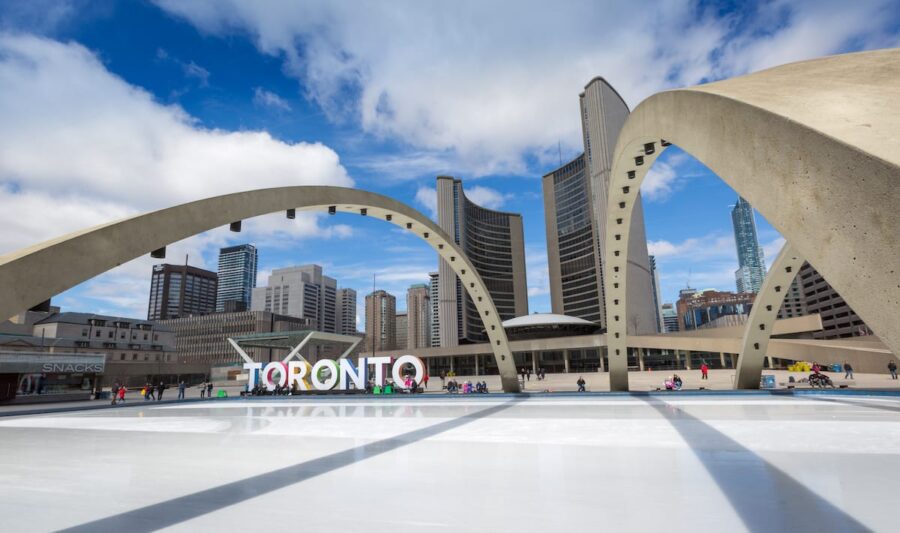 Little Italy (Nighttime)
It's your last night in Toronto, why not spend it eating delicious and authentic Italian food in Little Italy?
Pizzeria Via Mercanti serves, what is widely considered, the best Neapolitan pizza in Toronto. But why stop with pizza? Enjoy all the delicious Italian options this tasty restaurant has to offer!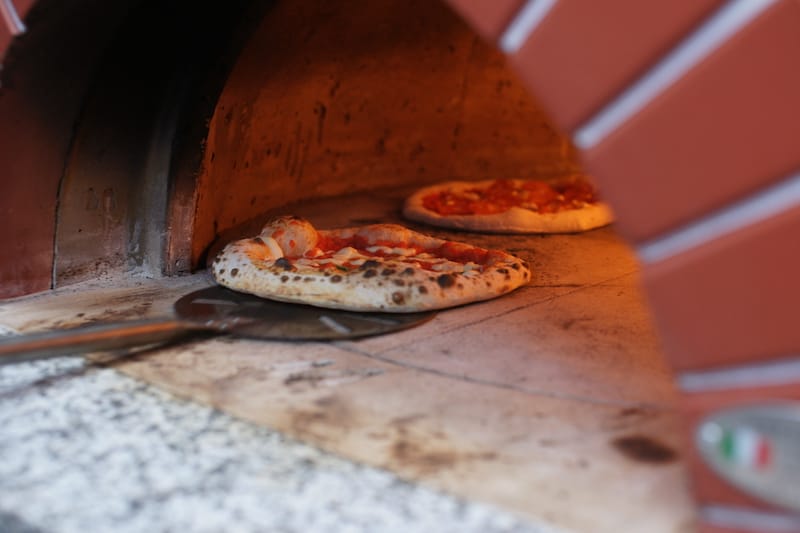 Start the meal off with a hearty platter of Antipasto all'Italiana filled with charcuterie, cheese, olives, pickled vegetables, and artisan bread. Don't forget the Italian vino and an Aperol Spritz!
Piano Piano is another great option for dinner in Toronto's Little Italy. Start the meal out with a delicious Burrata Alla Campangnolo and a bottle of Italian wine.
For dinner, enjoy tasty pasta dishes like Egg Yolk Raviolo or authentic, Neapolitan pizza topped with chilis and pecorino cheese.
More Than a Weekend in Toronto?
Have more than a weekend in Toronto? Lucky you! There are endless corners to explore in this exciting and historic city. Make sure to catch some of the highlights below.
Take a Day Trip to Niagara Falls
Niagara Falls is so close to Toronto, it's a shame not to pop over while you're in the area!
BOOK HERE: Day Trip to Niagara Falls (with Pickup!)
By car, it only takes about an hour and a half to get to the Falls (on the Canadian side). Once there, there's plenty of exciting activities to enjoy, like the Maid of the Mist boat tour, Top of the Falls restaurant, and the Observation Tower.
Keep in mind that some of the activities offered at Niagara Falls are only available during the summer months.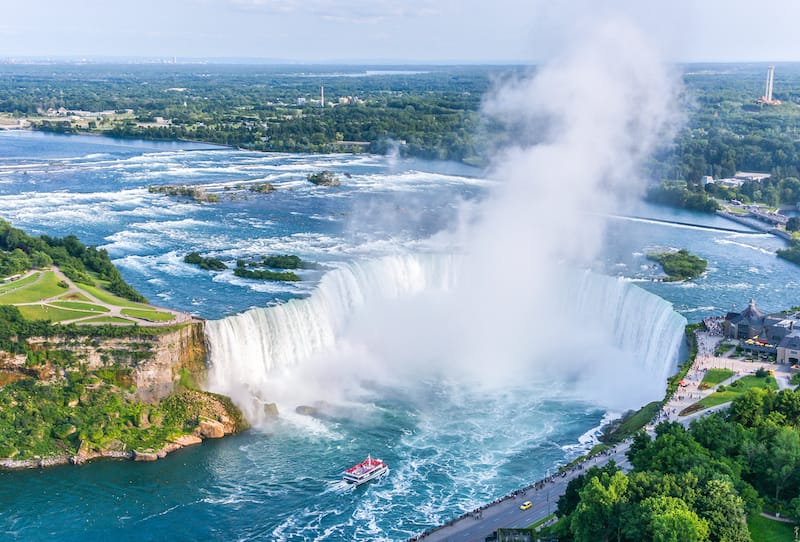 Explore AGO, the Art Gallery of Toronto
If you're a fan of fine art, stop by the Art Gallery of Toronto and marvel at Canada's largest art collection. With more than 90,000 works to admire, AGO is sure to have something for everyone.
Entrance is free for anyone 25 and under. For those 25 and up, admission tickets will set you back $25.
Stroll through Graffiti Alley
Located in Toronto's Fashion District, Graffiti Alley is exactly what it sounds like: a stretch of alleyway absolutely covered in graffiti.
It features murals from 65 Canadian artists and stretches for about 1,000 feet. It's a great activity for those looking to explore Toronto on a budget!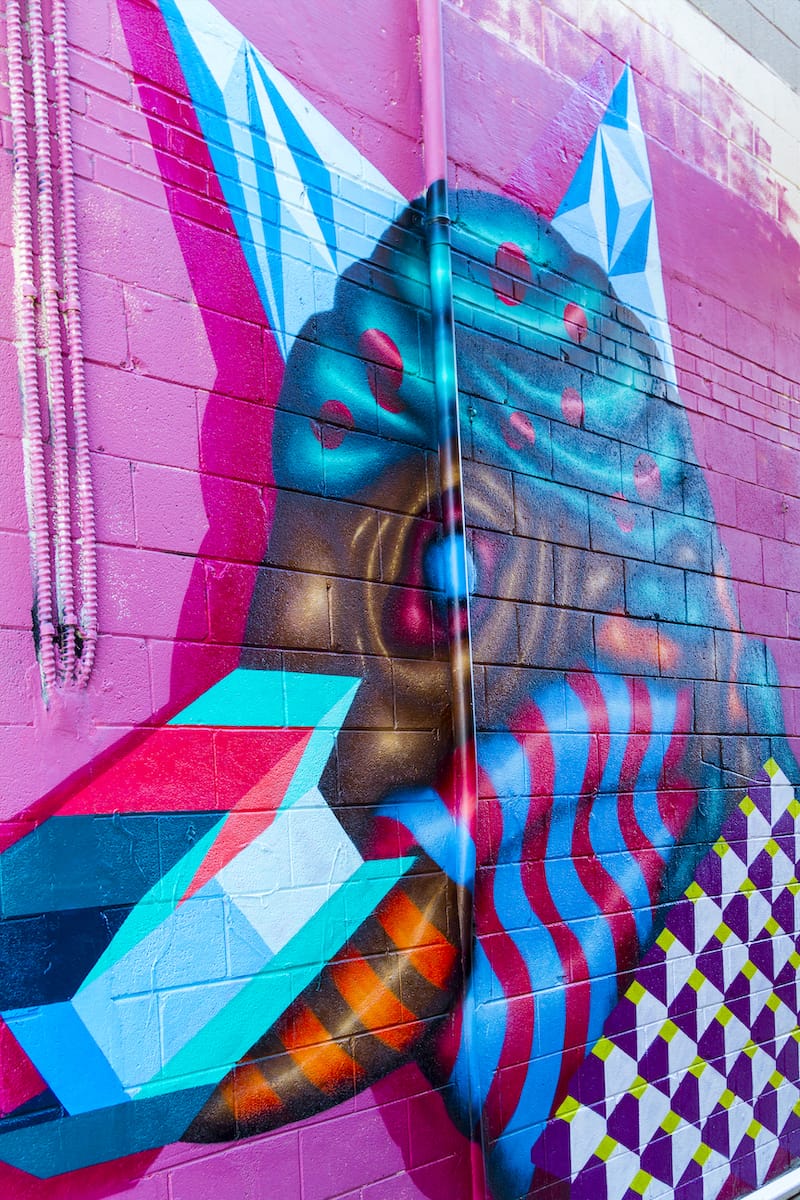 Catch a Blue Jays Game at the Rogers Center
If you love sports, make sure to catch a Blue Jays game at the Rogers Center while visiting Toronto! If you're lucky, you could find tickets as low as $15.
Where to Stay in Toronto
Toronto has no shortage of luxurious hotels and quaint Airbnbs throughout the city. Browse the options below to find which accommodation is best for you!
Shangri-La Hotel
If you're looking to stay in the lap of luxury, look no further than the Shangri-La Hotel. With afternoon tea, free yoga, and a pillow menu (yes, you heard me correctly) there's no other stay in Toronto that's guaranteed to be this luxurious.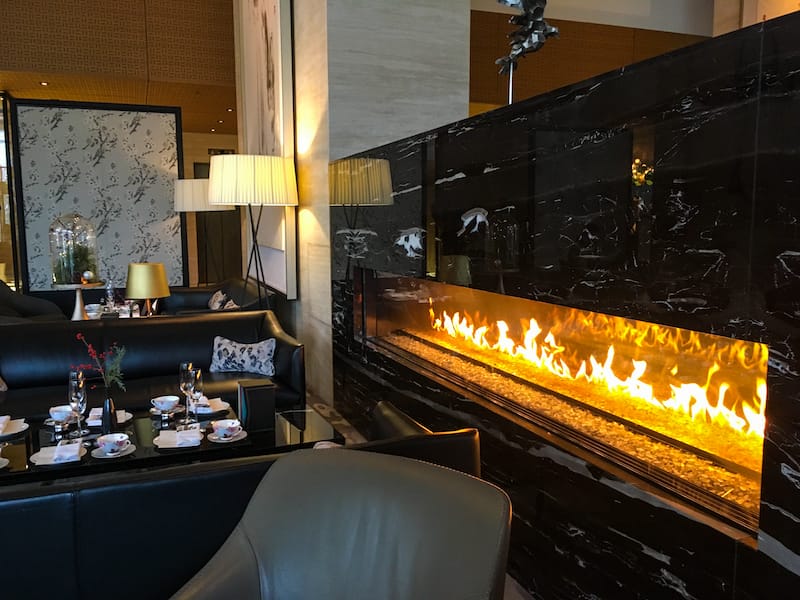 This hotel comes with a well-equipped gym, a 20-meter lap pool, a hot tub, and an infrared sauna. Don't forget to indulge in the hammam treatment at the Miraj Hammam Spa!
>> Click here to book your stay at the Shangri-La Toronto
The Drake Hotel
The Drake Hotel is one of Toronto's best boutique hotels and is a great option for your weekend in Toronto.
A stay at this eclectic spot will put you smack dab in Toronto's Queen West neighborhood and walking distance from quaint boutiques and tasty restaurants on the Ossington Strip.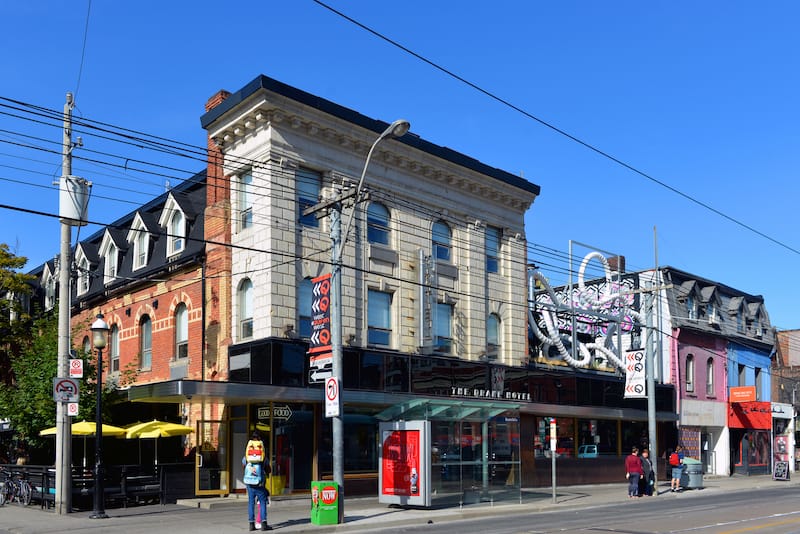 The Drake offers an "Art Passport" package that includes complimentary mini bottles of sparkling, a $50 dining credit at the hotel's restaurant, late checkout, and an "Art for You" artwork keepsake.
>> Click here to book your stay at The Drake in Toronto
Hostelling International Toronto Hostel
Located in downtown Toronto near the CN Tower, HI Toronto Hostel is the perfect accommodation for travelers looking to spend a weekend in Toronto on a budget.
This hostel offers a wide range of room options, from private/double rooms to 14-bed dorms, depending on your budget and needs.
>> Click here to book your stay at Toronto Hostel
There you have it! You have all the information you need to crush your weekend in Toronto itinerary. Happy travels!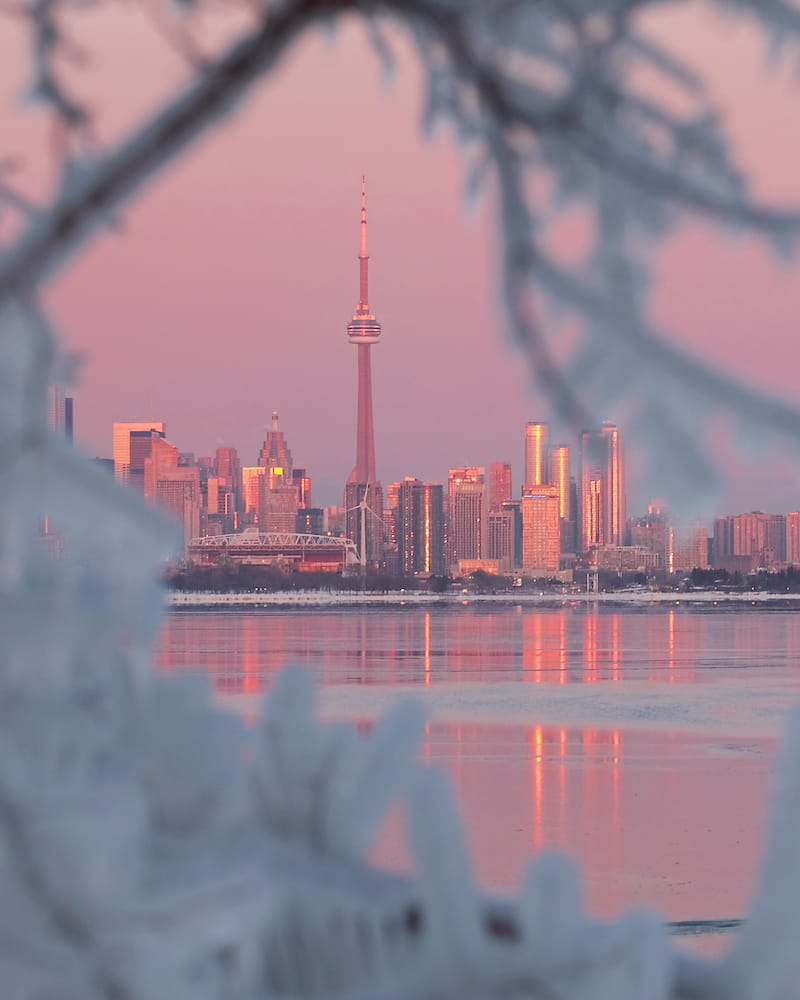 Writer Bio
Madison is a solo travel blogger and social media micro-influencer based in Roatán, Honduras. She fell in love with solo travel during her 2017 semester abroad in Rome, Italy.
After graduation in 2018, she moved to Florence to pursue her love of travel even further. After the pandemic, she packed her bags and moved to the Caribbean where she'll be living the island life until moving to Bali, Indonesia in March of 2022.
Her favorite things include rooftop bars, handwritten menus, and both starting and ending the day with a strong, Italian espresso. Follow her blog madisonsfootsteps.com for more! Be sure to also check out her Instagram @madisonfootsteps.
More Canada Travel Guides
Pin this Weekend Trip to Toronto Guide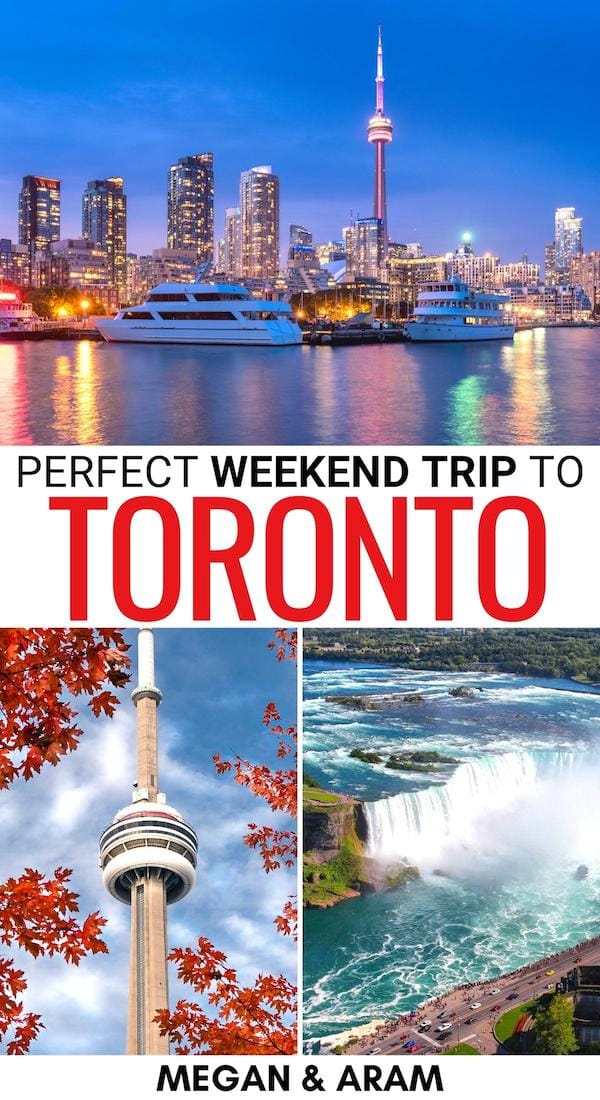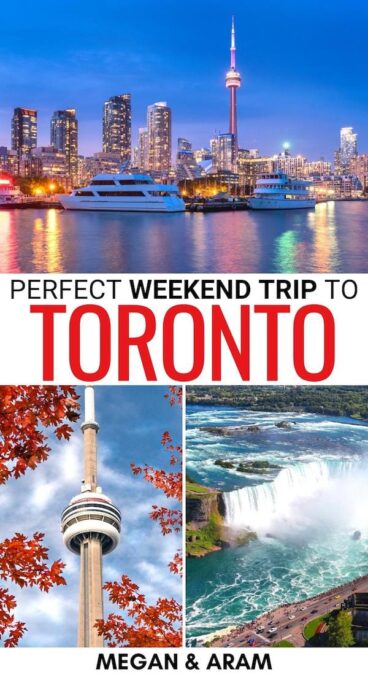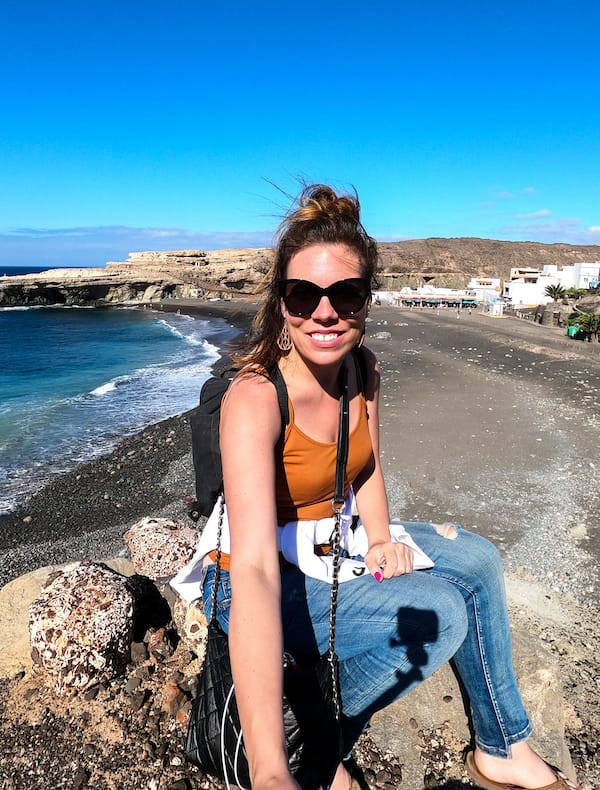 Megan is a travel blogger and writer with a background in digital marketing. Originally from Richmond, VA, she now splits her time between Frankfurt, Germany and Arctic Finland after also living in Norway, Armenia, and Kazakhstan. She has a passion for winter travel, as well as the Nordic countries, but you can also find her eating her way through Italy, perusing perfume stores in Paris, or taking road trips through the USA. Megan has written for or been featured by National Geographic, Forbes, Lonely Planet, the New York Times, and more. She co-authored Fodor's Travel 'Essential Norway' and has visited 45 US states and 100+ countries.