Islamorada should be at the top of your travel bucket list if you're looking for a destination with a tropical climate and calm atmosphere! These are the best things to do in Islamorada, FL!
The town of Islamorada includes five islands between Key Largo and Key West in Florida. Islamorada is popular among visitors for its fishing hubs, especially among those looking for bonefish, tarpon, and billfish.
Many people with families also enjoy visiting due to the wide variety of activities, and it's especially great for those who want to get away from the large crowds and the hustle and bustle of city life.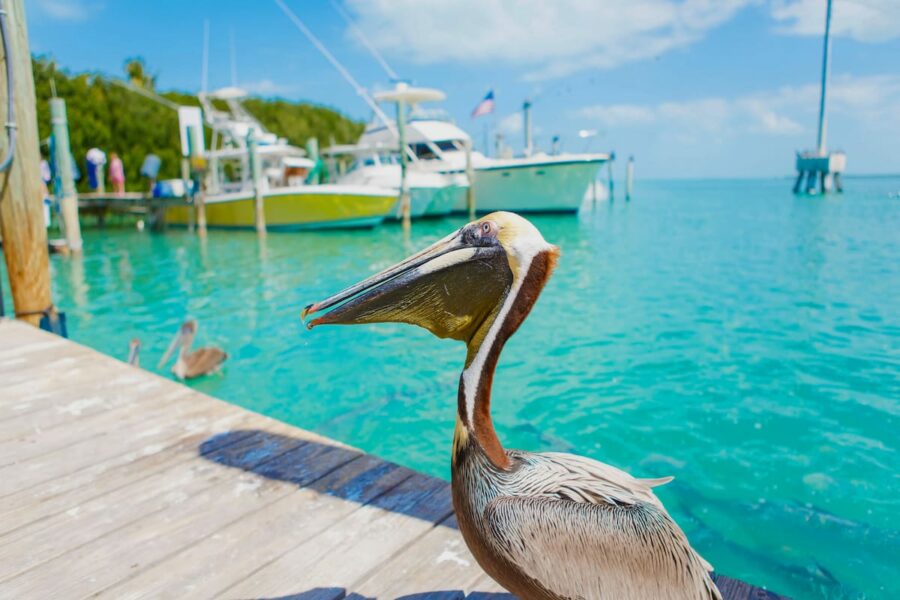 Here is our list of the top places to visit in Islamorada. Did we miss any cool activities in Islamorada? Let us know in the comments. Thanks!
Best Islamorada Tours (to Maximize Your Time!)
If you're looking for something more organized when in Islamorada and the surrounding area, here are some awesome Islamorada tours you should check out.
These tours will help you maximize your time, which is especially important if you only have a short amount of time in the town! We listed a variety so that you can pick which one is most suitable for you (and many include multiple places!):
Sun Seeker Private Boat Charter (#1 bestseller)
Best Things to Do in Islamorada, Florida
1. Visit the Keys History and Discovery Center
The Florida Keys History and Discovery Center is a world-class museum where you can dig deep into the history, culture, and attractions of Islamorada and the Florida Keys.
This stunning two-story 7,500-square-foot waterfront building houses a research library and movie theater, tells the story of the area's Indigenous people, shipwrecks, hurricanes, pirates, pineapple farming, and showcases hundreds of treasures from the past to present, such as the 16th-century Bronze Cannon, El Infante Anchor, Spanish coins, sunken treasures, and more.
The museum is open Thursdays through Sundays from 10 am – 5 pm, with general admission being $15 and free admission for children under 6 as well as active-duty military and veterans.
Noteworthy exhibitions at the center include the Florida Keys First People, the 1733 Spanish Fleet, Pirates, Wreckers and Salvagers, Indian Key: A Wrecker's Paradise, Coral Reef Exploration, Stories of the Upper Keys, Legends of the Line, and Bonefish & Tarpon Trust.
Address: 82100 Overseas Hwy, Islamorada, FL 33036
2. Check Out Indian Key Historic State Park
Kayak your way to the Indian Key Historic State Park to get a glimpse of the past and immerse yourself in nature.
Once a lively town serving as the first county seat for Dade County, this 11-acre uninhabited island provides the ideal setting for a variety of nature-based activities from 8 a.m. until sundown.
Due to being isolated from the mainland, you can only get to this historic state park by boat or kayak. This tranquil park allows fishing, hiking, paddling, snorkeling, picnicking, swimming, and wildlife viewing.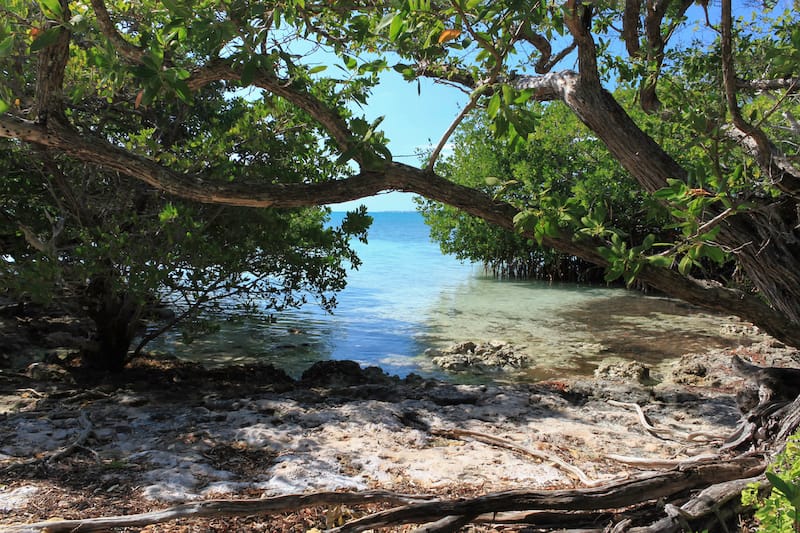 For a one-of-a-kind experience, explore the remains of this ghost town by strolling through the recreated street system.
Don't worry in case you don't have your kayak with you; you can rent one from Robbie's Marina or Backcountry Cowboys.
Uncover the historic buildings overgrown with jungle-like vegetation by taking part in ranger-led or self-guided walking tours, or explore the life beneath the waves with Sea Monkeys Watersports or KeyZ Charters at Robbie's Marina.
3. Refresh at the Florida Keys Brewing Co.
When in the mood for beer, head to Keys Brewing Company, the Upper Keys' first microbrewery.
Operating since 2015, this locally owned brewery offers its visitors 30 delightful beer varieties that range from "Hoppy Beer" and" The Lighter Side" to "Red, Ambers, and Browns" to "Florida Weisse Sours."
Beer lovers can visit the taproom for a tasting flight, growler fill of staples, seasonal beers, and limited releases, or simply kick back and relax while savoring delicious beer in the beer garden.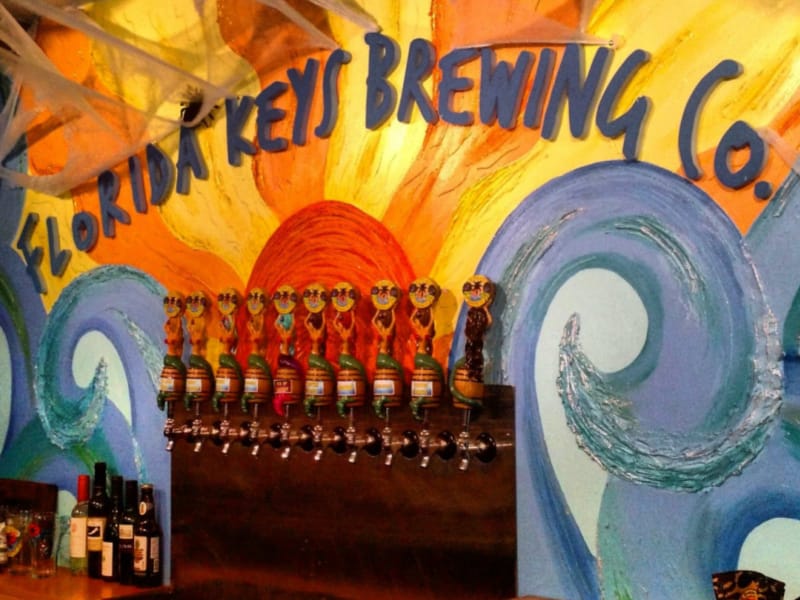 Avid beer lovers shouldn't miss touring the brewery to witness their 20 bbl brewhouse and have a chat with a brewmaster to discover the secrets of their signature island beer.
Those who aren't into beer can play giant Jenga, hula hoop, and cornhole in the beer garden or admire mosaic artwork made from thousands of bottle caps from top-rated breweries in the taproom.
Don't forget to check out their colorful merchandise to take home a piece of FKBC with you.
Opening hours:
Sun – Thurs: 11:00 AM – 10:00 PM
Fri – Sat: 11:00 AM – 11:00 PM
Address: 81611 Old Hwy, Islamorada, FL 33036
4. Indulge at the Blond Giraffe Key Lime Pie Factory
The Florida Keys is known for its delicious key lime pies. So, if you are after savoring the state's best key lime pie, then Blond Giraffe Key Lime Pie Factory is the place to go.
Besides their signature key lime pie, you can try Chocolate Dipped Frozen Key Lime Pie on a Stick, Key Lime Candies, Key Lime Pie Cookies, Key Lime Rum Cakes, and many non-key lime options.
The restaurant is open seven days a week and features both indoor and outdoor seating areas.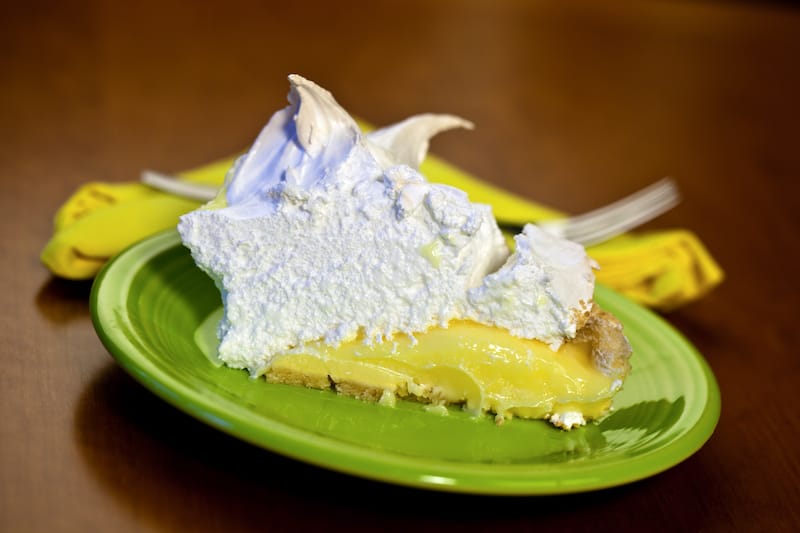 Order your freshly made key lime pie and enjoy it with your significant other in the adult-only Serenity Garden filled with trees and flowers.
And buy love locks with your initials at the store and lock your love on their love lock way.
Before leaving, browse the shop to purchase coffee, packaged key lime green almonds, key lime pecans, chocolate seashells, meringues, and retail merchandise.
The Blond Giraffe Key Lime Pie Factory is open every day from 9 am – 8:30 pm.
Address: 92220 Overseas Hwy, Tavernier, FL 33070
5. Visit Key Largo and Islamorada from Miami
Are you ready to take in the breathtaking beauty of Key Largo and Islamorada aboard a semi-luxury vehicle? If so, then make sure to book the tour to Key Largo and Isla Morada from Miami Dade.
This 12-hour private tour gives you the opportunity to experience Key Largo from another perspective.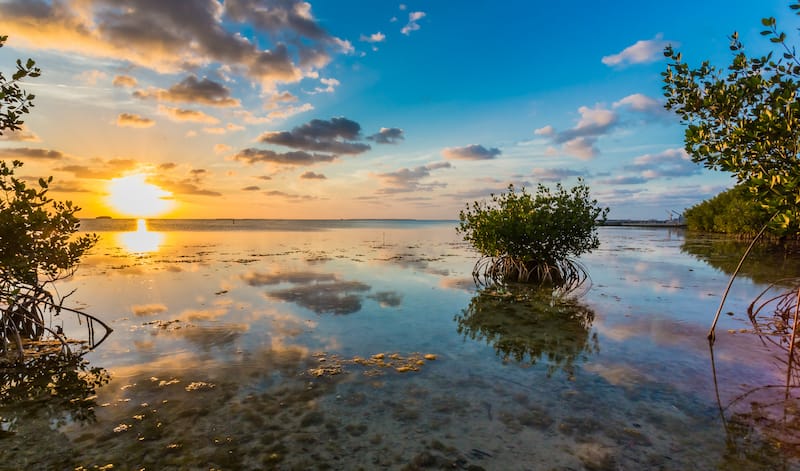 You have the option to choose your preferred departure time (in the morning) and place of departure (Miami, Key Largo, Islamorada).
Hop on board the semi-luxury car and head to explore bird sanctuaries, local art, and mesmerizing shores. Please note that this tour is not wheelchair accessible.
>> Check rates and availability for the tour here
6. Head to Windley Key Fossil Reef Geological State Park
Are you up for witnessing otherworldly scenery? If so, add Windley Key Fossil Reef Geological State Park to your bucket list.
Once a quarry used by Henry Flagler in the early 1900s, now all you can see is a fossilized coral reef packed with fossils formed over 125,000 years ago.
Your first stop should be the visitor center, where you can get an overview of what you're about to see. Here you will also view various exhibits detailing the history of the park and Henry Flagler's Overseas Railroad.
After walking along 8-foot-high quarry walls and viewing preserved samples of quarry machinery, you can take a break at the nearby picnic tables.
Take part in guided tours that are available from December through April for only $2.5 per person, or enjoy one of five self-guided tours along 1.5 miles of trails to explore rich native flora and learn more about the area's natural and cultural resources.
7. Enjoy Seafood at Chef Michael's
Indulge your taste buds with all of the culinary goodies at Chef Michael's. This is an upscale restaurant with a laid-back vibe that will treat you to delicious fresh-caught seafood and modern American dishes.
The restaurant's signature dishes are Seafood Pasta, Grilled Prime NY Strip, Hogfish Benedict, Crabmeat Ambassador, and Hogfish Pontchartrain which are served with the chef's signature touches.
Be sure to leave a little room to top it off with mouth-watering house-made desserts, such as Salted Caramel Cheesecake Brûlée, Key Lime Pie, and Chocolate Toffee Mousse Cake.
The tropical veranda area creates the ideal setting for Sunday brunch. Make a reservation before you get there as people come from all over the Keys to eat at Chef Michael's.
Whether it's a business lunch, wedding, rehearsal dinner, or a private event, you can celebrate your special milestones at Chef Michael's. Just note that they also offer off-premise catering.
Chef Michael's restaurant is open Monday through Saturday from 5 pm to 10 pm.
Address: 81671 Overseas Hwy, Islamorada, FL 33036
8. Have a Beer at the Islamorada Beer Company
After a long day exploring the city, it's time to treat yourself to a refreshing beer in Islamorada Brewery & Distillery.
Operating since 2014, this locally owned company is the first to pioneer local craft beer making and spirit distilling in the Florida Keys.
The wide variety of beers ranges from American Wheat Ale and Island Citrus Ale to Tropical Pale Ale and Coconut Key Lime Ale, which you can enjoy in the taproom that has a beachy ambiance thanks to an indoor sandbar.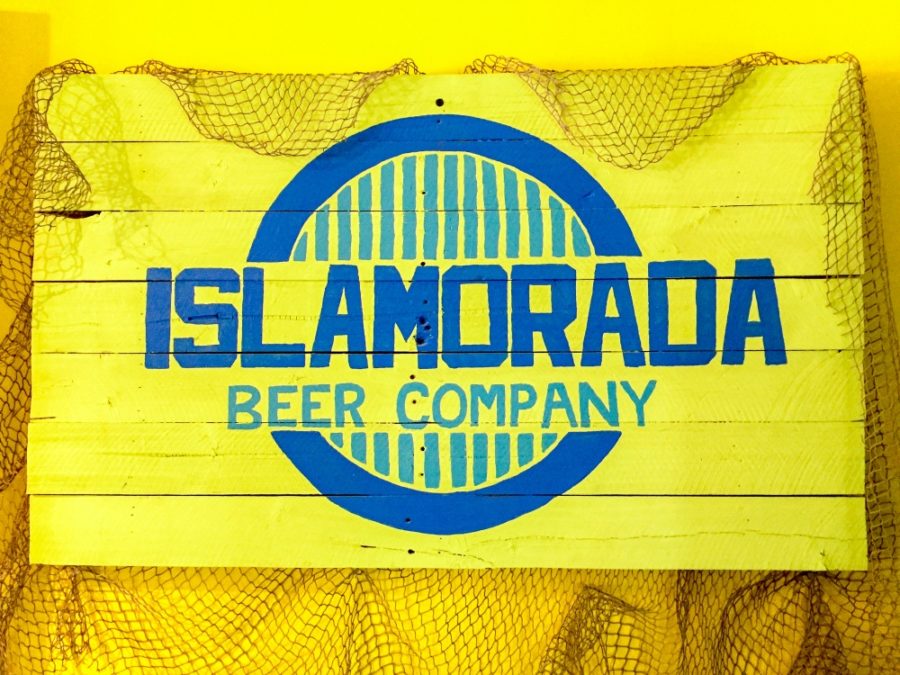 As you sample the beer, you can let the kids loose in a large outdoor area that features a volleyball net and plenty of other games.
Experience the complete brewing process by visiting a 25,000 sq ft. brewery in Fort Pierce to witness how the beer is kegged, bottled, or canned.
Just off the Overseas Highway, you will find the gift shop that features everything from shirts and kids' apparel to bar gear and stickers.
Opening hours:
Sun– Thu : 11:00 AM – 9:00 PM
Fri -Sat: 11:00 AM – 10:00 PM
Address: 82229 Overseas Hwy, Islamorada, FL, United States, Florida
9. Explore Crocodile Lake National Wildlife Refuge
Reconnect with Florida's natural surroundings at the Crocodile Lake National Wildlife Refuge. It was established in 1980 with the main goal of preserving the prime habitat of endangered American crocodiles and other wildlife.
The preserve features 6,700 acres of land that is packed with tropical hardwood hammock, mangrove forest, and salt marsh to provide the perfect habitat for the area's flora and fauna, including the federally-listed Key Largo woodrat, Burmese Python, Eastern indigo snake, and more.
Another highlight of Crocodile Lake NWR is the Crocodile Lake Community Butterfly Garden which preserves endangered butterflies.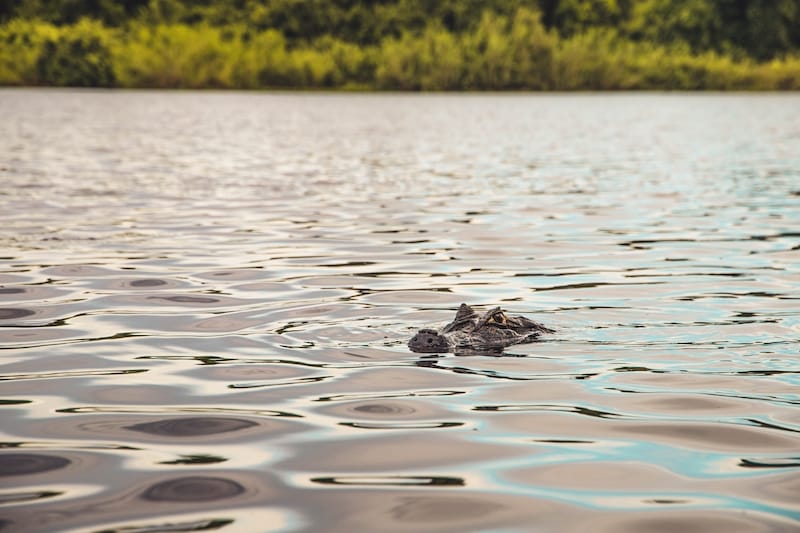 Take a relaxing stroll through this lush garden to learn more about the rare species of butterflies, such as the Schaus swallowtail butterfly and Miami blue.
Historic tours are organized throughout winter to help you get a behind-the-scenes look at this stunning national wildlife refuge.
Please be informed that Crocodile Lake NWR is closed to the public, but you may visit the Butterfly Garden for free seven days a week.
10. Head to the Key Largo Conch House
If you want to get the real taste of the South Keys' iconic flavors, then you need to add Key Largo Conch House to your bucket list.
Featured on a number of national TV shows, this family-owned restaurant offers a diverse menu with sustainable seafood and non-seafood options, so please make sure to decide what you want to order before coming in or you will spend the whole day going through the menu.
You can start with Fried Calamari, Conch Salad, and many other delicious appetizers that will prepare you for the restaurant's most popular dishes, such as Seafood Portofino, House Style Conch, Island Churrasco Steak, and Crab Stuffed Florida lobster.
They also offer extensive fine wine and a beer list that perfectly complements every meal.
You have an option to enjoy your breakfast, lunch, or dinner on a garden veranda or inside with spectacular beach views.
Opening hours:
Mon – Thu :08:00 am – 09:00 pm
Fri – Sun: 08:00 am – 10:00 pm
Address: 100211 Overseas Hwy, Key Largo, FL 33037
11. Go to the History of Diving Museum
Those eager to trace 3,000 years of underwater diving should definitely pay a visit to the History of Diving Museum.
Operating since 2005, the museum houses one of the world's largest collections of diving memorabilia, such as diving helmets, armored suits, hand-operated air pumps, and other accessory gear, as well as prints, first-hand historical accounts of significant events, photographs, film, books, videos, and other memorabilia.
Interactive exhibits tell the stories of well-known local divers, and showcase the history of humankind's exploration of the sea… and even the inspirations behind the book 20,000 Leagues Under the Sea by Jules Verne.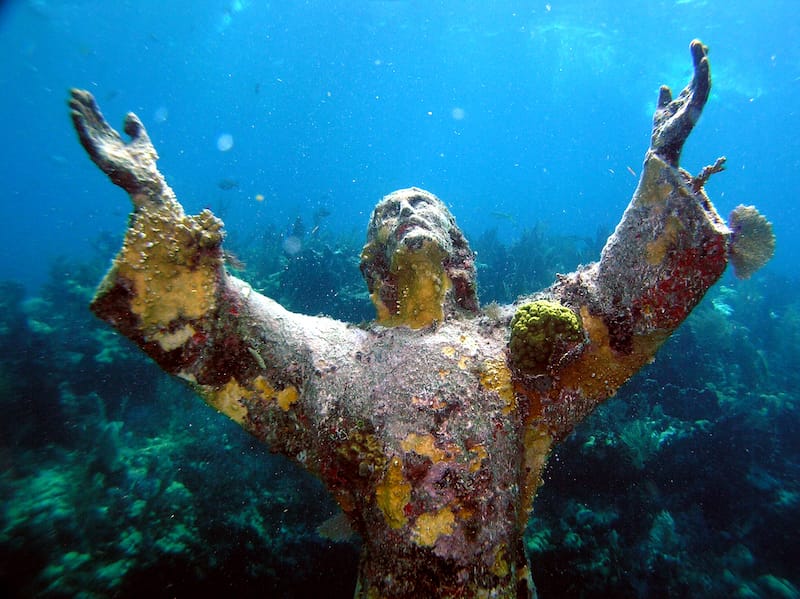 The admission price is $15 for adults, and the museum is open daily from 10 am to 5 pm with the exception of Christmas, New Year's Day, and Thanksgiving.
Visit the museum on the third Wednesday of the month to join a special free program "Immerse Yourself!" and dig deep into the diving culture.
Address: 82990 Overseas Hwy, Islamorada, FL 33036
12. Visit Crane Point Museum (Nature Center and Historic Site)
Get a glimpse into the region's history, culture, and economy at Crane Point Museum, Nature Center and Historic Site.
Nestled in the heart of the Marathon shopping district, this 63 acres of tropical oasis is home to one of the most extensive trail networks in the Florida Keys.
The center is open seven days a week with an admission fee of $14.95 for adults.
Crane Point Museum is one of the must-visit sites to witness remnants of pirate ships, a simulated coral reef cave, and see many animals native to the Florida Keys.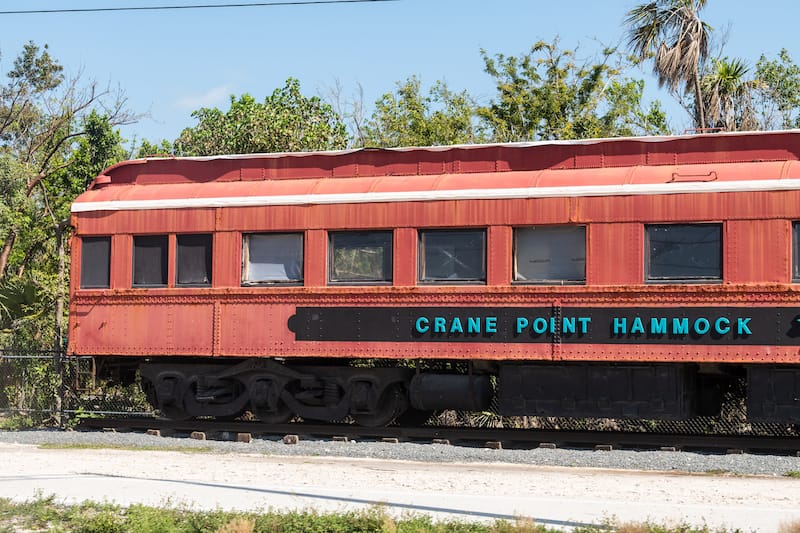 Then head to Marathon Wild Bird Center, the rescue hospital that rehabilitates Keys birds and returns them to their natural habitats.
Complete your tour by getting a fish pedicure, enjoying birding, watching a 9-minute informative film in the Orientation Hall, checking out the gift shop, watching various local Atlantic Ocean fish in the Lagoon, and taking part in guided trolley tours.
Opening hours:
Mon-Sat: 9 am – 5 pm
Sunday: 12 pm – 5 pm
Address: 5550 Overseas Hwy, Marathon, FL 33050
13. Enjoy the Islamorada Wine Co.
Everyone from novices to master sommeliers is welcome at this cozy bar to savor a variety of great wines.
Islamorada Wine Co. features a top-notch wine selection, craft beer, retail wine sales, and a sample menu that changes every week.
Cheese lovers will certainly appreciate their cheese and charcuterie platter, which is a delicious work of art. A cozy atmosphere, friendly staff, fine wines, and mouth-watering treats will guarantee an unforgettable dining experience.
The cute little patio is the perfect place to share a bottle of wine with your loved one while taking in the mesmerizing sunset.
Make sure to pair Basil Pesto Hummus, Champagne Mac and Cheese, or Prosciutto Wrapped Dates with a glass of red or white wine, and you will want to return here every time you visit Islamorada.
Opening hours:
Monday: 4 pm – 10 pm
Tuesday: Closed
Wed – Fri: 4 pm – 10 pm
Saturday: 2 pm – 10 pm
Sunday: 10 am – 2:30 pm
Address: 80925 Overseas Hwy Unit 3, Islamorada, FL 33036
14. Have Dinner at the Whale Harbor Restaurant and Seafood Buffet
Immerse yourself in the flavors of Florida Keys' authentic and enriched seafood fare at Whale Harbor Restaurant and Seafood Buffet.
This is the Florida Keys' best-kept secret that offers an extraordinary seafood buffet packed with everything from lobster and shrimp to oysters and fresh local fish.
If seafood isn't quite your cup of tea, you can try Top Sirloin Steak, BBQ Ribs, Fried Chicken Wings, Pizza, and many other non-seafood options.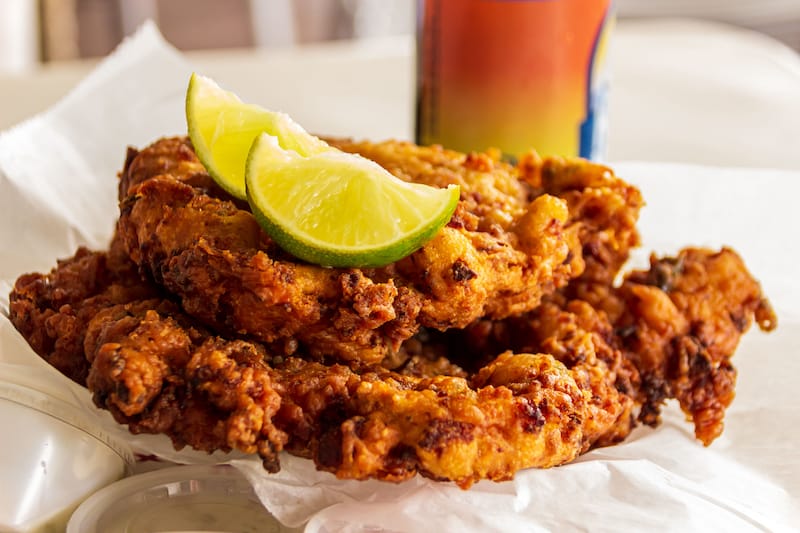 A mouth-watering menu, friendly staff, and a lovely atmosphere will guarantee an uncompromising experience. Spice things up at Sand Bar with refreshing roof-top cocktails, which you can enjoy while taking in majestic ocean views.
Please note that they do not accept reservations, so if you visit during peak times, you may order a drink and enjoy serene views as you wait.
The restaurant is open daily from 12 pm – 9 pm.
Address: 83413 Overseas Hwy, Islamorada, FL 33036
15. Go to Dagny Johnson Key Largo Hammock Botanical State Park
Just a short drive from Islamorada, you will find Dagny Johnson Key Largo Hammock Botanical State Park, which is the ideal place to get away from the hustle and bustle of the city.
The park features one of the US's largest tracts of West Indian tropical hardwood hammock and is home to 84 endangered species of flora and fauna, including wild cotton, mahogany mistletoe, the mangrove cuckoo, American crocodile, and more.
The self-guided nature trail will get you through a tropical hardwood hammock and allow you to get close and personal with rare species of plants and animals.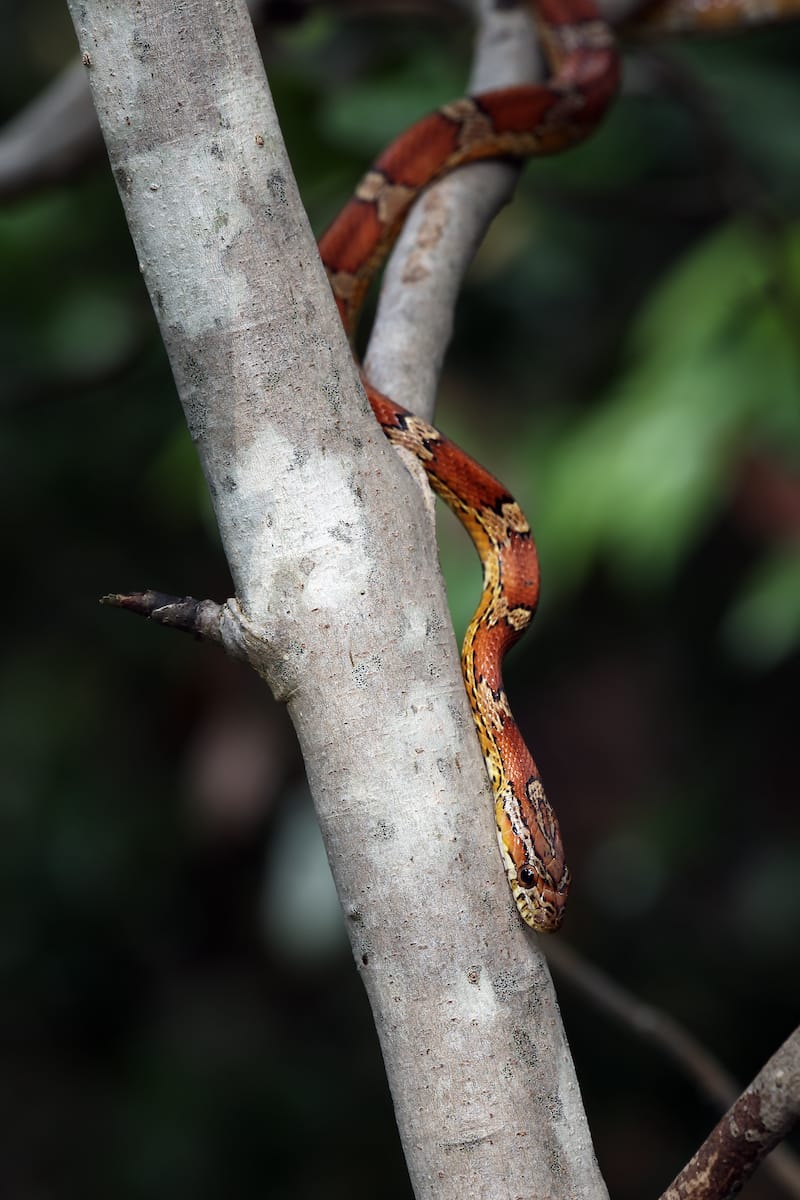 Ranger-led tours are also available.
The park's thick tropical vegetation makes this place a real bird watcher's and photographer's paradise.
Enjoy the great outdoors while hiking, mountain biking, walking, and running along the main paved wheelchair-accessible half-mile trail.
Port Bougainville Trail includes seating, observation areas, and informative signs that will surely enhance your experience of the park.
16. Discover the Florida Keys Overseas Heritage Trail
The Florida Keys Overseas Heritage Trail winds through the state's most stunning scenery between Key Largo and Key West and serves as a transportation route that links island communities in the Keys.
This 106-mile paved multi-use trail incorporates paved bike paths and 23 of the historic Flagler Railroad bridges, making it a popular attraction for bikers, hikers, and lovers of the great outdoors.
The trail passes through many points of interest, such as Everglades National Park, the Great White Heron National Wildlife Refuge, and Key Deer National Wildlife Refuge, allowing you to enjoy a wide range of activities, like camping, hiking, fishing, rollerblading, picnicking, running, paddling, sightseeing, biking, and horseback riding.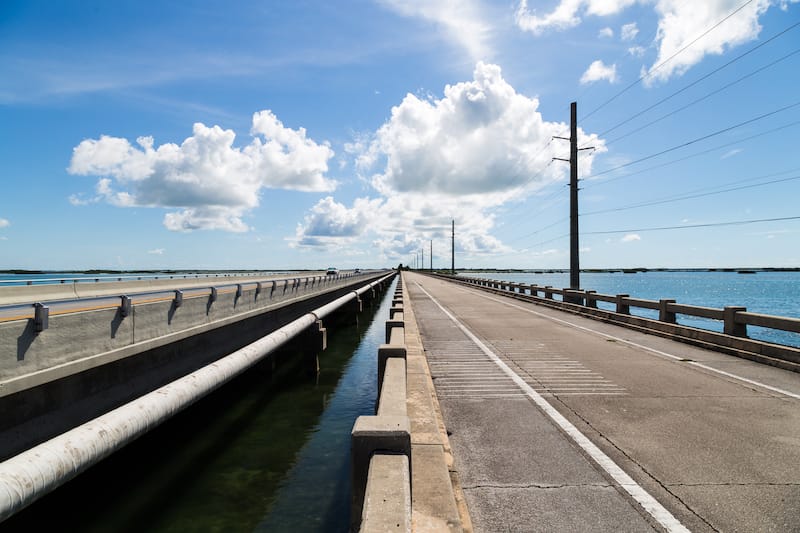 Biking following the route of the Overseas Railroad and over some of the railroad's historic bridges promises an unparalleled experience.
Along the route, you can also find many well-spaced campgrounds and benches, as well as fishing platforms that accommodate fishing.
17. Take a Day Trip to Bahia Honda State Park
A day trip to Bahia Honda State Park will reward you with an award-winning white sand beach and the iconic Florida Keys scenery.
Families and outdoor enthusiasts alike flock to this area to experience Florida Keys' complete package.
Home to three beaches, here you can enjoy swimming in crystal clear waters, sunbathing, beachcombing, fishing (a fishing license is required), boating, and geocaching.
Bahia Honda features three campgrounds, two boat ramps for $10 per boat, a marina with 19 boat slips in a protected basin, and many picnic pavilions.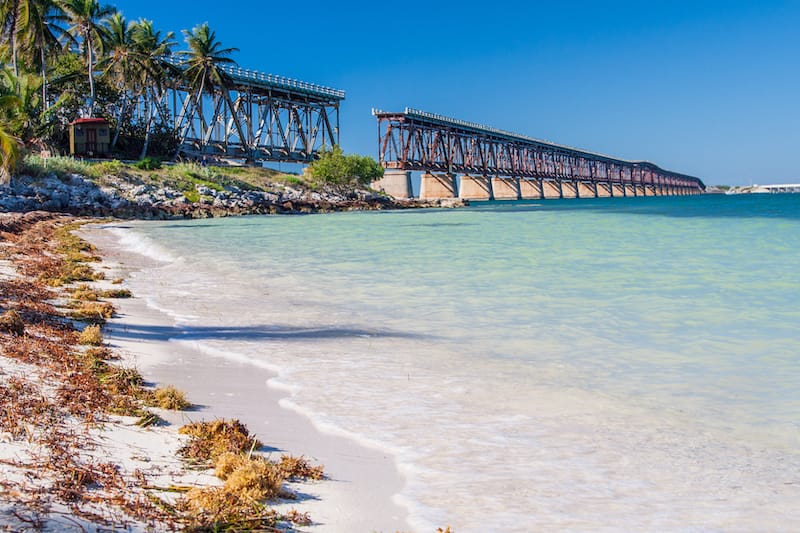 This 500-acre park is the perfect place to discover 150 species of flora, admire wading birds and shorebirds along the Great Florida Birding Trail, bike on the park's paved road, gaze at the stars, and explore the exciting underwater world while scuba diving or snorkeling.
The nearby concession offers snacks, sandwiches, T-shirts, souvenirs, and even kayak rentals, snorkeling gear, and tours to the magnificent Looe Key National Marine Sanctuary.
Best Time to Visit Islamorada
With its warm temperatures and wide variety of activities, it's hard to imagine that you'll get bored in Islamorada at any time of the year.
However, Islamorada is prone to hurricanes, so it's recommended that you avoid the hurricane season, which tends to reach its peak between August and September.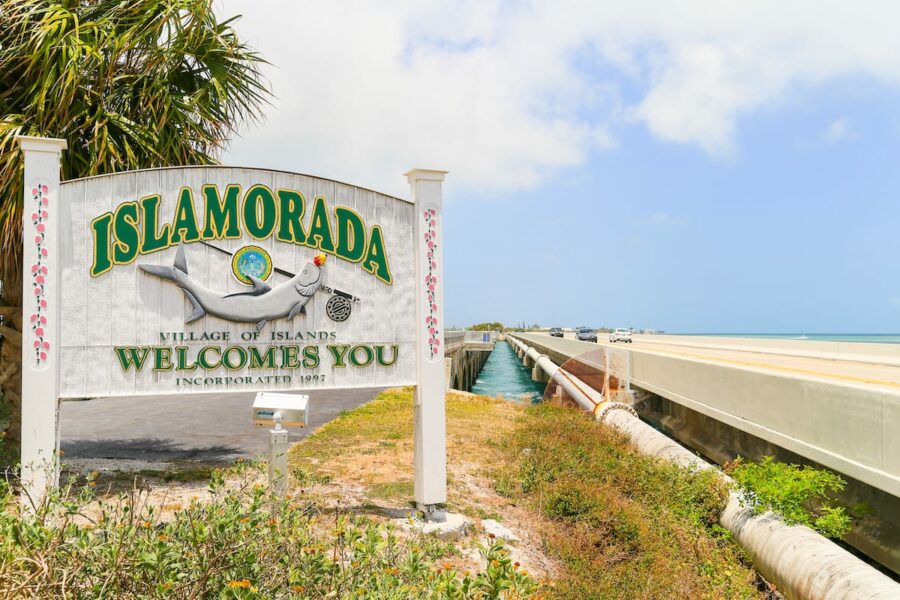 According to visitors, the time between March and May is the best time to visit because you won't have too many crowds visiting for the summer, and the temperatures are just right.
This also means that accommodations won't be too expensive, either. It definitely is a great place to visit in the US during this time of the year!
Where to Stay in Islamorada
You will find many options for places to stay in the Florida Keys. Here are some of our top recommendations for any budget (in and around Islamorada):
Did we miss any of the best things to do in Islamorada (and nearby)? Let us know your favorite Islamorada attractions, landmarks, and more in the comments! Thanks!
More South Florida Travel Guides
Pin this Islamorada Things to Do Guide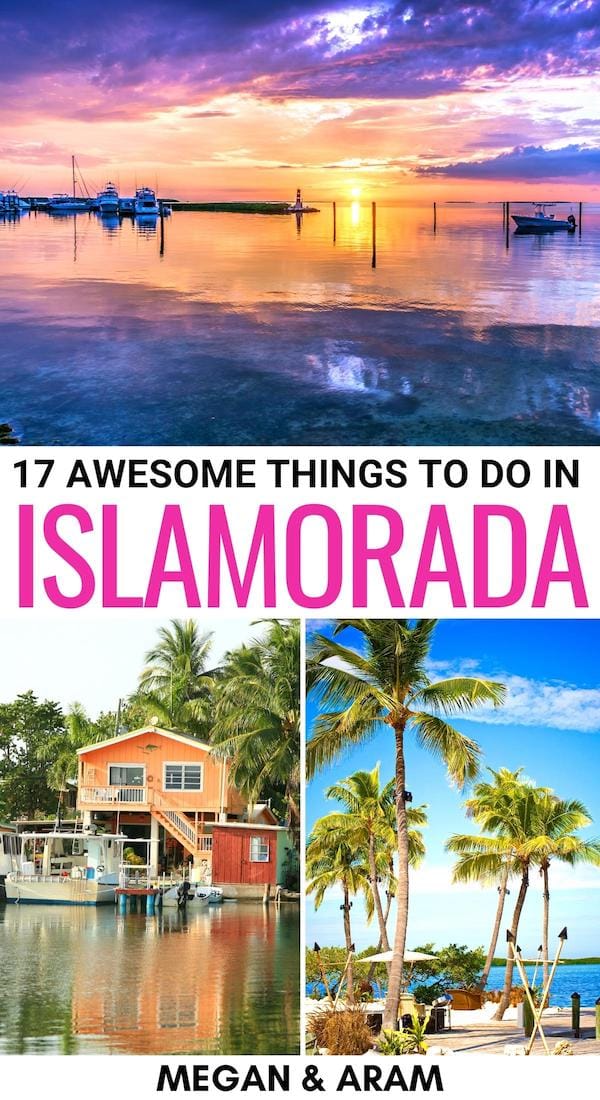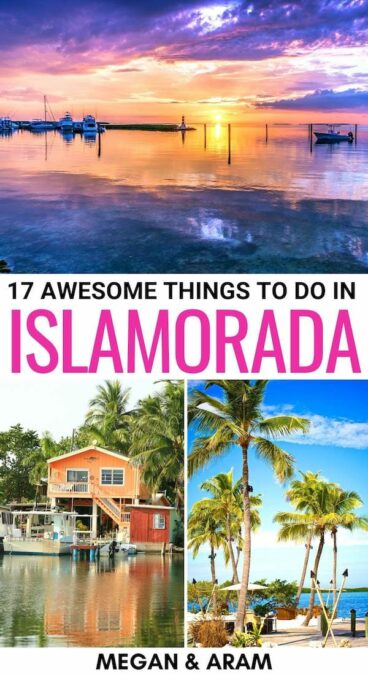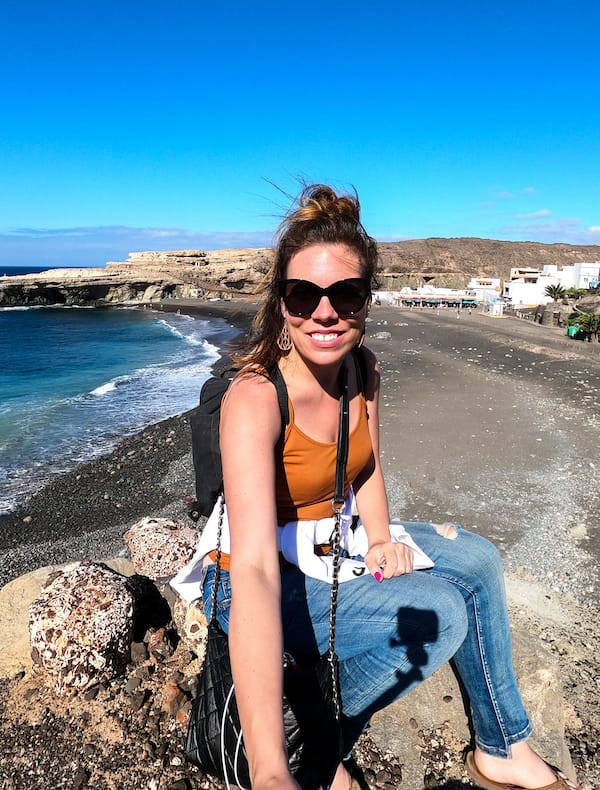 Megan is a travel blogger and writer with a background in digital marketing. Originally from Richmond, VA, she now splits her time between Frankfurt, Germany and Arctic Finland after also living in Norway, Armenia, and Kazakhstan. She has a passion for winter travel, as well as the Nordic countries, but you can also find her eating her way through Italy, perusing perfume stores in Paris, or taking road trips through the USA. Megan has written for or been featured by National Geographic, Forbes, Lonely Planet, the New York Times, and more. She co-authored Fodor's Travel 'Essential Norway' and has visited 45 US states and 100+ countries.