Are you heading to South Florida soon and searching for the best key lime pie in Key West? This guide has you covered!
We detail where to find delicious key lime pie in Key West as well as the history of each place (and a lot about what is on their menus)!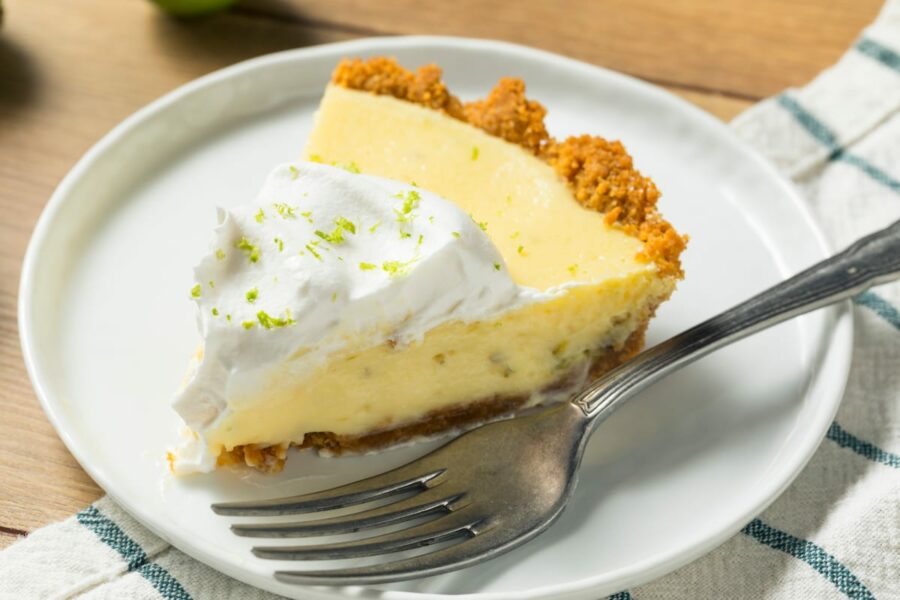 Did we miss any amazing Key West key lime pie eateries? Let us know your favorite key lime pie spot in the comments. Thanks!
What is Key Lime Pie?
So what exactly is key lime pie? Key lime pie is a traditional American dessert made of lime, egg yolks, and sweetened condensed milk that is associated (mostly) with Key West, Florida!
Pretty heavy and calorie dense, but well worth the taste if you ever get a chance to try it out! It is often served without toppings, with a meringue topping made from egg whites, or with whipped cream.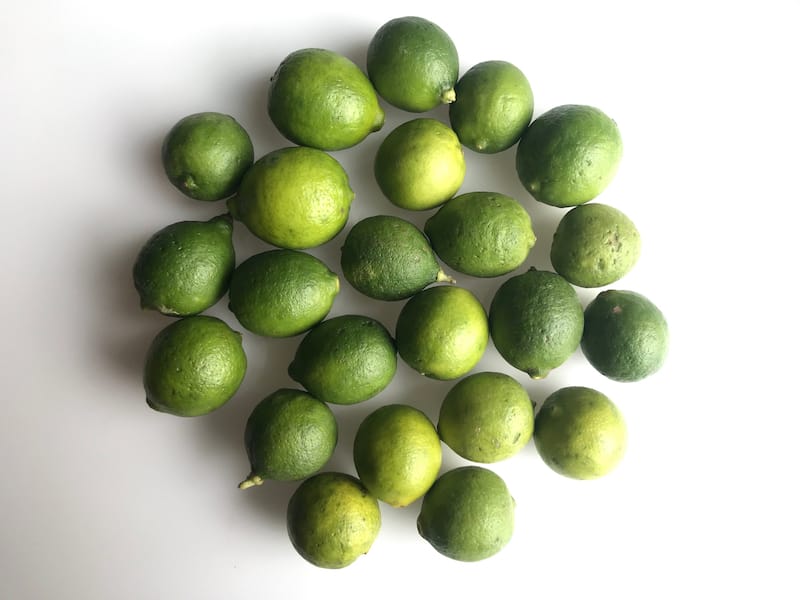 It is sometimes baked in either regular pie crust, graham cracker crust, or no crust. Since it is made of lime and sugary ingredients, it can taste somewhat more bitter depending on the juice of the lime.
This dessert has become an icon of the Florida Keys, and you have to try it when there, regardless of whether you're visiting in winter or summer!
The History of Key Lime Pie
Key lime pie is one of America's best-loved regional dishes, famous in Key West, Florida, and the other Keys.
Unfortunately, no one knows who was the first to come up with the recipe as it was never truly documented.
In the 1800s, a ship salvager named William Curry, also Florida's first self-made millionaire, had a cook who everyone called Aunt Sally.
It is said that Aunt Sally was the one who created key lime pie in the late 1800s. Some historians believe that Aunt Sally didn't necessarily create key lime pie but instead came up with a delicacy that local fishermen enjoyed.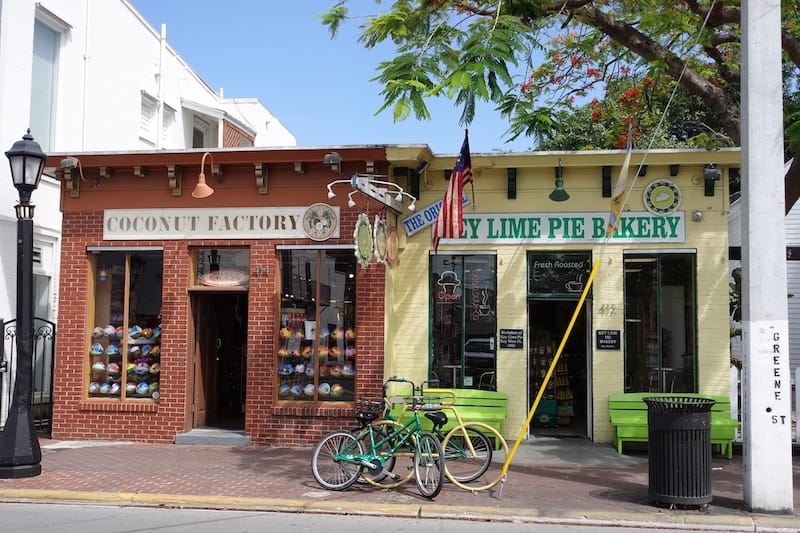 Along with various other theories on who created the first version of the sweet treat, it wasn't until the 1930s that the first recipes were written down.
At that time, there was no fresh milk to use in the recipe for the pie, so many people used sweetened condensed milk as a substitute.
Today, many people use regular milk to make key lime pie (but true lovers know that the sweetened condensed milk makes it so smooth and delicious). In 1994, the Florida State legislature officially recognized Key Lime Pie as an iconic symbol of the state of Florida.
Best Key Lime Pie in Key West
Kermit's Key Lime Shoppe
For 29 years, Kermit Carpenter made his living off of selling smoothies in a small stand in front of a restaurant called Papa's Restaurant in Key West during his tenure as Papa's bookkeeper.
One day, the head chef drove off into the sunset, which forced Kermit to look for something new to do in his life.
After some consulting with his sister Anita and Anita's husband, they realized they had a knack for quality (especially in food!), so they decided to open up a shop offering gourmet food called Kermit's Key Lime Shoppe.
His shop offers a large variety of pies, including different flavors, toppings, and styles.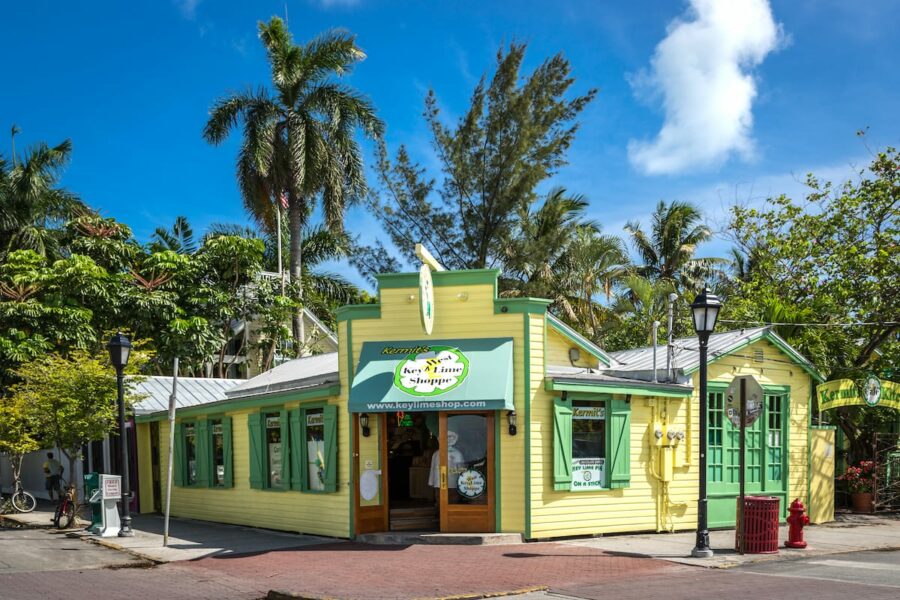 Some of the bestsellers the shop constantly has to churn out are the traditional Key Lime Pie, Kermit's Strawberry Key Lime Pie, Kermit's Coconut Key Lime Pie, and a gluten-free key lime pie for those with gluten intolerance.
Aside from just pies, one can choose from cookies, oils, dry mixes, nuts and snacks, and even jams and jellies like key lime jelly, raspberry jalapeno jelly, mango strawberry jalapeno, and half a dozen more!
Address: 200 Elizabeth Street, Naval Air Station Key West, FL 33050
El Meson de Pepe
The history of this restaurant, El Meson de Pepe, begins in the small town of Yaguajay, Cuba, where Pepe Diaz was born.
When he was a young man, he began cooking to avoid working in the fields, and through those very same teenage years, he found his passion: cooking and food!
He then went to Spain to start cooking and began his career working in popular "Meson" restaurants and refined his skills. When he moved to Miami in 1973, he began working at a locally-famous restaurant La Esquina De Tejas, and even had the pleasure of preparing a meal for then US President Ronald Reagan.
He eventually opened and established his authentic Cuban cuisine called El Meson de Pepe in 1986 with his family.
Some yummy favorites that customers often dine on at El Meson de Pepe are Pepe's Cuban Nachos with guacamole cheese, the Conga Combo, Antojitos, Calamares Empanizados con Sala de Sofrito, the Ensalada de Casa. And some extraordinary desserts like Flan Casero, Coconut Flan, homemade key lime pie, caramel custard, and much more!
Address: 410 Wall Street, Key West, FL 33040
Key Lime Pie Bakery
The Key Lime Pie Bakery is locally owned and operated and specializes in fresh baked Key lime pies delivered daily to its customers.
Aside from being a bakery, they also sell gifts and souvenirs, so customers can take something home from Key West.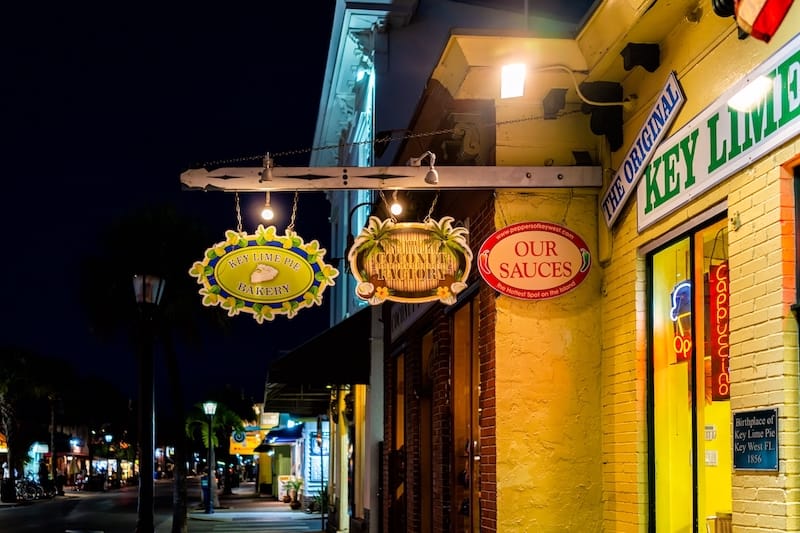 One can choose from an assortment of cakes, cookies, quick mixes, salt water taffy, pie, and tea from Key Lime Pie Bakery.
You can buy a traditional key lime pie or key lime cake, key lime tea, Wheeler's key lime pecans, Tortuga pineapple Caribbean rum cake, key lime coconut patties, and even Key West key lime juice concentrate.
Address: 412 Green St., Key West, FL 33040
Mattheessen's
The Mattheessen family started their business in 1993 when they moved to Key West and opened their first coffee kiosk named after their daughter. It was called "Kayla's Cafe."
They then opened a fudge and cookie store to expand their business. Their philosophy is that every product sold in their shop must be fresh, homemade, and served on the spot!
Many can attest that Mattheessen's is always fresh and tasty no matter what they bite into, making customers come back for more. Their key lime pies are made only with a homemade graham cracker crust, which is thick and holds the tart-tasting deliciousness of the key lime filling.
Choose from traditional key lime pie to a few other flavors. Mattheessen's is also famous for its extra tasty and homemade fudge with some flavors, including chocolate, rocky road, chocolate pecan, and peanut butter.
Make sure you try their homemade ice cream too, which is simply to die for as it contains no added colorings or artificial ingredients and offers 28 different flavors!
They are so popular that they now have three stores and a fourth in Nashville!
Address: 419 Duval St., Key West, FL 33040
The Cafe
Think again if you think vegans don't have an opportunity to stuff their faces with America's favorite sweetened pie!
The Cafe in Key West is a vegetarian and vegan-friendly cafe serving various dishes to the (hungry!) public. You have the option to either dine-in, take out, or order delivery. Gluten-free options are also available.
You can order from an array of breakfast, lunch, dinner, brunch, desserts, and beverages from their versatile menu and all come out absolutely delicious and leave you wanting more.
Many patrons favor the avocado egg scramble pita, the tofu scramble, and the shrimp and egg tacos from the breakfast menu.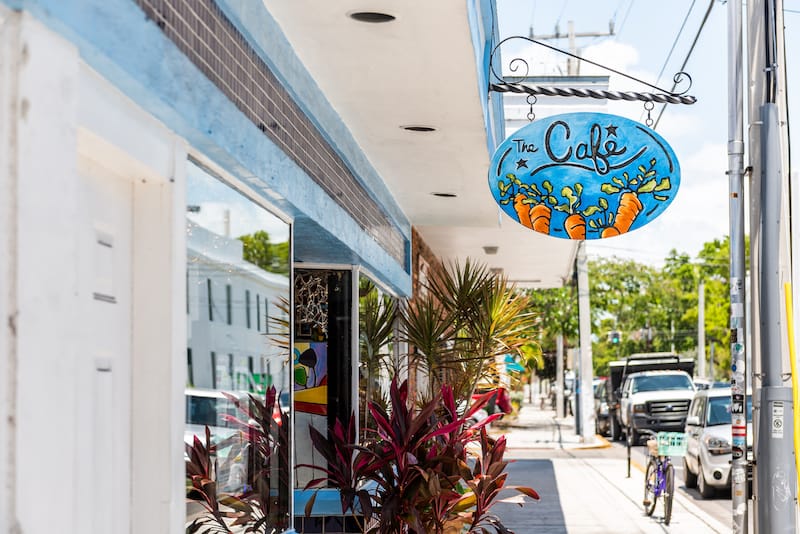 The spinach gyoza dumplings are also favored from the lunch menu, along with curried butternut squash and truffled french fries as a side dish.
To wash away dinner with some dessert, go for the vegan key lime cheesecake, the vegan chocolate mocha cake, the chocolate orbit tart, the vegan carrot cake, or the fresh mango pie!
Address: 509 Southard Street, Key West, FL 33040
Moondog Cafe
The Moondog Cafe and bakery is a lovely place to enjoy a coffee with a dessert, breakfast, or even lunch.
It may be small and cute, but it does offer a large variety of foods to choose from! If you love trying classic cafe staples and are dying to try something original, then order the Moondog Classic, which includes two eggs made according to your preference and choice, jam, applewood bacon or sausage, toast, and breakfast potatoes, with a homemade sub croissant or locally made bagel.
If you want to take the extra mile and devour a heavy breakfast with no shame or guilt, then definitely order the breakfast tacos and taste the fresh avocado, queso fresco, and scrambled eggs all stuffed into a soft corn tortilla!
If you're craving something simple and sweet, then you can, of course, bite into a traditional key lime pie or go for vegan croissants, brownies, cakes, eclairs, muffins, carrot cake, banana bread, and even zucchini bread.
Address: 823 Whitehead Street, Key West, FL 33040
Key West Key Lime Pie Co.
It's said that the desserts at Key West Lime Pie Co. are the most iconic dessert in the Florida Keys.
The first batch of pies was made in the early 20th century and named after the small key lime fruit that is grown naturally in the region. The local fishermen made this desert very popular as it became a favorite among Floridians and those all over the USA.
The family that owns Key West Key Lime Pie Co. has made a special family recipe that has been loved and shared locally for decades.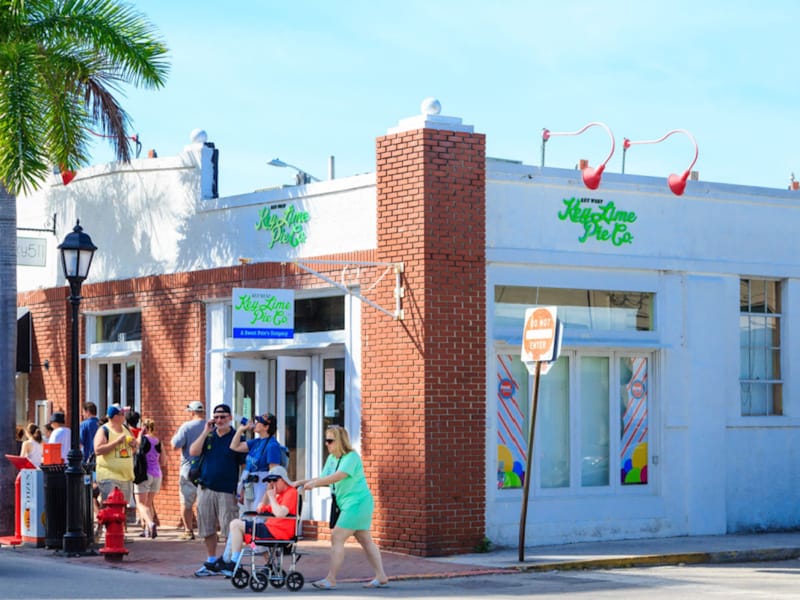 Besides having the option to choose an authentic key lime pie at this cafe, you can also take pie-making classes to go behind the scenes and learn how to make your very own mini key lime pie in the kitchen of the cafe!
At the same time you're at the cafe, be sure to munch on a traditional Key West key lime pie or try six key lime pie chocolate-dipped bars, a gluten-free key lime pie, or gluten-free chocolate-dipped bars!
If you're feeling sassy and keen to opt for different flavors, choose from a selection of mango, blueberry, toasted coconut, and extra tart, which are all a part of the key lime pie menu.
Address: 511 Greene St, Key West, FL 33040
Old Town Bakery
The owner and baker of the Old Town Bakery, Niall Bowen, started his career by working in bakery shops around Boston and eventually earned and obtained a degree in the pastry arts in 1992 at Johnson and Wales University in Rhode Island.
The family-operated business first opened in 2010 in a historic building that took some time to renovate the interior, retaining the 19th-century Key West charm to compliment the bakery's traditional, handmade baked goods.
If you're a sweet tooth and enjoy homemade goods, then start from the dessert menu and choose from the pies like a traditional key lime pie, a chocolate walnut brownie, a whole key lime pie, a raspberry Linzer torte, the famous OMG brownies that burst with chocolate, or some regular scrumptious chocolate chip cookies.
Many residents and tourists run to the Old Town Bakery to pick up some freshly baked bread like baguettes, freshly baked loaves, and various artisan brands.
Cheese lovers also have an option to choose from this cafe! Some famous American desserts can be enjoyed, too, like Apple Cobbler Danish, blueberry cheese danish, sacristan, sticky buns, raspberry scones, and a few other desserts.
Address: 930 Eaton Street, Key West, FL 33040
Blue Heaven
Susanna and Richard, who own Blue Heaven, are a free-spirited couple famous for allowing chickens and cats to roam the restaurant premises.
Blue Heaven is an al fresco dining center offering unique dishes that you can not find ubiquitously across the area.
With that said, the pair take their food menu very, very seriously, guaranteeing that with every bite, one can immediately understand that fresh quality ingredients are the main priority of the restaurant.
The Key West restaurant is a casual place offering indoor and outdoor dining, live entertainment, and American, vegetarian, and Caribbean cuisine.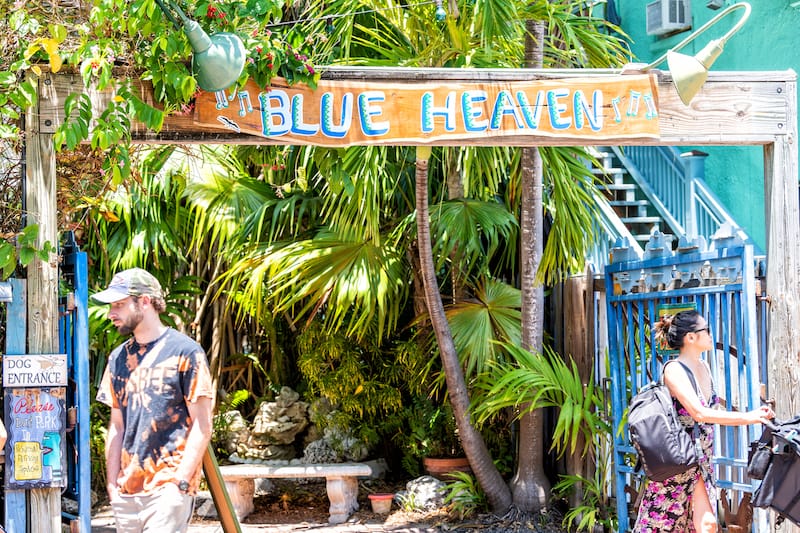 Some key dishes many customers love are the Miso baked eggplant, the Caribbean BBQ shrimp, and the spiny lobster. Made from local waters are two dishes called the yellowtail snapper and the Caribbean bbq shrimp but made with deglazed Red Stripe beer, finished with butter, and served with skillet corn, black beans, and organic rice.
They, of course, offer Key West lime pie on their dessert menu and proudly declare that it is made with a butter graham cracker crust, freshly squeezed lime juice, sweetened condensed milk, and lots of meringue!
Other dessert options include passion fruit cashew cheesecake which is vegan and gluten-free and made with sea salt and fresh strawberries.
Address: 729 Thomas St., Key West, FL 33040
The Key Lime Republic
The owners of Key Lime Republic are devoted to their restaurant and go by the motto that "key lime is the key to everything!"
Their philosophy, and probably their tagline, is "a world of key lime" at your fingertips. This sounds promising to the customer who can't wait to dig into the authentic, tasty Key West key lime pie! You can stop to enjoy breakfast, lunch, or a cup of fresh coffee.
Some breakfast menus that are mouthwatering and worth trying are the Cuban toast with butter paired with some hot cheese or eggs made in any style.
Vegans and vegetarians can enjoy a healthy meal at lunch by munching on a veggie burger sandwich. Aside from that, you can choose sandwiches with grilled chicken, roast beef, tuna salad, pulled pork, and a few other options.
The dessert menu is to die for! Make sure you try an authentic Coconut Key Lime Pie or a Key Lime Cheesecake, or even a gluten-free key lime pie cheesecake if you have gluten intolerance or sensitivities.
If you don't feel like devouring an entire slice of pie, then down a mini whole key lime pie and forget that you ever indulged.
Address: 412 Greene St, Key West, FL 33040
Did we miss any amazing places to track down the best key lime pie in Key West? Let us know your favorite places in the Keys in the comments. Thanks!
More S. Florida & Florida Keys Travel Guides
Pin this Key Lime Pie in Key West Guide