Located right in the middle of the Florida Keys, Marathon is a great option for a vacation with the family. These are the best things to do in Marathon FL!
Are you planning your trip to

Marathon

last minute?
Be sure to book your accommodation in Marathon FL ahead of time to ensure availability!
🛌 Here are our top picks for lodging in Marathon (and nearby):
🚗 Looking for the best way to get around the Florida Keys? Click here to check rental car rates for Florida!
Known as one of the best spots for fishing in the world, the island community boasts pristine beaches, warm weather, and all kinds of activities, bringing in thousands of visitors from all over the world each year.
Here, you can dine at delicious waterfront restaurants, go fishing, snorkeling, scuba diving, and more in the gorgeous turquoise waters.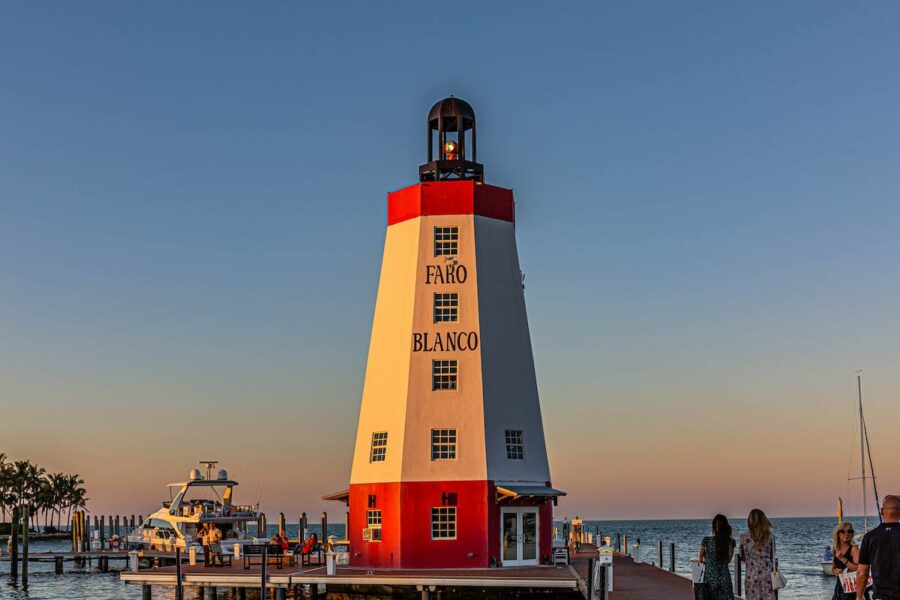 If Marathon is on your list of towns to visit in Florida, you've come to the right place!
Below are our picks for attractions and activities you shouldn't miss in Marathon. Did we miss any Marathon attractions? Let us know in the comments!
Best Things to Do in Marathon, Florida
1. The Crane Point Museum, Nature Center, and Historic Site
Crane Point is located 63 acres away from the highway behind a group of trees, preserving the last remaining undisturbed thatch-palm hammock.
The multi-use facility houses the Museum of Natural History of the Florida Keys, featuring local wildlife, educational programs for both adults and children, a seashell exhibit, and a marine-life display that makes you feel like you're underwater.
The first thing to do here is to visit the Museum of Natural History and learn more about sea turtles. Then, you can check out a 600-year-old dugout canoe, ruins of pirate ships, and much more hidden behind the huge copper doors.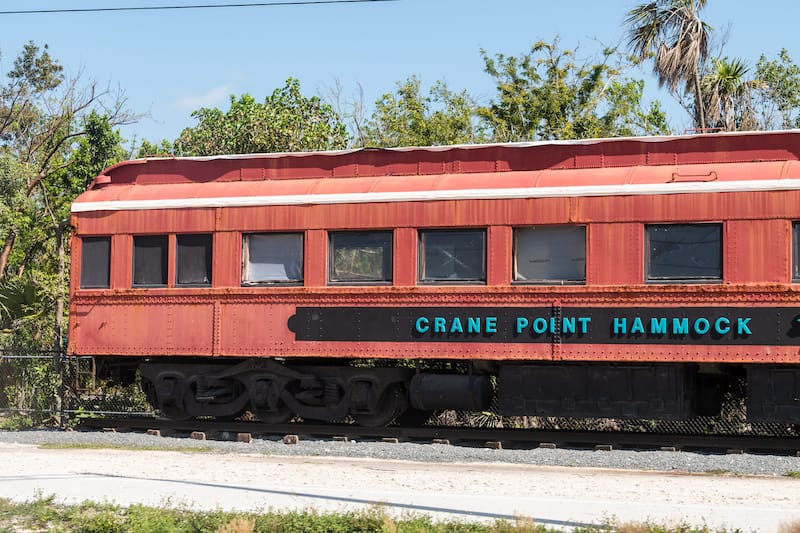 If you are traveling with children, make sure to visit the replica of the 17th-century galleon, pirate dress room, and Cracker House with exhibits.
Other attractions are a gift shop, a butterfly habitat center, the Marathon Wild Bird Center, and the historical George Adderley House.
Address: 5550 Overseas Hwy, Marathon, FL 33050
2. Herbie's Bar & Chowder House
One of the original eatery staples, Herbie's Bar & Chowder House is the heart and soul of the Keys and one of the most sought-after dining locations in Florida.
Open for over 80 years, the venue started as Maggie's Chowder House, and in the 1960s, it changed its name to Herbie's Bar & Chowder House.
The restaurant is a hot spot for locals and tourists for delicious food, craft beer, and a warm atmosphere.
To make your visit even more memorable, make sure to try the best-smoked fish dip with a fantastic combination of spices and fresh shrimp tacos with craft beers on tap.
Don't miss out on the exclusive lime pie, their signature dessert. Herbie's Bar & Chowder House is open Tuesday to Saturday from 11:00 am to 9:00 pm.
Address: 6350 Overseas Hwy, Marathon, FL 33050
3. Turtle Hospital
Turtle Hospital is a nonprofit organization that specializes in turtle rescue and rehabilitation, education, environmental legislation, and awareness of endangered sea turtles.
It is the only state-certified veterinary hospital of its kind in the world.
Each year, over 100 sea turtles are treated at the oceanfront hospital, including hatchlings that become disoriented and cannot find their way to the sea.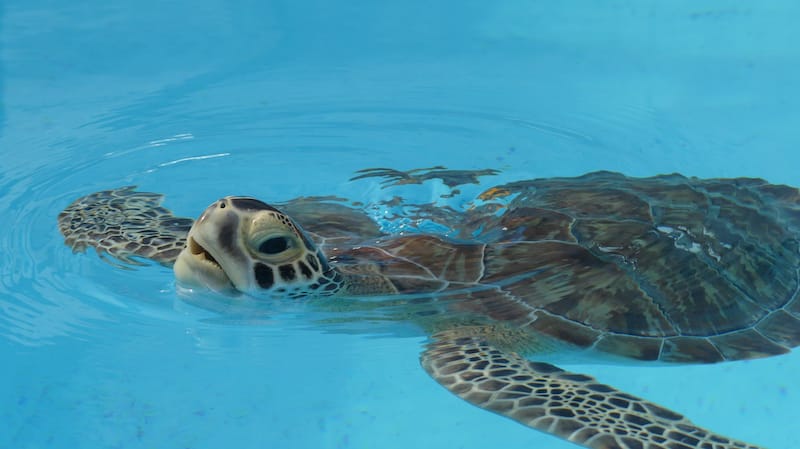 If you are in the lower Florida Keys, you can take a guided educational tour of the hospital facilities to the sea turtle rehabilitation center.
Throughout the 90-minute tour, you will learn about sea turtles and see the rehabilitation area behind the scenes.
Visitors are invited to feed the permanent residents at the end of the program. The education center is open daily from 9 am to 6 pm.
>> Click here for rates and availability
Address: 2396 Overseas Hwy, Marathon, FL 33050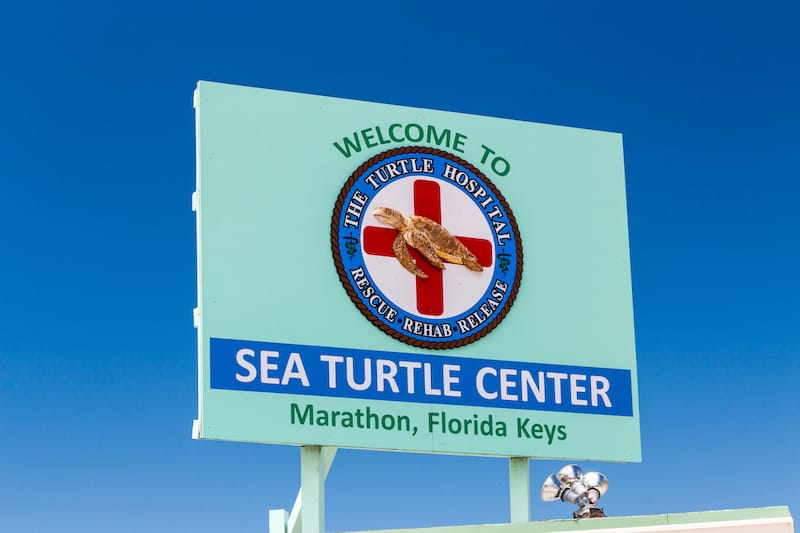 4. Shady Palm Art Gallery and Photography
Located in the heart of the Florida Keys, Shady Palm Art Gallery and Photography is the perfect stop to see crafts, original paintings, fabric art, carved wood, jewelry, and much more.
With affordable custom framing, you can get a unique present and a nice memory to take home with you from the Florida Keys.
The art gallery exhibits items from over 50 local artists available for purchase. Shady Palm Art Gallery and Photography is open Tuesday to Saturday from 10 am to 5 pm.
Address: 2888 Overseas Hwy, Marathon, FL 33050
5. Marathon Reef Fishing Charters
Make your trip to Marathon memorable by exploring the beautiful waters of the Florida Keys.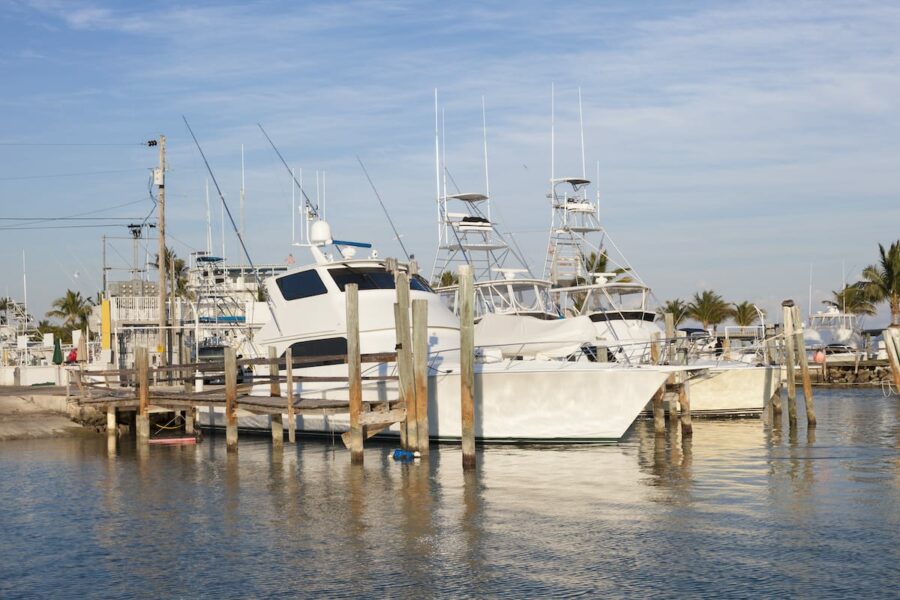 Sail through the waters of the Atlantic Ocean during a day of reef fishing on a charter boat and try your luck at catching mahi-mahi, grouper, wahoo, snapper, king mackerel, and more.
Whether you're experienced or a beginner at fishing, you will surely catch a lot of fish while enjoying a beautiful day.
Additional information:
Fishing and safety equipment included
Bathroom and marina facilities
Wheelchair and stroller accessible
>> Click here for rates and availability
6. Sombrero Beach
Sombrero Beach is a real gem of the Middle Keys with its soft sand beaches, turquoise waters, and shady picnic areas.
This family-friendly beach with calm waters is a popular destination for water activities: snorkeling, kayaking, diving, or simply enjoying the waves on the beach.
If you are an experienced swimmer, explore the deeper water to find tropical fish and turtles.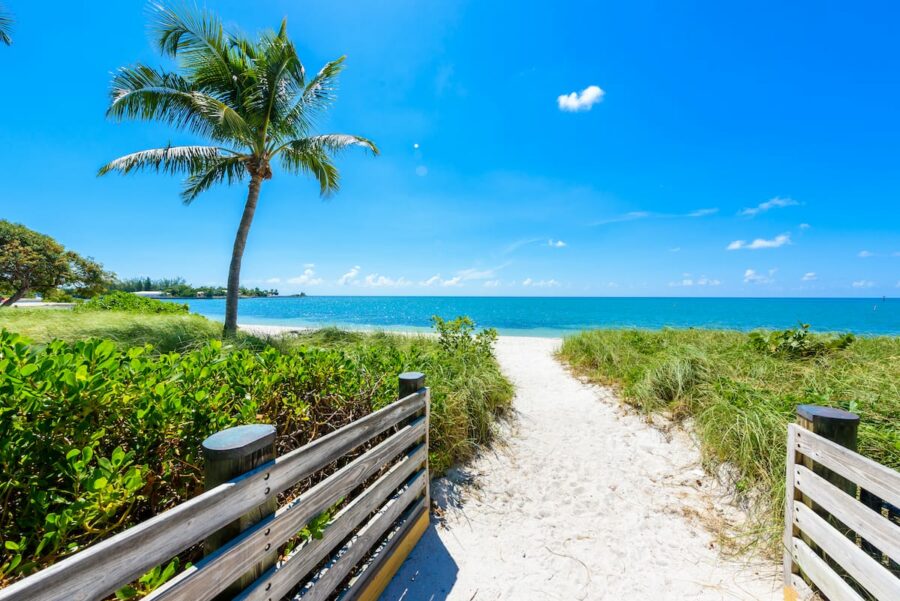 This stretch of public beach is one of the Marathon's main beaches. It is mostly busy on weekends, so arrive early or during the week to get a good spot by the water.
Additional information:
The nesting sites of loggerhead turtles on the beach are closed from April to October
Free public parking
The beach is closed at night
7. Sweet Savannah's Bake Shop
The Florida Keys' premier bakery and ice cream shop is your must-visit place when traveling to Marathon. Sweet Savannah's offers baked goods, ice cream, books, toys, and gifts.
It also serves gluten-free, vegan, and dairy-free desserts and award-winning Key Lime pie to satisfy your sweet tooth.
Custom-designed cakes, wedding cakes, desserts, and cupcakes are always in demand at Sweet Savannah's bakeshop and ice cream café.
Opening hours:
Monday: 11 am – 9 pm
Tuesday: 11 am – 9 pm
Wednesday: 11 am – 9 pm
Thursday: 11 am – 9 pm
Friday: 11 am – 10 pm
Saturday: 11 am – 10 pm
Sunday: 11 am – 9 pm
Address: 8919 Overseas Hwy, Marathon, FL 33050
8. Bahia Honda State Park
Bahia Honda Key is a remote white-sand beach on a pristine spur between the Atlantic and the Gulf of Mexico with some of the clearest waters in the world.
Far away from city lights and practically light pollution-free, the park offers an amazing starscape with the Milky Way's misty veil clearly visible.
However, the Bahia Honda Key isn't just for beachgoers and stargazers. It provides something for everyone who enjoys the outdoors, whether on land, air, or sea.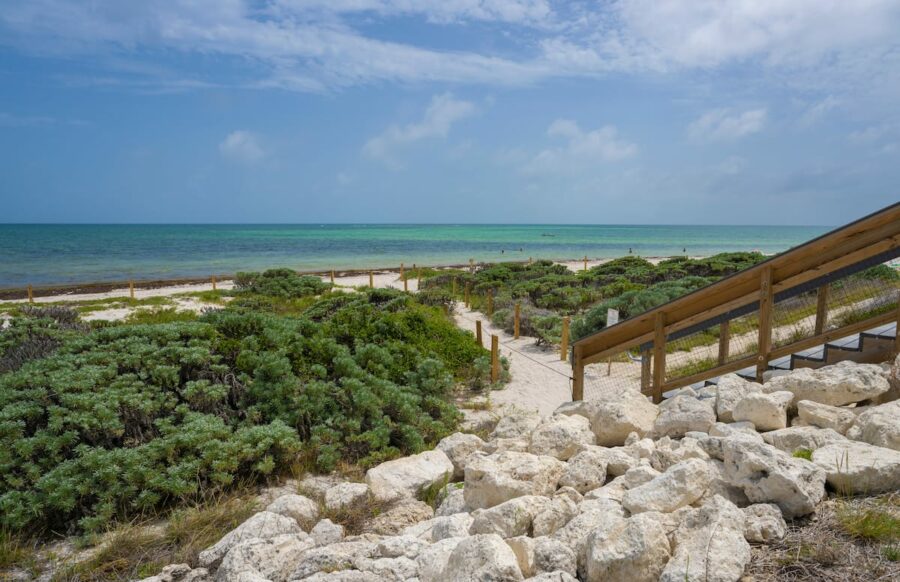 It's a destination for day-trippers and overnight campers, beachgoers, and seafarers. You can choose from three different trails with amazing views to tropical hardwood hammocks, sea grapes, and Jamaican dogwood for hiking.
Active sports lovers would love kayaking and snorkeling in the waters to explore star corals and extensive marine life.
Address: 36850 Overseas Hwy, Big Pine Key, FL 33043
9. Marathon Air Museum
From Islamorada to Marathon, the EAA Air Museum is a must-see attraction for aviation lovers of all kinds.
The Florida Keys EAA Air Museum displays a collection of several aircraft (Beech 18, DC3, an experimental project, and Cessna display model under restoration by the members) and a variety of models representing different periods of flight.
There's also an extensive collection of aviation equipment donated by "Keys" aviators and EAA Chapter 1241 members.
Each morning, you'll find an active roundtable of local pilots drinking coffee and discussing the issues facing the aviation community and the world.
Address: 9850 Overseas Hwy, Marathon, FL 33050
10. Curry Hammock State Park
Curry Hammock State Park is the getaway to authentic Florida, spanning more than 1,110 acres across a chain of islands and protecting rare Florida Keys habitats.
These tropical islands' hardwood hammocks support one of the largest populations of thatch palms in the United States. What is unique about the state park?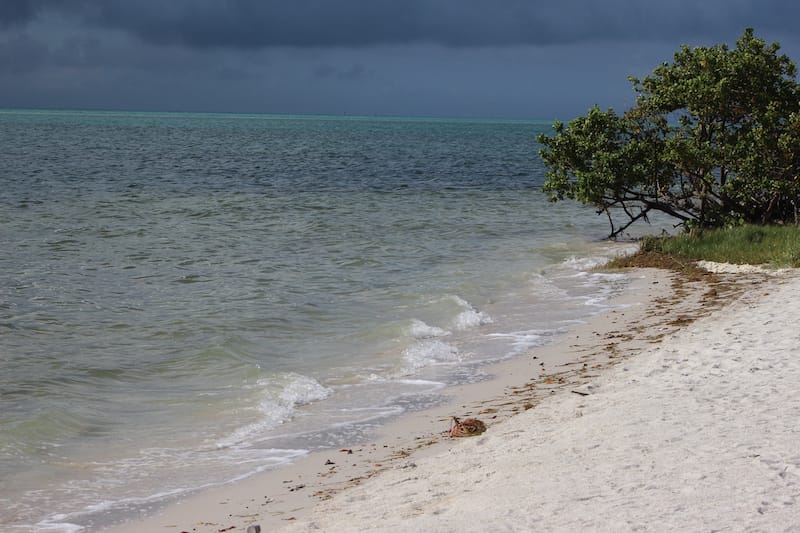 You get camping on the beach, kayaking, hiking in the wild, swimming, snorkeling, and kitesurfing all in one place.
The beach of Curry Hammock with shallow waters and weak currents is ideal for families with children. The park is open from 8 am until sundown all year round.
Click here to see the entrance fee info.
Address: 56200 Overseas Hwy, Marathon, FL 33050
11. Sunset Catamaran Tour
What can be more romantic than enjoying sunset views in the middle of the ocean?
You can take a 4-hour sunset tour with the most spectacular sunset views and colors around Marathon or take a shorter, 3-hour cruise enjoying wine and tapas on the boat.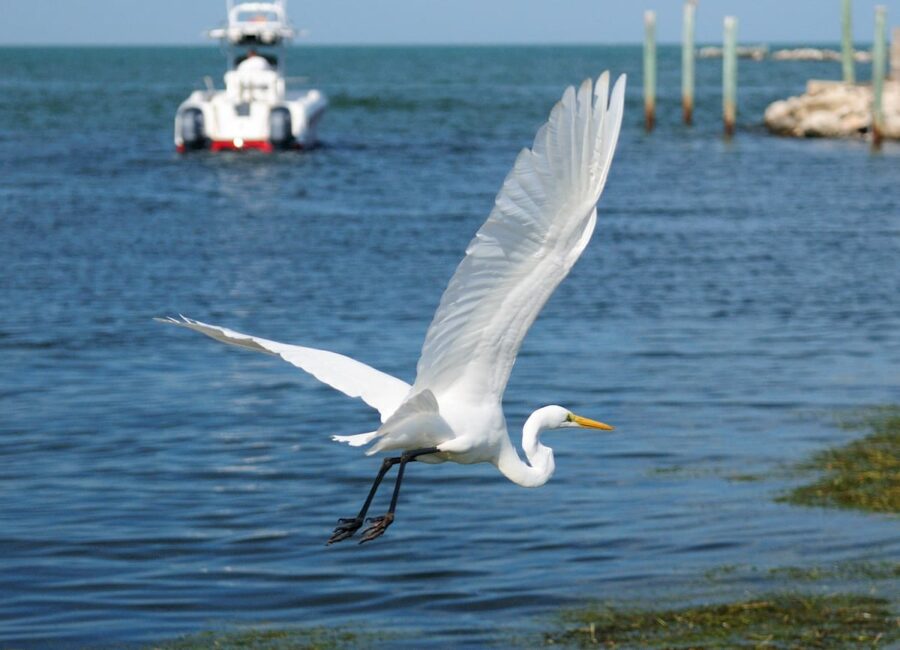 You can even stay on the boat for up to 5 days exploring the reefs and nearby islands for special occasions.
Additional information:
Getting drunk on the boat is prohibited
You can only bring medication if it is a prescription from a doctor
12. JD Premier Aviation Helicopter Tours
Looking for a fun thing to do in Marathon? This helicopter tour by JD Premier is one of the most incredible activities in Marathon.
Explore the Keys from above on a helicopter and get the magical experience of seeing Bahia Honda State Park, Hawk's Cay, the Seven Miles Bridges, Sombrero Beach, Pigeon Cay, and much more.
Keep your eyes peeled because you will see sea turtles, dolphins, sharks, stingrays, and other sea life from above.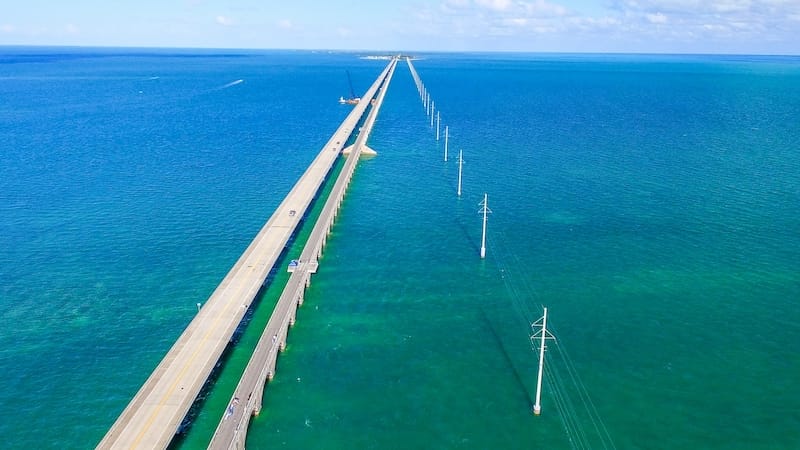 Whether it is a romantic tour or a family adventure, the comfortable ride on the Robinson R44 helicopter will be remembered for a lifetime.
13. Keys Cable Park
Although the Keys Cable Watersports Park is not a major attraction, it should not be missed on your trip to Marathon.
Located mid-way to Key West on Grassy Key, Keys Cable Park's main attraction is a pristine 7-acre lake with two cables.
The cable system replaces the need for a boat by pulling riders across the water via overhead cables.
With an independent 2-point system, the operator can control the speed and stop the ride if you fall. Even if you fall, the operator will bring the handle to you, and you will continue the ride from that point in the lake.
Keys Cable Park includes cables, paddleboards, foil boards, kiteboards, surfboards, and beautiful beaches for recreation. Find Bogos botanical beer garden with tropical fruit trees where you can taste 20 craft beers on tap, cocktails, and light snacks.
The park is open daily from 10 am to 6 pm.
Address: 59300 Overseas Hwy, Marathon, FL 33050
14. A Deep Blue Dive Center
Get your chance to explore one of the world's most expansive and versatile scuba diving and snorkeling destinations when traveling to the Middle Keys.
Scuba diving and snorkeling with the Deep Blue Dive Center will give you all the fun you expect and more.
Whether you want to try looking for lobsters, go spearfishing, or simply wish to enjoy the underwater world, you will find everything in one place.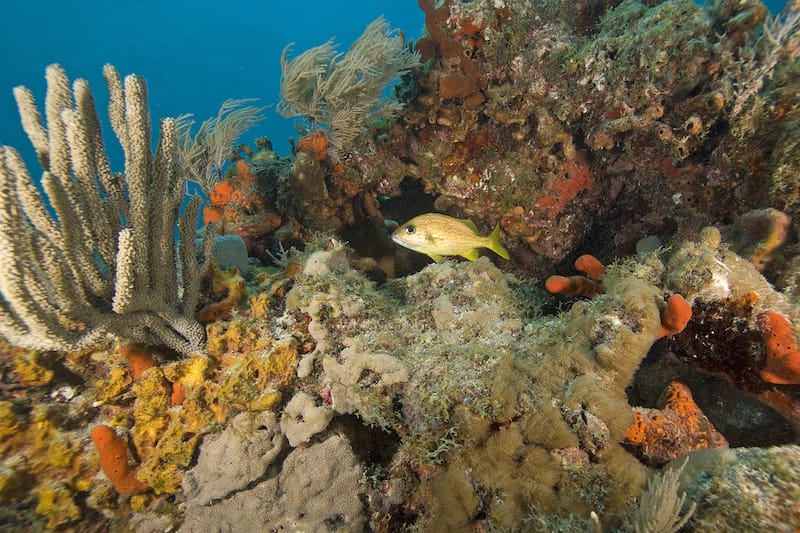 Take a tour to Sombrero Lighthouse, Coffins Patch, the world-famous Thunderbolt, and dozens of other diving locations around the area to fall in love with the Middle Keys.
Deep Blue Dive Center also offers boat tours to the Islands, romantic sunset cruises, tours for weddings, and rental services.
The Deep Blue Dive Center center is open daily from 8 am to 5 pm.
Address: 13205 Overseas Hwy, Marathon, FL 33050
15. Curly's Coffee and Marina
This cute coffee shack is a charming open-air concept offering some decent coffee, iced almond lattes, berry smoothies, and fantastic service. It also has affordable kayak and paddleboard rentals and delivery for your comfort.
You will never miss a drive-thru waterfront coffee kiosk because it is always crowded nearby.
Opening hours:
Monday to Saturday from 6:30 am to 6:00 pm
Sunday from 7:00 am to 6:00 pm
Address: 11601 Overseas Hwy, Marathon, FL 33050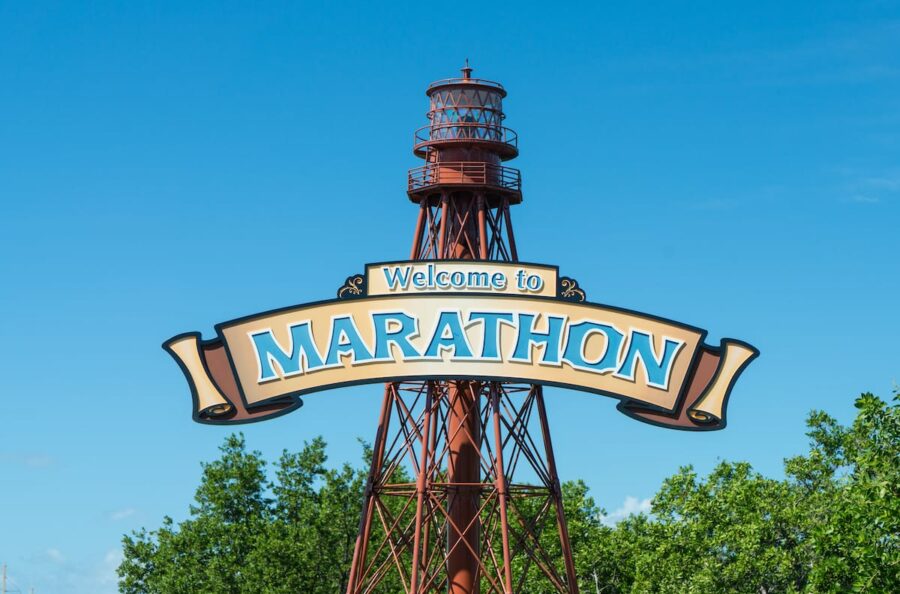 Where to Stay in Marathon
If you are looking for the best places to stay in Marathon and nearby – check out our selection below!
Did we miss out on any amazing things to do in Marathon, Florida? Let us know your favorite Marathon attractions in the comments!
More South Florida Travel Guides
Pin this Marathon Things to Do Guide