Are you considering booking a Miami jet ski tour? This guide details how to do it, what to expect, how to prepare, and a quick review of my jet ski tour in Miami!
Are you planning your trip to Miami last minute?
If youʻre booking your trip to Miami last minute, we have you covered. Below are some of the top tours, hotels, and more!
🌴 Top Experiences and Tours in Miami:
🛌 Top Hotels in Miami:
🚗 Looking for the best way to get around Miami? Click here to check rental car rates for Florida!
There are certain things you need to do in Miami, eat your way through Little Havana, admire the art of Wynwood, chill at Miami Beach, and take a jet skiing tour.
This guide will walk you through everything you need to know in order to book a Miami jetskiing tour, from FAQ to how to book to details on my experience!
I did quite a bit of research before booking and was delighted when the tour turned out just as I had expected!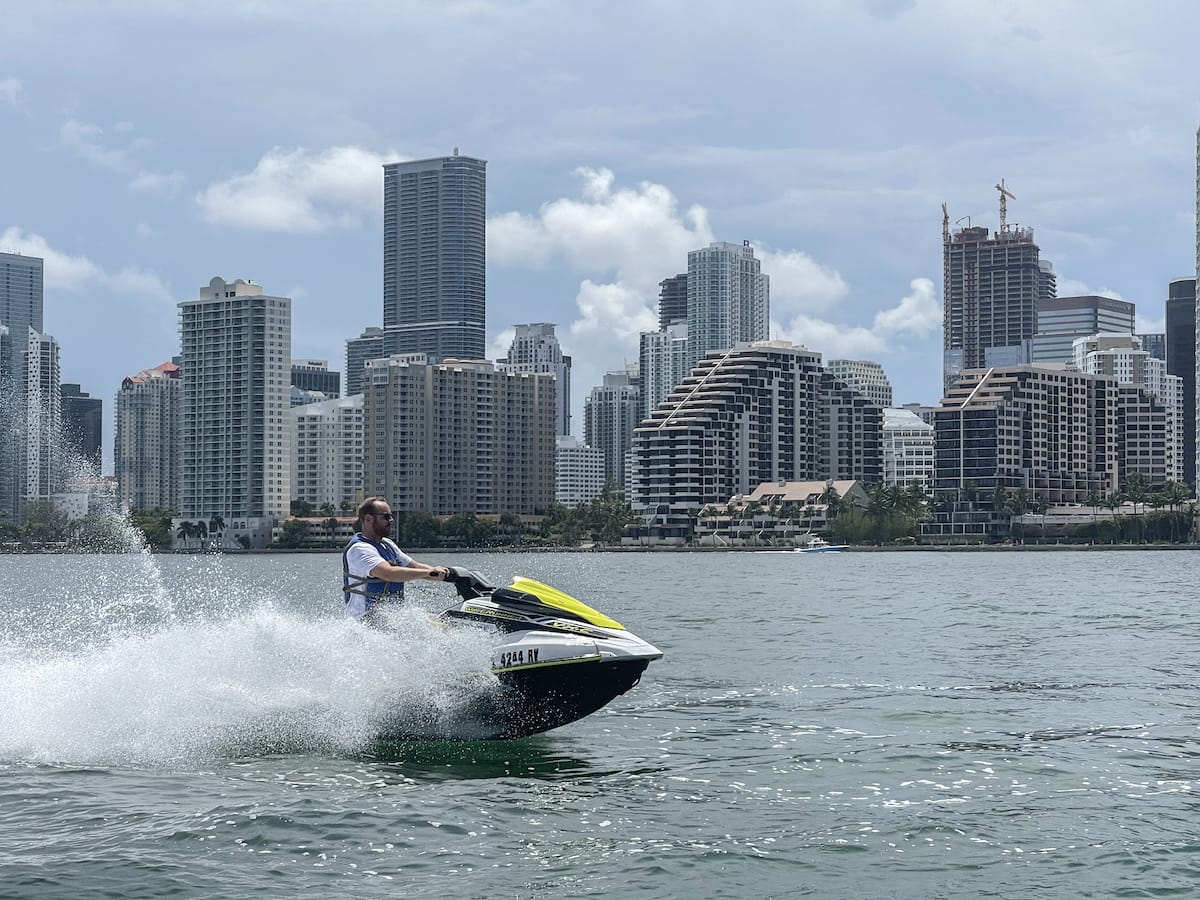 In addition to all the info you will need to book this tour, I also detail what you need to do prior to the tour as it requires a temporary boating license.
If you have any questions about the Biscayne Bay jet ski tour that I took, please leave them in the comments. Thanks!
Why I Chose this Miami Jet Ski Tour
I did plenty of research into the best jet skiing tours in Miami and this one appealed to me the most, thanks to its high ratings and flexibility.
BOOK HERE: Biscayne Bay jet ski tour
I also found the fact that the price is per jet ski, with one booking good for two people.
How to Book the Jet Ski Tour
Tours run daily between 10am and 3.30pm during the week and until 4.30pm on weekends.
Once you have purchased the experience you will be contacted directly by the tour provider to book a slot on your chosen day.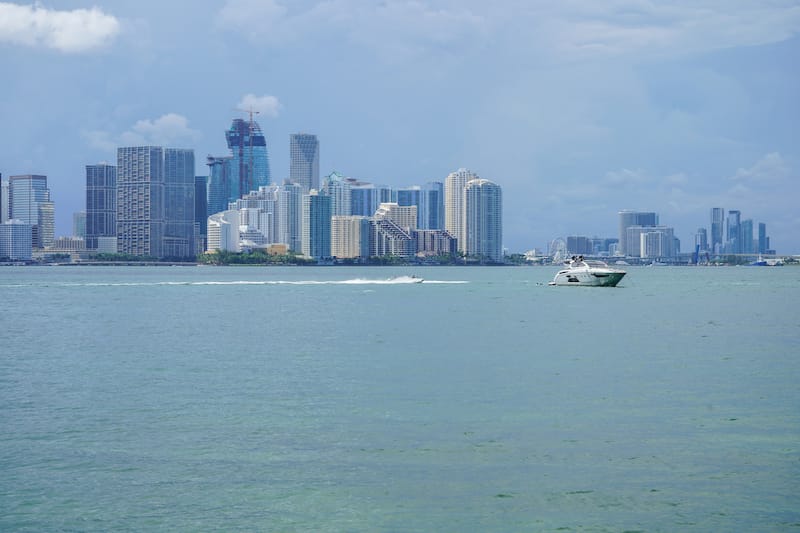 I found the best way to book this Miami jet ski tour was through Viator, a place where I book many of my tours in the US!
They confirm everything beforehand and send you the confirmation and voucher virtually so you don't need to hassle with phone numbers and random emails to various companies.
Miami Jetskiing Tour FAQ
How Old Do You Need to Be for the Tour?
You need to be 18 years old to rent a jet ski. However, 14-year-olds may operate a jet ski provided they are accompanied by an adult. Passengers can be as young as ten years old.
Do I Need a License to Operate a Jet Ski?
While you do not need a valid driving license, you will need a Temporary Florida boating license if you were born after January 1st, 1988.
The license can be applied for online here. You will need to pay $8.99 for the license and complete a 25-question exam. To pass the exam you will need to get at least 19 questions correct (a score of 76%).
Thankfully the exam can be taken as many times as needed and there is no time limit to complete the exam. Most of the answers can be answered with a little bit of common sense and passing should be easy after a few attempts.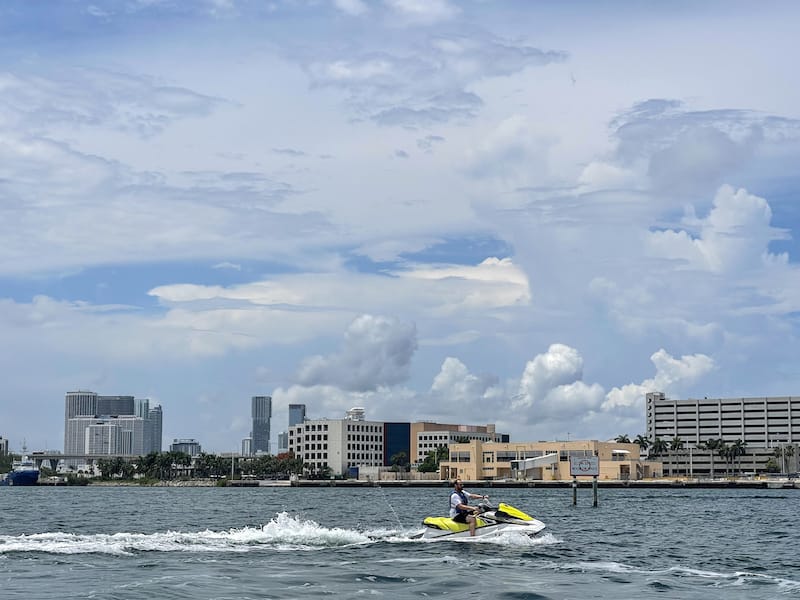 I passed on my first attempt having failed the practice test, luckily most of the questions were the same and I breezed through it, with little actual studying.
If you turn up for the tour without completing the exam you will be given the opportunity to complete the exam on your phone there with some guidance from the staff or you will only be allowed to be a passenger.
Do I Need Prior Experience to Do the Tour?
No! You will be taught everything you need to know before getting on the jet ski and the instructor will keep an eye out for you on the water and will make sure you keep up with the group and don't go rogue.
What Should I Wear on a Miami Jet Ski Tour?
Wear comfortable swimwear, keeping in mind that you will likely be out in the direct sun for an hour or so. To protect yourself from the sun you should wear a rash guard with UV protection.
If you wish to wear regular glasses or sunglasses it is advisable to wear a glasses strap, this will keep them attached to you even if you end up in the water.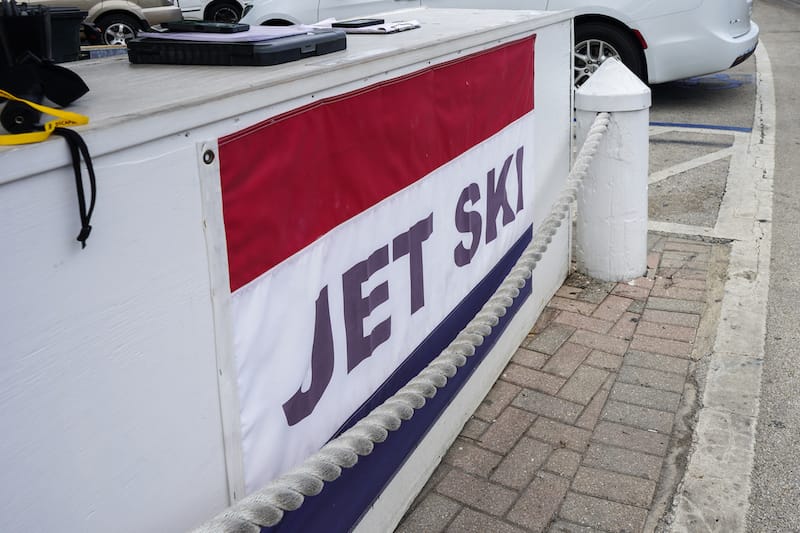 The tour operator will provide you with a life jacket.
You will leave any footwear you have by the dock you depart from.
What Should I Bring to the Tour?
Only your ID! For safety reasons, you are not allowed to carry any equipment with you during the tour. If you have a safe place to store your ID you can hold on to it, otherwise your instructor will keep it on him.
If you have a helmet where you can attach a go pro you may bring it with you, otherwise, everything else will be locked up at the starting point and kept safe for you.
Along the way, the instructor will take photographs of you and either airdrop them to you or send them via WhatsApp.
Meeting Point for the Tour
The tour is of Biscayne Bay and will depart from Rickenbacker Marina on Virginia Key.
Once you arrive at the Marina there is a small white building with a little stand in front of it. You will need to register with the people at the stand to start the tour.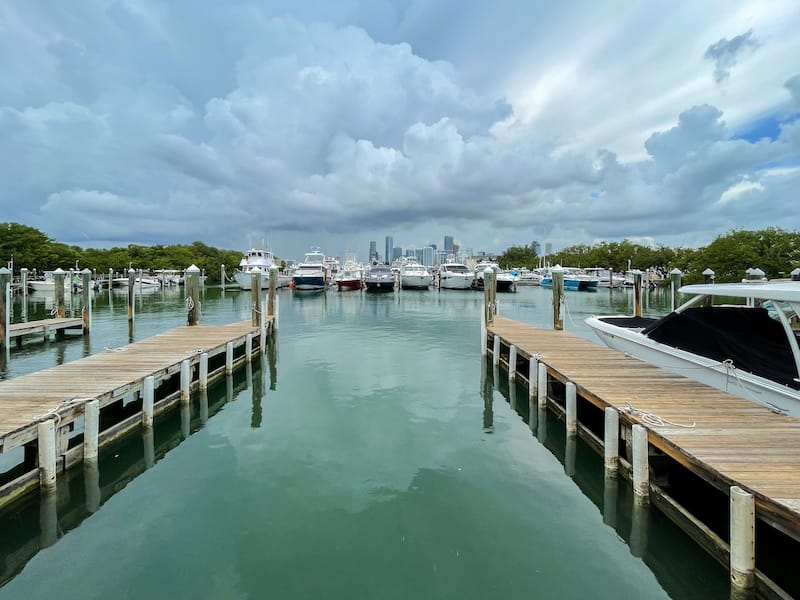 Parking is available around the Marina, although I personally took a Lyft there and back.
What Else is Near the Marina?
Yes! There are several bars and restaurants around the Marina, including the Black Pelican.
The restaurant boasts some epic views of Downtown Miami and serves up a range of high-end meals as well as a number of drinks.
There is a small waterfront patio too where you can sit and have a drink as you dry off after jet skiing.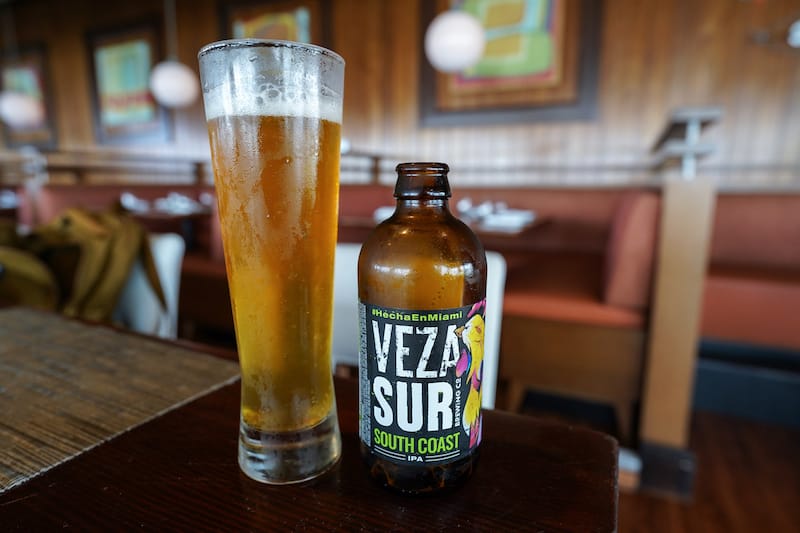 My Experience Jetskiing in Miami
I can't lie, I loved every moment of this experience and while each tour differs slightly I will give you a run-through of what I did on mine! First of all, my tour consisted of myself and one other person.
We set off from the harbor slowly and once we were out of the idle speed zone we were able to let loose.
At first, I will admit that I struggled. The jet ski kept wanting to go right and every time it went right I would crash through the wake of the instructor.
He demoted me to the last position in the line as the slowest needed to be at the back for safety reasons and after a while I quickly got up to speed and was able to control the jet ski a little better.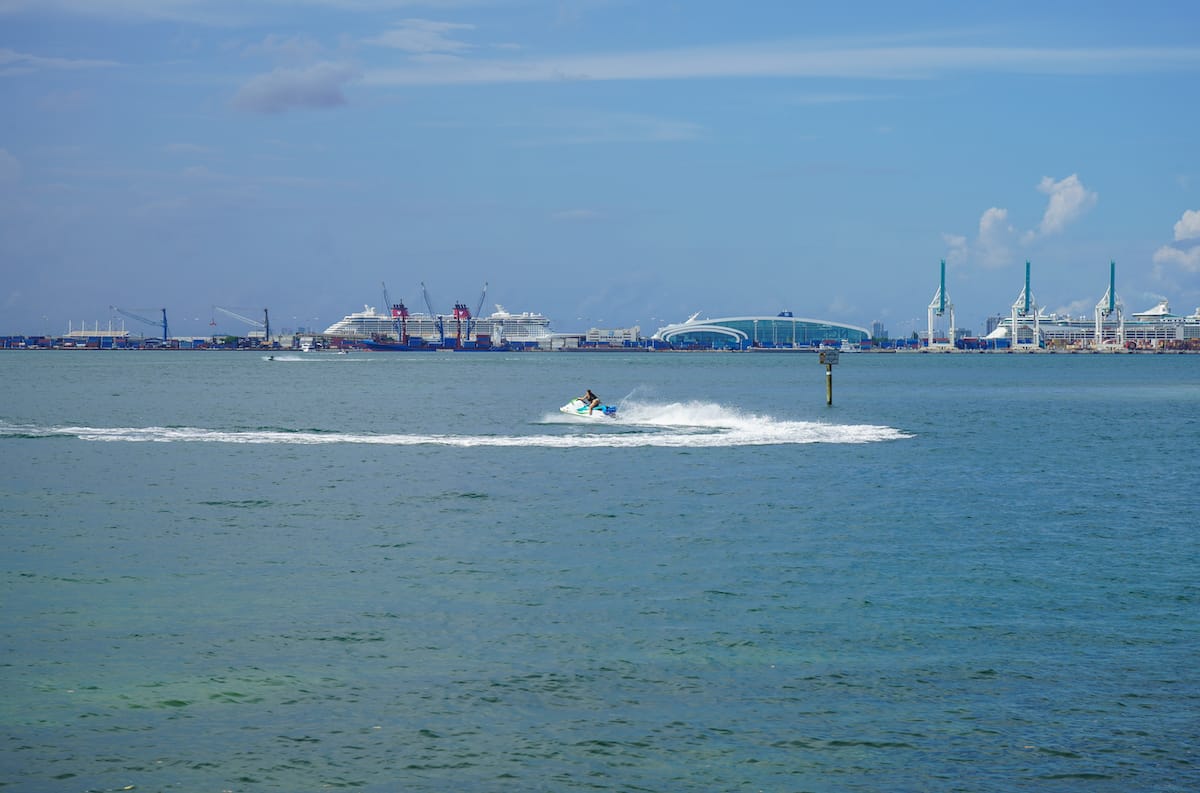 We cruised through the main port and the instructor took some photos of us individually cruising about. Occasionally he would stop to tell us a little about what we were seeing on the mainland and where we were.
I found controlling the jet ski far easier once I learned to keep in the wake of the ride in front of me. I assume this is why the instructor was adamant everyone should ride in a linear line.
Once I had this fundamental down, any pre-ride nerves subsided and I really started to enjoy the experience at a whole new level.
BOOK HERE: Jet ski tour of Miami
Eventually, he gave us an option to head out into the ocean more where we could do a more thrill-seeking tour or we could tour the waterways around the wealthy district of Miami.
We opted for the more adrenaline-pumping option and headed out into the Atlantic. We sped around the bay as fast as possible until we headed towards a sandbar just off Biscayne Key.
As we got close to Nixon Beach Sandbar, we had to slow our speed to pass through seagrass where during the right season it is possible to spot manatees.
Sadly we did not see any manatees, despite my hopes. Once we reached the sandbar we stopped the jet skis and chilled in the water for a bit.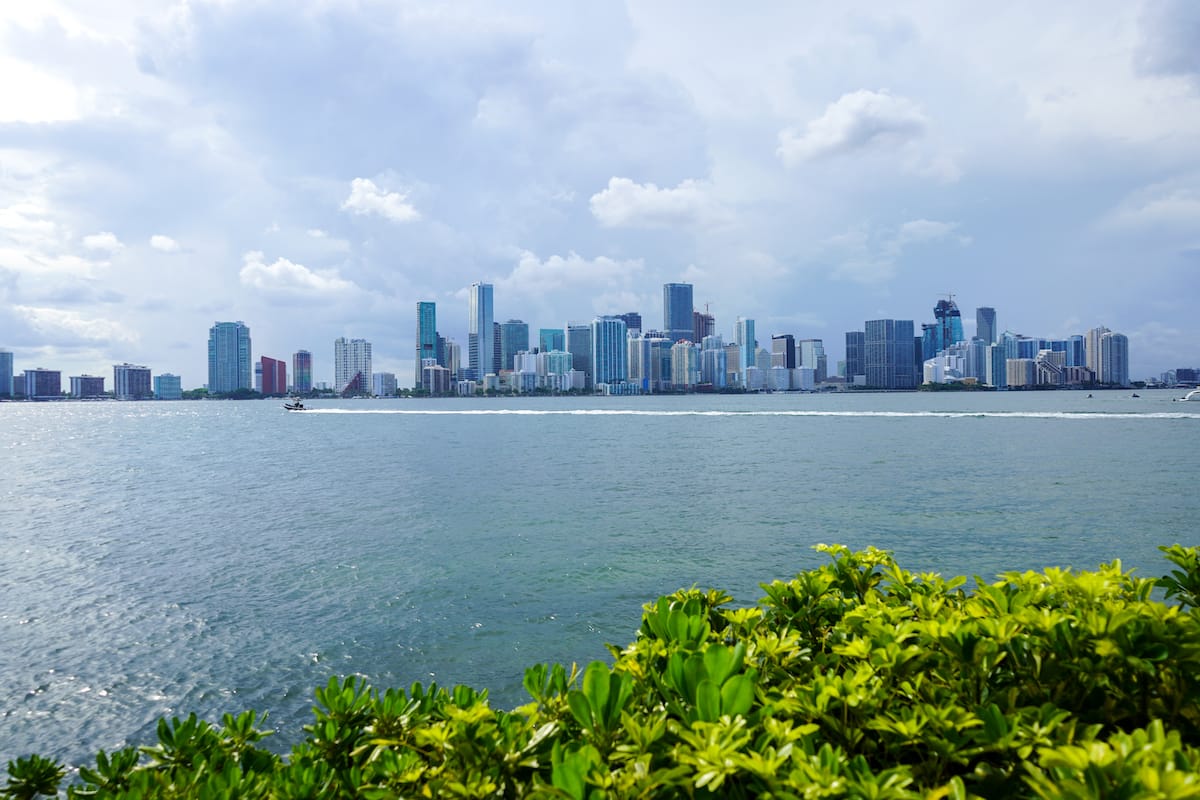 After a relaxing swim, we got back onto our jet skis and headed back to the Marina, not before doing a few high-speed turns for fun.
After we bought the jet skis back to the marina, we disembarked and there is a shower and sink where you can wash the salt off before grabbing your stuff from the kiosk and waiting for the instructor to give you back your ID and send over the photos they took of you.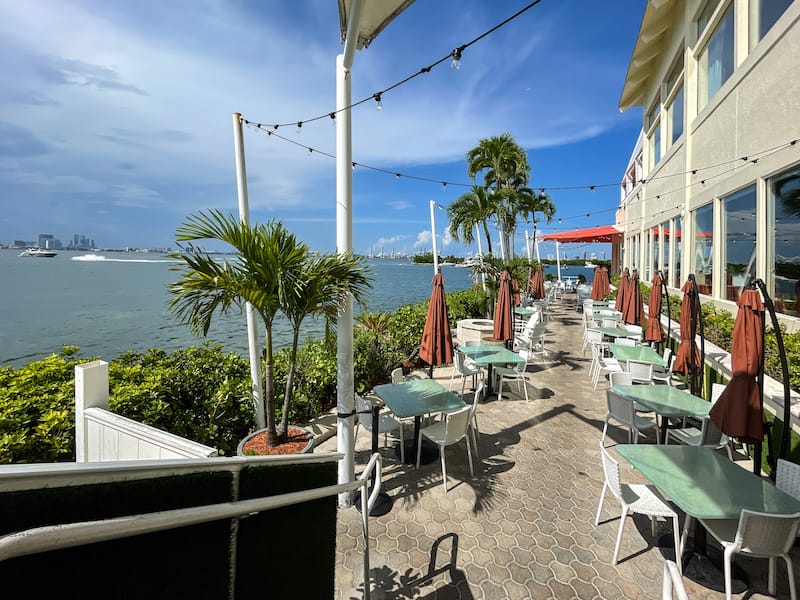 The tour lasted a little over an hour, most of which was spent jet skiing, although due to our small group size and speed we were able to spend a fair amount of time chilling at the sandbar where there was a little party.
I definitely cannot wait to head back to Miami and rent a jet ski again and hopefully see some dolphins and manatees this time too.
Do you have any questions about this Miami jet ski tour? Let me know in the comments and I will do my best to help! Thanks!
More South Florida & Miami Travel Guides
Pin this Jet Ski Tour in Miami Guide