Are you looking for the best golf courses in the Florida Keys? This post has you covered!
From Key West golf courses to the best putt-putt courses on the islands… this guide details the top Florida Keys golf courses for beginners all the way to experts!
Did we miss any amazing golf courses in the Keys? Let us know in the comments!
Best Golf Courses in the Florida Keys
The Florida Keys is a perpetually tropical destination. It's an absolute haven for beach enthusiasts, with soft white sand, clear blue waters, and the best boating, scuba diving, and sport fishing the world has to offer.
But what about those days when you want something a little less beachy and a bit more tranquil? Something away from the hustle and bustle?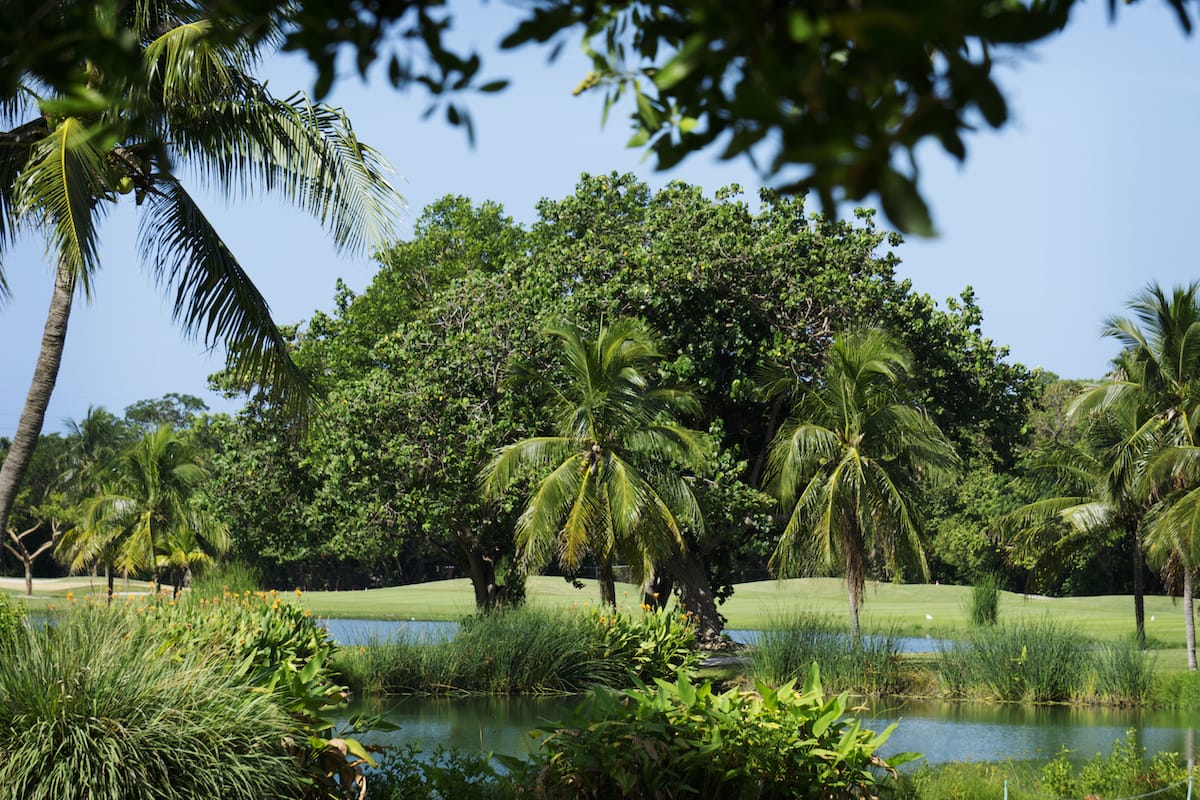 Try something a little different for a change… Here's our guide to the best golf courses in the Florida Keys.
Golf may not be an activity you even consider if you're headed this way.
But there'll come a time when you need to rest and recharge from the breakneck sea adventures… And the golf course is the perfect place to do so while still enjoying the beautiful climate!
Key West Golf Club
Designed by William Langford back in 1924 and renovated by the legendary golf course architect Rees Jones in the '80s, Key West Golf Club sits on more than 200 acres of land, brimming with stunning tropical flora and fauna.
Known as the only Caribbean golf course in the USA, the course is beautifully groomed and has a definite tropical feel to it, with palm trees scattered throughout and plenty of wide open space.
It's an 18-hole course that's great for golfers of all skill levels, reaching 6,513 yards from the back tees and just over 5,000 from the front tees.
You'll be greeted by generous fairways on most holes, and most golfers will be pleased to know that the greens are generally left unprotected on the approach.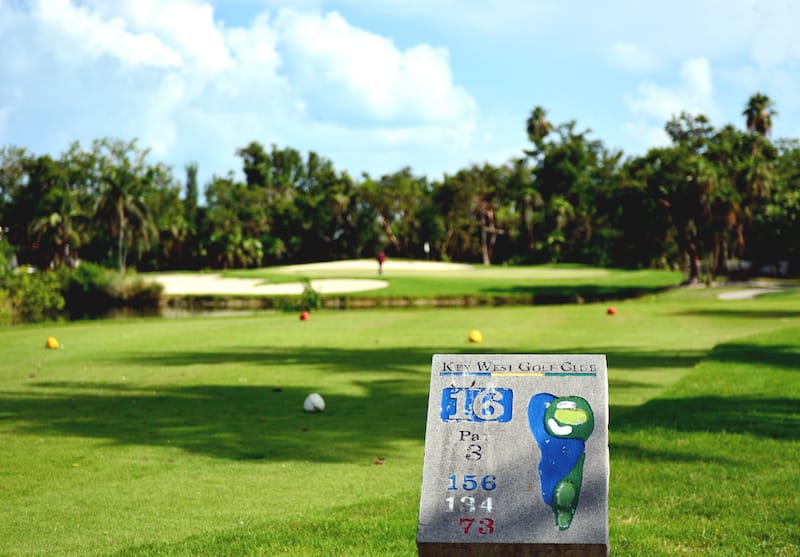 The greens are of fairly average size and run fast and true, with many pin positions to keep things interesting.
Don't let this lull you into a false sense of security, though. The par-3's can be devilish and may be many a golfer's downfall on this course. Bring your A-game!
Especially for the famed "Mangrove Hole"—a par-3 of 143 yards that has a carry over a thick forest of mangrove trees. Fall short, and you'll never find that ball again!
One of the best things about this club is that they welcome single players. This is something many golf courses don't do, which can be frustrating for those who want to play a solitary round.
If you need to get away for a bit and want to spend some alone time on the course, this is the perfect place to do so.
If you don't have your own clubs with you, you can rent a full set of premium golf clubs, either Cleveland or Srixon, for your round. Sharing clubs is not permitted, so you only have the choice of bringing your own or renting a set.
It's important to know that tee times are scarce, especially during peak season.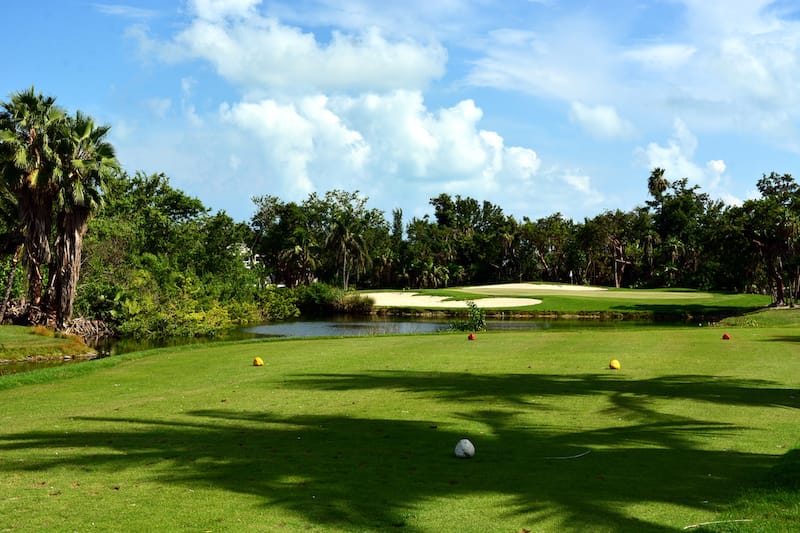 It's in your best interest to book in advance to ensure that you get your spot, and don't dawdle when you're on the course. Keep things moving so everyone can enjoy the game!
The target pace for a full 18-hole round is 4 hours and 15 minutes. Note that in order to keep pace, players may not stop at the clubhouse to eat, and you aren't permitted to bring your own snacks or drinks. No coolers allowed!
But they do make provision for hungry golfers. On the 8th tee, you'll find a number to call to place your food orders, which you can pick up on the way to the 10th tee.
Every part of the "Gateway to the Caribbean" golf course is designed for the best possible experience! This is a great place to spend a day if you have longer than just a weekend in Key West.
Address: 6450 College Rd, Key West, FL 33040
Website
Florida Keys Country Club
The Florida Keys Country Club is a great place for the whole family and for those visiting Marathon.
It features plenty of activities for every member of the family to enjoy, including tennis and a range of fun things nearby, like the Turtle Hospital, Dolphin Research center, and a state park.
One of its features is an 18-hole golf course that's open to members of the public.
Measuring around 6,000 yards, it's got enough challenge to make it interesting to almost all golfers.
It's good to know that while the course consists of 18 holes in total, only 9 holes are open at the moment, with double-pinned greens, so you end up playing 18 different holes.
Fairways lined with palm trees and manicured greens make the playing experience enjoyable. Avoid the rough at all costs because you'll be a ball down.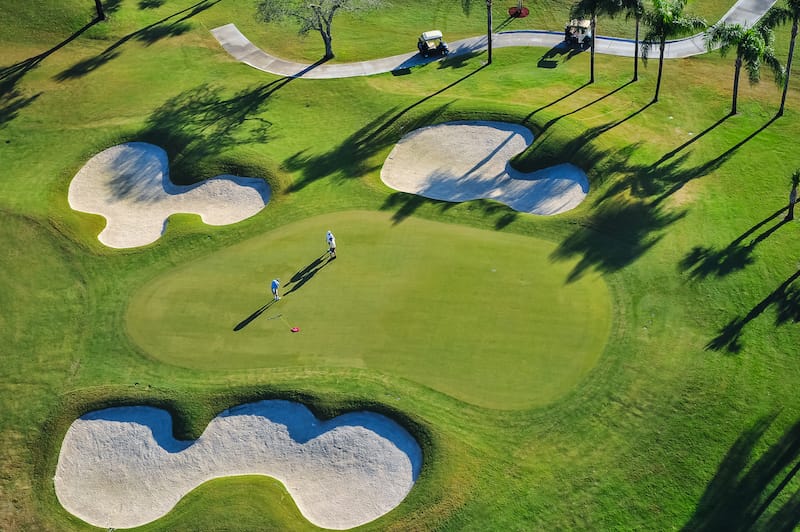 Although the course isn't the fanciest one you'll ever play, you'll still get the opportunity to use every club in your bag, so don't underestimate it.
Take note that the club suffered some damage during hurricane Irma, so don't expect pristine conditions.
The course is still a decent play but is prepared for some bumpiness and dirt patches! Keep in mind that it's not down to poor maintenance; the staff is working hard to bring it back to full capacity.
Their driving range is also closed at the moment, so the course is the only place you'll be able to swing your clubs.
But it's still a great place to test your skills and work on your game. Be patient with the club as it comes back!
Address: 4000 Sombrero Blvd, Marathon, FL
Website
Ocean Reef Club
The Ocean Reef Club is home to two spectacular 18-hole championship courses, but don't get too excited yet—it's a private club, so you can't just walk in any time and book a round.
If you want to play here, you'll have to be a guest or a member, or you can always join the club if you live in the area and want to enjoy all the amenities it has to offer.
These courses are the ultimate golfing experience in the Keys and are located in Key Largo. Lush green fairways, tropical trees, and exquisite views make it an unforgettable experience no matter what your golfing level is.
They're fairly different from one another, so if you do get the opportunity to play here more than once, you can have two distinctly different playing experiences.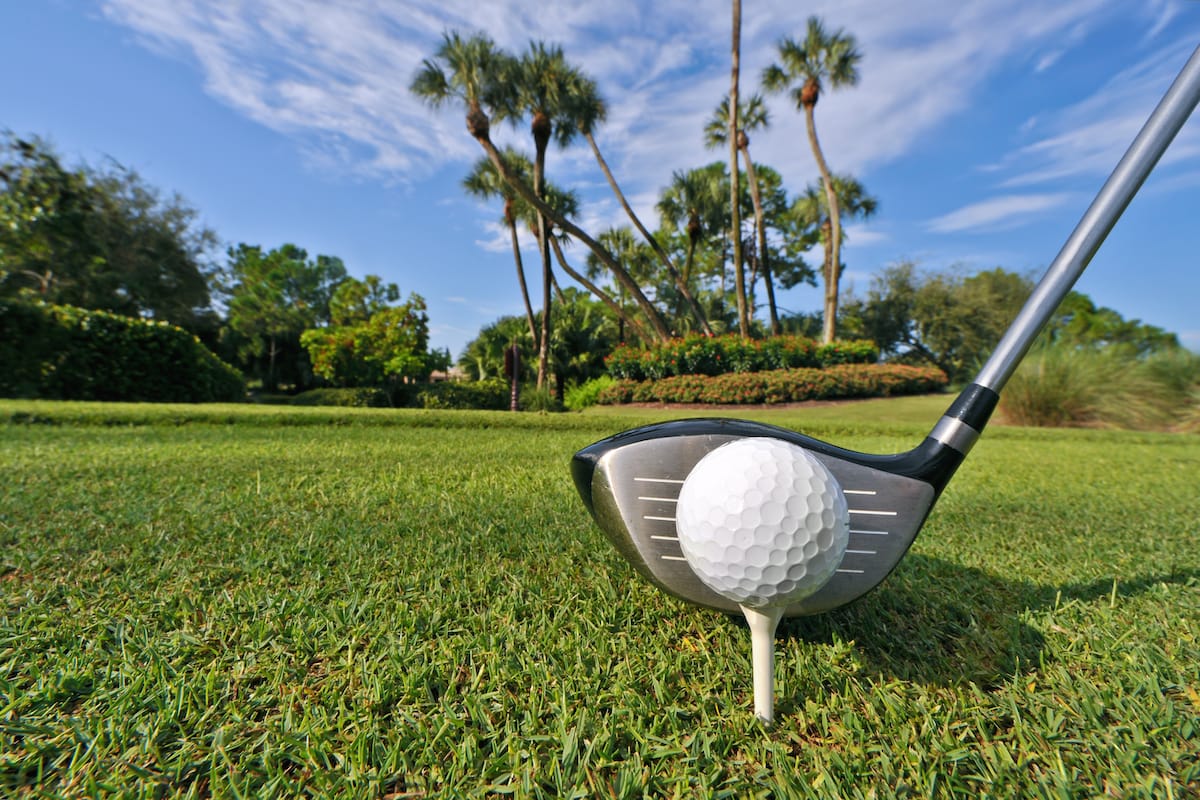 The 6,600-yard, par-71 Dolphin Course features wide-open fairways that both new and experienced golfers will find to be forgiving. Don't get complacent on the bermudagrass greens, though!
That's where the real test comes in—be prepared for sneaky undulations that could force a three-putt. With 5 sets of tees, it proves a challenging but doable experience for almost anyone.
The Hammock Course is beautifully scenic, featuring water hazards on 14 of the 18 holes and running through a wildlife sanctuary. Keep your eyes peeled for rare plant species!
The 6,100-yard course has many memorable holes but may be trickier for first-timers. Like the Dolphin, it has 5 sets of tees, but the foliage-rich terrain naturally makes it more difficult, as do the frequent water hazards.
As well as the choice of two spectacular courses, there's a fully-equipped pro shop where you can rent clubs and a technically-advanced Academy if you're interested in a lesson or two.
Interestingly, the golf shop has been the recipient of awards, so you know you'll find whatever you need and be greeted and helped by a professional.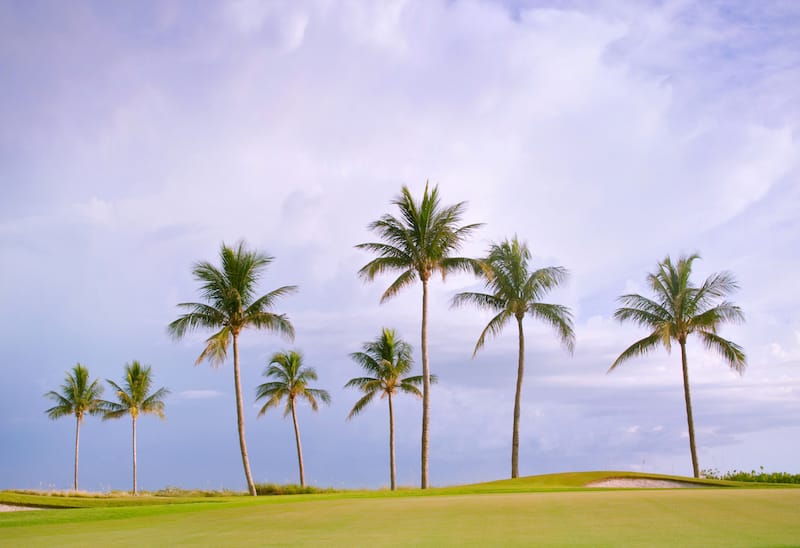 You will be required to wear proper attire when golfing, so dress accordingly if you're a guest of a member. Also, note that no cell phones are permitted inside the club's restaurants, in case you stop by for a meal!
There are plenty of other amenities at the club for the whole family to enjoy, so if you're living in the Keys, it could be worthwhile joining it.
Note that the golf club opens at 7 am and closes by 4 pm, so you'll need to fit your round into those hours! This is a great day trip from Miami if you're looking to head down to play for a day!
Address: 201 Ocean Reef Dr, Key Largo, FL 33037
Website
Key Colony Beach Golf Course
If you're looking for the opportunity to swing your clubs for a quick round but don't have a lot of hours to spend on the course, the Key Colony Golf Course is a good choice.
It opened back in 1968, so it's been around for a while and has an old classic feel to it, where everyone is welcome.
It's a 9-hole, par-27 golf course that's open to members of the public, so anyone can come along and play a speedy round. The atmosphere is relaxed, the course is fun, and it's a great way to spend a few hours with the family or alone.
You won't need a driver for this course. A 9-iron, sand wedge, and putter should do it, so there's no need to bring your whole bag.
It's an excellent way to work on your short game, so don't think the course is just for fun! You can rent clubs if you wish, but be aware that they're older sets, so don't expect the new, fancy equipment! It all adds to the experience, though.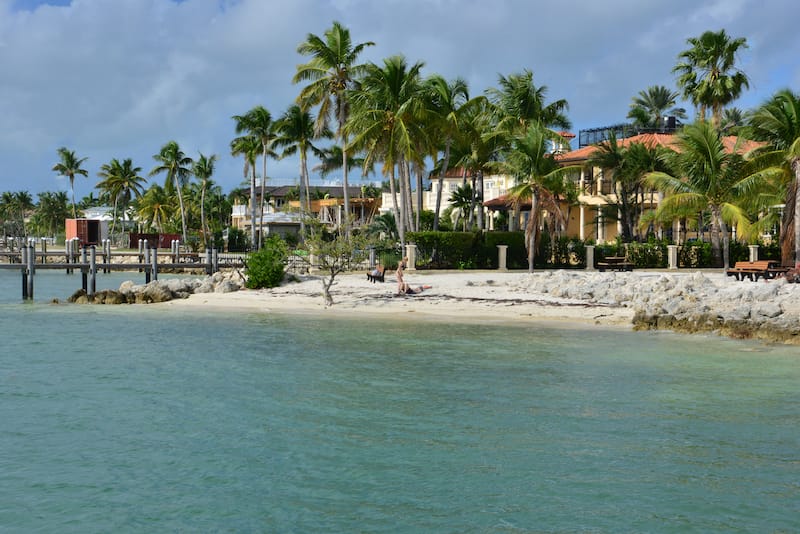 Don't expect the course to be in perfect condition. Like others, they've been affected by the weather in recent times, but the chilled atmosphere is what this course is really all about.
It's open to everyone, and the (very affordable) green fee is the same on weekdays and weekends, at around $13.
Whether you're here to teach the kids how to play golf or here to improve your chipping game, it's worthwhile getting in a quick round or two.
There are two sets of tees, so everyone of every skill level should be able to have a fun time on this short course.
Address: 8th St, Key Colony Beach, FL 33051
Boondocks Mini-Golf Course
Mini-golf still counts as golf! Especially in a place like the Keys, where golf courses are few and far between. If you just want a place to work on some putting or swing a club with no pressure whatsoever, this is it!
The only mini-golf course in the lower Florida Keys, Boondocks is also the southernmost one in the country.
It may not be full-on "real" golf, but it's a fun challenge for the whole family, a group of friends, or even an enjoyable date if you don't take yourselves too seriously!
It's an 18-hole mini-golf course with plenty of adventures along the way.
The course is laid out in a "Caveman" theme, with 4 fountains, 2 huge waterfalls, and numerous unique hazards which add to the challenge as you go.
You'll be surrounded by tropical trees and rock formations and may even see an iguana or two poke its head in to see you (warn the kids beforehand!).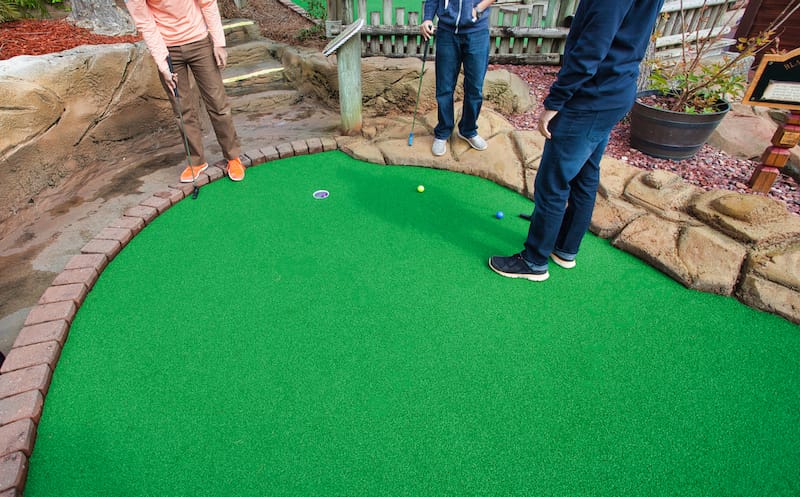 The decor includes caveman statues complete with weapons and interesting-looking masks. Hole 10 is an exciting hole that has you playing through a giant tree—quite like a fairytale for children!
For the adults, there's also a full bar that you can take advantage of whether you're watching your kids play or playing yourself.
Balance yourself nicely here—the course may seem like child's play, but once you've got a drink or two in you, hazards seem to jump out at you!
There's also a great grille place to grab a meal after your round (or between rounds!), so bring the whole family out for a fun day.
One thing that gets a thumbs-up from us is that there's plenty of shade on the course—between the tropical trees and the "indoor" parts, you won't need the same sort of protection as you would on a full course.
They also do all-inclusive kids' parties, so this is something to keep in mind if you have a child who enjoys mini-golf. They may do adult parties too if you ask!
Address: Summerland Key, FL 33042
Website
Most visitors to the Florida Keys aren't here for the golf. We know! In fact, although Florida features the most golf courses of any state, the Keys actually has very few courses—it's dedicated to watersports and sea life through and through.
Megan's home state of Virginia is much more 'golfy'!
Of course, when in the Keys, it's almost obligatory to experience the fresh seafood, take a boat trip, and catch a fish or two of your own.
But when you need some downtime, want to do something a little less adrenaline-pumping, or just need your golfing fix, these are the best golf courses in the Florida Keys to spend a few hours, clubs in hand. Don't forget to wear a hat and apply sunscreen!
About the Author
Jordan Fuller is a retired golfer and businessman. When he's not on the course working on his own game or mentoring young golfers, he writes in-depth articles for his website, Golf Influence.
More South Florida Travel Guides
Pin this Florida Keys Golf Courses Guide